How do you choose the best Bermuda beach to soak up the sun? From sea glass to pink sand beaches, we lay out our top choices for the best beaches in Bermuda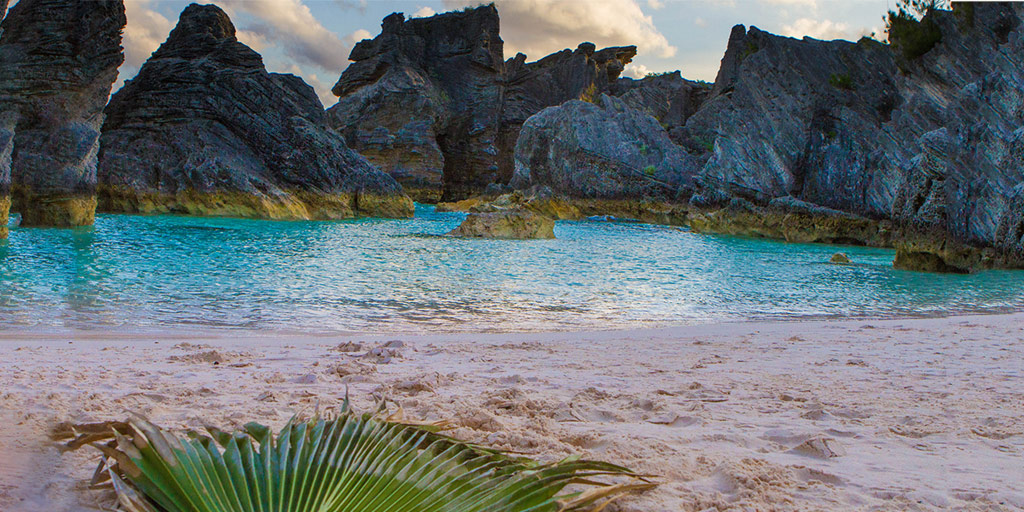 Dealing with the cold Canadian winters can be tough. The short days and slushy weather can get us down. Sure we had found great ways to beat the winter blues in the snowy north, but by March, we were craving sunshine and soft sand. The beautiful Atlantic island of Bermuda seemed like a great option to escape the cold. We decided to treat ourselves to a 4 day trip to Bermuda. And we made it our mission to search for the best Bermuda beach. That would turn out to be a tougher challenge than we expected!
This post may contain compensated links. Find out more info in our disclaimer.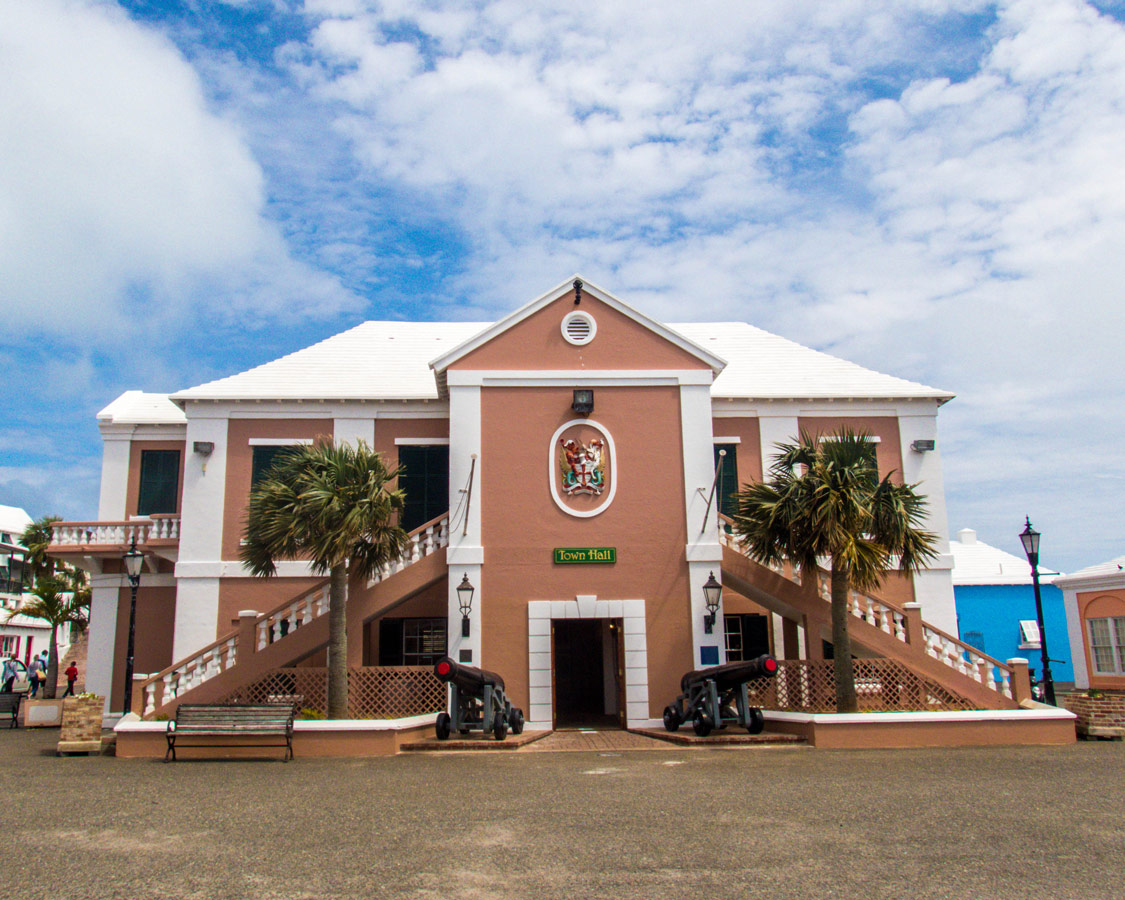 Bermuda is composed of over 100 islands with a total surface area of just 20 sq miles (33 km²). While Bermuda seems small, it's actually made up of 6 primary islands. Most of these are connected to each other by bridges. Bermuda is divided into 9 parishes or districts and there is a total of 34 official Bermuda beaches on the islands. If you're preparing for a trip, you can check out our favorite family travel gear here.
Best Time to Visit Bermuda for a Beach Vacation
Contrary to popular belief, Bermuda is actually not a Caribbean island. In fact, Bermuda is located about as far north as North Carolina. For those looking for a winter island vacation, a visit to Bermuda can offer a bit of a surprise.
While the island offers comfortable weather year-round, Bermuda weather in the winter can be a bit chilly. And the best beaches in Bermuda can get cool. This is especially true for those who are used to warmer temperatures. The best time to visit Bermuda depends a lot on what your family travel goals are.
Our family was looking for comfortable temperatures, and water warm enough for a refreshing dip. But we wanted to book in the shoulder season when Bermuda travel prices aren't at their highest. That way we could take advantage of boating the island and exploring caves in Bermuda without the crowds.
For those goals, March and April are the best time to visit Bermuda. But for those looking for warmer waters and those not afraid of higher costs and busier beaches, June through September are peak season for the island. For those visiting Bermuda with kids, everything revolves around the water. So timing your visit is important!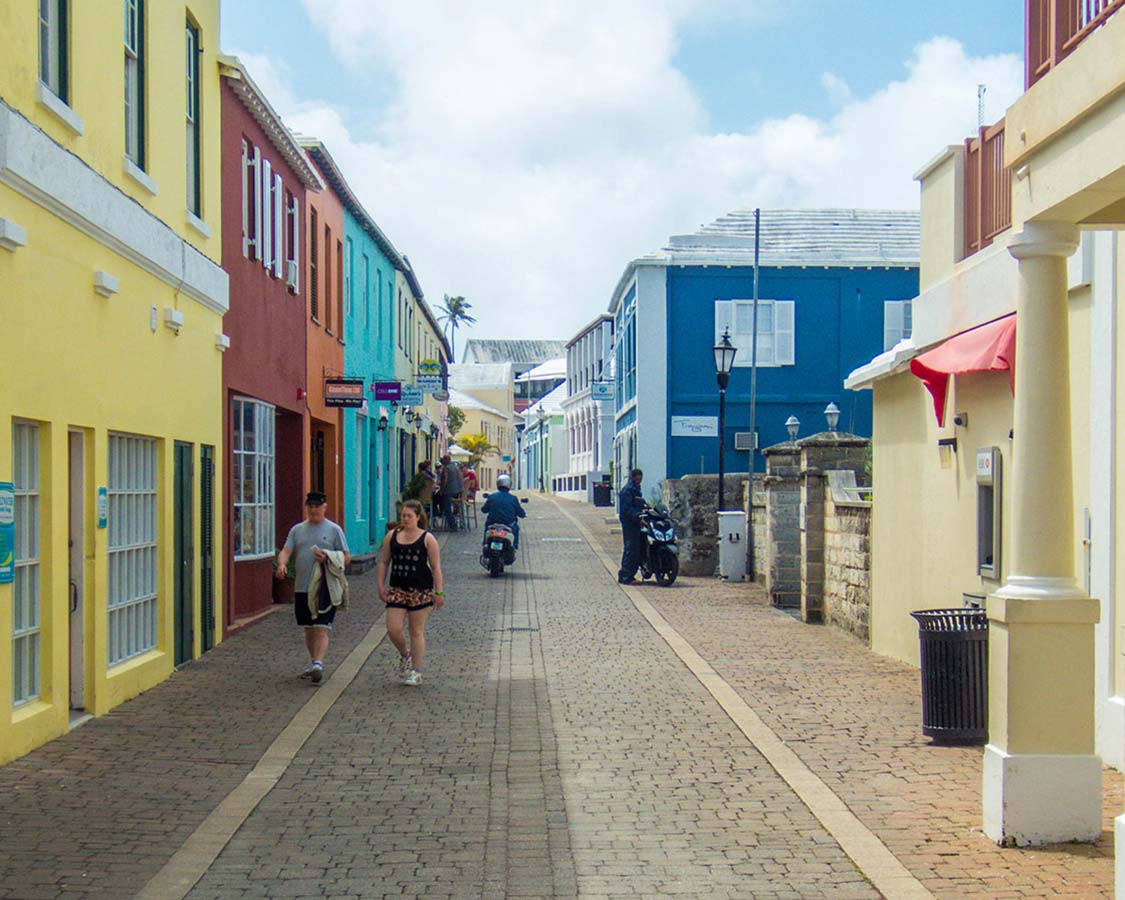 Pink Sand Beaches in Bermuda
One of the things that makes Bermuda one of the popular beach destinations in the world are the incredible pink sand beaches. The Bermuda pink sand beach color comes from tiny red organisms that grow under coral reefs. As they die, they wash onto the shore and mix with the sand. With time, the sun exposure bleaches their red color making it appear pink.
The south shore beaches have the most intense of the pink sand in Bermuda. The most dramatic pink sand beach Bermuda has on show is Horseshoe Bay Beach, but it's not the only pink sand beach in Bermuda
What is the Best Bermuda Beach?
Beaches are a lot like food. Everyone has a specific taste for what they think is the best beach, and what one person may find perfect, the next may not love it so much. So after spending our time searching the many Bermuda beaches, I've narrowed down some of the top ones so that picking your Bermuda beach should be a bit easier. Here are our top beaches in Bermuda:
Elbow Beach Bermuda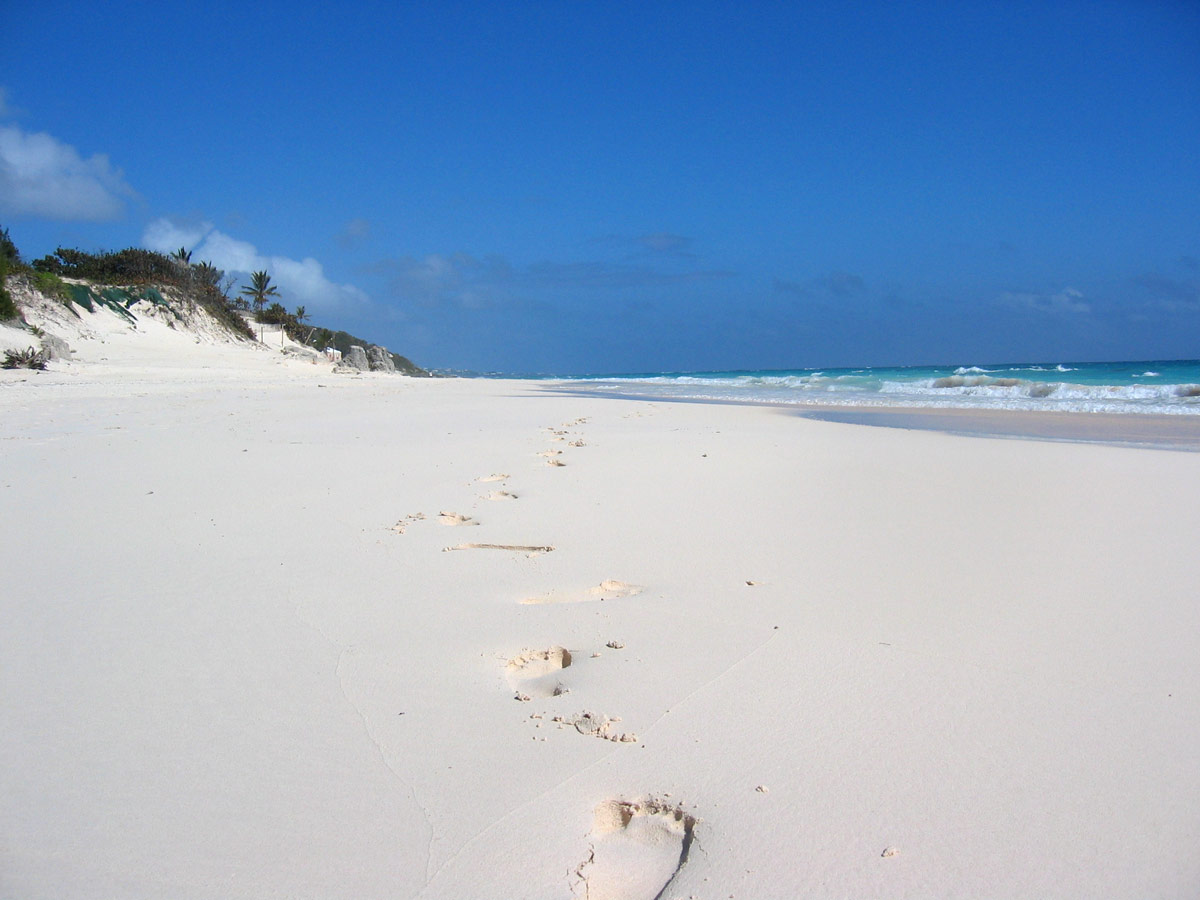 Elbow Beach Bermuda is one of the most popular beaches in Bermuda for locals. It shares its name with the Elbow Beach Hotel, so often visitors to Bermuda miss Elbow Beach as an option, thinking it is a private beach. But much of Elbow Beach is open to the public making it one of the best beaches in Bermuda.
Where is Elbow Beach in Bermuda?
As with many of the best Bermuda pink sand beaches, Bermuda Elbow Beach is located on the south shore of the island just a few minutes outside of Hamilton. Located in Paget Parish, Elbow Beach is also the home of Elbow Beach Resort. Similar to East Whale Bay Beach, part of Elbow beach is privately owned by the Elbow Beach Hotel. Although the rest of the beach has public access.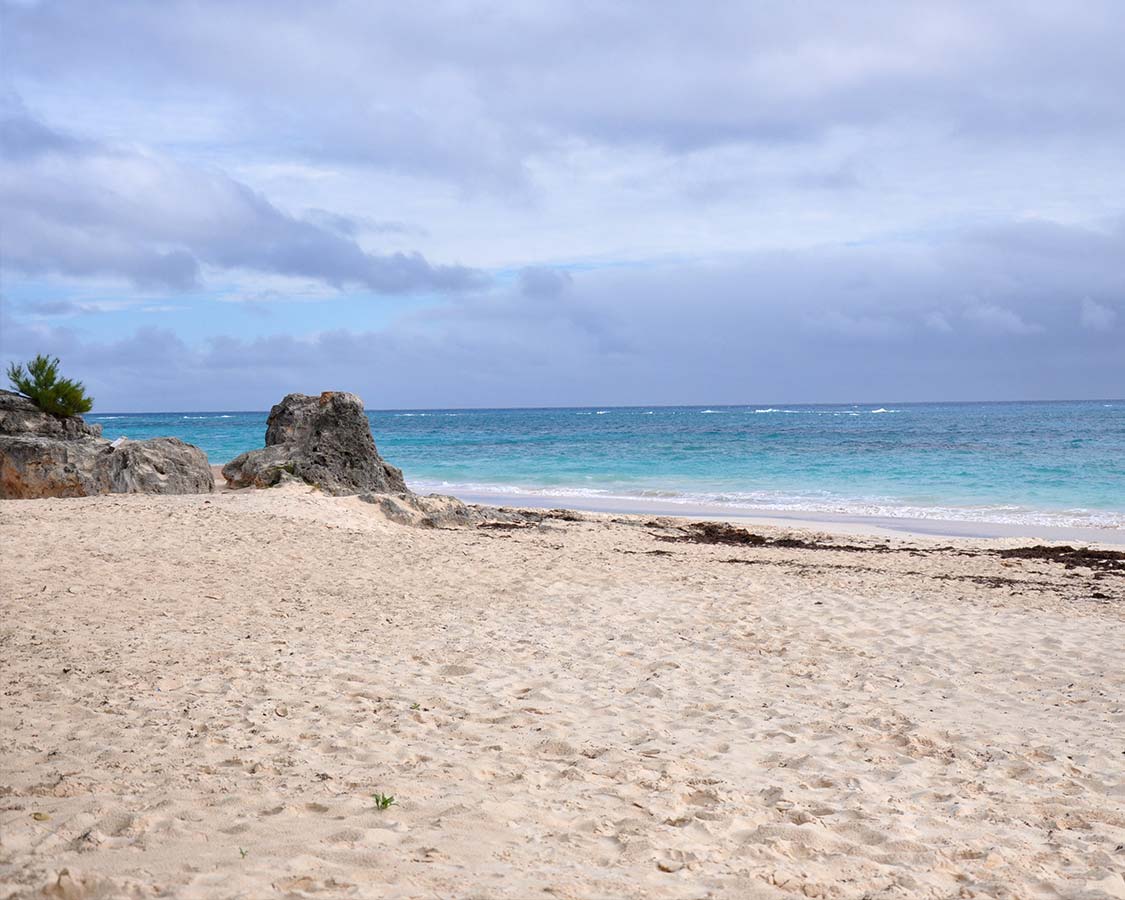 Things to Do in Elbow Beach Bermuda
Elbow Beach is one of the most popular beaches in Bermuda for locals. It's a hot spot for post-work strolls and beach volleyball. About 300 ft from shore is the Pollockshields shipwreck which is great for snorkeling. Kids in Bermuda can get a great look at marine life in the shallow breakers just off of the shore.
Where to Stay Near the Bermuda Elbow Beach
The Royal Palms hotel is the highest rated hotel near Elbow Beach. Elbow Beach is also very close to Hamilton, so staying in the Bermuda capital is also an option. We recommend the Fairmont Hamilton Princess in Hamilton. You can find the best prices for the Elbow Beach Resort on Booking.com.
Horseshoe Bay Beach
Horseshoe Bay Beach is arguably the most famous beach in Bermuda. The most famous of the Bermuda pink sand beaches' central position in the country makes it a destination for both locals and travelers to Bermuda. It's also a hub of social activity on holidays and special occasions.
Where Is Horseshoe Bay Beach Bermuda
Horseshoe Bay Bermuda located in Southampton Parish. It is attached to East Whale Bay on the right. And it sits just below the Fairmont Southampton hotel. There is a hiking path connecting many of the beaches on this side of the island. Horseshoe Bay Bermuda received its name from its long, curving form. It has the worldwide reputation of being the best Bermuda beach due to its very pink sand and soft texture.
When we first arrived at Horseshoe Bay Beach Bermuda, I was skeptical. There was no way that the perfect Instagram photos showing the Bermuda pink sands were, in fact, real. I was wrong!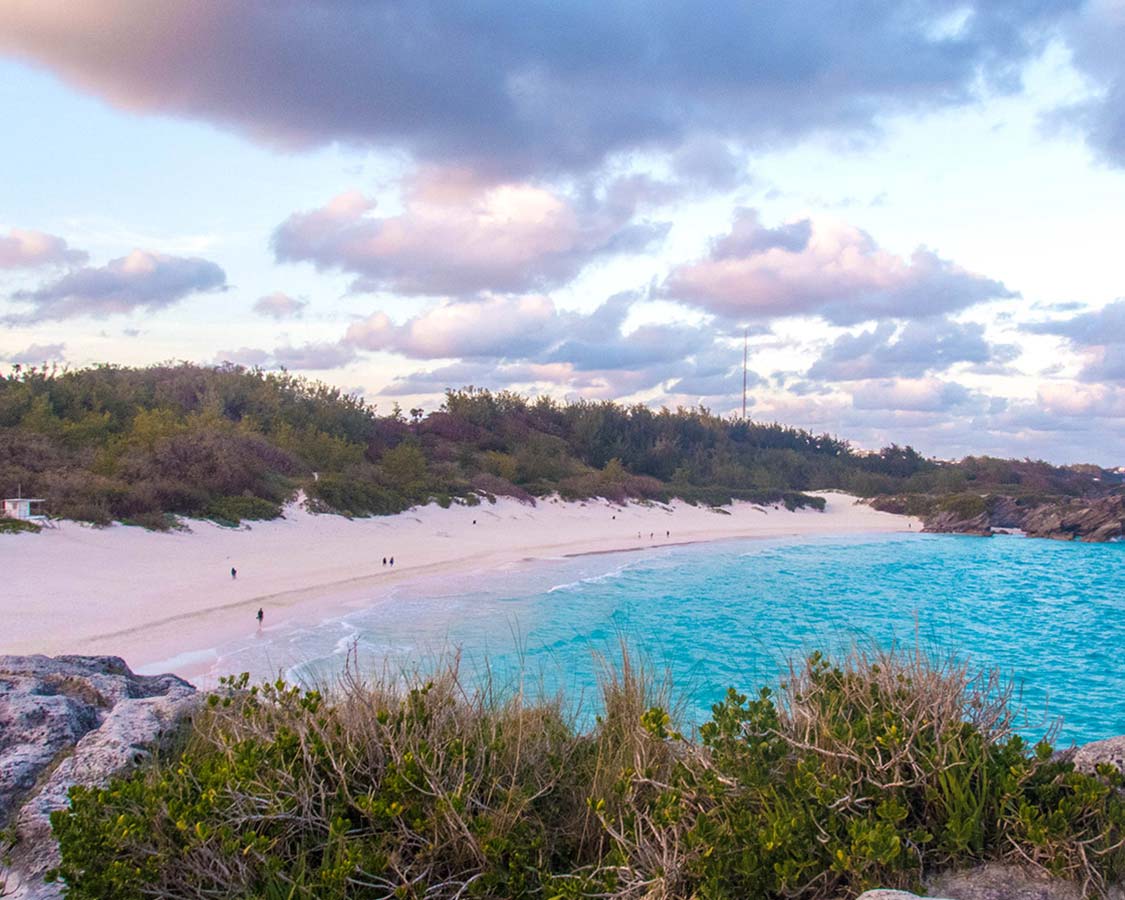 Pro-Tip: To Get the best photos and views of the Bermuda pink sand beaches, arrive just before sunset. The sky accentuates the colors of the sand.
Things To Do at Horseshoe Bay Beach Bermuda
The shallow turquoise waters of Horseshoe Bay Beach are honestly one of the most family-friendly beaches we've ever experienced in our world travels. It's often easy to see marine life such as parrotfish and angelfish swimming near the rocky outcrops on either end of Horseshoe Bay.
There is a large parking lot for visitors and during the high season, there is a restaurant on site. There are also free changing rooms located in a blue building near the entrance. The Horseshoe Bay Beach facilities include snorkeling gear, chairs, umbrellas, and other beach gear for rent. And while you can snorkel at Horseshoe Bay Beach, it's really best for lounging and swimming as the currents can be tough for inexperienced swimmers.
Visitors to Bermuda can also join the locals at popular festivals held at Horseshoe Bay Beach including the Sand Sculpture contest in September and the Bermuda kite festival on Good Friday during Easter weekend.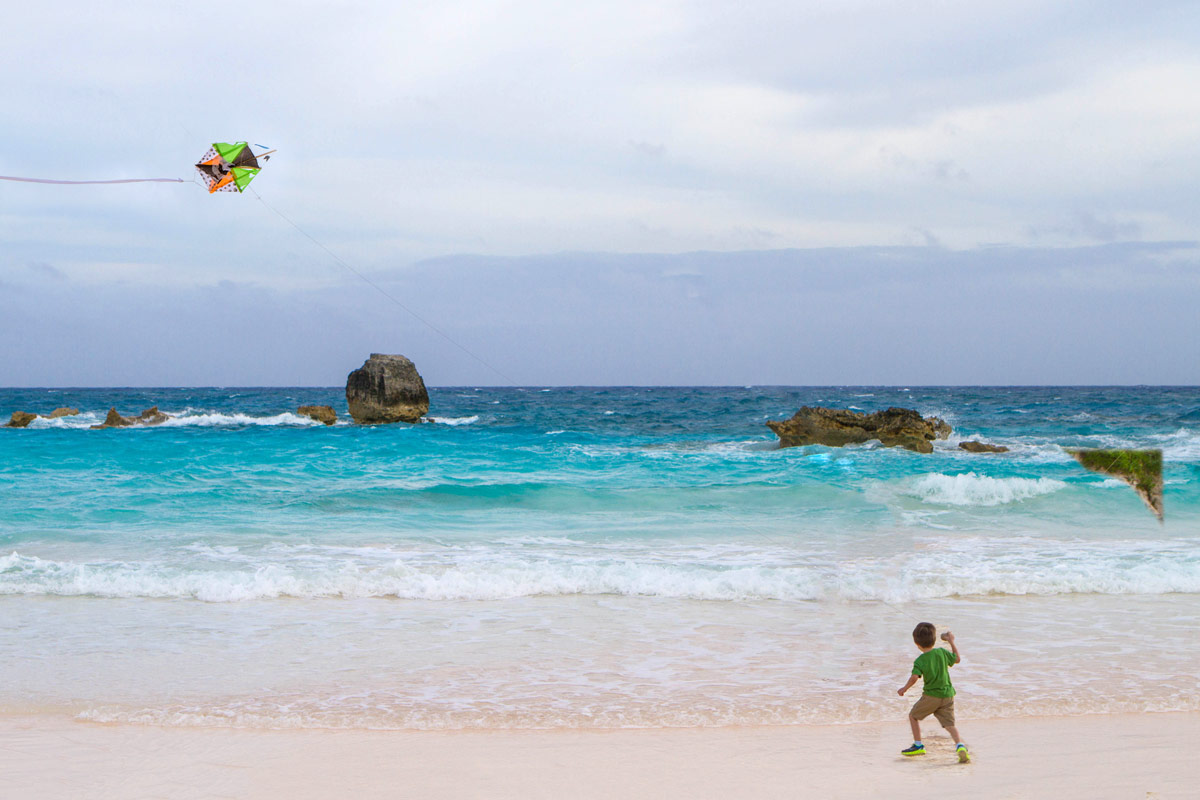 Pro-Tip: The kite-making event at the Fairmont Southampton is open to anyone on the island. There is a small fee for those not staying in the hotel.
Port Royal Cove
Port Royal Cove, also known as Baby Beach, sits on the right-hand side of Horseshoe Bay Beach. It is absolutely incredible for families in Bermuda. If you walk to the western end of the beach (towards the right side if you are facing the water) you can't miss it.
The rocks surrounding Port Royal Cove prevent the waves from being very strong and the water is shallow, making it perfect for families with small children. Both the boys had a blast splashing around, swimming, and trying to spot colorful Parrotfish. For the second night in a row, we watched the beautiful sunset towards the mesmerizing azure waters of Bermuda.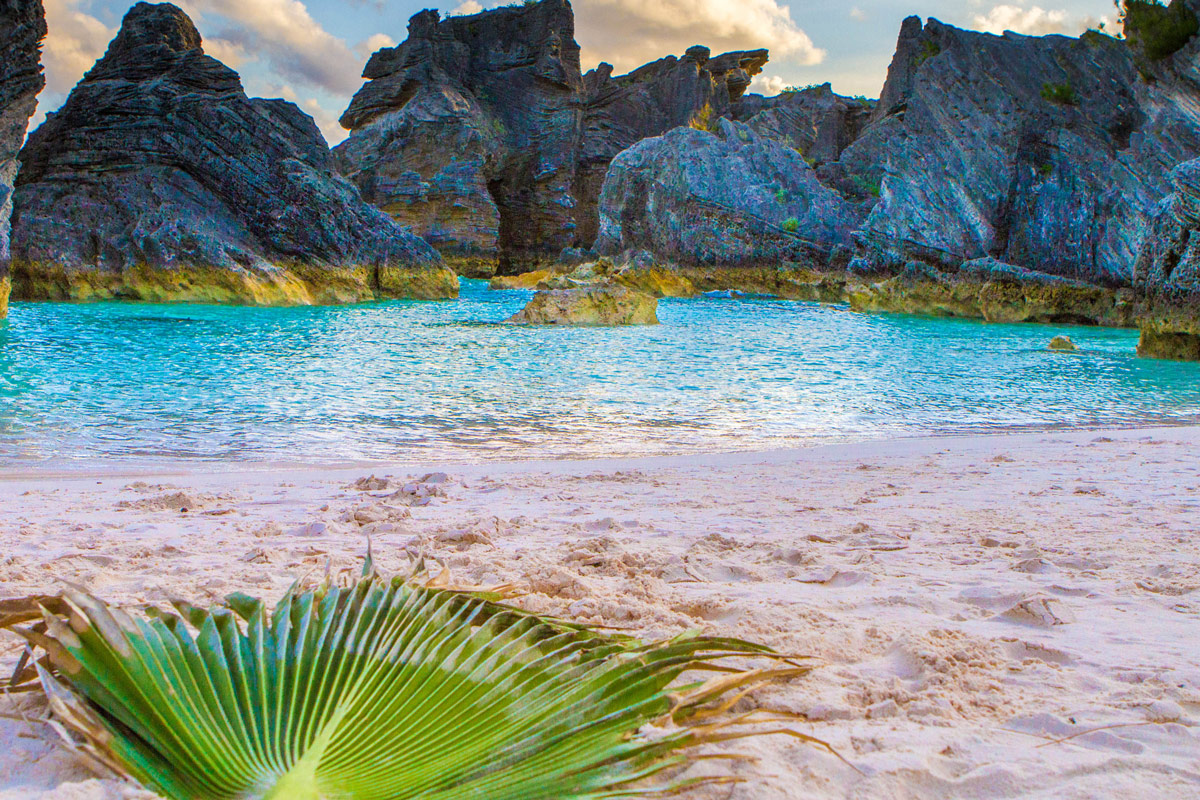 Where To Stay Near Horseshoe Bay Beach Bermuda
Horseshoe Bay Beach is situated near the midway point of the island. And the closest hotel to that is the famous Fairmont Southampton. This is where we opted to stay during our time in Bermuda As soon as we were checked in at the Fairmont Southampton, we were ready to hit the water.
The Fairmont Southampton hotel offers a free shuttle to Horseshoe Bay Beach which was waiting by the front driveway. The bus took us on the 5-minute drive downhill to the hotel's private beach in East Whale Bay, right next to Horseshoe Beach Bermuda.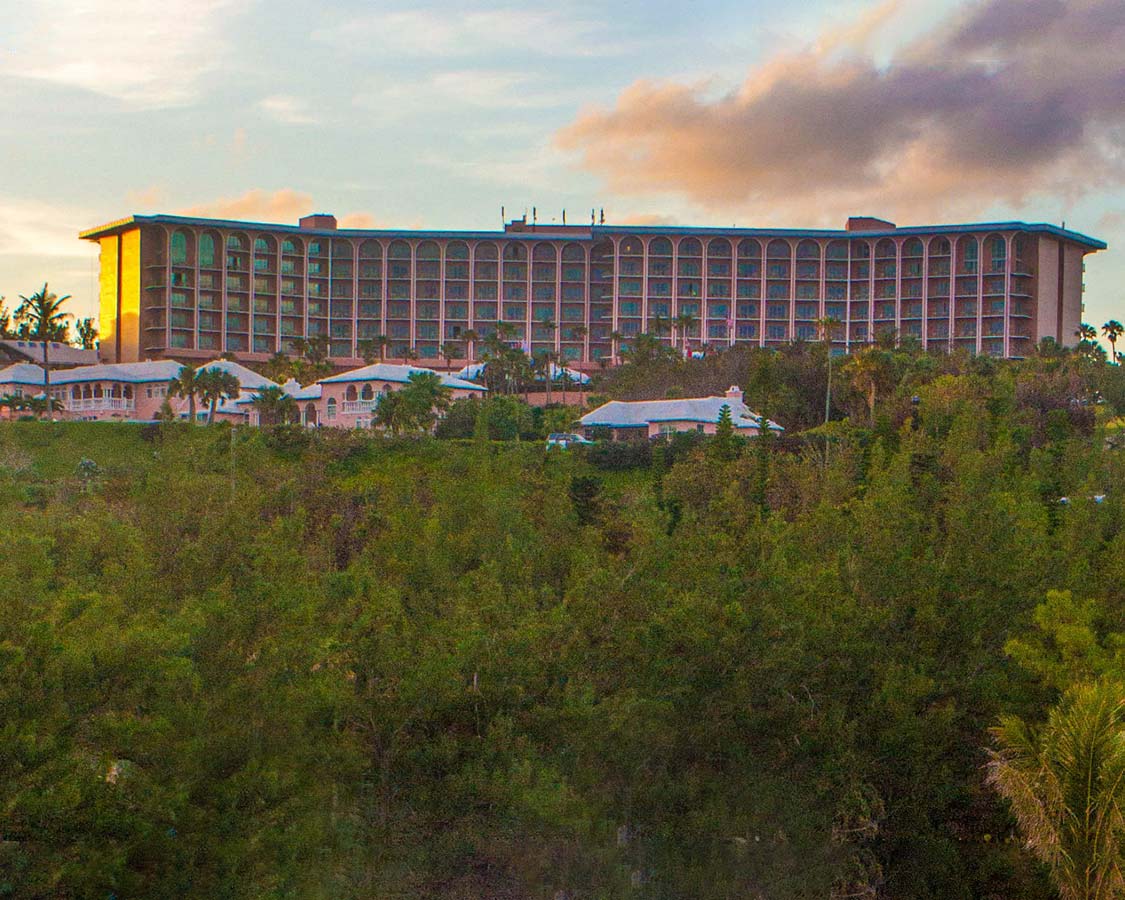 We recommend the Fairmont Southampton for those looking for hotels near Horseshoe Bay Beach. You can find the best prices for this hotel here:
Hotels Combined | Booking.com
East Whale Bay Beach
East Whale Bay Beach Bay was named for the whales which can often be seen from the shore during the spring season (March and April). The whales, mostly humpbacks, migrate to their northern feeding grounds during this time of year. The kids were so excited that as soon as they got out of the shuttle they ran straight to the water.
Where Is East Whale Bay Beach Bermuda
Located in Southampton Parish, East Whale Bay Beach is a private beach owned by the Fairmont Southampton Hotel. Stunning rock cliffs separate it from the public, and much busier, Horseshoe Bay Beach.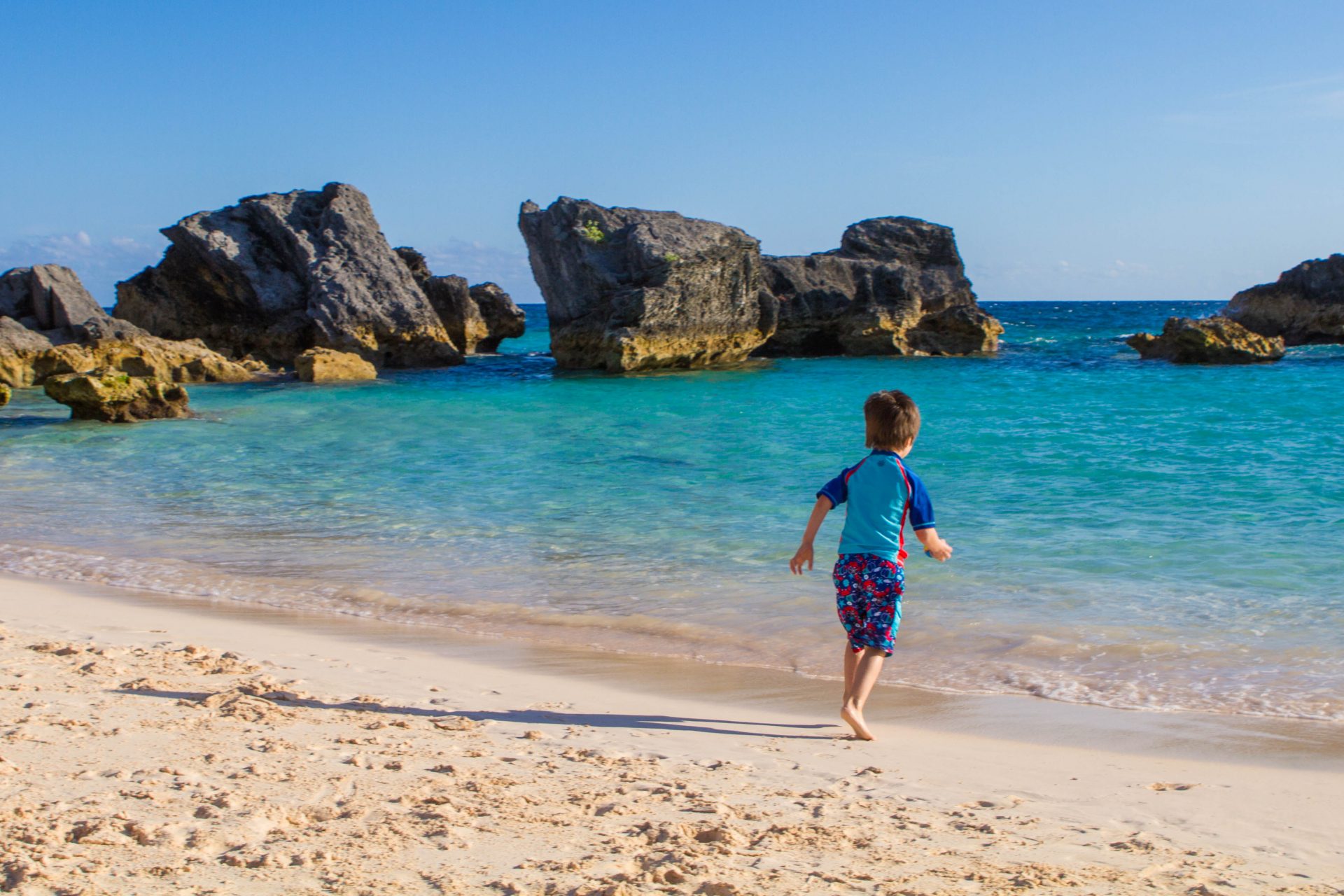 Things To Do in East Whale Bay Beach
Unfortunately, luck was not with us, as we didn't see any whales while we were at the beach. We did meet several people at the hotel who had managed to catch a glimpse of them though. East Whale Bay Beach is also a popular spot as a Bermuda snorkeling destination. The bay has sheltered waters and a coral reef that is accessible by strong swimmers. The reef is located just past the large rock in the middle of the bay.
East Whale Bay Beach has a number of amenities thanks to the luxury offerings of the Fairmont. There is a beach restaurant, store, and facilities for renting snorkeling gear. The beach also has chairs and beach umbrellas available for free for hotel guests.
Find the Best Prices for the Fairmont Southampton on these sites:
Hotels Combined | Booking.com
Long Bay Beach and Clearwater Beach Park, Cooper's Island Nature Reserve
Cooper's Island Nature Reserve is an often overlooked gem near the Bermuda airport. This former military base has been transformed into a nature reserve and offers some of the best nature experiences in Bermuda. Cooper's Island is also one to some of the best Bermuda beaches like Long Bay Beach and Clearwater Beach Park.
We discovered Clearwater Beach Park when we hired a taxi guide via the hotel concierge to give us an island tour. As a native of Bermuda, our guide, Mr. Andrew Trott, provided us with a lot of insight into the island's history and how it has changed throughout the years. A highlight of our tour was when we stopped at Cooper's Island Nature Reserve, a Bermuda National Park, for a picnic lunch.
Where is Clearwater Beach Park Bermuda
Clearwater Beach Park is located in Cooper's Island Nature Reserve in the southeastern end of St. Davids Parish. the island was largely inhabited by the US military until 1995 when the US military left the island. Since then Bermuda has been transforming much of Cooper's Island into a beautiful 45-acre nature reserve.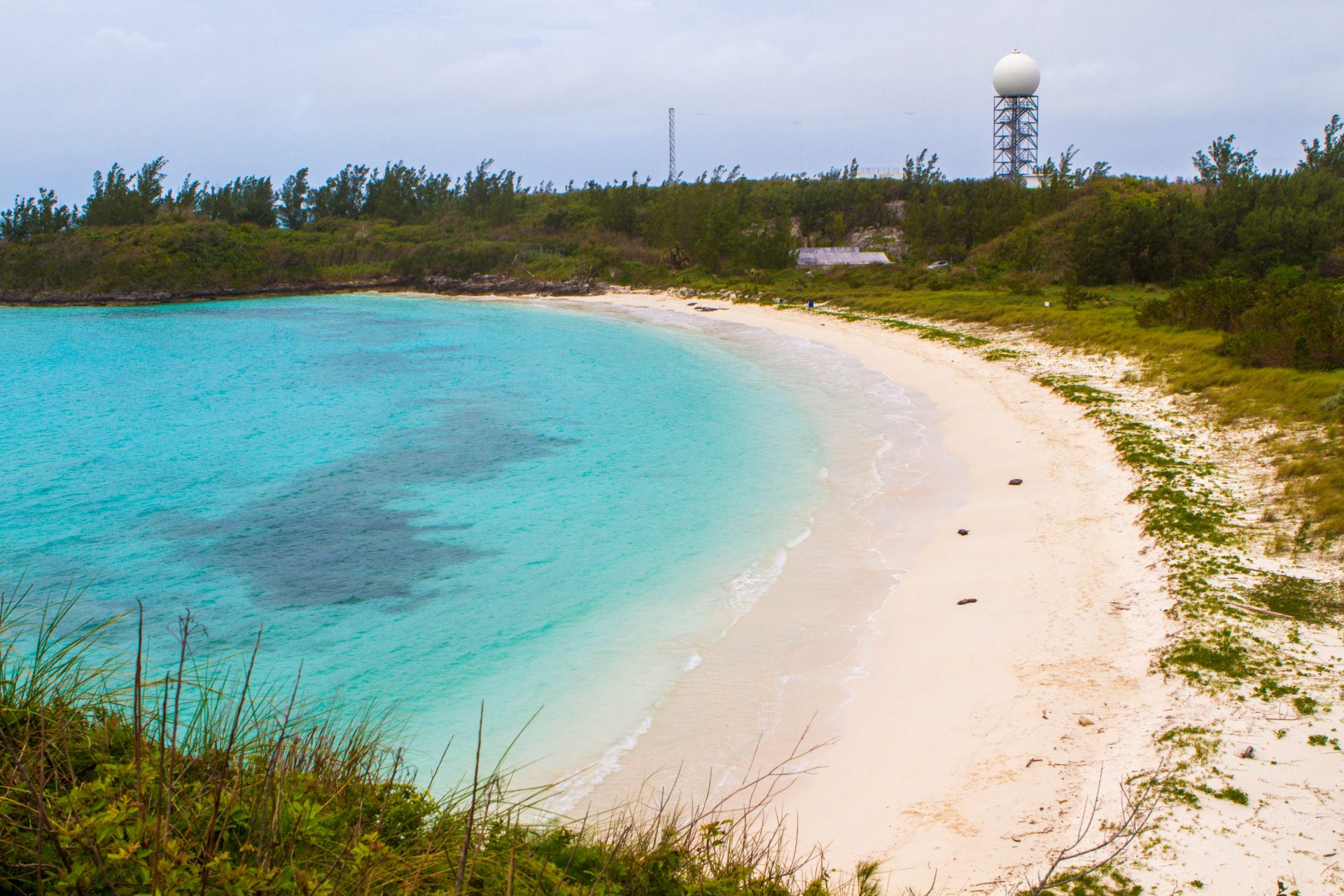 Things To Do Near Long Bay Beach Bermuda
Being in the running for the best Bermuda beach may not be enough for some sun lovers. Well, part of what makes Long Bay Beach so great is just how much there is to do nearby. Cooper's Island Nature reserve offers stunning hikes and nature viewing.
Pro-Tip: Full sized cars are not available for rent by tourists on the island. The majority of tourists get around the island by renting scooters. They are an economical and efficient way of getting around. Although, caution must be observed as the roads on the island are narrow and winding, with many blind corners. Recently small electric cars have become available for those staying in select hotels.
Where To Stay Near Cooper's Island Nature Reserve
There are no hotels or accommodations within Cooper's Island Nature Reserve. Most visitors to the area usually come by day trip. The closest major town with accommodations is Bermuda's former capital St. George. St. George Bermuda is a great place for families to stay in Bermuda. The best ranked hotel in St. George Bermuda is the Grotto Bay Beach Resort.
Find the best prices for hotels near Cooper Nature Reserve on these websites:
Tobacco Bay Beach
Easily in the running for the best Bermuda beach is popular Tobacco Bay Beach. While not one of Bermuda's pink sand beaches, the shallow waters and beautiful scenery more than make up for it.
Where is Tobacco Bay Beach Bermuda
After lunch, we headed to the historic town of St. George's. Mr. Trott drove us around town so we can get an overview of the area. we explored the old town of St. George on foot. After a couple of hours leisurely strolling the island's former capital, we were ready for another beach! Wandering up through the town, past the famous unfinished church, we headed to Tobacco Bay.
Tobacco Bay Beach is located about a 15-20 minute stroll or a 5-minute drive north of St. George. For those coming from the dockyards, you can take a minibus for about $7. The route to Tobacco Bay takes about 7-minutes.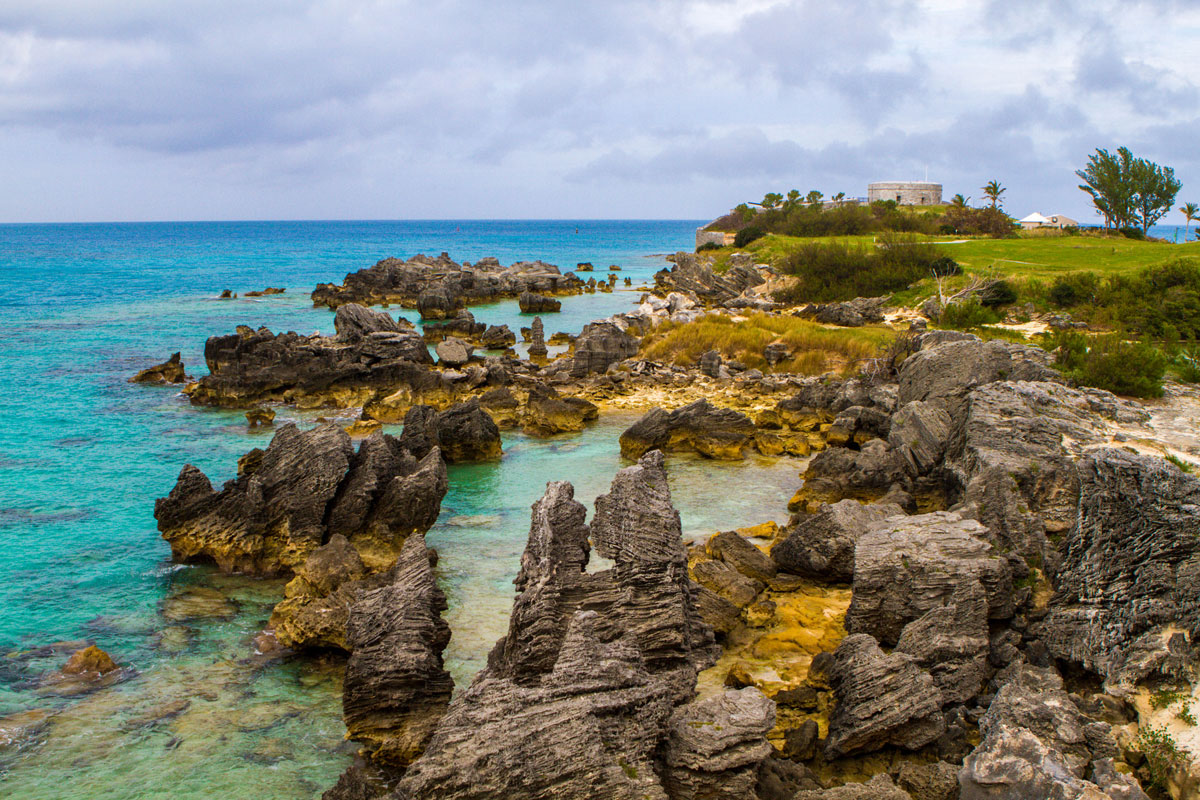 Pro-Tip: Tobacco Bay Beach is quite small and can get overwhelmed with tourists when cruise ships arrive. Try to time your visit around the Bermuda cruise ship arrivals.
Things To Do at Tobacco Bay Beach Bermuda
Tobacco Bay Beach is managed by the private company Beach Boys. There are bathrooms, changing facilities and a restaurant and bar. Showers are also available here. Visitors to Tobacco Bay Beach can also rent chairs, paddleboards, kayaks and snorkel gear.
The shallow clear water and rocky walls of Tobacco Bay Beach make it perfect for snorkeling. In fact, for the more adventurous, you can snorkel between Tobacco Bay and Achilles Bay (towards Fort St. Catherine).
During the summer there is a beach bonfire and live music on Friday's during the summer and live entertainment daily.
Where To Stay Near Tobacco Bay Beach Bermuda
Most people visit Tobacco Bay Beach from nearby St. George. There are some great accommodations in St. George Bermuda that are worth checking out. And during the summers make sure to check out the daily dunking of the wench. The most highly ranked hotel in Tobacco Bay Beach is the Grotto Bay Beach Resort.
Find the best prices for hotels near Tobacco Bay Beach on these websites:
Sea Glass Beach Bermuda
Searching for sea glass has become a popular tradition for those who travel to Bermuda. Sea glass is the remains of glass bottles and containers that has been worn down by the surf into smooth, colorful stone-like treasures.
Where is Sea Glass Beach Bermuda?
While sea glass can be found at many beaches in Bermuda, the best beach for finding sea glass is Sea Glass and Black Bay Beach. Sea Glass beach is located about 20 minutes from Kings Wharf and the Royal Navy Dockyard on the west end of Bermuda.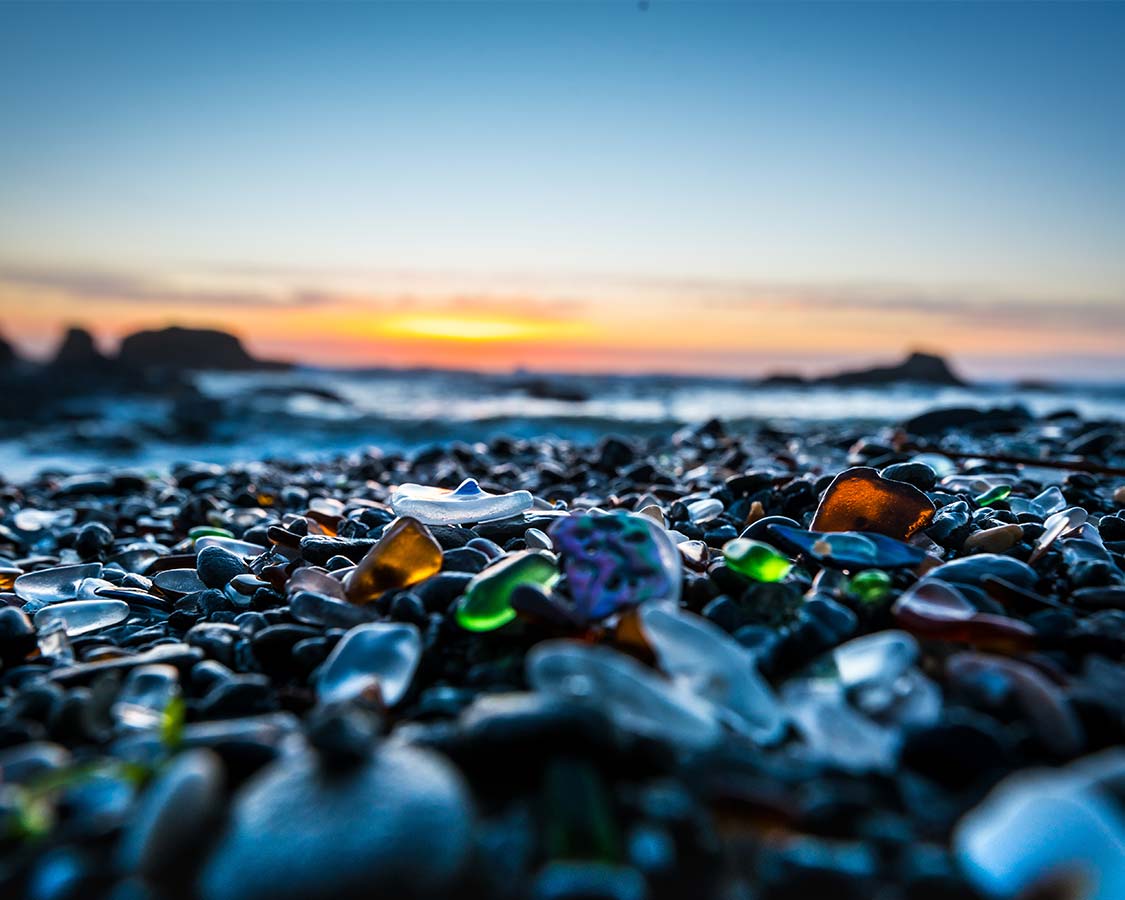 Collecting Sea Glass in Bermuda
Since 2004 much of the collection of sea glass in Bermuda has been regulated or outright banned. WEDCO (West End Development Corporation) has posted bills noting that the collection of sea glass is against the law in Bermuda. This rule was put in place due to a large number of visitors collecting sea glass, and they were worried that the popular attraction would completely disappear.
You can still buy sea glass artwork at many of the stores throughout Bermuda. They make popular jewellery and keepsakes for those visiting Bermuda.
Finding our own Secret Beach
On our second last day in Bermuda, we awoke bright and early, ready for our next adventure. We had rented a boat in the Royal Navy Dockyards. Our plan was to head out and headed out in search of our own piece of paradise.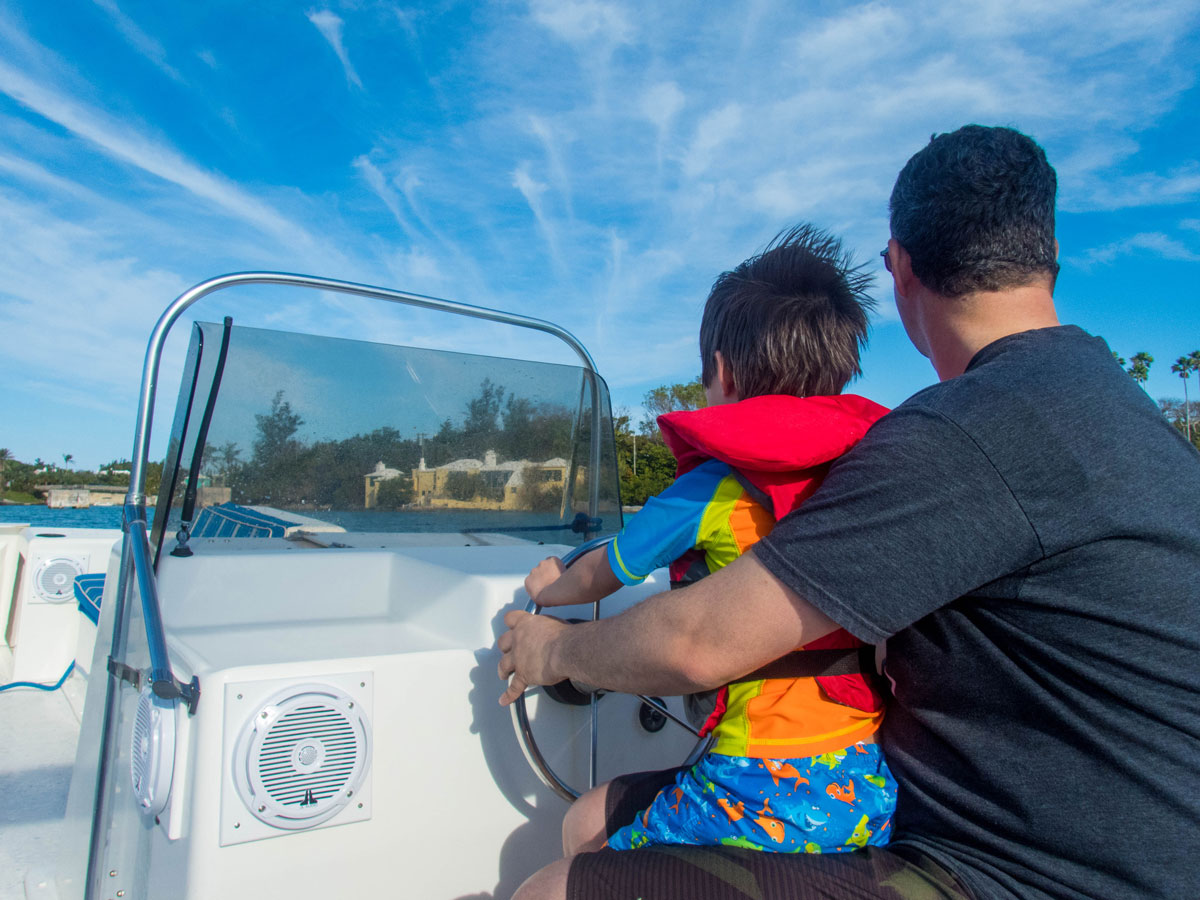 Many beaches in Bermuda are privately owned. This meant that as we were touring the coast, searching for the best Bermuda beach, we were often met with no trespassing signs. It seems that apart from many of the most popular beaches in Bermuda, most seem to be owned by resorts, golf courses, or private citizens with enough money to own the land.
Our search for our own secret beach in Bermuda was quite an adventure! Some parts were even traumatizing for the boys! We ended up finding a small piece of sand near a golf course just south of the Royal Navy Dockyards. It wasn't big, but the sand was soft, it was quiet and isolated. And it made for a perfect place for us to unwind before our trip home. We all really enjoyed our time on our own private (at least temporarily) beach
Although we didn't hit every beach in Bermuda, the Bermuda beaches we did have a chance to explore didn't disappoint. We set out on a mission to find the best Bermuda beach and we failed. All the beaches in Bermuda were amazing in their own unique way! There is truly a beach for everyone here.
More of the Best Beaches in Bermuda
While we didn't get to experience every beach in Bermuda, we have received many comments and suggestions of other beaches that locals and visitors alike have fallen in love with. The following are worth a mention:
Somerset Long Bay
Located near the Royal Navy Dockyard, Somerset Long Bay Beach is one of the most pristine beaches in Bermuda. It has all the pink sand of Horseshoe Bay Beach but without the crowds.
Church Bay
Church Bay is a popular snorkeling beach in Bermuda. There is a great reef just a short distance from shore.
Admiralty House Park
Admiralty House Park is a popular spot for those looking for a little adventure. The cliffs here are popular jumping spots.
Warwick Long Bay Beach
Warwick Long Bay Beach is one of the most photographed beaches in Bermuda. The craggy rocks and small sea caves. It is one of Bermuda's most famous pink sand beaches, yet it doesn't see nearly the crowds that the more popular beaches get. From Warwick Long Bay Beach you can easily walk along the waterfront to nearby Dobsons Cove and Stonehole Bay.
Disclaimer: We were guests of Fronterra Camp during our visit in Prince Edward County. Our views remain our own. Wandering Wagars is a participant in the Amazon Services LLC Associates Program, an affiliate advertising program designed to provide a means for sites to earn advertising fees by advertising and linking to amazon.com, amazon.co.uk, amazon.ca. Amazon and the Amazon logo are trademarks of Amazon.com, Inc. or its affiliates.
You May Also Like To Read: