We love exploring caves, and we are anxious to introduce our kids to the geology and adventure surrounding them. Here are 9 caves you can visit with kids!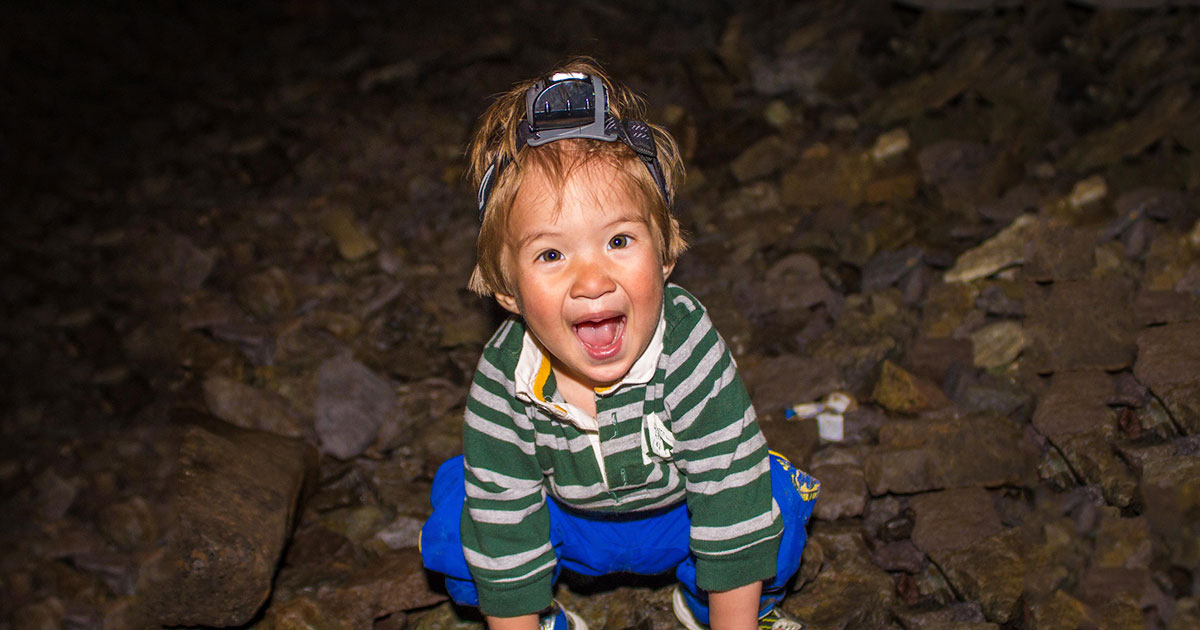 We absolutely love exploring caves. Big and small, short and tall, deep or shallow, caves always offer a sense of mystery, discovery, and adventure. We have hiked caves, swam into caves and even SCUBA dived through caves, and we can't get enough! C and D were introduced to caves early on. We started with visits to small, local caves.
They had the opportunity to experience crawling through tight spaces, using headlamps as their only source of light. As they are getting older, we are bringing them to, or thinking about re-visiting some of our favorite caves with them. By doing so we hope to expand their experiences and challenge their comfort zones a little more. With that said, some of the caves we would love to bring them to are included in these 9 incredible caves you can visit with kids.
This post may contain compensated links. For more information please read our disclaimer.
Werfen Ice Caves – Austria
Kid Difficulty 1/10 (Some climbing)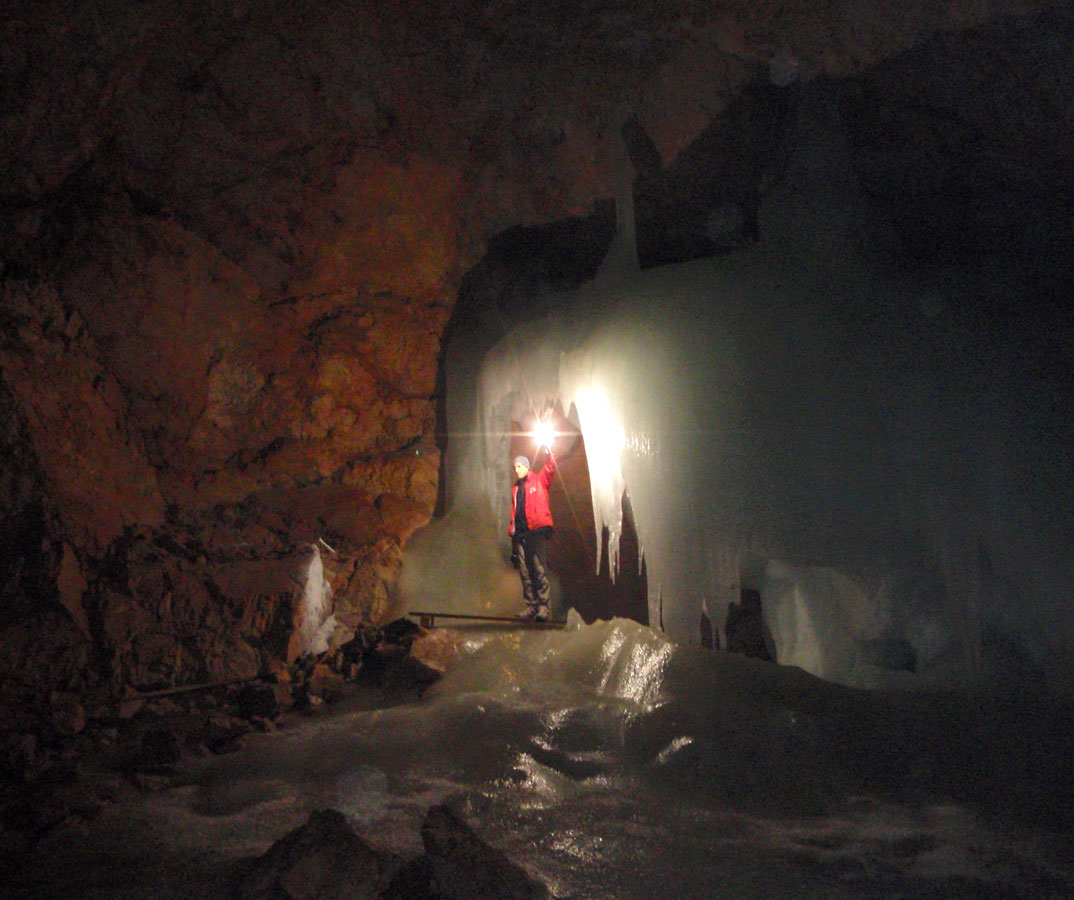 Werfen Ice Caves in beautiful Austria is a truly incredible experience. Werfen is the largest ice cave in the world and features stunning natural ice sculptures. At over 30 miles in length, a guided tour is the only way to explore the caves. The tour lasts about an hour and a half.
To get to the caves you must go on a 20-minute hike from the parking lot. Next, you go on a stunning cable-car ride over the mountains. This is followed by another 20-minute hike up the side of the mountain. The views are breathtaking. Then, the tour brings at the mouth of the cave. After a kilometer into the cave, you are treated to views of ice giants, cathedral-like caverns and loads of stalagmites and stalactites.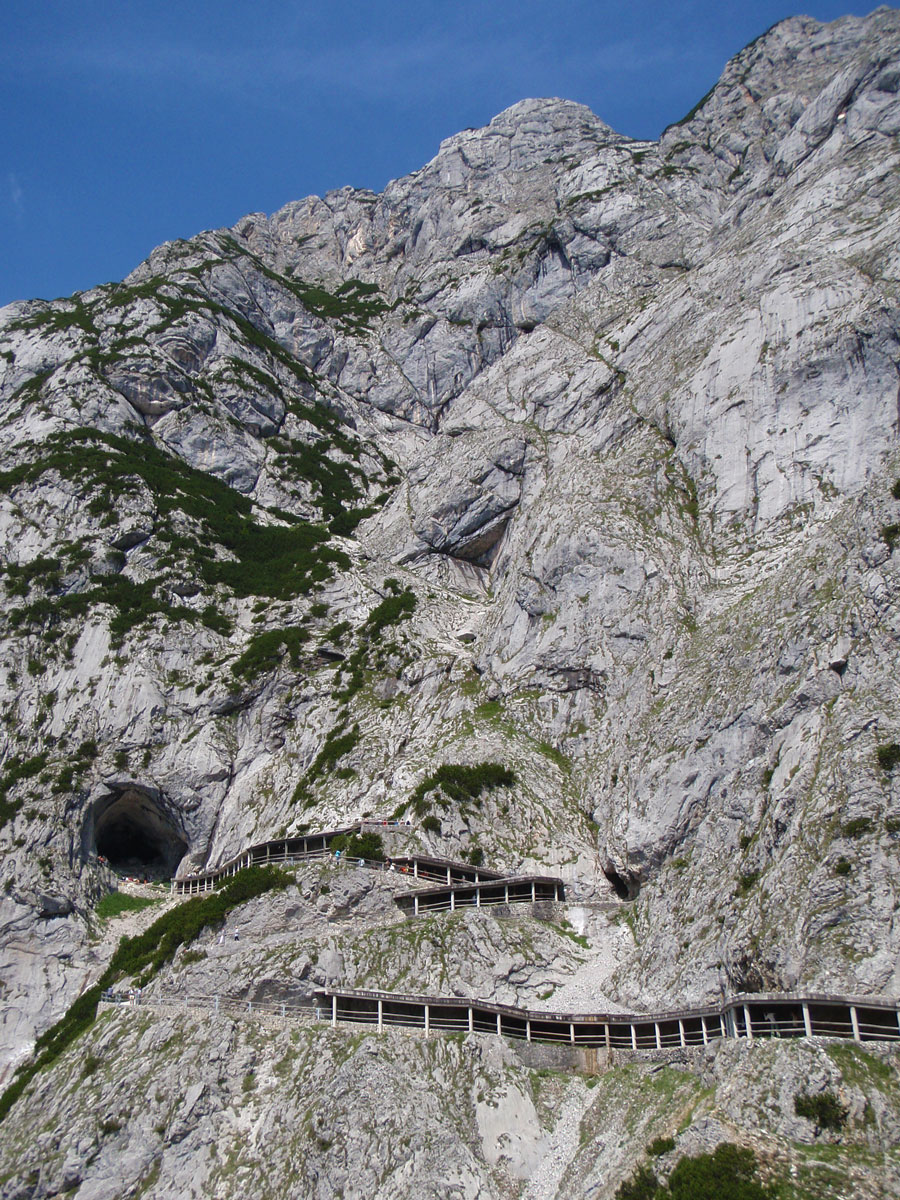 Kids will love the ascent in the cable car, chilly air, amazing views and sense of exploration and discovery that the Werfen Ice Caves has to offer!
Grand Canyon Caverns – Peach Springs, Arizona
Kid Difficulty 1/10 – 3/10 (Difficulty increases with tour packages)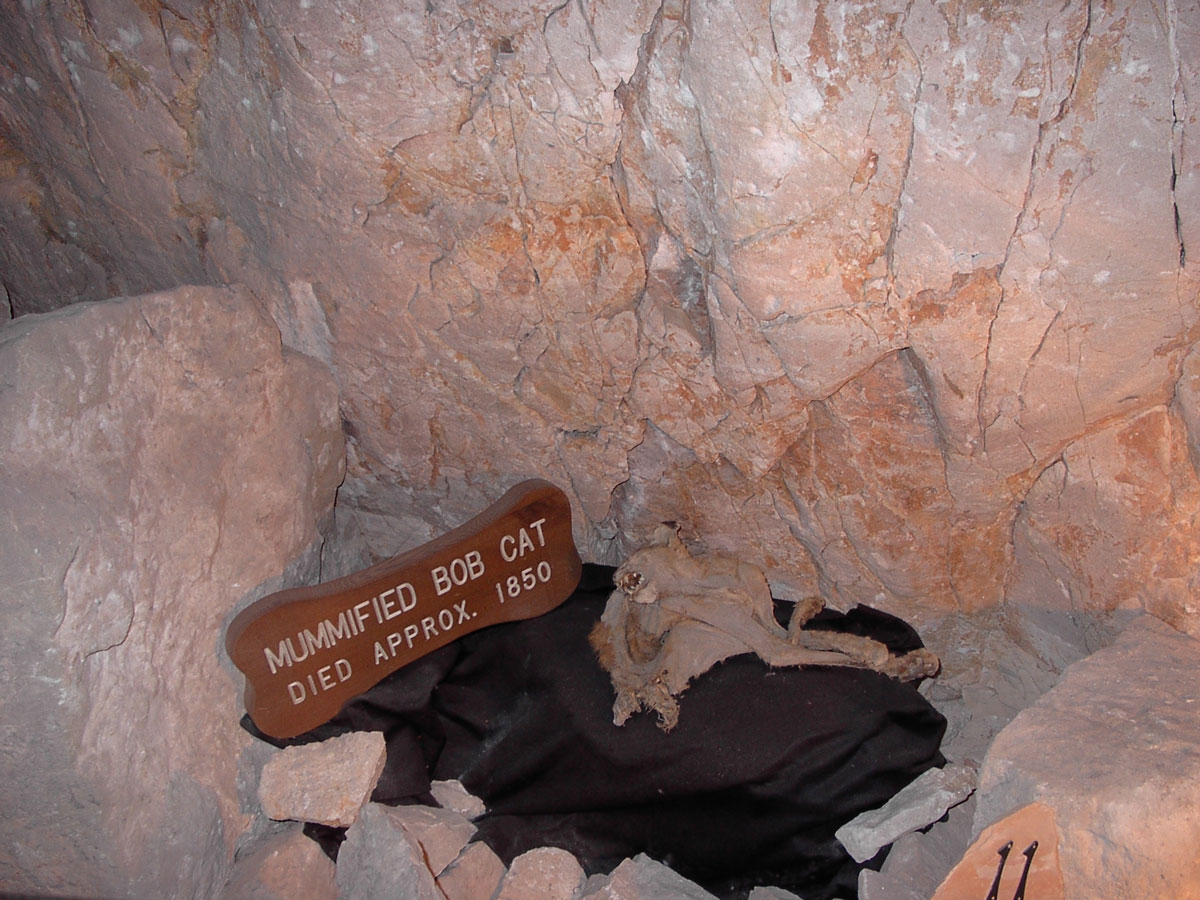 As far as caves you can visit with kids go, Grand Canyon Caverns is a great place to start. Located along historic route 66 in Northern Arizona, Grand Canyon Caverns is the largest dry cavern in the United States. The visit starts with a 21 story elevator ride. The cave features a constant temperature of 14° C (56° F) and no humidity. This feature helped ensure the mummification of the resident bobcat and giant sloth. The creatures once met their ends after falling into the cave.
Age requirements vary based on the tour but start at ages 5 and up. The Explorers Tour is for adults only. Grand Canyon Caverns even offers a "Ghost Walk" where visitors can use EMF meters to register spooky activity. There are also opportunities to spend the night in the caverns.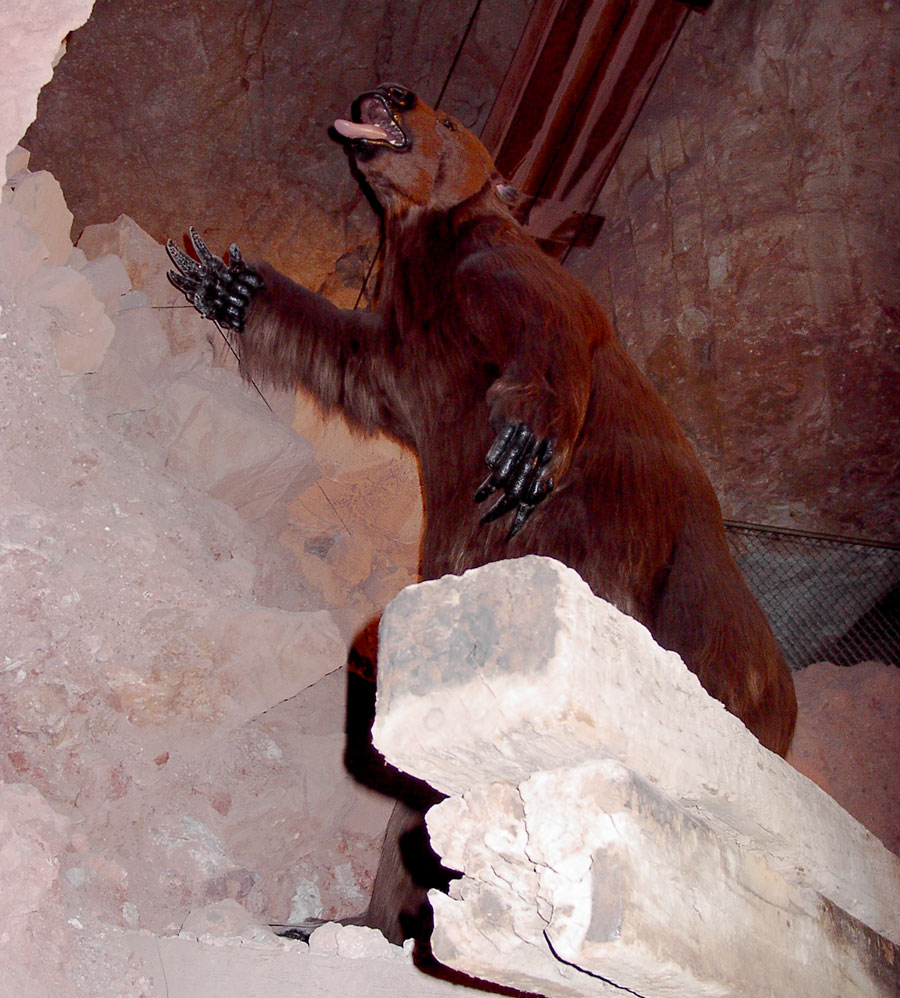 Kids will love the accessibility, the fun and exciting stories, and the stories of the animals discovered in the caves and it's one of the must see places in the American Southwest.
Crystal Caves – Bermuda
Kid Difficulty 2/10 (Slippery surfaces and stairs)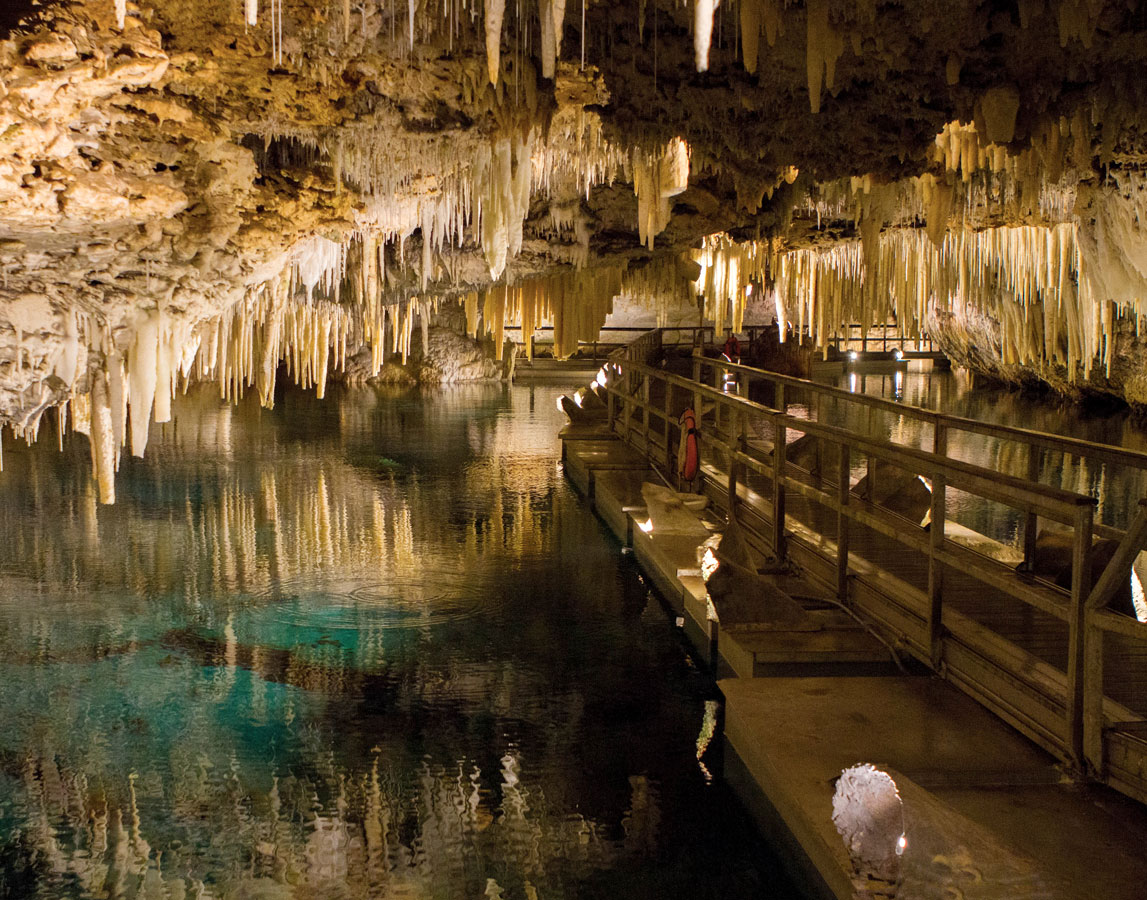 When most people think about Bermuda, their thoughts stray to pink sand beaches and gorgeous coastal drives, but minutes from the airport, something just as beautiful lies below the surface of this Atlantic island.
Bermuda features two spectacular caves, Crystal Cave and Fantasy Cave. We only had the opportunity to explore Crystal Cave, but we certainly weren't left wanting.
With cave ceilings lined with stalactites of every conceivable shape and style mirrored by crystal clear glassy blue water, Crystal Cave offers stunning views that are accessible to nearly anyone capable of walking.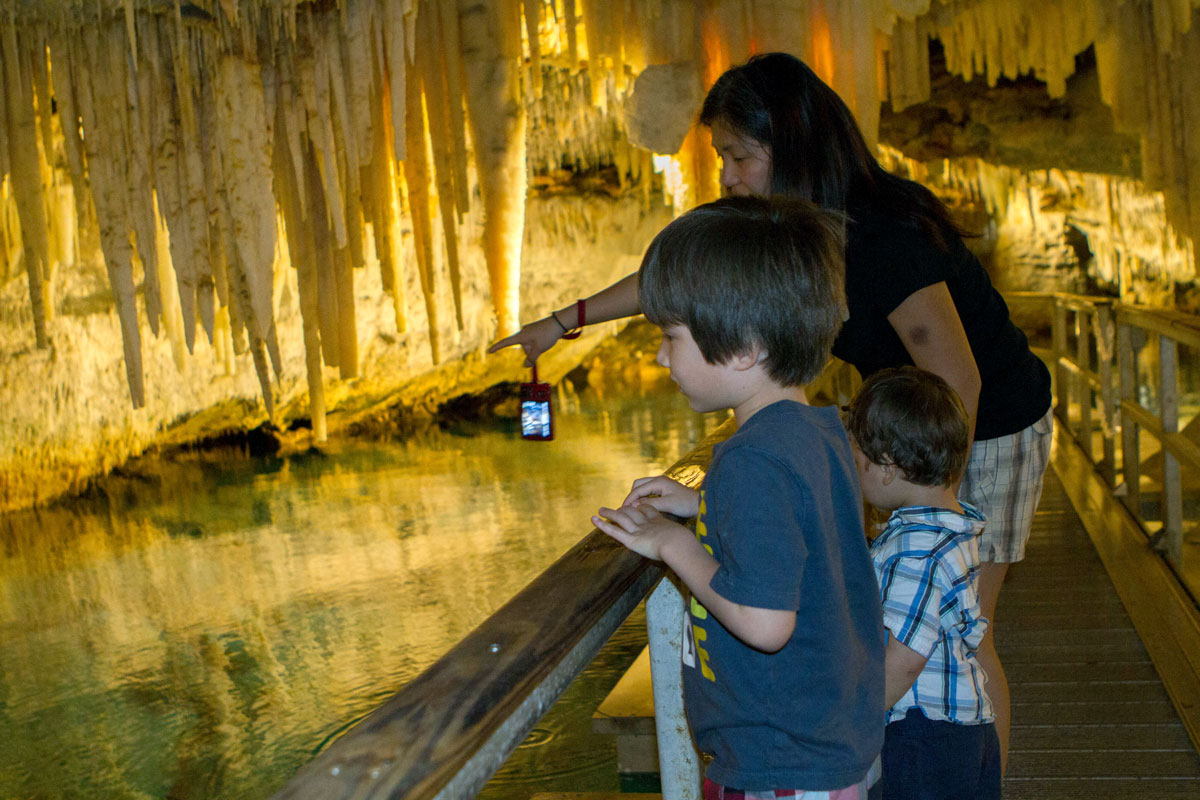 Kids will love the low ceilings and chandelier clusters as well as the story of the how the cave was discovered by two young friends playing ball.
Petra Caves – Petra, Jordan
Kid Difficulty 3/10 (some climbing)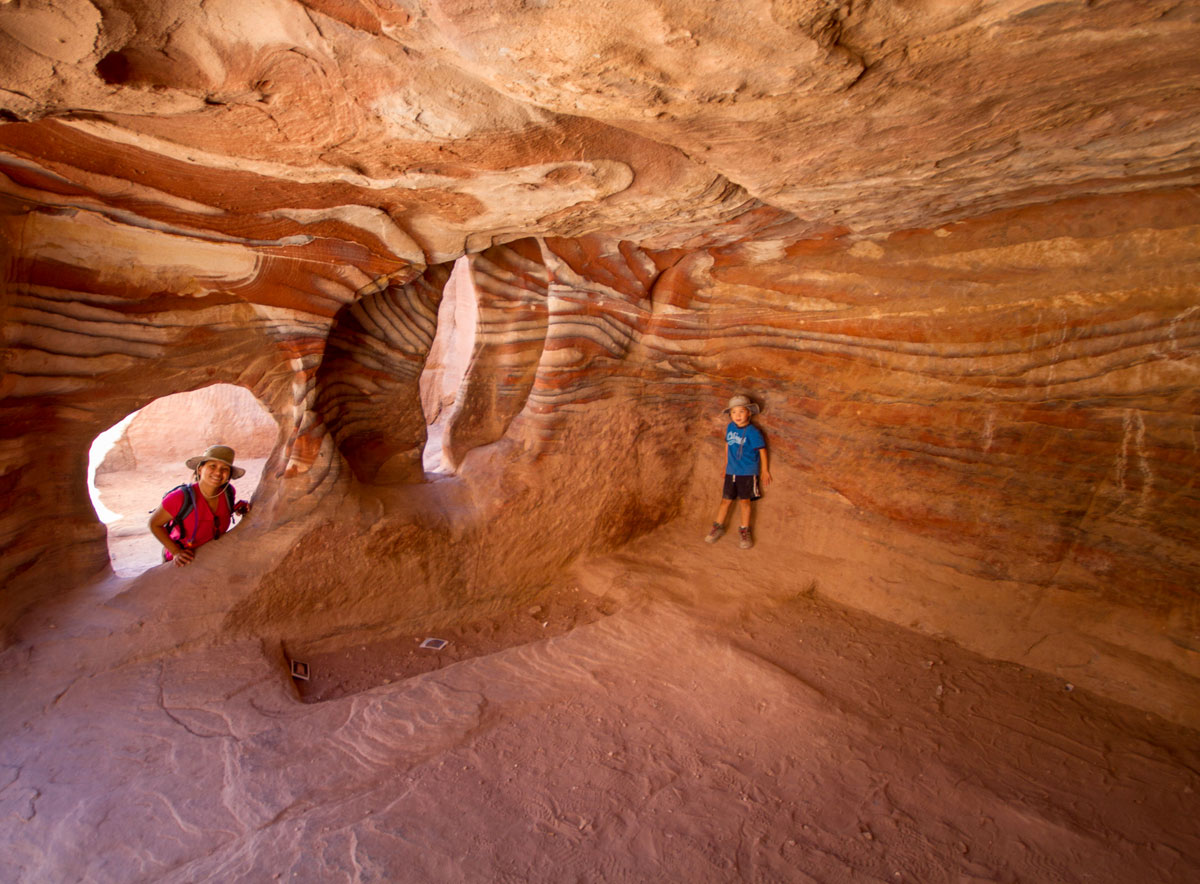 People don't often think of Jordan when it comes to caves you can visit with kids. However, within the Petra mountains sits one of the 7 new wonders of the world. Petra, Jordan is an entire city built inside the walls of rose-red sandstone cliffs. The caves date back thousands of years. The caves were homes, temples, livestock barns and more for millennia. Impressively, they offer examples of unique Roman architecture.
Many local Bedouin guides once lived in these caves themselves and can offer intimate accounts of their lives among these ruins.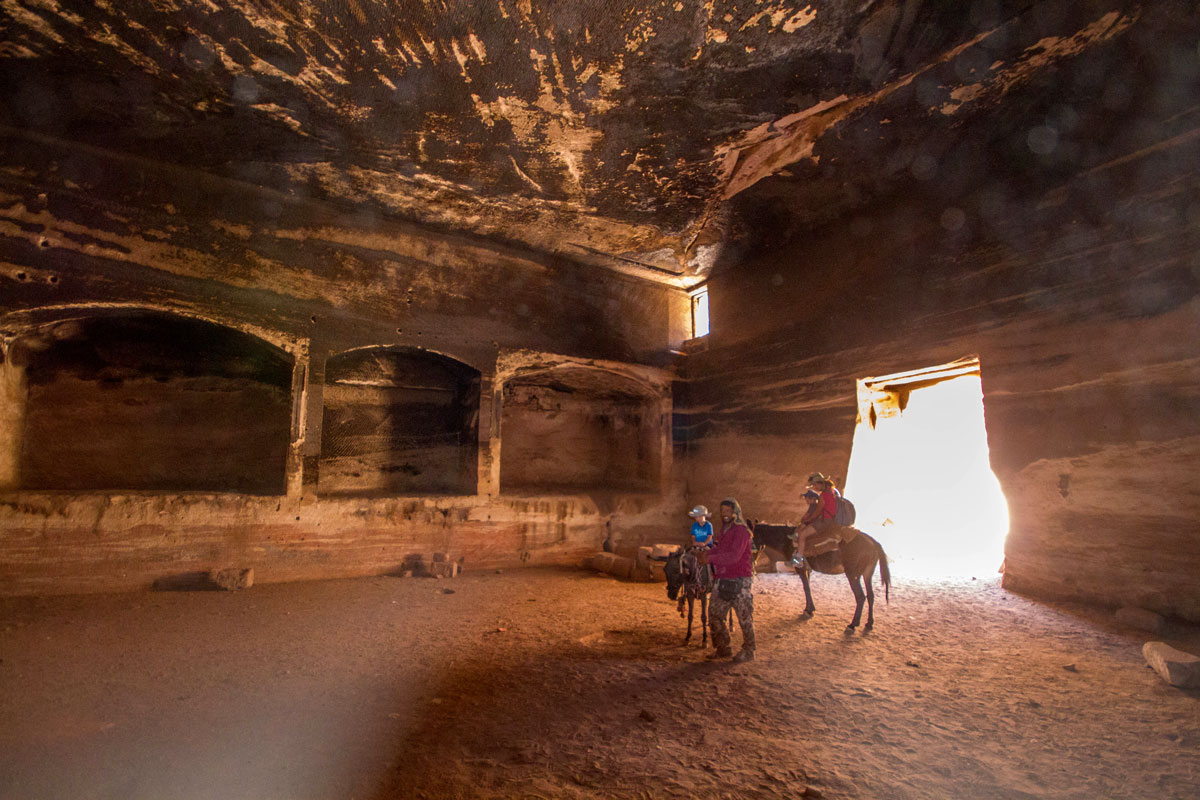 Kids will have a blast exploring the easily accessible caves and discovering the incredible colors of the stones, but beware of the smell, a lot of these caves are still used for keeping goats during bad weather!
Songhellir Cave – Arnarstapi, Iceland
Kid Difficulty 3/10 (some climbing)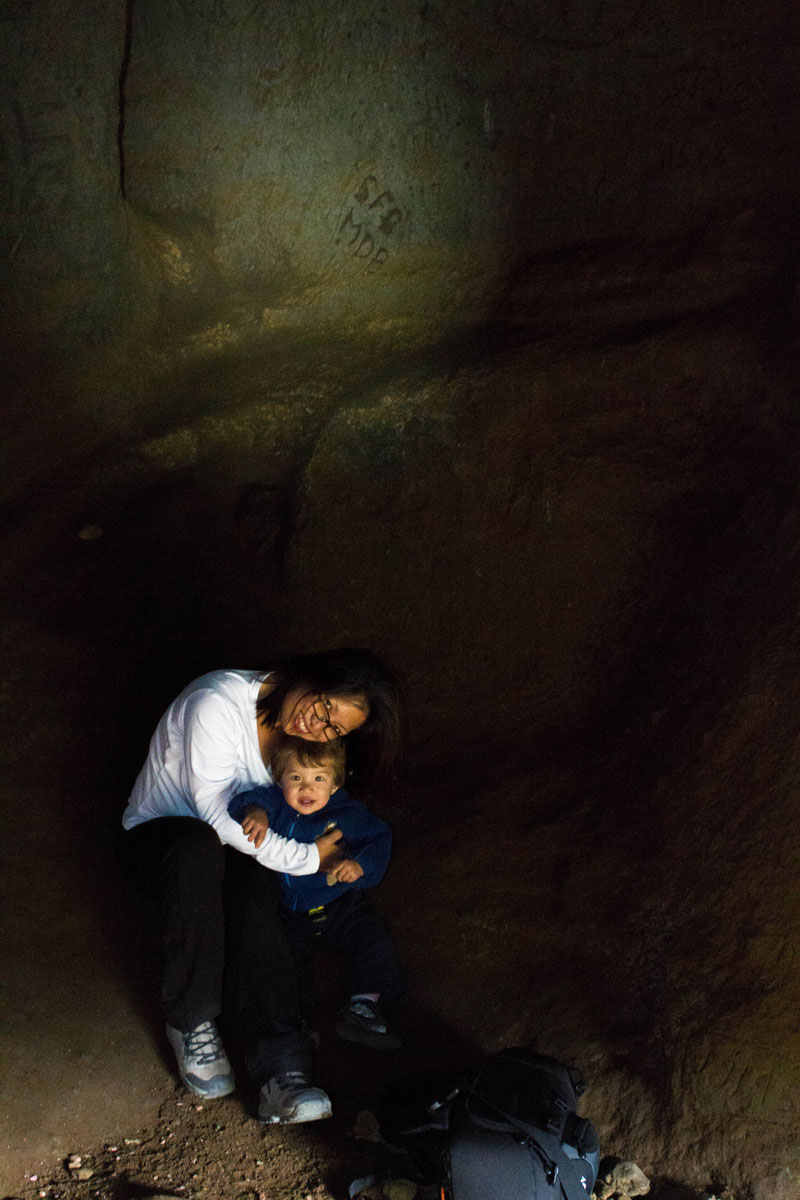 Songhellir Cave is a few hours outside of Iceland's capital of Reykjavik. It is small, but its compact size has it bursting with incredible mythology and history. Songhellir is dubbed "The Cave of Songs" due to the music made when the wind passes through it. Songhellir is also a key place in the Fairy and Elf mythology of Iceland. Many locals still believe that these mythological creatures live among the mountain paths.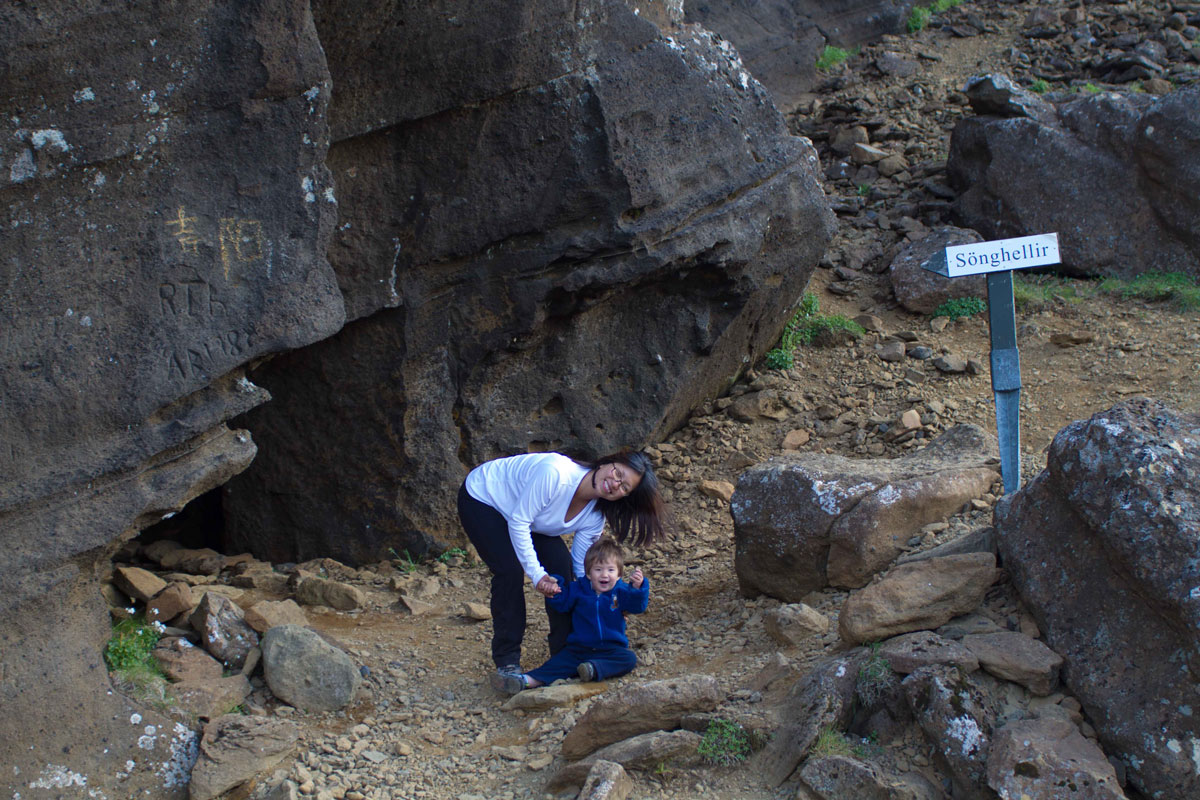 When you're visiting Iceland with kids will love seeing all the graffiti carved into the cave. The carvings date back hundreds of years and feature names and messages from travelers new and old who have taken shelter in the cave.
Two Windows Cave – Hanga Roa, Easter Island
Kid Difficulty 3/10 (A small squeeze and some scrambling)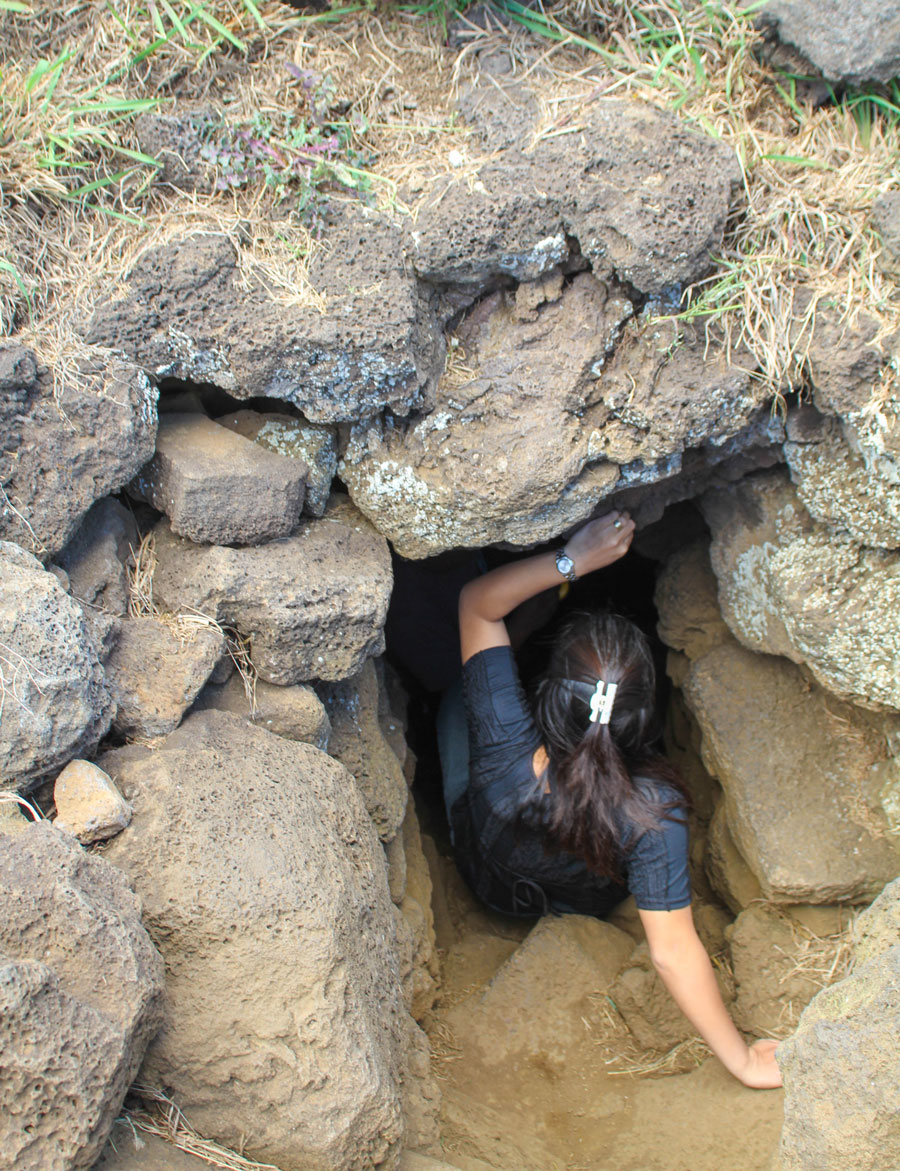 Two Windows Cave is barely noticeable to outsiders, located near a horse field just outside of the town of Hanga Roa, but when you climb inside, it instantly becomes evident as to why the locals love it so much. The cave is one of the great things to do in Rapa Nui beyond thee Moai, and offers a stunning window over the sea that we fell in love with!
Nearby there is a secondary sea cave that features ancient pictographs from local islanders. This is an easy walk, and much less maneuvering is required for a visit. These are great caves you can visit with kids.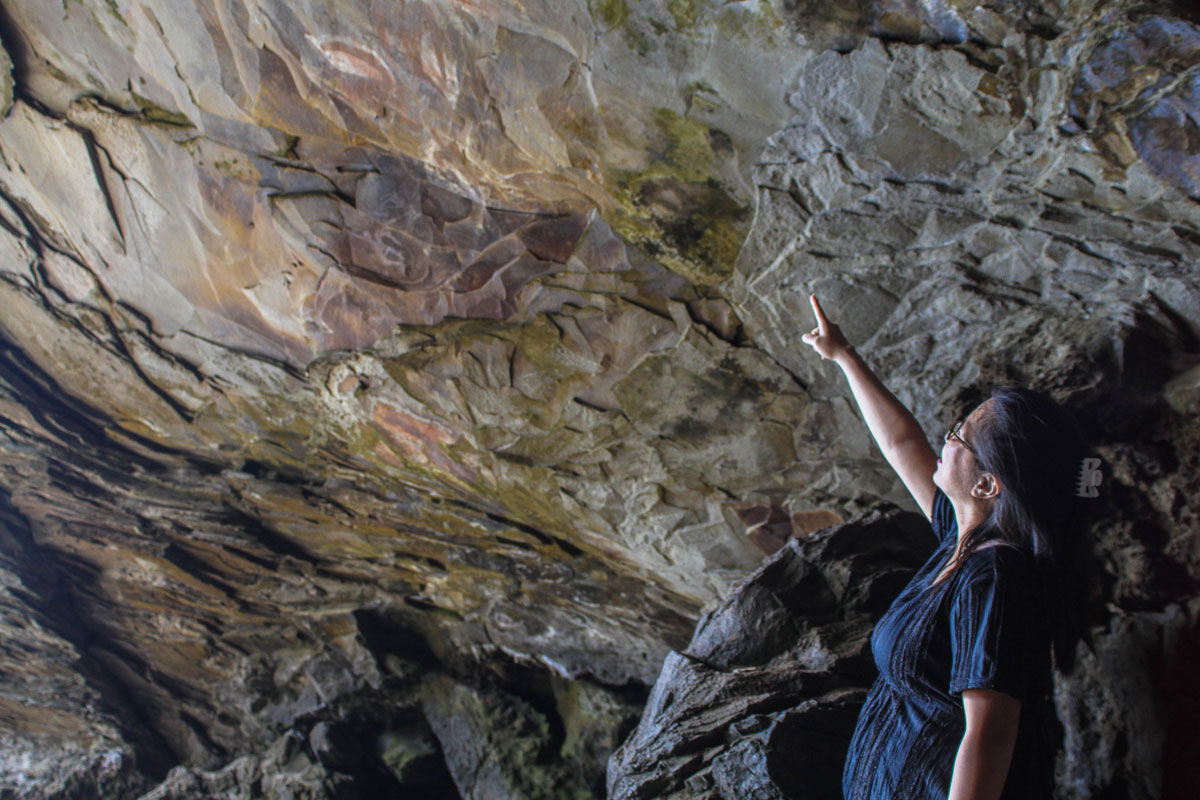 Kids will love scrambling into the hole better suited to their small bodies than Christina's 6 months pregnant frame, but watch the sharp drop at the window.
Kula Kai Caverns – Big Island, Hawaii
Kid Difficulty: 5/10 (some scrambling, tripping hazards, short climbs)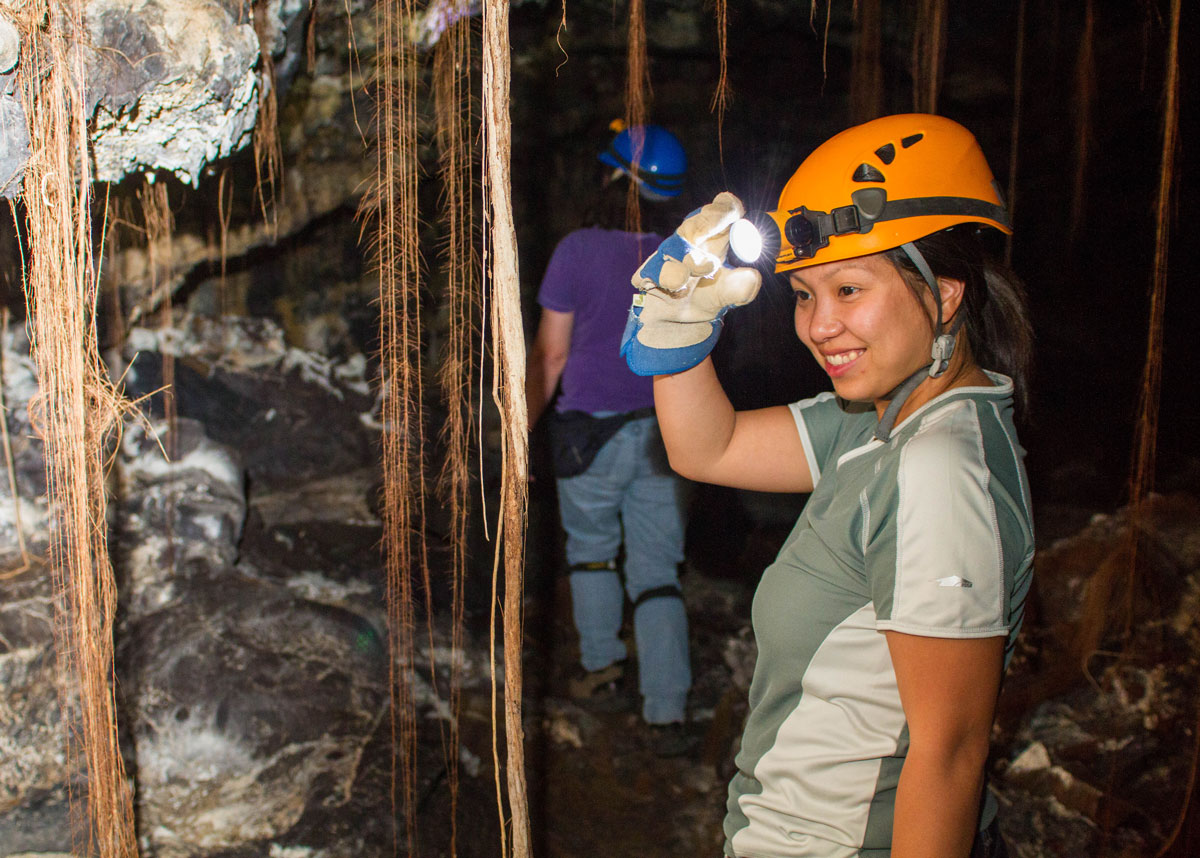 Located in the Ocean View suburb on the south side of the Big Island of Hawaii, Kula Kai Caverns offers a chance to explore an incredible thousand-year-old lava tube system. The lava tubes are on private property. Recent lava flows cover the area.
Tours are by reservation only. They offer tour packages such as the lighted trail (ages 5 and under are free), the Craw, and a complete two-hour tour (ages 8 and up). The experienced guides of Kula Kai Caverns explain the science of the caves and the history of their use by the local Hawaiians.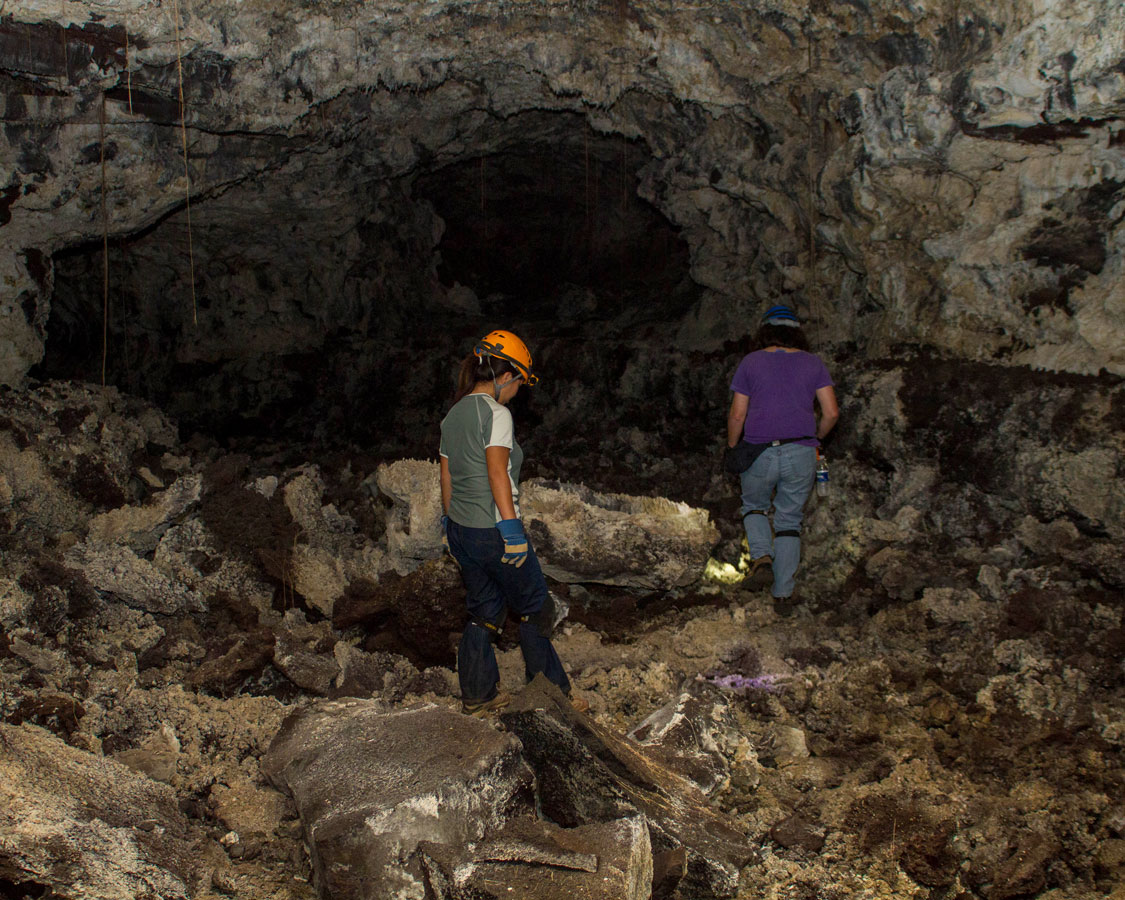 Kids will love scrambling over the large boulders and envisioning the rivers of molten lava that once coursed through these incredible tubes.
Actun Tunichil Muknal – Tapir Mountain Nature Reserve, Belize
Kid Difficulty 7/10 (Swimming required, some climbing and scrambling, oh and skeletons!)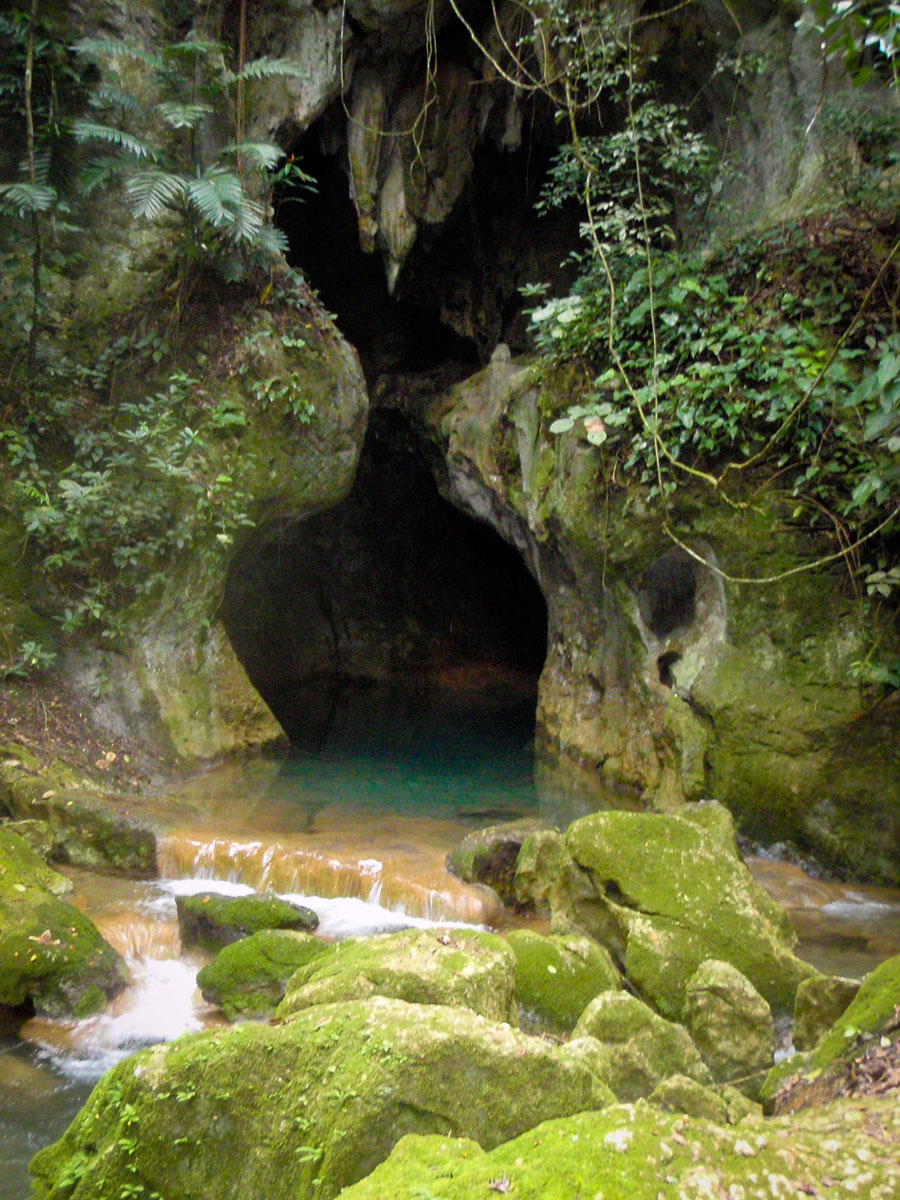 Actun Tunichil Muknal, or as it's more popularly referred to as, ATM, is one of the most popular Mayan burial sites in Belize. The cave system contains four complete skeletons, the most famous being that of a young girl. Her remains shimmer with a crystal-like appearance due to the natural processes of the cave.
These caves you can visit with kids requires a 45-minute hike through streams and jungle before reaching the cave entrance. The hike is done in sock feet to prevent damage to the cave and the artifacts within it. Once reaching the beautiful entrance, you do a short swim through a river into the cave entrance as well as wading through water several times within the cave.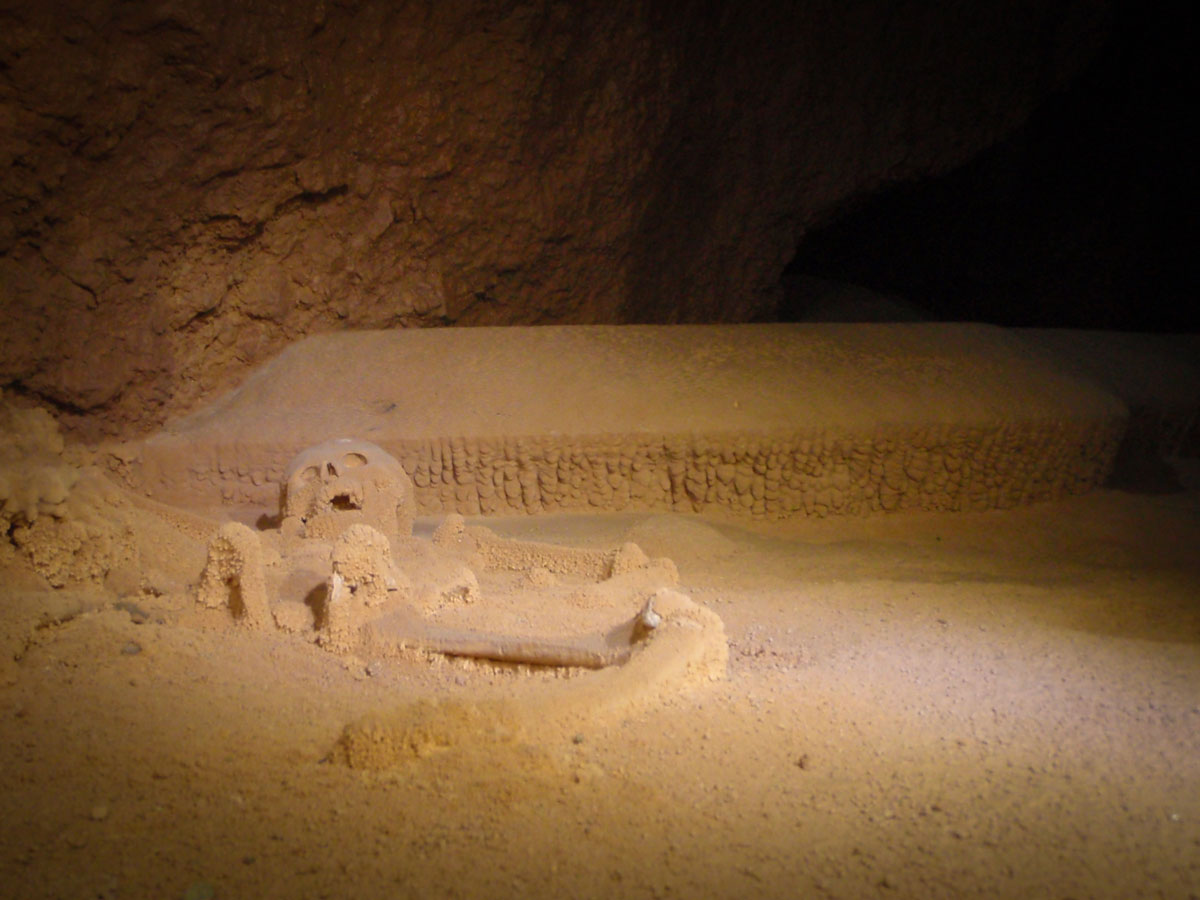 Kids (ages 10 and up) will love the excitement of swimming through the cave entrance and the intimate experience amongst the ancient Mayan artifacts. Coming upon the skeletal remains is a humbling experience as well.
Venado Cave – Arenal, Costa Rica
Kid Difficulty 8/10 (tight squeezes, waterfall climbs and small, tubes nearly full of water)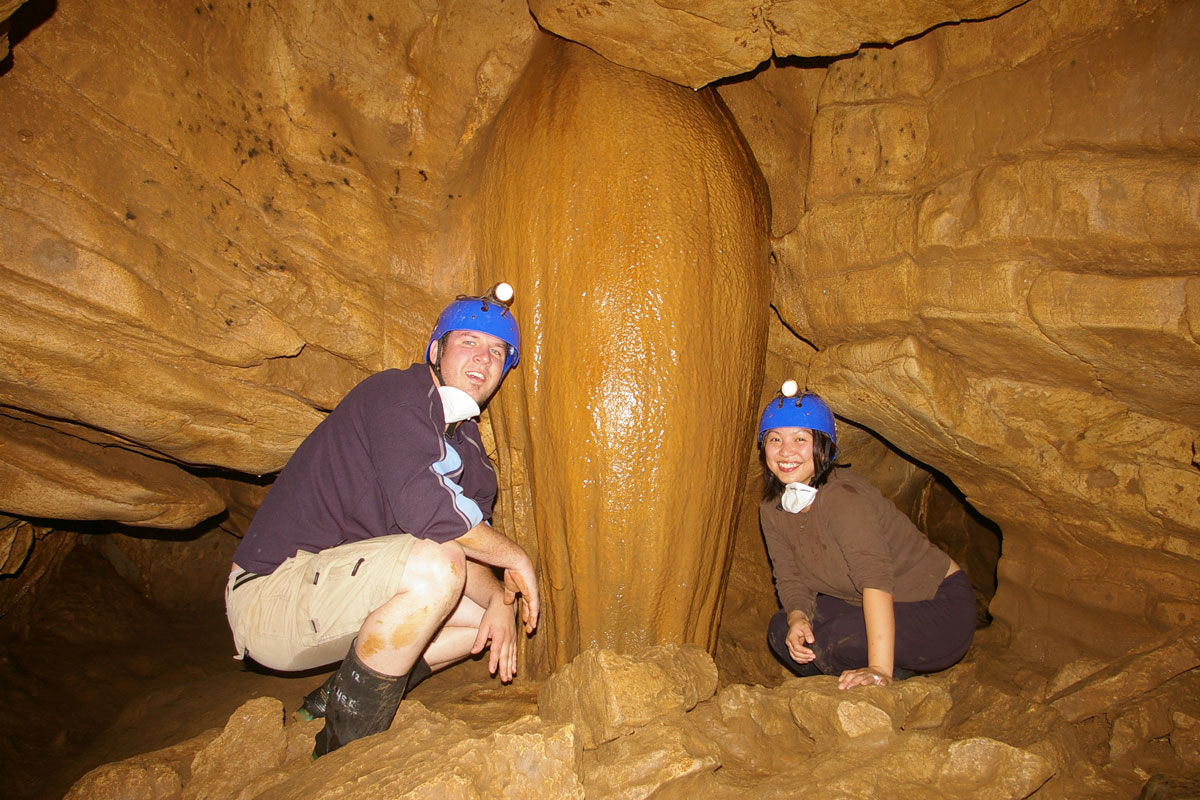 With 10 caverns mapped over a total of 2,700 metres and a cavern reaching up to 35 metres in height, the Venado Cave system, located near the Costa Rican town of Arenal is a must-visit for anyone interested in caves. The system features underground waterfalls, unique geological formations and incredible cave wildlife including vampire bats, blind fish, and stingerless scorpions.
The Venado systems are complex caves you can visit with kids. Visits are restricted to children over 10 years old because of the tight squeezes and climbs in the cave. Some of the spots require you to crawl through tunnels. So there only a few inches of breathing space between the water and the ceiling.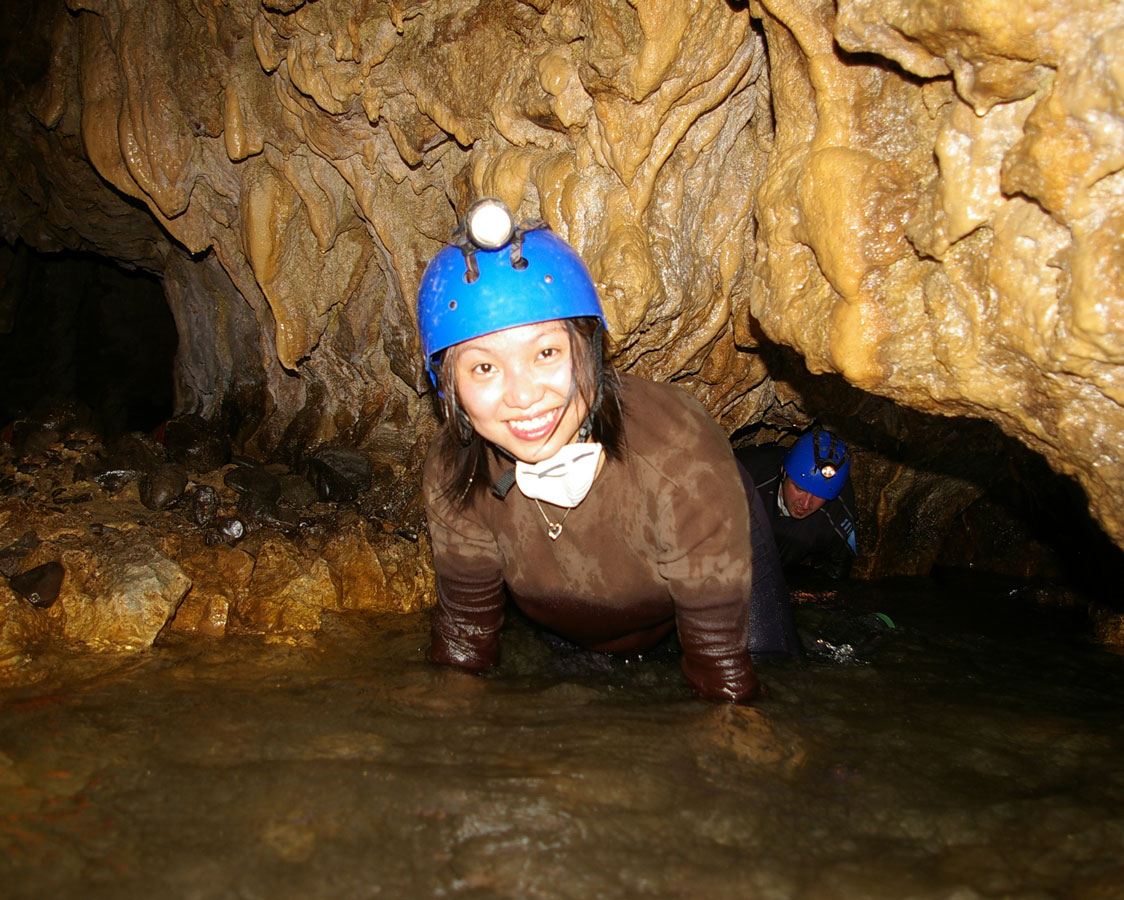 Adventurous kids will love the underground waterfalls and the very cool wildlife found among the caves. Just make sure to bring a change of clothes, because you will get very wet!
Caves you can visit with kids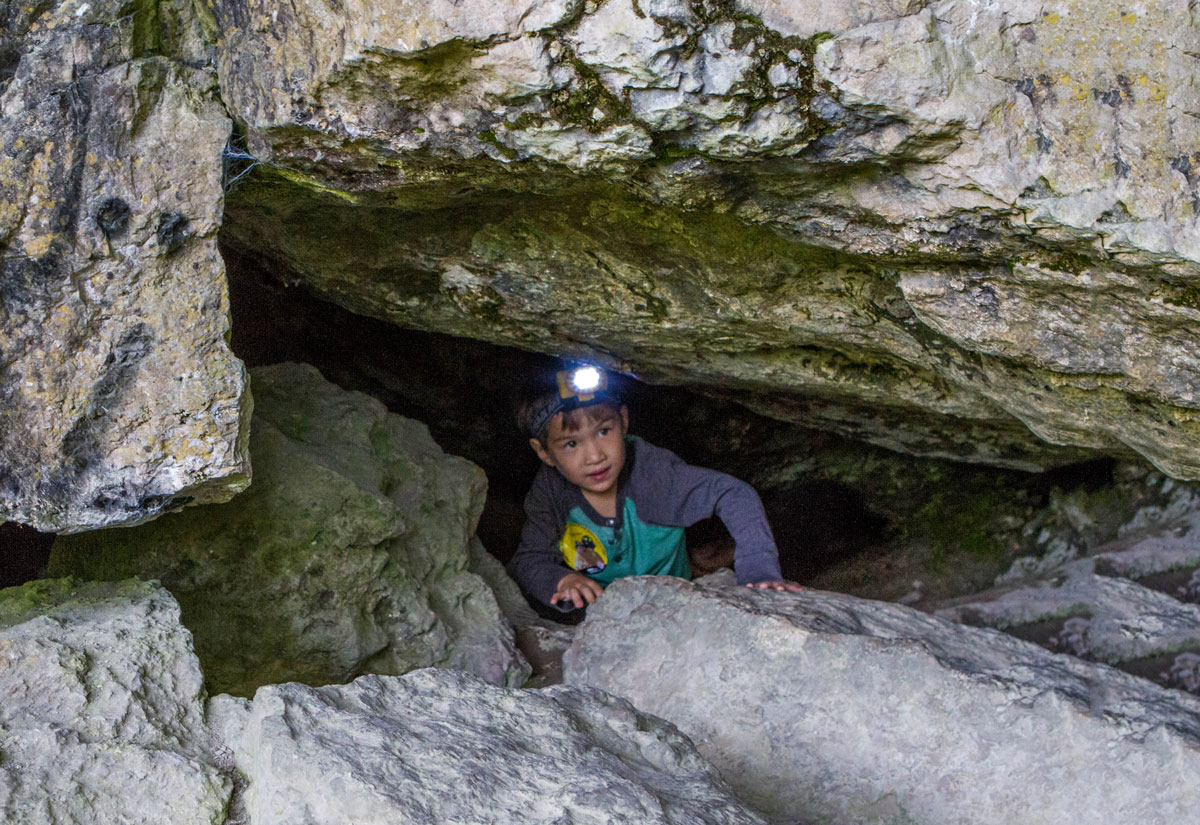 Many caves are amazing playgrounds for kids. They offer exploration, mystery, excitement and a chance to learn about geology, biology, and history. If you plan to explore, make sure you do it safely. Research the cave before you go, make sure you have the appropriate equipment or go with a guided tour. I also can't stress enough that if your child says that they don't want to explore anymore, then it's time to get out. Never push your child past their boundaries. You can always re-visit a cave. However, a bad memory can keep them from wanting to even attempt another visit in the future.
Are there caves you can visit with kids that interest you? If so, here is a great resource to explore with your children: Spelunking with kids – basics.
Wandering Wagars is a participant in the Amazon Services LLC Associates Program, an affiliate advertising program designed to provide a means for sites to earn advertising fees by advertising and linking to amazon.com, amazon.co.uk, amazon.ca. Amazon and the Amazon logo are trademarks of Amazon.com, Inc. or its affiliates.
You May Also Like To Read: