With only enough time to spend 48 hours in Bogota, Colombia we discovered such amazing people, churches, museums, and art in around historic La Candalaria.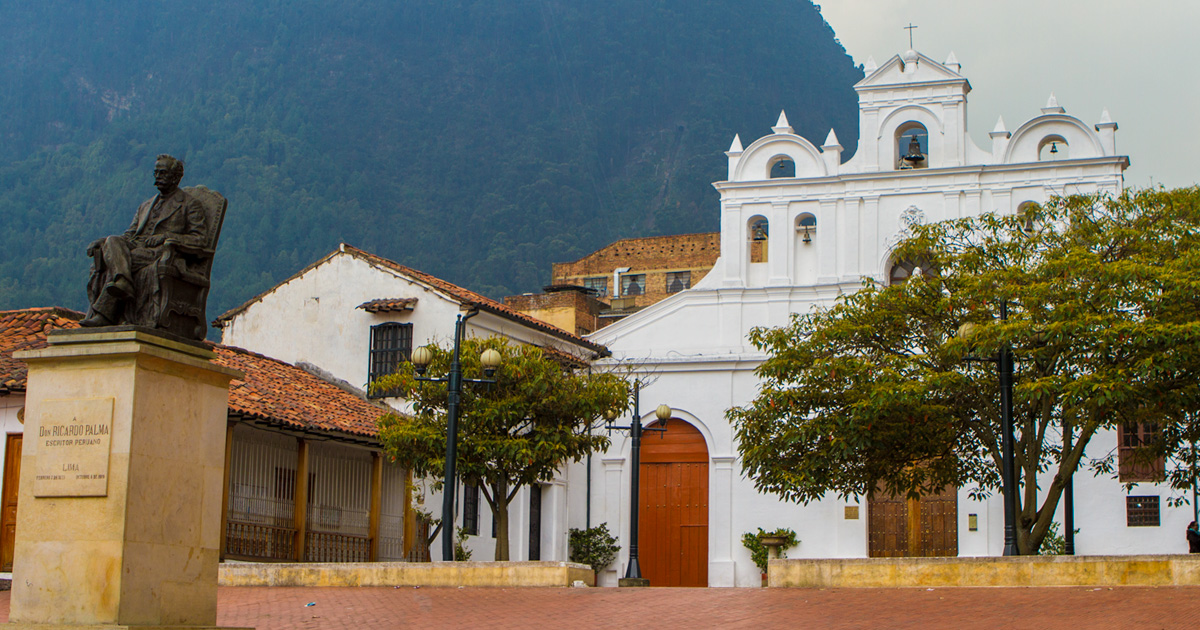 Bogota Colombia is a vibrant, energetic city. Its colorful artistic scene has spread to other Colombian cities like Medellin and has led to a small-city atmosphere in one of South America's largest cities. When traveling to Bogota it's hard to imagine that this is a city with a whopping population of over 8 million people. But once you find out, it's clear that all the things to do in Bogota would keep us hopping for the time we had to spend here.
This two-day Bogota itinerary will show you how we spent time in the Colombian capital.
This post may contain compensated links. For more information please read our disclaimer.
From Colorful Cartagena to Bustling Bogota
We were having such a wonderful time in the Caribbean town of Cartagena. I was starting to second guess our decision to leave and head to Colombia's capital, Bogota. We had read so many intriguing stories about the city. And with only 48 hours to spend in the capital, we wanted to see as many things to do in Bogota as possible.
So, off we went via cab to the airport. We boarded our Avianca flight from Cartagena to Bogota for the 1.5-hour flight. Flying into Bogota is spectacular. The mountains surrounded the plane as we descended toward the city. It almost felt like we could reach out and touch the Andes. when we arrived in Bogota we were greeted by our guide for the next couple of days, the vibrant, Henry Morales of Bogota Henry Tours.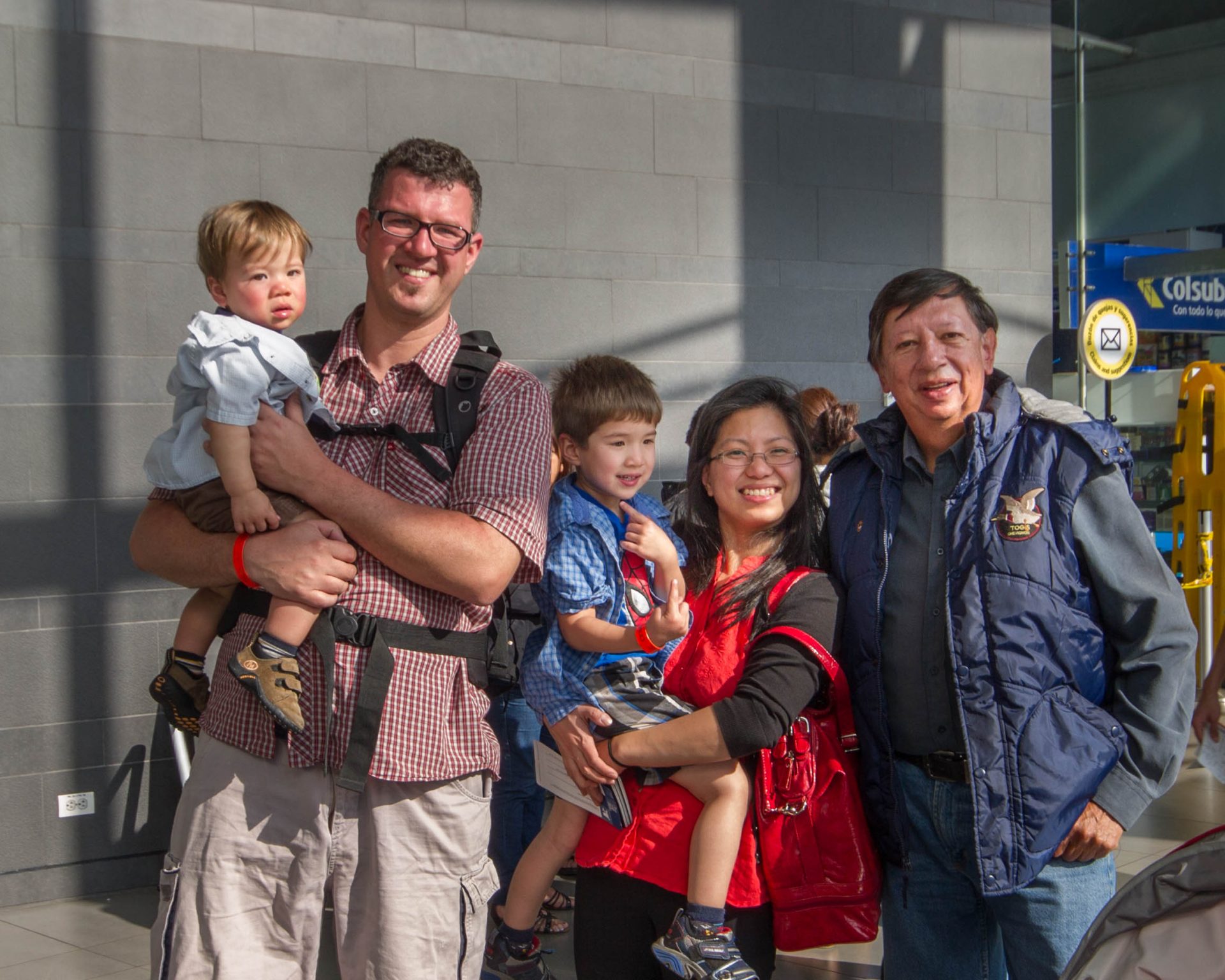 Spending Two Days In Bogota with Kids
Henry wasted no time introducing himself and getting to know the boys. By the time we loaded our luggage into his car, C and D were completely enamored by his outgoing personality. We knew were in good hands. The Bogota hotel that we were staying at was the Hotel Continental. The hotel's location in the heart of Bogota meant driving right into the historic part of Bogota city, La Candelaria.
La Candelaria
For those looking for things to do in Bogota, one of the first stops is La Candelaria. La Candelaria is one of the most well-known neighborhoods in Bogota. It is also one of the city's most historic neighborhoods. With only 48 hours in Bogota with kids we wanted to be central, and La Candelaria, home to many museums such as the Gold Museum, churches such as St. Francis Church, and many government buildings, was a perfect fit. La Candelaria is where Bogota was founded in 1538.
As soon as we reached the city, we got some sandwiches from a local shop and Henry helped us check-in. Once we got our things into the room, we headed back into Henry's car to start our tour of Bogota, Colombia.
Cerro de Monserrate
One of the top things to do in Bogota with kids is a visit to Cerro Monserrate. This monastery offers the most scenic views of Bogota and absolutely must be enjoyed on every visit.
With nothing but clear, blue skies, We decided Cerro de Monserrate would be our first stop. The good weather would give us the best panoramic views of Bogota and the surrounding area. Henry drove the winding road that led to the ticket center for the cable car that would bring us to the top of the mountain. The narrow route can be tough for drivers that are unfamiliar with the area.
The route up to Monserrate took us along shanty's and offered a taste of a different side of Bogota. But everywhere along the route was vibrant and filled with energy.
How To Get To Cerro de Monserrate
It's possible to purchase a ticket for the funicular to the top but it was not running while we were there. So we took the Monserrate cable car. The wait time was not long and we soon boarded and began climbing to an altitude of 3,152 m. The views of Bogota were amazing.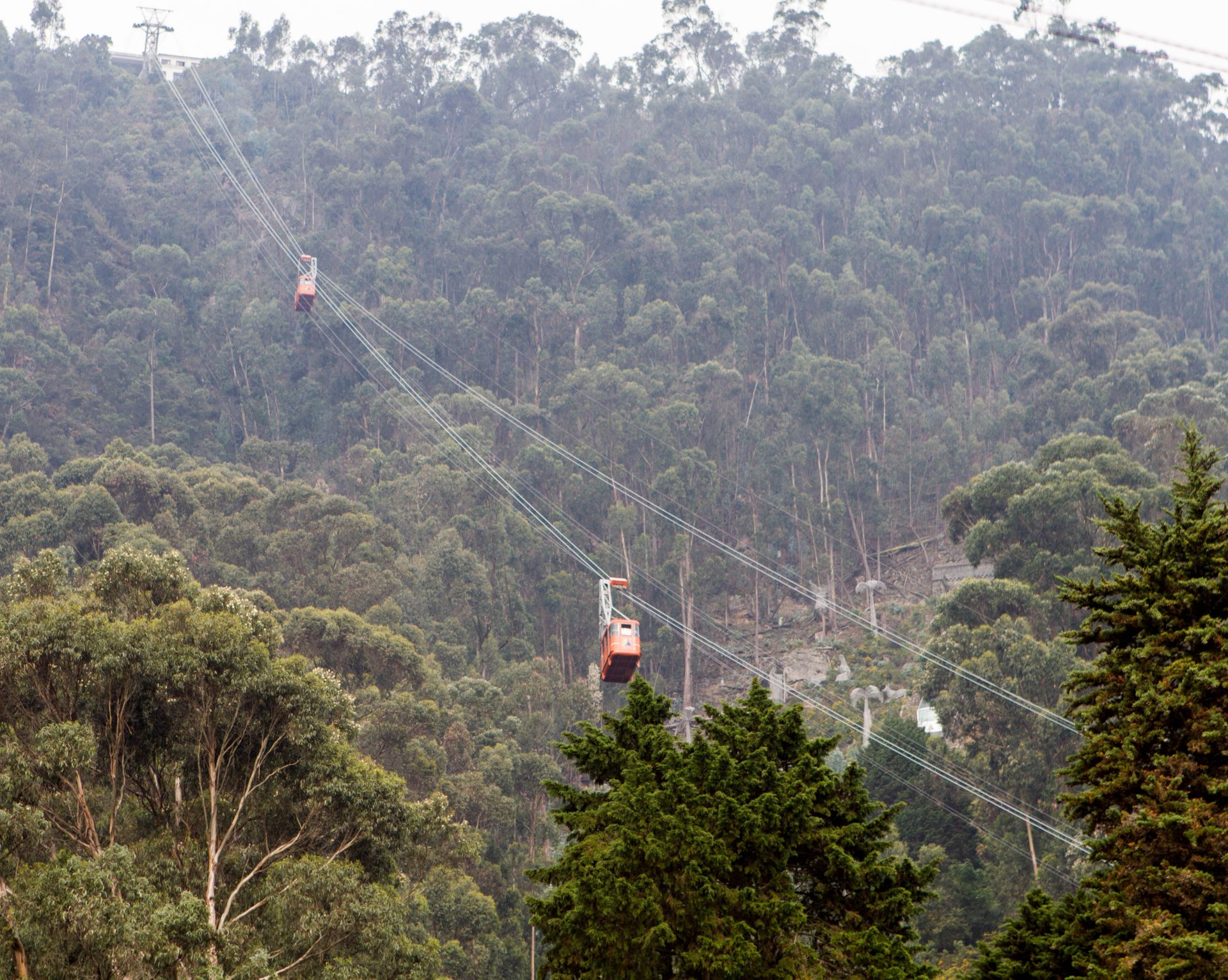 Pro-Tip: The altitude is quite high and it is possible to get altitude sickness. Make sure to keep yourself hydrated and not to overexert yourself.
For those who don't want to spend money on the cable car or the funicular, it is possible to walk up to the top via a walking path. In fact, many Sunday worshipers who visit the Shrine of the Fallen Lord, the church on top of the mountain, reach the church via this walk. It is said that many people have experienced miracles after a pilgrimage to the church.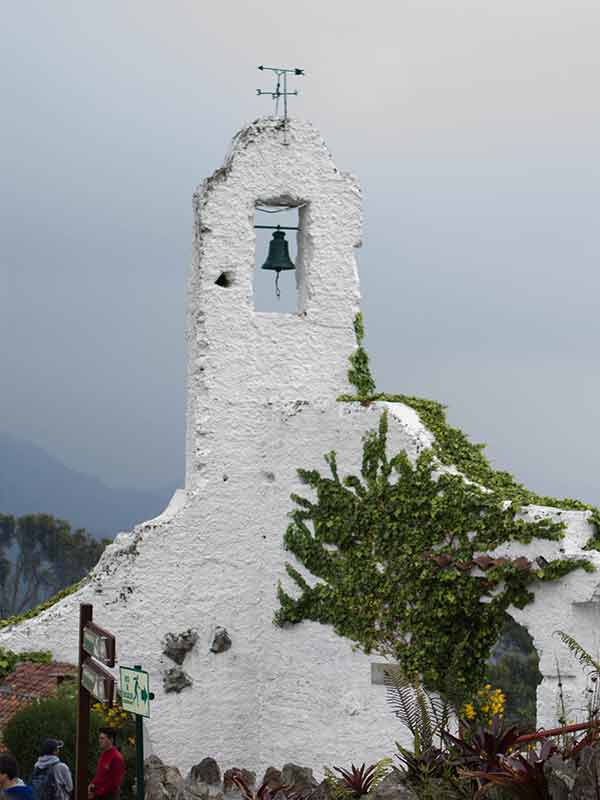 Monserrate Church and Gardens
Once we arrived at the top of the mountain it was clear that Cerro de Monserrate was incredibly special. There was no denying its place at t the top of our two-day Bogota itinerary.
Besides the church, there was also a very busy restaurant and a small market that sold souvenirs and a variety of other goods. We wandered around the top for a bit taking in the views and enjoying the gardens.
Afterward, we took the walking path down which was also lined with the stations of the cross. The gardens that line the path are spectacular and colorful. It was amazing to think that there were this much life and color so high above sea level. Once back in the car, we headed back to continue our historic tour of La Candelaria.
Bogota Gold Museum (Museo del Oro)
We aren't normally fans of museums that are not interactive. We find we spend more time telling the kids "not to touch" than we do enjoy the artifacts. Also, we had already previously visited another Gold Museum in San Jose, Costa Rica. How different could this place be? However, Henry insisted that a visit to the Gold Museum is one of the best ways to spend 48-hours in Bogota. It was a great way to gain a better understanding of Colombia's rich Inca history.
We were glad we listened to his expert advice. The Gold Museum has an incredible collection of pre-colonial gold pieces. It was amazing to see how intricate some of the artwork was. The museum also has other artifacts but it is definitely the gold collection that is the main attraction. C was in awe of the various gold masks and ancient tools.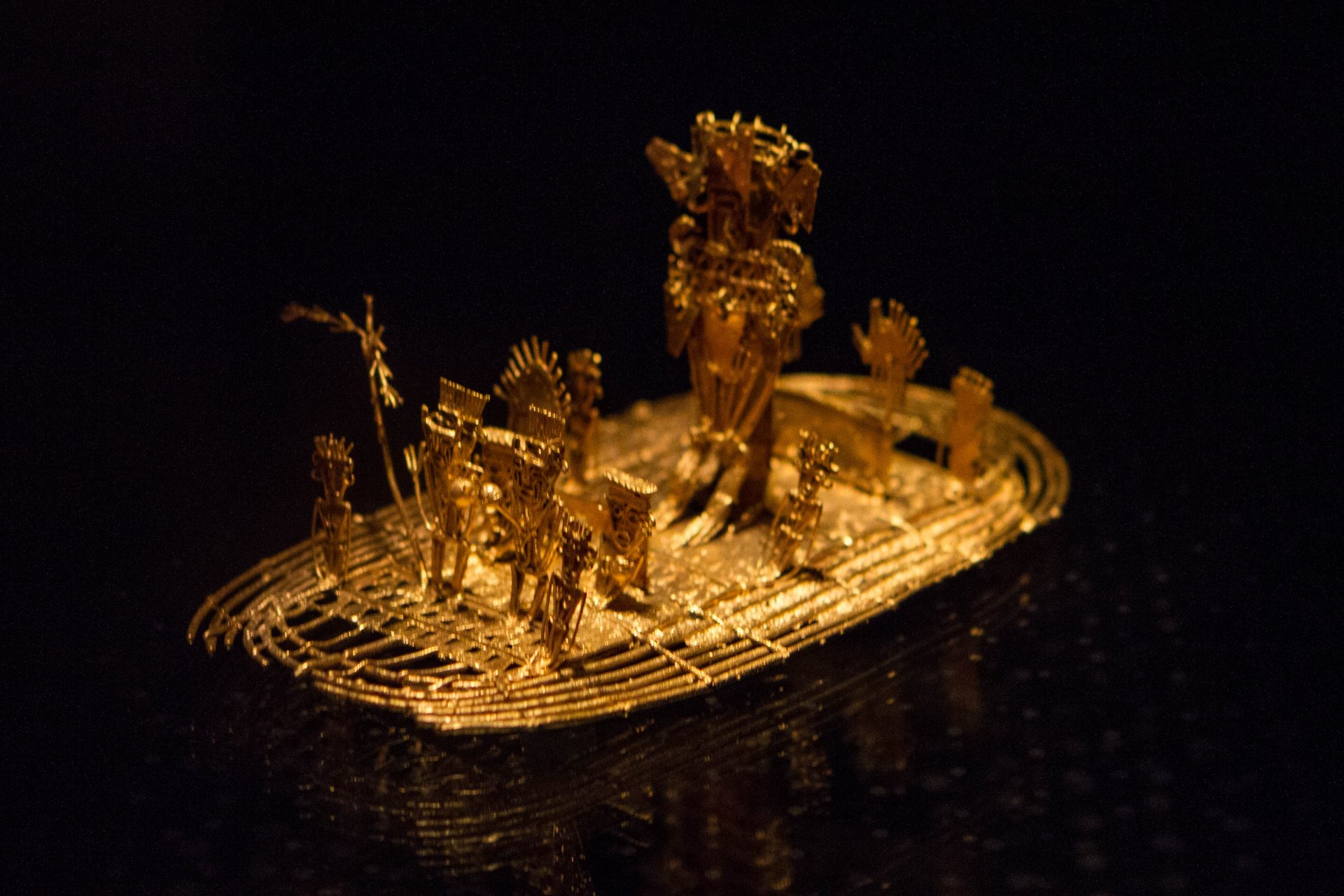 Explore the Ancient Churches of Bogota
After the Gold Museum, we took to the streets of Bogota for some sightseeing. I have to admit, I was very nervous as the streets were extremely crowded and Bogota is notorious for pickpockets. We headed north of the Gold Museum to see some very old churches with interesting interiors.
We visited three churches: St. Francis Church (Iglesia de San Francisco), Veracruz Church (Iglesia de la Veracruz), and La Tercera Church (Iglesia de la Tercera).
La Tercera Church (Iglesia de la Tercera)
La Tercera church is also known as the Church of the Stigmata or Church of the Third Order. The dome and ceiling have wonderfully wood carvings of various geometric patterns. All three had very varied architecture. Photography inside the churches was not allowed so you will just have to take my word on it!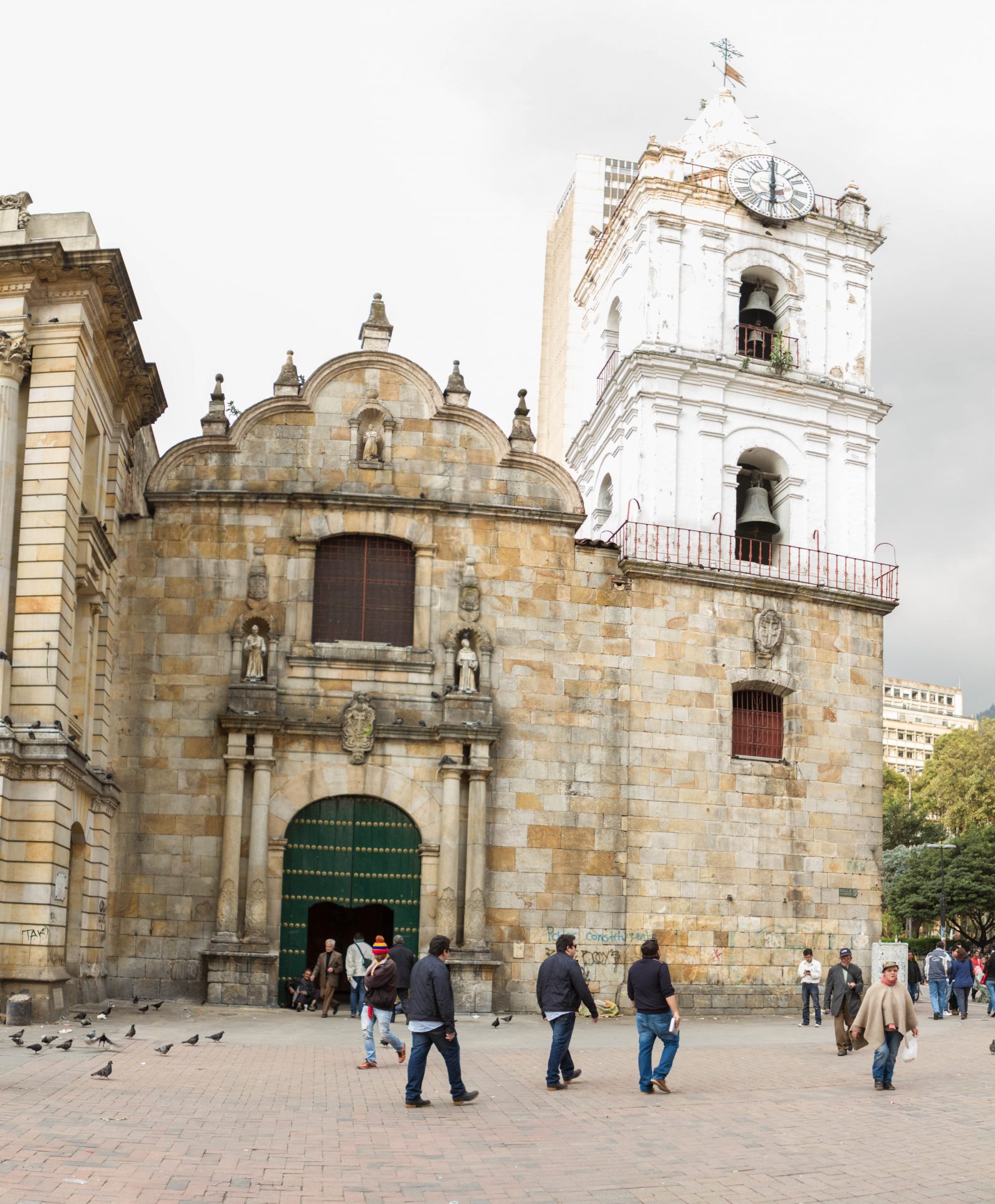 St. Francis Church (Iglesia de San Francisco)
St. Francis Church is the oldest surviving church in Bogota. Built-in 1557, the interior has an extraordinary 17th-century gilded main altarpiece not matched anywhere else in the city. Located beside St. Francis church, the Veracruz church stands in stark contrast with it's harsh, barren interior. However, Veracruz church houses the remains of several national heroes who fought for Colombia's independence and so Veracruz church is often referred to as the National Pantheon.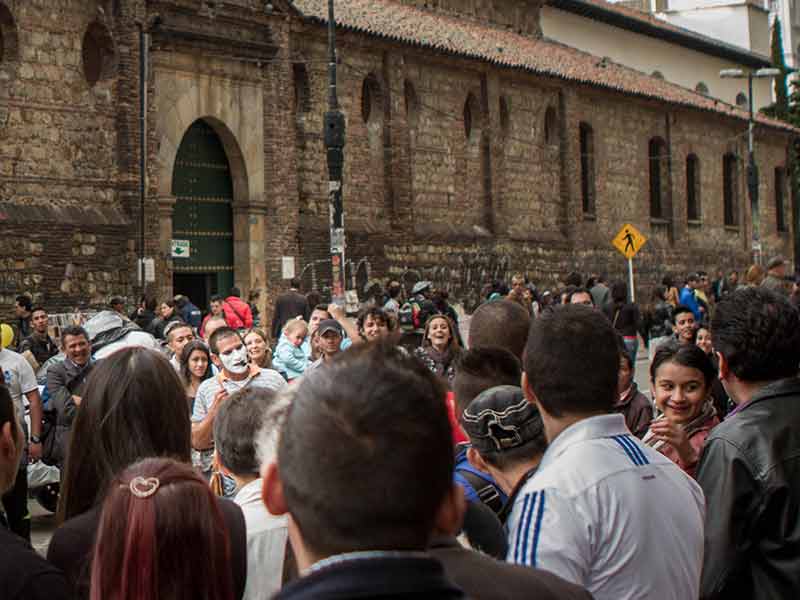 Veracruz Church (Iglesia de la Veracruz)
Iglesia de la Veracruz is popularly referred to as the National Pantheon. While the church may not stand out as spectacular to passers-by, what makes the Church of the Veracruzon sit at the top of the list of our two-day Bogota itinerary isn't its beauty, but its importance to the locals. Many of the heroes from Colombia's fight for independence lie buried within the walls of the church.
Veracruz Church was built in 1549 and was key to the growth of the Bogota market square. But it was almost completely destroyed during an earthquake in 1827, so what you see now was rebuilt shortly after.
Bogota Emerald Museum
Next up on our list of things to do in Bogota was the Emerald Museum. The Bogota Emerald Museum is known to have one of the best collections of emeralds in the world. I had thought that prior reservations are required, but lucky for me, Henry was able to make arrangements and we only needed to wait a few minutes while they took our passports and ran the necessary checks.
Once we entered, a guide was assigned to us and showed us around the museum. Security at the Bogota Emerald Museum was definitely tight! And for good reason, the number of loose emeralds on display was staggering (approximately 3000). There was also a wall with emeralds still in situ to let you know how they look like before they are mined. The children were even allowed to touch the emerald wall! This was definitely their favorite part of the tour.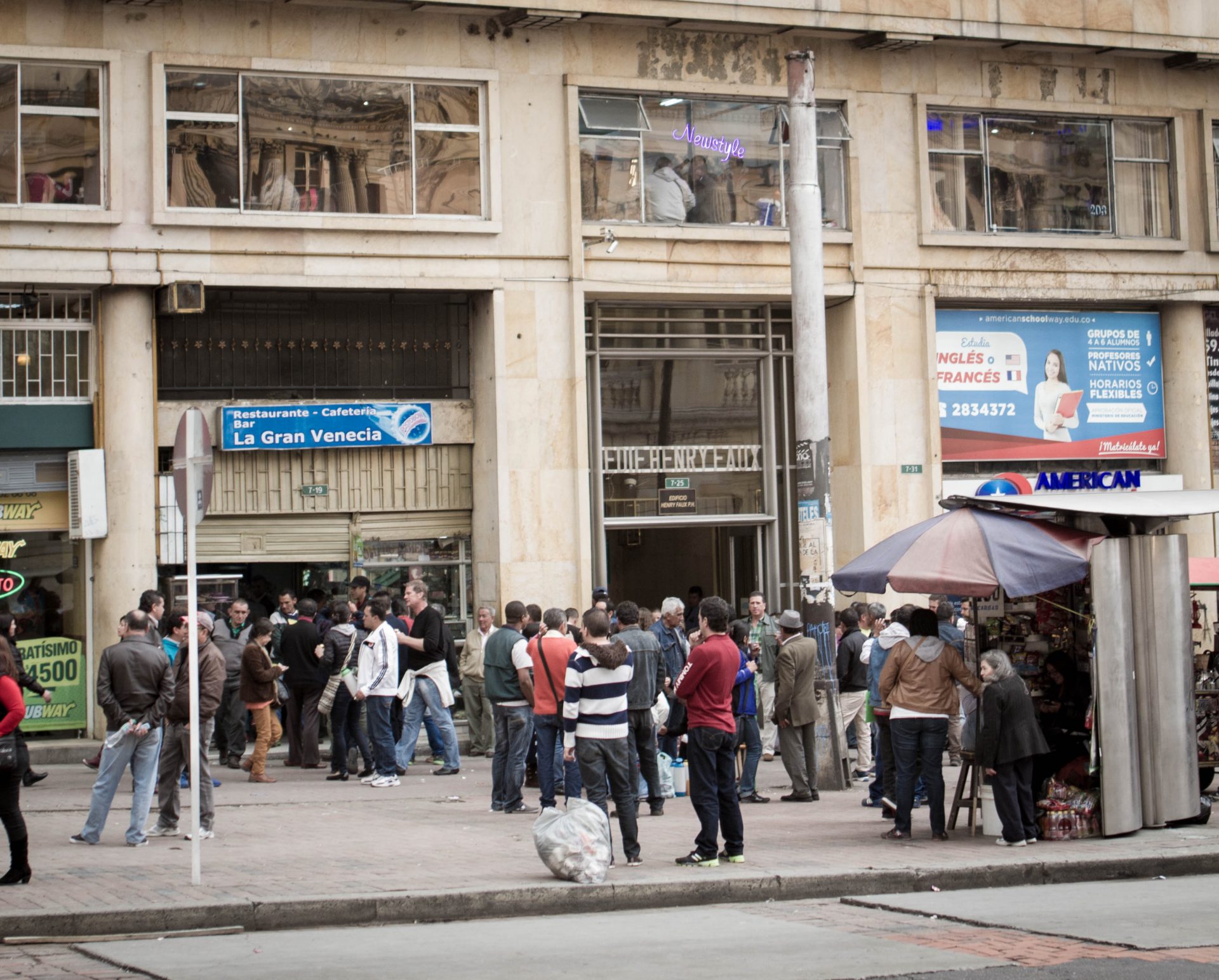 Like all tours, the guided tour ended at the gift shop but we didn't feel any pressure to buy. After the tour, Henry drove by the area where black market emeralds are sold. This was where many people bought emeralds at reduced prices. However, buying here comes at a risk as there is no guarantee of the quality of the gems.
After that, we called it a day. Normally, the day tour would have also included a visit to the Botero Museum. However, the children were losing patience and we didn't think they could sit through another museum so we decided to end on a high note.
Callejon del Embudo
We started the second half of our 48 hours in Bogota by exploring more of the La Candelaria. First, Henry drove around and told us about Plaza de Bolivar, Bogota Cathedral, the Congress building, the Presidential Palace and the city hall. He parked the car and we walked to Callejon del Embudo which is the oldest street in Bogota. This area is filled with some of the oldest buildings in Bogota such as Bogota's oldest house, which was for sale at the time of our visit. We also saw El Chorro de Quevedo which is the site of Bogota's founding.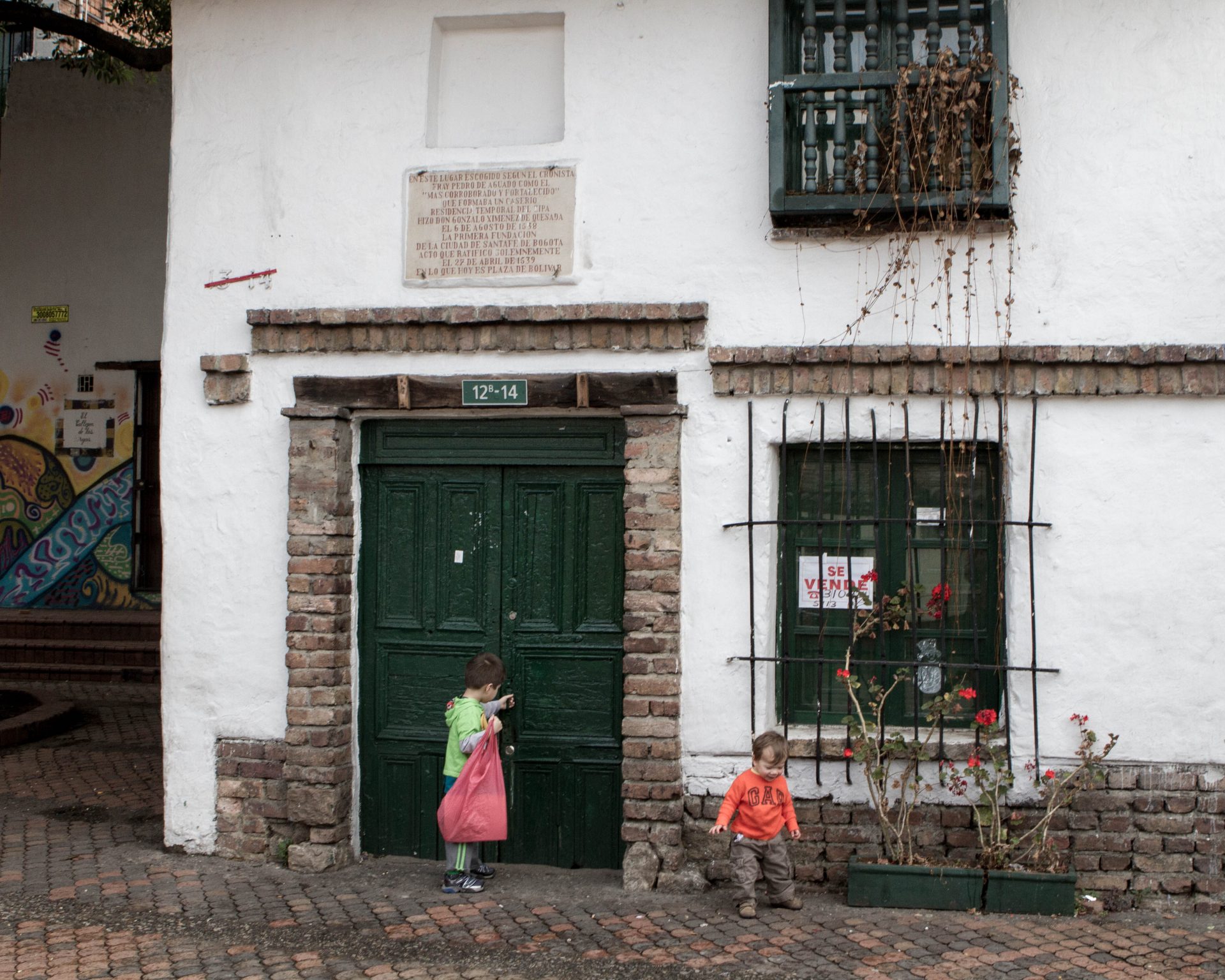 The kids particularly enjoyed spotting all the sculptures and graffiti the filled many of the building walls. Interestingly, tagging and graffiti are both not illegal in Colombia. In fact, graffiti has become a key part of the local art scene. If you want to see more of the art, a Bogota Graffiti Tour is a great way to spend a day.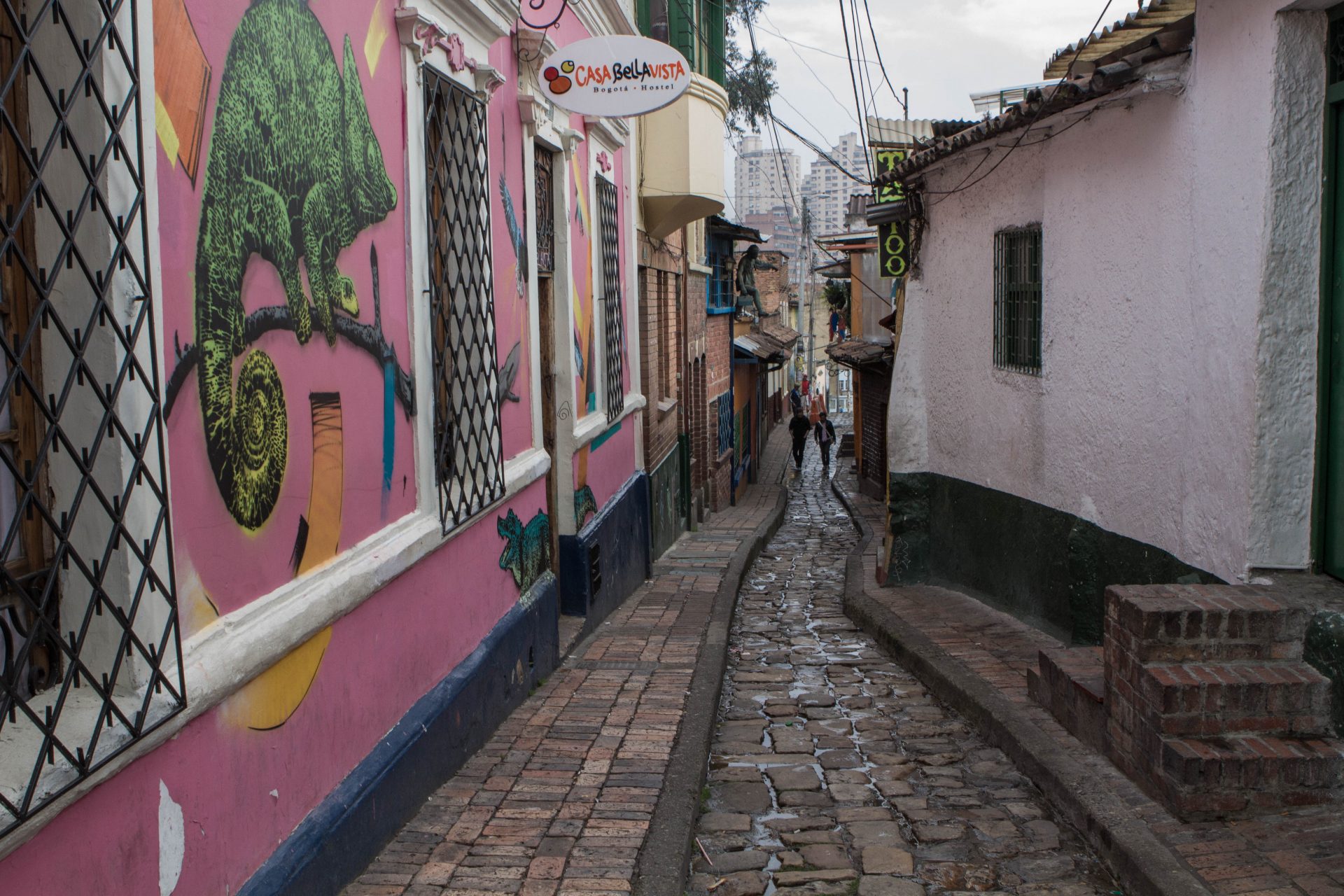 It is on these cobblestone streets that we said goodbye to Bogota. But, before heading back to Cartagena we would be doing a day trip to Lake Guatavita. Would we find the lost treasure of El Dorado?
Wandering Wagars is a participant in the Amazon Services LLC Associates Program, an affiliate advertising program designed to provide a means for sites to earn advertising fees by advertising and linking to amazon.com, amazon.co.uk, amazon.ca. Amazon and the Amazon logo are trademarks of Amazon.com, Inc. or its affiliates.
You May Also Like To Read:
Pin This Post For Later: