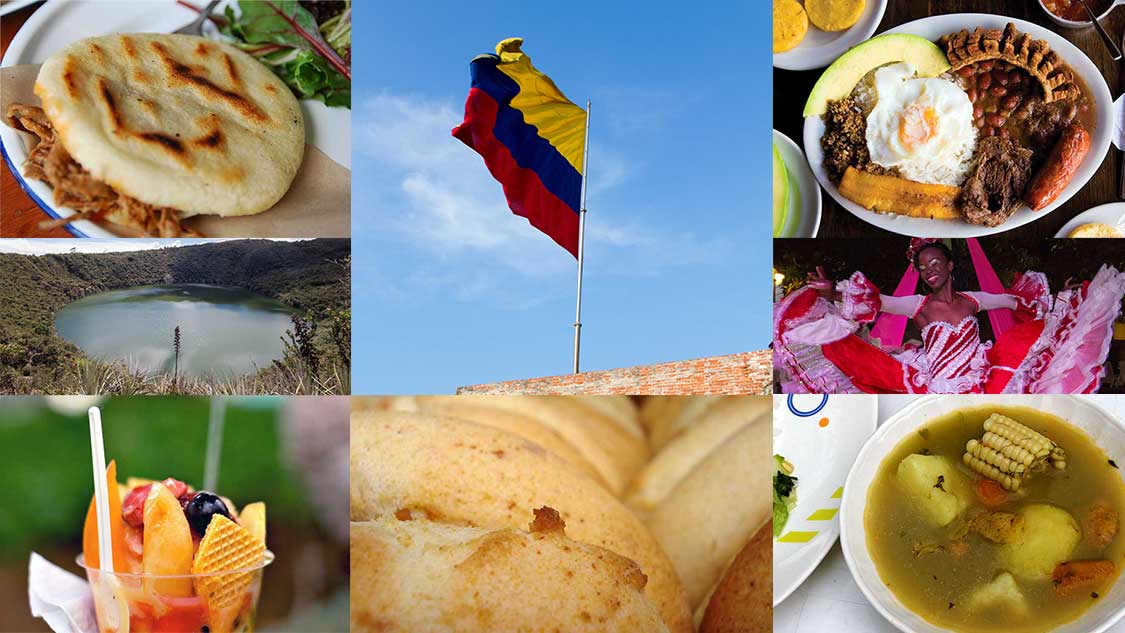 Colombia is a country rich in natural beauty. The country is passionate, proud of their country, and even more proud of their food. Colombia has pulled itself from a dark few decades and emerged like a butterfly from a cocoon as one of the top travel destinations in the world. From the Caribbean shores of Cartagena to the mountain capital of Bogota, Colombian food is rich, diverse, and takes its cues from both local Indigenous cuisine, Spanish delicacies, and West Indies spices. And that makes Colombia one of the wildest foodie destinations in the world.
Colombia has a vast range of flavors depending on where you are in the country. After all, Colombia does border 4 very unique countries. Venezuela, Brazil, Peru, and Ecuador. And among them, they have some of the best food in the world. These Peruvian recipes are among our favorites. But with all the variety, I still keep coming back to these 5 easy Colombian recipes on a regular basis.
Colombian food is just so tasty and varied, that I just never find myself getting bored of them. And they bring me back to my amazing travels in Colombia and the wonderful people that we met while exploring.
That's why I put together this list of my favorite Colombian recipes that I can make at home. These recipes were collected from across the country. And each Colombian recipe can be put together int a fantastic meal, or enjoyed on its own.
So if you're looking to taste a little of Colombia at home, start here and get inspired by some of the most delicious meals that we ate while in Colombia. And if you have children, be assured that these recipes are all kid-tested by our little adventurers.
If you're interested in travel to Colombia, you can check out more of our adventures right here.
What Is Colombian Food Like?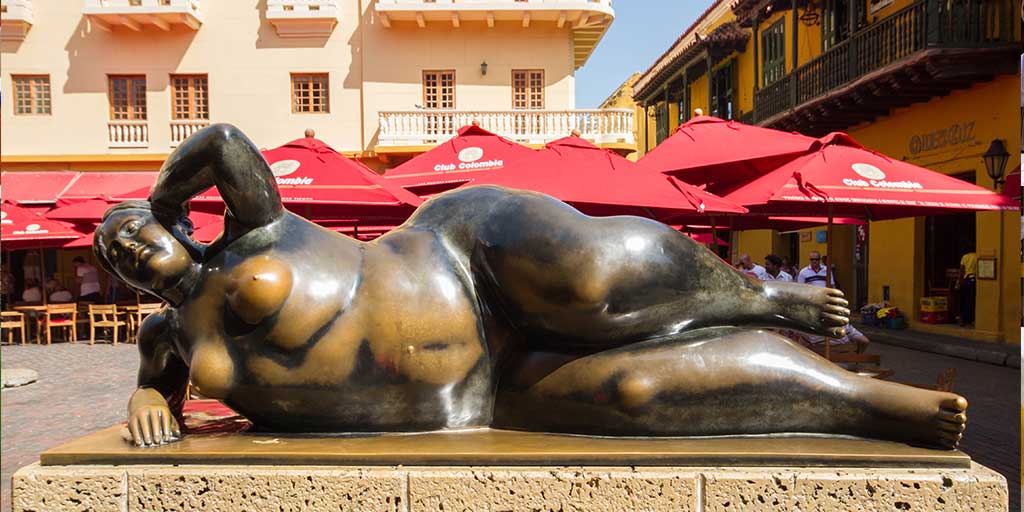 Colombian food is as diverse as it's landscape. The country features nearly 2,000 miles of shoreline across both the Caribbean Sea and the Atlantic Ocean. Combine this with the raw mountain landscape of the Colombian interior and the lush beauty of the Amazon rain forest in the south, and Colombia may have some of the most dazzling scenery in the world.
And while Peruvian Recipes and Mexican food have had their moment in the sunshine, Colombian cuisine hasn't yet had its moment to shine. Which is a shame, because with a wealth of local ingredients, and a host of world-class chefs, Colombian food has a lot to offer the world.
The cause of this lack of fame may be due to the eclectic nature of Colombian food. The flavors really change from region to region, mainly due to access to fresh ingredients. Residents of Bogota, with its raw landscapes and high altitude, tend to favor food that it's very hearty and rich. In Bogota, it's all about the carbs, flatbread and tortilla vendors fill many streets. Arepas are a local favorite. These thick, corn flatbreads are extremely popular. Although in recent years the food offerings in the Colombian capital have been changing. Cuisine in Bogota has increasingly displayed its position on the world stage.
Along the coastal towns in regions such as Cartagena, you'll find a glorious variety of fruits, treats, and empanadas on display in all of the markets. The Caribbean coast, specifically, features a unique set of flavors that use many of the traditional herbs and spices of the nearby island nations.
There is one thing to know for sure if you're travelling to Colombia for food. You will not get bored. You could live for decades here and never taste the same food twice. The variety is formidable.
The national dish in Colombia is Bandeja Paisa. This dish, which is typically served in massive portions is a combination of grilled steak, fried pork rinds, and chorizo sausage served on a bed of white rice and beans. But that's not all. The entire portion is topped with a fried egg and served with sliced avocado and fried plantains. This is the kind of meal that you want to share with friends lest you need to be rolled out of the restaurant.
Here Are My Favorite Easy Colombian Recipes To Make At Home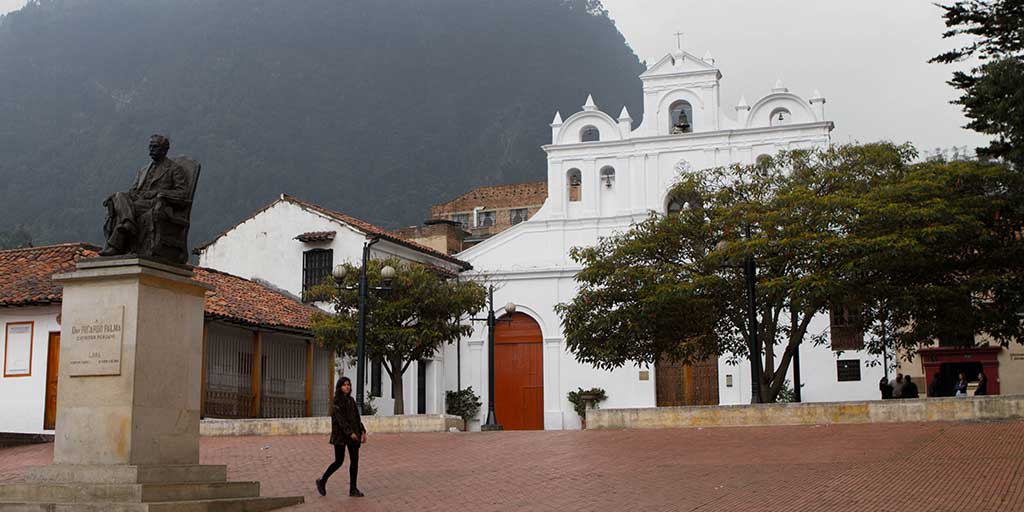 One thing that I love about travel is that the memories of your experiences stay with you long after the journey ends. But if you find yourself longing to revisit a country or city and another trip isn't on the horizon, you can always make a meal and live that adventure all over again through your taste buds. Colombia was our first international travel experience as a family of four outside of North America. And from the people to the landscapes to the food, we couldn't get enough of Colombia. And although I know that we will journey back to Colombia for another visit with Bogota Henry and the search for the lost treasure of Lake Guatavita, until then I can throw together one of these Colombian dishes. I can then sit back while the flood of memories rushes through me.
So warm up the oven and grab the apron. These 5 easy Colombian recipes will take you back to beautiful Colombia
Easy Colombian Chicken Sancocho Recipe
Soups are a big thing in Colombia. Especially up in the mountains where the weather gets chilly. You'll find many delicious Colombian soup recipes, but the one that you'll find most often on dinner tables and restaurants is the popular Colombian Chicken Sancocho recipe.
You'll find a similar dish in many Latin American countries, but the Colombian Chicken Sancocho is my favorite. It's typically served during "el almuero," the afternoon meal. Chicken Sancocho is usually served with rice and avocado on the side.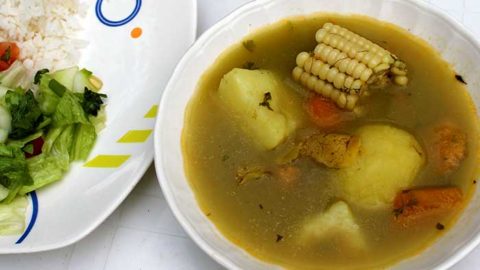 Yield:

6 servings
Easy Colombian Chicken Sancocho Recipe
Cook Time:
1 hour
5 minutes
Total Time:
1 hour
25 minutes
Sancocha is a rich, hearty soup that's popular in many Latin American countries. It's a heavy soup, similar to stew. The Colombian Sancocho combines potatoes, yuca, corn, plantains, and meat such as chicken.
Ingredients
1 tsp olive oil
5 scallions (chopped)
1 tomato (chopped)
4 cloves garlic (chopped)
1/2 spanish onion (chopped)
1 small whole chicken (remove giblets). Can be substituted for skinless chicken breasts or thighs for a less-fatty alternative.
1 cup cilantro (roughly chopped)
3 large potatoes (peeled and cut into 1 1/2 inch cubes)
2 cups of yucca cut into 2" cubes(can be substituted with sweet potato)
3 ears of corn (cut in half or thirds depending on size)
1 small green plantain (peeled and cut into 1 inch pieces)
1 tsp cumin
2 cubes of chicken bouillon
Salt and pepper to taste
Instructions
Heat a large pot over medium heat
Once hot add oil, scallions, onions, and garlic and saute for 1 minute
Add tomatoes and continue to saute for 1 minute
Add chicken and brown on all sides
Season mix with salt and pepper
Add yucca or sweet potato and then fill the pot with water
Add chicken bouillon and half of the cilantro and bring to a boil
Once boiling reduce heat to low and cover the pot
Simmer on low for about 40-minutes and taste to measure seasoning. Add more if necessary
Add potatoes and cook for an additional 15 minutes
Add corn and cook for an additional 7 minutes or until corn is cooked
Serve in large bowl topped with remaining cilantro
Nutrition Information:
Yield:
6
Serving Size:
1
Amount Per Serving:
Calories:

405
Total Fat:

9g
Saturated Fat:

2g
Cholesterol:

145mg
Sodium:

550mg
Carbohydrates:

41g
Sugar:

10g
Protein:

40g
Easy Colombian Arepas Recipe
Arepas are one of our go-to snacks in most South American countries. We've simply never met one that we didn't like. Traditional arepas are a corn-based pancake made by pounding dried corn with a mortar and pestle. These days the ingredients can be found a little more conveniently prepared.
Colombian Arepas differ from those of their neighbors more in when they're eaten than in how they're prepared. In Colombia, arepas are often eaten with breakfast rather than as a snack food throughout the day. In Colombia, arepas are generally a bit thinner and sweeter. While Arepas in Argentina tend to have quite a bit of filling, those in Colombia are generally limited to melted cheese. Colombian arepas are also usually made without salt and oil, so they tend to be a bit drier in texture.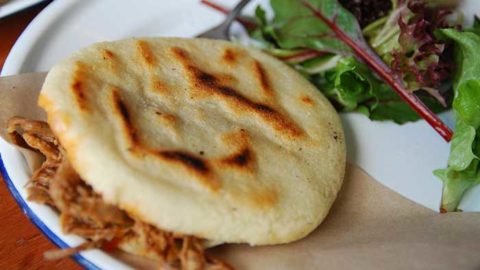 Yield:

6 arepas
Easy Colombian Arepas Recipe
This quick and easy Colombian arepa recipe is a great way to experience this local-twist to a classic dish. In Colombia, arepas are usually served for breakfast but can be eaten as a snack or a light meal.
Ingredients
1 cup water (warm)
1 cup pre-cooked white cornmeal
1 cup shredded mozzarella cheese
1 tbsp unsalted butter
Cooking spray
1 tsp salt (optional)
Instructions
In a large bowl mix together the cornmeal, mozzarella cheese, butter, water, and optional salt
Knead together until well-mixed. The dough should reach a soft but not sticky consistency
Form 6 equal-sized balls from the dough. Each ball should be roughly the size of an apple
One by one place the balls between 2 sheets of plastic wrap or parchment paper. Flatten with a rolling pin until they reach your desired thickness
Cut the dough into circles using a small plate or large cup (lip-down)
Remove excess dough. If there is enough you may be able to make an additional arepa
Heat a large pan or griddle to medium-high heat. When hot, coat with cooking spray
Add your arepas and cook until golden brown (approx. 5-minutes per side)
For best results serve immediately
Notes
Tip: If the dough is too dry you can use a bit more water. If it's too wet, add more cornmeal.
Nutrition Information:
Amount Per Serving:
Calories:

125
Total Fat:

5g
Cholesterol:

17mg
Sodium:

250mg
Carbohydrates:

14g
Protein:

6g
Easy Pandebono (Colombian Cheese Bread) Recipe
One Colombian dish that my kids just couldn't get enough of was Pandebono. Pandebono is a traditional Colombian cheese bread that is often served as balls or knots. Be careful, because this fulling Colombian treats can sneak up on you. Watch your portion sizes, you've been warned ?.
This is a gluten-free Colombian recipe, so it can be enjoyed by just about anyone. You can enjoy them as a snack or as an appetizer prior to lunch or dinner.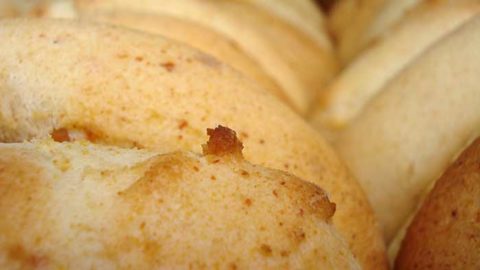 Yield:

12 pandebono's
Easy Pandebono Recipe (Colombian Cheese Bread)
Pandebono is a scrumptious Colombian cheese bread that makes for a perfect side at breakfast, lunch, or dinner. This gluten-free recipe is tasty any time of the day.
Ingredients
2/3 cup cassava flour or yucca flour
1/4 cup pre-cooked cornmeal
1 cup Colombian quesito (Can be substituted with Mexican queso freso or fresh cheese curds)
1 1/4 cups feta cheese
1 large egg
Instructions
Preheat oven to 400°F
In a large bowl combine the yuca flour, cheese, and cornmeal. Mix well (this can be done in a food processor if you have one)
Beat the egg in a small bowl
Slowly add the egg to the flour mixture while mixing
Once mixed, divide the mixture into 12 equal size portions. Shape them into balls
Line a baking sheet with parchment paper and add balls spaced about 2" apart
Backe for 15-20 minutes until they are golden on top.
Serve warm
Nutrition Information:
Yield:
12 pandebono
Serving Size:
1 pandebono
Amount Per Serving:
Calories:

173
Total Fat:

11.4g
Saturated Fat:

7.5g
Cholesterol:

42mg
Sodium:

390mg
Protein:

9.5g
Easy Bandeja Paisa Recipe
The national dish of Colombia is Bandeja paisa, and if you've ever tried it you'll know tha Bandeja paisa isn't just a dish, it's an experience. This is probably the most popular meal in Colombia, and once you've sunk your teeth into it once, you'll understand why.
Traditionally Bandeja paisa is a platter that includes beans, white rice, chicharron (pork rinds), carne en polvo (powdered beef), fried egg, plantain, avocado, and arepa. Although sometimes the powdered beef is substituted for grilled beef or pork.
This is a dish best eaten with family and friends. After all meal time is as much about great company as it is about amazing food.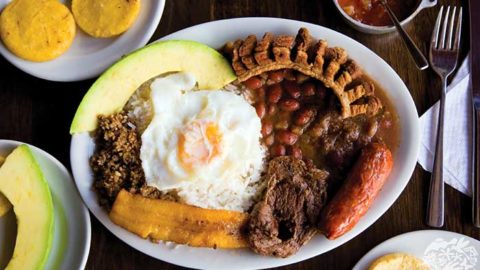 Yield:

6 servings
Easy Colombian Bandeja Paisa Recipe
Total Time:
9 hours
40 minutes
Bandeja Paisa is the national dish of Colombia. It heralds from the Andean region and is referred to locally as "Paisas." This is a big, meat-heavy dish that is traditionally served on a platter and is best shared with family and friends.
This is an easy Colombian recipe but it does take some time to cook as there are a lot of ingredients. But trust me, it's worth it.
Ingredients
2 cups white rice
2 cups pork skins or chicharrones
4 chorizo links
4 eggs
4 green plantains (peeled and cut into 1" pieces)
2 avocados (sliced
Beans
2 cups red beans or kidney beans
1/2 lb pork hocks
4 cups water
1 cups carrots (grated or shredded)
1/2 tsp kosher salt
1 green plantain (peeled and cut into 1" pieces)
Guiso
1 tbsp chopped onions
2 cups tomato (diced)
1/4 cup scallions (chopped)
3 tbsp vegetable oil
1/4 tsp kosher salt
3 cloves garlic (minced)
1/4 cup cilantro (roughly chopped)
1/4 tsp ground cumin
Hogao
3 tbsp vegetable oil
1 cup scallions (chopped)
2 cups tomato (chopped)
2 cloves garlic (minced)
1 tsp ground cumin
1/4 tsp kosher salt
1/4 tsp ground pepper
Powdered Beef
1 lb flank steak
5 cups water
3 cloves garlic (crushed)
2 scallions (chopped)
1/2 tsp ground cumin
salt and pepper to taste
Instructions
NOTE: Prepare the beans, hogao, and powdered beef one day ahead of time and store in the refrigerator.
Rinse beans and soak overnight in cold water. Drain the beans and place them into a large pot. Fill with water and add pork hocks.
Bring bean and pork mixture to a boil. Then cover and reduce heat to medium-low. Simmer for about 2 hours.
When the beans become tender add the guiso, plantains, carrots, and salt.
Cover and cook for an hour or until the beans are fully cooked (Add additional water if necessary)
Heat a large saucepan to medium heat. When hot add tomatoes, scallions, garlic, ground cumin, and cook for 10-minutes. Stir until softened
Reduce heat to low. Add salt and cook an additional 10-minutes stirring often until thickened

Powdered Beef
Place flank steak in a plastic bag along with garlic, onion, scallions, cumin, salt, and pepper
Refrigerate for 2 hours
Add steak and water to a medium pot and bring to a boil. Cover and reduce to medium-low and simmer for 1 hour until beef is fully cooked
Remove beef from water and set aside to cool. Discard water or use as a beef stock for later
Cut beef into chunks and place in a food processor. Blend until beef is completely shredded
Hagao
Combine all ingredients in a small bowl and mix thoroughly

Assembly
Heat the beans, white rice, powdered beef, and hogao
Heat a skillet over medium heat. Add oil
When oil is hot fry the green plantains until golden brown (plantains can be baked as a healthier alternative)
Fry the eggs and chorizo and set them aside
Layer all the ingredients over the beans and rice. Add avocado slices and top with beef and chorizo, surround with chicharrones, and top with the fried egg
Easy Cholado Colombiano Recipe
When you travel with kids, you can never be too far away from treats. They help to relieve some of that travel stress that can hit kids when they're in unfamiliar environments. While we were in Colombia, our kids discovered on of their all-time favourite treats in the form of Cholado Colombiana.
Cholado is a mash-up between a frozen dessert, a fruit cocktail, and a refreshing fruity drink. With a base of crushed ice, fresh fruit, condensed milk, and blackberry syrup, this treat is packed with flavor and is perfect for those hot days on the Caribbean coast.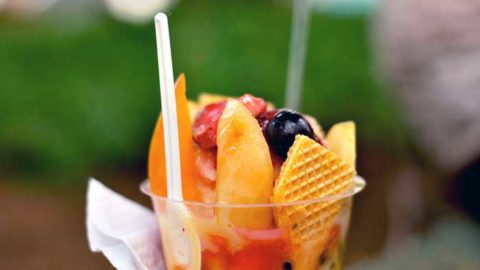 Yield:

4 cholados
Easy Cholado Colombiana Recipe
Cholados have a wonderful combination of tangy and sweet and the perfect mix of creamy, crunchy, and fruity. These delicious Colomban desserts are typically made from strawberries, bananas, pineapple, and mango, but you can make them with any fruit combination that you like.
Ingredients
4 cups ice
1 cup strawberries (diced)
1 cup fresh pineapple (diced)
1 cup mango (diced)
1 cup sweetened condensed milk
1 cup coconut (shredded)
4 maraschino cherries
Blackberry Syrup
2 cups blackberry (blended to pulp)
1/2 cup water
3/4 cup sugar
Instructions
Berry Syrup
Combine water, fruit pulp, and sugar in a small saucepan
Bring mixture to a boil over medium-high heat stirring often
Continue cooking the mixture until all sugar has dissolved. The mixture should be relatively thick.
Let the mixture cool in the refrigerator
Assembly
Crush the ice in a blender
Add 1/2 cup of crushed ice to each cup
Drizzle 1 tbsp of berry syrup over the ice
top with 2 tbsp of condensed milk
Add 1/2 cup of mixed fruit on top
Drizzle with 2 tbsp of condensed milk
Garnish with shredded coconut and one maraschino cherry

Nutrition Information:
Amount Per Serving:
Calories:

386
Total Fat:

7.6g
Sodium:

12mg
Carbohydrates:

84g
Fiber:

9.5g
Sugar:

70.9g
Protein:

3.3g
What do you think of these easy Colombian recipes? Do they make for a simple Colombian meal or would you substitute for something else? Let me know your thoughts in the comments below. Or swing over to our Facebook page and say hello!
If you're passionate about family travel, head on over to our Family Travel Support Group on Facebook. It's a fantastic community of parents who love travel. We share experiences, knowledge, and the lessons learned along the way. You can also sign up for our newsletter to keep in the loop about new family travel adventures. You can check out our web stories for these recipes here.
Wandering Wagars is a participant in the Amazon Services LLC Associates Program, an affiliate advertising program designed to provide a means for sites to earn advertising fees by advertising and linking to amazon.com, amazon.co.uk, amazon.ca. Amazon and the Amazon logo are trademarks of Amazon.com, Inc., or its affiliates.
You May Also Like To Read: