These easy Peruvian recipes will transport you to the landscapes and cultures of the country. Taste the flavors of Peru food from home any time.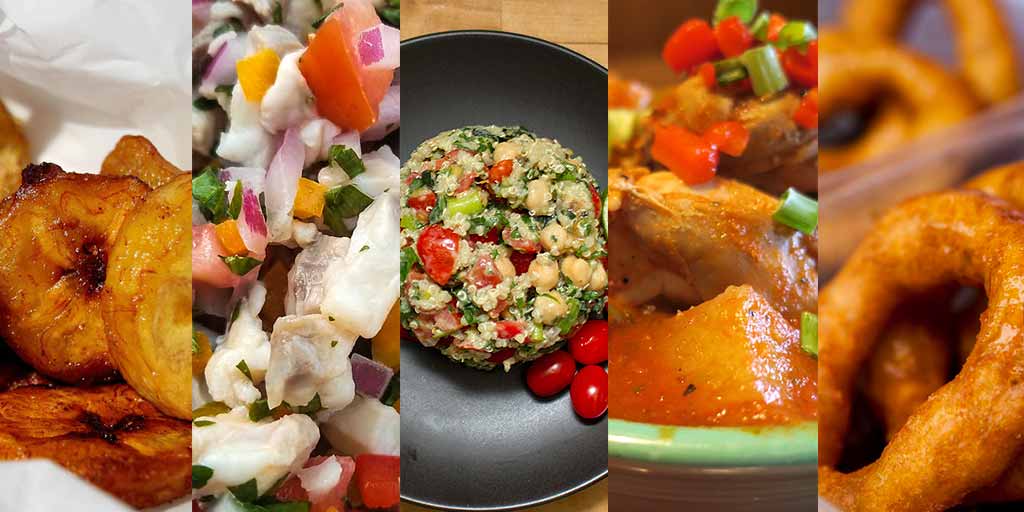 Those who head down to South America and get the chance to travel through Peru quickly realize that Peruvian food is an art that is taken very seriously. And with a country that hosts, not one, but three of the world's best restaurants, this shouldn't be a surprise. But even if you can't travel to Peru right now doesn't mean that you can enjoy some mouthwatering Peruvian food. I've whipped together this list of my favorite easy Peruvian recipes that you can enjoy from anywhere.
Boasting a dramatic collection of desert, ocean, rainforest, and mountain landscapes, the Peruvian landscape is incredibly diverse. And the variety is matched by both the Peruvian cuisine and culture. Since Hiram Bingham first brought the mysterious ancient city of Machu Picchu to the attention of the world back in 1911, Peru has been a bucket list destination for many. While the incredible cultural diversity and ancient history of Peru get much of the attention, the food scene in Peru often gets overlooked.
During our two weeks in Peru with our kids we experienced much of the food in Peru that sets this country apart from the rest of the world. So, whether you want to experience these Peruvian foods to know what to expect, or relive your own travels in Peru, these easy Peruvian recipes will help put a little Peru in your stomach. And you'll be happy to know that these Peru food recipes are kid-approved!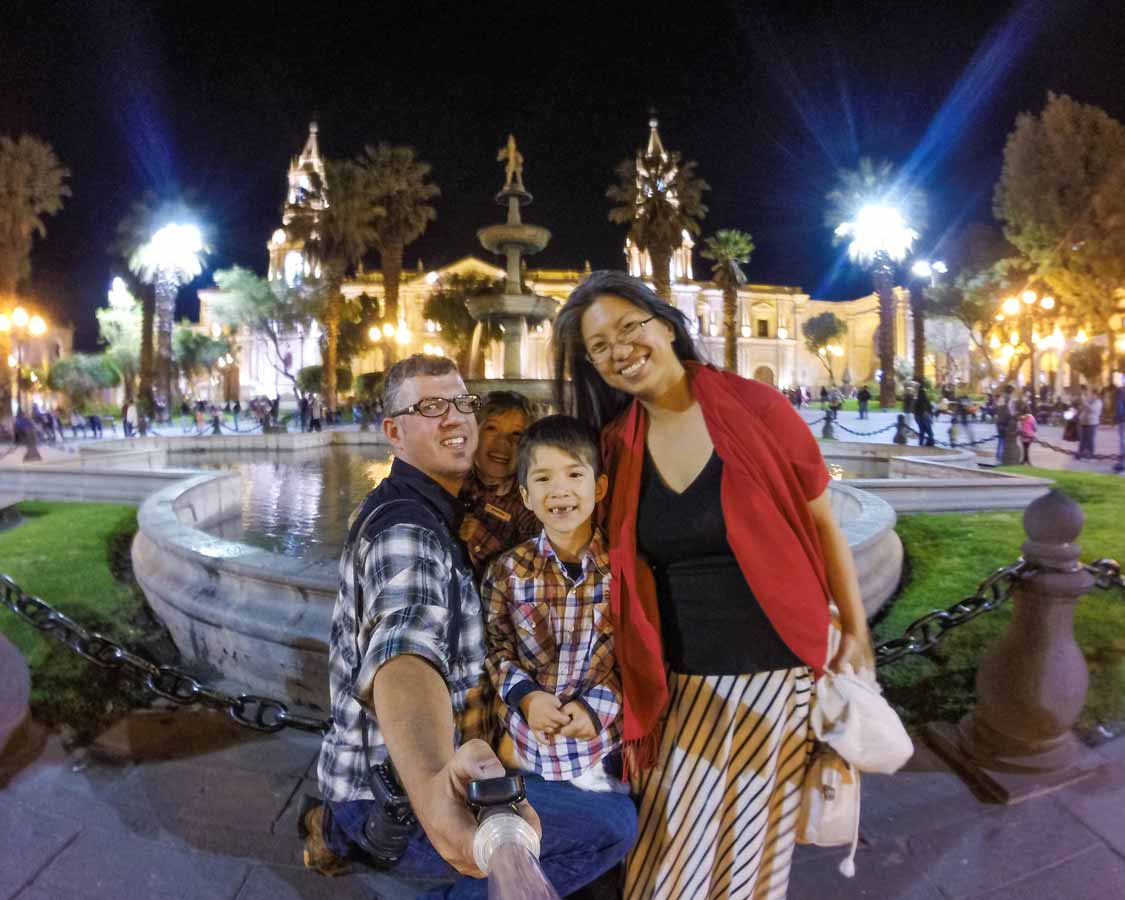 What Is Peruvian Food Like?
Peru has been one of the hearts of commerce in South America for thousands of years. Its unique landscape and collection of micro-climates have forced its ancient societies to adapt and innovate in order to keep its populations fed. This agricultural engineering is on display in many places across the country including the terraced fields of Maras in the Sacred Valley.
But if you're wondering 'what is Peruvian food like?' Well, the answer can be complicated. And it's mostly based on where in Peru you are. Peruvian cuisine can most easily be sectioned into three areas. Food from seaside towns in Peru such as the capital of Lima, food from the mountain regions such as Cusco, the capital of the Incan empire, and food from the Peruvian Amazon region.
No matter where you visit in Peru, there are a few staples that you'll find on the menu. Potatoes, obviously come straight to mind, and with over 4,000 varieties across the country, it's no surprise why. Corn is also common. Not just steamed and buttered either. Corn is used in making many of the wraps, tortillas, and shells that you'll find throughout Peru.
But one interesting adaptation in Peruvian cuisine over the past two centuries has been the influx of Asian influence. This has led to one of my favorite types of Peruvian foods, Chifa cuisine. This blend of Chinese and Peruvian influences can be found in most cities from Lima to Puno, and it should be on your list of things to try when you're in the country.
There is also a popular food in Peru that many visitors might not expect. Cuy, is something that you'll either want to try, or want to stay away from. It really depends on how you feel about Guinea Pigs. These cute fluffy creatures have been a gourmet dish in many countries in western South America. And when you explore the countless Incan ruins scattered throughout Peru, you'll almost always find a narrow room with holes placed near the ground. This is where Guinea Pigs were raised for millennia.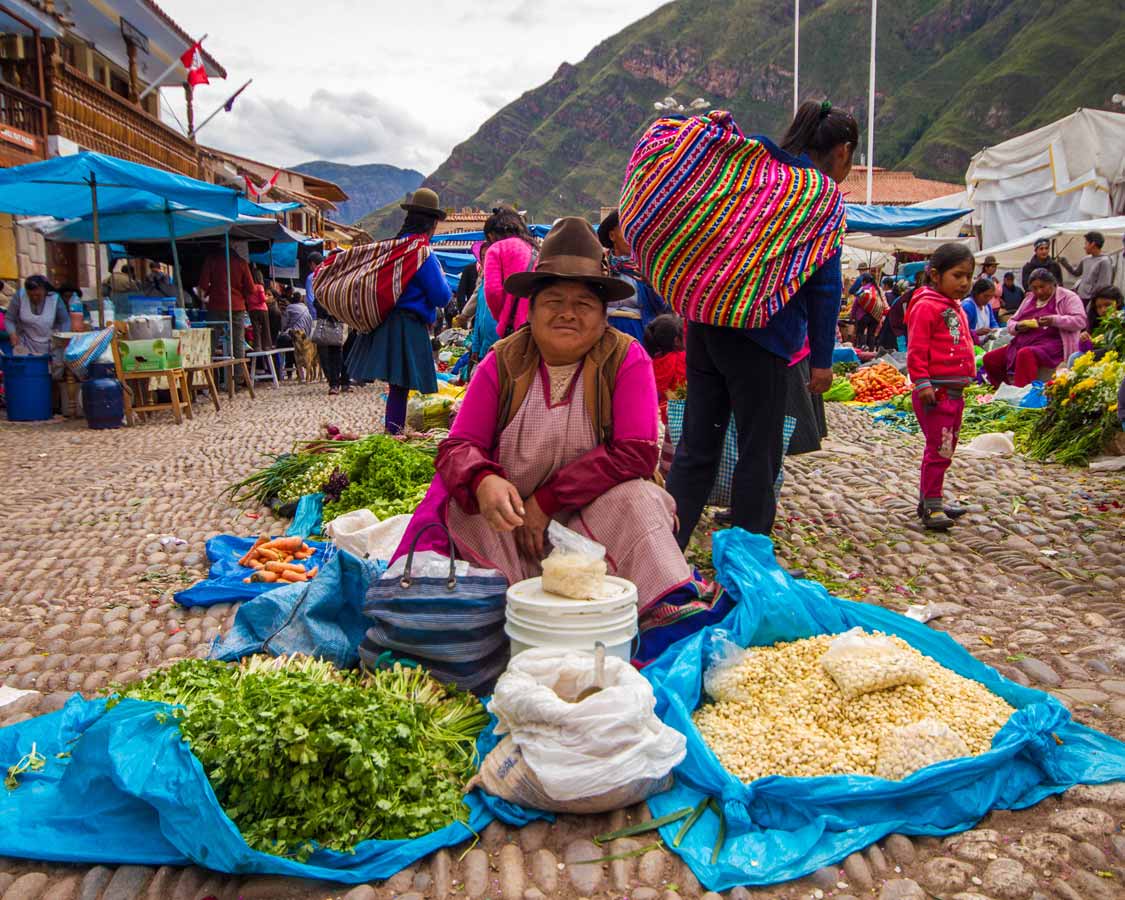 Here Are My Favorite Favorite Peruvian Recipes To Make At Home
For me, travel doesn't end at the airport. The journey can continue long after I get home through my memories. Often, when I'm longing to revisit one of my favorite destinations, I'll head to the kitchen. Because one of the best ways to travel from afar is by remembering the flavors that helped you fall in love with a destination in the first place. But I know as much as you do, that time is short. So to get started I begin with easy Peruvian recipes and build from there. I know another I'll be back in Peru before long. But in the meantime, I can throw together one of these Peruvian dishes and sit back while the flood of memories rushes through me.
So warm up the oven and grab the apron. These 5 scrumptious Peruvian recipes will take you back to the wonders of Peru.
Peruvian Oven-Baked Sweet Plantain Recipe
There's no better way to start or end your Peruvian meal with a nice snack of oven-baked plantains. These tasty and sweet snacks can be found throughout Peru. We first tried them on day one in Lima. But the best taste of baked plantains that we had during our travels in Peru was in the town of Colca as we went to see the Andean Condors.
With just one ingredient and a small bit of cooking time, this is one of the easy Peruvian recipes that anyone can make and enjoy at home. For a dessert twist, try adding a little cinnamon or icing sugar on top of the caramelized plantain.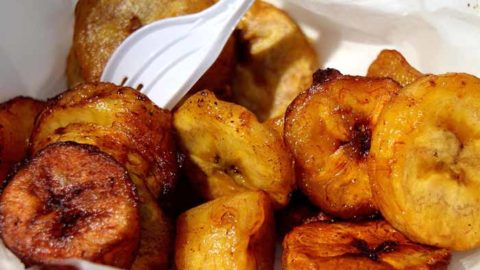 Yield:

4 servings
Peruvian Oven-Baked Sweet Plantains Recipe
Oven-baked plantains are a delicious and healthy way to experience Peruvian cuisine. This easy Peruvian recipe has just one ingredient and can be whipped up as an appetizer before any get-together.
Ingredients
4 very ripe plantains. Look for yellow skin with black spots)
Instructions
Preheat oven to 450°F
Coat a nonstick cookie sheet with cooking spray
Peel the plantains and trim the ends
Cut the plantain horizontally into 1/2 inch slides
Arrange the plantains on the cooking spray in a single layer.
Coat the top of the bananas with cooking spray.
Bake for 10-15 minutes turning occasionally.
They should be done when the plantains are soft and have a golden-brown crisp on the ends.
Nutrition Information:
Yield:
4
Serving Size:
179 g
Amount Per Serving:
Calories:

218
Total Fat:

0.7g
Saturated Fat:

0.3g
Sodium:

7.2mg
Carbohydrates:

57g
Sugar:

27g
Protein:

2g
Peruvian Citrus Ceviche Recipe
There are few dishes more synonymous with Peru's coastal cities such as Lima and Paracas than Ceviche. This citrus ceviche recipe combines the sweet acidity of the fruit with the incredible flavor of the fish. Ceviche is part of Peru's national heritage. It's an easy Peru recipe, but it's one you need to be extra careful with. Only use fresh fish for this Peruvian ceviche recipe.
Ceviche is light, fruity, and flavorful. I love eating it on a hot day when the fresh fish just melts in your mouth. It's one of the simplest of these easy Peruvian recipes, but you do have to make sure to use super fresh fish. Try wrapping it into a fajita shell for a refreshing soft-shell ceviche taco.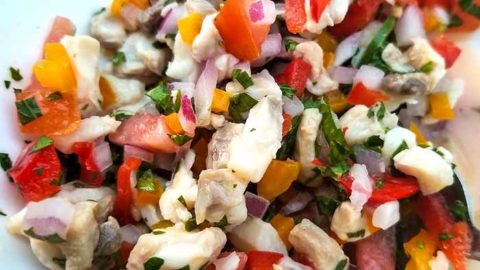 Yield:

4 servings
Easy Peruvian Citrus Ceviche Recipe
Total Time:
2 hours
20 minutes
Peruvian ceviche is as much a part of the heritage of Peru as Machu Picchu itself. This ceviche recipe combines the tart sweetness of citrus with the incredible flavors of fresh fish.
Only use extremely fresh fish for this recipe.
Ingredients
1/2 cup fresh lemon juice
1/4 cup fresh lime juice
1/4 cup fresh orange juice
1 tsp fresh ginger. Grated
2 tbsp extra virgin olive oil
1 lb fresh sea bass. Diced in 1/4 in cubes
1/2 cup fresh cilantro. Chopped
1 small onion. Diced
2 small avocados. Pitted, peeled, and cubed
salt and pepper to taste
4 corn tortillas
Instructions
In a medium bowl, combine lemon juice, lime juice, orange juice, ginger, and olive oil.
Add the sea bass. Toss to coat.
Cover and marinate in the refrigerator for 2 hours. The flesh of the fish should come out white and opaque.
Add cilantro, onion, and avocado. Season with salt and pepper to taste.
Serve on a corn tortilla
Peruvian Confetti Quinoa Recipe
Another staple of the diet in Peru is quinoa. This superfood is as important to the Peruvian diet as potato and corn. This fresh, light, and healthy Peruvian quinoa recipe make for an amazing side dish or a wonderful lunch option on its own. If you're looking for simple Peruvian recipes that are light, healthy, and delicious, this is a great place to start.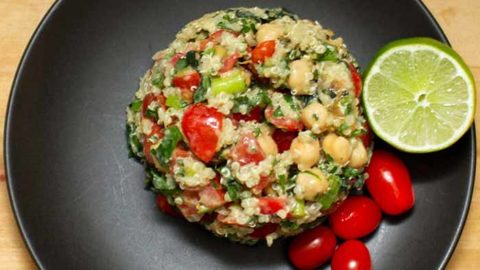 Yield:

4 servings
Peruvian Confetti Quinoa Recipe
Quinoa is one of the staples of the Peruvian diet. This ultra-healthy superfood makes for a nutritious and delicious rice substitute. This colorful and delicious quinoa salad recipe makes a wonderful dish either as a side dish or on its own.
Ingredients
1 cup uncooked quinoa. Washed and drained
2 cups water or chicken or vegetable broth
1/4 tsp salt
1 small onion. Diced
1/2 bell pepper. Diced. (I used a combination of orange, red, and green for color)
1 tbsp olive oil
2 tbsp chopped water chestnuts
Instructions
In a medium-sized pot, bring water or broth to a boil.
Add quinoa and salt. Reduce heat and cover.
Simmer for 15-minutes until all the water is absorbed.
In a small pan, saute onion and pepper in olive oil.
Once quinoa is cooked, add onion and pepper to the cooked quinoa.
Add water chestnuts before serving.
Nutrition Information:
Serving Size:
161 grams
Amount Per Serving:
Calories:

221
Total Fat:

8g
Saturated Fat:

1g
Sodium:

152mg
Carbohydrates:

30g
Protein:

7g
Peruvian Estofado de Pollo (Chicken Stew) Recipe
Estofado de Pollo is a perfect example of the classic Peruvian recipe. It's simple and delicious. This Peruvian chicken stew can be enjoyed for either lunch or dinner. It's rich, hearty, and a great example of classic Peru meals. This is one of my favorite of these easy Peruvian recipes. It's light, delicious, and perfect on a cold day like those in the Andes mountains.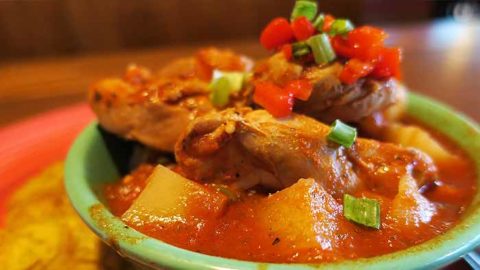 Yield:

4 servings
Peruvian Estofado de Pollo (Chicken Stew) Recipe
Total Time:
1 hour
20 minutes
Estofado de Pollo is a wonderful Peruvian recipe that, with a few small adaptations, can be transformed into all sorts of meal ideas.
It's best enjoyed with rice, quinoa, or pasta. And with a few small twists can be used as a sandwich filling.
Ingredients
4 chicken legs and thighs
Salt and pepper
4 tbsp vegetable oil
1 small onion. Diced
2 garlic cloves. Finely diced
2 tbsp tomato paste
1/2 cup white wine. I usually use a Pinot Grigio or a Gewurztraminer
2 cups chicken broth
1 bay leaf
4 medium yellow potatoes. Peeled
2 medium carrots. Peeled and sliced
1/2 cup green peas
1/2 cup raisins
4 cups penne pasta
Instructions
Season the chicken with salt and pepper
Heat 2 tbsp of oil in a saucepan over medium heat. Sear the chicken pieces until golden on both sides. Transfer to a bowl and set aside.
Add remaining oil to the saucepan. Once heated add onion and garlic. Stir and cook until soft. Approx. 7-minutes.
Add tomato paste and stir. Cooking for 3 minutes.
Add chicken to the saucepan.
Add wine and bring to a boil.
Add chicken stock and bay leaf.
Cover. Lower heat to low and simmer for 30 minutes.
Add potato, carrots, peas, and raisins. Continue cooking for 15-20 minutes or until all vegetables are soft.
Serve over pasta.
Nutrition Information:
Yield:
4
Serving Size:
331 grams
Amount Per Serving:
Calories:

450
Total Fat:

19g
Saturated Fat:

2g
Cholesterol:

64mg
Sodium:

500mg
Carbohydrates:

41g
Sugar:

7g
Protein:

20g
Peruvian Picarones (Peruvian Donut) Recipe
Picarones, also known as Peruvian donuts are classic Peruvian street food. These delicious treats are super easy to make. There are a few ways to make them, including butternut squash and pumpkin, and sweet potato. This recipe uses the butternut squash.
This classic Peruvian recipe can be found throughout the country. Picarones are in nearly every restaurant, home, and major street corner in the major cities. I can't wait to get back to Peru and try them straight from a vendor again.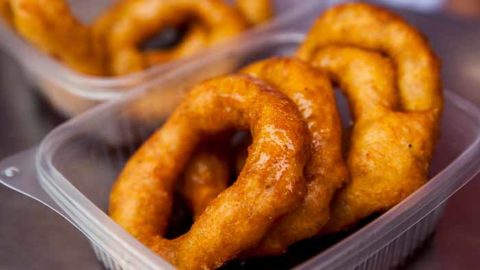 Yield:

30 picarones
Peruvian Picarones (Donut) Recipe
Total Time:
5 hours
20 minutes
Picarones or Peruvian donuts are a delicious treat that every visitor to Peru should try. You can find them in nearly every restaurant, home, or street corner vendor.
Ingredients
3 cinnamon sticks
2 tsp whole anise seeds
1 lb butternut squash
1 lb sweet potato
1 lb pumpkin
1 tbsp instant yeast
1 tsp. cloves
1 tbsp sugar
2 eggs
1 tsp salt
1/4 cup Pisco (can be substituted with any brandy)
3 cups flour
1 orange
2 limes
1/4 cup molasses
1 1/2 cup brown sugar
4 cups vegetable oil
Instructions
Fill a large pot with water and bring to a boil.
Add 2 cinnamon sticks, 2 tsp. anise seed, and 1 tsp. cloves.
Peel sweet potato and cut into large chunks. Cut the pumpkin into large chunks.
Add sweet potato and pumpkin to the boiling water. Cook until soft. The pumpkin will cook faster and will need to be removed first.
Strain and reserve 1/2 cup of the cooking water. Set aside.
When the pumpkin and potato have cooled, mash them. use 3/4 cup sweet potato puree and 3/4 cup pumpkin puree.
In the bowl of a stand mixer dissolve the yeast and sugar in the cooking water. Let rest for 5 minutes.
Add eggs, salt, sweet potato, and pumpkin puree along with the Pisco. Mix on medium using a dough hook. Personally, I do this with my Kitchenaid mixer. It saves a lot of time over doing it by hand.
Add the flour gradually and continue mixing with the dough hook until smooth (approx. 5 minutes). The dough should have a sticky and smooth consistency. If it is too liquidy, add up to a 1/2 cup more flour.
Cover the mixture and let rise in a warm location. It should double in size in about 2 hours.
Once the dough has risen, heat oil in a pot to 350 degrees Fahrenheit. You can use a simple cooking thermometer to check this.
Dip your fingers in the salted water and form the donuts by grabbing a handful of dough and stretching it into a ring around two fingers. Place the dough quickly into the oil. Cook for approx. 20 seconds.
Flip the donut using large, flat wooden tongs or the end of a long wooden spoon.
Allow the donuts to reach a golden brown color (approx. 30 seconds). Then remove and place on a paper towel.
Serve warm, drizzled in the warm syrup.

For Syrup
Juice the orange and limes. Set the juice aside.
Place molasses, sugar, orange rind, lime rind, orange juice, and lime juice, 1 cinnamon stick, 1 tsp. cloves, and 1/2 cup water in the large saucepan and bring to a boil. Stir constantly
Reduce heat to low and simmer for 15 minutes or until the mixture thickens slightly. It should achieve a thick, syrupy consistency.
Strain to remove the rinds and spices.
Nutrition Information:
Serving Size:
1 donut
Amount Per Serving:
Calories:

83
Total Fat:

2g
Carbohydrates:

16g
Protein:

1g
What do you think of these easy Peruvian recipes? Do they make for a simple Peruvian meal, or would you substitute for something else? Let me know your thoughts in the comments below. Or swing over to our Facebook page and say hello! You can also check out our web story for these recipes here.
Wandering Wagars is a participant in the Amazon Services LLC Associates Program, an affiliate advertising program designed to provide a means for sites to earn advertising fees by advertising and linking to amazon.com, amazon.co.uk, amazon.ca. Amazon and the Amazon logo are trademarks of Amazon.com, Inc. or its affiliates.
You May Also Like To Read:
Pin This For Later: