On a day trip from Lima to Huacachina, a perfect place to stop is the town of Paracas Peru. You can explore the amazing Paracas National Reserve and more!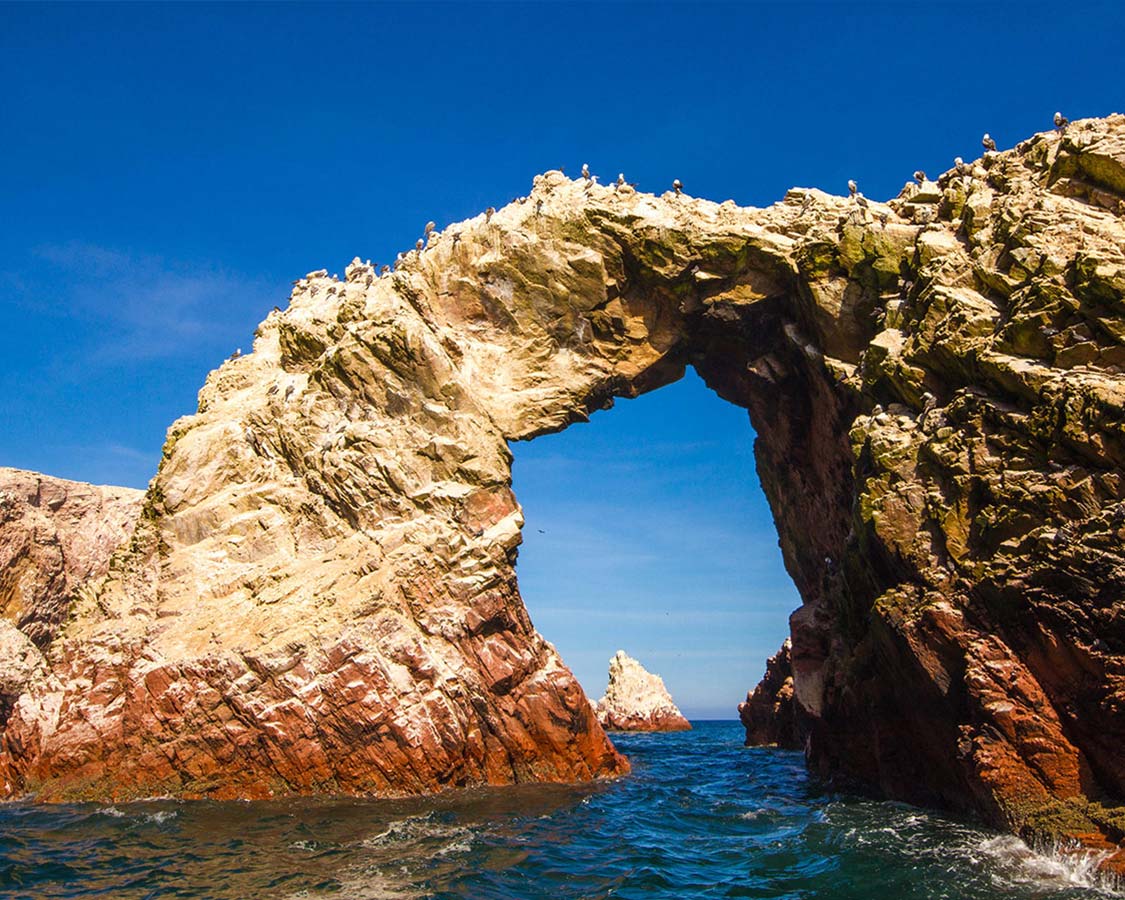 After a full day touring Lima Peru with kids we were ready to make an escape from the city and into the Peruvian countryside. We spent the previous day exploring the Lima coastline, and many of the beautiful day trips from Lima, Peru including the Pachacama ruins and the Lima catacombs. But today our tour guide, Lima Discover, would be taking us to the desert oasis of Huacachina for some dune buggy and sandboarding adventures. Along the way, we were stopping in Paracas Peru on the Paracas Peninsula to experience the Paracas National Reserve and the Ballestas Islands National Reserve. And we would be seeing penguins again! You can read our entire two-week Peru itinerary here.
This post may contain compensated links. Find more info in ourdisclaimer.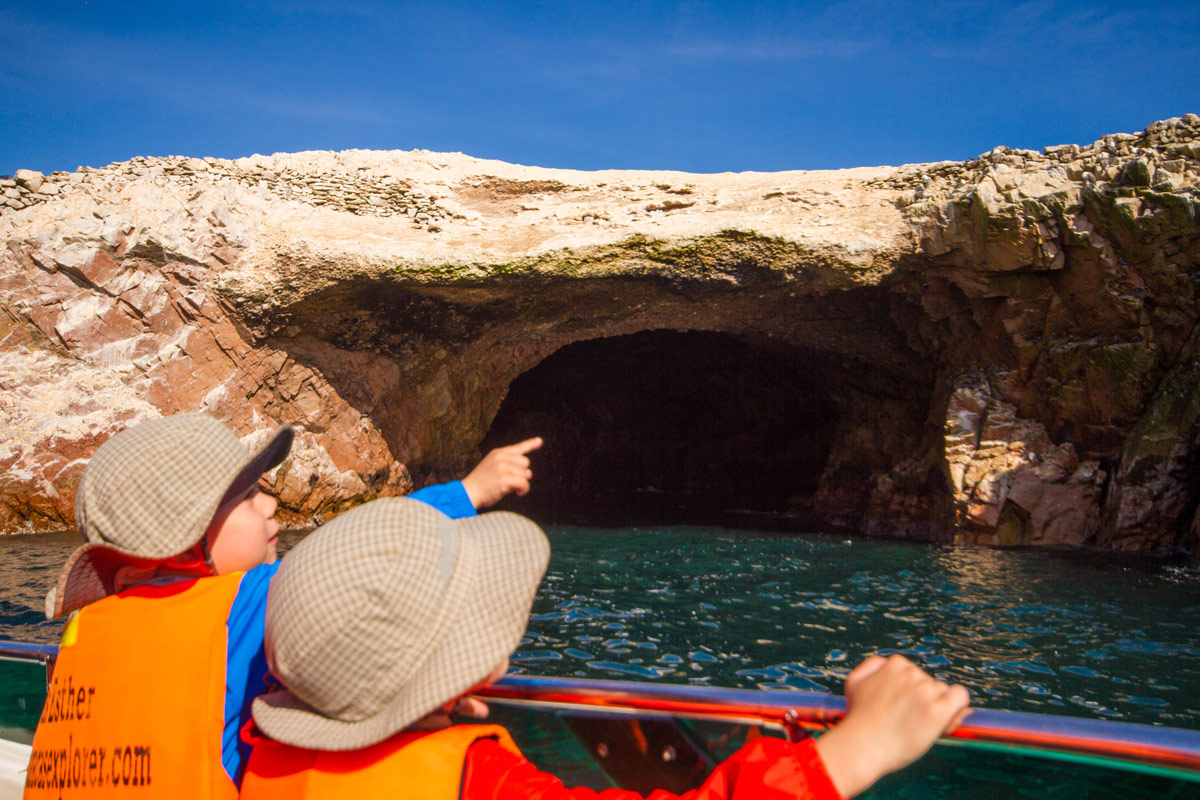 Getting to Paracas from Lima
Paracas, Peru is a popular day trip from Lima, but it isn't a short ride to get there. We dragged ourselves out of bed at 4:00 in the morning to meet with our guide, Alberto. It was pitch dark, but the van we were riding in was good for 12 people and only had 6 of us for the journey. With lots of room to rest, the boys quickly fell asleep for most of the drive from Lima to Paracas. You can read all about our experience in Lima Peru with kids here.
The route along the Panamerican highway was recently re-done, cutting hours off of the journey between Lima and Paracas. Consequently, the Paracas National Reserve, Pisco, and Huacachina are now long, albeit, accessible day trips from Lima. Previously, a hotel stay would have been necessary. You can also take a bus from Lima to Paracas with companies such as Go2Peru. From our later experience taking the bus from Cusco to Puno, we can say that tourist buses in Peru are excellent. You can read all about our Cusco to Puno bus trip here.
What to see in the Town of Paracas Peru
Thanks to our early start and the great new Panamerican highway (and maybe some speedy driving), we made the trip from Lima to Paracas in well under 4-hours. In fact, we had planned to catch the 9 am boat ride to Islas Ballestas National Marine Reserve, but ended up rushing through breakfast in order to make an earlier 8 am boarding time. The region around the town of Paracas is a hotbed of tourist activity. There is no doubt when you visit that tourism is the main reason for the town's success. Yet like all the regions of Peru that we explored, visitors are still treated to warm welcomes and polite service.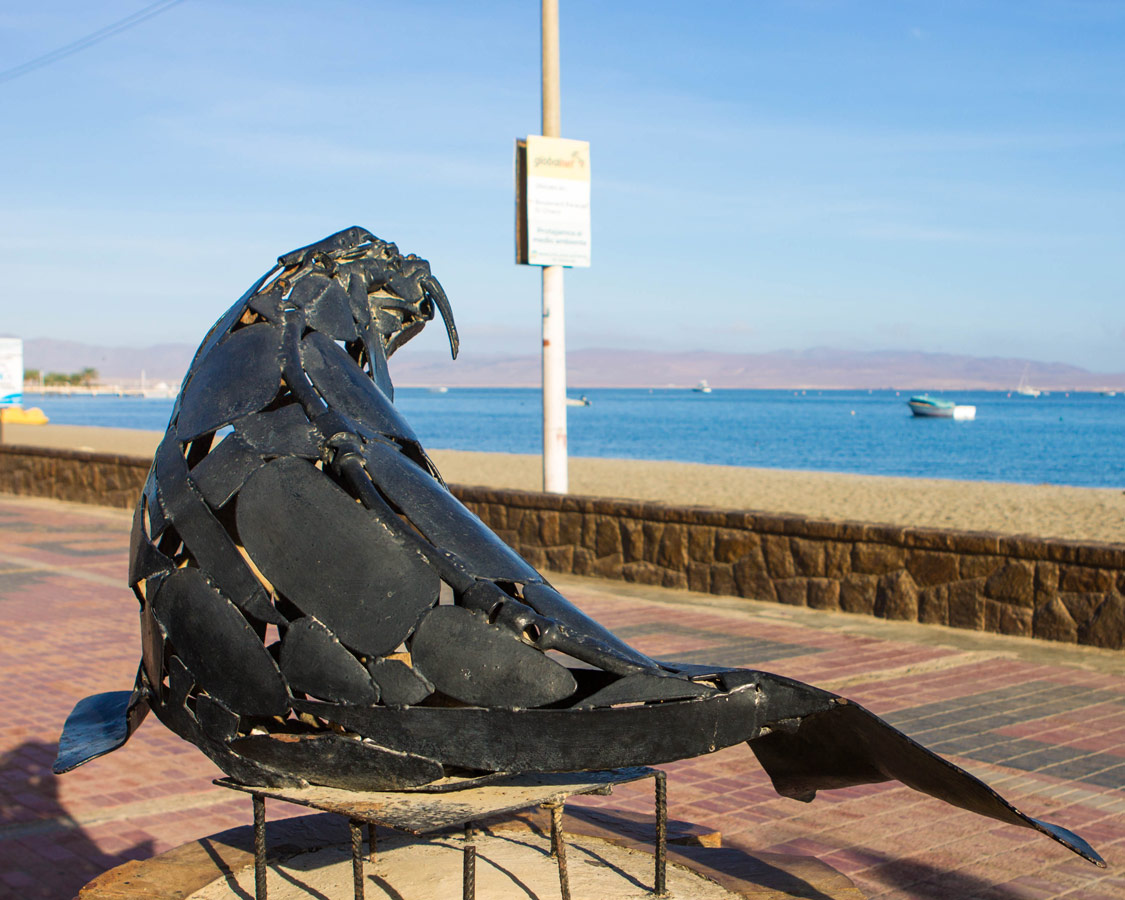 The main hotbed of activity in Paracas, Peru is the waterfront. The boardwalk is wild with activity. As visitors scramble to make boat launch times, dogs lazily snooze under the tables of the restaurants that line the boardwalk. We were among those anxious visitors, so it wasn't until after our tour that we had time to learn about what to do in Paracas. While most of the town is focused on the surrounding reserves, the Boulevarde, or boardwalk in Paracas is lined with gorgeous metal sculptures that show the wildlife in the region. You can also rent watercraft to explore the waters surrounding Paracas yourself. Many visitors, like us, use Paracas as a stop between Lima and Huacachina. It's easy to include a visit to nearby Pisco, Peru for wine tasting and Pisco Sours.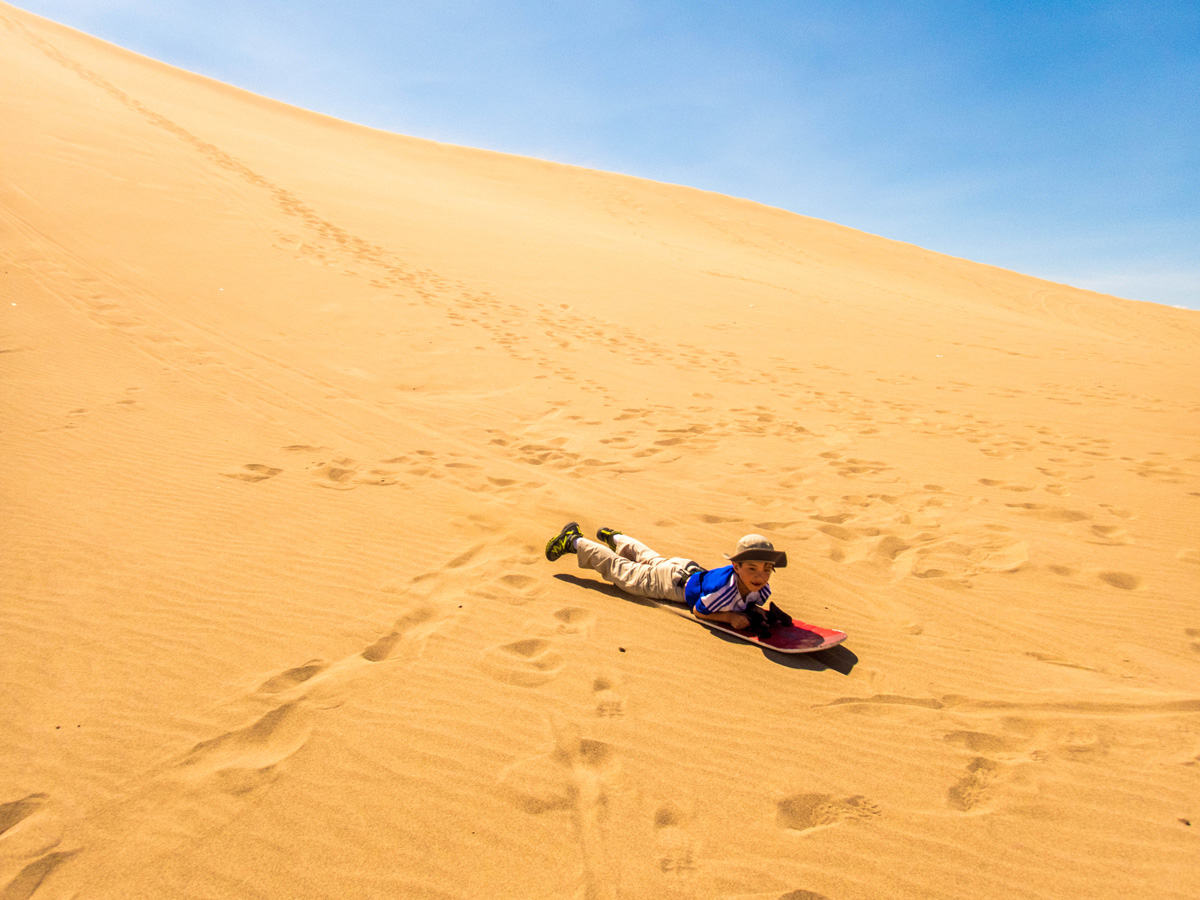 Pro Tip: Huacachina Peru is an adventure sport paradise. It can easily be combined as a day trip with a visit to the Paracas Nature Reserve.
What is the Paracas Nature Reserve and Islas Ballestas National Marine Reserve
Paracas National Reserve
The Paracas National Reserve, (also known as the Paracas Nature Reserve) covers a huge area of coastal and tropical desert surrounding Paracas, Peru. It was established in 1975 to protect the unique marine ecosystem in the area. But the Paracas National Reserve also holds some of Peru's most incredible prehistoric finds. The Paracas Reserve is home to the Paracas birds, and what may be the largest concentration of birds on earth. Watching thousands of birds dance around Paracas got our boys really excited for our upcoming visit to see the Andean Condors in Colca Canyon.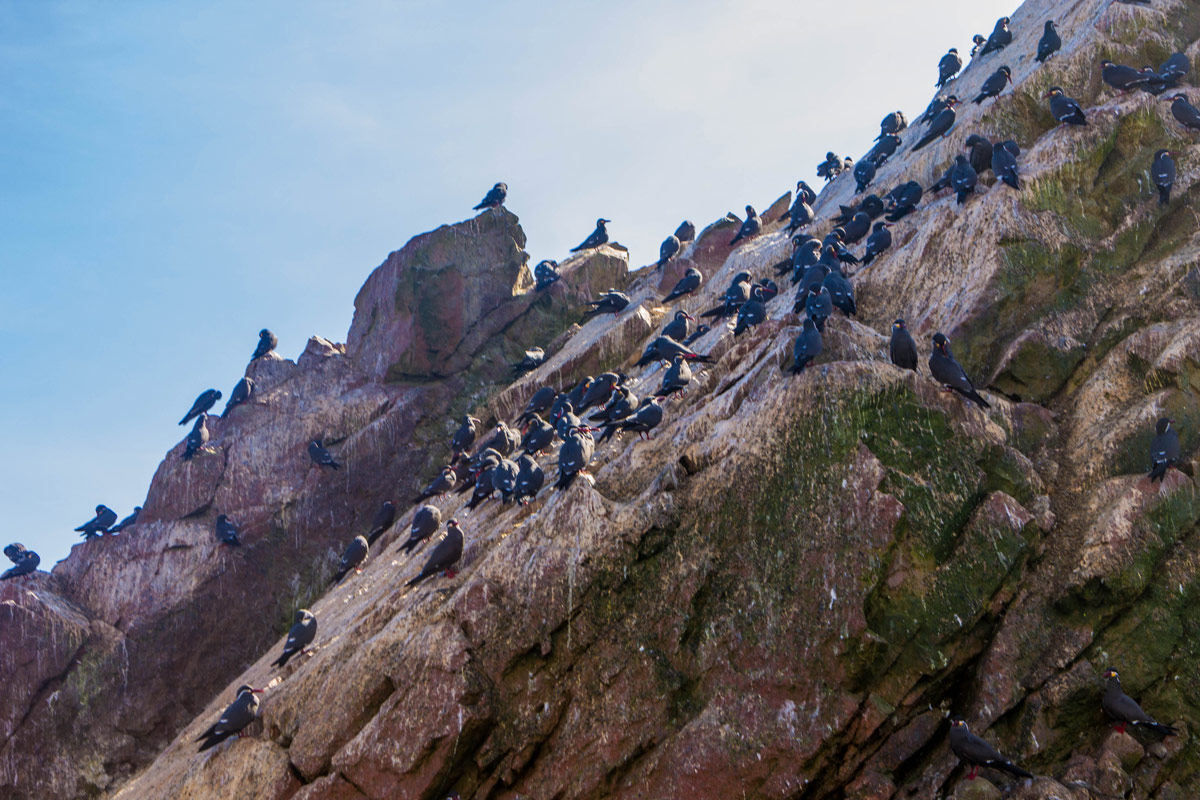 The Paracas National Reserve is also home to some of Peru's greatest, yet often overlooked historical treasures. Additionally, it is home to the Paracas culture. And finds in the region have included 8,500-year-old human remains and a decorated flute believed to be the first musical instrument of Peru. It also holds the Paracas Candelabra, also known as the Candelabra of the Andes. This 595-foot tall geoglyph sits on the shores of Pisco Bay. It has been dug two feet into the soil and is lined with stones. Its history is unknown, but it is believed to be around 2,000 years old.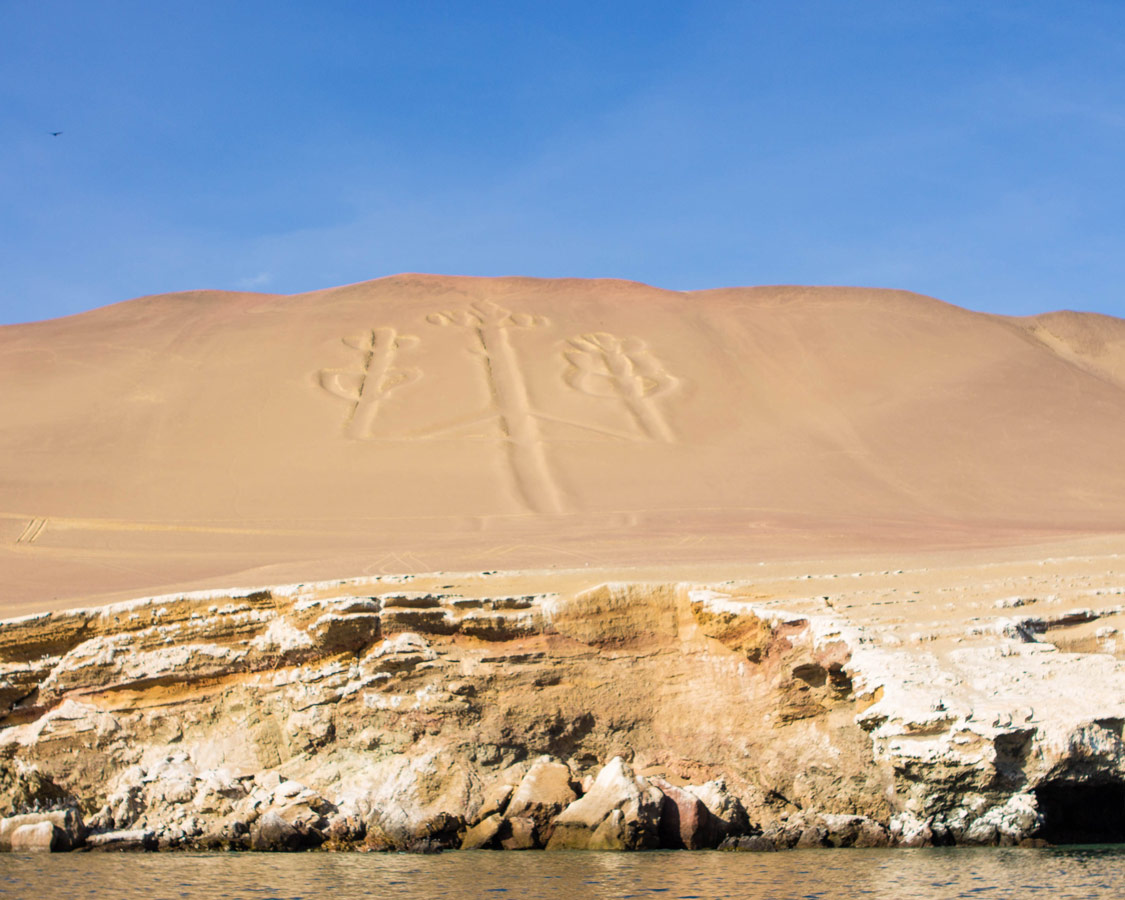 Islas Ballestas National Reserve
While the Paracas National Reserve is amazing, most visitors make a beeline for the marina in Paracas for a boat tour of nearby Reserva Nacional Islas Ballestas. It is also known as the Ballestas Islands National Reserve. This small region hosts a huge assortment of marine wildlife and birds. The only way to reach the Ballestas Islands is by a guided boat tour. These tours are available right off the Boulevarde in Paracas. We opted to use Paracas Explorer for our boat tour in Islas Ballestas.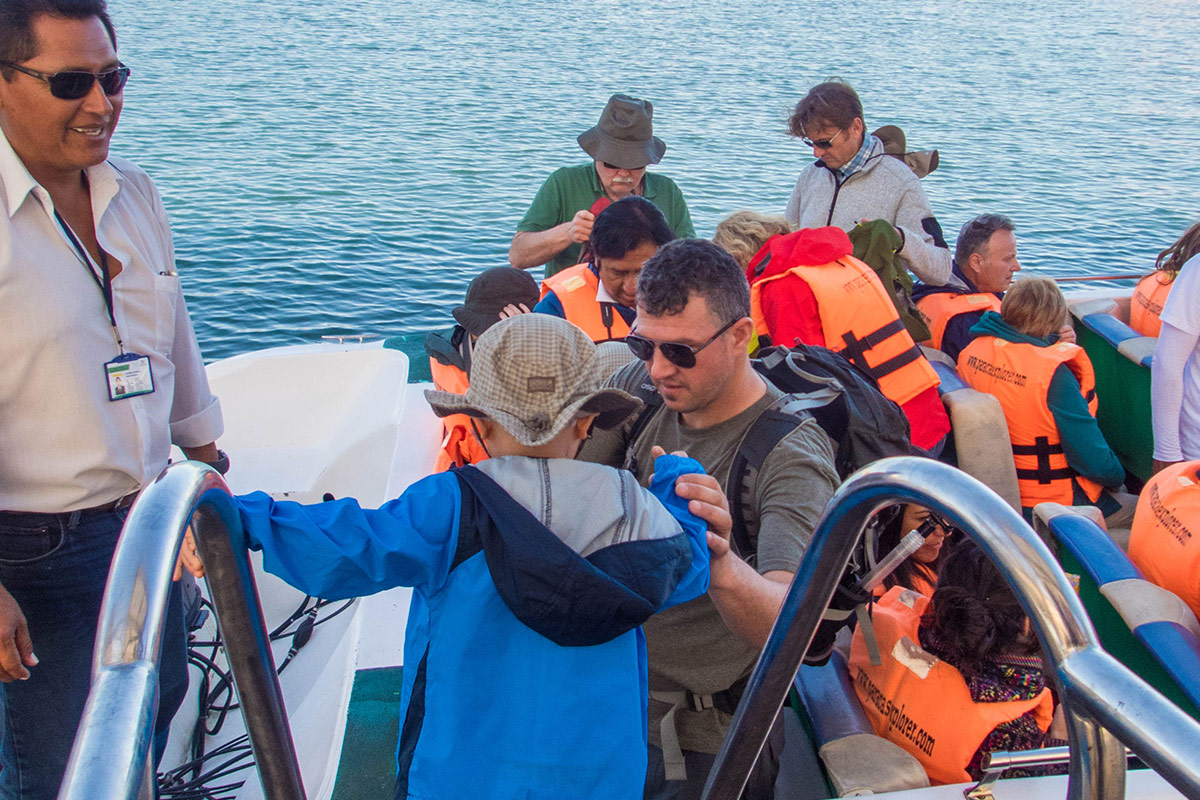 Pro Tip: All the tour boats have an open cabin. The weather can be cool and the waves unpredictable. Make sure to dress warmly in a wind or rain jacket. And if you suffer from motion sickness grab some Gravol.
The Islas Ballestas boat tour took us past the Paracas Candelabra, so we got a great view of just how visible it is from the sea. From there, we made our way out to Ballestas Island. The region has been dubbed the Poor Man's Galapagos due to the huge variety of wildlife in the region. On our tour, we saw sea lions basking in the sun that brought us back to our sea lion adventure in Puerto Madryn, Argentina. We also got to see a few Humboldt penguins. This had the boys really excited as they relived their adventures with the penguins in Punta Tombo, Argentina. You can read about our SCUBA diving with sea lion adventure here. And you can check out our visit to the penguin sanctuary in Punta Tombo here.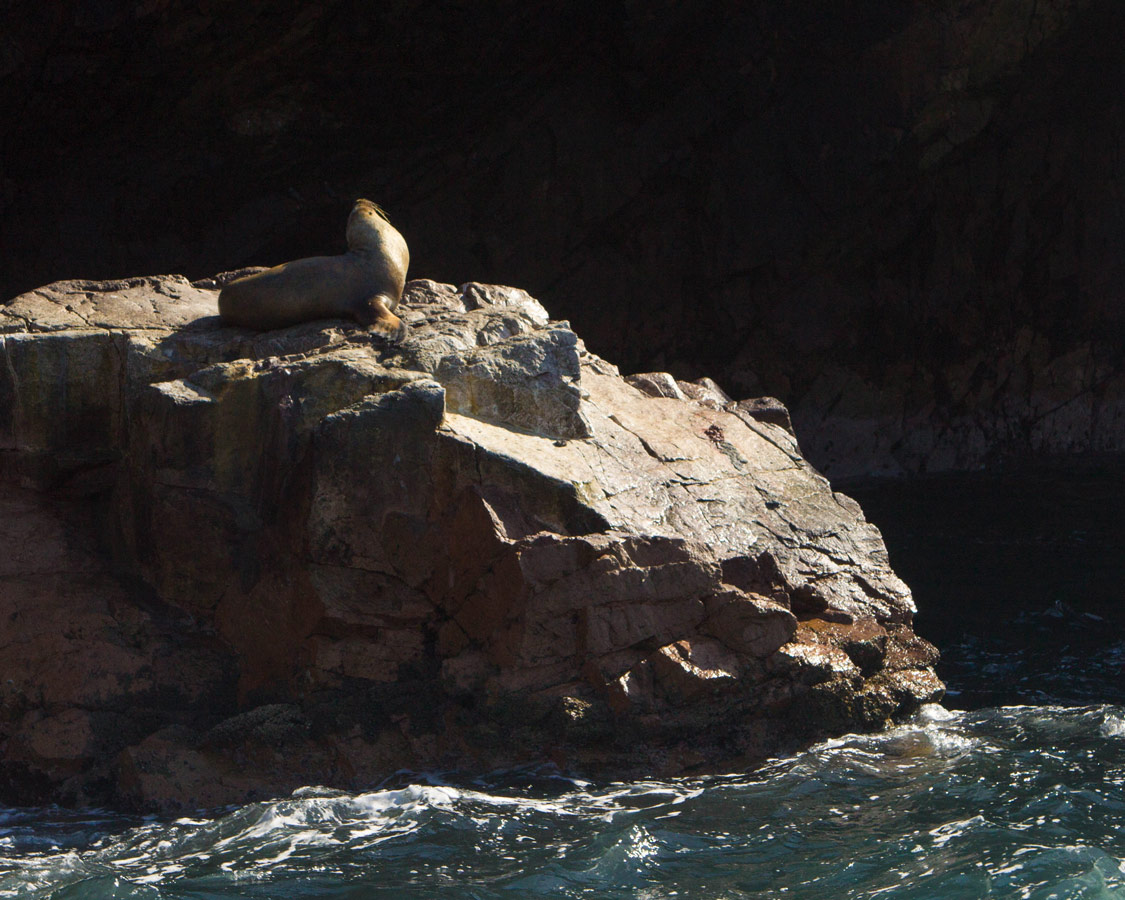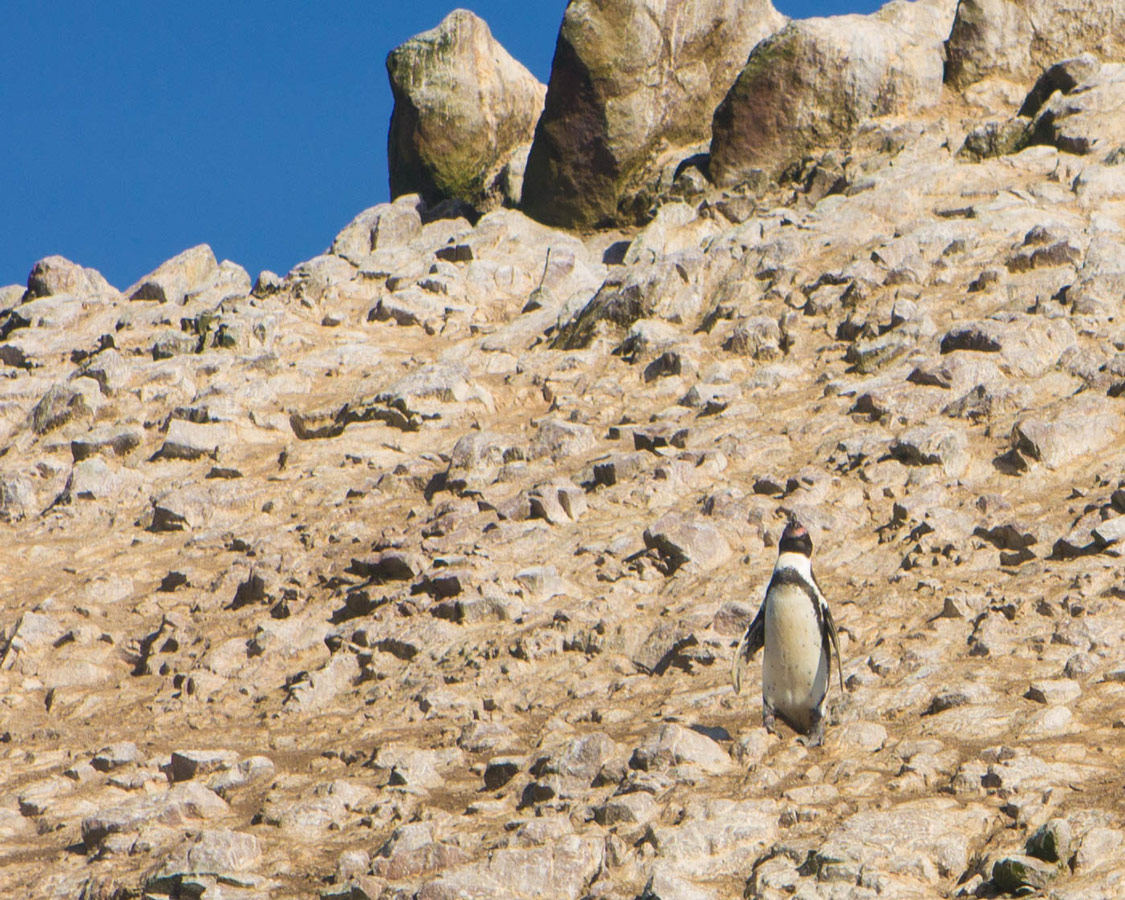 The Poor Man's Galapagos also has an incredible number of birds. In fact, we learned that every few years the island is mined for the up to 10 feet of guano (bird poop) that the birds leave on the island. That's a lot of poop.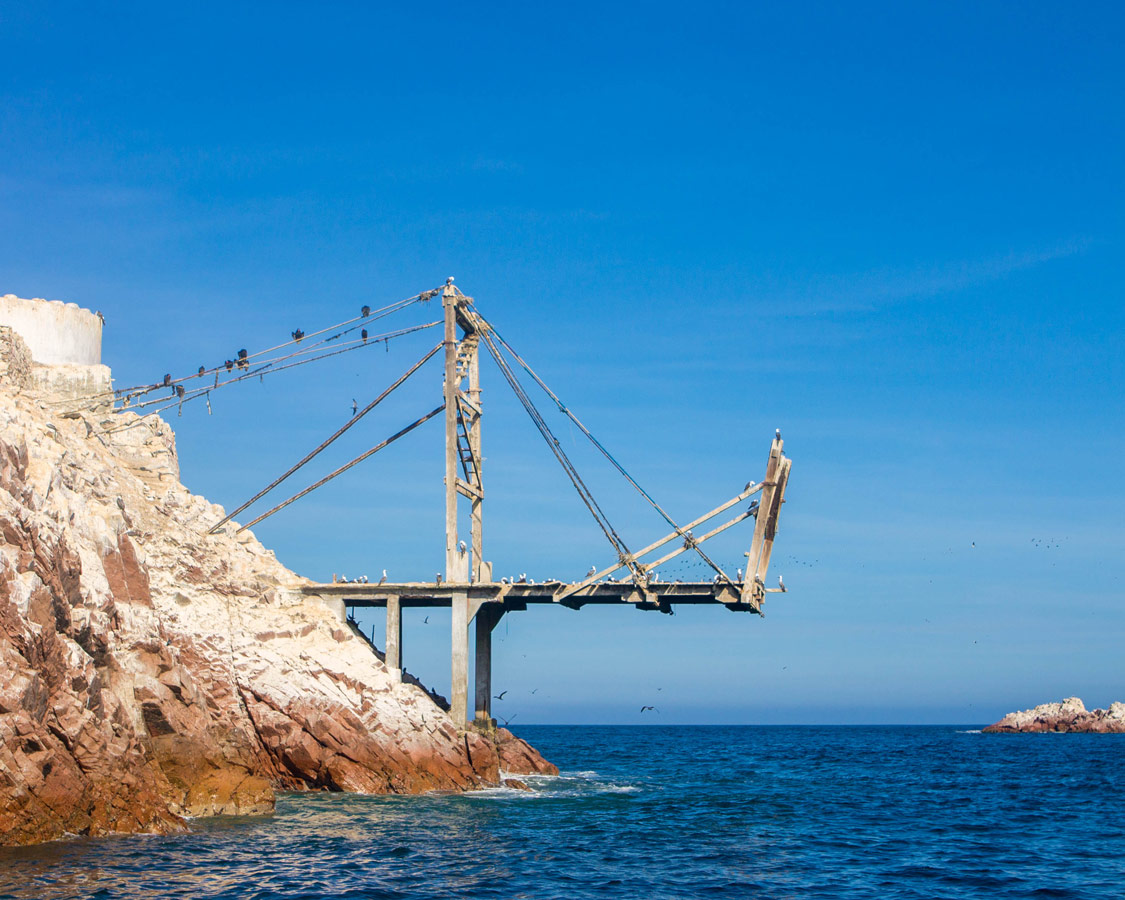 Another thing that makes Islas Ballestas National Reserve so cool is just how the islands have been shaped by waves and weather. The entire site is made of up craggy rock formations. And the main island itself is almost entirely built of sea caves and natural arches.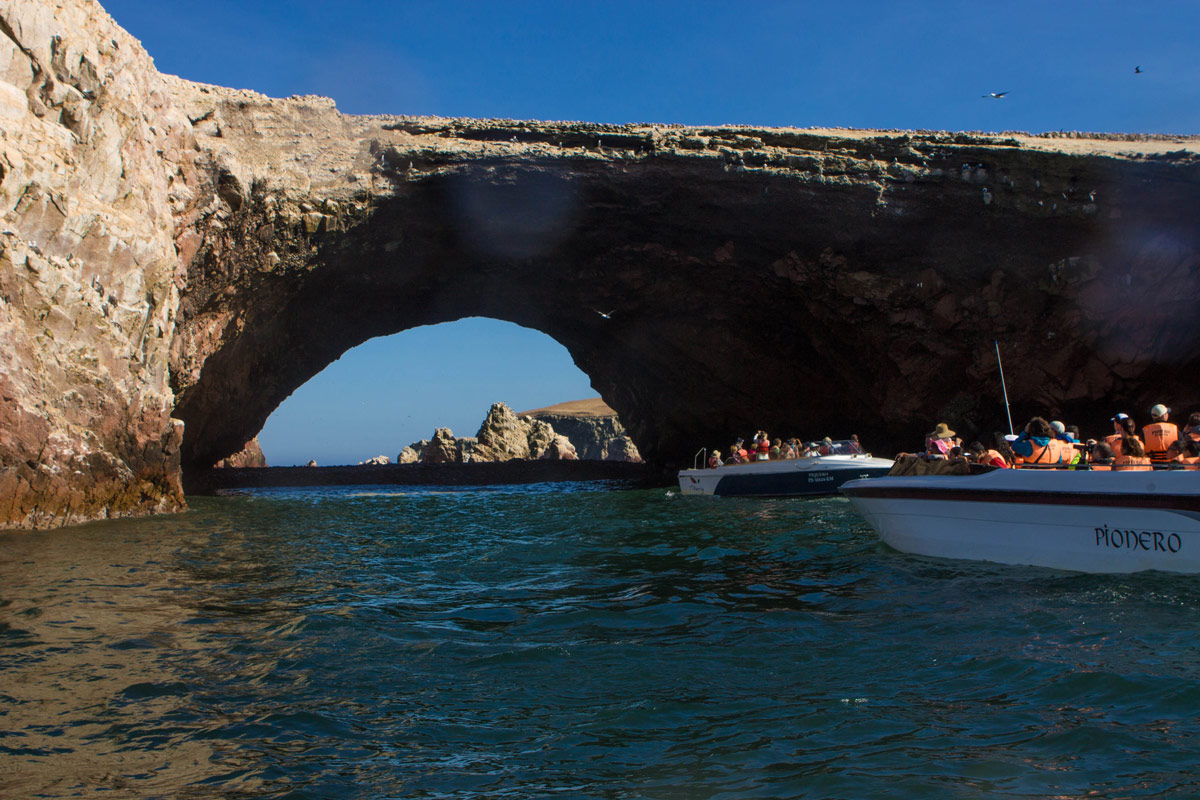 Food and Pisco Sours in Pisco Peru
After our tour of Paracas Peru, we made our way to nearby Pisco, Peru. Pisco is the home of Peru's famous drink the Pisco Sour. For lunch, we stopped at El Catador, a restaurant and vineyard that has been in business since 1856. The wide-open dining area was great for the boys. And the food was excellent. Included in our meal was a tour of the winery. We had a chance to see how Pisco sours were made. And we even had a chance to do a tasting of this delicious local treat.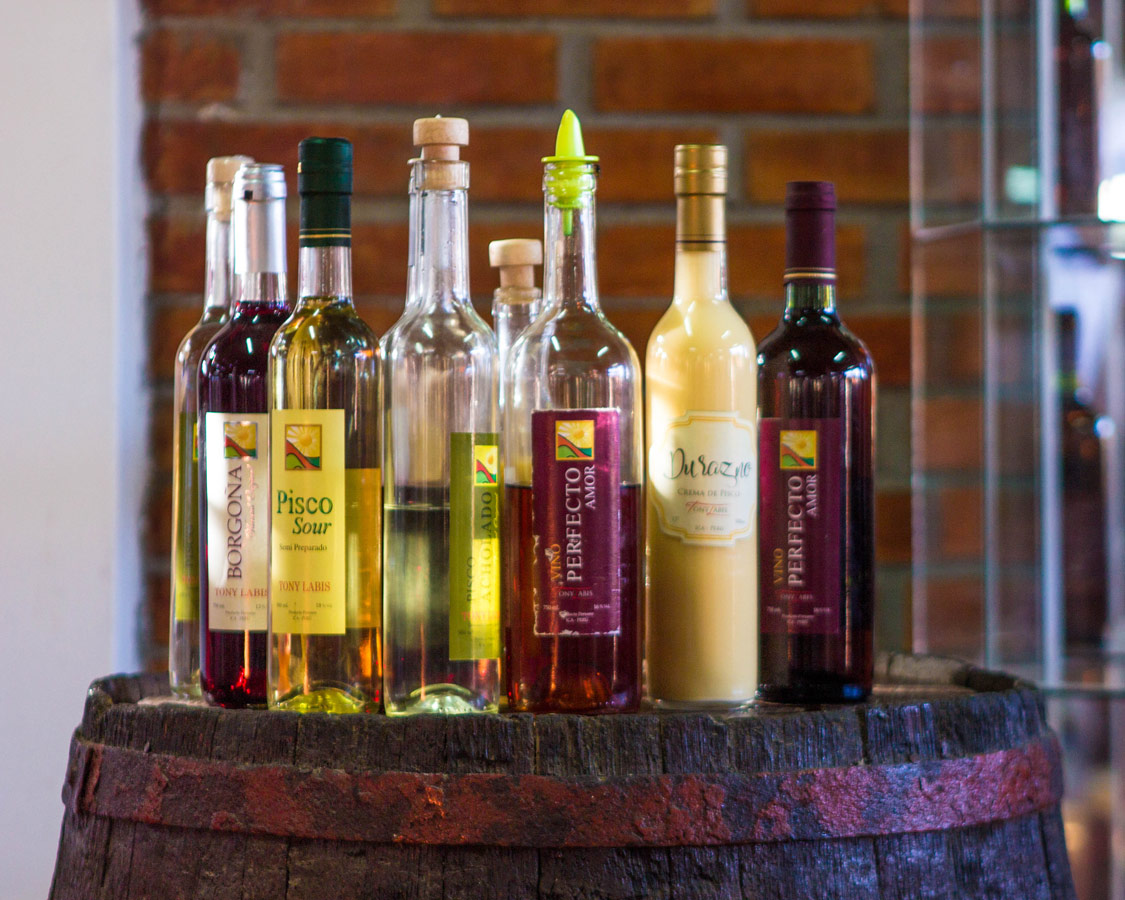 Even the boys had a fascinating time learning about winemaking in Peru. Although they were a little jealous that they weren't able to taste the Pisco themselves. El Catador even has an antique grape crusher that we all had fun exploring. And I think we got them really interested in the idea of taking off their shoes and socks and bouncing around in a pool full of squishy grapes.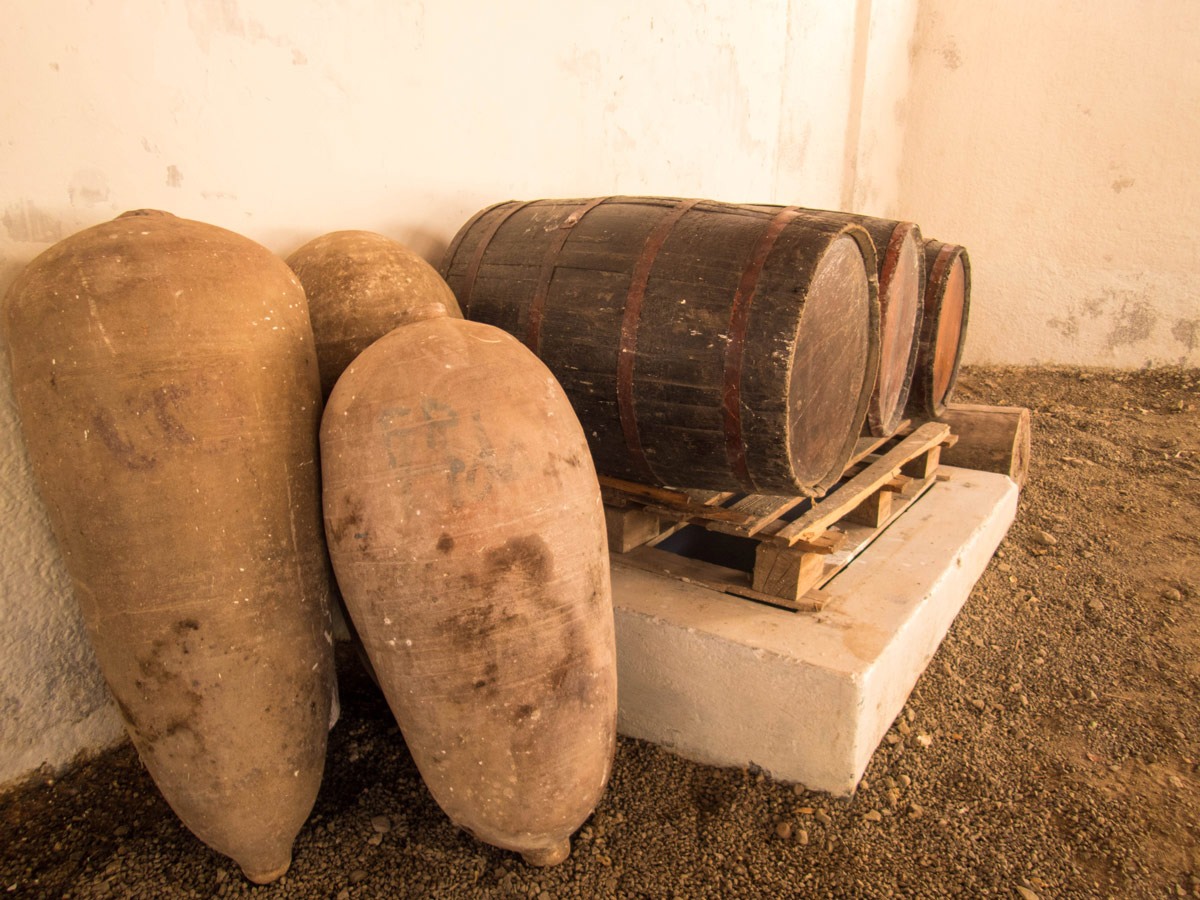 Where to Stay in Paracas and Pisco Peru
For those who are looking to spend more than a day in the Ica, Peru region. Or if the idea of 10 hours combined driving time from Lima to Paracas and back sounds daunting. There are places to stay in the region around Ica. Some of the most popular options for those looking for a little luxury in Paracas include the DoubleTree Paracas by Hilton Resort, Hotel Paracas, and La Hacienda Bahia Paracas.
For those looking for budget accommodation in Paracas the region also offers some highly touted hostels in Paracas including Paracas Backpackers House. You can find a list of some great places to stay in Paracas, Pisco and the Ica region here. You can check out our guide to the best resorts in Peru, including Paracas here.
You May Also Like To Read:
Pin This Post For Later