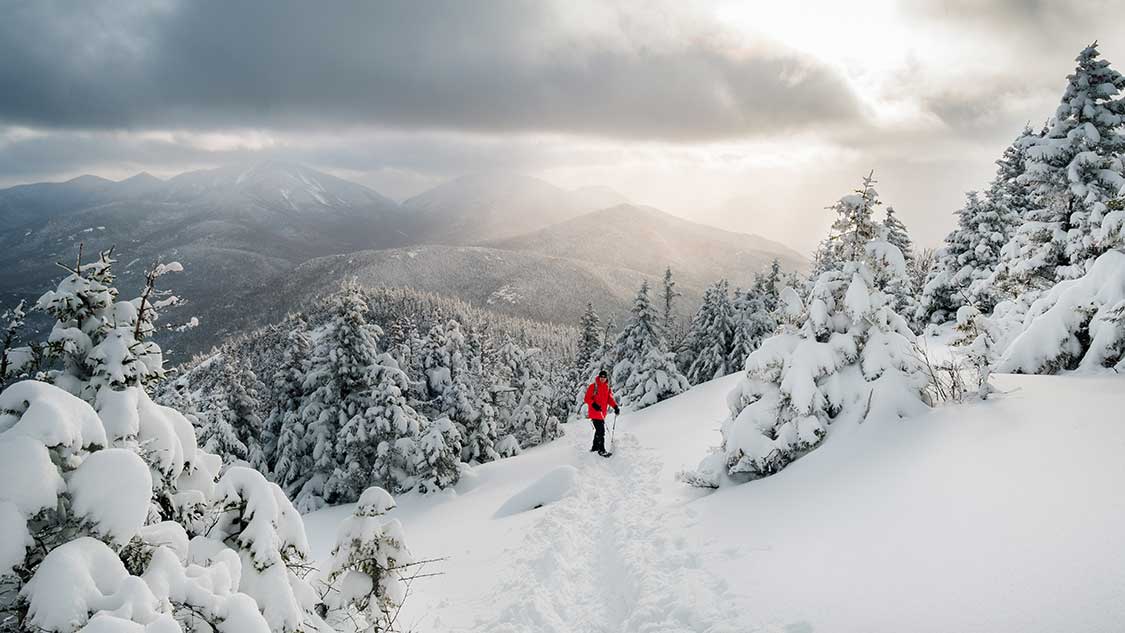 There are few places that define "Winter Wonderland" better than winter in Lake Placid, NY. From the towering mountains to the frozen lakes, these are our ultimate Lake Placid winter activities.
---
Winter in Lake Placid is a truly special time in this town at the heart of the Adirondack mountains. The buzzing summer crowds change and a fun, frosty vibe descends upon the city. Patios are replaced with twinkling lights and the frozen Mirror Lake offers an entirely new set of Lake Placid winter activities.
Hiking shoes are skates, bikes exchanged for ski's, and it seems that the comfortable chairs placed in front of the fireplace are always stocked with someone sharing a story of local adventures.
Experiencing Lake Placid in Winter takes on new energy once the snow falls and the lakes freeze over. And these amazing Lake Placid winter attractions will help you fill your days and nights with family fun. This snowy mountain town is one of our favorite winter destinations, and you'll soon discover why.
If you're looking to explore Lake Placid in the summer, you can check out our complete guide here.
About Lake Placid In Winter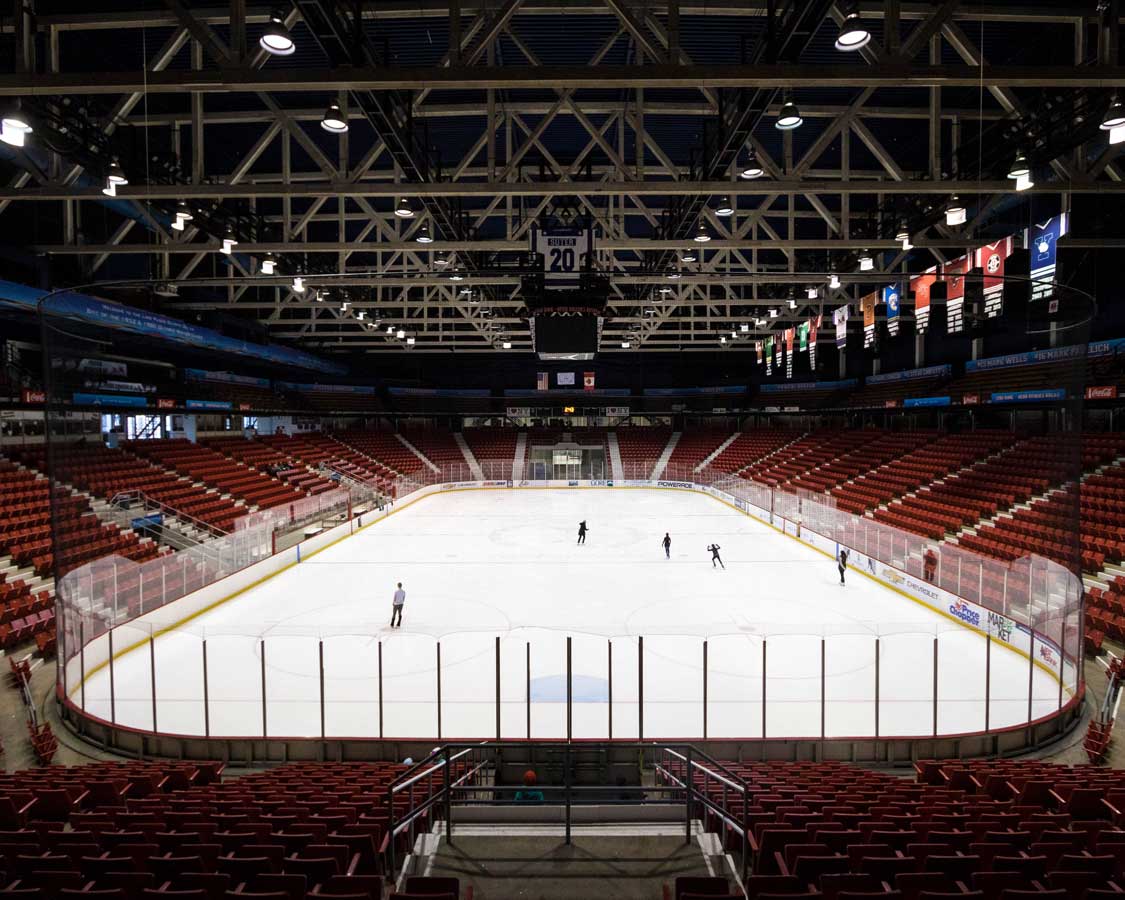 The Adirondacks of New York are packed with amazing towns. But unlike quiet towns such as Tupper Lake and Saranac Lake, winter in Lake Place explodes with activity.
Winter activities in Lake Placid offer something for absolutely everyone. Whether you love reading a book by the fire at a cozy mountain-side Lake Placid Airbnb or shredding the moguls at the Whiteface Mountain ski resort, the winter fun in Lake Placid has you covered.
Lake Placid is a small town. With only about 2,500 residents, on paper, Lake Placid might seem like a village. However because it's beautifully situated in the Adirondack region and filled with amazing landscapes and experiences from ski hills to breweries to the spectacular Wild Centre, it is easy to believe that Lake Placid holds a far larger population than it really does.
And all of this Lake Placid winter action has a history. The city has been the home for not one, but two winter Olympic games. The first one was in 1932 and the second one in 1980. Winter sports are practically in the town's DNA.
The Best Attractions Around Lake Placid In Winter
Lake Placid may be a small town, but you won't run out of amazing things to do here. This is a place built with winter fun in mind. Here are some of our favorite Lake Placid winter activities.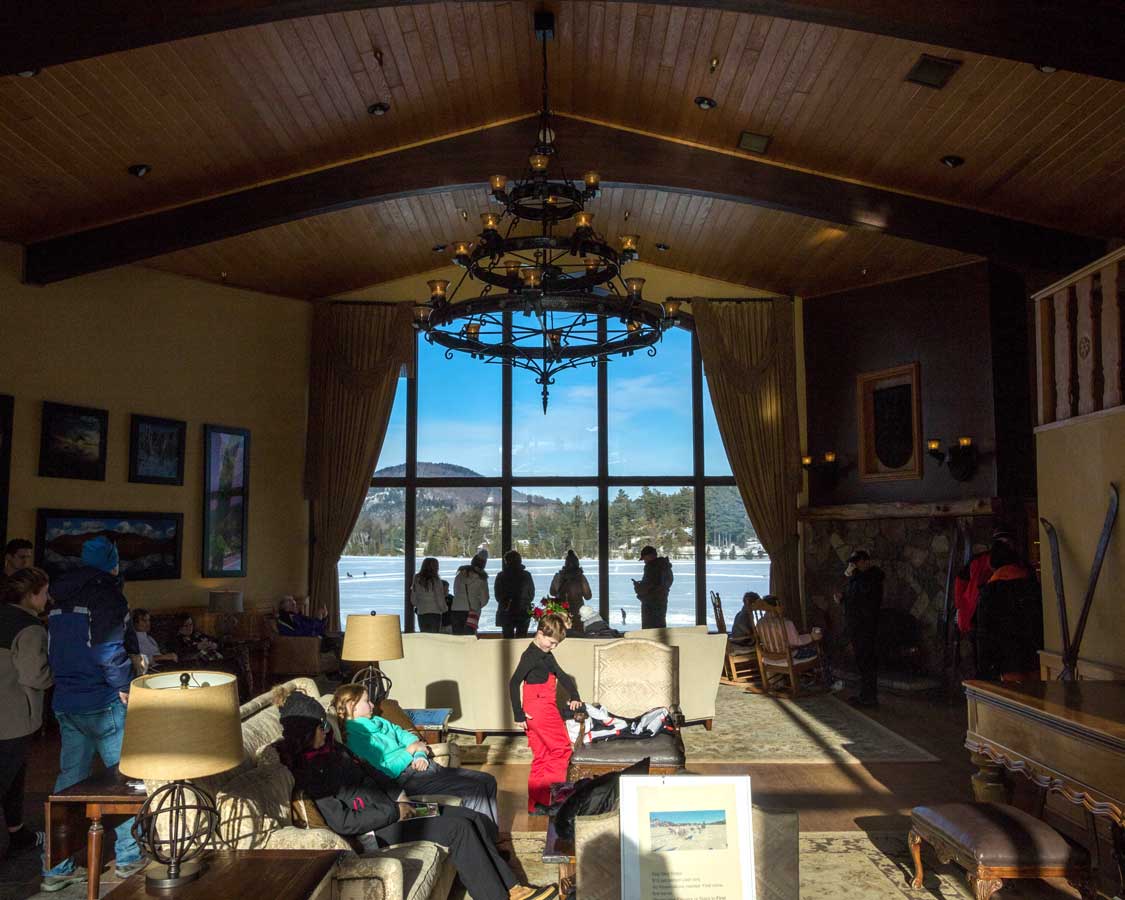 Hit The Cozy Craft Breweries In Lake Placid
The vibe around Lake Placid is infectious. There's an energy about the town that far surpasses many of the best ski villages in North America. A lot of that energy and social excitement comes from the great craft breweries found in and around Lake Placid.
And beyond just being a social hangout for adults, many of the craft breweries in Lake Placid are family-friendly. You'll often find great food, fantastic patios, and a social environment that makes it perfect for everyone.
The Great Adirondack Brewing Company is one of the original Lake Placid brewhouses and features amazing views of Mirror Lake. They have seven beers on tap, and a flight can get you a taster of all of them. The Whiteface Stout is a personal favorite of mine.
Other great breweries to enjoy during Lake Placid in winter are the Lake Placid Pub and Brewery on Mirror Lake Dr. Treat yourself to a Pumpkin Ubu Ale for something truly unique. Big Slide Brewery, which is located near the Olympic Ski Jump Complex is another location for the Lake Placid Pub and Brewery.
And, of course, Lake Placid is just 35 minutes away from Raquette River Brewing, one of my favorite Adirondacks breweries located in Tupper Lake.
Strap On Some Planks For Some Lake Placid Skiing and Snowboarding
Whether you're looking for extreme verticals or long, relaxed trails, winter in Lake Placid offers some of the best skiing in New York State. And with a huge variety of options, you'll find skiing to fit all levels from beginner to pro.
Whiteface Mountain offers the largest vertical drops east of the Rocky Mountains, But it's not all extreme. 60% of the runs are geared towards beginner and intermediate levels and there are well-organized learning areas for kids and those new to the sport.
And don't miss the scenic Whiteface gondola ride to the top of Little Whiteface. Here you'll find one of the best views in the Adirondack Mountains. You'll also find free shuttles that run from downtown Lake Placid to the Whiteface Mountain Resort.
If the slower rolling appeal of cross-country skiing is more your style, rest assured that winter in Lake Placid has got you covered. There are plenty of groomed trails for you to explore throughout the surrounding area. Mount Van Hoevenburg was the site of the 1980 cross country events and offers more than 30 miles of trails.
The nearby Cascade Cross Country Ski Center has a full-service offering with restaurants, ski-shops, and a great bar. You'll also find 10 miles of fantastic trails to keep you busy until it's apres-ski time.
Hit The Extreme Toboggan On Mirror Lake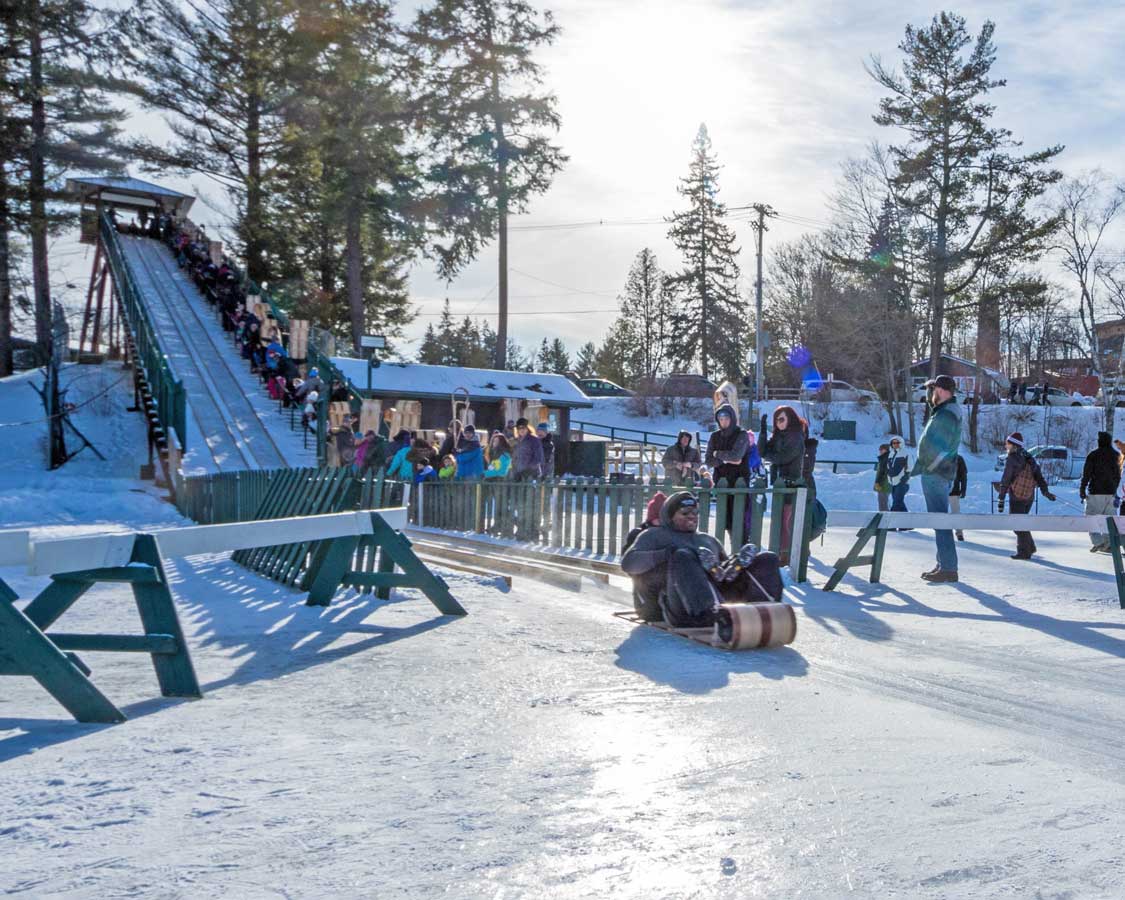 Leave it to the adventurous spirits of Lake Placid to find a unique twist on winter staples such as tobogganing. The Extreme Toboggan Run shoots thrill-seekers 30 feet down a toboggan chute before launching them more than 1,000 feet across the frozen surface of Mirror Lake.
It's incredibly exciting and great family fun for those visiting Lake Placid in winter. The Lake Placid Toboggan chute usually opens between December and February depending on ice conditions and runs through the end of February to March.
Lake Placid Skating, Skating, and More Skating
What's winter in Lake Placid without some time on the ice. And there are loads of options to keep you moving on the ice. From historic rinks to open-sky shinny, there's something for everyone.
Make your way over to the Olympic Skating Oval in front of the Lake Placid Olympic Center. Here you can try your hand and matching some of the blistering records set here over the years.
Inside you can hit the hockey rink where the famed "Miracle on Ice" occurred during the 1980 Winter Olympics. Talk about skating through history!
But if you really want to feel the beat of the city, make your way onto Mirror Lake behind the famed Golden Arrow hotel. On the lake, you'll find shinny rinks, skating circles, and loads of benches for lacing your skates for a fun day outdoors. And you'll have easy access to all of the great Lake Placid restaurants and cafes in the downtown core.
Feel The Wind In Your Face On A Lake Placid Dog Sledding Experience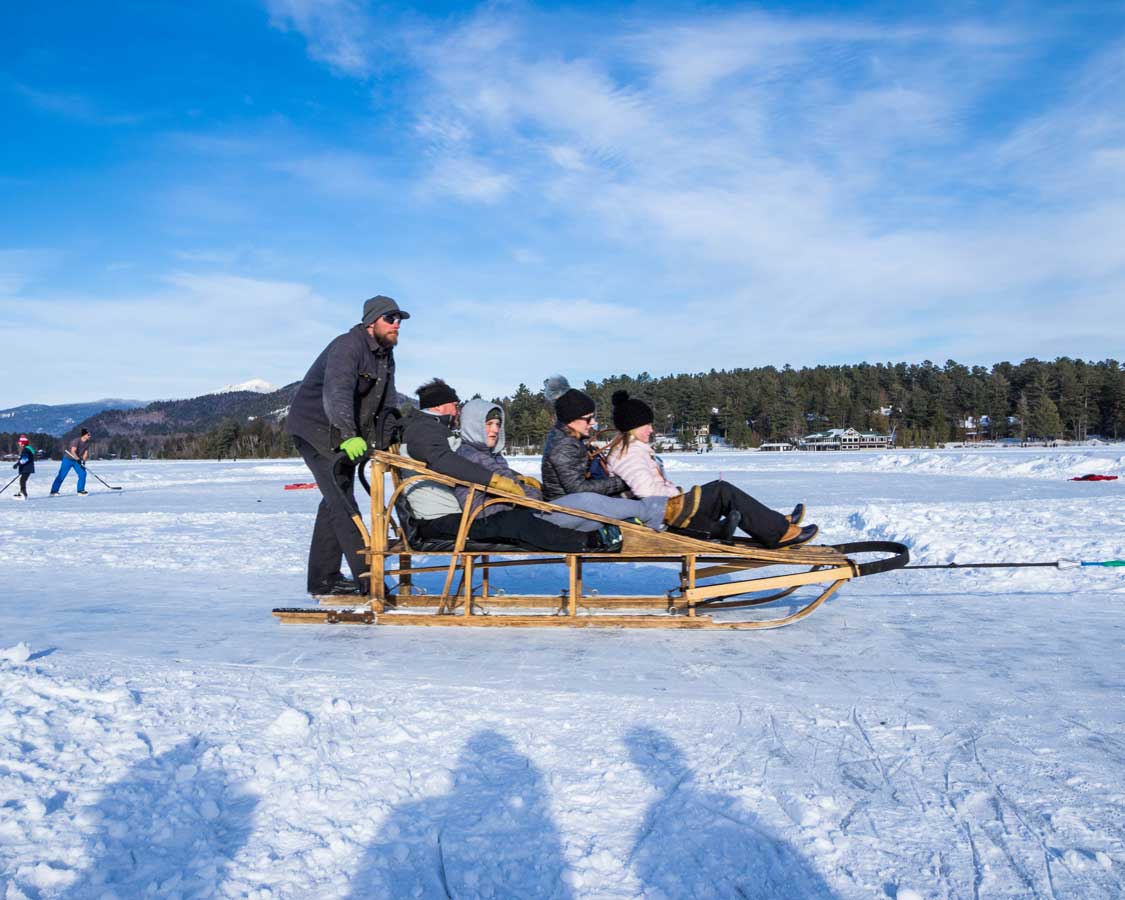 Local dogsled operator Thunder Mountain runs Lake Placid dogsledding tours that send visitors zipping across the surface of Mirror Lake. My family has had a blast dog sledding in Mont Tremblant, Quebec, and Yellowknife, Northwest Territories, and after watching the fun in Lake Placid, I know that it's just as incredible of an experience.
Catch The Action At The Lake Placid Bobsled Center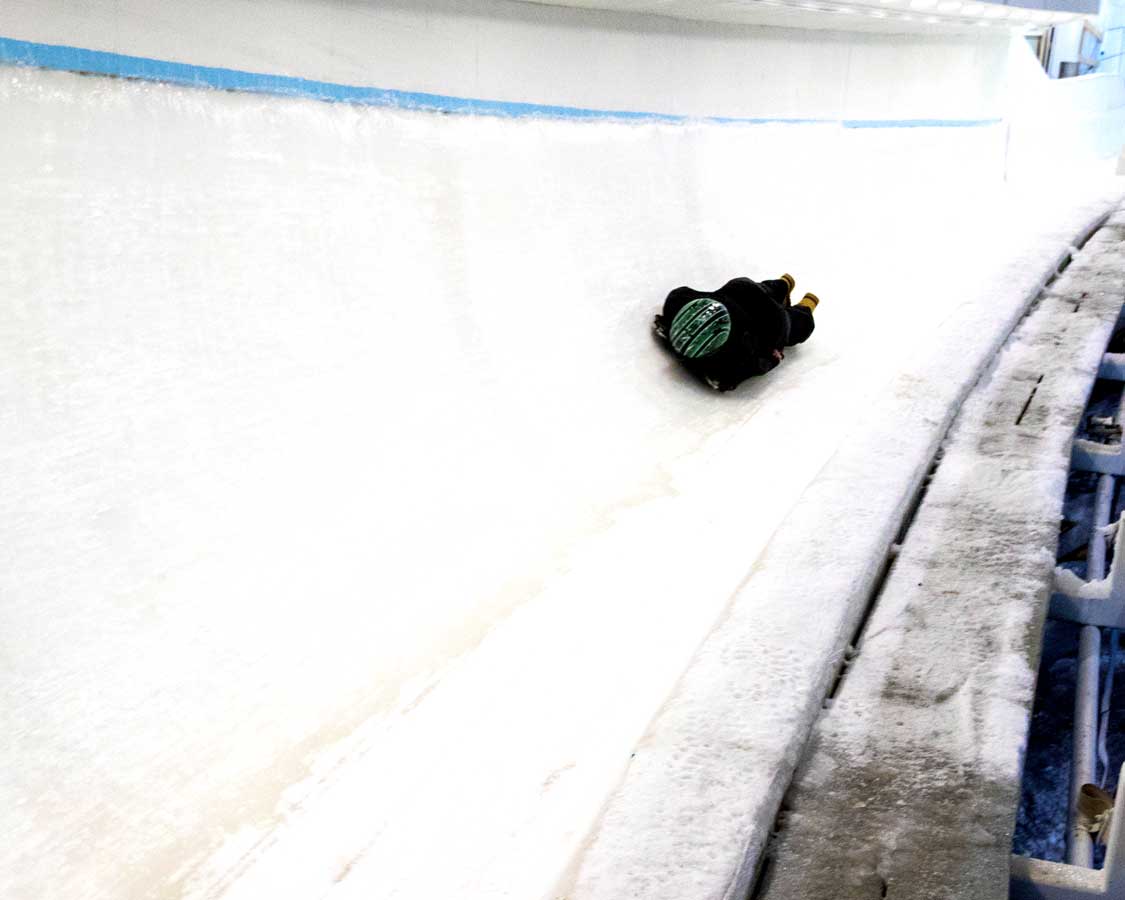 When you visit Lake Placid in the summer, I highly recommend taking a spin on the Lake Placid Bobsled run. It's a thrill-a-minute ride. But for those visiting Lake Placid in winter, the fun takes on a different role.
The boblsed center is still open, but rather than catering to thrill-seeking guests, this active training ground features athletes zipping at breakneck speeds on both boblsed and skeleton runs.
It's a must-see experience and offers far more access than you'll have during actual competitions.
Tap A Maple Tree At Mark Twain Mapleworks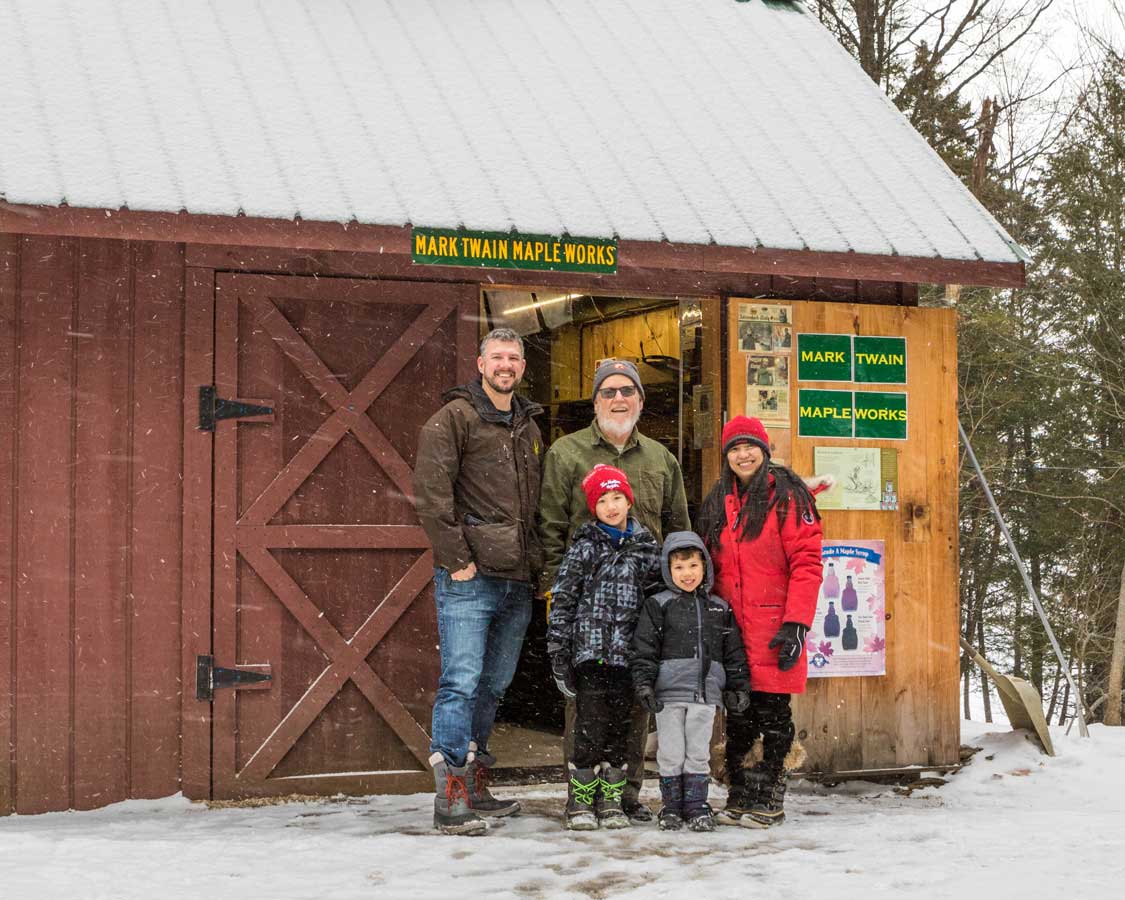 You can't experience an Adirondack winter without tasting some of the regions delectable maple syrup. And there is no more unique place to do this than at one of legendary author and traveler, Mark Twain's old haunts near the village of Saranac Lake. The story behind Mark Twain MapleWorks is a fascinating one, and owner Jack Drury is a treat to spend some time with.
Bushwack Jacks Sugar shack got its name from Sam Clemens' (Mark Twain) visit here during the summer of 1901. In 2013 Jack poured the foundation for what would become Mark Twain MapleWorks and has been steadily growing the business ever since. The Adirondack maple syrup lodge is located on a picturesque piece of Lower Saranac Lake. He's so far tapped over 500 trees and shares stories of his love of maple syrup with his passion for the Adirondacks region and its history.
When you're there make sure you grab a bottle of Nitai's Nectar. This premiere maple syrup offered by Mark Twain Mapleworks is named in honor of Jack's late son. You can find out more about Mark Twain MapleWorks on their website here.
Dine At These Cozy Lake Placid Restaurants
There's no better way to end an amazing day experiencing the outdoors during Lake Placid in winter than with a delicious meal. And Lake Placid delivers. There are many great Lake Placid restaurants to choose from, but these ones offer the perfect mix of mouthwatering food, a family-friendly atmosphere, and a cozy, apres-ski vibe that will keep you coming back for more.
Generations, which is connected to the popular Golden Arrow Hotel offers scrumptious food combined with the sustainable philosophy of Golden Arrow. You'll find excellent locally sourced fare and a variety of options all placed in a convenient location right by the shores of Mirror Lake.
Lake Placid Pub and Brewery isn't just a great place for a drink, it's a fun and comfortable place to find great food in Lake Placid during the winter.
For a local take on Latin American cuisine, Sol de Oro on Main St. is a wonderful dining option in the city. You'll find classic takes on Argentinean Steaks and one of the best bar menus in town.
Enjoy A Day of Snowshoeing At The Wild Center In Tupper Lake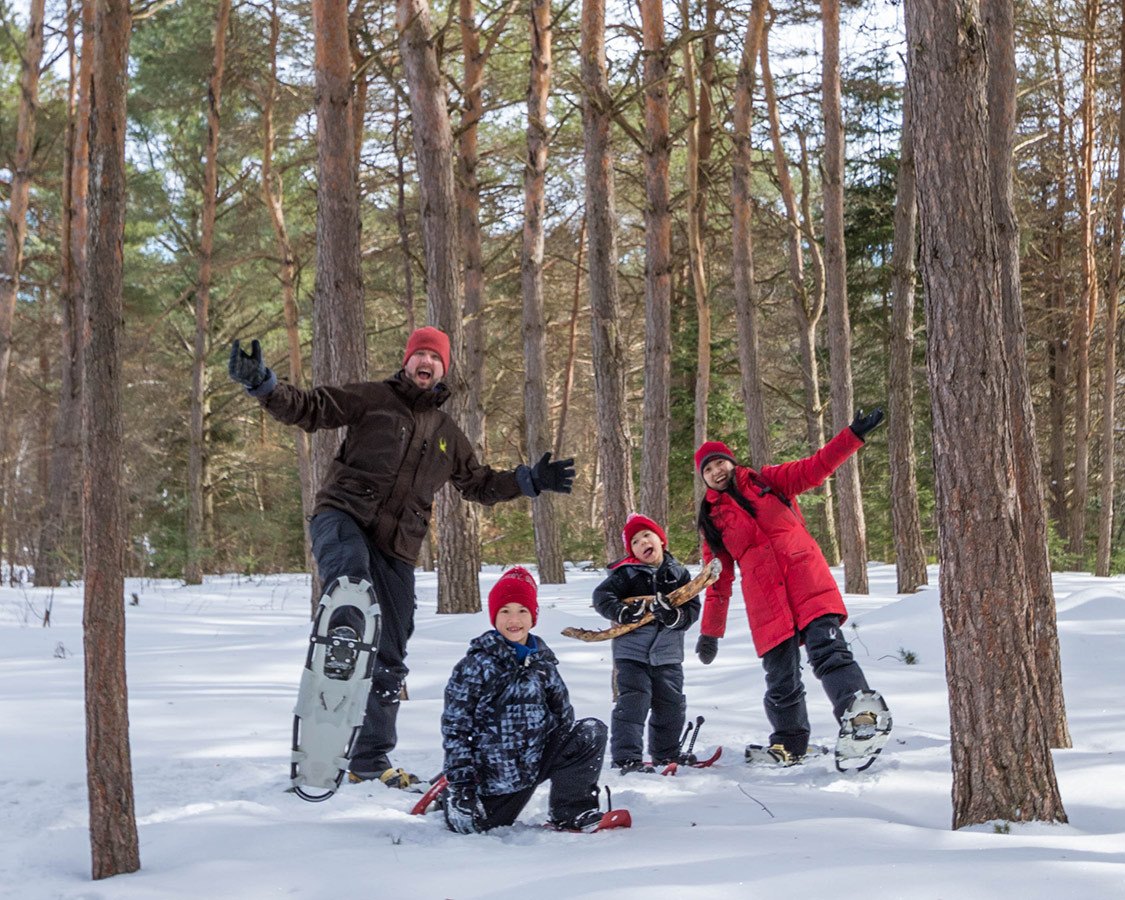 Just 30-Minutes From Lake Placid is the small town of Tupper Lake. This Adirondack Village boasts a big adventure center. And while many visitors come to the Wild Center to enjoy the incredible bird nest views of the mountains, during the winter it's the snowshoeing that brings visitors from far and wide.
There are rentals available on-site. And you can combine your visit with the incredible nature programs and Adirondack nature experiences that are spread across the property and the Wild Center nature attractions.
Fool The Fuzz At The Lake Clear Speak Easy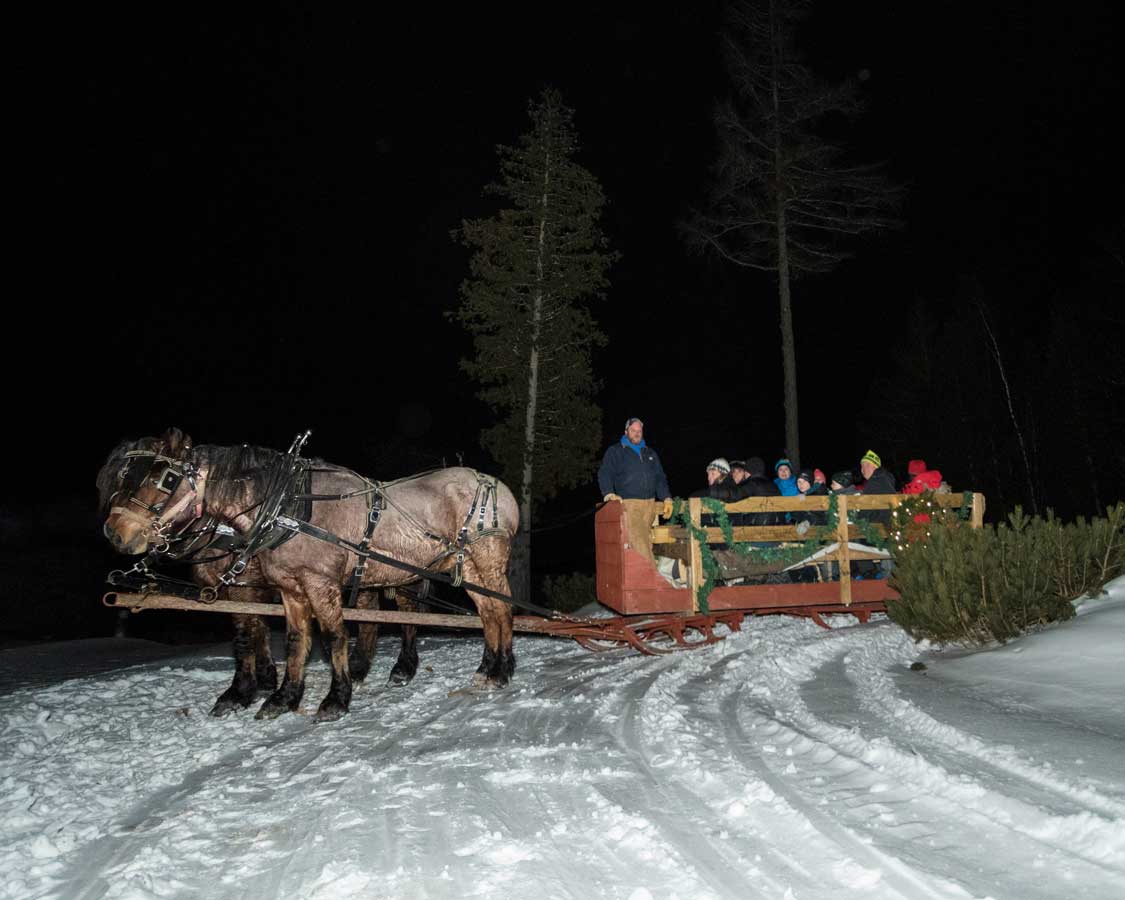 One of the more funky dining experiences near Lake Placid is the Lake Clear Lodge Speakeasy experience. This former underground bootlegger joint holds special dinners in their hidden restaurant.
To get to the restaurant you need to slip through a secret entrance to an underground restaurant featuring one of the biggest wine cellars in the Adirondacks.
Of course, a speakeasy wouldn't be the same if it didn't get raided once in a while. So you'll get tips on how to "hide your drinks" in secret tables and rotating walls so that the billyclub wielding fuzz don't catch you.
You can end your night with a lantern-lit carriage ride through the surrounding forest in what is sure to be one of your most memorable meal experiences ever.
Where To Stay During Winter In Lake Placid
There is no lack of great places to stay in Lake Placid during the winter. It's good to remember though that winter in Lake Placid can be very busy. This small town books up quickly, so it's good to book ahead.
The Golden Arrow Lakeside Resort is always our go-to for in-town stays. The picture-perfect location with panoramic views of Mirror Lake and the easy access to Generations, one of our favorite restaurants makes this an easy choice. You can check out their prices and availability here.
For something on the luxurious side, the Mirror Lake Inn Resort and Spa offers plush bathrobes to slip into after a day on the lake. The hotel offers an excellent on-site restaurant and gorgeous views of the mountains. You can check out their prices and availability here.
If you'd prefer one of the beautiful Lake Placid Airbnbs for a family getaway, you'll love the amazing selection of properties. This gorgeous lodge with a backyard oasis is on 10 acres of private land, for summer stays it even has an inground swimming pool. You can check out their rates here.
This rustic tree-house style stay has a huge amount of Adirondacks charm. It's not far from downtown, but you may think you're still at the Wild Center nature walk. You can check out their rates here.
Final Thoughts On Winter In Lake Placid
No matter how you choose to spend winter in Lake Placid, New York, you're bound to have an amazing time. It's literally a winter wonderland. But, did I miss something that you love about Lake Placid in winter? If so, drop a comment below and let me know.
If you're passionate about family travel, head on over to our Family Travel Support Group on Facebook. It's a fantastic community of parents who love travel. We share experiences, knowledge, and the lessons learned along the way. You can also sign up for our newsletter to keep in the loop about new family travel adventures
Wandering Wagars is a participant in the Amazon Services LLC Associates Program, an affiliate advertising program designed to provide a means for sites to earn advertising fees by advertising and linking to amazon.com, amazon.co.uk, amazon.ca. Amazon and the Amazon logo are trademarks of Amazon.com, Inc., or its affiliates.
You May Also Like To Read:
Pin This Post For Later