Looking for things to do in Saranac Lake NY? You're in luck! From wilderness adventures to the burgeoning food scene, here's our guide to Saranac Lake NY.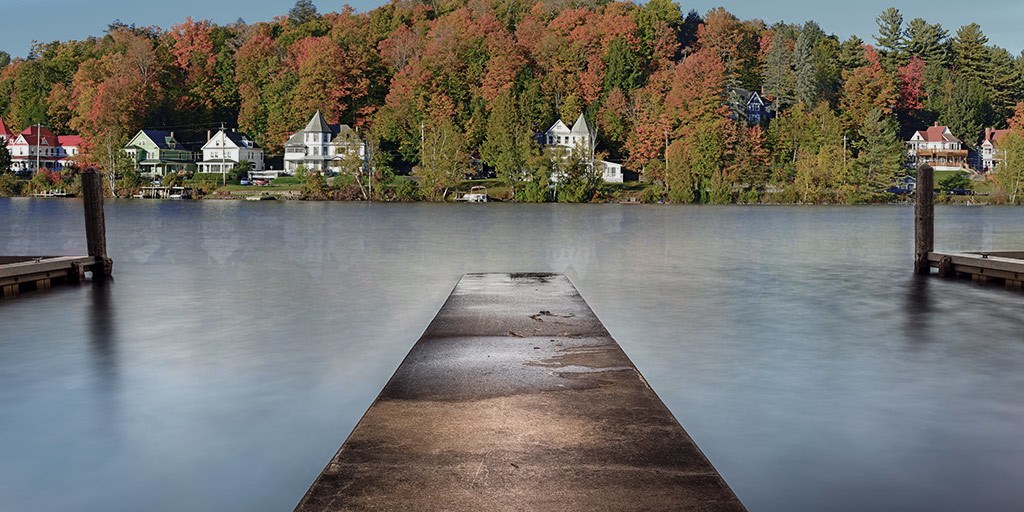 Saranac Lake NY is a cozy village filled with incredible things to do. The rich history of this Adirondack village has made it one of the most popular tourist destinations in the area for over a century.
From the epic nature surrounding the town to the unforgettable discoveries within it, there are almost too many great things to do in Saranac Lake NY to count. Don't think that Saranac Lake New York is just a summer destination either. This village in the mountains is a four-season destination. And each season brings its own unique flavor to the atmosphere of the surrounding area.
The village of Saranac Lake NY is just minutes from popular Adirondack destinations such as Lake Placid and Tupper Lake. People are drawn to Saranac Lake by its quiet, picturesque atmosphere and colorful cast of characters.
And with all of the incredible Saranac Lake things to do, many visitors, including us, end up spending far more time around the village than they expected. So to help you make the most of your visit to the Adirondack region, here is our guide of the best things to do in Saranac Lake NY.
If you're looking for more great things to do in New York State, check out our New York family travel blog.
About Saranac Lake New York
Saranac Lake is a small town of about 5,500 people located amongst the beautiful Adirondack Mountains in Upstate New York. The town was named in honor of the three separate Saranac Lakes that are located near the town. Ironically though, Saranac Lake isn't on the shores of either, Upper Saranac, Middle Saranac, or Lower Saranac Lake. It is actually on the shores of Lake Flower. This lake received its name from one of the early governors of the region.
Saranac Lake, along with Tupper Lake and Lake Placid makes up the area known as the Tri-Lakes Region of Upstate New York. The village of Saranac Lake is about a 6-hour drive from Toronto and it's approximately a 5-hour drive to get from NYC to Saranac Lake. The Adirondacks region has become a popular spot for our family to break up long Toronto to New York road trips during every season. Whether you are visiting the Adirondacks in summer or during the winter you can always find unforgettable things to do in Saranac Lake and the surrounding area.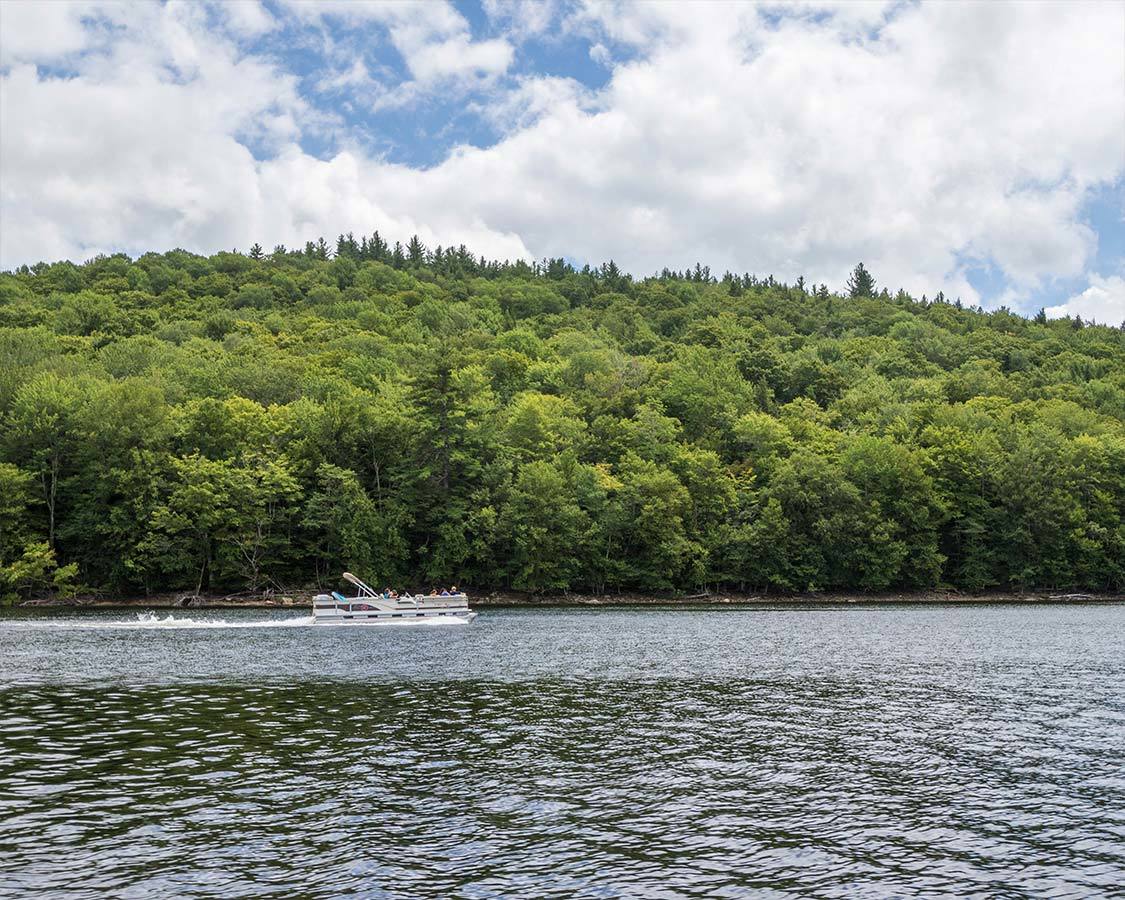 Top Things To Do In Saranac Lake NY
If you're looking for what to do in Saranac Lake, we've got you covered. This beautiful town and its surrounding area are chock full of amazing experiences for the whole family. Here are some of our favorites things to do in Saranac Lake NY.
Explore Downtown Saranac Lake
Saranac Lake is a small town with a cool mix of history and modern culture. There is nowhere that this is on better display than within the heart of downtown Saranac Lake. This is a spot where the wilderness meets the city. The historic buildings that have been adapted to new, artistic, tourist, and foodie tastes make for a perfect place to relax before and after exploring the vast Adirondack wilderness.
You can check out signage identifying some of the key local buildings such as the Saranac Laboratory Museum on Church St. This is where you can learn about the region's key tourist boom as a healing destination for those suffering from Tuberculosis in the early 1900s.
You can also follow the picturesque riverwalk along the Saranac River and stop in at many of the restaurants and cafes that have booming outdoor patios during the warmer seasons.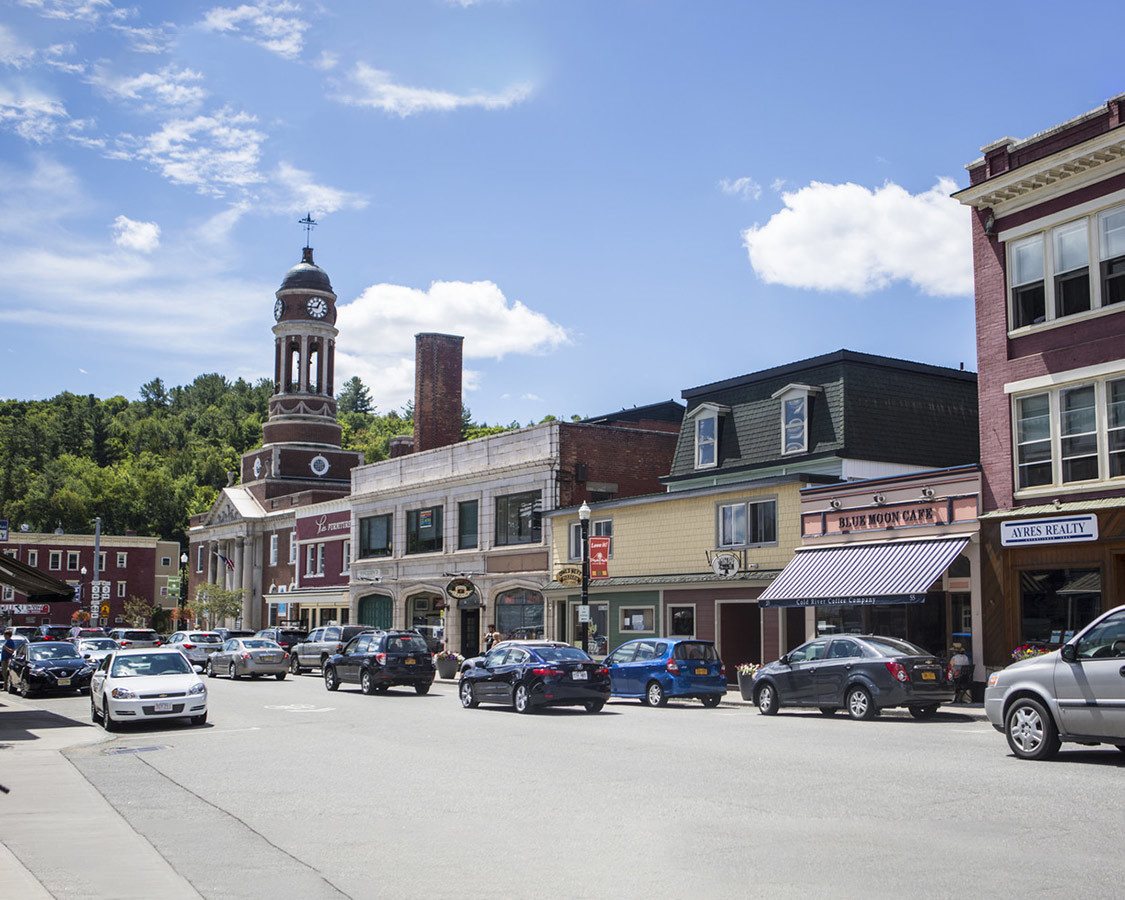 Take A Spin On The Adirondack Carousel
The Adirondack Carousel is located at the corner of Bloomingdale Ave. and Depot St. in a storied area of Saranac Lake. It is located right next to the vintage Union Depot that up until recently, served the Adirondack Scenic Railroad.
Although the Adirondack Carousel is one of the newest Saranac Lake attractions, it has quickly caught on as one of the most popular among both locals and visitors alike. The Adirondack Carousel was opened in 2012, 13-years after it was first envisioned by local woodcarver Karen Loffler. This beautiful indoor carousel features animals native to the area such as beavers, geese, otters, bears, geese, and herons. They have been artfully carved and painted. Also, each one has a hidden ladybug. The boys loved going to each one to try and spot it. At the top of the Adirondack Carousel features stunning landscapes of many of the most beautiful areas near Saranac Lake.
The Adirondack Carousel is open year-round and is wheelchair accessible. During the summer, the doors and windows are opened wide to the surrounding park area. Each of the animal carvings has a name, artist, and description emblazoned on a plaque on their post. You can also visit each of the animals on their own page on the Adirondack Carousel website.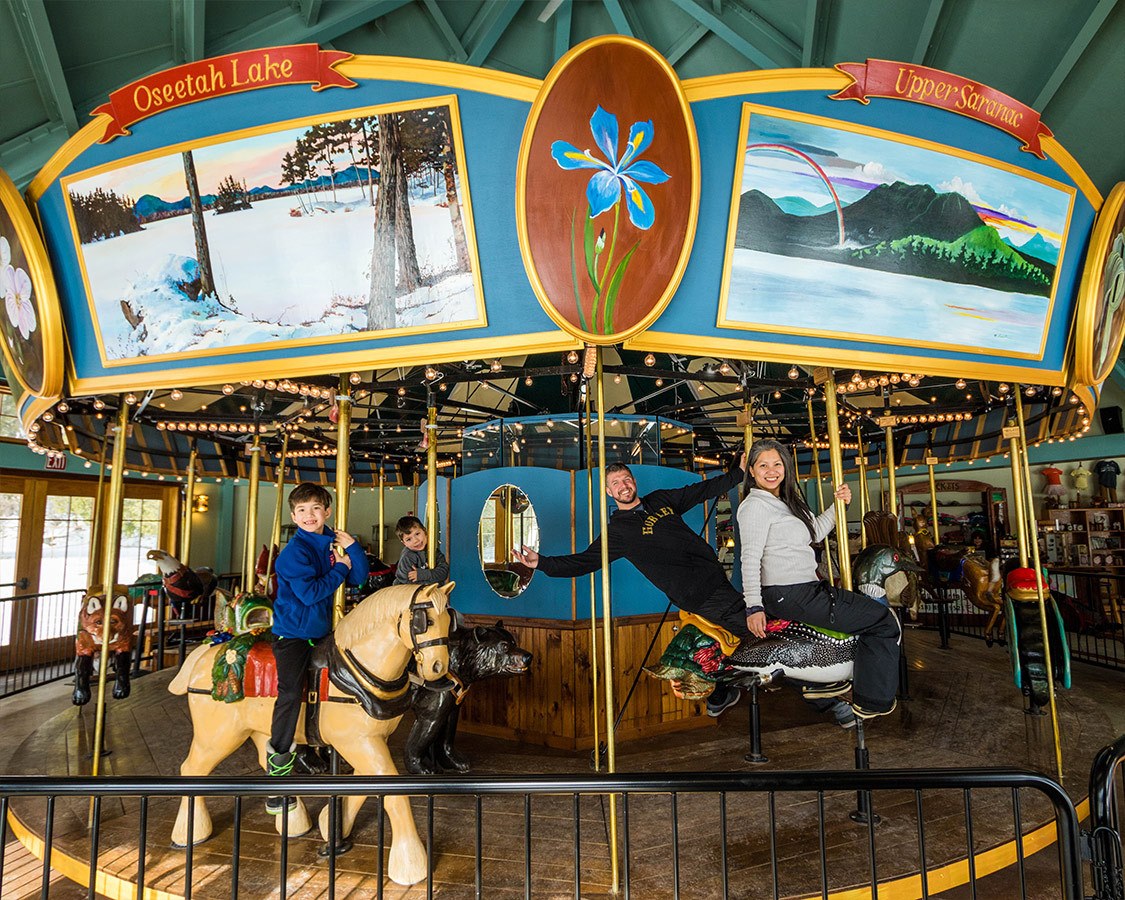 Visit The Saranac Lake Winter Carnival
The Winter Carnival in Saranac Lake is one of the most popular festivals in the Adirondacks. The Saranac Lake winter carnival takes on a different theme each year. The Adirondack winter carnival features parades, celebrations, fireworks, and of course the Saranac Lake ice palace that graces the shores of Lake Flower. The winter carnival is steeped in tradition. It dates back to 1897 when people brought out their fanciest clothes to watch a hockey game on Lake Flower. By the second year the Saranac Lake Ice Palace was created, and throughout the years the festival has continued to grow in popularity. Now, the Saranac Lake Winter Carnival attracts people from throughout the Adirondacks and around the world!
The Saranac Lake carnival includes the Ice Palace, a Gala Parade and Kiddie Parade, sporting competitions, performances, torchlight skiing, and three fireworks displays. The Saranac Lake winter carnival usually runs in early February. You can find out more details on their website.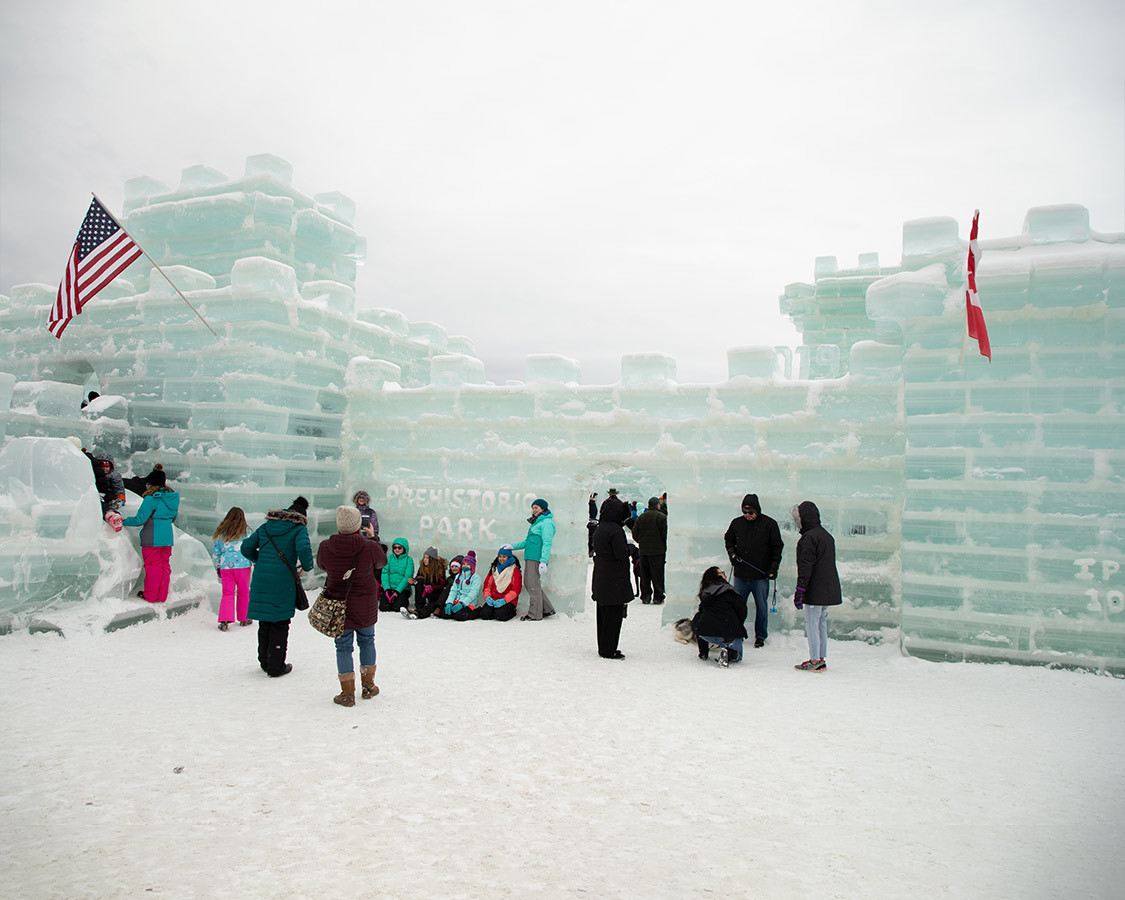 SUP and Kayak On Lake Flower
Lake Flower is right in the heart of the village of Saranac Lake. This small, picture-perfect Adirondack lake is a wonderful place to get on the water and relax with some stand-up paddle boarding or kayaking. Lake Flower is small, and to really explore it by paddle you only need about 2 hours.
You can rent equipment for a day on the water at Adirondack Outfitters on Lake Flower Ave. And, if you aren't comfortable navigating these waters yourself, you can arrange guided tours of some of the legendary nearby paddle routes.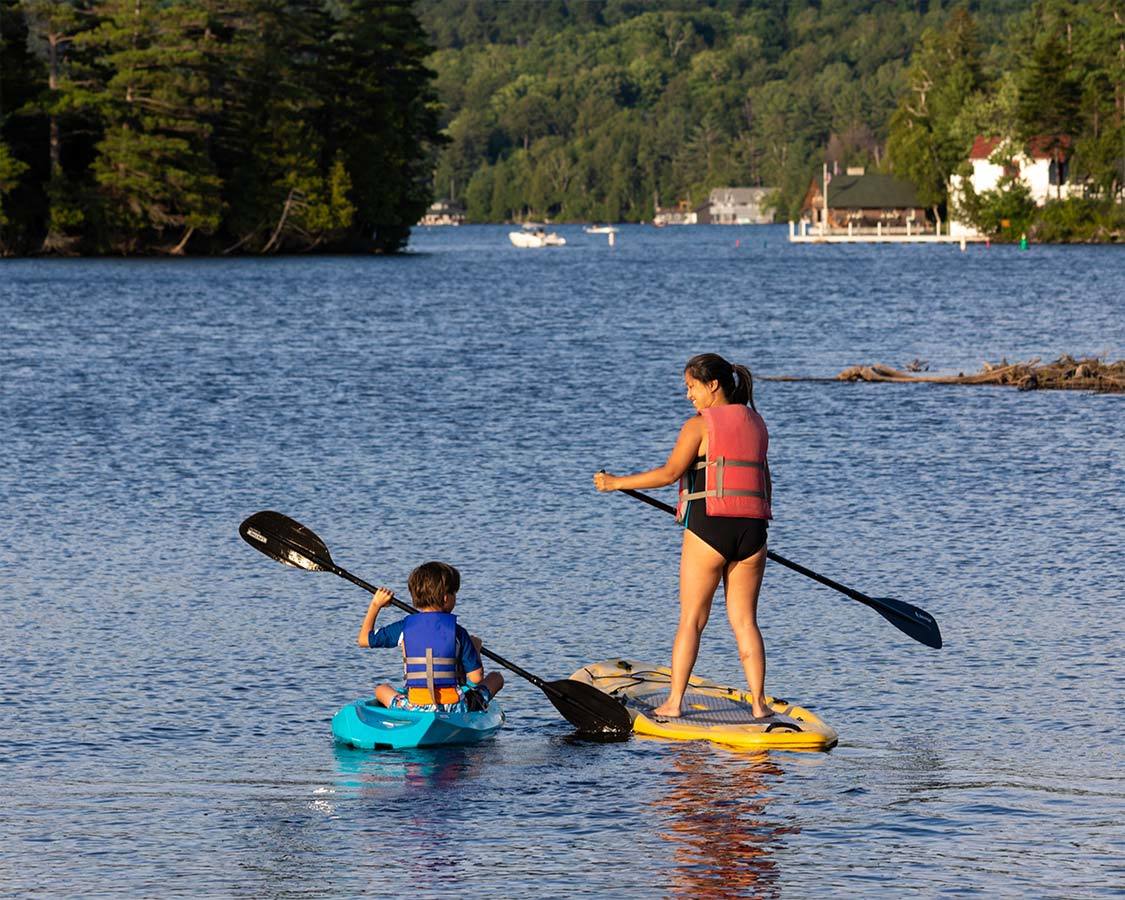 Take A Lantern Lit Sleigh Ride At Lake Clear Lodge And Follow It Up With a SpeakEasy Dinner
Lake Clear Lodge is a lakefront lodge and wilderness retreat just outside of Saranac Lake village. During the winter they offer a unique lantern sleigh ride through the surrounding forests and onto the edge of beautiful Clear Lake. The trees lining the forest trail are decorated with lanterns that give the ride a magical feel. After your ride, you can take in the Lake Clear Lodge speakeasy experience.
Here you get to dine (and drink) in the password-protected restaurant at the base of Lake Clear Lodge. Be careful though, sometimes the coppers come in and try to give the place a shakedown. Luckily the Lake Clear Lodge speakeasy is designed to quickly convert to a library with hidden tables and storage areas for all of your contraband. Kids will enjoy the sneaky feel of the place while parents will love the award-winning beer cellar.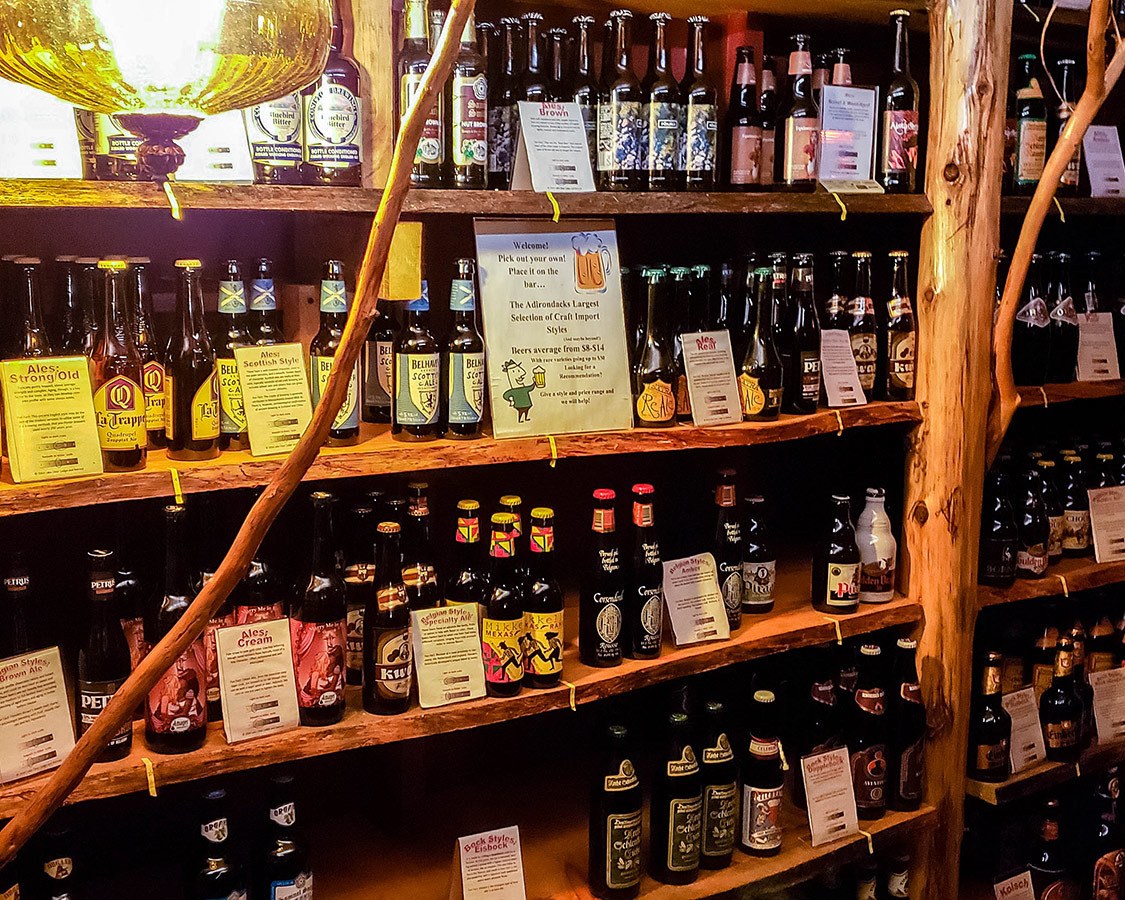 Taste The Flavor Of Adirondack Maple Syrup at Mark Twain MapleWorks
Saranac Lake is home to some of the best maple tours in the Adirondacks. You can even join a tour that lets you visit several different maple farms in the area to see how the unique flavors and styles of the farms change the taste of the syrup. But no matter what your taste, make sure to visit the storied Mark Twain MapleWorks on Lake St. This 500-tree farm is owned and run by local celebrity Jack Drury who is full of stories about the history of the area, and especially his beautiful piece of property.
Bushwack Jacks Sugar shack got its name from Sam Clemens' (Mark Twain) visit here during the summer of 1901. In 2013 Jack poured the foundation for what would become Mark Twain MapleWorks and has been steadily growing the business ever since. The Adirondack maple syrup lodge is located on a picturesque piece of Lower Saranac Lake. He's so far tapped over 500 trees and shares stories of his love of maple syrup with his passion for the Adirondacks region and its history.
When you're there make sure you grab a bottle of Nitai's Nectar. This premiere maple syrup offered by Mark Twain Mapleworks is named in honor of Jack's late son. You can find out more about Mark Twain MapleWorks on their website here.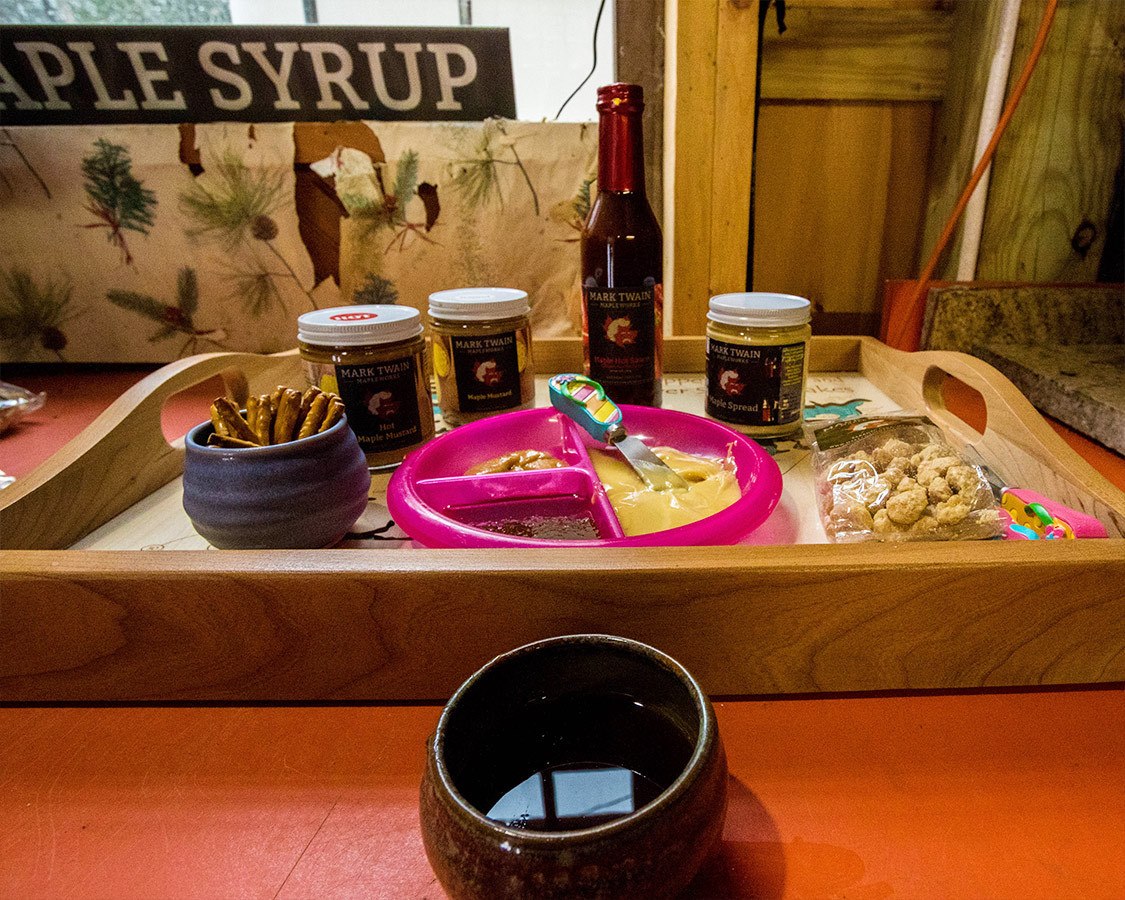 Ski Or Tube Or Hike At Mt. Pisgah Recreational Center
Sometimes it's nice to break up a day in Saranac Lake with some time on the hills. And for those that aren't looking to spend a whole day on the mountain, Mt. Pisgah Recreational Center in Saranac Lake is the perfect option. During the winter Mt.Pisgah offers skiing and tubing at a great price. And, although Mt. Pisgah only has a single trail for each, it's perfect for a little outdoor fun to add to your day. You can pick up a 2-hour tubing ticket for just $15.
If you are visiting Saranac Lake during the summer, the hills are opened up to hiking and wilderness viewing. And the fall views from the top offer one of the best spots to visit the fireworks of autumn in Saranac Lake.
Things To Do Near Saranac Lake New York
The fun doesn't stop at the border of Saranac Lake NY. There are loads of amazing things to do near Saranac Lake New York as well. So if you are staying at one of the beautiful Saranac Lake hotels, it's easy to spread your wings and find more fun just a few minutes away.
Drink In The View From The Top Of Whiteface Mountain
Just 45 minutes away on the far side of beautiful Lake Placid is the towering peak of Whiteface Mountain. During the winter, Whiteface is one of the most popular ski destinations in the Adirondacks. If you are looking for some serious vertical, this is where you go. During the summer Whiteface Mountain makes for an amazing road trip as well. The drive up the winding switchbacks takes you up thousands of feet to the base of a castle! Yes, a castle!
From there a narrow, steep hike takes you to one of the most scenic places in the Adirondacks. We spent the better part of an afternoon lazing on the rocky peak and gazing down on Lake Placid from 4,449 ft (1,450 meters) above sea level.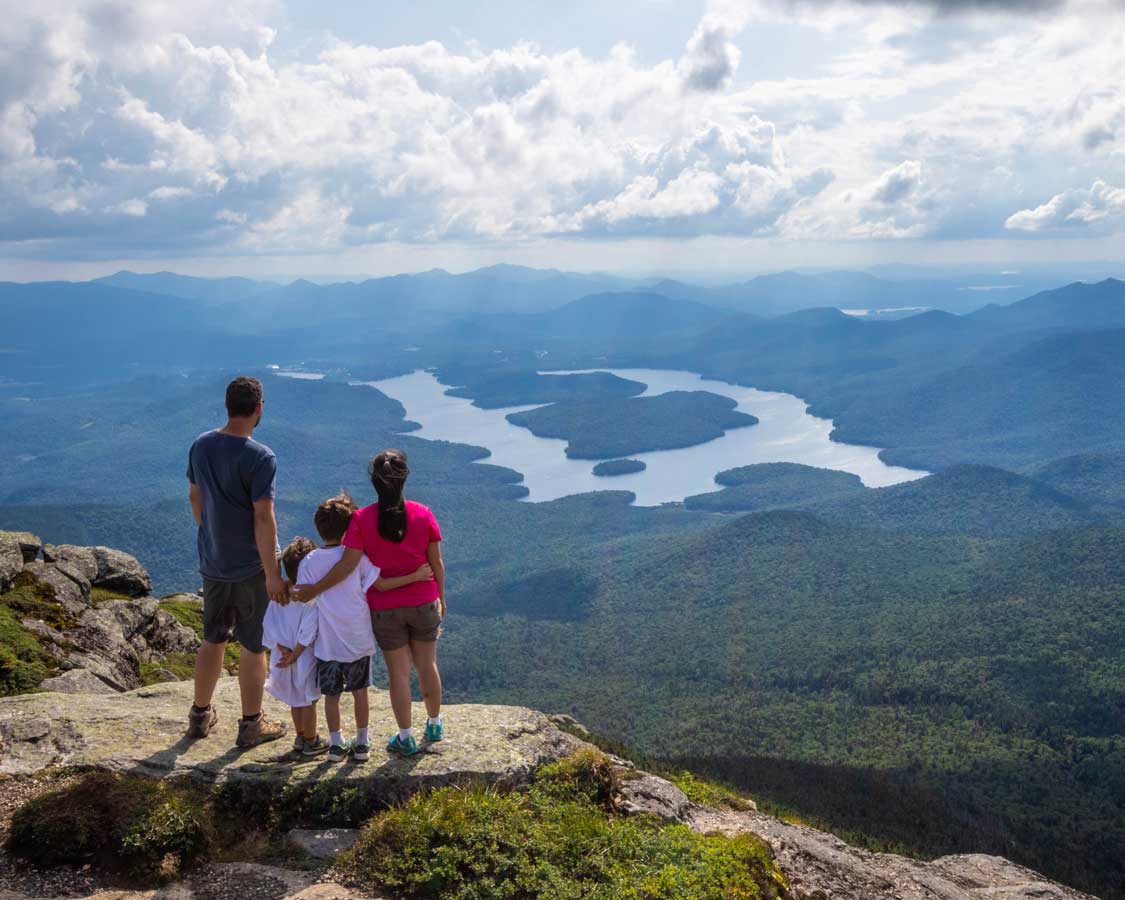 Take On The Wild Walk At The Wild Center In Tupper Lake
A short 25-minute drive through the nearby town of Tupper Lake takes you to one of the coolest nature museums in the world. The Wild Center in Tupper Lake New York is an absolute must for families looking for things to do in the Adirondacks. The Tupper Lake Wild Center is part museum and science center and part adventure park. The Instagram-worthy Wild Walk is one of the most famous parts of the Wild Center. But, this beautiful Adirondacks attraction has so much more to offer as well.
This multi-level treetop viewing and activity center is a visual spectacle. It houses a massive birds nest style viewing platform and a huge walk-through tree house filled with educational information about the wildlife of the region. During the winter the Wild Walk closes down, but the hiking trails transform into popular snowshoe trails for the whole family.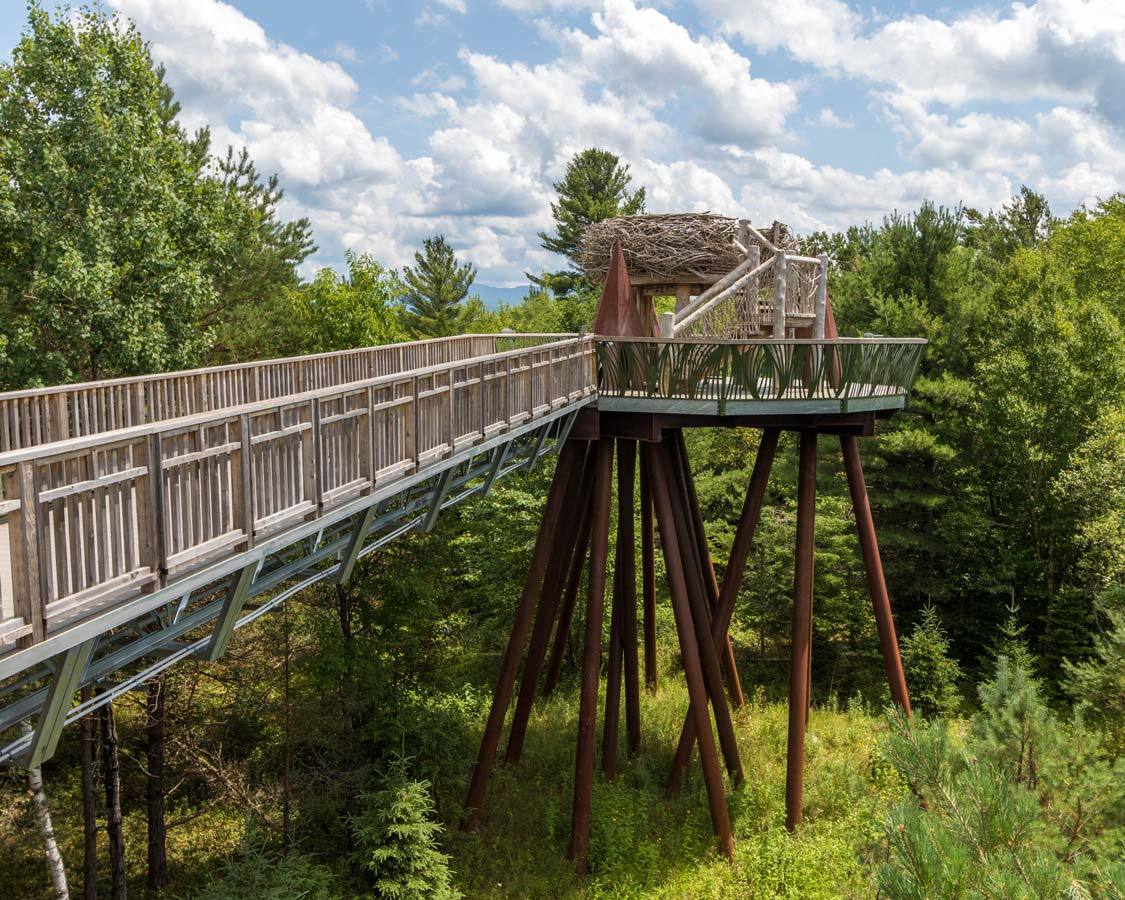 Take A Walk Through High Falls Gorge
High Falls Gorge is one of the most popular Saranac Lake things to do. This series of trails brings visitors on a gorgeous 30-minute gorge experience. Here, they are surrounded by mind-blowing waterfalls and raw natural scenery.
Even with the walkways and bridges, the views are rarely obstructed. This is thanks to glass floors that could make even the bravest explorer's heart skip a beat.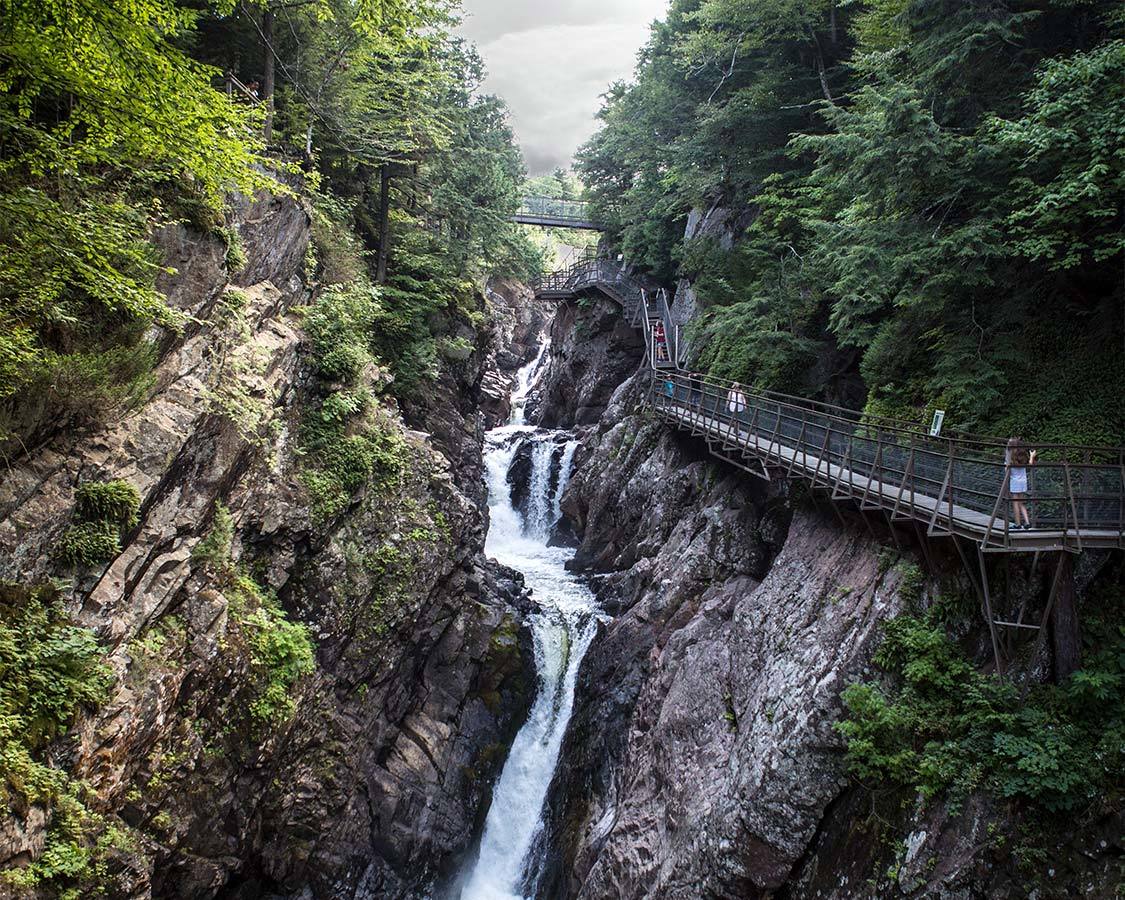 The Best Hotels In Saranac Lake NY
Saranac Lake is a small town. So, if you are looking for places to stay in Saranac Lake NY proper, there are only a few options. One of the best-ranked hotels in Saranac Lake is the Hilton owned Hotel Saranac on Main St. This historic hotel dates back to 1927 and still retains much of its vintage charm.
For something a little for intimate, try the Sara Placid Inn and Suites on Lake Flower Ave. These cozy Saranac Lake accommodations offer beautiful mountain views and a relaxing outdoor atmosphere for Adirondack evenings.
Restaurants In Saranac Lake New York
You cant look for what to do in Saranac Lake without exploring the towns burgeoning foodie scene. There is a great mix of local farm-to-table and international cuisine within this small town. You can also treat yourself to some of the local craft beers and wine from nearby areas such as the Finger Lakes.
To help you fuel up when you are exploring Saranac Lake, start with a coffee and breakfast at Origin Coffee on Main St. they have lighter fare to power you through the morning. For lunch treat yourself to a drink paired with flatbread or chili at Bitters and Bones on Broadway. Treat yourself to a classy dinner wine and dine with one of the best prime ribs in the Adirondacks at Red Fox Grill on RTE 3. For lighter, more casual restaurants in Saranac Lake NY you can also check out Downhill Grill on Main St. and the Lakeview Deli on River St.
Do We Recommend Travel To Saranac Lake NY?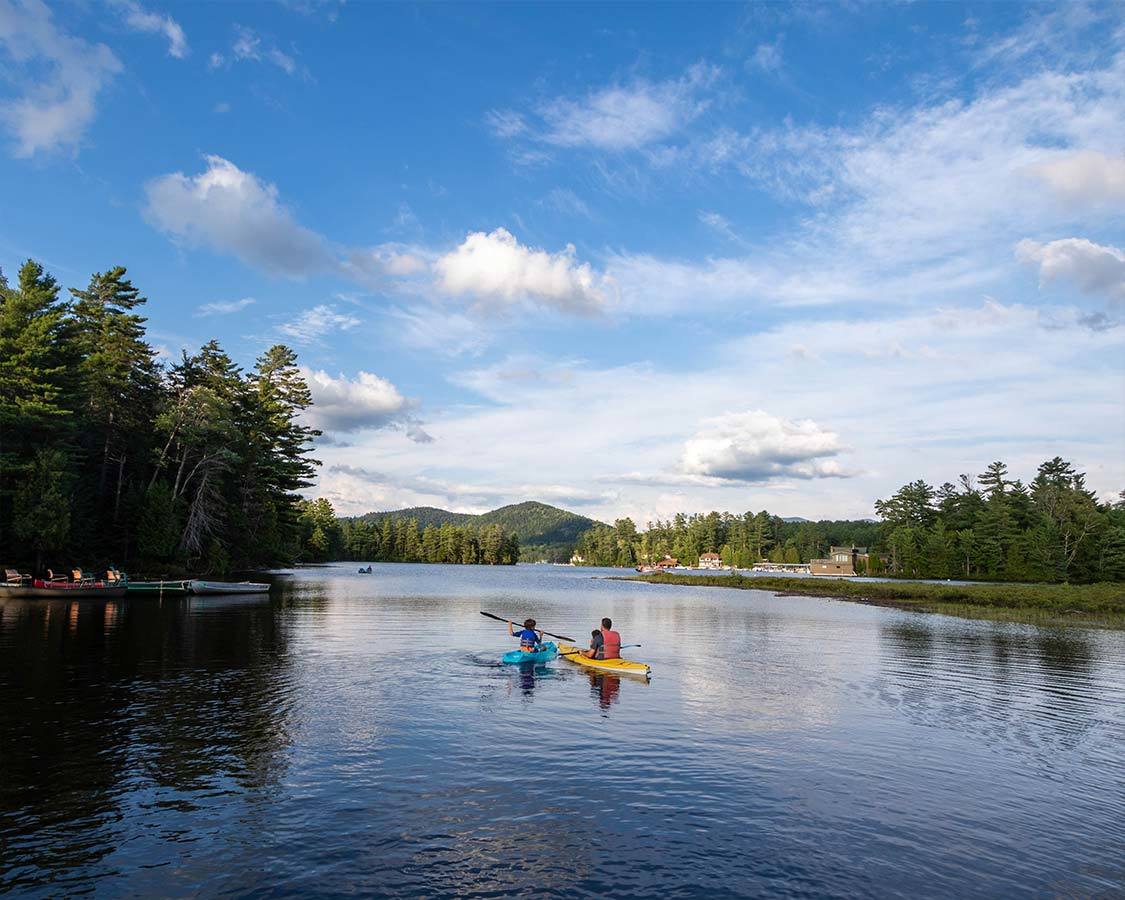 The Adirondacks is a beautiful area to explore. The sheer amount of things to do and places to see in Saranac Lake and the surrounding area is astounding. The village of Saranac Lake itself is a great place to base yourself. Especially if you are looking for something a little quieter than nearby Lake Placid. Whether you are looking for outdoor adventure, culture, history, or a combination of all of those, Saranac Lake is a wonderful destination for the entire family.
Have you ever traveled to Saranac Lake NY? Leave a comment about your experience. Or, swing by our Facebook page and share a photo of your trip. We would love to share in your journey.
Disclosure: We were guests of the Regional Office of Sustainable Tourism (ROOST) and I Love New York during our visit. As always our opinions remain our own. Wandering Wagars is a participant in the Amazon Services LLC Associates Program, an affiliate advertising program designed to provide a means for sites to earn advertising fees by advertising and linking to amazon.com, amazon.co.uk, amazon.ca. Amazon and the Amazon logo are trademarks of Amazon.com, Inc. or its affiliates.
You May Also Like To Read:
Pin This Post For Later: