Discover the most amazing things to do in Lake George NY with this comprehensive guide to the best attractions, restaurants, and hotels in Lake George.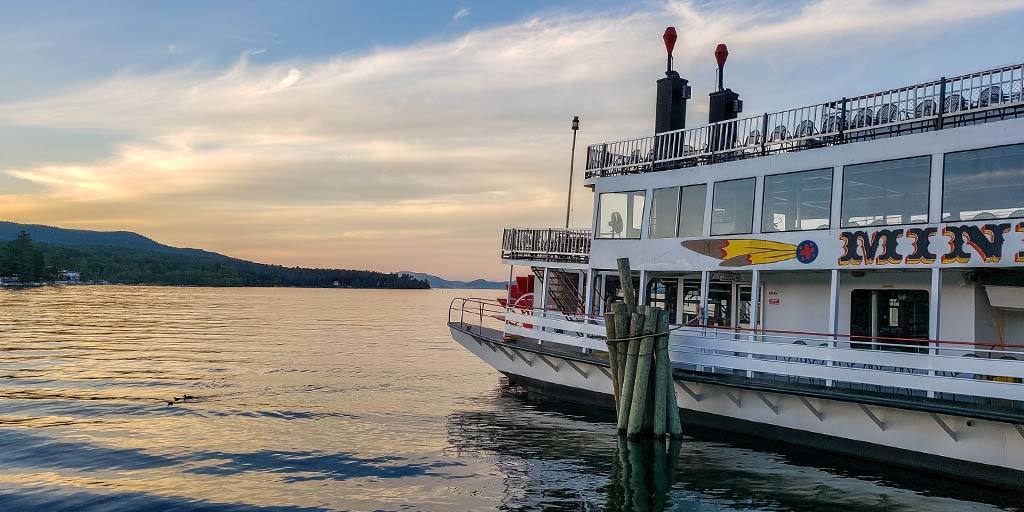 I've visited the Adirondacks in New York more times over the past two years than I ever thought possible. There is something about this region of the Adirondacks that just keeps pulling me back in. My most recent visit, while attending the Adventure Travel and Trade Association conference, brought me to beautiful Lake George NY. Lake George is a region I had breezed through before but I hadn't taken the time to stop and properly explore.
We had done the popular Revolution Rail experience, but at the time, I didn't realize just how close I was to Upstate New York's premier cottage country. On this visit, I was determined to experience all the amazing things to do in Lake George NY. And I had my work cut out for me.
For a small town, there are way more things to do in Lake George than I had expected. A lot of this has to do with the huge influx of visitors that flock here each summer for cottage rentals and Lake George camping. After visiting Lake Placid, I thought I had experience peak Adirondacks tourism. But it seems that Lake George New York has decided to make a go for the title. Check out this guide to some of the favorite Lake George things to do.
If you're looking to find our favorite Lake George Hotels, click here.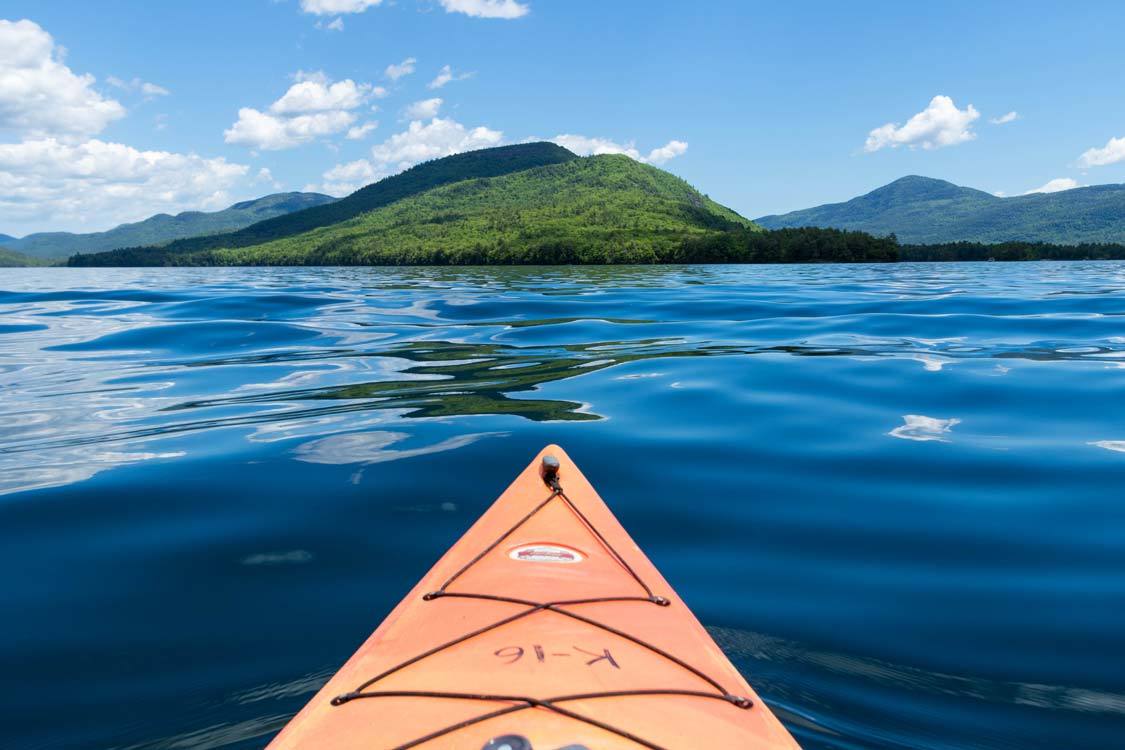 About Lake George New York
Although Lake George village has a year-round population of around 3,500 people, if you visited Lake George in the summer, you would never know it. During the warmer months, tens of thousands of people descend on the town at the tip of the 32-mile long Lake George. Nicknamed the Queen of the American Lakes, Lake George is one of the most beautiful bodies of water in the upper east coast. The lake is surrounded on all sides with the lush forests of the Adirondack mountains. And the waters are said to be some of the most pristine in the country. In fact, there are strict guidelines on what type of boats are allowed on the water.
Other Adirondack towns such as Saranac Lake don't see the boom in summer visitors that Lake George village does. And the lake and all the things to do in Lake George NY are a big reason why. The town itself is a mix of cottage-kitsch. It has historic experiences such as Fort William Henry, gorgeous hotels like the Inn at Erlowest, and a little bit of tack with over 21 mini-golf courses mixed with haunted houses and wax museums.
Whether you're looking for luxury, casual, or roughing it, Lake George New York has attractions that are perfect for you. I'll lay out the best of Lake George and show you where to eat, where to stay, and what to do in Lake George.
Where Is Lake George NY?
The village of Lake George sits on the southern shores of Lake George in the Adirondacks region of Upstate New York. This small town is about an hour drive north of Albany and an hour and a half south of the resort town on Lake Placid NY. The village is surrounded by wilderness on all sides. There are quaint cottage communities that act as satellites, but the town of Lake George itself acts as the hub of activity, especially during the summer months.
Lake George itself is a 32-mile long Finger Lake. There is a good deal of development on the southern end, but towards the middle, Lake George is mostly a protected area. At the northern end of the lake is the town of Ticonderoga.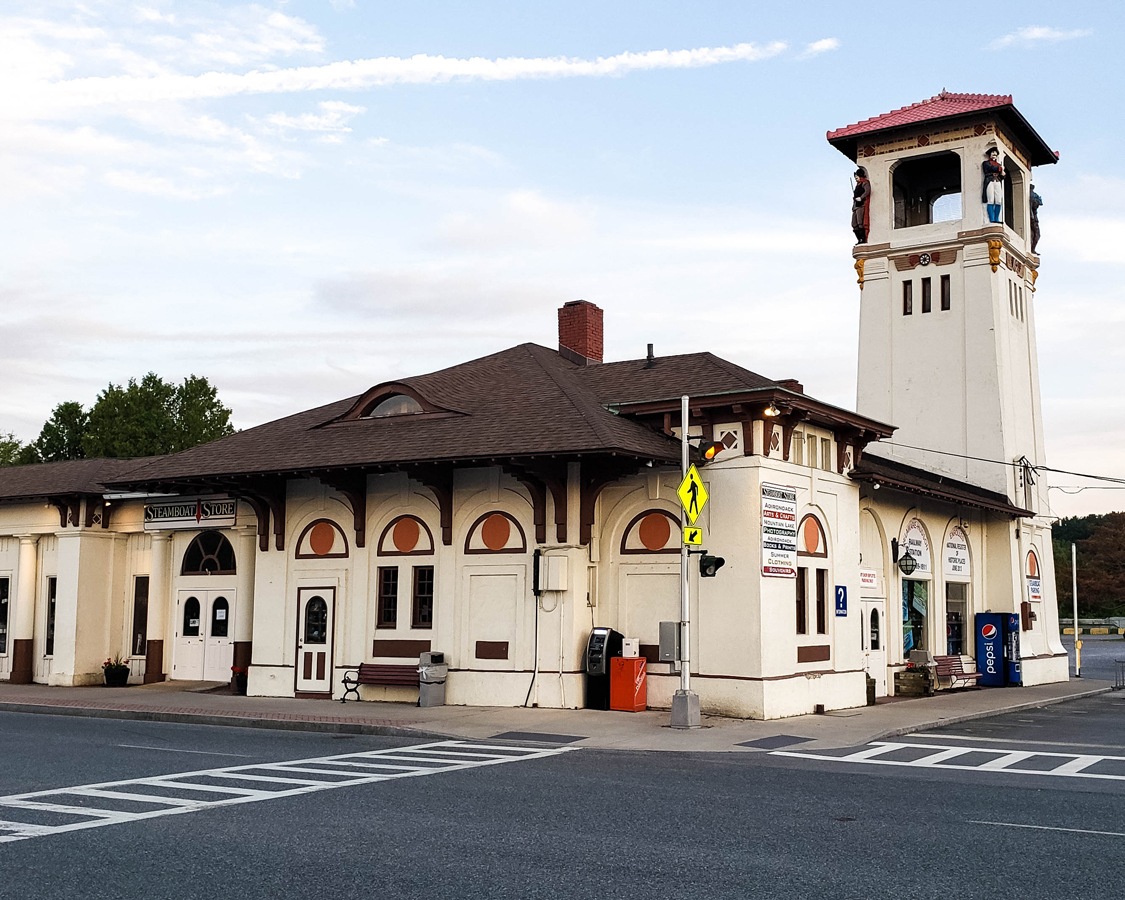 Top Things To Do In Lake George NY In Summer
Exploring Lake George is a treat. The town is small and easy to wander through on foot. Whether you want to join a Lake George walking tour or just wander the waterfront on your own, the village of Lake George is fun to explore. From the horror and wax museum shops on the main drag to the great beaches and even better watersports, Lake George is fun for the whole family.
Take A Walk Through History At Fort William Henry Museum
The Fort William Henry Museum is a recreation of the original British fort that fell to the French and Huron warriors during a 1757 siege. The siege and subsequent raid were the inspiration behind the movie "The Last of the Mohicans."
Fort William Henry was rebuilt into a recreation site and museum in the 1950s. It has gone on to become one of the most popular things to do in Lake George. Today, Fort William Henry stands as a monument to the battles in the region. The Lake George Fort features a museum and actors in period costumes.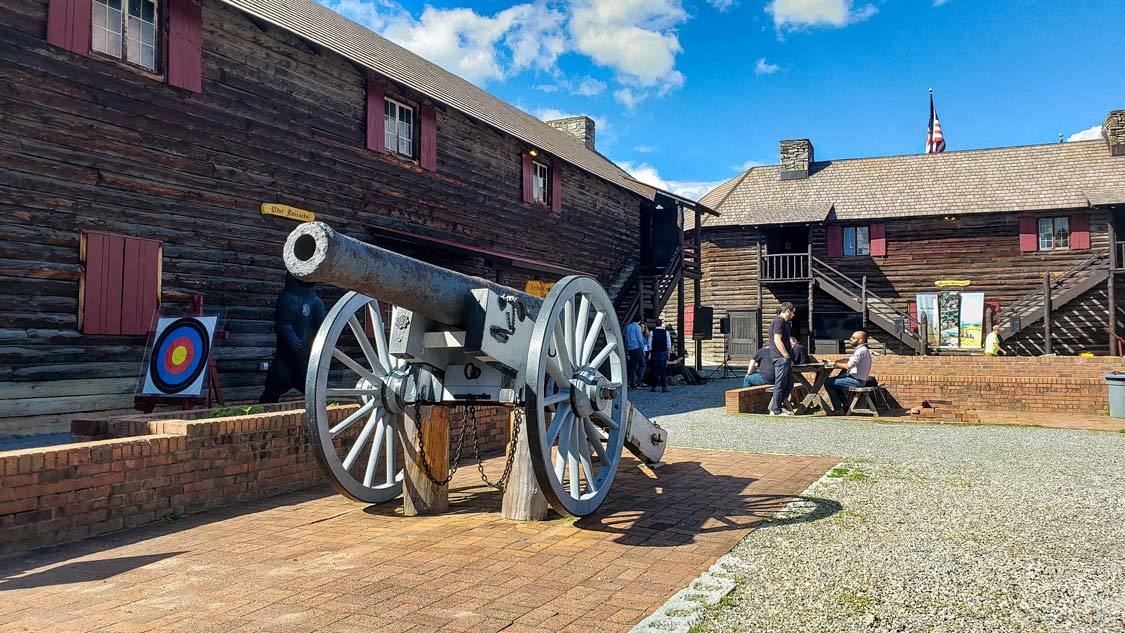 Experience The Wilderness On A Rail Bike Tour
One of the coolest things to do near Lake George is the Adirondack rail biking tour in North Creek. If you are looking for a chance to ride the rails in New York State, North Creek is about a 35-minute drive from Lake George. Here you'll find Revolution Rail Co. They offer a very cool Adirondack rail biking experience that takes you through the thick forests to the edge of the Hudson River. My family took on this Lake George rail bike experience and loved it both rain and shine! You can read all about our Adirondack rail bike experience here.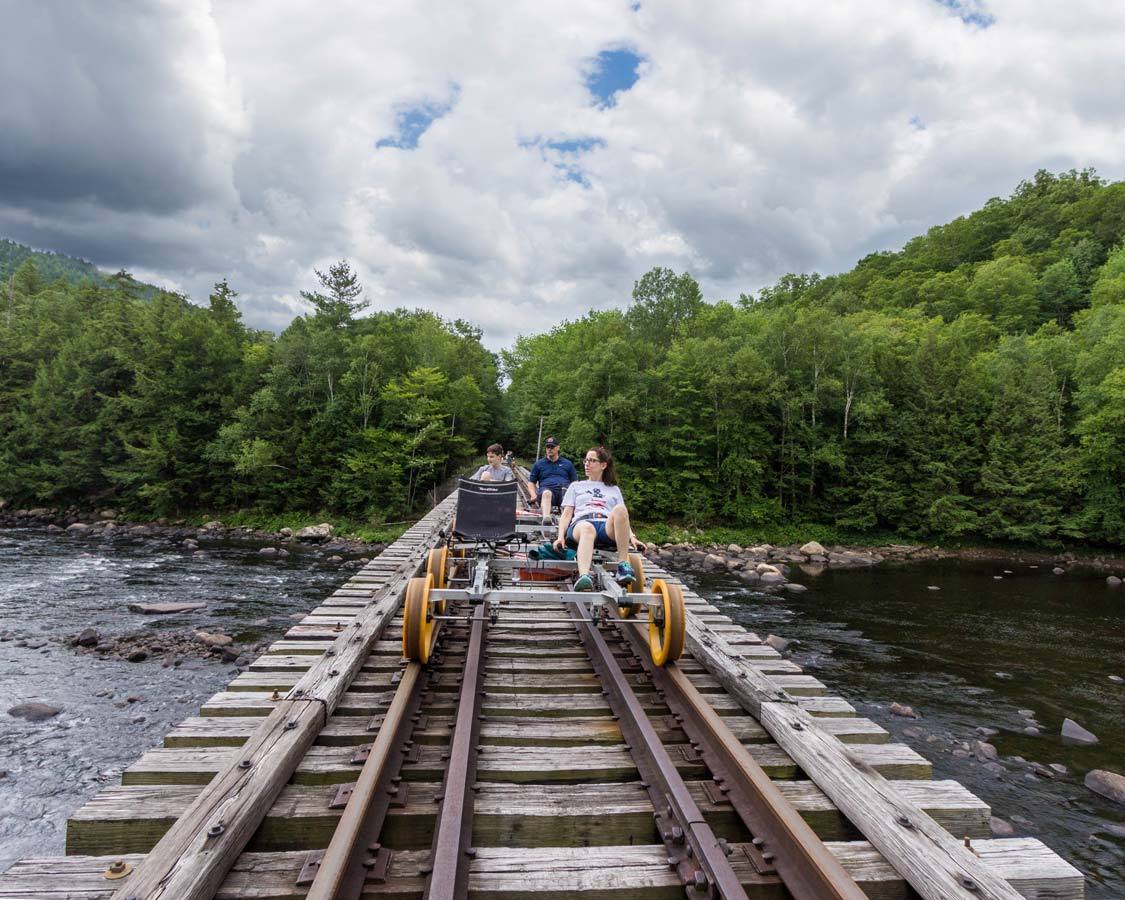 Enjoy A Lake George Shoreline Cruise
If you're looking for one of the most relaxing things to do in Lake George, the Shoreline Cruise may be perfect. The Lake George shoreline cruises take you up along the scenic shores and dip into some of the scenic bays along the way. There are several great times to experience the cruise too. The cruises run throughout the day and also offer featured dinner and sunset cruises that are especially popular. You can check out more information on the Lake George shoreline cruises here.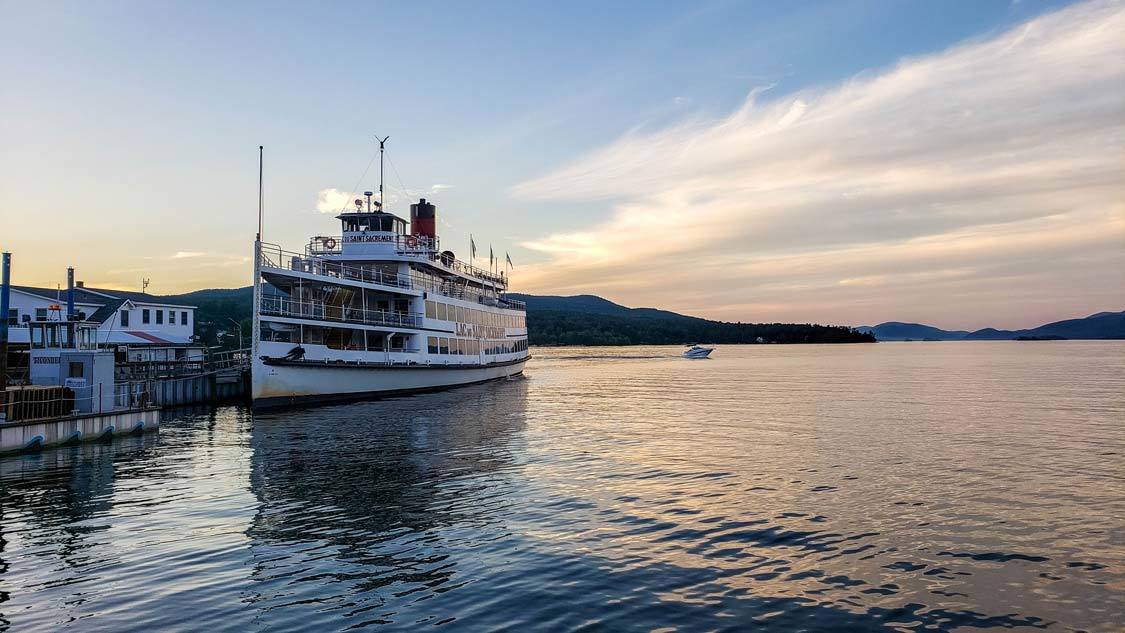 Explore Natural Stone Bridge and Caves
Another great thing to do near Lake George is the Natural Stone Bridge and Caves Park. This park is home to the largest marble cave entrance in the eastern United States. A visit to this scenic Lake George campground and park will introduce you to some of the region's incredible landscapes. There are waterfalls, caves, hiking trails, boardwalks, and more to explore. You can find out more about Natural Stone Bridge and other amazing New York State caves here.
Go Camping On The Lake George Islands
There are few places in Upstate New York where you can have an island to yourself. But camping on the Lake George islands is one of them. And far from roughing it, most Lake George Islands have access to toilet facilities, fire pits, and picnic tables. Lake George island campsites book up quickly, but there are often openings early and late in the season. You can reserve campsites here.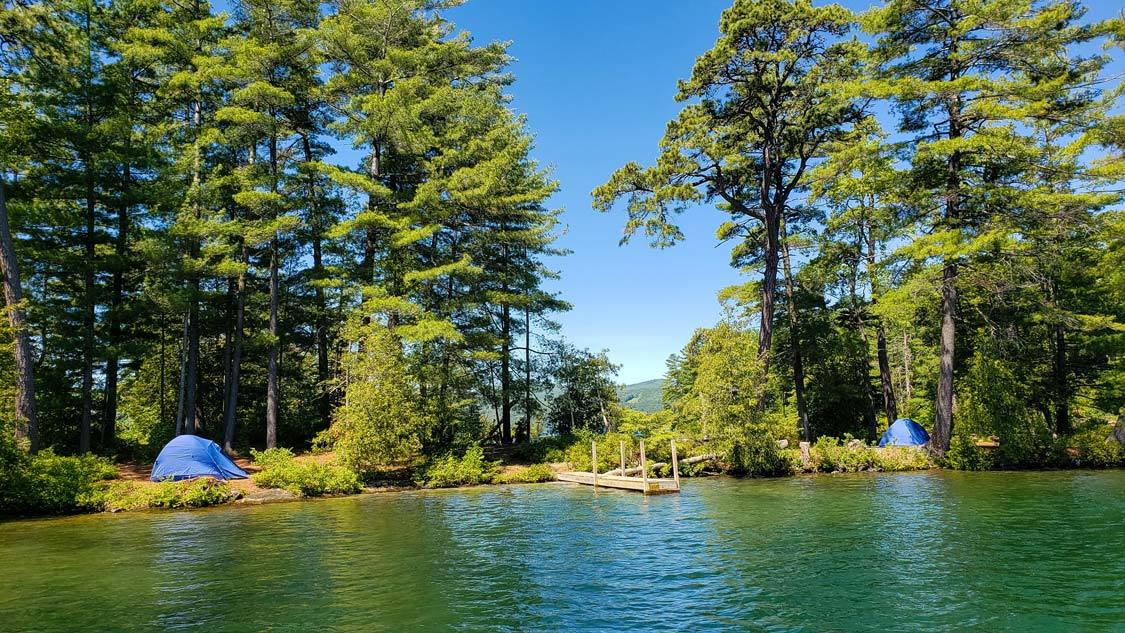 Have Lunch On A Lake George Steamship Cruise
Lake George steamship cruises are another great way to explore the waters off of Lake George village. One of the best things to do in Lake George is the steamship lunch cruise that takes you up through the narrows and Lake George Islands. Along the way, you'll get great commentary and a fantastic meal. You can book your Lake George steamship lunch here.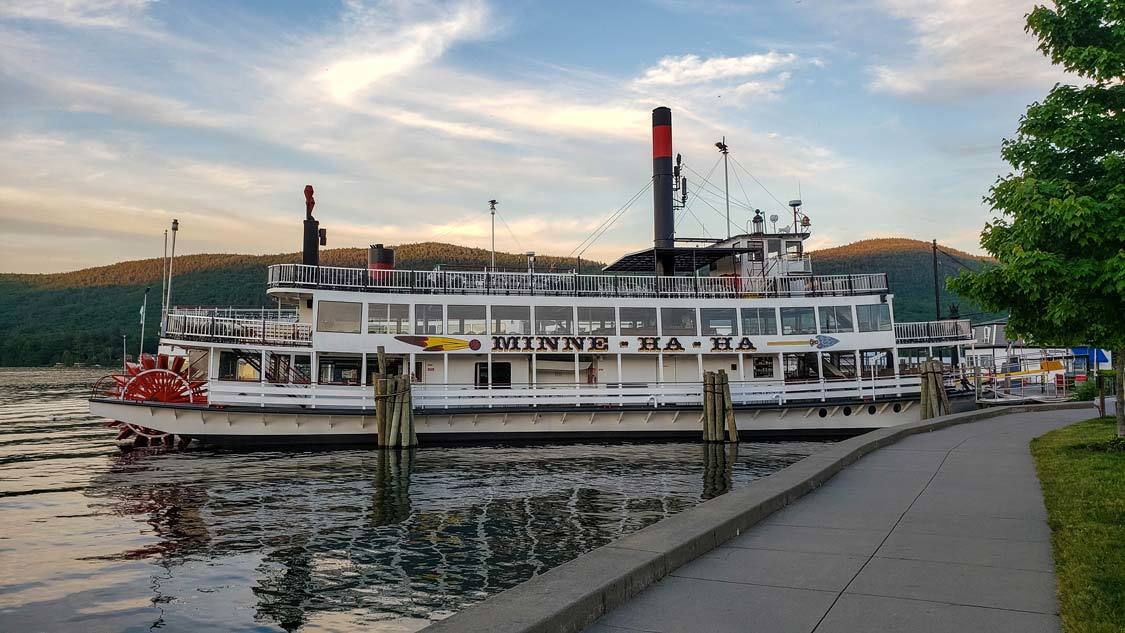 Hike To Shelving Rock Waterfall
About one-third of the way up Lake George across from Tongue Mountain is one of my favorite easy Lake George hiking trails. The trail to Shelving Rock Waterfall starts in Log Bay and winds up to Shelving Rock Rd before circling back down towards the waterfall. Along the way are spectacular overlooks of Lake George. Shelving Rock itself is a perfect place to stop for a picnic before continuing along the trail.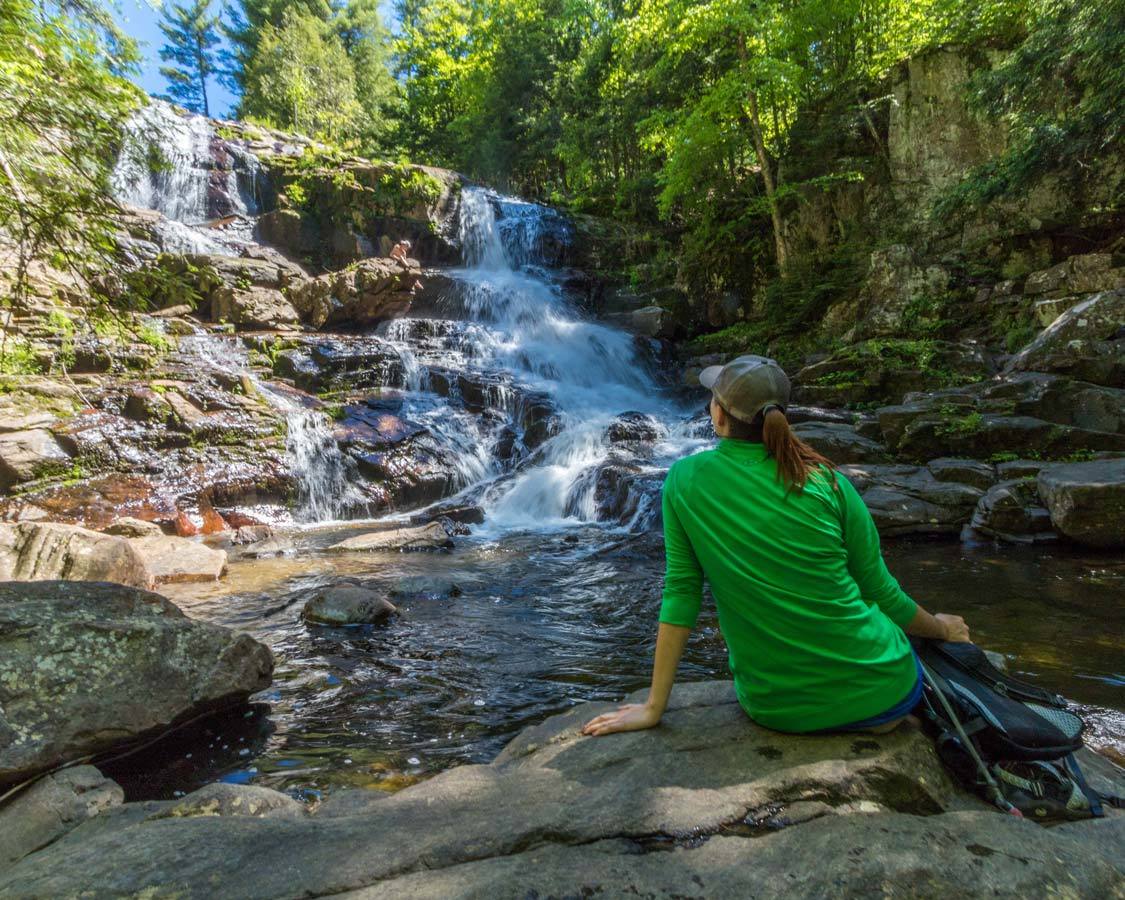 Lake George Kayaking
I'll be the first to admit that Lake George is not my favorite lake for kayaking. It's busy and there are locals and visitors alike zipping around on motorboats everywhere. But there are still some great places to paddle on Lake George, including between some of the beautiful Lake George islands.
You can even stop for a coffee or an ice cream at the Glen Island Store where the Department of Environmental Conservation warden is located. My oldest son C learned to Kayak on nearby Mirror Lake in Lake Placid, so being on the water here is really special to me. There are quite a few places to rent SUPs, kayaks, and canoes on Lake George including Lake George Kayak Rentals. You can check out their website here.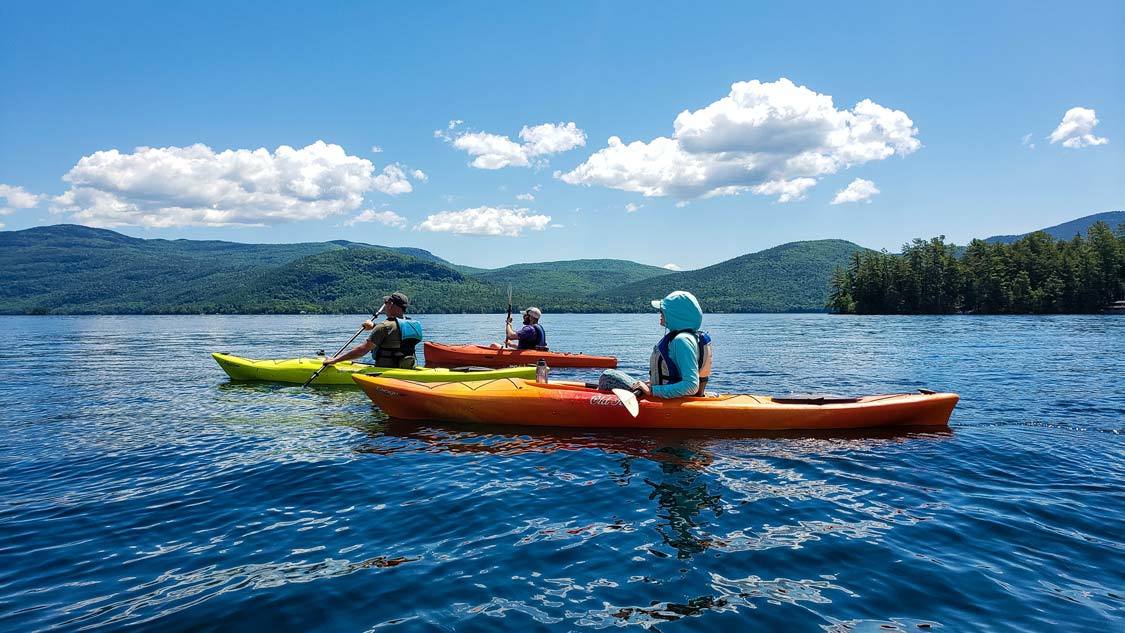 Adirondack Treetop Adventures
If you are looking to pump your Lake George itinerary with some adrenaline-pumping action, look no further than Adirondack Treetop Adventures. This adventure park, located 20-minutes from Lake George is a great adventure destination for the whole family. The park has a kid's adventure course as well as extreme Lake George treetop adventures for children aged 9 and up who can reach up to 5'9″ (with hands above the head). My 8-year old and I recently tackled a similar course at Cap Jaseux in Saguenay-Lac Saint-Jean Quebec and it was amazing. You can find more about the Adirondack treetop trekking here.
Take A Dip At Million Dollar Beach
Lake George Beach, or as the locals refer to it "Million Dollar Beach," is a 51 acre stretch of sand that reaches from the water near Fort William Henry and wraps around the south-eastern shores of Lake George. Million Dollar Beach is free to use. There are concession stands, lifeguards, and amenities that make it the most family-friendly beach on Lake George.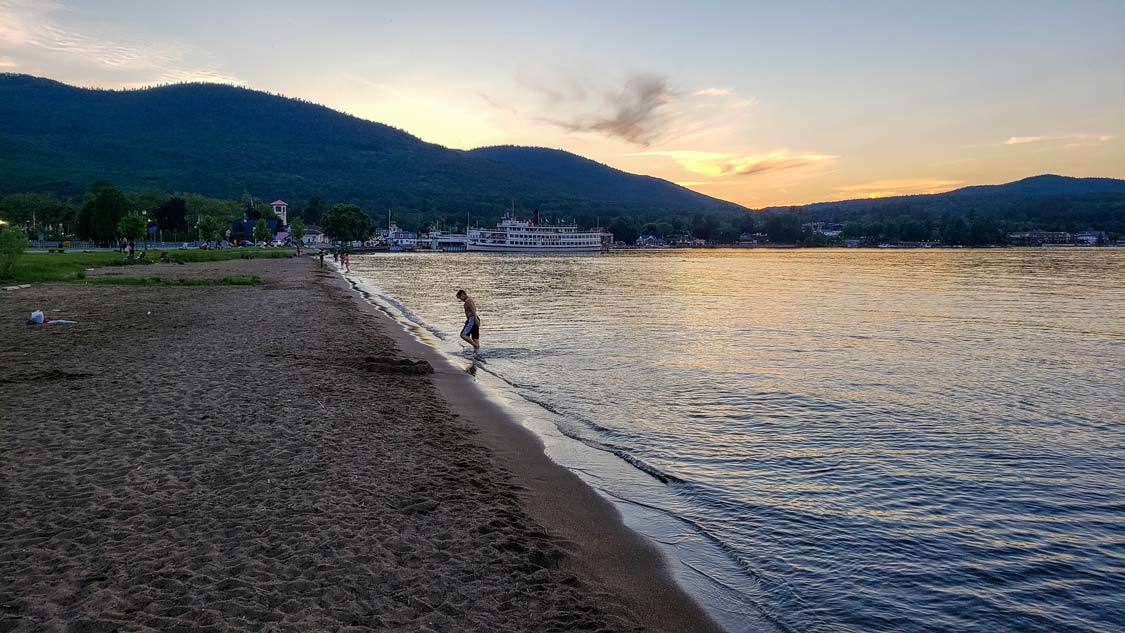 Putt-Putt On One Of The Villages 21 Mini Golf Courses
Lake George has an absolutely unreasonable number of mini-golf courses for a town of 2,000 people. Lake George mini-putt courses have become legendary across the country. In fact, two of them are considered among the wildest mini golf courses in the world. Lumberjack Pass and Around The World Golf are two of the most popular and wild mini-golf attractions in Lake George. You could spend the entire summer putting around on over 21 mini-golf courses in Lake George.
Hike Some Of The Lake Shore Trails
There are countless Lake George hiking trails to explore. Whether you're looking for Shelving Rock Falls, Tongue Mountain, or one of the many other great Adirondack trails. The Lake Shore Trail covers much of the region between towns on the east side of the lake while the Prospect Mountain hiking trail is one of the most popular and scenic hiking trails in Lake George. You can find a guide to some of the best Lake George hiking trails here.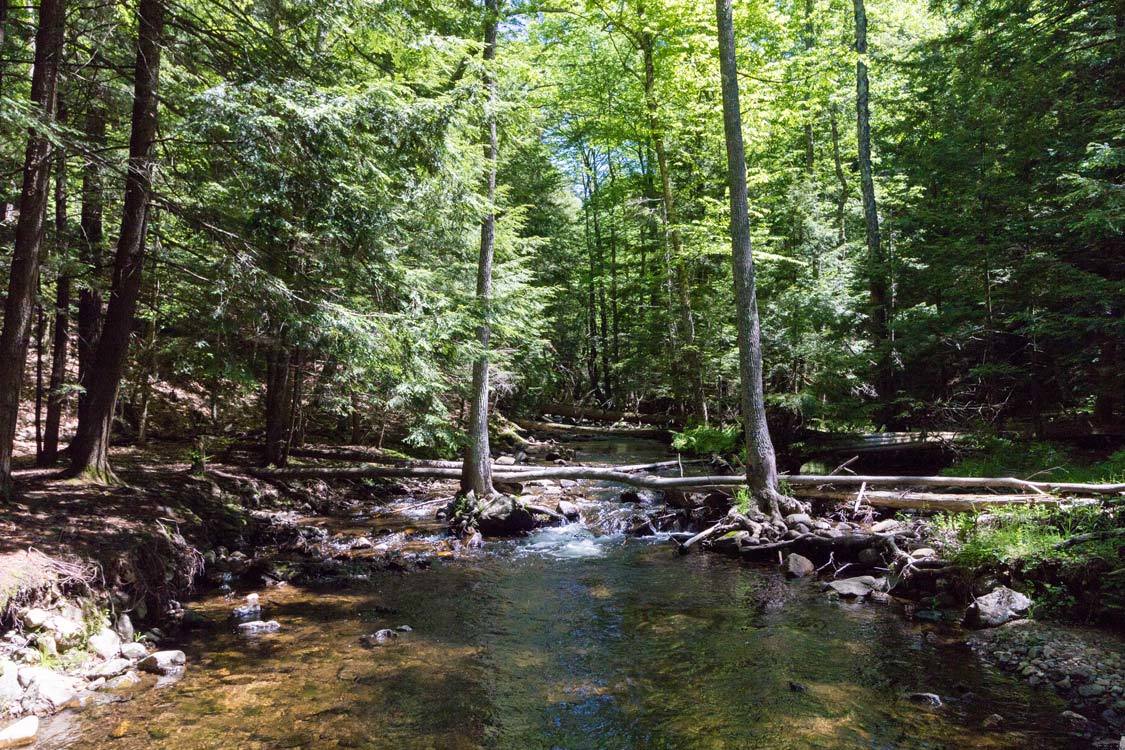 The Best Restaurants In Lake George NY
Lake George is a cool village, but I wouldn't call it a foodie destination. But with that being said, there are a few hidden gems and great places to eat in Lake George.
Inn At Erlowest
If you're looking for some great upscale dining in Lake George then I highly recommend the restaurant at the Inn at Erlowest. They offer a wonderful selection of upscale twists on contemporary cuisine. There is also a great selection of cocktails to enjoy on one of the best patios in the Lake George area. You can check out their information here.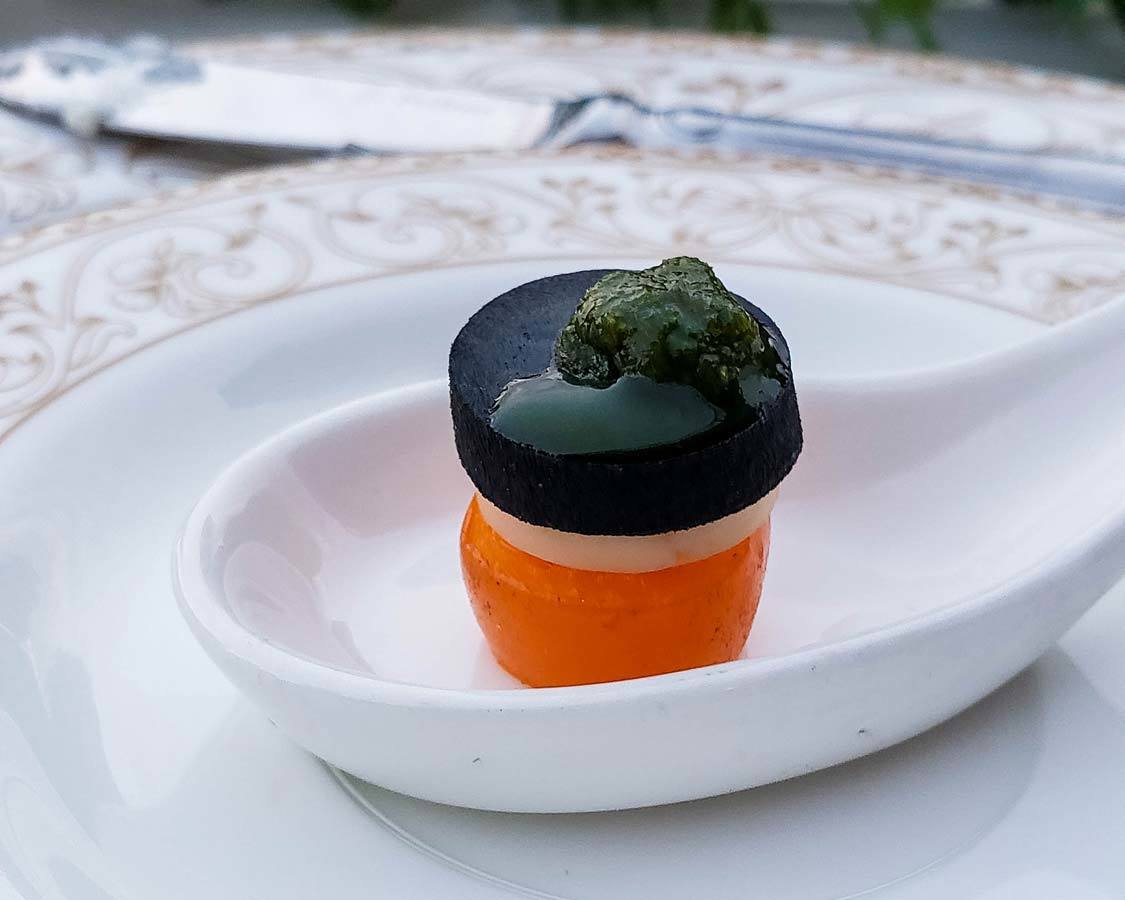 The Log Jam
For those looking for something with a rustic Adirondack feel, The Log Jam offers high-end dining with a log cabin feel. The Log Jam specializes in lobster, prime rib, and steak.
Capri Pizzeria
If you want something delicious and casual, swing over to Capri Pizzeria. This small pizzeria, just off the main drag has a great selection of local craft beers and delicious oven-baked pizza.
The Best Hotels On Lake George
There are some great options for accommodations in Lake George. Whether you're looking for high-end inns, relaxed cabins, or sprawling hotels, there are plenty of places to stay in Lake George. Here are a few of the best hotels and accommodations:
Inn At Erlowest
The Inn at Erlowest isn't just a great restaurant in Lake George, it's one of the most attractive properties on the lake. Rooms at the Inn at Erlowest are large and luxurious. The magnificent stone building was once owned by movie stars and celebrities. But now it's one of the top luxury hotels in Lake George. You can find out more about the Inn at Erlowest here.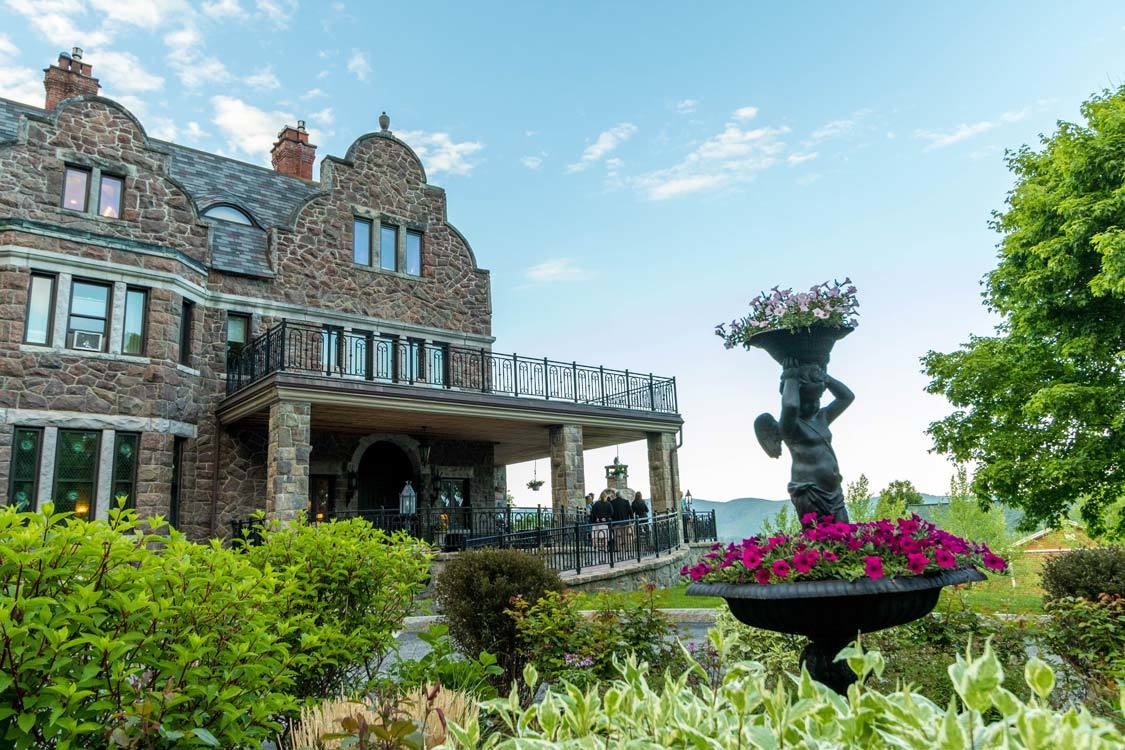 Boathouse B&B
One of the most unique accommodations in Lake George is the historic Boathouse Bed and Breakfast on Sagamore Rd. This converted boathouse has five rooms as well as two suites in the carriage house. Visitors have private balconies with amazing views of the lake. Don't miss the homemade three-course breakfast. You can check out their prices and availability here.
Fort William Henry Conference Center
If you are looking to stay right in the village of Lake George, the Fort William Henry Conference Center has one of the most prime pieces of real estate. The hotel is perched right at the south end of the lake offering amazing views right onto the water. Don't miss the tremendous sunsets. There is a restaurant on-site, but visitors are also surrounded by many of the great local Lake George restaurants as well. You can check out their rates and availability here.
You can find more options for hotels on Lake George here.
Do We Recommend Finding Things To Do In Lake George With Kids?
Make a visit to Lake George and you'll see families everywhere. Visiting Lake George with kids is part of the fun of this town. From the amazing things to do in Lake George to the crazy family-focused wax museums, and even nearby Six Flags Great Escape and Hurrican Harbor, Lake George is a great family destination. From hiking and boating to exploring and camping, you'll be sure to have an amazing time with all of the great Lake George things to do. And, if you're looking for more incredible New York State attractions, check out our New York family travel blog.
Have you ever spent time in Lake George NY? Tell us about your experience in the comments. Or swing by our Facebook page and share a photo of your trip. We would love to share in your travels.
Disclosure: Portions of this article were made possible with the support of the Adventure Travel and Trade Association, Visit Lake George, Visit Adirondacks, and the New York Department of Environmental Conservation. All opinions remain our own. Wandering Wagars is a participant in the Amazon Services LLC Associates Program, an affiliate advertising program designed to provide a means for sites to earn advertising fees by advertising and linking to amazon.com, amazon.co.uk, amazon.ca. Amazon and the Amazon logo are trademarks of Amazon.com, Inc. or its affiliates.
You May Also Like To Read:
Pin This For Later: