Explore secrets hidden in the most incredible caves in New York State. These New York caves will satisfy your inner explorer.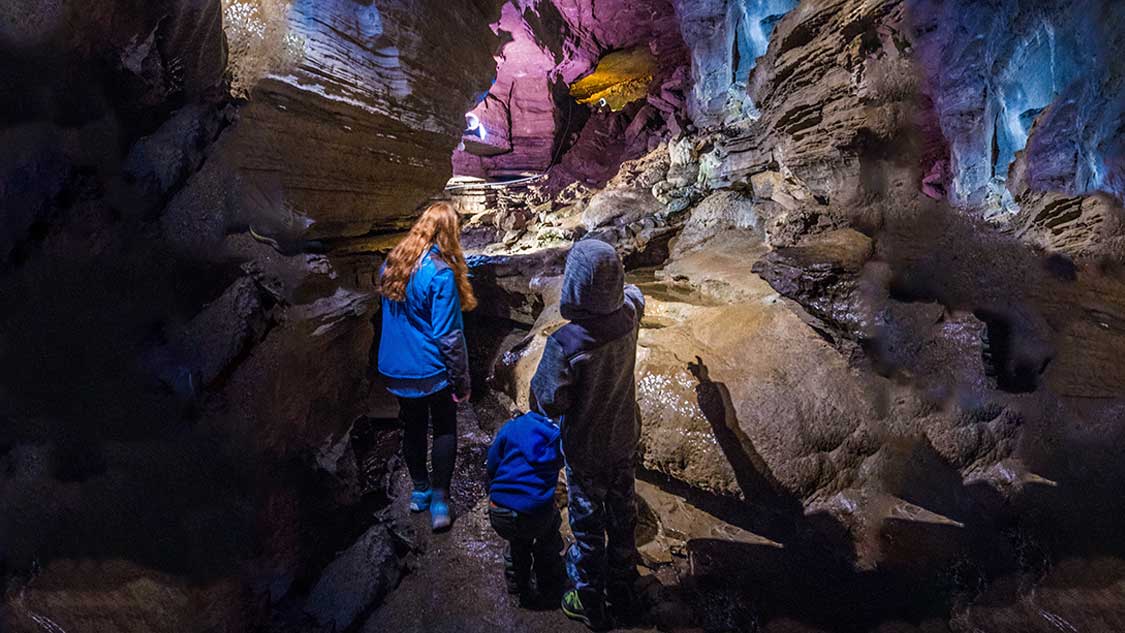 The mystery and thrill of exploring the underground world can be a powerful draw for adventurers. The silent charisma and sense of wonder that comes from roaming deep within the earth aren't easy to forget. And once you fall in love with exploring caves, you'll soon be looking for even more of them to experience.
Hidden deep beneath the earth's surface are many New York caves spread throughout the state. From dramatic show caves lit up for the perfect photo to those with wet, raw walls that will leave you muddy as you squeeze through narrow passages. You can even find caves in New York with dramatic hidden waterfalls cascading deep underground.
Throughout New York State, you'll be spelunking among towering stalagmites, million-year-old fossils, speleothems, and flowstones that will make your jaw drop. You'll even find ice caves in New York that will blow your mind.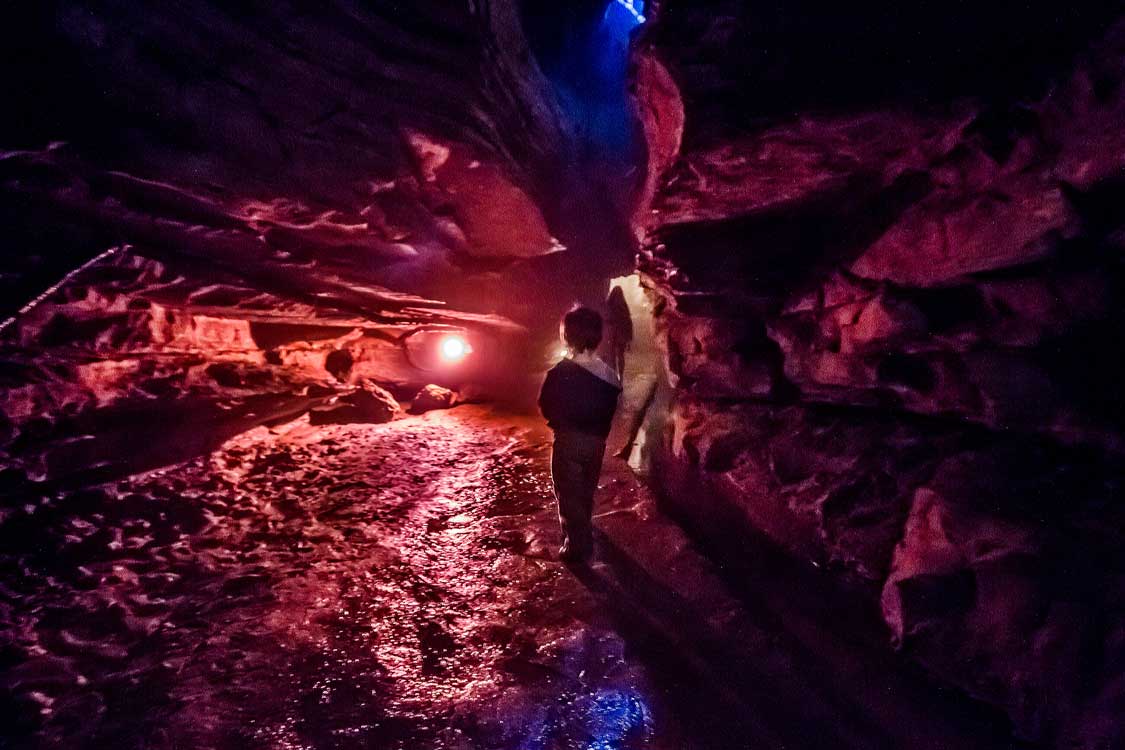 Some of these caves offer unique experiences such as gem mining and rappelling. Others are commercial caves combined with loads of other family-friendly activities. But some of these New York State caves are hidden gems that can be explored without reservation.
Whether you're looking to tackle amazing caves to explore with kids, to challenge your spelunking skills, or enjoy a fun day out with family and friends, these caves in New York are sure to offer a little intrigue and adventure to your day.
Howe Caverns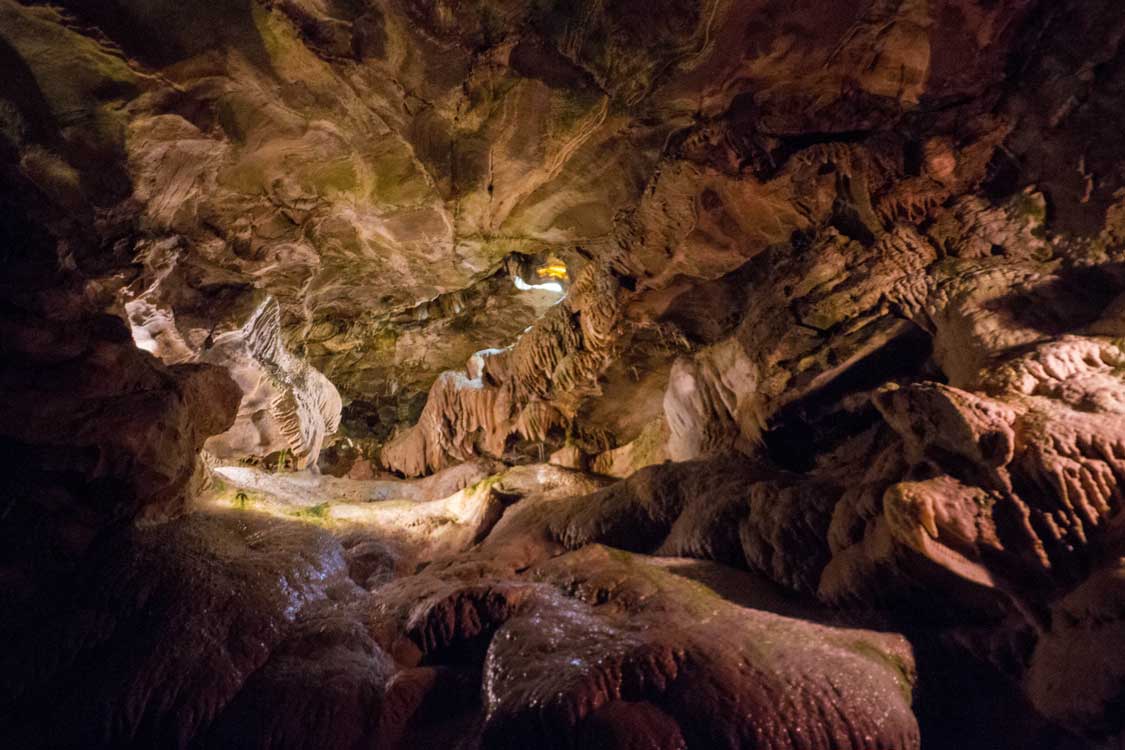 Howe Caverns is a spectacular show cave in Howes Cave, NY. This massive cave complex located 156 feet below the ground is ranked alongside Ausable Chasm as one of the most visited tourist attractions in Upstate New York.
There are several tours offered through Howe's Caverns. You can opt for the two-and-a-half-hour Signature Rock Discovery tour that takes visitors through hard-to-reach areas that, until recently, were not open to the public. You can also opt for the Adventure Tour, where guests are outfitted with coveralls, gloves, boots, and knee pads, along with a lighted helmet. On the Adventure Tour, you'll crawl your way through some of the smallest passages and cross a dry underground stream bed to The Great Rotunda, a 107-foot high silo-shaped natural dome.
The fun doesn't stop below the ground here either. You'll find several outdoor activities at Howe's Caverns, including a treetop walk, camping, zip-lining, and a geology and mining museum.
Interested in finding out more? You can see what our Howe's Caverns adventure was like here.
Secret Caverns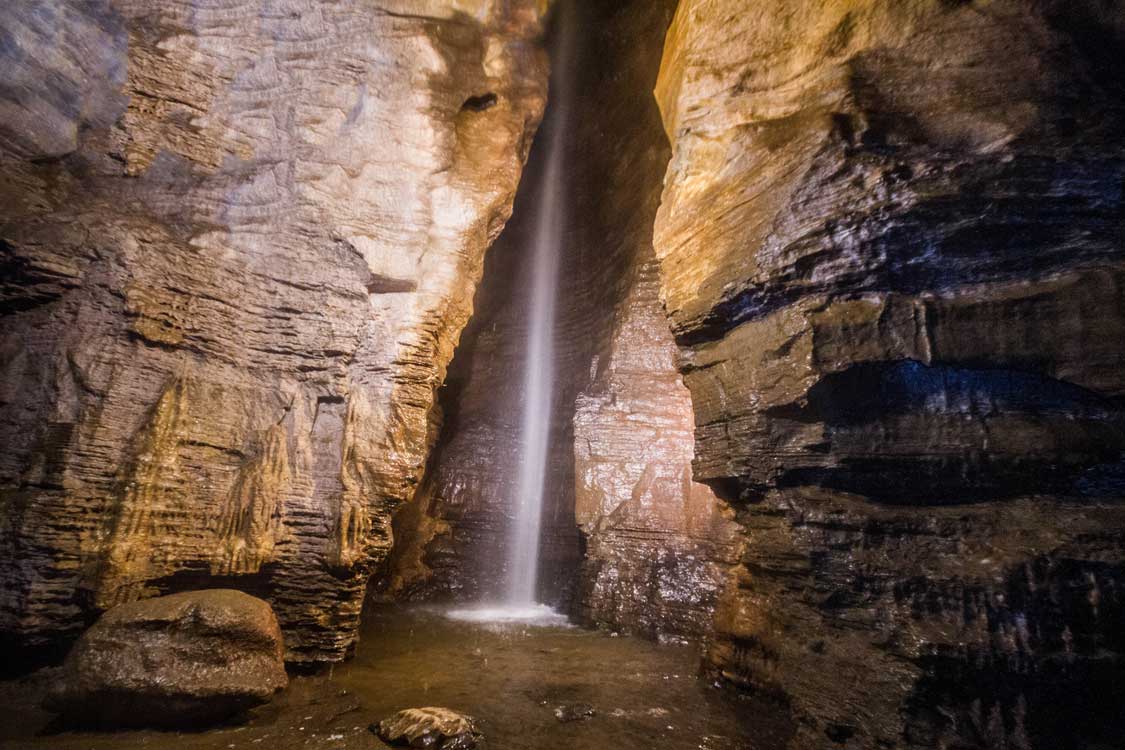 Secret Caverns is the quirky little brother to the Howes Caverns tourism mecca. Guests are welcomed with a fun, urban-art-style exterior before being brought down on a one-hour tour through stalagmites, stalactites, and flowstones. Secret Caverns is also located in the town of Howes Cave and gives visitors a little bit of adventure in a show cave atmosphere.
While Secret Caverns isn't as big as Howe's Caverns, it still worth the visit. If nothing else than for the view of the 100-foot tall waterfall at the end of the cave system. The view of the water cascading through the smooth worn rock is enough to make you start seeking out all of the incredible New York caves.
Interested in checking this out? You can read all about our visit to Secret Caverns right here.
Ellenville Fault Ice Caves
If you've ever wanted to step inside a natural refrigerator, the Ellenville Fault Ice Caves are for you. Situated within Sam's Point Preserve on the Shawangunk Ridge near the town of Cragsmoor, NY, Ellenville Fault is the largest exposed fault in the United States.
The New York ice caves remain chilly all year-round thanks to a near-constant presence of ice deep in the shadows of the rock. Accessing the Ellenville Fault Ice Caves requires a two-mile hike that will take you to the entrance. The trail is known as the "Ice Caves Trail"; It is mainly paved and is rated 'easy.'
The New York ice caves are open seasonally from mid-spring to late fall, and there's a small parking fee. However, keep in mind that this is not a guided tour, so make sure not to visit alone.
Lockport Caves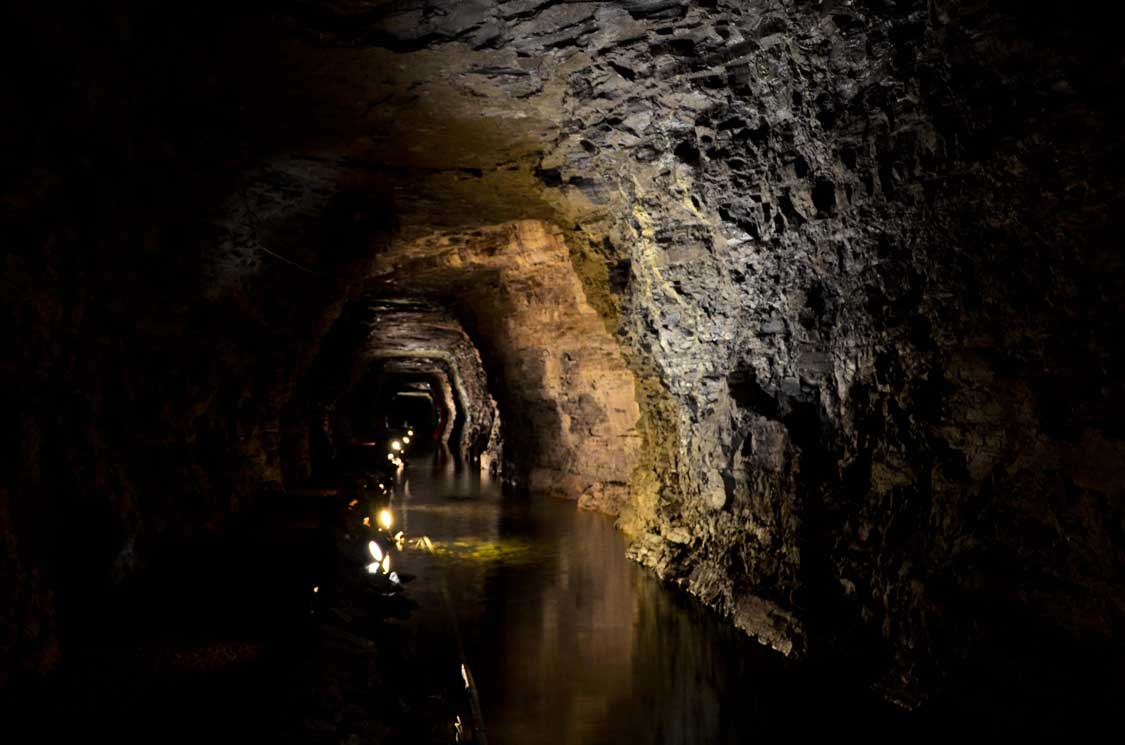 Located in Lockport, NY, just half an hour from the magnificent Niagara Falls, is another famous New York show cave. Exploring Lockport Caves involves an underground boat ride through man-made tunnels created to help fuel the region's hydroelectric industry.
The 2100 foot tunnel and the 5-flight lock above were constructed in the 1800s. Exploring this New York cave includes a walking tour of locks 67-71 and 34 & 35, which allow boats to travel uphill 60-fee along the Niagara Escarpment through the Erie Canal. Following this, you'll descend beneath the earth to explore the tunnels along with stalagmites, flowstones, and other unique geological features that are rarely found anywhere else.
Visitors can also join in their special Haunted Cave Lantern and Ghost Hunter tours for an added thrill. And along with Niagara Falls, you can also explore the renovated waterfront of nearby Buffalo.
Natural Stone Bridge & Caves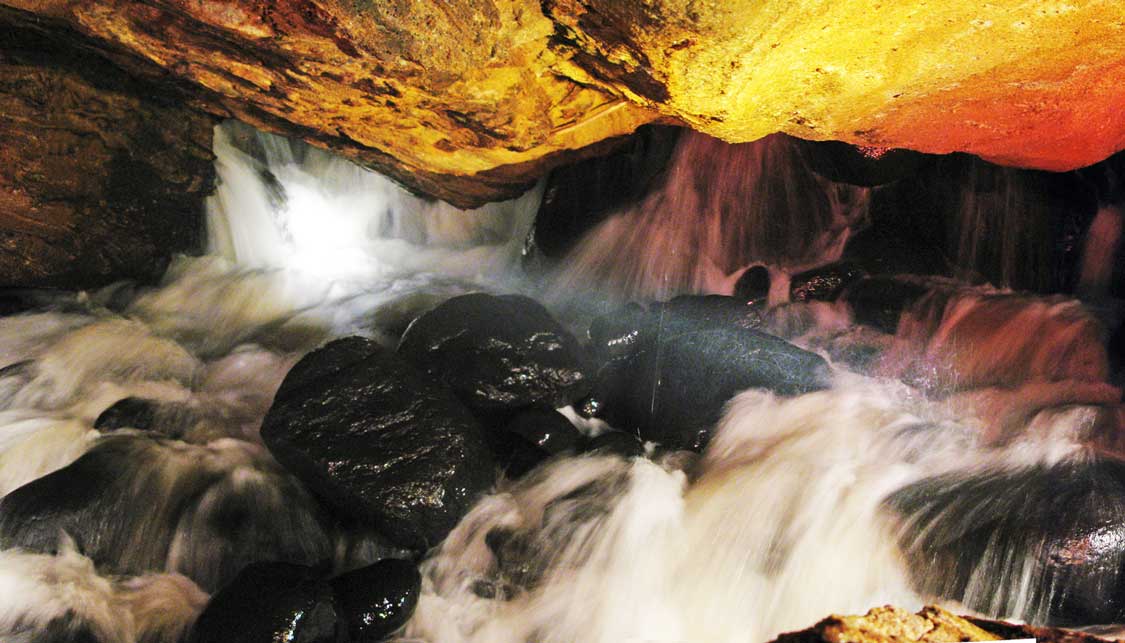 Known as one of the most popular things to do in the Adirondacks region of New York, Natural Stone Bridge and Caves. Located in Pottersville, just 30-minutes from the holiday hotbed Lake George, Natural Stone Bridge & Caves is home to the largest marble cave entrance in the Eastern United States.
This campground and outdoor adventure park will offer an introduction to the unique landscapes of New York's Adirondack region as you walk along cliffside walk, stroll past waterfalls, through caves, and much more.
The self-guided walk traipses through a quarter-mile of stunning scenery and through a series of lit caves, some of which feature natural pools that offer a unique perspective. There are also guided adventure tours available during the summer season that include a deeper look into these New York caves. Those brave enough can get muddy by crawling through shallow passages and floating through the underground waters.
Natural Stone Bridges and Caves is a family-friendly cave experience in New York. You can even add to your visit by enjoying gem-mining and an 18-hole disc golf course. These, along with rock climbing walls, a playground, and a picnic area, can make this a full-day destination.
Clarksville Cave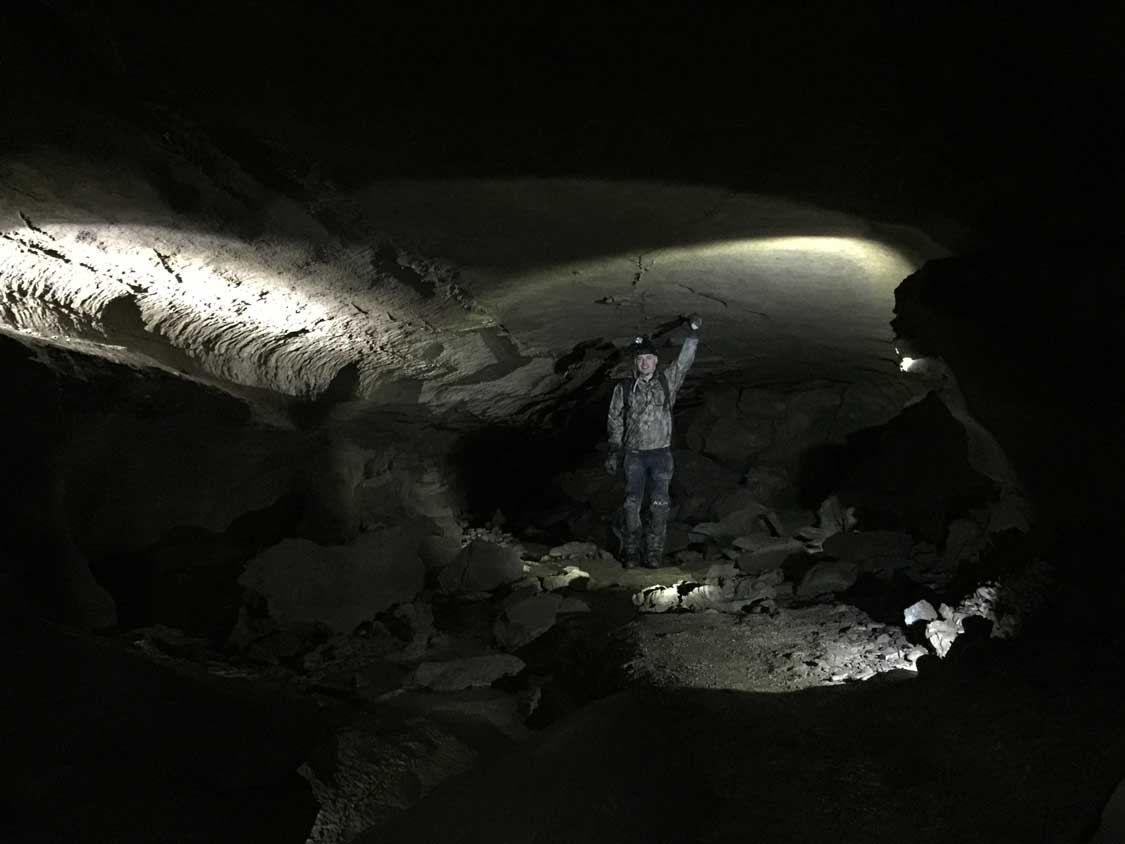 Clarksville Cave is a popular Upstate New York attraction located in Clarksville, just outside Albany, NY. This famous horizontal cave has over 4,800 feet of passageways, making it one of the longest caves in New York State.
Most of the passages at Clarksville Cave are large and easy to pass through, but some might involve a squeeze. Some involve wading through waist-deep water to reach the next room. Luckily you're able to navigate much of the cave system based on your comfort level, so if you don't want to get too dirty, there are routes for all skill levels.
Deeper in the cave, you'll find stalagmites, stalactites, and flowstones decorating the cave walls. There are also several scenic trails nearby that you can stroll through on your way to the cave system.
Keep in mind that Clarksville Cave is only open seasonally from April through September as the cave is a natural hibernation spot for local bats.
Sellecks Karst Preserve Caves
Sellecks Karst Preserve is an often overlooked cave in Carlisle near Albany. This New York cave system features over a thousand feet of passageways split between four significant caves, the largest of which is Sellecks Cave. This cave has some challenging areas and is unguided. Therefore, it's recommended that you only visit here if you have experience and access to proper spelunking equipment.
Access to Sellecks Cave is via a magnificent sinkhole that will require some rappelling or climbing to descend into it safely. The drop is about 20 feet to the base. A large room divided by an underground stream faces those who climb.
Levy's cave, another one of the caves in the Sellecks Cave system, involves a similar descent down 12 feet. Although for this cave, there is a rope ladder available. Cave 575, however, is more advanced. Those who have experience rappelling will love the 15-food descent to the base. Once there, you can explore some of the many fossils embedded within the walls.
Onesquethaw Cave
This lesser-known cave in New York is located just outside of Voorheesville, about 20-minutes from Albany. This cave can be a little tricky to find, but it's worth the effort once you get there. You'll also need a permit to access the land on which Onesquethaw Cave is located.
The minimum group size for permits is three. However, they will admit two under particular conditions. The cave is also prone to flooding after heavy rainfall so beware. Under extreme conditions, it can fill to ceiling level.
Within Onesquethaw Cave, you'll find several towering rooms, natural water features, and jaw-dropping rock formations.
Cooper's Cave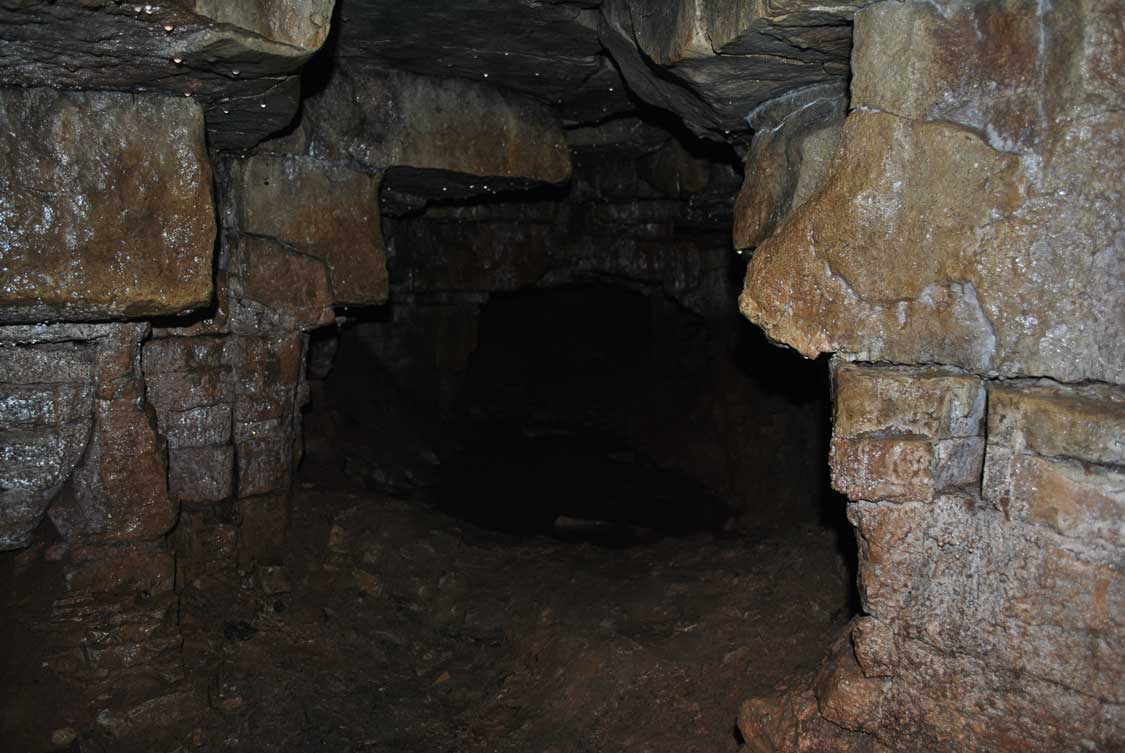 Located on the banks of the Hudson River between South Glens Falls and Glens Falls is the local hotspot Cooper's Cave. Accessing this New York Cave involves hiking along the historic Independence Trail, but the effort is worth it.
Cooper's cave was named after novelist James Fenimore Cooper, the author of Last of the Mohicans. He mentions Cooper's Cave as a hideout of the Munro sisters who were on the run from the Hurons in the book. Unfortunately, Cooper's cave is no longer accessible to the public. However, access can be granted with special permission. However, a hiking trail offers a view of the cave. The trail is open from Memorial Day till Halloween and does not require permission to use.
This wild cave is 4,800 feet long and has three separate entrances. The Gregory entrance is the most popular and offers access to some of the protected Indigenous petroglyphs and an underground river. The river leads to a sizeable turquoise-colored pool that offers tremendous photo opportunities.
Ella Armstrong Cave
Named for the 19th-century woman who first explored it, Ella Armstrong Cave is a small cave in Gallupville, NY, between Cooperstown and Albany. Accessing this cave requires special climbing equipment and involves a straight vertical drop to the base of the cave.
If you look closely, you can find Ella's inscription at the bottom of the entrance, where she scratched it nearly 200 years ago.
Bentley's Karst Preserve
Bequeathed by the Bentley family, Bentley's Karst Preserve covers five acres of land and a cave system with over 1,000 feet of passageways inside. Most of this New York State cave system is easily accessible. However, a few squeezes and crawl spaces along an underground stream might require a bit of work.
Bentley's Karst Preserve is located near Berlin, NY, near the Vermont and Massachusetts borders.
Are You Ready To Explore These New York Caves?
There are many impressive caves in New York that are just waiting to be explored. Keep in mind that any underground adventure comes with a level of risk. It's essential to understand your environment and your responsibilities to preserve them when you're exploring.
Explore safely and have fun!
Wandering Wagars is a participant in the Amazon Services LLC Associates Program, an affiliate advertising program designed to provide a means for sites to earn advertising fees by advertising and linking to amazon.com, amazon.co.uk, amazon.ca. Amazon and the Amazon logo are trademarks of Amazon.com, Inc. or its affiliates.
You May Also Like To Read: