Thinking of visiting Ausable Chasm New York, the Grand Canyon of the Adirondacks? Discover how to get there and the best things to do at Ausable Chasm NY.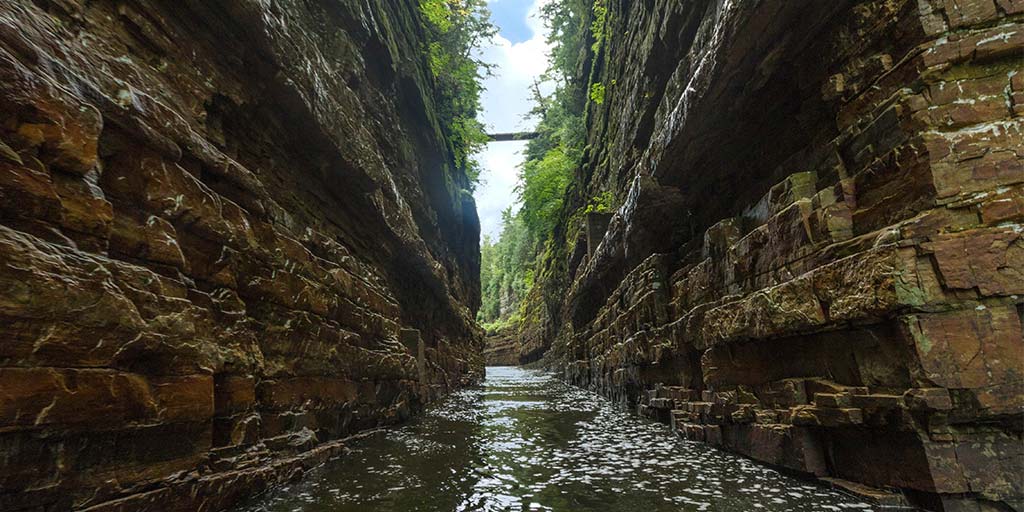 During our exploration of the Adirondack region of New York, one of the places that we were most excited to visit was the epic Ausable Chasm in Au Sable NY. This natural attraction dubbed the "Grand Canyon of the Adirondacks" is a must for those exploring Upstate New York. But Ausable Chasm isn't just for gazing upon.; This adventure gorge is packed with incredible scenery, waterfalls, hiking trails, and much, much more. There are a lot of things to do in Ausable Chasm, especially for those who love a little adrenaline!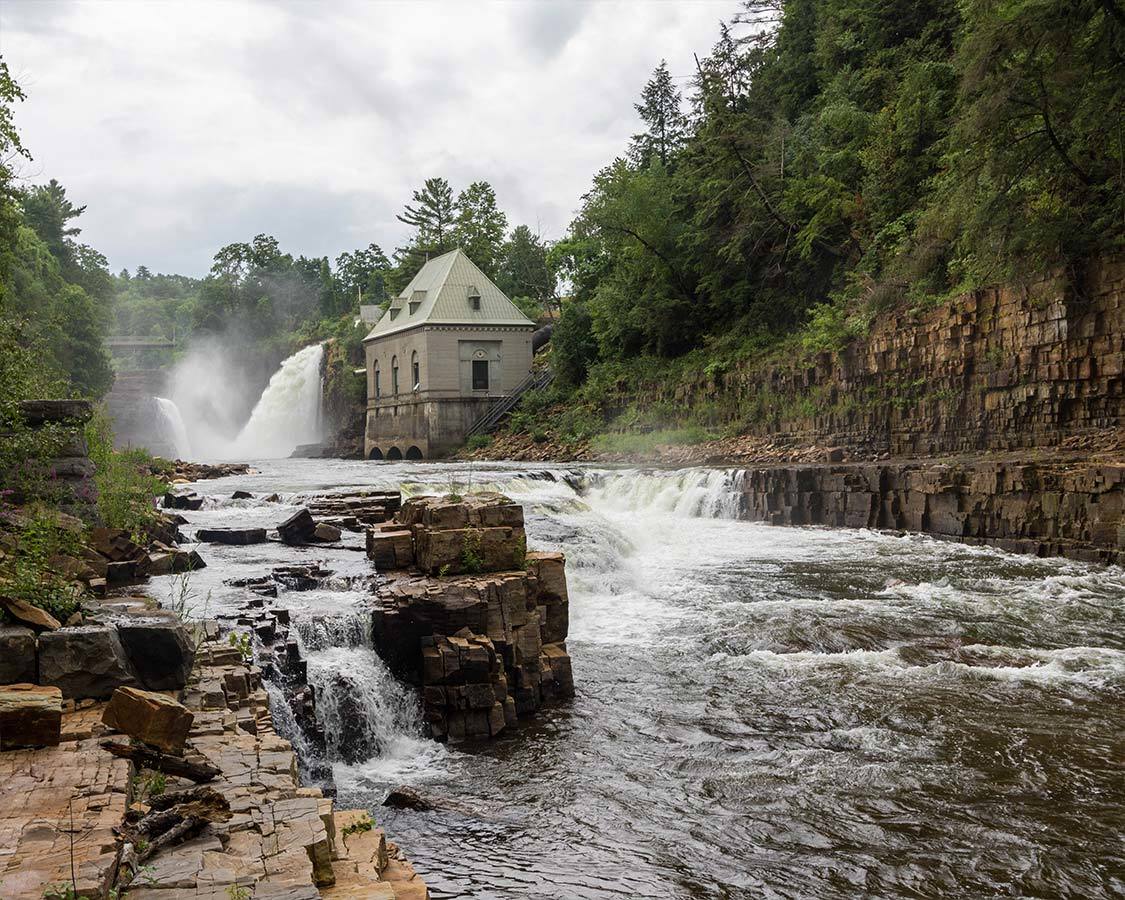 What is the Ausable Chasm NY?
Ausable Chasm New York is dubbed "the Grand Canyon of the Adirondacks". But don't confuse it with Letchworth State Park, which was given the moniker "the Grand Canyon of the East". While both in Upstate New York and both are incredible places to visit, they are vastly different experiences. Ausable Chasm was first opened for tours back in 1870. This makes Ausable Chasm the oldest continuously operating natural attraction in America!
The Ausable Chasm itself is a long, narrow sandstone gorge that stretches for two miles (3.2 km). The gorge has been carved from the sandstone by a mixture of the power of the Ausable River and theorized tectonic activity over the past 15,000 years. The accessibility and beauty of Ausable Chasm have led it to become one of the most popular tourist attractions in the Adirondacks.
Ausable Chasm is a mix of adventure trails, hiking trails, waterfalls, fossils, and river rides. And this great variety of activities is what attracted us to explore and see the area around Ausable Chasm NY.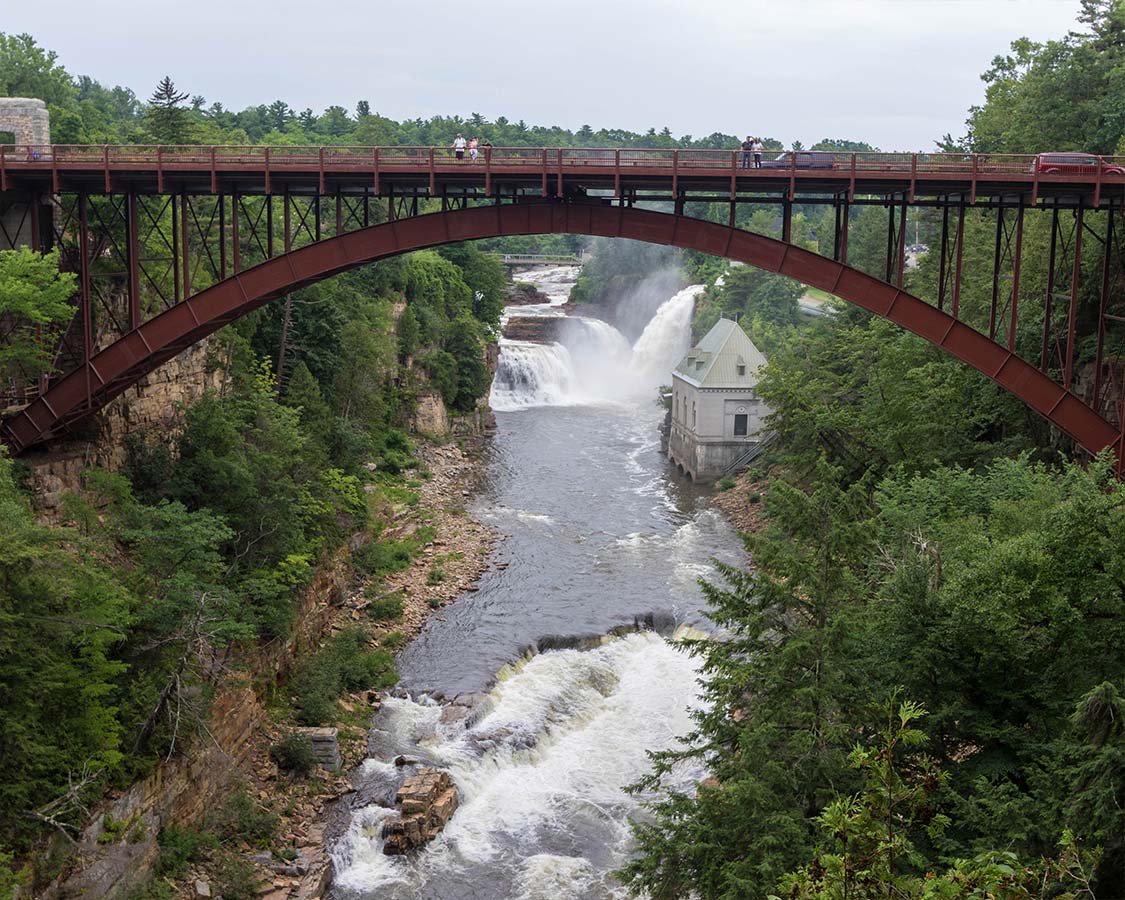 How to Get to Ausable Chasm New York
Ausable Chasm is along the Essex County and Clinton County border along the Ausable River just outside of the town of Keeseville, New York, which is in the Adirondack region of Upstate New York. From New York City, it is a five-hour drive north on I-87. From Canada, Ausable Chasm is an easy two-hour drive from Montreal. Although it is a seven-hour drive from Toronto, we definitely think it is worth it, especially as part of a road trip through the Adirondacks.

What are The Best Things To Do at Ausable Chasm?
Ausable Chasm isn't just a one-trick pony. Many visitors driving through Au Sable NY may think they've seen the chasm when they stop at the parking lot near the Ausable Chasm bridge.From there it's easy to walk to the Ausable Chasm bridge and peer down at Rainbow falls. This point lets you see just the first few hundred feet of this 2.2-mile gorge. However, unless you enter through the Ausable Chasm Visitors Center and make the climb down into Ausable Chasm, you'll never know how truly awesome it is.
Ausable Chasm Visitors Center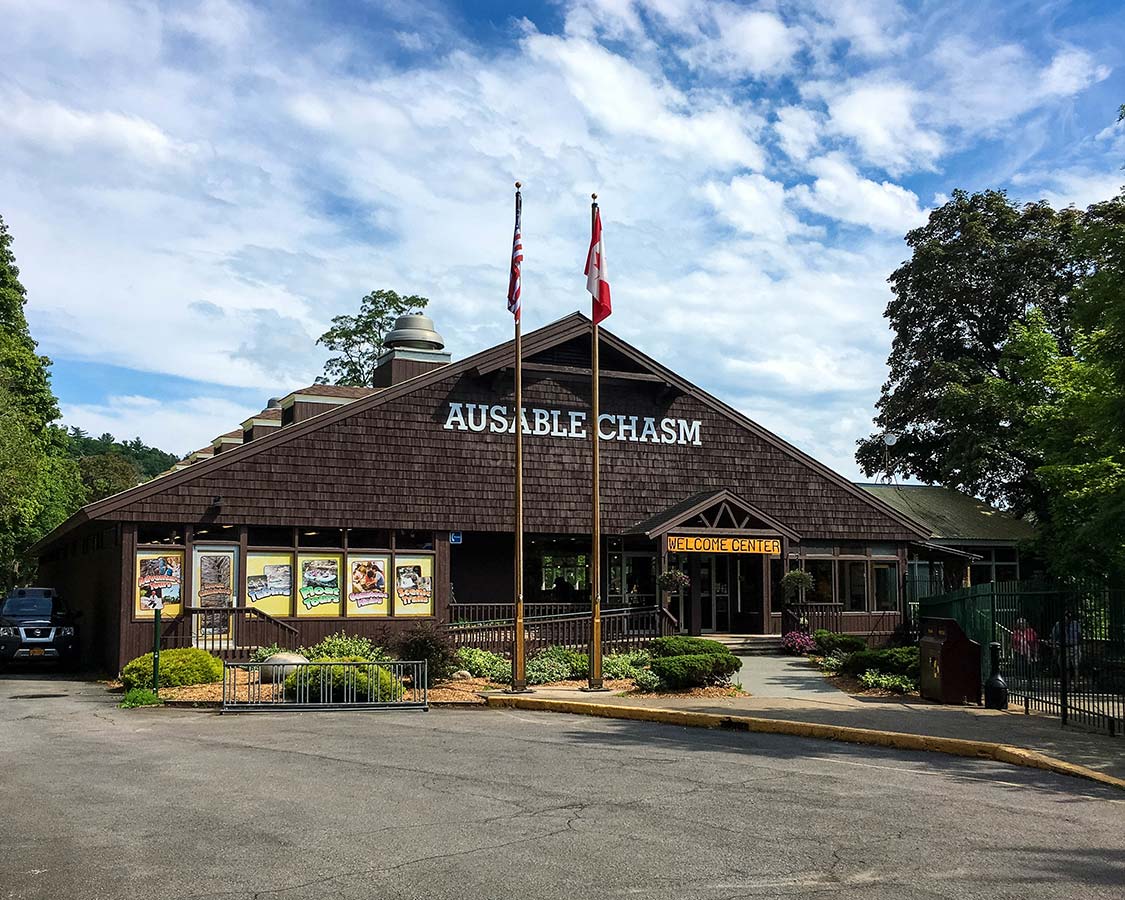 A visit to the Ausable Chasm Visitors Center is a must for those coming here. Not only is the Visitor Center where you pick up your entrance tickets and adventure passes, but it's also where you can learn about both the geological and tourist history of Ausable Chasm.
It was really cool visiting the Ausable Chasm museum and talking to Sean, the on-site historian and geology expert. Sean has been with Ausable Chasm for 10 years and knows seemingly everything there is to know about the chasm and its history. There is also a scale model of the Ausable Chasm gorge near the entrance. It's a great visual to help you understand what you will be experiencing when you descend into the gorge. he Ausable Chasm Visitors Center also has a gift shop, restrooms (because there are no restrooms on the trails) and a restaurant.
Ausable Chasm Hiking Trails
Basic admission to Ausable Chasm gives guests access to the Ausable Chasm trails. This set of hiking and walking trails are suitable for all ages. Far from being a simple stroll through, the Ausable Chasm trails combine a gentle forest walk along the gorge rim with energetic hikes over craggy rocks through the dry sections of the chasm where water no longer flows.
There are no safety rails in many of the sections, but the trails are wide enough that it's easy to keep back from the ledge. You definitely don't want to fall into these waters.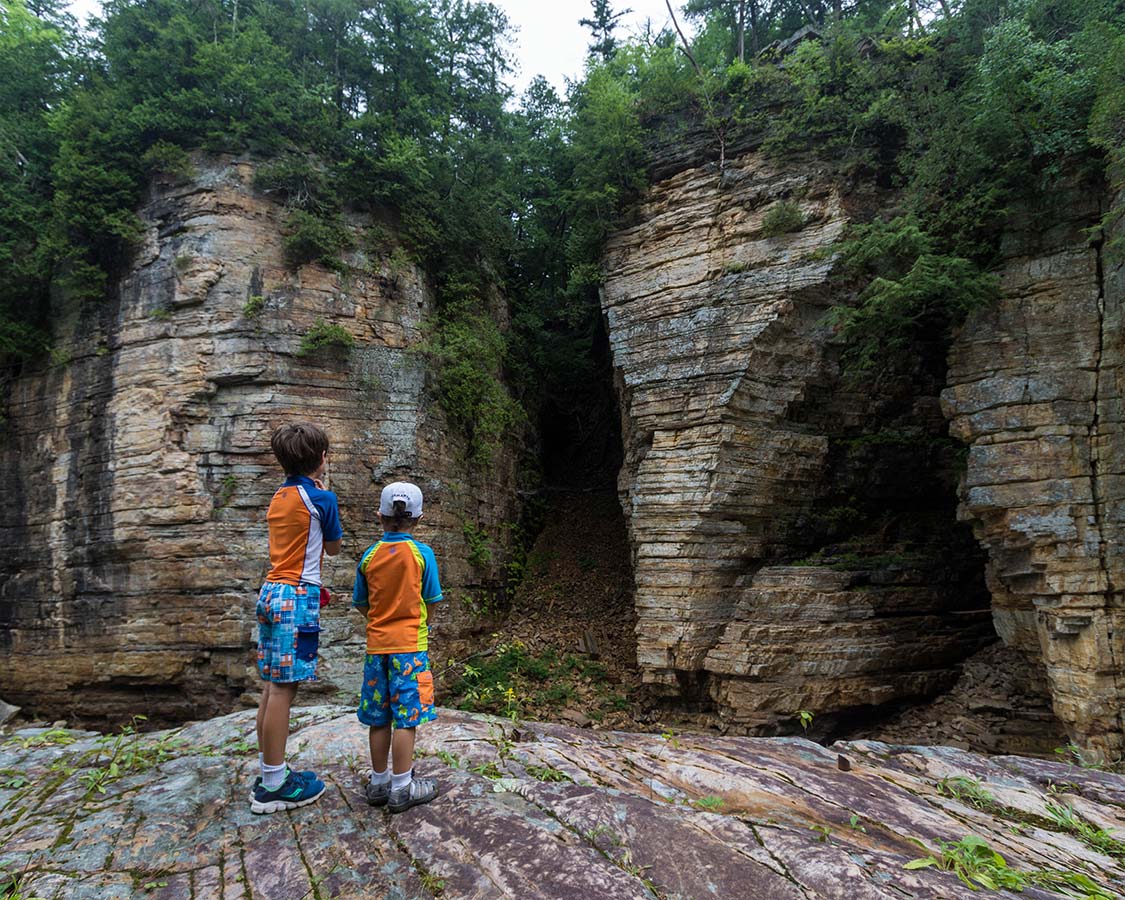 Inner Sanctum Trail
The Inner Sanctum trail is the first of the Ausable Chasm hikes when you access the gorge from the Visitor Center. The Inner Sanctum trail has sections that criss-cross over the gorge along wooden and wire suspension bridges. Our 4-year-old, D had his heart racing as he was the first to cross this bridge in Ausable Chasm. Although to be honest, I think I was more nervous than he was. After he made it across, he was all talk about his bravery, just like he was when he went zip-lining in the Philippines and Sandboarding in Peru.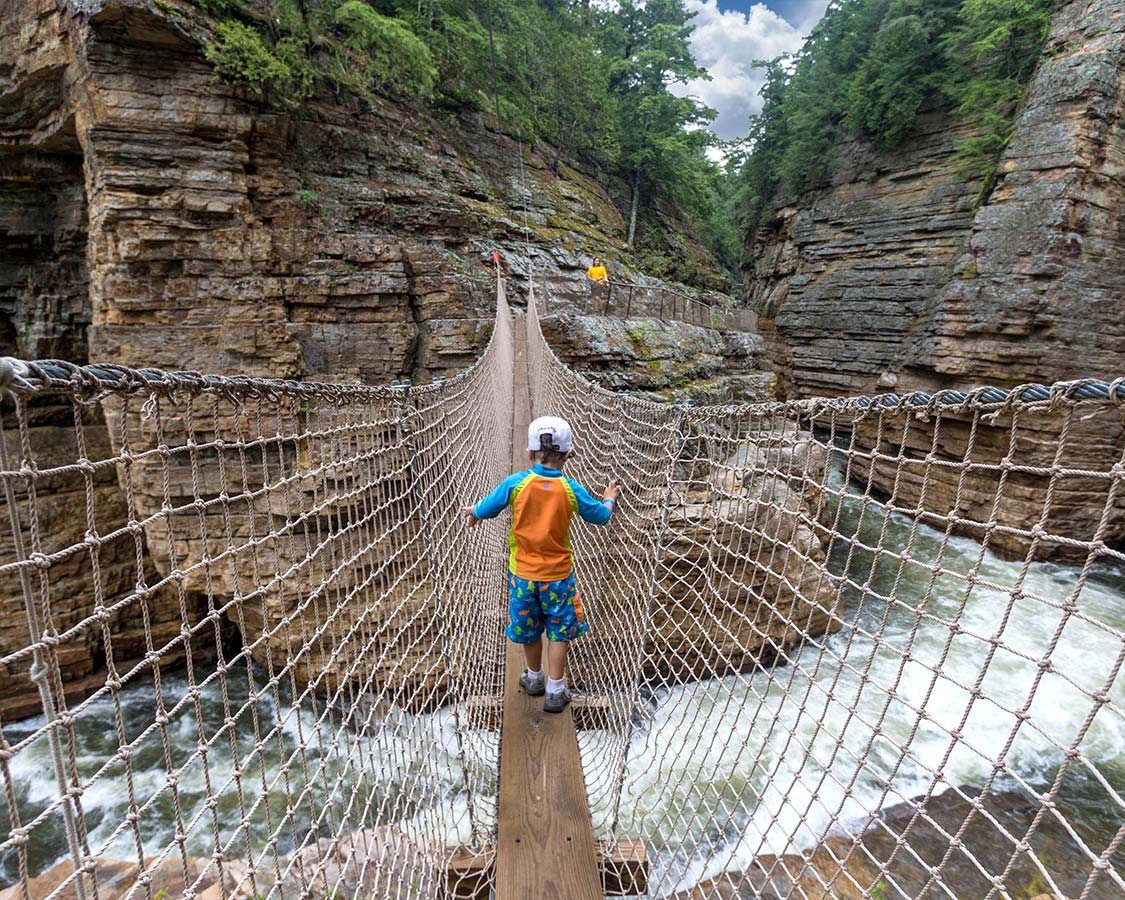 Pro-Tip: Parts of the Inner Sanctum Trail at Ausable Chasm requires guides and helmets for the initial portion.
Dry Chasm Hiking Trails
The Big Dry Chasm and Little Dry Chasm hiking trails are favorites of the locals and staff at Ausable Chasm. These hikes took us through craggy sections and over large boulders over areas of the gorge. These were areas that the river used to run through but it was re-directed over the years. These hikes are fun and colorful. They also have sections where the temperature drops quite a bit. Perfect for hot muggy days!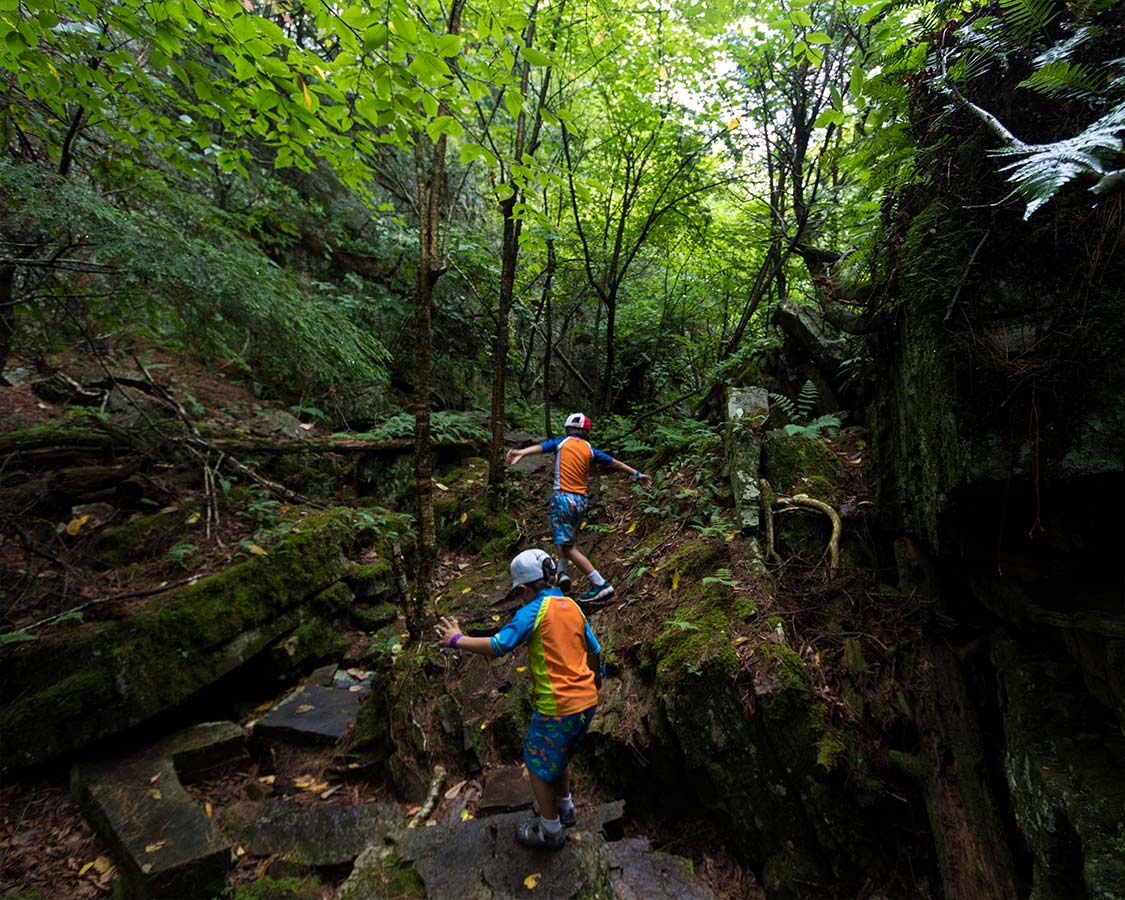 Rim Walk
The Rim walk is the easiest of all the Ausable Chasm trails. This scenic walk took us to several lookouts along the rim of the Ausable gorge. Apart from the gentle hills to get to the overlook points, the trail was pretty flat and easy to walk.
This is the only trail that would be suitable for strollers (although, not umbrella strollers). If you are traveling with young children we suggest using a backpack carrier as access to the overlooks require going down some stairs.
The viewpoints offer a cool perspective that differs from the Inner Sanctum trail. There is also an entry point to the Rim Trail at the end of the Ausable Chasm bridge. Although you still need to get your tickets from the Ausable Chasm Visitors Center.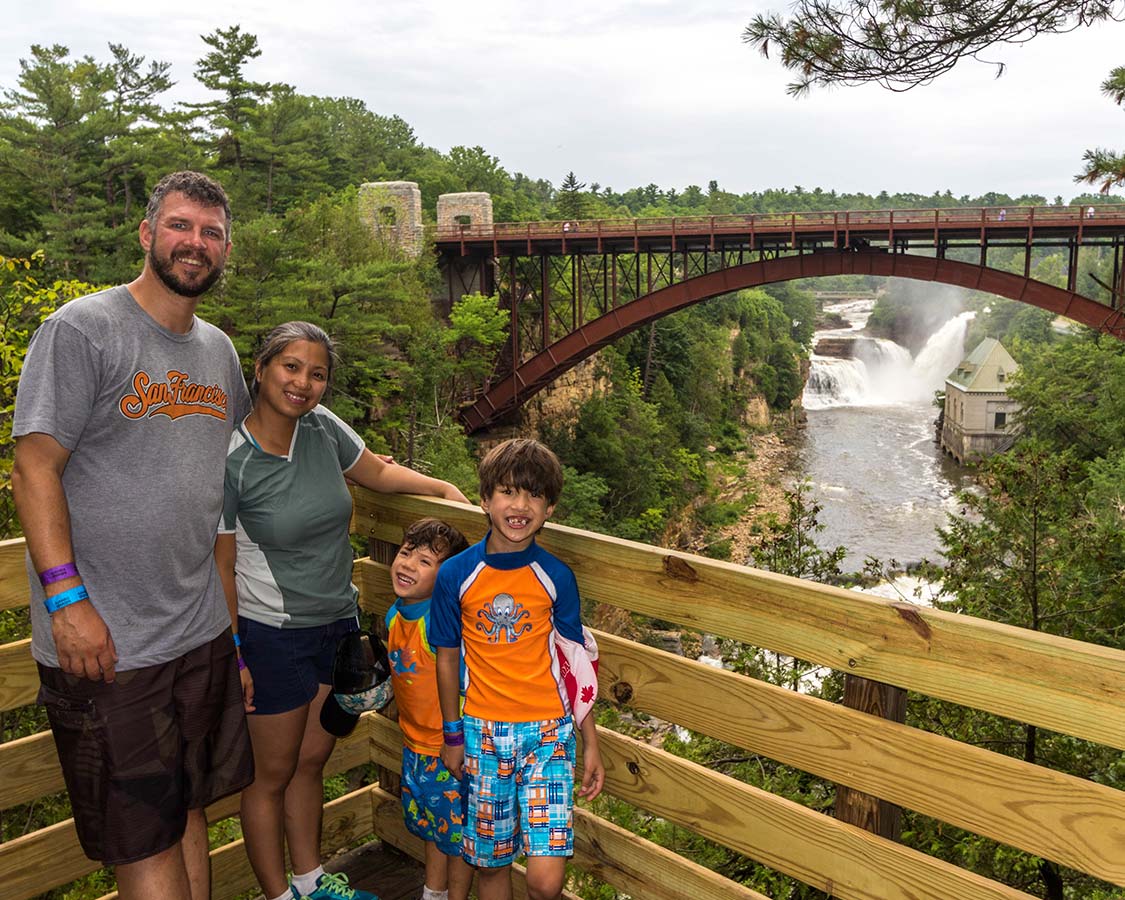 Ausable Chasm Adventure Trail
For visitors over 8-years-old (which unfortunately didn't include us with our 4 and 7-year-olds) you can do the Ausable Chasm Adventure Trail. This series of activities includes rappelling, narrow rope bridges, and walks along the stony ledges near the beautiful Rainbow Falls. The boys were eyeing the brave Adventure Trail crew with envy as we donned our helmets for the initial section of the Ausable hiking trail.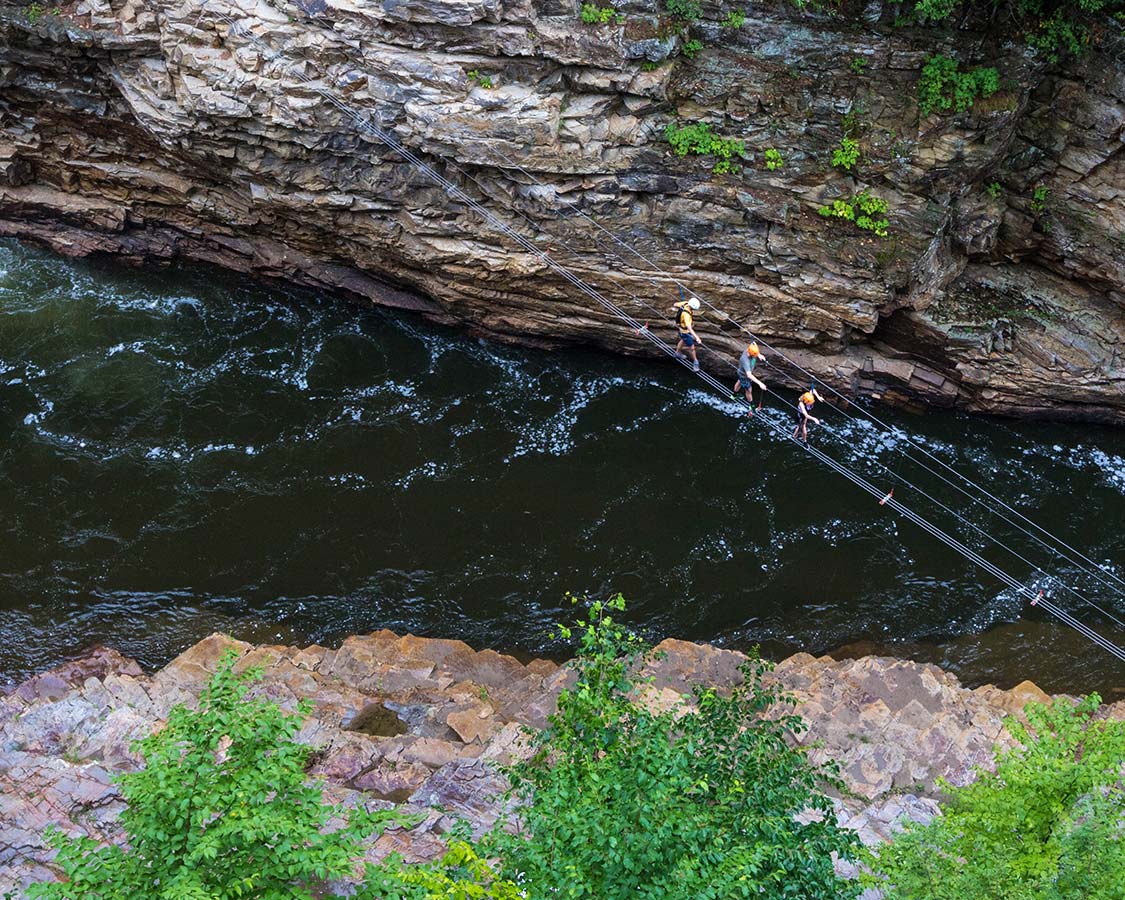 Ausable River Tubing
We visited Ausable Chasm during the middle of a series of rainstorms, so, unfortunately, the river was running high and the Ausable Chasm Tubing wasn't on offer. But, for those interested, this Ausable river activity is available to any visitors over 4′ tall (122 cm). Life jackets and tubes are supplied, but visitors need to bring their own water shoes or sandals with a back strap in order to participate.
Ausable Chasm Rafting
The rafting or river float tour is really the premier activity for any visitor to Ausable Chasm. Participants must be 30 lbs or over so D was in the clear for this activity. And being that this was his first-time white water rafting, he approached it with his normal "Let's Do This!" mentality. Ironically, C's first time rafting was at the "other" Grand Canyon in New York, Letchworth State Park.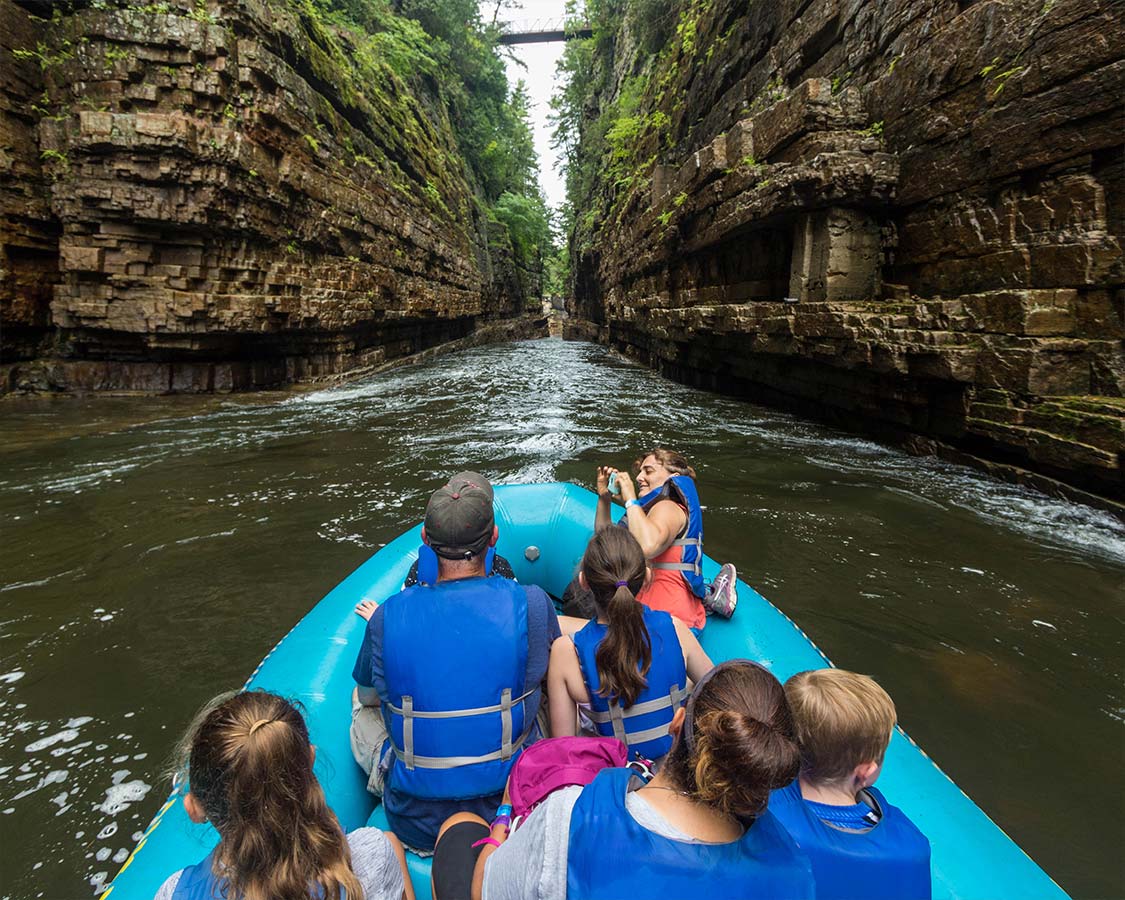 Pro-tip: There are no lockers inside Ausable Chasm. Items placed on the raft floor will get wet. So bring a plastic bag or use a waterproof dry bag.
The Ausable Chasm raft tour starts at the end of the inner trail at Table Rock. The rafting tour at Ausable Chasm brought us through the Grand Flume, a narrow, but deep corridor in the gorge. You can almost reach out and touch the towering rock walls on either side of the boat as we rushed over a small series of whitewater rapids.
The rafting tours of Ausable Chasm actually began WAY back in 1873, just 3 years after the attraction began offering tours to the public. Because of this rich history, an Ausable Chasm rafting tour is truly a part of the whole experience here.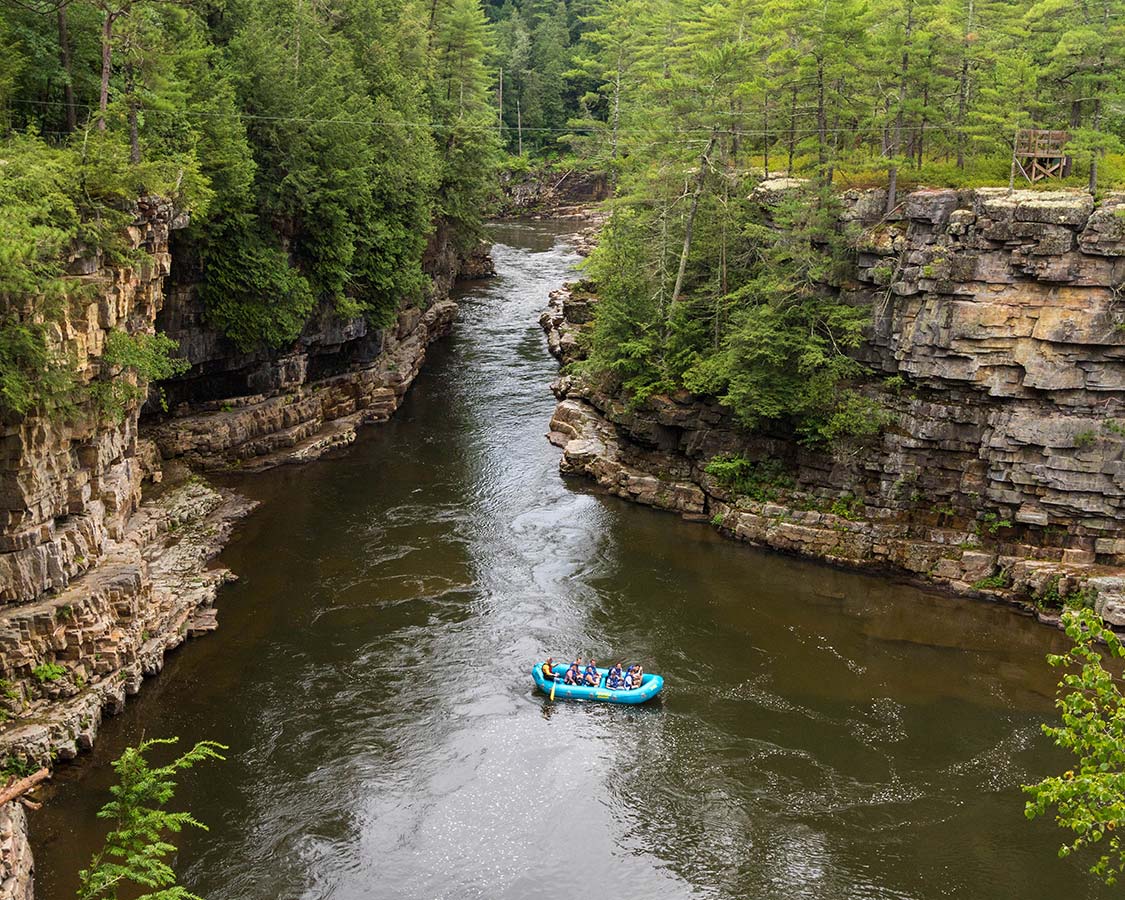 Ausable Chasm Lodging
There are a number of hotels and campgrounds near Ausable Chasm. Whether you're including Ausable Chasm as part of a larger tour of the Adirondacks or if it's the focus of your trip you won't be lacking in options.
Ausable Chasm Campground
This is one of the most popular places for Ausable Chasm camping. The Ausable Chasm Campground is located just around the corner from Ausable Chasm. There are discounts for the Ausable Chasm attractions offered to those who stay at the Ausable campground, so there are definite incentives for staying here.
The Ausable Chasm campground has spots for tent camping, trailers, RVs, and there are even cabins. We were on a long road trip, so we opted for the cabins when we stayed at Ausable Chasm campground. The beds were comfortable and the cabins were perfect for a family of 4. The Ausable campground also has a pool for cooling off after a hot day of adventure.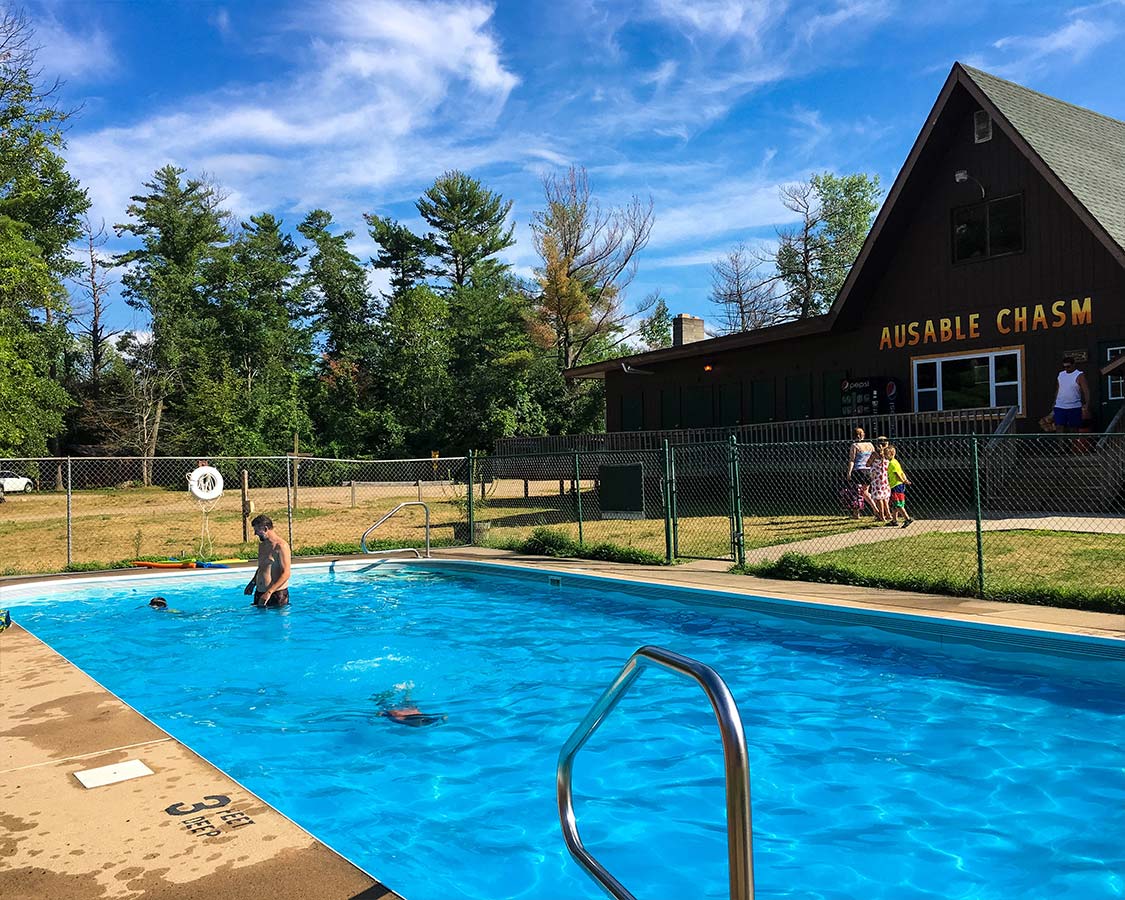 Ausable Chasm Hotels
For those who aren't looking to rough it after a day climbing through Ausable Chasm, there are some great hotels near Ausable Chasm that will allow you to sleep in comfort.
Both the Best Western Plus and the La Quinta hotels are located within 8.5 miles (14 km) of Ausable Chasm in the scenic town of Plattsburgh. While in Plattsburgh make sure you check out the beautiful beach and the very cool military plane displays.
Our Ausable Chasm Video
Want to see even more of what's amazing about Ausable Chasm NY? Check out our video on YouTube showing everything that we got up to.
Make sure to hit those like and subscribe buttons to see more of our videos from around the world.
Other Things To Do Near Ausable Chasm
If you are spending a couple of days in Au Sable NY, there are a few things nearby that are definitely worth checking out. Here are some of the most popular things to do near Ausable Chasm:
Visit The North Star Underground Railroad Museum – the Underground Railroad Museum is located right between Ausable Chasm and Ausable Chasm Campground. It's easily walkable from each site but the Museum has a parking lot as well if you decide to drive there. It explores the fascinating story of those who worked to free slaves from the south.
Feel the Mist off of Alice Falls – If you didn't get enough waterfalls in Ausable Chasm, a quick trip to Alice Falls is a great way to get a little more. Just make sure you visit before 5 pm when the gates close.
Grab a drink at the Ausable Brewing Company – Whether you're looking for cold brews or a great lunch, Ausable Brewing Company is a great place to eat near Ausable Chasm. To make things even better, the picturesque red building that the brewery is in makes for a perfect photo!
Make the 1.5 hour drive to North Creek NY to experience Adirondack Rail Biking with Revolution Rail Co.
Check out the Olympic sites in Lake Placid NY, only about 1 hour from Ausable Chasm.
We hope you got some value out of our article. If you did, let us know in the comments below. Share your Ausable Chasm experiences with us. Or you can swing over to our Facebook page and share a photo with us. We would love for you to share your journey with us.
Disclosure: We were guests of Ausable Chasm during our visit. As always our opinions remain our own. Wandering Wagars is a participant in the Amazon Services LLC Associates Program, an affiliate advertising program designed to provide a means for sites to earn advertising fees by advertising and linking to amazon.com, amazon.co.uk, amazon.ca. Amazon and the Amazon logo are trademarks of Amazon.com, Inc. or its affiliates.
You May Also Like To Read: