Are you ready to experience family camp Vermont-style at Mount Snow ski resort? With amazing food, incredible activities, and lots of family togetherness.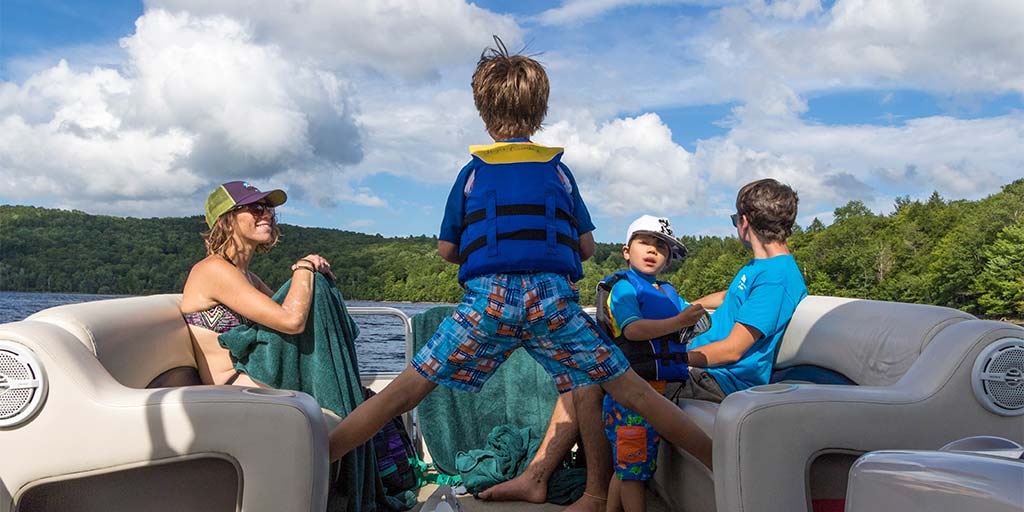 We love experiencing new things. And after a year spent zip lining, snorkeling, hiking, dog sledding and skiing, we were still raring for new experiences. So when we had the opportunity to spend some time at a Family Camp in Mount Snow, Vermont, I was curious. How would our family of adventure travelers take to the structured atmosphere of attending a family camp Vermont-style at Mount Snow?
About Mount Snow
Mount Snow is nestled among the Green Mountains National Forest in southern Vermont. It's not far from Manchester Vermont where we spent a few days the previous summer at the beautiful Wilburton Inn. The amazing landscape of the resort and its proximity to large cities like Albany (1.5 hrs) and Boston (2.5 hrs) make it a popular destination for winter sports.
But when the snow melts and the trees bud, Mount Snow turns into a summer sports paradise. The hills transform into a criss-cross of mountain biking and hiking trails.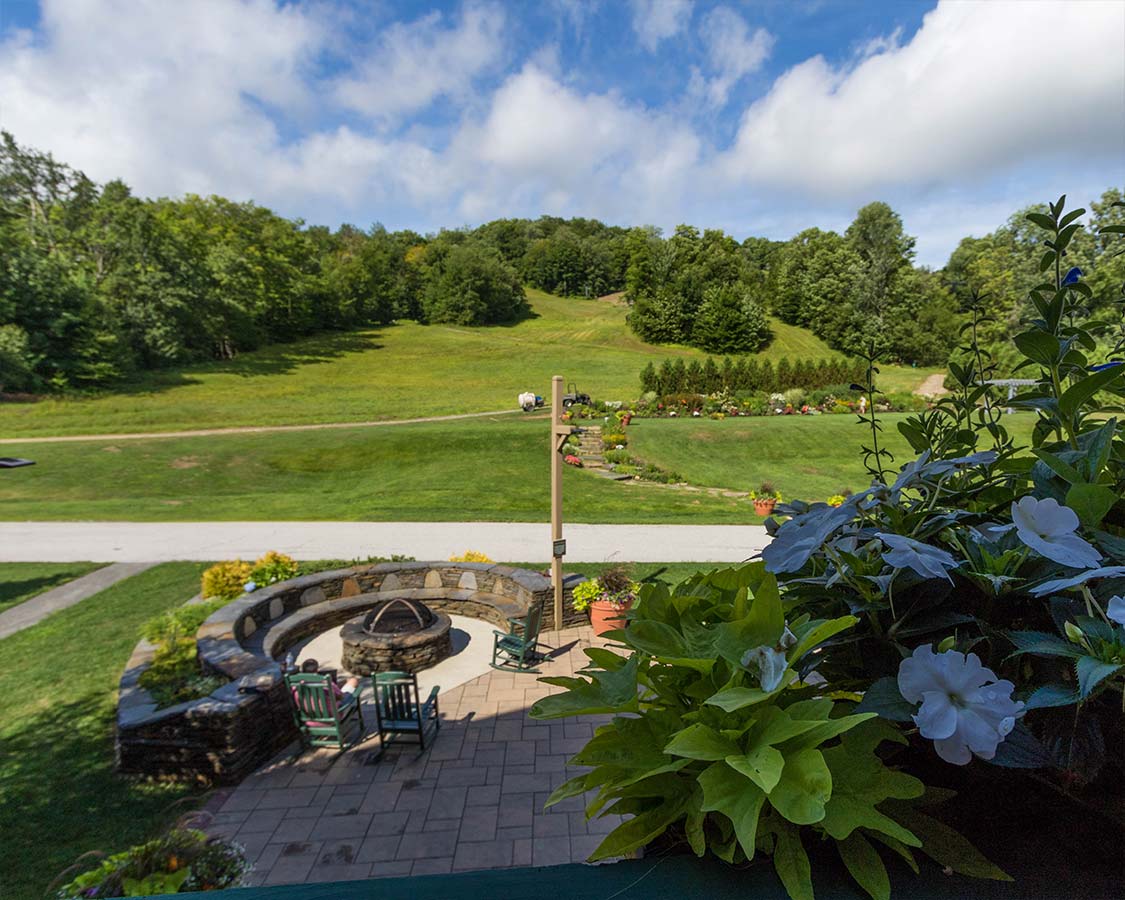 Mount Snow Family Camp – An Adventure Camp for Adults and Kids
During the summer family camp at Mount Snow takes place. The Mount Snow Family Camp is an all-inclusive, family-focused camp. The camp is filled with scheduled and unscheduled activities that are focused on building family togetherness without the distractions of modern technology.
Think of it as the Mt Snow resort transforming into an adventure camp for adults and children alike. The camp offers hiking, mountain biking, days out on the water, and other scheduled adventure activities. Mount Snow follows the mantra of "Unplug and Reconnect". All of these Mount Snow activities are designed to include the whole family.
The family camp at Mount Snow has been running for 15 years under the direction of founder Mike Mitton. He, along with Director Melissa Metivier, see to the day-to-day life at the camp and are actively involved in making sure that each family feels like they are at the center of the action at Mount Snow.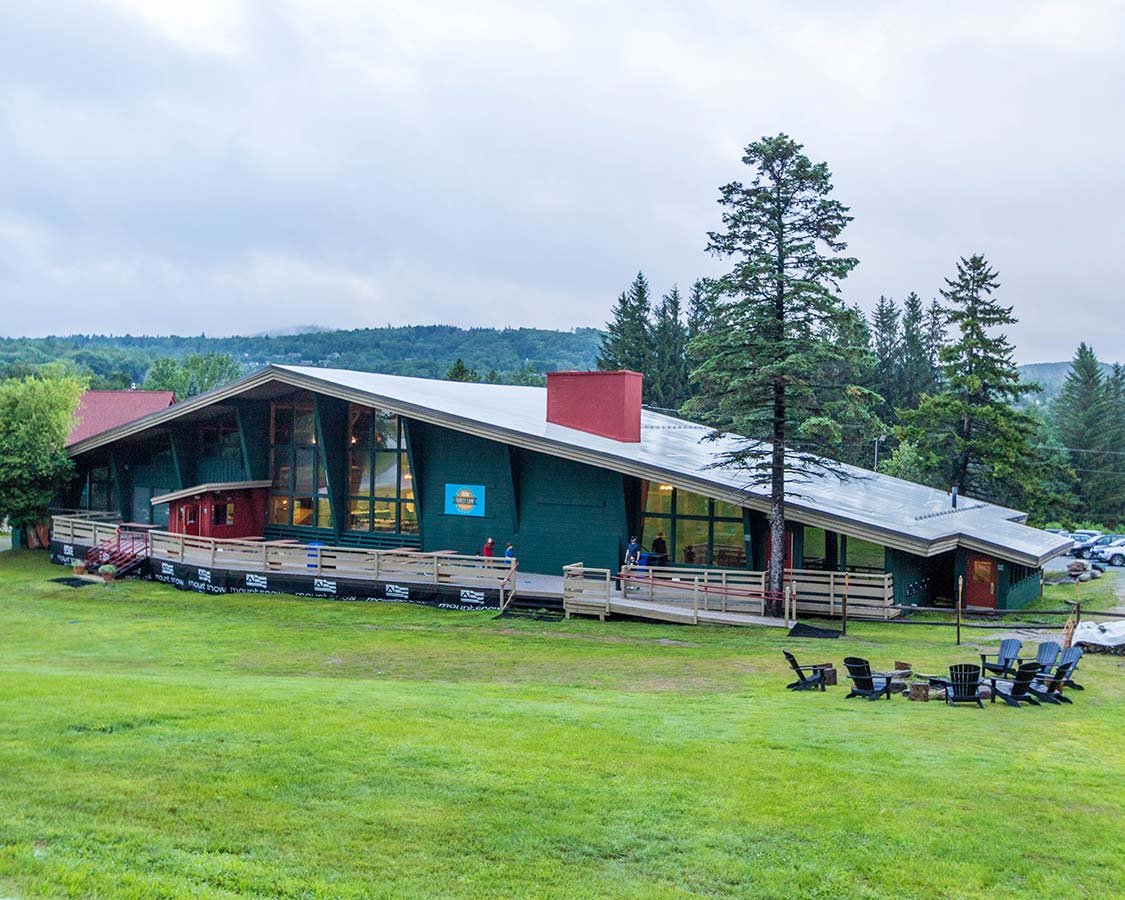 What Does a Day at the Mount Snow Family Adventure Camp Look Like?
The family camp runs in a very loosely-scheduled format that allows a great combination of adventure, family time, and personal time for everyone. The typical Mount Snow family camp schedule is fairly common among most days. However, the activities vary from day-to-day. This means that whether you are attending a family camp for 1 day or for a week, then your days will never end up the same.
The typical schedule for the family camp in Vermont looks something like this:
9:00-10:00 AM – Buffet breakfast
10:00-12:00 PM – Kids play time with the camp counselors (parents can join or have free time for work, hiking or playing)
12:00-4:30 PM – Scheduled family activity for the day (includes boxed lunch for off-resort activities). The activities include boating, hiking, mountain biking, trips into nearby towns, etc.
4:30-6:30 PM – Free time
6:30-8:00 PM – Dinner
8:00-10:00 PM – Family games, campfires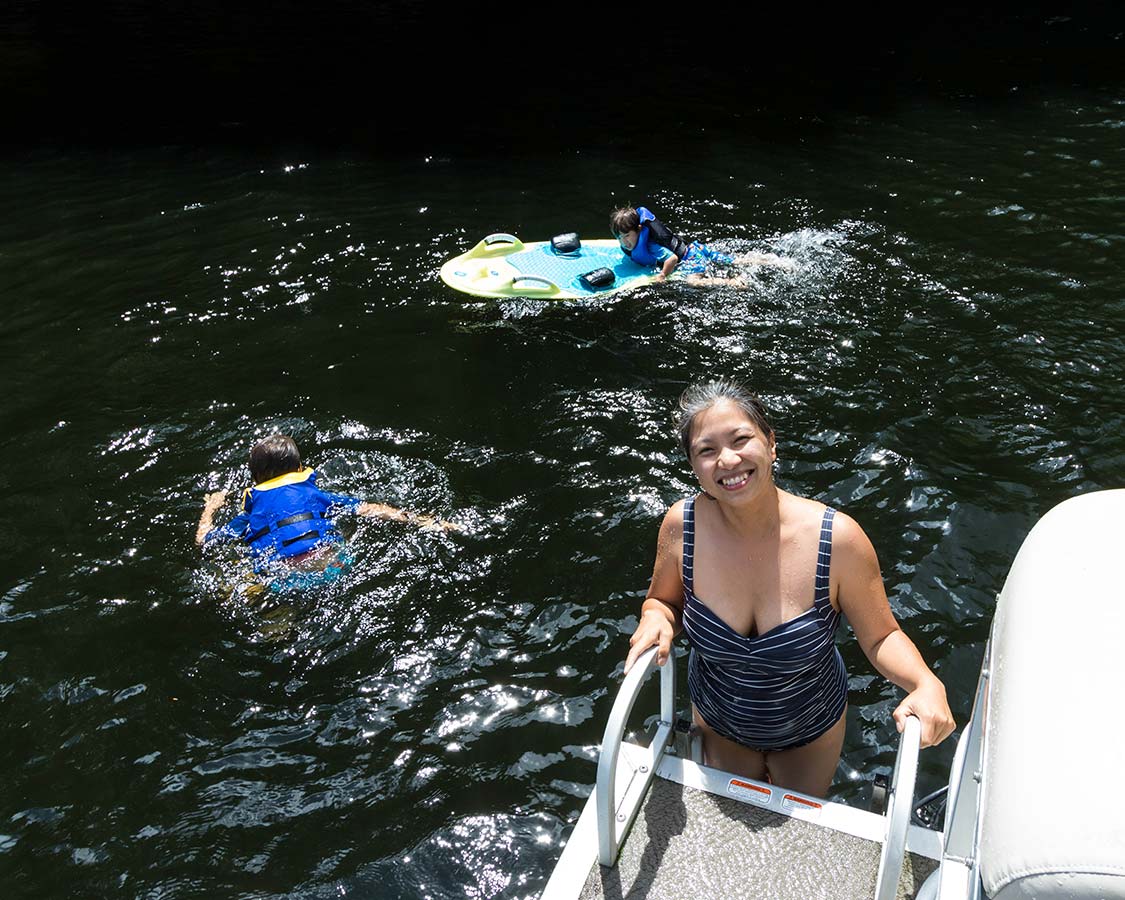 Mornings at Mount Snow
Enjoying the Vermont family camp starts with a traditional buffet breakfast. We had eggs, pancakes, bacon, and other typical North American fare. Immediately following breakfast there is time for the children to take part in Mount Snow activities like mountain biking, hiking, or just playing games with the Mount Snow family camp staff.
Parents can either join their children during this time, or use the time for work, relaxing at the Mount Snow Nature Spa, or spend time enjoying the Mount Snow hiking trails as Christina and I chose to do.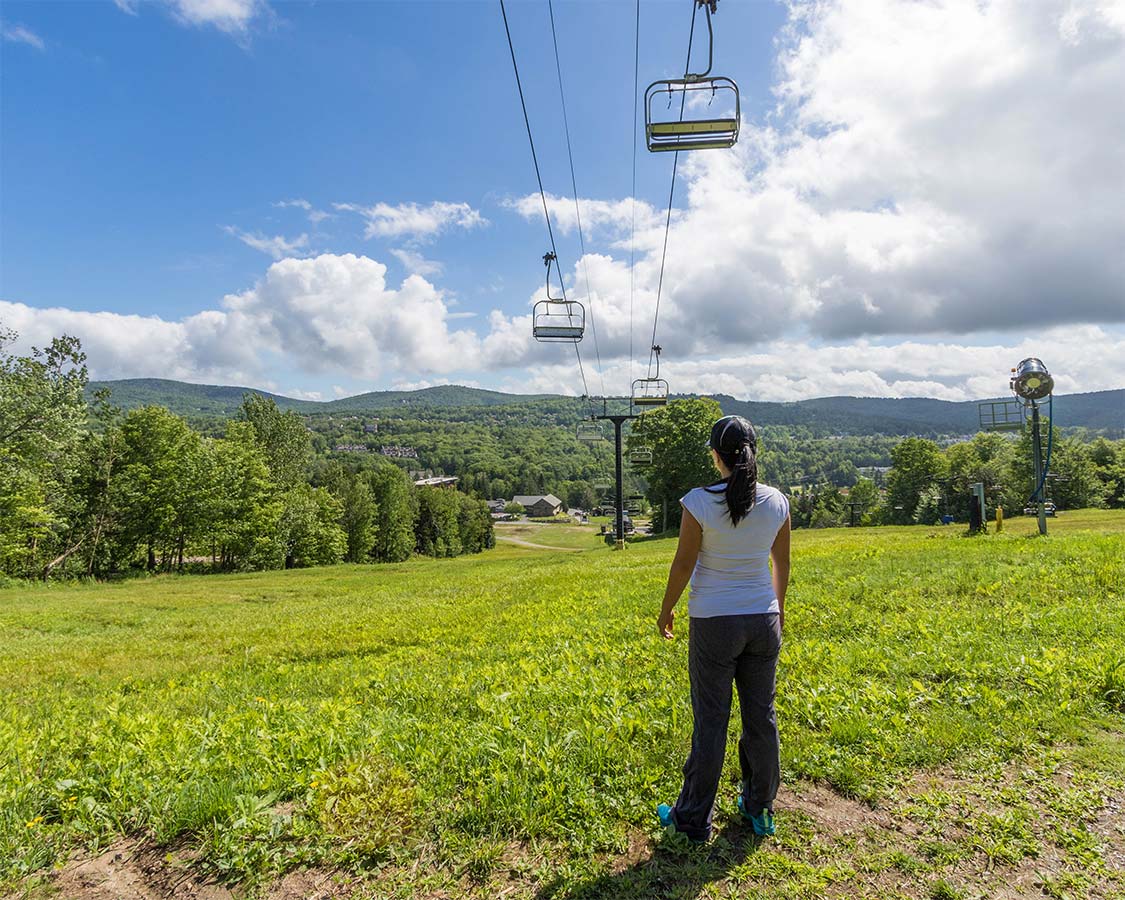 Afternoons at Mount Snow
The main family-focused activities at Mount Snow Family Camp take place after lunch. During our time at the camp, we stopped by the Family Camp lodge at Mount Snow to get our boxed lunch. From there, we joined the other family campers for a van ride to nearby Harriman Reservoir for a day on the water.
We spent hours swimming, boating, and enjoying the beautiful views. C even got to try boogie boarding for the first time!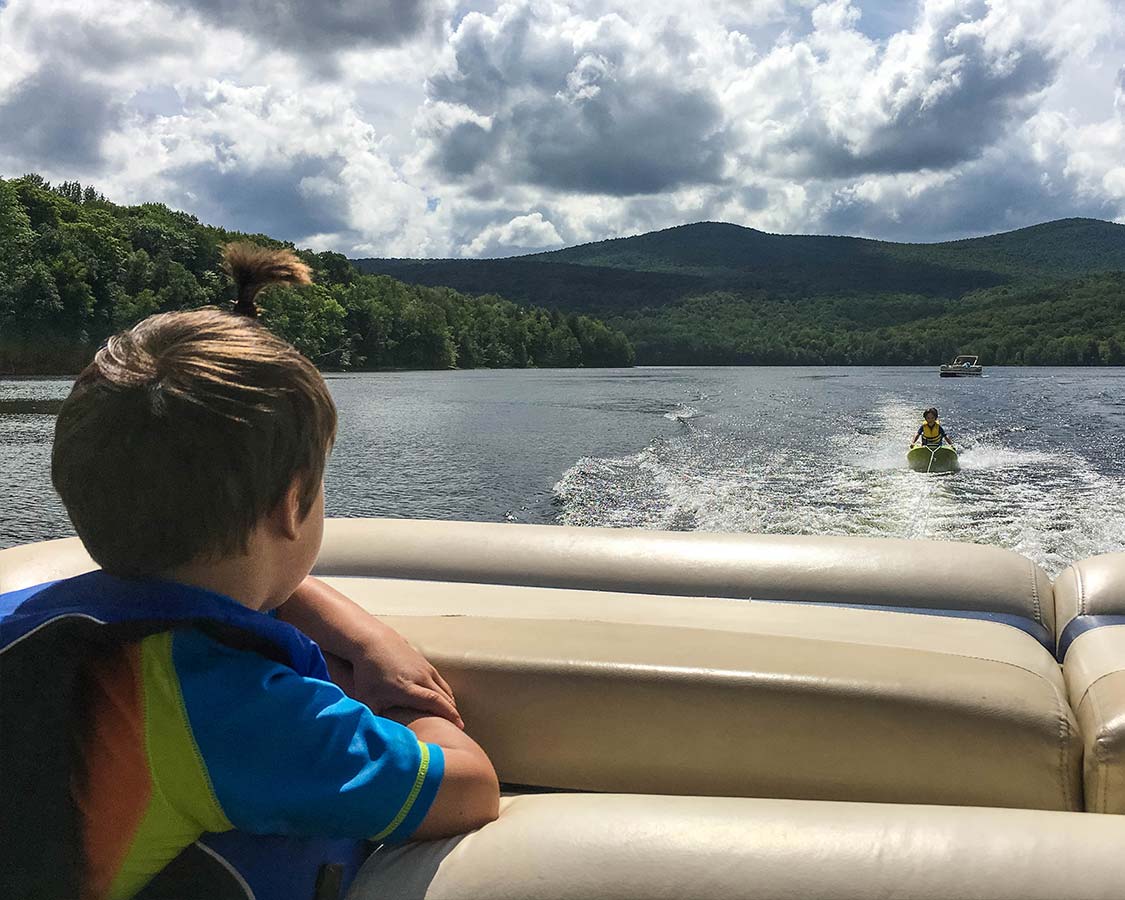 Evenings at Mount Snow
There is time after the afternoon activity to relax, get cleaned up, and prepare for the family dinner. A day at the family adventure camp dredges up one heck of an appetite. The dinner at Mount Snow is served family-style around a series of tables in the main camp lodge. And the meals are pretty incredible. The boys' eyes lit up when they saw ribs, beans, tacos, and other delicious dishes.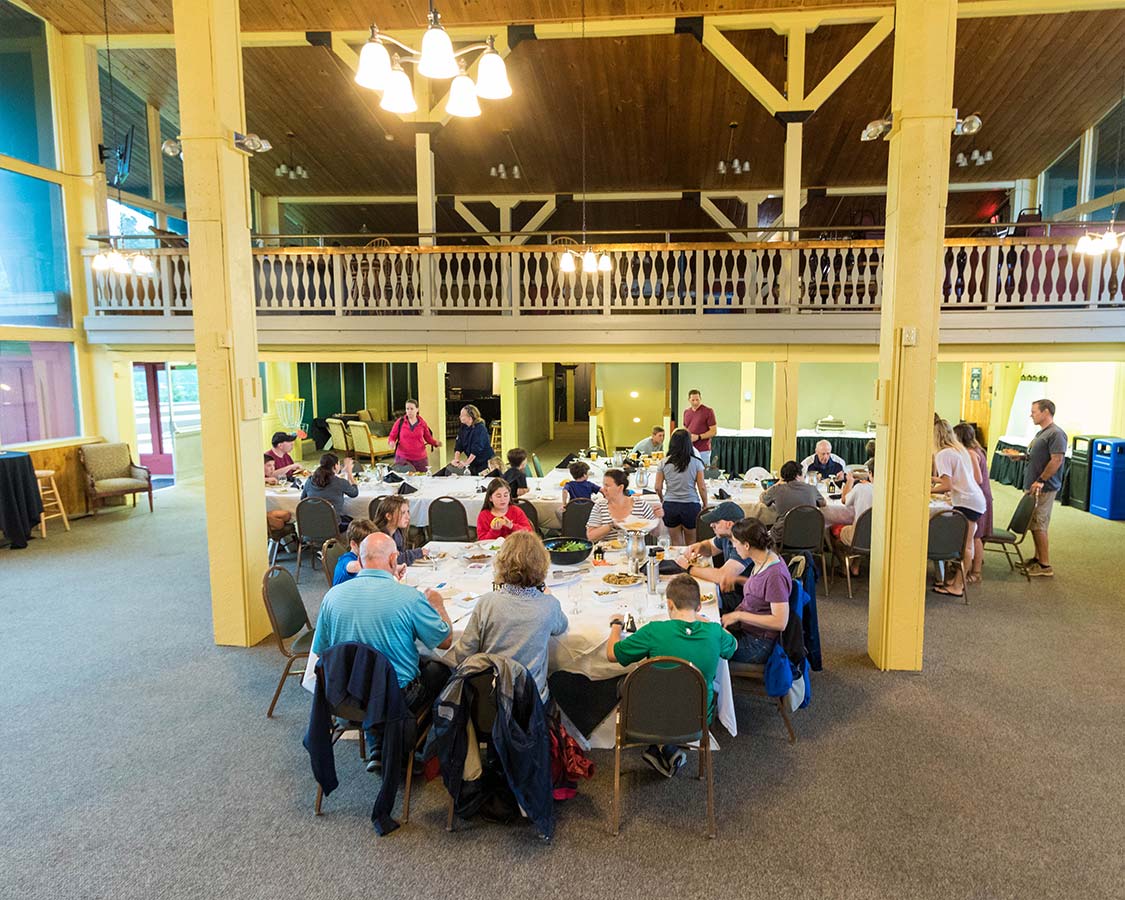 After the meal, there is more time for fun. The games that fill the family camp lodge at Mount snow begin getting picked up. Some families head outside to play volleyball or the camp favorite game of "Nuke 'em". Inside, families can join together for games of Pictionary or Family Feud.
Others make their way to the nightly bonfire to cook smores and swap stories in traditional camp style. This mix of lightly scheduled and diverse activities gives the family camp in Vermont an unpretentious and relaxed atmosphere that keeps families coming back year after year.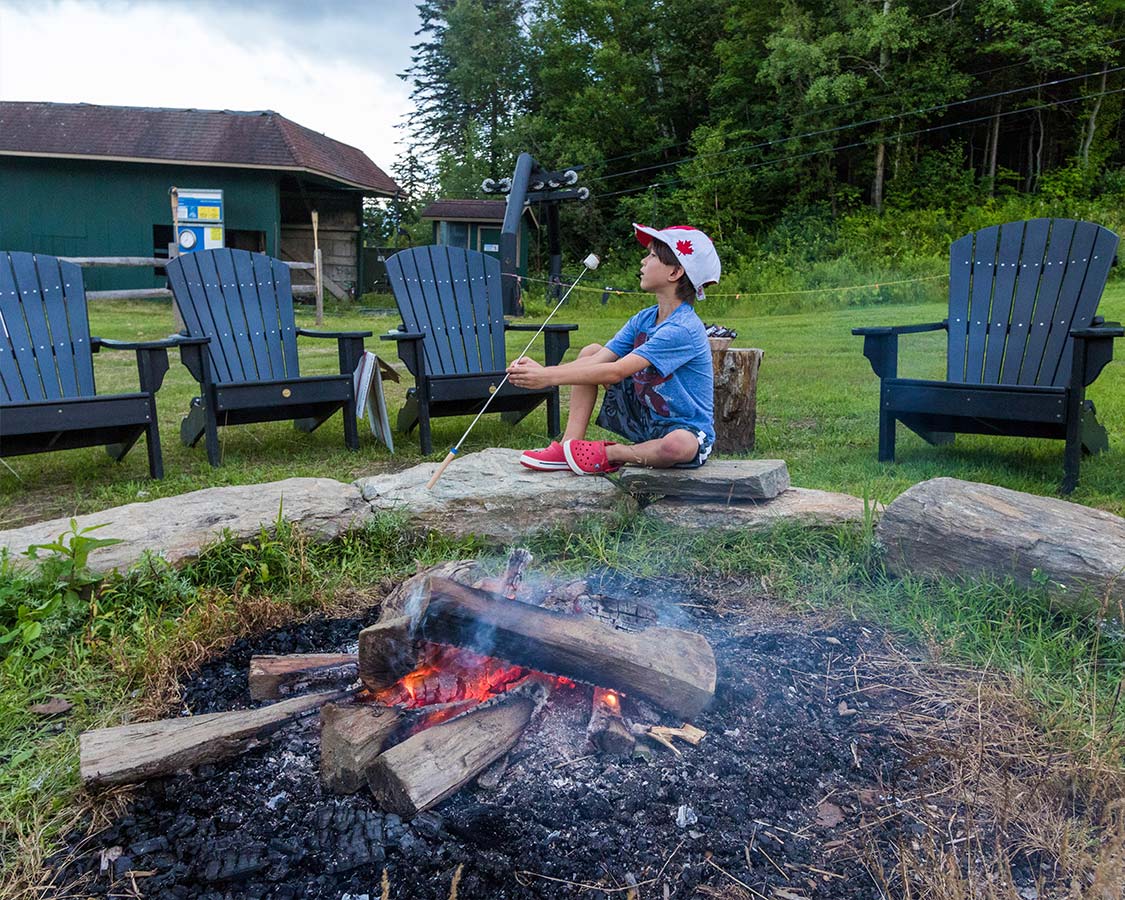 But What About Bad Weather?
Our road trip from New York to Toronto was spent with one eye on our weather app. Each day was skirted with rain and thunderstorms. So, when we arrived at Mount Snow, we were not sure what activities we would end up being able to take part in. However, after speaking to the camp lead, Mike, I learned that the camp staff has provisions in place for bad weather.
From shopping trips to Manchester, Vermont, to time in the Mount Snow Arcade, and of course all the great fun games there are in the Family Camp lodge, there are lots of options to keep families busy, even in the worst weather.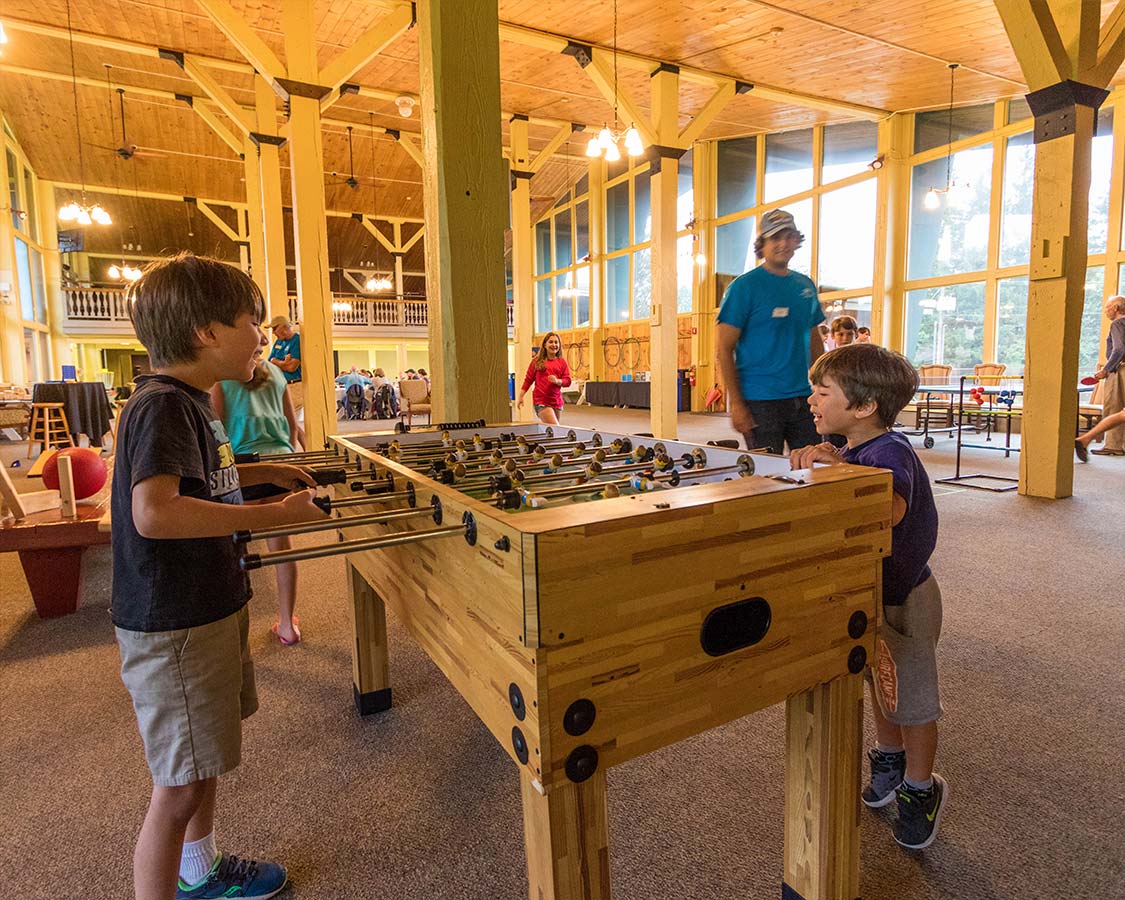 Mount Snow ski resort has really defined itself as a summer resort destination in Vermont. It is packed with activities for both adventurous souls and those seeking a relaxing family holiday. Mount Snow Family camp does a great job of balancing the needs of all ages into their daily activities.
Pools at Mount Snow
The family camp at Mount Snow gives campers access to three pools. There is an indoor and outdoor pool near the family camp accommodation and there is one pool located at the NatureSpa in the Lodge at Mount Snow.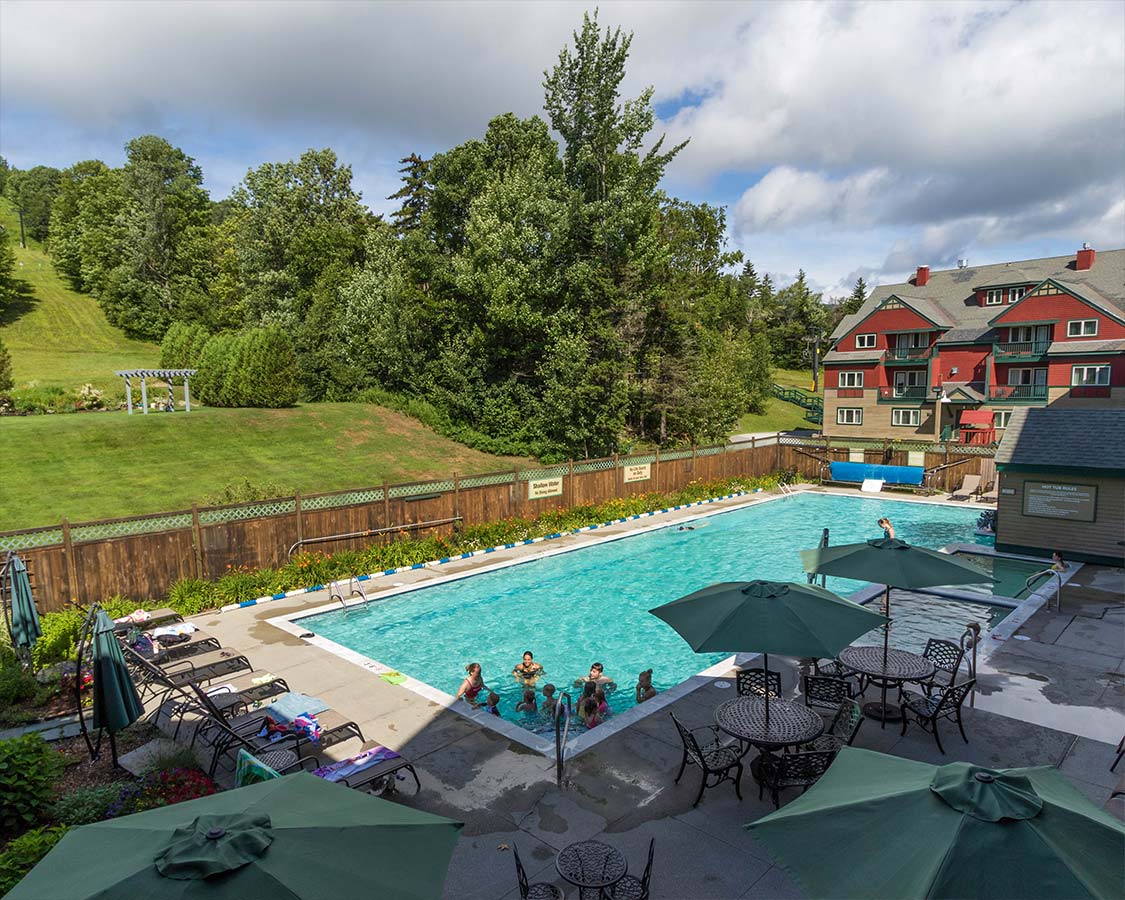 Mount Snow Golf
Many family campers at Mount Snow love to take in the beautiful Mount Snow golf course. Hitting off the tee surrounded by the beautiful Green Mountains is really something.
Mount Snow Mountain Biking
During the summer Mount Snow is lined with amazing downhill mountain biking trails. It's such a popular activity here that bikes are provided for all campers during the family camp at Mount Snow.
Mount Snow NatureSpa
The Lodge at Mount Snow features a fantastic spa called NatureSpa. Beyond offering amazing massages, a fitness room, pool, and hot tubs, the NatureSpa at Mount Snow actually sources many of the ingredients for their massage oil and butter from the plants growing on the hills. In fact, when Christina arrived for her massage at NatureSpa, the staff had just come back from a hike with a bag of herbs to be used for the spa products.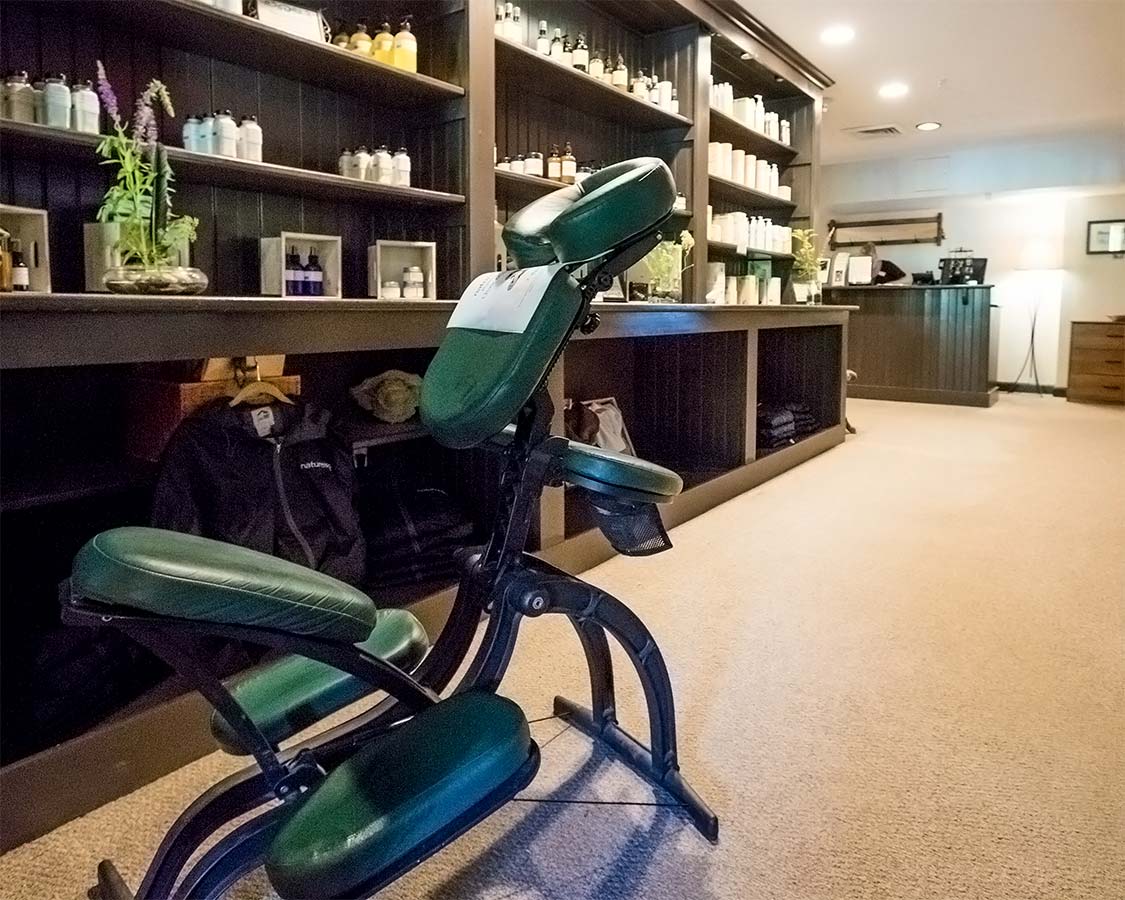 Accommodations At Mount Snow Family Camp
The accommodations at Mount Snow were excellent. The Families visiting Mount Snow family camp are housed in a series of condo-style lodges near the Vermont family camp lodge. Each Mount Snow lodging is unique as they are privately owned and decorated. However, the rooms have fairly consistent styles and layouts.
Our Mount Snow condo had 2 bedrooms, a spacious living room with a fireplace and walkout balcony, a full kitchen (not that we needed it with all the great food at the camp), and two bathrooms. The main bedroom had a queen-sized bed and the children's room had a double/single bunk bed.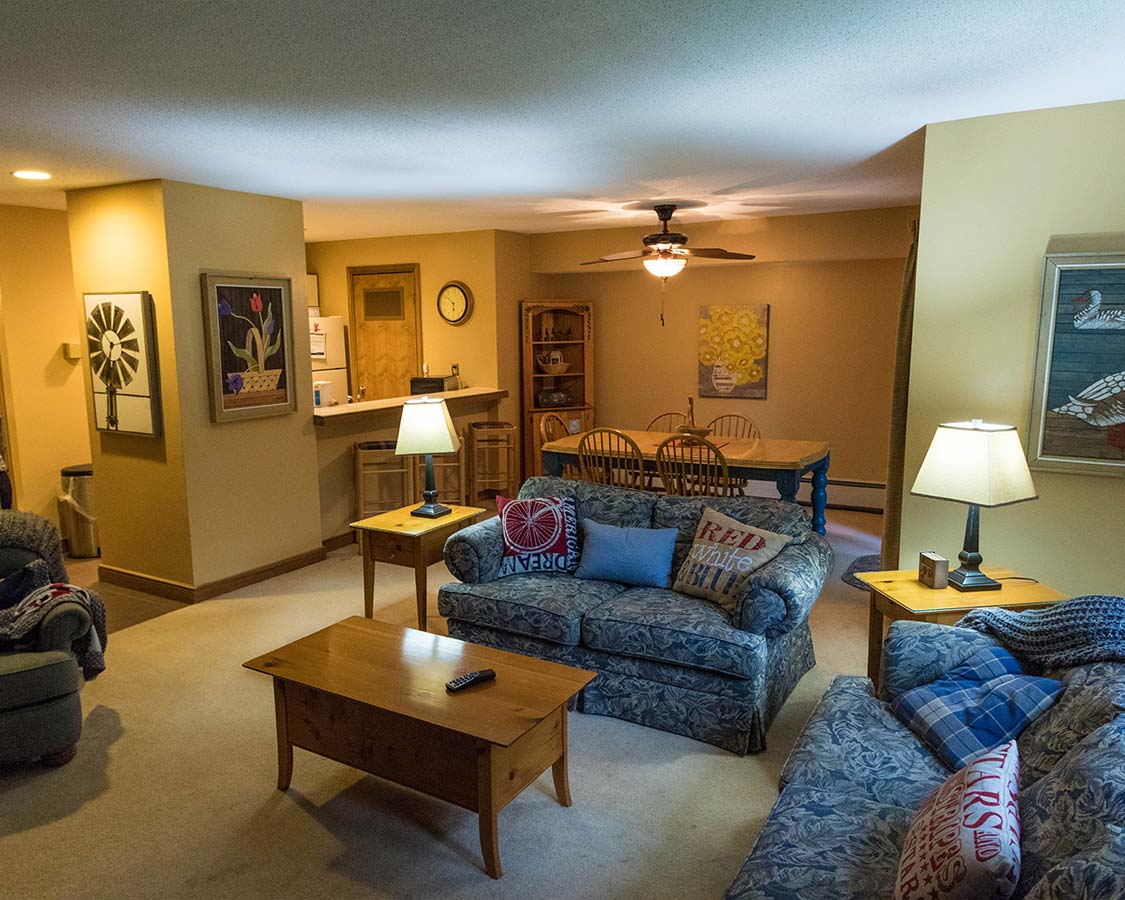 Do We Recommend a Family Vacation To Mount Snow Family Camp?
I'll admit, I was hesitant about what our time at the Mount Snow summer camp would be like. But, I'm happy to say that I was pleasantly surprised by our experience. The camp has a very relaxed and unpretentious atmosphere.
Of the half-dozen families we met during our time in Mount Snow, we learned they were from all background types and family make-ups. But all of them were looking for a place where they could spend time as a family, take part in fun, outdoor-focused activities, and relax in an environment where all the big things were taken care of.
We had so much fun at the Mount Snow Resort! The staff was absolutely wonderful, the NatureSpa took great care of us, the time out on the water was one of our most fun and relaxing outings of our road trip back from New York. I can say with confidence that if you are looking for an all-inclusive family resort in Vermont, you will be well taken care of at Mount Snow.
Disclosure: We were guests of Mount Snow Family Camp during our visit to Mount Snow. Christina was also provided with a massage at the Nature Spa and a basket of NatureSpa products. As always our opinions remain our own. Wandering Wagars is a participant in the Amazon Services LLC Associates Program, an affiliate advertising program designed to provide a means for sites to earn advertising fees by advertising and linking to amazon.com, amazon.co.uk, amazon.ca. Amazon and the Amazon logo are trademarks of Amazon.com, Inc. or its affiliates.