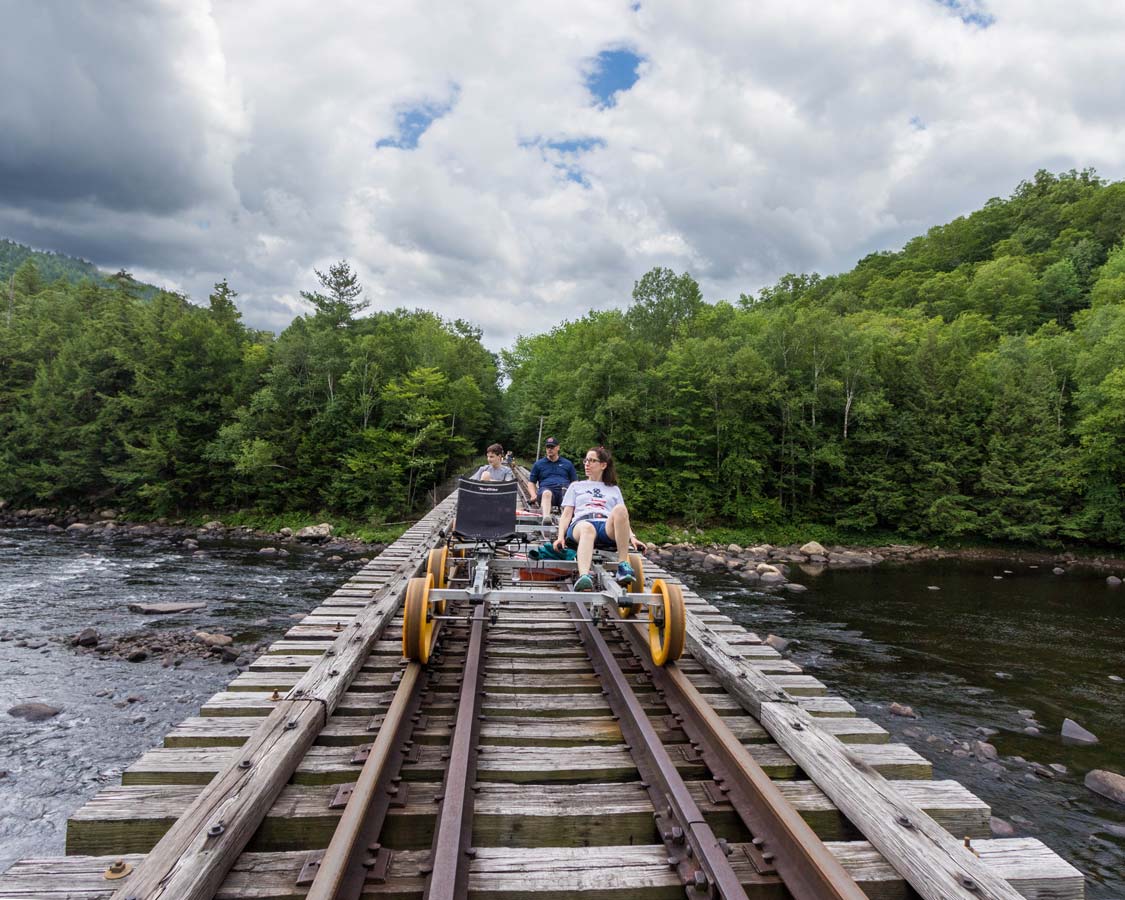 Being from Ontario, Canada, visiting the Adirondacks is a popular getaway for us. We often make a detour searching for great things to do in the Adirondacks on many yearly road trips down to New York City to visit family. This year during one of our regular road trips from Toronto to New York, we decided to explore further than ever before. So after a brief visit to Mount Snow in Vermont, we spent a week touring the most scenic places in the Adirondacks. And what we experienced was unforgettable!
So whether you are on an Adirondacks family vacation or just looking for the best places to see in the Adirondacks yourself, strap on your adventure hat, and hang on for the ride because these Adirondack vacation ideas are going to be wild! If you are thinking about a winter trip, you may want to check out our Adirondack winter guide here.
Where Are The Adirondacks Located?
Although we drive through Upstate New York regularly, the borders of the region always baffled me. There are several mountain ranges in north-eastern North America, including the Green Mountains and the Laurentians. So when I asked myself, "Where are the Adirondack Mountains?" I kept getting confused!
The Adirondacks NY is a series of 5 million-year-old mountains located just a few hours north of New York City in Upstate New York. The Adirondack Mountains encompass the largest protected area in the lower 48 states. The region is home to more than 2,000 miles of hiking and mountain biking trails, over 3,000 bodies of water and 1,200 miles of rivers. The Adirondack region stretches from north of Albany to the north of Syracuse and up to the Canadian border.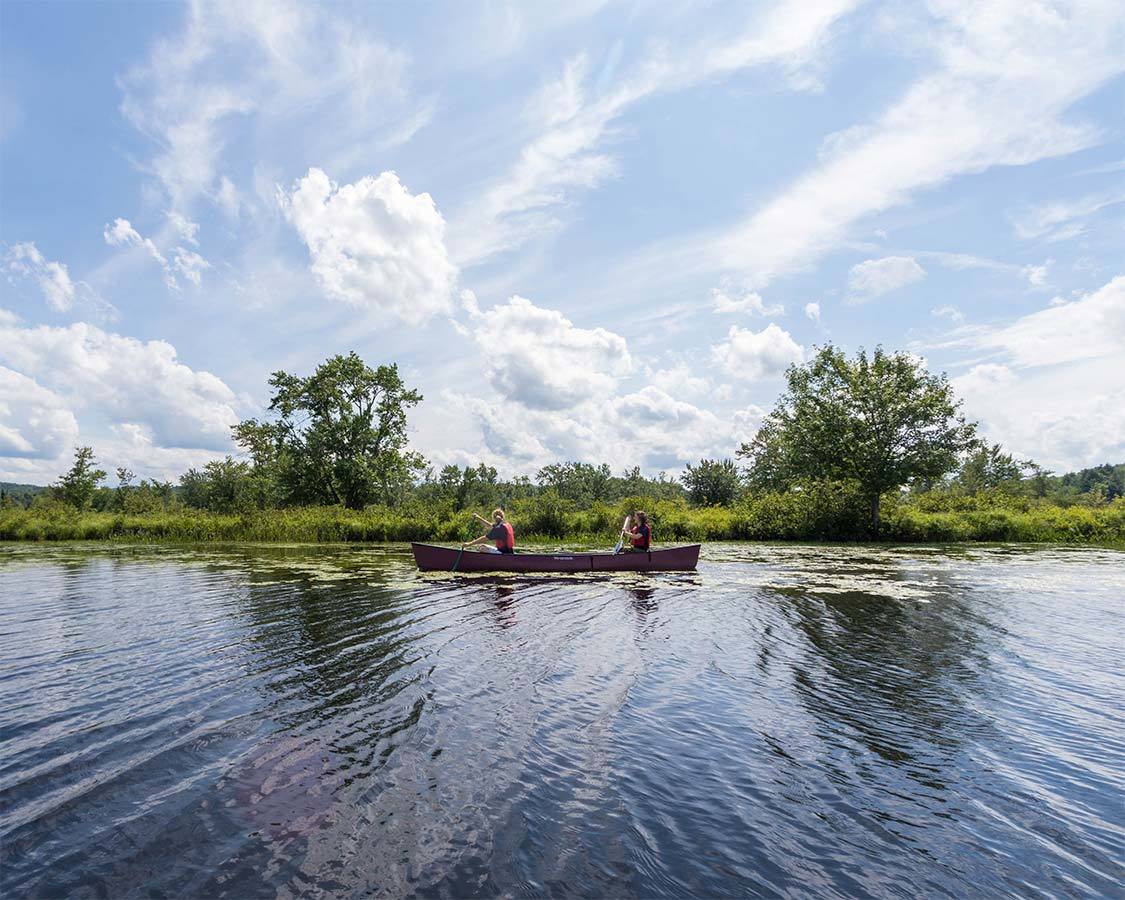 What Are The Best Places To Visit On An Adirondack Vacation
1. Lake Placid Olympic Center – An Excellent Home Base For An Adirondack Family Vacation
Lake Placid is the center for adventure activities in Upstate New York. This area was home to not just one, but TWO Olympic Games and the Lake Placid Olympic Park is a great way to test out your athletics. You can ride the epic bobsled run or try your hand at ski-jumping. But if adrenaline isn't your thing, you can always just admire the views from the top of the Olympic ski jumping towers. Keep reading here, or you can find more about our Lake Placid adventures here.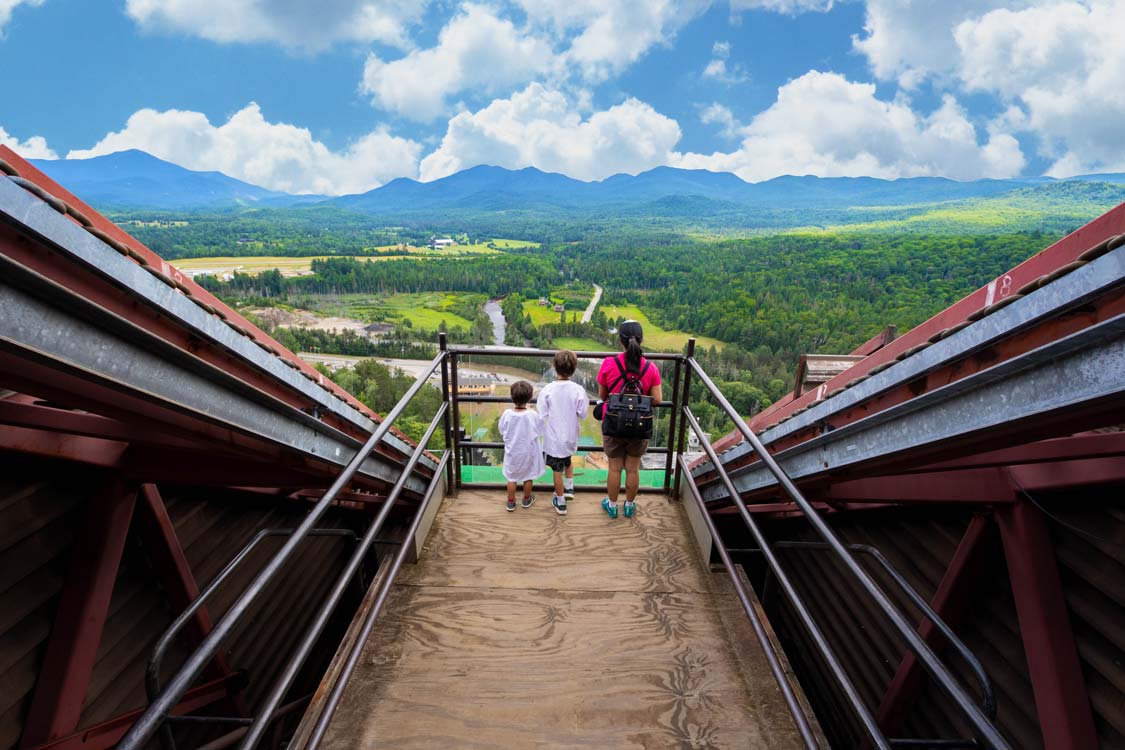 Where To Stay in Lake Placid
There are some great hotels and resorts in Lake Placid. One of the most popular is the Golden Arrow Resort on scenic Mirror Lake. It gets bonus points for being home to Generations. With one of the best views in the region, Generations is one of the most popular restaurants in Lake Placid. You can check out some more great places to stay in Lake Placid here.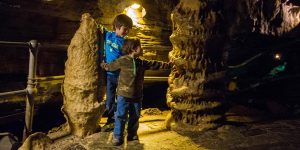 Click To Read: Howe Caverns New York: Experience A Family Friendly Underground Adventure
2. Whiteface Mountain – For The Most Scenic Views in the Adirondacks
Nearby to Lake Placid is the towering Whiteface Mountain. In the winter, this is one of the top places for skiing in the Adirondacks. But, during the summer in Lakie Placid, Whiteface Mountain makes for a fantastic road trip. The drive up the winding switchbacks takes you up thousands of feet to the base of a castle! Yes, a castle in Lake Placid!
A narrow, steep hike takes you to one of the most scenic places in the Adirondacks. We spent the better part of an afternoon lazing on the rocky peak and gazing down on Lake Placid from 4,449 ft (1,450 meters) above sea level.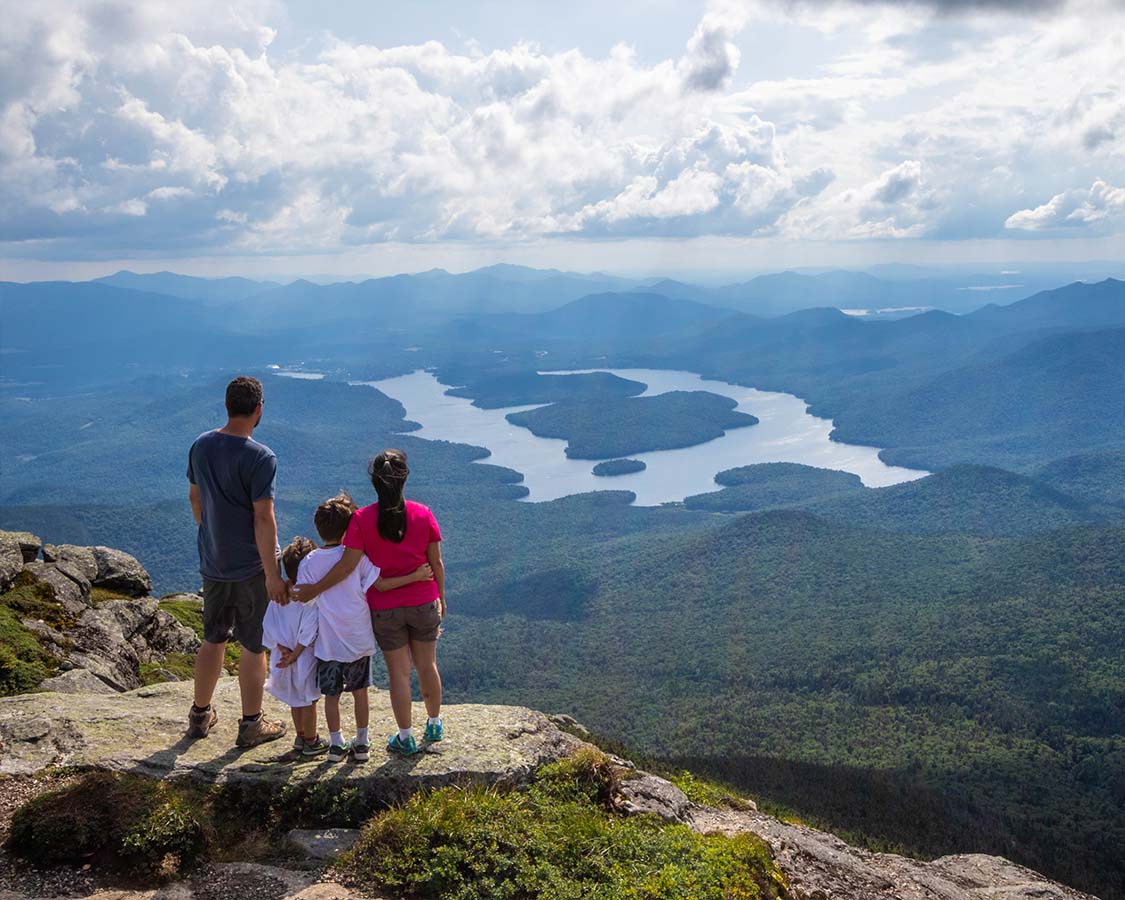 Where To Stay Near Whiteface Mountain
Although it's easy to combine Whiteface Mountain with Lake Placid. You can also treat yourself to the views and hospitality of the Whiteface Lodge. It's as close as you can get to all the amazing hiking and biking trails at Whiteface Resort.
3. High Falls Gorge – For An Easy But Scenic Adirondack Experience
High Falls Gorge is one of the most popular things to do near Lake Placid. The series of trails brings visitors on a gorgeous 30-minute gorge experience where mind-blowing waterfalls and raw natural scenery surround them.
Even with the walkways and bridges, the views relatively unobstructed thanks to glass floors that could make even the bravest explorer's heart skip a beat.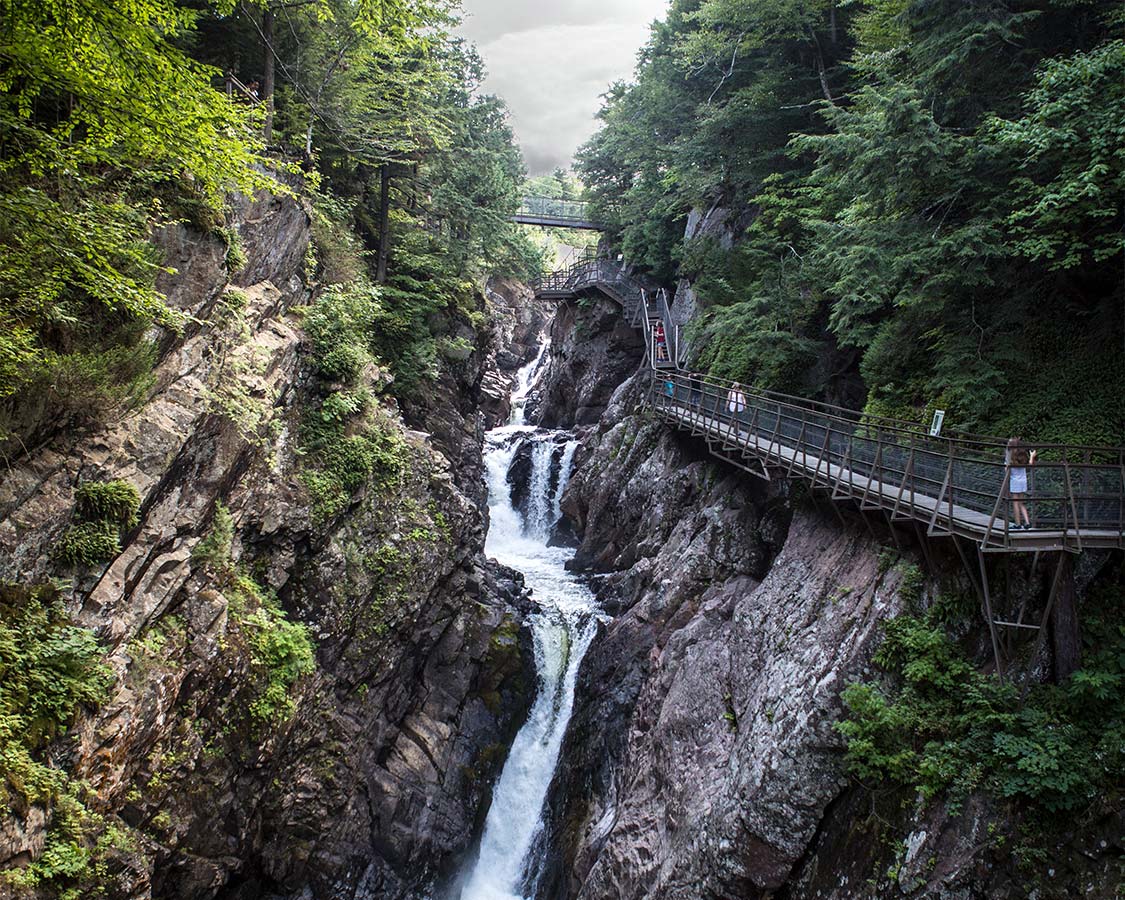 4. The Wild Center Tupper Lake NY – On Every Adirondacks Things-To-Do List
The Wild Center in Tupper Lake New York is an absolute must for families looking for things to do in the Adirondacks. The Tupper Lake Wild Center is part museum and science center and part adventure park. The Instagram-worthy Wild Walk is one of the most popular parts of the Wild Center, but this beautiful Adirondacks attraction has so much more to offer.
This multi-level treetop viewing and activity center is a visual spectacle. It houses a massive viewing platform shaped like a bird's nest. There's also a sizeable walk-through tree house filled with educational information about the wildlife of the region. The great thing about The Wild Center is that it's right in town so you can check out all of the other fun things to do in Tupper Lake with ease.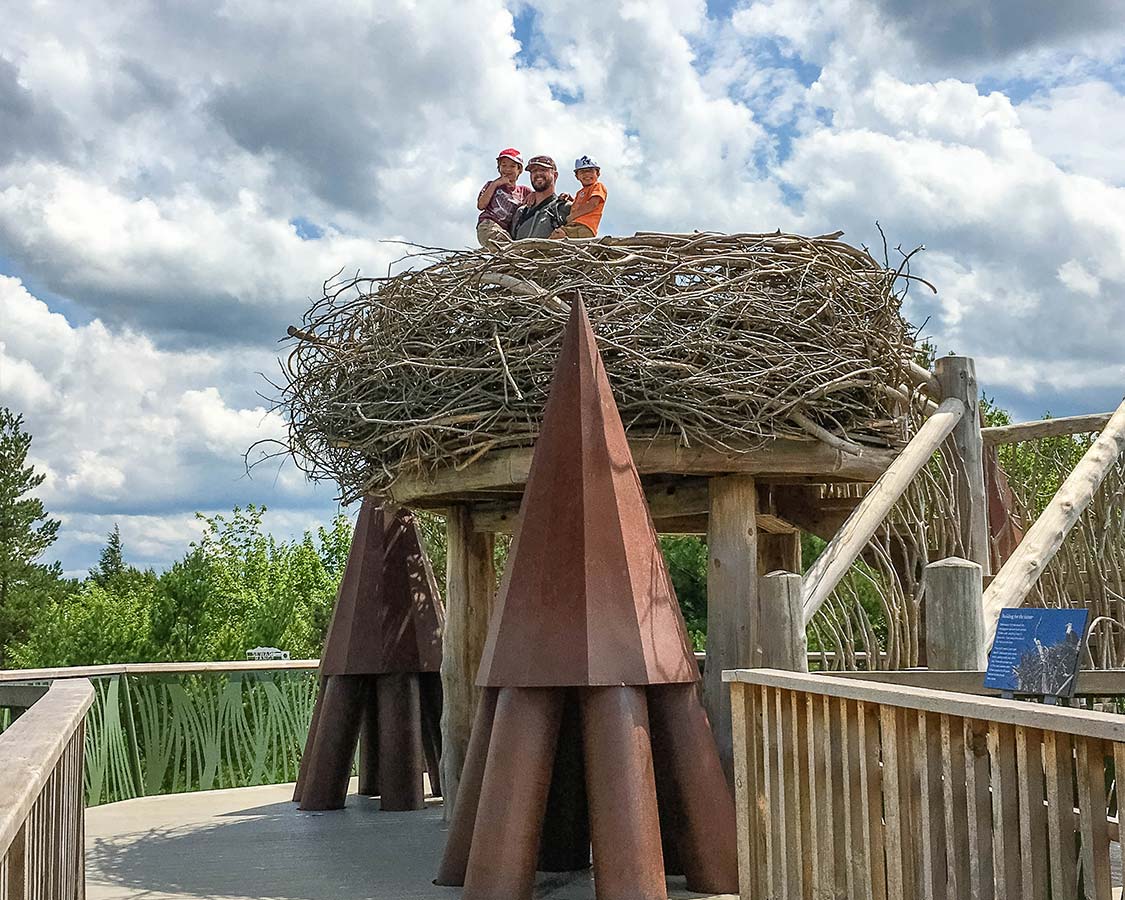 The Wild Center also has other great features that make it a perfect place for an Adirondacks family vacation. The main building of the Wild Center has incredible wildlife, science, and nature exhibits. There are nature walks through the sprawling Adirondack wilderness. And there are behind the scenes tours exploration with the Wild Center science and nature teams, and guided canoe trips through the unique oxbow turn of the Raquette River.
You can read more about our experience at Wild Center in Tupper Lake NY here.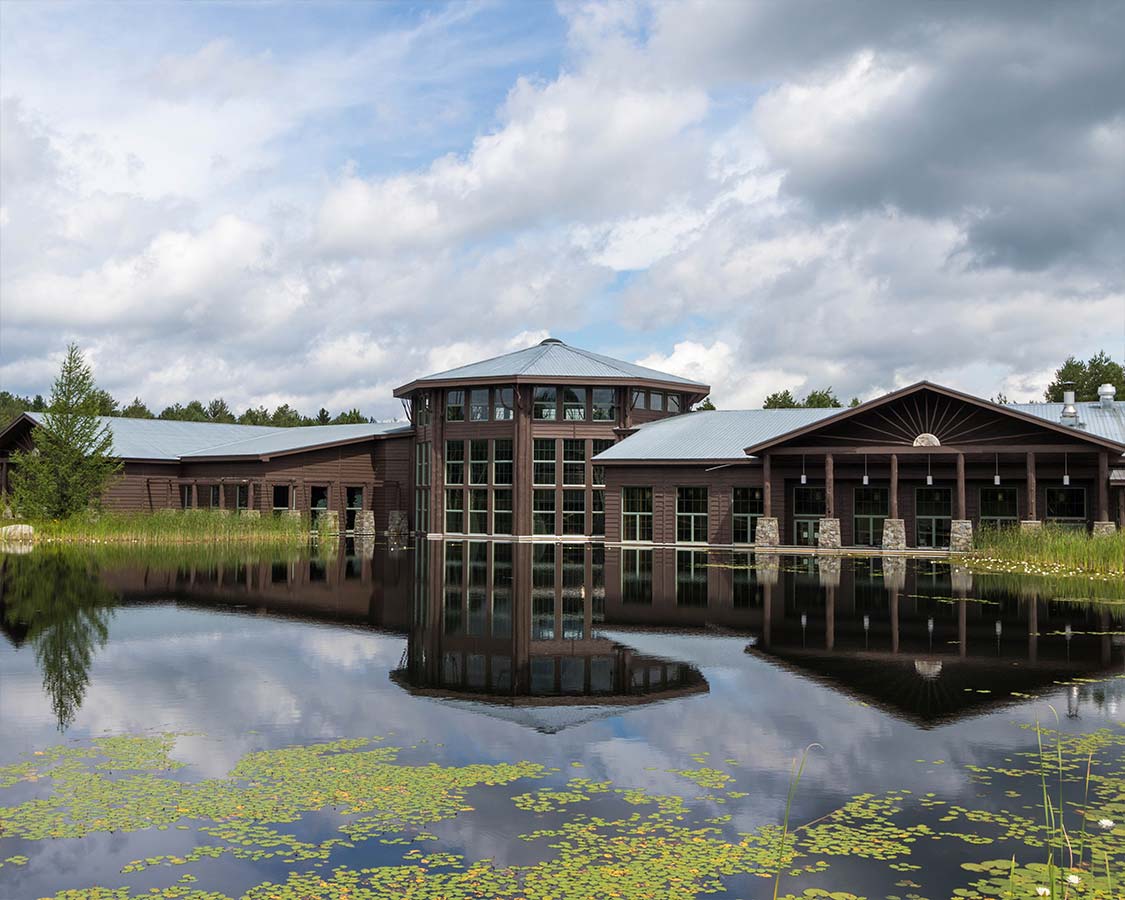 Where To Stay Near The Wild Center
There are surprisingly few hotels in Tupper Lake, NY, as many people opt for a day trip from nearby Lake Placid. Faust Motel is a great option in town. These small cozy cabins offer nice Adirondack cottage experience. But if you are looking to stay close to the Wild Center, check out nearby Lake Clear Lodge and enjoy the beautiful sunset.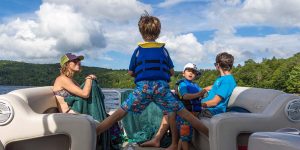 Click To Read: Experience Family Camp Vermont-Style at Mount Snow
5. Ausable Chasm in Au Sable NY – Prepare For Adventure in the Adirondacks
It's hard not to gaze in awe as you wander through the incredible gorge that makes up Ausable Chasm. This epic feature carved by rushing waters, glaciers, and tectonic plates is one of the most amazing natural attractions in Upstate New York. Older kids, take in the epic Adventure Trail along a series of suspension bridges that criss-cross the Ausable River.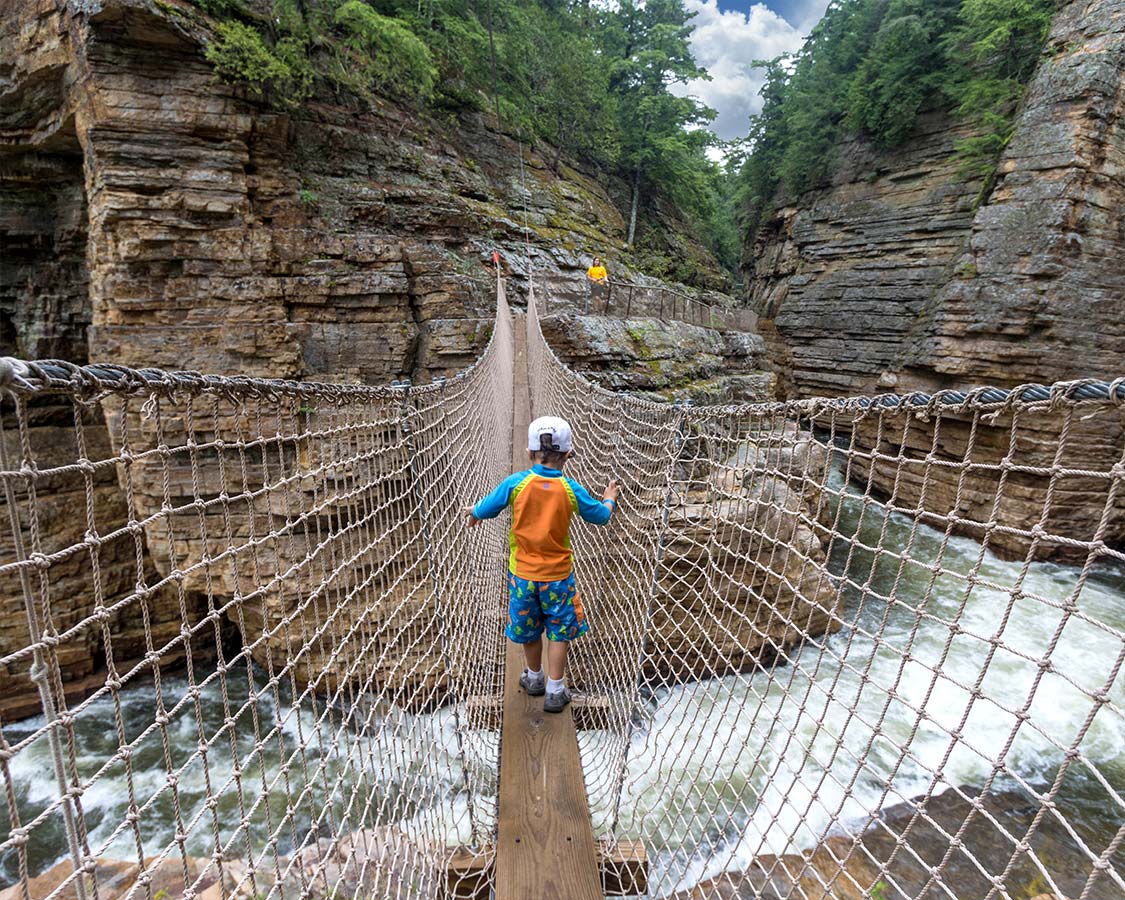 You can also take a whitewater ride through the narrow Grand Flume where you can get right up close to some of the coolest features of the Ausable Chasm. It was here that D got his first taste of white water rafting. After watching C and I do it in Letchworth State Park, he's been begging to try himself!
For some great Adirondack camping, make sure to check out the nearby family-friendly Ausable Chasm campground. Staying here offers discounts on the Ausable Chasm experiences. You can read more about our experiences at Ausable Chasm Adventure Center here.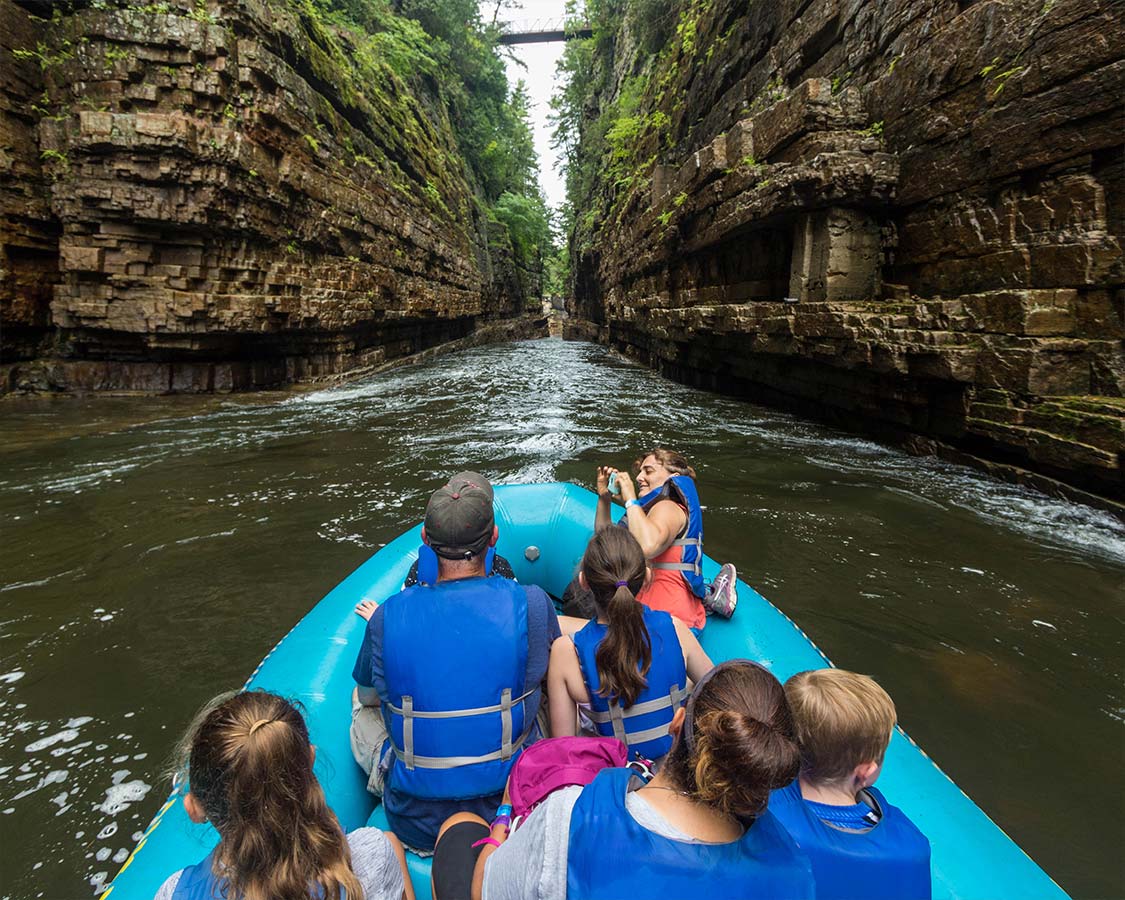 Where To Stay Near Ausable Chasm
If you don't opt for camping near Ausable Chasm, both the Best Western Plus and the La Quinta hotels are located within 8.5 miles (14 km) in the scenic town of Plattsburgh. While in Plattsburgh, make sure you check out the beautiful beach and the very cool military plane displays. There are a few other great accommodation choices near Au Sable. You can find them here.
6. Revolution Rail in North Creek – Rail Bike Through One Of The Most Scenic Places in the Adirondacks
Revolution Rail Co. in North Creek is one of the unique things to do in the Adirondacks. Imagine sitting on a four-person cycle mounted on rail tires. The Revolution Rail route takes you along the Hudson River and through the beautiful Adirondack scenery. It's a there-and-back route with some time to relax by the Hudson while the skilled crew turns the bikes around.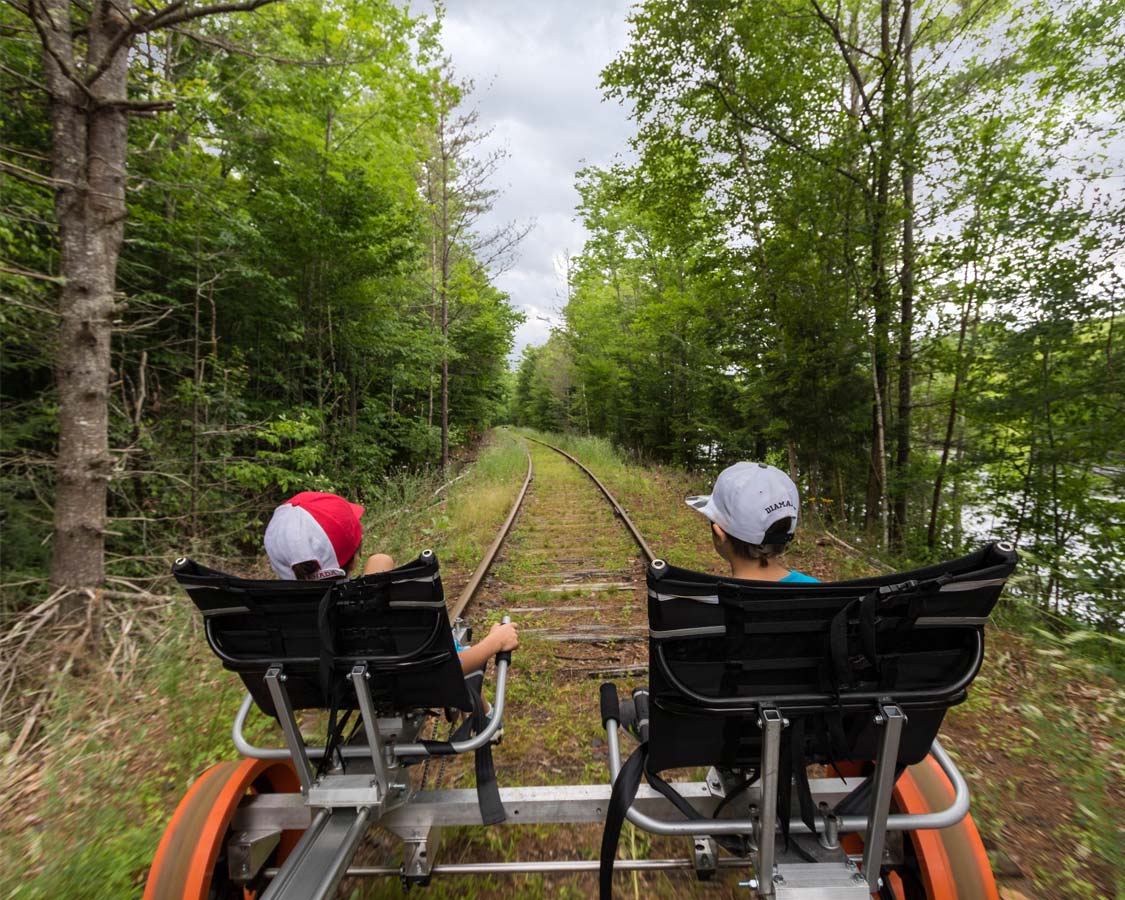 We had beautiful weather for the first half of our journey. But on the return trip, the skies opened up when we boarded our bikes. It wasn't long before we were thoroughly drenched! But even with the bad weather, we couldn't help but smile at this genuinely unique Adirondack experience.
You can read all about Adirondack rail biking with Revolution Rail Co. here.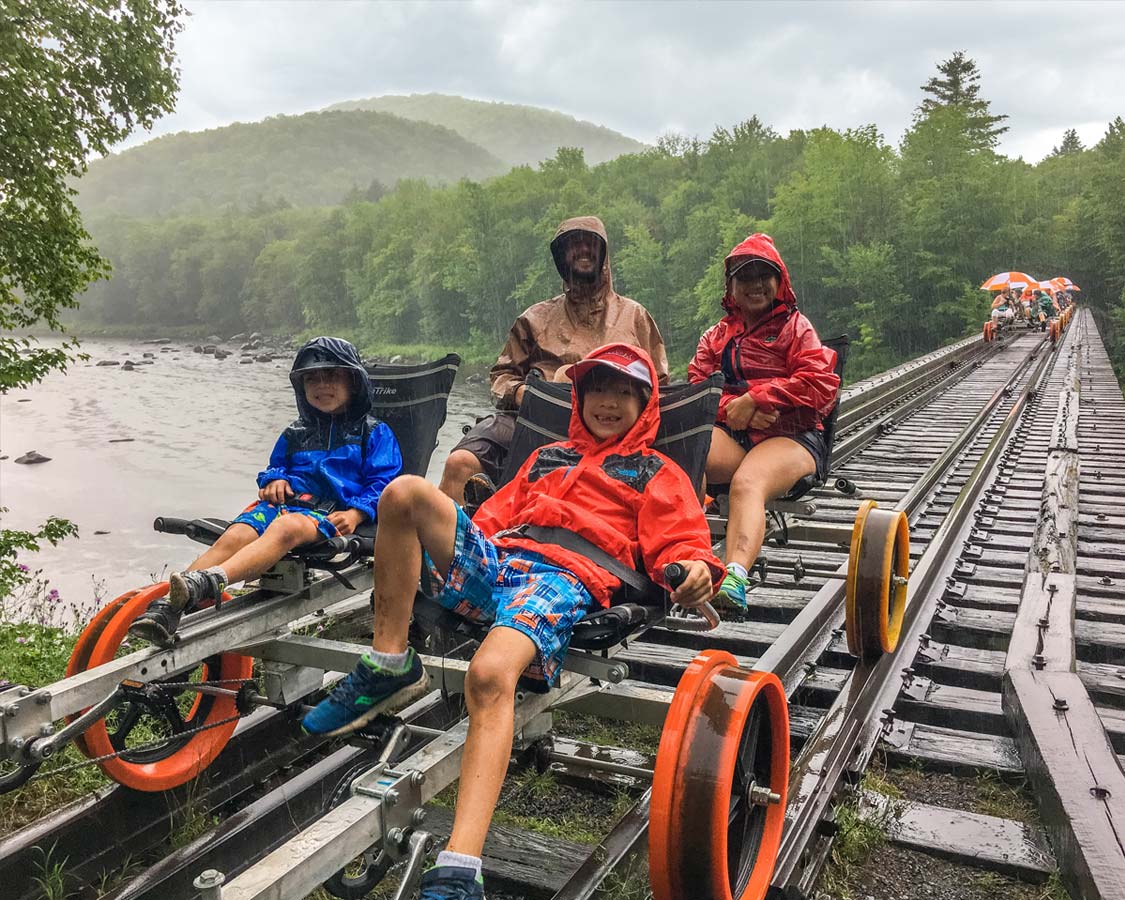 Where To Stay Near North Creek NY
I stayed at Gore Mountain Lodge during my trip to Lake George in 2019. It's a great value within walking distance of some of the best trails and attractions in North Creek NY. There are some amazing lodges and bed & breakfasts near North Creek. You can check some of the best out there.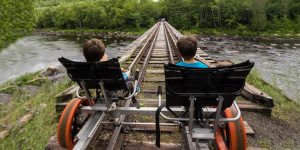 Click To Read: Ride The Rail Revolution In North Creek NY
7. Schroon Lake Region – Experience Small Town Life in the Adirondacks
The Schroon Lake Region is a picturesque region of the Adirondacks in Upstate New York. The area is perfect for boating, hiking, fishing, and other outdoor activities. For leaf-lovers, visit the Schroon Lake region during the fall to catch the explosion of color. You can rent a boat for the day at Schroon Lake Marina if you don't have your own.
Schroon Lake is bursting with great shopping and quaint restaurants serving delicious food for those who enjoy a slower pace. Pitkins Restaurant on Main St. is a local favorite.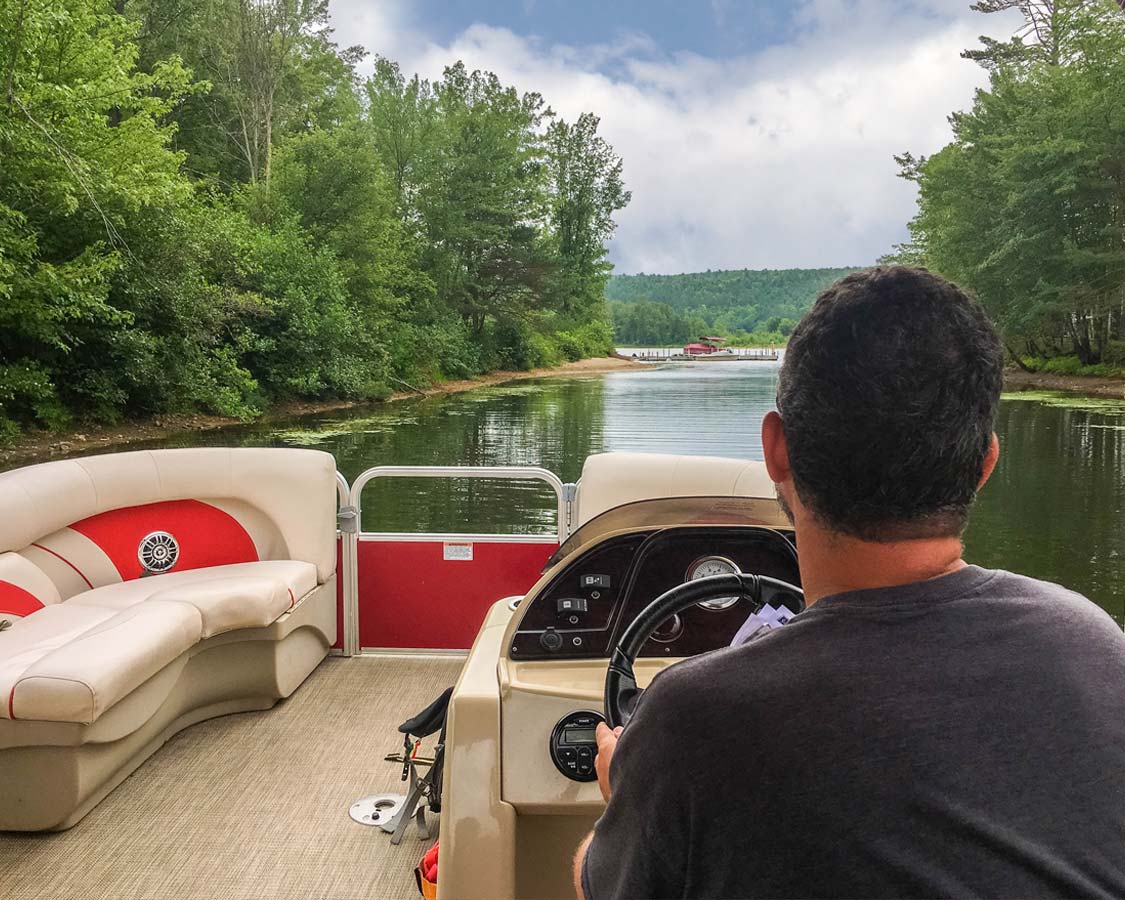 Where To Stay near Schroon Lake NY
For a more rustic Adirondacks experience, check out Rowes Cabins in Schroon Lake. It's close to the beach and the Underground Railroad trails. The cabins also get great reviews. You can check out some more great accommodations in Schroon Lake if you're looking for something a little more classic.


8. Lake George – One Of The Most Popular Adirondack Attractions
A visit to Lake George is one of the top things to do in the Adirondacks. During the summer, Lake George explodes from a sleepy town into a tourist mecca. The town is at its craziest during big Lake George events such as the Americade motorcycle rally in early June.
The water of Lake George is 32 miles of paradise from one end to the other. It's hands down one of the best lakes in the Adirondacks. This popular and scenic area appeals to families and couples alike. The popularity of Lake George is thanks to its beautiful waters and abundant wilderness. The town itself mixes a bit of the tourist kitsch of Niagara Falls with cottage country serenity. These features make Lake George especially popular with families in the Adirondacks.
Lake George offers some of the best hiking in the Adirondacks. One of my favorites is the easy trail to the Shelving Rock waterfall. You can also join a scenic paddleboat cruise with the Lake George Steamboat Company to explore Lake George's waters. This experience is similar to the steamship cruise in Ontario's Muskoka region that we enjoyed. For those seeking a little playtime, Lake George is home to the Six Flags Great Escape theme park. Or you could just choose to relax at the beautiful Million Dollar beach near town. You can find some of the best things to do in Lake George NY here.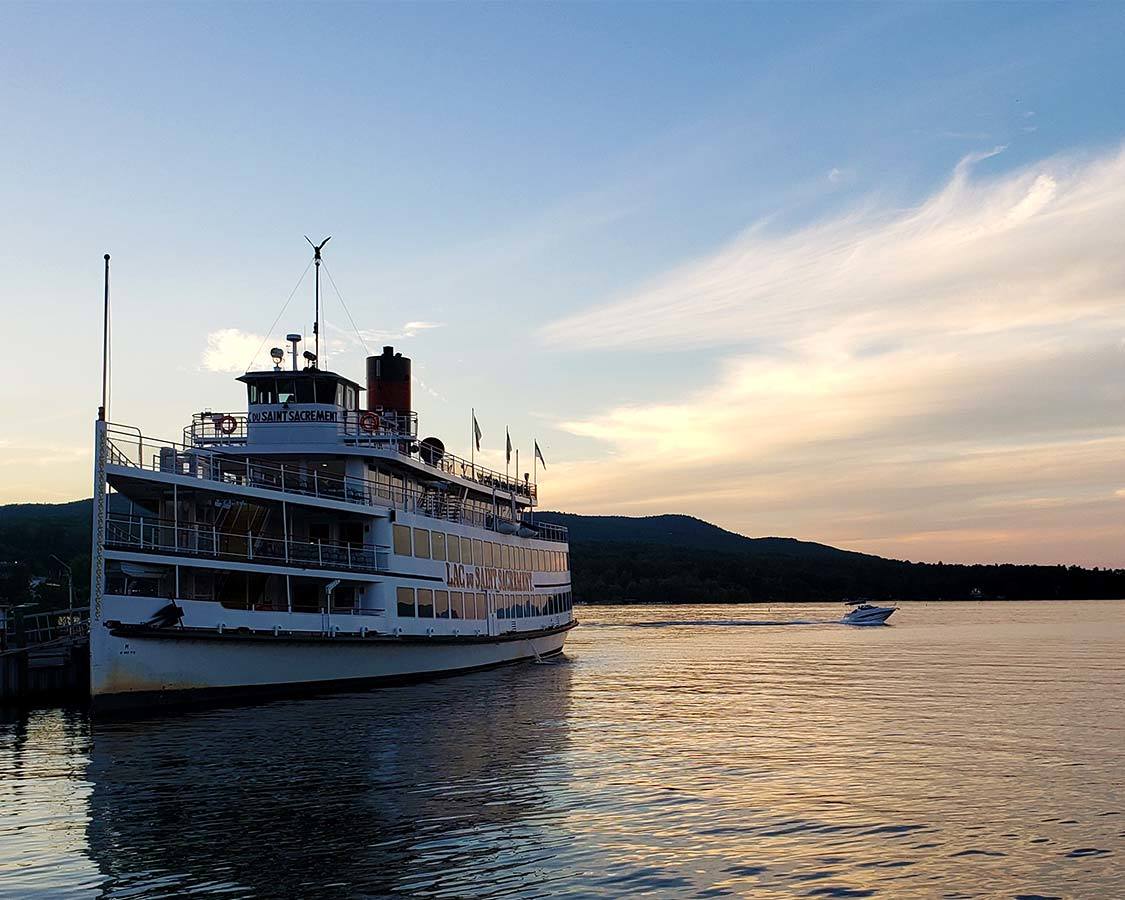 Where To Stay in Lake George
For a great Adirondacks experience in Lake George, stay at The Heritage of Lake George. It's 10 minutes from the beach, has a beautiful heated pool, and a fire pit for those perfect Adirondack summer nights. If you want to treat yourself to some luxury, the Inn at Erlowest is a personal favorite. But Lake George has an accommodation choice for all styles. You can check out some of the best here.
9. Saranac Lake – For A Serene Adirondack Vacation
Saranac Lake is a relatively small town in Upstate New York. But despite its small size, it has a big appeal to many looking to escape the grind of the big cities. The natural beauty and booming food scene are two of the big reasons why Lake Saranac continues to be a popular destination in the Adirondacks.
Saranac Lake also has a budding foodie scene. You can find a great mix of unique fusion here. No visit to Saranac Lake is complete, though, without getting some ice cream at the Cone Cabin on Route 30.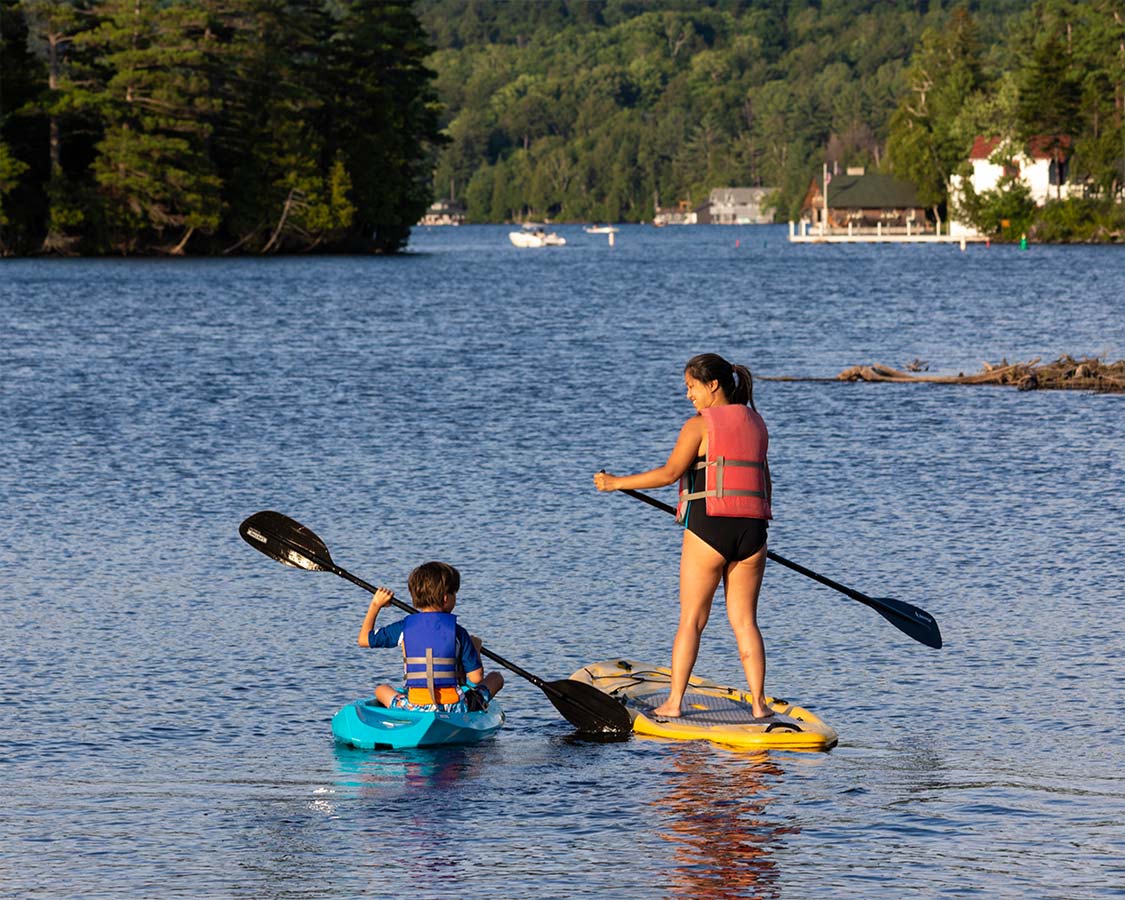 Where To Stay Near Saranac Lake NY
Mix a little history with your Adirondacks experience by staying at the storied Hotel Saranac, Curio Collection in Saranac Lake. This hotel has been open since 1927! There are great places to stay in Saranac Lake if Hotel Saranac has availability. You can check out some more here.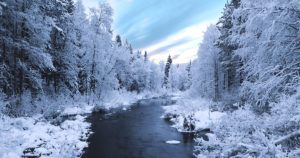 Click To Read: What To Do During Winter In The Adirondacks
10. Fort Ticonderoga – Explore America's Early History
Fort Ticonderoga is an old French fort dating back to 1755. Its unique story makes Fort Ticonderoga one of the best places in Adirondacks for history buffs. The fort was the center point for 5 battles during 2 wars. Reconstruction efforts began way back in the early 1800s and continued into the 1900s. Now Fort Ticonderoga is one of the most famous historical attractions in the Adirondacks. Fort Ticonderoga features a museum, re-enactments, and regular programs that are fun for the whole family.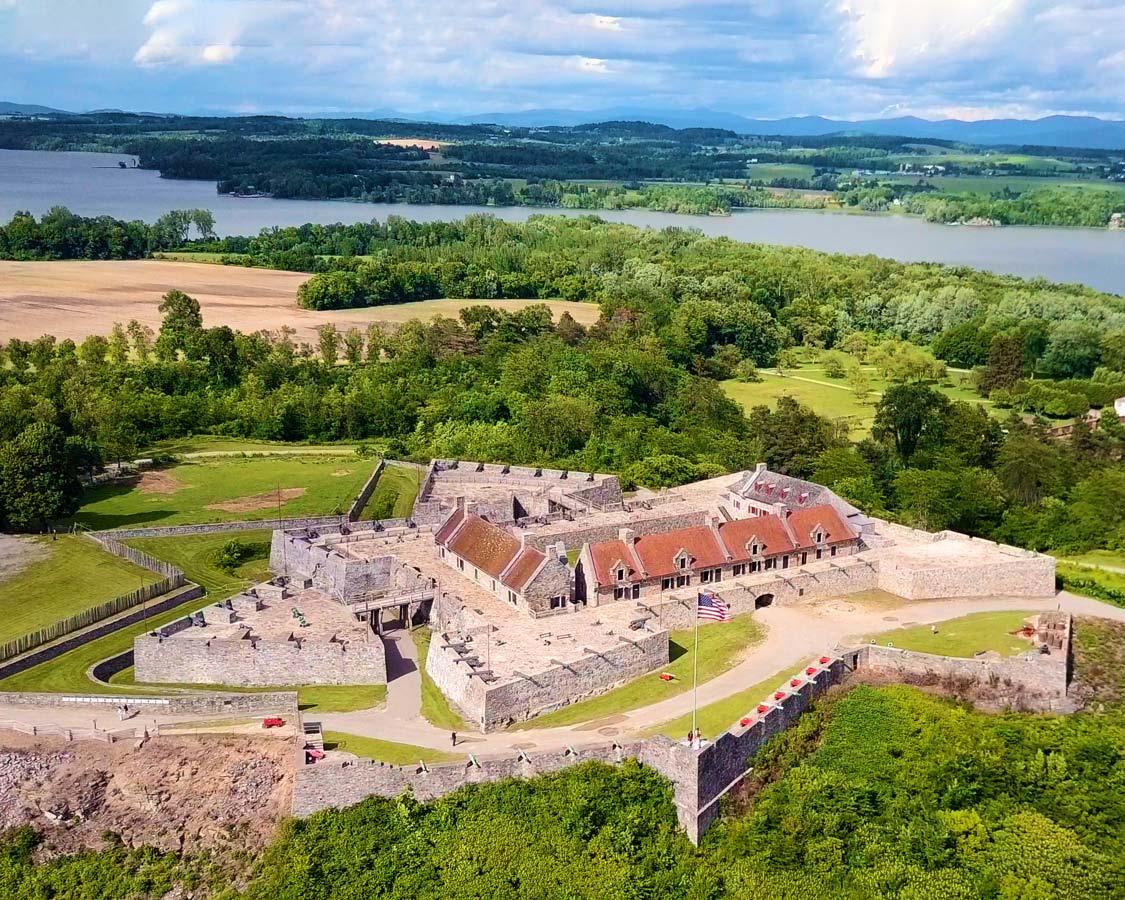 Where To Stay Near Fort Ticonderoga
To get the most out of your Fort Ticonderoga experience, check out Shoreham inn in nearby Shoreham Vermont. This hotel has a great vintage style and is highly rated. There are a few other great places to stay near Fort Ticonderoga as well. You can check them out here.
Enjoy Your Adirondack Vacation!
As you can see, whether you're looking for a family vacation in the Adirondacks or just a place to get out and explore nature, there are a LOT of options!
What are your favorite things to do in the Adirondacks? Let us know in the comments below. Or, head over to our Facebook page and share a photo of your trip there. We would love to share in your journey.
Disclosure: This post was made possible by the support of ROOSTADK, Ausable Chasm, Olympic Regional Development Authority and The Wild Center. As always our opinions remain our own. Wandering Wagars is a participant in the Amazon Services LLC Associates Program, an affiliate advertising program designed to provide a means for sites to earn advertising fees by advertising and linking to amazon.com, amazon.co.uk, amazon.ca. Amazon and the Amazon logo are trademarks of Amazon.com, Inc. or its affiliates.
You May Also Like To Read: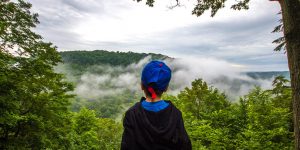 A Guide To Visiting Letchworth State Park with Kids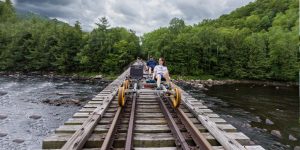 Exciting Things To Do In The Adirondacks This Summer