We put five of the top headphones for toddlers and kids through real-world testing to choose the best kid's headphone models for 2023.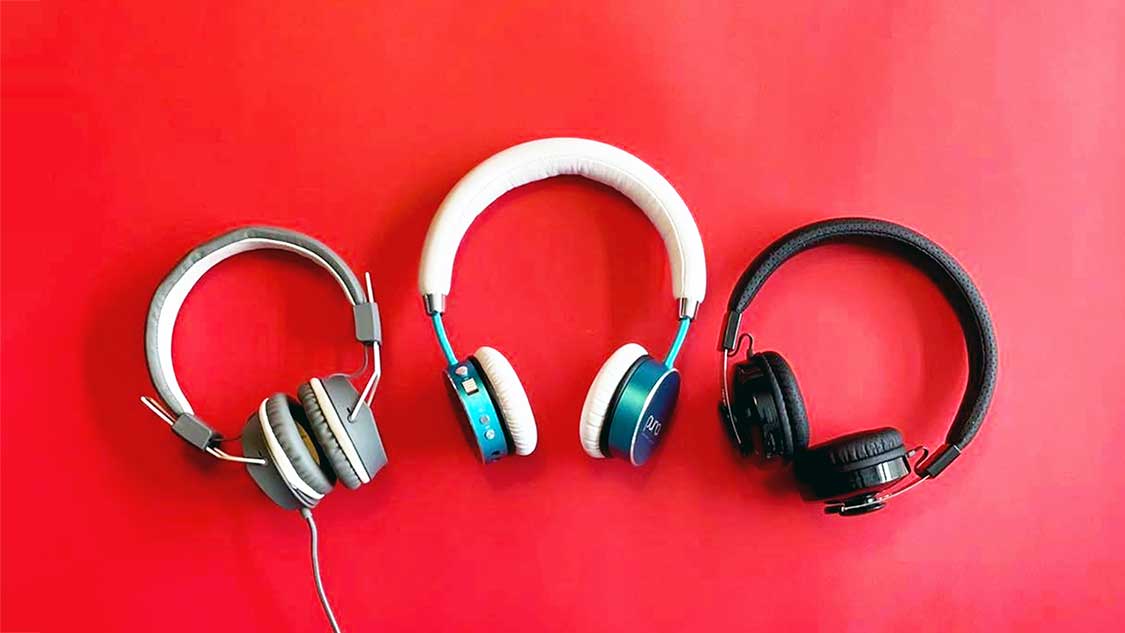 Electronics and audio devices are increasingly becoming integrated into our everyday lives. Things like homeschooling and online schooling have only driven the need for the comfort and quiet of toddler headphones further and further up the priority list. But choosing the best headphones for toddlers and kids can be a frustrating experience.
The internet is riddled with cheap headphones for kids, but choosing headphones for kids based solely on price alone often leads to a frustrating experience due to poor quality, bad sound, or awful reliability and durability.
If you want to jump right to our favorite headphones for kids, you can find those here.
Whenever we do our gear reviews we extensively test and compare products to ensure that we aren't recommending gear that doesn't live up to the needs and lifestyle of active families.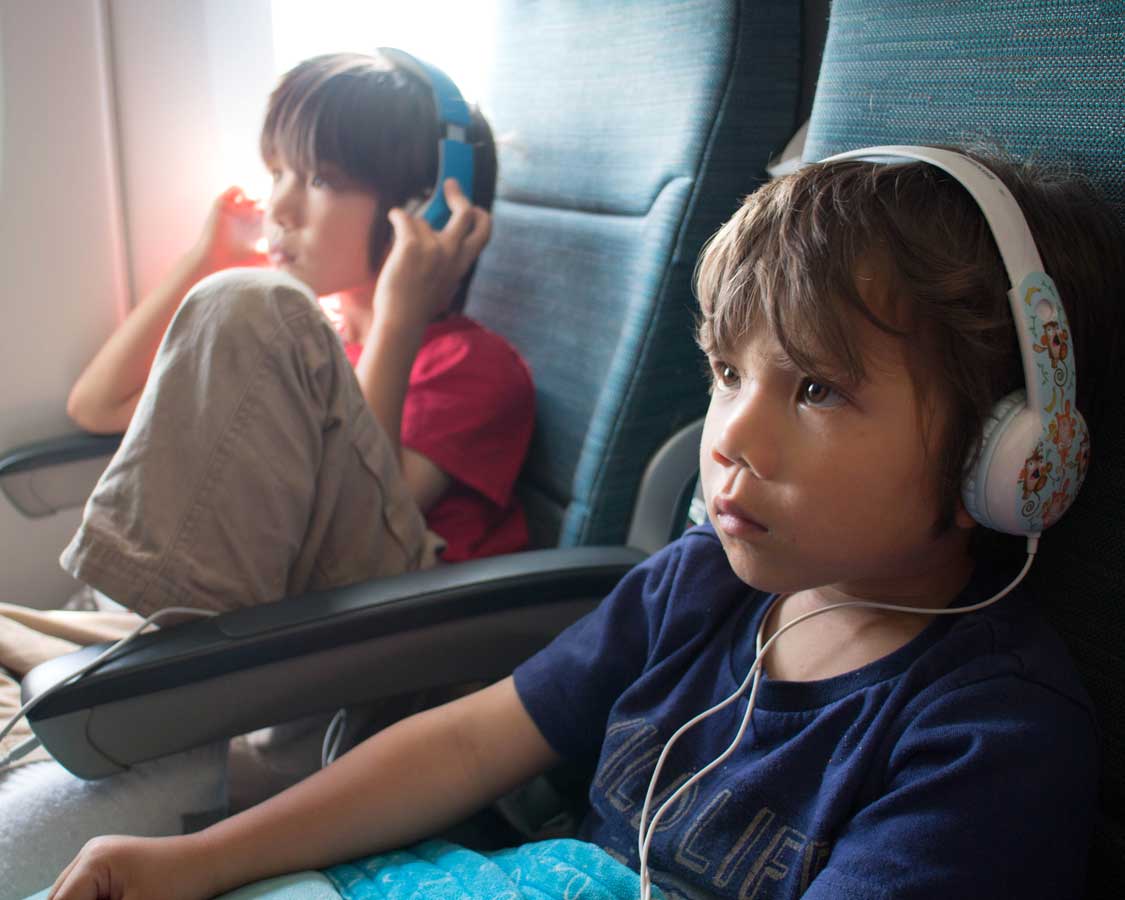 Our Top Toddler And Kid Headphones For 2023
| | | | |
| --- | --- | --- | --- |
| Puro 2200S | LilGadgets Untangled Pro | JLabs JBuddies Studio | Puro Junior Jams |
| | | | |
| Share Port: Yes | Share Port: No | Share Port: Yes | Share Port: Yes |
| Wired/Wireless: Both | Wired/Wireless: Both | Wired/Wireless: Both | Wired/Wireless: Both |
| Durability: 5/5 | Durability: 5/5 | Durability: 5/5 | Durability: 5/5 |
| Sound Quality: 5/5 | Sound Quality: 4/5 | Sound Quality: 4/5 | Sound Quality: 5/5 |
| Audio Limiting: Yes | Audio Limiting: Yes | Audio Limiting: Yes | Audio Limiting: Yes |
| | | | |
From iPads and tablets to audiobooks and music systems, having a great set of headphones for kids can do a lot to soften the stress of international family travel, plane trips, road trips, and any other time when kids can be cooped up for long periods of time.
We'll take a close look at what features make for the best headphones for kids and help you to narrow down our choice of kid-friendly headphones to the one that is right for your family. We'll be specifically covering over-the-ear headphones for kids as they are the safest and generally the most comfortable.
This post contains affiliate links. Booking or purchasing using one of these links may result in a small commission for us at no extra cost to you.
Why Are Kid-Friendly Headphones Important?
Many adults will pass on their old headphones to their children without thinking twice. It seems like a great way to save money and give the kids a cool toy.
But then they end up surprised when the children complain about the fit, the loudness, and the comfort. Or worse, you find out years later that the lack of volume-limiting capability in adult headphones actually damaged their ears.
Children have smaller heads, smaller ears and ear openings, and countless other physical differences from adults. Expecting hand-me-down headphones to fit your child is like handing your toddler a pair of your pants and expecting them to fit. Funny to watch maybe, but definitely not comfortable.
Children's ears are also much more sensitive than those of adults. And hearing damage can be compounded through years of abuse. Because of this, limiting the volume of kids' headphones can do wonders for them throughout their life in mitigating hearing loss and ear damage. You can read a bit more about this in this report from the World Health Organization.
Every headphone that we list here includes a volume-limiting capability. These are the type of headphones that we use for our children, and we would never think to recommend something that we would not use ourselves.
This Year's Best Kids Headphones Reviews
Here is the breakdown of how we chose the best headphones for toddlers and kids in 2023.
Puro BT2200S – Our Top Choice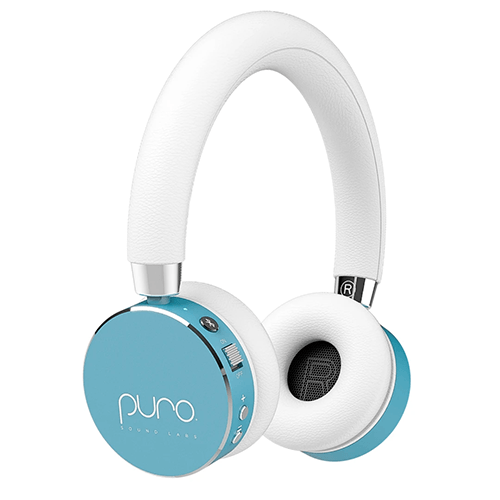 The Puro BT2200S have been around since 2019 and in 2023 they continue to be our top choice for Bluetooth kids headphones. The fit is fantastic and the volume-limiting capabilities are excellent without being overly quiet.
The fit may be a bit too big as a Bluetooth headphone for toddlers. If you have a very small child, consider the Puro Junior Jams instead. They also have excellent sound quality but tend to fit better for smaller children.
The Puro BT2200S comes in fun colors but retains a mature and modern design that kids often find to emulate the cool headphones of adults. It's a great choice of design for kids that don't want flashy stickers and a design that's "too junior" as stated by my 7-year-old.
Features
Massive 20 hours of battery life
Bright colorful designs
Best build and audio quality
Foldable design
Wired and wireless capabilities
You can check out their pricing here.
JLabs JBuddies Studio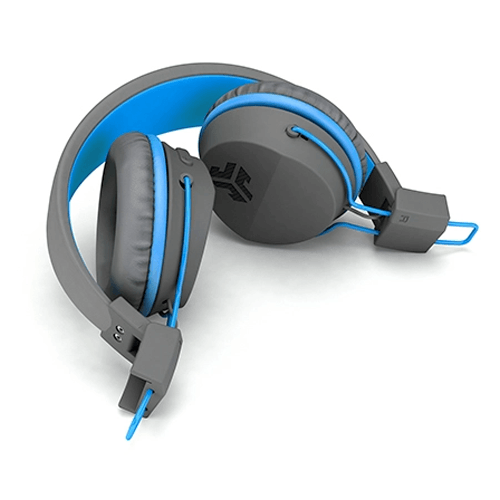 Our runner-up model for kids Bluetooth wireless headphones for kids is the Jlabs JBuddies Studio headset. These kids' headphones have a nice and compact folding design that helps them overcome the slightly lacking audio and build qualities compared to the BT2200S.
They also have a slightly more universal fit that should serve children from 2 and up very well. The design leans towards plastic vs the metal and viny-style of the BT2200S, but this can be good for kids who tend to have constant sticky fingers as it's easy to wash.
Features
Comes in multiple colors
Both wired and wireless capabilities
Long battery life
Smart foldable design
Can connect to other headphones
You can check out their pricing here.
Onanoff Buddyphone Explore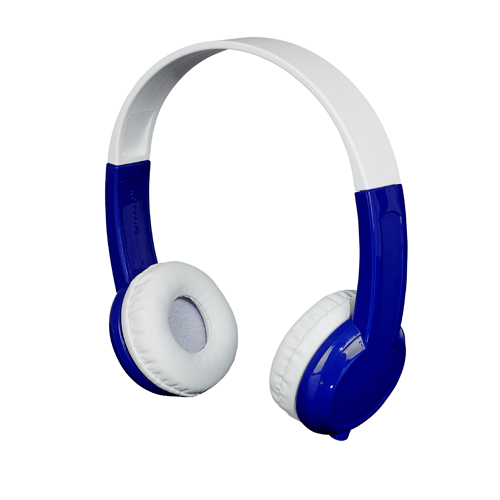 On the first view of the Onanoff Buddyphone Explore, I wasn't too impressed. But, after giving them a listen and putting them through the wringer, I was very impressed with these children's headphones.
The sound quality was excellent and they were a lot tougher than they looked. My kids also loved the fact that they come with interchangeable headset colors. They spent far too much time color-matching them to their outfits.
Features:
Wired design with breakaway cord
Flexible plastic design
Decent audio quality
Withstands abuse
No daisy-chain capabilities
You can check out their pricing here.
Puro Junior Jams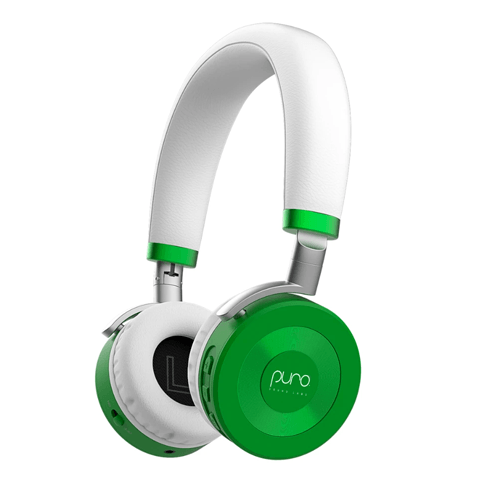 Without a doubt, the Puro quality stands out with the Puro Junior Jams. These bright and colorful headsets are every bit the build quality of the Puro BT2200S but they have a much better fit for toddlers and smaller kids.
If this is your child's first headphones, the Junior Jams will save you about $30 and still look and sound amazing.
Features:
Thick and comfortable padded headband
Excellent sound quality
Volume limited to 85 dB
Both wired and wireless capabilities
Long battery life
Share port for connecting to a second set of headphones.
You can check out their pricing here.
LilGadgets Untangled Pro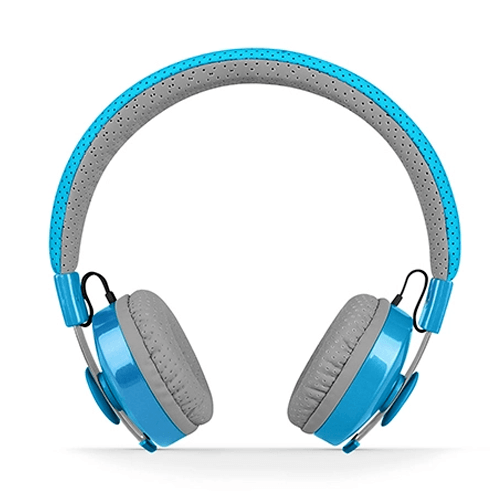 The LilGadgets Untangled Pro will save you a few dollars over the Puro Junior Jams as great wireless headphones for toddlers. The build quality and sound quality aren't quite up to the Puro level, but they still far-surpass many of the other lower quality brands that flood the market.
The volume limiting is a touch on the higher level, which can be good for especially older children but maybe a bit loud for younger kids. I recommend these as great headphones for those 6 and up.
Features:
Volume limited to 93db
Long battery life
No share port
Both wireless and wired capabilities
Passive noise reduction.
You can check out their pricing and availability here.
What Features Make Good Headphones For Toddlers and Kids?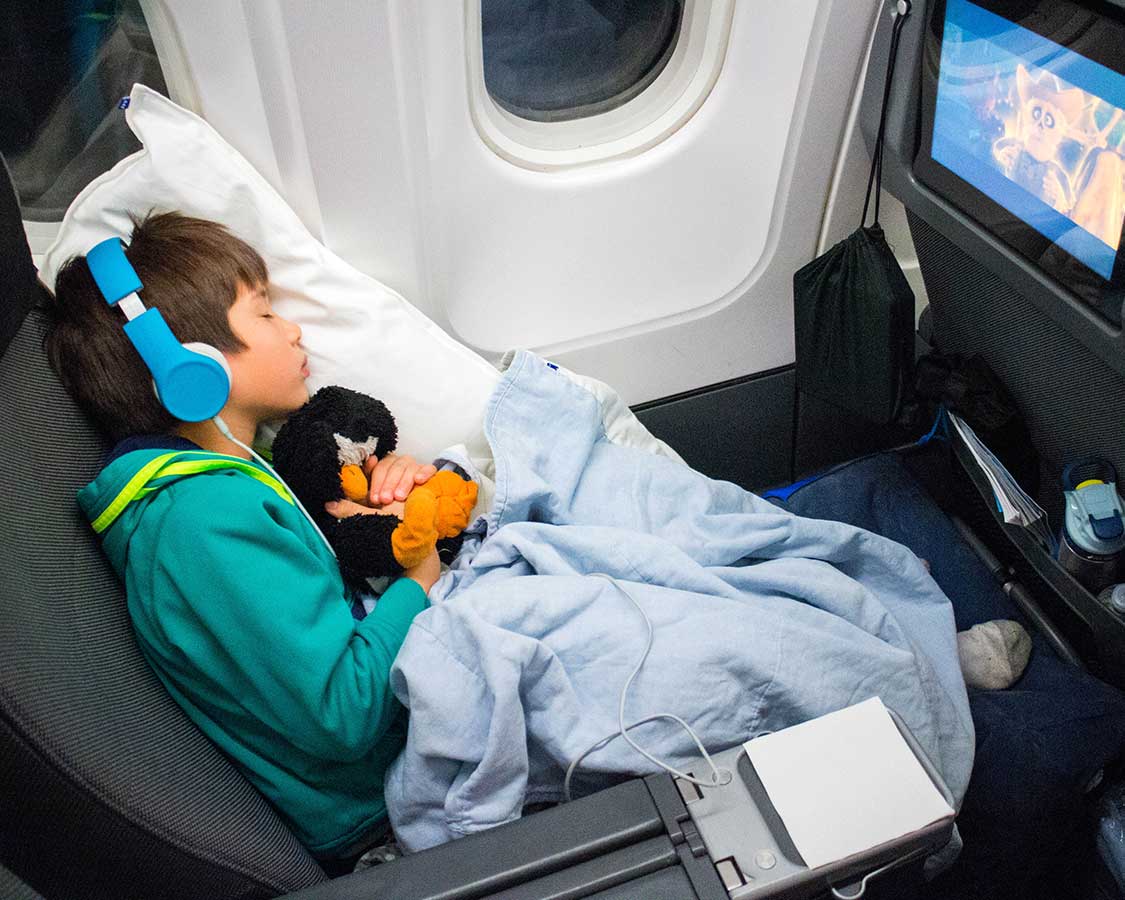 This wouldn't be a great comparison of kid's headphones if we didn't have a few ranking factors. Over the years we have judged dozens of children's headphones. Some of them have been very decent and some of them have been absolute garbage.
Through all of this testing, there are a few factors that we've noticed that seem to come up again and again either from our own kids or from comments from parents in our Family Travel Support Group on Facebook.
Fit and Comfort
Great kid's headphones have to be comfortable. This goes double if your children will be wearing them for long periods of time on international flights or long road trips. Those amazing audiobooks that they get so into won't seem so magical if their little ears start hurting.
A great fit should ensure that children's ears aren't squished. That means quality padding on the earphones. It's also important that the headband is adjustable. These both ensure that your kids' headphones will grow with your child and won't need to be thrown out for a new one every year.
Volume Limiting
As I mentioned earlier in the article, the ears of children are very sensitive. Volume limiting is important to ensure that kids are not listening to their headphones at extreme volume, even when the song is particularly awesome.
Volume limiting can be overdone though. And we have tested headphones where the volume limiting was so high that our boys struggled to even hear the movie that they were watching. So volume-limiting needs to be balanced with ease of use.
Durability
When it comes to headphones for toddlers and kids, durability is a must. Children are experts at breaking things, sometimes on purpose, and many times by accident. In order for a product to make this list it has to be durable and resistant to wear and the everyday filth and stains that come with life with kids.
The best headphones for kids need to be able to withstand the bumps and grinds of everyday life, be easy to clean, and be built with tough, stain-resistant material.
Share Ports
Stories, music, movies, and books are always best when shared with a friend, parent, or sibling. We lean towards kid's headphones that have a "share port" that allows daisy-chaining multiple children's headphones together so that the experience can be shared. Not all headphones support this though and the feature tends to be more common on Bluetooth wireless kids headphones.
Sound Quality
The last major criterion, but certainly not the least is audio quality. Just because these are headphones for kids doesn't mean that they shouldn't sound great. Sound quality is super important, not just so that kids and toddlers get the best experience when enjoying their entertainment or learning, but also because the bad sound is not good for children's ears.
The poor audio range can actually cause the ear to strain to hear certain frequencies and this strain can lead to hearing damage over the long term. Great sound quality doesn't just improve the experience for little ones, but it actually limits hearing loss later in life.
Other Factors That Make Up The Best Headphones For Toddlers and Kids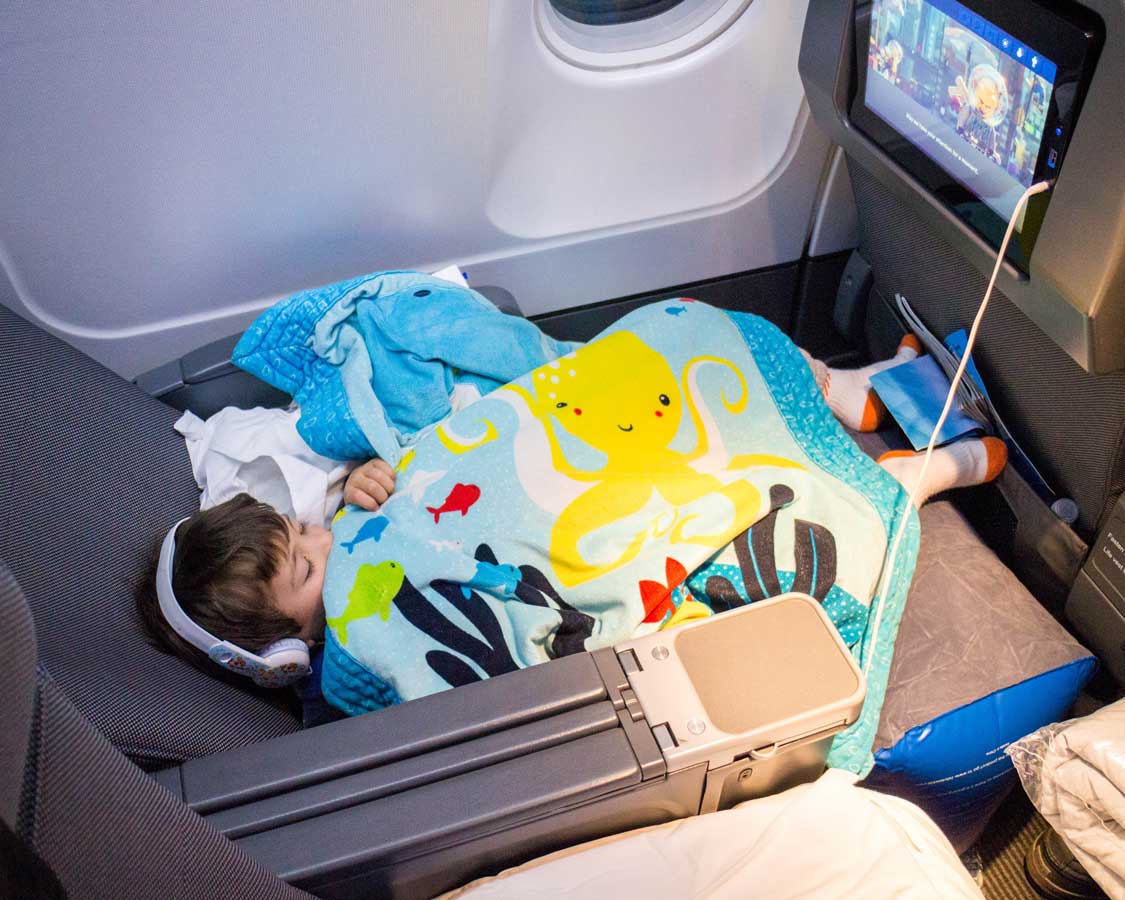 In addition to sound quality, comfort, volume limiting, and share ports, these are a few other factors that make for the best headphones for kids.
The quality, size, and adjustability of the headband.
Are the headphones foldable?
Do the headphones come with a protective case?
Are they fun and exciting enough for kids to want to wear them?
Wired Vs. Wireless Headphones for Kids
With battery technology improving every year, I find myself leaning more and more toward wireless headphones over wired headphones. And there are many reasons for this.
First off, cords present a hazard, especially on headphones for toddlers. The long corded devices can wrap around necks, which is downright dangerous if a very young child is left on their own in a room.
It's true that even corded headphones have come a long way in safety though. Most of the kid's wired headphones that we recommend have a quick-release adapter on each end that will pull out if too much pressure is applied to the cord.
Another advantage of wireless toddler headphones comes to light when you see how forgetful many kids are. How many times have you, as an adult, walked away from your desk forgetting that you had your headphones on? Well, times that by 10 for kids. Think of all of the cups, paper, craft, and carpets you'll save by using wireless instead of wired.
When choosing Bluetooth wireless kid's headphones quality is important. Choosing a cheaper brand could mean poor battery quality or poor range. Both of these incidents can be incredibly frustrating both for adults and children.
Now a limit to Bluetooth headphones for kids is often a lack of wire. Having a cord can be very helpful when connecting to a vehicle or airplane audio system. For this reason, we tend to lean towards wireless children's headphones that have both wireless and corded options. This is also invaluable should you find yourself without a place to charge your batteries.
What Are Kids Safe Headphones?
Kid-safe headphones are headphones designed with the unique physiology and lifestyles of children in consideration. Kid-safe headphones usually have the following features:
Wireless or breakaway cords to prevent injury
Volume-limiting capabilities to reduce hearing damage
Small fit to comfortably fit on smaller heads and ears.
Excellent quality sound, especially in the low and high-end frequencies to avoid ear strain.
What Age Is Safe For Headphones?
Nowadays it is not rare for children between 2 and 3 years old to wear headphones. And so long as they are wearing kid-safe headphones, this shouldn't be a problem. Adult headphones are not designed for the unique physiology of children and can cause hearing damage in young kids.
Kid-friendly headphones need to fit children's smaller heads and years and have volume-limiting capabilities to deliver safe and enjoyable sound to little ears.
Are Headphones Safe For Kids To Wear?
So long as comfort, fit, and volume levels are taken into consideration, headphones are safe for kids to wear. Ensure that you have a model such as the Puro Junior Jams that look good, sound great, and have volume-limiting capabilities that are important for young children's ear safety.
If you're passionate about family travel, head on over to our Family Travel Support Group on Facebook. It's a fantastic community of parents who love travel. We share experiences, knowledge, and the lessons learned along the way. You can also sign up for our newsletter to keep in the loop about new family travel adventures. You can check out our web story for this article here.
Wandering Wagars is a participant in the Amazon Services LLC Associates Program, an affiliate advertising program designed to provide a means for sites to earn advertising fees by advertising and linking to amazon.com, amazon.co.uk, amazon.ca. Amazon and the Amazon logo are trademarks of Amazon.com, Inc., or its affiliates.
You May Also Like To Read:
Pin This Post For Later: