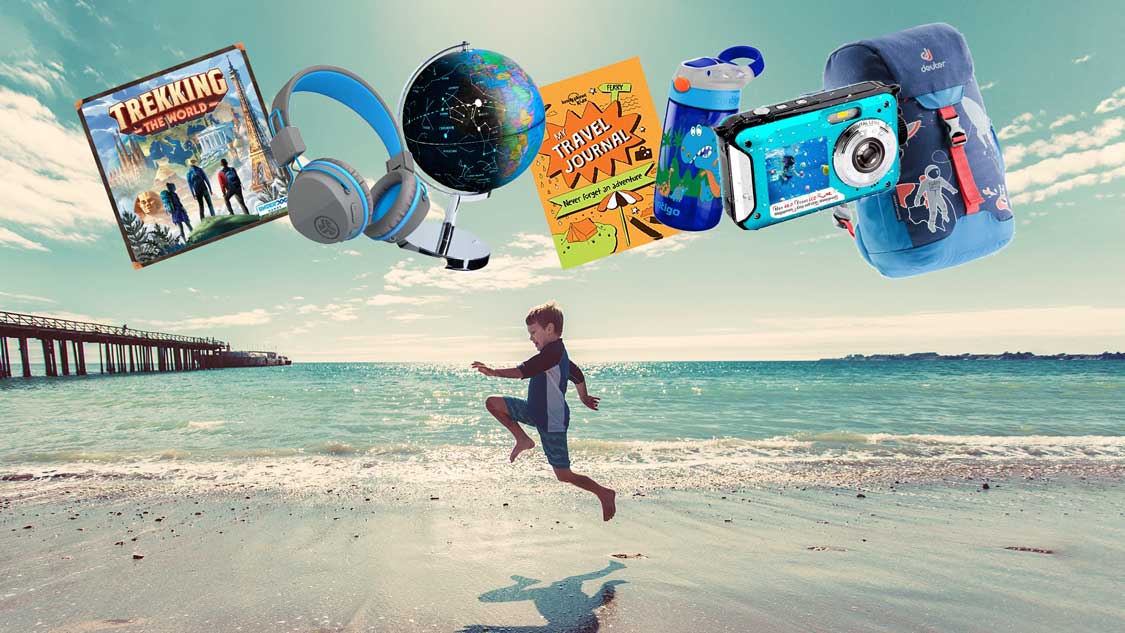 It sometimes seems as if there aren't enough gift ideas for kids that sit outside of the standard fluff or this season's "hot" toy. It can be challenging to find cool gifts that kids will love, yet also gifts that will be useful outside of that two-week break around the holidays. The holidays can be hectic enough, so to help you navigate this time with ease, I've put together some of my absolute favorite travel gifts for kids.
These kids travel gifts have been selected because they are ones that I actually use, or would choose to buy. These affordable and practical kids gift ideas are perfect for kids from age 6-12. Because we all know that gift ideas for teenagers fall into a category of their own. Although you may find a few that your teenager may love as well.
And these gift ideas for children are all themed around my family's passion, which is travel. While we have two rambunctious boys, these can be gifts for girls or boys, or however your child identifies. They are simply great travel-themed kids gifts.
This year, more than ever, keeping that passion for travel alive has been tough. As many of us have remained locked in our homes, dreaming of the outside world. So, to help keep that love of travel alive until we can all see each other again, here is my list for the best travel gift ideas for kids.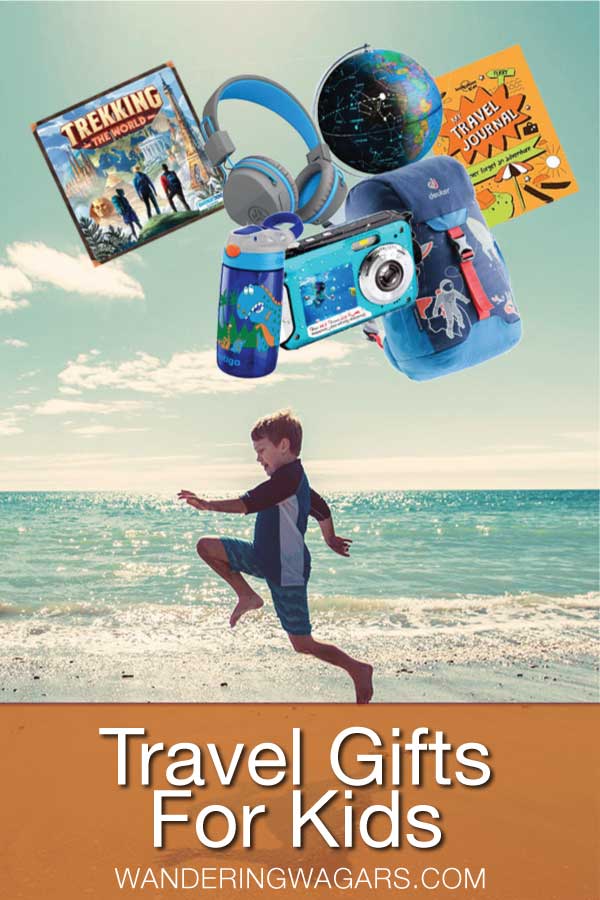 Travel Gift Ideas For Kids That They'll Actually Use
I've carefully picked these kids gift ideas to include a travel-theme. So if your family is as passionate about travel as we are, read on and be inspired. Some of these links may have an affiliate partnership in which we may earn a small commission at no extra cost to you. You can read more in our disclosure.
If you're shopping for more than just the kids, you can also check out my ultimate guide to family travel gear. That article focuses on gear for everyone.
Travel-Themed Board Games
There is perhaps no kids gift that we use more right now than board games. We have picked up some amazing travel-themed board games for kids that we play all the time. Some of them are perfect for taking with us on road trips, while others are better for the home. Here are a few of our favorites.
Trekking The World
Trekking the World is an awesome travel gift for kids. This easy yet fun board game is perfect for the whole family. Doesn't take too long to play, and will teach you and your kids about some of the most famous monuments and destinations around the world. You can find that here.
Ticket To Ride
Ticket To Ride lets players compete to create railways across North America. This is a super fun game that we picked up when we stayed in a caboose Airbnb in Ontario. If you're looking for this game with a European focus, you can find Ticket to Ride Europe here.
Flags Around The World
Flags Around the World is a fun, fact-based board game that is great for kids 8+ and fun for the whole family. It features multiple-choice questions about flags, countries, and capital cities.
Globes And Maps
When we bought our kids their first globe I thought it was going to be a fun decoration. I had no idea just how many times the boys would reference it and ask questions about one destination or the next. These maps and globes make amazing travel gifts for kids.
World and Country Scratch-Off Maps
Scratch off maps are a super fun way for kids to track their travels both domestically and around the world. This world-scratch off map is perfect to mount on a wall, while this United States scratch off map makes a fun travel gift for kids exploring national parks.
Globe
Globes are great travel gifts for kids. And they come in all sorts of different styles depending on what your child loves. You can get a classic globe like this one, ones that light up, and globes that are completely interactive with an app.
Travel Journals
Travel journals are a fun and engaging way for children to track their travel experiences. These make for an exciting way for children to relive and write down all the amazing things that they've learned throughout their travels.
Travel Headphones
My children are obsessed with audiobooks. One of the great treats of international plane travel with kids is when they hunker down into their seats, punch up their favorite audiobook, and get lost in their own imagination.
These excellent kids headphones make for great kids gift ideas for travel lovers. Our absolute favorite are the J-Labs ones. They aren't super cheap, but they are ultra-durable, foldable, and have good volume limits so as not to damage little ears.
Reusable Water Bottles
I just can't stress enough how important it is to limit the amount of garbage we introduce to the world. One of the easiest ways to limit our footprint is by using reusable water bottles.
I've written about my favorite filtered water bottles for travel before. But most trips don't need anything so involved. A nice, small, portable water bottle will give children access to some high-quality H2O whenever they need it.
Digital Tablet
We are a very digital family. While we do limit screen time for the kids, we don't limit it while we're in transit. Plane, train, and bus travel is stressful enough, so we let the kids find their favorite escapes during the tough times.
Whether they're listening to audibooks, competing against each other in minecraft, snapping photos of each other, or just sitting back and enjoying their favorite travel movies, tablets give them so many opportunities to stay entertained and informed. Our kids rock their iPads wherever they go, but if you're an android family, there are great opportunities as well. And the Amazon Firebook is a great budget option if you aren't married to either platform.
Cameras
Whenever I'm interviewed about travelling with children, I always push the idea of letting kids be the photographers (or at least part of the travel photography experience). It's a such a fun an easy way to empower them while getting kids to stretch their creativity while learning a new skill.
Choosing a great camera for kids travel gifts means taking into consideration a few things. How careful is your child? What is your budget? And how easily can their fingers fit around a camera body.
GoPros are a great option because they are rugged, waterproof, and can go pretty much anywhere without too much worry. But they are very limited in the type of photos that they take. But, nowadays there are more tough, waterproof cameras available than ever before. And they have everything from video to zoom, and fun filters for kids to enjoy.
Travel Backpacks
Backpacks are a huge part of our travel inventory. They are usually the first things that we jam full. They act as our carry-on for plane travel and our day packs while we are touring the incredible travel destinations that we love to explore.
For young kids, I highly recommend this Deuter Kikki backpack that I wrote about. It's adorable, fun, rugged, tough, and just the right size for younger children. As kids age, their packs should keep up with them in terms of size and comfort.
Their Own Suitcase
Ok, you may not want to pay for another check-in luggage for your family. But letting your kids have their own carry-on luggage is a great idea! It teaches them responsibility while lightening their parent or guardian's loads at the same time. A carry-on luggage makes for amazing kids gift ideas.
Look for something hardshell with four wheels so that there are no problems moving them around the airport. Avoid ones that are too fancy though, because odd shapes don't stack well. For really young kids, these Melissa and Doug Trunkies are great. But they are only really good for a year or two before kids grow out of them.
Games For On-The-Go
Travel games are a fun way to kill the time either in the car, on the bus, or in the airport when there is nothing else to do but wait and stare at each other. These games are small, light, and be enjoyed just about anywhere.
Games like UNO and Highway Bingo are always a blast. But there are more road trip games that make for great travel gifts for kids as well. And if you run out of ideas, you can always check out some of these hysterical (and clean) travel jokes.
Do You Love Family Travel?
If you're passionate about family travel, head on over to our Family Travel Support Group on Facebook. It's a fantastic community of parents who love travel. We share experiences, knowledge, and the lessons learned along the way. You can also sign up for our newsletter to keep in the loop about new family travel adventures.
Do you have amazing ideas for great travel gifts for kids? Let me know your thoughts in the comments below. Or swing over to our Facebook page and say hello!
Wandering Wagars is a participant in the Amazon Services LLC Associates Program, an affiliate advertising program designed to provide a means for sites to earn advertising fees by advertising and linking to amazon.com, amazon.co.uk, amazon.ca. Amazon and the Amazon logo are trademarks of Amazon.com, Inc., or its affiliates.
You May Also Like To Read: