Travel-themed board games are a great way to experience the magic of travel when you're at home. These are our favorite board games for travel lovers that the whole family can enjoy.
---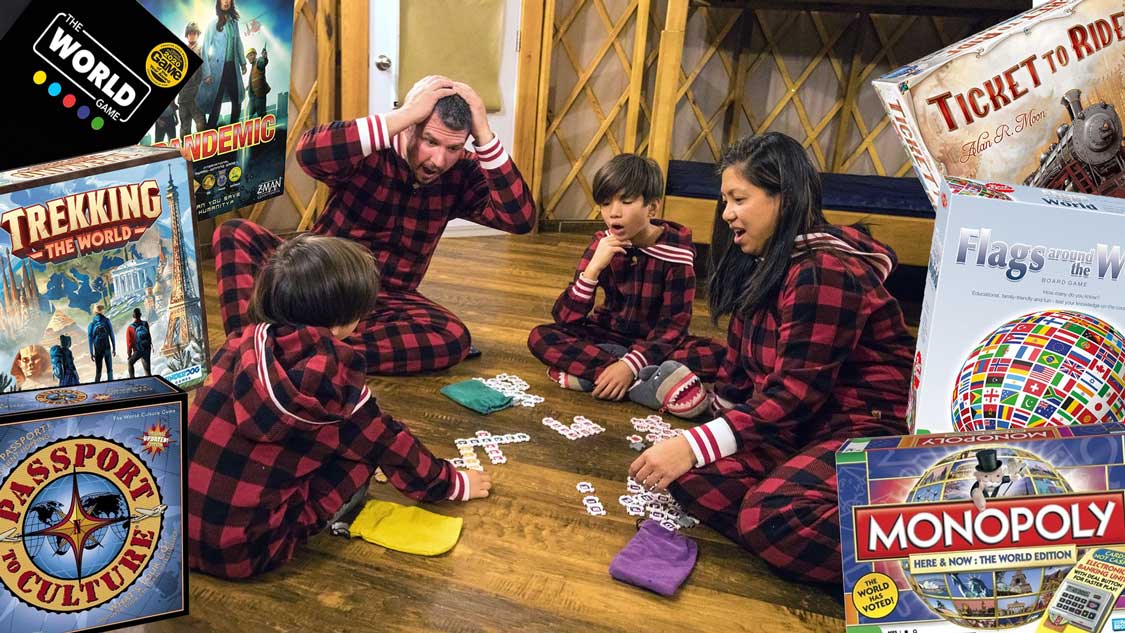 Since the world of travel was sent through a loophole in 2020, many travel-loving families such as mine have had to stop or drastically limit their adventures. But through this, my family has discovered a fun way to explore the world while still spending time together as a family.
Sitting around the living room and playing travel-themed board games has become a bit of a tradition for us. And some of these travel board games have become such a hit that we know we'll be packing them with us when we leave for our next family travel experience.
In fact, when we've combined these travel-themed board games with our favorite travel movies and our favorite travel books, it's seriously taken away much of the pain from having to spend so much time at home. Not all the pain mind you. We SERIOUSLY miss travel and are really looking forward to the world opening up again soon.
There are loads of family-friendly board games out there that make for a fun night. Here, I'm going to focus specifically on board games with a travel theme that will help take you and your family on a journey around the world while you're still wearing your pajamas.
Whether you're unable to travel because your sick, dealing with family responsibilities, saving up money, or you're in the midst of a global pandemic, these travel-themed board games will keep you inspired.
Travel-Themed Board Games For The Whole Family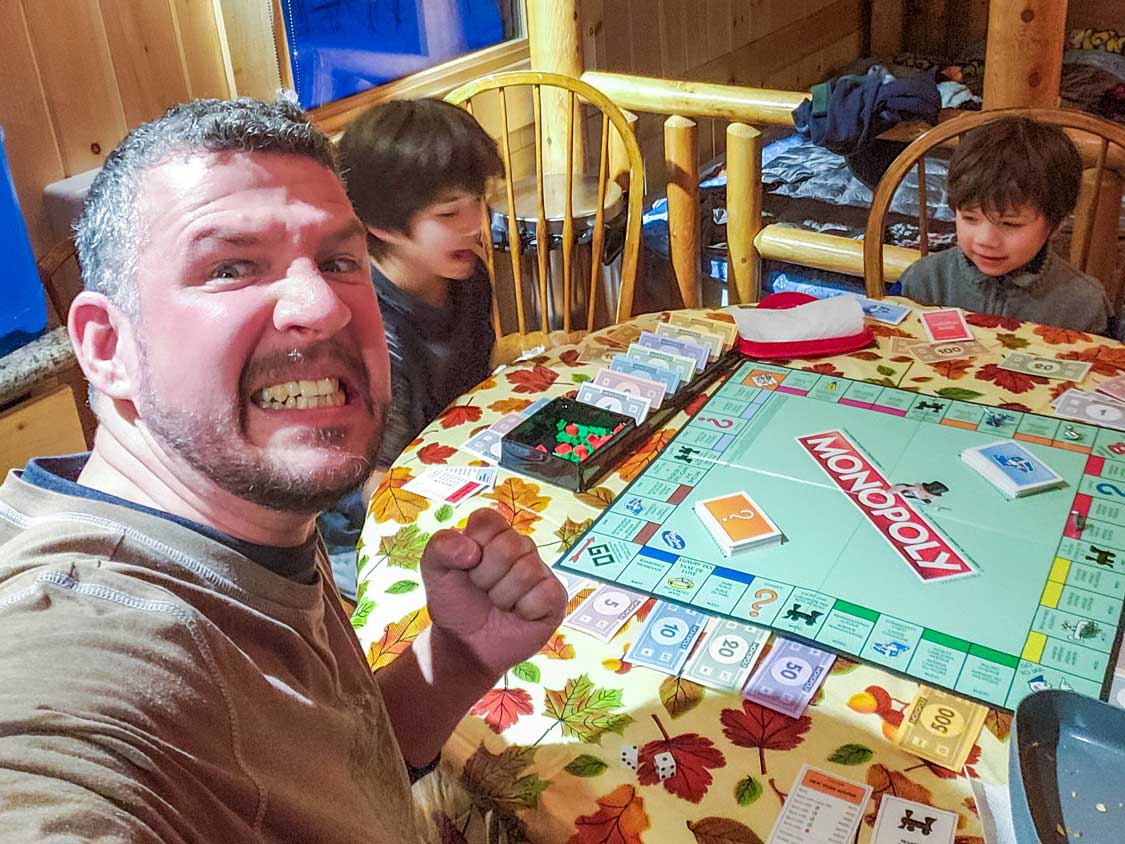 Whether you're looking to capture the feeling of travel while still at home, or find some travel-themed board games that teach you a little bit about the world, or maybe just find something fun that will entertain the kids and not be a complete drag for the adults, these travel-themed board games are all fun games you can play over and over again.
Ticket To Ride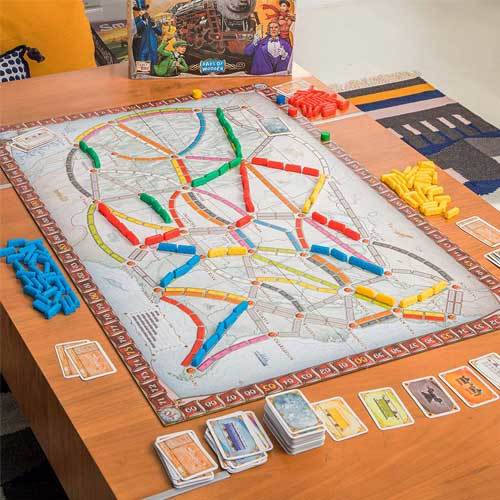 Ticket to Ride was a game that we picked up just prior to our caboose Airbnb in Smiths Falls, Ontario. It was our youngest son, D's birthday, and we wanted him to be able to have the full-on locomotive experience. And it was a hit!
In Ticket to Ride, players challenge each other to create a network of railways across the continent. You gain points by connecting your network to specific cities along the way. There are different versions of the board game spanning various continents including Europe, North America, and Asia.
Ticket to Ride is a very easy board game. And if you've got younger kids, there's even a Ticket To Ride First Journey that is good for kids as young as 6 years old.
It's a fun game that the whole family can enjoy. The full game (not the First Journey edition) is aimed at those 8-years old an up. And the average play time is about 30-60 minutes.
You can check out the current price for Ticket To Ride below.

Flags Around the World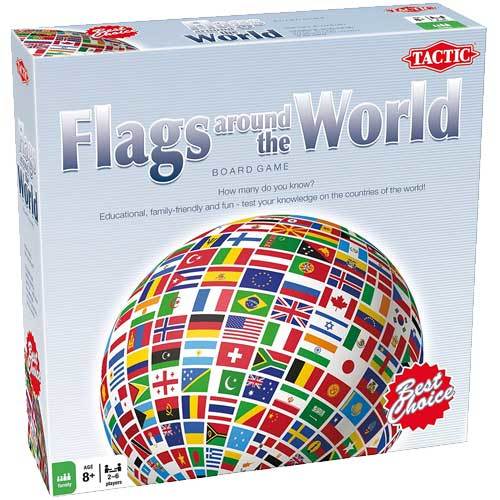 Flags Around The World is a wildly fun game that is amazing for those who love facts. It's a really fantastic game for learning details about companies that you've visited, or those you might be heading to.
One thing that I love about Flags Around The World is that it can be played in so many different ways. This means, although it's listed for those 8 and up, it can easily be modified for fun with younger kids as well. The game can also be made more challenging by using open-ended questions rather than the ones supplied by the game.
You can check out the price for this travel-themed board game here:

The World Game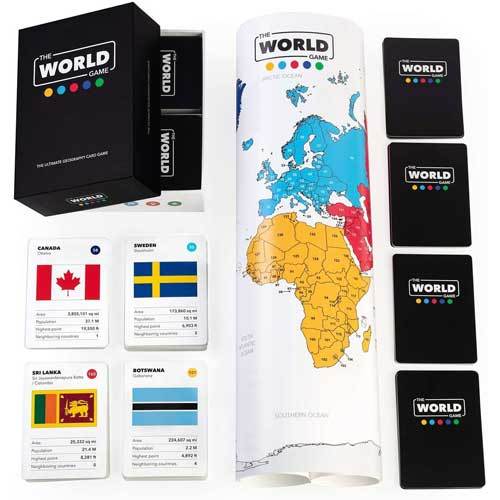 The World Game might be our favorite travel-themed board game. Not only does this game cover all 194 United Nations recognized countries, but players also compete with knowledge such as country facts, locations, flags, capital cities, and more.
This game is super fun and educational. And, although its targeted towards older kids and adults, there are so many question types that it's easy to twist the game a little to make it very accessible. In fact, my 7-year-old absolutely loves it and sometimes I just find him flipping through the cards. Maybe he's hoping to cheat before our next game!
The game takes between 20-60 minutes to play and is a total blast. You can check out the price for this travel board game below:

Trekking The World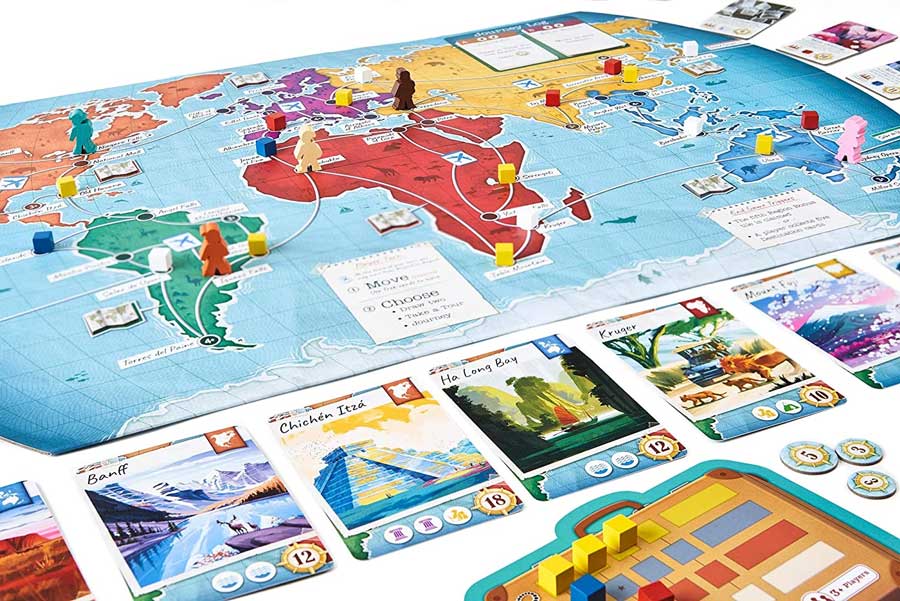 Trekking The World is a super fun game that lets you travel the world, take tours of local hot spots, and even collect souvenirs. It's as close to actually traveling as you can get in a board game! Honestly, if you have a serious case of wanderlust, this is one of the best travel-themed board games for you.
When you first set it up, Trekking The World seems super complicated. There are a lot of cards and a lot of moving pieces. But, once you've walked through it, you'll realize that it's a breeze and you might just be hooked.
What I love about this travel board game is that you aren't just learning about the destinations, but about the cool things to see there too. It's less about the facts and more about the journey. Each game takes about 30-60 minutes to run through and it's simple enough that my 6-year old has beat me more than a few times.
You can also pick up their companion game, Trekking The National Parks, which is awesome for park lovers like us. You can check out the current price for this game below.

Passport To Culture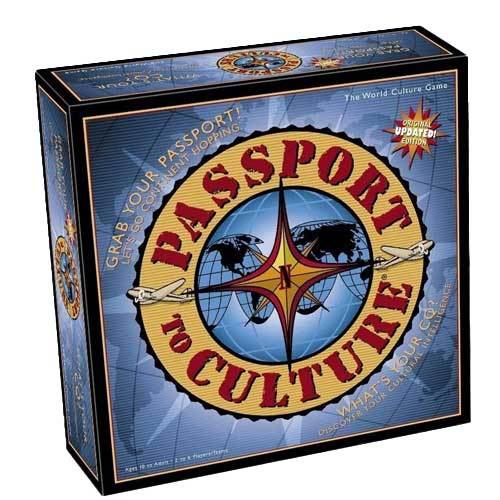 If you have Tweens and Teens who love travel, this might be a fun one to play. Although, it's definitely a travel-themed board game targeted towards young players.
Passport To Culture sends you around the world through quizzes. The game tests your travel knowledge on topics such as food and drink, cultures, customs, and traditions. It's a fantastic travel game to play to learn about countries before you visit them.
In the game you fill your passport with stamps as you travel along a map. The game is targeted towards those 12 and up and takes about an hour to play. You can check out the price below.

Monopoly Here & Now: World Edition
My family is a little obsessed with Monopoly. We started playing it on a winter camping project at Arrowhead Provincial Park in Ontario and things got heated pretty quickly. Now we have games that sometimes last for days.
Monopoly: World Edition has you battling to create a global empire. And while it is listed for those 8 years old and up, I've had a blast playing with my son when he was 6. And it was a great way for my kids to learn about the value of money.
Warning: This is the type of game that can ruin families who are not emotionally ready. This goes double if you have a child who's a ruthless shark, like mine. You can check out the latest price below.

Pandemic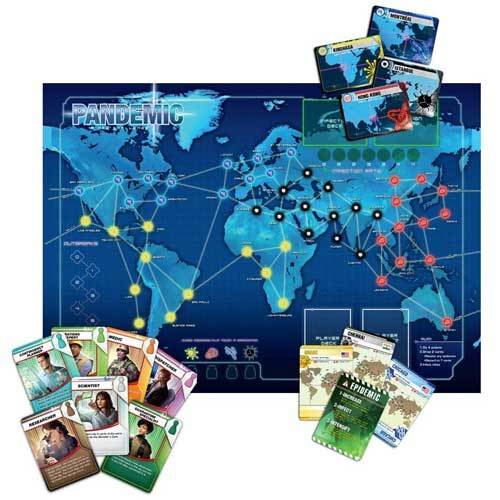 This one might hit a little close to home. But Pandemic, which exploded thanks to the events of 2020, has received a 5-star rating on Amazon after almost 6,000 reviews.
This travel-themed board game revolves around four diseases that have evolved and you're on a team of specialists whose goal is to develop the cures and save the world before it's too late.
After our scare in Egypt in March 2020, this one was a tough one to buy, but we ended up LOVING it. Even without hoarding toilet paper.
This is a fast-paced game where players work together rather than against each other, which makes it a really great family-friendly board game. And once you get past the dark nature of it, it's wildly fun. This game is good for kids 8 and up. You can check out the current price below.

Enjoy These Board Games For Travel Lovers!
Whether you're playing with the kids or as a couple, these board games are a blast for travel lovers. Tell us about your favorite family-friendly board games in the comments. Or head over to our Family Travel Facebook Community and share your tips. We would love to hear your ideas.
You May Also Like To Read:
Pin This Post For Later: