During times when we must stay home, I turn to inspiring travel books to keep me motivated. These are the best travel books on my shelf.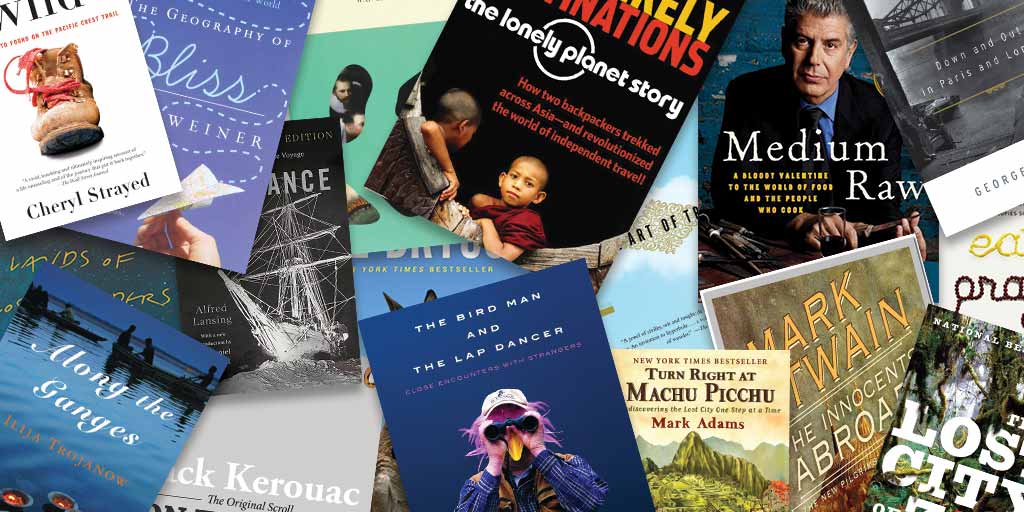 As we all lock into a period of self-isolation and social distancing, the desire for amazing literature is exploding. Books have a way to transport you to new places, or even within the lives of others. If you're a travel-lover like me, the idea of immersing yourself into a new destination is always appealing. Now, more than ever, the most inspiring travel books can take us on the journeys that lockdown and isolation have placed out of arms reach. Last year I released the list of my 20 favorite travel movies. But the best travel stories offer a much richer experience than a movie ever can. When the world is traveling again, travel literature can help you while away those long bus, train, or plane rides. One of the constants of travel is how much 'waiting' is involved, so having one of these great travel books with you to break up the monotony is always helpful. It sure beats staring blankly at the back of a chair for 8 hours.
More than just entertainment, the best travel books will give you even more insight to amazing destinations that you're visiting, re-visiting, or dream of experiencing in the future. You'll be introduced to new perspectives, insights into the culture, adventure, and the people. So, to help you experience the places that I love so much, here is a list of some of the most amazing travel books that I have on my shelf or in my carry-on.
Travel Books That Keep Me Inspired
No matter what kind of travel books you love to read, you're almost guaranteed to find something here that you'll love. Have you read any of these? If you have, tell me about your favorites. Did I inspire you to pick one up? Let me know what you thought about it!
Along the Ganges by Ilija Trojanow (2006)

Along the Ganges follows the travels of Ilija Trajanow as she follows the Ganges River from its source in the towering Himalayas. Ilija, an emigrant from Cold-War Bulgaria, who now lives in Cape Town, South Africa, take the route by boat, bus, and train on a spiritual journey through some of the most chaotic cities along the shores of the river. Along the way, Ilija learns about Hinduism, the environmental impact of hydroelectric dams, and the power of the Ganges on both the people who rely on it for life and those who connect with it spiritually.
You can get your own copy of Along the Ganges on Amazon here.
Down and Out in Paris and London by George Orwell (1933)

George Orwell is one of the most important writers of the 20th century. And while much of his popularity stems from dystopian novels such as 1984 and War of the Worlds, Orwell was also an avid traveler. Down and Out in Paris and London is told from his experiences struggling to survive in Paris, France. It doesn't portray the elegant, wealthy Paris that most people are accustomed to. Instead, this travel book explores the gritty, raw side of one of the most romantic cities on the planet.
You can get your own copy of Down and Out in Paris and London on Amazon here.
The Art of Travel by Alain de Botton (2002)

What I love about Alain de Botton's The Art of Travel is that it acts as a reminder about why travel is so important to so many people. It's easy to lose sight of the real magic in travel. This book acts as a deep-dive into the philosophy of travel. Along the journey de Botton explores fantasies vs. reality. And by diving into the raw truth of travel, we really uncover the unexpected moments that make a life of travel so rewarding.
You can get your own copy of The Art of Travel on Amazon here.
On the Road by Jack Kerouac (1957)

On The Road is Jack Kerouac's legendary classic about the Beat Generation. This timeless story recounts Kerouac's own adventures as he travels west from New York City. On The Road is written in the third person from the perspective of 'Sal'. And although the names have been changed, Kerouac himself noted that the adventures he had along the way remain unchanged. You can even find a hand-drawn map from Kerouac himself of the places he visited along the way.
Along the route through Denver, San Francisco, Mexico City and more, Sal rides the rails and parties hard. But all of this is overshadowed by his desire to see the world. In the end, On The Road is as much a journey of personal growth and self-reflection as it is about travel.
You can pick up a copy of On The Road on Amazon here.
Eat, Pray, Love: One Woman's Search for Everything Across Italy, India and Indonesia by Elizabeth Gilbert (2007)

Eat, Pray, Love is one of the all-time classic travel books. Not only did this inspire one of my favorite travel movies, starring Julia Roberts, but it is often considered to be one of the most influential pieces of travel literature that have come out in the 21st century. It's hard to read about Gilberts' escape from monotony into adventures through Italy, India, and Bali and not want to head straight to the nearest airport.
You can pick up a copy of Eat, Pray, Love on Amazon here.
Endurance: Shackleton's Incredible Voyage by Alfred Lansing (1959)

There are few journeys as brutal and awe-inspiring as Ernest Shackleton's escape from Antarctica in 1915. After his ship, the Endurance, became trapped in ice in the Antarctic waters, Shackleton and his crew began an epic quest for survival that last well over a year. Lansing, one of the great adventure writers, recounts the adventure in a way that few other writers could. The book ultimately foretells the potential terror of when things go wrong in travel. But also spells out the very reason why so many adventurers undertake those risks.
Grab a copy of Endurance: Shackleton's Incredible Voyage on Amazon here.
Unlikely Destinations: The Lonely Planet Story by Tony & Maureen Wheeler (2007)

The Lonely Planet has been a staple of the travel industry for nearly 50 years. But the story of how one of the biggest travel guide companies in the world came to be is almost as great as the guides themselves. Unlikely Destinations is written by Tony and Maureen Wheeler, the founders of the Lonely Planet. And it follows their travels from England in the 1970s to the beginning of the 21st century. The book covers their struggles, both in travel and in business. It may not be the most thrilling read, but it does provide a unique take on a company that revolutionized the travel industry.
You can pick up a copy of Unlikely Destinations: The Lonely Planet Story on Amazon here.
The Lost City of Z by David Grann (2009)

The disappearance of South American explorer Percy Fawcett, whose trek through the Amazon in search of the mysterious lost city of Z has been one of the world's greatest travel mysteries since 1925. Grann tackles the history and travels of Fawcett and pulls blends them with details on the myth of Z, what has been mentioned as one of the most advanced Amazonian cities. The Lost City of Z left me with fascinating information about the history, culture, and stories of the Amazon from long before it came under Western influence. It really fueled much of my passion for travel in South America.
You can add a copy of The Lost City of Z to your bookshelf here.
Medium Raw: A Bloody Valentine to The World of Food and the People Who Cook by Anthony Bourdain (2010)

The loss of Anthony Bourdain in 2018 left a hole in the heart of the travel industry like the death of few others could. His journey of food and travel, mixed with his struggle with mental health opened up a conversation that had often been left untouched prior to his passing. Anthony Bourdain's Medium Raw is a personal retreat from his more divisive stances in his earlier book 'Kitchen Confidential'. In this book, Anthony is older, wiser, and has a far more balanced take on the world than he did in the past.
You can get a copy of Medium Raw: A Bloody Valentine To The World Of Food And The People Who Cook on Amazon here.
The Rings of Saturn by W.G. Sebald (1995)

Sebald has a unique gift for description. And although The Rings of Saturn is fiction, his accounts of the small towns and people of England seem to transport you there. His use of humor and emotion pairs beautifully with his deep insights into small towns such as Suffolk. I found myself completely lost in Sebald's vivid descriptions of life in England.
You can pick up a copy of The Rings of Saturn on Amazon here.
The Beach by Alex Garland (1996)

Alex Garland's novel, 'The Beach', takes the notion of the idyllic paradise and completely turns it on its head. The Beach completely rewrites the readers' idea of paradise. And it does so in a brutal and unforgiving way. But Garland's message, that a physical 'utopia' doesn't really exist isn't meant to deter travel. In fact, I found The Beach was a message about finding the beauty in the everyday. The local culture, people, and experiences that can be found hiding where you least expect it.
You can pick up The Beach from Amazon here.
The Geography of Bliss: One Grumps Search For The Happiest Place On Earth by Eric Weiner (2008)

I am absolutely in love with the idea of writer and NPR correspondent Eric Weiner's one-year quest to discover the world's happiest places. His year-long journey traversed countries such as Iceland, Denmark, and India in search of the secret of happiness. On his travels, Weiner has some completely unforgettable encounters with locals that help shape his opinion on happiness. This wholly relatable experience is a fun and engaging read. It's one of the most lighthearted travel books on the list.
You can snatch up a copy of The Geography Of Bliss on Amazon here.
Fear and Loathing in Las Vegas: A Savage Journey Into The Heart Of The American Dream by Hunter S. Thompson (1972)

If there is one thing that gonzo reporter Hunter S. Thompson knows how to capture, it's the absurdity of the moment. His wild, drug-addled approach to journalism is as nutty as it sounds, and Fear and Loathing in Las Vegas captures the wild shenanigans In a way that had me literally rolling on the floor. And while Thompson doesn't get much outside of Las Vegas during his hallucinatory escapade, the journey ends up as much about finding what's real as what is out there.
Pick up a copy of Fear and Loathing in Las Vegas on Amazon here.
In a Sunburned Country by Bill Bryson (2000)

Bill Bryson is one of my all-time favorite travel writers. His ability to capture both the intimate details and broader perspective of a destination is nearly unmatched. It's difficult to choose from among his many travel books. But 'In a Sunburned Country', which explores Bryson's journey from east to west across Australia, ranks near the top. The novel perfectly captures Bryson's awe as he wanders through tiny mining towns and abandoned coastal villages. And along the way, he meets with his fair share of challenges including saltwater crocs, box jellyfish, and snakes. If you haven't wanted to visit Australia yet, you will be begging to book a flight by the end of this one.
You can grab a copy of In A Sunburned Country on Amazon here.
Lands of Lost Borders: A Journey on the Silk Road by Kate Harris (2018)

One of the things I love most about travel is finding answers to the unknown. In today's world of constant social connection, it can seem that nearly every place on Earth has been visited a million times. Kate Harris tackles this challenging question and others as she recounts her cycling journey along the legendary Silk Road.
Harris' recounting of her experiences is a serene and intellectual contemplation of some of the most remote and unique places along the route. In the end, her journey isn't about capturing the perfect selfie but immersing herself in both the amazing and the uncomfortable.
You can enjoy a copy of Lands of Lost Borders on Amazon here.
Turn Right at Machu Picchu by Mark Adams (2011)

A fascination with Machu Picchu is a good part of what began my attraction with travel. It's a similar desire that led Mark Adams to retrace the steps of legendary explorer Hiram Bingham. Bingham's 1911 expedition led to the outside world's discovery of this magical mountaintop city. But Turn Right at Machu Picchu isn't a love song to Bingham. It takes a fun and honest look at Bingham's legacy. And along the way opens up the honest truth about one man's "discovery". If Peru is on your travel bucket list, you should definitely pick up this novel.
You can get a copy of Turn Right at Machu Picchu on Amazon here.
The Innocents Abroad by Mark Twain (1869)

I'm not sure that it's even legal to have a list of the best travel books and not include something by Mark Twain. In 'The Innocents Abroad', Twain mercilessly mocks both locals and tourists on their journey through Europe to the Holy Land. Twain's wit is on its finest display in this laugh-out-loud novel that pokes fun at the notorious rise of consumers of global travel.
'You can get a copy of The Innocents Abroad from Amazon here.
Letters from Egypt: A Journey on the Nile, 1849–1850 by Florence Nightingale (1854; published 1987)

'Letters from Egypt' is a collection of letters from future nurse Florence Nightingale from her travels along the Nile between 1849 and 1850. These uproariously funny and adventure-filled notes document the exciting experiences that this incredible woman had during her Egyptian travels. These events took place long before Egypt became the tourism mecca that it is now. And it paints a unique light on what is now one of the most popular destinations in the World.
You can pick up a copy of Letters from Egypt on Amazon here.
Wild: From Lost to Found on the Pacific Crest Trail by Cheryl Strayed (2012)

Like Eat, Pray, Love, Wild is another one of the best travel books that have been made into one of my favorite travel movies. This memoir follows Strayed's journey as she embarks on the Pacific Crest Trail. With no experience or training, but longing for an escape to deal with her mother's death and a recent divorce, Strayed's experience highlights the truth that the journey is more important than the destination.
You can grab a copy of Wild on Amazon here.
The Bird Man and the Lap Dancer: Close Encounters With Strangers by Eric Hansen (2004)

'The Bird Man and the Lap Dancer is a dizzying account of Hansen's global travels. From his time working with Mother Theresa at her Home for the Dying and Destitute in Calcutta to his journeys through the Maldives, Manhattan, and Vanuatu, Hansen chronicles his experiences in a mischievous, daring, and side-splittingly funny fashion. If you've found your travels to be lacking in excitement, Hansen's travels are guaranteed to add some spice.
You can buy a copy of The Bird Man and the Lap Dancer on Amazon here.
The Adventures of Tintin by Hergé (1929-1976)

The Adventures of Tinting isn't just a travel book for kids. The action-packed adventures of young Tintin and his dog Snowy are a must-read for any traveler that is young-at-heart. These comics, by Belgian cartoonist Hergé, explore the world through Egypt, Congo, Tibet, and beyond. Tintin is the perfect travel book to share with your children or to read alone. It's lighthearted, fun, and exciting, and I highly recommend having a copy of the series on your shelf.
You can grab a copy of The Adventures of Tintin from Amazon here.
Wandering Wagars is a participant in the Amazon Services LLC Associates Program, an affiliate advertising program designed to provide a means for sites to earn advertising fees by advertising and linking to amazon.com, amazon.co.uk, amazon.ca. Amazon and the Amazon logo are trademarks of Amazon.com, Inc. or its affiliates.
You May Also Like To Read:
Pin This For Later: