Buenos Aires, Argentina is a stunning city full of magnificent architecture, music, excitement, and food. These are our favorite things to do in Buenos Aires with kids for your next visit.
---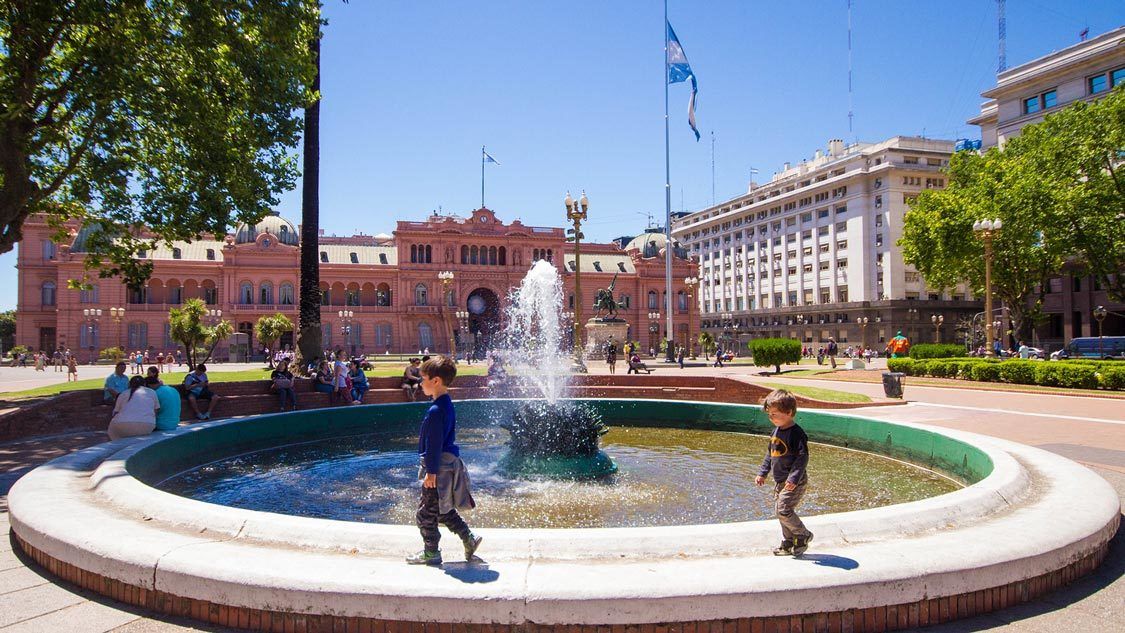 Buenos Aires is a place of architectural splendor drenched in lively Latino spirit. Nowhere is it better to experience Argentine passion for food, music, arts, and sport, or to explore the European cultural footprint on South America. We've compiled some of the coolest things to do in Buenos Aires With Kids to help you get the most out of your time in the city.
Argentina's capital is a huge city. This can make it intimidating for those looking to explore Buenos Aires with kids. But the unique neighborhoods of the city make it an accessible place to visit compared to many other large cities. This local focus means that exploring the Buenos Aires attractions doesn't feel too "touristy".
So read on to discover our top experiences in Buenos Aires for families.
About Buenos Aires, Argentina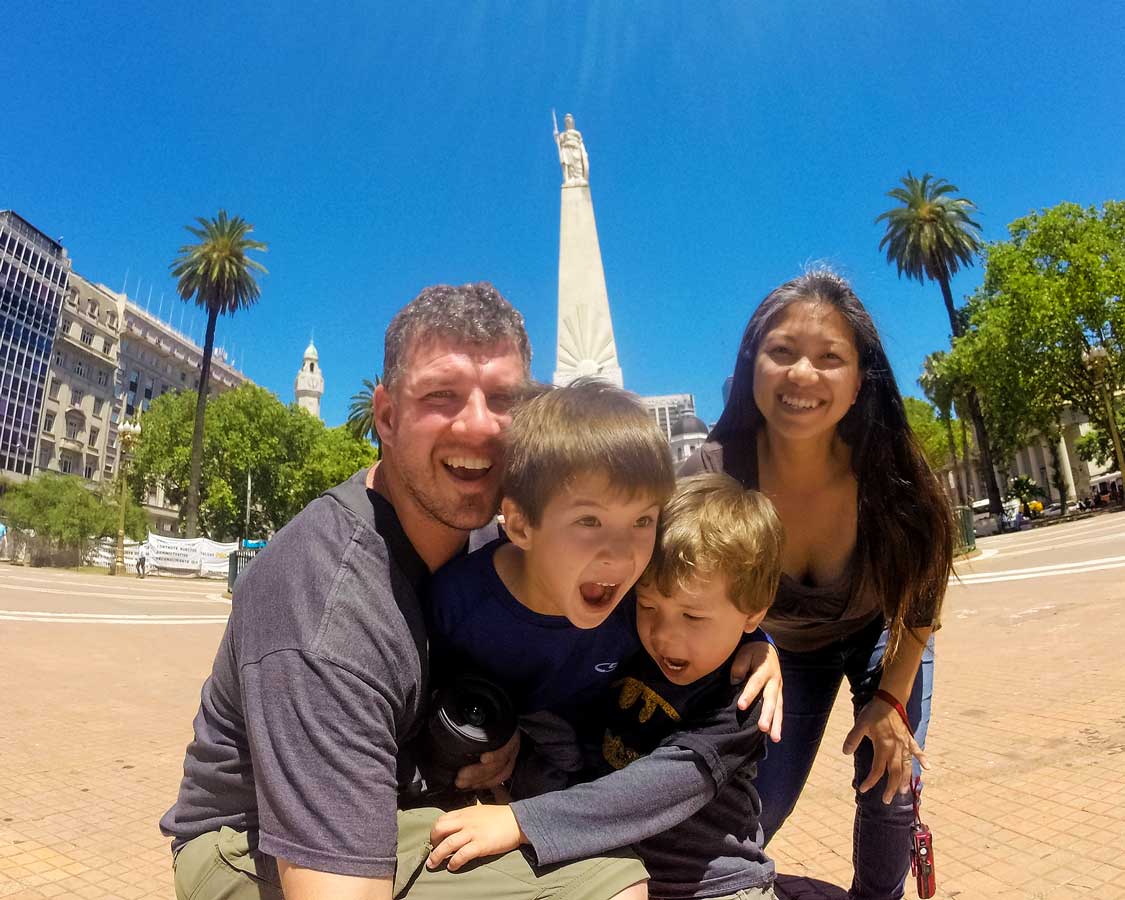 Buenos Aires was founded as a Spanish Colony back in the 1500s. And of all of the South American countries, it is, perhaps, Buenos Aires itself that holds that Spanish influence the most deeply. Throughout the city you can see, smell, and taste that Spanish heritage. Although, if you peel back the layers, you'll find rich influences from France, Italy, Germany, and more.
Buenos Aires is a city that manages to find the balance between the new world and the old world. It is a grandiose city known for wide avenues and a vibrant flair that leans more towards its European roots. But, unlike many European cities, Buenos Aires isn't known for specific landmark buildings, but rather its unique neighborhoods. In that way, it holds very much in-line with some of my other favorite South American cities such as Lima, Peru. It's this type of atmosphere that makes Buenos Aires such an exciting city to explore.
With over 3 million residents, Buenos Aires is the second-largest city on the continent behind Sao Paolo Brazil. It is also the second most visited country in Latin American behind Mexico City. And the neighborhood design means that you can explore the best things to do in Buenos Aires from many different angles. Each neighborhood provides a sense of community that pulls the city back from the urban sprawl that affects many other large cities.
Our Favorite Things To Do In Buenos Aires With Kids
Take In The Atmosphere Of La Boca Neighborhood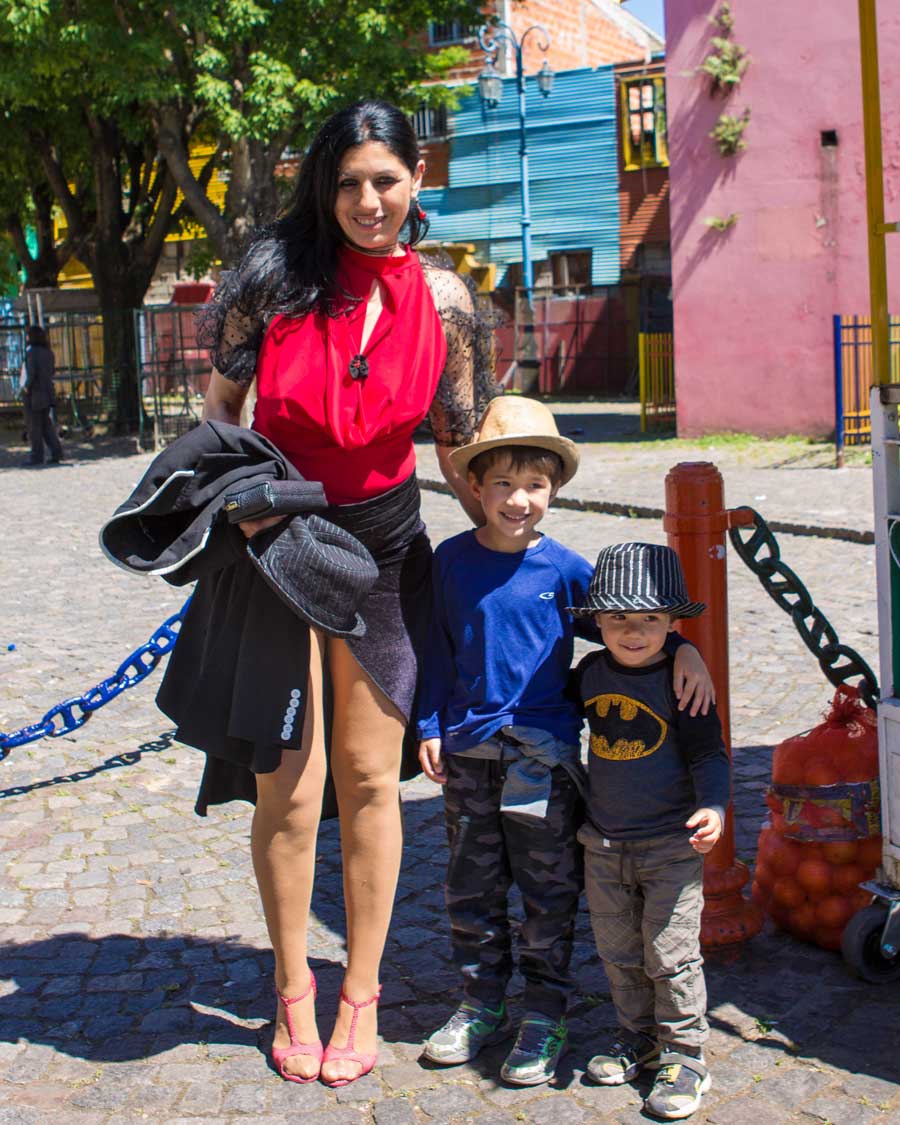 La Boca is the heart and soul of the 48 neighborhoods that make up Buenos Aires. This exciting neighborhood was once a poor dockyard that fell even further into decay when a new port was built in the 1920s. But through the years, and with the passion of the local art scene led by local artist Benito Quinquela Martin, La Boca was reinvigorated.
Over the following years, La Boca has thrived and become one of the most vibrant and fun neighborhoods in Buenos Aires. In fact, it was in neighborhoods such as this that Argentina's national dance, the Tango, originated.
La Boca retains strong European flavors, especially connecting to its Italian heritage. Families in Buenos Aires will love strolling the cobblestone streets of El Caminta, the "little walkway" where artists and street performers offer thrills and fun at every turn.
The tango is a distinctive partner dance that originated in the working-class port neighborhoods of Buenos Aires. Travelers have a great chance to witness tango dancers strut their stuff at the Feria de Artesanos Caminito, a small and lively crafts fair. Let your kids jump up with the buskers and have a try for themselves. But don't forget to tip!
Watch A Football Match At La Bombonera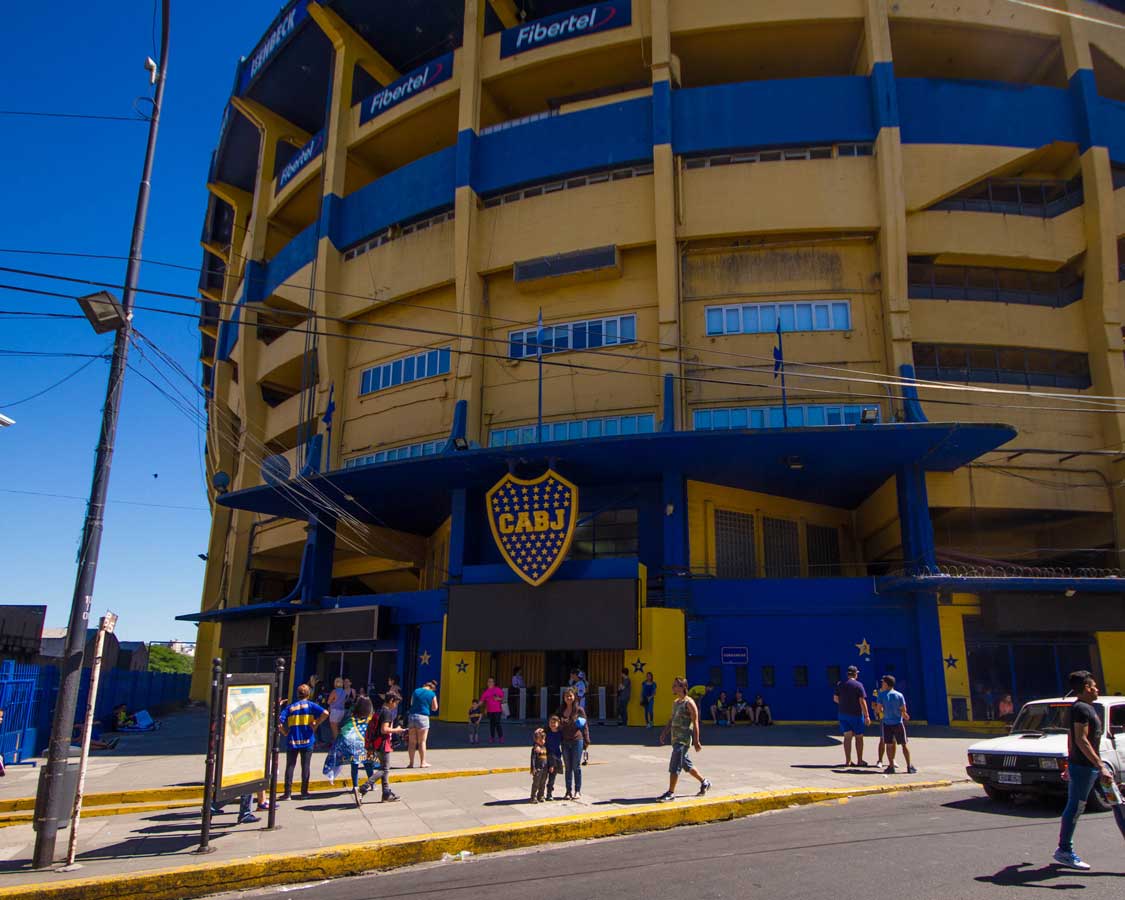 Argentineans are passionate about their local football (soccer) teams. "Fulbo" or "jugar a la pelota" as the locals often call football is practically a religion in the country. If you're looking for fun things to do in Buenos Aires with kids, catching a match should be near the top of your list.
Argentineans are passionate people, and there are few places where that passion is on display like it is at a football match. And while there are many places to catch a match in the city, the biggest and loudest is at La Bombonera in La Boca. La Bombonera is the home stadium for the Boca Juniors, one of Argentina's top football teams.
This stadium is held in such high esteem that it has been listed as a "place of cultural significance" by the Argentine government. It is rated as one of the top football stadiums in the world. Make sure to pick up a scarf and a flag supporting the home team before you go!
Learn About Gaucho Culture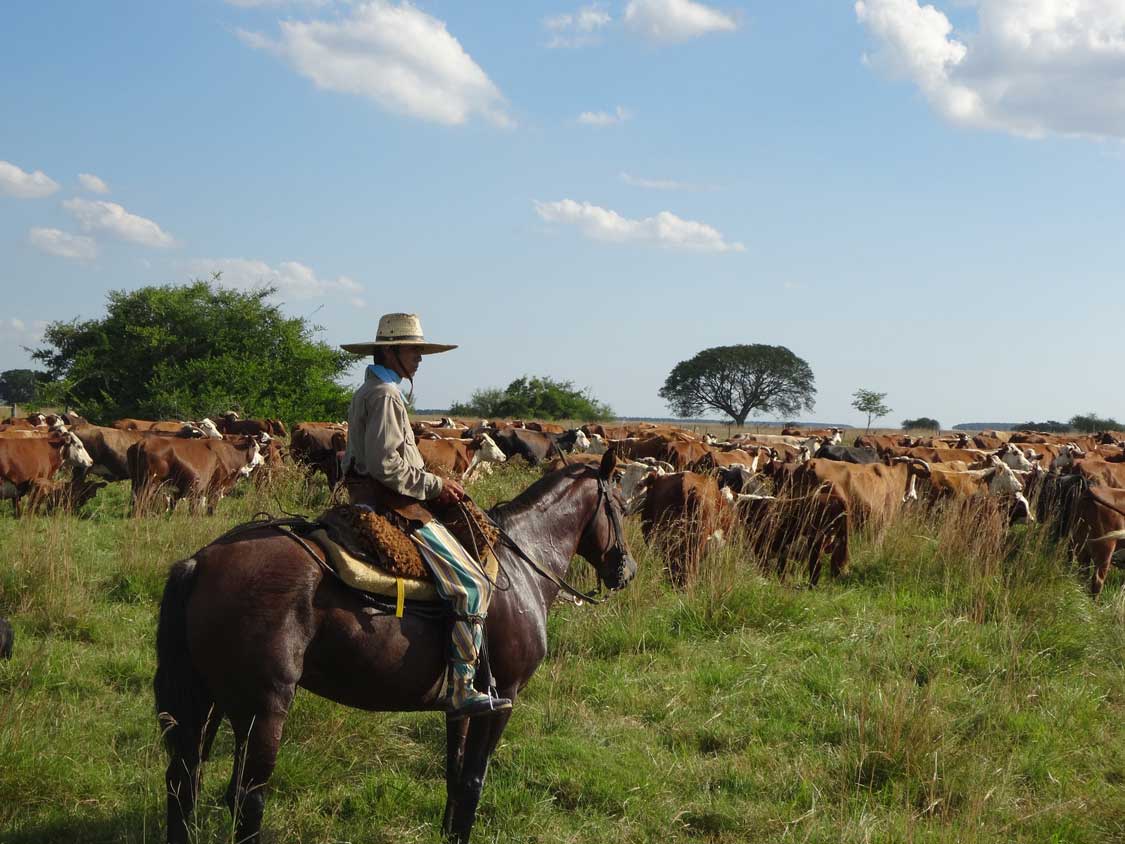 The rural area outside of Buenos Aires is dotted with Estancias, or, as we North American's call them, "ranches". And there is no better place to learn about the Gaucho culture of Argentinean cowboys.
For those spending a few days in Buenos Aires, take a break from the hustle and bustle and head to the Santa Susana Estancia to join one of their tours. These 6-hour estancia tours will give you the chance to learn about gaucho culture. You'll dine on some of the best empanadas in the country and take a horse ride through some of the 1,200 hectares of land.
From the sounds of the cattle to the sounds of guitar chords strumming next to an open fire, you'll be drawn back to a simpler time.
Wander Among The Cats At Recoleta Cemetery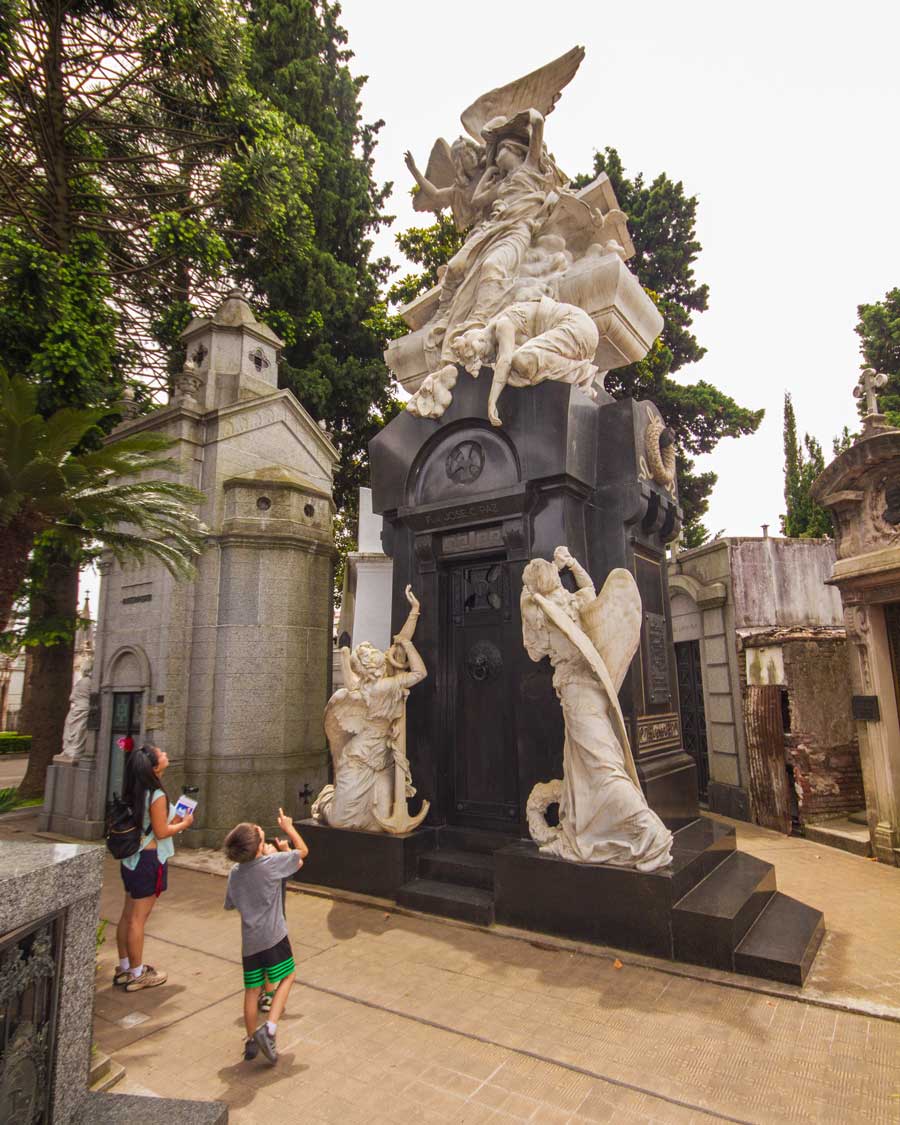 Now, I'll be the first to admit that taking a trip to a cemetery isn't what comes to most people's minds when they're thinking of what to do in Buenos Aires with kids. But, the Recoleta Cemetery isn't your typical urban gravesite. In fact, exploring this famous Buenos Aires cemetery is more akin to wandering through an open-air museum filled with artistic treasures. Which also happens to be home to thousands of cats.
Recoleta Cemetery holds the remains of the who's who of Argentinean society. This includes the tomb for the famed actress, musician, and Argentinean first lady Eva Peron, who inspired the song "don't cry for me Argentina".
The cemetery is also crawling with stray cats who have become a mainstay here and are well taken care of by the caretakers of the property.
Take A Boat Tour Through The Delta Parana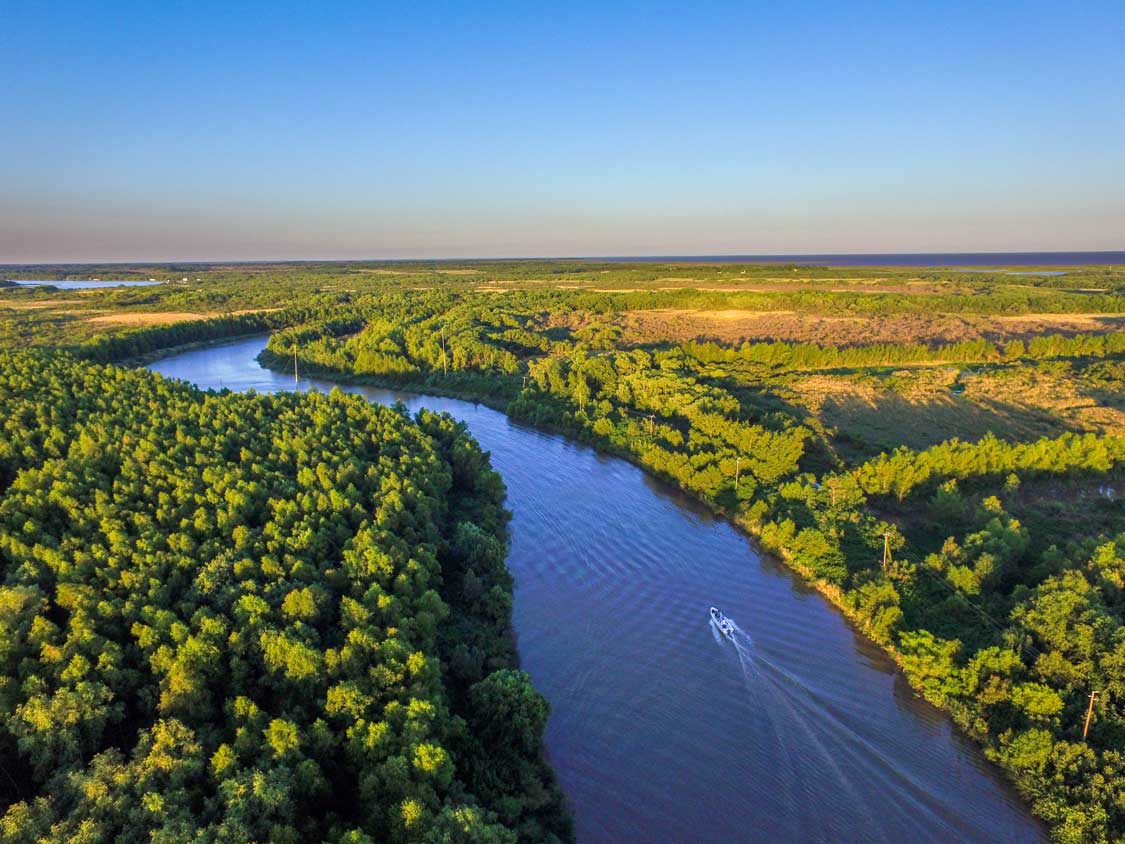 Just a short 16-mile train ride from central Buenos Aires is Tigre, a gorgeous neighborhood that lies along the Lujan River near the main access points for the Delta Parana. The Delta contains a vast network of streams, rivers, and waterways covering much of the space between Buenos Aires and southern Uruguay.
The latte-colored waters of the Delta Parana in Tigre offer a glimpse of a vastly different lifestyle than that of the urban jungle of the capital. A day here is one of our favorite things to do in Buenos Aires with kids.
In the Delta, you will find quaint houses on stilts, children heading to school on boat buses, and countless rowers and kayakers navigating the many tributaries of the Parana river.
Sign up for a boat tour of the region and experience one of the most unique sides of Buenos Aires. We absolutely loved our time with Safari Delta. They were amazing with our kids and took the time to really introduce us to this unique Buenos Aires lifestyle.
Shop The Mercado de San Telmo
One of the best markets in all of Buenos Aires for families is the Mercado de San Telmo. San Telmo is the oldest barrio (neighborhood) in Buenos Aires, and shopping one of our kids' favorite experiences was being given a few dollars and racing to see how far they could stretch it.
In the Mercado de San Telmo you'll find all sorts of goodies from pastries to pizza mixed with a huge variety of fruits, vegetables, housewares, crafts, and much, much more.
If you're able to time your visit on a Sunday, you'll also be able to experience the San Telmo Fair, where the market expands to include clothes, antiques, and much more. Even if you don't plan on buying anything, you're bound to get caught up in the liveliness of the atmosphere.
Explore Plaza de Mayo and The Pink House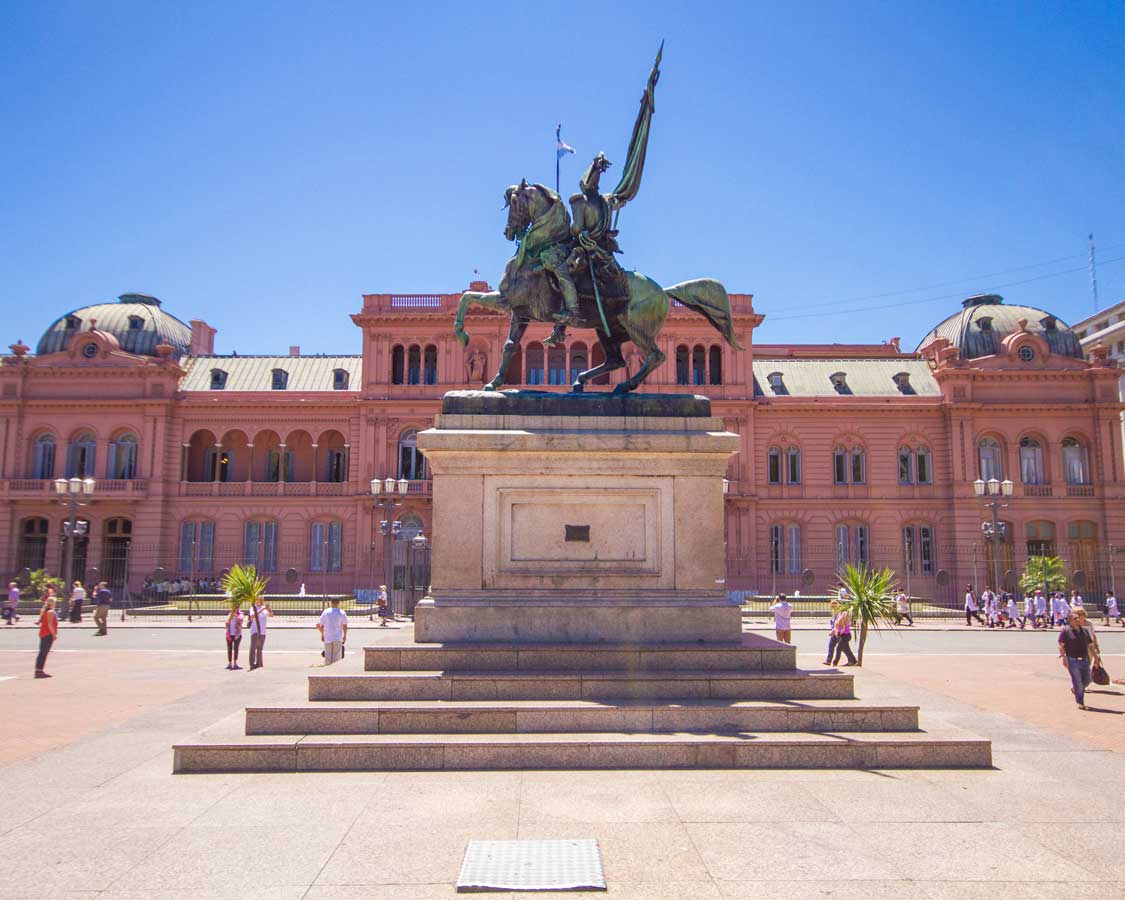 Microcentro is the home of the Argentinean government. The area might not seem "kid-friendly" at first glance, but there is an excitement here that you may not be able to find elsewhere. Walking along Calle Florida, you'll find business people in suits mingling with local tourists, and more than a few minor protests scattered about.
Protests are a big part of the culture in Buenos Aires, and if you spend more than a day here and don't find yourself affected by one, you might be one of the few.
Our boys loved playing around the fountain at Plaza de Mayo which sits in front of the "Pink House", which is Argentina's version of the White House in Washington D.C. known as Casa Rosada. You can register in advance for free tours of Casa Rosada here. There is also an on-site museum that you do not need reservations to visit.
In Microcentro you'll find many of Argentina's most important museums. Many of those might interest kids with a certain penchant for art, music, or literature. But, for the most part, they tend to be higher-level museums and might be more suited for older children and teenagers than for those visiting Argentina with young kids.
Explore The Parks, Public Art, and Playgrounds in Buenos Aires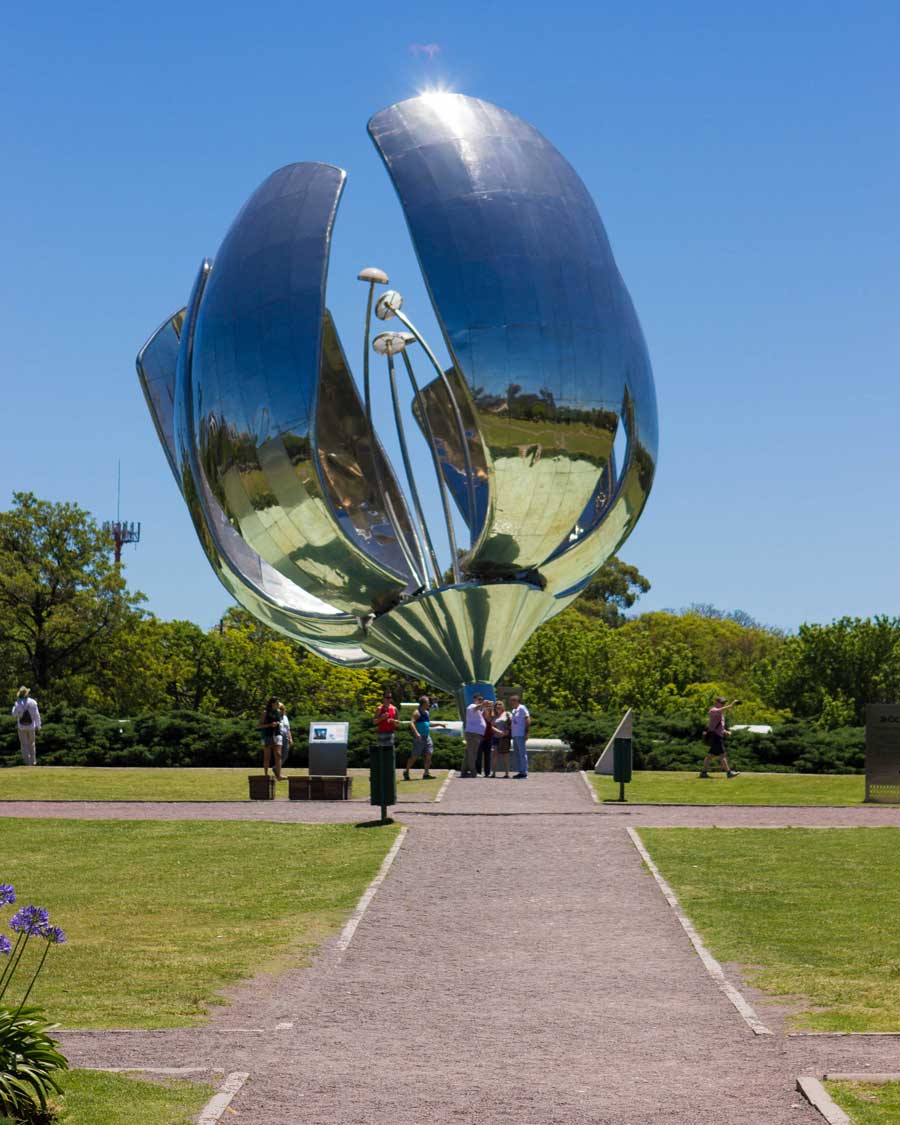 The neighborhood design of the city has helped develop a wealth of green space that is enjoyed year-round by locals in Buenos Aires. Many of the parks are dotted with gorgeous public artwork such as the Floralis Generica, a 6-foot tall stainless steel flower that towers over the Plaza de las Naciones Unidas in Recoleta.
In many of the parks, you'll find public kinetic exercise equipment, walking paths, gardens, fountains, and much more. For something extra special, make your way to Parque Tres de Febrero in Palermo. This park covers 63 acres of urban-landscape. It is home to lakes, bike paths, and even a carousel. It is one of the most popular parks in Buenos Aires for families.
Take The Ferry To Colonia del Sacramento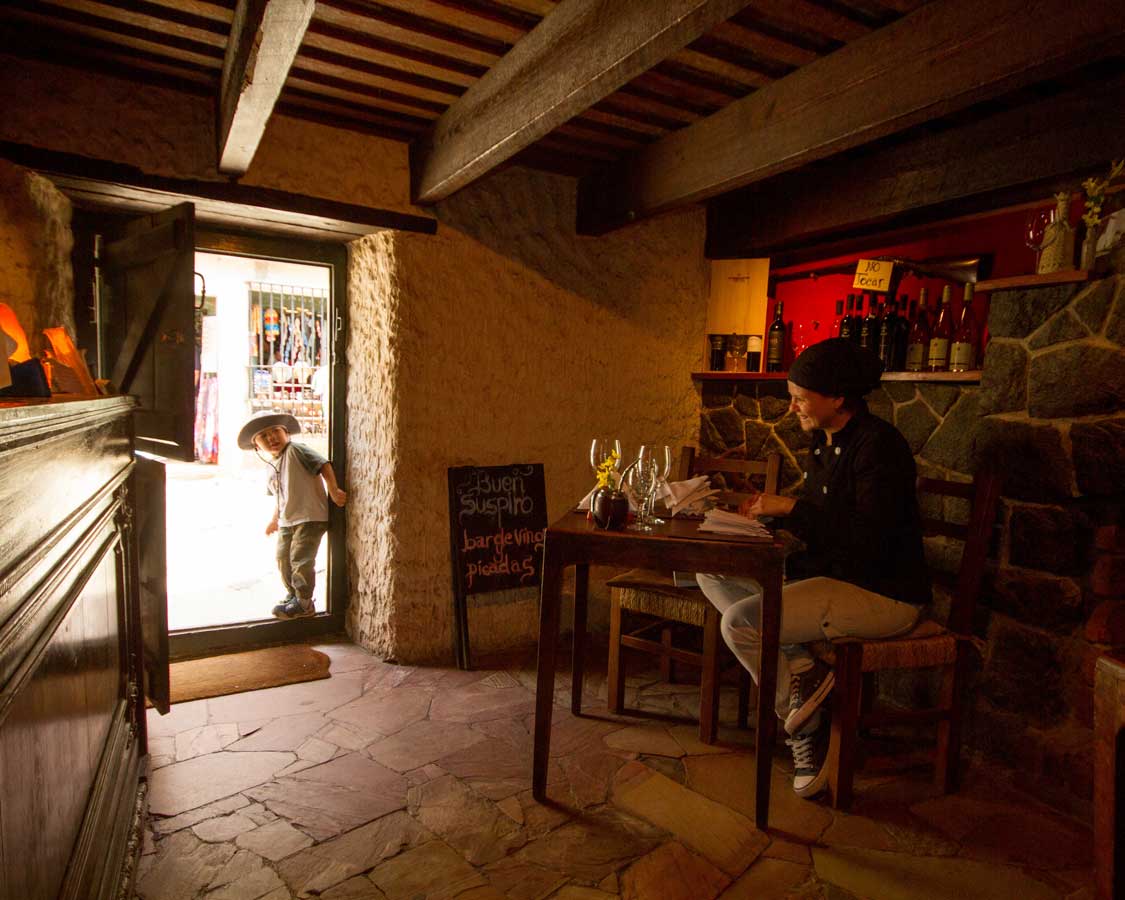 The jaw-dropping beauty of the small town of Colonia del Sacramento in Uruguay is just a short ferry ride from the pier in Buenos Aires. It is one of the most popular day trips from Buenos Aires for locals and tourists alike.
Wander through the pink buildings along the Street of Sighs, enjoy the streetside dining, and let your kids play on the cannons that line this walled city. And do me a big favor and pick up some local artwork from the street vendors at the market. My family owes them all a debt after they helped me find my lost two-year-old who wandered off in search of the local street musicians. You can read about that experience here.
Where To Eat In Buenos Aries With Children
Argentinean food is off-the-charts delicious. I loved it so much that I wrote up a list of my favorite Argentinean recipes to make at home. If you're visiting Buenos Aires with kids, there are some amazing family-friendly restaurants and food options for you to take in those amazing flavors for yourself. Here are a few of our top choices.
Cumana
If you can handle a little claustrophobia, Cumana in Recoleta is a popular restaurant that serves up amazing empanadas and local Argentinean fair in a chaotic atmosphere that some kids might love. The prices are low and the food is great, and kids will have a blast drawing all over the paper tablecloths with provided crayons. Grab a bowl of their locro, a thick stew made with pork, beans, and corn to fill you up up.
El Trapiche
El Trapiche is local, no-frills dining at its best. This is the place to go for those raucous nights when everyone in the family has a little extra energy to let off. You'll find a fun, friendly atmosphere combined with portions that will let you share and still have leftovers to take back to your hotel. Our kids loved the matambrito de cerdo al berdeo.
Gran Parilla Del Plata
This former butcher shop in San Telmo still carries its heritage well. And, as you would expect, the steak is to die for. Share an Argentinean steak and fries while sipping on a glass of Malbec.
Great Family-Friendly Hotels In Buenos Aires
I'll be honest, we did not spend as much time exploring the family-friendly hotels in Buenos Aires as we normally would have. Our visit to Argentina had us traipsing off to Misiones to see Iguazu Falls, flying down to Puerto Madryn to visit the penguins in Punta Tombo, and wandering through the Jesuit ruins in San Ignacio. But we did get a taste of the Buenos Aires accommodations, and here's what we learned.
Looking for our full list? You can check out all of our favorite places to stay in Buenos Aires here.
Hotel Madero
Less than a mile from the main square in San Telmo, Hotel Madero features stunning decor, private balconies, and all of the amenities that a family could want. The breakfast buffet is amazing and features just about anything that you might want to enjoy, while adults will love the on-site spa and fitness center. You can check out their rates and availability here.
Intercontinental Hotel Buenos Aires
The 5-star Intercontinental Buenos Aires features gorgeous architecture, amazing gardens, and is surrounded by green space. Kids will love the large rooms and excellent food and adults will enjoy the on-site massages and personal trainers. Make sure you book at least one meal at one of their two property restaurants. You can check out their prices and availability here.
Le Batiment Apartmentos
If you're looking for something a little more self-managed, Le Batiment Apartmentos in Recoleta are a great option. These great apartments feature full kitchens and are super close to amenities and transit throughout Buenos Aires. If you're visiting Buenos Aires with kids and like to handle your own meals, this is my pick. You can check their pricing and availability here.
Final Notes On Family Travel To Buenos Aires
Buenos Aires is such a great city for families. And there are more than enough things to do in Buenos Aires to keep you busy for a long time. But it is also a very big city, and with any big city there are always risks. Pickpocketing is very common, especially in areas such as La Boca and around La Bombanera Stadium.
If you're new to family travel, head over to our tips for international family travel post, or to our family travel gear guide to make sure that you have everything that you need to explore Buenos Aires comfortably. It is a very stroller-safe city, but I recommend bringing a travel-friendly stroller that will make your experience much easier.
And feel free to drop any questions, or comments below. I always answer them.
If you're passionate about family travel, head on over to our Family Travel Support Group on Facebook. It's a fantastic community of parents who love travel. We share experiences, knowledge, and the lessons learned along the way. You can also sign up for our newsletter to keep in the loop about new family travel adventures
Wandering Wagars is a participant in the Amazon Services LLC Associates Program, an affiliate advertising program designed to provide a means for sites to earn advertising fees by advertising and linking to amazon.com, amazon.co.uk, amazon.ca. Amazon and the Amazon logo are trademarks of Amazon.com, Inc., or its affiliates.
You May Also Like To Read:
Pin This Post For Later