Iguazu Falls are the largest waterfall system in the world. Read on to see why you should visit Iguazu Falls Argentina with kids.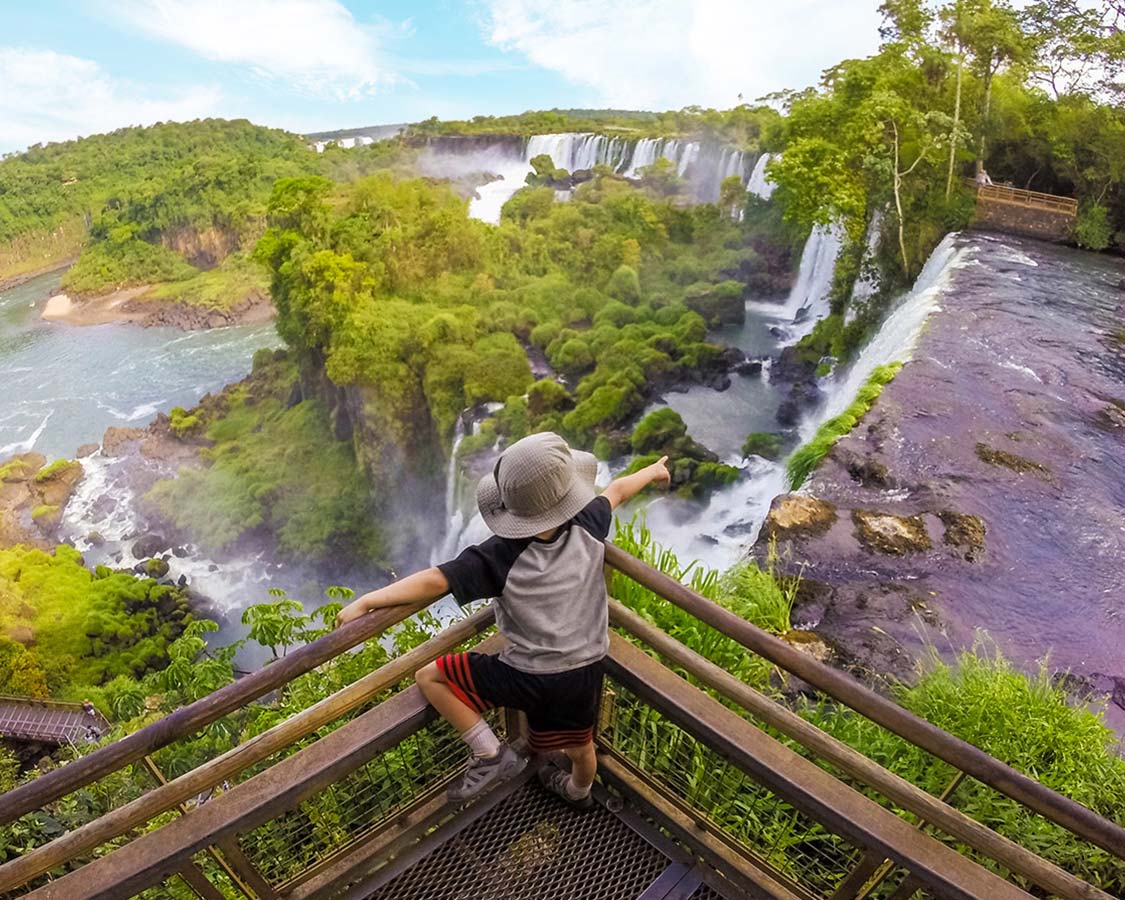 Iguazu Falls are the largest waterfall system in the world. This stunning collection is made up of 275 separate waterfalls. These Iguazu waterfalls are set along 3 km of the picturesque Parana plateau which straddles the border between Brazil and Argentina. Even with our limited time in South America, we wanted to make sure to visit Iguazu Falls Argentina with kids. We opted to fly from Buenos Aires to Puerto Iguazu, the closest city to the falls. It was a quick 1 hr 50 min direct flight. To see Iguazu Falls Argentina with kids, we spent 3 days and 2 nights at Yvy Hotel de Selva Lodge, Puerto Iguazu. To experience Iguazu Falls with kids, we made arrangements beforehand using a local tour operator, SayHueque. They arranged transportation to Iguazu Falls Argentina, as well as our visit to Iguazu Falls Brazil the following day.
Tip: For those with more time or those looking to experience Iguazu Falls on a budget, a cheaper alternative is a 15-hour bus ride from Buenos Aires to Puerto Iguazu.
Make sure to subscribe to our YouTube channel see all our latest videos!
This post may contain compensated links. For more information please read our disclaimer.
What to do in Iguazu Falls Argentina with kids
To fully appreciate the size of Iguazu Falls we visited both the Argentinian and Brazilian side on two separate days. Our first day was spent exploring Iguazu Falls Argentina with kids! We started the day early and made the 15-minute drive to the entrance of Iguazu Falls National Park. Although we arrived early in the morning Iguazu Falls park was already busy with visitors.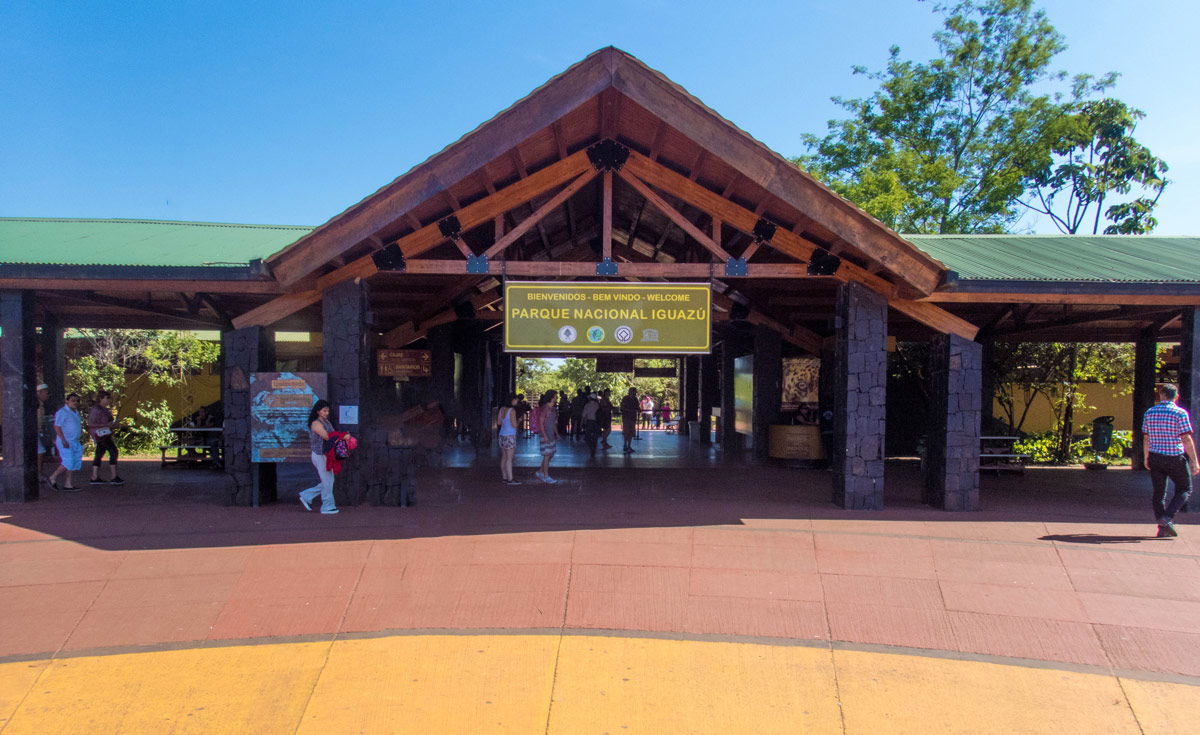 Pro-Tip: Only Argentinian Pesos are accepted as payment for the entrance fee. At the time of our visit, the fee was Ar$215.
Eco-Museum
A few meters from the entrance is the Iguazu Falls Argentina Visitors Center which houses a small eco-museum. The museum has two rooms. One focuses on explaining the diversity of the jungle surrounding Iguazu Falls. The second is about how humans interact with Iguazu Falls and the surrounding area. We spent only a few minutes in the Iguazu museum before boarding the train to take us closer to the Argentinian Iguazu Falls. The train was about to arrive and the children were anxious to get going.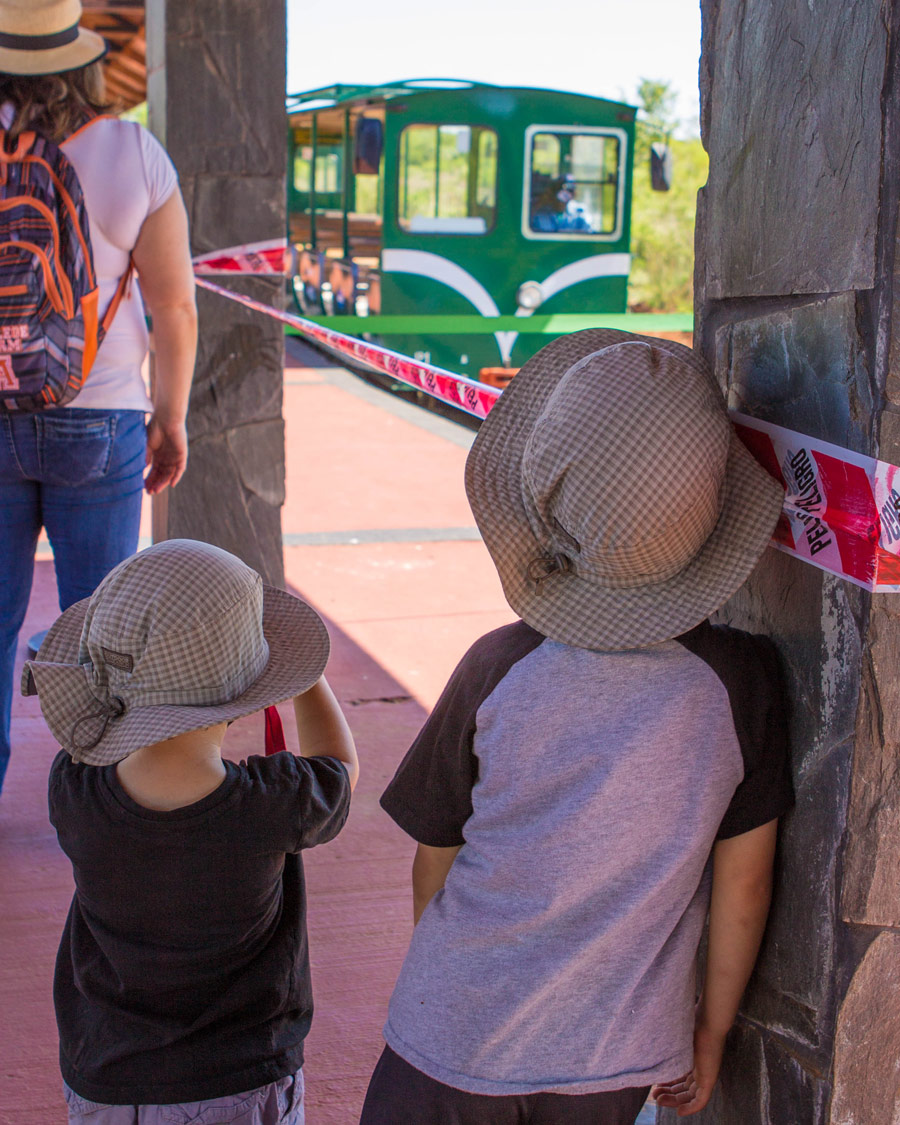 Riding the Iguazu Falls Argentina Ecological Train
The Iguazu Falls Eco Train is a very slow locomotive that traverses the Iguazu Falls National Park from the entrance (Central Station). It makes two stops within the Argentinian side of Iguazu Falls National Park: Estacion Cataratas and Estacion Garganta del Diablo. Although the train is supposed to run every 20 min, it doesn't follow the schedule strictly. Be prepared for longer wait times. And don't be surprised if the Iguazu Eco Train leaves before you expect it to.
Often, the Iguazu Falls train will not leave the station until it is full. We chose to take the train to save our energy for hiking Iguazu Falls Argentina with kids. For those that don't want to take the train or have more energy than us, there is a trail from the visitor's center, Sendero Verde, which is a jungle route to get to the next train stop, Estacion Cataratas. It's a very scenic walk, and I highly recommend it for those who have time to spare or aren't traveling Iguazu Falls with young children. We opted to go to the end of the train ride and got off at Estacion Garganta del Diablo. The train ride itself was not particularly exciting. The Iguazu Falls wildlife tend to stick to the jungle trails rather than the busier road route.
Hiking Iguazu Falls With Kids
From Estacion Garganta del Diablo there is an elevated bridge path that winds through 1,100 m of Iguazu Falls National Park wetland and rivers. The path leads to three overlooks that give an up-close view of the spectacular Devil's Throat waterfall. Similar to Niagara Falls waterfall on bordering the United States and Canada, Devil's Throat in Iguazu Falls it is a giant horseshoe-shaped waterfall with one side in Argentina, and the other in Brazil.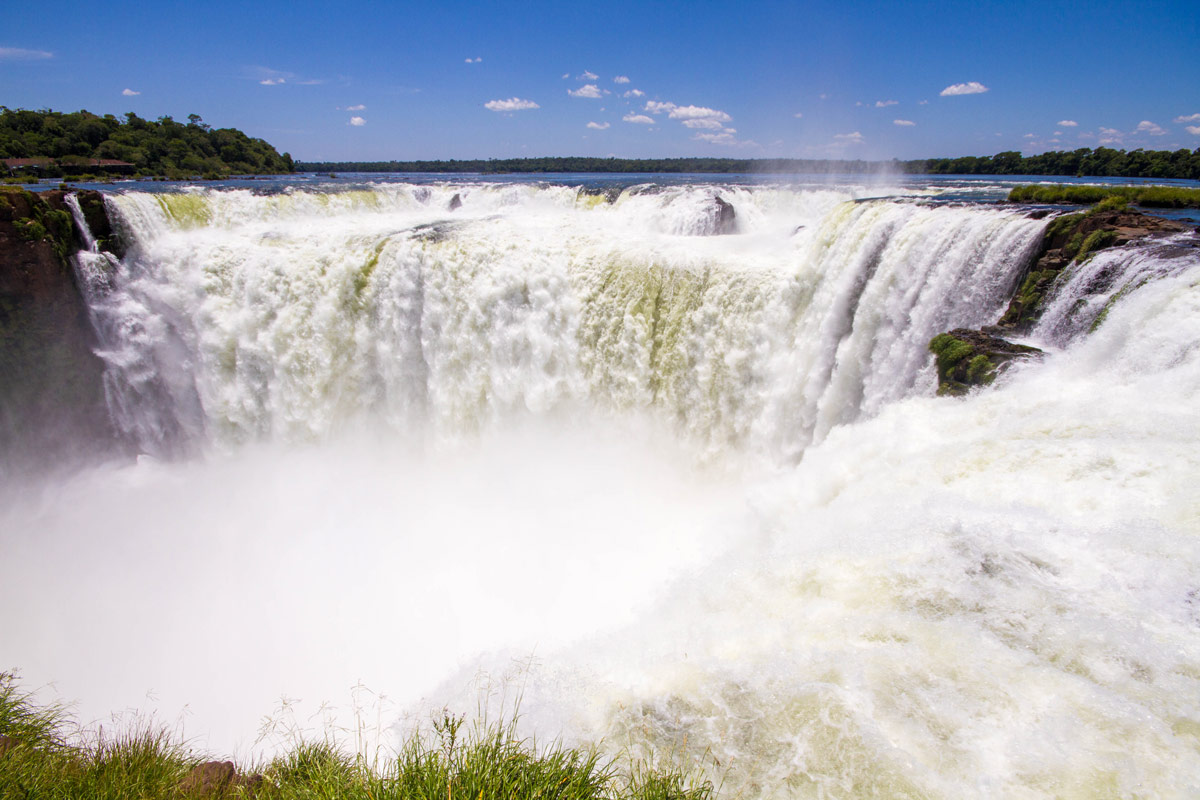 It has been said that when the first First Lady Eleanor Roosevelt saw Devil's Throat, she exclaimed, "Poor Niagara". No wonder, at 80 m high and 150 m wide it dwarfs the American Falls by approximately 30 m. The atmosphere of Devil's Throat waterfall in Iguazu Falls couldn't be more different than Niagara either. Niagara Falls is beautiful, but the scenery is polluted by hotels, casinos, and restaurants. Iguazu Falls Argentina is all about beautiful nature. Apart from the crowds, the occasional boat and Iguazu helicopter tour, the scenery is idyllic.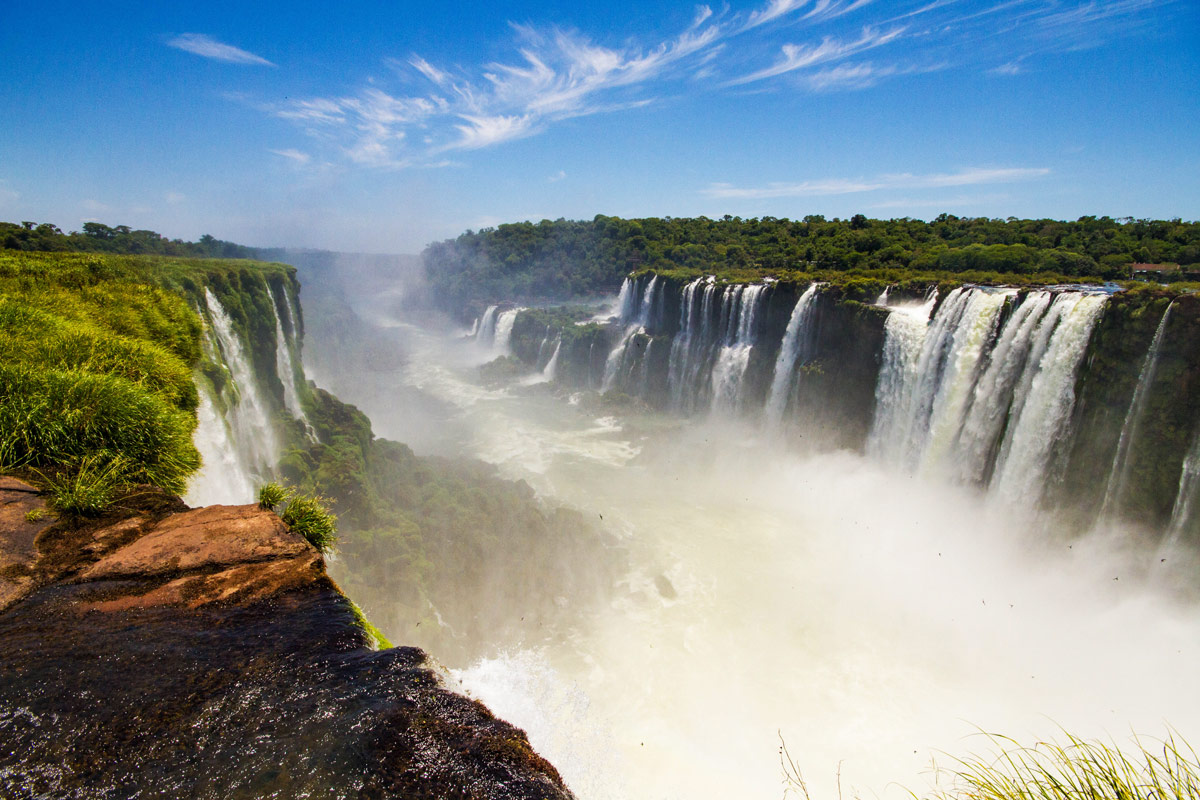 The viewpoint for the Devil's Throat waterfall in Iguazu Park Argentina was very crowded. Because it is the focus of many Iguazu Falls tours, there is a lot of maneuvering of crowds trying to get group photos. We also found the official photographers on ladders that you could pay to take group photos to be a bit of a frustration. They stand right in the middle of the viewing platform blocking traffic from easily getting through.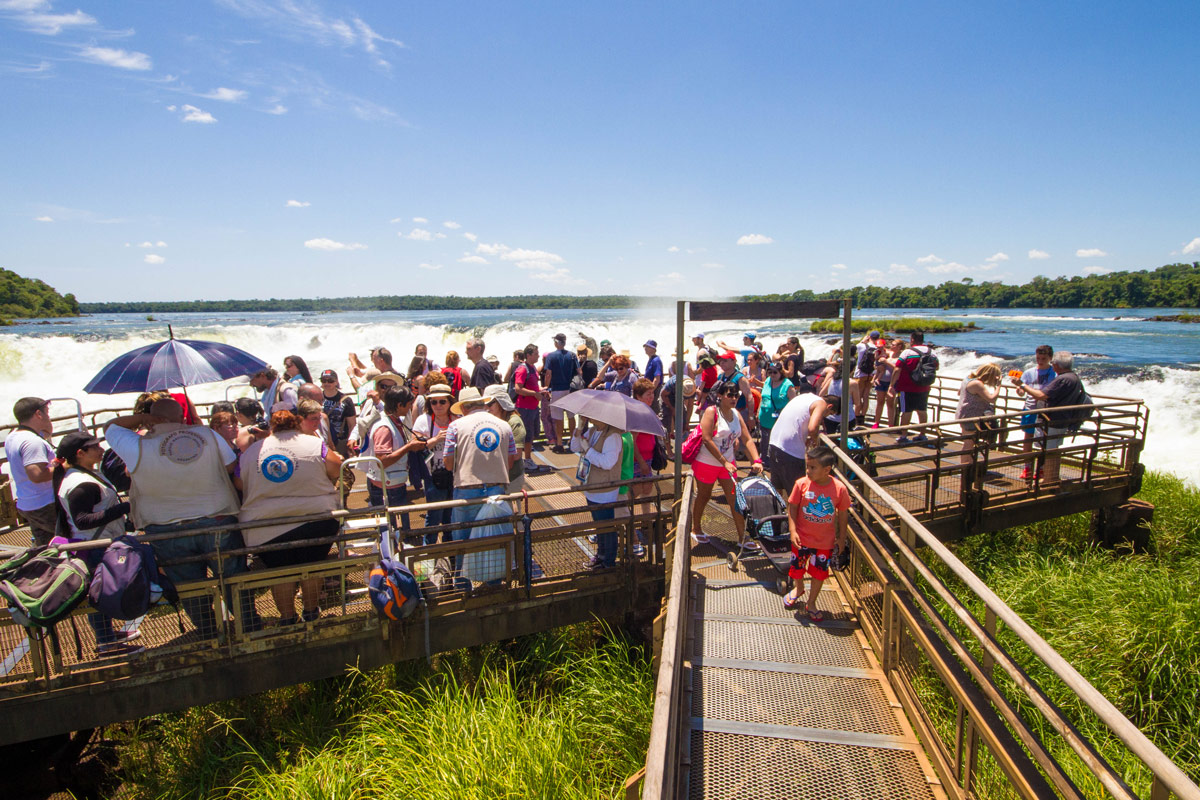 Pro-Tip: There is a snack bar and restroom at the beginning of the trail but there are no services along the Iguazu Falls hiking trail.
After getting our fill of the spectacular overlook of Iguazu Falls Argentina, we made our way to our next adventure, boating on the Iguazu river (see below under "Boating"). The ride ended at Tres Marias port which is a quick walk to Estacion Cataratas. From the Estacion Cataratas train station, you can either do the Iguazu Falls upper circuit or the Iguazu Falls lower circuit, or both. The upper circuit provides more of a panoramic view of the falls. There is a 650 m boardwalk that is built over the Iguazu waterfalls that gives you a dramatic look over the top of the Argentinian Iguazu Falls.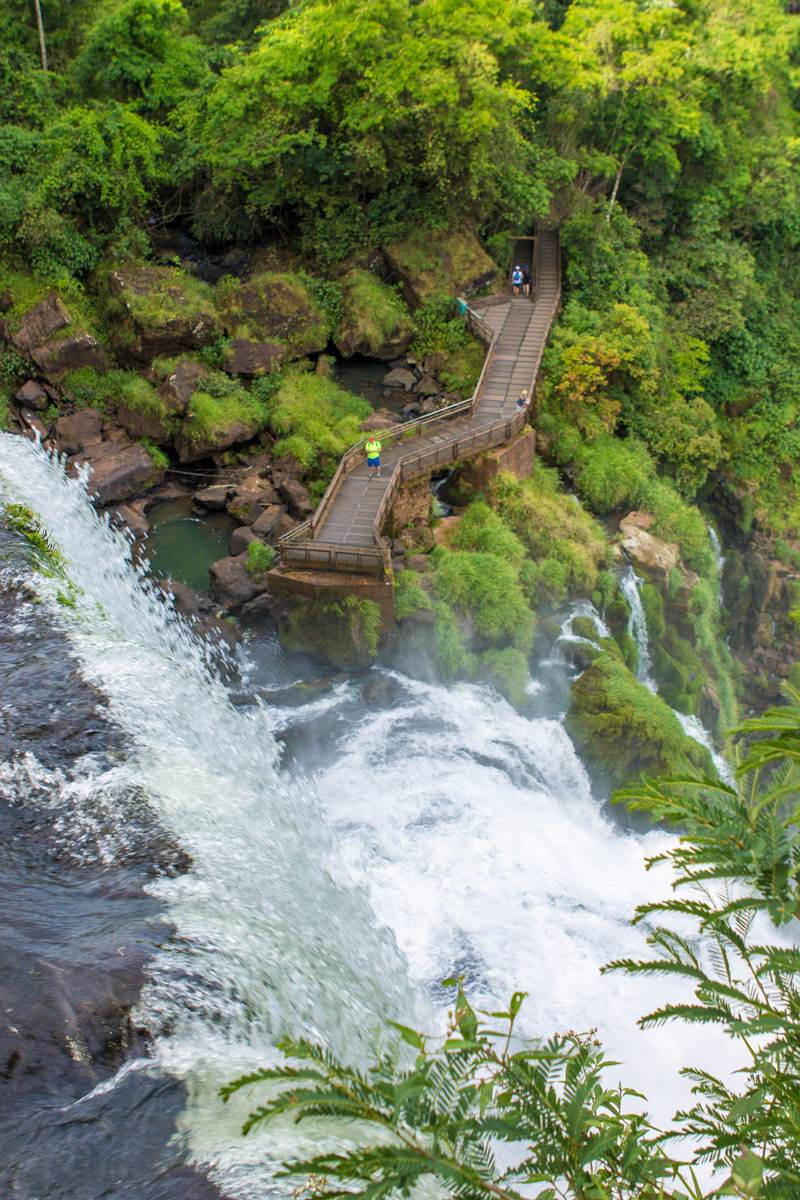 By contrast, the Iguazu Falls lower circuit is almost three times longer at 1700 m. the lower circuit also has 8 Iguazu Falls viewpoints. Some of the viewpoints are larger and have spaces for you to sit down and have a quick snack or a picnic. Just be aware of the coati (South American relatives to the raccoon) that are in the area just waiting to steal your food (sometimes right from your bag).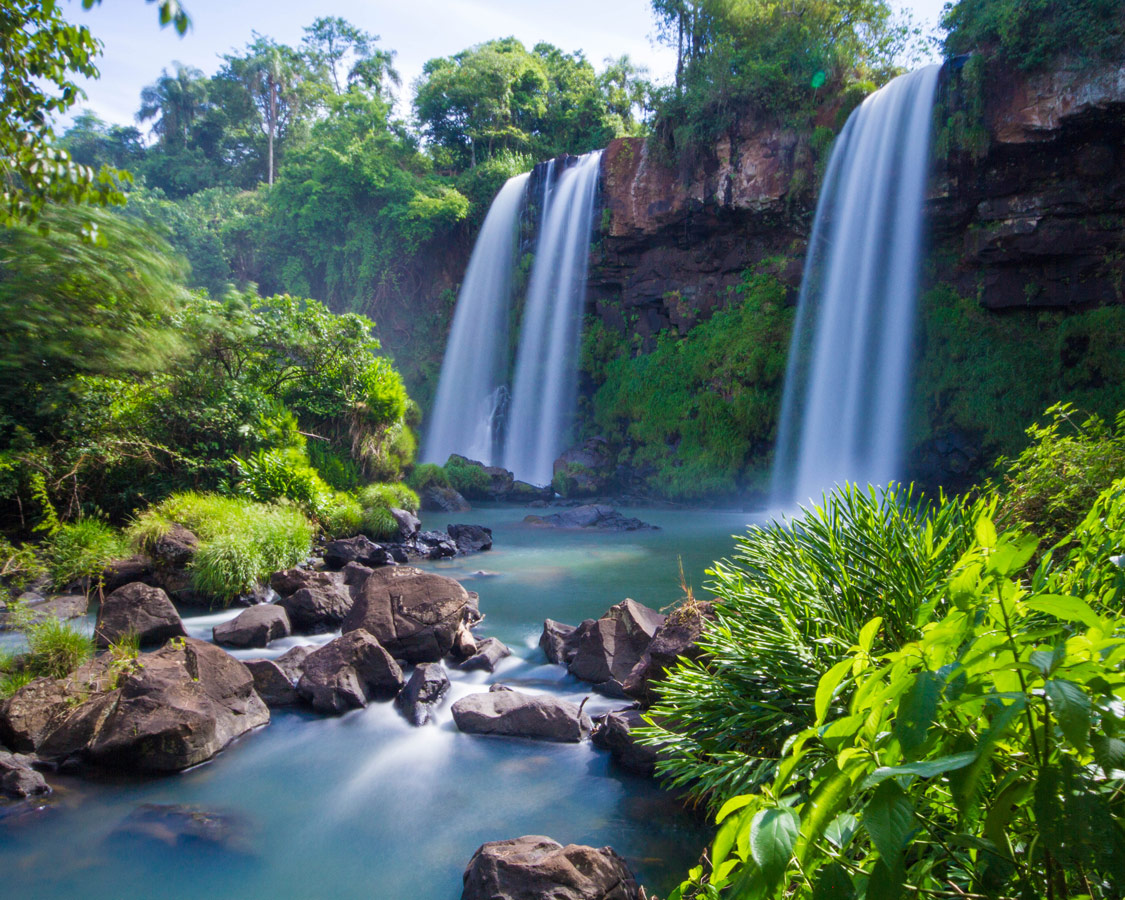 Although swimming is no longer allowed in Iguazu Falls National Park, the lower circuit allows you to get up close and personal with several waterfalls including the Two Sisters. These two falls have a small seating area next to them and offer a truly dramatic backdrop for those seeking a nice Instagram selfie. I pray yours works out better than ours. 0 out of 4 looking at the camera is a new record!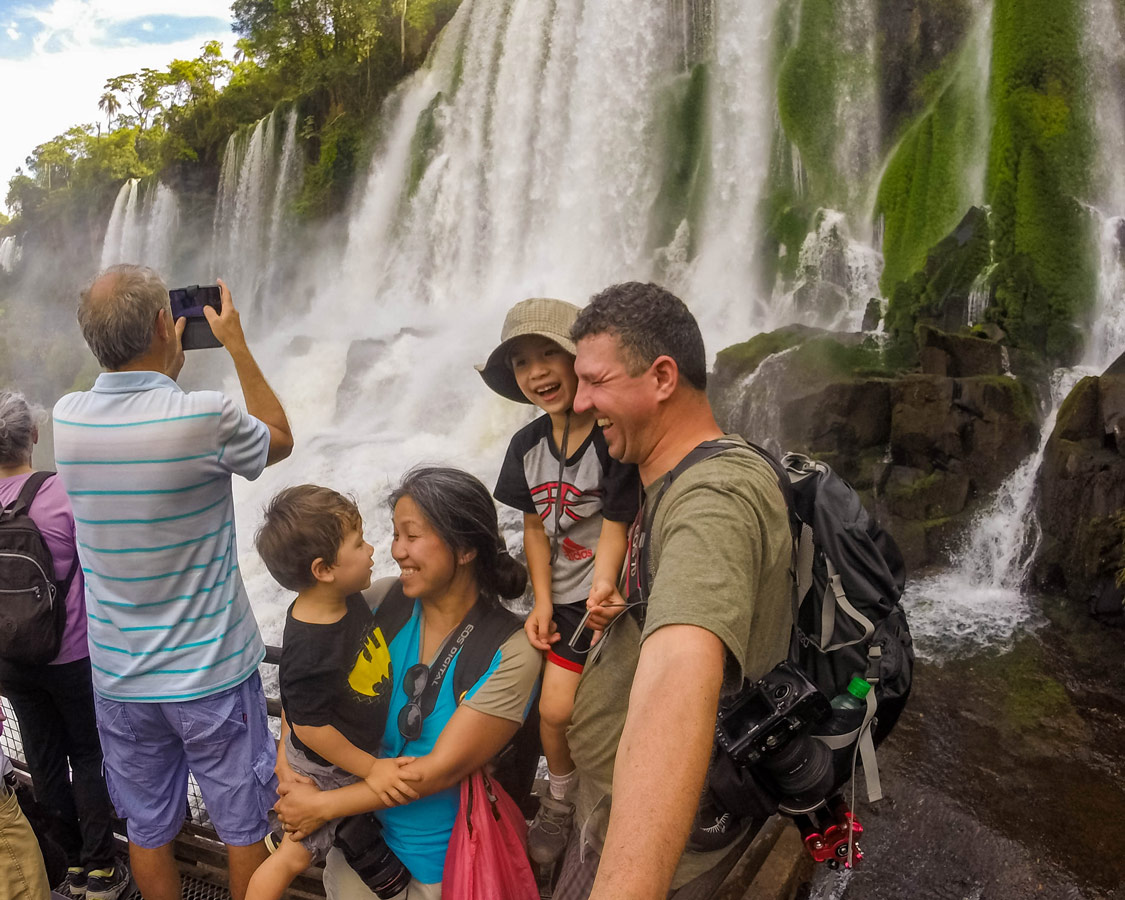 Pro-Tip: Bring your own food, drinks, and snacks to Iguazu Falls Argentina. There are no food vendors on trails and only a few select areas.
For those that want to hike Iguazu Falls with kids further, there is another trail, Sendero Macuco, that has a trailhead near the visitor's center. This 7.2 km trail (roundtrip) brings you close to the jungle and to Arrechea Waterfall, a less visited waterfall in the park. It's a popular route for those looking to see wildlife in Iguazu Falls Argentina. The lower traffic tends to bring out more animals.
Iguazu Falls Raft Tour
There are four Iguazu Falls Argentina boat tours on offer within the park. Most provide a way to get up close to the falls and guests get very wet! These include the Nautical Adventure which gets very close to San Martin waterfall and the Great Adventure which includes a trip in the jungle and a ride through some rapids. However, these activities are restricted to children over 12 years of age. Even with painted on mustaches, there was no way C and D would pass! Because we were visiting Iguazu Falls with young children, our only two option for an Iguazu boat tour was the Iguazu Falls raft tour by Iguazu Jungle and a boat ride to Isla San Martin.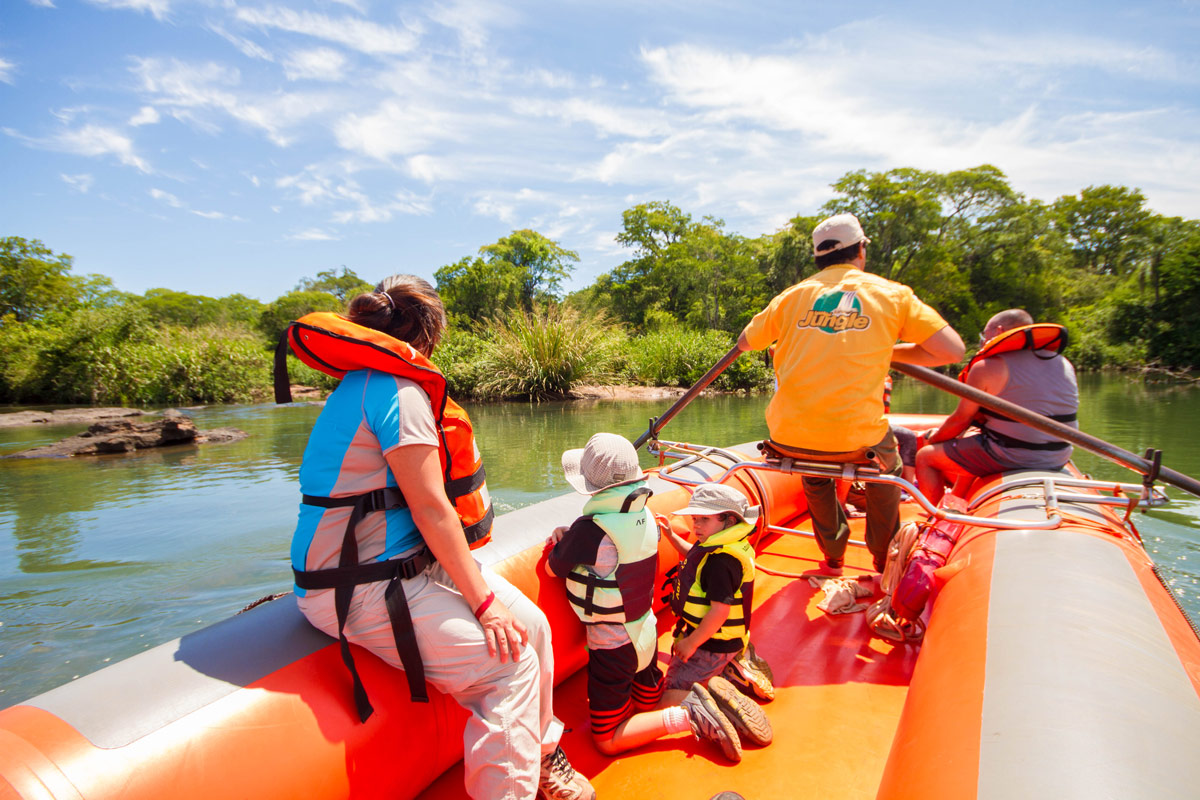 The Iguazu Falls boat tour to Isla San Martin, an island located in the middle of all the waterfalls in the National Park is a free Iguazu Falls boat tour. This tour is accessed via a path from the Iguazu Falls lower circuit. Unlucky for us, the island was closed to visitors during our visit.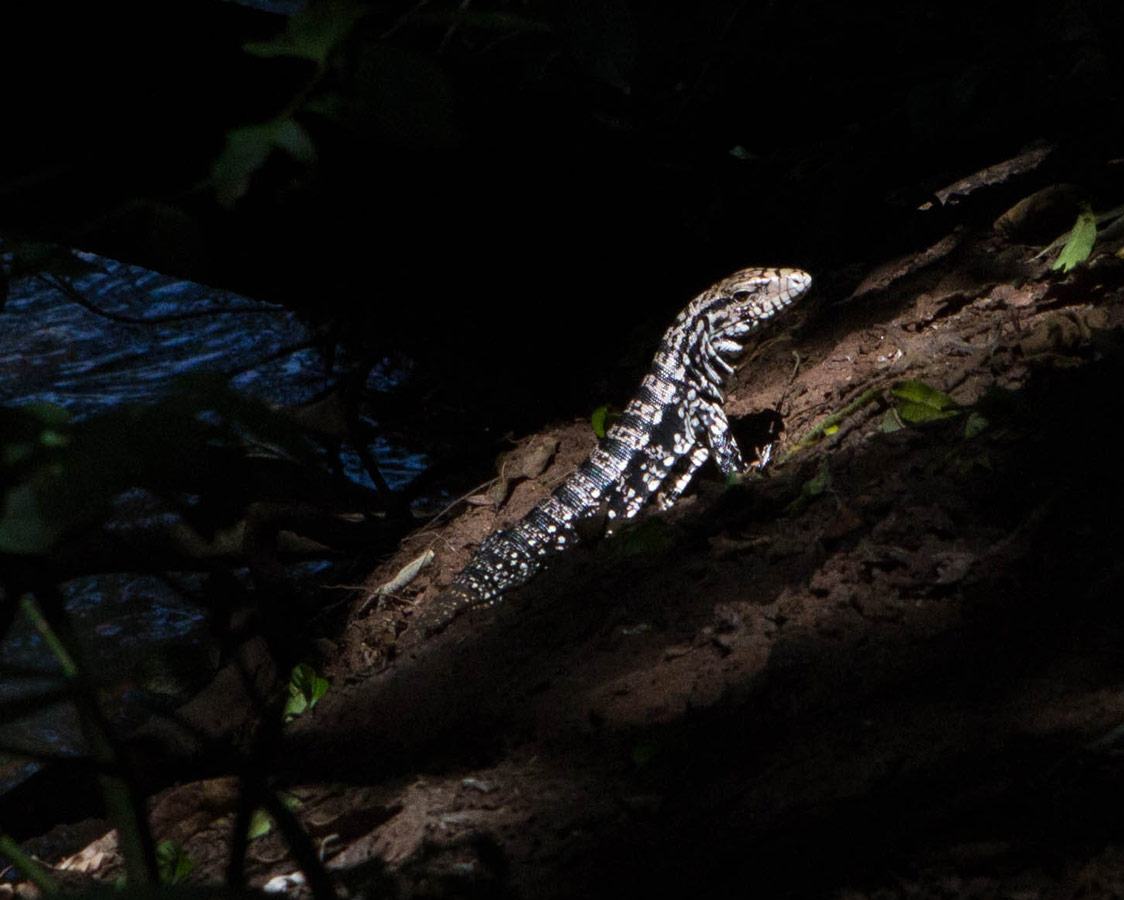 The second option for boat tours in Iguazu Falls with kids is the Ecological Ride also run by Iguazu Jungle. Instead of a boat, we boarded a raft for a slow 30-minute ride along the upper Iguazu River. It was the first time for the boys to be on a wildlife-spotting adventure. Spotting wildlife in Iguazu Falls required the boys to be near-silent for an extended period of time. They were so occupied with trying to spot fish, turtles, butterflies, and birds that they forgot about their constant need to talk.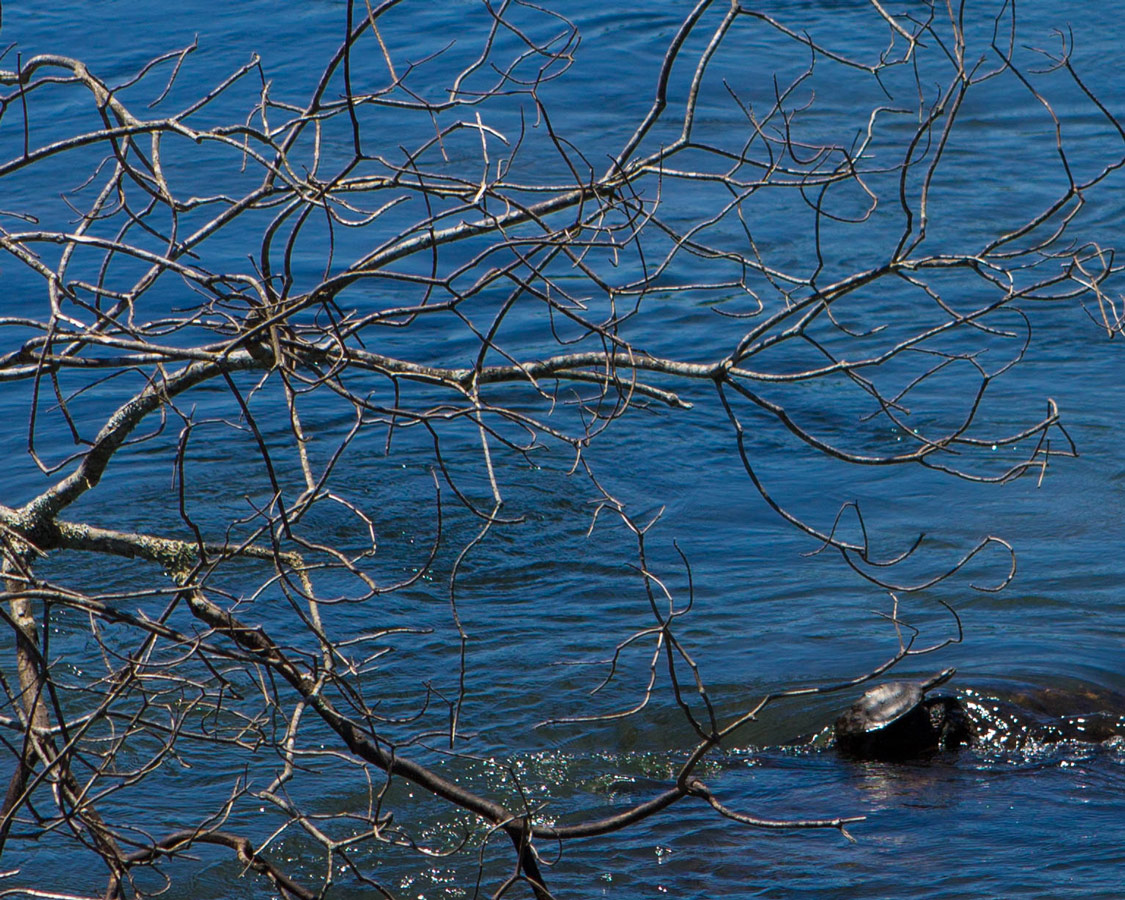 Iguazu Falls Wildlife Spotting
Besides wildlife spotting on the Iguazu Falls Argentina raft tour. We also spotted other wildlife along the trails. The butterflies that congregated around the puddles excited C the most. D enjoyed trying to follow iguanas into the Iguazu Falls National Park forest. While hiking the pathways of the lower trail, we spotted several monkeys. This was the boys first time seeing monkeys and the loved it – until the monkeys tried to eat our GoPro!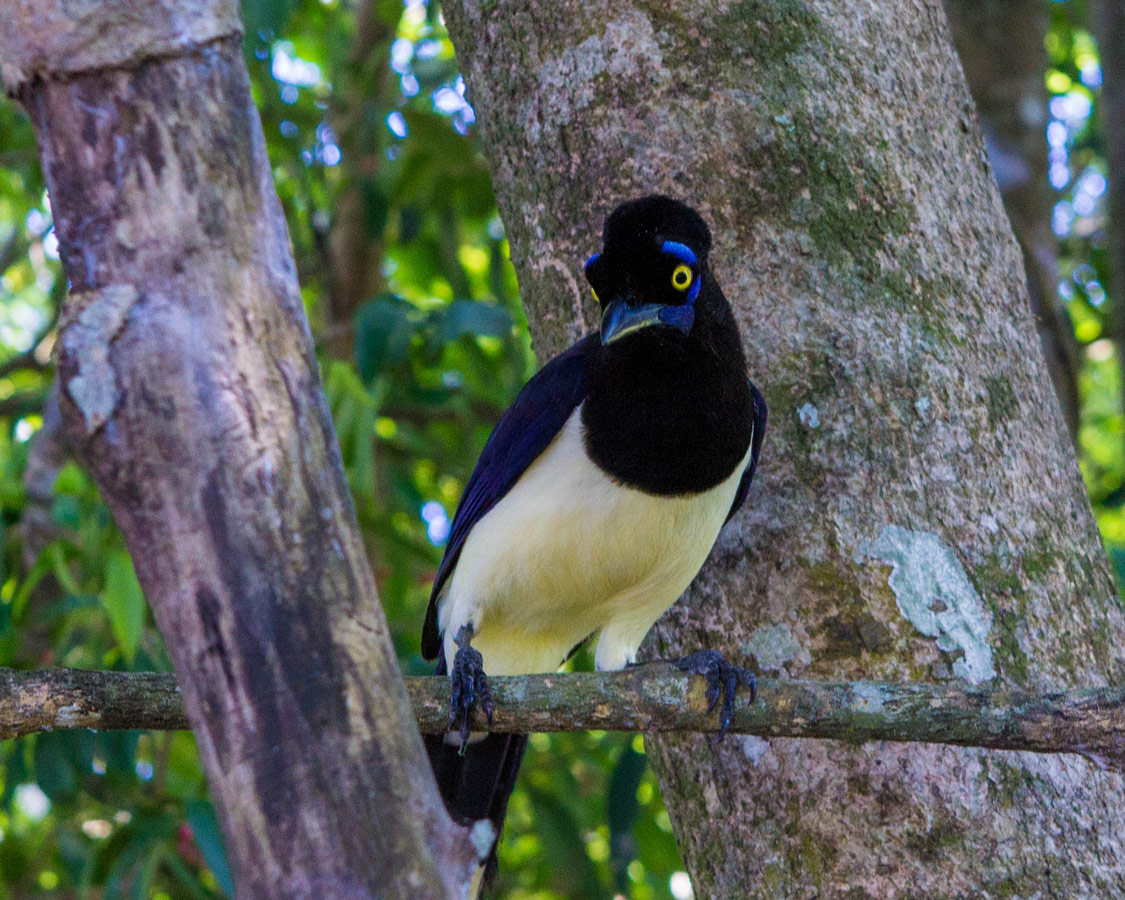 Where To Stay Near The Argentinian Iguazu Falls With Kids
Iguazu Falls National Park in Argentina is a sprawling national park. It's located in a relatively remote area of in-land northern Argentina. The nearby town of Puerto Iguazu is the best place for those seeking family-friendly accommodations near Iguazu Falls Argentina. One of the most popular is the Hotel Carmen. The Hotel Carmen is just a 15-minute drive from the entrance to Iguazu Falls, and it's a great place to stay in Iguazu Falls with children. It's got a really nice pool and a chilled out family vibe.
Another popular hotel that I haven't stayed in, but a friend has, is Falls Iguazú Hotel & Spa. It offers some really excellent prices for the location and has one of the best small spas for relaxing after a long day hiking around Iguazu Falls. Both of these Puerto Iguazu hotels sit just outside the main core of town. This makes for a nice, relaxing space with easy access to downtown via a short cab ride.
You can also find more great hotels in Puerto Iguazu using the tool below.
Iguazu Falls Argentina With Kids- worth it!
Iguazu Falls Argentina had been on my personal bucket list even before it became one of the New Seven Wonders of the Natural World. So, when C requested that we visit a country with penguins for our next adventure, I knew that visiting Iguazu Falls Argentina would finally be my chance!
What I didn't know was that it would be so costly. Seeing Iguazu Falls Argentina with kids is not a cheap venture. It is out of the way of all the other highly visited sites in Argentina. With the exception of our amazing visit to San Ignacio Mini, there isn't much in this remote area of Argentina. However, I can say that for us, visiting Iguazu Falls Argentina with kids was worth the cost of the trip from Buenos Aires.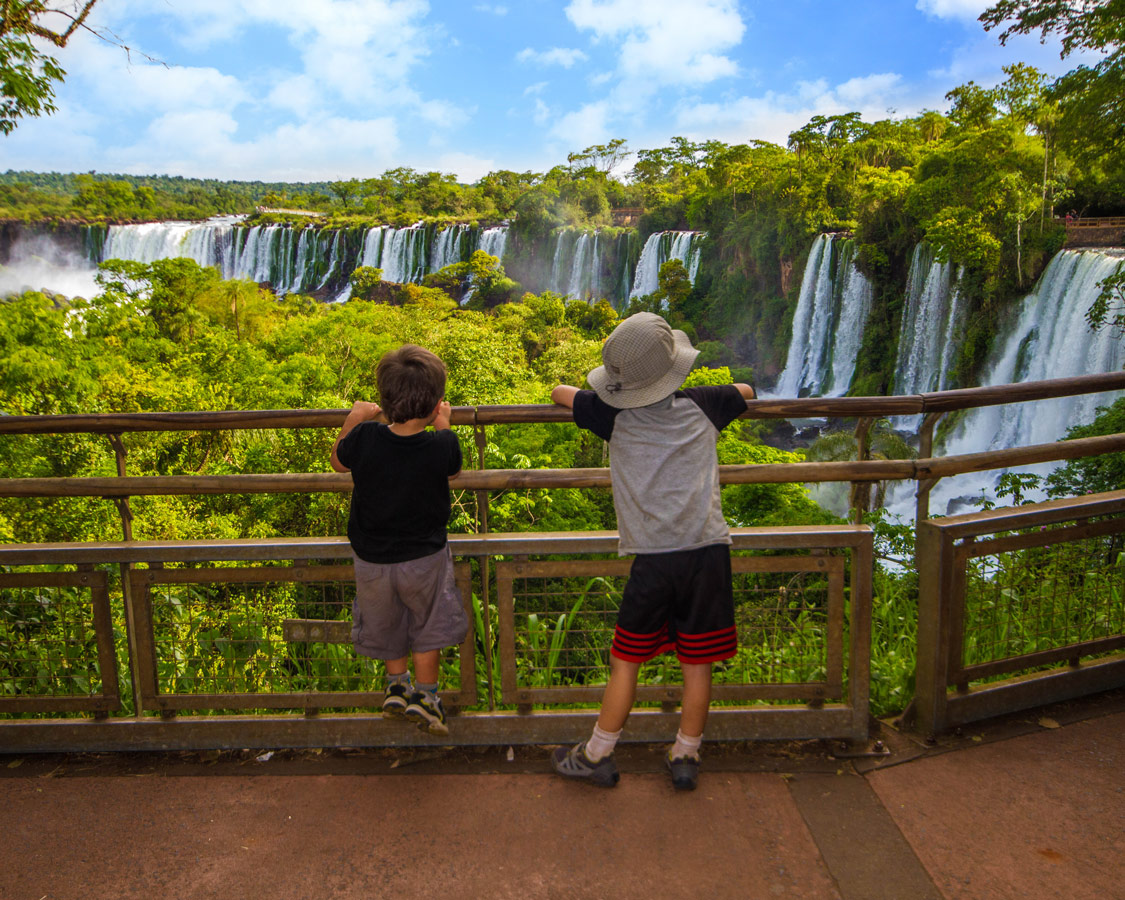 Once you arrive at the park, navigating Iguazu Falls Argentina with kids is fairly easy. The pathways are well marked and a guided tour of Iguazu Falls is not necessary unless you are on a strict timeline. We chose to have a guide as we wanted to learn more about the flora and fauna within Iguazu Falls National Park. Plus, when you travel with kids, it is always helpful to have another adult. Especially with a boy like D who loves to climb fences, trees and chase monkeys. The next day we would be exploring Iguazu Falls Brazil with kids!
Have you explored Iguazu Falls Argentina? Tell us about your experience in the comments. Or tag our Instagram account in your photos. We would love to share in your travels.
Wandering Wagars is a participant in the Amazon Services LLC Associates Program, an affiliate advertising program designed to provide a means for sites to earn advertising fees by advertising and linking to amazon.com, amazon.co.uk, amazon.ca. Amazon and the Amazon logo are trademarks of Amazon.com, Inc. or its affiliates.
You May Also Like To Read:
You May Also Like To Read:
You May Also Like To Read: