With only two days to experience all of our Buenos Aires highlights, we wanted to make sure to make the most of our visit to Argentina's capital.
We only had 2 days to see the largest metropolis in Argentina, Buenos Aires. In planning our trip, we knew it would not be worthwhile visiting the entire city as we would basically be driving around the whole time. So, we decided to pick certain Buenos Aires highlights that we wanted to focus on. Buenos Aires is divided into districts or barrios.
In the center of Buenos Aires is Microcentro, to the east is Puerto Madero and west is Congresso. To the south is San Telmo and further south is La Boca. To the north is Retiro and further north is Palermo, which is also bordered by Belgrano and Once. Northwest of the city lies Recoleta.
Make sure to subscribe to our YouTube channel see all our latest videos!
For our first day, we wanted to make sure we completed one of our must-visit places in Buenos Aires, Recoleta cemetery. So, we devoted the first day to visit the districts north of Buenos Aires. The second day would be devoted to the center and the southern districts.
Buenos Aires Highlights Day 1: The famous Recoleta Cemetary
Recoleta Area
On our first day exploring Buenos Aires, we took a cab from our hotel in Palermo to the Recoleta district. The main goal of the day was to explore one of the Buenos Aires highlights, the famous Recoleta Cemetary. The cab let us off near the entrance but we ended up walking the opposite way.
Lucky for us, this meant we had to walk through Plaza Intendente Alvear which was bustling with craft sellers. After seeing countless locals drinking a traditional brew called mate, we couldn't resist purchasing a cup and the herbs to make it ourselves. We couldn't believe how obsessed everyone seemed to be with this drink and felt compelled to join the party. But that story is for another post!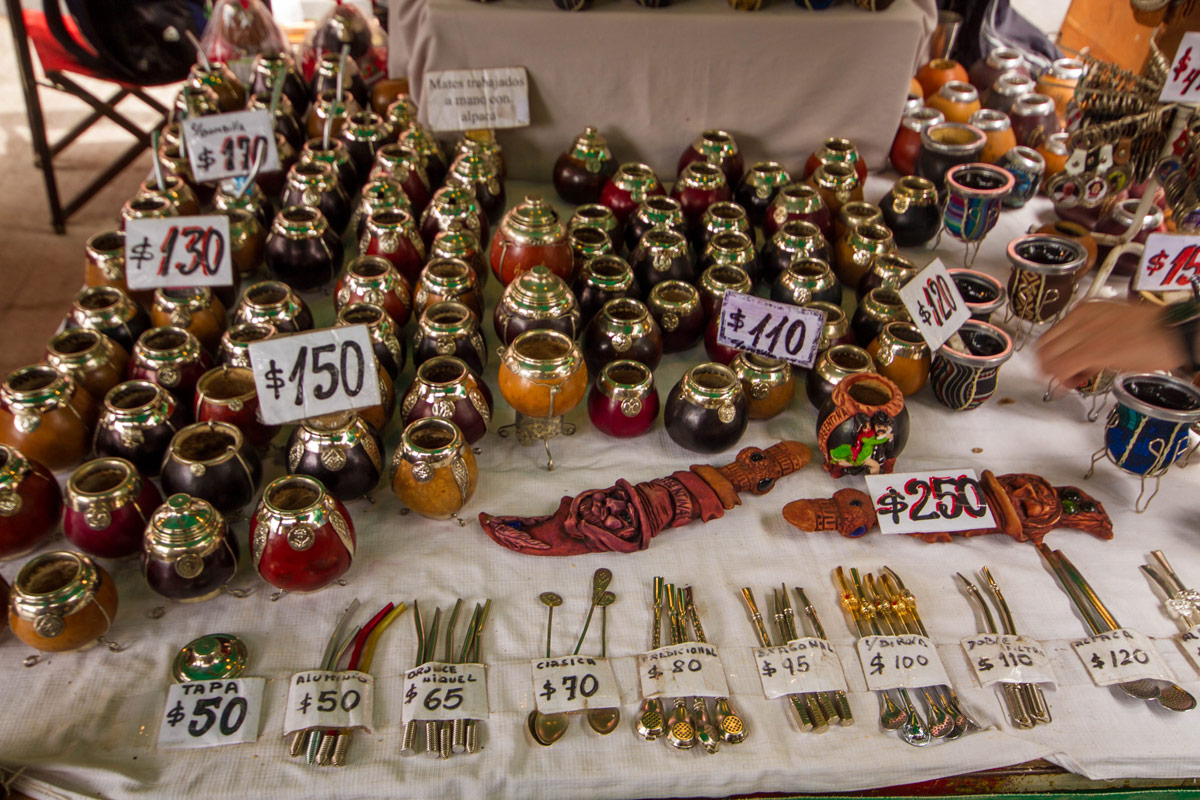 Across from the Plaza is the Basilica de Nuestra Senora del Pilar. As it was a Sunday, there were services going on and we were not able to take pictures inside the church. Unfortunately, this also meant the small but interesting cloister museum was not open for us to visit either.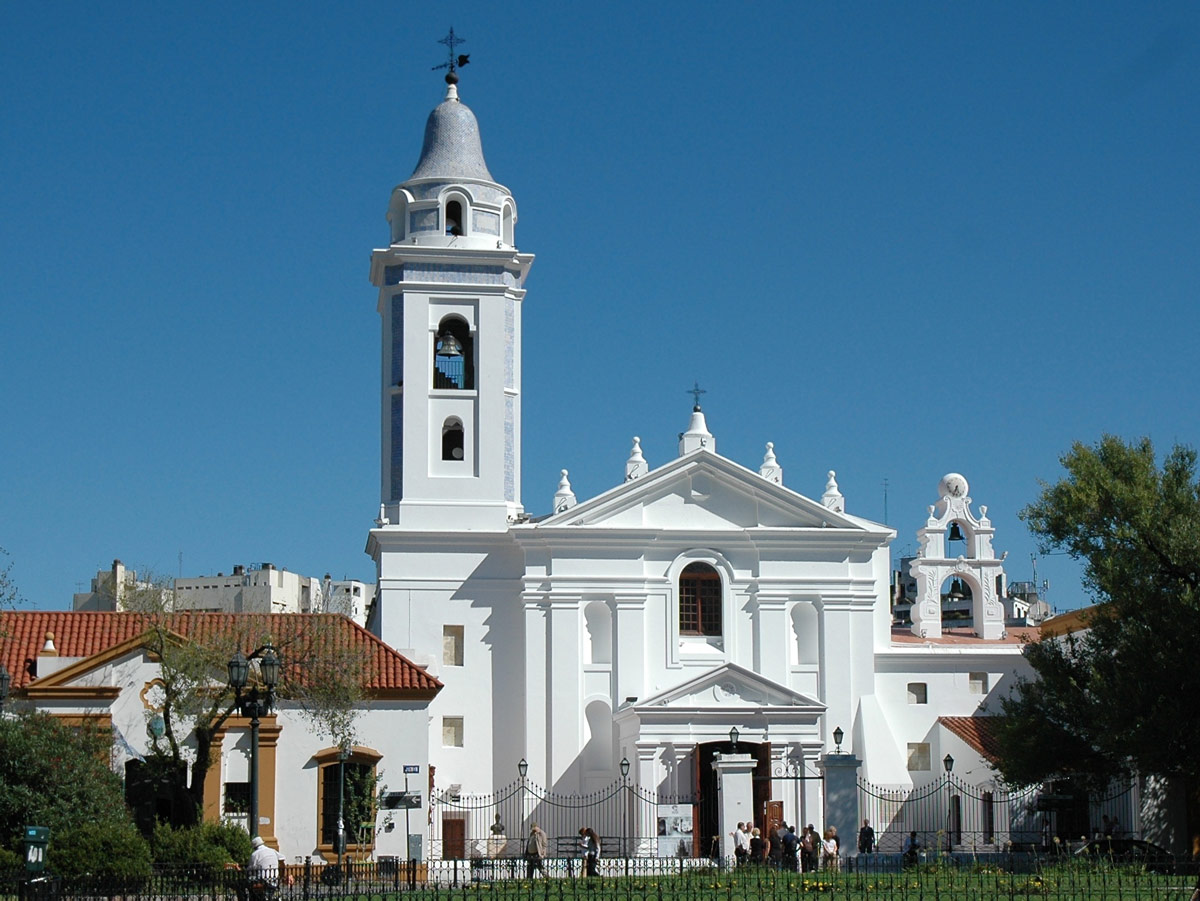 Recoleta cemetery
We finally reached the entrance of Recoleta cemetery. We had read that people sell maps near the entrance, this was not the case during our visit. Luckily, I had written down directions on how to get to Eva Peron's grave (commonly referred to as Evita) from the entrance.
Since the cemetery is a veritable maze of graves, we followed the directions religiously. As described, her grave was full of flowers. Surprisingly, though, there was no one else around when we got there.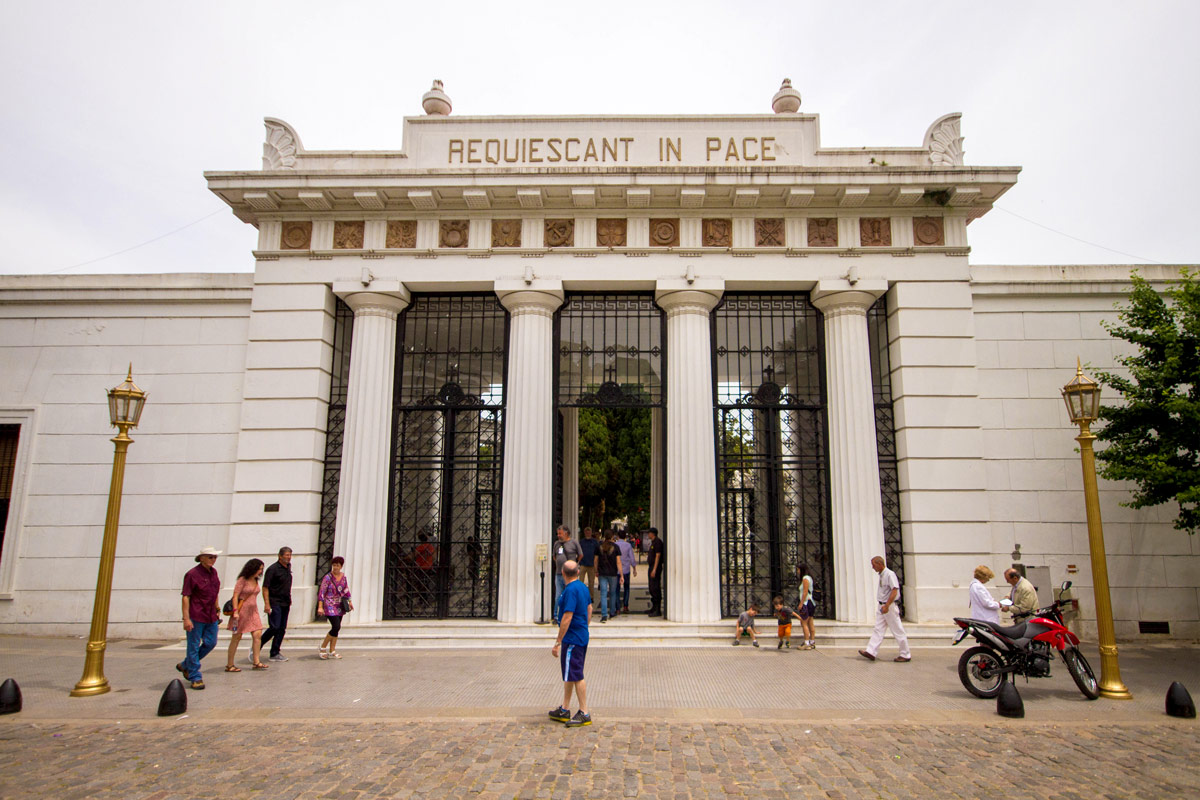 After accomplishing our mission, we wandered around a bit more to appreciate the wonderful artistry that characterized the majority of the graves at Recoleta cemetery.
After a couple of hours, though, C and D had had enough and were starting to get creeped out by all the talk of dead people. We took this as a cue that our time in Recoleta cemetery was done and we headed back to our hotel in Palermo via taxi.
Buenos Aires Highlights Day 2: Tour The Sites Of Buenos Aires
For our second day exploring Buenos Aires, we were chauffeured through the city by Blacklane. We were picked up on time in a very comfortable van from our hotel. We had requested a car seat for D and a booster seat for C when we reserved their services online.
The kids loved sitting back in something familiar, as car seats and boosters are not a common sight in Argentina. The added safety calmed our nerves a bit as well, since driving around in Buenos Aires can be quite erratic- to put it mildly. After asking about which Buenos Aires highlights piqued our interests, Mr. Livingstone, our driver, expertly mapped out our trip and headed towards our first stop, La Boca.
La Boca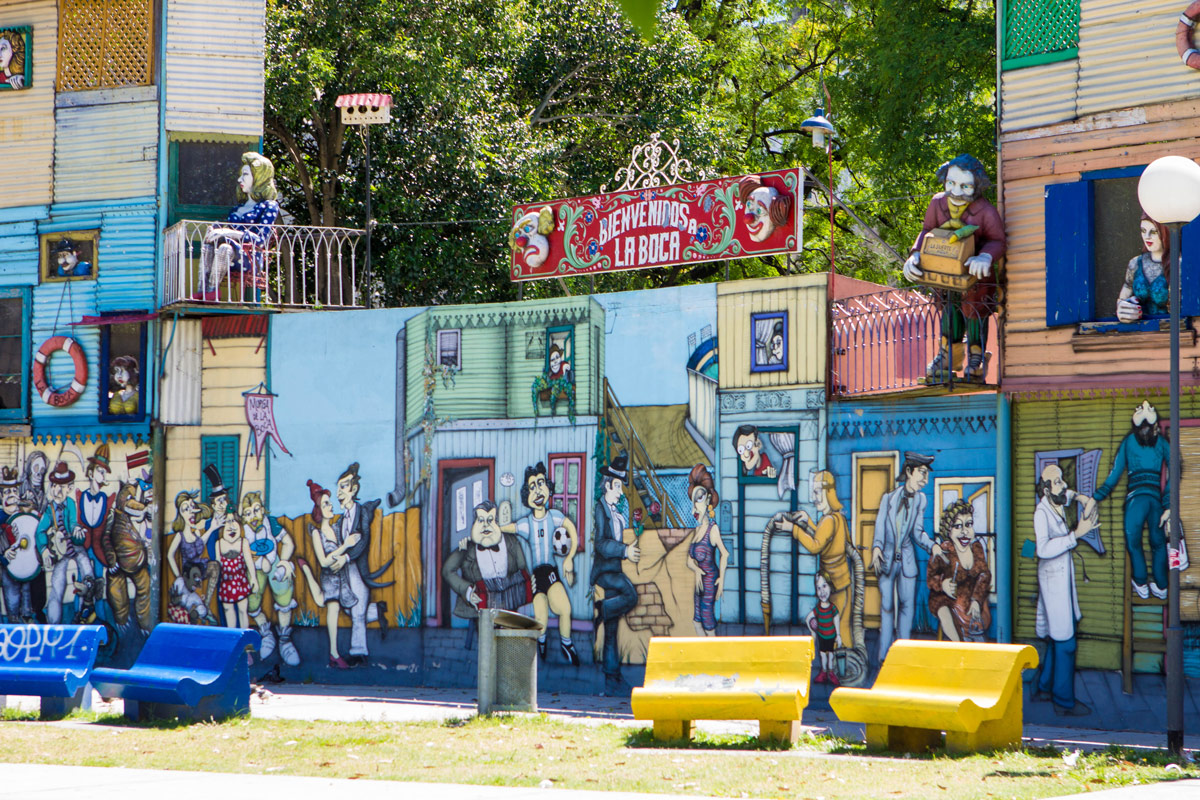 La Boca was the boys' favorite barrio in Buenos Aires. They loved strolling El Caminito and seeing all the football fans crowding around La Bombonera Stadium. But their favorite part was chasing a Tango performer down the street to have their picture taken with her. Kevin also didn't want to miss out on the fun!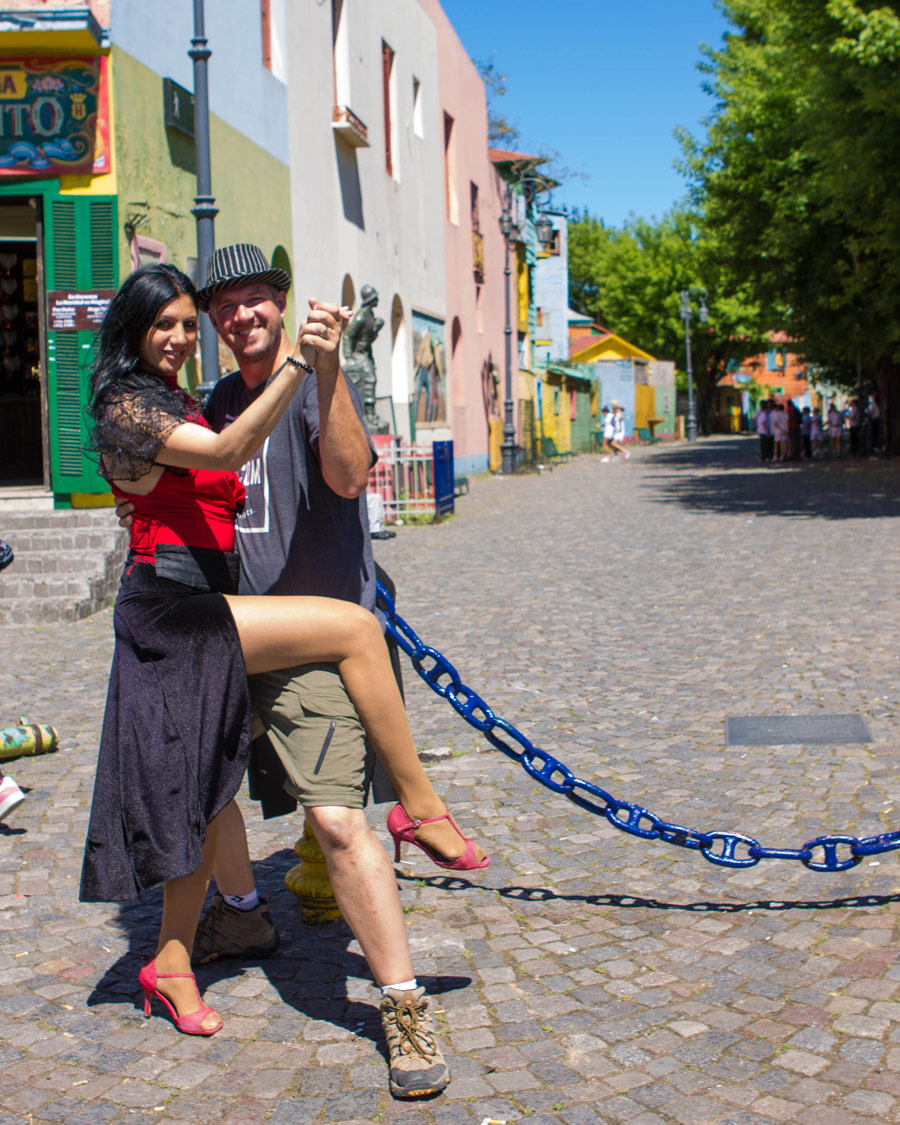 El Caminito is La Boca's most famous street. As we went on a weekday, it was not full of artists selling crafts with colorful buildings as their backdrop. However, this also meant fewer tourists were wandering the streets so we were able to stroll around and take in the sites leisurely.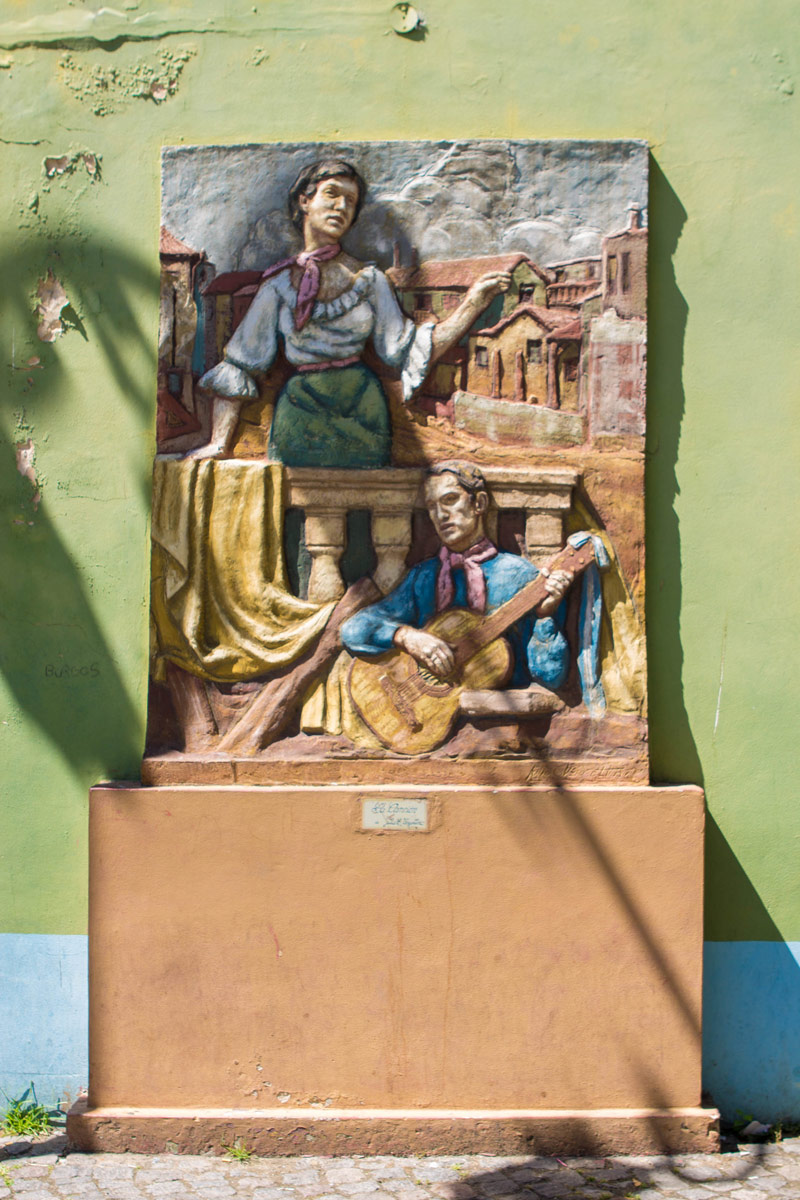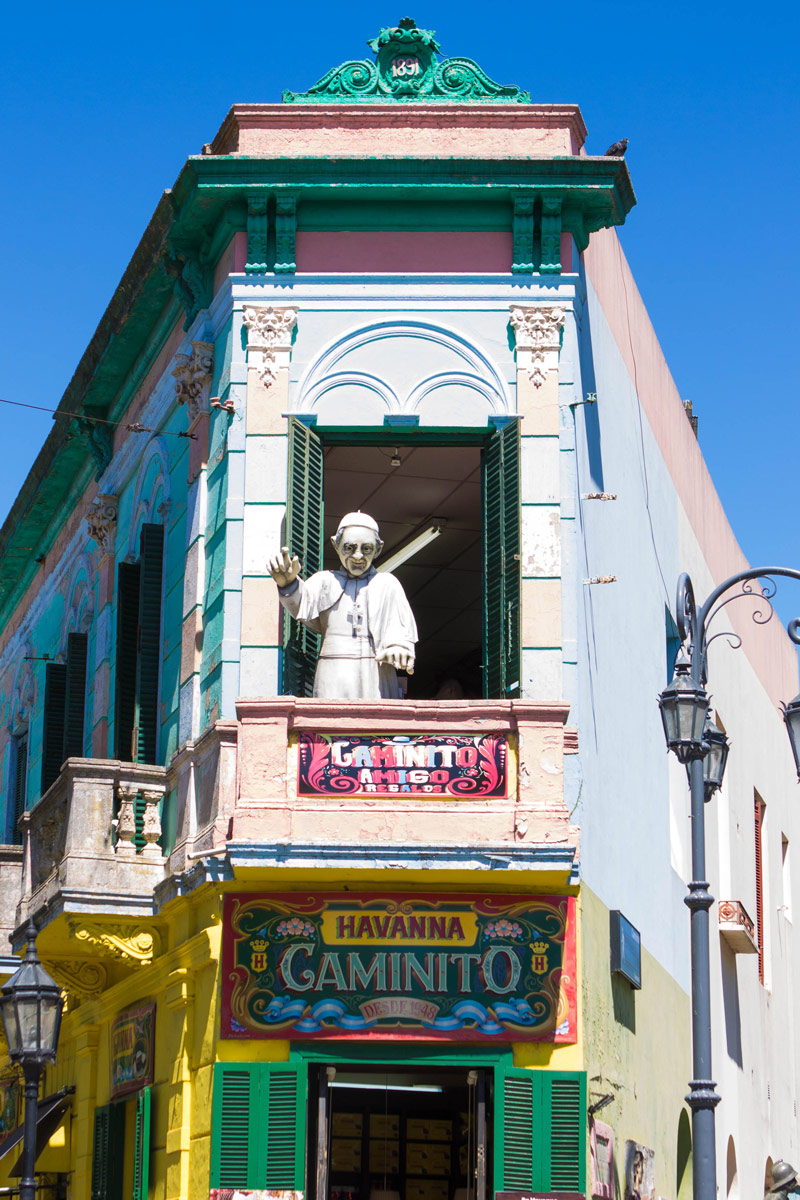 The boys also enjoyed the energy around La Bombonera Stadium. At first, we thought a game was about to start as almost everybody we saw was wearing football jerseys. We later found out from Mr. Livingstone, that people were there as tickets for the weekend game were about to go on sale. What a contagious spirit! I wish we could have witnessed a game.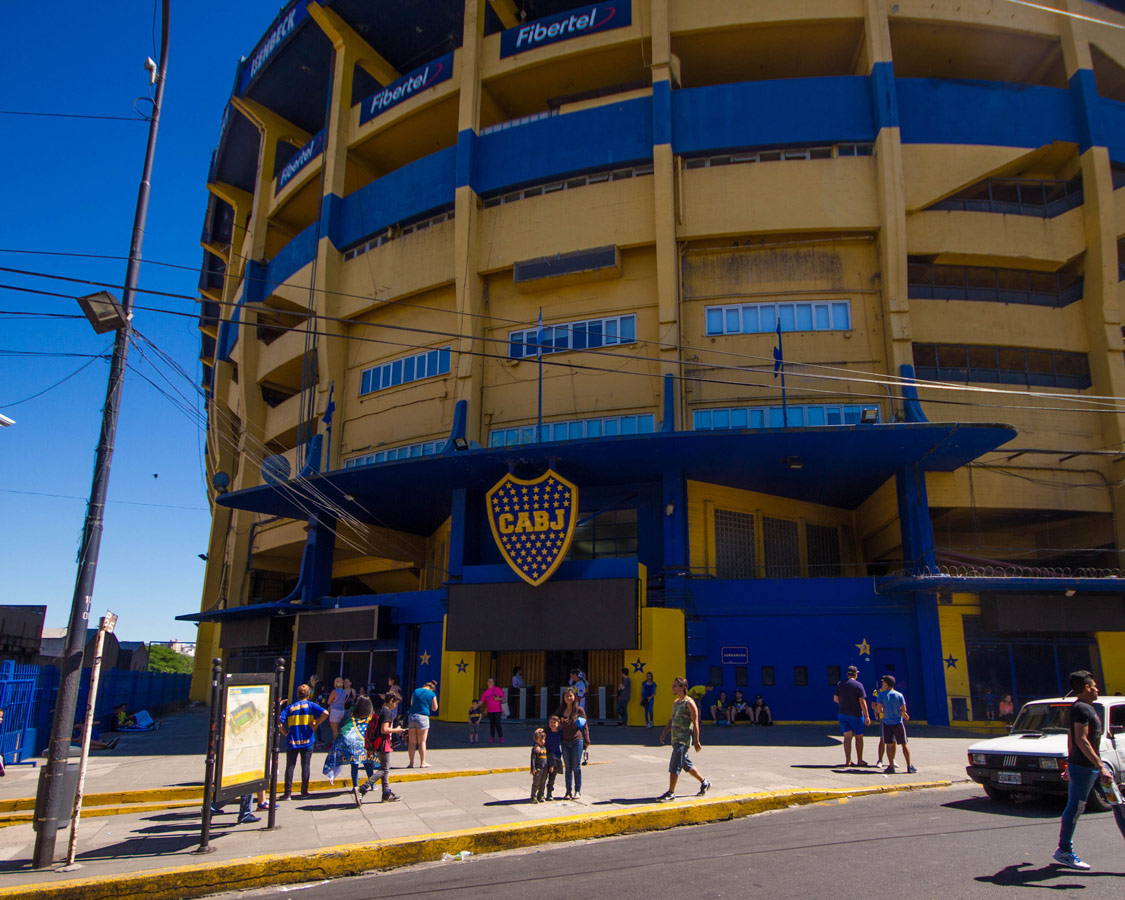 Pro-Tip: We were warned to be extra vigilant with our camera equipment and pickpockets in this neighborhood.
San Telmo
Our next stop would be the oldest barrio in Buenos Aires, San Telmo. The barrio is known for having a great market, Mercado de San Telmo. It is busiest on the weekends. San Telmo also has a lot of antique shops. If I was left there for more time, we would have loved to walk around the cobblestone streets and I probably would have had hundreds of pictures of the wonderfully ornate doors.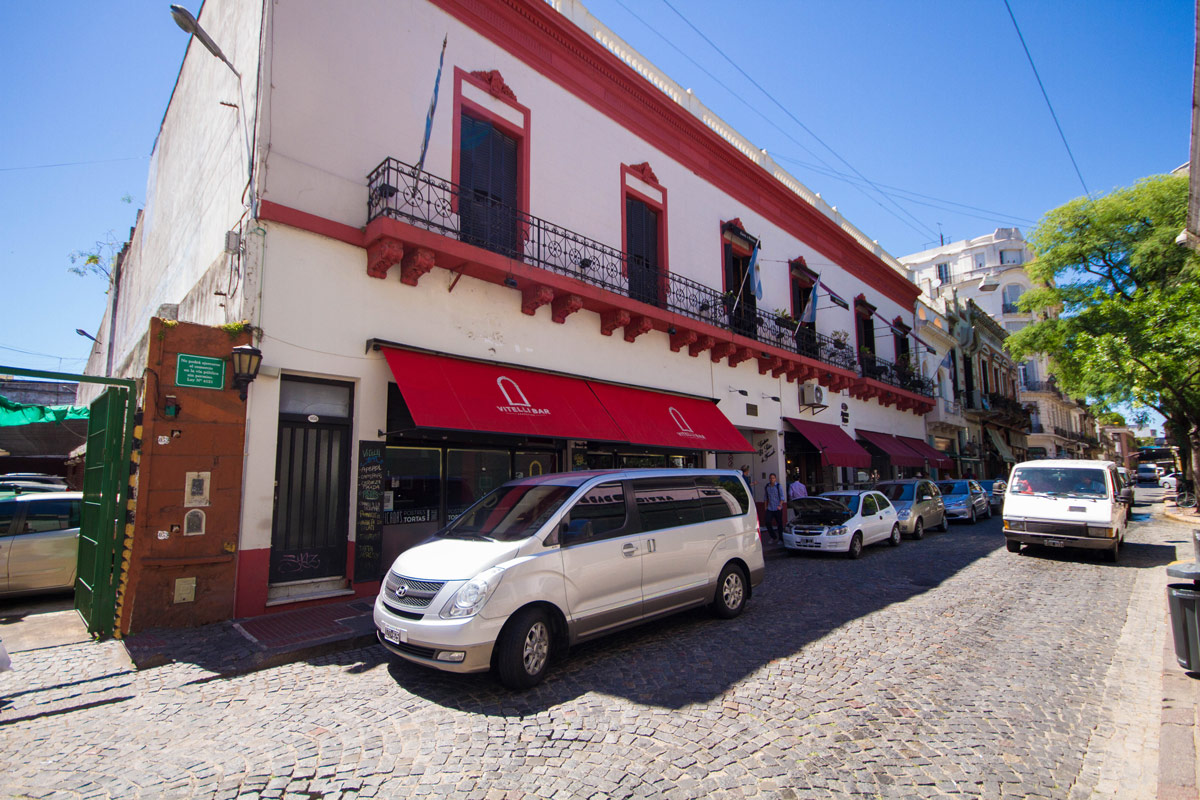 Microcentro
The next stop in our tour would be the heart of Buenos Aires, microcentro. We got out of the car and mingled with people in suits walking along Calle Florida, the main street in this area. Both C and D were drawn to the fountain at Plaza de Mayo.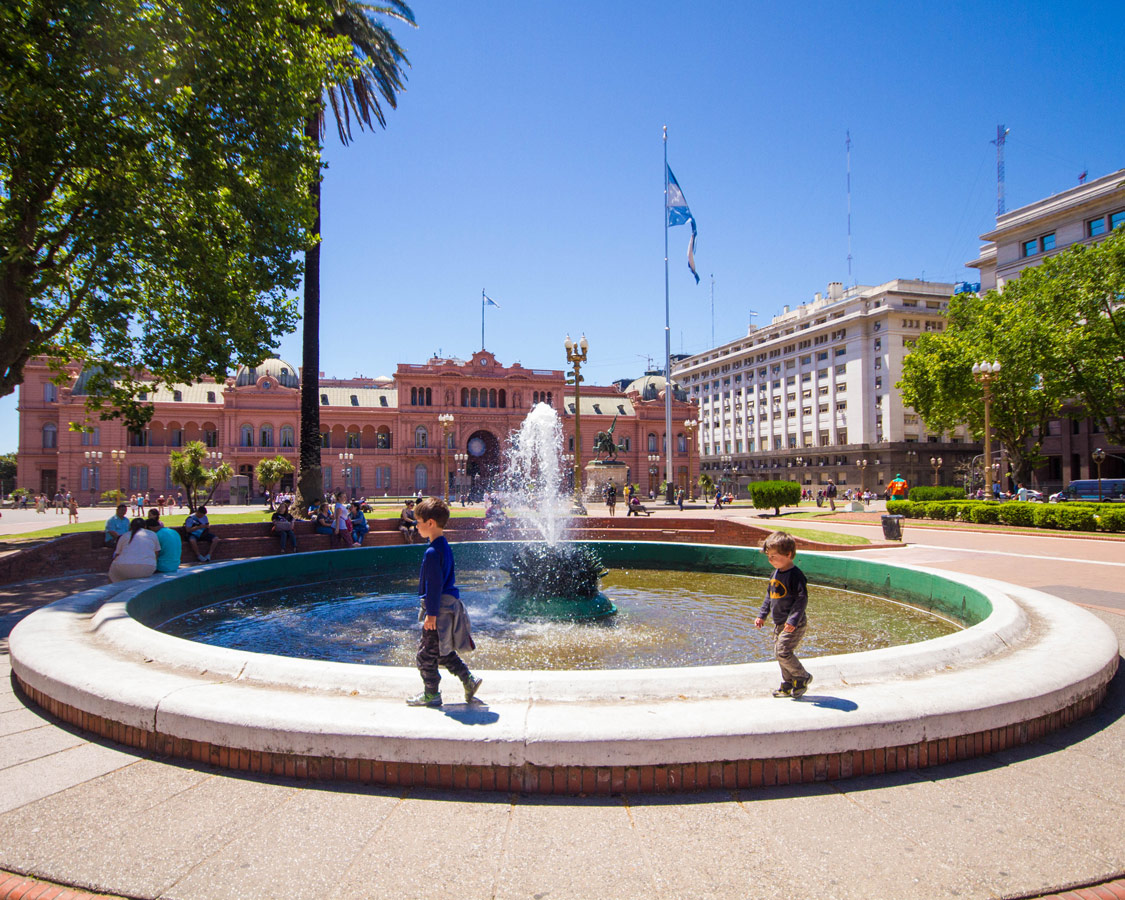 We spent some time exploring the plaza and both C and D wanted to try their hand at taking selfies with the white obelisk, Piramide de Mayo, as the backdrop.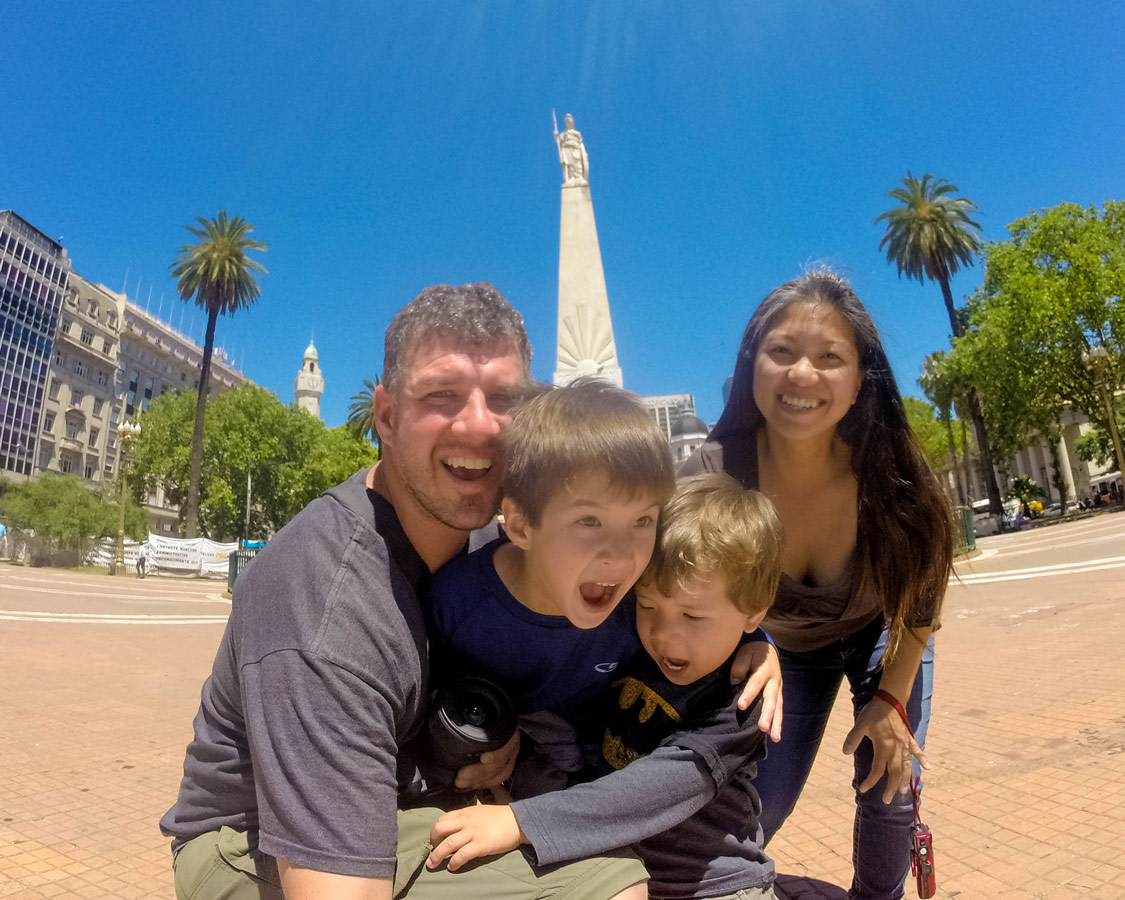 On the east side of Plaza de Mayo is Casa Rosada. C exclaimed, Mommy the pink mansion has a lot of soldiers!" Kevin and I took turns explaining that it is the office of Argentina's president. It is not known why the building is pink but one of the theories is that because it might have been painted with bovine blood, which was a common practice at the time the palace was built.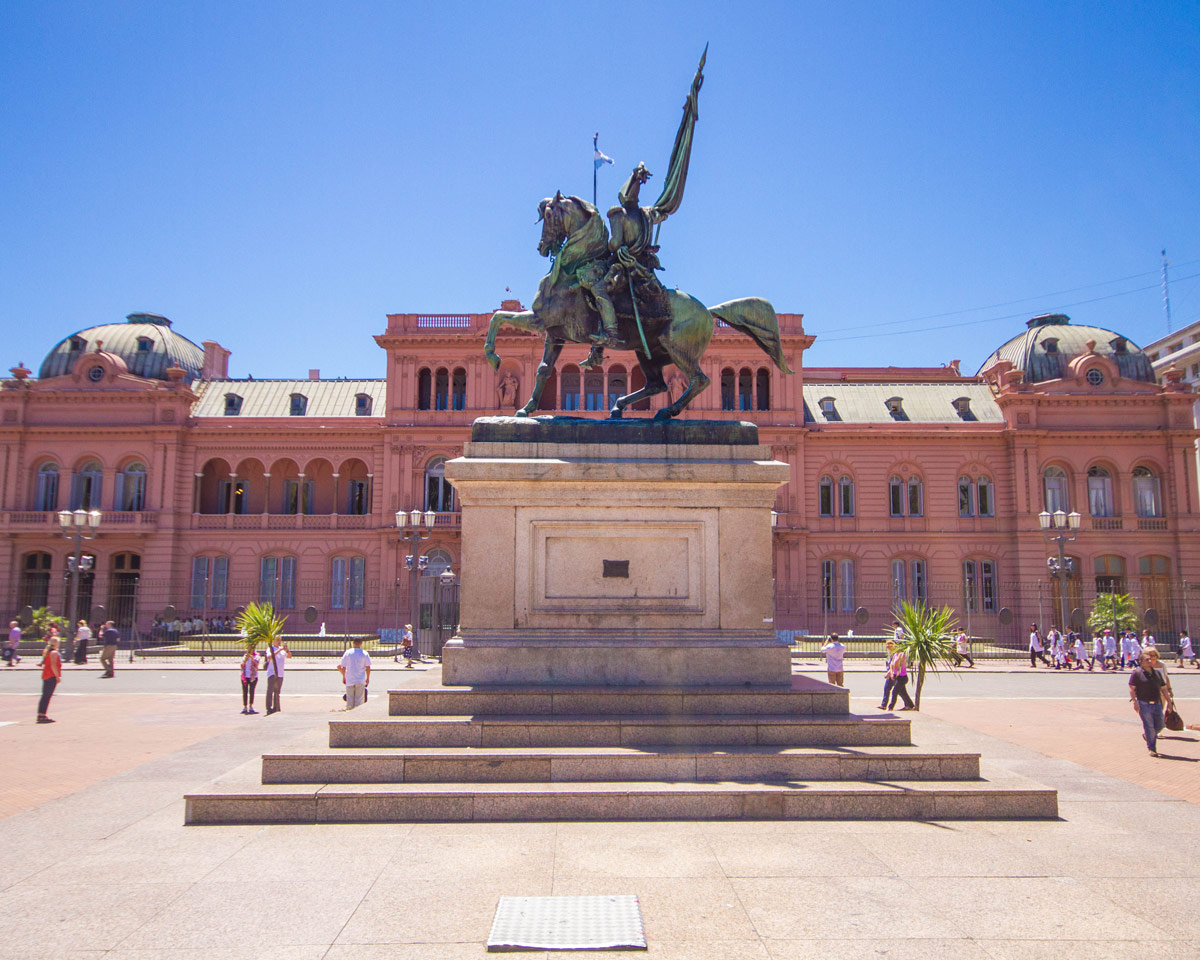 Pro-Tip: There are free tours of Casa Rosada that run throughout the day. The tours last about 30 minutes.
There are many notable museums in the area that we would have loved to visit if we had more time. Our last stop was going to be the Catedral Metropolitana. The baroque cathedral houses the tomb of General Jose de San Martin, who we are told is Argentina's most revered hero.
However, our time was cut short as the area was being barricaded and police were starting to form human blockades in preparation for an upcoming protest. As we tried to leave, we found every avenue to be completely blocked and none of the officers were willing to let us leave!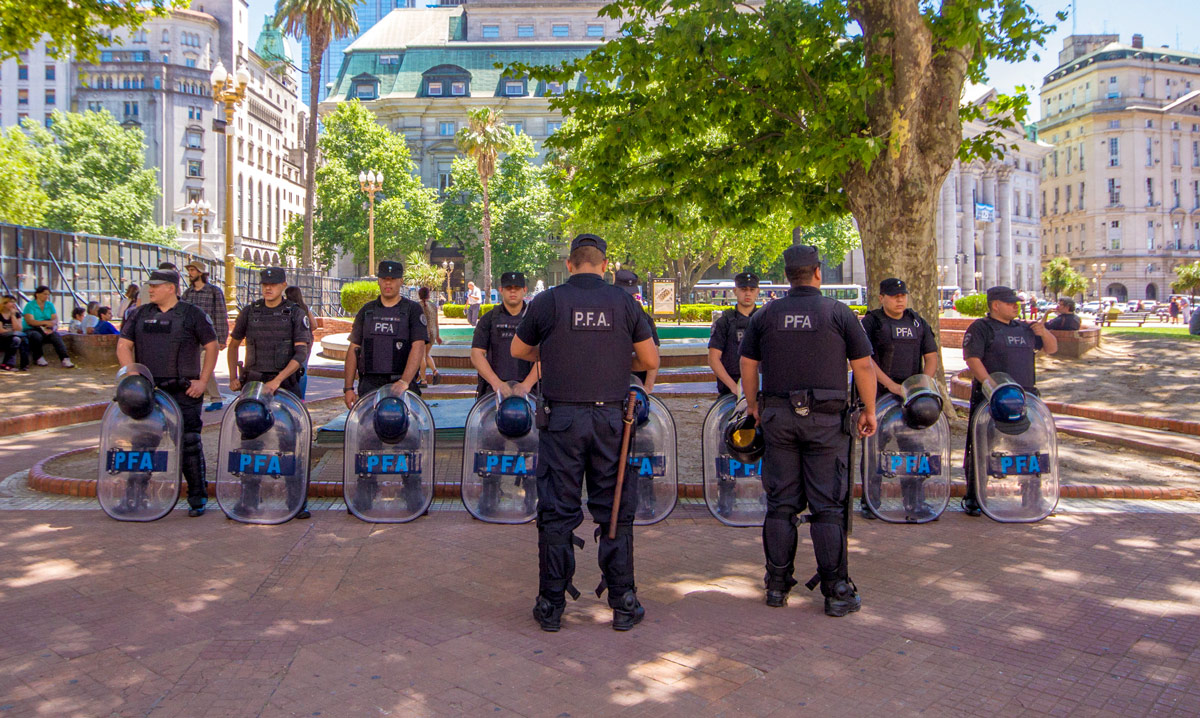 Congresso
Mr. Livingstone finally convinced the officer in charge to open one of the barricades so that we could exit. Soon, we were on the way to our final stop, Congresso, home of the famed Teatro Colon. This was definitely on my Buenos Aires highlights list.
I wish we could have been one of the 2500 people that would be watching an opera at the theater that night, but the kids were not convinced even though I told them about the amazing acoustics. They preferred instead to play in the fountains around the Plaza del Congresso.
By the time we had made it to the Obelisco, a 67m high landmark at Avs 9 de Julio and Corrientes, the protesters had caught up to us on their way to Plaza de Mayo.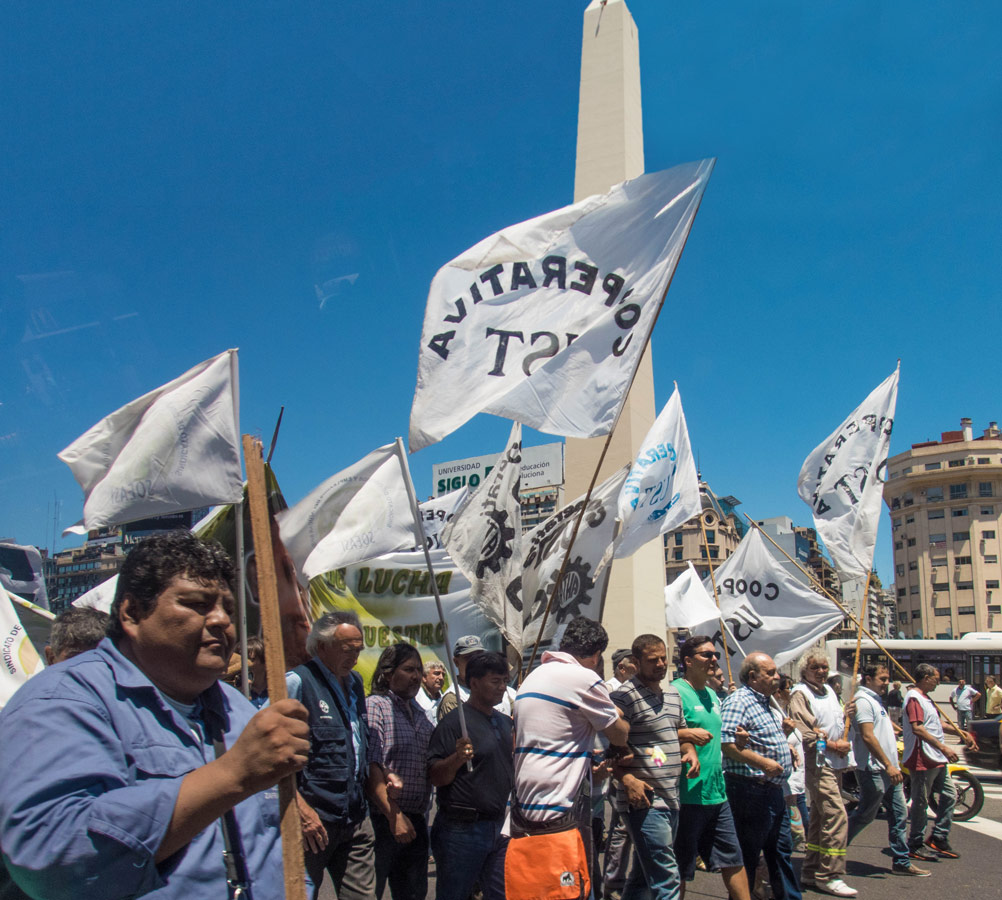 Mr. Livingstone expertly weaved through traffic pointing out the famous sites in Retiro and the beautiful parks around Palermo. We wished we could have had more time to enjoy this wonderful city. But soon, we found ourselves back in Palermo and our Buenos Aires highlights tour was over.
Buenos Aires is a huge city, and these are by no means all the Buenos Aires attractions. It's easy to spend a few days, or even longer taking in the best things to do in Buenos Aires. And we plan to do that when we return. Buenos Aires is special. The people are passionate, the culture is vibrant, and the art scene is thriving. It's a wonderful city to explore.
Side Trips From Buenos Aires
And because of the size and complexity of the city, a visit to Buenos Aires can even be combined with other incredible nearby attractions. Visiting the suburb on Tigre is a must for those looking for a change of pace. In fact, our boat tour of the Delta Parana from Tigre was one of the highlights of our time in Argentina.
Another great side trip from Buenos Aires is a visit to the nearby city of Colonia del Sacramento in Uruguay. It's worth the border hop and short ferry ride to wander the famed street of sighs. This city is incredibly beautiful, and it's worth spending a whole day here if you can make the short jump to Uruguay.
Have you been to Buenos Aires? Let us know your experiences in the comments down below. You can also swing by our Facebook pages and share your photos with us. We would love to be a part of your journey.
Disclosure: Sections of this post were made possible with the support of Blacklane. Our opinions remain our own. Wandering Wagars is a participant in the Amazon Services LLC Associates Program, an affiliate advertising program designed to provide a means for sites to earn advertising fees by advertising and linking to amazon.com, amazon.co.uk, amazon.ca. Amazon and the Amazon logo are trademarks of Amazon.com, Inc. or its affiliates.
You May Also Like To Read: