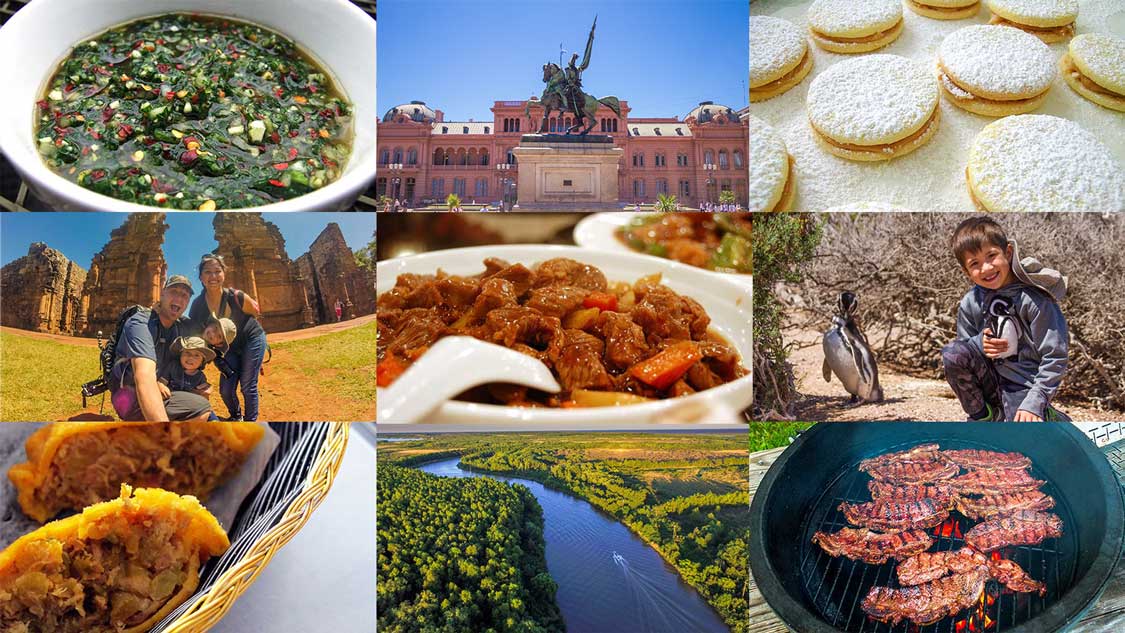 Argentina is a massive country with some of the most diverse landscapes and wildlife experiences in the world. From the thundering roar of Iguazu Falls in Missiones District to the tip of the Earth in Ushuaia, Argentina stretches nearly 2270 miles (3650 km) from north to south. During our travels in Argentina, we explored the vast rivers of the Delta Parana, danced the tango in the streets of Buenos Aires, and walked among a million penguins in Patagonia. But one of the things that stood out on our journey was the magnificent assortment of Argentinean food.
The food in Argentina was absolutely mouthwatering. I was so inspired by all the amazing flavors that I put together a list of some of my favorite Argentinean recipes that I could make at home. These recipes were collected from across the country. And each Argentinean recipe can be put together into a fantastic meal, or enjoyed on its own.
I was inspired by the flavors of Argentina to put together some of my favorite Argentinean recipes so that I can taste a little bit of Argentina from home. So if you're looking for recipes from Argentina, start here and get inspired by some of the most delicious meals that we ate while in the country. And if you have children, be assured that these recipes are all kid-approved by our little travelers.
If you're interested in travel to Argentina, you can check out some more of our adventures here.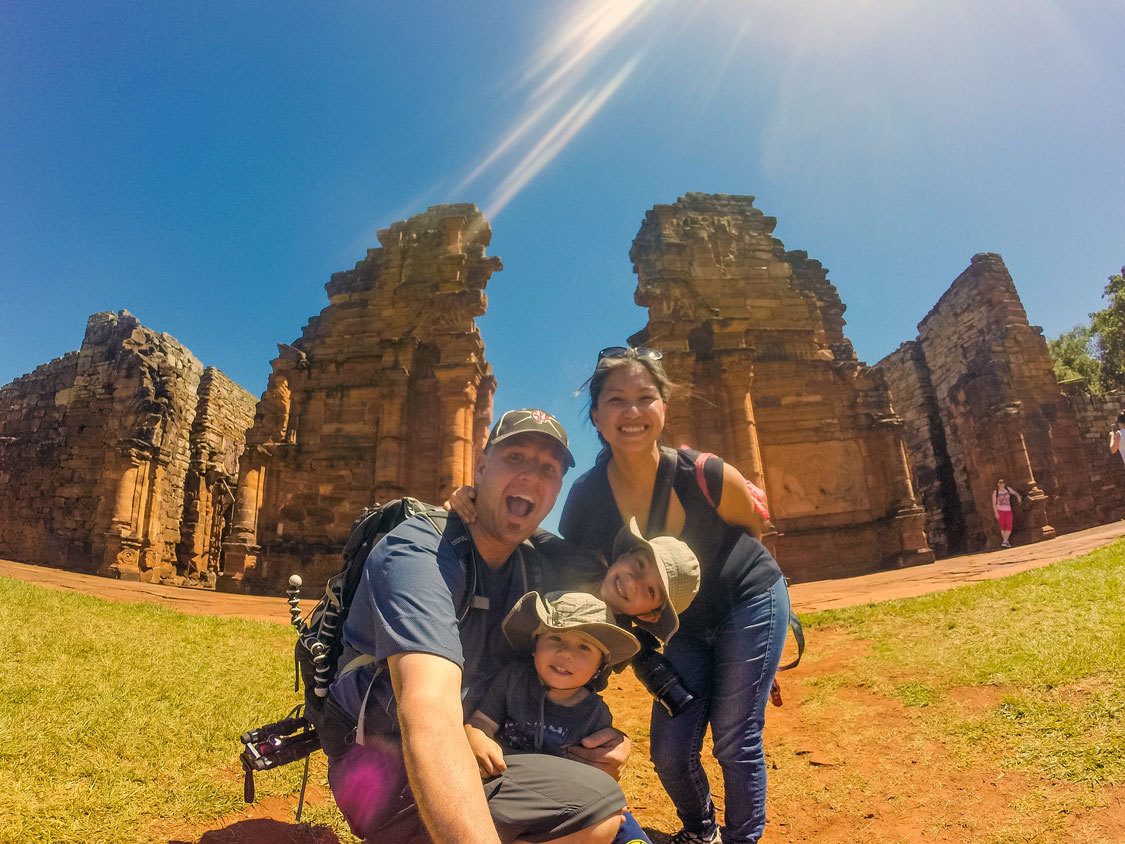 What Is Argentinean Food Like?
Argentina is a truly unique destination. The country stretches up along the south Atlantic Ocean and the border with Chile before arcing inland in the north to the borders with Uruguay, Brazil, and Paraguay. With so many borders, the fusion of South American food in Argentina is spectacular. But Argentinean recipes aren't just a blend of the food offered by their neighbors. Food in Argentina has its own unique focus that blends flavors, spices, and a copious amount of meat and wine into some of the most amazing tastes south of Peru.
We found recipes that were heavy on lamb, beef, and fresh fish during our travels in Argentina. The Argentinean dishes were full of flavor from local herbs and spices, generous on sauces, and nearly always served with fresh salsas and Chimichurri. Many menus were heavy on sandwiches, empanadas, and salads.
Desserts in Argentina are rich and delicious. Dulce de Leche is a popular topping or filler for many Argentinean deserts. Other Argentinean treats such as alfajores and dessert empanadas can be found in bakeries, restaurants, and specialty stores throughout the country. Alfajores are particularly popular. These light shortbread cookie sandwiches are absolutely delightful.
The national dish of Argentina is Asado, which is, in a nutshell, Argentina's unique take on barbecue. True Asado cooking is done on a Parilla, which is a type of large iron grill. Asado can be made with beef, pork, sausage, chicken, and churrasco. And it is as much a social event as it is a style of cooking.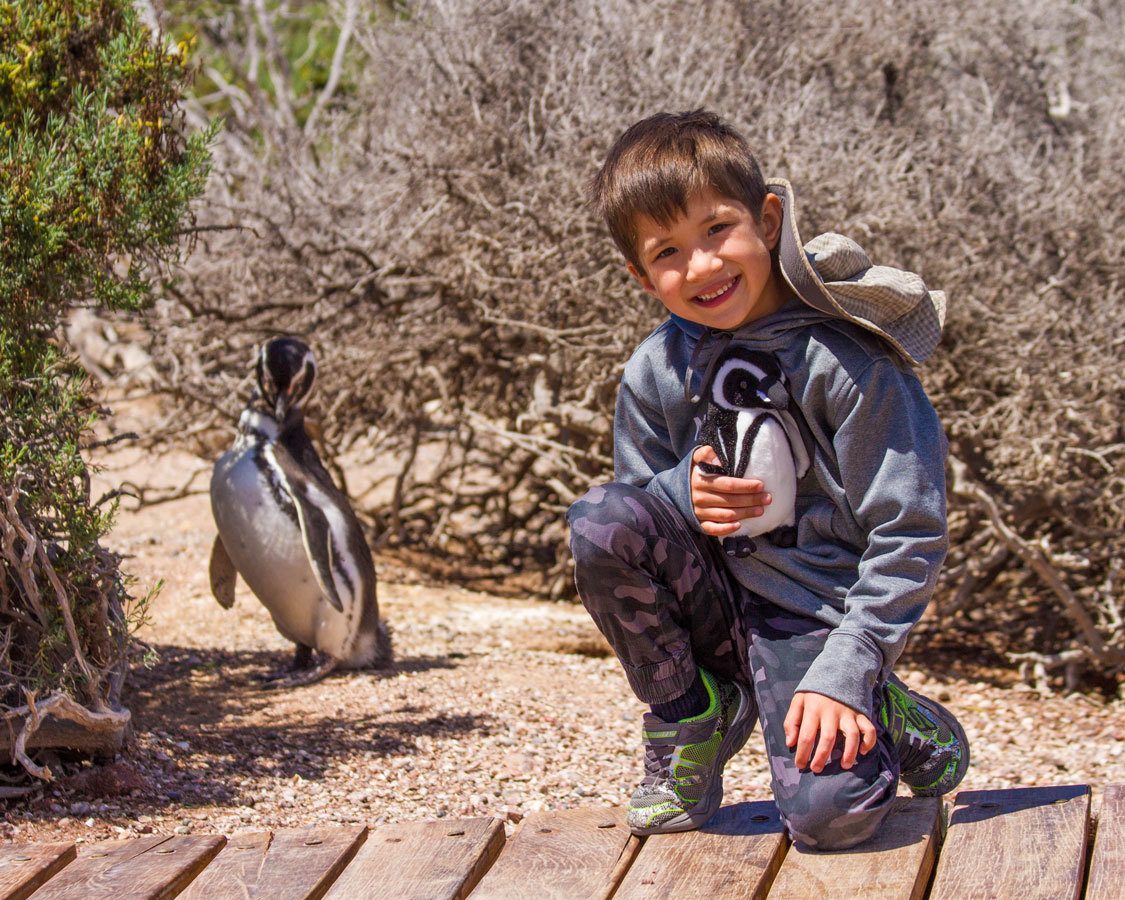 Here Are My Favorite Argentinean Recipes To Make At Home
One of the greatest things about travel is that the memories stay with you long after the journey ends. But if you find yourself longing to experience a destination, and another trip isn't on the horizon, you can always whip up an incredible meal and live the trip all over again through your taste buds. My family absolutely fell in love with Argentina. The people, the wildlife, and the landscapes thoroughly mesmerized us. And although I know another trip back to the country will be in the cards, in the meantime, I can throw together one of these Argentinean dishes. I can then sit back while the flood of memories rushes through me.
So warm up the oven and grab the apron. These 5 fantastic Argentinean recipes will take you back to beautiful Argentina.
Easy Argentinean Chimichurri Sauce Recipe
You can't travel in Argentina without experiencing Chimichurri sauce. This flavorful salsa is found everywhere and Argentineans seemingly add it as a topping to almost every dish.
Chimichurri is made of chopped fresh parsley, oregano, garlic, olive oil, vinegar, and red pepper flakes. It can be be spicy or mild depending on where you're tasting it. And often, you'll find different types of chimichurri to fit the tastes of the diner.
Chimichurri is easy to make, and an absolute must for complimenting any Argentinean recipes that you're planning on making. It's similar to pesto and is often used as both a marinade and a topping.
So to get started, here is my favorite easy Argentinean Chimichurri recipe.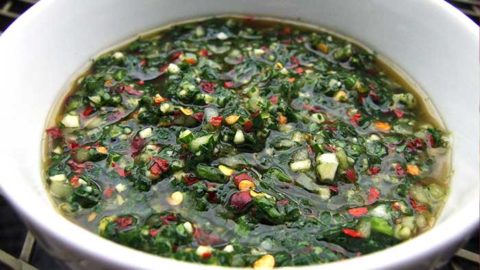 Yield:

4 servings
Argentinean Chimichurri
Chimichurri is a staple in Argentina. This dish is used as both a marinade and a topping for many legendary meat dishes. Argentinean chimichurri is centered with chopped fresh parsley, oregano, garlic, olive oil, vinegar, and red pepper flakes. Argentinean chimichurri is a must to make any Argentinean recipe feel more authentic. This easy chimichurri recipe takes just 10 minutes to create.
Ingredients
1 cup fresh flat-leaf parsley. Trim thick stems and pack firmly
4 garlic cloves
2 tbsp fresh oregano
1/3 cup extra virgin olive oil
2 tablespoons vinegar (I prefer red wine vinegar, but white vinegar can also be used)
1/2 tsp sea salt
One pinch of ground pepper
One pinch of red pepper flakes
Instructions
Finely chop the parsley, garlic, and oregano together. (If you have a food processor, this is a good time to use it). Combine into a small bowl.
Mix in the olive oil, vinegar, salt, pepper, and red pepper flakes.
Serve fresh or chill in the refrigerator for up to 10 days. Make sure to serve at room temperature.
Notes
For a unique twist, try adding a teaspoon of fresh cilantro or fresh mint to your Argentinean Chimichurri.
Easy Argentinean Empanada Recipe
Throughout South America, you'll find empanadas of every sort. Empanadas area mong the most popular snack food and lunch-on-the-go meals in Argentina. Family recipes are often passed down from generation to generation.
Most empanadas purchased in restaurants and snack bars are fried. But most locals who cook them themselves prefer them baked. There are countless fillings for Argentinean empanada as well. Many enjoy vegetarian, chicken, beef, or a combination of different fillings.
My kids are absolutely bonkers for chicken (pollo) empanadas. So, I've put together this Argentinean chicken empanada recipe based on one of their favorite lunchtime snacks.
Yield:

18 empanadas
Argentinean Chicken Empanadas
Additional Time:
3 hours
30 minutes
Total Time:
4 hours
45 minutes
Chicken empanadas were our go-to snack during our travels through Argentina. This Argentinean chicken empanada recipe is based off of a few different variations of chicken empanadas that we tasted in Bueno Aires, Misiones, and Patagonia.
My kids prefer it without the green peppers, but to me, it tastes far more authentic with them included.
Ingredients
Empanada Dough
3 1/2 cups all purpose flour
1 tsp sea salt
1 cup unsalted butter
1 large egg
1/2 cup milk (can be substituted for water)
Empanada Filling
1 lb boneless, skinless chicken thighs
1 bay leaf
1.5 tbsp extra-virgin olive oil
1 large onion, chopped
1/2 medium green pepper, chopped and seeded
1/2 medium red pepper, chopped and seeded
1 pinch ground pepper
1 1/2 tbsp tomato paste
1 tbsp sweet paprika
1 1/2 tbsp dried oregano
One pinch cayenne pepper
Instructions
Empanada Dough
In a large bowl mix the flour and salt
Add butter and flour mixture to a food processor and pulse. IF you don't have a food processor, you can mix by hand.
Add in the egg and milk a little bit at a time. Continue mixing or pulsing until the dough is clumpy.
Divide the dough into two egual large balls. Flatten the balls into disk shapes. If you don't make the filling right away, the dough can be refrigerated for up to two days.
Roll the the dough into a thin layer. Cut out circular shapes. You can use bowls or small plates as a template. If you have a tortilla press you can use it to flatten the dough balls.
Emapanada Filling
In a medium pot bring 2 cups of water, chicken and bay leaf to a simmer. Cook until chicken is cooked through (approx. 30 minutes).
Transfer chicken to a plate. Allow to cool. Discard the bay leaf. Reserve the broth for later.
When chicken is cool enough to handle, coarsely chop.
Heat a large pot on medium. Add bell peppers and onion. Cook until tender, but not brown. (approximately 5-6 minutes). Season with salt and pepper.
Stir in tomato paste and cook until it darkens (approx. 1-2 minutes).
Add paprika, oregano, and cayenne pepper. Cook while stirring constantly until it becomes fragrant (approx. 1 minute).
Add the reserved broth and chicken to the large pot.
Bring to a simmer and cook, stirring regularly. Be sure to scrape the bottom of the pot to remove anything stuck. Cook until most of the liquid is gone (approx. 15-minutes).
Season with salt and pepper to taste.
Transfer to a medium bowl and chill for at least 3-hours.
Emapanda Stuffing and Baking
Allow dough to rise to room temperature.
In the middle of each empanada disk place a spoonful of the filling. The amount of filling will vary depending on the size of the empanada. Make sure not to over-stuff the empanada.
Fold the dough over the filling and seal the edges by pressing on the dough with a fork.
Brush the top and edges with egg-wash to allow it to brown.
For the best results chill the empanadas in the fridge for 30-minutes before baking. This will help them seal. It's not necessary, but it helps.
Preheat oven to 375°F. Bake for approx. 20 minutes until the outside is golden brown.
Carbonada Criolla Stew Recipe
One of our favorite recipes from Argentina is the hearty and delicious Carbonada Criolla Stew. With the sheer volume of cattle ranches in Argentina, it's no surprise that a beef stew made it on to our list of Argentinean recipes.
This Patagonian speciality is a truly unique stew, and it may be one of the most delicious stews we had the chance to eat during our South American adventures.
Argentinean Carbonada Criolla is generally mixed with dried fruits such as apples, apricots, or raisins. These are combined with tomatoes, squash, and sweet potato to give this Argentinean stew it's rich, hearty taste. It's the perfect stew for those cold winters in Argentina.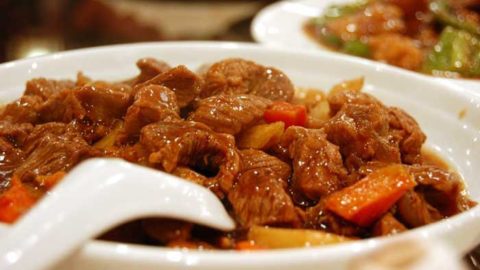 Yield:

6-8 servings
Carbonada Criolla Stew
Cook Time:
1 hour
30 minutes
Total Time:
1 hour
50 minutes
Carbonado Criolla is a rich and hearty beef stew from Patagonia, Argentina. This Argentinean beef stew is uniquely prepared with dried fruits mixed with tomatoes, squash and hearty chunks of beef. It's perfect for cold winter nights in the Patagonian desert.
Ingredients
1/3 cup olive oil
1 large onion (chopped)
1 can of kernel corn
1 green pepper (chopped)
2 cloves garlic (minced)
1 1/2 lbs stewing beef (cut into 1-inch pieces)
1 can stewing tomatoes
2 cups beef broth
3 large sweet potatoes (cubed and peeled)
2 white potatoes (peeled and cubed)
2 tablespoons sugar
1 large winter squash(peeled and cubed)
3/4 cup dried apricots (roughly chopped)
Salt and pepper to taste
Instructions
In a large pot, heat the oil over medium heat. Add onions, green pepper, and garlic. Cook until tender (about 10-minutes).
Raise heat to medium-high and add the beef to the pot. Cook until meat is browned on all sides.
Add-in the stewed tomatoes, beef broth, potatoes, sugar, squash, and dried apricots. Cover and simmer for 1-hour.
Season to taste. Add more beef broth if the stew is too thick.
Continue cooking for 30-minutes or until beef is tender.
Stir in corn and simmer for an additional 10-minutes.
Argentinean Tira de Asado Beef Rib Recipe
It just wouldn't be right to share all of these amazing Argentinean recipes without including some Argentinean Asado. For this Asado dish, we'll visit some mouthwatering beef short ribs.
Asado is the national dish of Argentina. But it's more than just a dish. It's a style of cooking where the social aspect is just as important as the preparation.
Tira de Asado is a very simple Argentinean Recipe. Simply seasoned with salt , grilled, and served with classic chimichurri sauce.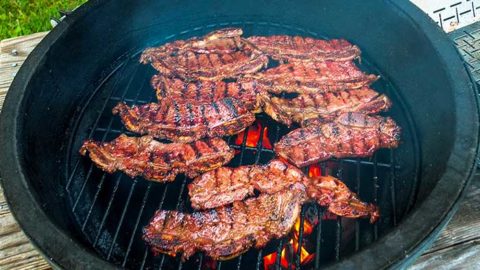 Yield:

6 servings
Argentinean Tira de Asado Beef Ribs
These Argentinean beef short ribs are so simple, yet absolutely delicious. Asado is all about sharing with loved ones. So make sure to share this delicious Tira de Asado dish with your friends and family.
Ingredients
1 cup sea salt or kosher salt
6 lbs beef short ribs
6 limes (quartered)
Instructions
Preheat a grill to medium-high heat. Lightly oil the grate. Asado is traditionally cooked on a fire grill, but a gas barbecue can work if that is what you have access to.
Rub the ribs with a heavy dose of salt to bring out the fat.
Grill the ribs for 5-7 minutes on each side to reach your desired cooking type.
Move ribs to a serving dish and squeeze the lime juice over them.
Serve immediately.
Nutrition Information:
Serving Size:
6
Amount Per Serving:
Calories:

1760
Total Fat:

164g
Cholesterol:

345mg
Sodium:

1540mg
Easy Alfajores (Dulce de Leche Sandiwich Cookie) Recipe
I won't say that Alfajores were our main reason for visiting Argentina. But these delicious dulce de leche sandwich cookies may be the number one reason that we return.
Alfajores are the top snack food in Argentina. They are light, sweet, and absolutely yummy. These bite-sized snacks are filled with creamy dulce de leche and rolled in shredded coconut. They make for one of the most appetizing Argentinean recipe snacks on our list.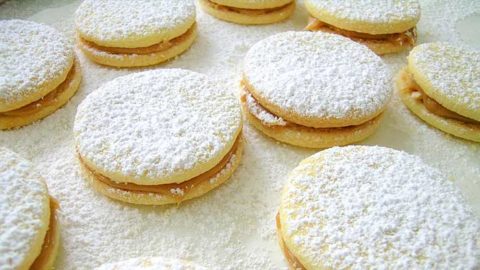 Yield:

36 cookies
Alfajores (Dulce de Leche Sandwich Cookie) Recipe
Additional Time:
2 hours
15 minutes
Total Time:
2 hours
40 minutes
Classic Alfajores were our favorite treat in Argentina. These mouthwatering cookies are light, tasty, and filled with creamy and delicious dulce de leche. The light coating of shredded coconut pulls it together into one of the best cookies I've ever tasted.
Ingredients
1 1/2 cups all-purpose flour
2 1/4 cups cornstarch
2 tsp baking powder
1/2 tsp baking soda
3/4 cups unsalted butter. Softened.
3/4 cup granulated sugar
3 large eggs. Separate yolks and whites. We'll only be using the yolk.
2 tsp vanilla extract
1 cup dulce de leche
1/2 cup unsweetened shredded coconut
Instructions
In a medium bowl, sift together flour, cornstarch, baking powder, and baking soda. Set aside for later.
Fix a stand mixer with a paddle. Beat butter and sugar on medium until it is light and fluffy (approx. 3-minutes).
Add in egg yolks and vanilla extract. Beat at low speed until the mixture is combined.
Add flour mix that was set aside. Continue to beat at low speed until the mixture is combined. Do not over-mix or the dough will become tough.
Form the dough into one large ball. Then flatten into a disk.
Cover in plastic wrap and refrigerate for 1-2 hours until the dough becomes firm. You can store the dough for up to 3-days or freeze for up to one month. Simply thaw in the refrigerator overnight.
Remove the dough from the refrigerator and allow to warm for a few minutes.
On a lightly floured surface, roll the dough to between 1/8 and 1/4 inches.
Cut the dough into 2-inch circles. Place the cuts onto baking sheets lined with parchment paper. You may re-roll dough scraps to make additional cookies.
Place cookie sheets into the refrigerator for about 15-minutes or until the cookies are firm. This will reduce spreading.
Preheat oven to 350°F. Bake cookies for 7-10 minutes or until the cookies are golden brown along the edges.
Allow the cookies to cool in the pan for 10-minutes before transferring to a wire rack.
Add a small spoonful (approx. 1 tsp) of dulce de leche to half of the cookies. Cover with the other half and press until the dulce de leche bulges from the sides.
Roll the sides of the cookies in coconut.
Cookies can be stored at room temperature for up to a week or frozen for up to two months. To thaw, simply leave at room temperature for a few hours.
What do you think of these easy Argentinean recipes? Do they make for a simple Argentinean meal? Or would you substitute for something else? Let me know your thoughts in the comments below. Or swing over to our Facebook page and say hello!
If you're passionate about family travel, head on over to our Family Travel Support Group on Facebook. It's a fantastic community of parents who love travel. We share experiences, knowledge, and the lessons learned along the way. You can also sign up for our newsletter to keep in the loop about new family travel adventures. You can check out our web stories for these recipes here.
Wandering Wagars is a participant in the Amazon Services LLC Associates Program, an affiliate advertising program designed to provide a means for sites to earn advertising fees by advertising and linking to amazon.com, amazon.co.uk, amazon.ca. Amazon and the Amazon logo are trademarks of Amazon.com, Inc., or its affiliates.
You May Also Like To Read: