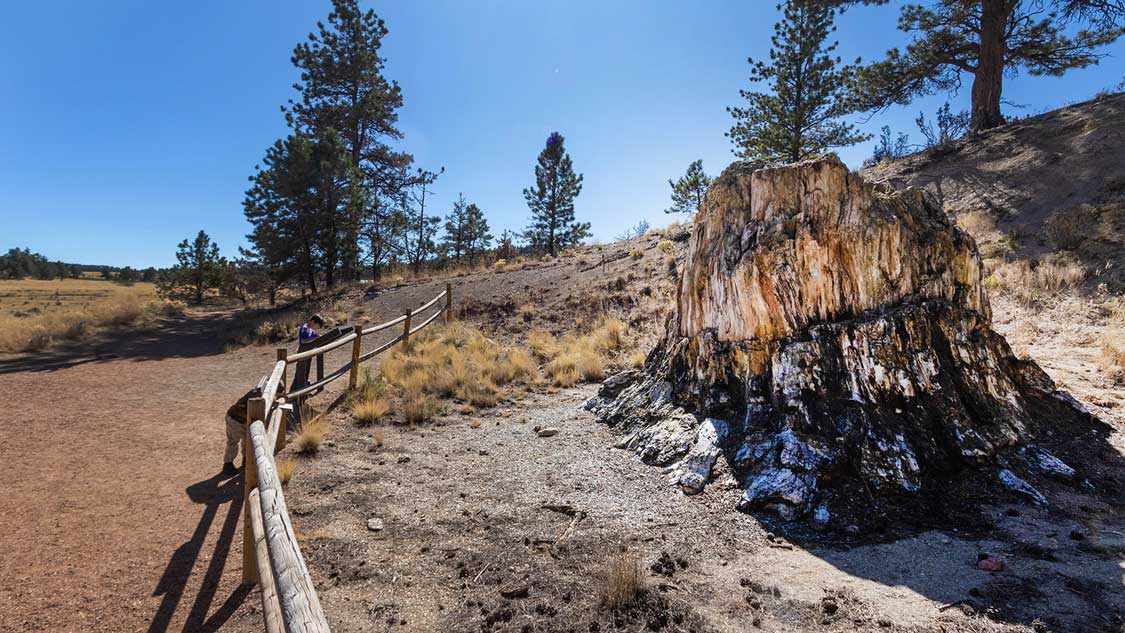 Giant redwood trees are among the largest living things on the planet. Nowadays, these towering evergreens are usually found along the Pacific coast in places such as Muir Woods National Monument in California and Tofino in British Columbia. But Florissant Fossil Beds National Monument in Colorado was once home to a massive Redwood forest as well. And you can still visit and see the remains of this among the 34-million-year-old fossils that cover the grounds of this amazing park.
Florissant Fossil Beds is one of the most incredible places to visit in Colorado. It offers a chance to explore prehistoric life in the state, as well as understand the fascinating story of how this park went from private hands to one of Colorado's popular National Monuments.
Whether you're visiting the Florissant Fossil Beds with kids or exploring on your own or with a group, you'll find plenty of things to see and do. You'll be making discoveries and literally be walking through history along the way.
About Florissant Fossil Beds National Monument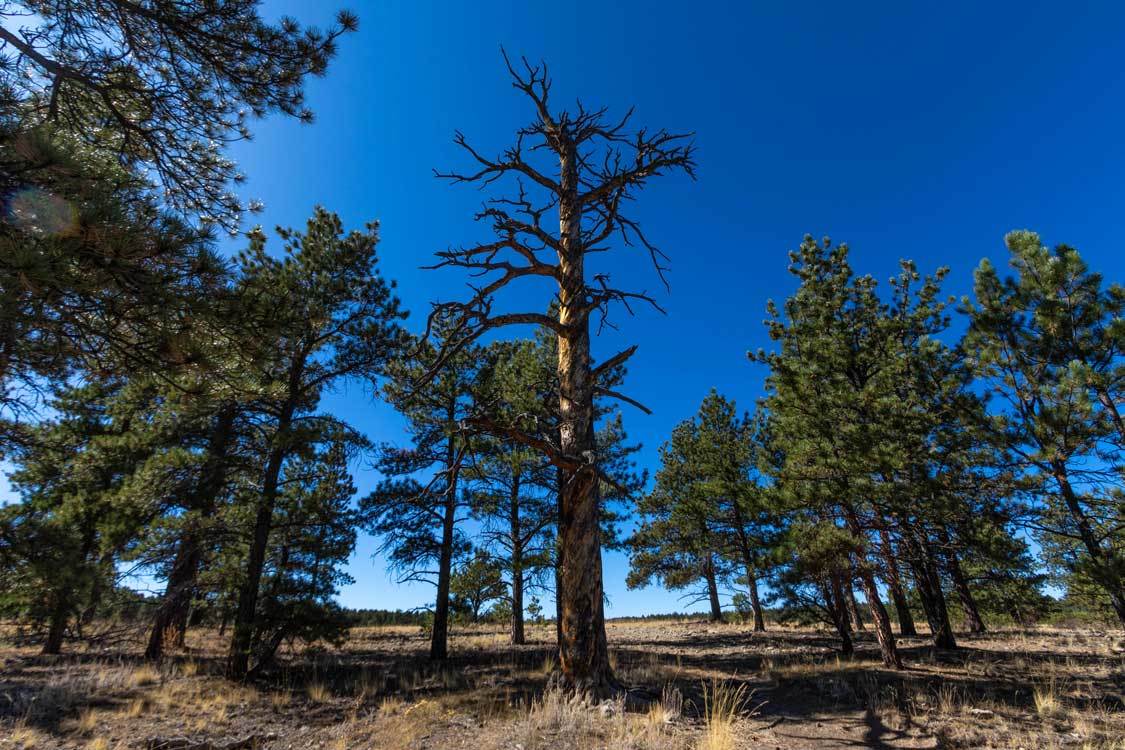 Florissant Fossil Beds National Monument is located in central Colorado about 45-minutes south of Colorado Springs. This phenomenal destination is home to one of the richest and most diverse fossil deposits on the planet.
From 14-foot-wide stumps of petrified redwood trees to thousands of insect and plant fossils, a walk through Florissant Fossil Beds National Monument is like taking a trip into the past.
Enjoy guided hikes, the junior ranger program, or some of the 15-miles of hiking trails as you explore the best things to do at Florissant Fossil Beds National Monument.
Things To Do At Florissant Fossil Beds National Monument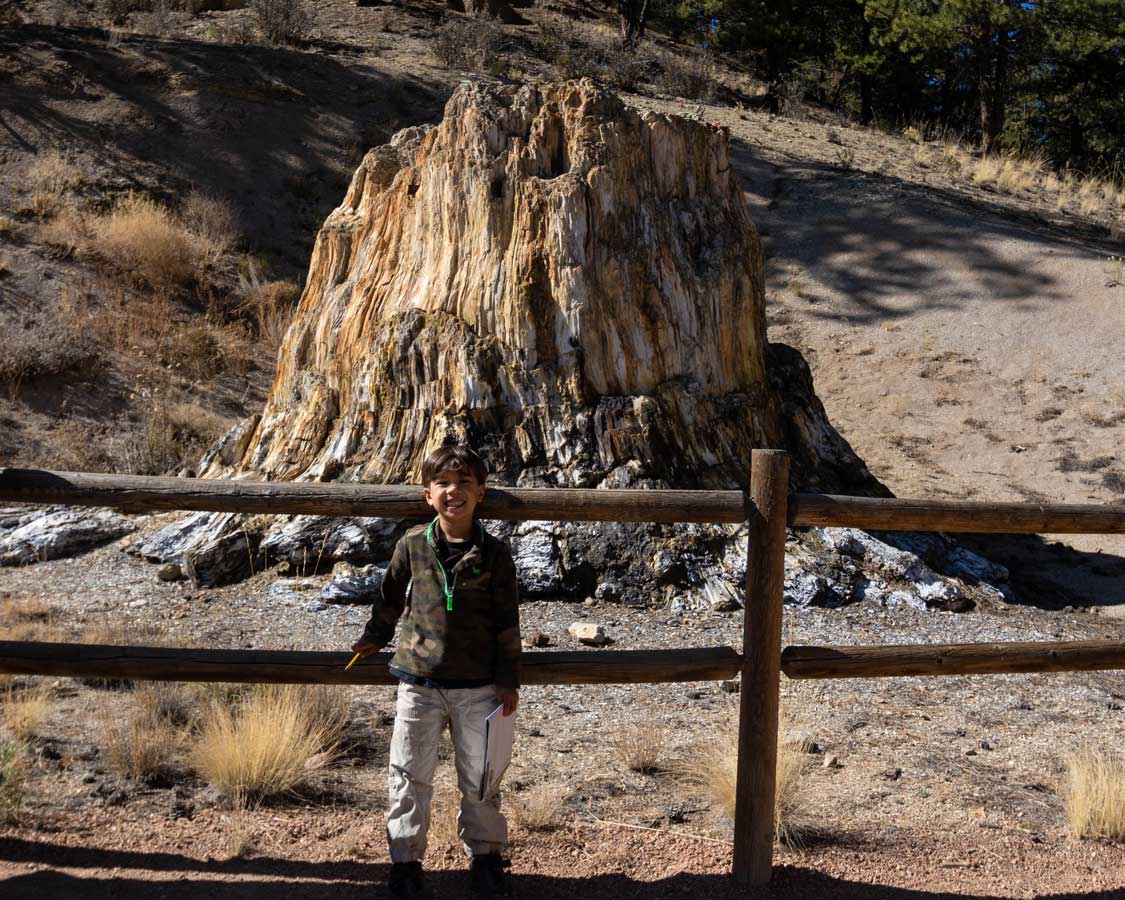 The Florissant Fossil Beds offers up a fantastic year-round experience for visitors. There is plenty of attractions to explore. And it's very easy to spend a full day here enjoying the trails and reading about the fascinating history of the park.
Florissant Fossil Beds National Monument was established in 1969 and now hosts over 60,000 visitors every year. The park covers a sprawling 6,000 acres that are absolutely teeming with fossils.
Florissant Fossil Beds is a year-round park. It is only closed on Thanksgiving, Christmas, and New Years Day. The hours are from 8:00 am to 6:00 pm during the summer months and from 9:00 am till 5:00 pm during the rest of the year.
If you're looking for information on what to do at Florissant Fossil Beds National Monument, here are a few great things to look out for.
Florissant Fossil Beds National Monument Visitors Centre
A visit to the Florissant Fossil Beds Visitor Center is a must for those looking to explore the park. Here you'll find perfectly preserved fossils and exhibits showing the prehistoric residents of the park.
Make sure to check out the fun and fascinating video presentation. It's about 14-minutes long and plays in a continuous loop. You can also catch one of the 10 a.m. ranger talks in the amphitheater.
Walk One Of The Loop Trails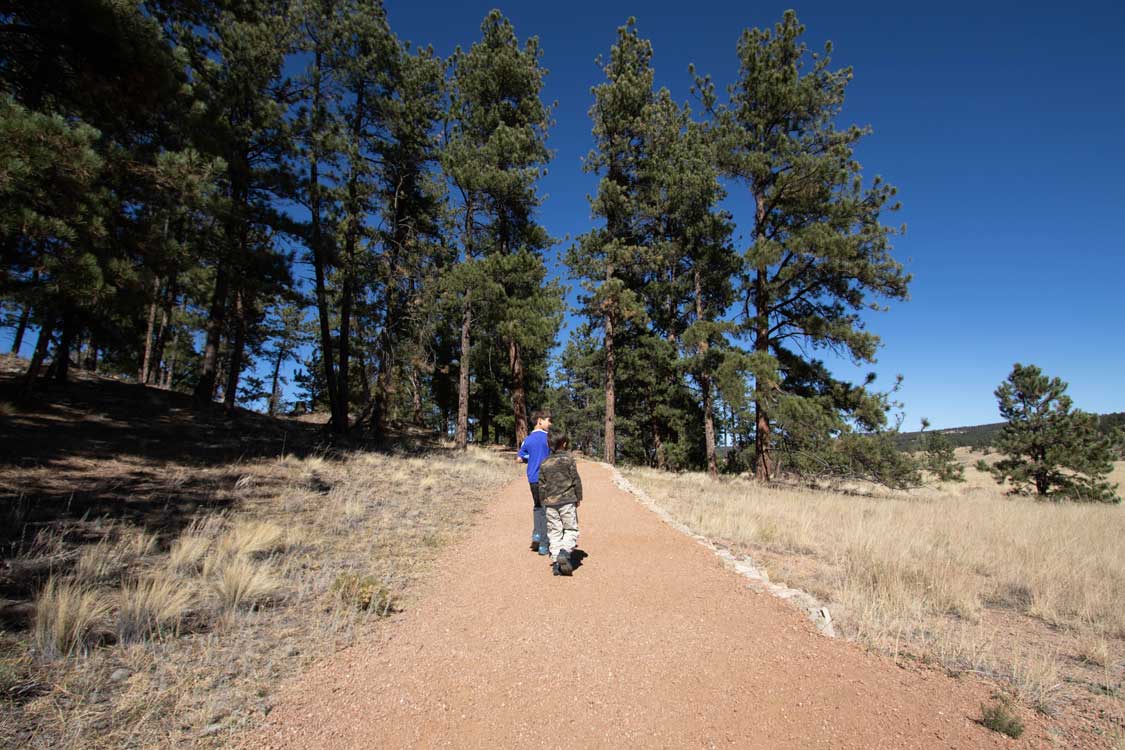 There are over 15-miles of trails at Florissant Fossil Beds National Monument. These hiking trails range from short, half-mile to 4-mile loops as well as some one-way trails as well.
The Ponderosa Loop Trail is the most accessible. This .5-mile self-guided loop meanders past some of the most well-preserved redwood fossils in the park.
The Petrified Forest Trail is a flat one-mile loop that winds through new-growth forest and across retired farm fields. Along the way, you'll see some of the park's most epic redwood fossils. Some of these reach a massive 14-feet in diameter.
The 2.6-mile Sawmill Trail follows pine forest and rolling meadows. It's not rare to find elk feeding on the long grasses or drinking from the shaded streams. The ridge tops offer a nice view of Pikes Peak Mountain, one of our favorite drives in Colorado.
Learn about the local fossil-feuds at the Hornbek Homestead
The Hornbek House, or the Adaline Hornbek Homestead is where much of the Florissant Fossil Beds action occurred prior to it becoming part of the National Monument.
Built as a ranch in 1878, the log house of the homestead is a gorgeous example of the more recent history of the area. It wasn't sold to the National Park Service until 1973.
The property was also part of a bitter feud between the Baker and Singer families prior to becoming a National Monument. The two families ran rival tourist attractions on the fossil beds that became so bitter that nails were spread to deter vehicles and even shots were fired.
Enjoy Some Colorado Stargazing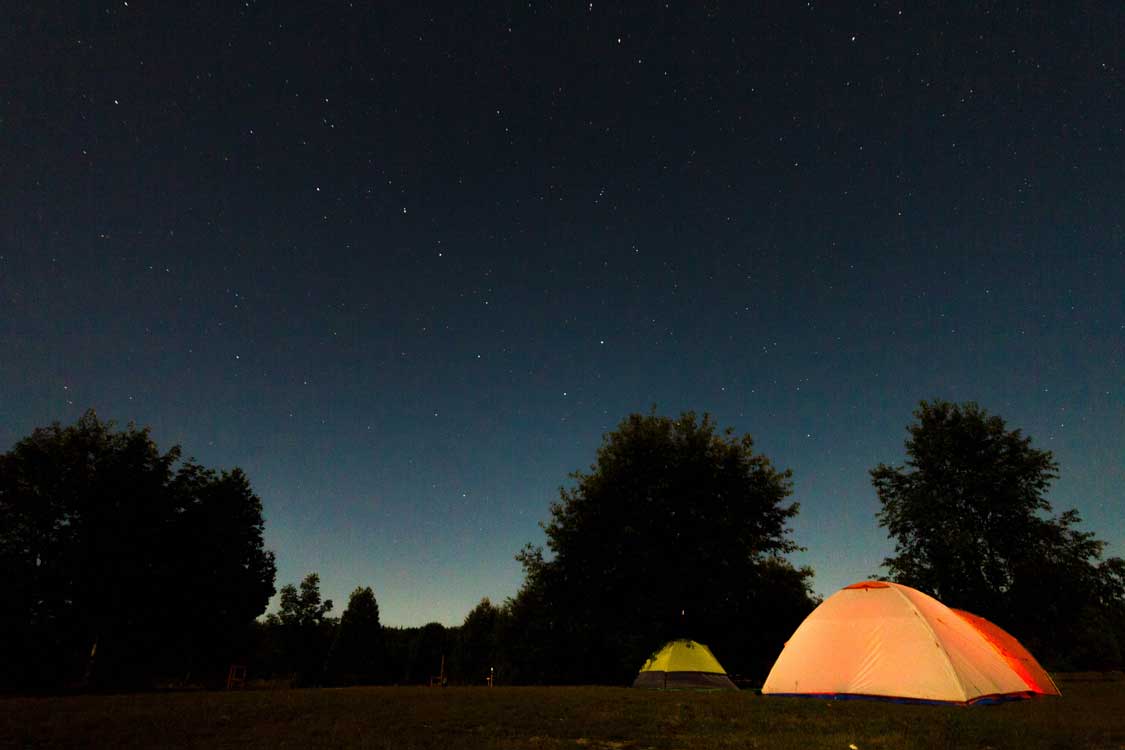 Although it's only 45-minutes from Colorado Springs, Florissant Fossil Beds seems like it's in the middle of nowhere. And this is fantastic for one special reason. The skies in Florissant, Colorado are pitch black.
This area of Colorado is far enough from the city that light pollution is very minimal. This makes Florissant Fossil Beds one of the best places for stargazing in Colorado.
During the summer months, you can even take advantage of one of the two-hour night sky programs. During these sessions, you'll learn about the stars, the constellations, and our own solar system.
Visiting Florissant Fossil Beds National Monument With Kids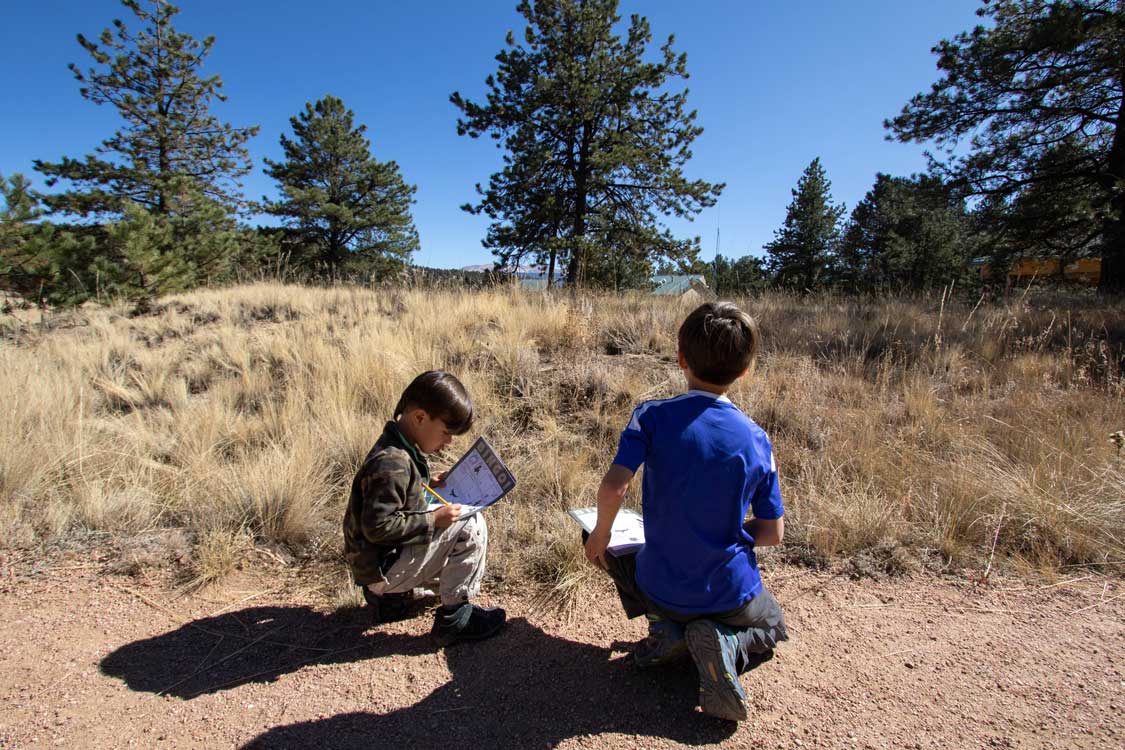 After the previous days' adventures of sandboarding in Great Sand Dunes National Park and strolling among the ancient cliffside dwellings of Mesa Verde National Park, my kids were less than enthused when they learned that they would be spending the next few hours strolling among a bunch of old trees.
Their attitude changed when we arrived at the park and the boys saw all of the fascinating fossils in the Florissant Fossil Bed Visitors Center. The boys grabbed their scavenger hunt sheets from the ranger and they immediately began their quest to gain their Junior Ranger badges.
Between the scavenger hunt and posing beside the massive redwood fossils, visiting Florissant Fossil Beds National Monument with kids was a hit.
Where To Stay Near Florissant Fossil Beds National Monument
As we mentioned earlier, Florissant Fossil Beds is kind of in the middle of nowhere. As such there aren't many hotels near Florissant Fossil Beds. However, it's not as remote as it might seem. You won't find any hotels, but there are plenty of great places to stay in and around Florissant, Colorado. Here are our recommendations.
Deer Ridge is a gorgeous 3 bedroom home that comes equipped with WiFi, cable, a full kitchen with a dishwasher, and a microwave. It's been welcoming guests since 2018 and has a coveted 10 ranking on Booking. You can check out their prices and availability here.
This peaceful Florissant home is one of the closest accommodations to Florissant Fossil Beds at just 3-miles away. It comes complete with a full kitchen, wood-burning stove, and a children's playground in the backyard. You can check out their prices and availability here.
Another coveted 10 ranking accommodation is the Lazy D Ranch, just east of Florissant in Divide. Guests can enjoy the billiards table or go hiking in the trails right off of the property. You can check out their prices and availability here.
Have you ever visited the Florissant Fossil Beds National Monument? Drop a comment below and tell us about it. Or, swing by our Family Travel Support Group on Facebook and connect with an incredible community of parents who love family travel. It's an amazing and supportive place and we would love to connect with you there.
You May Also Like To Read:
Pin This Post For Later: