Great Sand Dunes National Park is one of the ultimate adventure destinations in America. Check out this guide for the best things to do and see.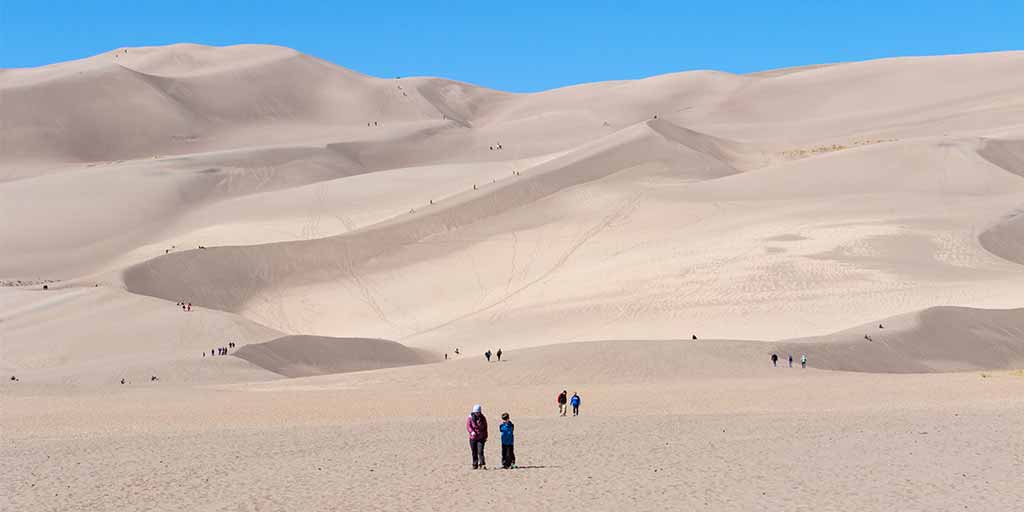 As we drove along the gridlike highways of rural Colorado, there was nothing particularly exciting about the scenery. Massive swaths of the desert landscape dotted with rocks were pretty much it. Apart from the slight rise of the Colorado Rockies in the distance, there was little to indicate what lay just over the horizon.
As we zig-zagged down a few more roads, the mountains began to rise a little higher and a few signs let us know that we were drawing closer to Great Sand Dunes National Park. We had recently visited the much-more urban Garden of the Gods near Colorado Springs, and this was a much different experience.
We followed the signs, but it wasn't until we were within the park boundaries that it was made obvious just how special this US National Park was. It started with a shimmer of the sun's heat dancing off of beige peaks.
As we drove our Toyota 4-Runner over a rise, the majesty of the landscape hit us like a punch. Massive sand dunes towered above us, dwarfed only by the dark specter of the Rocky Mountains behind them. It was clear that we would have no trouble finding things to do in Great Sand Dunes National Park.
Our visit to Great Sand Dunes NP was the first stop on our road trip through Eastern Colorado. We had a few activities planned out for our family visit to Great Sand Dunes, but we hadn't mapped out all of our things to do before we arrived. I like to wing it a little, and this lack of a plan was right up my alley.
We didn't come entirely unprepared. We had researched a few tips for visiting Great Sand Dunes National Park with kids before we arrived. I'll share those with you later on. But we were prepared for two of the most exciting things to do in Great Sand Dunes NP. We had rented sandboards at the nearby Oasis Store, and we had a capable 4×4. Now it was time to discover the best of Great Sand Dunes.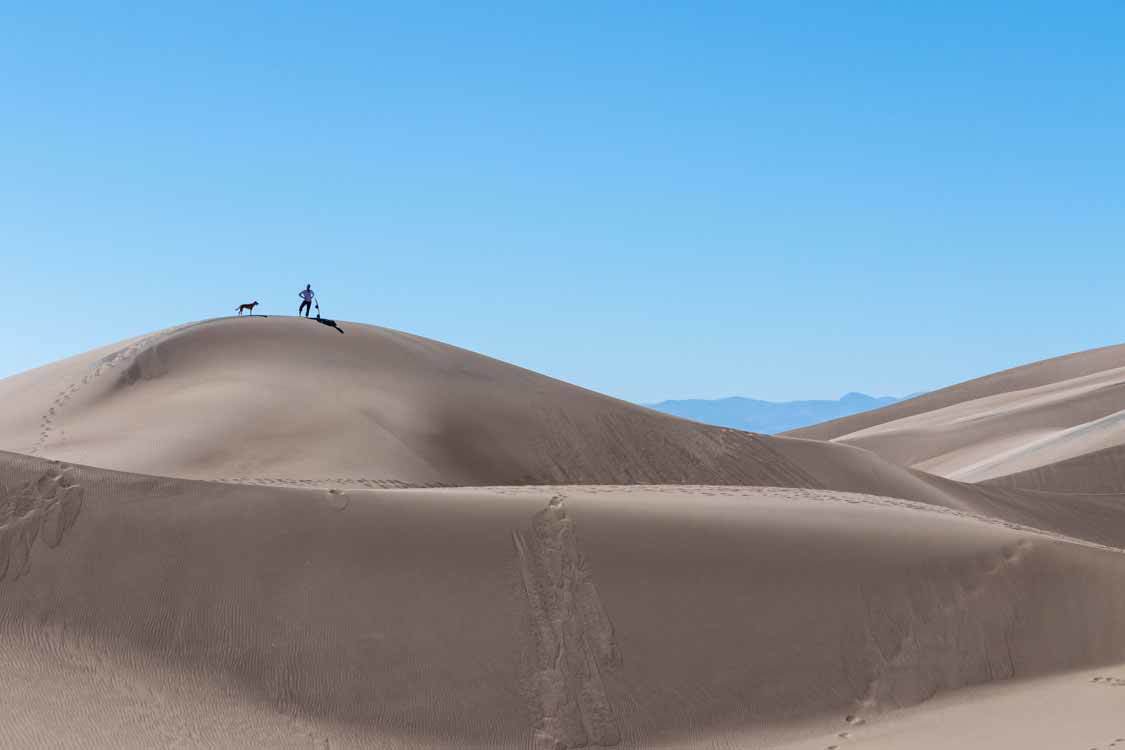 A Little About Great Sand Dunes National Park
Great Sand Dunes National Park and Preserve is home to the tallest sand dunes in North America. These epic hills rise up to 750 ft from the floor of the San Luis Valley in southern Colorado. The park is visually stunning as well. The golden sand dunes, formed by sediment captured by the Medano creek in the mountains, are framed by the raw peaks of the Sangre de Cristo mountain range.
Great Sand Dunes is located about 40-minutes from the town of Alamosa. The park is remote and quiet. This makes for an amazing getaway for those looking to disconnect from the world for a few days while immersing themselves in the surrounding nature. We visited Great Sand Dunes in the Fall when the colors of the park exploded. But Great Sand Dunes is a popular destination year-round. But if you visit Great Sand Dunes NP in the summer, come prepared for searing hot sand.
The entire park and preserve protect a massive 149,028 acres of pristine Colorado landscape. And the human history of the area dates back an impressive 11,000 years, with evidence of mammoth hunts of nomadic tribes that would frequent the region during hunting seasons. Modern indigenous nations, including the Ute and Navajo, also frequented the area. Just southeast of the dunes, Bianca Peak, is considered one of the four sacred peaks by the Navajo Nation.
Things To Do In Great Sand Dunes National Park
Great Sand Dunes National Park covers a huge area, but a good chunk of it isn't accessible to people looking to spend a day or two at the park. The sand dunes themselves blanket a large area near the Great Sand Dunes Visitor Center, while the towering mountains cover much of the area beyond them. but finding amazing Great Sand Dunes things to do just takes a little exploring.
Sand Boarding in Great Sand Dunes National Park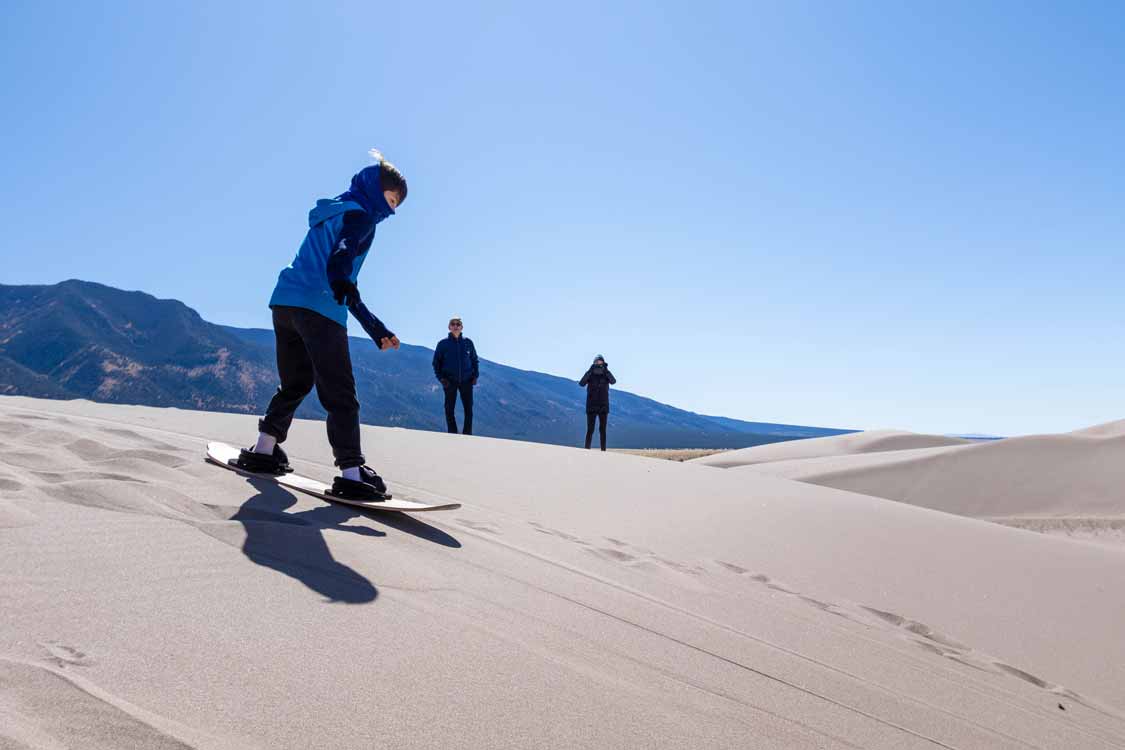 Probably the top Great Sand Dunes National Park activity that's researched is sandboarding. After touring around Wadi Rum in Jordan and the Huacachina sand dunes in Peru, we were well-versed on what sandboarding in Great Sand Dunes National Park would be like. And we were so pumped to get back out on the hills. It's no surprise that sandboarding is one of the most popular things to do in Great Sand Dunes National Park. Photos of sandboarding are always epic, and who doesn't love the idea of snowboarding without the cold!
To go sandboarding at Great Sand Dunes National Park, we parked at the visitor center and made the walk across Medano creek before trekking across the plains below the dunes. Like most things of epic size, the sand dunes were further away than they looked. But after a few minutes of walking we arrived at the base of the Great Sand Dunes.
You can choose to walk up as high or as low as you like when sandboarding the dunes in Colorado. But keep in mind that hiking up sand dunes usually involves two steps forward and one slide backward. The higher up we went, the smaller the crowds, but the more exhausting it was.
Once we found a sweet slope with an easy-to-access dune ridge, we were carving up the hills and getting a face full of sand. I highly recommend bringing up a neck gaiter to cover your mouth and a pair of cheap ski goggles to keep the sand out of your hair. Getting sand in your eyes and mouth is no fun. And don't bring expensive goggles because it's easy for them to get scratched up.
Hiking Great Sand Dunes National Park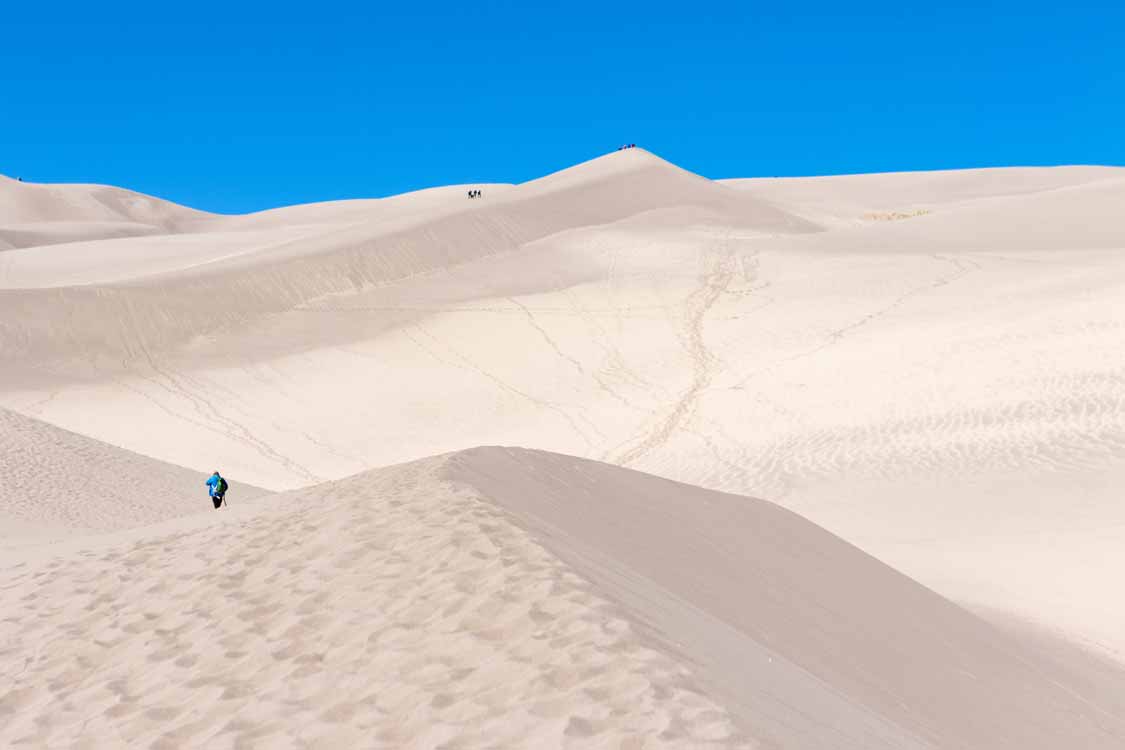 Outside of our visit to Rocky Mountain National Park, we found the hikes in Great Sand Dunes NP to be among the most beautiful. The fact that the autumn colors were exploding around us sure didn't hurt. But the landscape alone makes hiking in Great Sand Dunes a noteworthy experience. While much of the park is dedicated to backcountry experiences, there are still some great day hiking in Great Sand Dunes that are appropriate for families and new hikers.
High Dune Hike
The High Dune hike is probably the most popular Great Sand Dunes trail. The hike takes you from the visitor center to the top of the 699′ dune that is visible from the parking lot. The High Dune isn't the tallest in the park. That honor goes to Star Dune, which rises an additional 46′.
But it's a further 1.5 miles west and much harder to access. There's no real trail to get to the top of High Dune. But you can find your way along the dune ridges from the parking lot off of Sand Dunes Loop. The trail runs approximately 2.3 miles return.
Zapata Falls Trail
The Zapata Falls Trail is located outside of Great Sand Dunes National Park, but you'll pass the entrance on the way just off of CO-150. The cascading Zapata Falls is just .5 miles from the start of the trail. You can continue for 4-miles down the trail to South Zapata Lake, but the hike gets pretty strenuous along the way.
Dunes Overlook Trail
The Dunes Overlook trail is a moderately strenuous hike that opens up to one of the coolest overlooks in Great Sand Dunes park. The Dunes Overlook Trail is a 4.3 out and back trail that winds through some of the gorgeous wildflower fields of the park. It's a really popular trail for those looking to dip into something a little more engaging than the Sand Dunes Loop but still want a hike that won't leave them breathing heavy.
Stargazing Over The Sand Dunes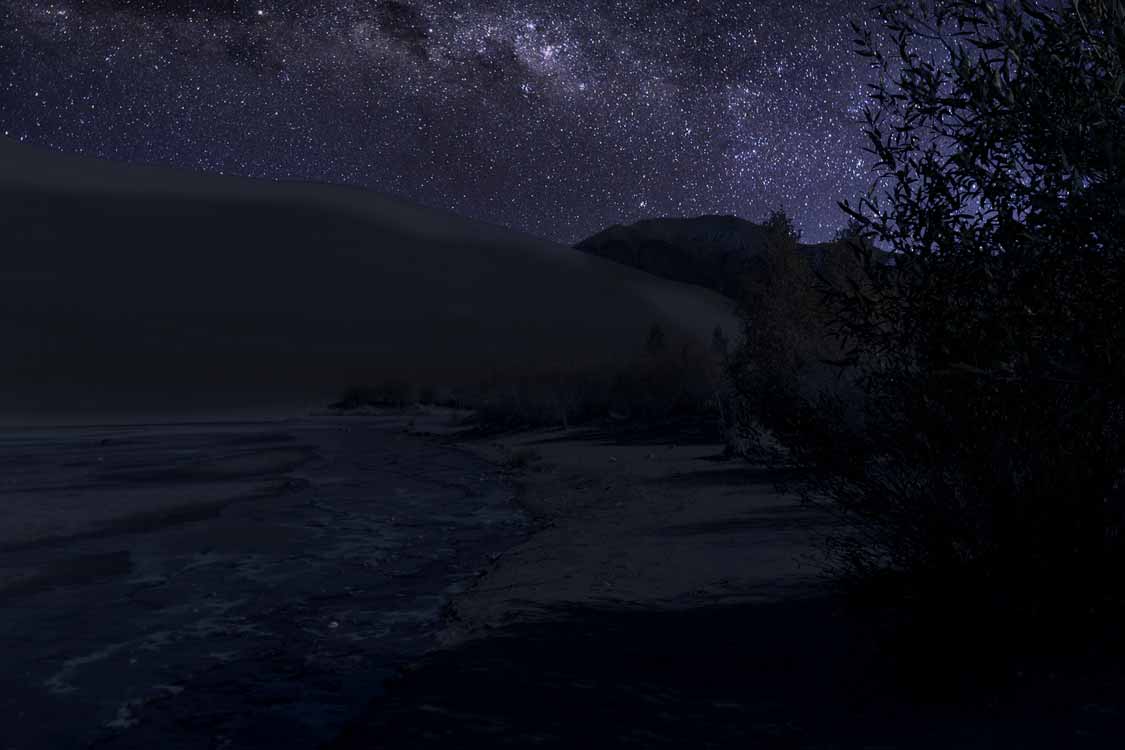 Great Sand Dunes National Park is open 24/7, so if you love stargazing, make sure to make a visit after the sun drops. Because of the park's remote location, Great Sand Dunes doesn't suffer from much light pollution. This makes for some of the darkest starry skies in America.
Check out the views over Medano Creek with the mountains and the sand dunes in the background. It's an absolutely awesome view. Grab a telescope for stargazing. Or, if you're interested in night photography, make sure you bring a tripod and a camera that you can adjust the shutter speed. This is the camera that I use, but something less expensive such as this is great for those new to the craft.
Rent a 4×4 And Drive The Trails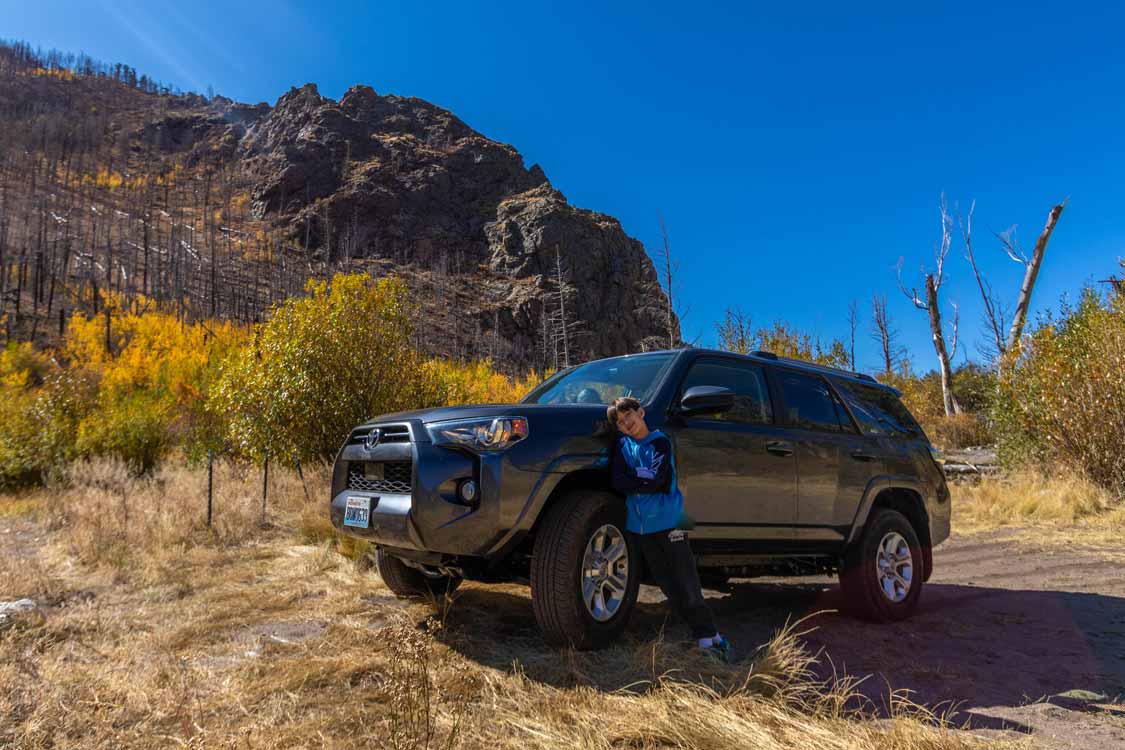 I'll be honest. I wasn't prepared to do any off-roading while in Great Sand Dunes Park. But when the rental company offered me a serious upgrade to a more-than-capable Toyota 4-Runner, who was I to argue? If you drove to Great Sand Dunes in your own car but want to try off-roading in the park, save your paint and rent a car in nearby Alamosa.
Driving the trails in Great Sand Dunes requires a bit of know-how. Once you pass the Medano Pass Primitive Road, things can get hairy. You will need to be able to lower your tire pressure in order to avoid getting stuck in the soft sand.
Be prepared for some gnarly ruts that look as though they could swallow up a compact car. but the views along the pass are absolutely beautiful. If you want to avoid the crowds, you can even camp at one of the 21 first-come, first-serve campsites along the way. A tire pump station is located right at the beginning of the trail for refilling your tires after your journey.
Make Your Visit A Beach Vacation With A Splash In Medano Creek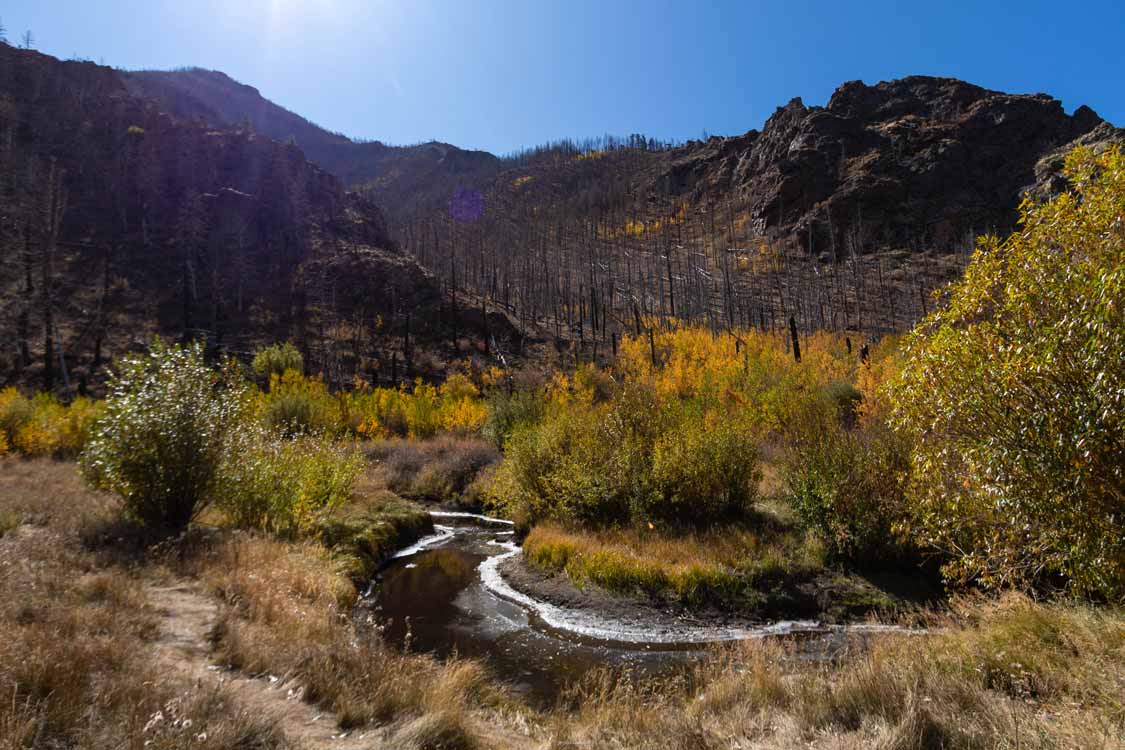 OK, I'll admit, when we went to visit Great Sand Dunes National Park in the fall, Medano creek has a nice sheet of ice. But, if you visit during the spring and summer, Medano Creek is perfect for splashing in. The clean, clear waters running along the backdrop of the mountains and sand dunes make for an amazing place to play.
This is double for those visiting Great Sand Dunes National Park with kids. Just make sure to bring your bathing suit. Even if you're heading to the park in the 0ff-season, a stroll along Medano Creek is still a great way to experience the color and scenery of this majestic park.
Take Part In One Of The Ranger Or Junior Ranger Programs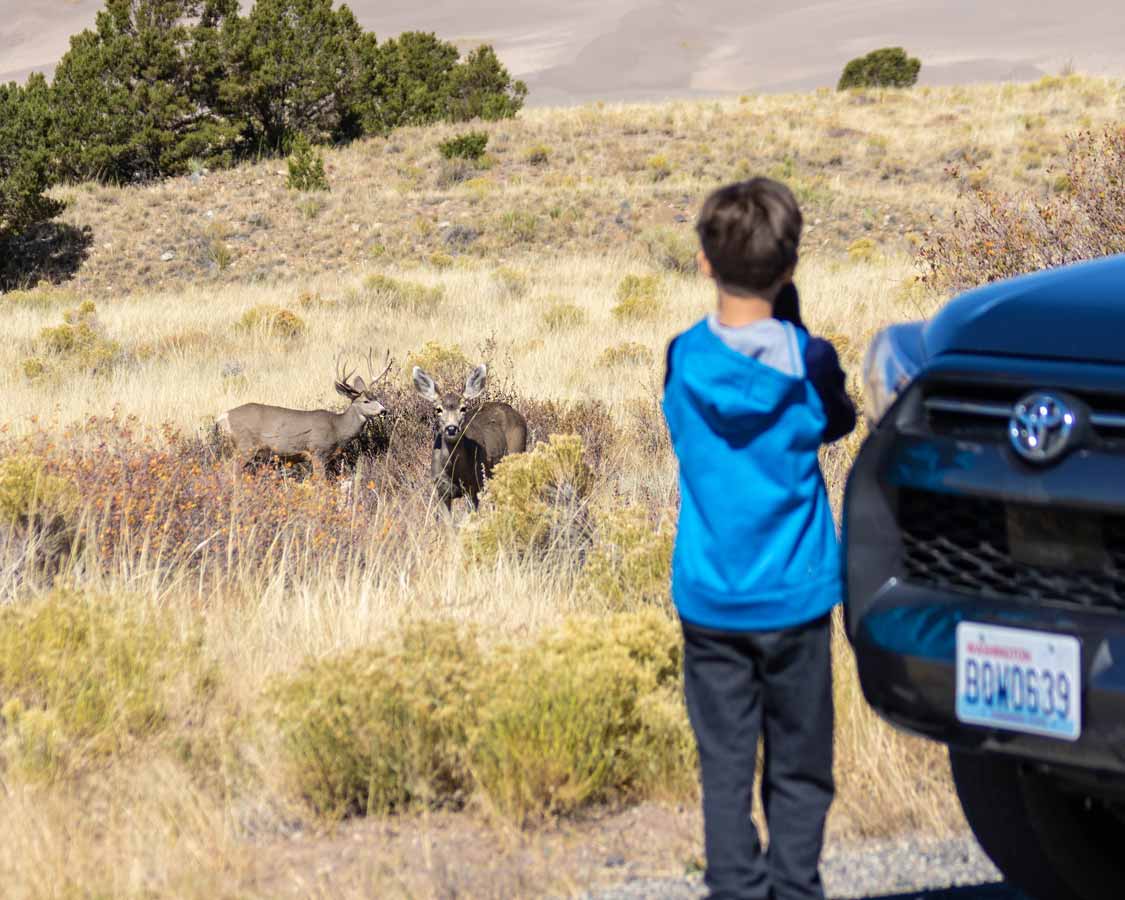 There are loads of great ranger programs at Great Sand Dunes National Park. Drop into the visitor center to find out what programs are happening on the day you arrive. You'll find everything from guided hikes, wildlife spotting, foraging, and more.
For those visiting Great Sand Dunes National Park with kids, make sure to take part in the NPS Junior Ranger scavenger hunt. This self-guided experience is a great way for kids to learn about the history, landscape, and nature of their parks. Our boys managed to knock off 4 National Park badges on their Colorado trip alone!
Great Sand Dunes National Park Camping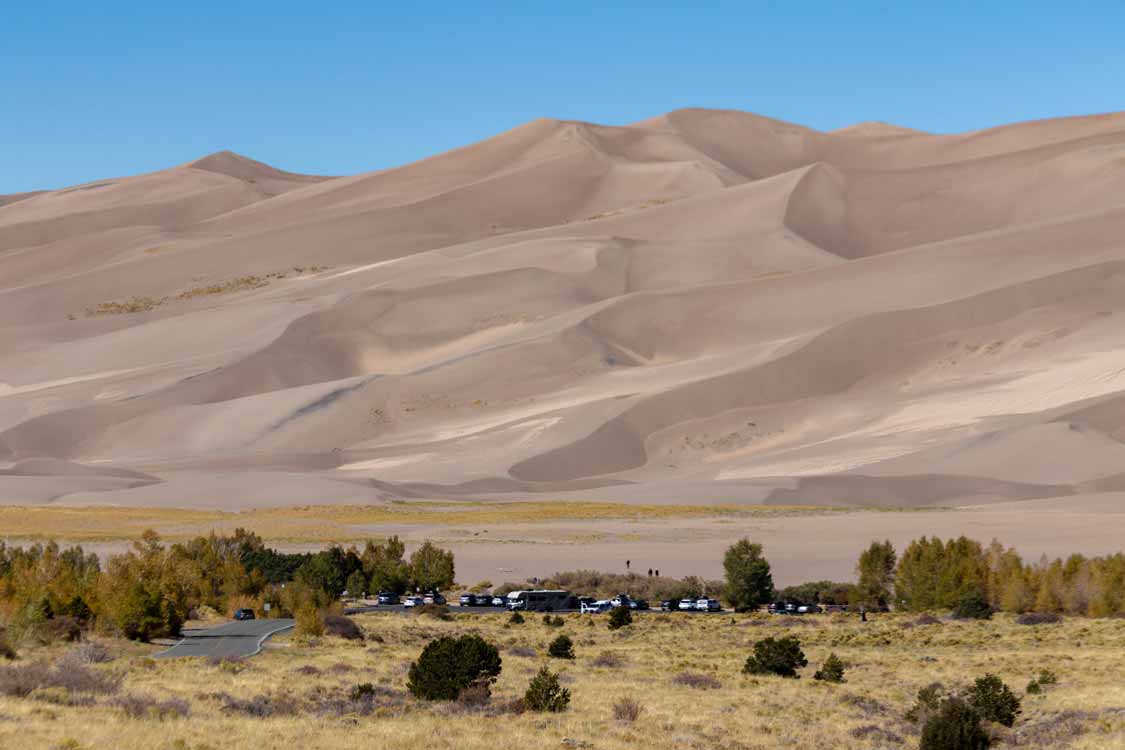 There's no better way to get the full park experience than with a Great Sand Dunes National Park camping trip. Pinon Flats is the primary front country campground in Great Sand Dunes park. And trails are leading from every campground right to the dunes.
Pinon Flats has three loops of campsites. Loop 1 has 44 first-come, first-served sites. Loop 2 has 44 sites that are reservable during the summer season, and Loop 3 consists of three group sites that are reservable during the summer.
Those camping at Great Sand Dunes will find comfort stations with restrooms that have sinks and flush toilets as well as a dish-washing station. The sites have fire pits, picnic tables, and bear boxes for storing your food and scented items.
Those looking for even more peace and quiet can either 4×4 into the primitive sites or hike at least 1.5 miles into the dunes and spend the night on the sand. You can check out the NPS reservation system for more details on camping in Great Sand Dunes National Park.
Tips For Great Sand Dunes National Park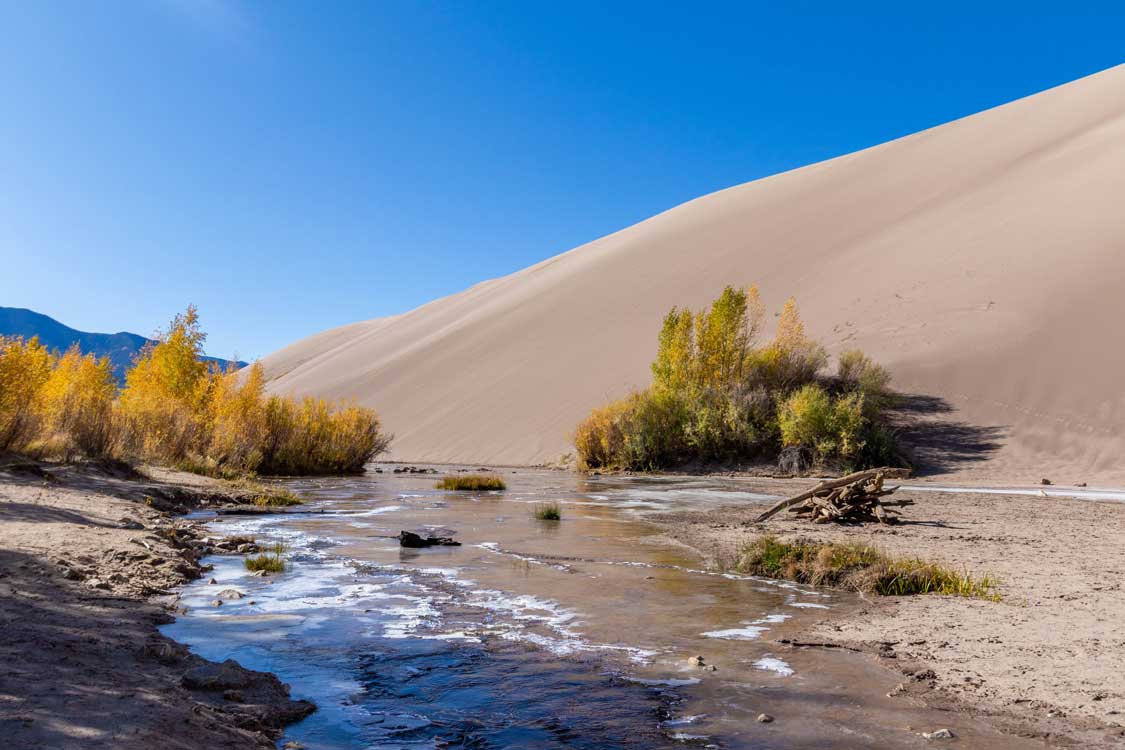 Is There Food Available At Great Sand Dunes National Park?
Unfortunately, no. There is no food available for purchase within Great Sand Dunes National Park. In fact, the Oasis Store just outside the park entrance is the only place to purchase food within 25 miles of the park.
Outside of the Oasis Store, you will need to head to the town of Alamosa. The Oasis Store has a small grocery that should cover most of the essentials. But expect to pay premium prices for convenience.
Where Can You Rent Sandboards For Great Sand Dunes NP?
The best place to rent sandboards for Great Sand Dunes park is also at the Oasis Store. You can rent them for either 4 or 8 hours. The rental prices when I visited last were about $20 for 8-hours. The next closest place to rent sandboards is in Alamosa at Kristi Mountain Sports.
What Are The Park Entry Fees?
Great Sand Dunes National Park is open 24 hours a day, 365 days per year. Like all National Parks, there is a small entrance fee required. These fees help go towards the maintenance and support of the park system. The cost for a passenger vehicle is $15, and the pass lasts for 7-days.
You can also pick up the NPS National Parks Pass for $80. This pass allows you into any US National Park for one year. You can purchase the annual pass at the gate or order it online here.
What Should You Pack For Great Sand Dunes National Park?
Like any great travel experience, being prepared makes the trip to Great Sand Dunes National Park that much more enjoyable. Make sure you come with everything you need to enjoy the park because there are very limited facilities within the park.
No matter what season you're visiting in, make sure to pack sunscreen. The reflection off of the sand can be very intense. You'll also want to bring a water bottle. I recommend bringing a filtered water bottle if you are exploring deeper into the park. That way, you won't need to find clean sources of water to refill.
Also, be sure to dress appropriately for the season. During the shoulder season, the dunes are at a comfortable temperature. But during the height of summer, the dunes can reach a blistering 150 degrees Fahrenheit (66 degrees Celsius). Wear light, airy clothes and make sure not to go on the sand dunes in bare feet. Otherwise, you may end up with a serious burn.
Have you ever visited the Great Sand Dunes National Park? Tell us about it in the comments below. Or head over to our Facebook Page and share your experience with us. Make sure you subscribe to our newsletter for all of our travel adventures.
Where Are The Best Places To Stay In And Near Great Sand Dunes Park?
If you aren't planning on camping in Great Sand Dunes National Park, you'll need to stay outside of the park. I mentioned earlier that Great Sand Dunes Colorado is quite remote, but there are some excellent places to stay near the park that are great for families, couples, or solo travelers.
Great Sand Dunes Lodge
Great Sand Dunes Lodge is one of the most popular hotels near Great Sand Dunes National Park. The lodge is located next to The Oasis, about 7-miles from the entrance to the park. The rooms are comfortable and have patios overlooking the dunes.
The rooms also have TVs and free WiFi (although the service is spotty), a microwave and a refrigerator. Great Sand Dunes lodge also has a heated outdoor pool and gas grills for cooking. A restaurant within walking distance is open from May through to September. You can check out the rates and availability of Great Sand Dunes Lodge here.
Fairfield Inn Alamosa
Outside of Great Sand Dunes Lodge, the closest places to stay near Great Sand Dunes National Park are in the town of Alamosa. There are restaurants and all the amenities for a day out at the park in the town, so it makes for a good base camp. The Fairfield Inn Alamosa has an indoor pool and free WiFi. It's just a 20-minute drive from the Alamosa National Wildlife Refuge. You can check out their prices and availability here.
Hampton Inn Alamosa
Offering a very similar package to the Fairfield Inn, the Hampton Inn Alamosa is also gets high reviews. Visitors will have access to the indoor pool and an on-site continental breakfast. The hotels is just 10 minutes from the Rio Grande Scenic Rail Road. You can check out their prices and availability here.
Have you ever visited Great Sand Dunes National Park? Tell us about your experiences in the comments below. Or drop by our Facebook page and share a photo of your experience.
DISCLOSURE: This post may contain compensated links. Any purchases made may earn us a small commission at no extra cost to you. For more information, please read our disclaimer. Wandering Wagars is a participant in the Amazon Services LLC Associates Program, an affiliate advertising program designed to provide a means for sites to earn advertising fees by advertising and linking to amazon.com, amazon.co.uk, amazon.ca. Amazon and the Amazon logo are trademarks of Amazon.com, Inc. or its affiliates.
You May Also Like To Read:
Pin This Post For Later: