Find the best Airbnb and VRBO in Lake Placid for families and groups in our helpful guide. Whether you're looking for cozy, luxury Airbnbs, or well-stocked Lake Placid VRBOs, our guide has you covered.
---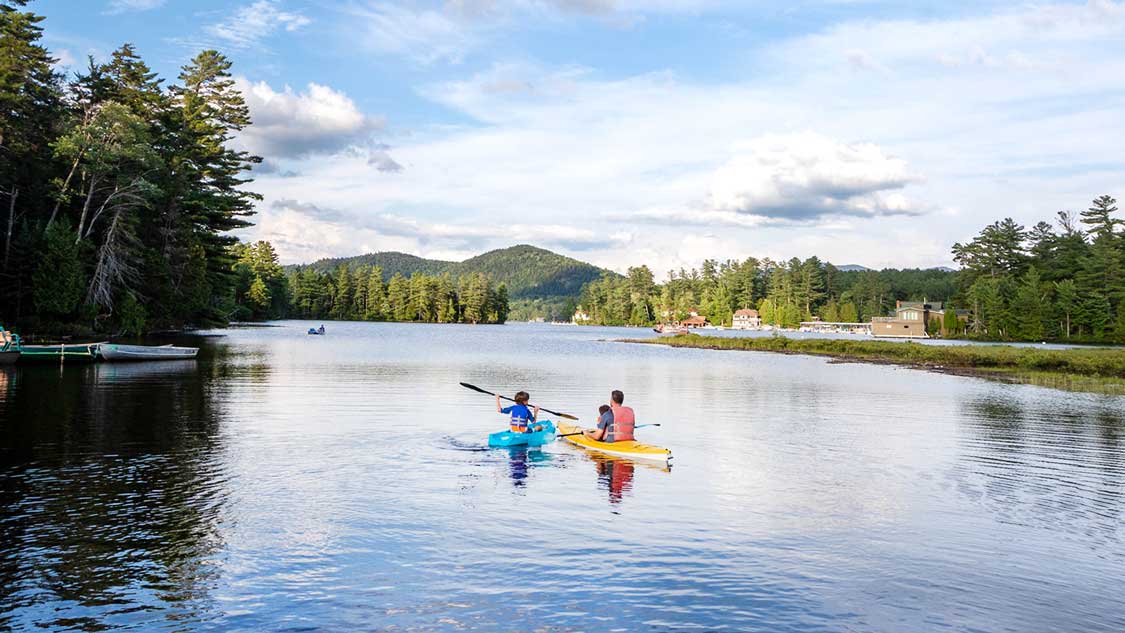 My family absolutely loves Lake Placid. And really, what's not to love. This city is one of the very few to have held not one, but TWO Olympic winter games, and since the last one in 1980, this beautiful small town in New York's Adirondack region has exploded as one of the most popular family vacation destinations in New York State. And with that popularity has come an amazing collection of family-friendly Lake Placid Airbnbs and beautiful Lake Placid VRBO properties to cater to that influx of visitors.
Through many visits to the city, I've been working on tracking down the best Lake Placid home rentals for families and small groups. Because I want to encourage more families to see just what makes this town so special.
Lake Placid, which is situated on the picturesque shores of Mirror Lake is a year-round destination. Summer in Lake Placid attracts crowds looking for some of the best hikes in New York State. The downtown core is lined with quaint shops, cafes, and small, local restaurants serving up mouthwatering food.
Winter in Lake Placid takes on a charm all of its own. You'll find a booming "ski-town" atmosphere here with many patios hosting roaring fireplaces as families enjoy a meal after a day of skiing on nearby Whiteface Mountain or skating around the storied "Olympic Oval" in front of the Lake Placid Olympic Center.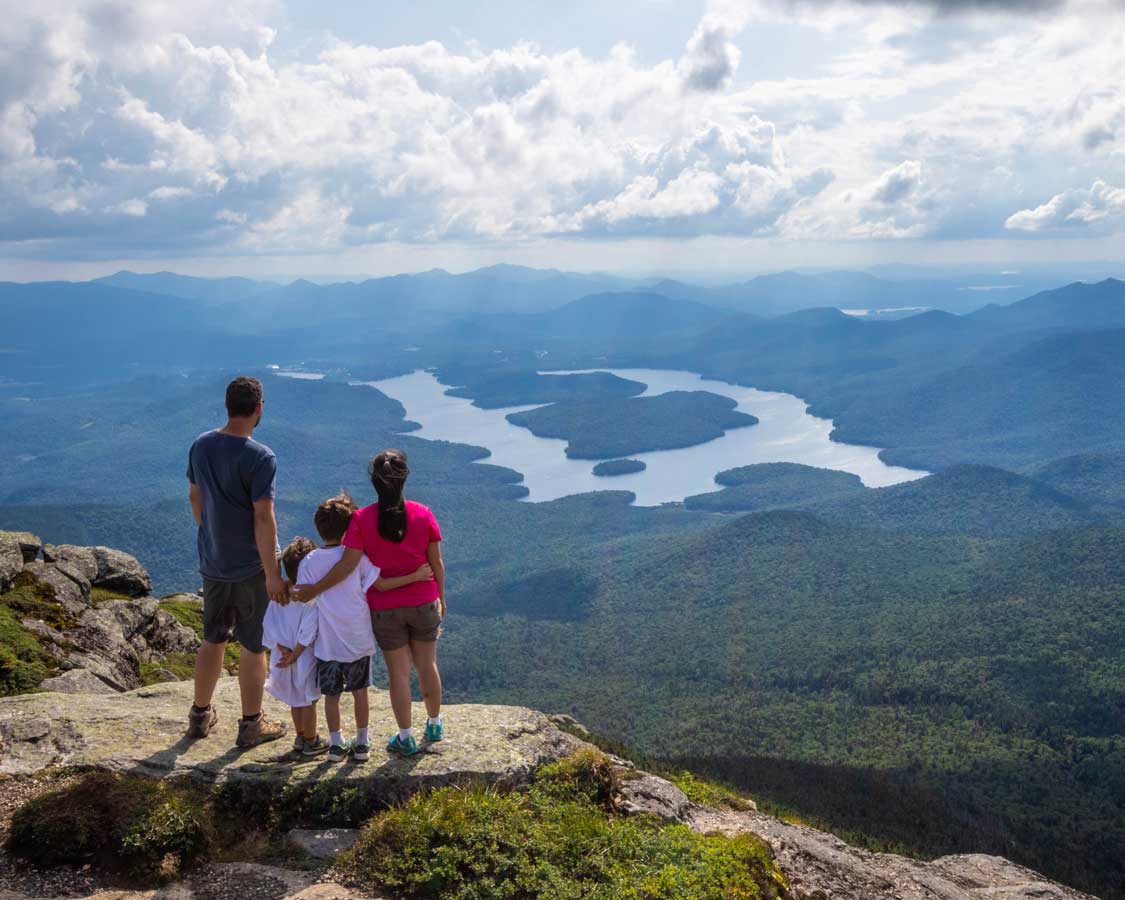 The city is surrounded by natural beauty and Lake Placid becomes a popular home base for those exploring the Adirondack winter attractions.
To help you plan your vacation, we've researched the best cozy cabins, mountain homes with a view, and city-center condos to lay out which is the best Lake Placid rental for families and small groups. These Lake Placid rentals all offer kitchens, multiple bedrooms, family-friendly amenities, and a location that will make your visit to Lake Placid one that you will want to return to time and time again.
Find The Best VRBO and Airbnb in Lake Placid For Families
Whether you're looking for a mountain home, a well-stocked condo, or the perfect lakeside cottage, there are Lake Placid AirBnbs and VRBOs to fit every family's need and budget.
The Family-Friendly Lodge In Central Lake Placid
Sleeps 8 People And Steps To Downtown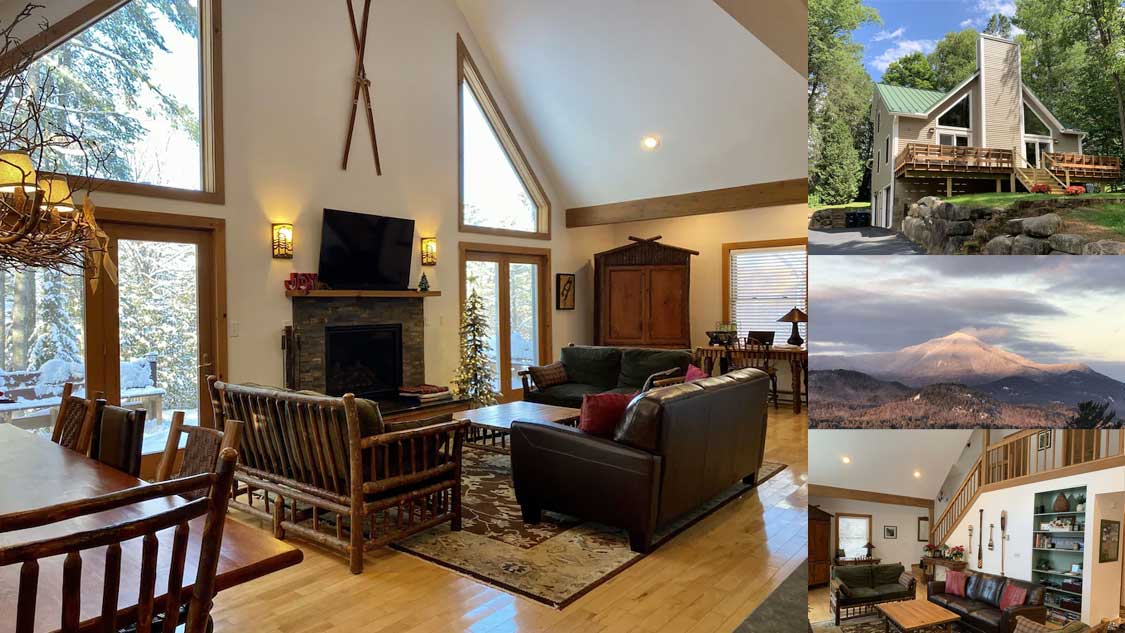 This beautiful central Lake Placid home rental is all about the location. Beautifully placed in the Hillcrest neighborhood, this luxury rental has everything that a family vacation in Lake Placid might want.
You'll have an amazing kitchen and room to sleep 8 people comfortably. You'll also have lots of extras included such as cookies, hot chocolate, linens, soaps, towels, and all the cooking utensils that you might need.
This Modern Lake Placid Lodge
Lake Placid VRBO that sleeps 18 people in Modern Luxury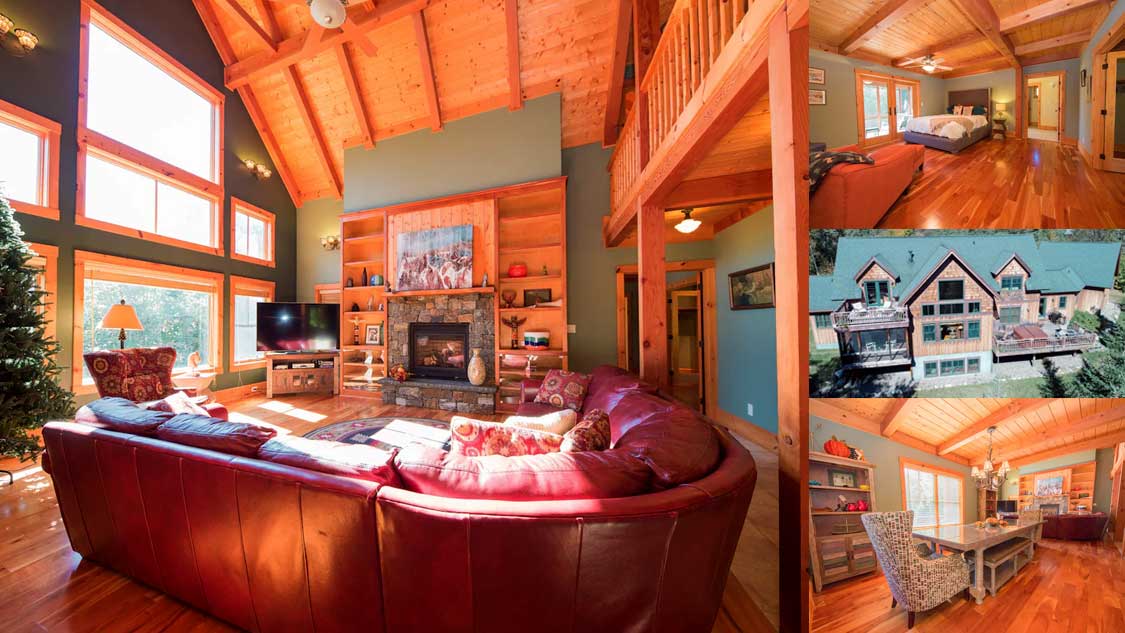 Visitors to the iconic Wild Center in Tupper Lake may not want that experience to end. And while I can't affect the closing times of the Wild Center, I can certainly recommend this stunning 6,000 sq. foot luxury lodge rental in Lake Placid.
Boasting 9 bedrooms and enough space for several families or a large group, this fully-air conditioned home is a place you might not want to leave.
Not only does it come equipped with modern appliances and even a private suite for those who want a little peace and quiet, but it's also centrally located within walking distance of the Lake Placid Center for the Performing Arts.
Stunning Mountain Lodge With Outdoor Pool
Mountain Perfection With Gorgeous Pool on 10 Acres of Land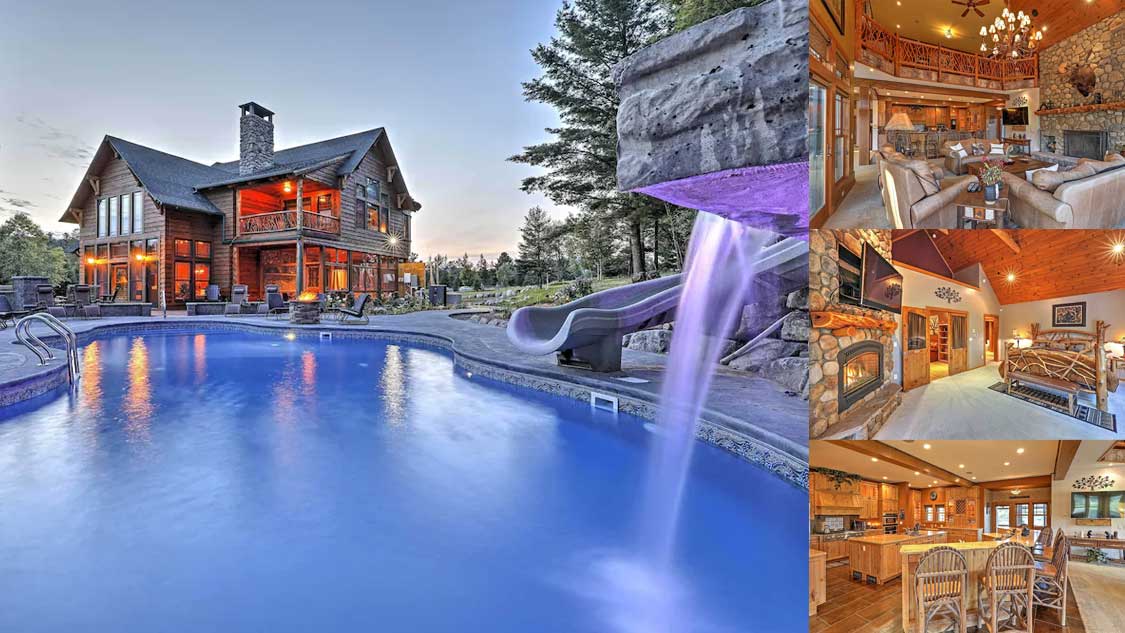 I'm not sure if mountain paradise can be any more perfect than this stunning mountain lodge situated on 10 acres of land. With 5-bedrooms, 6-bathrooms, and over 7,000 sq. ft. of living space to get lost in, this might just be our favorite Lake Place home rental.
But to sweeten the pot, the owners have built an Olympic Oasis with a hot tub, seasonal swimming pool, slide, and even a waterfall that makes a gorgeous place to relax after a day of exploring all of the amazing things to do in Lake Placid.
The vaulted ceilings and wood-burning fireplace are just two of the many things that will capture your heart about this luxury Lake Placid home rental. The large windows allow light to pour in, and you'll be able to catch magical sunset views from the backyard.
Lakeside Mirror Lake Cottage
Waterfront Fun That Sleeps 8 Comfortably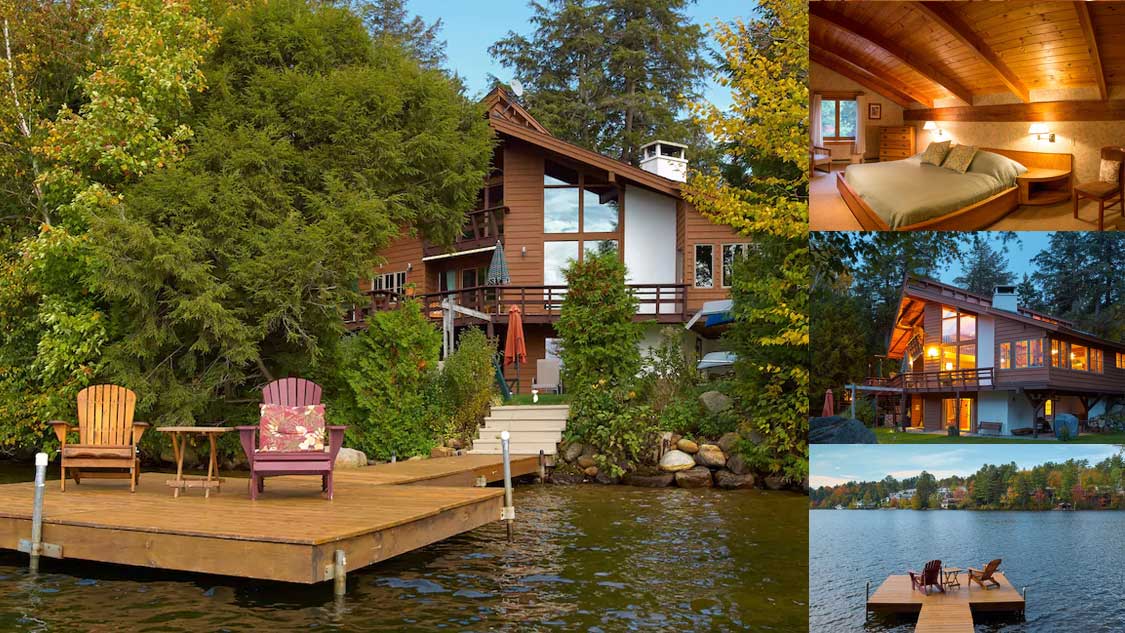 This modern wooden cottage situated on the shores of Mirror Lake features cathedral ceilings and massive picture windows that fill the inside with light.
The large garden and private surroundings might make you forget that you're just a short distance from downtown Lake Placid. It even includes boats to use on Lake Placid and an outdoor fireplace for cooking marshmallows.
For outdoor-lovers, you can access the Cobble Hill or High Peaks hike via a short, 10-minute drive. And for winter in Lake Placid, you'll be able to enjoy cross-country skiing right from the front door.
Beautiful Lakeside Cottage Near Whiteface Mountain
The Best of Both Worlds with Access to Lake Placid and Whiteface Mountain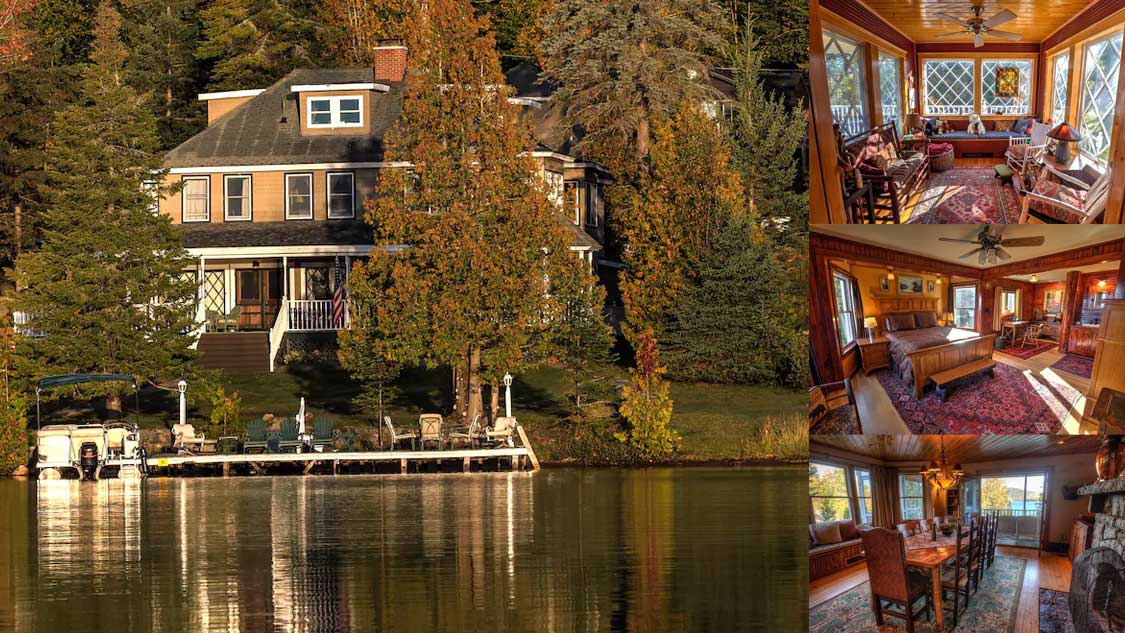 Spend time in classic Adirondack luxury where you have access to both the clear waters of Lake Placid and the stunning peaks of Whiteface Mountain.
This 4,400 sq. ft Lake Placid rental has timeless charm. And it's walking distance to tennis courts, cross-country ski trails, and hiking trails. And visitors will love the on-site kayak access for paddling the beautiful waters that lie right outside your door.
The property has 6 bedrooms, each with their own bath. And the styles vary with each room from antique classic to rustic camp. And the gourmet kitchen with modern appliances and granite countertops is a luxury you won't want to leave behind.
The house sleeps 12 with on King, three Queen's, and four Twin beds. And the house also features two grand stone fireplaces and an all-season porch.
If you're looking for easy access to both Whiteface Mountain and the lake, this Lake Placid VRBO is for you.
More Great Places To Stay In Lake Placid
These are just a few of the Airbnbs in Lake Placid for families and small groups. If you're looking to book a visit to the town, make sure to book early. This is a uber-popular destination and these Lake Placid rentals book up fast.
There are many more Lake Placid Airbnbs and VRBOs available than what I had the chance to list here. So if you're looking for more great places to stay in Lake Placid, you can check out this convenient property map below.
If you've tried these places and haven't had luck, you'll be happy to know that there are many more Lake Placid Airbnb rentals to choose from. Here is a map to help you find one in the area that best suits you and your family.
You May Also Like To Read:
Pin This Post For Later: