Exploring the Adirondacks in Winter makes for a magical adventure. From the ski resorts to the best restaurants, here's how to plan your Adirondack Winter Vacation.
---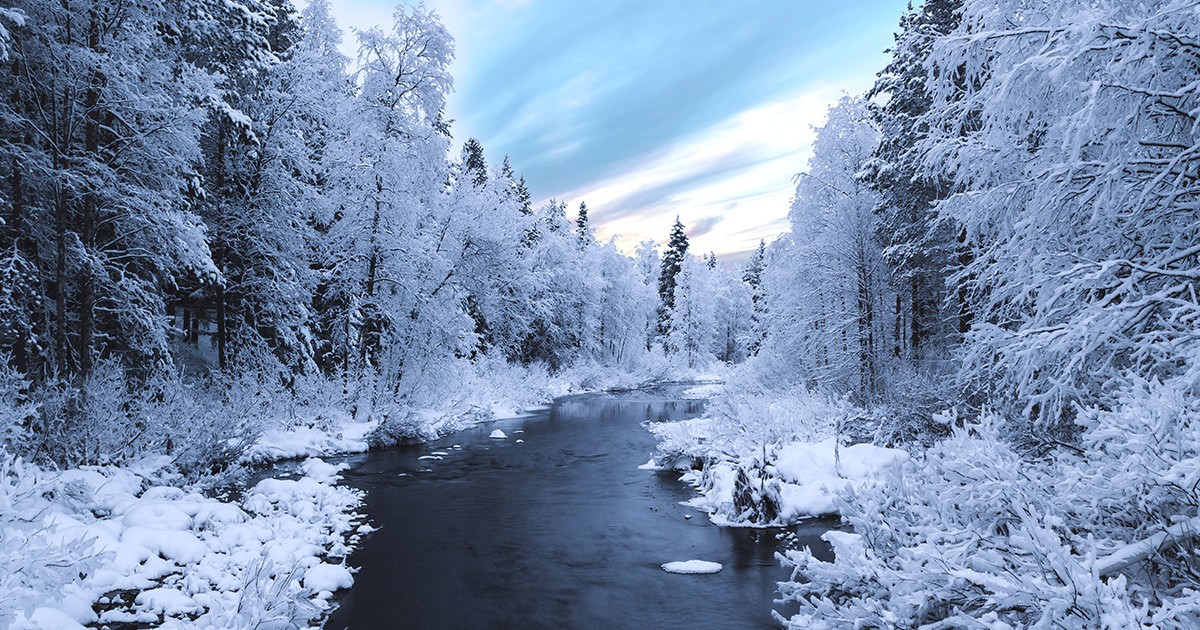 An Adirondack winter vacation is at the top of nearly every snow-lovers bucket list. The Adirondacks of NY is basically 6 million acres of outdoor paradise that seems almost tailor-built for adventure-seekers and artists. Winter in the Adirondacks offers as many spectacular attractions as there are during summer in the Adirondacks.
Whether it's unique places to eat, incredible winter sports, great beer, or just relaxing among some of the world's most beautiful winter scenery, Adirondack winter life is a giant leap from life in the big cities. The NY Adirondacks is where life slows down to a comfortable pace. Everyone has a story to tell (and a desire to tell it). And, the people will warm your heart even more than the roaring fires that you'll find nearly everywhere you go.
Adirondacks NY has become a popular getaway for our family. It's close enough to our home near Toronto that we can get there in a few hours. But it feels like a world away. But, for Canadians specifically, there is something refreshingly familiar about winter life in the Adirondacks. The forestry industry is huge here, so lumberjack jokes, craft beer culture, and maple syrup shacks are all the rage. And it sometimes seems like everyone gets around on a snowmobile.
Our Adirondack winter trip gave us a chance to explore deeper into this spectacular part of upstate New York. And from skiing Titus Mountain, watching lumberjack competitions in Tupper Lake, and terrifying skeleton rides in Lake Placid, we got more than we bargained for.
What Is The Adirondacks Regions Of New York?
We travel through Upstate New York quite often. Whether we're chasing waterfalls in the Finger Lakes or just checking out both sides of Niagara Falls, New York State is one of those places that leaves us in constant awe. The Adirondacks NY are sandwiched between the Green Mountains in Vermont and the Laurentians in Quebec, Canada making it a truly unique natural ecosystem.
The Adirondacks NY is a series of 5 million-year-old mountains located just a few hours north of New York City in Upstate New York. The Adirondack Mountains encompass the largest protected area in the lower 48 states. The region is home to more than 2,000 miles of hiking and mountain biking trails, over 3,000 bodies of water, and 1,200 miles of rivers. The Adirondack region stretches from north of Albany to the north of Syracuse and up to the Canadian border.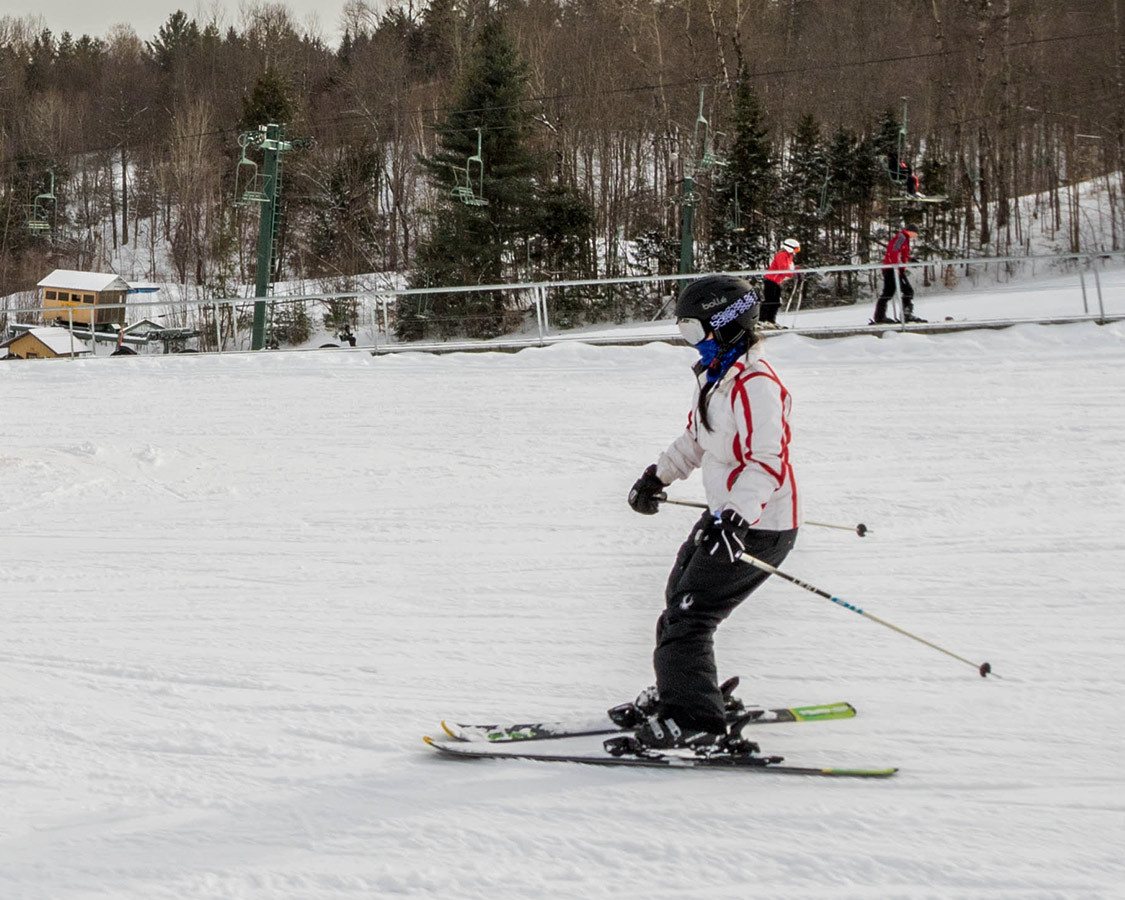 The Best Adirondack Winter Vacation Experiences
Adirondack winter travel is a blast. There is enough to do here that you could stay busy for a lifetime, but everything is close enough that you could spend a day or a week in the Adirondacks during winter and leave feeling fulfilled. Here are some of our favorite Adirondack winter experiences to help you make the most of your family holidays.
Combine Adventure And Inspiration At The Wild Center In Tupper Lake
The Wild Center in Tupper Lake NY is simply one of the coolest nature centers that we have ever encountered during our years of travel. This Adirondack adventure center combines a nature museum with miles of outdoor trails. While the Instagram-famous Wild Walk treetop experience is shut down in the winter months, there is still plenty of action at the Wild Center for the young and old visitors alike.
Whether you want to stay warm and take in the incredible interactive displays of Adirondack wildlife, geology, and plant life. Or, spend your time outdoors taking in the majestic views of the Adirondack Mountains from the trails and lookouts of the Wild Center nature trails. You'll always end up spending way more time here than you expected.
Snowshoeing the Wild Center is one of the most popular winter Adirondack activities. Many people make a trip here just to take on the trails and explore the gorgeous wilderness. Wild Center snowshoe rentals are included with your admission ticket. So grab a pair and take on those trails.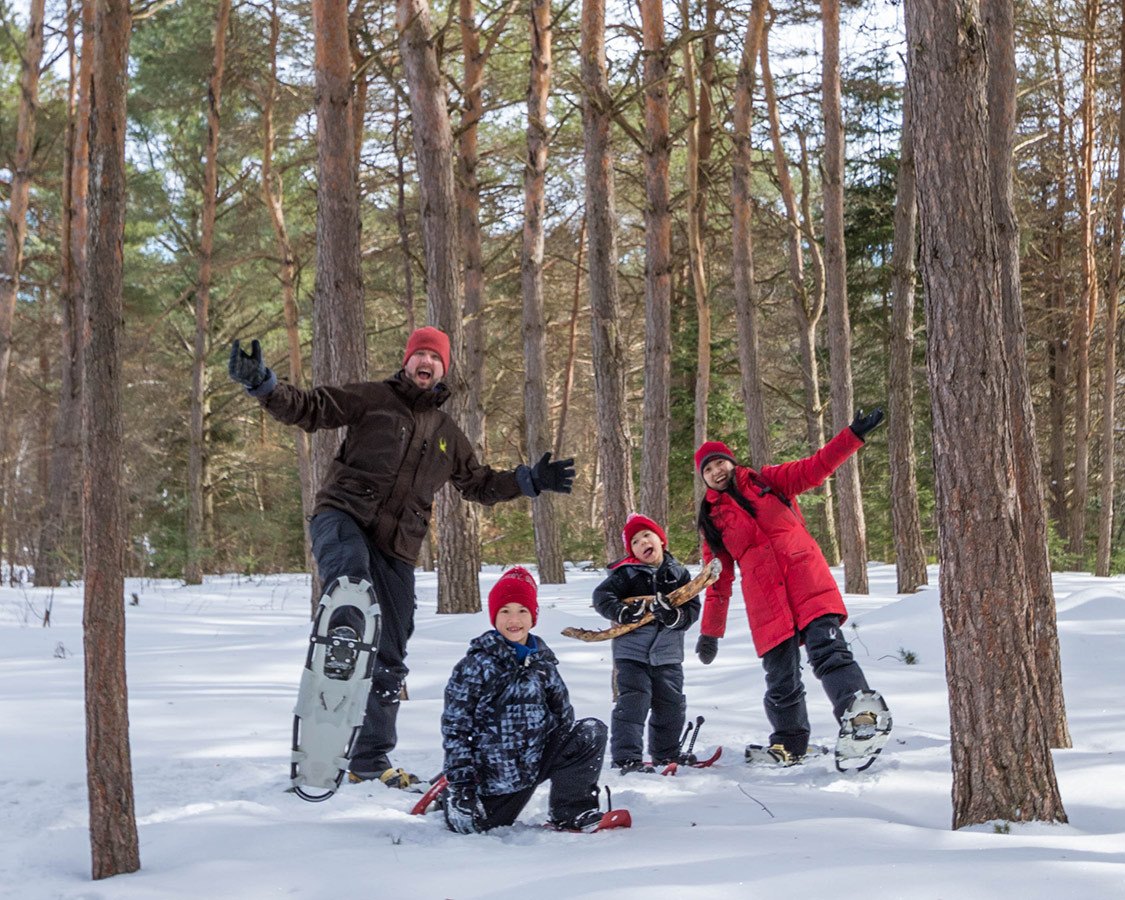 Where To Stay In Tupper Lake NY
There are surprisingly few hotels in Tupper Lake NY as many people opt for a day trip from nearby Lake Placid. But if you are looking to stay close to the Wild Center check out check out the cute and cozy Faust Motel. Owners Mark (who also owns nearby Raquette River Brewing Co.) and Suzanne are wonderful people with a real passion for what they do. The cabins are small but cozy and offer a perfect Adirondack cabin feel. You can check out their website here.
Hit The Tubing Trails At Mt. Pisgah in Saranac Lake
Sometimes it's nice to break up your day with some time on the hills. And for those that aren't looking to spend a whole day on the mountain, Mt. Pisgah in Saranac Lake is the perfect option. Mt.Pisgah offers skiing and tubing. And, although Mt. Pisgah only has a single trail for each, it's perfect for a little outdoor fun to add to your day. You can pick up a 2-hour tubing ticket for just $15.
We spent a few hours at Mt.Pisgah and had a blast. The lines were short and the crew was fantastic. And the location of the mountain right near the center of Saranac Lake makes it easy to combine the tubing at Mt. Pisgah with a day exploring the attractions surrounding Saranac Lake.
Get A Taste Of Adirondack Maple Syrup At Mark Twain MapleWorks
You can't experience an Adirondack winter without tasting some of the regions delectable maple syrup. And there is no more unique place to do this than at one of legendary author and traveler, Mark Twain's old haunts near the village of Saranac Lake. The story behind Mark Twain MapleWorks is a fascinating one, and owner Jack Drury is a treat to spend some time with.
Bushwack Jacks Sugar shack got its name from Sam Clemens' (Mark Twain) visit here during the summer of 1901. In 2013 Jack poured the foundation for what would become Mark Twain MapleWorks and has been steadily growing the business ever since. The Adirondack maple syrup lodge is located on a picturesque piece of Lower Saranac Lake. He's so far tapped over 500 trees and shares stories of his love of maple syrup with his passion for the Adirondacks region and its history.
When you're there make sure you grab a bottle of Nitai's Nectar. This premiere maple syrup offered by Mark Twain Mapleworks is named in honor of Jack's late son. You can find out more about Mark Twain MapleWorks on their website here.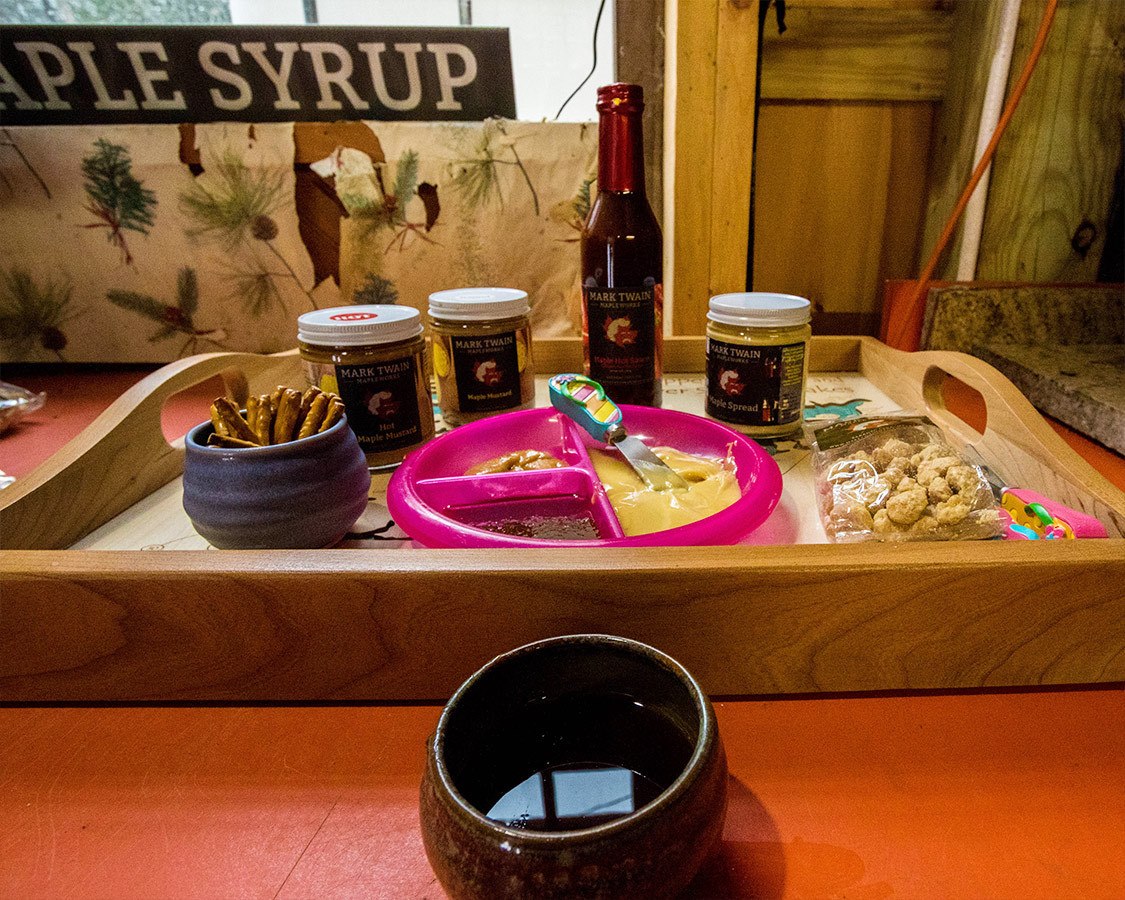 Take A Ride On The Adirondack Carousel In Saranac Lake
Adirondack winter weekends are the perfect time to take in one of the newest attractions in the Adirondacks. The Adirondack Carousel was opened in 2012, 13-years after it was first envisioned by local woodcarver Karen Loffler. This beautiful indoor carousel features animals native to the area such as beavers, geese, otters, bears, geese, and herons. They have been beautifully carved and painted. The top of the Adirondack Carousel features stunning landscapes of many of the most beautiful areas near it's home in Saranac Lake.
The Adirondack Carousel is open year round and is wheelchair accessible. During the summer, the doors and windows are opened wide to the surrounding park area. Each of the animal carvings has a name, artist, and description emblazoned on a plaque on their post. You can also visit each of the animals on their own page on the Adirondack Carousel website.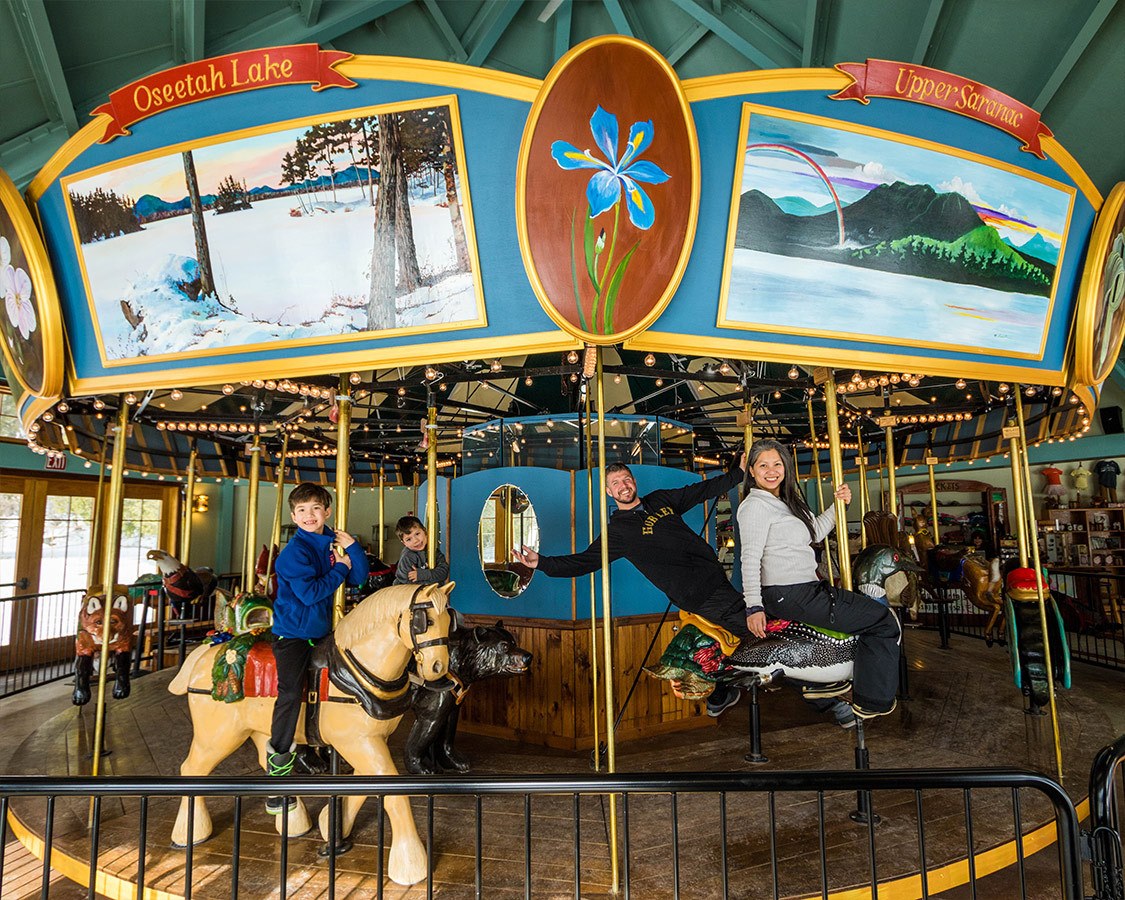 Where To Stay In Saranac Lake NY
Although many Saranac Lake accommodations close during the winter months, some of the highly regarded ones like Best Western Saranac Lake remain open year-round.
Taste Delicious Craft Beer At Raquette River Brewing Co.
Raquette River Brewing Co. is one of the social hot spots of Tupper Lake NY. And with a huge selection of in-house brews on tap and a super cozy, open concept lodge-style atmosphere, it's easy to see why. Raquette River Brewery is owned by Mark Jessie (who also owns nearby Faust Motel) and his partner. They recently expanded the brewery and its offerings and the popularity of this Tupper Lake craft brewery has grown to match.
While Raquette River Brewing doesn't have its own restaurant, there are two food trucks located in the parking lot that offer a wide selection of dishes. Kids will love the board games stored near the roaring fire, and people of all ages can't get enough of the free foosball table and outdoor fire pit. Christina and I really enjoyed the Raquette River Salted Caramel Porter.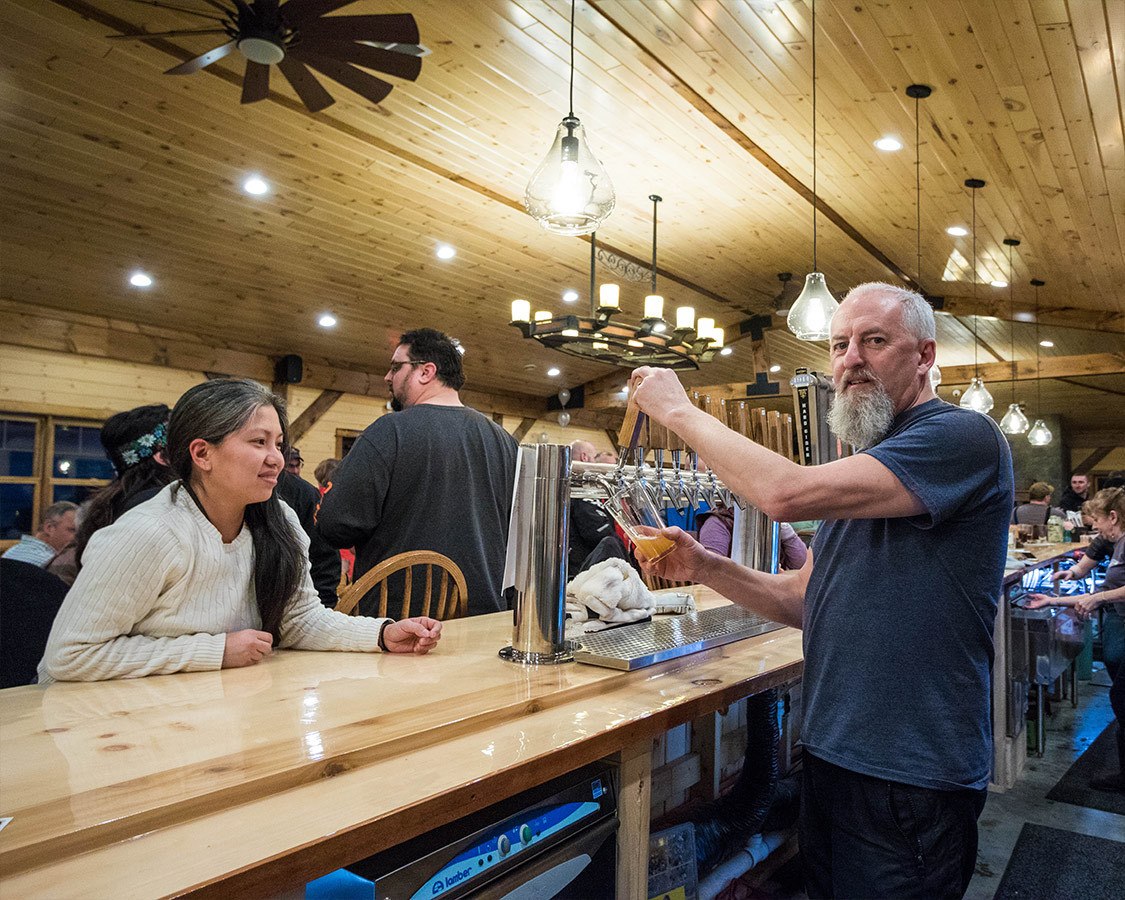 Hit The Family-Friendly Ski Hills Of Mount Titus In Malone NY
Titus Mountain in Malone NY is one of the top spots for an Adirondack winter vacation. Voted among the top family-friendly ski resorts in North America, Titus Mountain is really family skiing at its most pure. Don't expect glitzy resort-style amenities, luxury, shops, and high-class restaurants at Titus. Instead what Titus Mountain offers is fantastic hills, super-friendly staff, and a place for those who love to ski without distractions.
For those just learning to ski, Titus is a great place to start. Christine and the staff at the Titus Mountain ski school are friendly, personable, and always eager to teach. And those looking for a fun apres-ski experience are in luck too. The Titus Mountain lodge offers a fun, casual atmosphere with excellent food and a selection of great brews on tap. You can find out more about Titus Mountain on their website here.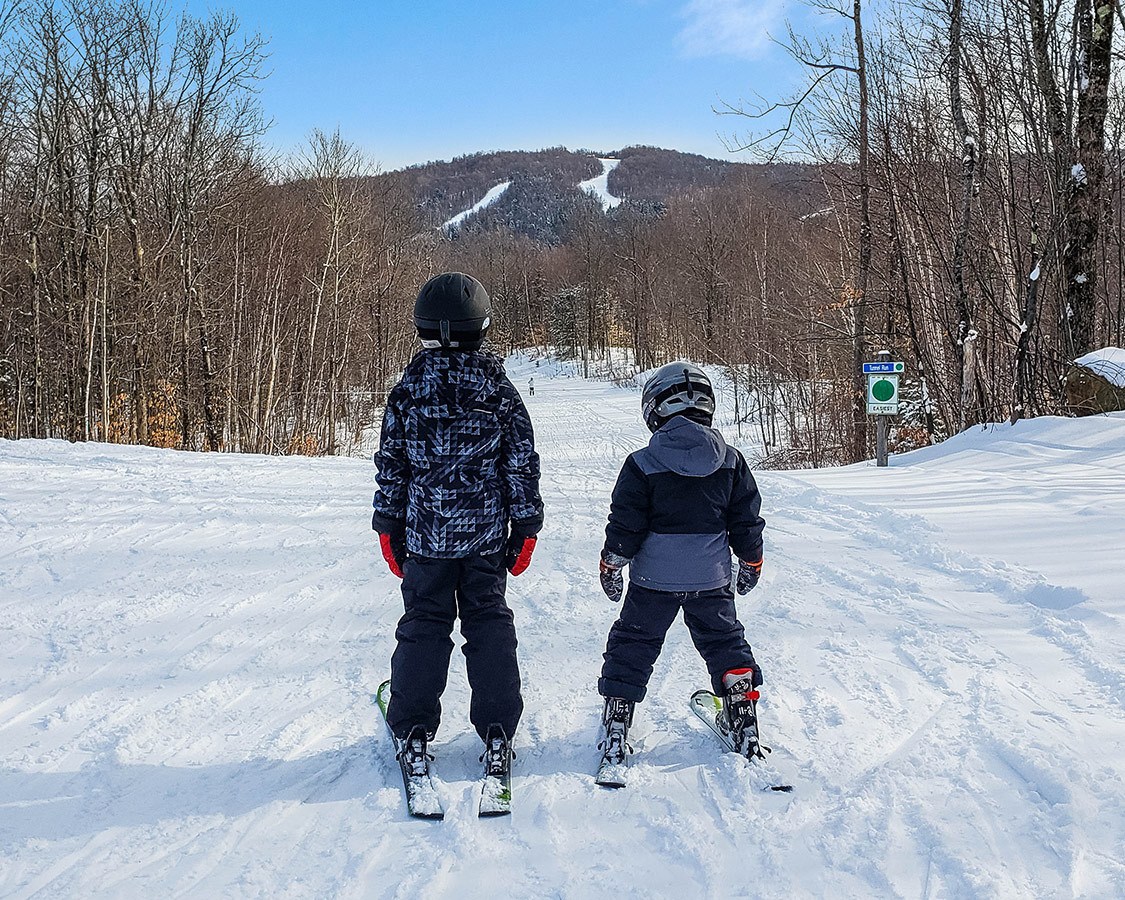 Where To Stay In Malone NY
If you are looking to go skiing at Titus Mountain, you can stay at the Red Roof Inn Malone and get 25% off of your Titus Mountain lift ticket.
Test Your Mettle On The Skeleton Track At The Lake Placid Olympic Center
My son asked me why they call it the skeleton. I responded, "Because that's all that's left of you after go sliding at insane speeds, face-first on nothing but a thin set of metal rails". I was so proud when he came back with "Cool! Can we do it?!" It's things like this that are the reason I love Lake Placid so much.
The Lake Placid Olympic Center has a ton to offer. We loved taking in the majestic views from the Olympic ski jump complex and doing the summer bobsled experience. But the Olympic Center in Lake Place just feels so much more authentic when you visit when there is snow on the ground. And there is no better way to experience an Adirondack winter than sliding face first down an icy slope at ridiculous speeds.
The Lake Placid skeleton experience costs $60. Although you can get 20% off if you have the Lake Placid Olympic Sites Passport that includes the Olympic museum, ski jumping complex, and access to the Whiteface Mountain highway.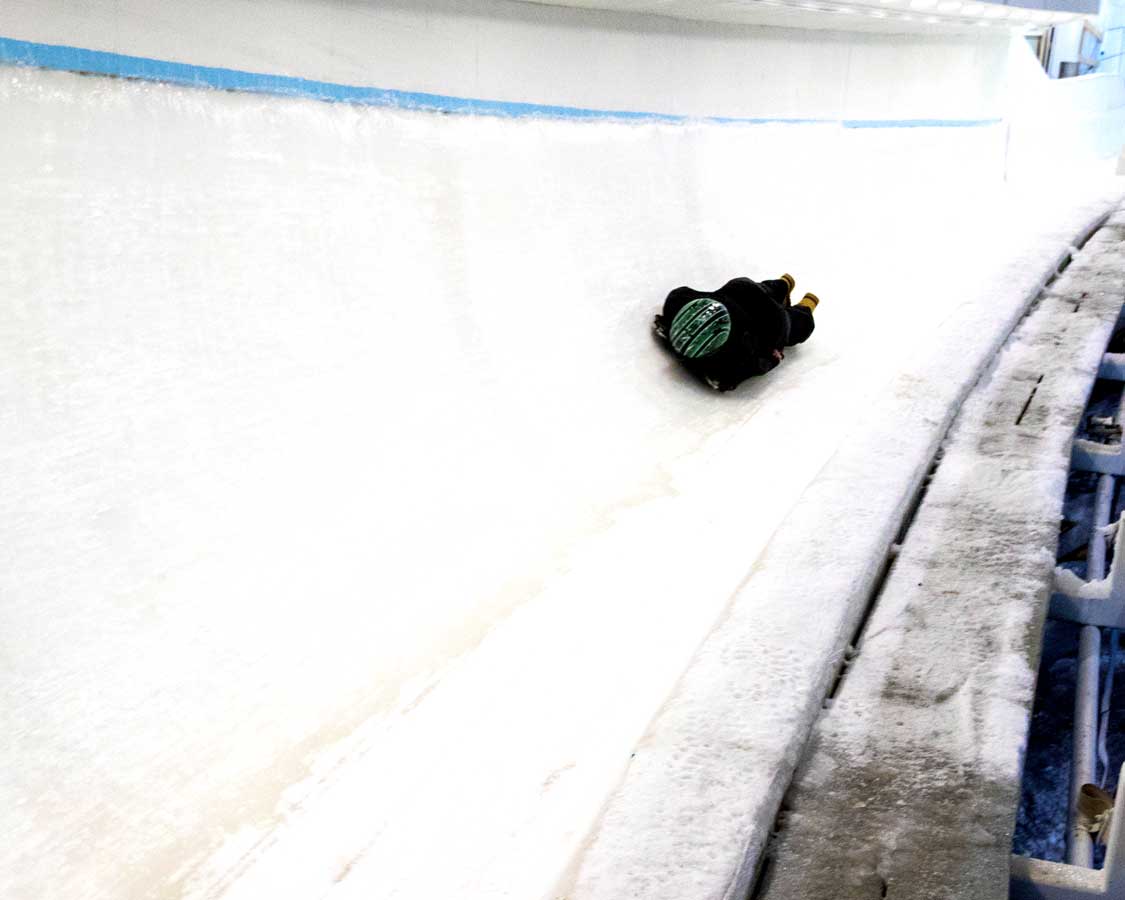 Where To Stay in Lake Placid
There are some great hotels and resorts in Lake Placid. One of the most popular is the Golden Arrow Resort on scenic Mirror Lake. It gets bonus points for also being home to Generations, one of the most popular restaurants in Lake Placid. But if you're looking for a relaxed getaway you can also check out some of these amazing home rentals in Lake Placid.
Go Ice Fishing In The Adirondacks
Sometimes the Adirondacks can be a confusing place. Lake Placid is on Mirror Lake, Saranac Lake is on Lake Flower, and there are actually three different Saranac Lakes! So, if any of this overwhelms you, just take the local relaxation route and go fishing. And you can choose whichever Saranac Lake you would like to do it on, Upper, Middle, or Lower. And if those don't work for you, there are thousands of other lakes for you to choose from.
Fishing is huge during winter in the Adirondacks. While we hadn't gone ice fishing since our time way up north in Norway, it seemed that almost every lake that we passed was dotted with tents, shacks, and other shelters. Trucks laden with ice-fishing supplies drove out onto the ice and set up shop for a day of relaxing. Some of them might have even caught something!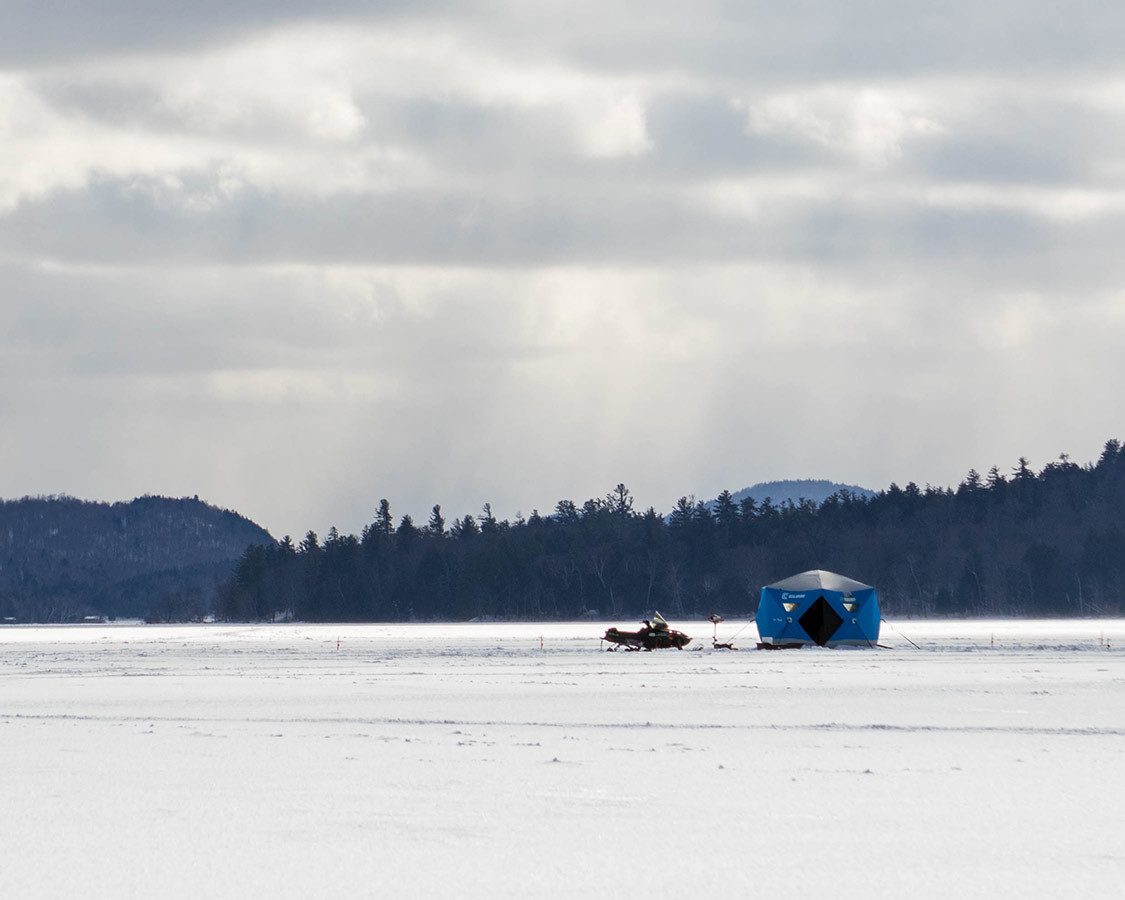 Are You Ready To Travel To The Adirondacks In Winter?
There is so much to do during winter in the Adirondacks. We could keep going and going about all the amazing Adirondack winter vacation ideas. If you have been, let us know about your experience in the comments section. Or, drop by our Facebook Page and share a photo of your experience.
You can also find more great things to do in New York State on our New York family travel blog.
Disclosure: We were guests of the Regional Office of Sustainable Tourism (ROOST) and I Love New York during our visit. As always our opinions remain our own. Wandering Wagars is a participant in the Amazon Services LLC Associates Program, an affiliate advertising program designed to provide a means for sites to earn advertising fees by advertising and linking to amazon.com, amazon.co.uk, amazon.ca. Amazon and the Amazon logo are trademarks of Amazon.com, Inc. or its affiliates.
You May Also Like To Read: