Titus Mountain New York is one of the most popular ski destinations in New York for families. Check out this guide on how to experience Titus Mountain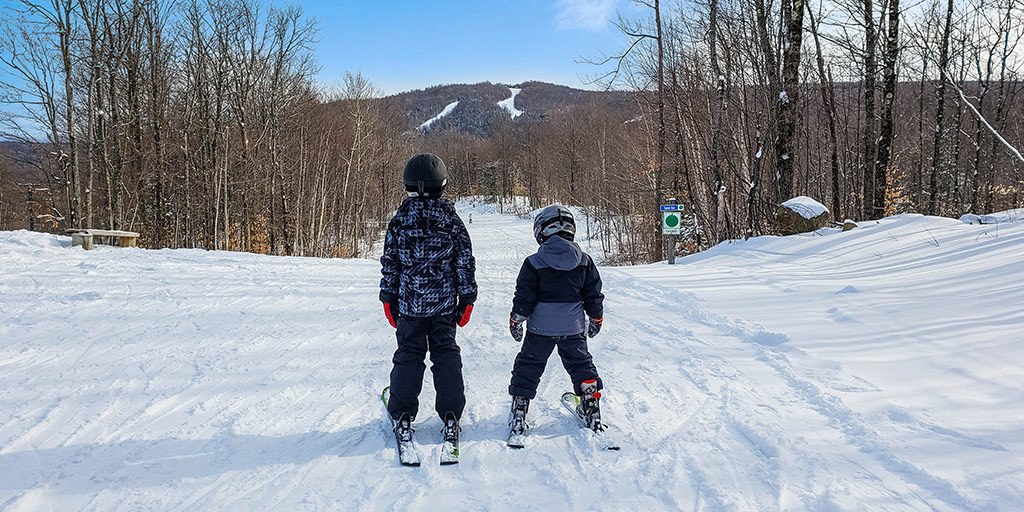 Finding a great family-friendly ski resort in Ontario can be a challenge. While we love our home province and all of the unforgettable things there is to do, it is not blessed with a tremendous amount of vertical. And for a family who LOVES downhill sports, this presents a challenge. So, when we found out we would have the opportunity to ski Titus Mountain New York in the Adirondacks, which is just a 2-hour drive from Ottawa, Ontario, we were pretty pumped. And when we found out that it was ranked among the top family-friendly ski centers in North America, things got even more exciting.
But, when we arrived at Titus Mountain, just outside of the city of Malone, NY, it wasn't exactly what we had expected from a family-focused ski resort. And that is exactly why we loved Titus Mountain ski resort so much. We have skied both Blue Mountain in Ontario, and Mont Tremblant in Quebec, and there was something truly refreshing about what Titus Mountain had to offer.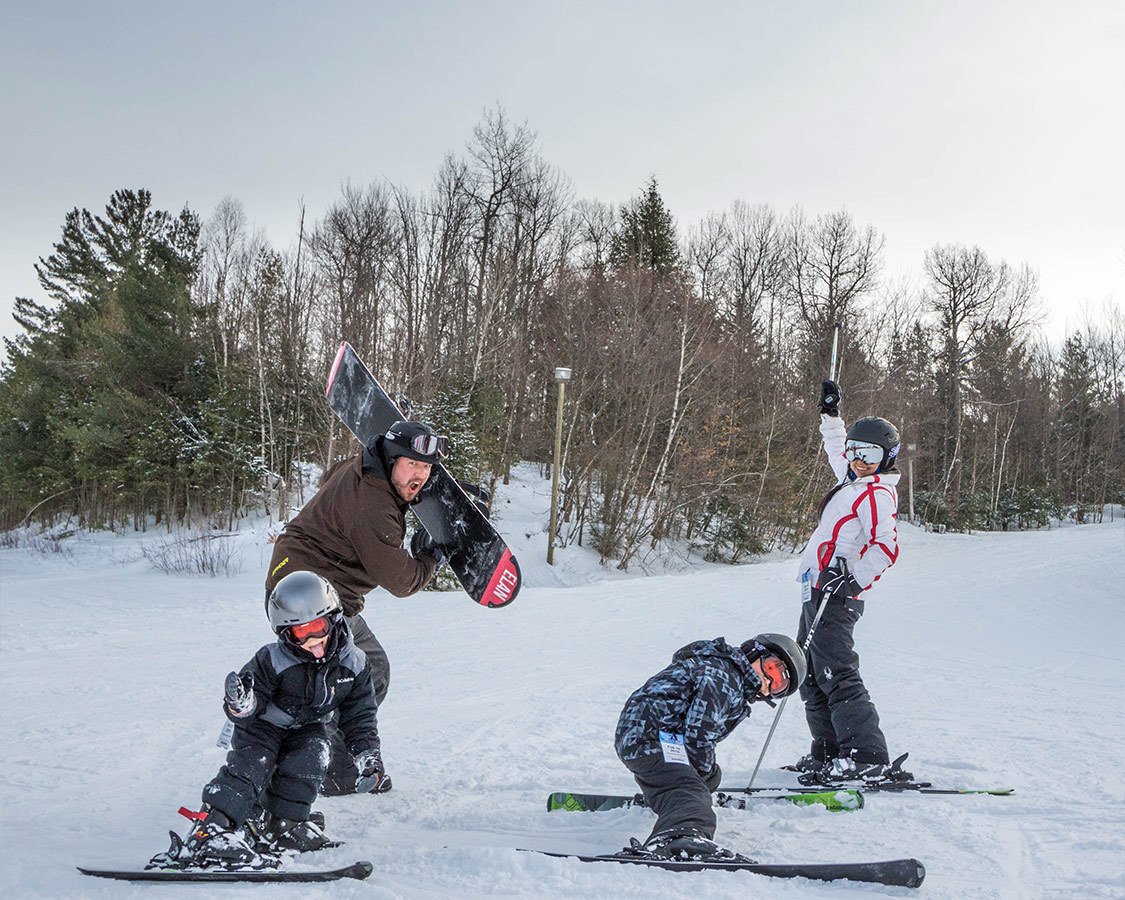 Where is Titus Mountain, New York?
Titus Mountain is in upstate New York in the city of Malone. It is just a 50-minute drive from the city of Cornwall, Ontario. In fact, on a clear day, you can see the St. Lawrence River from the peak of Upper Mountain within the Titus Mountain ski area. Titus Mountain is a popular New York ski destination for families traveling from northern Ontario and southeast Quebec, as well as from within New York State itself.
The ski resort sits on the east side of the Adirondacks, just 2-hours from both Ottawa and Montreal. From Toronto, it's about a 5-hour trip to Malone. But once you're there, there are so many amazing things to do in the Adirondacks every season you'll have no trouble keeping busy on a longer trip. If your family is new to skiing, check out our guide to planning the perfect family ski trip.
What Makes Titus Mountain Such A Great Ski Destination For Families
Where big ski resorts often focus on flashy ski villages and resort-style amenities, Titus Mountain goes back to the basics. What makes Titus such a great ski destination is its simplicity. Families flock here because it offers exactly what you need to enjoy a day of family skiing and nothing that you don't. Titus Mountain has a cozy lodge with a few different food options, a rental spot that has all the gear you need, and a fantastic set of ski trails that will keep skiers of all abilities interested for a whole weekend or longer.
Our visit to Titus Mountain in Malone felt pure. There were no distractions, no glitzy shops to drag us in. There was just solid outdoor fun. When we got cold, we warmed up by one of the many fireplaces in the lodge. And when we were ready we went back to the hills and explored the mountain. It was fantastic. The ski hills at Titus Mountain aren't for adrenaline junkies seeking the wildest rides. But they are perfect for families looking for a variety of long, fun runs that are perfect for the whole family.
One of my favorite experiences at Titus Mountain was the staff. Many ski resorts are staffed by an overworked crew who tend to be short with kids learning to ski and ride chair lifts. The staff at Titus mountain welcomed kids. They recognized new skiers from a distance and were proactive about slowing down lifts to help avoid accidents. We have gone skiing as far away as Big White in Kelowna, B.C., and I have never seen that kind of attention at a ski resort. And that is something special.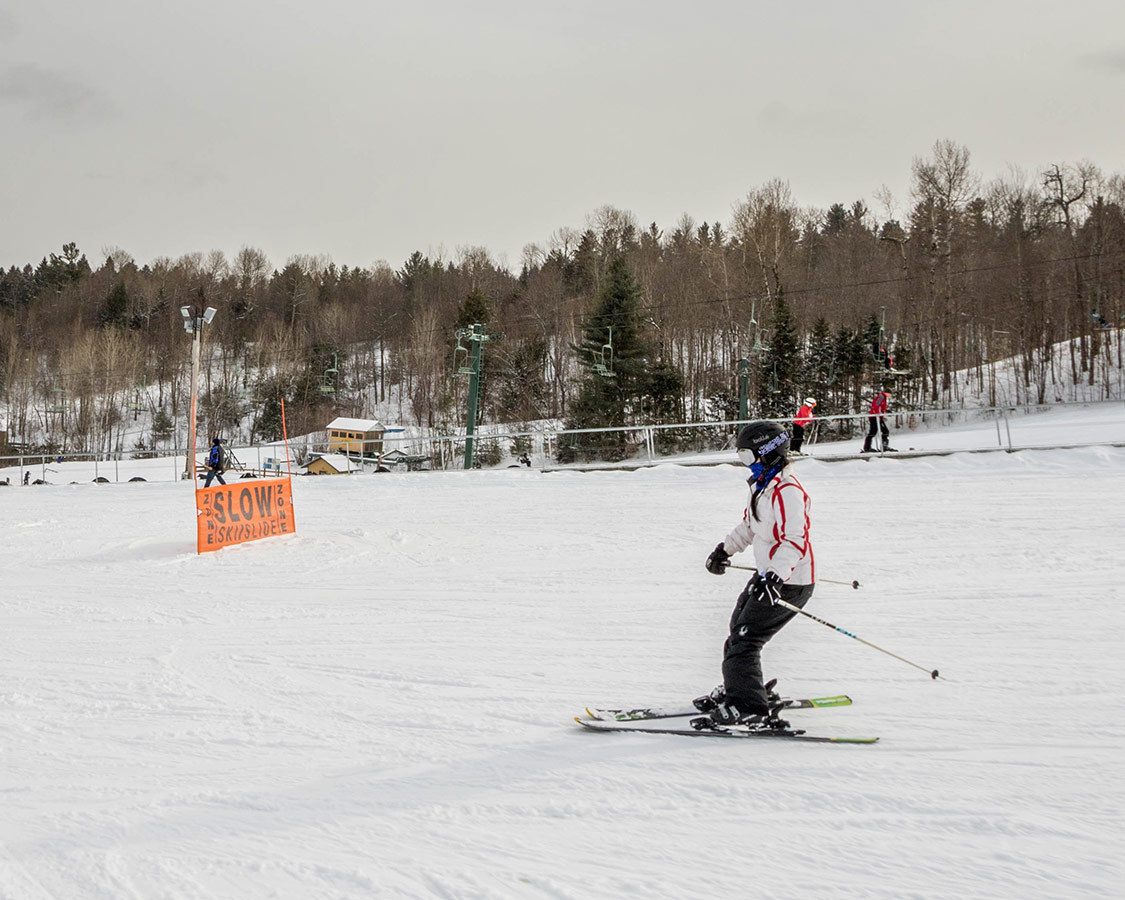 Things To Do At Titus Mountain Family Ski Center
Although this family ski center likes to keep things simple, there are still plenty of things to do at Titus Mountain to keep people busy during a family ski vacation. So if you are looking to spend a day or a weekend at Titus Mountain, here are some of the things you can get up to.
Family Skiing at Titus Mountain
Skiing is at the focus of Titus Mountain. There are 50 hills served by 10 chair lifts across the upper, middle, and lower summits of Titus Mountain. There is a range of easy, moderate, and black diamond hills on the mountain. However, none of the hills are especially difficult, so Titus is a great destination for families learning to ski, or just looking for a place where the whole family can ski together.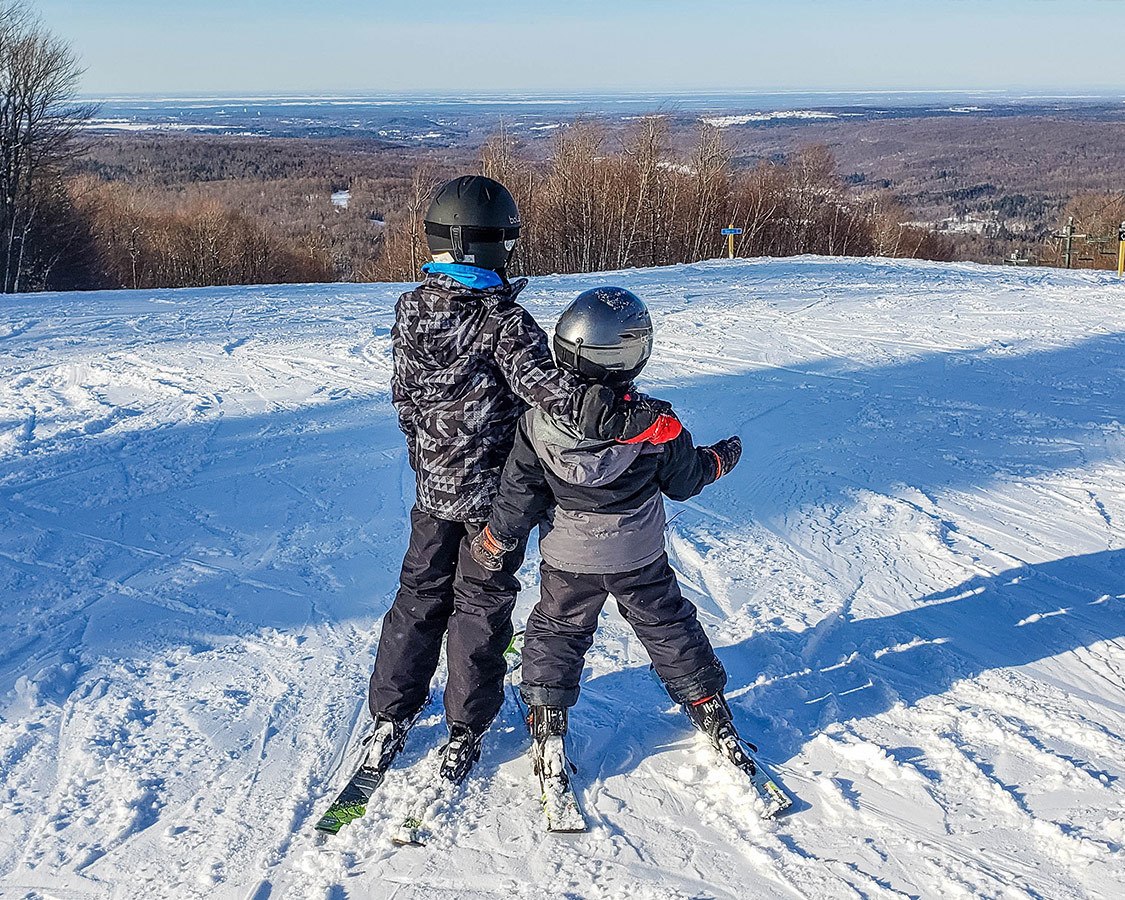 Tubing at Titus Mountain
If you aren't a skier or are just looking to rest your legs, it doesn't mean that your day at Titus Mountain is over. This Adirondack family ski center also offers tubing to keep your adrenaline flowing. Tubing at Titus Mountain takes place on weekends and holidays during the ski season. The tube runs are open to riders over 42″ tall. So, if you are with smaller children, you may try what we did and look at Mt. Pisgah in Saranac Lake Village for your tubing adventures. Riders can pick up an all-day Titus Mountain tubing pass for $25.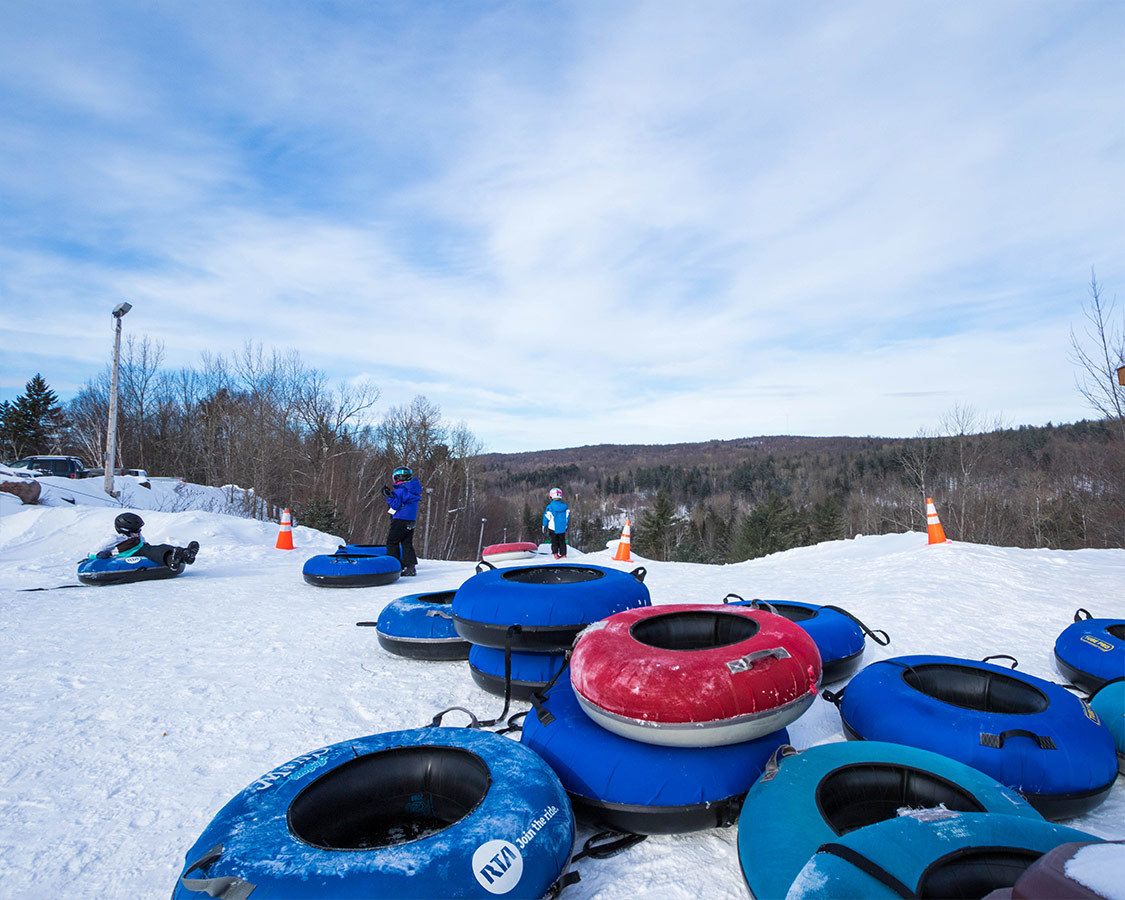 Titus Mountain Ski and Snowboard Lessons
Christina and D are still relative novices when it comes to skiing. C found his legs when we were in Mont Tremblant last year, but D wasn't quite ready to go beyond the bunny hill. We checked on the Titus Mountain ski school to find out about lessons and got a chance to meet their passionate team. The Titus Mountain ski school instructors are PSIA/AASI certified. They are also energetic and excited to introduce newcomers and "it's been a while'ers" to the slopes.
The ski lessons at Titus Mountain run on Fridays, Saturdays, and Sundays. The school is located right beside the rental shack near the base of the bunny hill. Once we had a little refresher, Christina and D got the confidence to take the chair lift for the first time. Shortly after that, both the boys and I were tearing down the hills from the top of the Titus Mountain upper summit that sits at over 2,000 ft.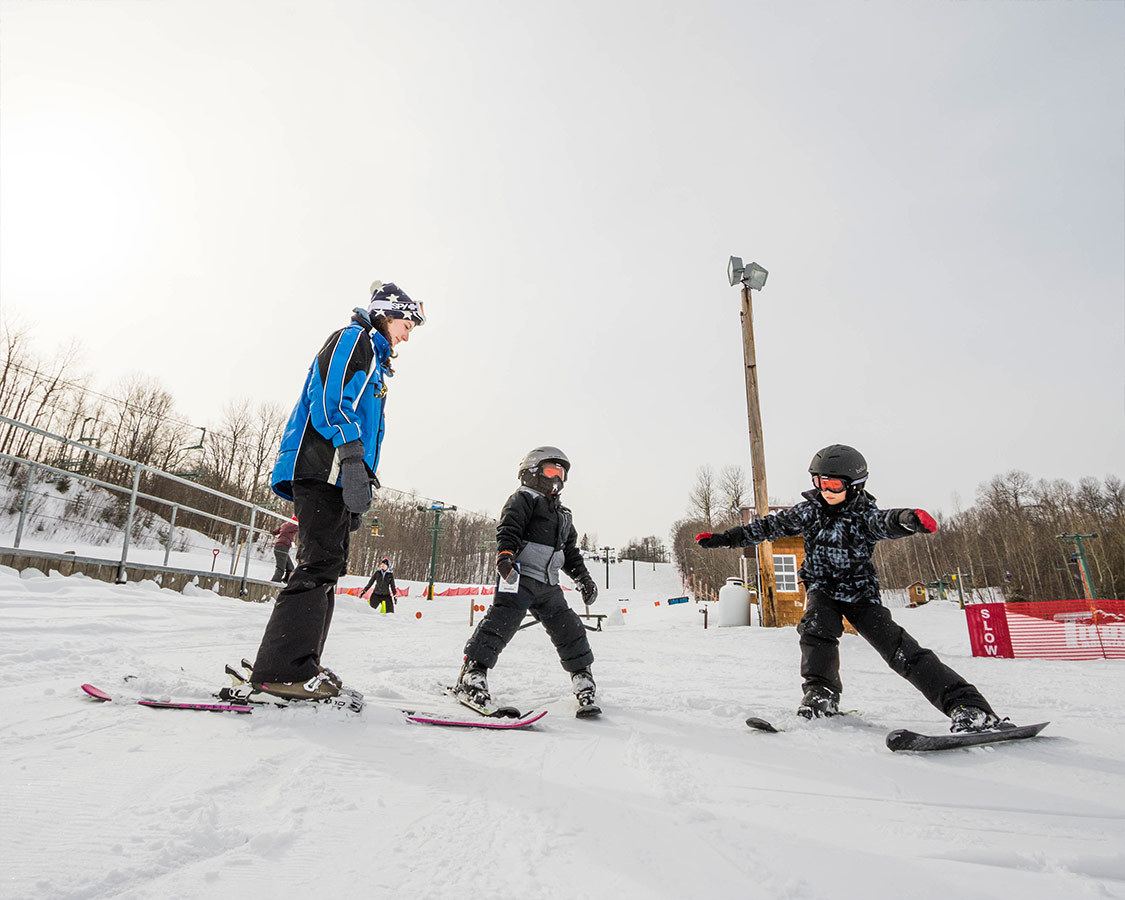 Tips For Visiting Titus Mountain
Every destination has a few things that you need to know before visiting. And, Titus is no different. I've put together a few things you need to know before visiting Titus Mountain in Malone, NY.
Rentals At Titus
If you're like us, you're often traveling distances to get to ski resorts. Whether you're looking to save room in the car, or you just don't have your own gear, there are plenty of ski and snowboard rentals at Titus Mountain. If you're worried that they won't have equipment left when you arrive, you can even rent the gear online ahead of time.
Rentals at Mount Titus can be reserved for all sorts of gear including skis, snowboards, ski-blades, high-performance skis, boots, bindings, and poles. The friendly staff had our whole family geared up in a fraction of the time that it takes at some of the larger resorts we have been to. And time saved means more time on the slopes!
Are There Lockers At Titus Family Ski Center?
When I first arrived at Titus Mountain I wasn't sure what to do with my gear. I was there with my car, but I didn't want to be walking back and forth to the parking lot every time I wanted to get something (or, more likely, the kids wanted me to get something for them!). We stashed our boots and our gear back at the Titus rental center. It wasn't until lunchtime that I realized that the bottom floor of the Titus Mountain lodge was dedicated to gear storage. There are rows upon rows of wooden lockers where the whole family can keep their gear. And it's just steps from the slopes.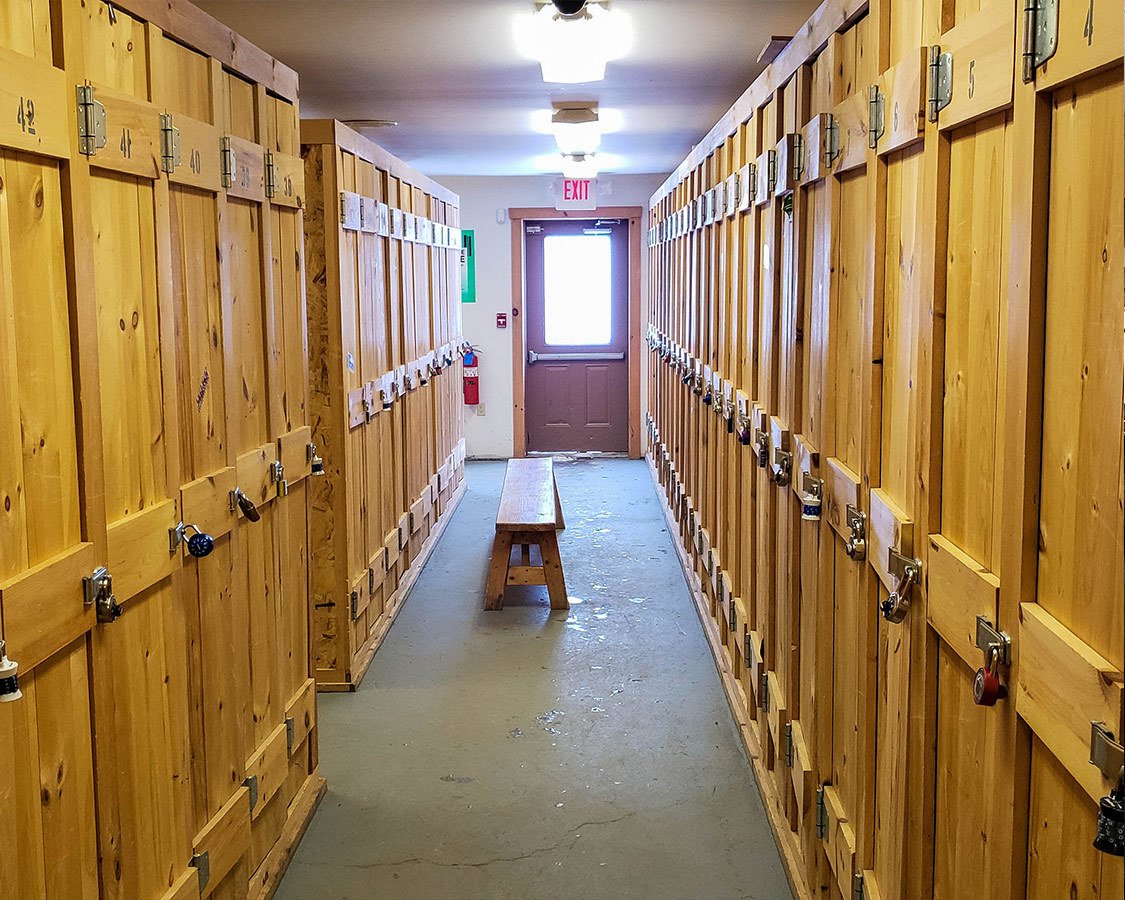 Pro-tip: Lockers are first-come-first served. Remember to bring your own lock.
Where To Eat At Titus Mountain
There is a great selection of food at Titus Mountain that will help satisfy the whole family. The family ski center has two lodges. One at the main base where the lower and middle summit hills meet and one at the base of the upper summit. Both of the Titus Mountain lodges have Shredding Betty's cafeterias with reasonably priced diner-style food and lots of options for sitting. The upper summit lodge and the lower level of the main lodge both have areas to eat food that you have brought with you for the day. The cafeterias at Titus Mountain are open 7-days a week.
For something a little more formal (but still super casual) you can opt for Mo's Moon Valley Grill. They serve up a range of higher-end food with table service. Moon Valley Grill is perfect for your apres-ski relaxation. There is a full bar, friendly service, and lots of fireplaces to warm up your toes.
At the peak of the middle summit is one of the best food deals on Titus. There is a small shack just to the right of the lift where riders can purchase coffee, hot chocolate, chili, and tuna melt sandwiches. The tuna melt, at $3 is delicious, and a real bargain.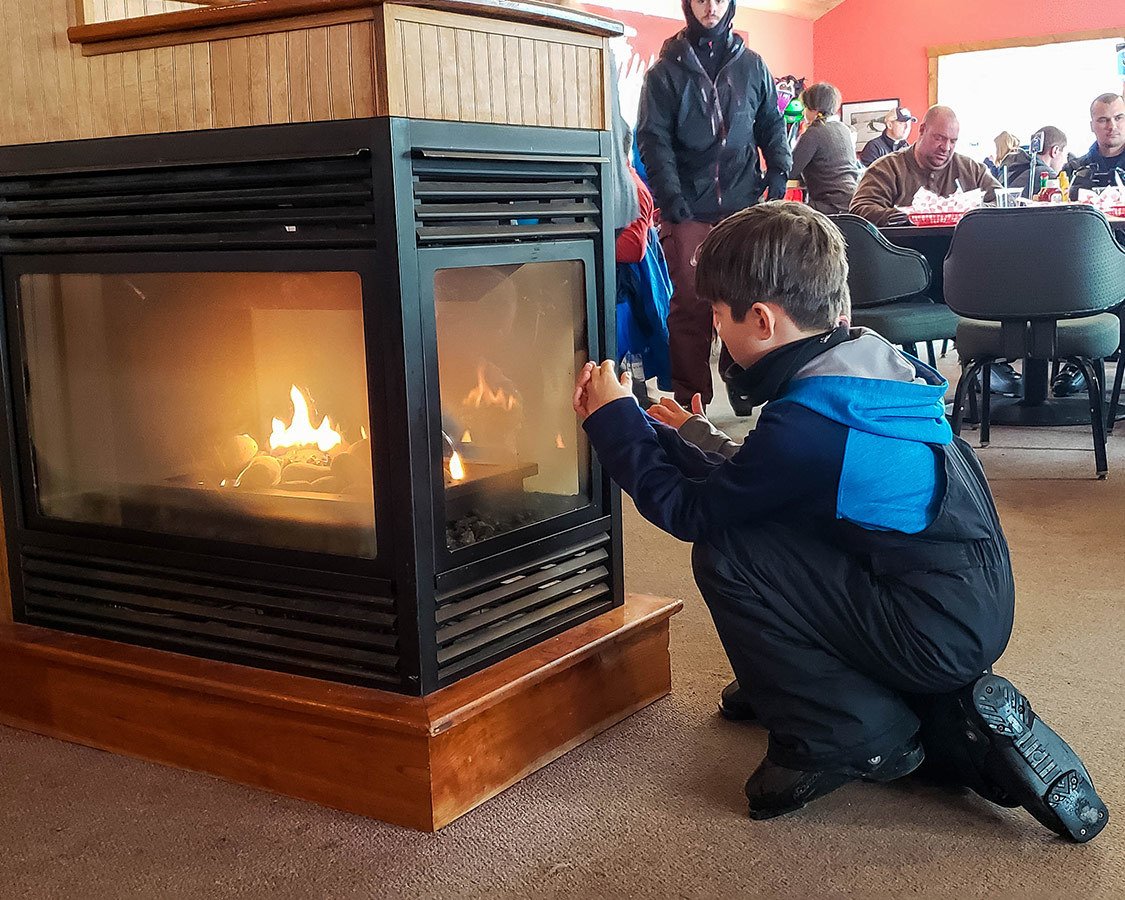 Pick Up The I Ski NY Free Kids Passport
Titus Mountain is part of the ISkiNY Passport. The kids learn to ski or ride passports was organized to help promote skiing among youth. For $27, kids in the 3rd and 4th grades receive a lift ticket, lesson, and equipment rental at a selection of 20 New York ski hills, including Titus Mountain, Malone. This program is not limited to New York or even American residents. It can be enjoyed by anyone. You can learn more about the ISKINY passport here.
Can You Get Accommodations At Titus Mountain?
There are a few options for accommodations at Titus Mountain. There are 7 ski-in, ski-out lodges for rent slopeside. These accommodations can be booked through VRBO. The cabins range in size from quaint cozy spaces for a single family to large, 15-person cabins for those multi-generational ski families.
If you prefer to stay in the city, the Red Roof Inn in Malone offers spacious accommodations, free WiFi, and complimentary hot breakfasts. They are conveniently located near the town center, great restaurants, and a grocery store for those families who prefer to picnic at the hill. The Holiday Inn Express is also a popular option for ski and stay packages in Malone. Both hotels offer a 25% discount on Titus Mountain lift tickets.
Things To Do Near Titus Mountain Family Ski Center
Titus Mountain is located just outside of Malone NY. This small town has a vibrant history that can easily be explored among days on the hill. And with Titus Mountain being located in the beautiful Adirondack region of New York, you know there are countless family-friendly outdoor activities to keep you busy whether you are spending a day or a week in Malone.
Explore The Underground Railroad History in Malone NY
Malone was an important location during the days of the underground railroad when slaves from the south were smuggled to freedom in the north and into Canada. One of the most unique places to witness this history in its raw form is in the basement of the First Congregational Church on Clay St. Not only is the church a beautiful piece of architecture, both inside and out, but tours of the basement show the tiny tunnels dug by the abolitionists to help smuggle those looking to escape across the border.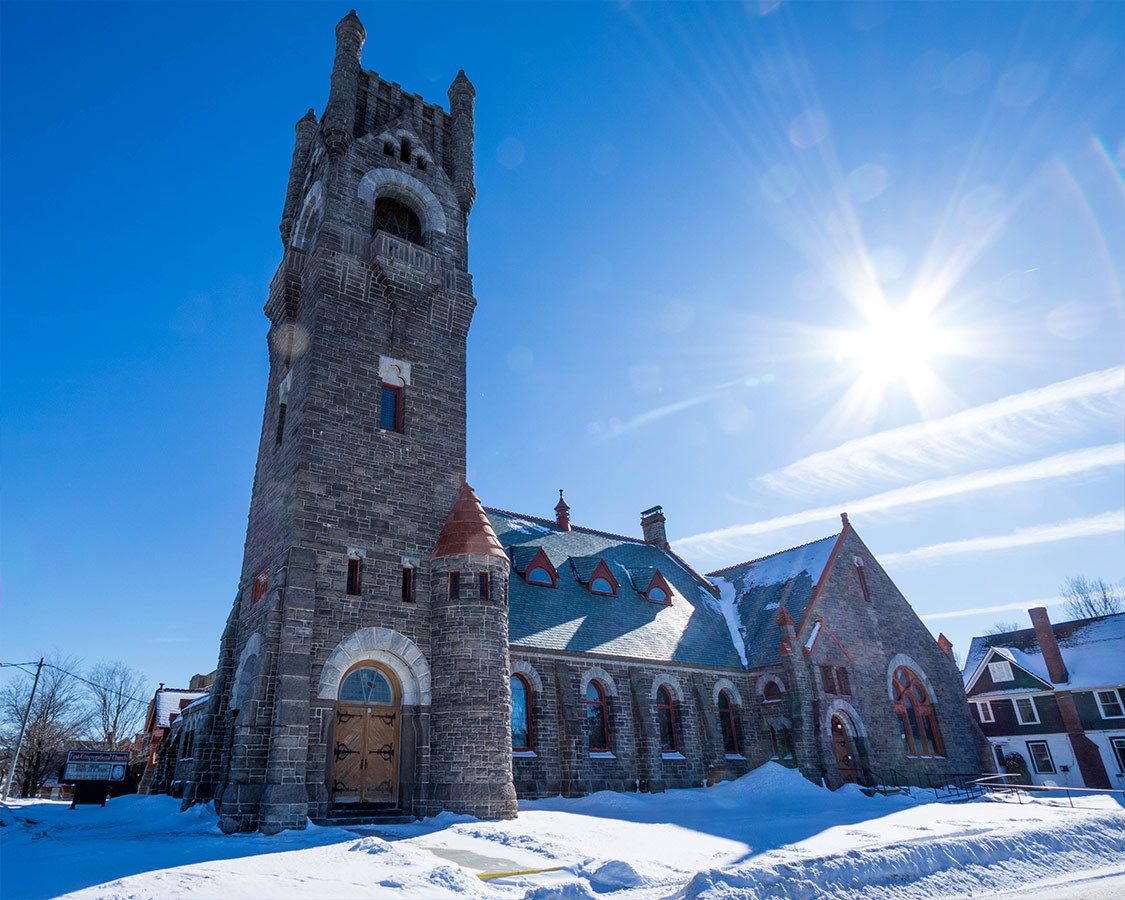 Cross Country Skiing at Paul Smith's College Visitor Interpretive Center
Paul Smith's College Visitor Interpretive Center has a storied history in the Adirondacks. In fact, we had the pleasure of taking in the Paul Smith's Lumberjack and Jill event at Big Tupper Brewing in Tupper Lake the day before we were in Malone. But beyond being a huge influence in the local forestry industry, the grounds of "VIC" are a popular place for cross-country skiing, snowshoeing, and winter hiking. You can find details on their trails and passes here. Due to some bad weather, we missed our chance to ski at VIC, but the week before we went skiing at Arrowhead Provincial Park in Ontario.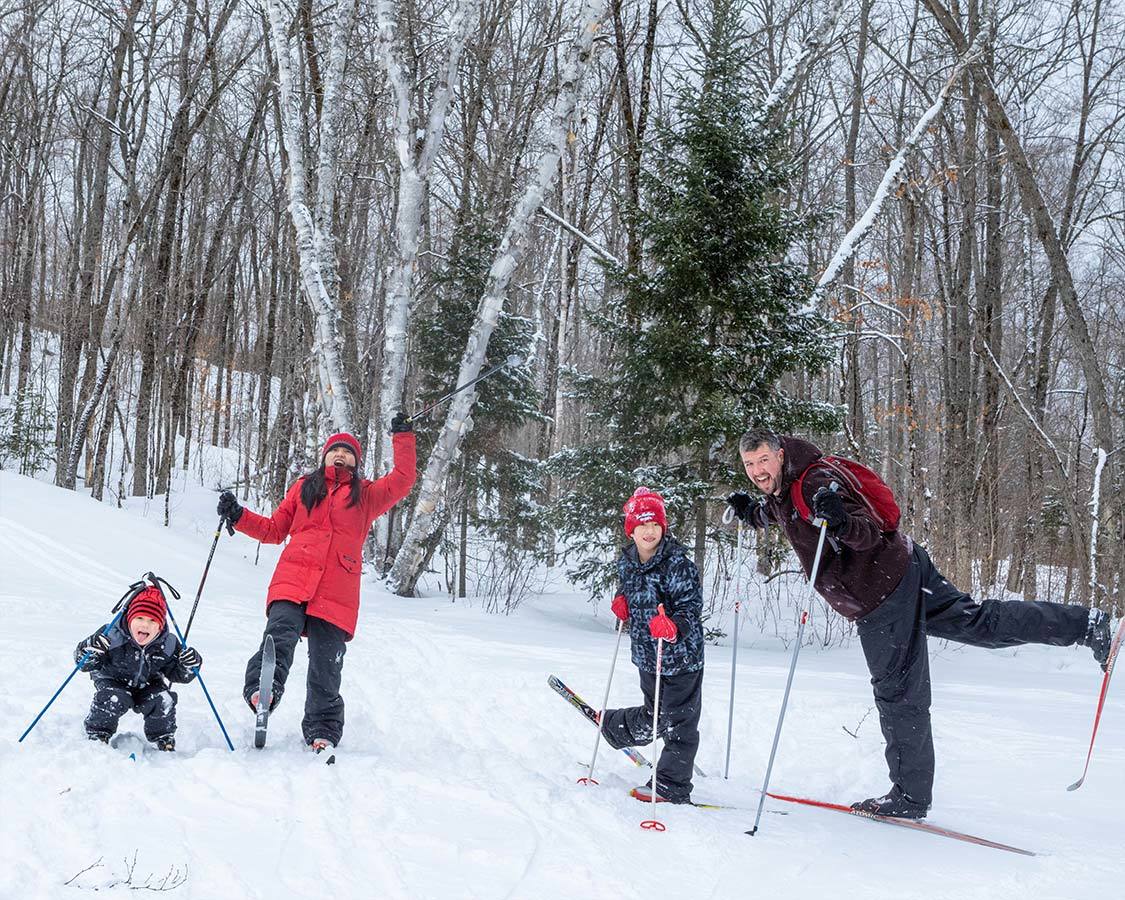 Make a Winter Visit To Ausable Chasm
The dramatic "Grand Canyon Of The Adirondacks" is located just an hour and a half west of Malone. You can take guided snowshoe or hiking tours through this natural wonder during the winter months. Ausable Chasm is one of the most dramatic locations in the Adirondacks and it's worth a visit during any season. You can read more about our experiences at Ausable Chasm during the summer here.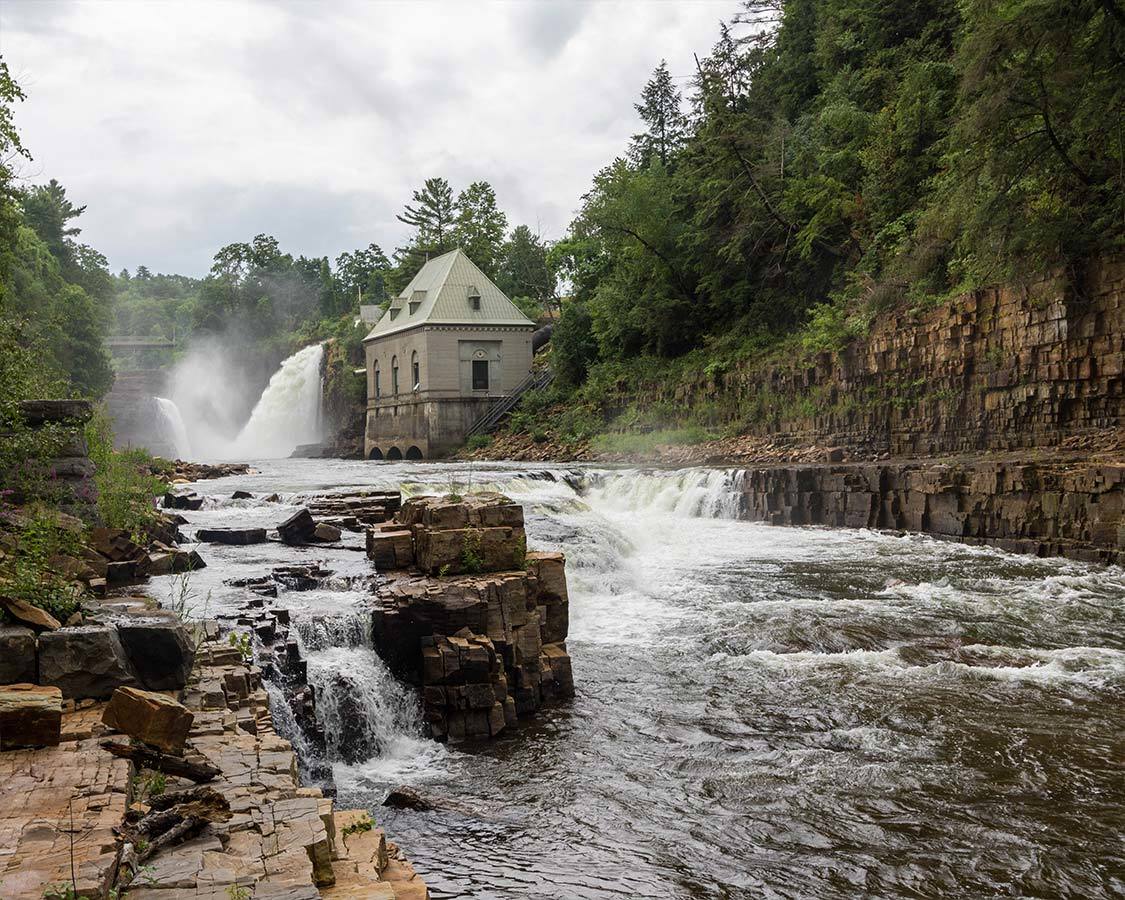 Do We Recommend Titus Mountain For Families?
We had a blast during our time at Titus Mountain. The hills were beautiful and well-groomed. The staff was respectful, patient, and in good spirits. The food was excellent with enough variety for everyone. Titus Mountain is not a destination for those looking for a "Resort" atmosphere with Starbucks, candy stores, and high-end dining. Instead, it's a place to relax and enjoy a beautiful mountain with some great skiing among other families who love the same.
Have you ever been skiing at Titus Mountain Family Ski Center? Tell us about your experience in the comments. Or, swing by our Facebook page and share a photo. We would love to share in your journey. You can also find more great experiences in New York State on our New York family travel blog.
Disclosure: We were guests of the Regional Office of Sustainable Tourism (ROOST), I Love New York, and Visit Malone during our visit. As always our opinions remain our own. Wandering Wagars is a participant in the Amazon Services LLC Associates Program, an affiliate advertising program designed to provide a means for sites to earn advertising fees by advertising and linking to amazon.com, amazon.co.uk, amazon.ca. Amazon and the Amazon logo are trademarks of Amazon.com, Inc. or its affiliates.
You May Also Like To Read:
Pin This Post For Later: