Planning a family ski trip requires a lot of forethought. Check out this guide to family ski vacations to help you plan your next ski holiday.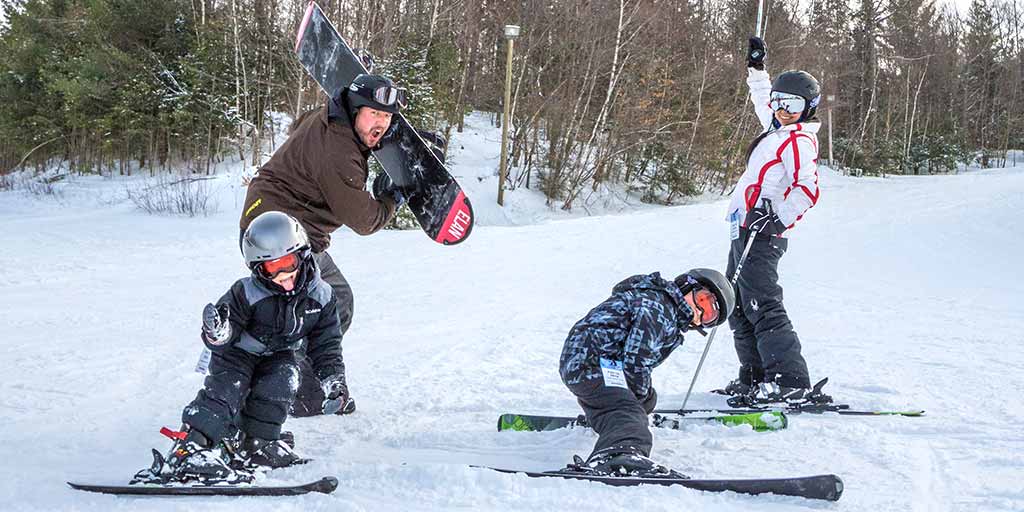 There are few family travel experiences more exciting than sharing one of your passions with your children. For many families, planning for a family ski holiday begins as soon as the little ones are old enough to stand. But planning for a family ski trip can be a scary process. There are a lot of things that go into making a family ski vacation a success. Picking the best family ski destination, the activities, the food, the travel, and more. But if wondering how to plan a ski trip with kids is hanging over your head, let me tell you, it's worth the effort! Skiing has become a big part of my family's winter experiences. We love to hit new ski destinations every year. We combine our ski vacation with amazing local experiences and incredible mountain views. This simple guide to planning your first ski trip with kids will help you with everything from packing to planning, and even what to look for in a great family ski destination.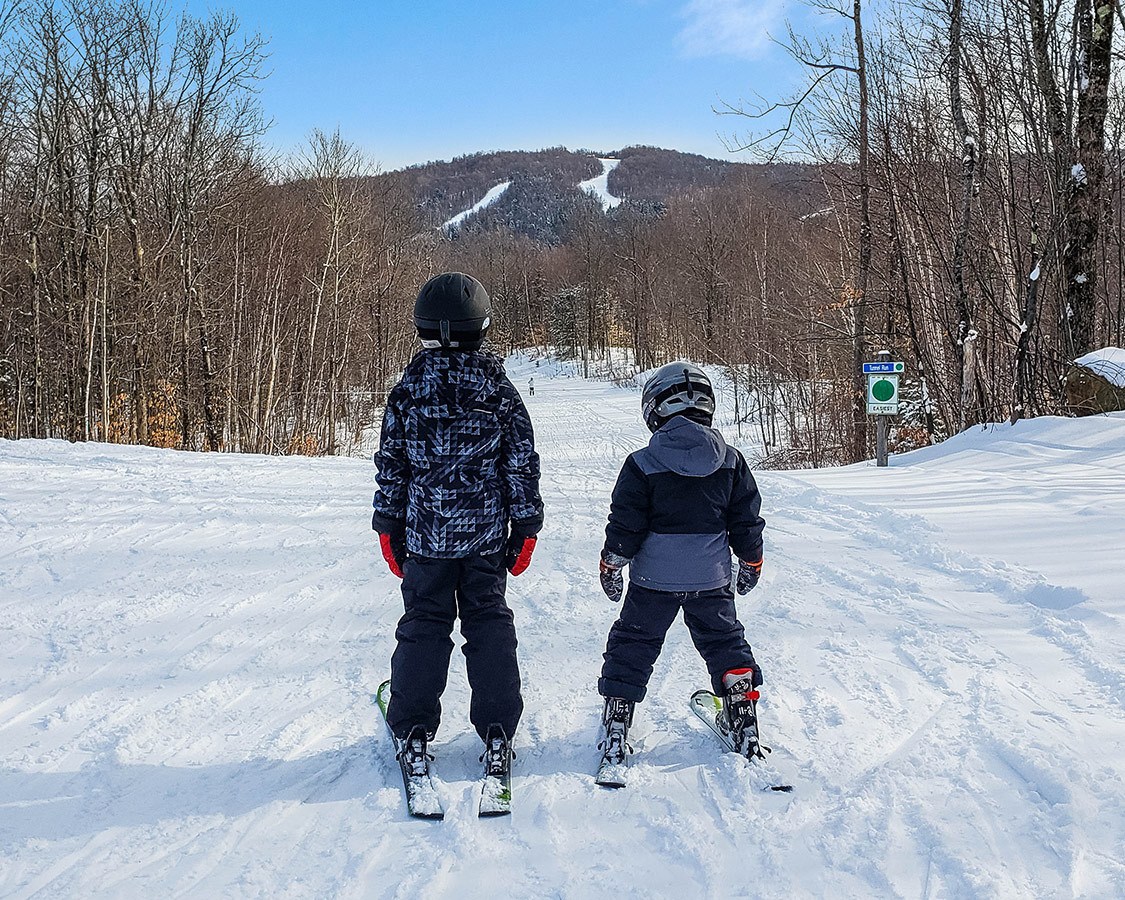 What Goes Into Planning A Ski Trip With Kids
Planning a ski trip with kids means considering a lot of variables. There's the ski gear, the clothing, the activities, destination, and teaching your kids to ski if they've never done it before.
Picking Your Destination
It's not surprising that many people choose their destination before they do any other family ski trip planning. Often it's the destination that inspires parents to introduce skiing to their children. But there's a lot more to choosing a family ski destination than just picking beautiful resorts with rad ski runs. You'll want to research your destinations to make sure that whichever resort you choose has all of the amenities and features that you are looking for in a family ski resort.
Planning for a family ski trip becomes even more important if you're thinking of heading to international ski destinations. There are incredible ski destinations in Japan, Europe, South America, and even New Zealand. But traveling internationally for a family ski trip requires a little extra planning. You can check out our guide to planning an international family vacation for more information on that.
Some things to consider are:
Are there rooms, lodges, or cabins that can accommodate your entire family?
Are there ski slopes that fit into your family's skill level?
Can you rent gear suitable for your children's ages?
Are their lessons available for little ones like those we took when our kids were learning to ski at Big White in Kelowna B.C.?
Is there a Kid's Club or babysitting service for parents to have some alone time?
Are there other activities to do nearby in case the weather doesn't cooperate or you need a break from the slopes?
Booking Your Lift Tickets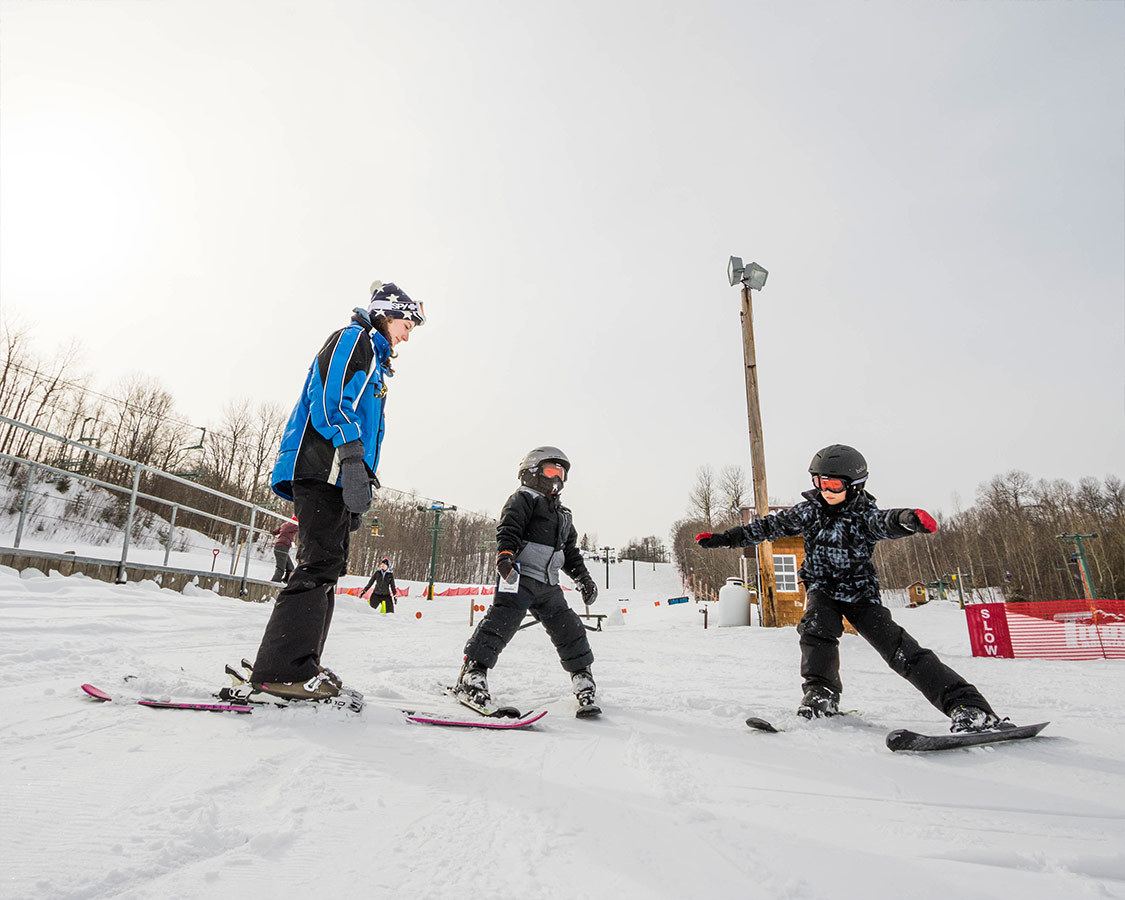 Many resorts offer the opportunity to purchase lift tickets in advance. There are sometimes options to book rentals and lessons as well. Booking in advance can save hours of time and get your family on the ski hills earlier. If you visit a ski resort during peak times, such as on holidays or weekends, lineups for tickets and gear rentals can be crazy. Getting the paperwork out of the way ahead of time makes for a much smoother experience.
Mapping out the mountains ahead of time is also highly recommended. Making sure there are meeting points and times for if your family gets separated can save a lot of stress if someone takes the wrong trail. Remember that on the mountain radios may not work outside of line-of-site and there can often be little to no cell phone coverage.
Other Activities To Look For In A Family Ski Destination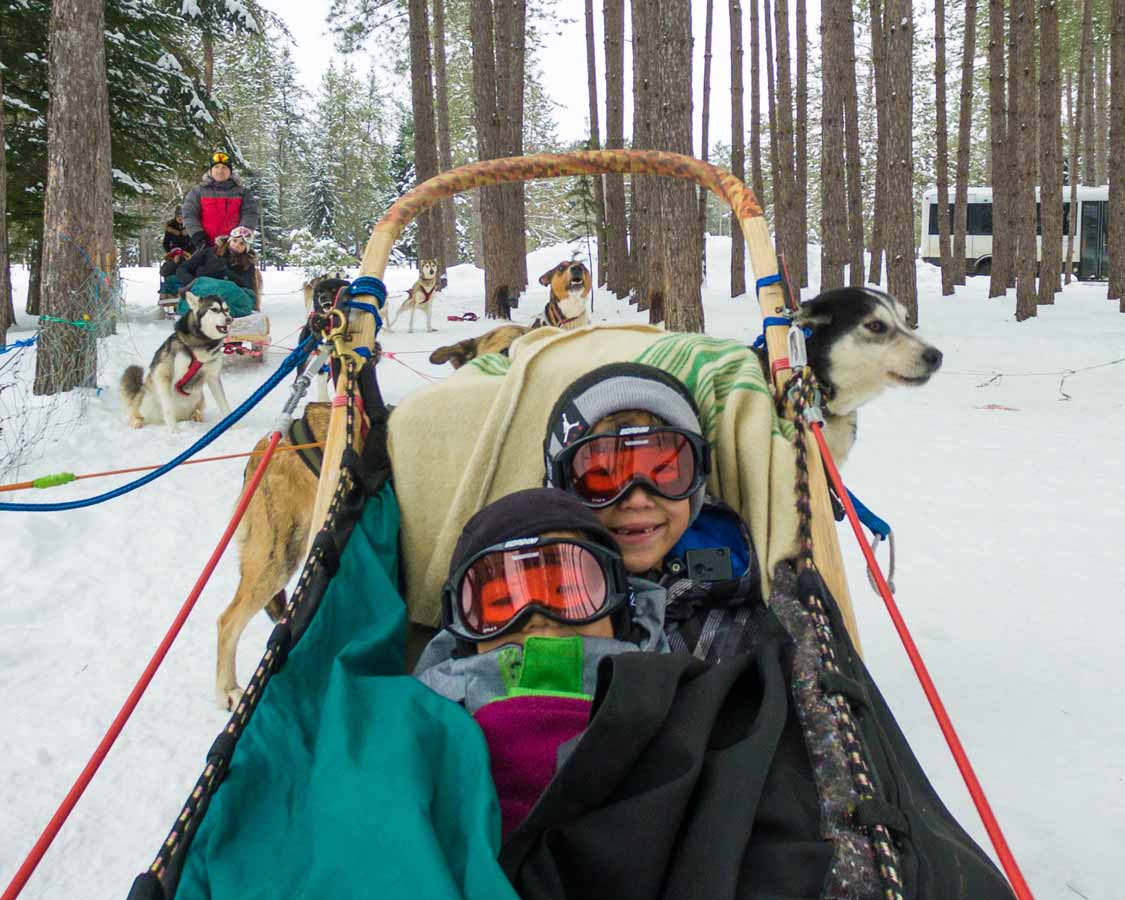 When you're trying to plan a family ski trip, you may want to look for activities beyond spending all of your time on the ski hills. Many great family-friendly ski resorts offer alternative activities that appeal to non-skiers and those who might want a break from the mountain. Before you book your trip think about some winter activities that might appeal to you. Perhaps it's an outdoor adventure like the dog-sledding we did at Mont Tremblant near Montreal Quebec. Or perhaps something more relaxed like the water park we enjoyed at Blue Mountain in Ontario.
We've been to resorts such as Titus Mountain in Upstate New York that is purely ski-focused. They're amazing for day skiers, but if you're looking for a multi-day getaway, it's not a bad idea to look for a resort that has more extracurricular activities. You can check out our list of some of the best family travel destinations in this article. Some of my favorite ski resort activities are:
Dog Sledding
Snowmobiling
Skating
Cross-Country Skiing
Snowshoeing
Snow Cat Rides
Ice Climbing
Food and Wine Tours
Water Parks
What To Pack For a Family Ski Holiday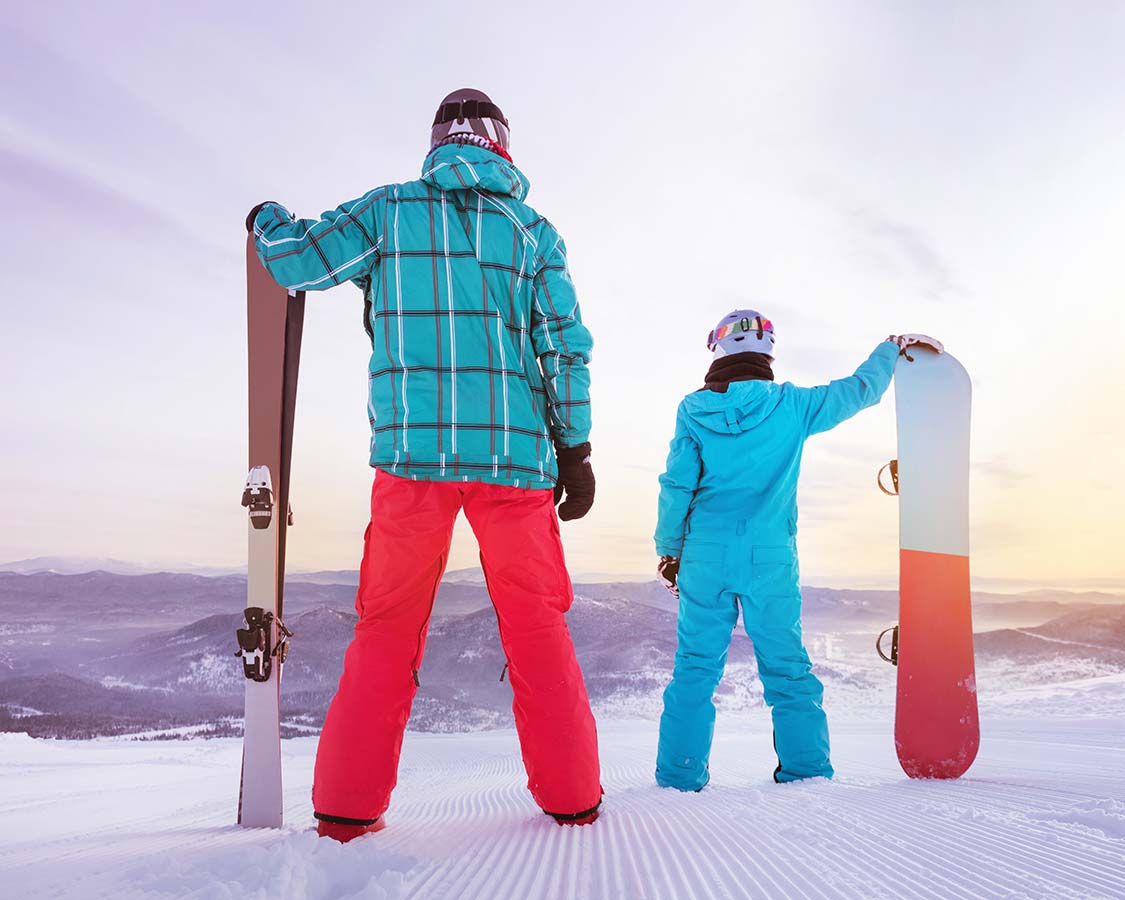 A big part of planning a family ski trip is making sure that you pack right. You don't want to have to pay inflated ski resort prices for items that you may have forgotten. To avoid the extra costs you'll need to make sure that you have all the gear you'll need when you get there. If you don't have ski boots, and helmets already, all of these top ski resorts around the world will have some for you to rent.
It's good to remember that dressing right for a family ski trip isn't just about keeping warm and comfortable on the slopes. You'll want to pack for around the resort and any extracurricular activities you might want to do. If kids are cold or wet they will not have fun. Make sure to dress in layers so that clothes can be removed if you get too warm.
But if you don't want to be stuck paying ski resort prices on your travels, here are a few things you shouldn't leave home without:
Ski Gloves: I like these ones for adults and these ones are great for kids.
Ski Goggles: Look for a pair that fits well and doesn't fog up. These ones are great for adults. And these ones work really well for children.
Long Underwear: My main gear under my outerwear is a great pair of long underwear. A comfortable, merino wool pair of long underwear will keep your core warm and wick moisture and sweat away from your body. This keeps you comfortable all day.
Neck Gaiter: Nothing annoys a young skier more than a face full of snow. Neck gaiters have become one of my go-to packing essentials for every outdoor activity. They're versatile, comfortable, and keep the snow and wet off of your face on the slopes. This pack offers great value for families.
Ski socks: I'll admit, I have an unnatural obsession with socks. In my opinion, they are one of the most important pieces of travel gear that anyone can pack. A great pair of ski socks should be wool to wick water away from your feet. they should also be long enough to avoid snow getting into your boot. These ones are amazing for adults. This is a great pair of ski socks for kids.
Camera: You'll want to capture all of those great family ski vacation moments during your trip. Make sure to pack something that can handle the cold and the abuse on the ski hills. This camera is super tough. It can be dropped, soaked, and even frozen and still take great photos.
Chapstick: The cold-dry air can be a nightmare on the lips. Make sure to pack some chapstick to avoid a cracked and dry kisser. This brand works very well and is all-natural.
Have you ever taken a family ski trip? Drop your best tips into the comments below and help others plan their trip. Or drop by our Facebook Page and share a photo of your trip. We'd love to share in your travels.
DISCLOSURE: This post may contain compensated links. Any purchases made may earn us a small commission at no extra cost to you. For more information please read our disclaimer. Wandering Wagars is a participant in the Amazon Services LLC Associates Program, an affiliate advertising program designed to provide a means for sites to earn advertising fees by advertising and linking to amazon.com, amazon.co.uk, amazon.ca. Amazon and the Amazon logo are trademarks of Amazon.com, Inc. or its affiliates.