Discover why a visit to Secret Caverns New York should be on your radar. Explore this incredible show cave and its 100 ft underground waterfall!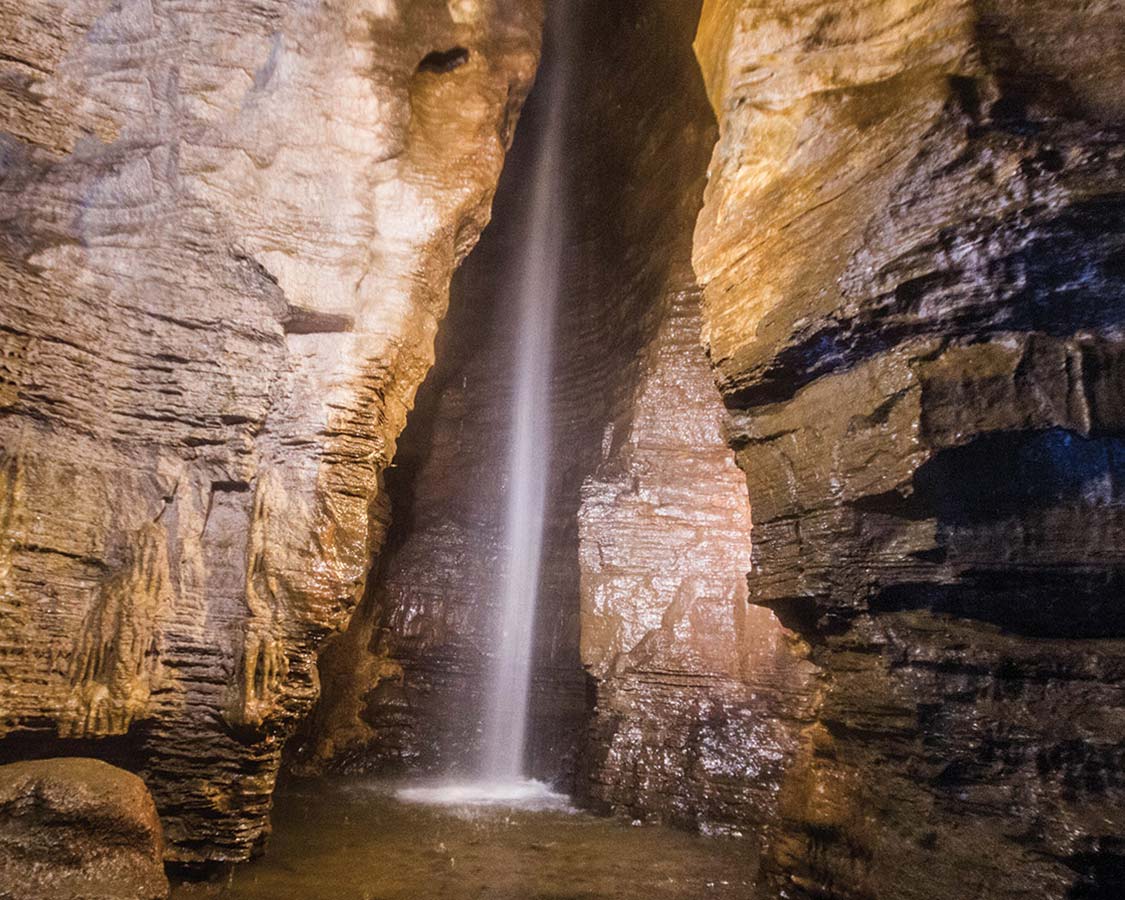 Our Journey To Secret Cavern Began In New York City
We love visiting New York City. Growing up, my family made the 8-hour drive from the outskirts of Toronto to New York City many times throughout the year to visit family. With every visit, we would explore a different park, museum, or neighborhood.
New York City has so much to offer, I don't think it would be possible to see everything even in a lifetime of visits. I have passed this love for New York to my children. Their favorite is definitely spending Christmas in New York City. They even like to chime on about which places to eat when in New York City. But on a recent road trip, we discovered Secret Caverns New York and we realized there is much more to discover!
Secret Caverns is just one of a series of incredible caves in New York waiting to be explored. But this often-overlooked secret cave in the town of Howe's Cave's, New York is one that shouldn't be missed. It often gets overshadowed by its more famous cousin, Howe Cavern, but Secret Cavern is an experience all of its own.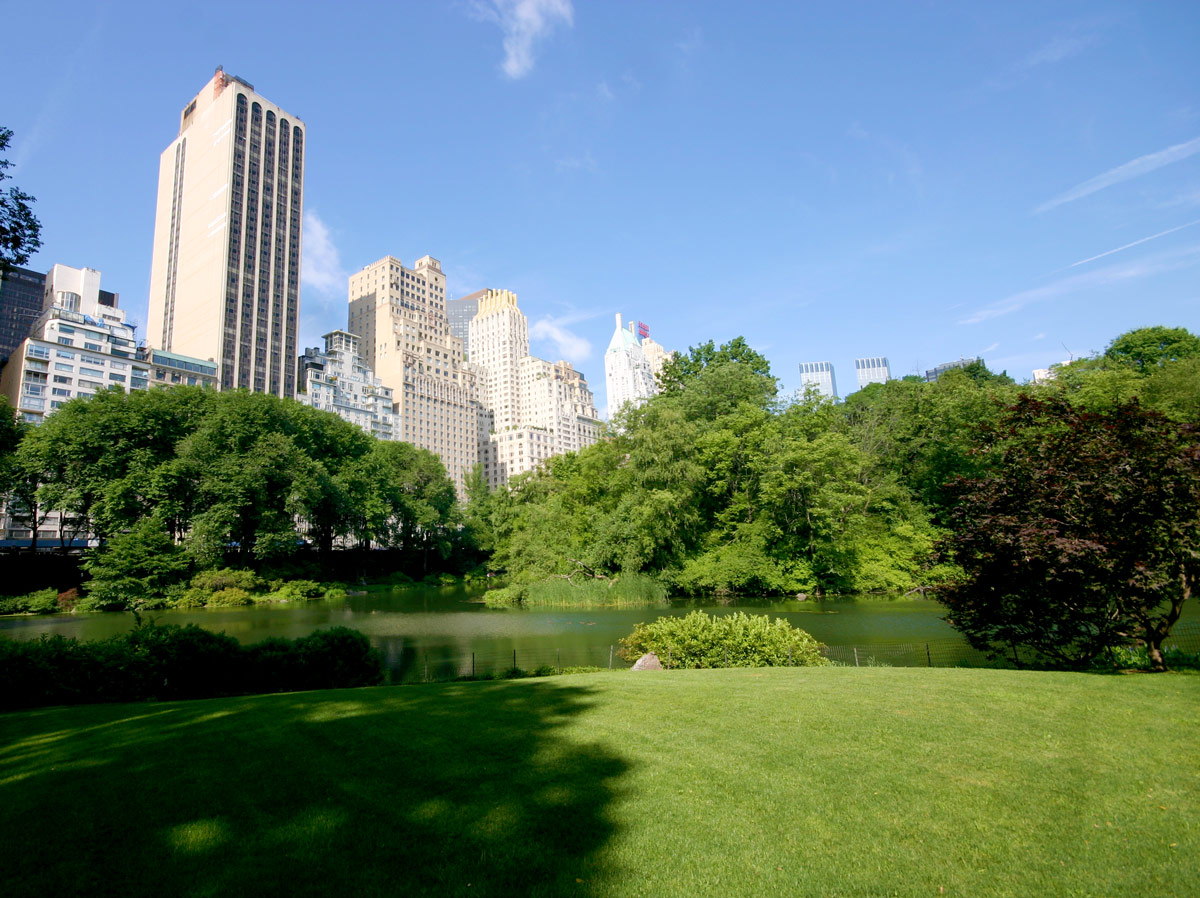 Where Is Secret Caverns, New York?
Our long weekend trip to Watkins Glen State Park really opened up our eyes to the amazing nature that is abundant in New York. So, we have it our mission to discover places that are within just a few hour's drive from Toronto, Canada.
As we were researching for more waterfalls in the area to visit, we found a secret! Located deep within a cave, was a waterfall, hidden from view, but open to the public for visitation. As we love visiting caves with kids, off we went on a 5.5 hr road trip from Toronto to Howes Cave, New York.
Make sure to subscribe to our YouTube channel see all our latest videos!
The 100 ft waterfall is located within Secret Caverns in Howes Cave, New York. It is the final attraction in this New York show cave. But I am getting ahead of myself! So, let me start from the beginning. The drive from Toronto to Howes Cave was mostly on multi-lane highways.
We chose to take the interstate highway, I-90, which is a toll highway in New York, to speed up the drive. At less than $10 for the toll we felt it was definitely worth the time it saved us. The final 30 or so kilometers were on rolling country roads. The kids enjoyed seeing all the farm animals lazing around.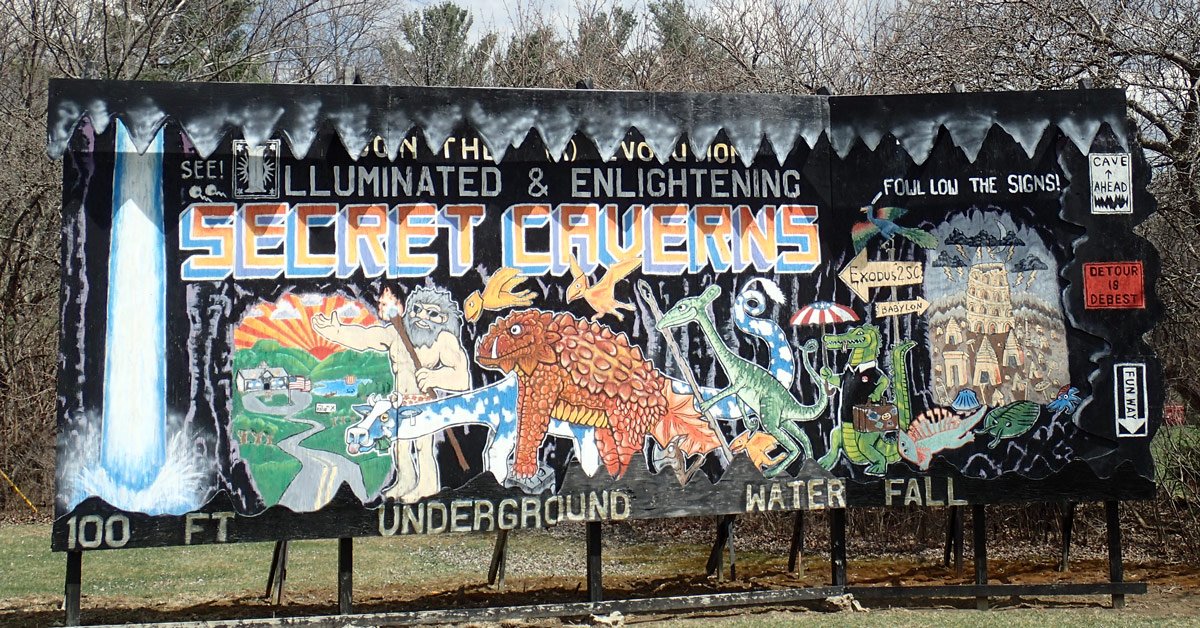 As we got closer to Cobleskill, the town where Secret Caverns is located, we started seeing the infamous billboard signs promoting Secret Caverns. We had read about the history of the signs at the Secret Caverns website. Each sign is unique and artistically decorated by hand by the guides.
Tour of Secret Caverns
At the time of our visit, Secret Caverns was open from 11 am – 3 pm. Reservations ahead of time were not necessary. Tours were conducted every half an hour; more often if it is busier. They are open year-round and only close when inclement weather causes flooding into the cave.
The entire journey underground is less than 1km (0.5 miles) and takes approximately 1 hour. The tour starts at the lodge where you buy your tickets. According to the story, the caves were discovered when cows accidentally fell into the cavern in 1928.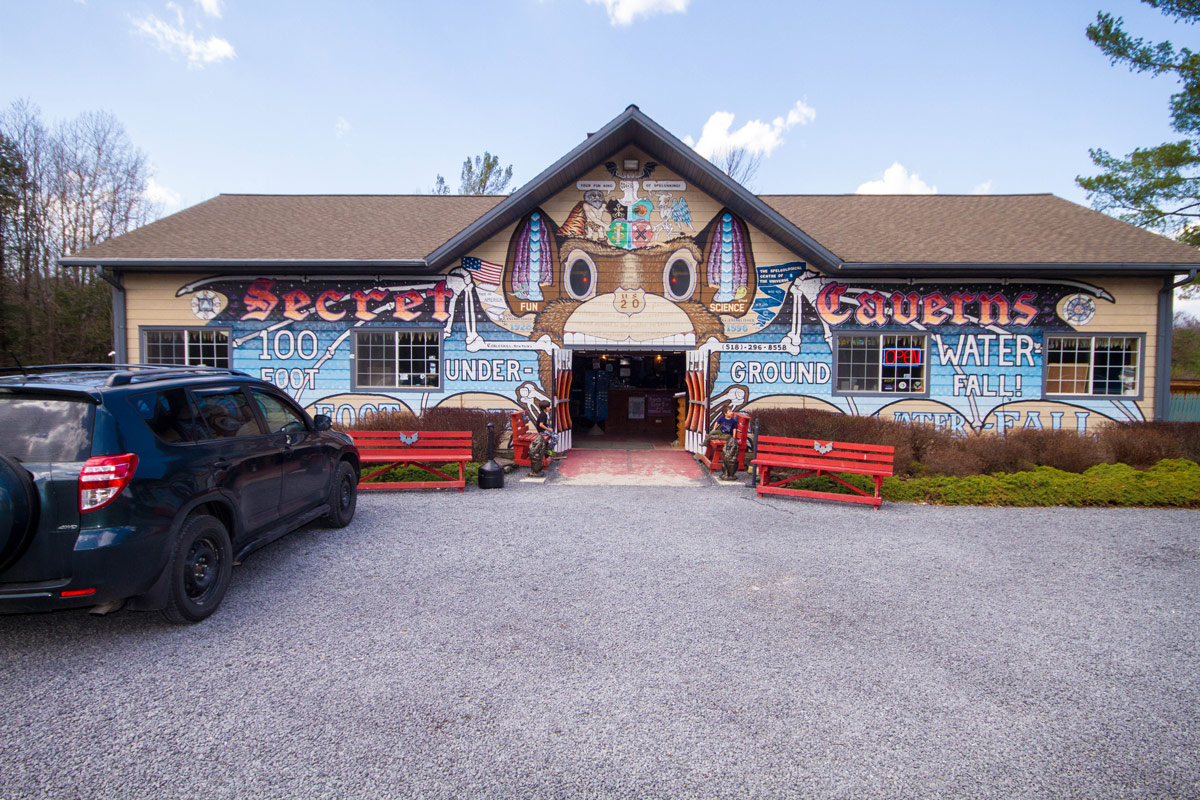 The "original" entrance is now blocked off. Instead, we descended down 103 steps to the concrete floor. I could immediately feel the temperature difference. It was a warm day out at 29ºC.
But the cave interior was 10°C, as always. As we climbed lower it was easy to see the different layers of exposed limestone. The guide also pointed out some fossils when our group had all reached the bottom.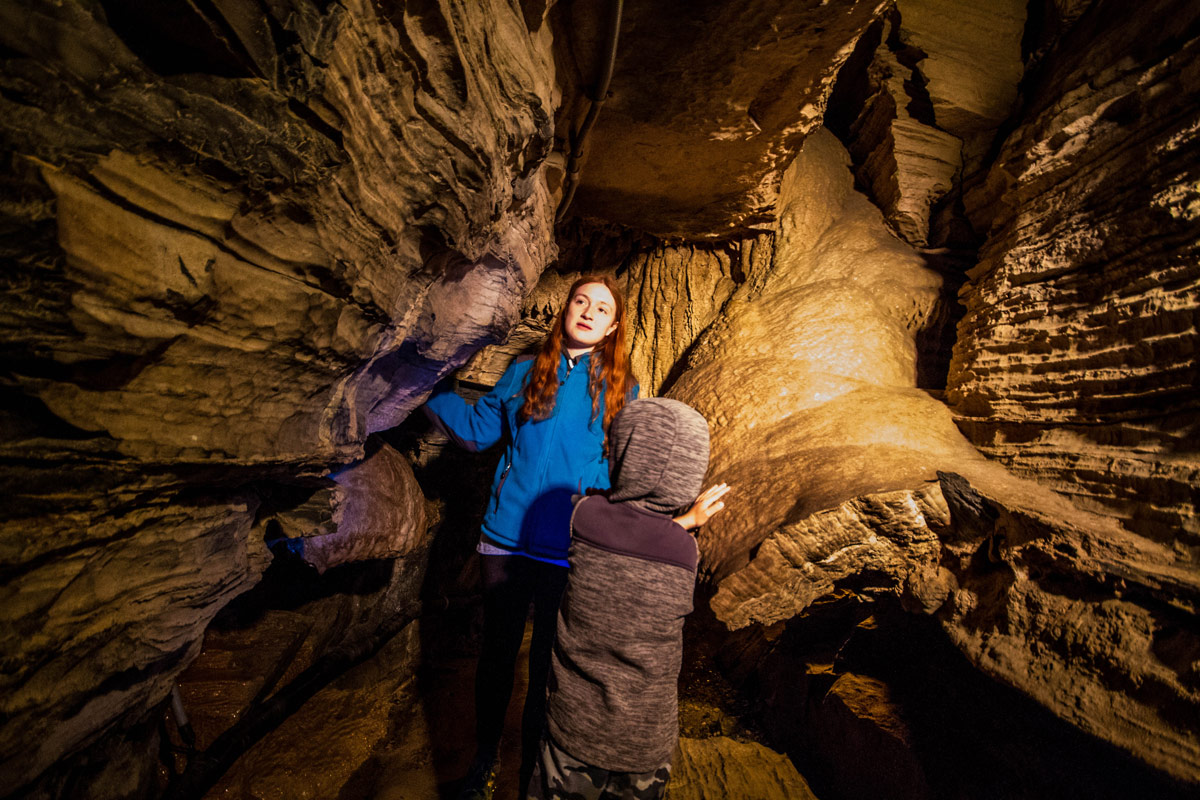 Interesting Formations in Secret Caverns
We explored the length of the cave in a single file. There were 10 people in our group (including us). I was told that the tour group is normally kept to less than 20 people.
This is great as the cave was a lot narrower than I had anticipated. There were also spots with low-hanging ceilings. Secret Caverns New York is definitely not for the claustrophobic.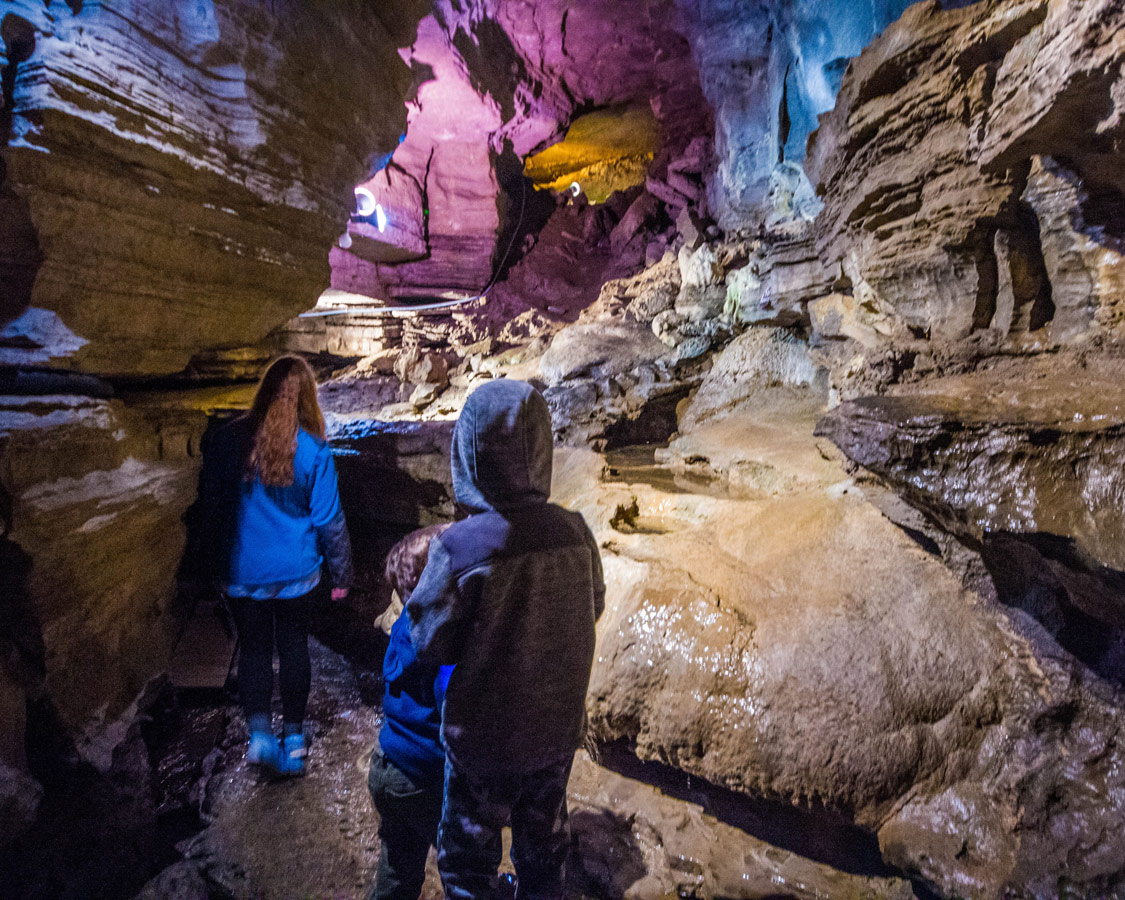 Secret Caverns Waterfall
As we neared the waterfall, I was surprised that the sound of the falling water was not more obvious. Except for the tell-tale signs of the mist, I would not have known that a 30 m (100 ft) waterfall was just around the corner.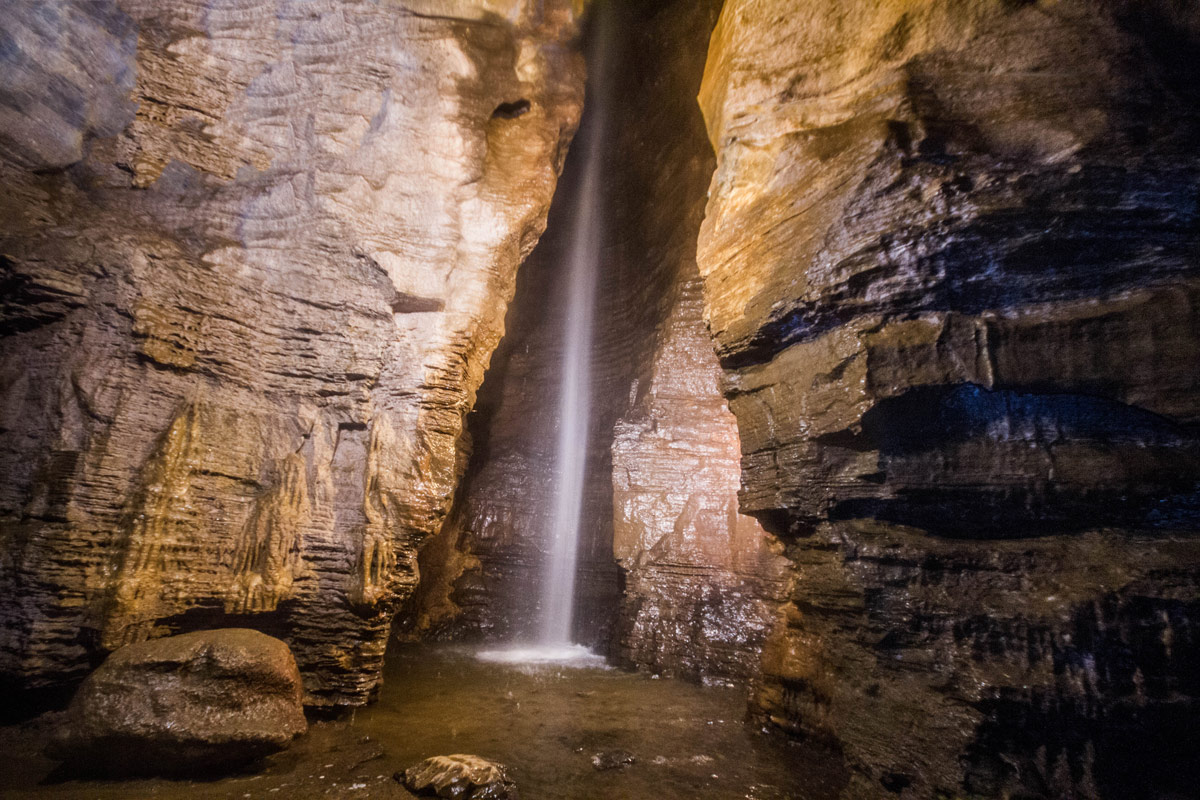 The tour is not a loop so after getting our fill of the waterfall, we headed back the same way we came in.
Tips for Visiting Secret Caverns New York
Wear a light jacket. The temperature in the cave is constantly 10°C.
Wear running shoes or hikers. If it has been raining, many parts of the cave will be wet and slippery so open toed footwear is not recommended.
There is no need to bring a flashlight or headlamp. Secret Caverns is a show cave which means the cave is lit up.
Light snacks and drinks are available for purchase at the entrance lodge. However, there are many picnic tables by the parking area so it is possible to eat a boxed lunch comfortably.
The caves can sometimes be inaccessible due to weather conditions. If unsure, check the Secret Caverns Facebook page which posts updates whenever the caves will be closed to the public.
Show Caves of New York
Secret Caverns was definitely worth the drive from Toronto to Howes Cave, New York. It's a family-friendly cave tour and our guide went out of her way to make the tour even more entertaining for C and D.
But our tour of New York's show caves is not over yet. Just 4 km (2 mi) from Secret Caverns was another cave system, Howe Caverns. And while it didn't have an underground waterfall, the cavern is explored partly by boat! What is your favorite show cave?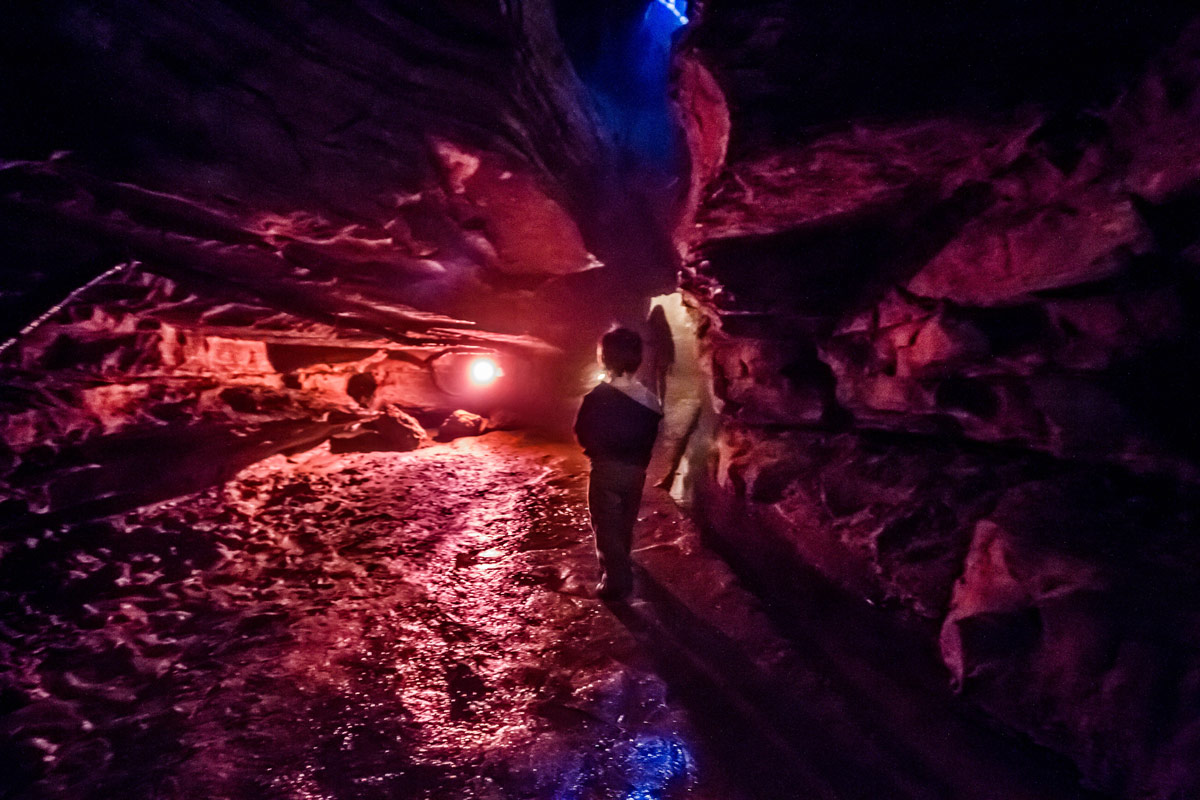 You can explore more incredible attractions in New York State on our New York Family Travel Blog.
Wandering Wagars is a participant in the Amazon Services LLC Associates Program, an affiliate advertising program designed to provide a means for sites to earn advertising fees by advertising and linking to amazon.com, amazon.co.uk, amazon.ca. Amazon and the Amazon logo are trademarks of Amazon.com, Inc. or its affiliates.
You May Also Like To Read: