Howe Caverns New York is one of the most popular natural attractions in New York, second only to Niagara Falls. And with the Howe Caverns Adventure Park, the destination makes for a great family-friendly adventure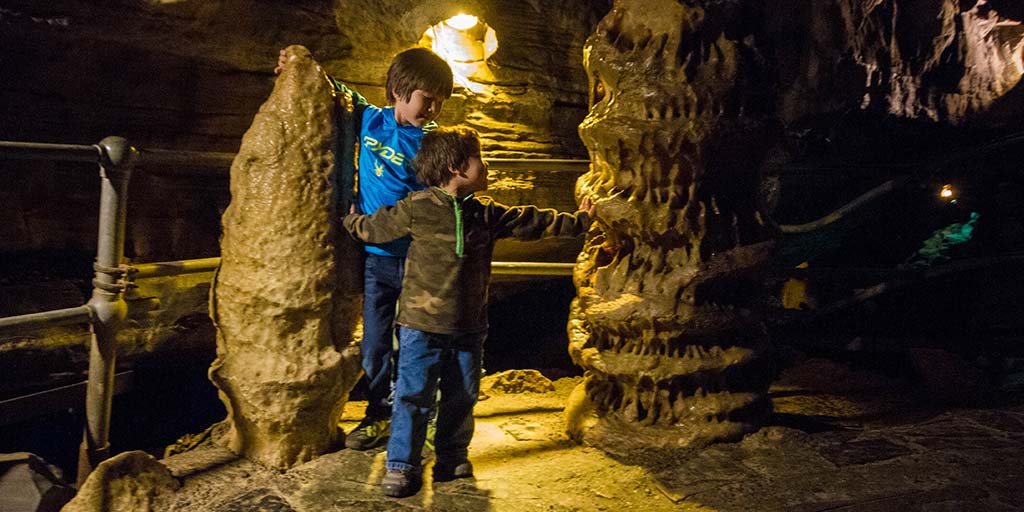 During our road trip from Manchester Vermont to Toronto, we were in no rush. Along the way, we were actively looking for amazing places to explore. We were lucky to be driving near the scenic town of Howes Caves, New York, and decided to stop and see what gave the region such a unique name. We ended up exploring two incredible caves in upstate New York. The fun and exciting Secret Caverns and the town's namesake, Howe Caverns New York.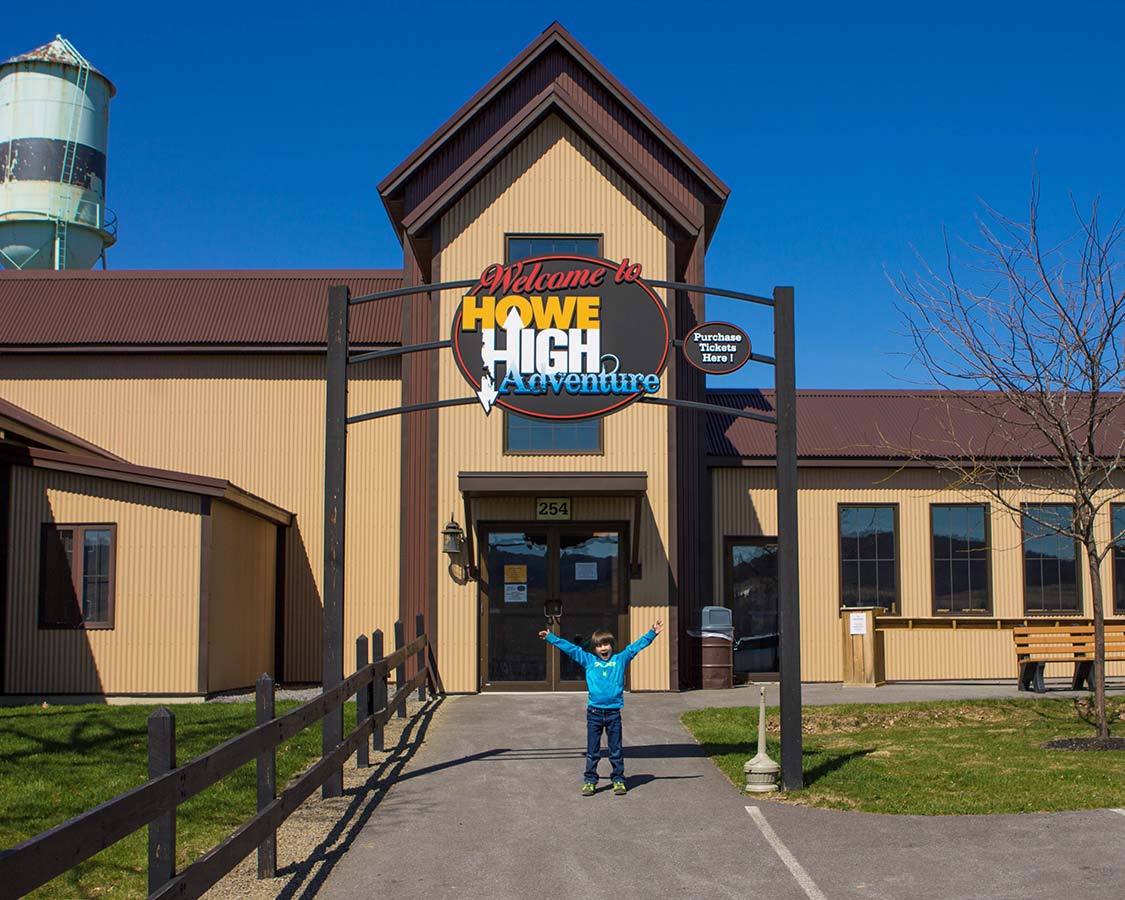 Where is Howe Cavern NY?
Howes Caverns, New York is about 45 minutes west of the city of Albany, New York, and about 2 hours east of Syracuse. Howes Caves, where the Howe Caverns attraction is located, is a small hamlet situated near Cobleskill. The picturesque farms and sleepy lifestyle give little evidence to the excitement that lies below the surface of this quiet town.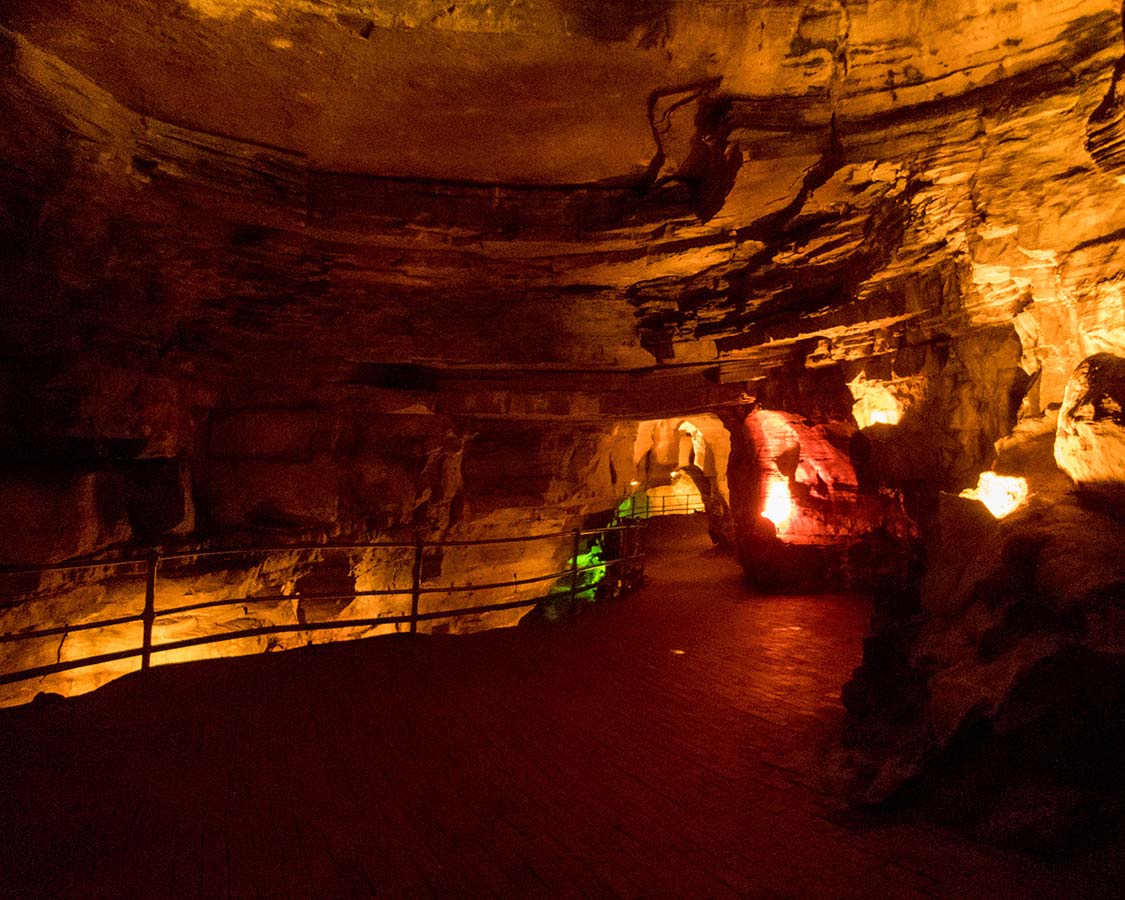 What is Howes Cavern?
Howe Caverns was discovered in 1842 by local farmer Lester Howe. He noticed that the cows in his field would frequently gather on hot days in the same spot and went to investigate. When Lester Howe arrived at the spot, he felt a cool breeze coming from the ground and decided to explore further. What he discovered was a 6-million-year-old cavern in the limestone earth. After some adventurous exploring, Howe opened the caves up to visitors the next year.
Howes Caverns has become one of, if not the most popular caves in New York State. In fact, it has gone on to become the second most visited natural attraction in New York, second only to the famous Niagara Falls. The popularity of Howes Caverns has been helped by their continual development of attractions into the Howe High Adventures Park.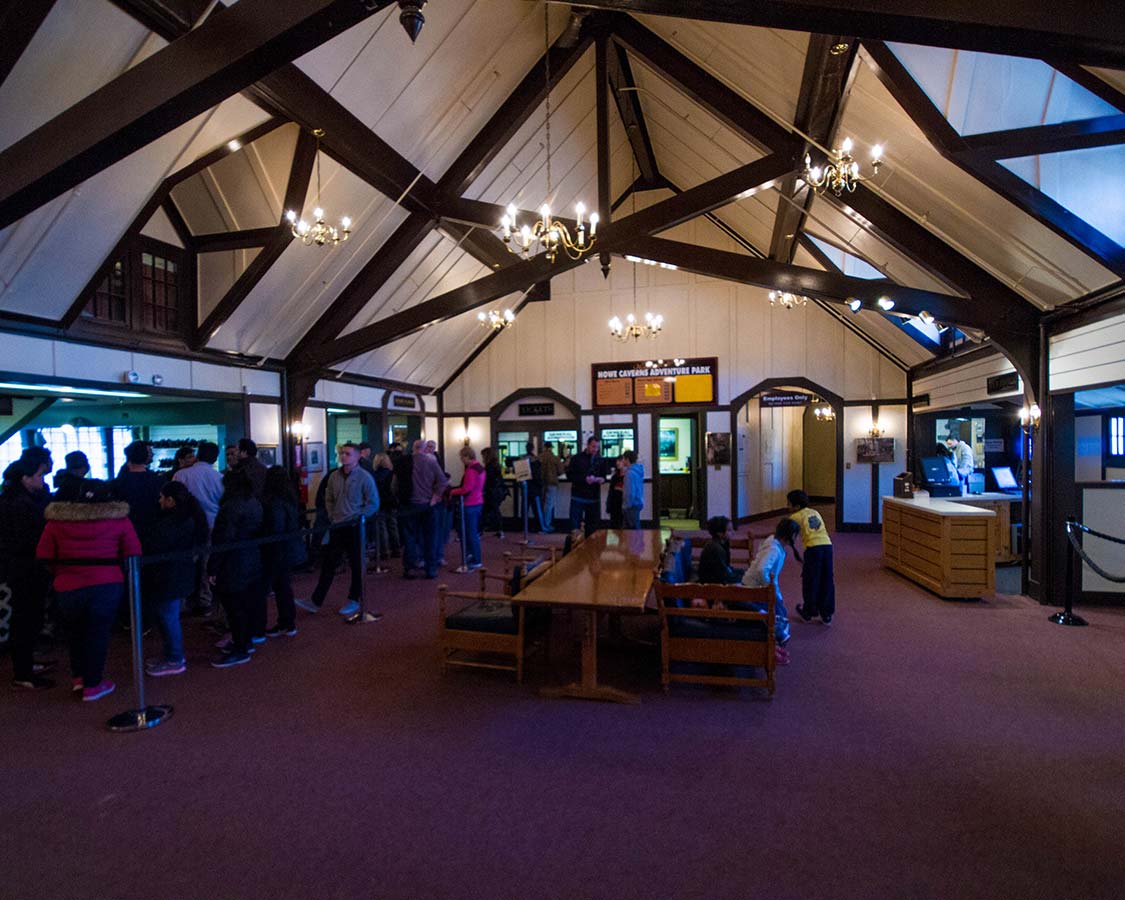 The accessibility, features, and fame have led Howe Caverns to become one of the most popular caves in upstate New York. It is definitely the most visited cave in New York.
Things to do in Howes Caverns New York
While the main feature of Howes Caverns is the incredible cave system, the location has developed into near-amusement park levels.
Howe Caverns Adventure Park
Howes Caverns attractions include zip lines, a rope course, rock wall climbing, and the H20Go ball (a giant inflatable ball that you climb inside). Combine these fun family-friendly activities with picnics and the cave system, and there is no lack of things to do at Howes Caverns.
There are a number of different Howes Caverns tours to experience as well. They offer a rock discovery tour, spelunking tours, and even overnight experiences for those looking to add a little adventure to their Howes Cave exploration.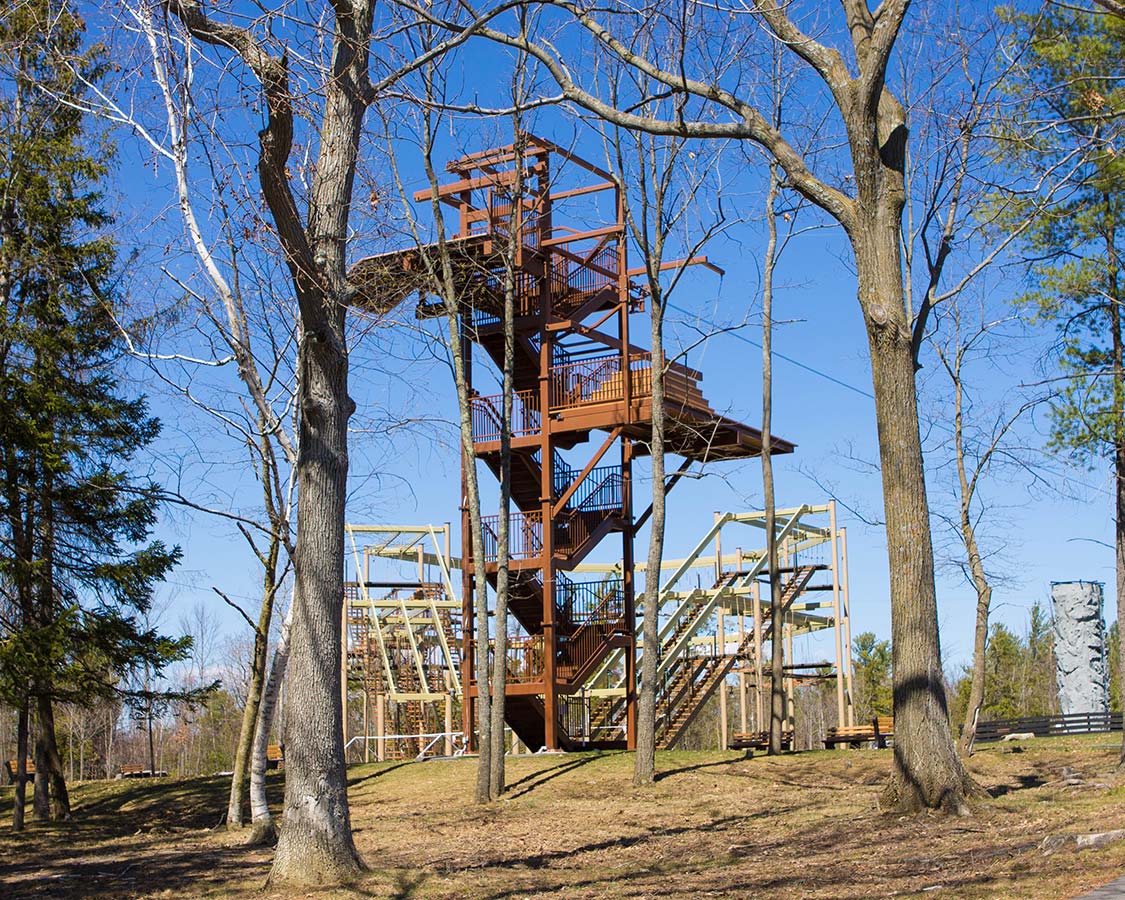 The Howes Cavern Cave System
The Howes Cavern cave system lives up to its popularity. This immense system has been featured by major nature programs including National Geographic. And with nearly 200 years of human history behind it, it's no surprise why.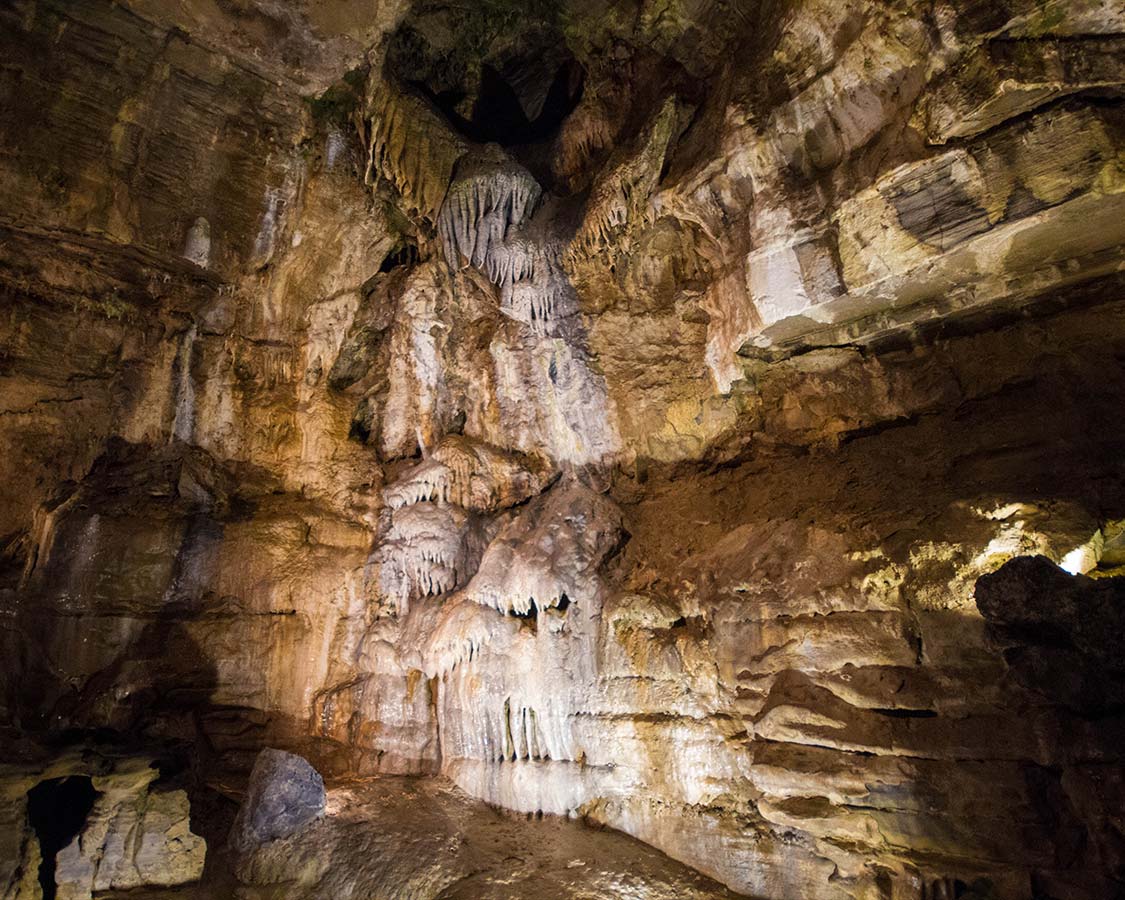 The Howe Caverns Tour
Tours of Howe Caverns New York begin in the main building. This is where the on-site cafeteria is as well. Lines can be long and entrances are timed. If you are able to book your tickets in advance you'll save yourself a lot of waiting.
Entrance to Howes Caverns is via an elevator that descends 48 meters (156 feet) down into the earth. From there, visitors are guided through the multiple levels of well-lit rooms. While not as extensive as some of the caves we visited in El Nido, Philippines, there is no doubt that Howes Caverns is far more developed.
Howe Caverns Boat Ride
The Howes Cavern tour includes a boat ride through some of the water-filled rooms of the cave system. The cave water is crystal clear and offers beautiful views of the rock formations at the bottom. The flat bottom boats sit three astride and about 12 people per boat plus the guide.
The Howes Cavern Wedding Chapel
One of the rooms in Howes Cavern is a popular spot for weddings. In fact, the cave staff has even placed a lit stone heart on the floor of the cave that makes for the perfect romantic ambiance for a cave wedding.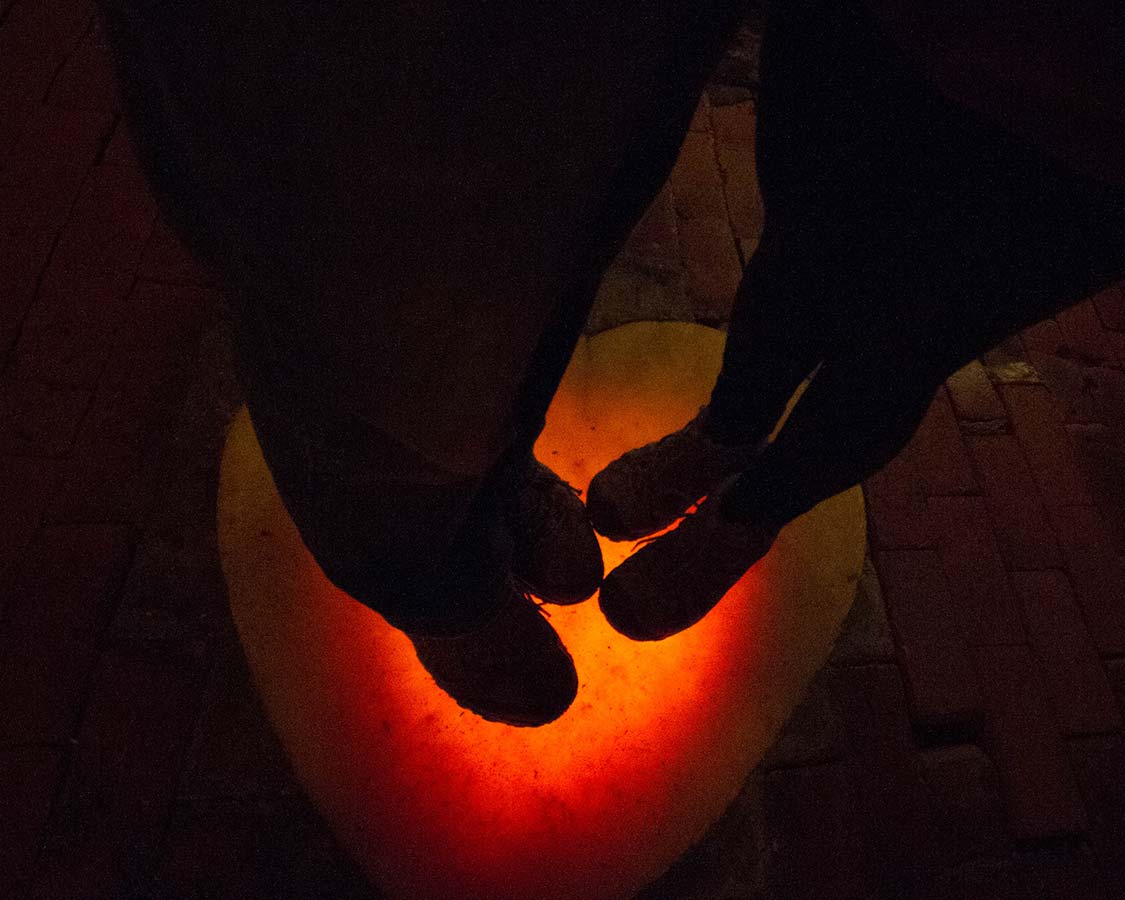 Visiting Howe Caverns with Kids
Howes Caverns is built as a family-friendly destination, so Howes Caverns with kids is a perfect family getaway. The proximity of the cave near Albany NY also means that lots of families make the trip. Howes Caverns is one of the easiest caves for kids that we've visited. The level ground and easy maneuvering make a visit fun and stress-free. The hardest part is the line waiting to get in.
Some of the attractions, such as the zip line and ropes course have a weight limitation that means children younger than 5 or 6 years old may not be able to take part in some of the Howes Caverns attractions. But there are more than enough things to do to keep the whole family occupied even if you can't do it all. It's very easy to combine a visit to Howes Caverns with a visit to nearby Secret Caverns as well. There you can visit the underground waterfall and have a very different, less commercialized experience.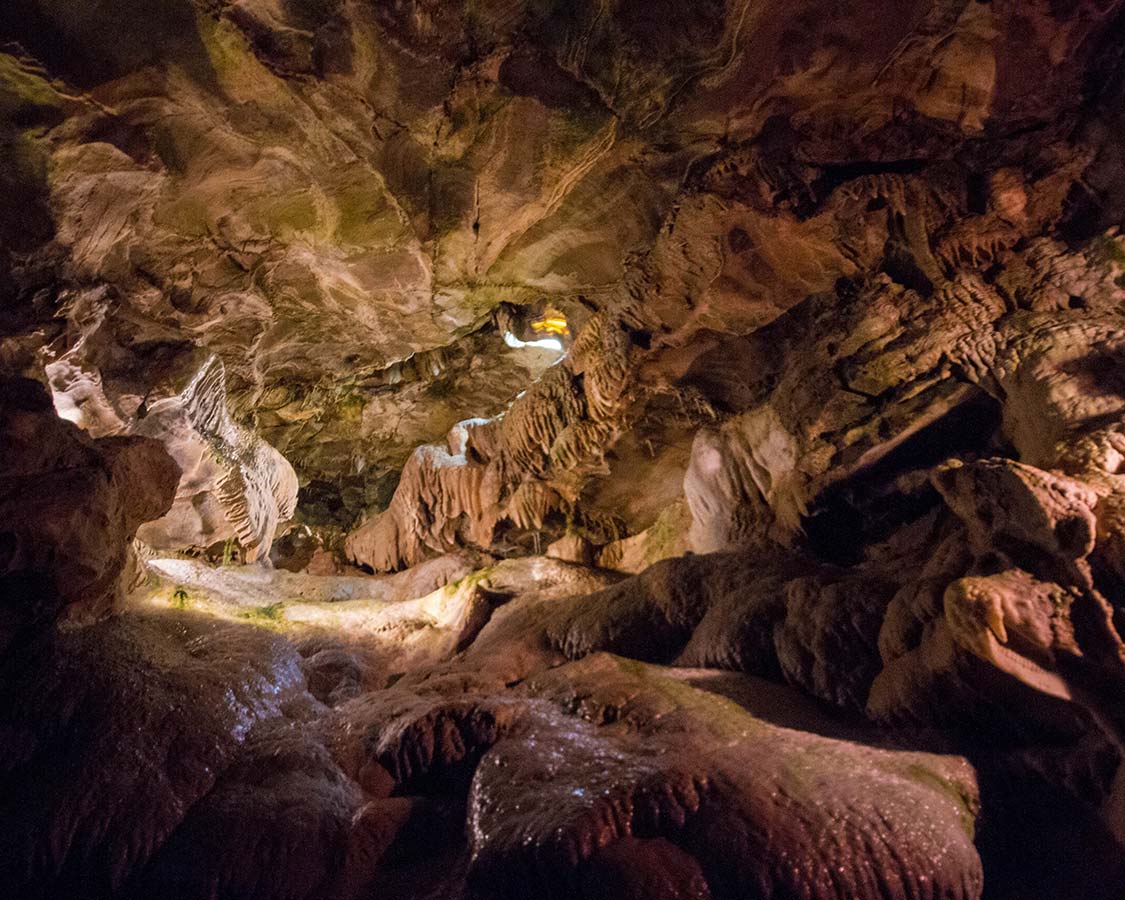 When to Visit Howe Caverns New York?
The Howe Caverns New York cave system is a seasonal destination. However, not all of the outdoor attractions are open at the same time. In the early season, the cave opens on weekends, however, the Howe Caverns adventure park opens later. It's best to call ahead if you are in the shoulder season to see if the Howe Caves attractions have opened for the year.
Other Things To Do Near Howe Caverns
Howes Caves New York is a pretty remote area. The two main attraction of the regions is Howe Caverns and Secret Caverns. But, there are still a few other family-friendly attractions in the area such as the Iroquois Indian Museum and the Old Stone Fort in Schoharie for a little more regional history.
Do We Recommend Visiting Howes Caverns New York?
Howes Caverns is caving at it's most commercial. This popular show cave is well-lit, easy to explore for nearly all ability levels, and by all rights, a fun and exciting experience for the whole family. Unless you join one of the Howes Cavern adventure packages, visitors aren't going to find themselves squeezing through narrow passages or discovering new rooms by headlamp. But you can be guaranteed some entertainment and great stories told by experienced tour guides. A visit to this cave system is definitely worth the detour.
What Are The Best Hotels Near Howe Caverns?
While you can opt for staying at the Howe Caverns Motel, there are also several decent hotels near Howe Caverns that are worth looking into. While you won't find any high-end resorts in Howe Caverns, there are some decent hotels near Howe Caverns.
The Super 8 in nearby Cobbleskill is less than 4 miles away. The hotel comes with free wifi and free breakfast. There's also a game room with a pool table for a little extra fun.
If you don't mind traveling a little further, the Quality Inn & Suites in Schoharie, about 9 miles from Howe Caverns is a pet-friendly hotel. Although breakfast isn't included, there is free wifi available.
Camping Near Howe Caverns
While staying in a hotel near Howe Caverns is great, after all that adventure you may be looking to do some camping near Howe Caverns. John Boyd Thatcher State Park is about a 40-minute drive from Howe Cavern and gets excellent reviews. It has excellent views of the Hudson Valley and some nice, family-friendly hiking trails.
If you're interested in checking out more incredible things to do in New York State, make sure to check out our New York family travel blog.
Wandering Wagars is a participant in the Amazon Services LLC Associates Program, an affiliate advertising program designed to provide a means for sites to earn advertising fees by advertising and linking to amazon.com, amazon.co.uk, amazon.ca. Amazon and the Amazon logo are trademarks of Amazon.com, Inc. or its affiliates.
You May Also Like To Read: