These Canadian National Parks might be some of the most epic travel destinations in the country for outdoor lovers. How many have you visited?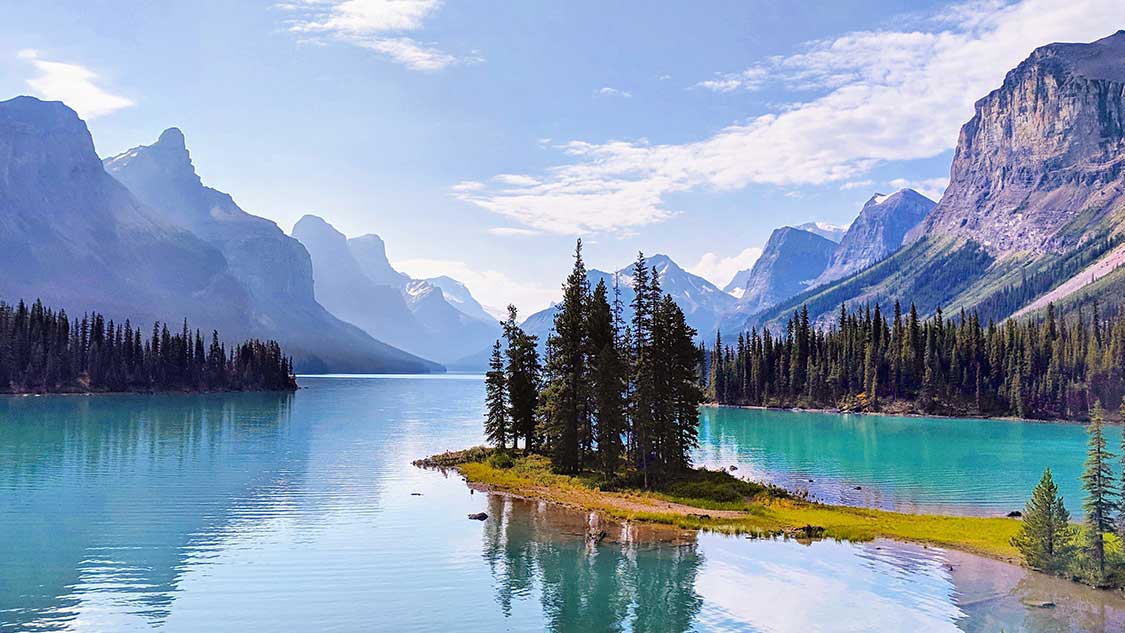 Canada is home to some of the most stunning natural beauty on the planet. And covering nearly 330,000 square kilometers (205,052 square miles) of protected nature, the Parks Canada system is home to some of the best. Canada established one of the first National Parks systems on the planet back in 1885 (formally becoming Parks Canada in 1911).
The Canadian National Parks system is vast. There are 47 National Parks in Canada, 171 National Historic Sites, Five National Marine Conservation Areas, and one unique National Urban Park. These outdoor wonderlands are spread across ten provinces and three territories and include some famous accessible destinations and a few hard-to-reach natural wonders.
The Canadian National Parks system is nearly unsurpassed in terms of sheer area and the breadth of its biodiversity. Within these parks, you'll find some of the most iconic wildlife in Canada, along with some of the countries most awe-inspiring photo spots.
In all honesty, all of the National Parks in Canada deserve a spot on this list. And in keeping with that honesty, I have not visited them all. But I have been to many more than most people. At last count, I had visited 22 of the 47 Canadian National Parks, including all 6 National Parks in Ontario and both of the National Parks in Manitoba. And I'm anxious to explore as many more as I can get to.
These Parks Canada locations offer a stunning and unique example of Canadian geology, landscapes, history, and culture. Narrowing down the list to just 20 was immensely challenging. But, I aimed to choose parks that offer something genuinely unique to visitors.
Getting to some of these Canadian National Parks might offer a challenge, as some parks can only be reached via planes or helicopters. Others can only be accessed by boat. Some, however, can be easily visited via the local public transit systems.
No matter how many you've visited or plan to visit in the future, there's no denying that these are some of the most incredible National Parks in Canada.
Banff National Park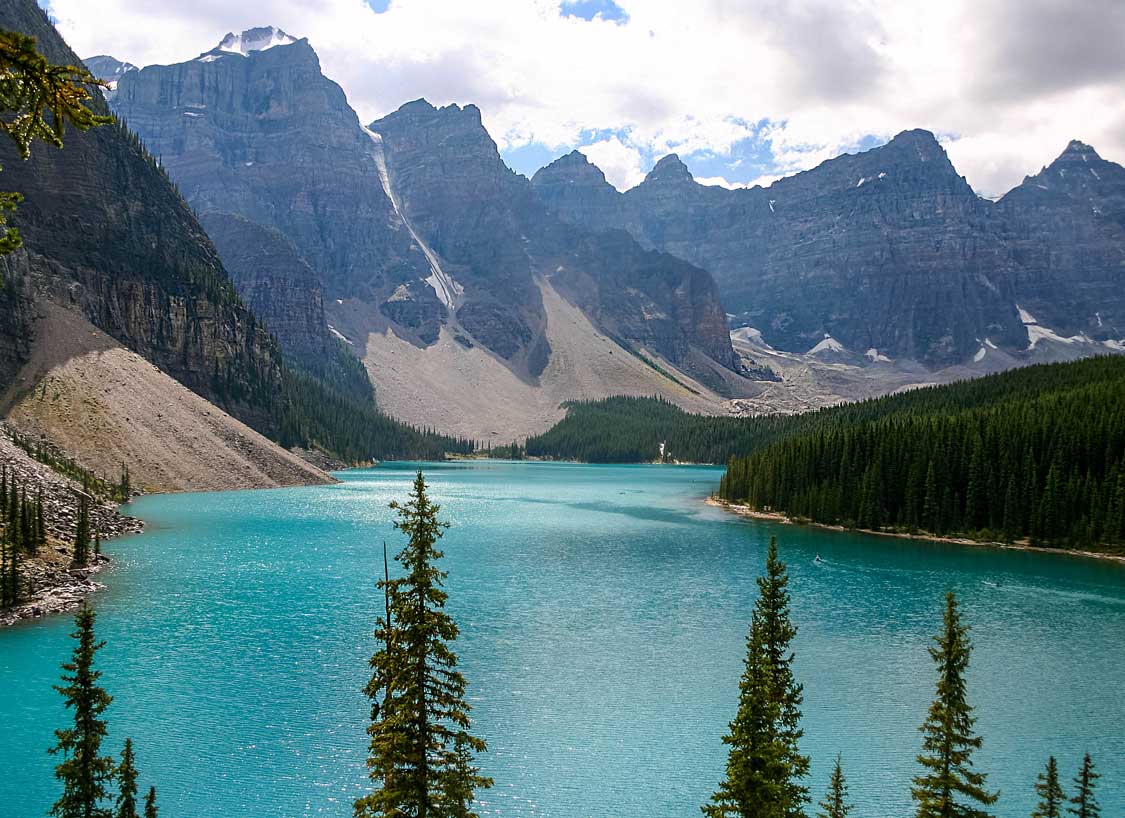 Banff National Park is easily Canada's most recognizable National Park. That shouldn't be a surprise, as this is the one that started it all. Discovered during the construction of the coast-to-coast Canadian Pacific Railway system, the hot springs and mirror lakes of Banff National Park led to the creation of one of Canada's first "tourist" towns in the late 1800s.
The competition over land rights and fears that the majestic landscape might be spoiled forever led to the Canadian Government establishing a protected reserve in the area. In 1887, the area was expanded and named the "Rocky Mountains Park of Canada." Banff became the first of many National Parks in Canada and the fourth in the world.
Banff, located just a little over an hour from Calgary, Alberta, sits amongst towering snow-capped mountains in the rugged Canadian Rockies. The park contains countless crystal-clear mountain lakes that take on otherworldly blue and emerald green shades.
While the glacier-fed lakes of Banff National Park might be a bit chilly for swimming, those who want to take a dip can do so in some of the park's natural hot springs, including the famous Banff Upper Hot Springs.
Banff National Park is home to an incredible diversity of wildlife as well, including both black and brown (grizzly) bears, elk, foxes, wolves, mountain goats, and countless bird species. More than 1,600 kilometers (994 miles) of outdoor trails for hiking, mountain biking, skiing, and snowboarding.
Visitors won't be far from civilization either, as the mountain town of Banff, Alberta, makes a perfect place to set up a home base (if you aren't planning on camping in Banff National Park). The town of Banff offers incredible restaurants, shopping, spas, hotels, and ski resorts to enjoy.
Gros Morne National Park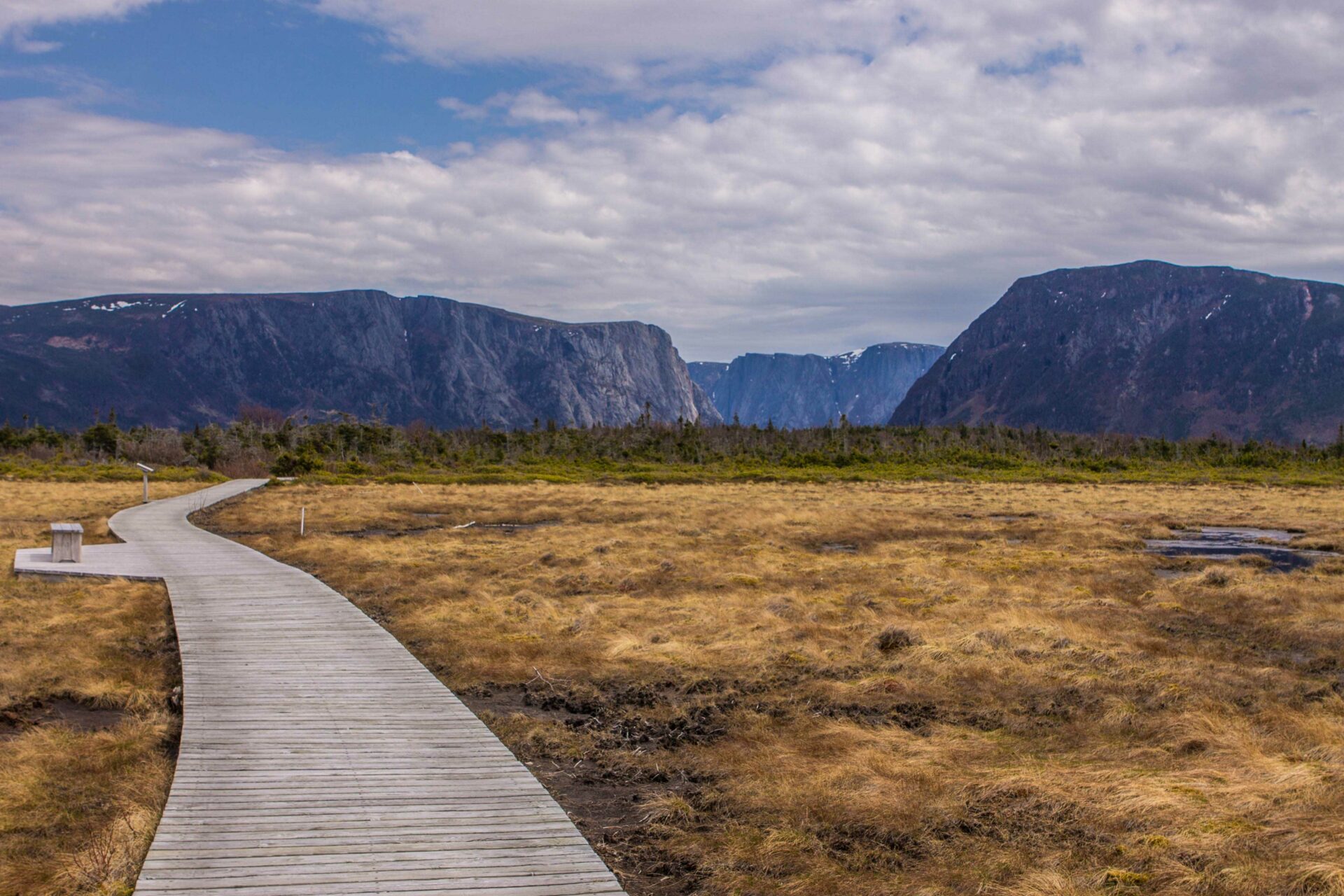 Clocking in as the second largest of all of the National Parks in Canada, Gros Morne National Park on Newfoundland's west coast is, without a doubt, one of the most incredible places to visit in Canada.
This UNESCO World Heritage Site displays sky-high mountains dissected by deep inland fjords. And it's one of just a handful of places in the world where you can walk on the Earth's mantle. Within Gros Morne National Park, you'll also find beaches, coastal forests, waterfalls, and a handful of quaint fishing villages.
Gros Morne National Park isn't just a pretty face, though. This iconic Canadian National Park boasts some of the most stunning geological histories on the planet. You'll find examples of tectonic shifting, ancient volcanoes, and fossils dating back to the earliest of Earth's lifeforms.
While hiking through the parks, many trails offer the chance to experience local wildlife, including moose, caribou, black bear, Arctic hare, ptarmigan, and many more. Visitors can also enjoy boating and kayaking along the raw coastline or even tackling the epic Gros Morne Mountain hike from the drop-off point at Western Brook Pond. The Western Brook Pond boat tour to the end takes you past towering cliffs and Canada's tallest waterfall.
One of our favorite hikes in Gros Morne National Park is the Green Gardens hike. The hike takes you across barren hills and coastal forests to a collection of waterfalls and volcanic stacks jutting out of the Atlantic Ocean.
Point Pelee National Park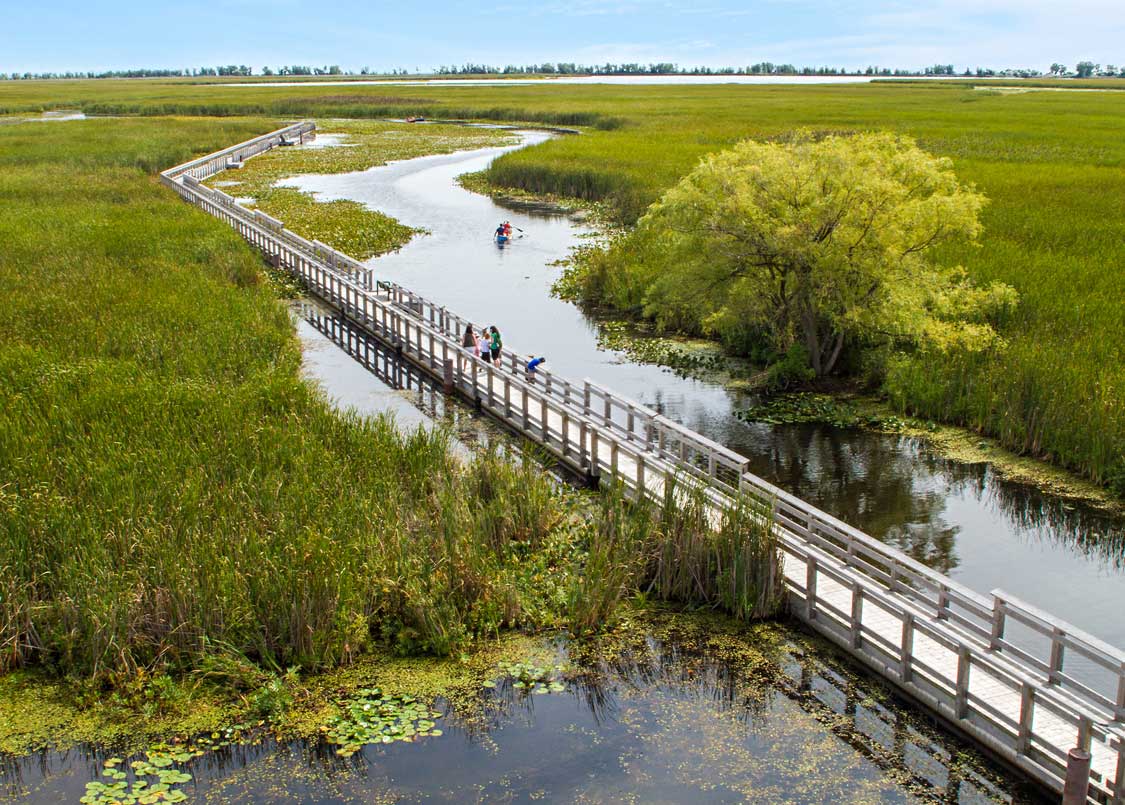 Home to the southernmost point in mainland Canada, Point Pelee National Park is the only Canadian National Park located in a sub-tropical climate. This fascinating spot dips low into the waters of Lake Erie, reaching points along the same parallel as northern California, Barcelona, Spain, and Rome, Italy.
Point Pelee is incredibly flat. While it might not offer the majestic landscapes of some of Canada's more mountainous National Parks, its unique position makes it a fascinating place to visit. The wandering beach at Canada's southernmost tip is in a constant state of flux due to the winds and currents of the Lake Erie waters. But, the stunning cranberry marshes, historic frontier history, and stunning estuaries add to the appeal of the southernmost National Park in Canada.
Among the many unique florae you'll find in Point Pelee are dames violets and boxelder maples. Point Pelee is also an important migratory point for birds and monarch butterflies. In fact, during the spring, over 380 unique species of birds make their way through the park making this one of the most popular destinations for birdwatchers.
Over 10,000 Monarch butterflies make their way south through the park to mating grounds in Mexico and Central America between late August and early October.
The park, located just outside Leamington, Ontario, is a must-visit for those exploring Southern Ontario. You can find everything you need to know to visit right here.
Pacific Rim National Park Reserve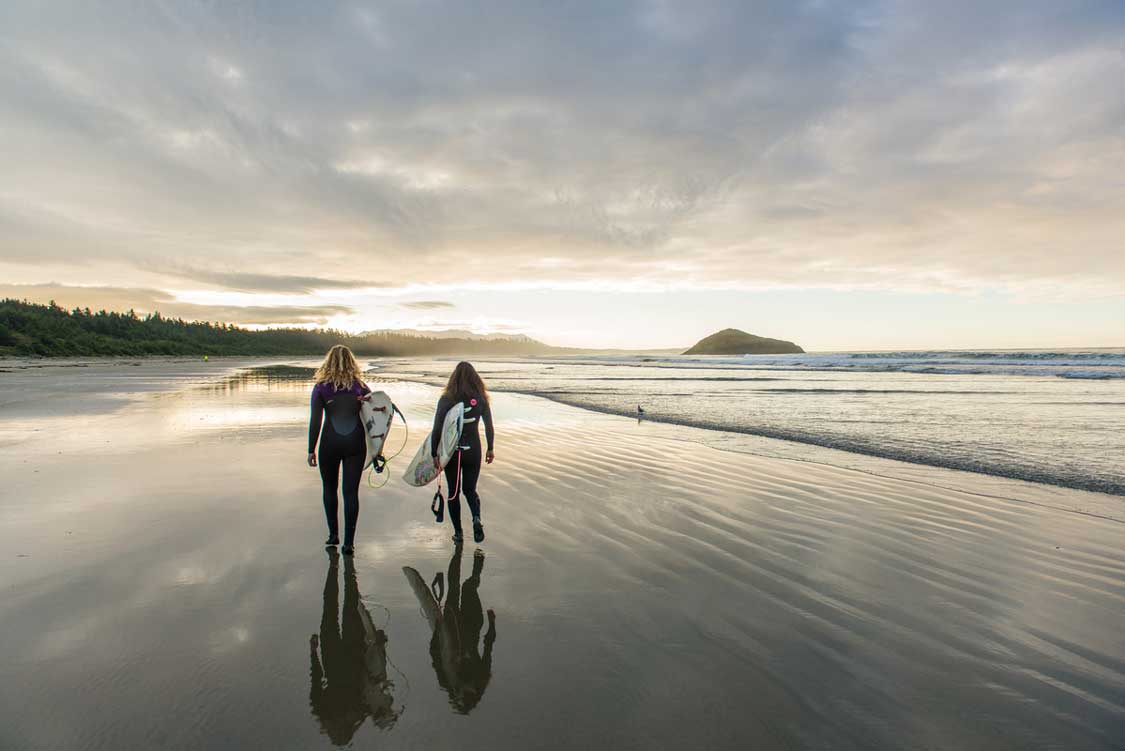 On the western shores of Vancouver Island near the resort town of Tofino, Pacific Rim National Park Reserve Reserve stretches along the Pacific Ocean coast. This wet, coastal wonderland has drawn surfers worldwide who take advantage of the huge swells that pound the shores each winter.
The stunning old-growth forest is lush and green thanks to the ample rain that occurs year-round. In addition, the park is home to the 75-kilometer (46 miles) West Coast Trail, one of the most incredible backcountry hikes in Canada. The trail follows paths set out by Canada's Indigenous Peoples as a way of navigating the raw wilderness of this challenging but inspiring terrain.
The park comprises three distinct areas, Long Beach, Broken Grou Islands, and the West Coast Trail. And across each of them may be the ideal example of Canadian coastal rainforests. Towering, moss-colored trees, lush ferns, and humid air seems to transport visitors into another universe far from the typical Canada that many people expect.
Off the coast of Pacific Rim National Park soft-sand beaches, you might have the chance to see migrating humpback whales and even Orca while kayaking the clear waters of the park's inlets and secluded bays.
Fundy National Park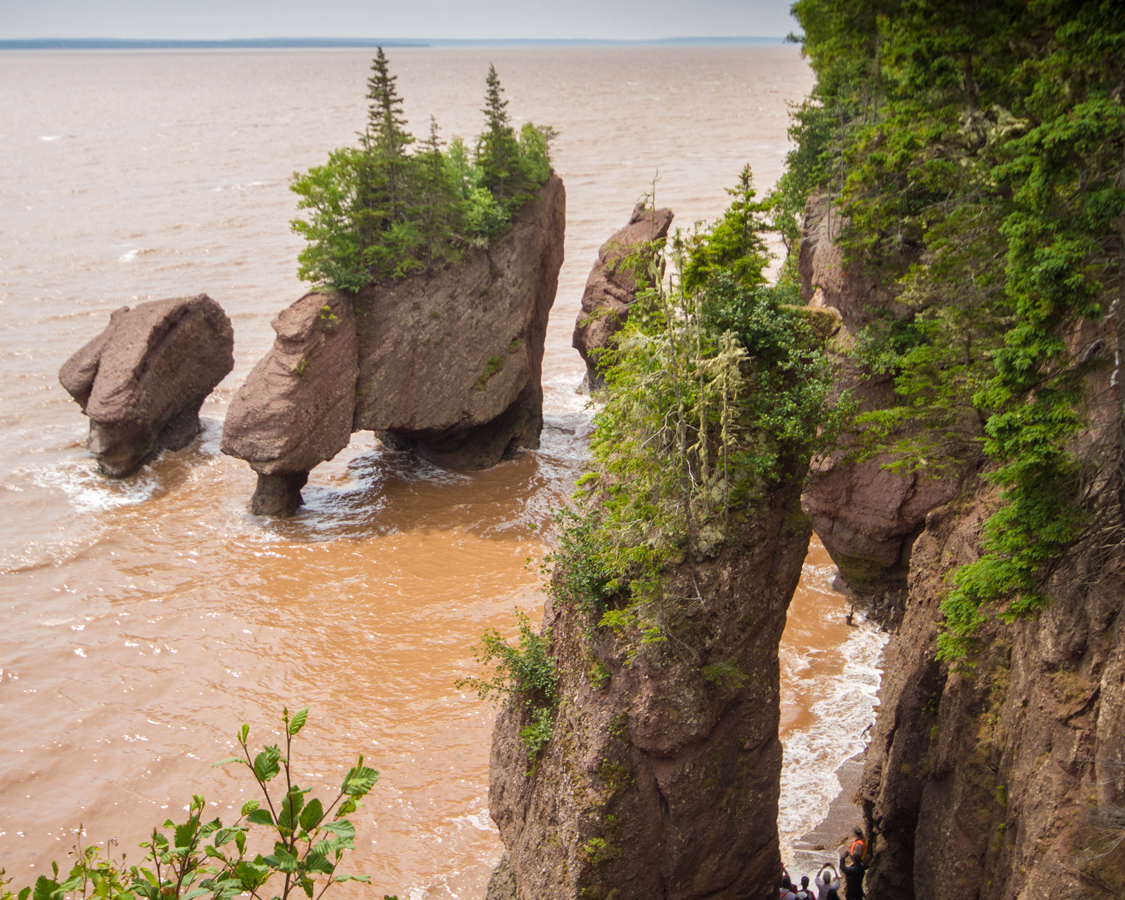 With a colossal 14 meter (46 foot) tidal range, the Bay of Fundy in New Brunswick boasts the highest tides in the world. These tides come and go in just a few hours, meaning that in a single visit, you go from kayaking among hilltops to exploring the muddy ocean floor.
There is no place to better experience this incredible phenomenon than at Fundy National Park, where you can witness the iconic Hopewell rocks change from standing dramatically on the seafloor to being covered, nearly to the treeline by the rising waters.
The park, situated on the north shores of the Bay of Fundy, is also home to a vast network of hiking trails. The trails wind through the mountainous terrain past waterfalls, lakes, and along the dramatic coastal shores. One of the most epic of these is the Fundy Circuit, which explores a 48-kilometer (29 miles) route that connects several Fundy National Park hiking trails on an epic backcountry route.
The fun doesn't end on land, though. Fundy National Park is also famous for ocean kayaking and tidal rafting. Navigating the constantly moving water can be challenging, but plenty of guided tours can take visitors out for a thrilling adventure.
The park is home to many incredible Canadian wildlife, including beavers, moose, coyotes, and the mysterious Canadian lynx.
Kluane National Park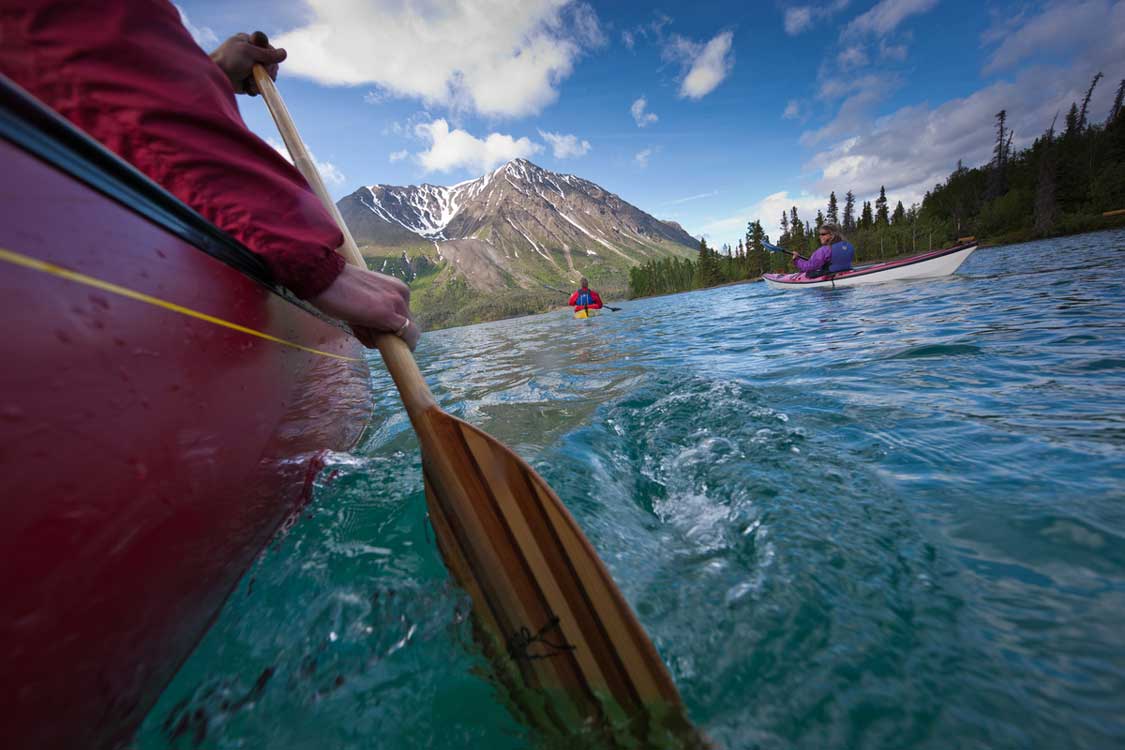 Situated 160 kilometers (99.5 miles) west of the Yukon capital, Whitehorse, Kluane National Park is, without a doubt, one of the most incredible National Parks in Canada.
Apart from the surreal Arctic landscape, majestic waterfalls, and glaciers, Kluane National Park is home to the highest mountain peak in all of Canada. The 5,959 meter (19,550 foot) tall Mount Logan is an extreme environment often tackled by some of the world's expert mountaineers. However, several outfitters offer guided climbs for experienced mountain climbers across Canada. Mount Logan is not a climb that should be tackled without planning.
Although much of this incredible Yukon National Park is vast and inaccessible, some of the park's attractions draw visitors worldwide. For example, Kathleen Lake is a popular spot for boating and fishing. In addition, the Icefields can be visited on foot, camping, and even on flightseeing expeditions (these usually include a fly-by of the epic Mount Logan).
King's Throne is one of the most popular hikes in Kluane National Park. This 15 kilometers (9.3 miles) hike takes between six and eight hours to complete. It rises 1,250 meters (4,019 feet), passing by Kathleen Lake. The trek offers breathtaking views of the nearby valleys reaching its most epic at the King's Throne lookout (about two-thirds of the way up the mountain).
Prince Edward Island National Park
Prince Edward Island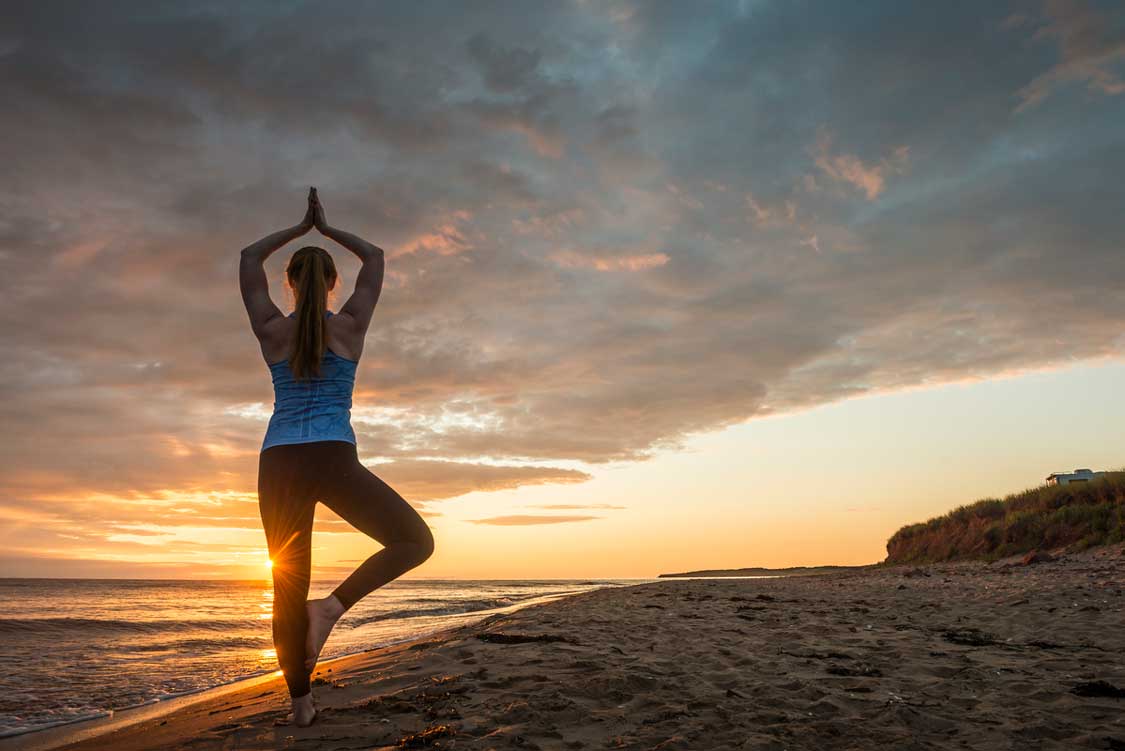 While many travelers flock to Prince Edward Island for the entertaining history of the Anne of Green Gables stories, one view of the picturesque lighthouses and red sand beaches of Prince Edward Island National Park is often enough to convince them that they are, themselves a part of Lucy Maude Montgomery's adventurous tale.
The most famous part of this iconic story, Green Gables, is just one of the many locations found in Prince Edward Island National Park. But it's far from the only attraction for visitors. Cycling is a trendy way to experience the flat expanses and trails connecting many sandy beaches. As well, the waters of the Atlantic make for a fabulous way to enjoy the hot summer months.
There is a vast network of trails, both long and short. Many criss-cross the idyllic waterfront while others meander through coastal forests. There are also plenty of picnic areas that can be enjoyed seasonally in the warmer months.
Prince Edward Island National Park is one of the most endangered of the Canadian National Parks. The delicate coastline and frail ecosystem are particularly vulnerable to human activity and coastal erosion.
Cape Breton Highlands National Park
Nova Scotia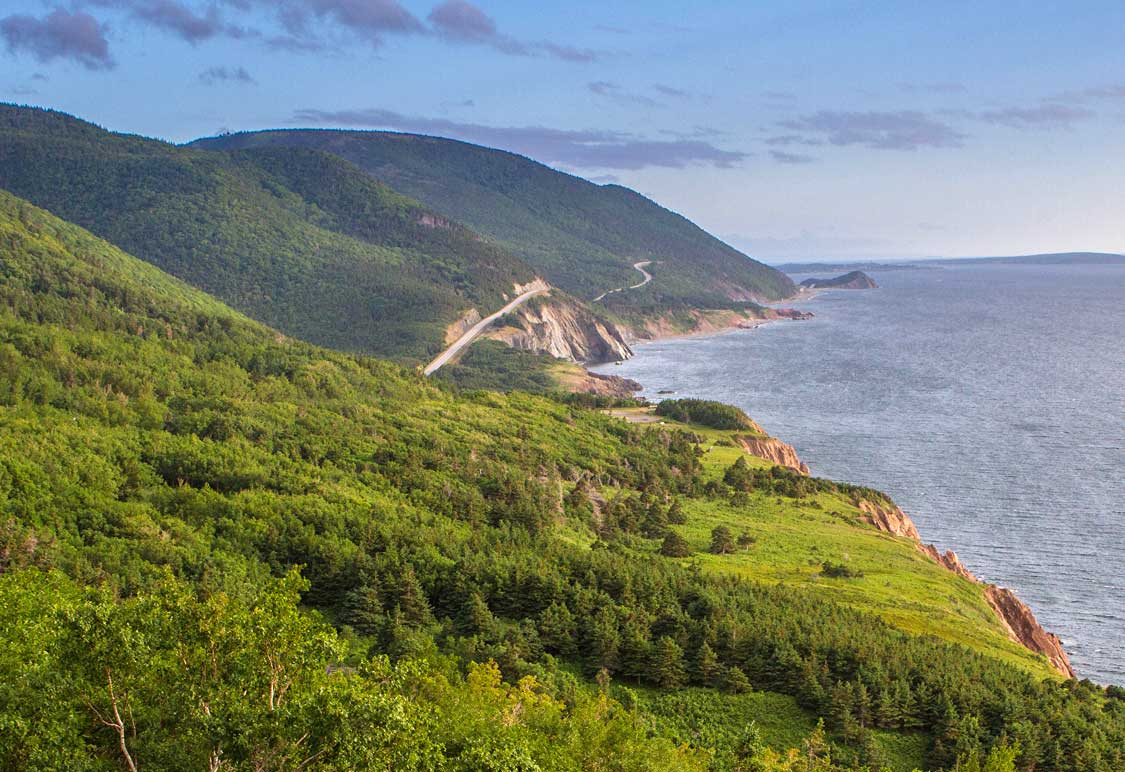 Traveling through Cape Breton Highlands National Park ranks as one of the best road trips in Canada. With miles of postcard-perfect coastal vistas, this world-famous Cabot Trail winds through the park amidst landscapes that will drop your jaw to the floor.
While Cape Breton Highlands National Park might be one of the most popular Canadian National Parks for road-trippers, there is much to do beyond experiencing it from behind the wheel. The park boasts 26 hiking trails ranging from short jaunts to challenging 12 kilometer-long (7.5 mile-long) coastal treks. The most famous of these is the 8.2 km Skyline Trail. This Cape Breton Highlands hike follows a gentle route to some high viewpoints overlooking the Atlantic waters.
This park is a popular place for spotting moose. These massive animals are often seen wandering throughout the park. In addition, Cape Breton Highlands National Park wildlife includes red fox, black bears, bobcats, and white-tailed deer. While off the coast, it's possible to catch a glimpse of minke whales, harbor seals, and bald eagles.
Wapusk National Park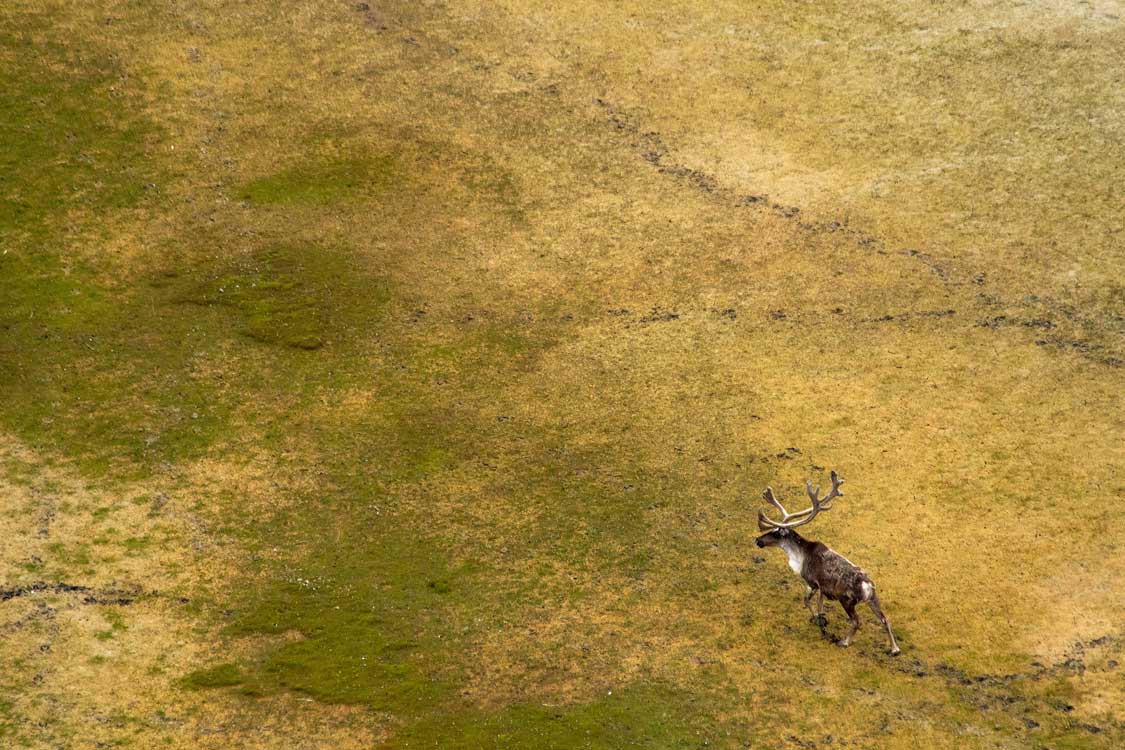 One of only two National Parks in Manitoba, Wapusk National Park stands out amongst other Canadian National Parks as one of the best places in the world to see polar bears in the wild. However, the park, located just outside of the remote town of Churchill, Manitoba, is challenging to navigate and requires special permission to access due to the fragile sub-Arctic ecosystem that makes up much of the park.
It's not just polar bears that you'll find here, though. Wapusk National Park is an incredible wildlife destination. Within the borders of the park, you'll see moose, foxes, wolves, countless rare birds, and the 3,000 strong Cape Churchill caribou herd.
In the surrounding waters, it's often possible to see some of the many beluga whales that call Churchill home during the summer months. In fact, along with the northern lights and polar bears, Churchill is considered among the world's best destinations for kayaking with Beluga whales.
Due to the special permissions involved, Wapusk can be a challenging Canadian National Park to visit. However, you can take a helicopter flightseeing tour that will let you get a birds-eye view of this majestic arctic landscape. You'll see where the sprawling Boreal forest finally comes to its peak. You'll also fly over sparkling tundra and marshland as well as the rocky shores where, in late summer, polar bears set up shop, lazing around until the sea ice forms for their winter hunting season.
Grasslands National Park
Saskatchewan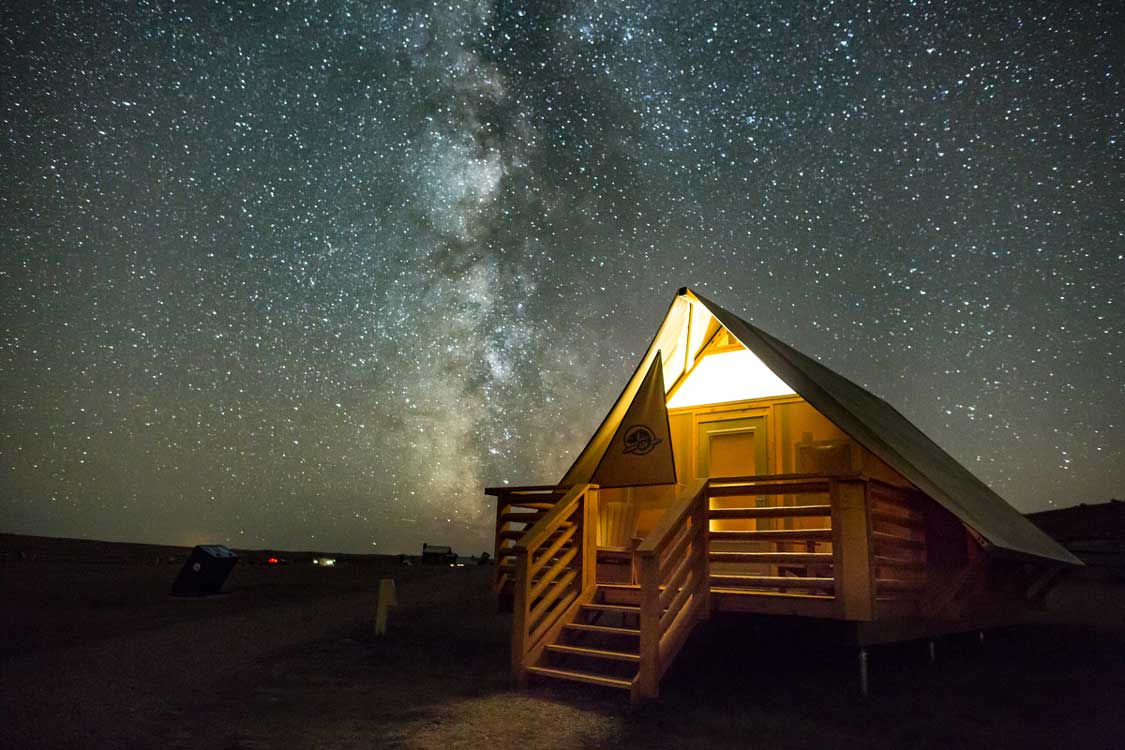 Saskatchewan gets a bad rap as a "boring" province due to the vast prairie lands that make the region more populated southern half. But one glimpse of Grasslands National Park, located near the US border close to the town of Val Marie, will show you just how spectacular these prairie lands can be.
Grasslands National Park showcases a side of Canada that often gets overlooked in favor of the towering peaks of Canada's west coast or the raw landscapes of the east. Yet, sprawled across 907 square km (564 sq miles) of land bordering Montana is a land teeming with some of the most iconic Canadian wildlife, including bison, black-tailed prairie dogs, pronghorn, burrowing owls, coyotes, hawks, foxes, prairie rattlesnakes, and ferrets. It's hard not to be inspired witnessing the herds of bison grazing on the prairie grasses.
The park is also known for its dinosaur fossils. The east block badlands are the richest resource for dinosaur fossils in Canada. You can even take a wagon ride to search for evidence of these ancient creatures. Or, stop at the Badlands Viewpoint for majestic views.
Forillon National Park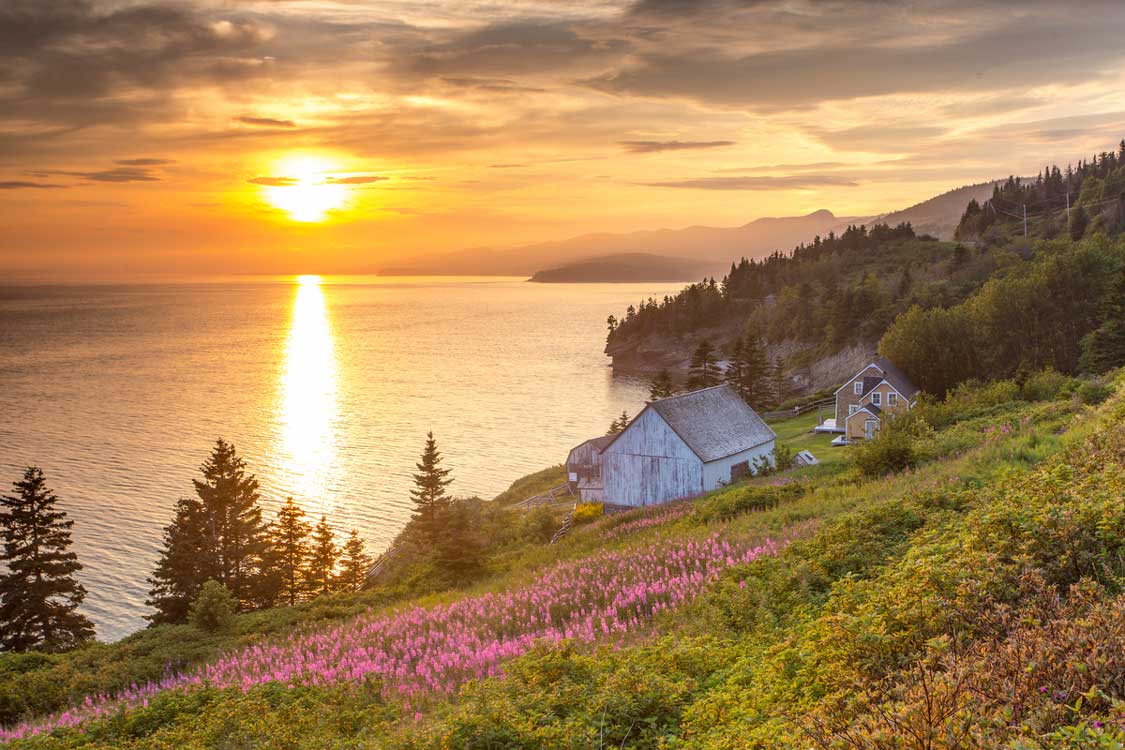 Situated at the mouth of the St. Lawrence River at the tip of the Gaspe Peninsula, Forrilon National Park is one of the most epic destinations in Canada for those who love marine adventures. The park is a mecca for SCUBA diving, snorkeling, stand-up paddleboarding, and whale watching.
Among the plethora of incredible wildlife in the waters surrounding Forillon National Park are humpback whales, minke whales, beluga whales, and the largest animal to have ever graced the planet, the mighty blue whale.
The adventures continue inland. The worn hills of the Appalachian Mountain Range make up much of the interior of this stunning Canadian National Park. The hiking here is epic and includes the eastern tip of the storied Appalachian Trail. The inland hikes in Forillon National Park offer the chance to explore dunes, coastal cliffs, lush coastal forests, and salt marshes.
Waterton Lakes National Park
Alberta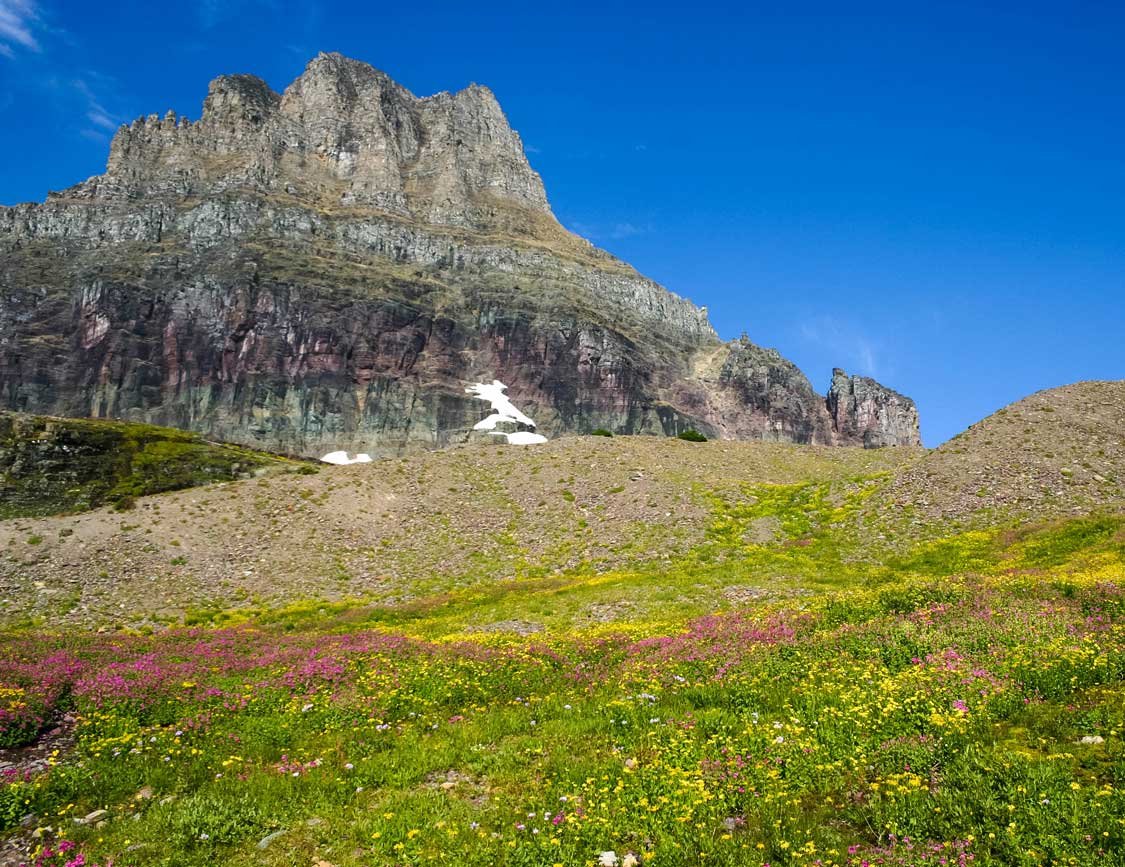 Offering a breathtaking combination of the Canadian Rockies married to the vast prairie lands, Waterton Lakes National Park is one of Canada's most scenic National Parks. This magical combination makes for one of the most scenic outdoor destinations. And its location on the border with Montana means that intrepid explorers can extend their visit down to Glacier National Park in the USA, which shares a border with Waterton Lakes. The two parks combine to encompass the Waterton-Glacier International Peace Park.
This National Park is a hikers paradise. Over 200 km (124 miles) of hiking trails wind their way through the park. These trails offer a vast selection of easy to challenging terrain. And nearly all of them include awe-inspiring scenery that will thrill any onlooker.
And then there's the ample wildlife in Waterton Lakes National Park. Sprinkled throughout the park are countless bighorn sheep, black and brown bears, elk, mule deer, white-tailed deer, and moose.
Waterton Lakes National Park is the smallest National Park in the Rocky Mountains, but that doesn't make it tiny. On the contrary, it still covers an impressive 505 square kilometers (314 square miles). Yet, the park packs in the remarkable scenery even with its smaller size. One of the highlights includes Chief Mountain Lookout, where you can witness the dramatic landscape shift from Canadian prairie to towering mountains.
Torngat Mountains National Park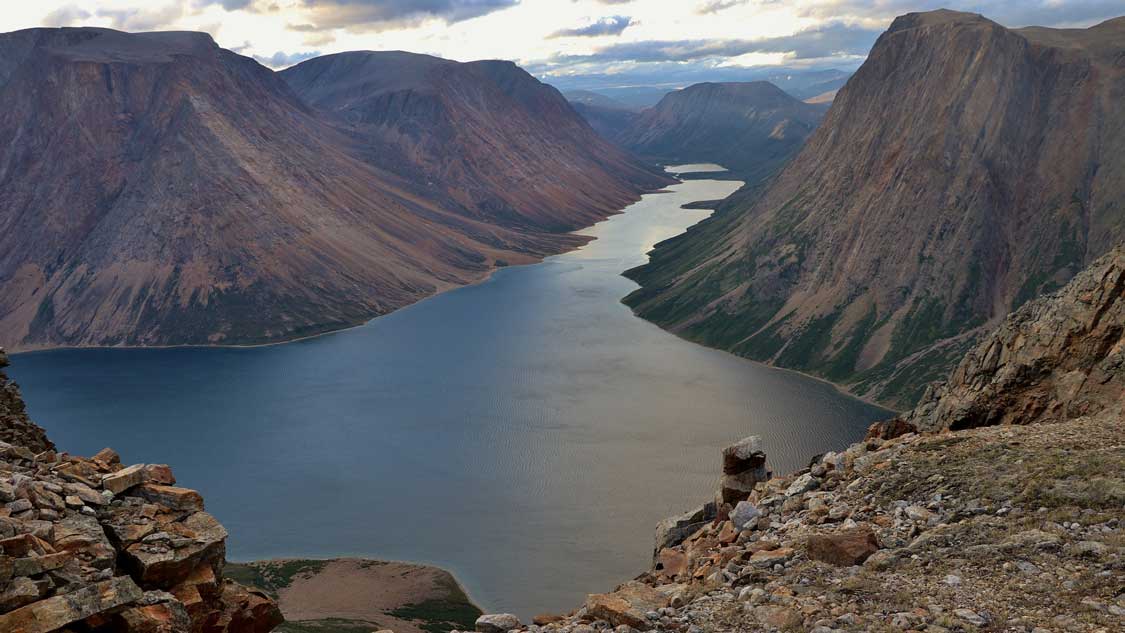 Located far up north in Labrador, Torngat Mountains National Park is one of the last untamed lands on Earth. The park received its name from the Inuktitut word 'Tongait,' which means "place of spirits." And walking the landscape here, you can almost feel those spirits whispering in the wind.
The park, which stretches north from Saglek Fjord to the northernmost tip of Labrador and across to the Quebec border, encompasses some of the most jaw-dropping mountains in the country. And throughout the raw and untamed land are wildlife, including polar bears, caribou, grey wolf, Arctic hare, and Arctic foxes.
The land stewards continue to be the local Inuit Peoples who fish, hunt and travel through the lands they have cared for over millennia.
The park is notoriously difficult to access. Visitors need to be either flown in or dropped off by boat. So having a guide in the garden is highly recommended. And visitors must register before embarking on any travel within.
Bruce Peninsula National Park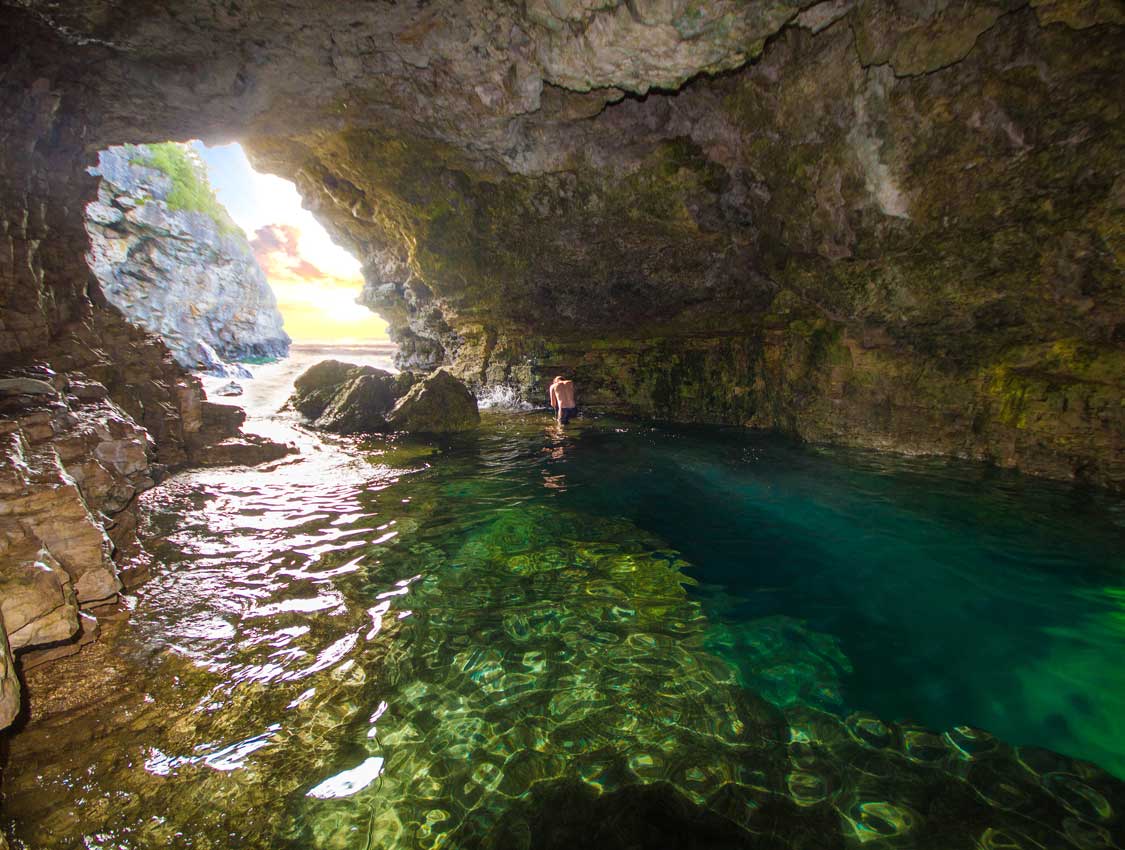 Of all of the National Parks in Ontario, Bruce Peninsula National Park generates the most attention from locals. The park, located on the shores of Lake Huron on the edge of the spectacular Georgian Bay, is just three and a half hours from Toronto, Ontario's largest city.
Throughout the park, you'll find towering cliffs, sparkling sea caves, and water so blue and clear you might think that you've landed in the Caribbean. One of the most popular attractions in Bruce Peninsula National Park is the Grotto; a sea cave tucked into a small inlet off Georgian Bay. The cave draws tens of thousands of visitors each year. It's become so popular that Parks Canada now requires a reservation system that might mean having to book your visit weeks in advance.
The Bruce Peninsula is home to some of the most incredible hikes in Ontario and is the final point on the epic 782 kilometer-long (486 miles) Bruce Trail, which winds through the province from Niagara Falls. The Bruce Trail is Canada's oldest and most famous long-distance hiking trail.
Bruce Peninsula NP is deeply intertwined with another Canadian National Park, Fathom Five National Marine Park. Where Bruce Peninsula NP covers the land, Fathom Five covers the incredible waters of Lake Huron. The waters are home to many lighthouses, shipwrecks, and beautiful islands.
Jasper National Park
Alberta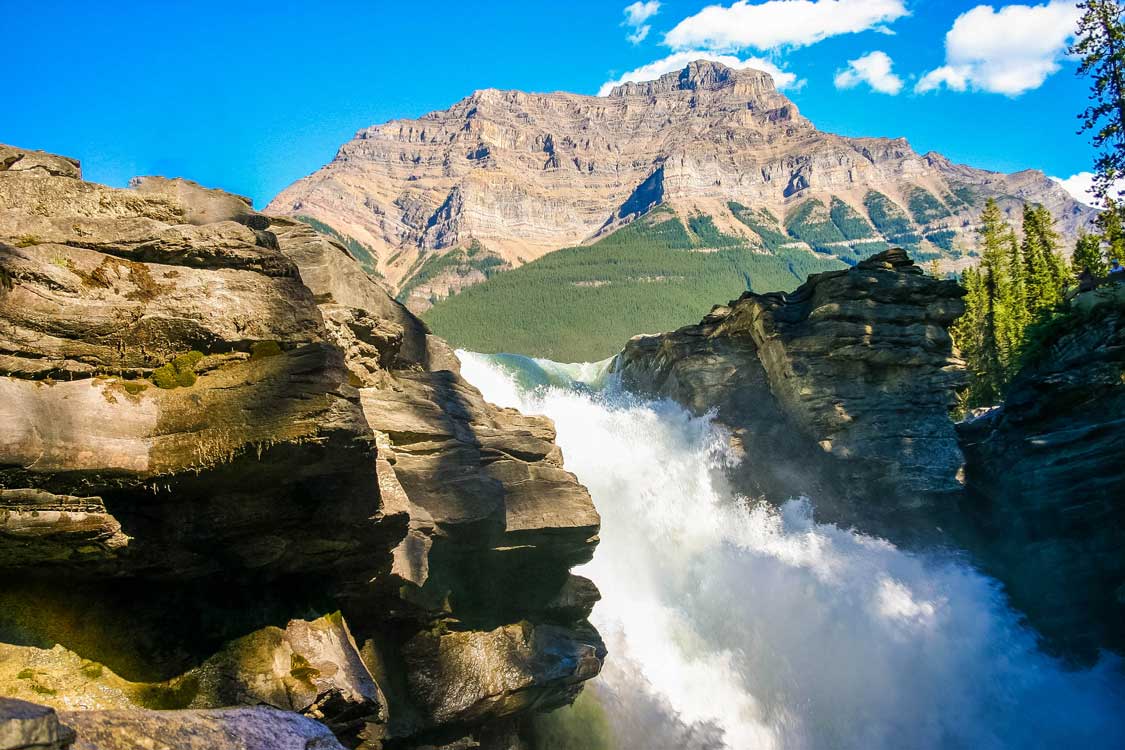 Often overlooked in favor of nearby Banff National Park, Jasper National Park, located along the famous Icefields Parkway, offers a taste of the absolute finest in Rocky Mountain splendor. The park covers 11,000 square kilometers (6,800 square miles) of the rugged Canadian Rocky Mountain wilderness.
Jasper NP is criss-crossed with countless hiking and cycling trails that pass along shockingly blue lakes fed by glacial meltwaters. The lakes and streams are set with a backdrop of towering snow-capped mountains, glacial icefields, and flowering meadows.
This Canadian National Park is also home to abundant wildlife, including black and brown bears, elk, caribou, and bighorn sheep.
The town of Jasper, located within the park, makes a fantastic base for your adventures within the park. There are lovely hotels, incredible shopping, and a wide collection of restaurants. Get your rest, though, because nights in Jasper are phenomenal. It's the largest dark-sky preserve in Canada. In addition, there are regular gatherings for stargazing enthusiasts held throughout the park.
Yoho National Park
British Columbia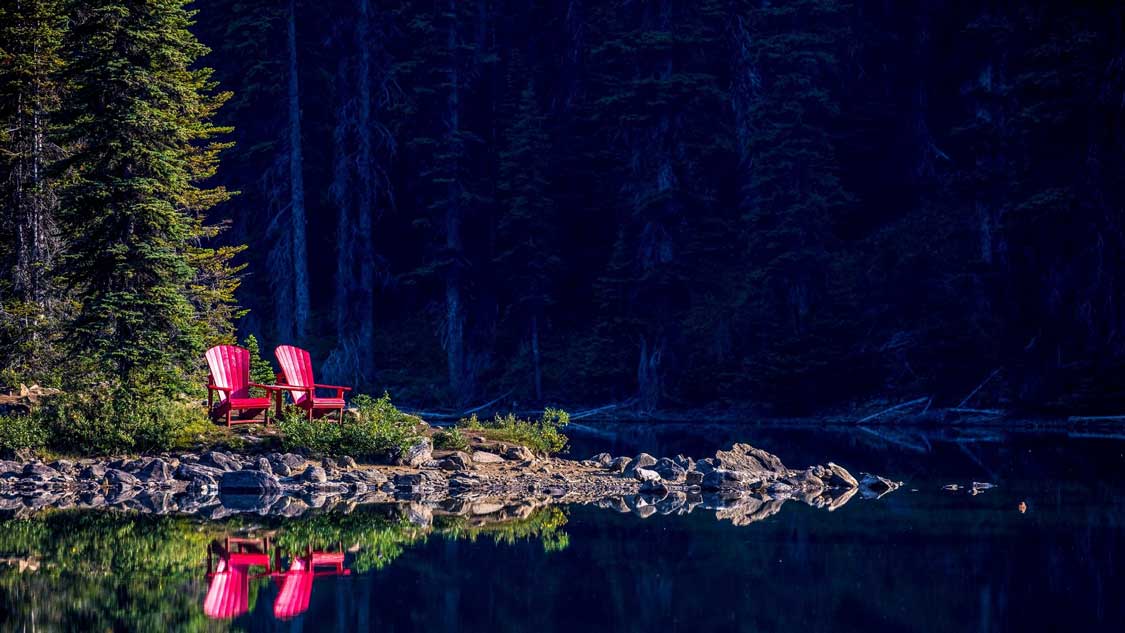 "Yoho" comes from the Cree First Nations expression for 'awe.' And one look at the awe-inspiring vistas of Yoho National Park, and you're bound to agree that it's an apt analogy. The towering Takakkaw Falls (one of the tallest waterfalls in Canada) and the vibrant colors of Emerald Lake alone visit Yoho National Park a must. Still, the wonders of this Canadian National Park don't end there.
Yoho National Park combines lush forests, lakes in dazzling hues of blue and green, and snow-capped Rocky Mountain peaks along with the Burgess Shale, a UNESCO World Heritage Site where you can glimpse into the land before dinosaurs among more than 500-million-year-old fossils.
There are many incredible hikes within the park. The Parks Canada staff even offer guided walks that include manageable, family-friendly options and hikes for those looking for more of a challenge. These hikes can book up quickly, though, so reserve ahead if you'd like to include them in your itinerary.
The park covers 1,313 square kilometers (816 square miles) of the British Columbia side of the Rocky Mountains. It's a popular destination not just for hiking, but backcountry skiing, canoeing, white water rafting, and kayaking. The Kicking Horse River is an especially popular spot for adrenaline junkies.
You'll find a diverse range of wildlife throughout the park, including black and brown bears, cougars, wolverines, lynx, deer, and coyotes. Though you might feel far away from it all, Yoho National Park also boasts a good selection of shops and restaurants to make your visit comfortable.
Gwaii Haanas National Park Reserve
British Columbia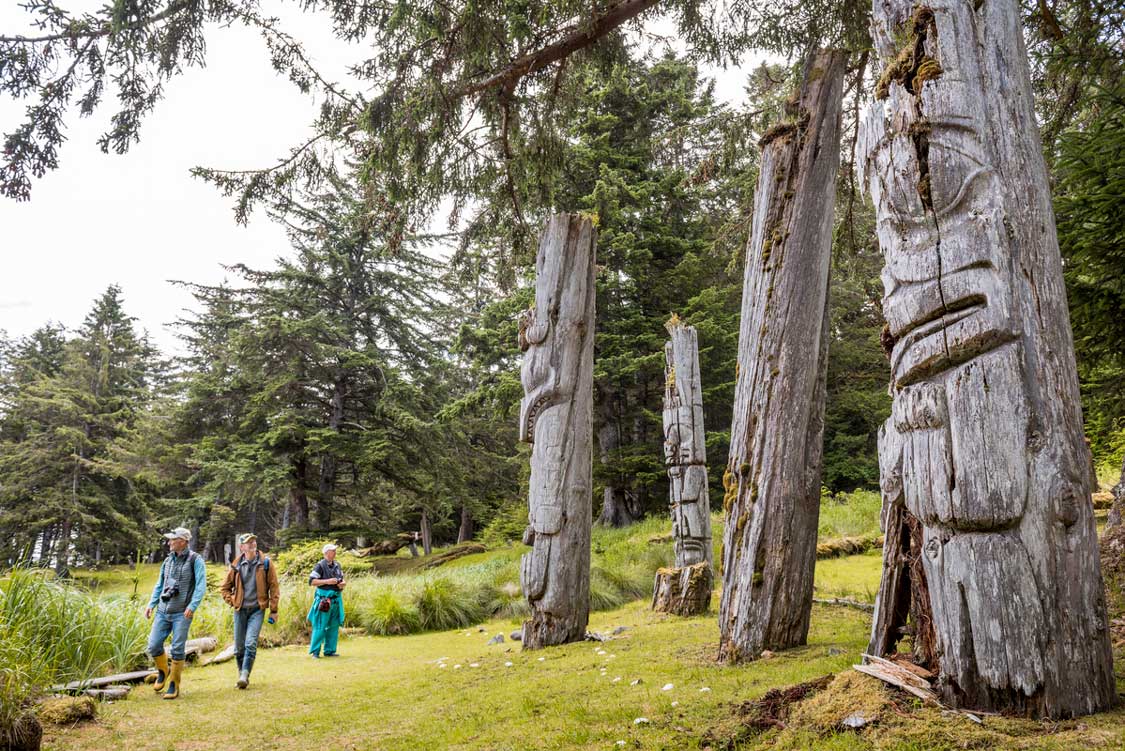 Established in 1988 to protect the majestic old-growth coastal rainforests from destructive logging practices, Gwaii Haanas is one of the youngest of Canada's National Parks.
Located on Moresby Island in Haida Gwaii in the Pacific Ocean off the shores of Prince Rupert, British Columbia, Gwaii Haanas NP might be a challenge to reach. Still, it is one of Canada's richest examples of Indigenous history and coastal rainforests.
The moss-laden forests, raw, untamed coastal landscapes, and a UNESCO-sanctioned First Nations history reach back at least 7,000 years. But, most likely, it much longer offers just a taste of what the park has to experience. Picture ancient carved totems and fallen longhouses dotted amongst moss-laden spruce trees.
Gwaii Haanas is a land where the skies, at times, seem to be filled with bald eagles. Bears chew on wild salmon along the coastal beaches. And humpback whales breach in the waters while wild sea lions look on. It's a genuinely spiritual destination that often leaves visitors with a much richer understanding of First Nations history.
For explorers, it's good to know that there are no marked trails within Gwaii Haanas. Instead, everything must be traversed using traditional means like a map and compass. But wandering through the 1,474 square kilometers (916 square miles) of ancient landscape amidst some of Canada's most exotic flora and fauna is worth the extra effort.
On the lush rainforest islands of Gwaii Haanas, massive moss-draped cedar and Sitka spruce tower above the Haida people's ancient carved poles and fallen longhouses. The ocean teems with breaching whales, porpoises, and sea lions. Here you will experience a rich, remote landscape steeped in spirituality, protected by Parks Canada and the Haida, who draw cultural inspiration from the land of their ancestors.
Thousand Islands National Park
Ontario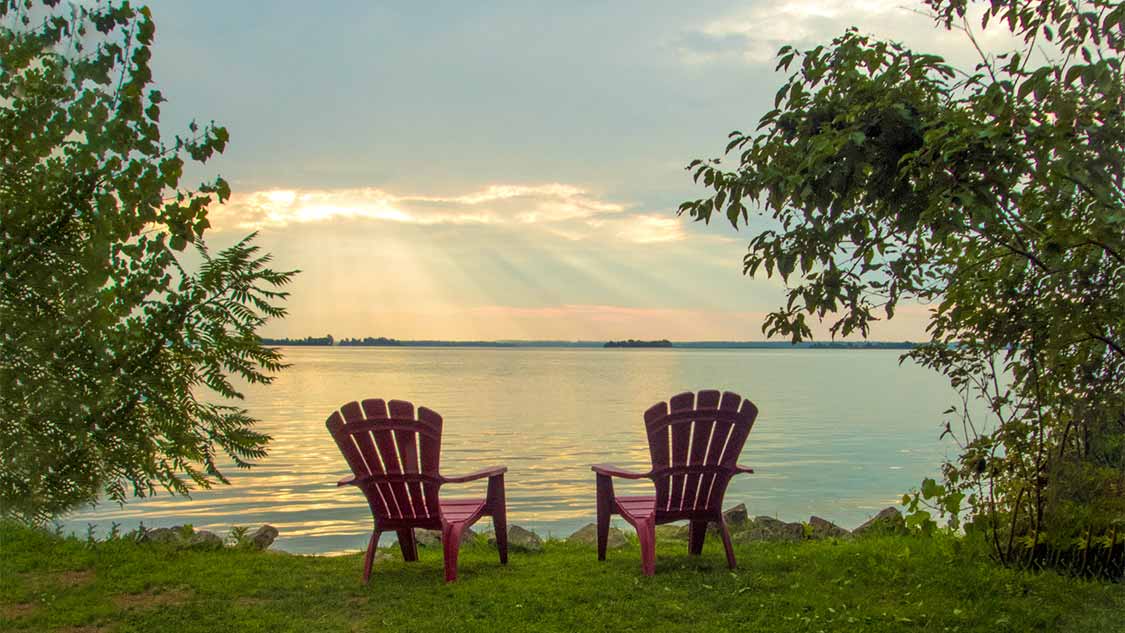 Situated in and along the St. Lawrence River in Southeastern Ontario, Thousand Islands National Park is among the most famous Canadian National Parks. That's a pretty impressive feat considering this park covers a tiny 24 square kilometers (15 square miles). The size makes it the second smallest of all of the National Parks in Canada after Georgian Bay Islands National Park.
The park, which consists of sections of the mainland, hundreds of inlets, and over twenty of the more than one thousand islands that make up the Thousand Islands chain, features sparkling waters, hiking, cycling trails, and camping on both mainland and island sites.
Not surprisingly, Thousand Islands National Park is a boaters paradise. Many explorers spend time canoeing or kayaking between the islands or even hopping on tours from nearby cities like Kingston and Gananoque to visit some of the majestic Thousand Island castles. Mallorytown Landing, where you can find the visitors center, features yurt camping, an aquarium, and a picnic area.
Riding Mountain National Park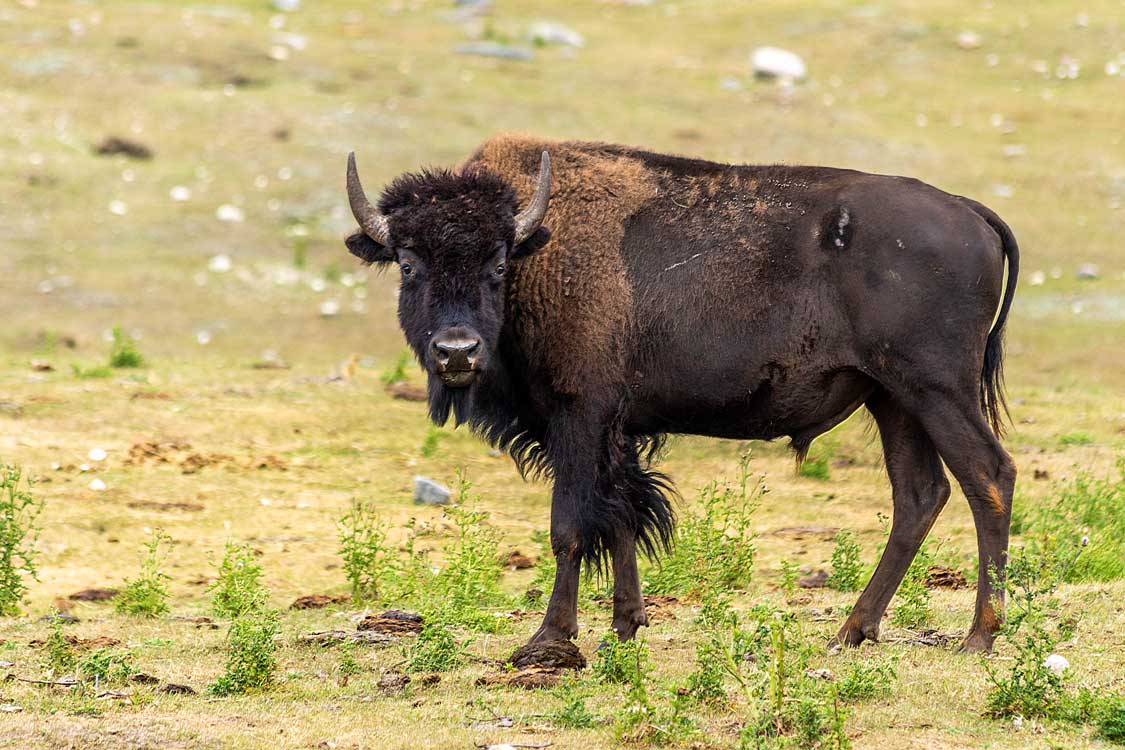 Situated in central Manitoba, about three hours west of Winnipeg, Riding Mountain National Park is a popular getaway. The park covering 2,968 square km (1,844 sq miles) offers visitors boating, camping, swimming, hiking, and cycling. This array of activities has made it one of Manitoba's most popular places to visit.
The urbanization of Riding Mountain National Park makes it very unique. A complete village within the park includes restaurants, shops, accommodations, and even private homes. Part of the draw has been the reintroduction of bison to the native grasslands, virtually eradicated from centuries of over-hunting and land mismanagement.
The park is ripe with wildlife. The bison is the obvious one, with a large park section isolated to help grow the herd. But throughout the park, you'll also find wolves, lynx, black bears, and moose. In addition, riding Mountain NP is home to an incredible 1,900 lakes. So it's not surprising that canoeing, kayaking, and even motorboating are popular pastimes within the park. One of these, the aptly named Clear Lake, is considered the clearest lake in Canada's southern prairies.
Auyuittuq National Park
Nunavut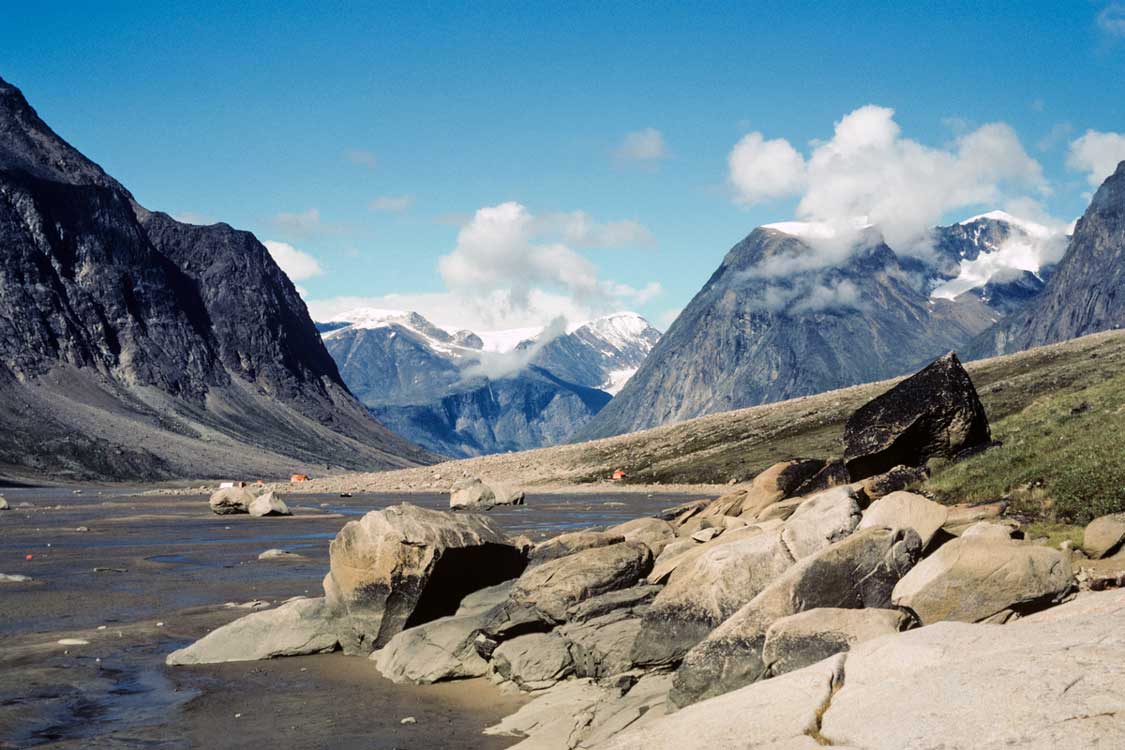 Covering a massive 21,470 sq km (13,341 sq miles) of the northeastern section of Baffin Island in Canada's youngest territory, Nunavut, Auyuittuq National Park is a wonder to behold.
Nunavut, which was sectioned off from the Northwest Territories in 1999 to give Canada's northern Indigenous Peoples an autonomous homeland, is the most remote and difficult to reach of the territories in Canada. There are no roads into Nunavut, so all visitors must arrive by plane or boat.
Auyuittuq National Park is an outdoor paradise and, although it's challenging to reach, has become a destination for avid backcountry skiers, hikers, and mountain climbers. Visitors are treated to jaw-dropping Arctic landscapes, including glaciers, granite mountains, Arctic tundra, and narrow fjords.
This northern wilderness is also home to a wide variety of wildlife, including the mysterious narwhal, ringed seals, polar bears, lemmings, foxes, and wolves. Auyuittuq National Park is also a wonderful place to learn about local Inuit culture through various interpretive programs.
Nahanni National Park and Nááts'ihch'oh National Park Reserve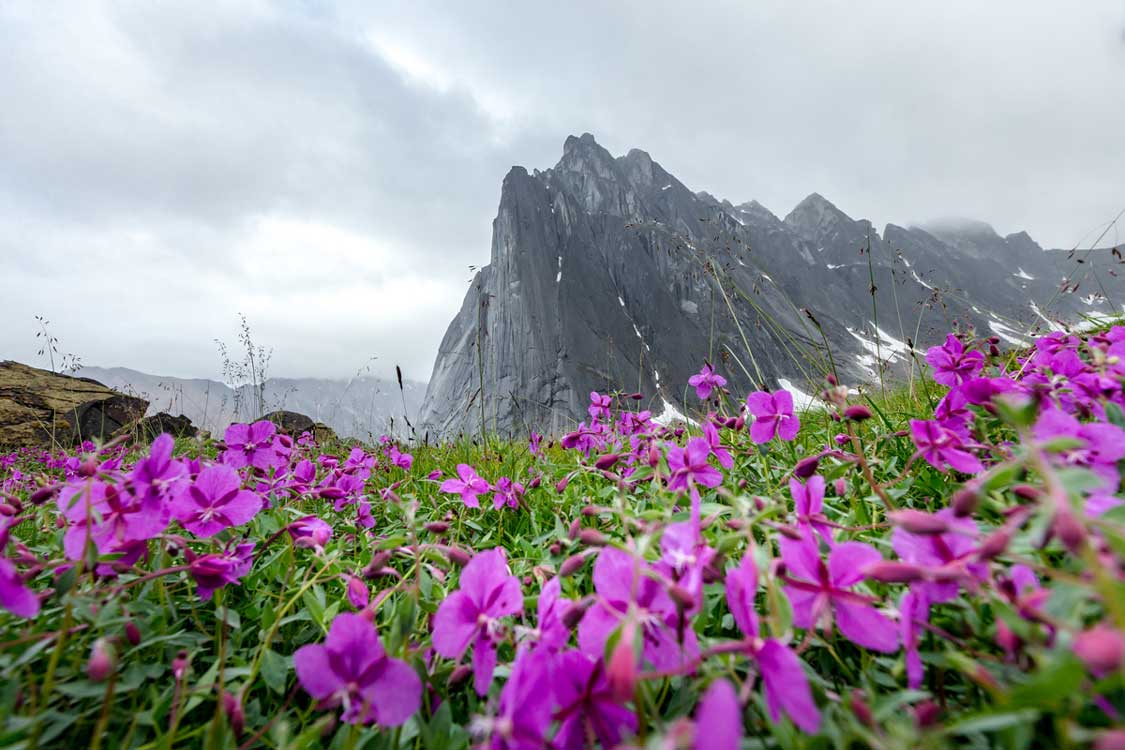 Nahanni National Park and its sister park Nááts'ihch'oh National Park Reserve, might remain separate on paper, but the seamless transition between these two Canadian National Parks in the Northwest Territories is due to paperwork from treaties.
Together, these two parks cover a staggering 34,850 sq km (21,655 sq miles) of raw wilderness, including epic whitewater rafting rivers on Earth. The South Nahanni River draws rafting and kayak enthusiasts from worldwide multi-day expeditions amongst the stunning landscape.
This Canadian Park system also features some of the most unforgiving terrains in Canada. Within the park is the "Cirque of the Unclimbables," a collection of peaks and walls among the most challenging in the world.
There are no public roads within Nahanni National Park, so most visitors arrive via floatplane from Yellowknife, Fort Simpson, or Watson Lake, Yukon. When choosing a charter, ensure that the company has a valid National Park business license and that the pilot is familiar with the region.
Tips For Visiting Canadian National Parks
These are just some of the incredible Canadian National Parks spread across the country. But they represent this great nation's astonishing diversity of wildlife, landscapes, and culture.
Like any wilderness destination, preparation can help ensure that you thoroughly enjoy your visit to these parks, so here are a few tips to consider before you go.
Plan ahead – Check which locations and services are open before you leave.
Follow the rules – There are strict rules for visiting National Parks in Canada. You can find them here.
Know your limits – When embarking on any adventure, make sure you know how far you can push yourself. Many of these destinations offer remote exploration where rescue can prove difficult, if not impossible.
Leave no trace – Limit the disposables that you bring into the park. Consider packing a filtered water bottle and reusable bags. Also, if you explore the backcountry, hike out any garbage that you might bring in.
Don't feed wildlife – Help keep the wildlife wild. Don't approach animal or offer them food. Doing so can affect their behavior and change their social structure.
Keep the volume down – Loud noises can scare wildlife and affect the enjoyment of other park visitors.
Stick to the trail – When exploring trails in the parks, stick to existing paths in order to avoid damaging the environment.
Take nothing but photographs – All nature within Parks Canada sites should be left where they lay. Don't remove items, pile rocks, or break living trees.
Drive carefully – For Canadian National Parks with roads, remember to watch the speed limit. There can be many animals and people wandering the roads, and stopping suddenly at high speeds can be dangerous.
Wandering Wagars is a participant in the Amazon Services LLC Associates Program, an affiliate advertising program designed to provide a means for sites to earn advertising fees by advertising and linking to amazon.com, amazon.co.uk, amazon.ca. Amazon and the Amazon logo are trademarks of Amazon.com, Inc., or its affiliates.
You May Also Like To Read: