Kayaking with beluga whales in Churchill Manitoba is one of the best ways to get up-close and personal on a beluga whale tour. Here's all you need to know.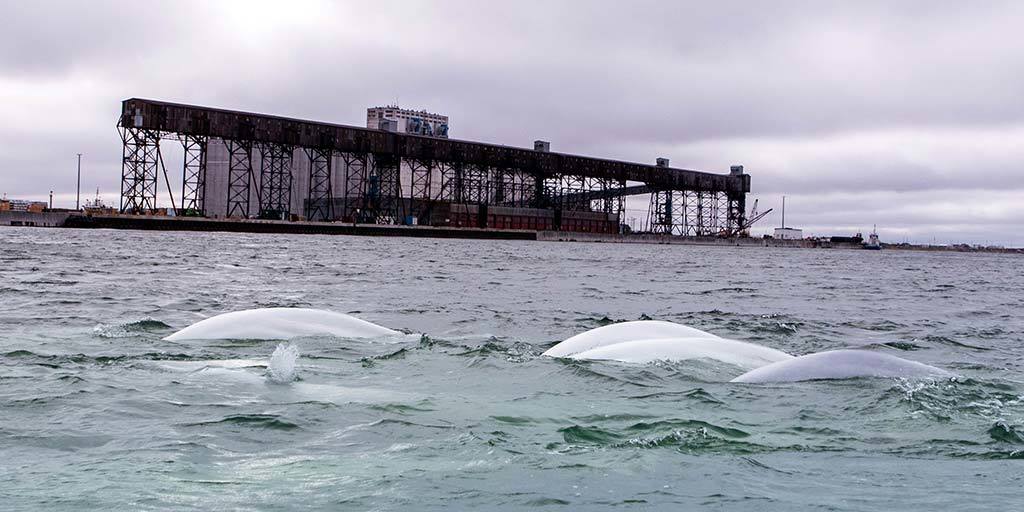 We were straight off the plane from Winnipeg Manitoba. It was only two short hours from when the wheels hit the ground to when we were pushing our kayaks into the water for our Churchill Beluga whale tour. In seconds, we would be kayaking with Beluga whales in Churchill Manitoba, and we weren't prepared for just how much of an adventure it would be.
We had just spent a week exploring Winnipeg, the capital of Manitoba. We hopped on a plane mid-morning and made the two-hour flight north to the town of Churchill. Our Churchill hotel was right in town since most of the Churchill wilderness lodges won't accept children under eight-years-old. D was just days away from turning six, so we would have to wait a couple of years for that experience.
We checked into our hotel, which is also the pickup point for Sea North Tours, one of the companies offering eco-focused beluga whale tours in Churchill. Because kayaking with Beluga whales in Churchill is weather dependent, there was a crowd growing in the lobby as we all waited for news on whether the waves were too big. The last couple of days the weather in Churchill had been cold and windy. Many of the Beluga whale tours had been canceled.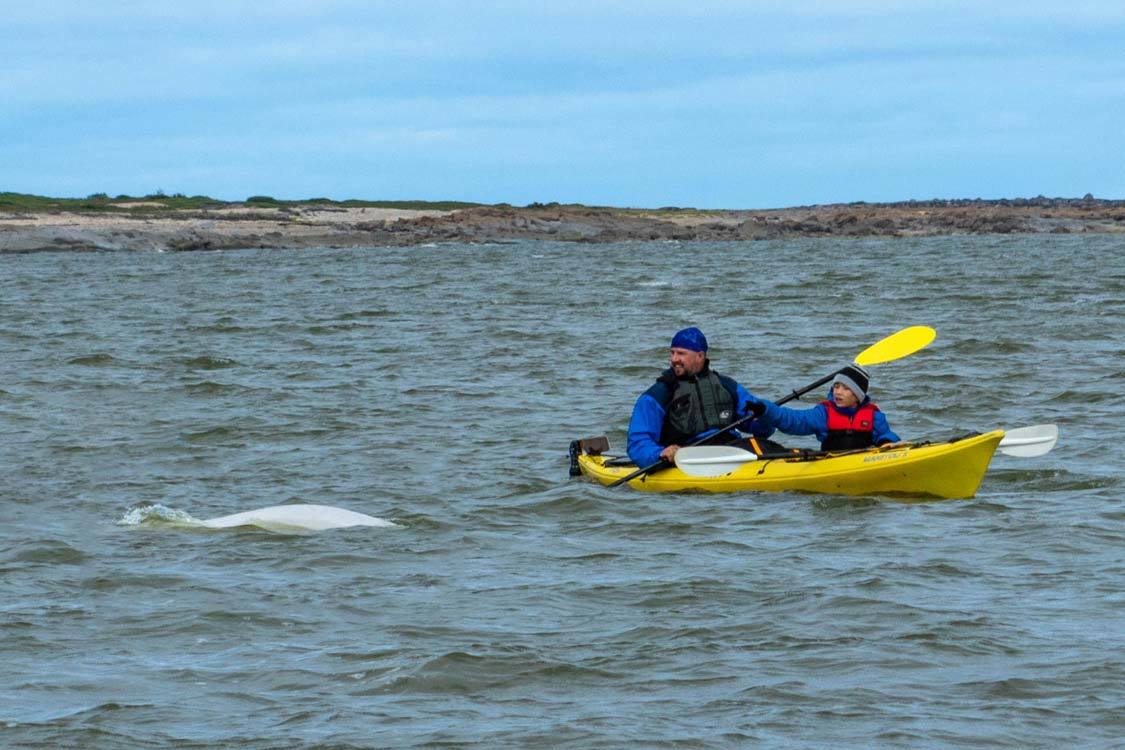 Kayaking With Beluga Whales In Churchill
When we talked with our boys about all the adventures in Churchill, we asked them to choose their top picks. For both of them, kayaking with Beluga whales made the top of the list. We were so excited about the experience. But we received news shortly before we left that Sea North Tours had changed their minimum age for the tours from five-years-old to six-years-old. All of a sudden we went from having an unforgettable adventure family travel experience to an adventure that one of us couldn't join.
Hearing this news was frustrating. Especially since D was just two weeks from his sixth birthday. We understood that it was due to new insurance rules put in place. We spoke with the people at Sea North Tours and they rearranged the tour so that Christina and D could join one of the support zodiacs so that they wouldn't miss out on one of Canada's best wildlife experiences.
After a one-hour delay, we finally got the go-ahead from the Sea North team. The crowd in the lobby breathed a sigh of relief. We all went to meet the bus for the short drive to Churchill dockyards.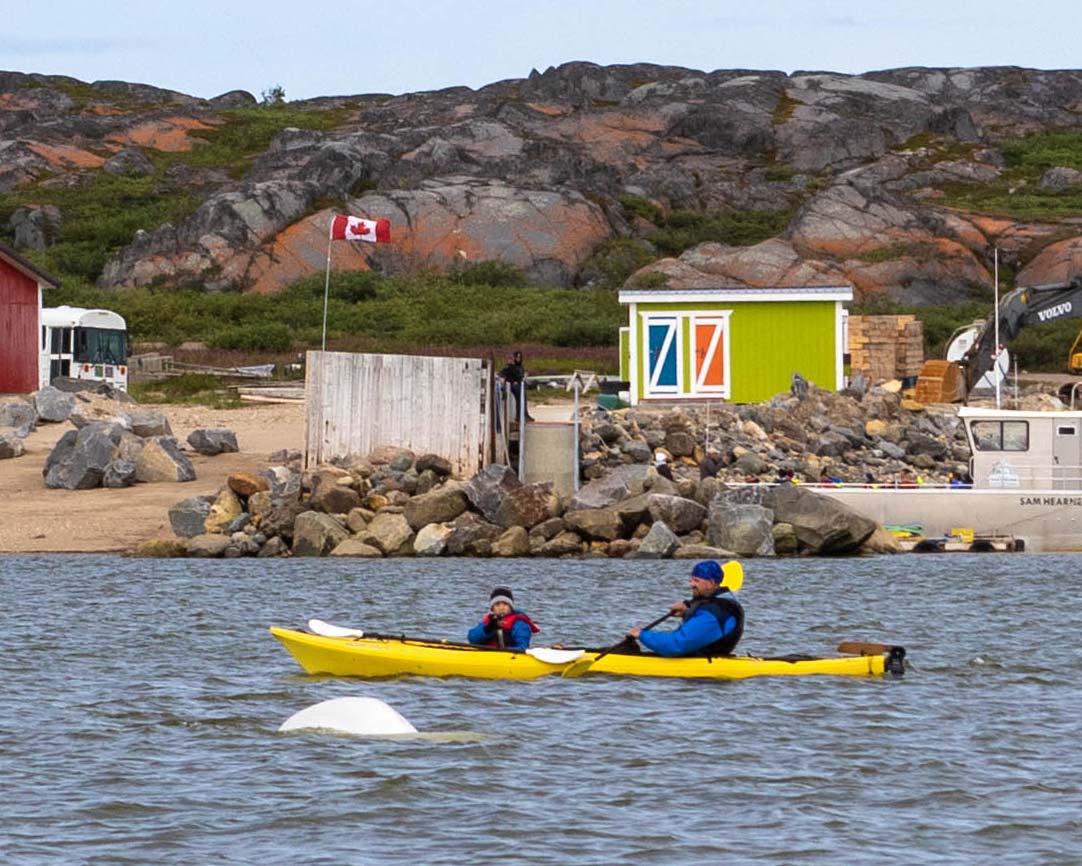 What's It Like To Kayak With Beluga Whales?
When we arrived we received lessons on kayaking, safety, and what to do in an emergency. Everyone was supplied with waterproof outerwear, lifejackets, and paddles. The Sea North staff was professional and friendly. After about 45 minutes we made our way down to the water's edge where we saw our kayaks lined up on the edge of the water. C and I were given a tandem kayak. This was great because even though he thought he was an expert kayaker after our adventures in the Adirondacks, I wasn't ready for him to be on his own with the chilly Hudson Bay water.
We adjusted the pegs in the kayaks. And as we slipped the kayak into the water we could already see a half dozen Beluga whales swimming near the mouth of the Churchill River. Within a minute we were surrounded. There were Beluga whales on all sides of us nimbly frolicking through the waves. As we paddled further out into the river we began to notice that the Belugas like to follow the boats. Beluga whales have poor vision and are attracted by sound. They are curious creatures, so when they hear the splashing of paddles, they race to check them out.
As we were kayaking with Beluga whales, we noticed that they tended to stay behind us. They would follow the splashing of the boat. And occasionally they would give us a little "bump" to say hello. These bumps weren't hard or malicious. Instead, they were curious nudges that gently slid the back of the kayak across the water. Sometimes those were the best indicators of when the whales were close to us. Each time we received a "love tap" C and I would both start laughing as we tried furiously to swing ourselves around to see these white whales of the north.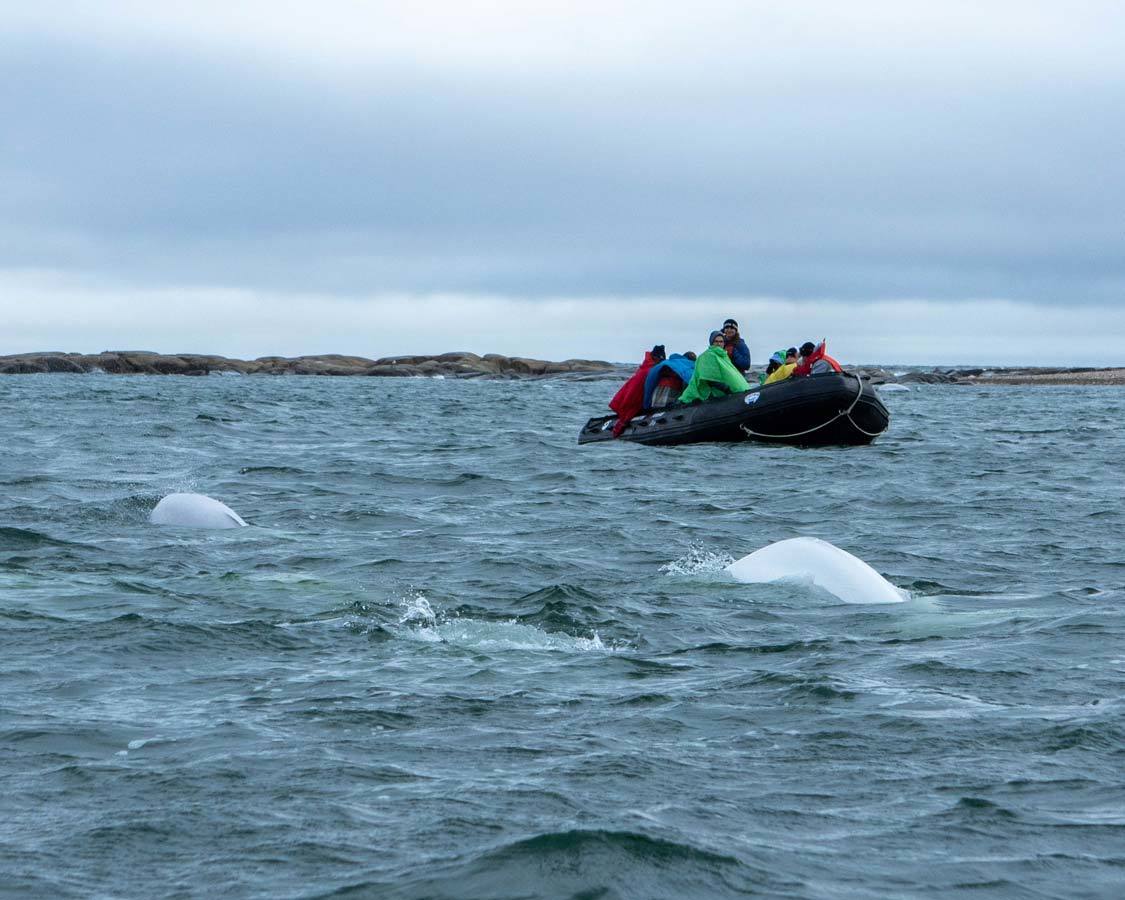 A Few Beluga Whale Facts For Your Churchill Beluga Tour
Beluga whales are graceful and playful white whales that generally live high up in the Arctic Ocean. Outside of the Arctic, they can also be found in Hudson Bay near Churchill Manitoba, and further south in the St. Lawrence River near the town of Tadoussac. Belugas have earned the nickname "The canaries of the sea" due to their penchant for singing and chattering. You can often hear their high pitched voices above the waves. Belugas are friendly and full of personality. It's not rare for them to poke their heads above the waves and make a range of playful facial expressions.
Unlike most other whales, Beluga whales don't have fused vertebrae. This means that on top of being very vocal, Belugas are also incredibly nimble. This makes trying to track them in the water a real challenge. Belugas can switch direction in the blink of an eye. One moment they'll be right beside you, and the next they are darting off in any direction other than the one you expect. This made getting a great photo of a Beluga whale way harder than I expected.
Beluga whales are about three to five meters in length. They're usually a bright white color, but young ones can be yellow and grey. They tend to have a roly-poly look about them. Belugas have smooth bodies and bulbous looking heads that give them a big of a comical look. It's this cute, expression-filled look that makes them such a popular species to meet. Unlike larger whales, Belugas don't really blow a big spout when they exhale. You'll usually spot them when their heads pop out of the water rather than from a spout.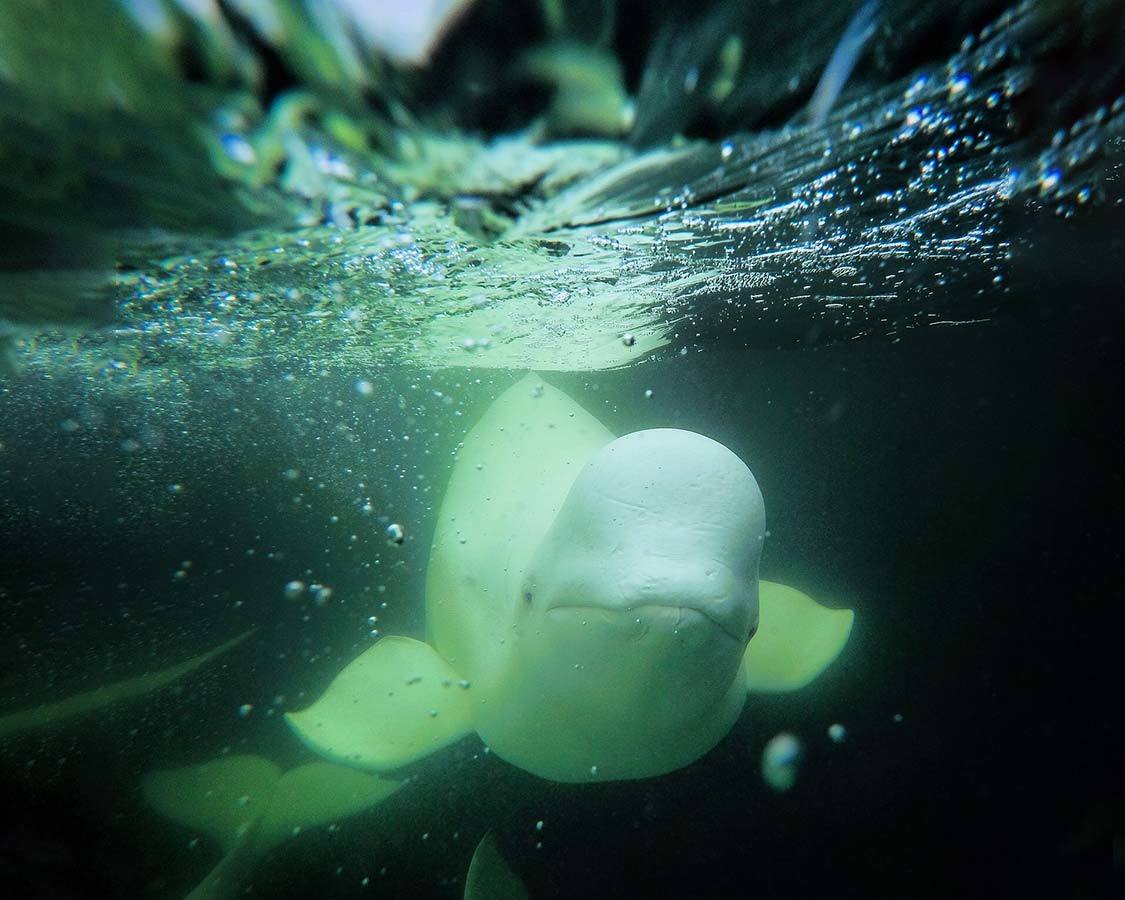 Our Experience Kayaking With Belugas In Churchill
Once we were out in the Churchill River the views were amazing. On the far shores was the historic Prince of Wales Fort. While on the shores just up from the Churchill dockyards is the picturesque Cape Merry. We weren't lucky enough to see any of the Churchill polar bears wandering around the rocky shores, but we learned that a few days before, one of the groups had.
As we kayaked around, C found that singing at the top of his lungs while kayaking with Beluga whales was one of the best ways to attract the playful mammals to our side. Pretty soon he was ripping through choruses of "Uptown Funk" and "Meet Me In The Middle". Pretty soon we were absolutely dizzy trying to track all the Churchill Beluga whales that were surrounding us. There were baby beluga whales tagging along with their moms.
As we were kayaking with Beluga whales in Churchill, the whales were making their way back and forth across the river. It seemed they were constantly on the move. It definitely made for a workout, and pretty soon I had a good sweat on. We were moving between where the Churchill River empties into Hudson Bay and the dockyards with the iconic Churchill backdrop.
We were on the water for about two hours before our guides began to angle us back towards shore. There was no rushing us to shore and everyone took their time enjoying their last few minutes of time on the Churchill Beluga kayak experience. A pod of whales even followed us back towards shore for a bit before finally heading out towards deeper water.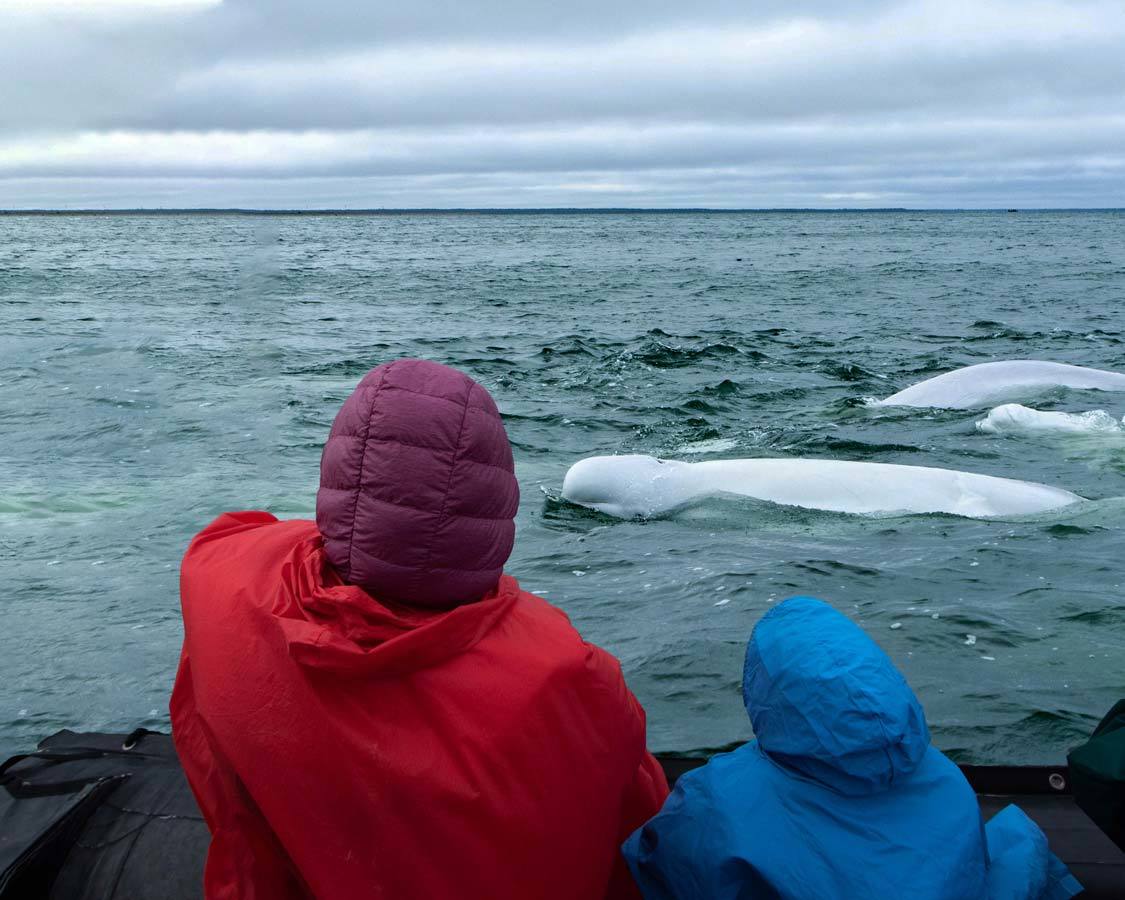 Other Ways To See Beluga Whales In Churchill Manitoba
Kayaking with beluga whales in Churchill isn't the only way to experience the white whales of Canada. Sea North Tours and a few other operators offer Churchill beluga whale tours. If you are looking to swim with beluga whales, know that swimming with beluga whales is no longer allowed in Canada. Diseases can be spread from humans to whales, so new rules have limited the type of interactions that may put these animals at risk. But you'll be happy to know that there are great ways to see beluga whales in Churchill Manitoba:
Prince of Wales Fort And Estuary Tour
Tours to the Prince of Wales Fort across the Churchill River can include a tour of the Churchill River Estuary. For those who don't want to go kayaking with beluga whales, this is one of the top ways to experience these beautiful creatures in the wild. Sea North Tours boats use jet propulsion rather than propellers. This is designed to ensure the safety of the beluga whales. You can read more about the Prince of Wales For in our Churchill Manitoba guide.
Beluga Zodiac Tours
Another popular way to see beluga whales in Churchill Manitoba is on a beluga zodiac tour. These tours are much less strenuous than kayaking with beluga whales. But they also aren't quite as intimate. You won't get as close to the whales on a zodiac tour in Churchill, but the noise of the engines tends to attract even more whales. And, because you aren't paddling as well, it's much easier to take pictures.
Churchill Helicopter Tour
One of the most unique ways to see beluga whales in Churchill Manitoba is by helicopter tour. Custom Helicopter Tours offers flights along the shores of Hudson Bay and into Wapusk National Park. It's an entirely different experience being able to see the entire pod of beluga whales from the sky.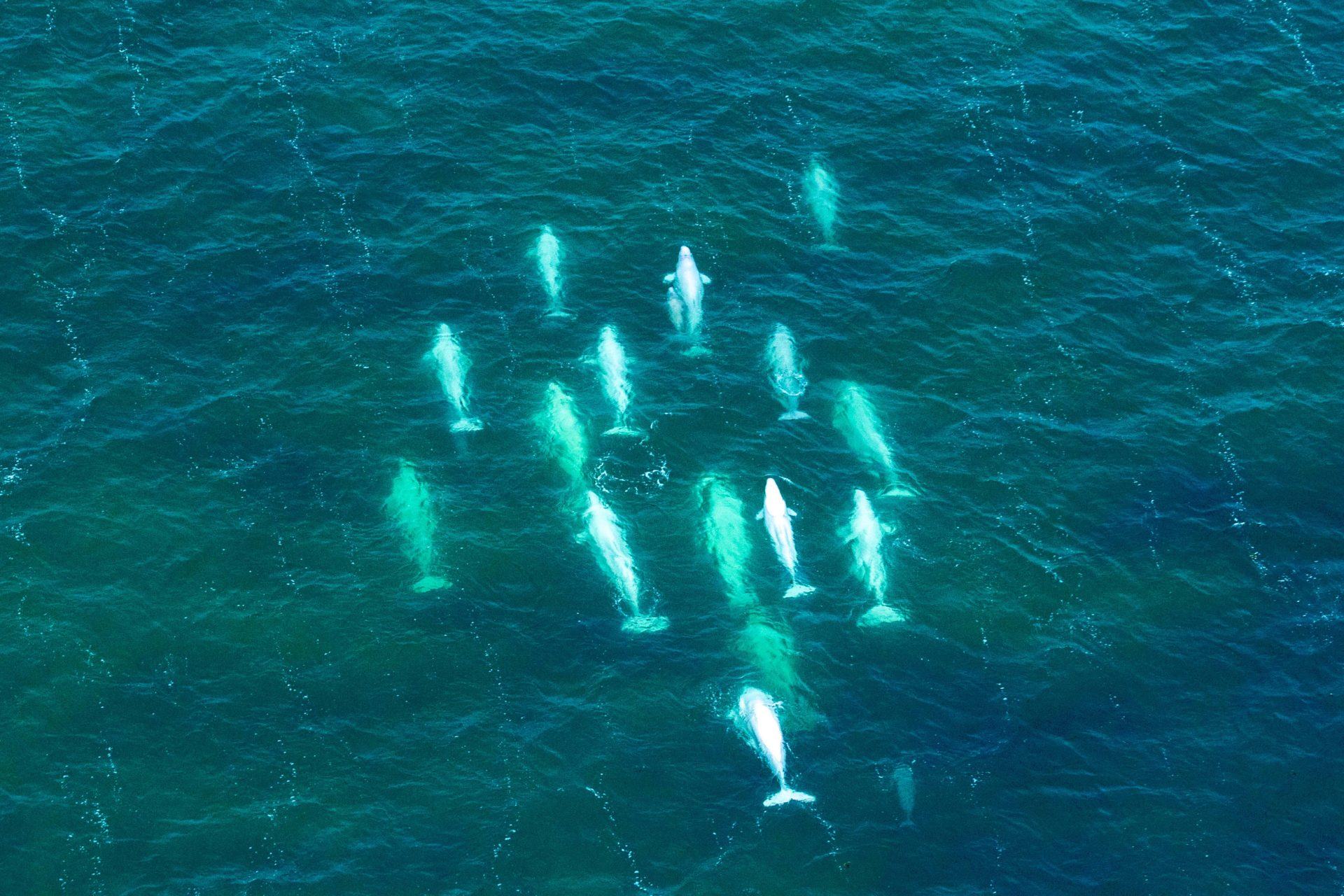 Do We Recommend Doing a Kayaking With Beluga Whales For Kids?
The look on C's face as we were kayaking with beluga whales in Churchill Manitoba was priceless. The entire experience was even more magical than we could have imagined. And although there was some frustration with the last-minute change of age requirements, we absolutely loved our time on the water. However, the Churchill Beluga whale kayaking experience is a long time on the water. This Churchill adventure may not be ideal for children who have trouble remaining in a kayak for several hours. It can also be cold and wet on the water, and the experiences are not canceled due to rain. Be prepared for any eventuality. Parents should also know that, unless your child is an experienced kayaker, they will be doing most of the work in the tandem boats.
I wasn't prepared for the sheer number and playfulness of the Beluga whales in Churchill. Having these giant mammals just inches away from us was incredible. And it made for an unforgettable family travel experience. If you're visiting Churchill with kids, and they're over 6-years-old, definitely consider kayaking with beluga whales.
Both the boys were all smiles during the entire experience. And combining an incredible family-friendly wildlife experience with time on the water has got to be one of the best ways to spend a day.
Have you ever gone kayaking with Beluga whales in Churchill Manitoba? Tell us about your experience in the comments below. Or tag our Instagram account in your photos. We would love to share in your travels.
Wandering Wagars is a participant in the Amazon Services LLC Associates Program, an affiliate advertising program designed to provide a means for sites to earn advertising fees by advertising and linking to amazon.com, amazon.co.uk, amazon.ca. Amazon and the Amazon logo are trademarks of Amazon.com, Inc. or its affiliates.
You May Also Like To Read:
Pin This For Later: