If you're looking for fun things to do in Winnipeg Manitoba this summer, here is everything you need to know. Explore the best Winnipeg activities.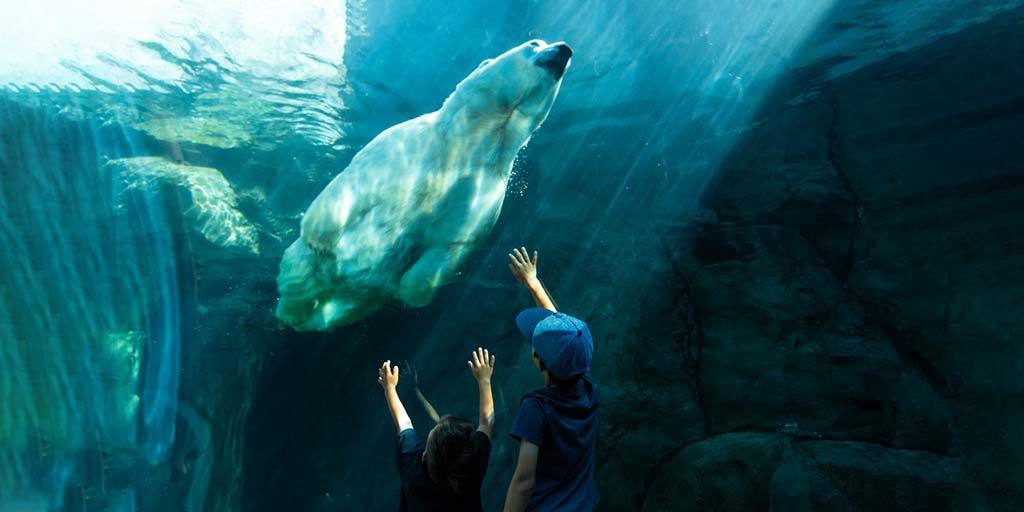 The city of Winnipeg has never been considered a bedrock among Canadian travel destinations. So, when an opportunity came up to spend some time in Winnipeg with my son, I figured that I would put this city through the travel test to see how it stands up. And when we realized all the fun things to do in Winnipeg, I ended up calling Christina and asking her and C to join us!
My family had plans to continue north to Churchill anyway, so getting a chance to explore the best Winnipeg activities was going to be a treat.
Travel in Winnipeg is surprisingly amazing. It is far more than a stopover on the way to Churchill. And, if you're visiting Winnipeg with kids, things get even more exciting. Winnipeg activities and attractions are for everyone.
This city, set smack in the horizontal middle of Canada is quickly rising the ranks of travel destinations in the country. With a booming foodie scene, stunning architecture, amazing festivals, wild zoos, and world-class museums, Winnipeg is no longer a place to visit on a stopover. It's a destination worthy of all of your focus.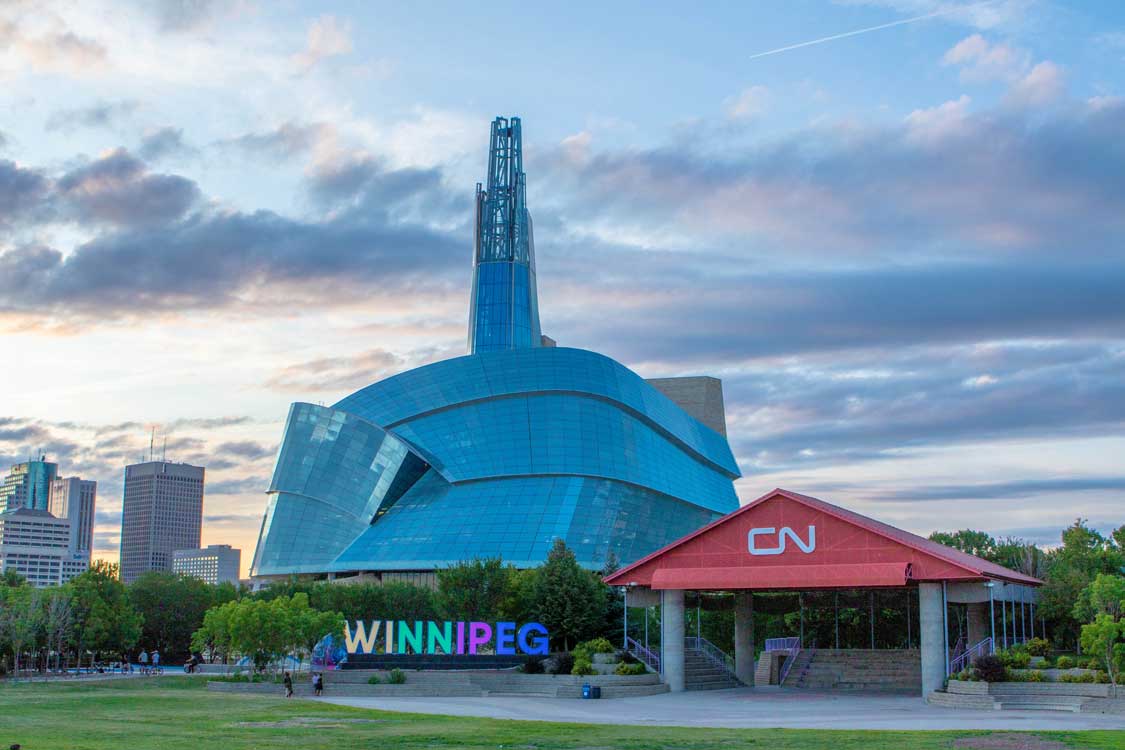 Things To Do In Winnipeg
This city is very easy to get around. Whether you are visiting Winnipeg for a day, for a weekend, or spending a week in Winnipeg, you will be faced with more great attractions than you'll be able to handle. You can take one of the epic Canadian road trips, or fly right into the James Armstrong Richardson International Airport. But no matter what your Winnipeg itinerary is shaping to look like, these are a few of my favorite things to do in Winnipeg during the summer.
Explore The Forks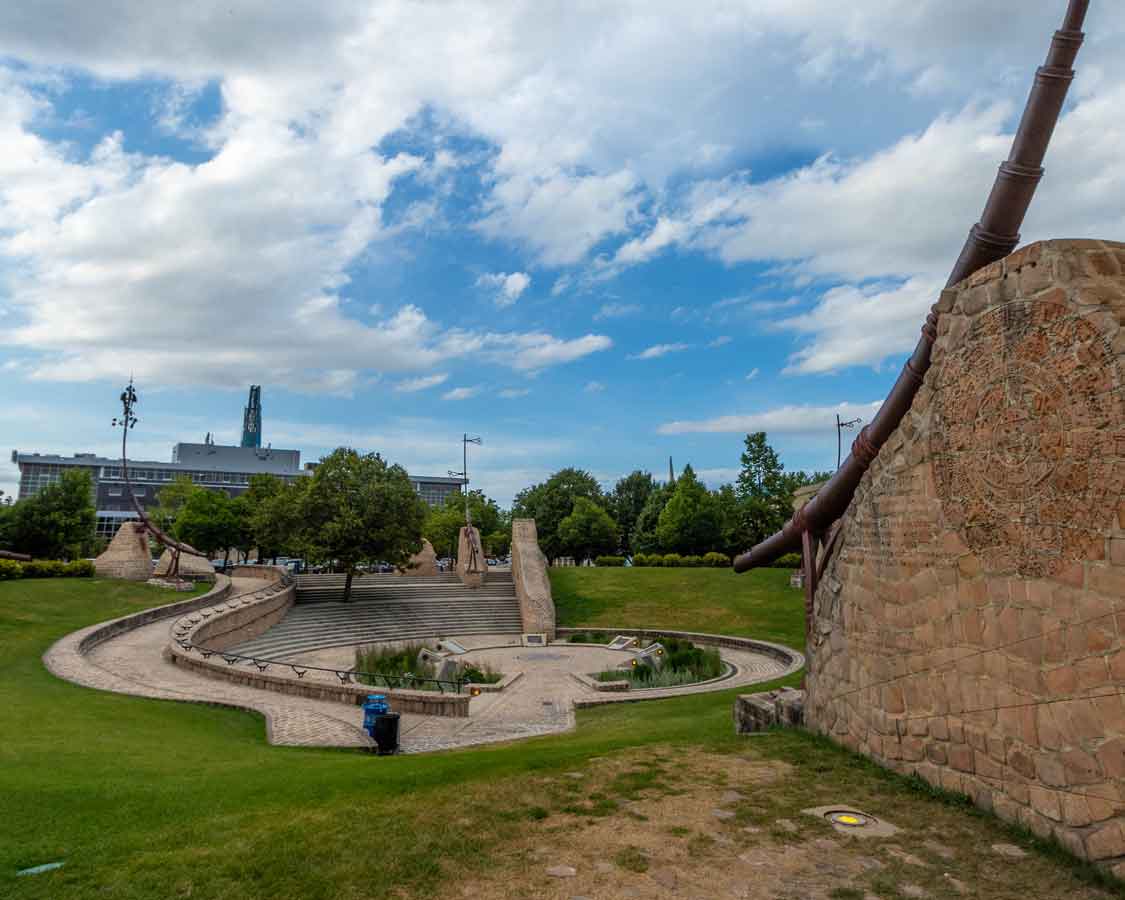 If you only have time for one of the things to do in Winnipeg, make sure it's a visit to the Forks. The Forks is where the Red River and Assiniboine River join. And this spot has been a site of huge importance for over 6,000 years. The Forks were a key trading place for Indigenous people.
When the Europeans arrived, a fur trading post was established here. It was quickly followed by an influx of settlers, railways, and immigrants that led to the establishment of the city of Winnipeg.
This area, which once languished as a railyard, has been transformed into one of Canada's best urban parks and recreation areas over the past 30 years. The city has re-established the Forks as a special meeting place. And it is now the centerpiece for many of the amazing Winnipeg attractions.
Those visiting Winnipeg with kids will love exploring the playgrounds, splash pad, skate park, Forks Market, and many of the great Winnipeg things to do. In the Forks, you'll find the Museum for Human Rights, the Children's Museum, and the picturesque Esplanade Riel Footbridge. You can read more about The Forks Winnipeg in our post here.
Meet The Polar Bears at the Assiniboine Park Zoo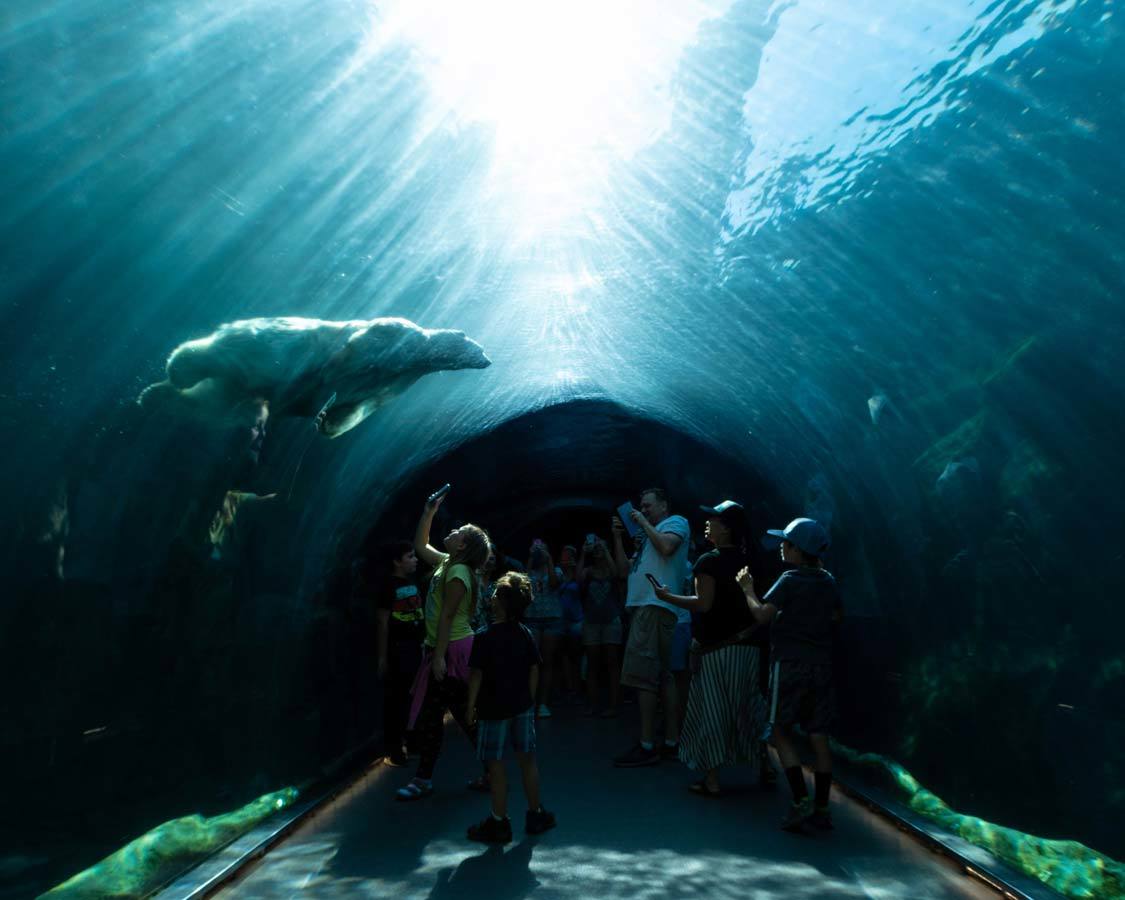 Even if you're on your way up to Churchill to see polar bears and Beluga whales, it's still worth the trip to the Assiniboine Park Zoo. They have one of the top enclosed Polar Bear displays in the world. Both above and below ground you'll be able to see these bears frolicking in as close to their natural habitat as possible.
The Sea Ice Passage is an underwater tunnel where you can see the bears splashing and playing beneath the waves in a way that seems impossible for creatures of this size. The tunnel can get crowded, but the views are incredible as these massive bears swim gracefully above you.
The Assiniboine Zoo also has many Arctic animals such as Arctic Fox, Muskox, and seals to discover. The Winnipeg Zoo acts as a wonderful educational experience for those who might not get the chance to make their way up north to see this incredible Canadian wildlife in the wild.
Take A Bike Ride Through Assiniboine Park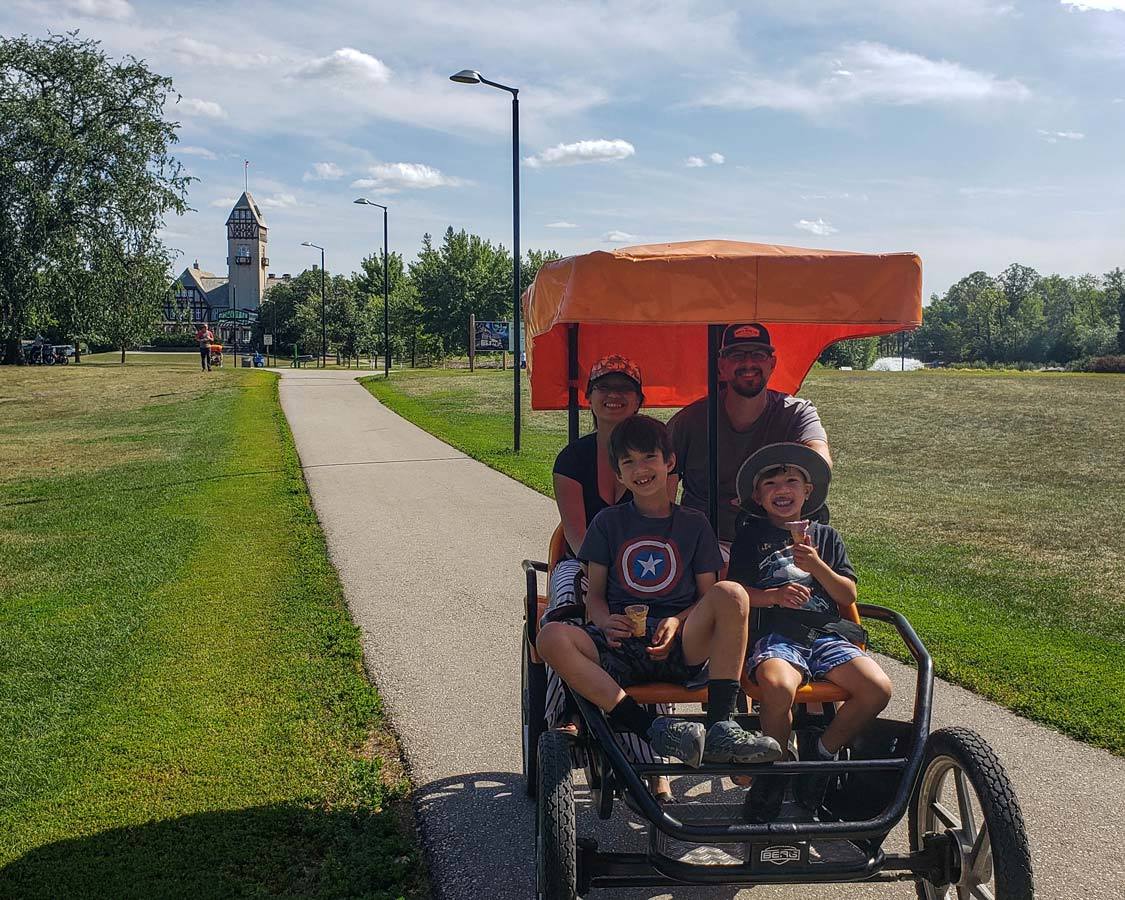 Connected to the Winnipeg Zoo is Assiniboine Park. This sprawling urban park features beautiful gardens, ponds, and even areas to explore. We especially loved the Winnie-the-Pooh exhibit. It brought us back to our visit to the Winnie sculpture in White River, Ontario near Pukaskwa National Park, where much of the Winnie-the-Pooh story began. And remember, Winnie got his name from his hometown of Winnipeg.
If you get the chance, grab a tandem bike rental from Bee2Gether Novelty Bikes near the Portage Ave. entrance to Assiniboine Park. You can get bikes that hold anywhere from one to six people so families can explore the park together. The only places that the bikes are not allowed to enter are the Children's Garden (a must for those visiting Winnipeg with kids) and the Sculpture Garden.
Take A Moment At The Canadian Museum for Human Rights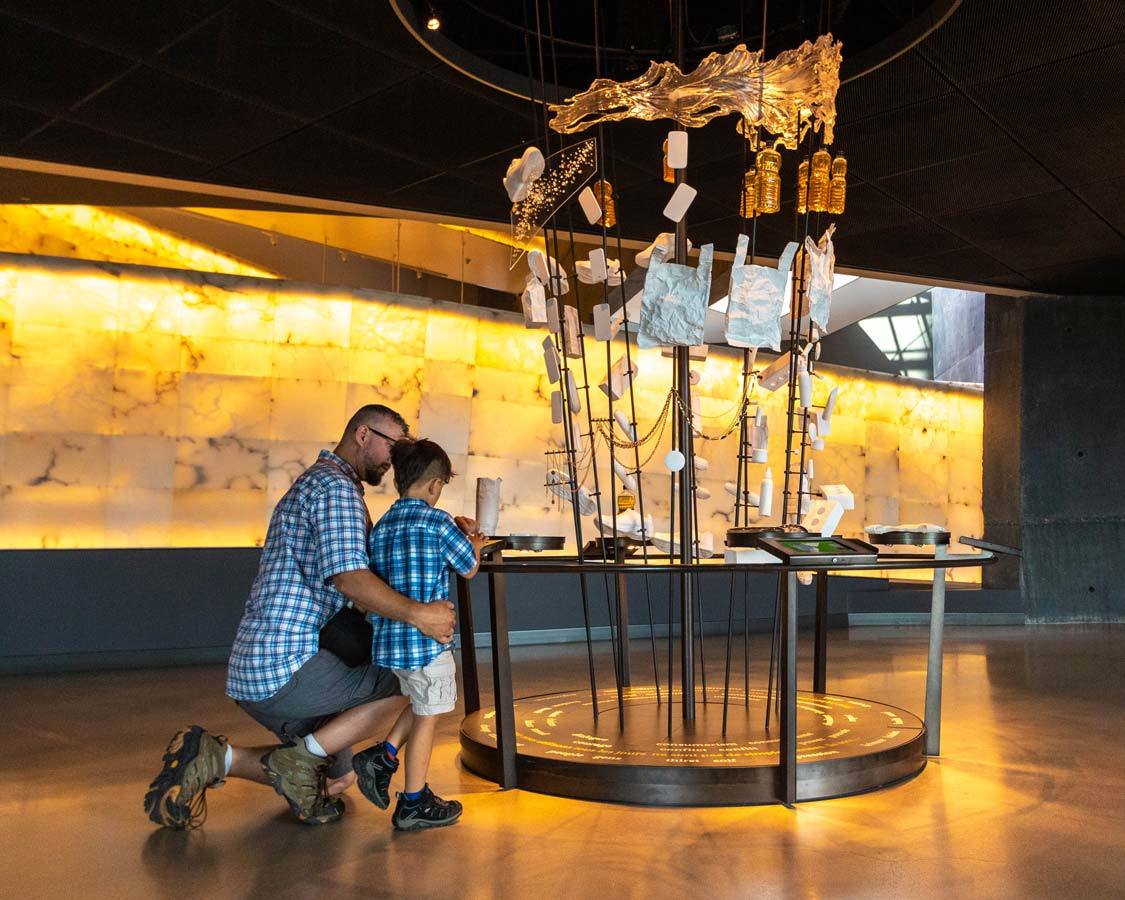 One of the most unique and important museums in North America is located in Winnipeg, Manitoba. The Museum of Human Rights is the only museum focused on human rights and worldwide society. The Canada Museum for Human Rights has fascinating exhibits that empower both children and adults to stand up for their beliefs and against oppression.
The museum explores personal choice, genocide, social movements, and much more in a way that is both tasteful and thought-provoking. The displays are as much solemn as they are hopeful.
The Museum for Human Rights has magnificent architecture. The design alone makes the Human Rights Museum worth the visit. Many of the exhibits might be too advanced for those visiting Winnipeg with young kids.
Children 8 and up may have some fascinating questions about what they see and learn. The light display on the second floor will be particularly engaging. Children run surrounded by a bubble of light and they can see how the bubbles change as they interact with other people around them.
Have a DaVinci Code Experience On A Legislative Assembly Tour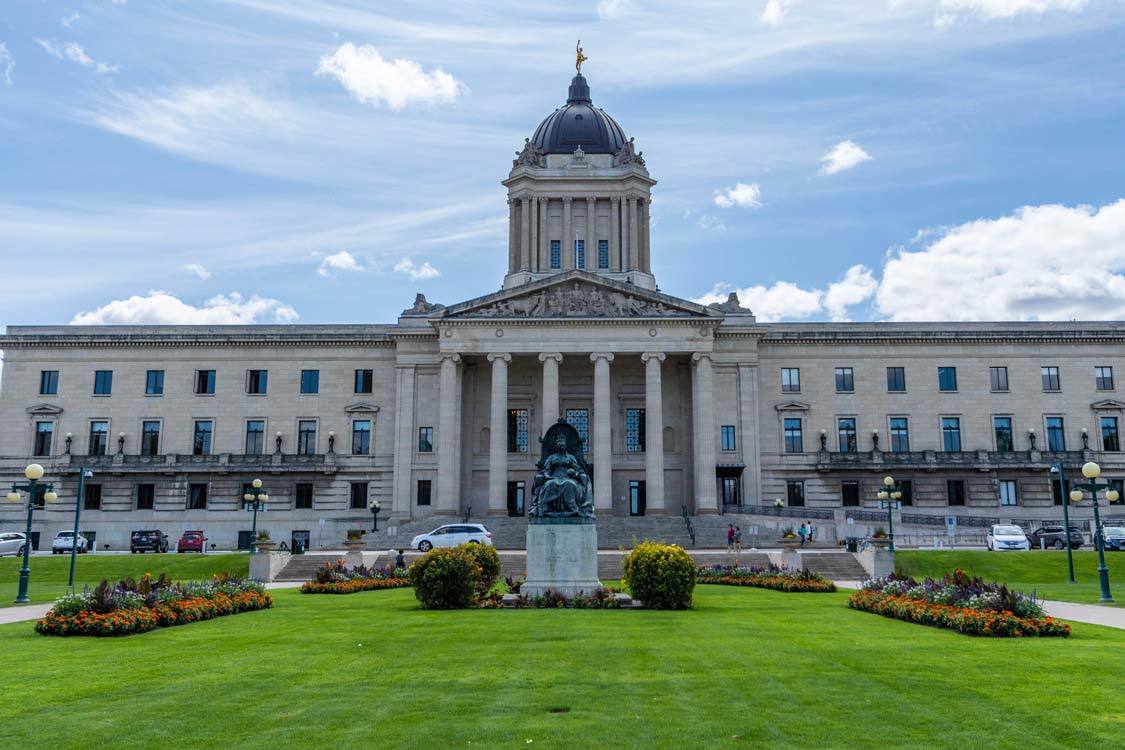 "Yay! Political building tour!" Said no child ever.
But that's because they haven't seen the architecture and history on a free guided tour of the Manitoba Legislative Building. But if you want something truly cool, check out the buildings' Hermetic Code Tour.
This fascinating experience is an hour-and-a-half journey that shows the hidden numerical codes, Freemasonry symbols, and hieroglyphics that are hidden in plain sight throughout the Manitoba Legislative Building.
Even if you don't have time to tour the Winnipeg Legislative Building, it's worth checking out from the outside. It's easy to see many of the obvious Stone Mason symbolism such as the sphinxes on the room and the artwork above the doorway.
You can also check out the beautiful waterfront. Here you'll find a statue of Canadian hero Louis Riel with his back to the government, just as the government had turned its back on him.
For a more in-depth experience, this Winnipeg Legislature audio guide tour takes your visit to the next level.
Explore The Architecture and Art of Winnipeg on a Trolley Tour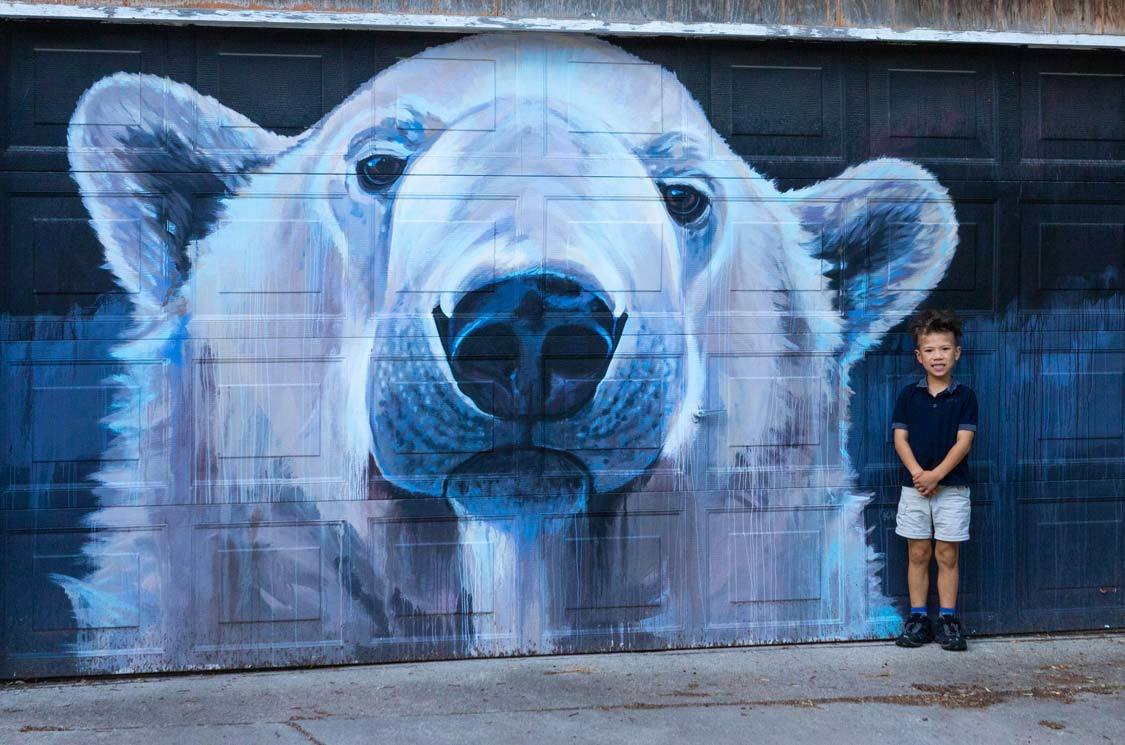 A really fun and unique way to explore all the things to do in Winnipeg with kids is on a Winnipeg Trolley tour. This fun and engaging tour through the city explores some of the amazing architecture, history, and art that has made Winnipeg such a standout destination in Western Canada.
Aside from the incredible and fun commentary along the way, kids will love exploring the artwork of the back alleys in Winnipeg's residential neighborhoods.
See Winnipeg From Above With Fly Fast Air Helicopter Tours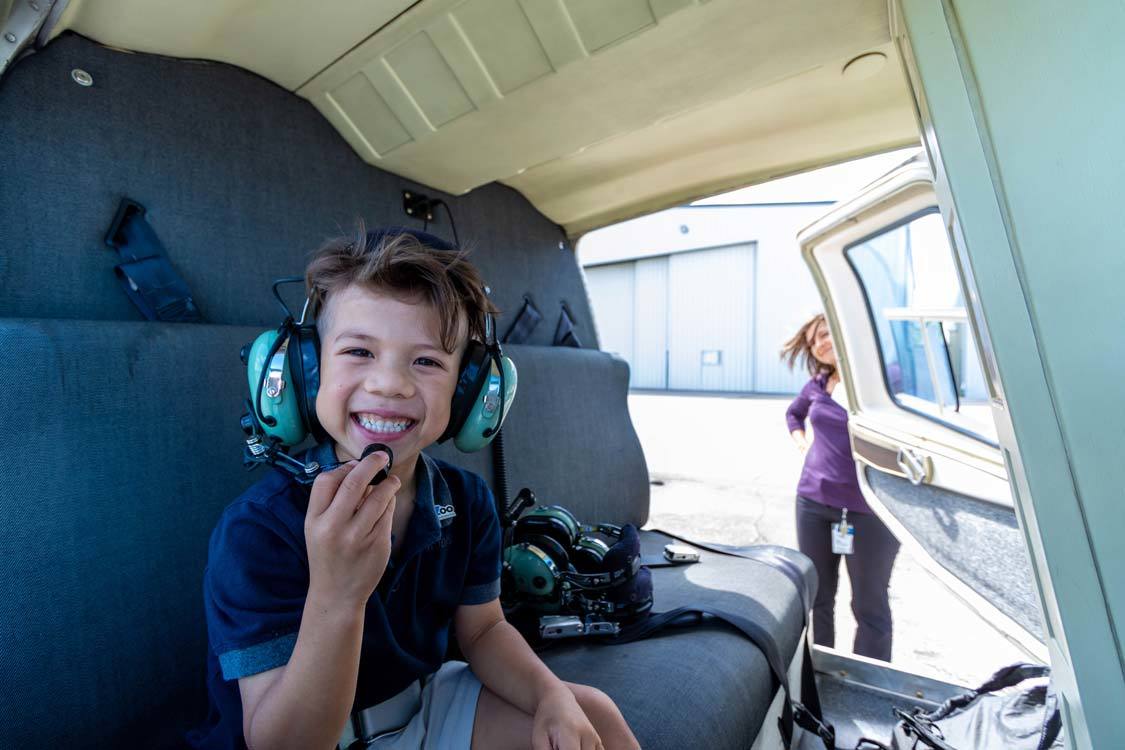 D and I had never been on a helicopter before we explored Winnipeg. But after our submarine tour in Maui, we were more than ready to take on our aerial adventure. The staff at Fly Fast Air is incredible. And getting the chance to see the beautiful parks and forests of the city from the sky was one of the best treats of our visit to Winnipeg with kids.
Visit The Bison At Fort Whyte Alive Nature Centre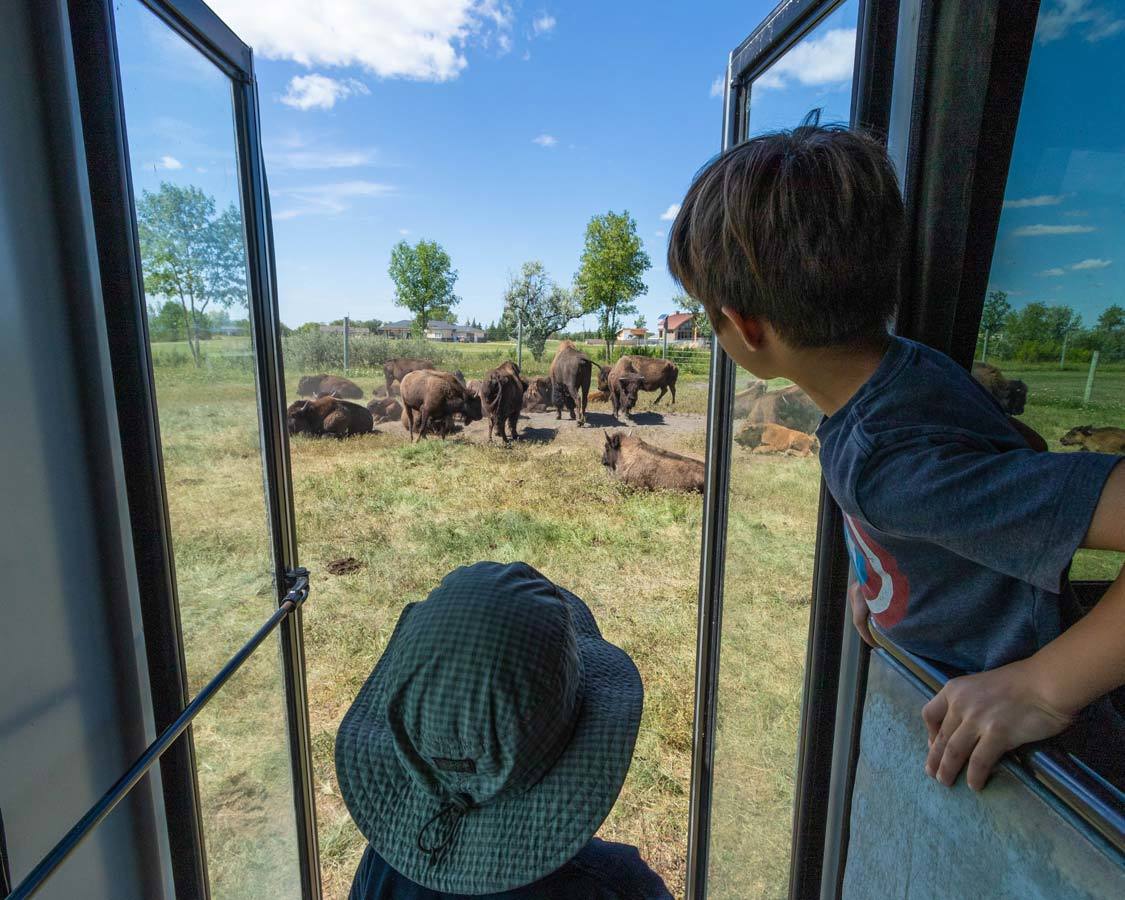 Fort Whyte Alive sits right on the edge of southern Winnipeg. This sprawling nature center combines a farm, walking trails, and a Bison sanctuary. Fort Whyte Alive is just 15 minutes from the Assiniboine Park Zoo. So if you don't mind a lot of walking, you can combine both activities in one day. We loved exploring the marsh boardwalk. And learning about the wildlife and nature sciences at the center was fascinating.
But one of the coolest experiences at the Fort Whyte Nature Centre is the Bison safari. On this one-hour tour, we were whisked out to the Bison fields where we had a chance to (safely) get up close and personal with the herd of about 25 Bison that call Fort Whyte their home. This is one of the closest that you can get to Bison both safely and ethically.
If you want to learn more, I wrote an article on Fort Whyte Alive that you can find here.
Check Out The Facade Of The St. Boniface Cathedral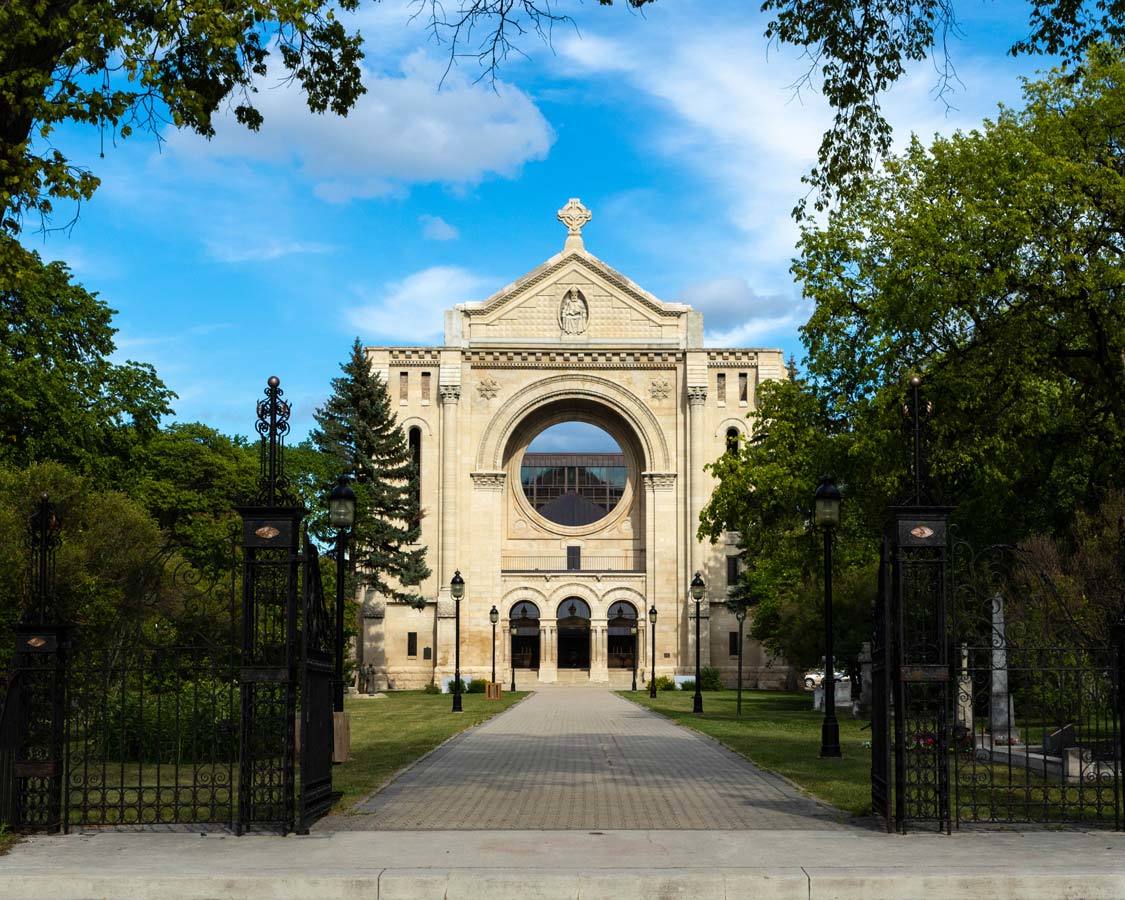 The St. Boniface Cathedral has burned down no less than six times over the past 150 years. The last fire occurred during the late 1960s. While the new church is a far cry from the architectural beauties that stood there before (apart from some beautiful Metis carvings inside), the facade of the last St. Boniface Cathedral still stands in front of it. This gives a fascinating duality to the building that makes it one of the coolest church fronts I've seen.
If you explore the cemetery in front of the church you'll also find the grave of Louis Riel. Louis Riel was the first Indigenous person to lead a province. He also stood up for the rights of Manitobans during a time of Federal overreach. The revolution that he led helped to shape Canada and build the rights of all other Canadian provinces.
Wander The Ruins Of The Trappist Monastery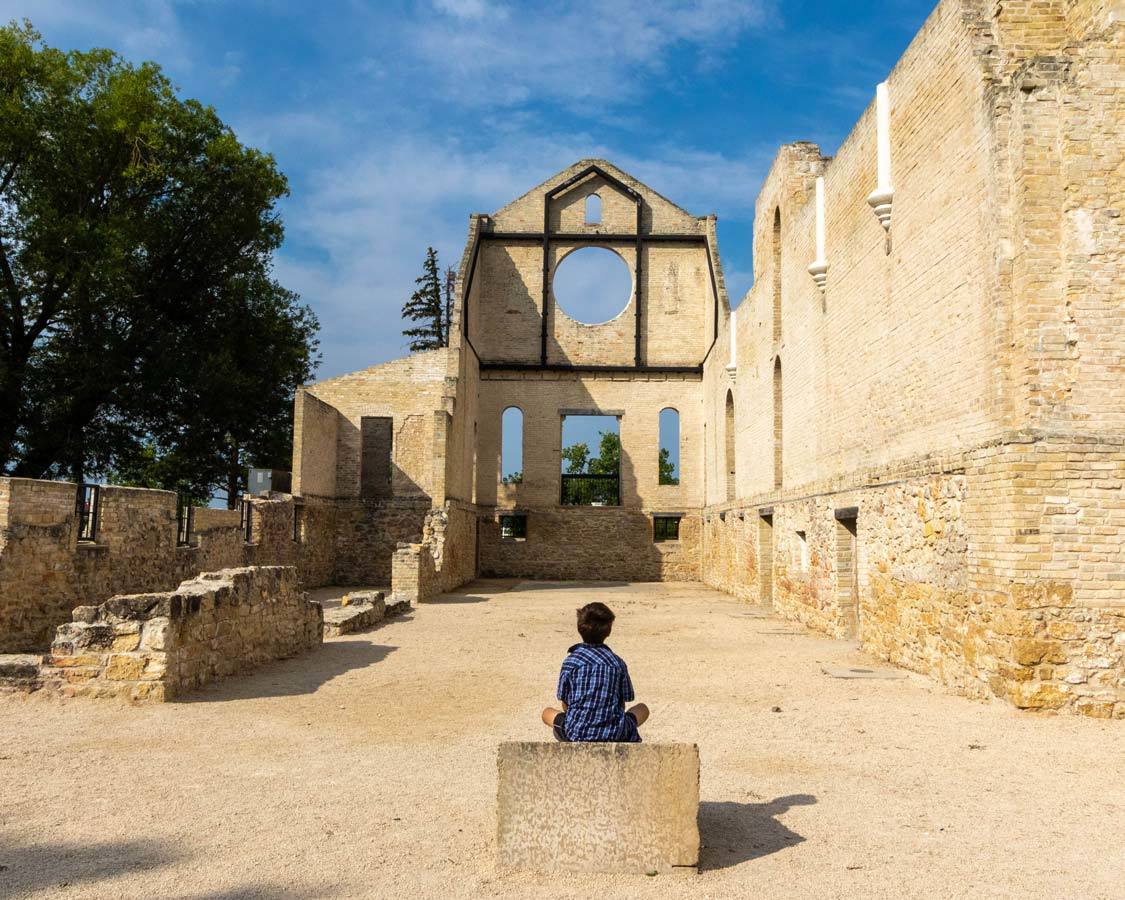 The Trappist Monastery Ruins in the suburb of St. Norbert are one of the hidden gems of Winnipeg. This small Manitoba Provincial Heritage Park houses the ruins of a Catholic church and monastery that was built in 1892 before being abandoned in 1972 to escape the urban sprawl of Winnipeg. The ruins still contain the framework for the cheese house, church, and living quarters.
Join A Winnipeg Scavenger Hunt
Explore the city with this fun and unique app-based experience. This scavenger hunt explores some of the most famous, and hidden treasures, of Winnipeg. The Winnipeg scavenger tour takes about two hours to complete and includes an interactive remote guide to help you along the way.
Experience Inuit Art at WAG-Qaumajuq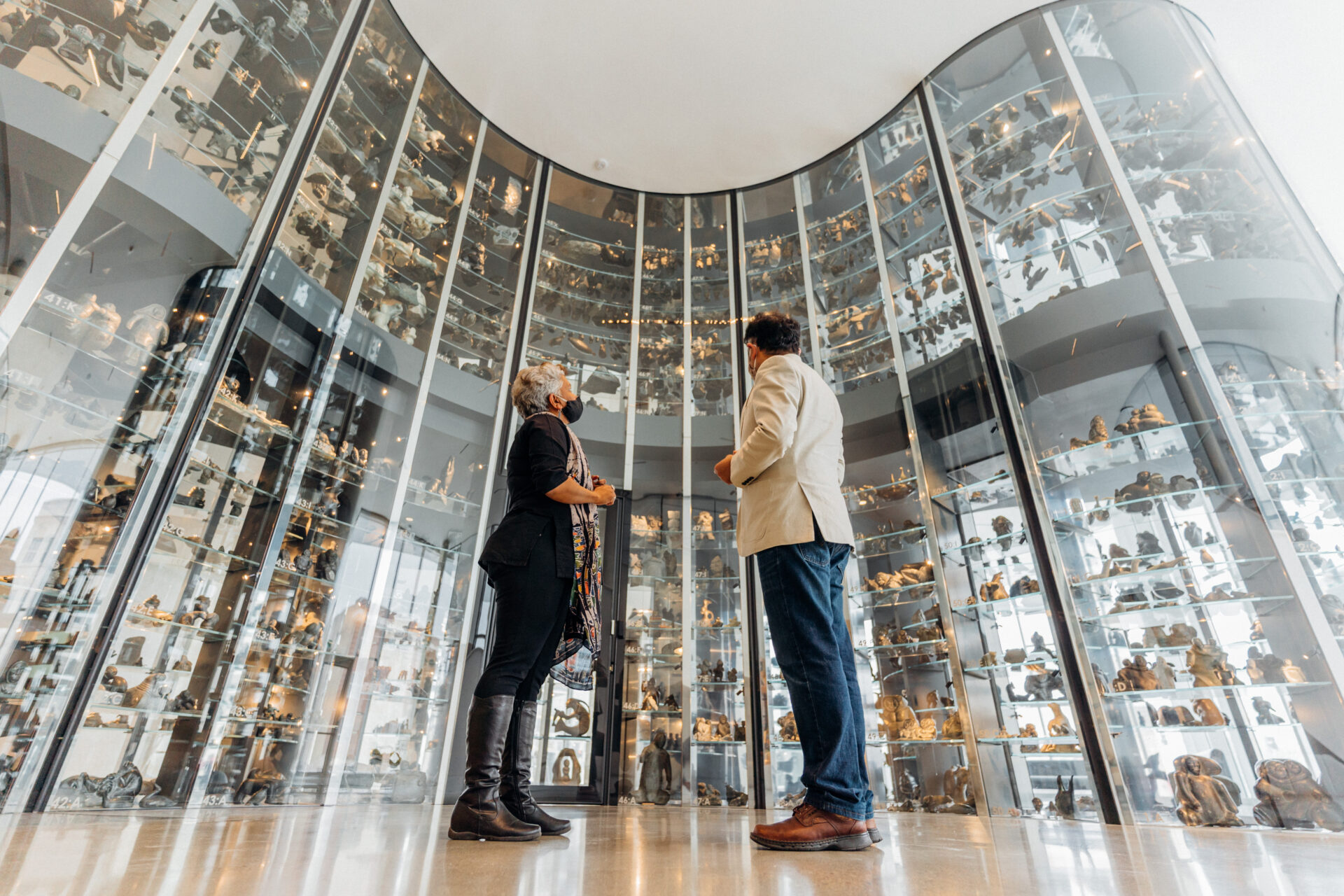 Located right in the heart of the city, WAG-Qaumajuq houses the largest public collection of contemporary Inuit art in the world. This impressive expansion of the Winnipeg Art Gallery, which first opened in 1912, is dedicated solely to the exhibition and preservation of Inuit art and culture.
The name "Qaumajuq" means "it is bright, it is lit" in the Inuktitut language and was chosen to reflect the museum's mission of shedding light on Inuit art and culture. The museum opened in March 2021 and features over 14,000 pieces of Inuit art, including carvings, prints, drawings, textiles, and new media.
In addition to its collection, WAG-Qaumajuq also houses a research center, artist studios, and a learning center. The museum aims to provide a platform for Indigenous voices and perspectives and to promote cross-cultural understanding through art and education.
Things To Do Near Winnipeg
Lower Fort Garry National Historic Site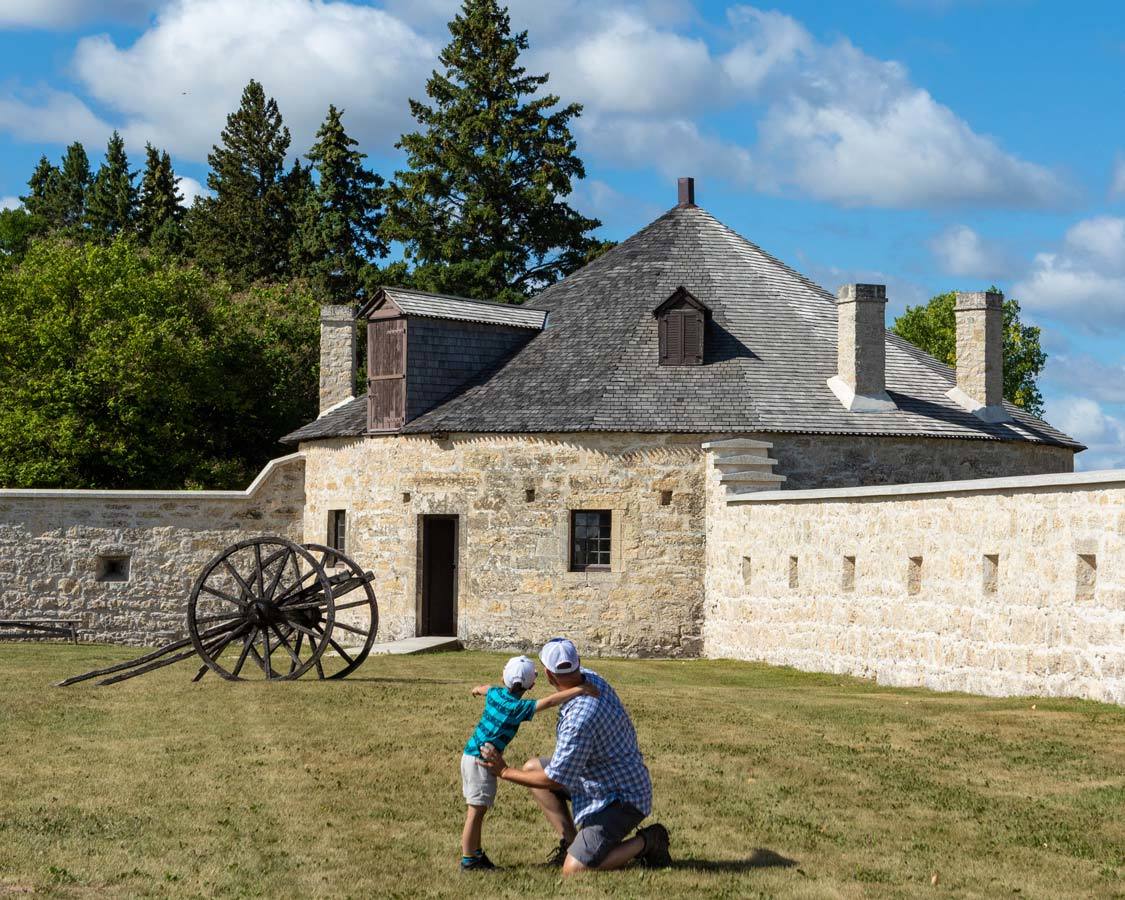 Canada was built on the fur trade. And there's no better place to learn about this part of the country's history than at one of the original Hudson Bay Company trading posts. The Lower Fort Garry National Historic Site is about 30 minutes from downtown Winnipeg.
Once you arrive, you'll be 200 years in the past. The Lower Fort Garry is packed with staff in period costumes. They share the stories of the people who lived and supported life at the HBC trading posts. From the upperclassmen at the Big House to the farmers feeding the workers.
Oak Hammock Marsh Interpretive Centre
A visit to Oak Hammock Marsh is a must for nature-loving families and couples in Winnipeg. Oak Hammock, which is about 15 minutes west of Lower Fort Garry, is a beautiful piece of land that is teeming with hundreds of species of birdlife. Immerse yourself in their educational programs, or rent a canoe and explore the wetlands to see how many different kinds of birds you can find.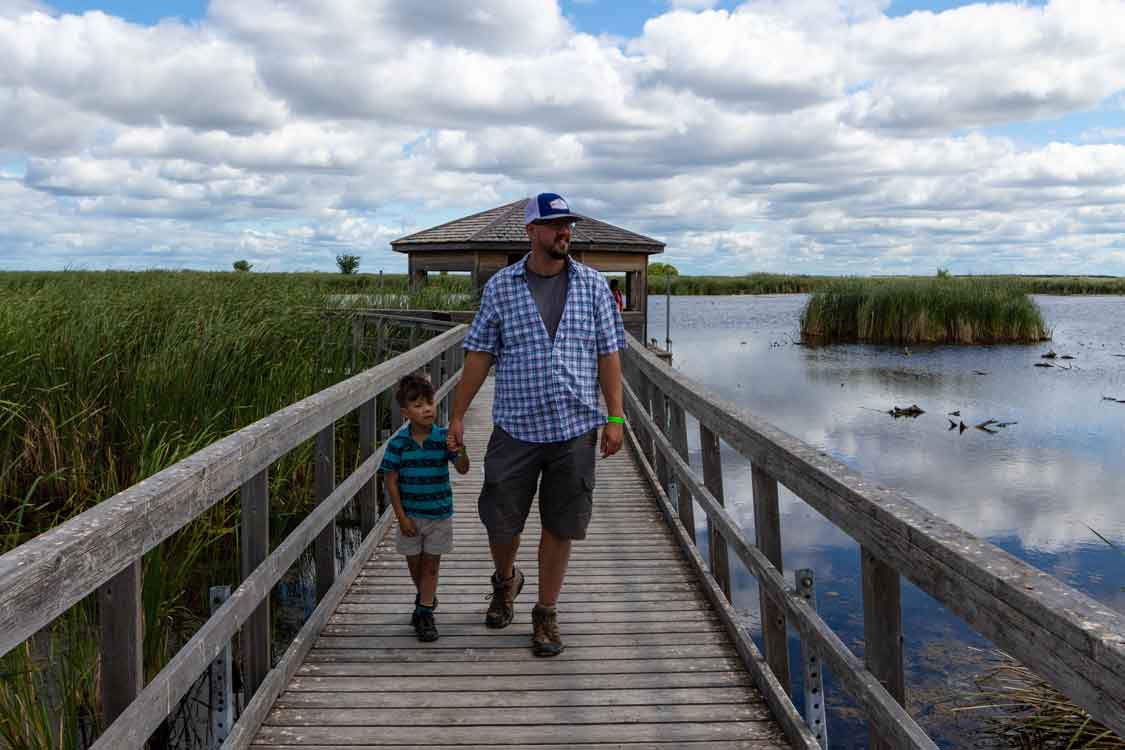 Go For A Swim At Grand Beach Provincial Park
Grand Beach is one of the places that helped propel Winnipeg onto the Lonely Planet's 2019 best travel destination lists. Situated on the eastern shores of Lake Winnipeg, Grand Beach has large swaths of white sand beach bordered by gorgeous sand dunes up to 8 m (30 ft) high.
When we arrived, it immediately made us think of one of the most famous beaches in Ontario at Sandbanks Provincial Park. If you time your visit in early August you might be able to catch the Grand Beach Sandcastle competition.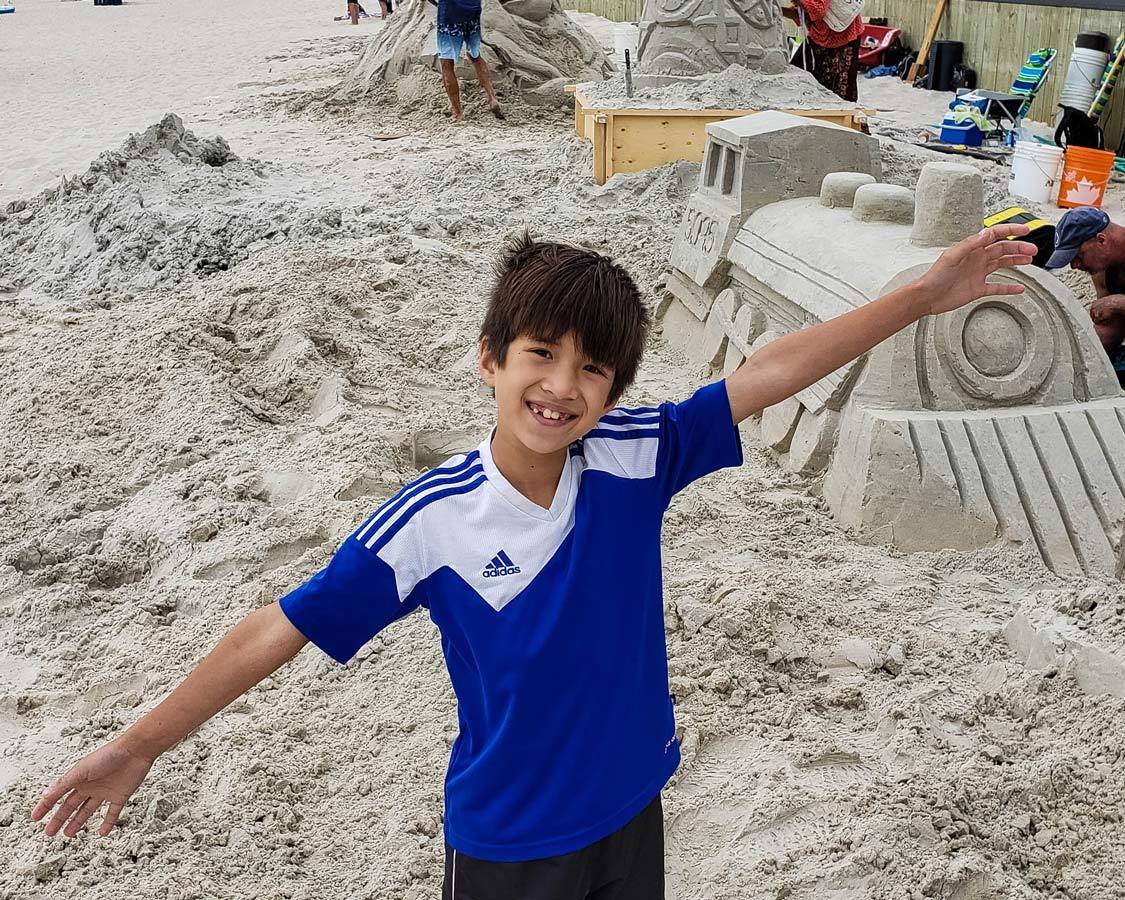 Stand At The Heart Of The Country At The Longitudinal Centre Of Canada Park
It doesn't get much more Central Canada than Winnipeg. But, if you make the drive about 30 minutes east from the city you can stand right at the longitudinal center of the country. This kitschy and fun tourist spot is a blast for that Instagram photo worthy of a drive across Canada.
With gorgeous fields of Manitoba agriculture as a backdrop, this spot screams Canadian prairies. To help you out on your road trip there are washrooms available here too. To access it you need to be on the Northern side of the Trans-Canada highway and exit onto the service road that runs along the highway.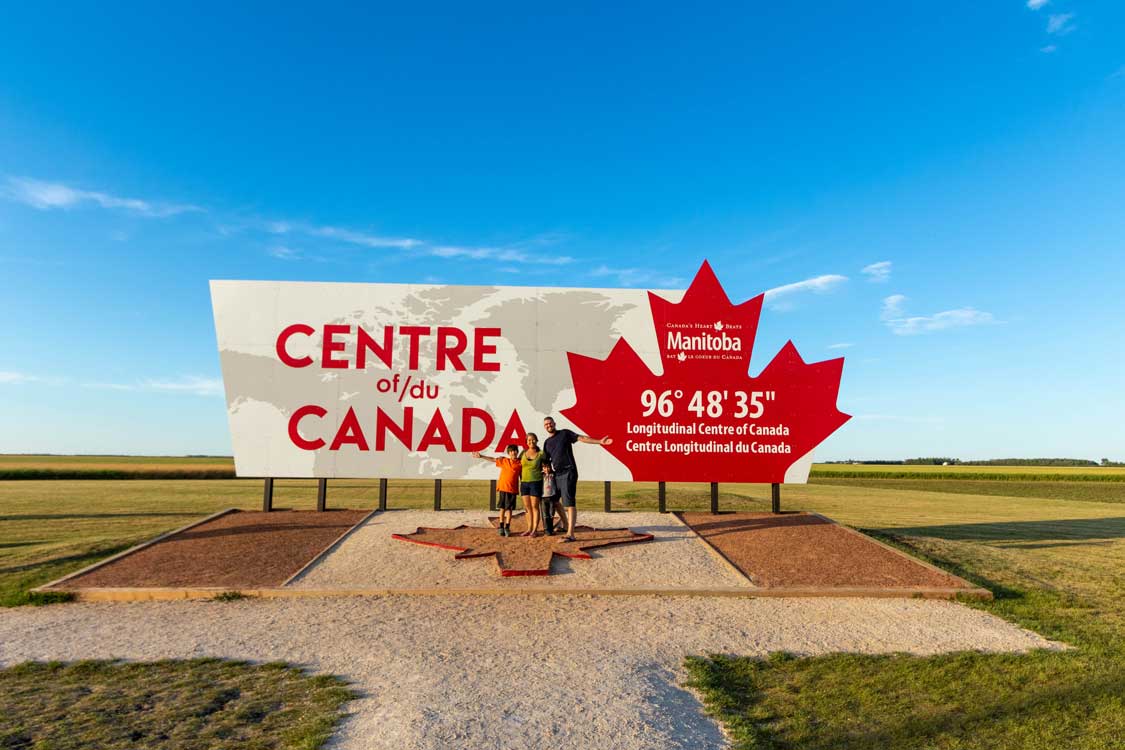 Where To Eat In Winnipeg
Winnipeg has developed into one of the surprise foodie destinations in Canada. Whether you're looking for international cuisine, scrumptious food trucks, or casual dining with a unique twist, there are loads of great places to eat.
You can even take part in some of the combined discovery and food tour experiences in Winnipeg to make your experience even more memorable. But no matter where you are staying in Winnipeg, here are a few of my favorite places to eat in Winnipeg.
The Forks Market
The Forks Market is a great place to explore for both shopping and food. And if you're looking for great places to eat in Winnipeg, the Forks Market is definitely a good place to start. This old rail yard has been converted into a combination food market and shopping experience.
You can order from a number of delicious vendors including NuBurger, Fools and Horses coffeehouse, and The Red Ember woodfired pizzeria. You can either enjoy your food inside the beautiful market itself or relax on the waterfront patio and enjoy the breeze.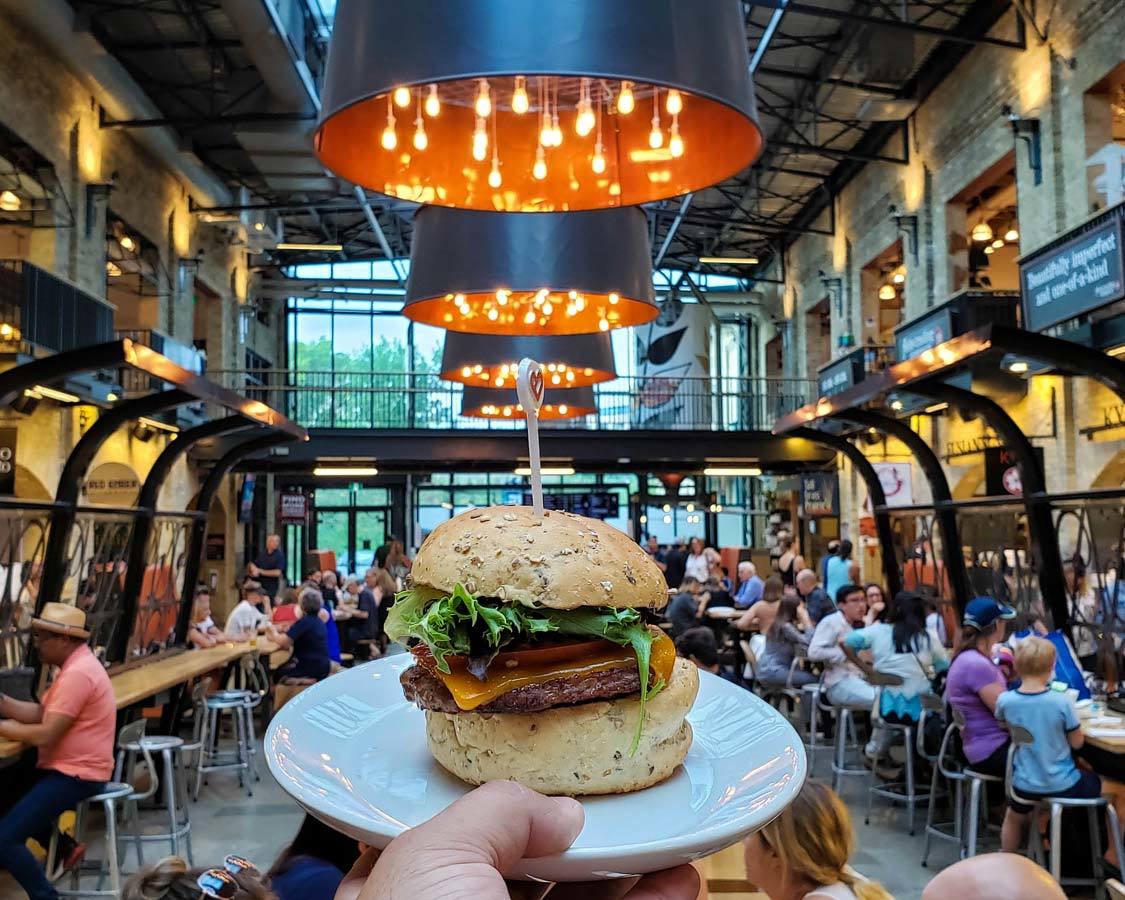 Clementine Cafe
I was totally in love with the food and atmosphere of Clementine Cafe on Princess St. in downtown Winnipeg. They serve delicious twists on standard breakfast and lunch fare in a cozy basement location. Kids will love the Brussels-style waffles with mint whip and matcha crumble.
Personally, I thoroughly enjoyed the mushroom breakfast sandwich. But no matter what you order, I insist that you get a side order of the potatoes. This twist on a classic drizzles fried potatoes in a combination of chickpea mayo and harissa for a sweet and savory combo that is to die for.
Broadway Food Trucks
Some of the best food in Winnipeg can be found at the Broadway food trucks. During the week, up to 60 food trucks focus on this stretch of downtown Winnipeg and serve up everything from pierogies to hamburgers, falafels to Korean food. It can be tough to narrow down your choices among all the offerings though. For a few ideas, check out this Winnipeg food truck guide to map out your street-dining experience.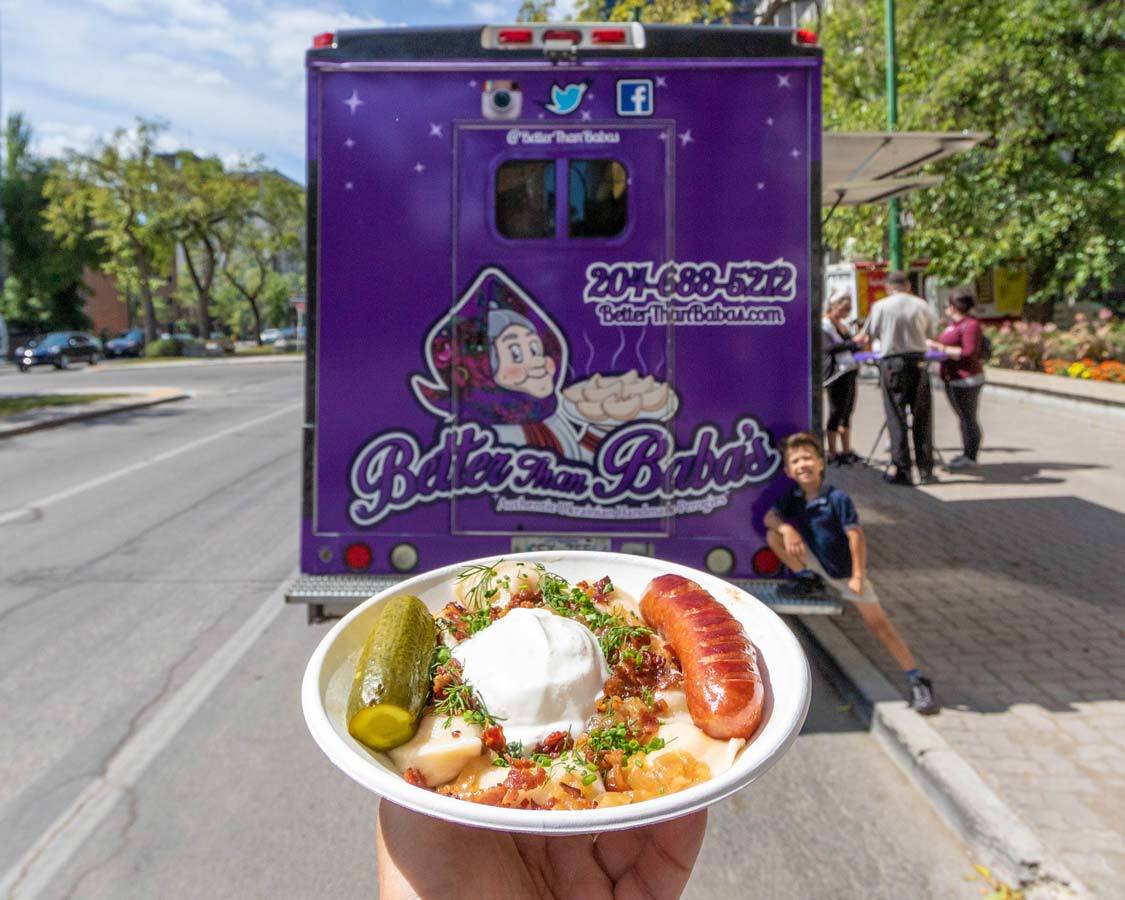 Where To Stay In Winnipeg
Searching for the best things to do in Winnipeg is a blast. Ending your days at one of the amazing Winnipeg accommodations can be even better! Here are my top picks for where to stay in Winnipeg.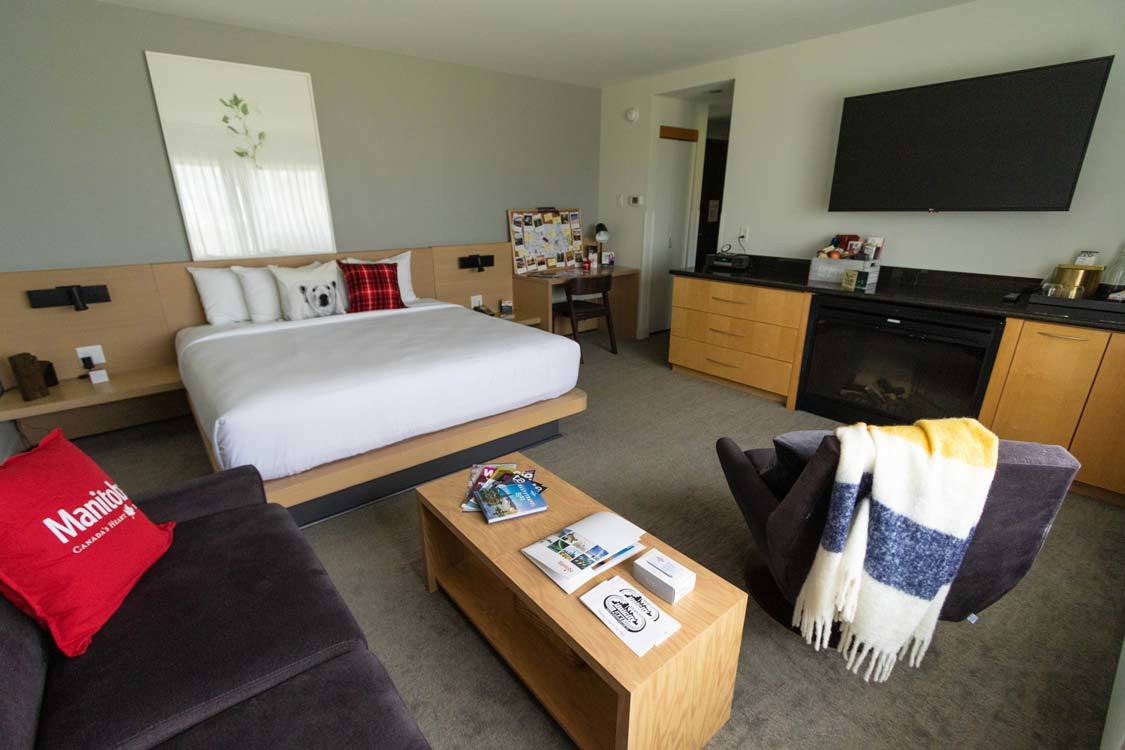 Inn At The Forks
Inn at the Forks is right in the heart of all of the action. If you're looking for a great hotel that combines an excellent restaurant with easy access to some of the top Winnipeg activities, Inn at the Forks should be at the top of your list. Not only is the on-site Smith Restaurant serving up delicious food throughout the day, but the hotel's Riverstone Spa is a popular spot for both locals and visitors to Winnipeg alike. You can find out more about the Inn at the Forks in Winnipeg here.
Fort Garry Hotel
If you're a history buff or love the supernatural, the Fort Garry Hotel is one for you. This grand railway hotel was built in 1913 by the Grand Trunk Pacific Railway. There is an on-site Turkish bath for relaxation, and the location, right next to the Forks and Upper Fort Garry in the Exchange District is hard to beat.
The hotel was modified in 2023 and now hosts a Yuk Yuks comedy club, adding stand-up to the hotel's long list of recent upgrades and offerings. For those who love a little spook with your hotel, book room 202. Maybe you'll meet the local Lady in White who has been said to be haunting the room for decades.
You can check out their prices and availability here.
Mere Hotel
If you want to be close to the action but feel like you have your own piece of the city, the Mere Hotel in the Exchange district might be right for you. The Mere Hotel borders the Red River and Stephen Juba Park. Rooms have Nespresso machines, and the central location means that you won't be far from the great things to do in Winnipeg. You can check out their prices and availability here.
Are You Read To Spend Some Time In Winnipeg, Manitoba?
Winnipeg is one of the most underrated destinations in Canada. Whether you've got a day, a weekend or a week, these incredible things to do in Winnipeg will keep you busy and have you coming back for more.
Have you ever been on a Winnipeg Vacation? Tell us about your favorite things to do in Winnipeg in the comments. Or swing by our Instagram and tag us in a photo of your adventures. We would love to share in your travels. Make sure to sign up for our newsletter to check out all of our latest adventures.
If you love family travel as much as we do, please join our Family Travel Support Group on Facebook. You can connect with more family travelers just like you who love to explore the world.
You May Also Like To Read:
Disclosure: This post was made possible with the support of Travel Manitoba. All opinions remain our own. This post may contain compensated links. Find more info in our disclaimer. Wandering Wagars is a participant in the Amazon Services LLC Associates Program, an affiliate advertising program designed to provide a means for sites to earn advertising fees by advertising and linking to amazon.com, amazon.co.uk, amazon.ca. Amazon and the Amazon logo are trademarks of Amazon.com, Inc. or its affiliates.
Pin This Post For Later: