Our Churchill Manitoba guide will help you navigate the world's best destination for experiencing polar bears, beluga whales, and northern lights.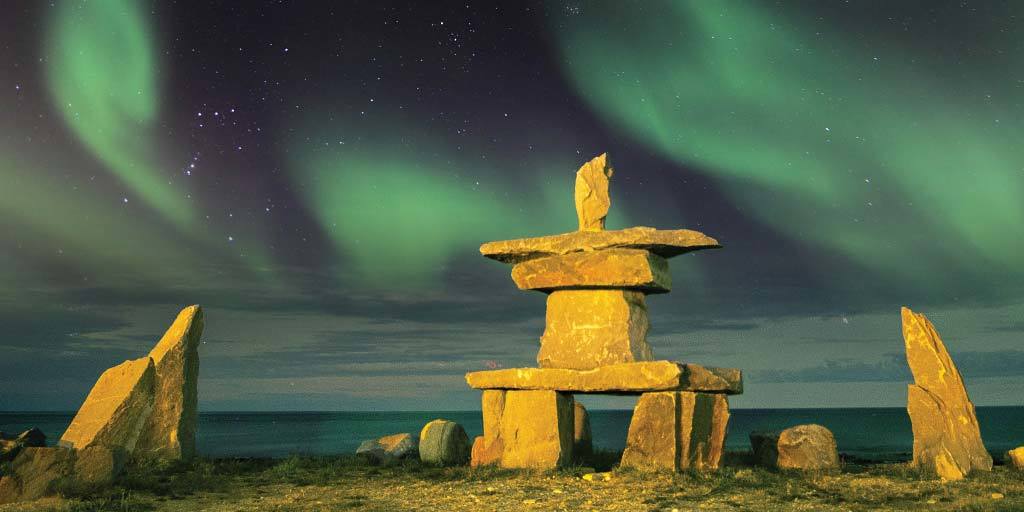 Churchill Manitoba is as close to a frontier town as you can find in Canada. This Northern Manitoba community still runs on squatters' rights for most of its land claims. And there is a cast of characters in the town that would make it worthy of an HBO series. But it's not the amazing and unique locals that have made Churchill Manitoba such a premiere destination in Canada's north. Instead, it's the unique combination of natural wonders that have led countless people to flock here each year. I've written this Churchill Manitoba guide to help those who make the journey up to this unforgettable town.
Churchill sits WAY at the top of Manitoba on the shores of the famous Hudson Bay. In fact, it is bordering the brand new Canadian territory of Nunavut. Churchill is one of the furthest destinations north that we've traveled within Canada with the exception of our visit to Yellowknife, Northwest Territories.
The town is home to Polar Bears, Beluga Whales, and is also one of the best places in Canada to see the Northern Lights. Not only is it home to one of the best national parks in Canada, but this triple threat of attractions has made Churchill a crown jewel for adventure seekers and wildlife lovers from around the world. It's such an important destination that visitors are often fighting for the limited number of Churchill hotels with companies like National Geographic and the BBC.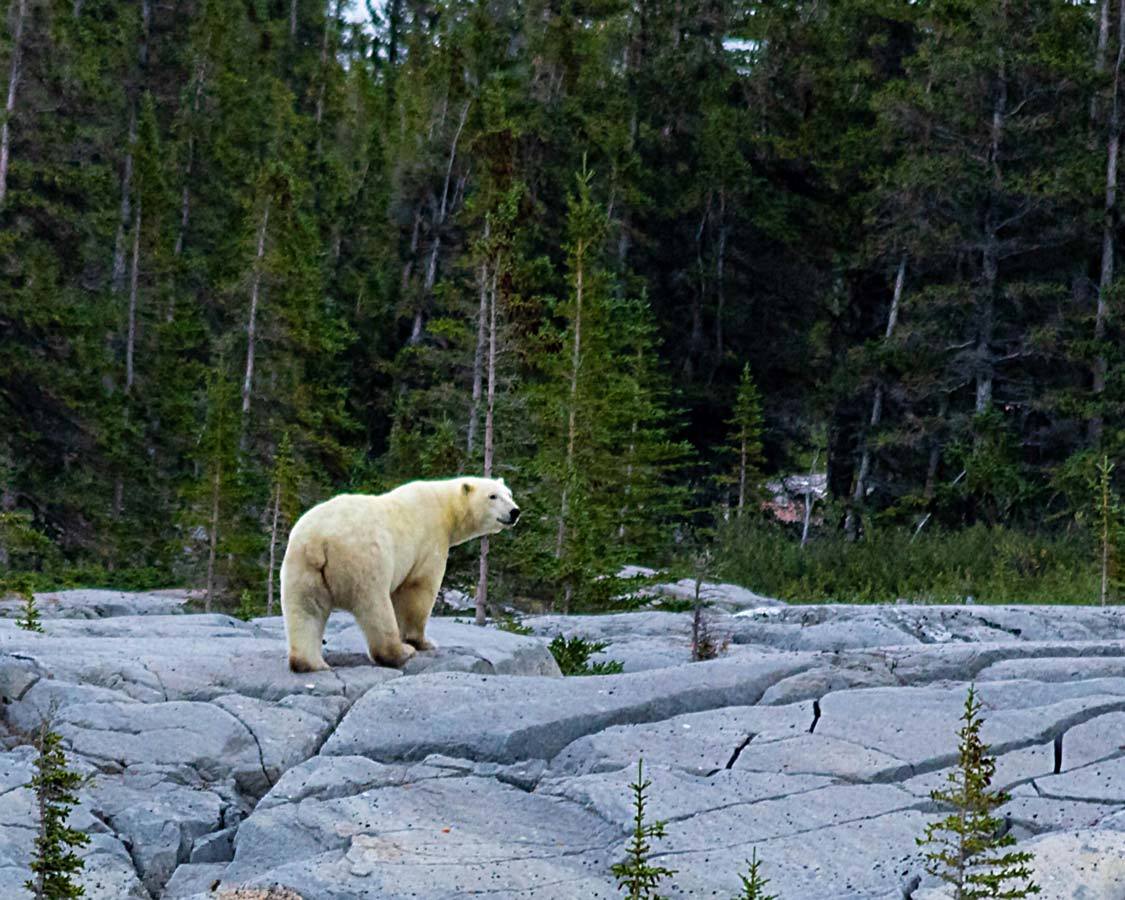 Churchill Manitoba Guide: What You Need To Know Before Visiting
The town of Churchill is small. Especially when compared to the provincial capital of Winnipeg. With a year-round population of under 900 people, it's a wonder that Churchill can swell to accommodate the influx of visitors hoping to get a glimpse of the big three. Yet several decades of tourism have helped the resilient northerners to accommodate and thrive. Marketing for Churchill has picked up at a feverish pace as well.
The city is now touted as the Polar Bear Capital of the World, the Beluga Whale Capital of the World, and one of the best places to experience the sub-Arctic tundra AND the Northern Lights. It's almost too much to take in for a city of 900. But this guide to Churchill Manitoba will help you along the way. Any way that you swing it, Churchill is high on the list for having the best wildlife encounters in Canada.
This northern city is very unique. I wrote this Churchill Manitoba guide to help visitors navigate some of the intricacies that make the Polar Bear capital of the world such a special place. For the purpose of this Churchill Manitoba guide, I'm going to assume that you are staying at a hotel in Churchill Manitoba, or are on a Churchill Manitoba excursion and aren't packaged in one of the high-end wilderness lodges that take care of many of these details for you.
How To Get To Churchill Manitoba
The first step in your Churchill do-it-yourself itinerary will be figuring out the best way to get to Churchill Manitoba. Although Churchill is a popular destination, there are no roads that lead here. The only options for travel to Churchill Manitoba are via air and train. Air travel to Churchill is run by Calm Air.
This small Manitoba airline runs flights from Winnipeg and Thompson through Churchill and up to Rankin Inlet in Nunavut. Although flights to Churchill might be more expensive than the train, these flights usually only take about two and a half hours from Winnipeg.
The other option for Churchill travel is to take the Via train north from either Winnipeg, Thompson, or Gillam Manitoba. The train runs twice weekly on Sundays and Tuesdays. The normal departure is 9:00 am, however, there are often delays due to track traffic or maintenance. The train makes a stop in the towns of Thompson (an 8-hour drive north from Winnipeg), and Gillam (a 12-hour drive north from Winnipeg). It's possible to board the train in these cities at a reduced fare than from Winnipeg.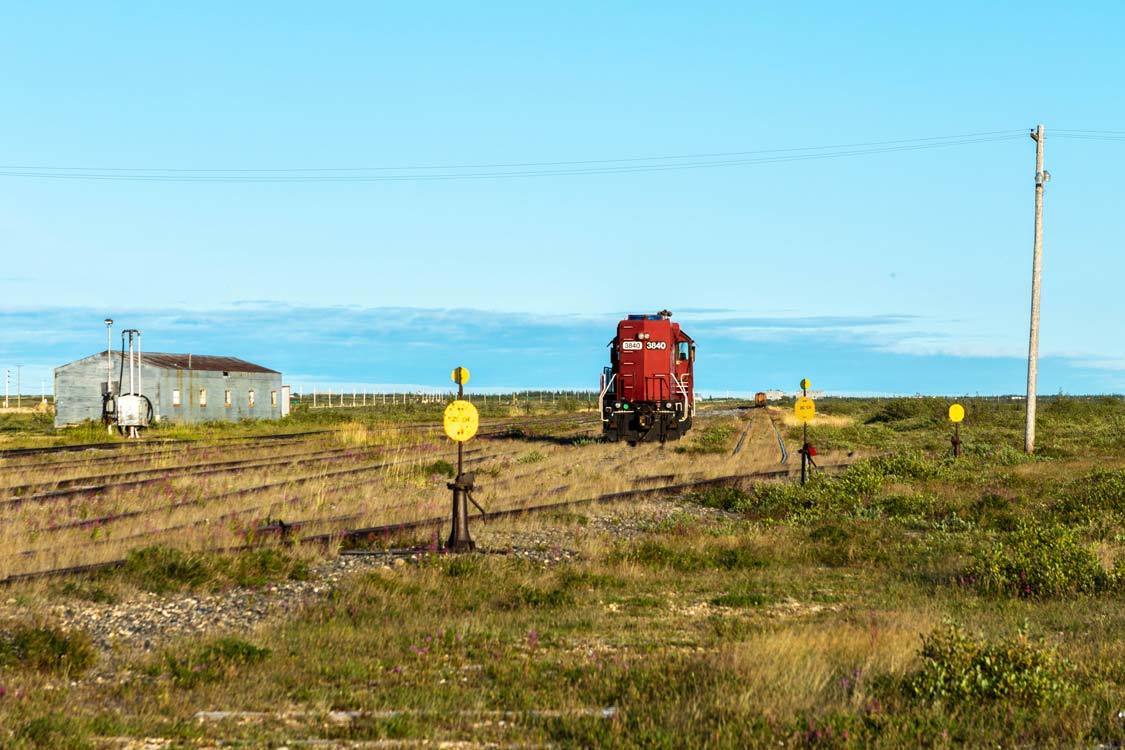 What To Pack For Churchill
Weather in Churchill Manitoba can be all over the map. During our visit in August, the temperatures ranged from 7 C (44.6 F) to 28 C (82.4 F). We saw rain, sunshine, fog, and everything in between. This Churchill Manitoba guide won't recommend packing light.
Bring what you need. You didn't spend all that money making the trek to northern Manitoba in order to save $25 on a check-in bag. A Churchill Packing guide varies a lot depending on when you're planning on visiting as well. But whether you're going in the winter, spring, fall, or summer, here are a few things not to forget:
Boots and Warm Socks: Winter boots are a must in the cold months. In the summer you can often get by with a good pair of hiking boots. Something with a sticky tread. More important though are the socks. Pack a pair of warm, breathable wool or wicking socks to help keep your feet warm and dry. Expeditions in Churchill can be long and you don't want wet feet.
Hat, Scarf, and Gloves: Yes you do need these, even during summer in Churchill. They are especially important if you plan to spend time on the water with the Churchill Beluga Whales. Temperatures on the water can be quite cold, and you can get splashed. If you get warm, you can always take them off.
Camera and Binoculars: Contrary to those amazing NatGeo photos that are often posted, seeing the Polar Bears in Churchill means keeping your distance (unless you're on the Tundra Buggy tour). Make sure to bring a camera with a long zoom lens so that you can snap great photos. This camera has the equivalent of 450mm, which is about as long as you can get without going pro. It also helps to have a pair of binoculars to scope out those bears hidden in the rocky hollows of the bedrock. This model packs up small yet offers great glass.
Guide To Polar Bear Safety In Churchill Manitoba
There's no beating around this. Safety in Churchill Manitoba isn't the same as in most places. You do not want to come face to face with a 12 foot tall bear with teeth as long as your hand. Polar Bears can be anywhere in the area. And it's not rare for Polar Bears to be seen in town, and you may not know that they are there until you're face to face with them. Here are a few rules to follow to help you stay safe among the Churchill Polar Bears.
Be aware of your surroundings. Remember, it's not the Polar Bear that you can see that is the one you need to be most worried about.
Travel in groups and make noise as you walk. Polar Bears will usually avoid you if they can hear you coming.
Avoid walking around coastal areas that have poor sightlines such as the bedrock mounds.
Stay within reach of vehicles or buildings
Take advantage of guided tours to ensure that you're with people who understand the animals and the terrain.
Bears can be found at any time of the day but are most active in the early morning and at night.
Never feed or approach Polar Bears in Churchill
Avoid walking at night after 10:00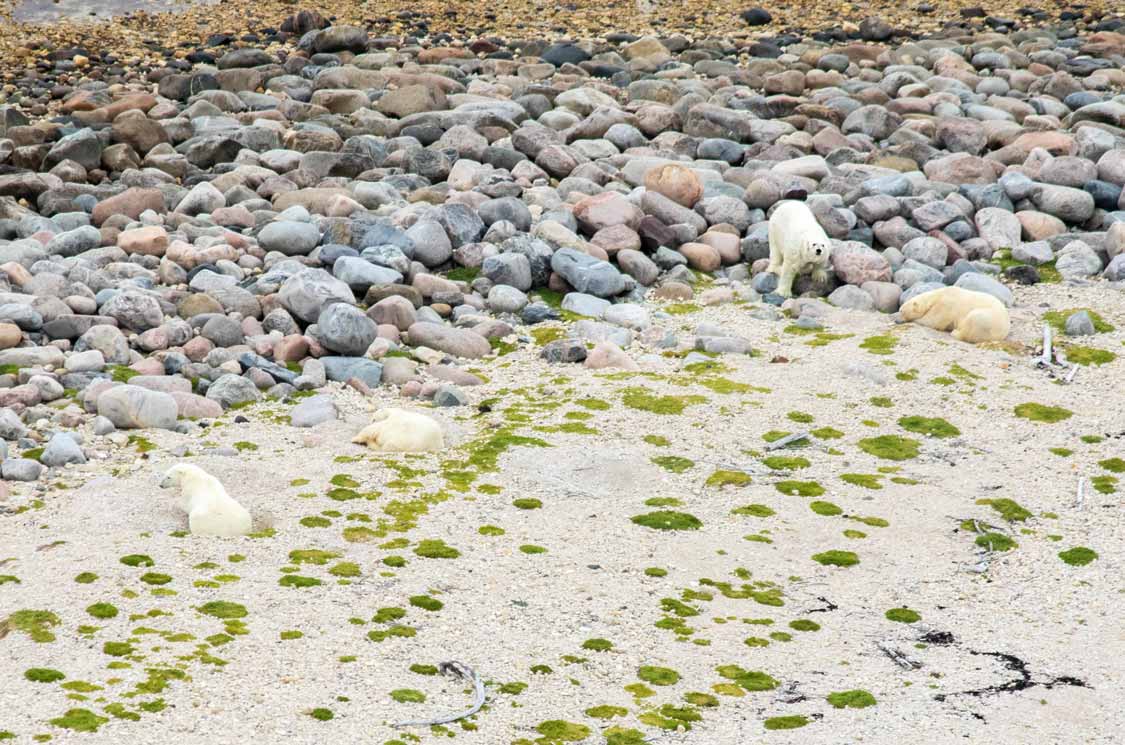 Guide To Churchill Manitoba Things To Do
It may be a small town of 900 people, but Churchill Manitoba packs a punch. Hundreds of years of history combined with the character of those who choose to live in Manitoba's far north has led to a wacky, yet amazing assortment of incredible things to do in Churchill Manitoba. If you don't see it on this Churchill Manitoba guide, it might not exist yet.
SUP or Kayak With Beluga Whales
Besides Polar Bears, Beluga Whales in Churchill Manitoba are one of the town's biggest draws. And unlike the bears, you can easily get right up close to the white whales of the north. We joined Sea North Tours for a Beluga kayak experience on the mouth of the Churchill River where it empties into Hudson Bay.
It's amazing to see these playful Beluga whales bump the small boats as they swing by to say hello. The Beluga whales tend to follow kayaks and SUPs from behind, so make sure to look back because they are probably right there saying hello. You can read all about our experience kayaking with Beluga whales in Churchill here.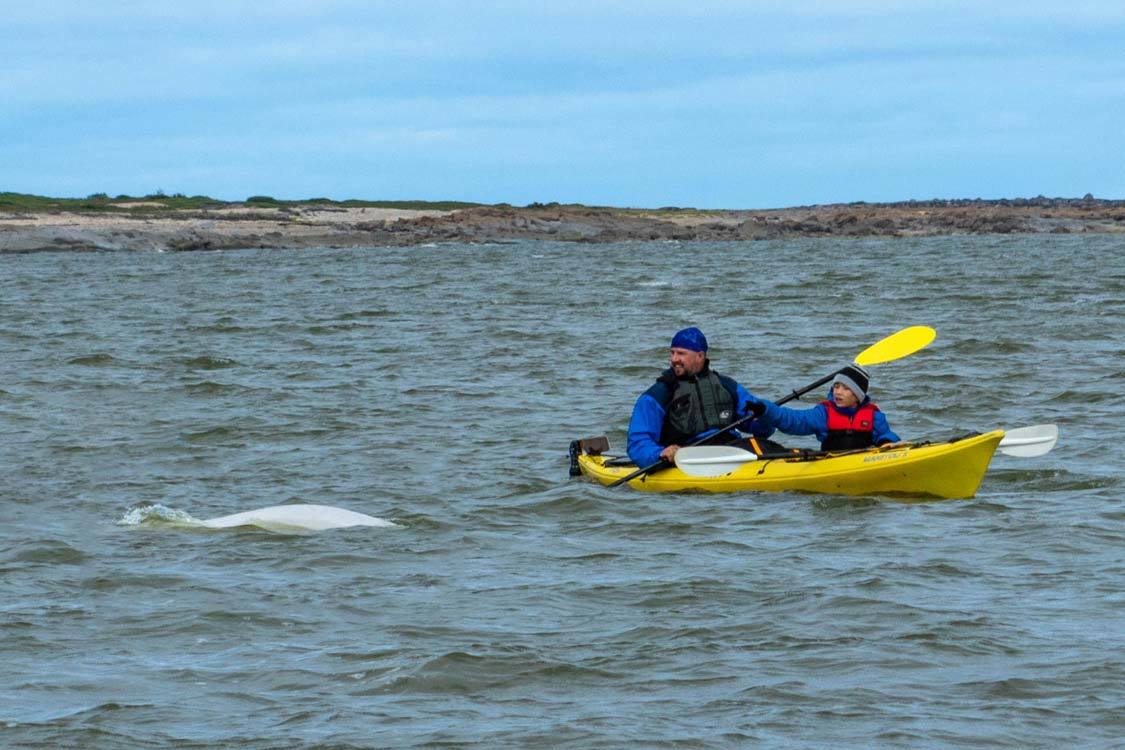 Explore The Backcountry On A Tundra Buggy Tour
One of the classic Churchill Manitoba tours is the Churchill Tundra Buggy. These tours operate year-round on massive custom-built frames with crazy off-road tires and suspension that allow them to reach some of the most remote areas of the sub-Arctic tundra. The Churchill Tundra Buggy tour is one of the best ways to experience Polar Bears up close, especially during the bear season when they are at their most active.
We did our Churchill Tundra Buggy tour with Frontiers North. They made the trip fun, exciting and educational for our whole family. The Tundra Buggy tours last for anywhere between 6-8 hours depending on the season. Fall and winter tours tend to be longer than summer tours. During the Frontiers North Tundra Buggy tour, there was a bathroom on board. A lunch of soup, sandwiches, soft drinks, and coffee was also served.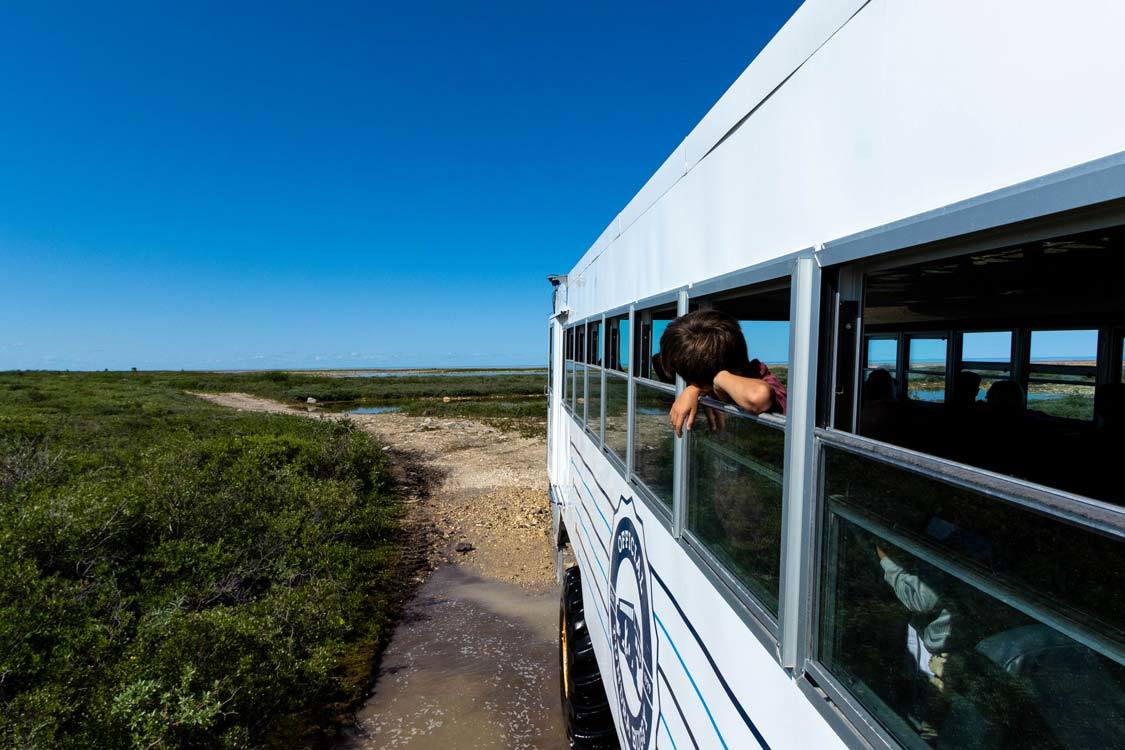 Take In The #SeaWallsChurchill Murals
There are nearly as many beautiful murals in Churchill as there are buildings. This is due to the SeaWalls Churchill project that was started by Winnipeg Artist Kal Barteski (who's Back Alley Arctic designs our son D fell in love while looking for things to do in Winnipeg) and the PangeaSeed Foundation along with SeaWalls: Artists for Oceans.
It's worth doing a tour of Churchill to get a glimpse of as many of these beautiful pieces of art as possible. There are many inside the town of Churchill, but many are outside as well. Some of my favorites are the Aurora Belugas near the Churchill Town Complex, the Polar Bear on the Polar Bear Jail, and the black and white designs on the old boy's residence near the seaport.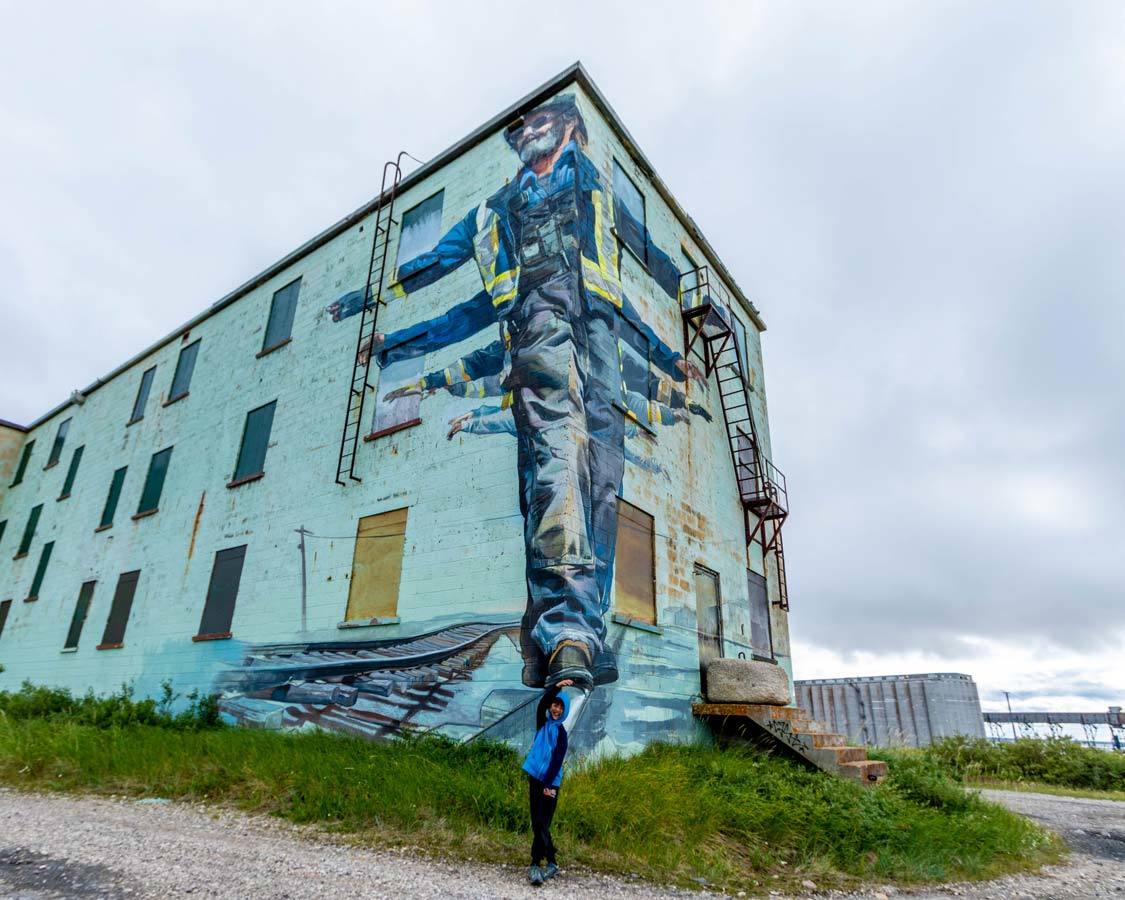 Have A Picnic On The Beluga
If you visit the Churchill beach (Yes, Churchill DOES have a beach!) right behind the Town Complex you'll find the remains of the Beluga. This former fishing boat has been converted to a picnic and climbing structure. There are picnic tables and flat platforms for people to enjoy. The Beluga is one of the best places to catch the sunset in Churchill Manitoba. It also overlooks the beautiful inukshuk that is placed just right for photography lovers.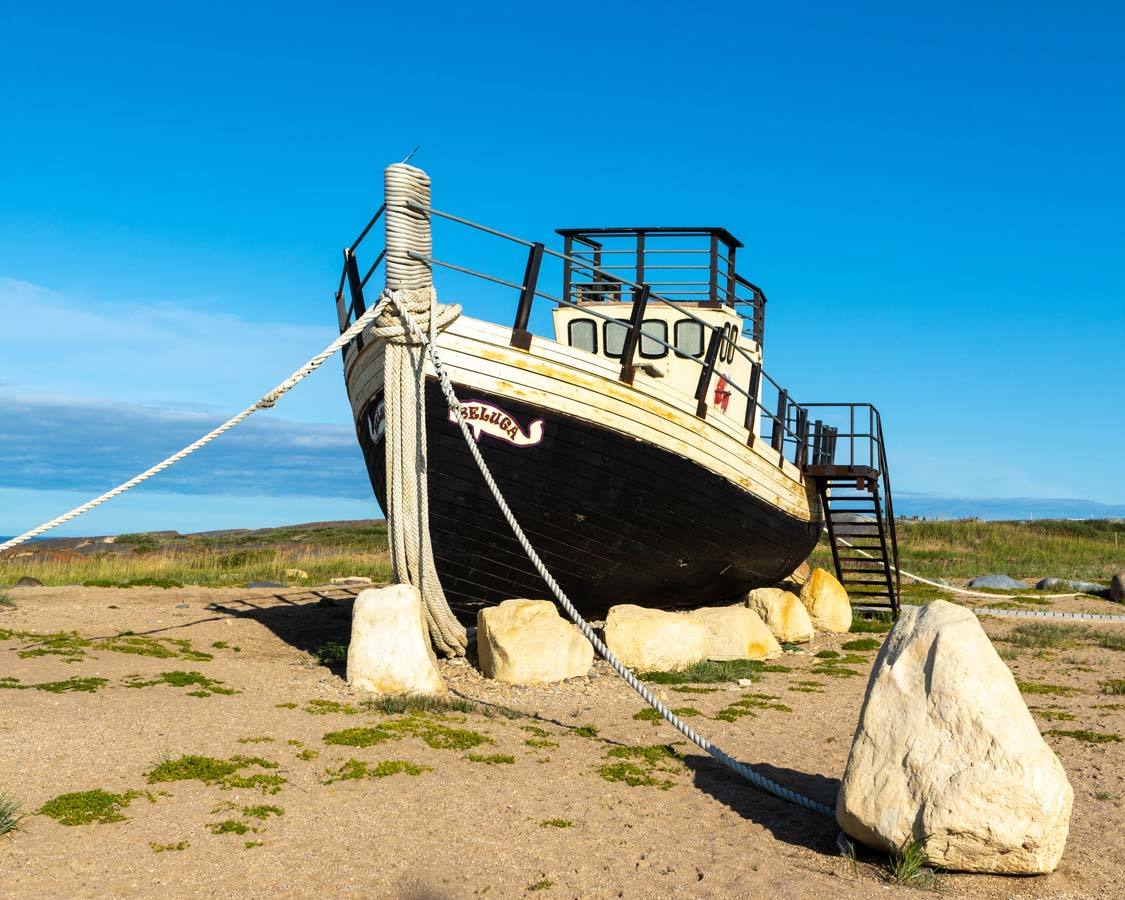 Experience The Frontier At Prince Of Wales Fort
People up north always tend to do things a little differently than those further south. And while most of the Hudson Bay fur trading posts were built up with log walls to keep out trouble, the designers of the Prince of Wales Fort in Churchill Manitoba decided to go big or go home (they ended up doing both). You can learn the whole story on a tour of this Parks Canada National Historic Site.
This sprawling stone fort is lined with cannons pointed in every direction. The interior is still under renovation due to the shifting of the constantly moving sub-arctic earth. Despite the massive amount of work put into the fort, it was eventually overthrown by its French competitors during the battle of Hudson Bay in 1982.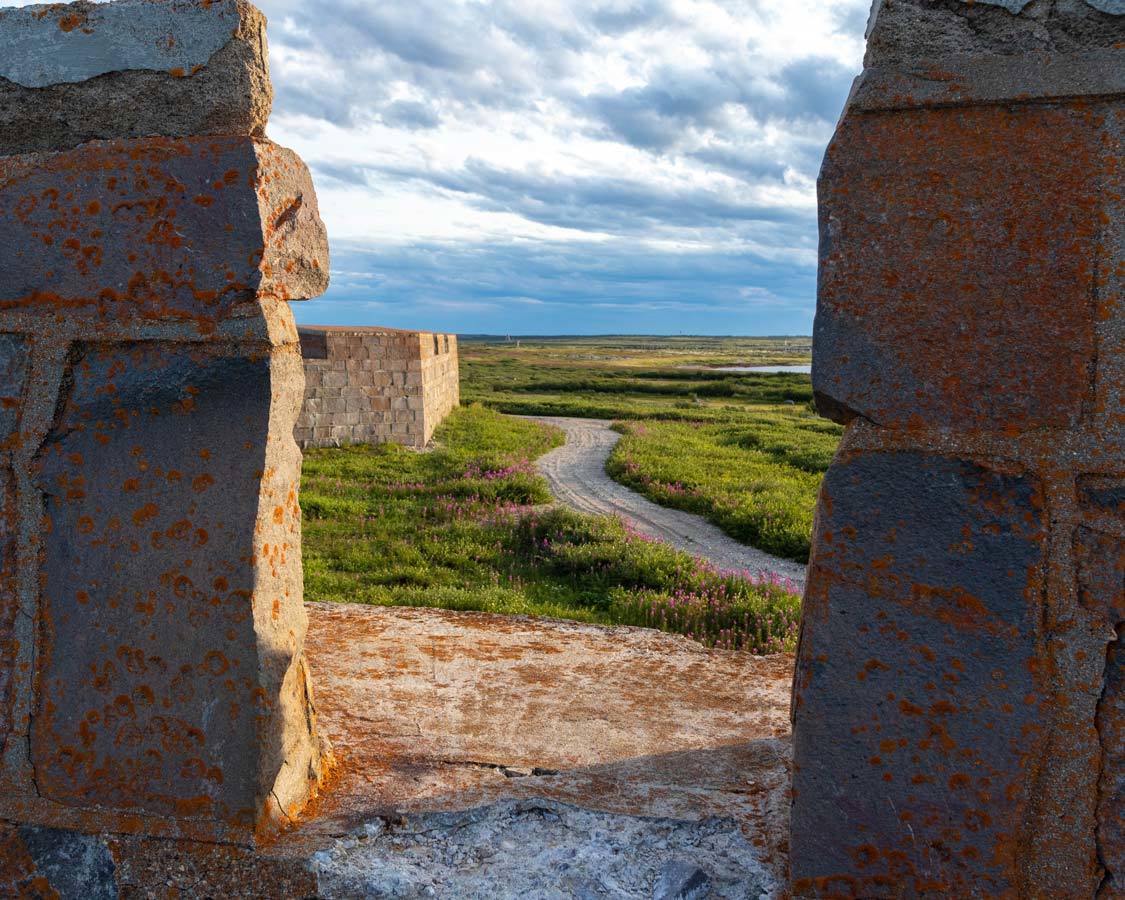 Make A Stop At The Miss Piggy Plane Wreck
There is a longstanding mystery surrounding the Churchill Manitoba plane wreck. A first look at the Miss Piggy cargo plane that sits, abandoned, on the rocks outside of town makes it seem like the plane simply dropped from the sky. And rumors abound about the crew simply hitchhiking to town and being discovered at the local tavern later that day.
Whether it's reality or one of Churchill's many amazing stories, only a few people know. But if you ask around, you may find someone who will tell you their version of the story. Either way, a visit out to the Churchill Plane Wreck (which is a nice parallel to the plane wreck in the country of Iceland, one of our other favorite northern travel destinations) is a must.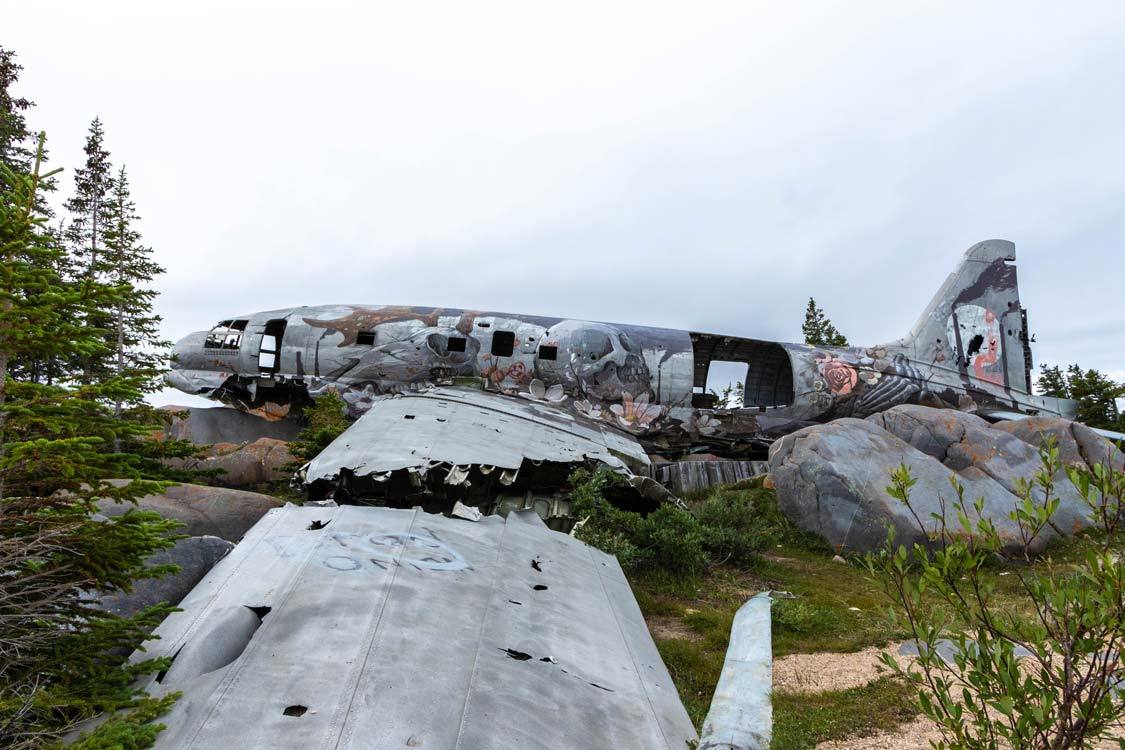 Break Out Of The Polar Bear Jail
As you can imagine, living in a place where Polar Bears outnumber humans can be a little dangerous. A stroll through Churchill will uncover countless signs pointing to where you shouldn't go lest you risk being made a snack. The bedrock-lined shores of Hudson Bay with countless areas for bears to lie, invisible to human eyes, is a prime example.
On occasion, a Polar Bear gets a little too comfortable around town. When this happens, they are tranquilized and sent to the Churchill Polar Bear Jail. Here the bears wait until the weather cools before being shipped away from the town for them to continue on their journey once the ice freezes. Visitors aren't allowed inside the jail. But you can check out the Polar Bear traps that are often lined up outside.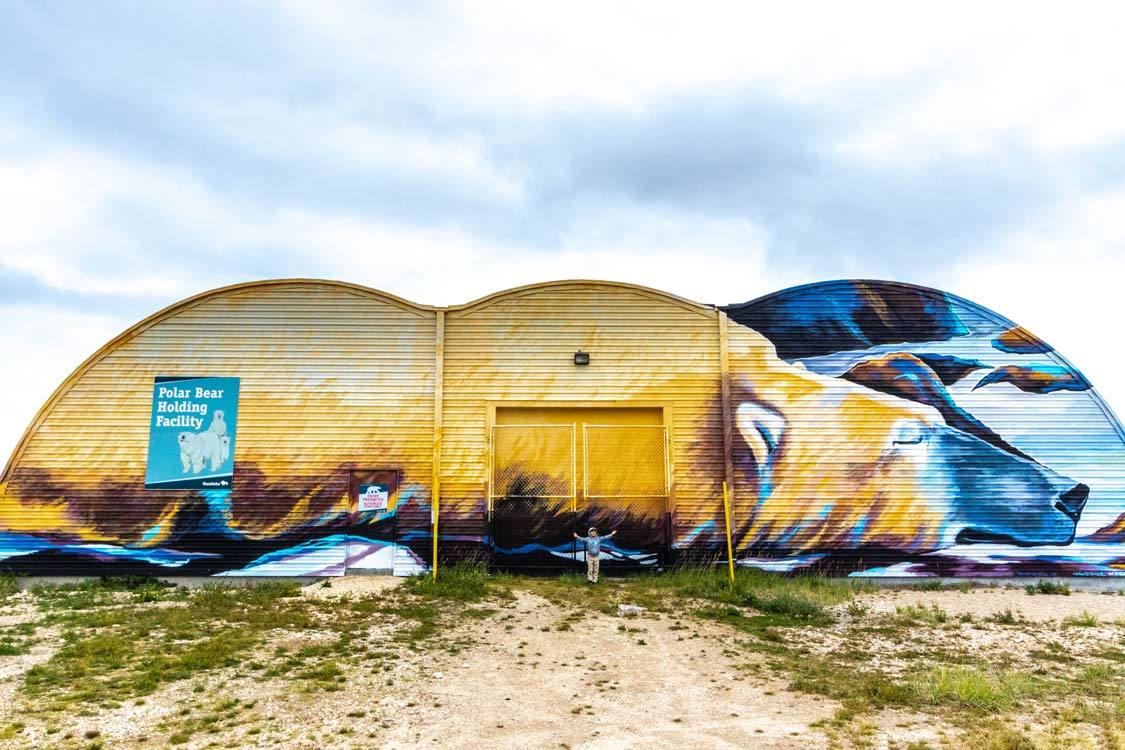 Hike To The MV Ithaca Shipwreck
Off the coast of Churchill, you can find the remains of the MV Ithaca cargo ship. Like the Miss Piggy plane wreck, no hands were lost when the Ithaca ran aground. The ship is too dangerous to enter. But because of its position in the shallows of Hudson Bay, a low-tide hike to the MV Ithaca is possible. However, Polar Bears are known to hang out in the wreck of the ship. If you want to attempt this hike, hire a local guide who is experienced with both Polar Bears and familiar with the area.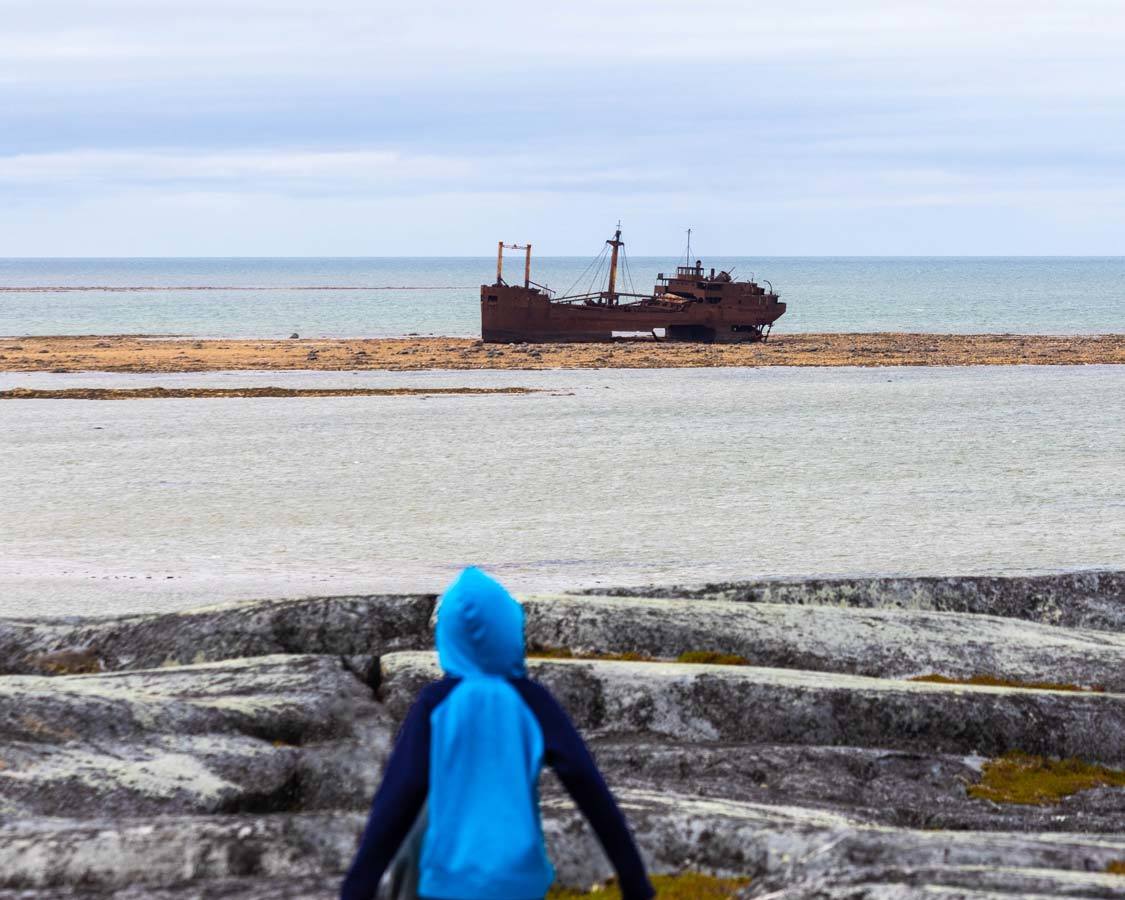 Go Dog Sledding Or Dog Karting
Dog sledding is a time-honored northern experience. We've ridden the trails in Yellowknife and again during our winter adventures in Mont Tremblant Quebec. In Churchill, you can go dog sledding in the winter or dog karting in the summer with Wapusk Adventures. This indigenous-run dog sledding in Churchill tour gives you a chance to get out into the wilderness and feel the wind in your hair.
Hike To The Point At Cape Merry
Cape Merry is another Parks Canada National Historic Site in Churchill Manitoba. This site, which includes a cannon battery and a commemorative plaque is worth a bit of your time. It can be easily accessed from town. The plaque commemorates Jens Munk, the Danish explorer who first landed here in 1619. His ill-fated wintering in Churchill is a great story for those who would underestimate the challenges of life in Canada's north.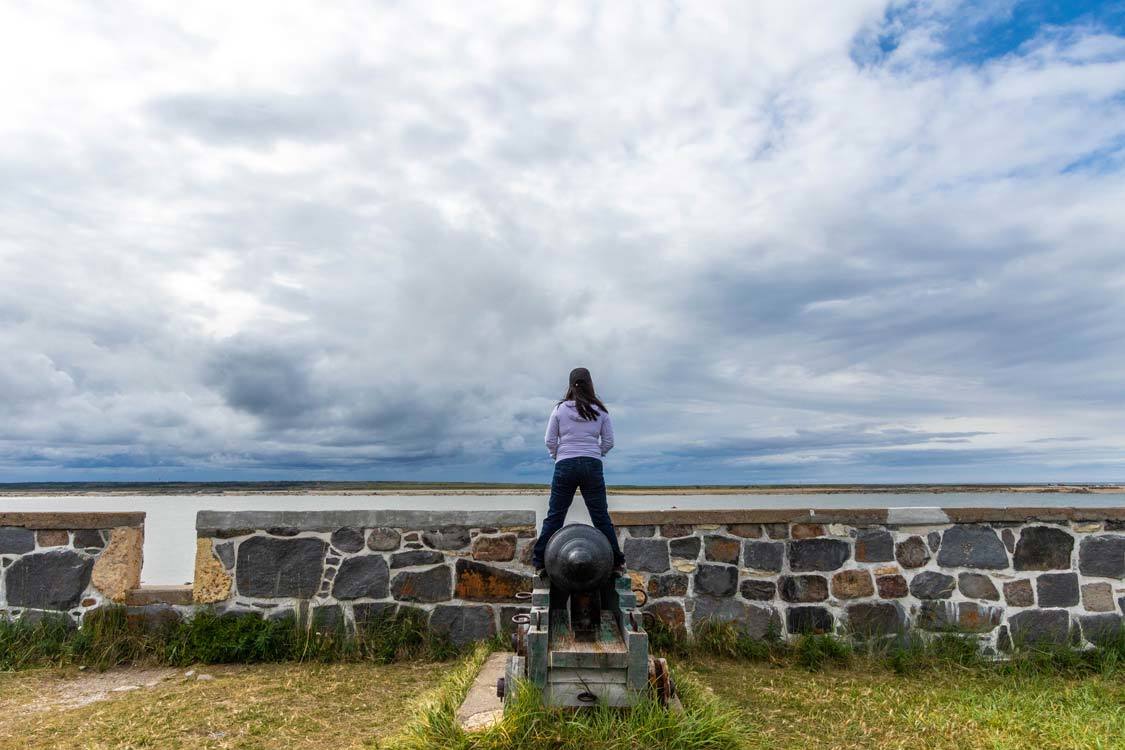 Surround Yourself With Beluga Whales From A Zodiac
Perhaps kayaking with Beluga Whales isn't your thing. But the next best way to see the Beluga Whales in Churchill is by zodiac boat. We joined Sea North Tours for their experience at the mouth of the Churchill River. It wasn't long before we were completely surrounded by these beautiful white whales. At times there were simply too many Belugas to count swimming in the waters around us.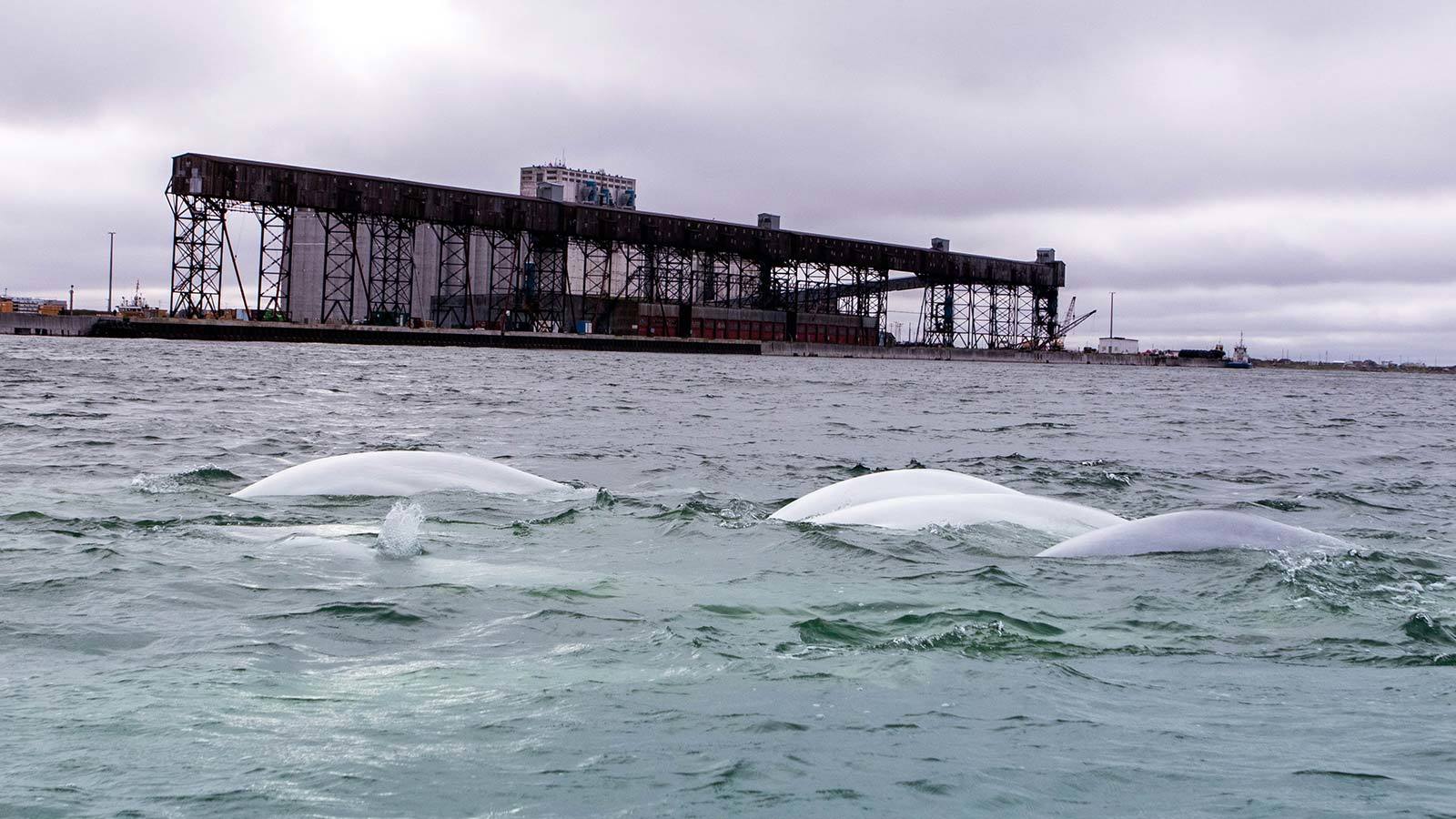 Wander The Ruins Of Ladoon's Castle
The story of Brian Ladoon is a bit of Churchill legend. This controversial figure is either loved, hated, or a little bit of both by residents of the town. You can read more about him here. He was a man known for his movie star personality and his determination to do whatever he felt like, regardless of the consequences. One of his many projects was his development of a castle-style hotel in Churchill on the Hudson Bay coast. The project was never completed, but the remains of it are often on the minds of many of those who travel to Churchill. You can find Ladoon's Castle as you leave Churchill toward the Coast Road.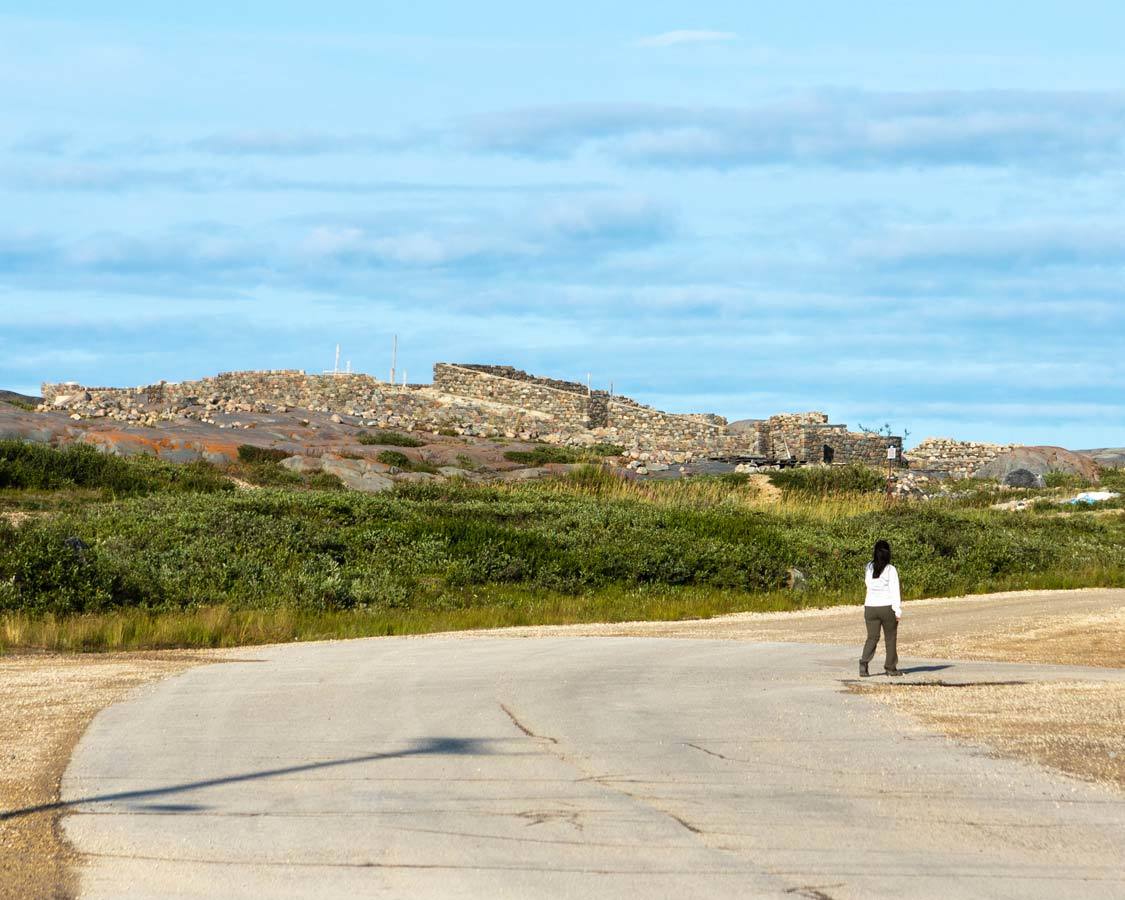 Watch The Northern Lights
Churchill is one of the most popular Northern Lights destinations in Canada. Along with Whitehorse Yukon and Yellowknife Northwest Territories, Churchill northern lights expeditions have become incredibly popular with tourists to Northern Canada. And while the rocky coast of Churchill means that there are plenty of amazing foregrounds for the Aurora, one of the best places to catch the view is by the inukshuk on the beach in Churchill.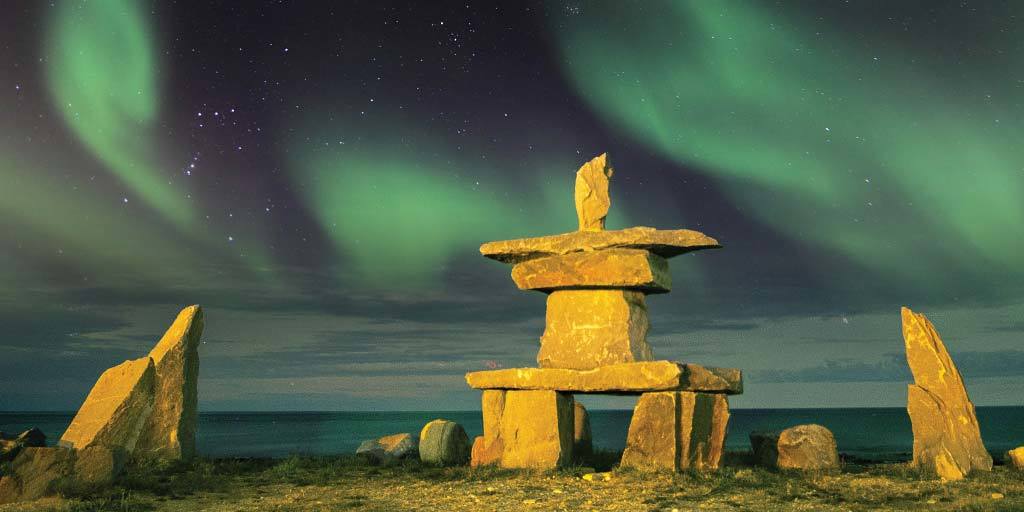 Make A Visit To The Churchill Town Complex
Churchill was once a military hub. The military used up a huge portion of the town's resources. To make amends the government built and maintained a massive community center to help support the town's population. In fact, they overestimated that, building the Churchill town complex to support a town of at least 5,000 people. The Churchill community center has a pool, ice rink, library, hospital, children's playgrounds, and a cafeteria.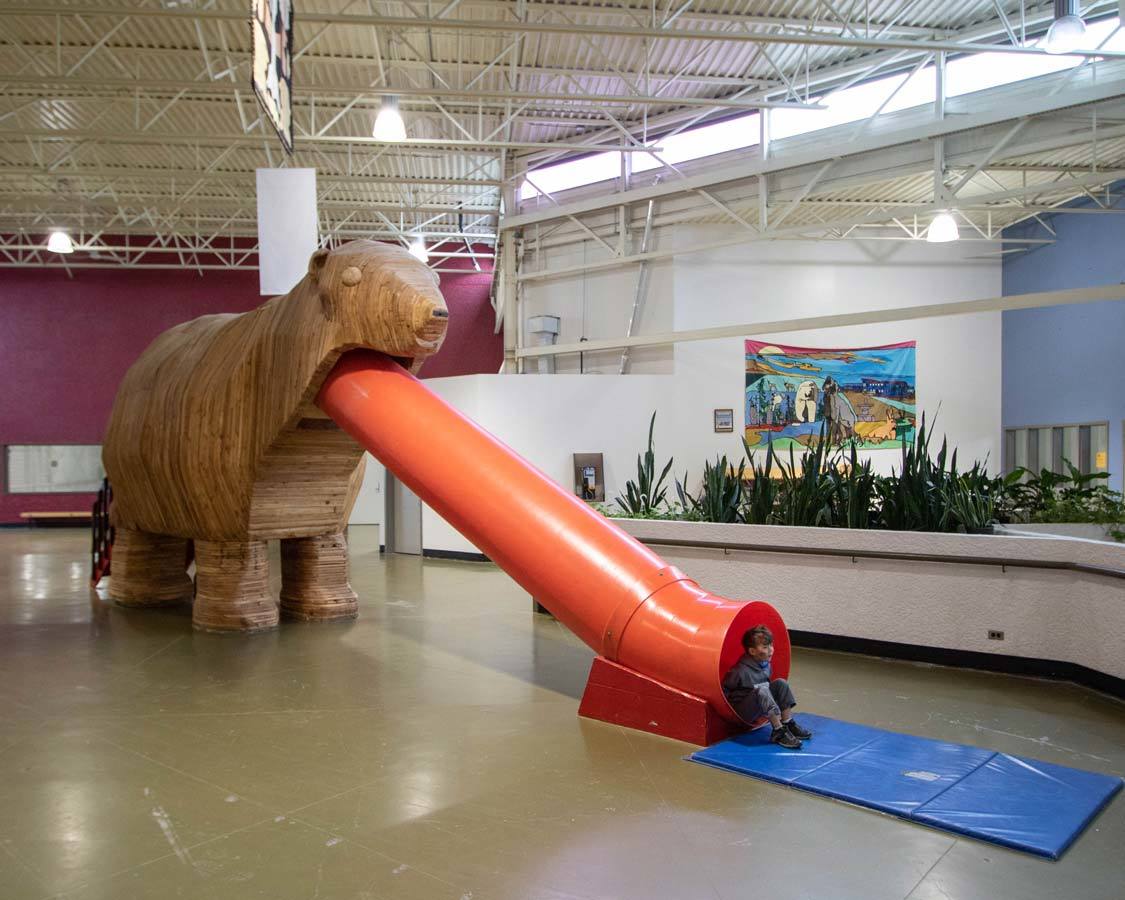 Take A Helicopter Into Wapusk National Park
Wapusk National Park is one of the most remote and least-visited National Parks in Canada. The only way to access the park is by helicopter or boat, and by snowmobile in the winter. Custom Helicopter Tours in Churchill offer a flyover experience that will allow you to experience a truly unique view of Churchill and the sub-Arctic tundra that surrounds it. During our Churchill helicopter tour, we saw Polar Bears, Beluga Whales, Moose, and Elk along with countless species of birds flying over the beautiful landscape.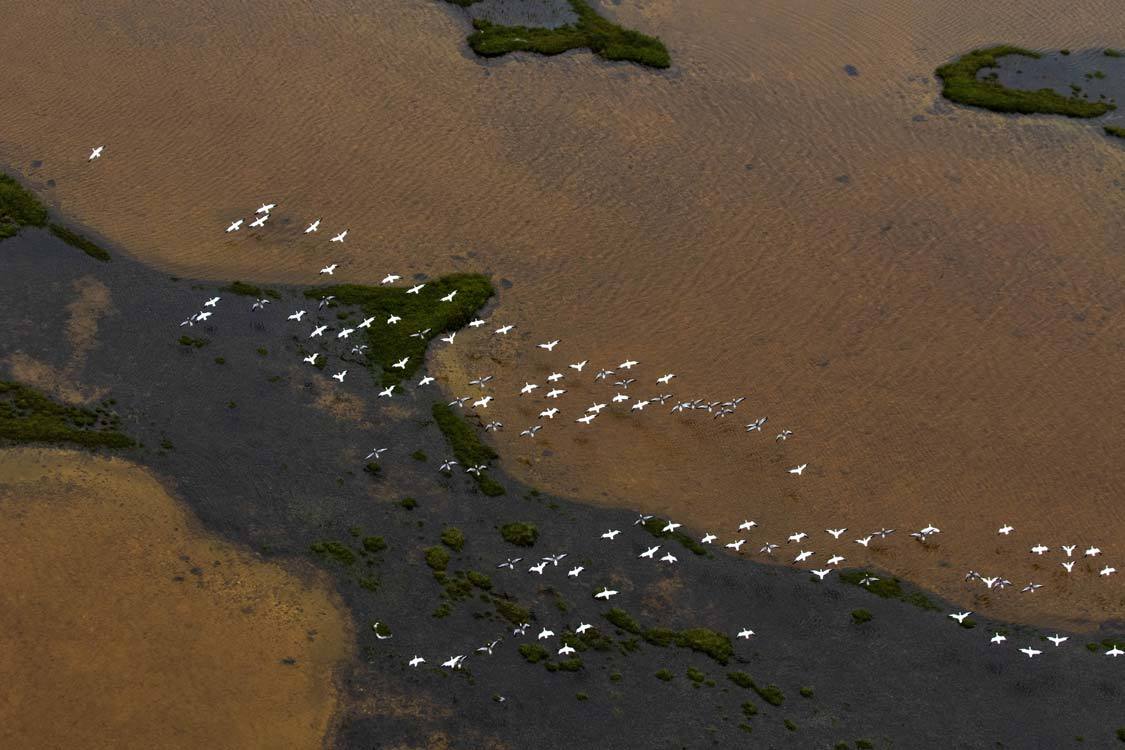 Explore The Itsanitaq Museum
This wouldn't be a complete Churchill Manitoba guide without including a visit to the Itsanitaq Museum, formerly called the Churchill Eskimo Museum. This stop is a must-visit for those who travel to the town. The Itsanitaq Museum houses examples of Arctic wildlife including Muskox, Polar Bears, and Walrus. There is also a huge collection of incredible Indigenous and Inuit tools and artwork on display.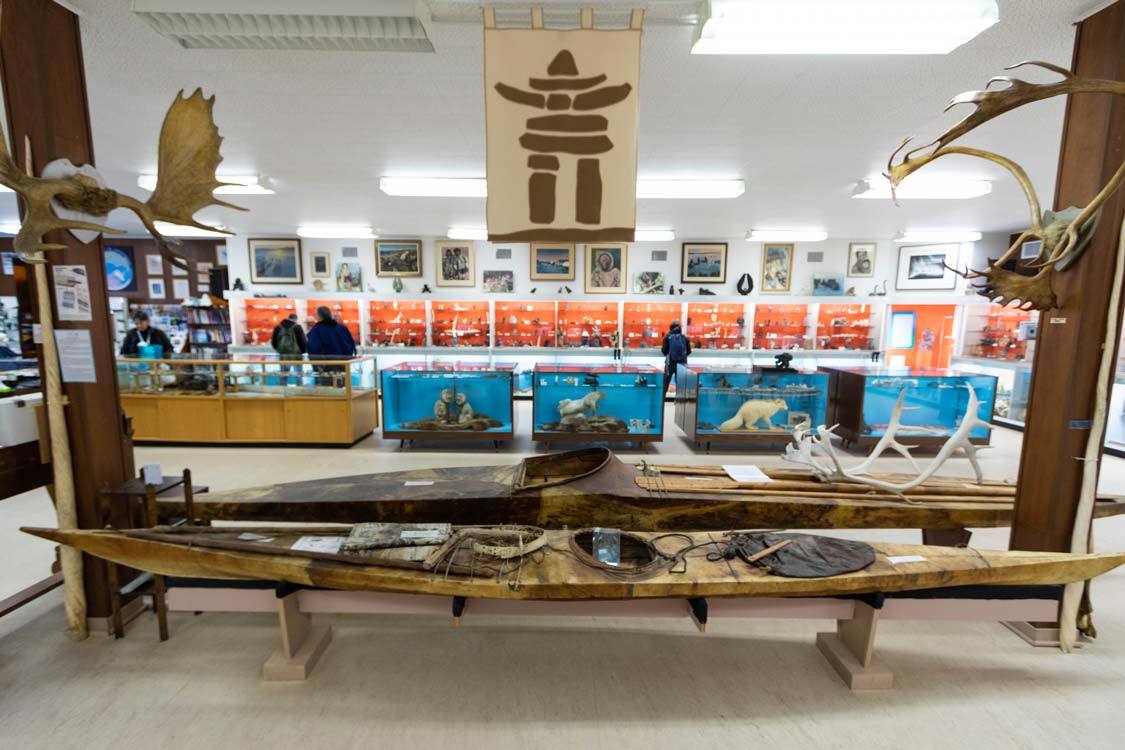 Visit The Northern Studies Centre And Rocket Range
On the outskirts of Churchill, about 10-minutes from the town center is one of the premier northern science centers. The Northern Studies Centre is actually a pretty cool place to visit. You can wander the halls and observe some of the ongoing scientific studies including underwater life. You can also check out the Aurora dome, which guests at the Northern Studies Centre can watch the Northern Lights in Churchill from the warmth of the indoors.
Further into the complex, you can explore (from the outside) what remains of the military rocket testing facility. Churchill Northern Lights offered one of the best places to test how the Aurora affected rockets and communication equipment. You can check out the launch facilities. And you'll even see a few models of the rockets that used to be fired from the facility.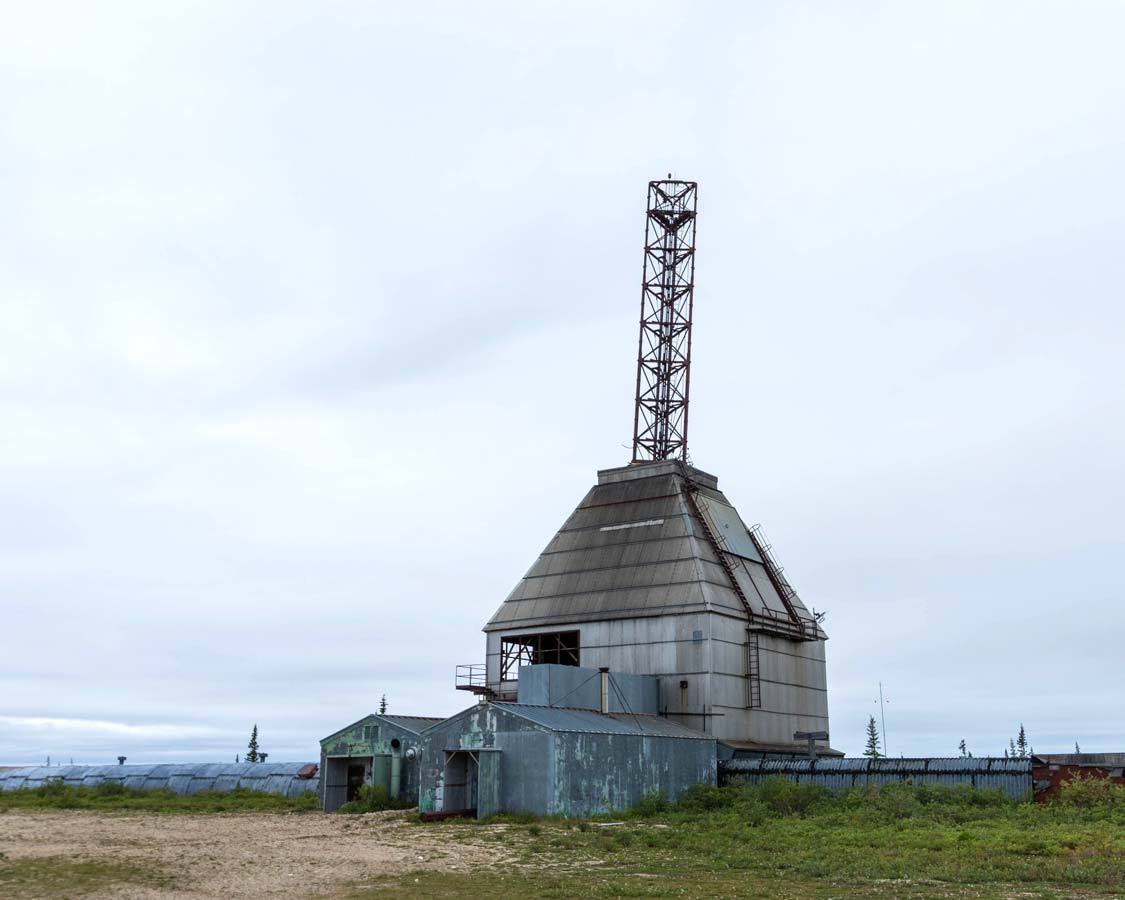 See The Polar Bears Safely
There are some great ways to see the Churchill Polar Bears in Churchill. One of the best ways is to get a Churchill guide to show you around. This will help you get the lay of the land and know which areas the bears like to congregate. You can also rent a car from Tamarack Rentals. The rates here are very reasonable considering the location. But don't expect shiny new models. The rental cars here have seen some use and are designed more for function than form.
You can often hire local taxi drivers to show you around as well to show you the key sites. Remember, the locals know where the bears like to hang out, so it's always a good idea to get a tour of the area beforehand if you plan to tour on your own.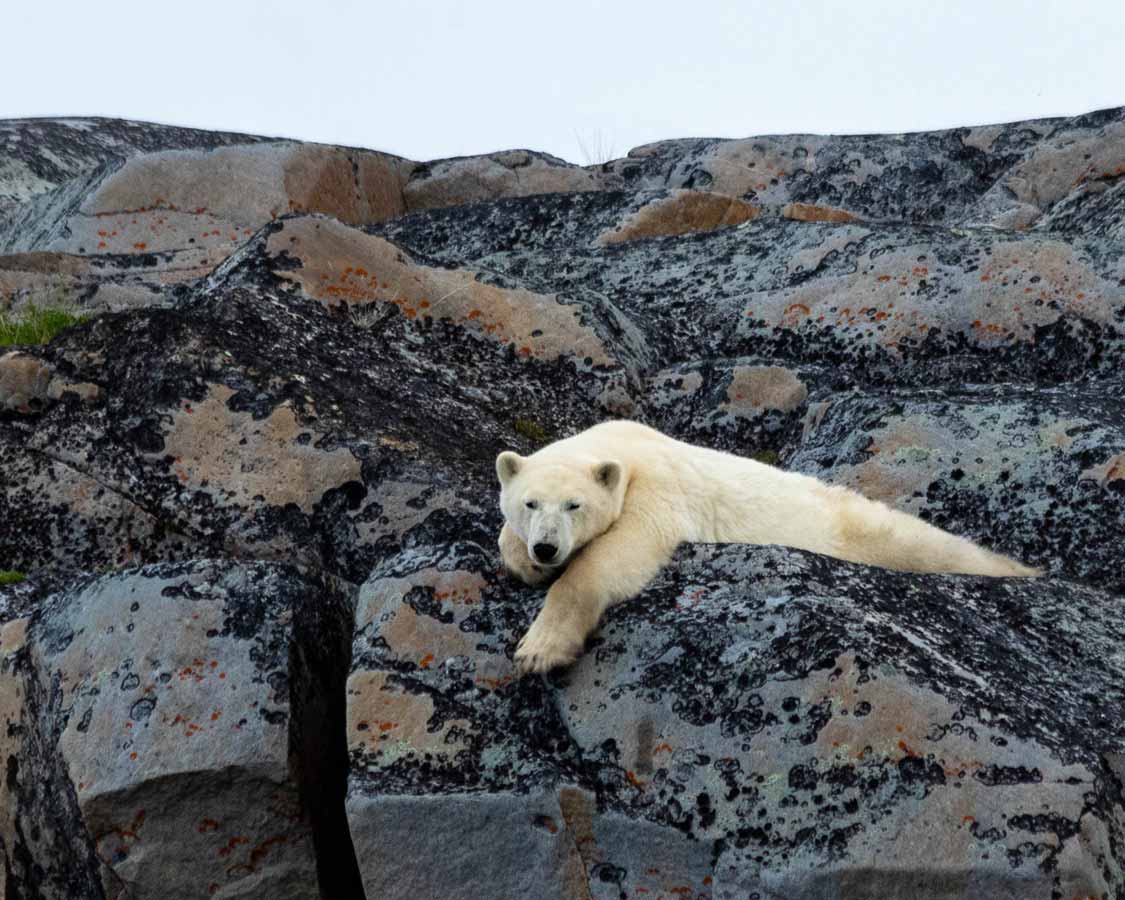 Guide To Churchill: Where To Eat In Churchill Manitoba
Things in Churchill are pretty simple. Don't expect 5-star dining in the Polar Bear capital of the world. But just because the town isn't known for luxury doesn't mean that you aren't going to find amazing places to eat in Churchill. Expect large servings and hearty, filling dishes when you eat out in Churchill. Here are a few of our favorite Churchill Restaurants.
Tundra Inn
The Tundra Inn is one of the most popular restaurants in Churchill. The Tundra Inn serves a great selection of traditional and game meat. The restaurant is separated into a local pub and a traditional restaurant. The Elk meatloaf is amazing, as is the Bison stew. Vegetarians won't be left out in the cold either. Tundra Inn offers some of the best options for veggie lovers.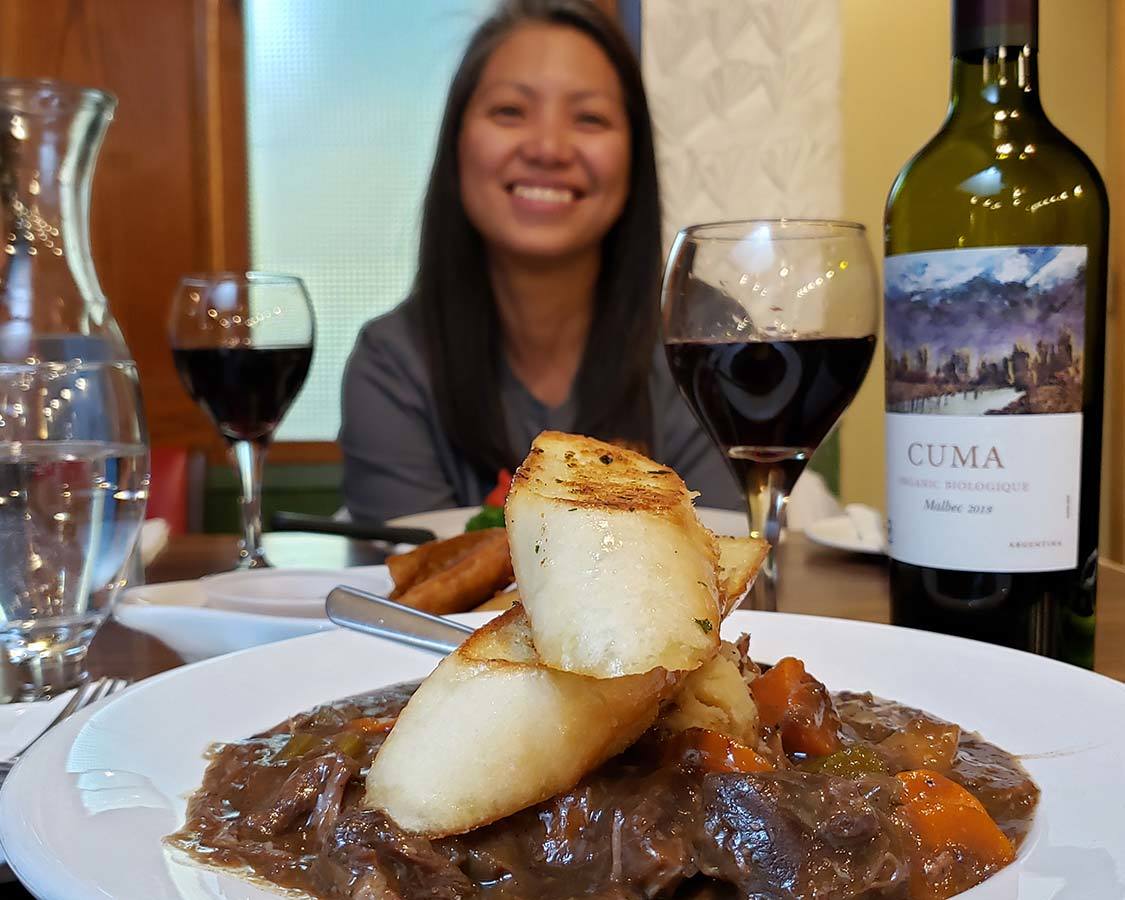 Seaport Hotel
If you're looking for the best ribs in town, check out Seaport Hotel. This restaurant has both a cafe-style dining area and a cozier dining-style area, however, the dining area isn't always open. You can find a great range of comfort food here that will fill your belly and maybe even some leftovers for lunch the next day.
Lazy Bear Cafe
If you are looking for a restaurant with the best ambiance, look no further than the Lazy Bear Cafe. The log-cabin-style interior is beautiful, and the central stone fireplace makes you feel at home. Lazy Bear serves up some great food and is one of the best places to grab a coffee and the only place to get an espresso. On hot days make sure to stop in for one of their signature milkshakes.
Churchill Cafeteria
Food prices in Churchill can be a fair bit higher than those further south. One of the restaurants for those on a budget is the Churchill Cafeteria in the Town Complex. The Churchill Cafeteria varies its menu daily and generally offers simpler fare than some of the other Churchill restaurants. But the cafeteria in Churchill offers one of the best bangs for your buck.
Guide To Churchill Manitoba: Where To Stay
There is no camping in Churchill. So if you make the trip up here you'll need to stay in one of the Churchill hotels. Luckily there are a few places to stay in Churchill. But you'll need to book early. Especially during Polar Bear season. The town does not have enough hotel rooms to accommodate the influx of visitors, especially during the Polar Bear season.
Like the restaurants in Churchill, don't expect the Churchill hotels to be luxurious. You won't find hot tubs, king-sized beds, or turn-down service. But most hotels in Churchill offer comfortable beds, great staff, and friendly service. Here is my list of the top hotels in Churchill Manitoba.
Iceberg Inn
Located a short walk from the Churchill Train Station and Parks Canada Visitor Centre, the Iceberg Inn is one of the most highly ranked hotels in Churchill. Manitoba. Iceberg Inn is one of the newest hotels in Churchill. All rooms include WiFi, private bathrooms and a fridge. You can check out their rates and availability here.
Churchill B&B
If you're traveling to Churchill as a family or a small group, the Churchill B&B is one of your best options. Along with twin rooms and double rooms, the Churchill B&B also has a room with 6 beds set in bunk bed style. An American-style breakfast is served every morning and the central location makes getting to all the tours very easy. You can check out their prices and availability here.
Bear Country Inn
The Bear Country Inn is located at the end of town nearest to the Churchill tour centers. The location makes it easy to reach the grocery, beach, and Tundra Buggy tours. All rooms have a private bathroom, flat-screen TV, fridge, and coffee maker. Bear Country Inn also has two accessible rooms for visitors with mobility issues. You can check out their prices and availability here.
Churchill Manitoba Guide: Visiting Churchill With Kids
Churchill isn't generally marketed as a family-friendly or multigenerational travel destination. But as an adventure travel family, we found Churchill to be an amazing destination. 5-year-old D and 8-year-old C were able to take part in every activity that we wanted them to. The only exception was kayaking with Beluga Whales which had a minimum age of 6 (D was 3 weeks short of that age). But they did allow Christina and D to follow along in one of the safety zodiacs so that he didn't miss out.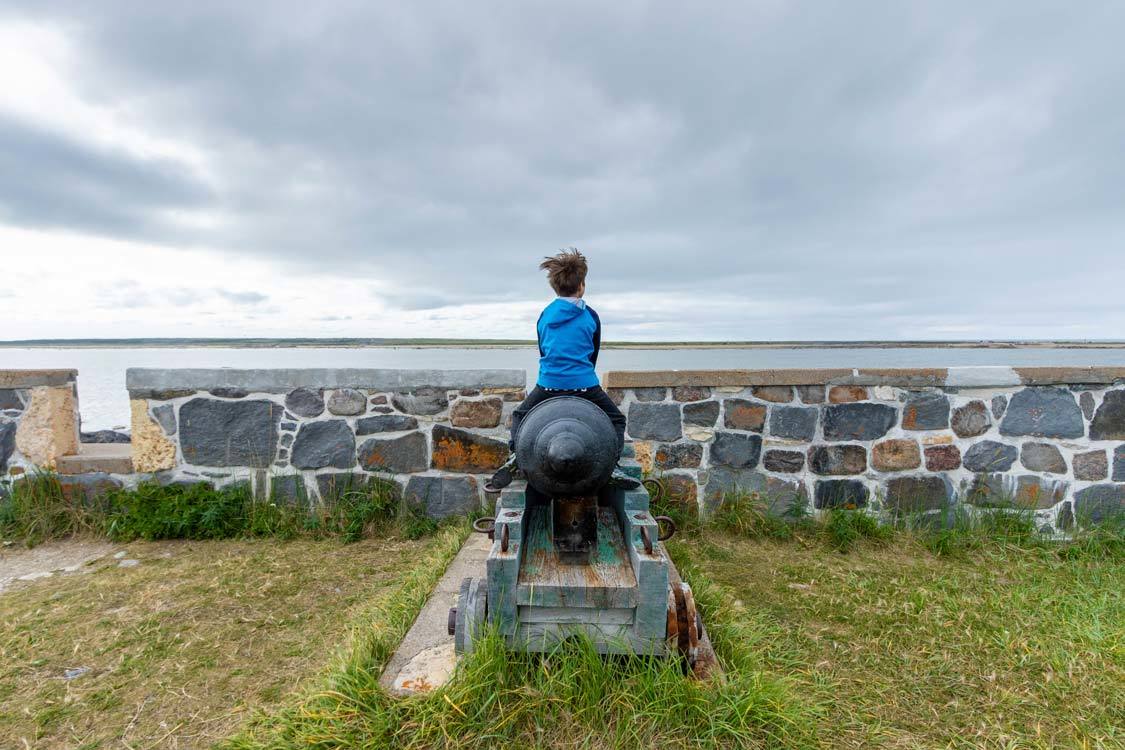 I was also impressed by the sheer number of family travel lovers that were in Churchill during our visit. I counted no less than 4 separate families with children ranging from 5 to 12-years-old in Churchill. For a destination as pricey as Churchill, it was incredible to see so many families taking part in one of the best wildlife travel destinations in the world.
Traveling with kids in Churchill does require a little extra planning and care. It's very important that children don't wander off out of sight, especially in areas closer to the coast. Always ensure that children are near to a vehicle or building or travel in groups with larger adults. But given a pair of binoculars and a sense of adventure, Churchill can be an absolutely mesmerizing destination for children. It is a true wildlife safari filled with adventure and frontier stories that will inspire them for years.
I hope you've got some great tips from this Churchill Manitoba guide. Have you ever visited Churchill Manitoba? Share your experiences in our comments below. Or tag us in your Instagram photo. We would love to share in your travels.
Disclosure: Our Tundra Buggy experience was hosted by Frontiers North. All opinions remain our own. Wandering Wagars is a participant in the Amazon Services LLC Associates Program, an affiliate advertising program designed to provide a means for sites to earn advertising fees by advertising and linking to amazon.com, amazon.co.uk, amazon.ca. Amazon and the Amazon logo are trademarks of Amazon.com, Inc. or its affiliates.
You May Also Like To Read:
Pin This Post For Later: