There is more to Manitoba travel than you know. These mind-blowing things to do in Manitoba will have you booking a trip to the heart of Canada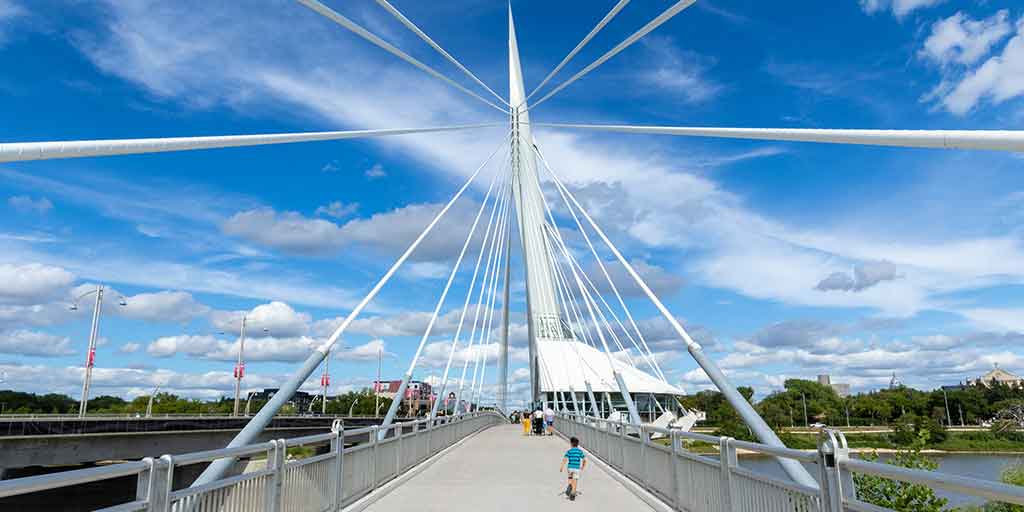 Deep in the heart of Canada sits the province of Manitoba. This sprawling province is often forgotten by those exploring the wonders of Canada. But those who take the time to explore the center of Canada will discover all of the incredible things to do in Manitoba. From the beaches of Lake Winnipeg, the roaming polar bears of Churchill, the sprawling parks, and culture-rich towns, travel in Manitoba offers a series of unforgettable experiences.
While many visitors to Manitoba spend their time exploring things to do in Winnipeg and Churchill, there are many more Manitoba attractions if you explore beyond those borders. There is more to discover in Manitoba than the vast prairies and farmland. And once you've explored some of these amazing Manitoba things to do, you'll never look at this province the same way again.
Where To Find The Best Things To Do In Manitoba
Whether you're exploring the province with your family, as a couple, or solo, you won't be left wanting for things to do in Manitoba. I was out exploring what to do in Manitoba for kids, and what I found was a province that has slipped under the radar for far too long. When I flew to Manitoba I didn't have high expectations. Sure Churchill was on my bucket list. But I wasn't prepared for Winnipeg to become one of my all-time favorite Canadian cities.
When my son and I drove out of town to explore the parks I prepared him for a boring drive. "Things in Manitoba are flat and full of farms," I said. Boy was I wrong. We came across fields of sunflowers, magical sunsets, raced trains down the Trans-Canada Highway, jumped through waterfalls, and even came face to face with Bison. It turns out there are a lot of things to do in Manitoba. And almost all of those things are awesome. So if you're looking for what to do in Manitoba, here is a list of some of my favorites.
Explore The Winnipeg Forks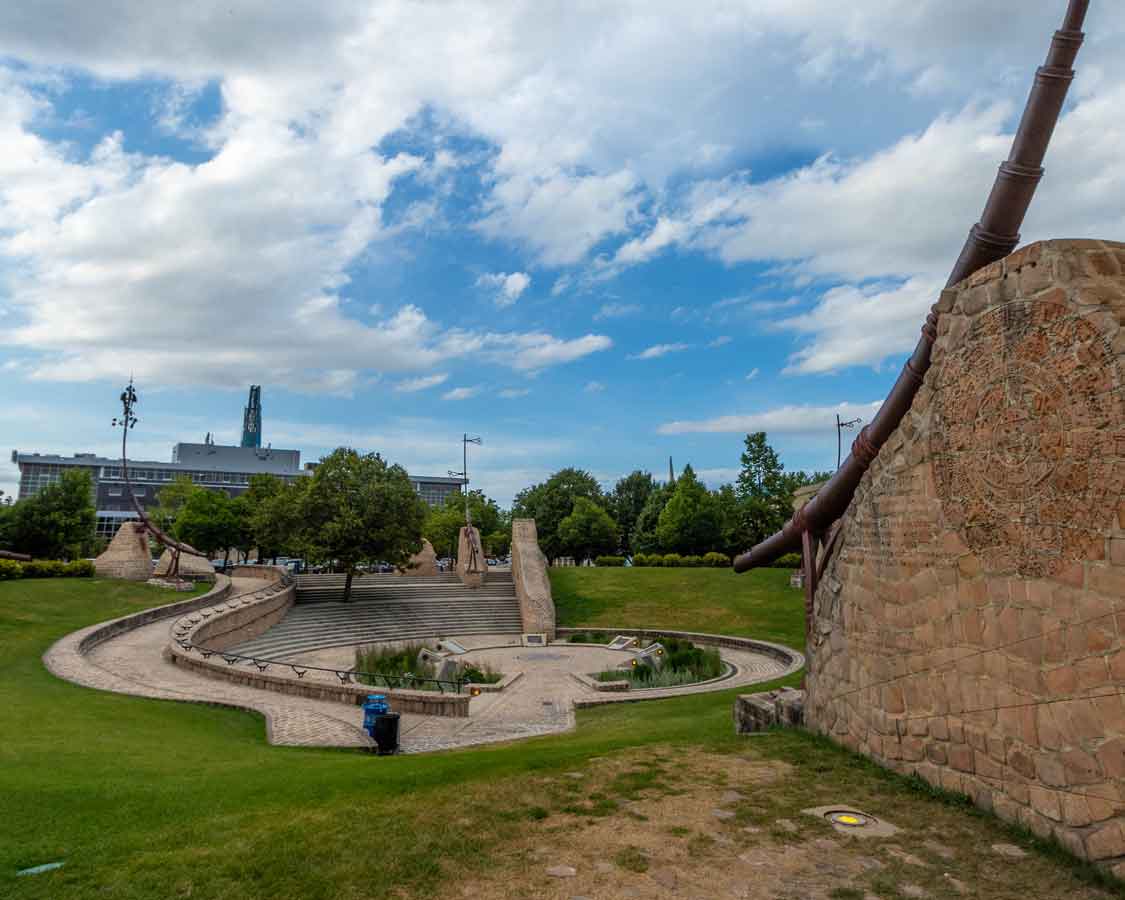 If the province of Manitoba has a soul, it's located the confluence of the Red River and Assiniboine River in the Winnipeg Forks. This former railyard is now a thriving market and food destination. Home to the Forks Market and the Winnipeg Riverwalk, the Forks wraps up 6,000 years of history into a thriving scene that has become one of the hottest destinations in Winnipeg.
Visitors to the Forks in Winnipeg can also take in the Manitoba Children's Museum. And to get a unique view of the city you can do a riverboat tour. This is a great way to learn about the rich history of Winnipeg and Manitoba. Next, enjoy a drink on the riverside patio or eat inside the antiquey Forks Market to make your visit complete. There is no doubt that The Forks is one of the best places to visit in Manitoba. Make your visit to the Forks complete with a stay at Inn at the Forks, right in the core of the action.
Go Kayaking With Beluga Whales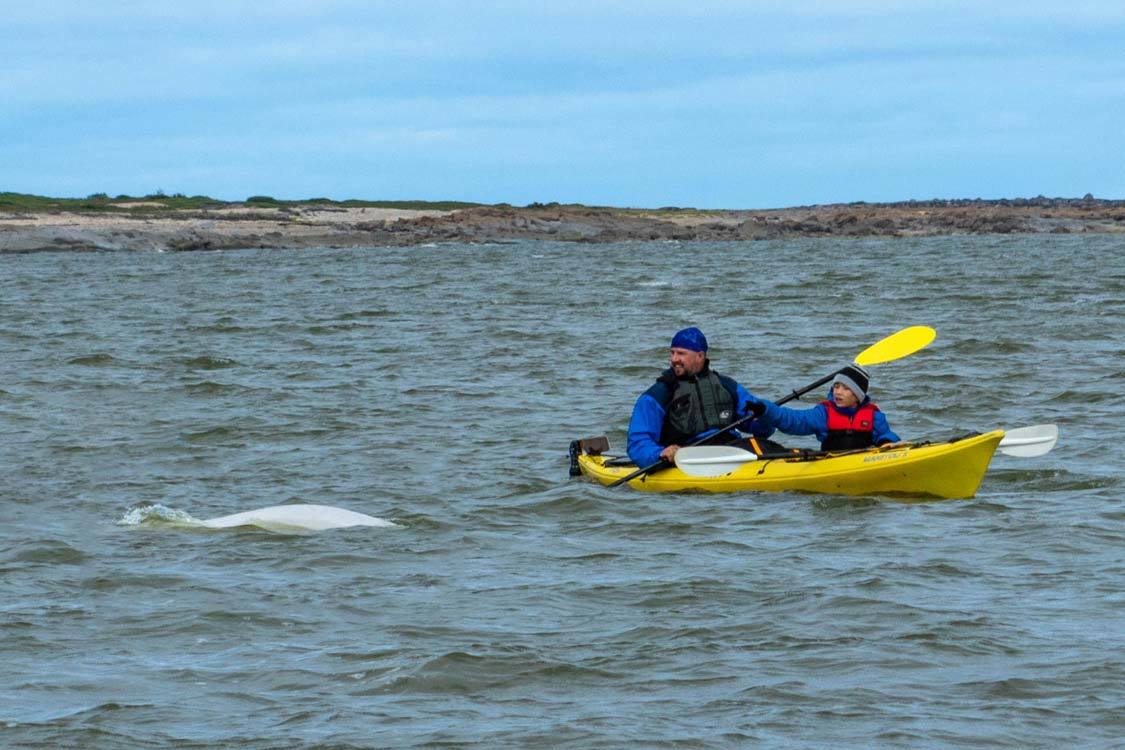 One of the most amazing Manitoba things to do is experience the ridiculous number of wildlife experiences in the province. For this, there is no better place to get in touch with nature than up in Churchill Manitoba on the edge of Hudson Bay. Here, in the mouth of the Churchill River, you can go kayaking with Beluga whales. These playful white whales love when you sing to them. If you are lucky, they may even start a little game of tag.
Beluga tours are run by both Frontiers North and Sea North Tours in Churchill. You can choose to experience it via a boat tour, RIB boat, kayak, or even on a stand-up paddleboard Beluga tour. You may even get the chance to see Polar Bears walking along the shores when you do.
You can check out our complete guide to visiting Churchill Manitoba here.
Meet The Bison At Riding Mountain National Park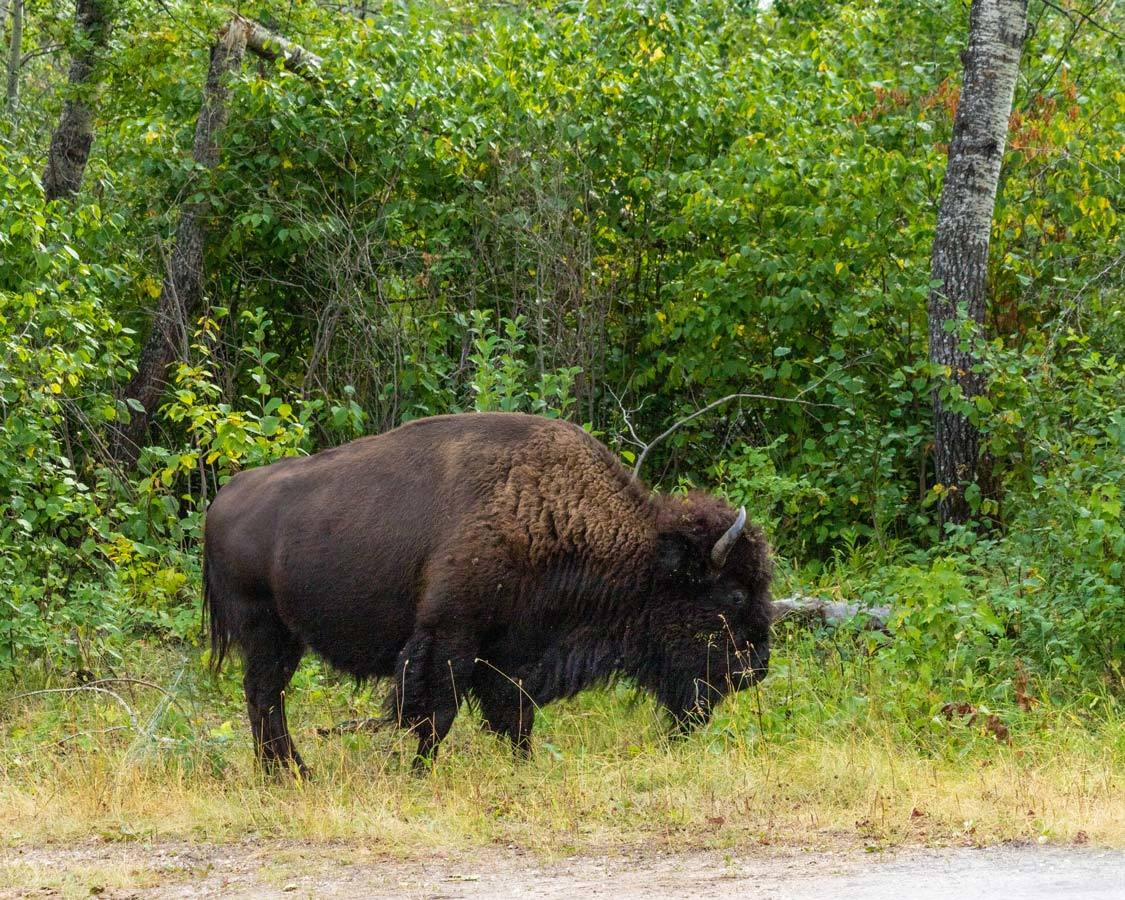 Speaking of incredible Manitoba wildlife experiences, the sprawling Riding Mountain National Park gives visitors the chance for an up-close and personal view of one of Canada's great beasts. On top of spectacular scenery and hiking trails, you can drive through the Plains Bison preserve.
Riding Mountain has loads of other amazing activities as well. You can hike to the highest point in Manitoba. Also, Riding Mountain is one of the best places in Manitoba to watch the sunset. And whether you're camping or staying in one of the Riding Mountain lodges, you'll have an incredible Manitoba experience. Make sure to pack a pair of binoculars so you can see where on the Riding Mountain plains these beasts are hanging out.
You can read all about our time at Riding Mountain National Park here.
Take In The History Of Pinawa Dam Provincial Park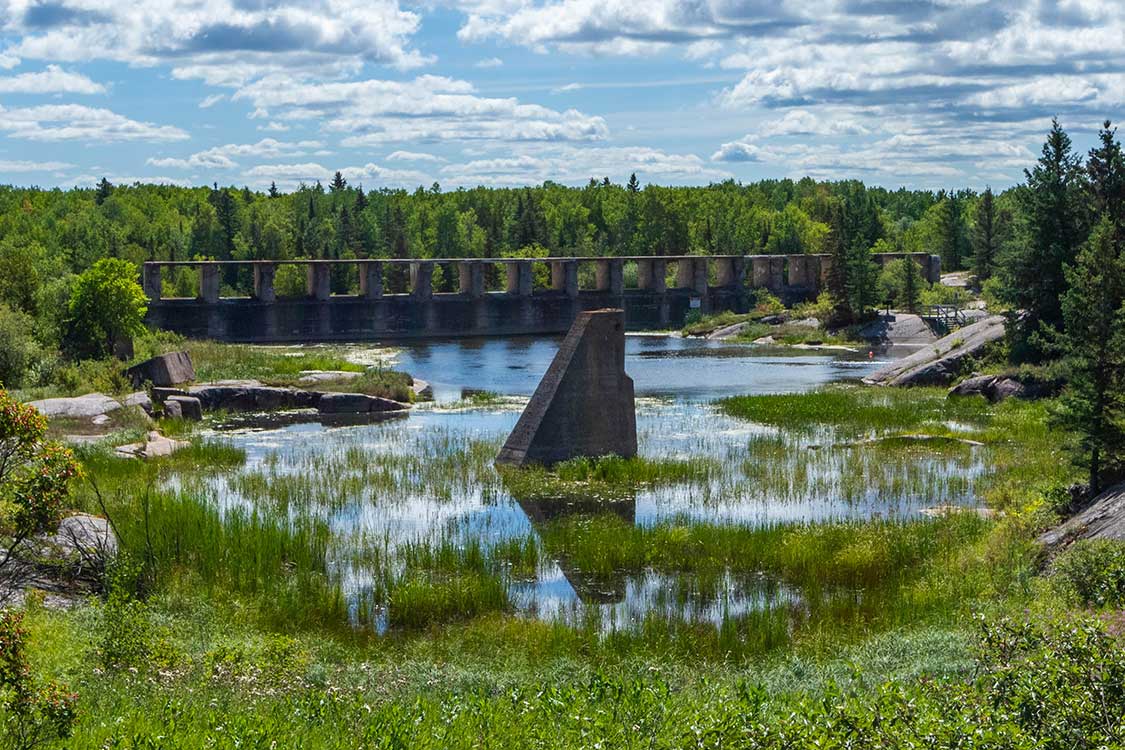 Pinawa Dam Provincial Park is one of the hidden gems of Manitoba. This small park on the eastern edge of the province is home to the remains of one of Manitoba's oldest hydro-electric dams. The classic, almost Romanesque architecture of Pinawa Dam gives it an otherworldly feel. But the dam isn't all Pinawa has to offer. It's a popular destination for boaters to pull up the Pinawa channel for a picnic. And the trails surrounding the channel make for a spectacular place to explore. You may even come across white water canoe and kayakers braving the rapids near the dam. Pack a picnic basket and enjoy lunch on the far side of the dam. It's wonderful, especially when the flowers are in bloom.
Go On A Polar Bear Safari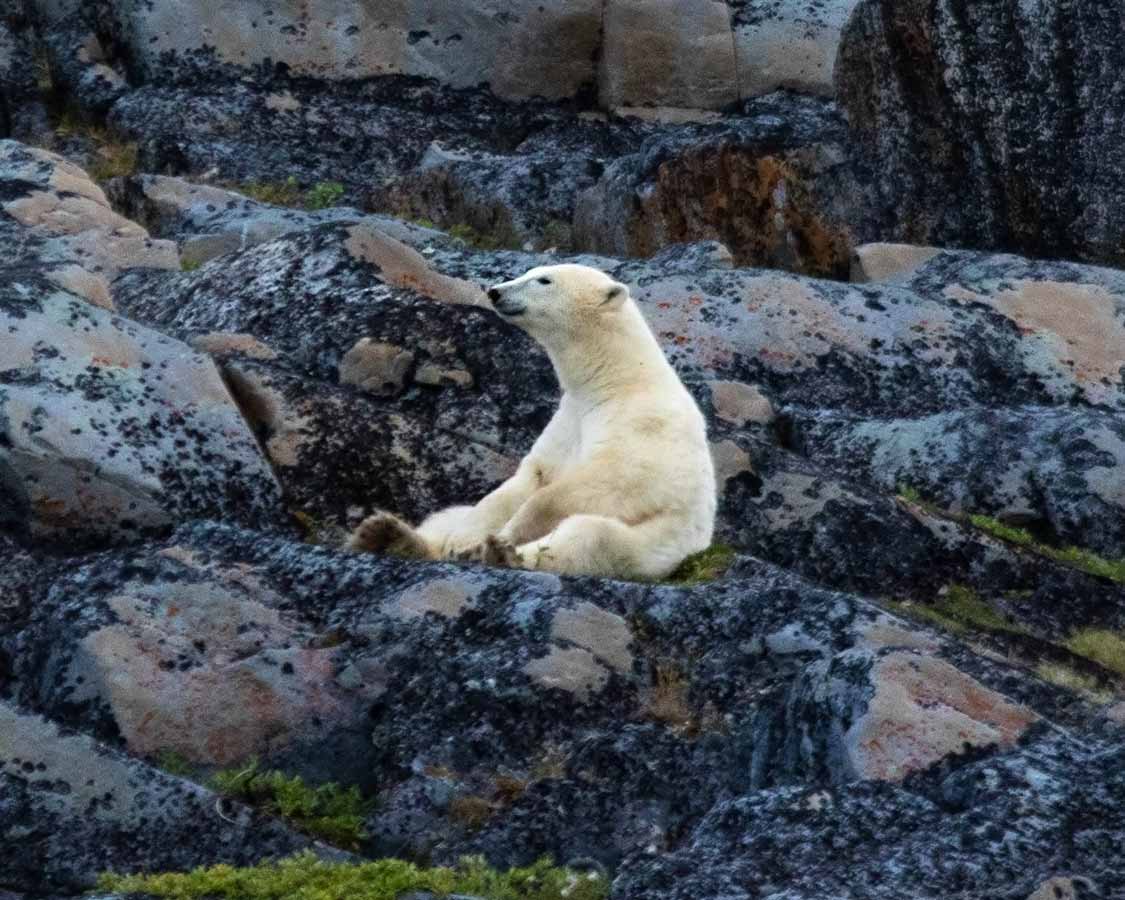 Polar Bears are synonymous with the best things to do in Manitoba. And if you visit Churchill between late-summer and mid-fall, you're going to see them lounging out on the rocks by Polar Bear Alley. The great white bears of the north come in droves to the shores of Hudson Bay to wait for the sea-ice to form. Bears are so common here that they had to set up a polar bear jail to deal with the pesky beasts that would wander too close to town. It's no surprise that this has made it on to our list of the best wildlife experiences in Canada.
Some of the best ways to see Polar Bears in Churchill are by joining a Tundra Buggy adventure with Frontiers North or staying overnight in one of the magnificent eco-lodges. But book early. With all of the National Geographic and BBC filmmakers coming up here, this small town can book up mighty fast.
Witness The Northern Lights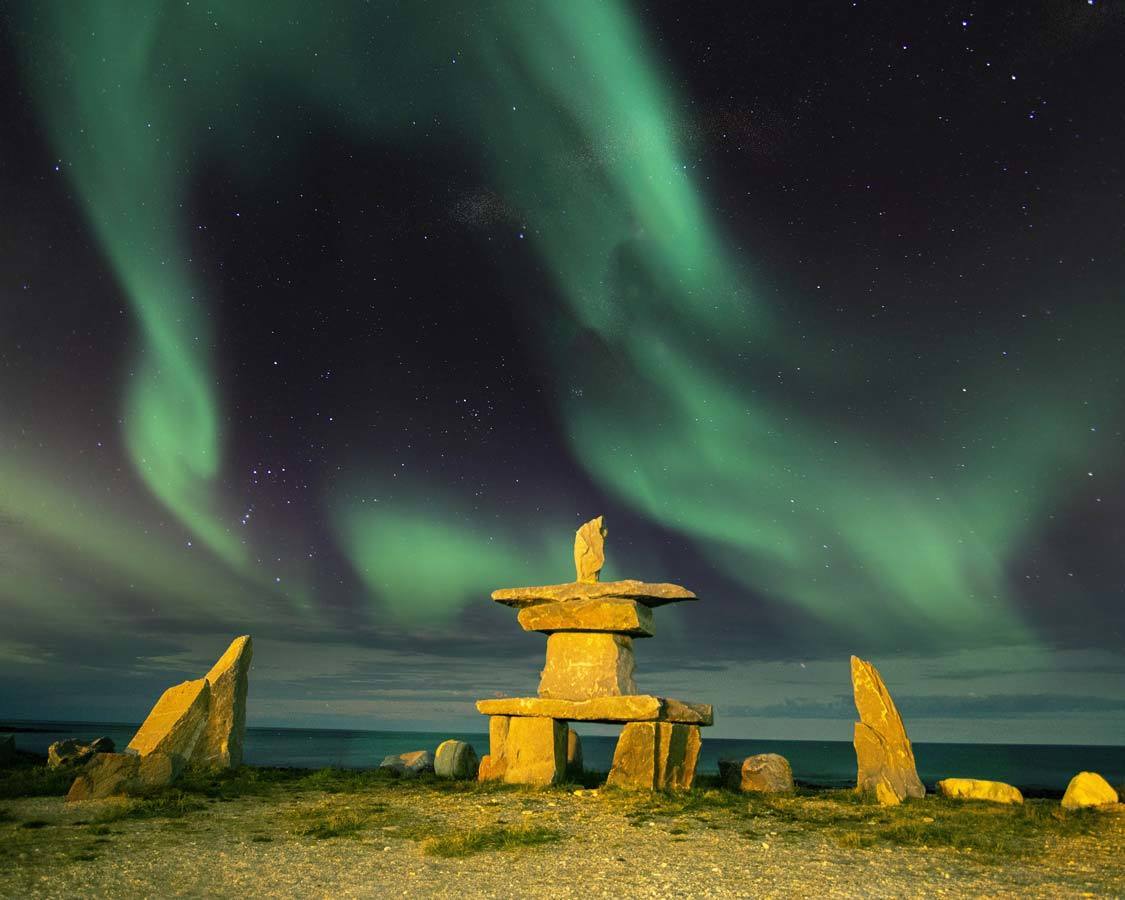 The northern lights make for one of the greatest natural light shows on Earth. I've been lucky enough to witness them in Yellowknife, Northwest Territories, Finland, and Norway. Another big draw for those looking for things to do in Manitoba is aurora viewing in Churchill. This city sits just south of the Arctic Circle. This makes it a prime destination for seeing the Northern Lights in Canada. By late summer, the Aurora is pretty common in this small town. So, pack up the tripod and camera and let's get shooting.
Experience Icelandic History In Gimli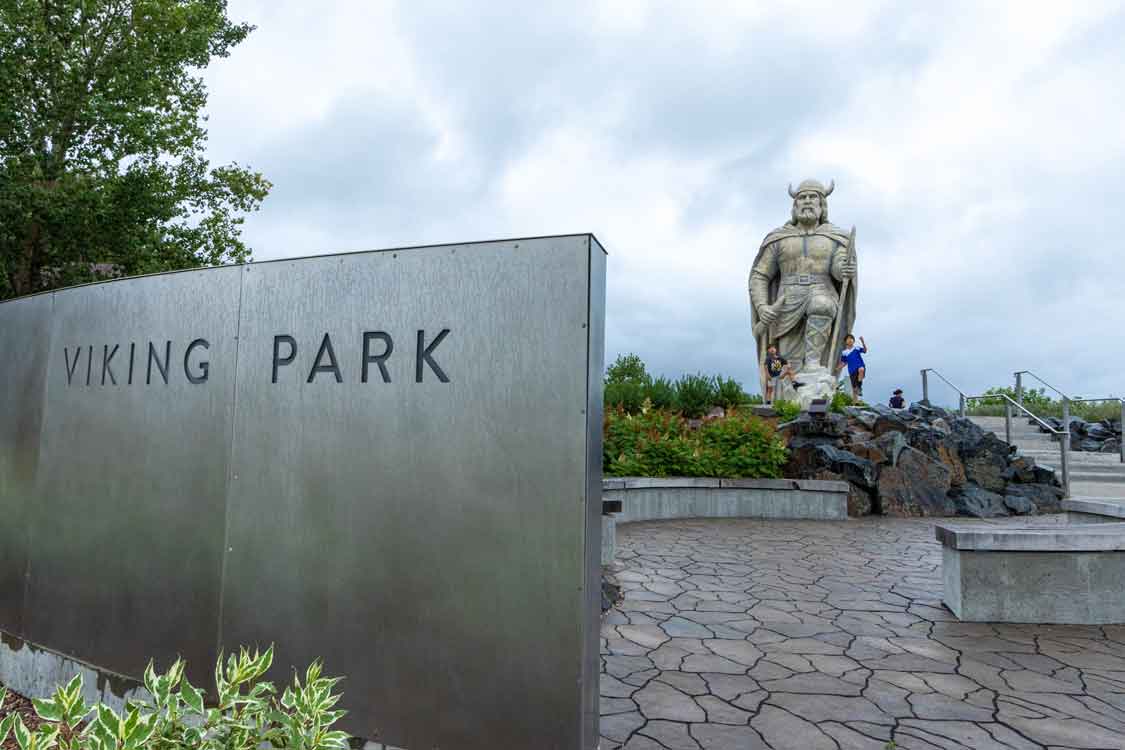 Just an hour north of Winnipeg on the shores of Lake Winnipeg sits a little piece of Iceland. Manitoba has a special connection to this North Atlantic country. Early in the century, huge numbers of Icelandic refugees made the trek to Manitoba to escape famine. Many of these newcomers made their home on the shores of Lake Winnipeg. They settled in communities that, to this day, continue many of those Icelandic traditions. After our family travel in Iceland, it was amazing to see these customs carry on in towns like Heckla and Gimli Manitoba. Those searching for what to do in Manitoba shouldn't skip the Icelandic Festival that happens in Gimli every summer. Make your stay complete with a night or two at the Lakeview Gimli Resort.
Stroll The Gardens Of The Assiniboine Park And Zoo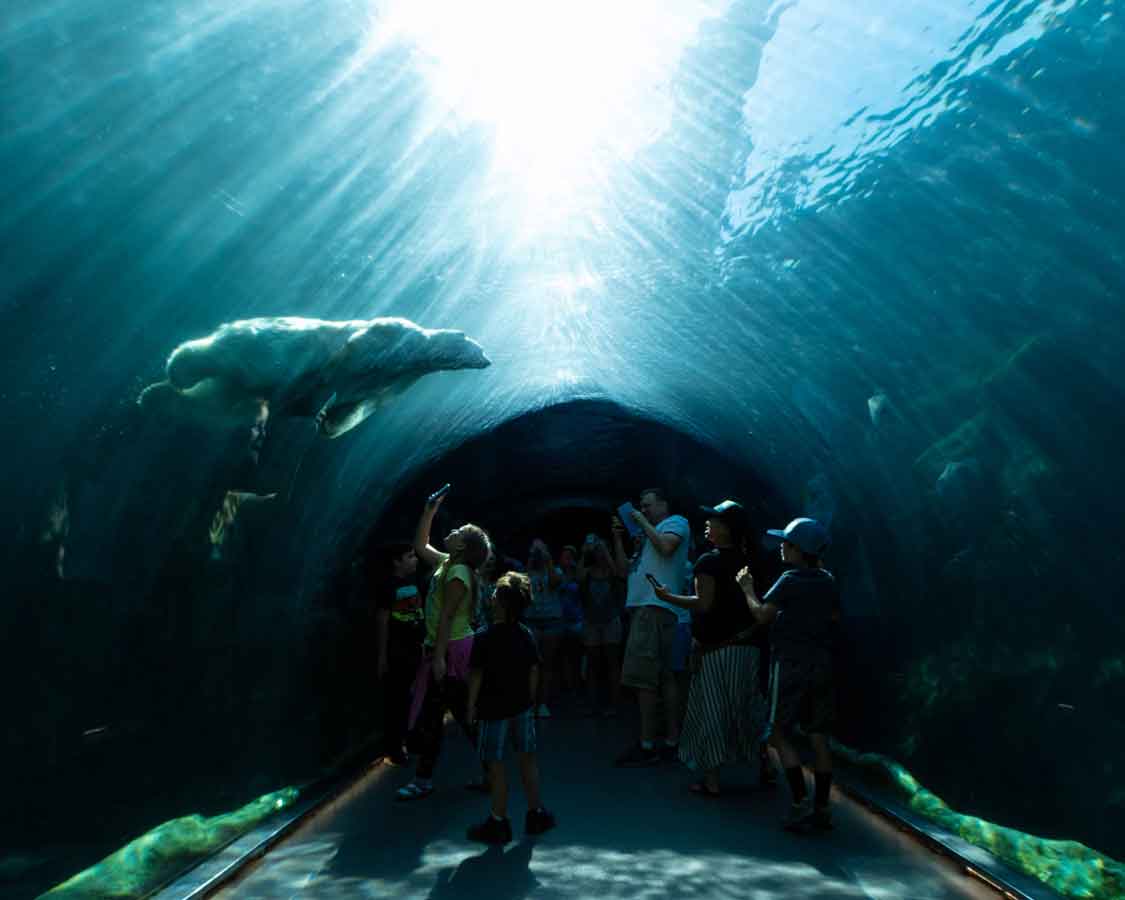 Manitoba was voted among the top regions to visit in 2019 by the Lonely Planet. Much of this acclaim comes from incredible experiences like The Forks and the Assiniboine Park and Zoo in Winnipeg. The Assiniboine Zoo has one of the most expansive Polar Bear enclosures in the world. You can even walk through an underwater tunnel beneath their swimming area while these magnificent animals swim around you.
The surrounding Assiniboine Park has ponds, gardens, and beautiful walking paths. Make sure to look for the Winnie the Pooh sculpture. You can learn about how this wonderful character has connections with White River, Ontario, Winnipeg, and London, England.
Walk Through History At The Museum For Human Rights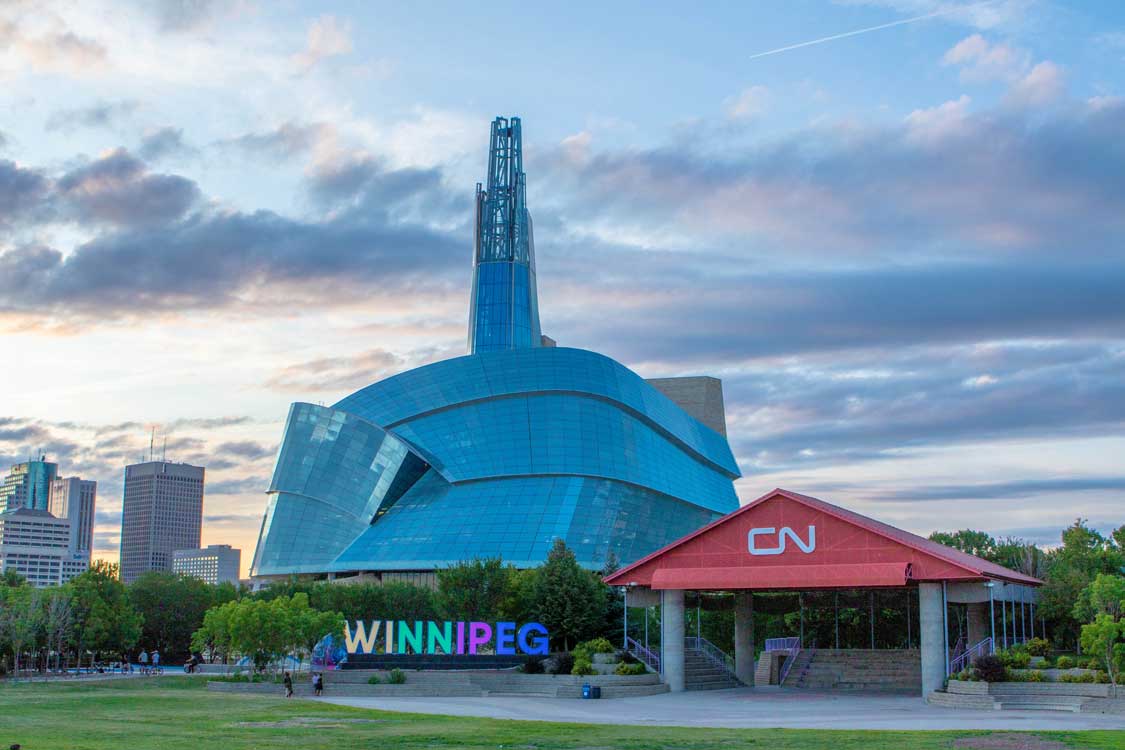 The Museum for Human Rights is the only museum of its kind in the World. This powerful Winnipeg experience takes visitors through some of the most important revolutions and human rights movements from the history of our planet. Not only are the exhibits themselves moving, but the architecture of the Human Rights museum alone makes this a destination worth exploring.
The Human Rights Museum should be on everyone's list of things to do in Manitoba. Check out their website to learn about the revolving series of special exhibits at the museum as well.
Learn About The Canadian Pioneers At Lower Fort Gary Historic Site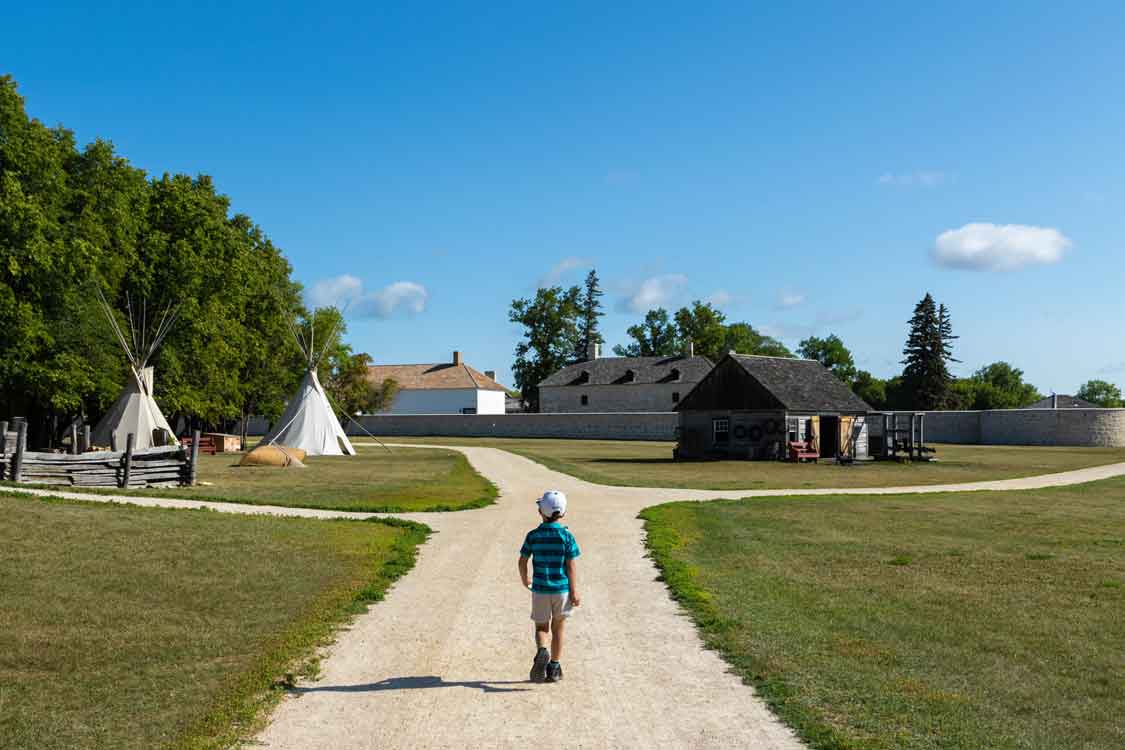 The Manitoba fur trade is at the core of what built Manitoba, and much of Canada into the country that it is today. One of the best things to do in Manitoba is to learn about this rich history is to visit the Lower Fort Gary Historic Site. Lower Fort Garry is about 3o minutes from downtown Winnipeg, but it's about 200 years back-in-time. This Parks Canada historic site features locals in period costumes sharing stories from the life within the Hudson Bay Companies trading posts.
Canoe Oak Hammock Marsh Interpretive Centre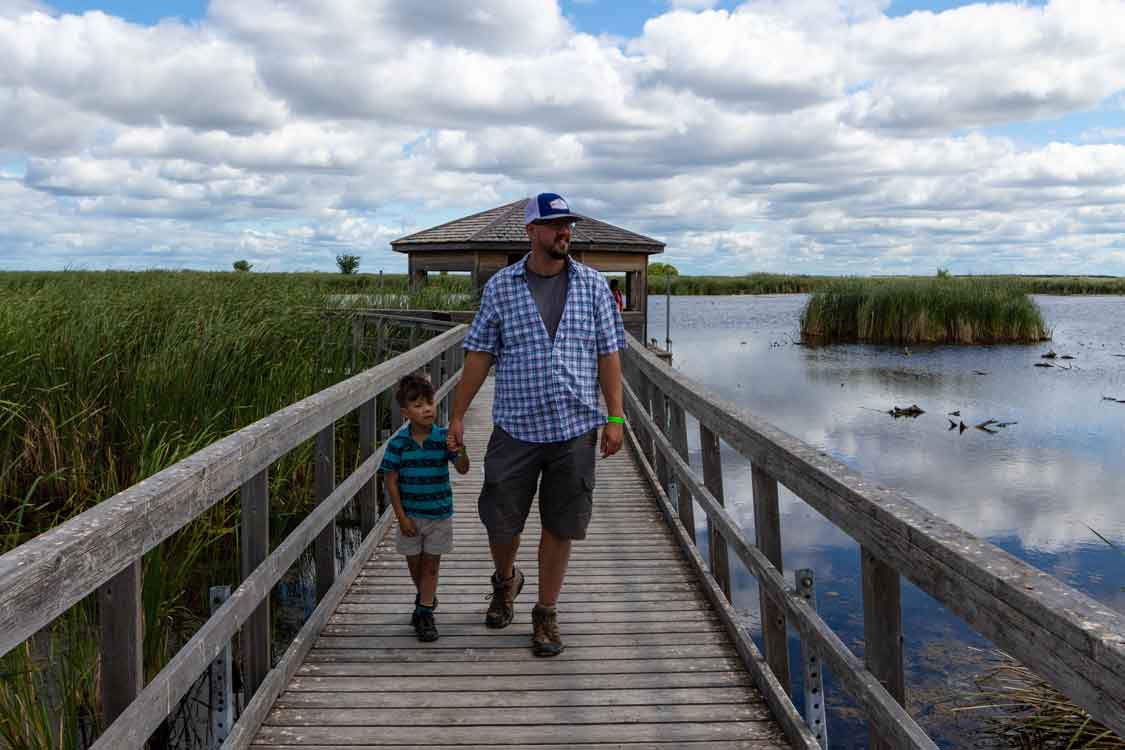 A visit to Oak Hammock Marsh is a must for nature-loving families and couples in Winnipeg. Oak Hammock, which is about 15 minutes west of Lower Fort Garry, is a beautiful piece of land that is teeming with hundreds of species of birdlife. Immerse yourself in their educational programs, or rent a canoe and explore the wetlands to see how many different kinds of birds you can find.
Build A Sandcastle At Grand Beach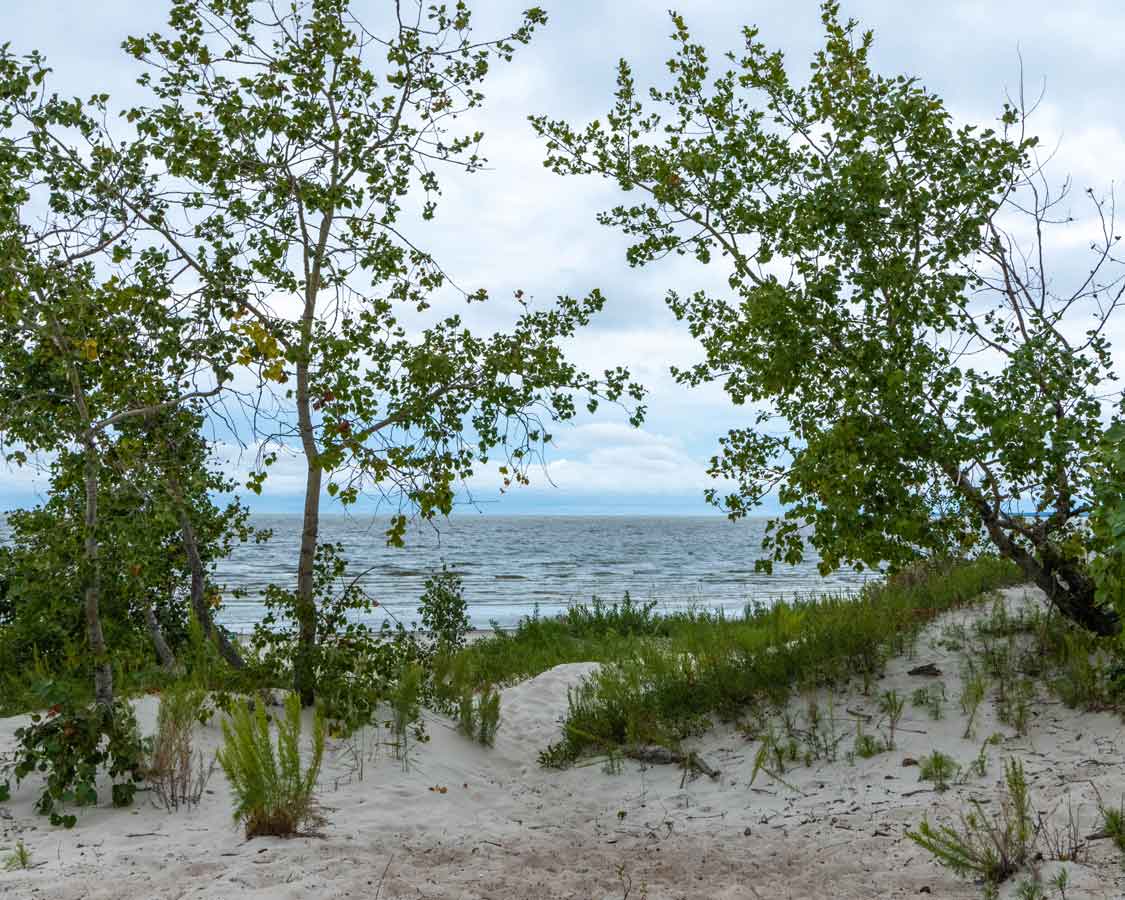 Manitoba has some amazing beaches. This shouldn't be a surprise considering that they have two of the world's largest lakes. Grand Beach is on the southeast shores of Lake Winnipeg. This popular Manitoba beach features swaths of white sand backed by stunning sand dunes. You can pull up your own piece of sand during the summer. But if you visit in early August, you can time your Grand Beach experience with the Grand Beach Sandcastle competition. Don't forget to bring a beach towel and some sand toys!
Swim In A Crater Lake At Whiteshell Provincial Park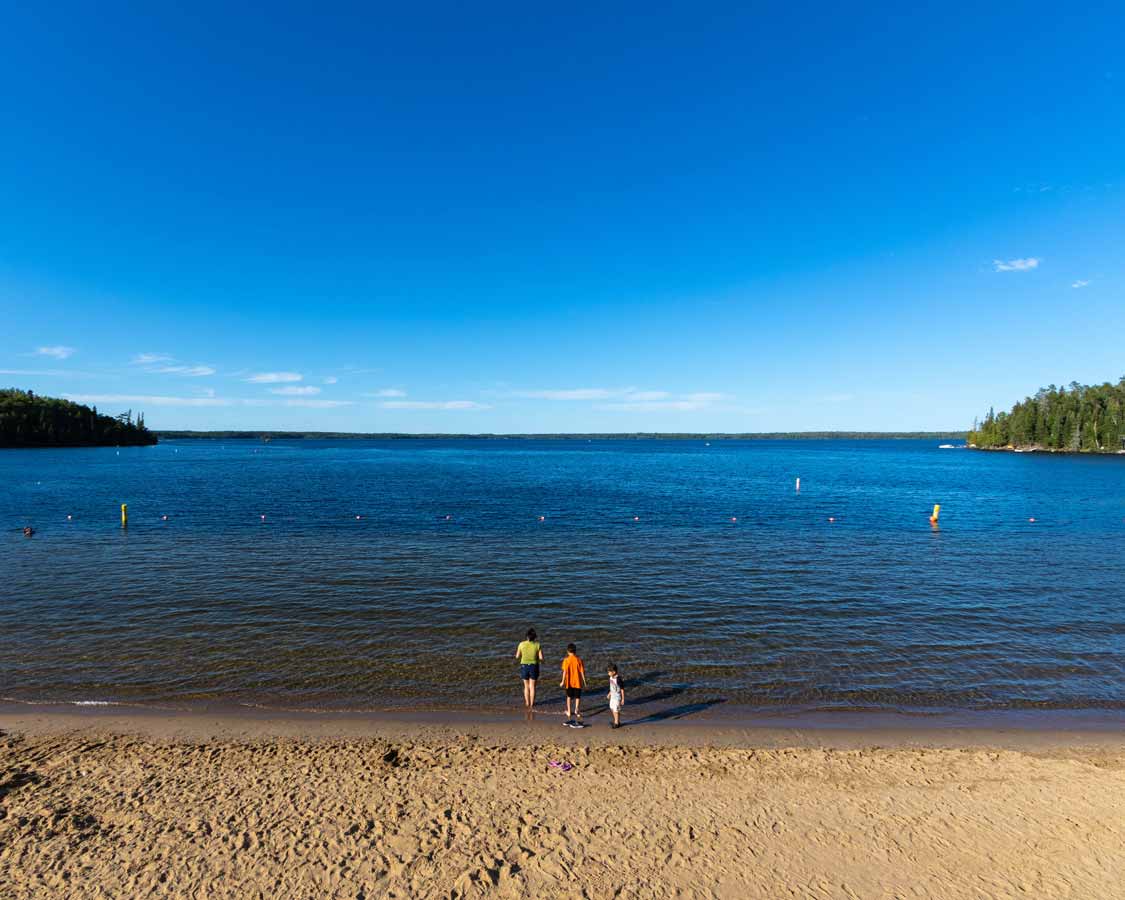 One of the most beautiful parks in Manitoba is on the eastern border with Ontario. Whiteshell Provincial Park is filled with lakes, waterfalls, rivers, and boreal forests. You can even walk among the magical petroforms. These indigenous rock forms have been created over centuries and represent a sacred place for the local indigenous communities.
One of the coolest features of the park is West Hawk Lake. This amazing lake at the southern tip of Whiteshell was created by a meteor impact. This led to the unique shape and structure of this lake. It's now one of the most popular nature escapes in Manitoba. You can read more about our experiences at Whiteshell Provincial Park here. You can make your visit to Whiteshell Provincial Park with a stay at nearby Falcon Lake Resort.
Take A Photo At The Center Of Canada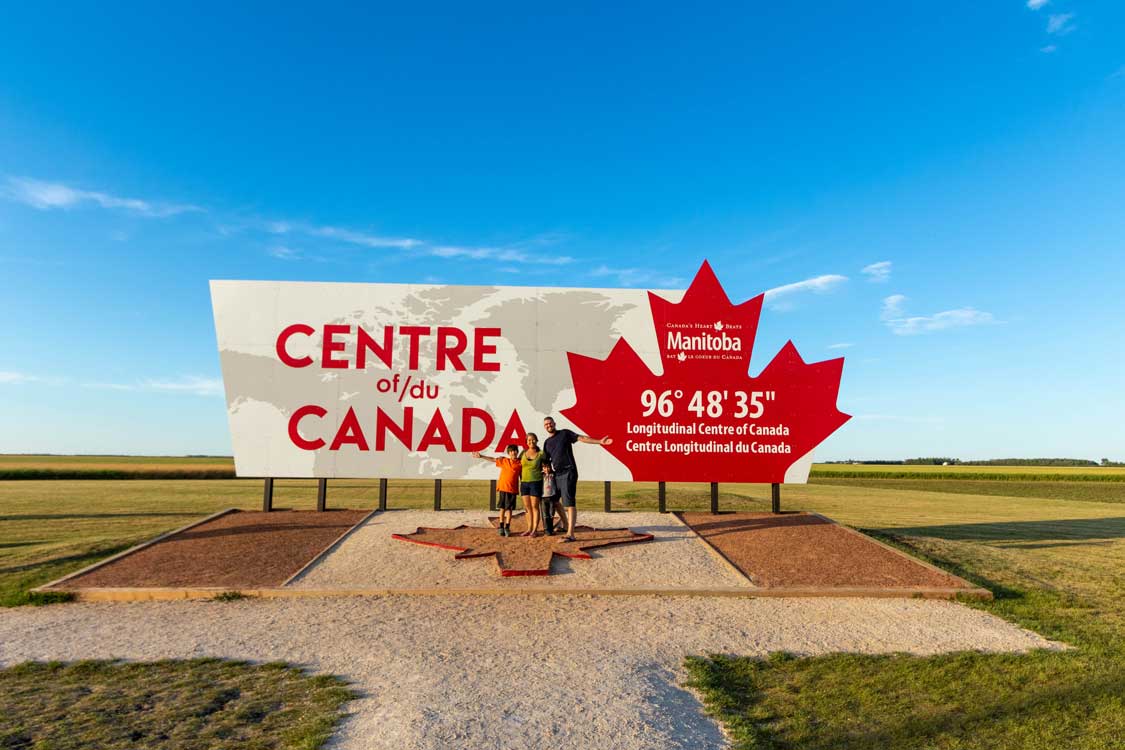 It doesn't get much more Central Canada than Winnipeg. But, if you make the drive about 30-minutes east from the city you can stand right at the longitudinal center of the country. This kitschy and fun tourist spot is a blast for that Instagram photo worthy of a drive across Canada. With gorgeous fields of Manitoba agriculture as a backdrop, this spot screams Canadian prairies. To help you out on your road trip there are washrooms available here too. To access it you need to be on the Northern side of the Trans-Canada highway and exit onto the service road that runs along the highway.
Climb The Massive Sand Dunes Of Spruce Woods Provincial Park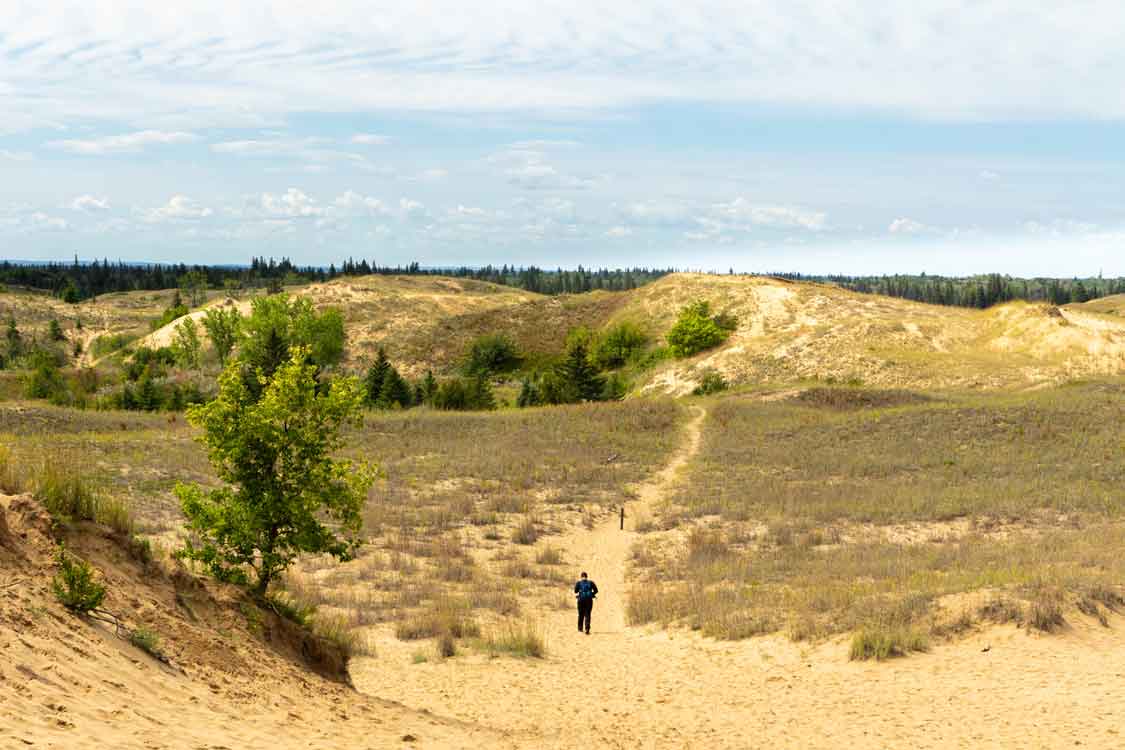 Spruce Woods Provincial Park is one of the most popular places to visit in Manitoba, especially for lovers of hiking and the outdoors. This small but mighty provincial park features massive sand dunes formed by glacial deposits. There are many species of plants and animals in Spruce Woods that can't be found anywhere else in Manitoba. For those visiting Manitoba in winter, many of the trails are groomed into cross country ski trails.
Exploring What To Do In Manitoba For Kids
If you're traveling to Manitoba with kids, you'll be so happy to know that every single one of these amazing Manitoba activities can be experienced with children. Exploring Manitoba for kids is amazing. The spectacular Children's museum in The Forks of Winnipeg is just a start. There are fantastic food experiences, excellent outdoor parks, and even one of Canada's biggest skateboard parks.
And then there are the outdoor experiences. From the beaches of Lake Winnipeg to the wilds of Churchill, Manitoba is family-friendly. We found that nearly every destination had special activities set aside specifically to make exploring Manitoba for kids amazing. So if you're considering making the journey, don't hesitate. You might just fall in love with Manitoba as much as we did.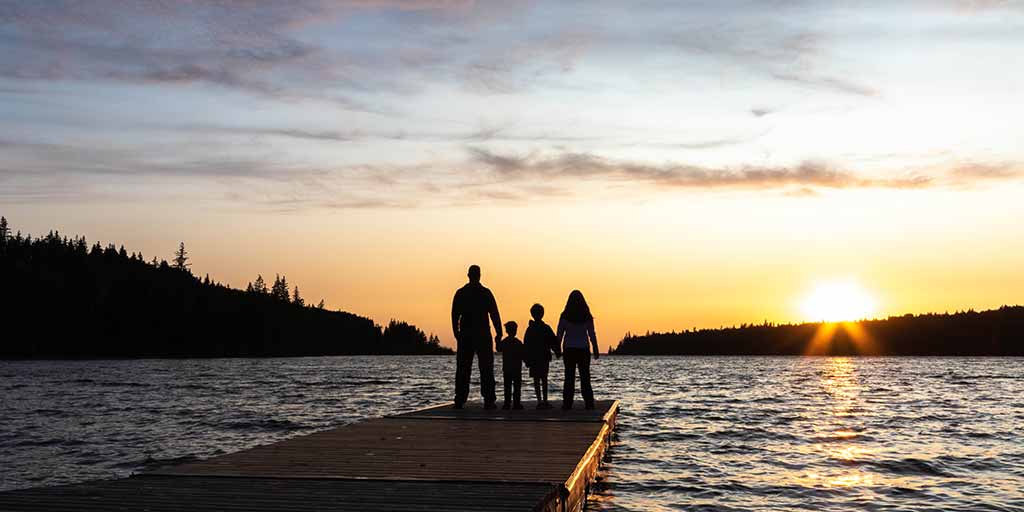 When Is The Best Time To Experience Things To Do In Manitoba?
The old statements about Manitoba being a destination where you can choose between bugs and cold is starting to get shaken off. In reality, Manitoba is a year-round destination. If you're visiting Churchill, your experiences will vary drastically by the season. You can check out our guide to Churchill here. As for southern Manitoba, it's a booming destination in the summertime. But winters in Manitoba have a lot to offer as well.
For example, Winnipeg has one of the world's longest ice-skating surfaces. Even nudging out the legendary Rideau River in Ottawa from time-to-time. Many of the Manitoba parks open up trails to cross-country skiing and snowshoeing. You can even take part in Western Canada's largest winter festival, Le Festival du Voyageurs. You can read more about that here.
DISCLOSURE: Some of these activities were made possible with the support of Travel Manitoba. All opinions remain our own. This post may contain compensated links. Any purchases made may earn us a small commission at no extra cost to you. For more information please read our disclaimer. Wandering Wagars is a participant in the Amazon Services LLC Associates Program, an affiliate advertising program designed to provide a means for sites to earn advertising fees by advertising and linking to amazon.com, amazon.co.uk, amazon.ca. Amazon and the Amazon logo are trademarks of Amazon.com, Inc. or its affiliates.
You May Also Like To Read: