Seeing the Churchill Polar Bears in Manitoba is a wildlife bucket list item. Here are the best ways to see polar bears in Churchill.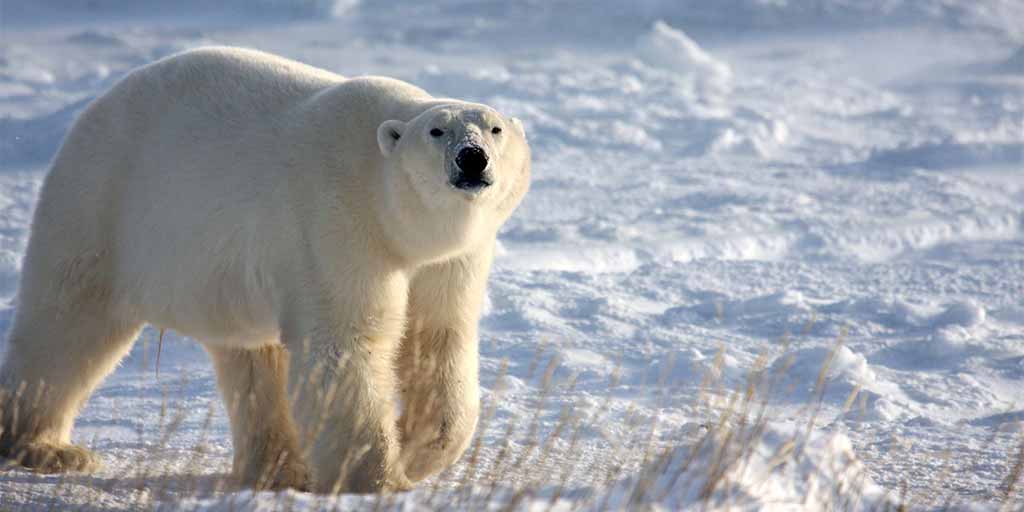 The great white bear is the undisputed king of the Arctic. Polar bears are the largest land predators on Earth. Males stand up to 3M (9.84 ft) in height and can weigh as much as 450 kg (992 lbs). The best place in the world to see this mighty beast is right here in Canada, in the small town of Churchill Manitoba. Thanks to unparalleled accessibility and the crazy stories of life in this small Manitoba town, the Churchill Manitoba polar bears have become legendary. Seeing the polar bears in Churchill is one of our favorite wildlife experiences in Canada.
You may know of Churchill through David Attenborough narrated features such as BBC Earth or through wild news reports of the polar bears that can be seen strolling through the town. Nothing though can prepare you for seeing the polar bears in Churchill Manitoba firsthand. There's a reason that Churchill made our list of the most incredible family-friendly wildlife experiences. And you'll soon learn why.
Each year as the weather begins to cool, thousands of polar bears make their way to the shores of Hudson Bay to await the forming of sea ice that will allow them to hunt for seals. It's during this brief window that it's the best time to see polar bears in Churchill. The rest of the year they are either far out on the ice sheets or deep within the boreal forest and difficult to find.
While you can always get up close and personal with polar bears at the incredible exhibit in Winnipeg, there is no experience that comes close to the rush of seeing polar bears in the wild.
5 Ways To See The Churchill Manitoba Polar Bears
Even though Churchill is deemed the polar bear capital of the world, it doesn't mean that there are always polar bears wandering down the street. Seeing polar bears in Churchill requires a combination of timing, luck, and persistence. We'll get to 'when' to see polar bears in Churchill shortly. But when the timing is right, here are 5 ways to see the Churchill Manitoba Polar Bears.
Explore The Hudson Bay Shoreline On A Tundra Buggy Expedition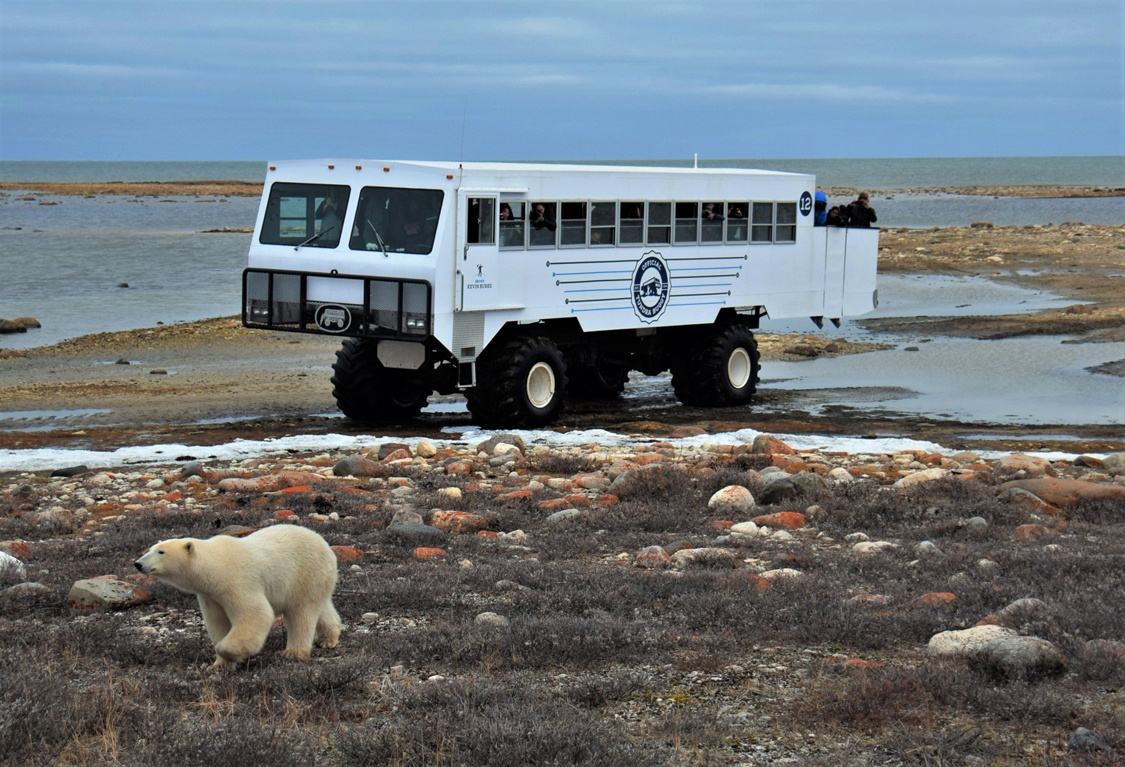 If you're looking for the closest possible Churchill polar bear experience, look no further than the Frontiers North Tundra Buggy tours. These incredible machines are completely unique to Churchill. On these massive overland vehicles, you'll be perched 15 ft above the ground. With massive tires towering ground clearance guests will be safely out of the reach of the Churchill Manitoba polar bears. But you'll be close enough to get photos that your friends back home will scarcely believe.
There are a few massive overland vehicle tours offered in Churchill. Companies such as Lazy Bear Expeditions and Great White Bear Tours. But the classic Churchill Tundra Buggy tour is run by local experts, Frontiers North. These unique tours can be extended to multi-day outings in Tundra Buggy hotels. These overland trains include kitchens, sleeping quarters, and the chance to wake up with the world's largest land predator sniffing around outside your window.
Onboard the Churchill Tundra Buggy tour you'll be comfortable and warm, yet have access to the open-air photo deck. You'll also be served lunch catered by one of the incredible local Churchill restaurants, and a selection of tea and coffee. Tundra Buggy tours run year-round but book your Churchill polar bear tour for October or November for your best chances for seeing the Churchill Manitoba polar bears.
You can read all about our experience on the Frontiers North Tundra Buggy tour here.
Experience Remote Churchill Polar Bears From A Safari Lodge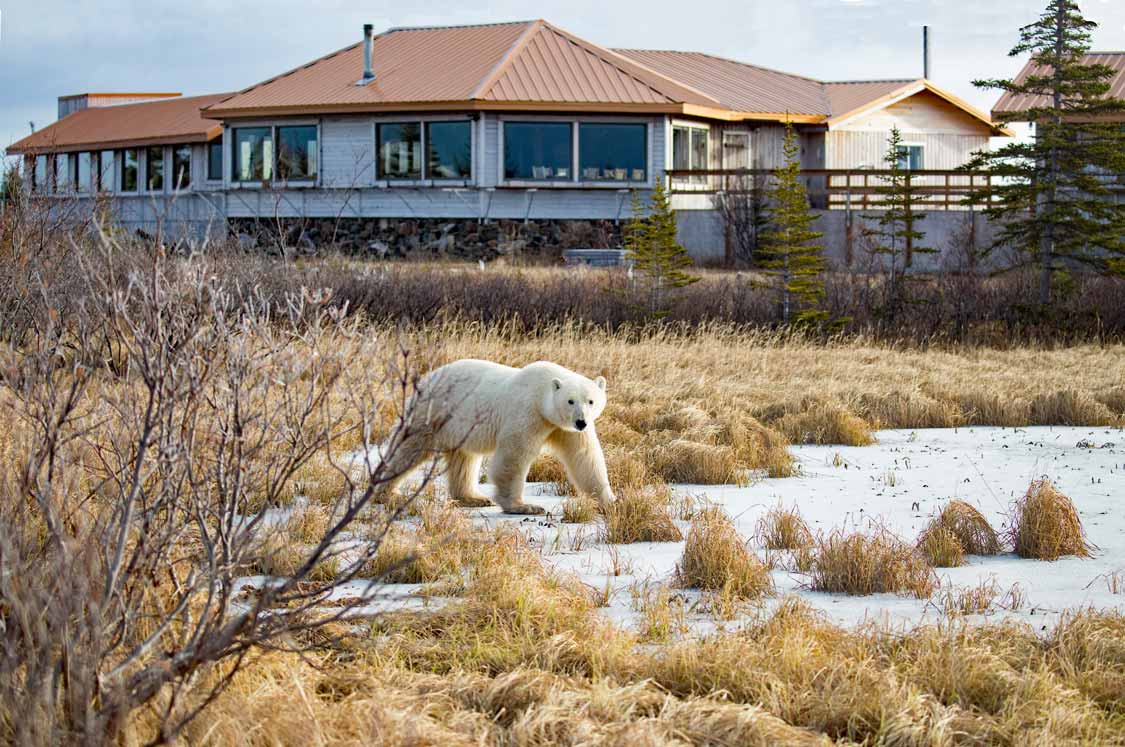 Polar Bears are incredible wild animals. Wild animals tend to avoid humans when they can. While it is possible to see the Churchill Manitoba polar bears near town (and sometimes in the town itself), the further you get from civilization, the more wild the Churchill polar bear experiences are.
It doesn't get much more remote than the Churchill Wild eco-lodges. These remote lodges situated on the shores of Hudson Bay can accommodate those with a spirit for rugged adventure. And if you like a little luxury with your polar bear safari, you can opt for packages that pamper you as well.
The Churchill Wild compounds are fenced in for safety. And there are few places in the world where you will have this kind of unfettered access to wild polar bears. And every day begins and ends with some of the scrumptious organic, locally sourced food. The menu, put together by founding chefs, Helen Webber and Marie Woolsey, offers the perfect way to fuel your time with the polar bears in Churchill, Manitoba.
See Churchill Polar Bears From The Air On A Helicopter Tour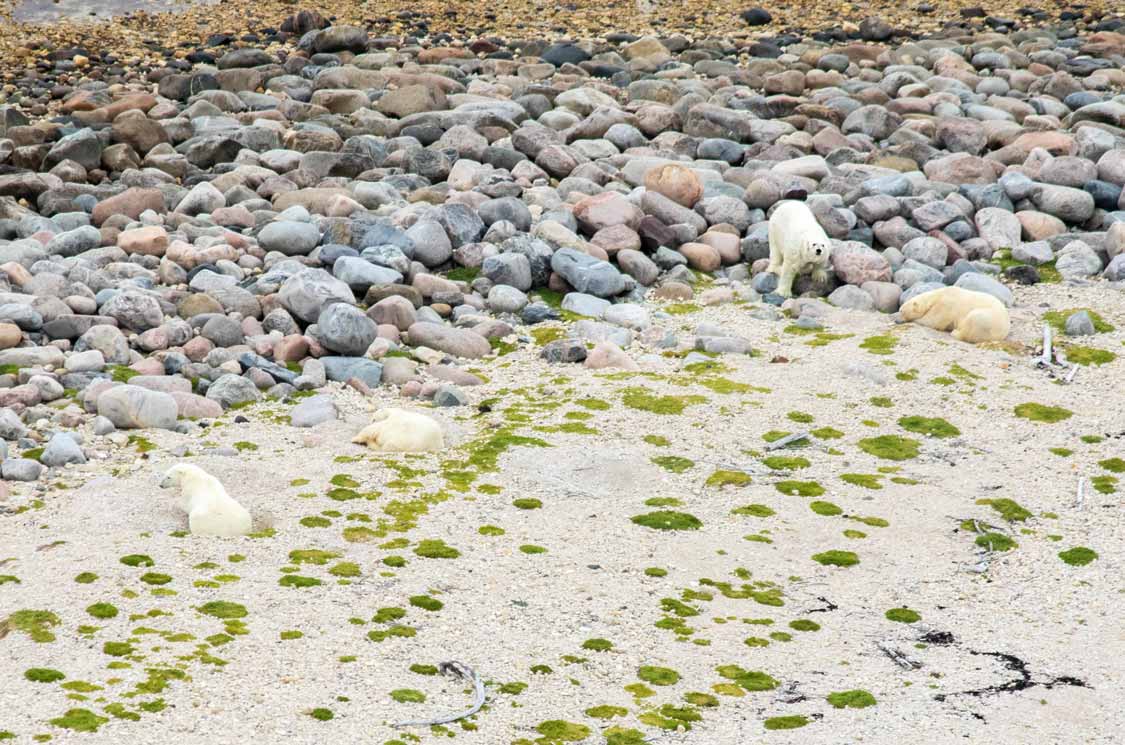 If you visit Churchill during the shoulder season in late summer to early autumn, the polar bears in Churchill Manitoba tend to be hiding in the trees or further out in the wilds of Wapusk National Park. This remote and sprawling environment is one of the most amazing national parks in Canada, but it can only be accessed via snowmobile, ATV, and helicopter. While brave locals might feel comfortable venturing into this untamed wilderness, I would never recommend an unguided experience for anyone who hasn't spent their lives in polar bear country.
To get the best views of the polar bears in Wapusk National Park, join Custom Helicopter Tours in Churchill Manitoba for a birds-eye view. It's during one of these hour-long aerial Churchill tours that you'll really get a glimpse of just how many polar bears there are in Churchill Manitoba. During the warmer months, these bears lazily bide their time until the sea ice forms. And when it does, it's only a short period of action before they make their way out onto the ice to hunt for seals.
A helicopter tour of Churchill will allow you to catch a glimpse of roaming herds of caribou, solitary moose, and many of the magnificent birdlife that calls the sub-arctic tundra home during the warmer months. And, you're likely to see loads of polar bears waiting for the ice sheets to form. You may even catch a glimpse of pods of majestic beluga whales swimming just under the surface. If you aren't planning a Churchill Beluga whale tour, this is one of the best ways to see the white whales of the north.
Take a Local Guided Tour Of The Polar Bears In Churchill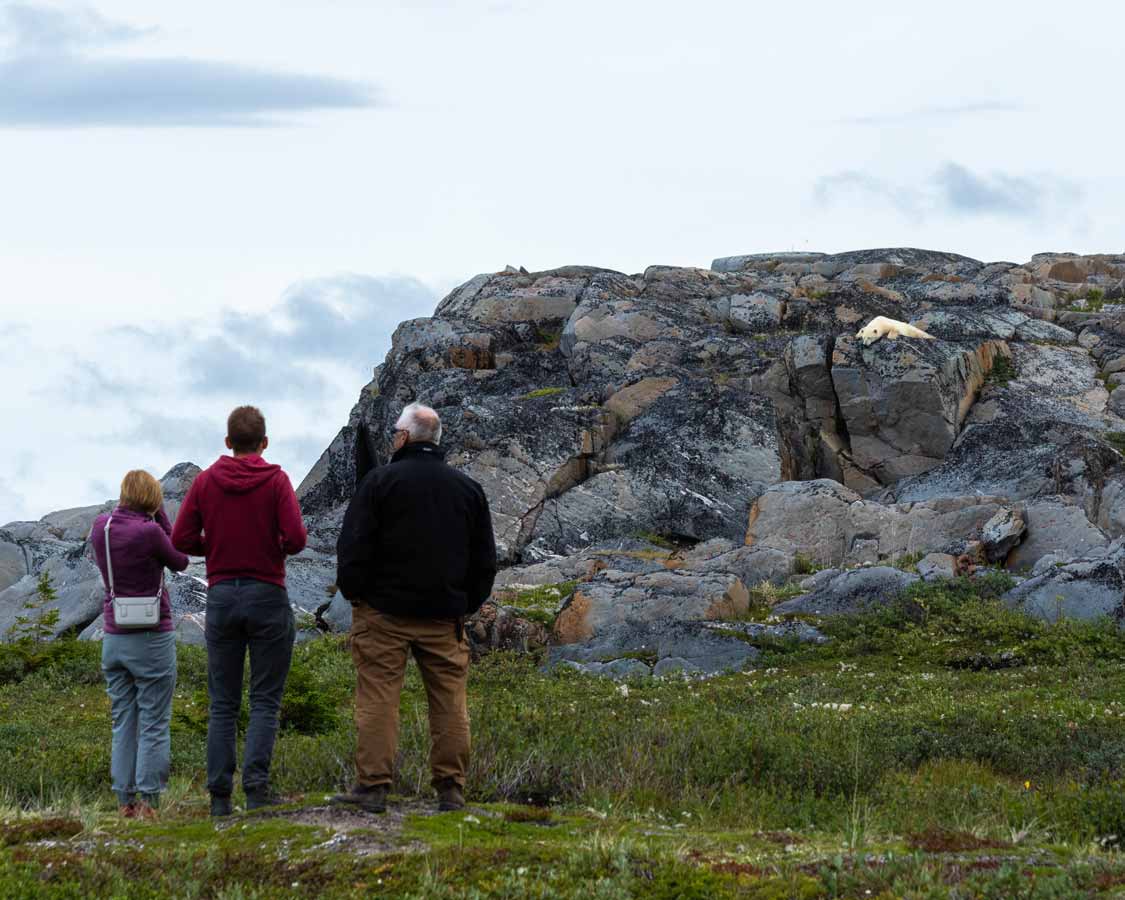 Lodges and multi-day tours in Churchill can be pricey. Any time you visit a destination as remote and specialized as the polar bear capital of the world, you're going to be paying a premium. But one of the more economical ways to see the Churchill polar bears is via a locally guided tour. There is no better way to understand a destination than through the experiences of a local. And Churchill is the kind of place where that inside information will blow your mind.
Churchill is a place where the local personalities are almost as big as the polar bears that live on the outskirts of town. You'll hear the stories of the pilots of the Miss Piggy plane crash, controversial local figure Brian Ladoon who was known for feeding polar bears and rescuing Inuit sled dogs, and much more. But tales in Churchill are as tall as a Tundra Buggy, so take everything you hear with a grain of salt. There are as many tales as there are people in town.
Churchill locals know the town better than anyone. And because of that, they know where to find the polar bears in Churchill. And, most importantly, how to do it safely. Local Churchill tour companies such as Nature 1st can take you to the locations where locals know the Churchill Manitoba polar bears like to spend their time.
You can read our complete guide to Churchill Manitoba here.
Rent A Truck For A DIY Churchill Manitoba Tour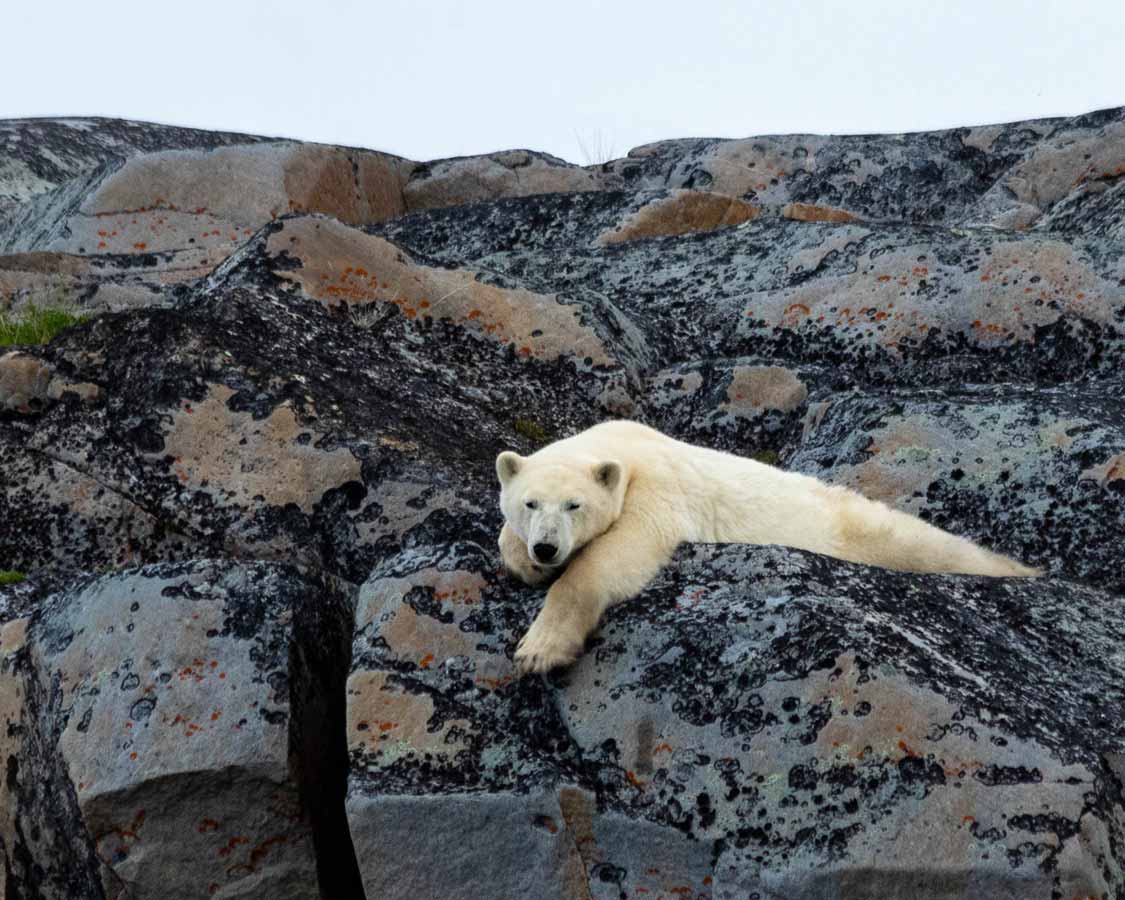 Yes, it is possible to do a do-it-yourself Churchill Manitoba tour. But, it requires some inside knowledge. If you've never visited Churchill before, you might want to think about whether this option is for you. There is one car rental company in Churchill. Tamarack Rentals, which is located on Kelsey Blvd right isn't your typical car rental spot. You'll have your choice of a small selection of pickup trucks. And there isn't any insurance as an option.
Don't expect the cream of the crop when you pick your vehicle. The fleet consists of older model pickup trucks. And you'll have your choice of 2wd and 4wd options and regular and king cab models. Shipping vehicles up to Churchill is a pricey project, so expect the vehicles you rent to have had some wear and tear. If you're traveling to Churchill with children, you'll need to bring your own car seats.
With a car rental, you'll have the opportunity to drive the tens of kilometers of roads that make up the Greater Churchill Area. The best areas for catching a glimpse of polar bears on a self-drive Churchill Manitoba tour are on the rocks along Thompson St. between La Verendrye Ave. and Robert Crescent. On this stretch, you'll find the hard pink rock of the Hudson Bay shoreline blocking the views of the water. Keep your eyes peeled for small, white tufts on the various outcrops and on top of the rocks. Or, better yet, for other cars or tour vans stopped with their cameras out.
With a do-it-yourself tour comes a very important risk. Having a professional bear guide with you means having someone who understands the local wildlife and what safety precautions must be undertaken to protect yourself. If you choose a self-drive tour without understanding the risks, you could end up putting yourself and others in danger. It is very important to follow local rules regarding keeping a large distance between yourself and polar bears. These animals are huge, vicious, and incredible fast when they want to be.
Churchill Manitoba Polar Bear Safety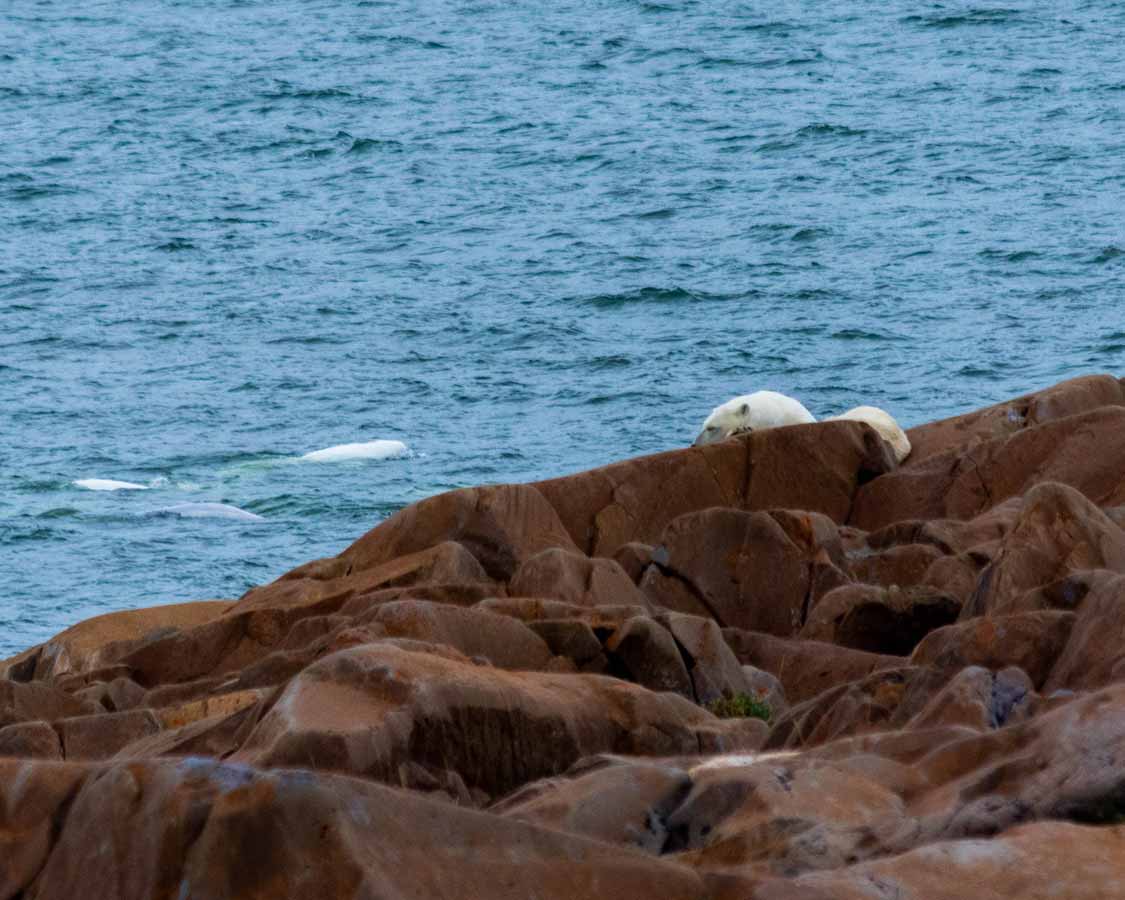 It's hard to walk anywhere in Churchill Manitoba and not see a polar bear safety warning. After all, this town has a year-round population of just 1,000 people. But during the high season, it swells to over 2,500. That's a lot of people visiting, many of whom have never encountered an animal such as polar bears before. Just like any wild animal experience, there are important safety facts to consider in order to keep yourself safe.
Whether you're going on a group tour, a local guided exploration, or a do-it-yourself experience, practicing polar bear safety is crucial to your safety. These things are even more important if you are traveling to Churchill with kids. Here are some polar bear safety tips to help you stay safe.
Always stay close to your vehicle and leave your vehicle unlocked and easy to access.
Travel in groups and make noise as you walk. Polar Bears will usually avoid you if they can hear you coming.
Avoid walking around coastal areas that have poor sightlines such as the bedrock mounds.
Take advantage of guided tours to ensure that you're with people who understand the animals and the terrain.
Bears can be found at any time of the day but are most active in the early morning and at night.
Make sure someone in your group is responsible for spotting bears while others are taking photographs or using binoculars or spotting scopes.
Be aware of your surroundings. Remember, it's not the Polar Bear that you can see that is the one you need to be most worried about.
If you see a bear, make sure everyone around you is aware. For a large animal, polar bears can be remarkably difficult to see. You do not want to surprise a polar bear.
Do not run, move quickly, or make dramatic motions near a polar bear.
If you find yourself too close to a polar bear, slowly walk back the way you came.
If you surprise a polar bear STAY CALM. Don't yell, hiss, run or do anything to spook the animal.
If the animal shows signs of aggression or stalking stay calm and walk slowly back the way you came or in a wide arc away from the animal.
If a polar bear appears ready to charge, use any potential weapon. Bang, yell, group together and make loud noises. Do not run. Stand your ground.
Never get between a female bear and her cubs. A female separated from her cubs is likely to attack to defend them.
Avoid wandering around the town at night. Especially near the water. It can be difficult to see animals in the dark and you may inadvertently startle a polar bear.
Never feed or approach Polar Bears in Churchill, Manitoba
When Is The Best Time To See Polar Bears In Churchill Manitoba?
Witnessing the polar bears of Churchill in the wild is one of the most unforgettable things to do in Manitoba. The sheer accessibility and abundance of polar bears in the region make the Churchill population one of the most studied polar bear populations in the world. But these animals are only accessible for a limited time.
Each year polar bears make their way to the Hudson Bay shoreline for the 'Big Freeze' that marks the start of seal hunting season. This period, from October to November, is the best time to see polar bears in Churchill, Manitoba.
During the late summer months such as August and September, you may still have a chance of seeing the Churchill polar bears, but sightings will be more challenging. During these months you'll be more likely to find Beluga whales, wolves, and caribou roaming the outskirts of town. However, this period, where the nights begin to lengthen is the only time of year when you may have the opportunity to see beluga whales, polar bears, and the northern lights. Often called the "holy trinity" of Churchill travel.
What To Pack For Churchill
Weather in Churchill Manitoba can be all over the map. During our last visit in August, the temperatures ranged from 7 C (44.6 F) to 28 C (82.4 F). We saw rain, sunshine, fog, and everything in between. This Churchill Manitoba guide won't recommend packing light. Bring what you need. If you're traveling to Churchill for polar bears, you'll likely be visiting in the autumn. You didn't spend all that money making the trek to northern Manitoba in order to save $25 on a check-in bag. Here are a few things to pack for Churchill polar bear tours
Boots and Warm Socks: Winter boots are a must in the cold months. In the summer you can often get by with a good pair of hiking boots. Something with a sticky tread. More important though are the socks. Pack a pair of warm, breathable wool or wicking socks to help keep your feet warm and dry. Expeditions in Churchill can be long and you don't want wet feet.
Hat, Scarf, and Gloves: Yes you do need these, even during summer in Churchill. They are especially important if you plan to spend time on the water with the Churchill Beluga Whales. Temperatures on the water can be quite cold, and you can get splashed. If you get warm, you can always take them off.
Camera and Binoculars: Contrary to those amazing NatGeo photos that are often posted, seeing the Polar Bears in Churchill means keeping your distance (unless you're on the Tundra Buggy tour). Make sure to bring a camera with a long zoom lens so that you can snap great photos. This camera has the equivalent of a 450mm, which is about as long as you can get without going pro. It also helps to have a pair of binoculars to scope out those bears hidden in the rocky hollows of the bedrock. This model packs up small yet offers great glass.
My personal camera is a Canon EOS R mirrorless. It's compact and lightweight and offers the option for interchangeable lenses. Consider picking up a 300mm lens and then adding a 2x telephoto extender to it.
Do We Recommend Joining A Churchill Manitoba Tour
No matter how you plan to see the Churchill polar bears, you'll need to plan your trip appropriately. Churchill is an incredible city. From the food to the people, the landscape to the history, Churchill is truly one of the gems of travel in Canada. If the idea of independent travel in Churchill is overwhelming, consider joining a Churchill Manitoba tour.
A Churchill polar bear tour will give you better access to these magnificent animals. You'll be safer, and you won't need to deal with all the complicated logistics of travel in this remote part of northern Manitoba.
Churchill tours like these usually take care of everything from flying out of Winnipeg to transportation on the ground, and the actual adventures once you arrive in Churchill. They aren't cheap, but you'll be well taken care of, and will likely have better opportunities for photography and wildlife spotting than a self-guided Churchill Manitoba tour.
No matter how you plan on seeing the Churchill polar bears though, you're guaranteed to have an unforgettable adventure in one of Canada's most unique landscapes.
Have you ever visited Churchill Manitoba before? Tell us about your experiences in the comments below. Or tag our Instagram account on your photos. We would love to share in your travels.
Disclosure: Our Tundra Buggy Experience was hosted by Frontiers North. All opinions remain our own. Wandering Wagars is a participant in the Amazon Services LLC Associates Program, an affiliate advertising program designed to provide a means for sites to earn advertising fees by advertising and linking to amazon.com, amazon.co.uk, amazon.ca. Amazon and the Amazon logo are trademarks of Amazon.com, Inc. or its affiliates.
You May Also Like To Read:
Pin This For Later: