The small town of Gimli in Southern Manitoba hides a rich Icelandic history. Discover the best things to do in Gimli Manitoba for the whole family.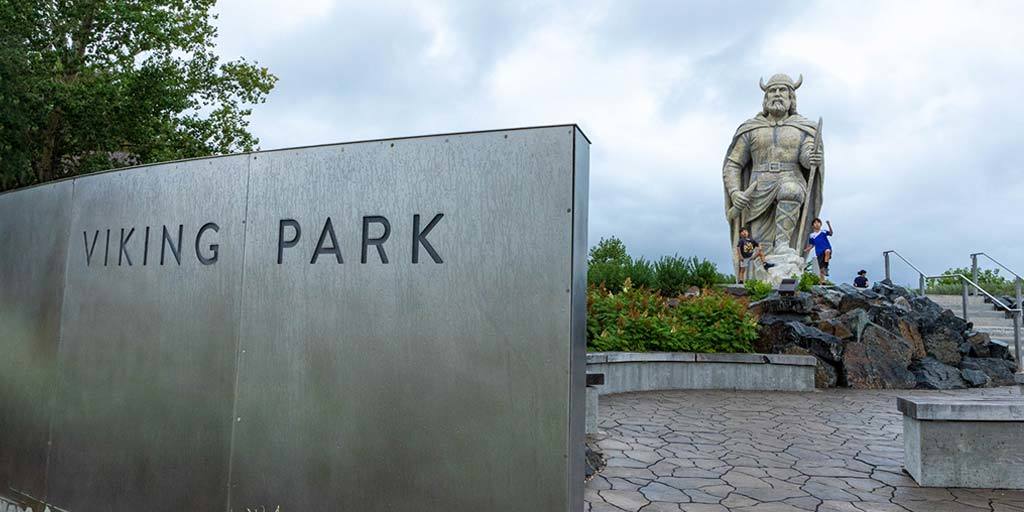 Did you know that there was a little piece of Iceland hiding on the shores of Lake Winnipeg in Southern Manitoba? It turns out that the tiny town of Gimli Manitoba, just 62 km north of Winnipeg is a booming town that proudly shows its Icelandic heritage. Our family travels in Iceland were among some of the most incredible experiences we have ever had, so when we were exploring Winnipeg, there was no doubt in my mind that we would make the 1-hour drive from Winnipeg to Gimli for a little exploration. And after discovering all of the fun things to do in Gimli Manitoba, I think its a great Manitoba road trip for every family.
With its rich history and beautiful lakeside location, Gimli Manitoba is a popular day trip from Winnipeg. Those in the big city flock to Gimli during the summer to enjoy the quaint town and the popular Icelandic Festival. From the beautiful marina to the gorgeous scenery, Gimli is a place to unwind, relax, and take things slow. After a crazy few days exploring the Winnipeg Forks, slowing down with Christina and the boys to explore Gimli was exactly what the doctor ordered.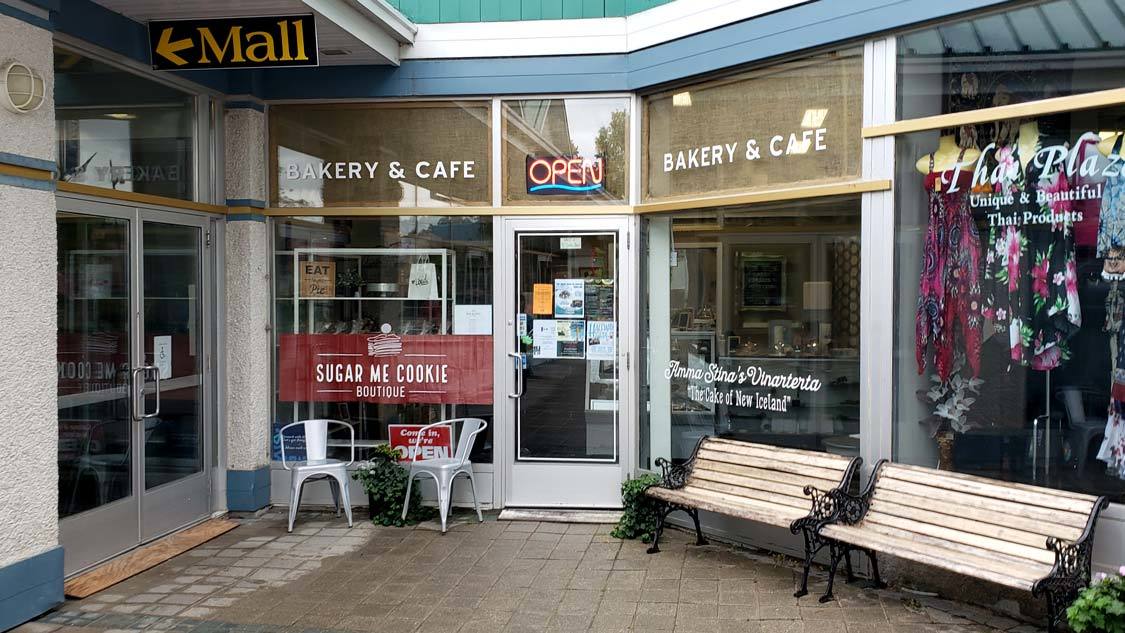 The Icelandic Heritage Of Gimli Manitoba
After exploring Iceland with our kids, learning about the Icelandic heritage town of Gimli Manitoba was so exciting. And a visit to Gimli, that heritage is on display. From the shops to the museums, the festivals to the restaurants, a little bit of Iceland is everywhere. This is because back in the mid-1800s there was a mass migration of Icelanders who were escaping famine. The strife was caused by a sudden change in climate caused by the eruption of Mount Askja. Nearly one-fifth of the residents of Iceland made their way to the Great Lakes and Utah to try and start a new life. Christina, C, and I hiked the Askja crater, and even now the evidence of that destruction is amazing. In the late 19th century many of these refugees made their way to Manitoba, setting the town of New Iceland, which later became known as Gimli Manitoba.
Today, Gimli is one of the most popular towns on the shore of Lake Winnipeg. The summers here are booming. And festivals such as the Icelandic Festival and attractions like the Icelandic Heritage Museum have made Gimli a popular place to learn about Manitoba, Iceland, and the ties that bind them together.
Fun Things To Do In Gimli Manitoba
Explore The Gimli Boardwalk
Gimli has a beautiful lakefront location. In fact, Lake Winnipeg is the largest lake in Manitoba. To help experience the beautiful scenery, Gimli has a great boardwalk. The Gimli boardwalk is lined with a seawall painted with brightly colored murals. The murals tell many stories about the region from the Icelandic heritage to the indigenous history and everything in between. It may have been a bit rainy during our visit, but the boardwalk was one of the highlights of our visit.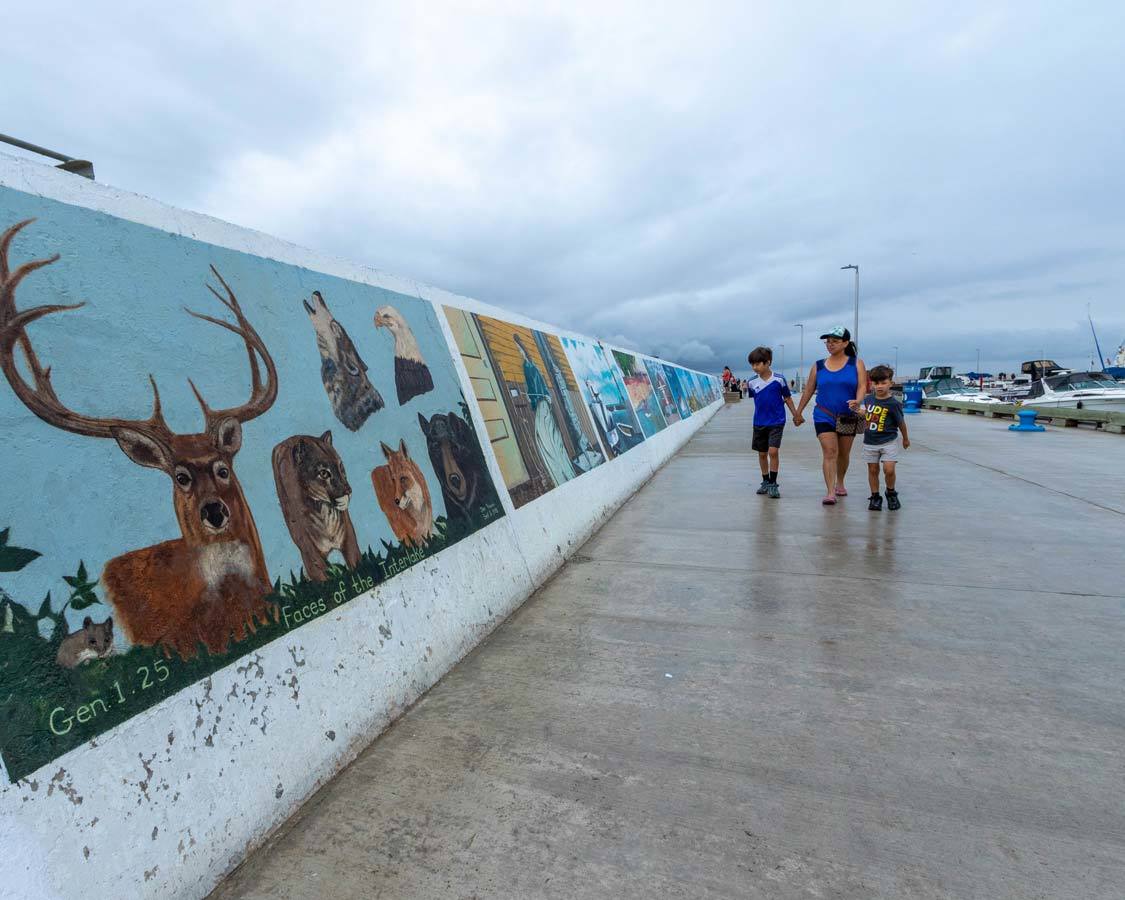 Shop At One Of the Oldest General Stores In The Province
H.P. Tergesen & Sons, on the corner of 1 Ave. and Centre St. is a piece of Gimli history. The Gimli general store was built way back in 1898 and has remained a family business for generations. H.P. Tergesen store is so engrained in the history of the town that it was declared an official heritage site. The Gimli store has everything you need to make the most of your visit to the town. There are treats, trinkets, water toys, and some of the best clothing deals outside of Winnipeg. The store can get busy, especially when the long weekend crowds take over the city. But it's always worth a visit to the H.P. Tergesen General Store. Make sure to keep a lookout for the original wood and metal cash register.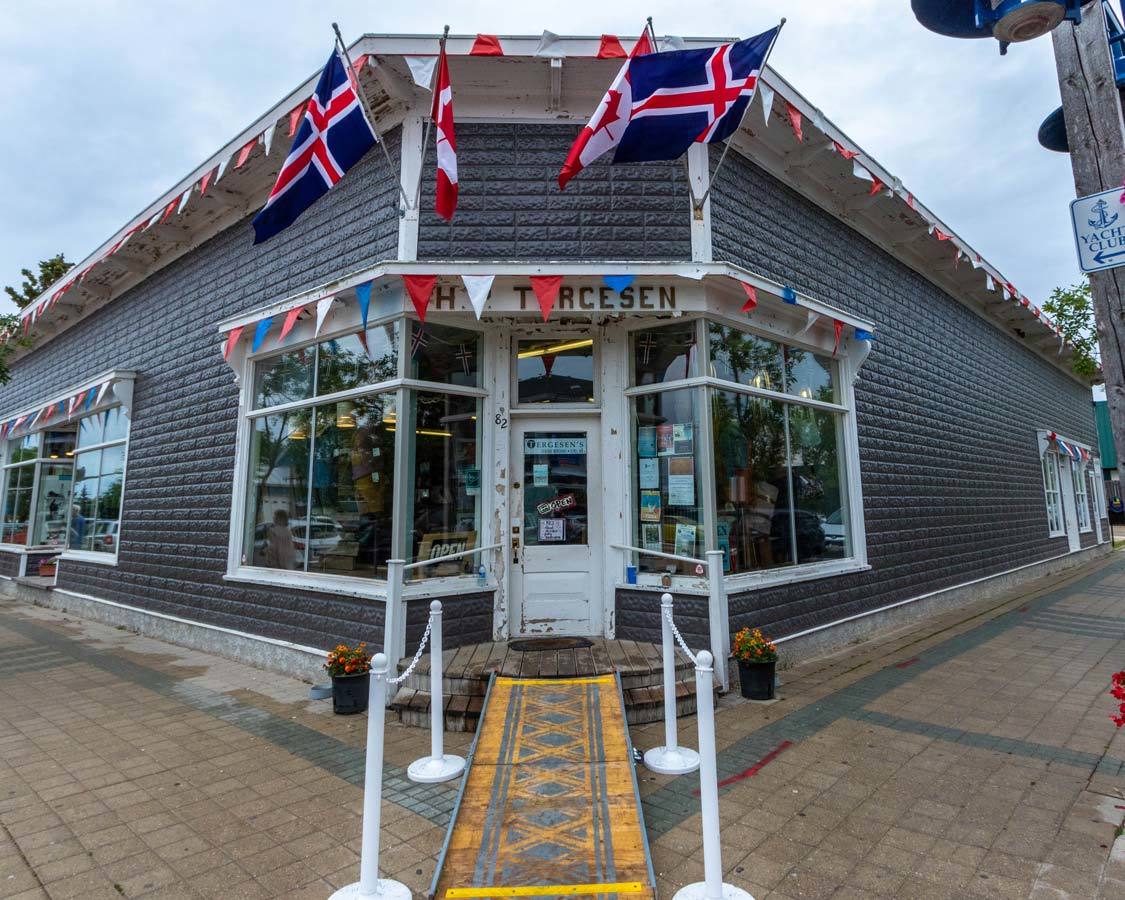 Get a Photo With A Viking At Harbour Park
Viking Park, near the Harbour Marina off Centre St, is home to many of the mystical Icelandic creatures that made the trip back in the 1800s. Elves, Trolls, and more are hiding around the base of the iconic Viking sculpture and garden. This is a great place to learn about Norse mythology. The statue was built in 1967. And the gardens and grounds surrounding it have continued to grow and offer more hidden treasures for visitors to explore.
Soak In The Sun On The Gimli Beach
A summer visit to Gimli wouldn't be complete with a visit to Gimli Beach. This long stretch of sand has picnic tables, play structures, and easy access to all the great shopping in downtown Gimli. Gimli Beach is near the Gimli skatepark as well, so if you're visiting Gimli with teenagers, there are lots for them to do too.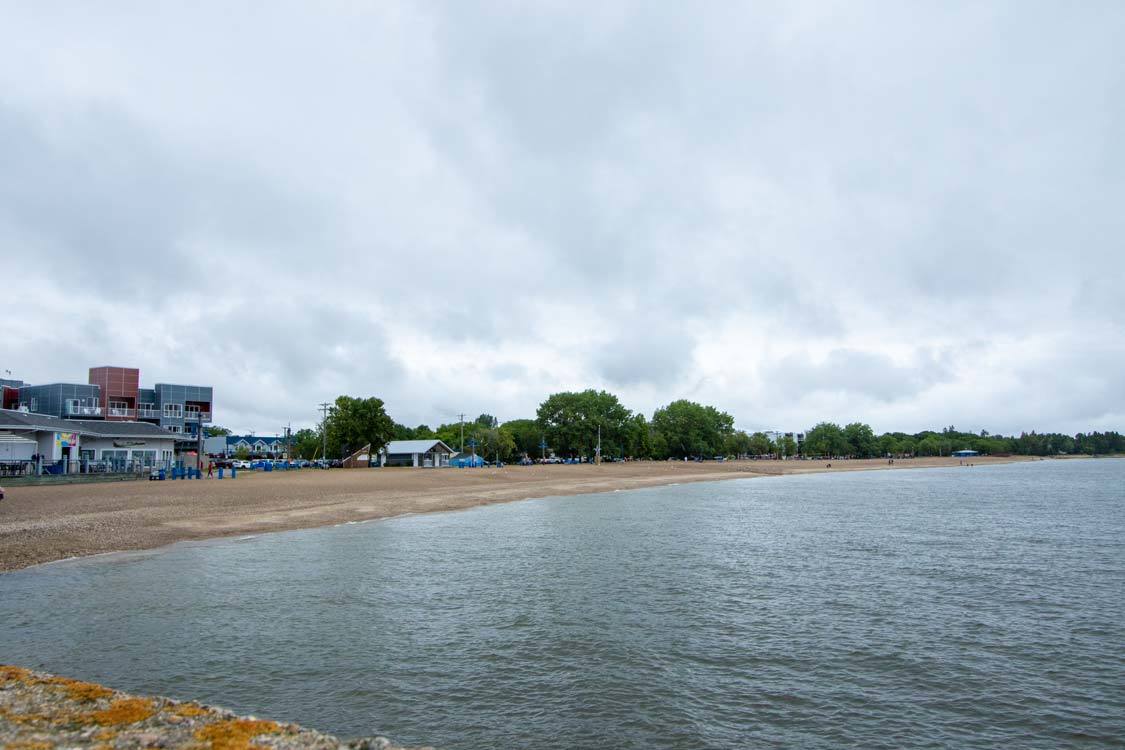 Wander The New Icelandic Heritage Museum
The best place to learn about the Icelandic heritage of Gimli Manitoba is at the New Icelandic Heritage Museum. Here you can wander through the displays and multi-media presentation chronicling the history of the founders of New Iceland in Manitoba. The museum is open 7-days-a-week. You can learn more about the museum here.
Where To Eat In Gimli Manitoba
Gimli is not a big place. But this tiny town is packed with incredible places to eat. From delicious bakeries selling Icelandic pastries to fresh fish pulled straight from Lake Winnipeg, the food scene in Gimli is on fire. I highly recommend starting off with fish and chips at Ship and Plough Tavern on Centre St. Here you can enjoy some fresh pickerel and crispy fries.
If that's not your style, learn why the best pizza we've ever had was in Iceland at Brennivins Pizza Hus on 1st Ave. From there, head around the corner to grab a coffee from the local Flatland Coffee Roasters on 3 Ave. This minimalist coffee shop keeps the brew in focus. Although you can get a few baked goods here as well.
But if you want the best baked goods in Gimli Manitoba, head over to Sugar Me Cookie Boutique on Centre St. Sugar Me Cookie Boutique serves up freshly baked Icelandic treats that are almost impossible to find anywhere outside of Iceland. The Vinaterta cookie sandwiches are absolutely to die for. You can get them raspberry-filled, or traditional-style with a date filling. If you love these treats, you can enjoy them with some of my favorite Icelandic recipes that I make at home.
Best Festivals In Gimli
If you're looking to time your visit to New Iceland with some of the fun and exciting festivals in Gimli Manitoba, you're in luck! There are a few great Gimli festivals that are worth experiencing. Here are some that are on the top of my list.
Gimli Film Festival
In late July, the town holds the Gimli Film Festival. The festival features a diverse range of features from short films to cinematic features. Unlike major film festivals, the Gimli Film Festival often shows films in tiny venues, some with standing room only. The intimate experience of this Gimli festival makes for an unforgettable experience. You can find out more about the Gimli Film Festival here. During the festival, the whole town becomes part of the party. There are nightly screenings on the Gimli beach, trivia nights, and fun celebrations throughout the town.
Icelandic Festival
The Gimli Icelandic Festival, or Islendingadagurinn, isn't just a piece of Icelandic heritage, it's a piece of Manitoba culture. The Icelandic Festival in Gimli has been taking place since the 189os, making it one of the oldest ethnic festivals in the country. The Icelandic festival takes place yearly on August 2. It features food, music, entertainment, events/activities, Icelandic culture, and of course, Vikings! Expect to see traditional competitions and games that make this festival fun for the whole family. You can learn more about the Icelandic Festival in Gimli here.
Getting to Gimli, Manitoba
Getting to Gimli from Winnipeg means heading north for about 67 km and rounding the southern tip of Lake Winnipeg. There are no public transportation options available to reach Gimli, so access to a car is highly recommended. The drive up is beautiful, especially in mid-late summer when you can pass by the blooming sunflower fields that dot the Manitoba landscape. The drive is easy, and flat (this is Manitoba after all!).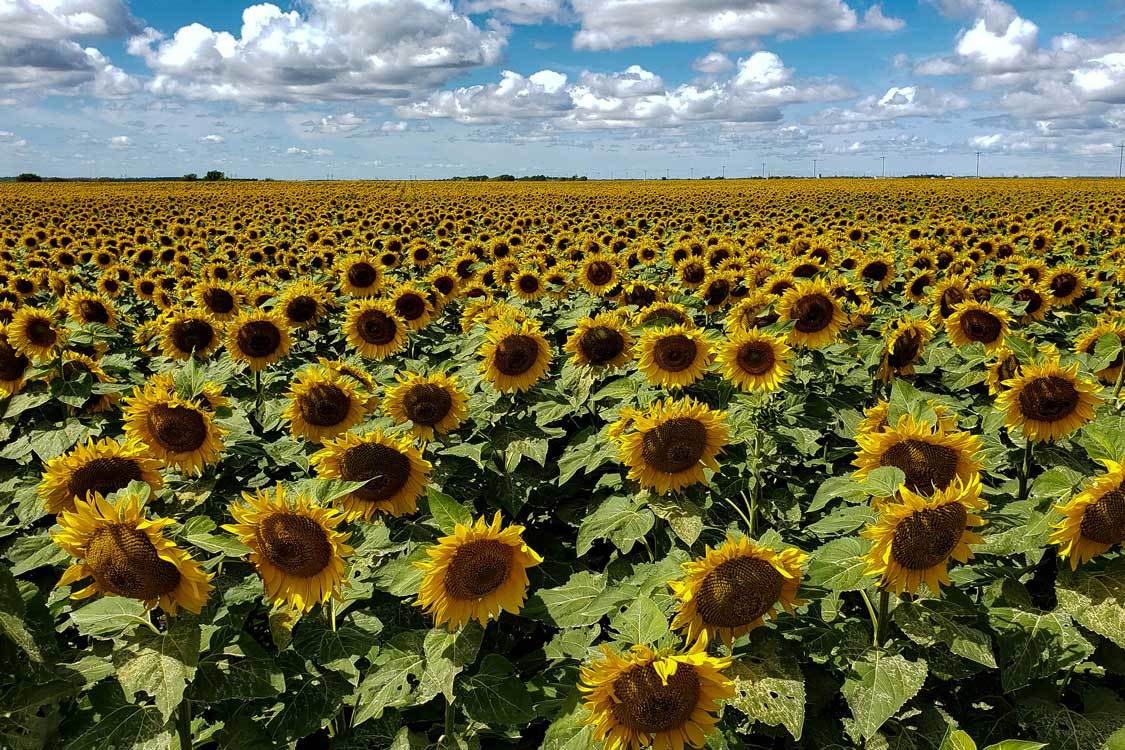 Where to Stay in Gimli, Manitoba
Gimli is a small town and there aren't a lot of options for accommodations here. What few rooms there are tend to book up quickly, so I highly recommend getting your reservation in early if you plan to spend a weekend Gimli. The Lakeview Gimli Resort is one of the top accommodations in Gimli. It has a great waterfront location, free wifi, and both and indoor and outdoor pool. There is also an onsite restaurant that is popular with both tourists and locals alike. You can check out their prices and availability here.
Another popular option for staying in Gimli is Aaron's On-The-Lake. This is one of the most highly rated accommodations near Gimli. Although it is located in Matlock, about 15-minutes from the town. Aaron's has free wifi, and access to a hot tub, microwave, and fridge. There's easy access to trails for hiking and cycling as well. You can check out their prices and availability here.
Have you ever made the trip to Gimli Manitoba? Tell us about it in the comments. Or tag our Instagram account in your photo. We would love to share in your travels.
Wandering Wagars is a participant in the Amazon Services LLC Associates Program, an affiliate advertising program designed to provide a means for sites to earn advertising fees by advertising and linking to amazon.com, amazon.co.uk, amazon.ca. Amazon and the Amazon logo are trademarks of Amazon.com, Inc., or its affiliates.
You May Also Like To Read:
Pin This For Later: