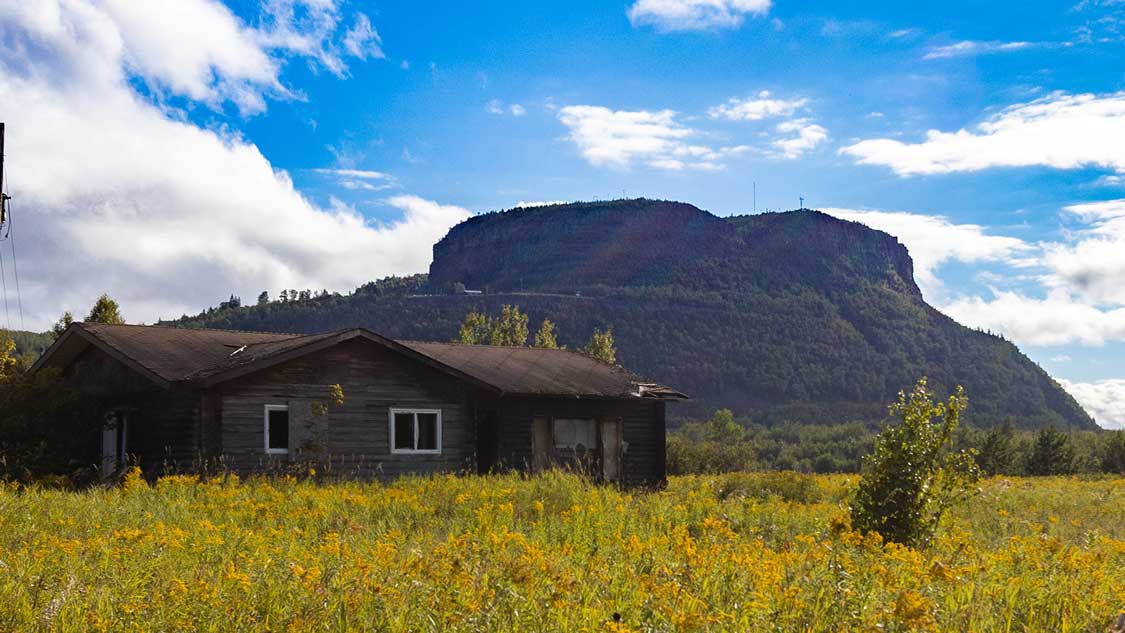 A Thunder Bay to Winnipeg drive offers one of the most unique road trips in Canada. The distance between Thunder Bay and Winnipeg clocks in at just over 700 km (435 miles). Driving from Thunder Bay to Winnipeg isn't a short trip. The route takes about eight hours as a straight shot. But, if you were looking to do a straight drive from Thunder Bay to Winnipeg, you wouldn't be here.
Those who have read our popular road trip guides, like the ones we have put together for drives from Toronto to Quebec City and Sault Ste Marie to Thunder Bay, want to explore along the way. And the Winnipeg to Thunder Bay drive delivers a lot of beauty. As a bonus, unlike many of the drives in Ontario, the stretch between these two iconic Canadian cities does not suffer from heavy traffic.
Both Thunder Bay and Winnipeg are incredible cities. The drive between them offers a spectacular experience as you cross out of the harsh wilderness of the Canadian Shield. Thunder Bay is the largest city in Northwestern Ontario and the largest city on Lake Superior. The city offers all the hallmarks of a town shedding its Frontier attitude and embracing its position as the crown of Lake Superior. It's an incredible city to travel through. And if you visit, check out our guide to the best things to do in and around Thunder Bay.
On the other hand, Winnipeg has an entirely different feel to Thunder Bay. It's younger, more modern, and where it doesn't feel as wild and unrestrained as Thunder Bay, it has an incredible atmosphere, especially in places like the Forks urban park. And while both cities have a tremendous amount of Indigenous heritage, Winnipeg seems to embrace it without abandon.
So if you are thinking of making the Thunder Bay to Winnipeg drive, you won't regret it. I've been lucky enough to experience some of the most amazing things between these two cities. And once you've done it, you may never look at Canadian road trips the same way. If you are traveling from Winnipeg to Thunder Bay, you can just flip the route and start the guide from the bottom.
What Is The Distance Between Thunder Bay And Winnipeg?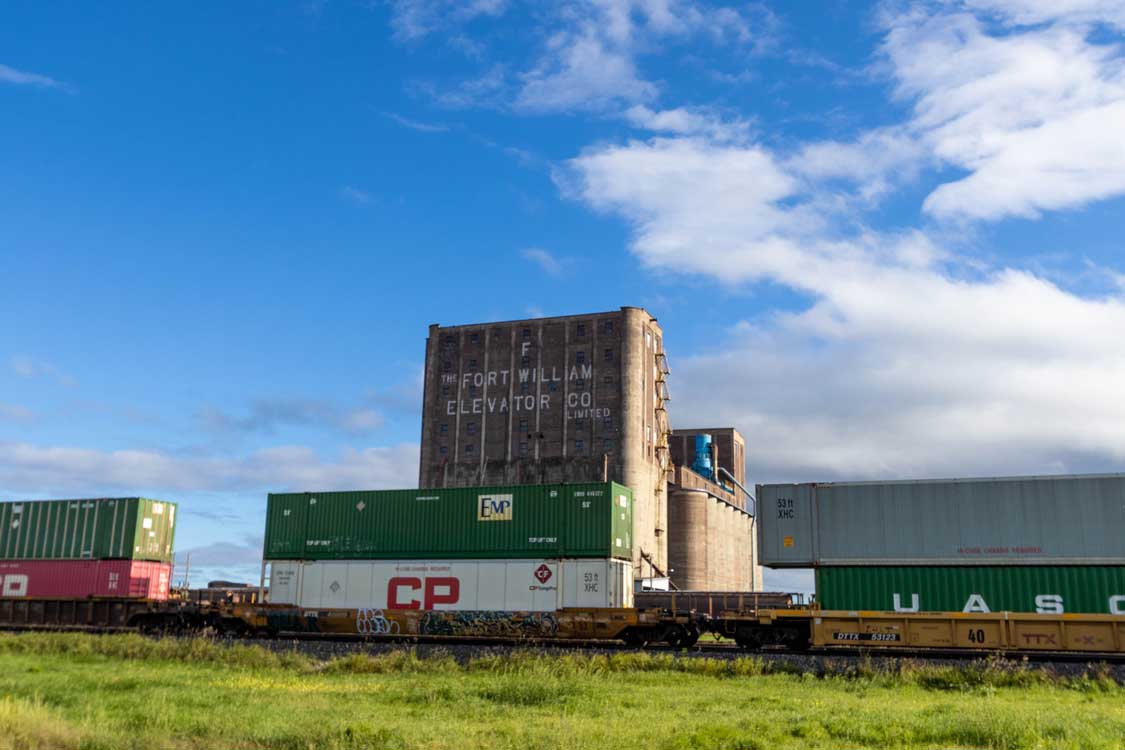 The most direct distance between Thunder Bay and Winnipeg is about 702 km (436 miles). It typically takes approximately seven hours and 45 minutes to make the trip between these two cities. The drive time depends on the level of traffic. Although, driving between Thunder Bay and Winnipeg has far less traffic than other more densely packed cities such as Quebec City and Toronto. Between these two cities, the driving is pretty smooth. The traffic you may experience is most commonly due to construction during the summer or weather delays during the winter. But, if you plan on seeing the many things to do between Thunder Bay and Winnipeg, plan for a few days to make the most of your travels.
This Ontario to Manitoba road trip will show you some of the best things to see between Thunder Bay and Winnipeg. I'll show you how long each experience could take. When you plan your own road trip you'll be able to see some of the most incredible sites along the way and end up with some amazing stories to share.
Tips For A Drive From Thunder Bay to Winnipeg (or Winnipeg to Thunder Bay
If you plan a drive between Winnipeg and Thunder Bay, here are a few road trip tips to help you stay happy and comfortable. These tips for Canadian road trips are helpful whether you are looking for a straight bomb between the two cities, or if you are looking at checking out the best attractions between Winnipeg and Thunder Bay.
Before you start out on your road trip between Thunder Bay and Winnipeg, make a plan. But, keep it flexible. It's about the journey, not just the destination.
Pack a map of Canada. Sure, a GPS is great, but there is something far better about having a real map. You can mark it up with a Sharpie and show off all the cool places you stopped along the way. Your friends will NOT believe the amazing things you saw along the way.
Stay entertained. Long road trips can get tiresome. And although there are plenty of stops between Thunder Bay and Winnipeg to keep you occupied, you don't want to get bored on those stretches in between. Check out our epic list of road trip jokes (family-friendly!). Pack up some CDs or load up those MP3s and let the tunes flow.
There are a limited number of gas stations along the Thunder Bay to Winnipeg drive. Most of the route follows the Trans-Canada Highway, but it can be over an hour between some gas stations. It's always best to keep your gas tank filled up along the way.
Bring a camera! You are going to see some amazing things on this road trip. Make sure you capture those memories and share them with family and friends. I like this one for travel since it's super tough, takes great photos, and can even be used in the water.
The Best Things To See On A Thunder Bay To Winnipeg Drive
A great plan for a Thunder Bay to Winnipeg road trip is to have the most amazing experiences along the way. To get your trip started on the right foot you might want to check out some of the best sites in Thunder Bay. Things such as the incredible waterfront, Sleeping Giant Provincial Park, and Fort William Historical Park. But once you get in the car it's time to make some ground and get this Thunder Bay to Winnipeg drive in gear.
Thunder Bay to Winnipeg Stop 1: Drive-Up Mount McKay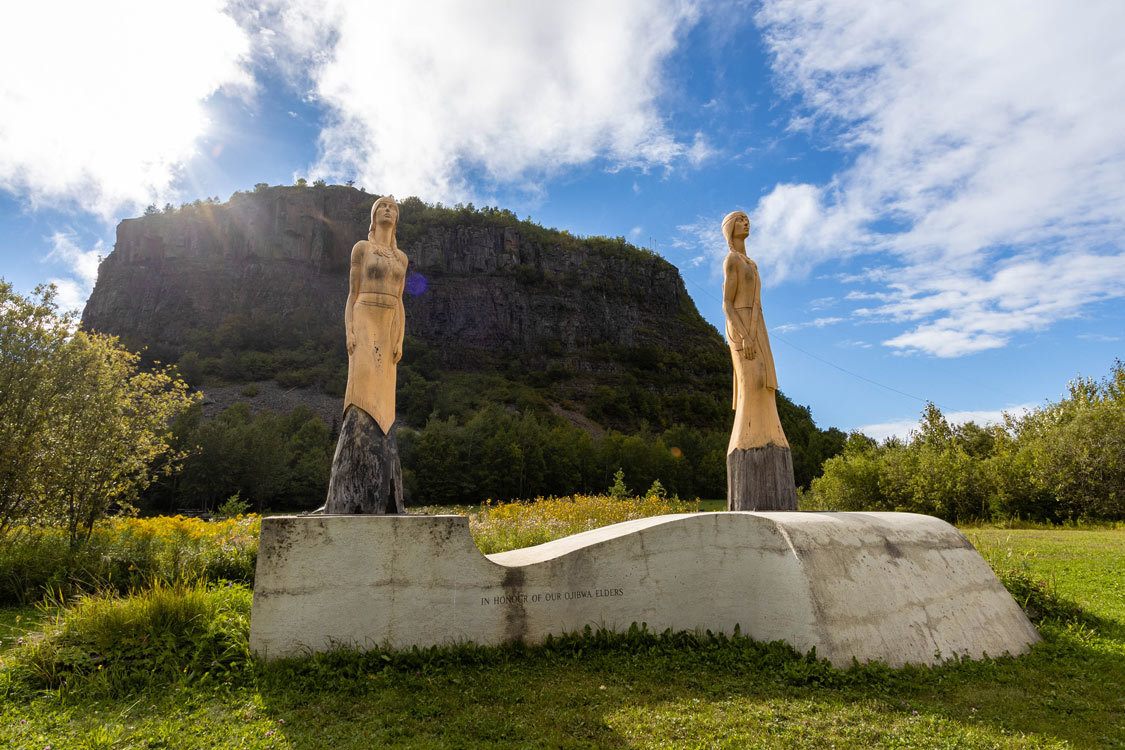 At 1,500 ft, Mount McKay is one of the tallest points in all of Ontario. And this special spot, which sits within the Ojibway Community of Fort William, offers one of the best lookouts over iconic Sleeping Giant Provincial Park. There is a small fee to access the road, which brings you about three-quarters of the way up the massive sill. This is where the pow wow grounds and the overlook are. If you'd like to reach the summit, there is a hiking trail at the end of the parking lot.
Thunder Bay To Winnipeg Stop 2: Hike Around Roaring Kakabeka Falls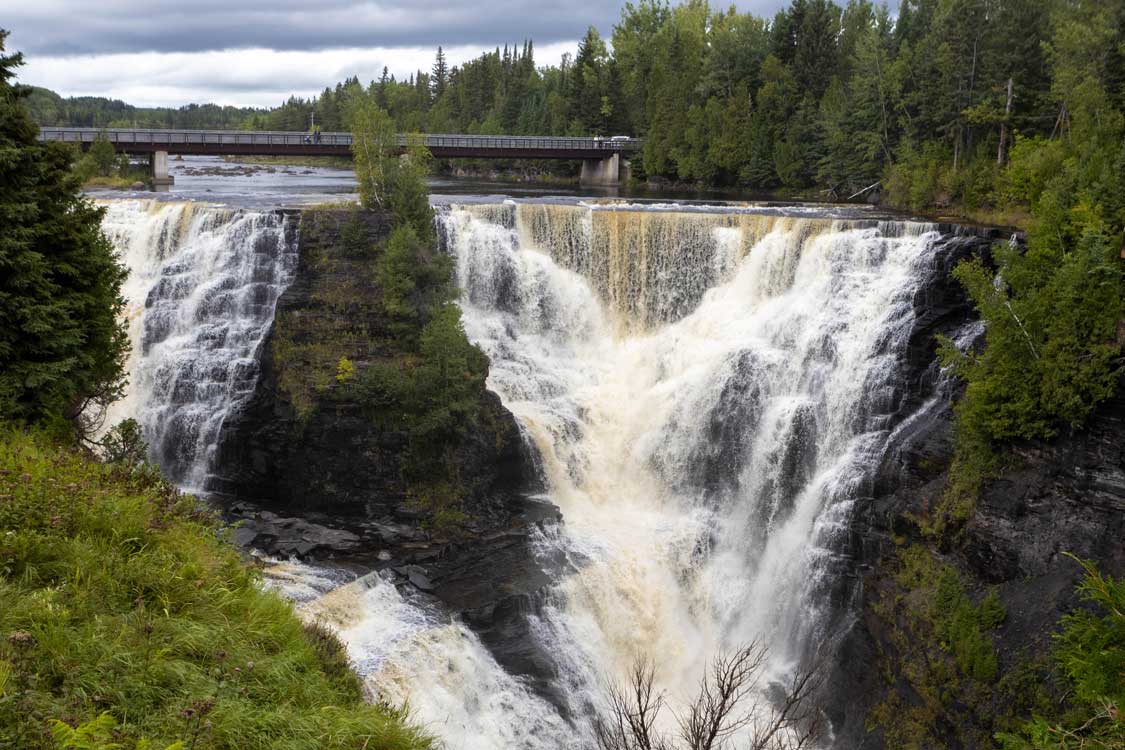 Kakabeka Falls Provincial Park is a stunning waterfall located about 30-minutes west of Thunder Bay. This gorgeous waterfall is a big reason why so many people make the drive to Thunder Bay. And Kakabeka Falls doesn't disappoint. The park offers lovely hiking trails and camping as well for those who would like to spend more time here.
Thunder Bay to Winnipeg Stop 3: Take A Dip at Sandbar Lake Provincial Park in Ignace
About two hours from Kakabeka Falls is the small town of Ignace, Ontario. Just a short 11 km drive from the town is Sandbar Provincial Park. This park is famous among hardcore canoeists who use the park as the starting ground for some of northern Ontario's most epic canoe routes.
But for families and those looking for a quick break, Sandbar Provincial Park offers a beautiful, family-friendly beach with a gently sloping drop into a shallow lake. It's a perfect stop to cool off on a hot summer day.
If you're hungry, try stopping in town at the Ignace Tavern for one of their signature pizzas. If you plan on spending the night in Ignace, you can either enjoy the camping at Sandbar Lake or enjoy a comfortable night at Northwoods Motor Inn.
The town of Ignace was named after Ignace Mentour, the main aboriginal guide to Sir Sandford Fleming, who introduced the world to regulated time zones.
One of the most unique things to do in Ignace is visit the White Otter Castle on White Otter Lake. This elaborate three-story log house was built between 1904 and 1914 by Jimmy McQuat without any help. But be warned, White Otter Castle can only be accessed via boat in the summer months, and snowmobile in the winter months.
Thunder Bay to Winnipeg Stop 4: Walk the Wabigoon River Suspension Bridge in Dryden
Just an hour down the road from Ignace is the town of Dryden. Stop at the visitor centre to snap a photo with the iconic 'Max the Moose.' The Best Western Inn and the Comfort Inn offer two of the best options if your looking for hotels in Dryden. If you're looking for an Airbnb or VRBO in Dryden, there are some fantastic cabins on Eagle Lake.
Dryden marks the halfway point on the drive between Thunder Bay and Winnipeg. Aaron Provincial Park offers some excellent camping and fishing.
While you're in Dryden, a great place to stretch your legs is on a walk across the Roy Wilson Suspension Bridge. The hike, which is in Johnston Park, stretches across the Wabigoon River and offers a wonderful way to see the rapids.
Thunder Bay to Winnipeg Stop 5: Walleye Fishing In Sioux Narrows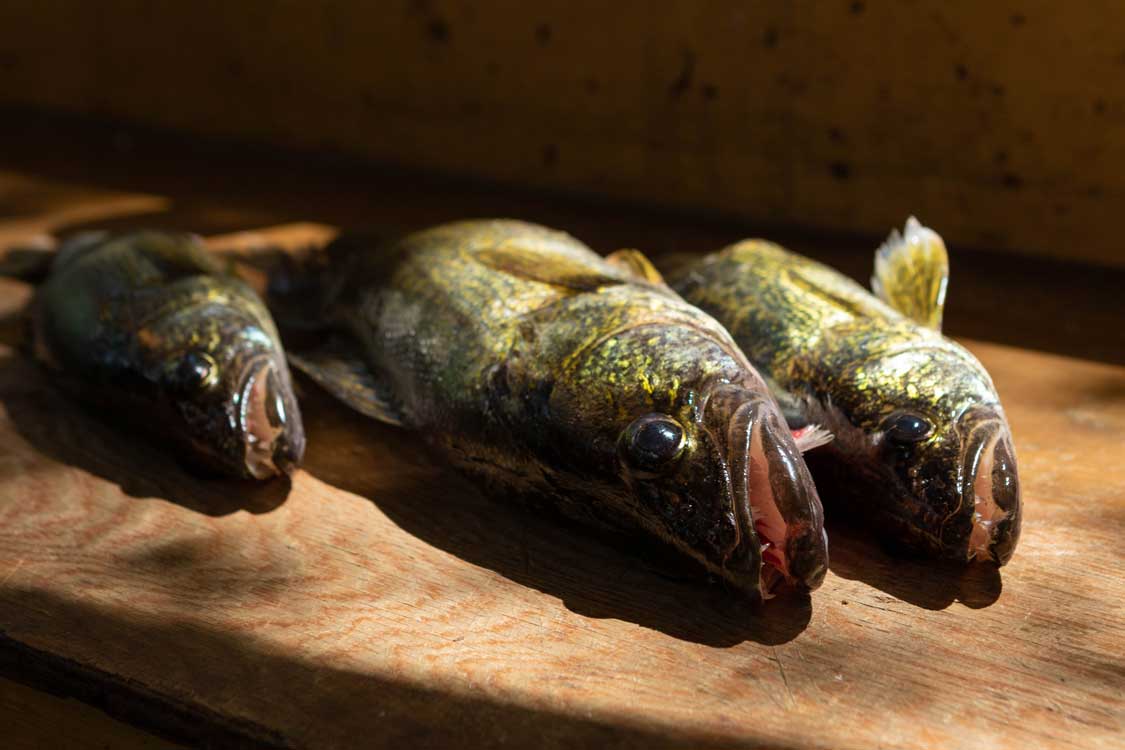 Northern Ontario is famous for its Walleye fishing. I remember an awesome weekend spent north of White River fishing at Mar Mac Lodge and cooking our catch right onshore. It was amazing.
There is no better fishing in northern Ontario than in the region near Kenora. The lakes are absolutely jammed with fish. If you're an angler, consider stopping around Sioux Narrows and Sioux Narrow Provincial Park.
If you're looking for the best spots or local guides, connect with the Northern Ontario Sportfishing Centre in Sioux Narrows and get out on the water.
To reach Sioux Narrows head south from HWY 17 onto HWY 71. If you continue heading this way, you'll eventually reach the Minnesota border and HWY 11. This is another possible route between Thunder Bay and Winnipeg.
Thunder Bay To Winnipeg Stop 6: Explore Kenora, Ontario
The city of Kenora, Ontario is the last big stop before the rugged landscape of the Canadian Shield gives way to the rolling prairies of Manitoba. For many travellers, this is seen as the "last stop" before you exit Ontario and enter Manitoba.
Kenora offers loads to do for visitors. Also, it makes a great stop for those looking to break their Thunder Bay to Winnipeg. So why not break up your drive up into a couple of days? The Timberland Inn offers one of the best hotels in Kenora for a night's stay or more. It's just a kilometre and a half from the harbour. And it offers easy access to the best things to do in town. If you prefer to choose an Airbnb in Kenora, this highly-rated cottage is perfectly situated on the Lake of the Woods.
Make sure to stop at the Lake of the Woods Brewing Company. Here you can enjoy some of northern Ontario's best craft beer. The Lake of the Woods Discovery Centre offers an excellent place to help plan out your time in Kenora. In the centre, you can also learn more about this spectacular part of the country.
If you're planning to spend some time in Kenora, consider taking a dinner cruise aboard the MS Kenora. This is one of the best ways to experience the spectacular northwestern Ontario sunsets.
Entering Manitoba and a Choice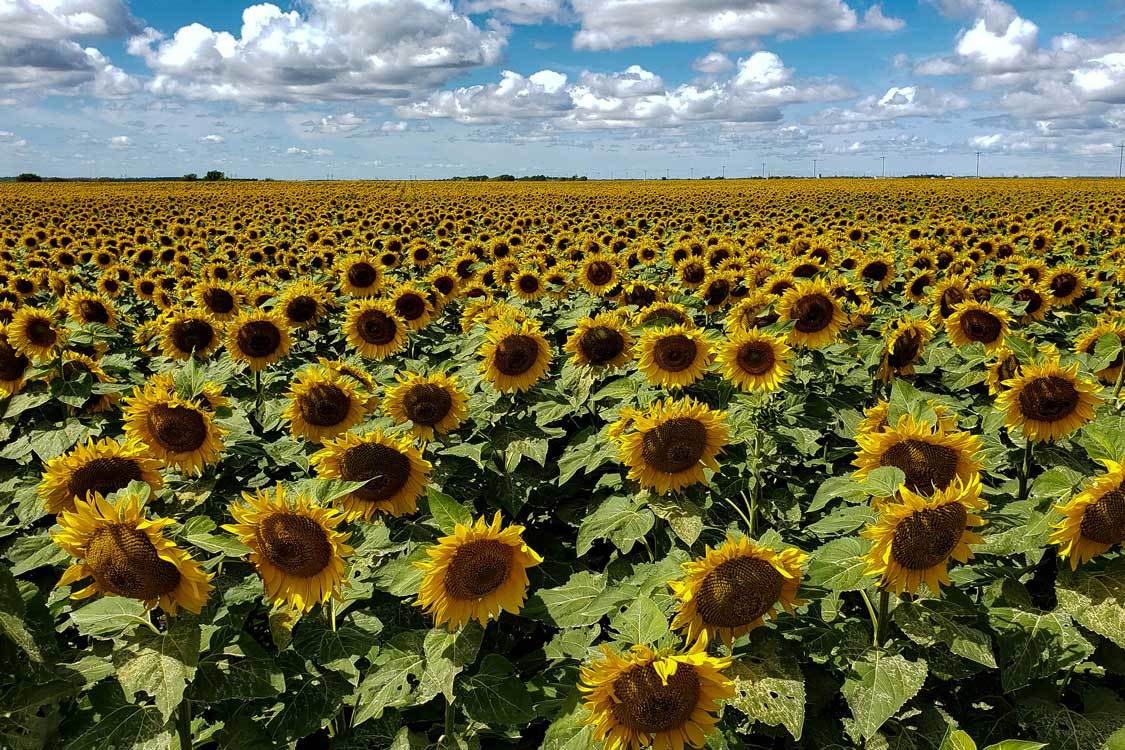 Kenora is a short, 200 km (130 mi) stretch to the Manitoba border. But within just a few short kilometres of crossing the border, the rugged Canadian Shield comes to an abrupt halt as the wide, flat land of the Canadian Prairies makes itself known. Forests and lakes give way to fields of wheat and sunflower.
And it's here that the Thunder Bay to Winnipeg traveller must make a choice. Should you continue on the shorter route along the Trans Canada Highway, or make a detour north on HWY 44 at the town of Whiteshell? Heading straight along the Trans Canada will save a lot of time and take you straight to Winnipeg. But heading north will offer an amazing detour that will explore some of our favourite things to do in Manitoba.
Both routes meet up back at the Trans Canada Highway before the Centre of Canada Park. So if you're going straight, skip to that. If you're heading north, read on through.
Thunder Bay To Winnipeg Stop 7: Wander Through Whiteshell Provincial Park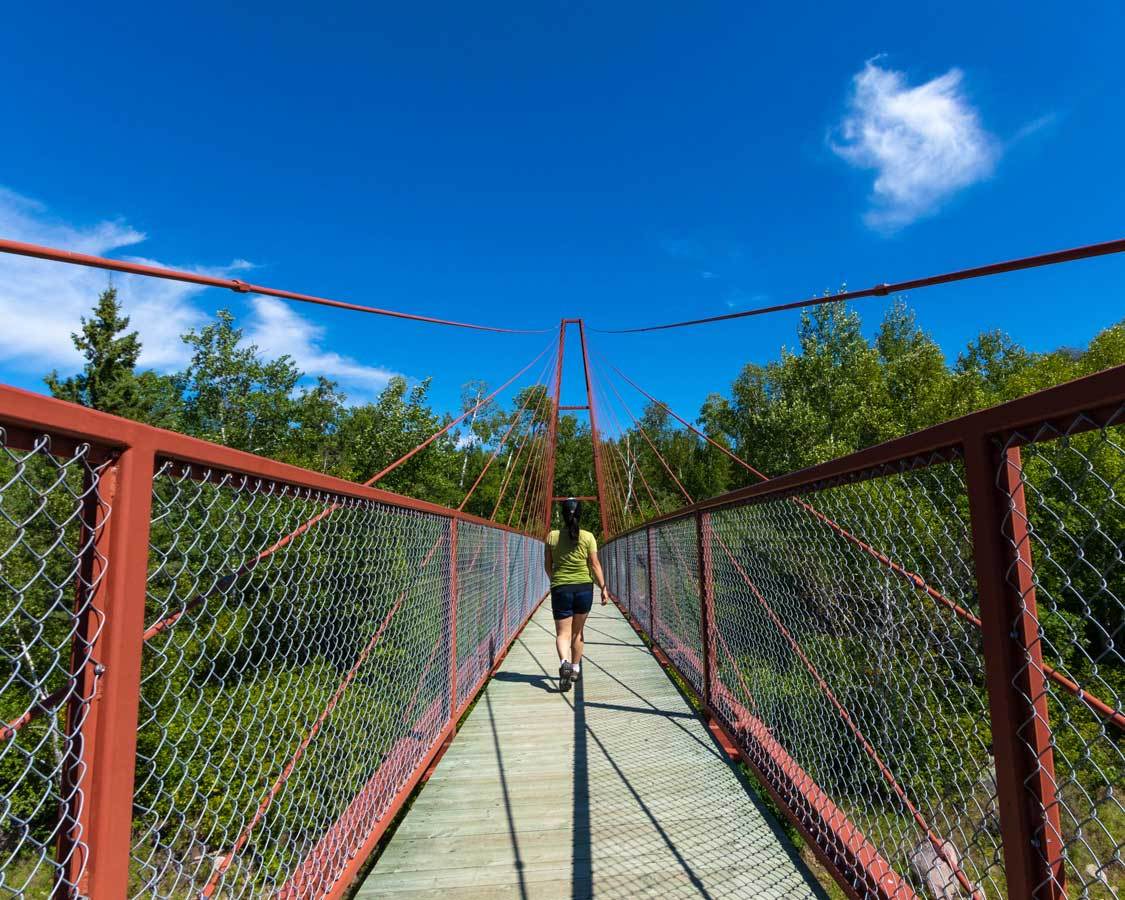 As you swing north on HWY 44, the beauty of Manitoba's Lake country really comes into view. Follow HWY 44 until it reaches HWY 307 and take the scenic route through Whiteshell Provincial Park.
Whiteshell Provincial Park is one of my all-time favourite places to visit in Manitoba. This was our final stop before heading up to Churchill to see the polar bears, and the beauty of Whiteshell keeps drawing us back.
While you could easily spend a week taking in all the beauty of Whiteshell, if you give the park at least a few hours, you'll be treated to some unforgettable experiences. Some of my favourites things to do are taking in the region's rich Indigenous history on a walk along the Bannock Point Petroforms. These intricate rock art forms tell the story of many Anishnaabe traders who journeyed through this area over the past several hundred years.
You might also want to take a break at Rainbow Falls to cool down on a hot day. Or, if you're driving from Thunder Bay to Winnipeg in the winter, Whiteshell Provincial Park offers an excellent spot for snowshoeing. If you're looking for food, check out High Point Restaurant & Lounge in Whiteshell or the Nite Hawk Cafe in West Hawk.
For more ideas of things to do and where to stay, you can check out our guide to Whiteshell Provincial Park here.
Thunder Bay To Winnipeg Stop 8: Dip Your Feet At Seven Sisters Falls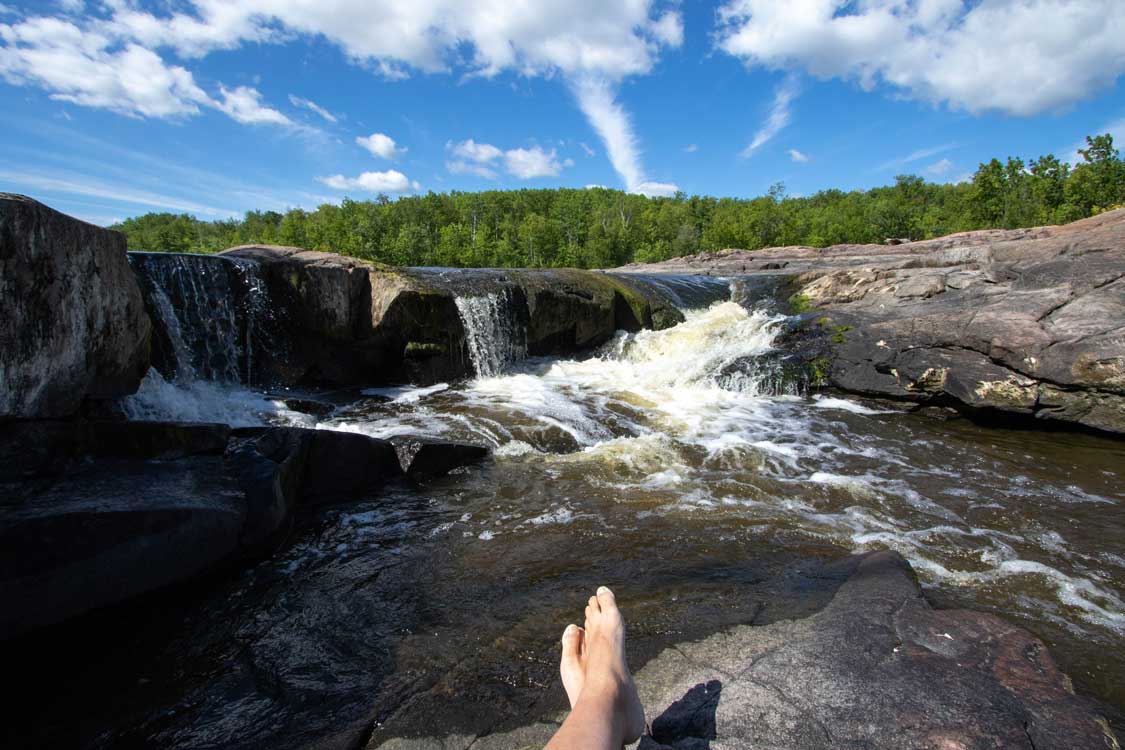 Right as you exit the west end of Whiteshell Provincial Park you'll see Jennifer's Restaurant-Picnic on the left-hand side of the road. This seasonal food-truck-style restaurant offers up amazing fusion and truly unique dishes. Jennifer's isn't just one of the best places to eat in Whiteshell Provincial Park, it's one of the best places to eat in Manitoba.
Continue down the road and on the right-hand side you'll find Two Rivers Dr. Follow it down past the views of the massive Seven Sisters Generating Station and you'll reach Whitemouth Falls Provincial Park. A short trail will take you down to the Seven Sisters Falls, which is a beautiful place to picnic.
Thunder Bay To Winnipeg Stop 9: Walk On History At Pinawa Dam Provincial Heritage Park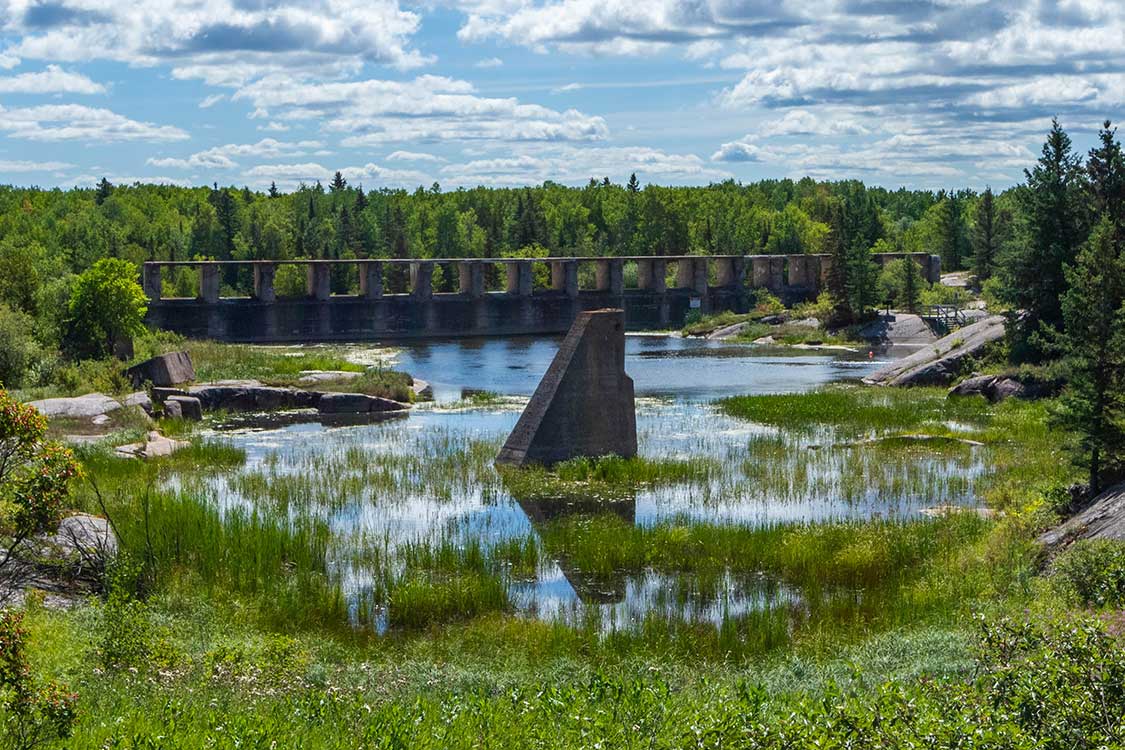 The beautiful Pinawa Dam is a short 30-minute drive from the north entrance of Whiteshell Provincial Park. To reach it, you'll hang a right onto HWY 11, right again on HWY 211, and then left on HWY 520. There is plenty of parking available if you arrive early in the day or late in the afternoon.
This beautiful Manitoba Provincial Park is on the grounds of a hydroelectric dam that was built in 1906. The original town of Pinawa was abandoned after the dam stopped generating electricity in 1951. Now the Romanesque ruins offer a stunning backdrop to roaring waterfalls and lush marshland.
Thunder Bay To Winnipeg Stop 10: Snap A Photo At The Centre of Canada Park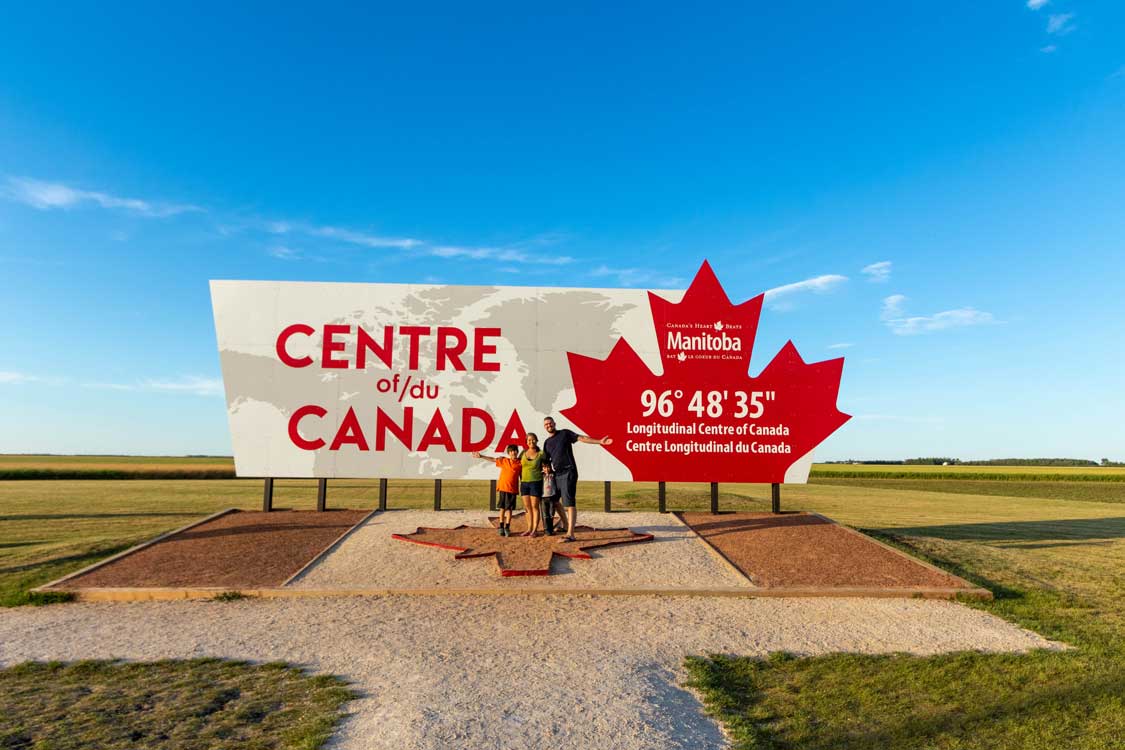 After checking out all of the incredible highlights of eastern Manitoba, head back to HWY 11 and follow HWY 44, 302, 15, 12, an 501 back to the Trans Canada Highway. Along the way you'll drive through gorgeous wheat and sunflower fields, which, on a bright and sunny day, seem to sparkle in the light.
When you turn right onto the Trans Canada you'll see the iconic Centre of Canada Park on the right hand side. Don't worry if you miss the first exit. There are three separate exits to bring you to the park just in case.
Arriving In Winnipeg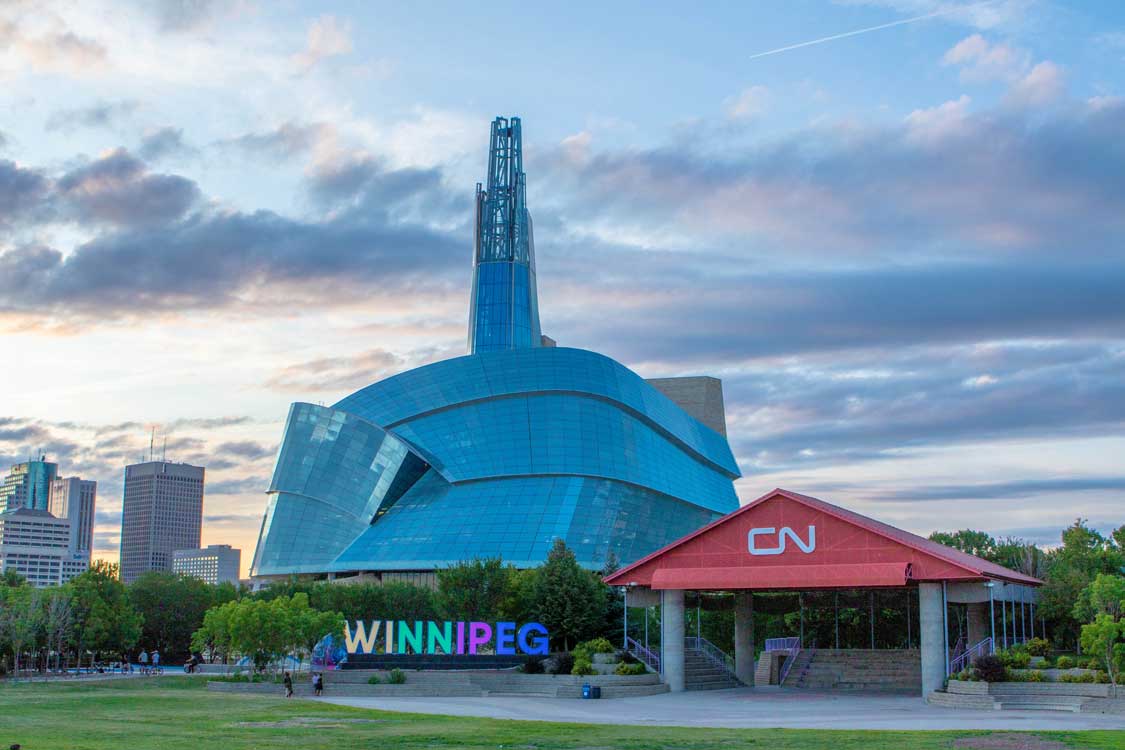 From the Centre of Canada Park, it's just a short 15-minute drive to the edge of Winnipeg, and just 30-minutes to reach downtown and the iconic The Forks heritage park.
There are some absolutely incredible things to do in Winnipeg. The Assiniboine Zoo, Fort Whyte Alive, and the amazing Winnipeg food scene are just a few of them.
If you're looking for great places to stay in Winnipeg. Probably the most iconic is the Inn at the Forks, which is located right in the famous heritage park. The Fort Garry Hotel is another fantastic location and even has it's own haunted history.
Thunder Bay To Winnipeg Drive Map
Car travel from Thunder Bay to Winnipeg is pretty straightforward. This route map from Thunder Bay to Winnipeg will help you see the key points along the drive between these two great cities.
Have you ever done a Thunder Bay to Winnipeg drive? Drop a note in the comments to tell us about your trip. Or, head over to our Facebook page and share a photo of your trip. We would love to hear about it!
Wandering Wagars is a participant in the Amazon Services LLC Associates Program, an affiliate advertising program designed to provide a means for sites to earn advertising fees by advertising and linking to amazon.com, amazon.co.uk, amazon.ca. Amazon and the Amazon logo are trademarks of Amazon.com, Inc. or its affiliates.
You May Also Like To Read: