Saguenay-Lac-St-Jean is one of the most beautiful regions of Quebec. Discover what makes this the centre of adventure travel for families in the province.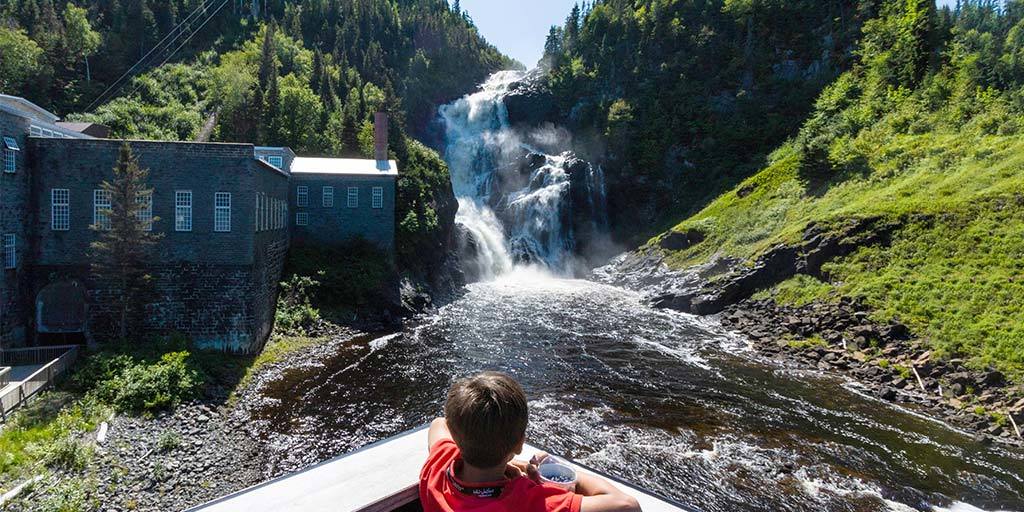 Travel in Quebec is quickly becoming one of my favorite places for family experiences in Canada. And after a summer spent exploring with my kids, ending my summer on a father/son trip to Saguenay-Lac-St-Jean Quebec was the perfect way to cap things off before the start of school. C and I were invited to join Visit Saguenay-Lac-St-Jean for a chance to explore the area and discuss ways to showcase the region to families. We jumped at the chance. We had just spent a few weeks earlier in the summer further south of the region to experience whale watching in Tadoussac.
I'll admit, I didn't know much about the area further north. Heck, I didn't even know that the region encompasses one of the beautiful fjords in Canada. But after 5 days in Saguenay and Lac-Saint-Jean, my eyes were opened. This may be one of the hidden gems of outdoor family adventure travel in Canada. Saguenay-Lac-St-Jean is a destination where we fell in love with the people and laid-back culture. It's where C developed his passion for Saguenay Tourtiere (not to be confused with the more common Quebec Tourtiere). And we had the chance to connect while experiencing our mutual love for adventure, food, and learning.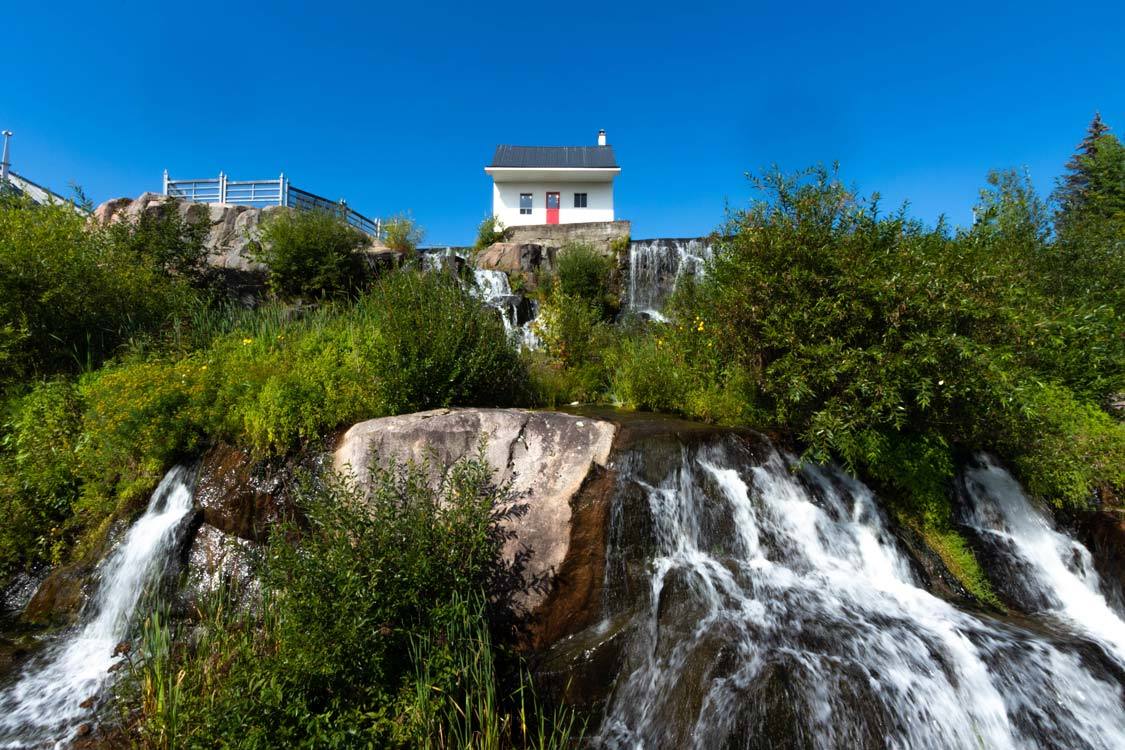 Where Is Saguenay-Lac St-Jean?
Saguenay and Lac St-Jean sit in a rather unassuming area of Quebec. Tadoussac sits at the mouth of the Saguenay Fjord. But if you follow the fjord north you come across some of the most unique landscapes in Quebec. Towering cliffs, sprawling forests, and quaint towns let it be known that there is far more to this area than meets the eye.
The region of Saguenay-Lac-Saint-Jean covers a huge area of 107,000 sq km (66487 miles) – about twice the size of the province of Nova Scotia. Roughly 150,000 inhabitants populate the main city of Saguenay which encompasses the 3 boroughs of Chicoutimi, La Baie, and Jonquière. A group of smaller municipalities, including Alma, Roberval, Saint-Felicien, and Dolbeau-Mistassini make for another 125,000 residents in the region. All of this land makes Saguenay-Lac-Saint-Jean the third largest region in Quebec.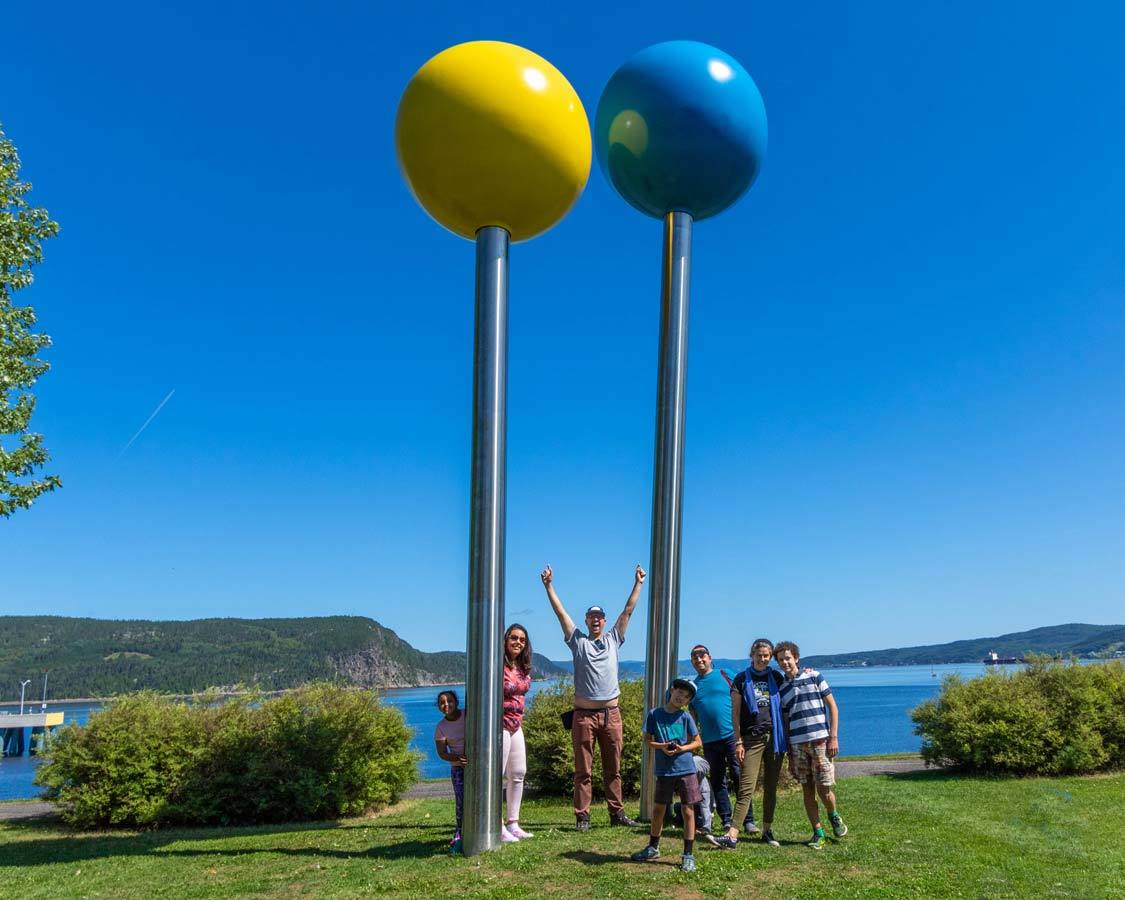 Family-Friendly Experiences In Saguenay-Lac-St-Jean
One of the things that became obvious when C and I arrived in the region is that Saguenay-Lac-St-Jean seems built for the kind of soft adventure experiences that make family travel so unforgettable. Kids will love the zoos, unforgettable accommodations, nature, and exciting things to do in Saguenay-Lac-Saint-Jean.
Learn About The Saguenay Fjord At The Musee Du Fjord In Saguenay in La Baie
The Saguenay Fjord is central to life in the Saguenay-Lac-St-Jean region. The fjord is the spine of the region and has been the source of food, travel, and culture of Saguenay for centuries. If your children love nature as much as mine do, a great place to stop is at the Musee du Fjord in the town of La Baie. This small but engaging museum offers an in-depth look at life in the Saguenay fjord. There are science-fiction-based 4-D experiences, touch tanks and aquariums that show off the fascinating creatures that call the Saguenay Fjord home.
But that's not all that's on offer at the Musee du Fjord. There are incredible interactive outdoor experiences. We were brought out to the fjord at low tide where we had a chance to dig for clams and mussels, search for shrimp, and catch fish with our bare hands. Inside the Musee du Fjord there is a vivarium full of fascinating insects and reptiles. This includes a Costa Rica tree frog that C kept trying to get to stick to my face. Oh, and there are dinosaurs. Because dinosaurs are awesome! You can read more about the Musee du Fjord in La Baie here.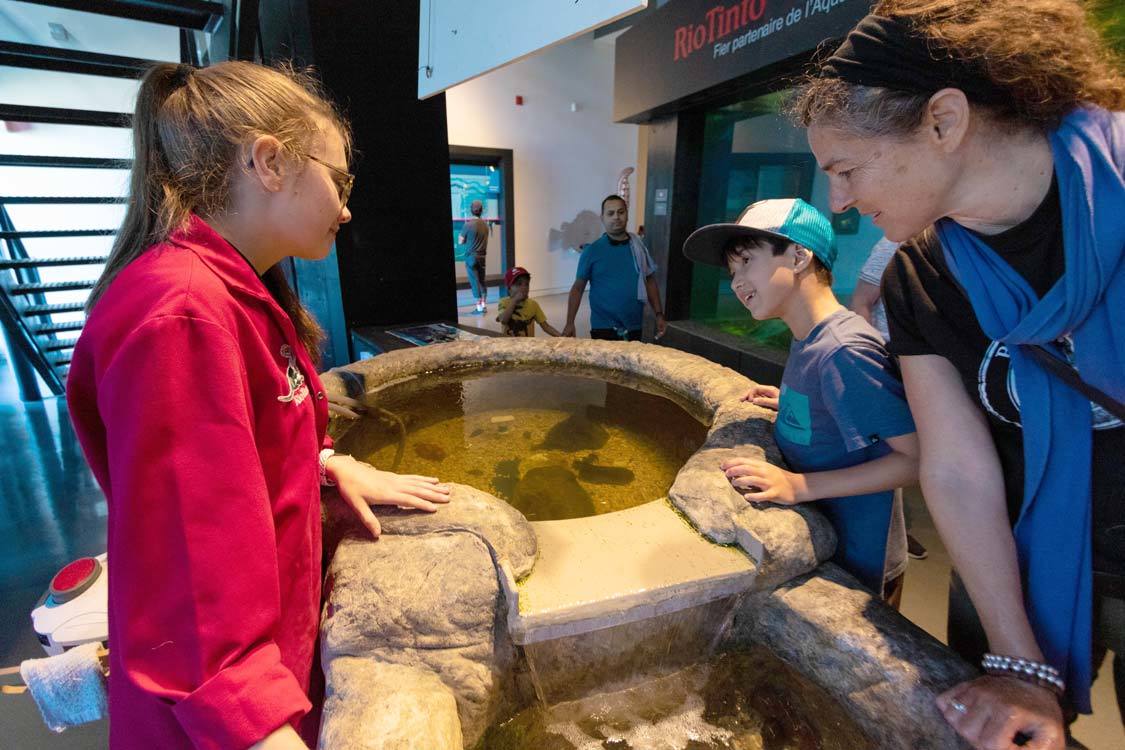 Best Family Accommodations Near The Musee Du Fjord
If you're looking to spend some more time exploring the great attractions of Saguenay near the Musee du Fjord, this is a great hotel to experience. There's a large pool, waterpark, and fun outdoor activities as well. For those on a Saguenay road trip, you also have easy access to grocery stores.
Step Back In Time At Val Jalbert Historical Village
If you're looking for an amazing combination of nature, history, and fun, the historical village of Val-Jalbert between Roberval and Chambord are for you. Val Jalbert is a re-built pulp mill town located on the south-east shores of Lac-Saint-Jean. This sprawling town contains a pulp-mill, family residences, church, and more. Many of these have been carefully rebuilt from the ruins of the structures that fell to ruin after the mill closed in the late 1920s.
Val Jalbert Village is filled with characters in period costume who are filled with stories of life in the town. There are shops, restaurants, and much more to discover. For C and I, our favorite things to do at Val Jalbert were taking in the beautiful Ouiatcouan waterfall and experiencing the fun and incredibly presented 4-D Val Jalbert historical presentation at the base of the pulp mill. The show was fun, exciting, and completely immersive.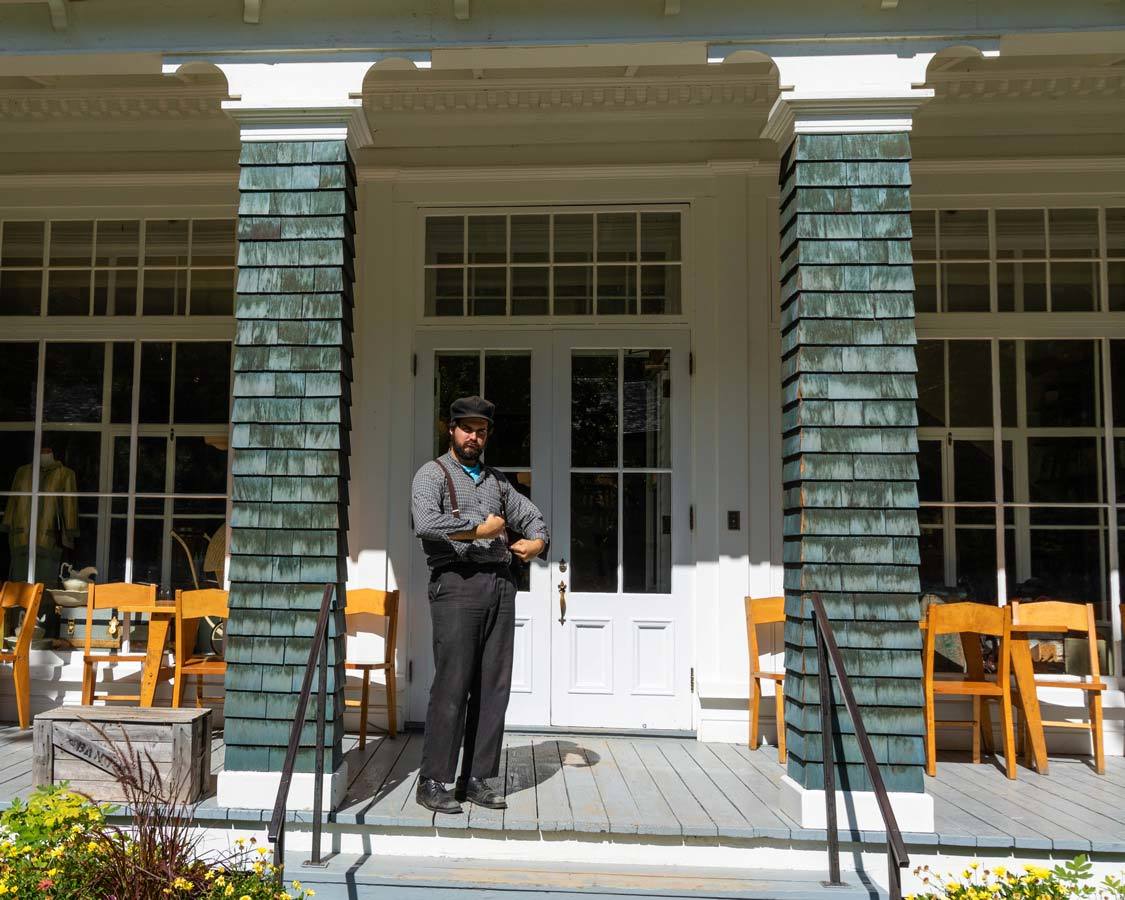 Best Family Accommodations Near Val Jalbert Historical Village
Exploring Val Jalbert can easily be a multi-day experience. Why not fully immerse yourself by staying at one of the amazing Val Jalbert accommodations within the town itself. The rooms are beautiful and historic. And you'll have access to an amazing breakfast in the morning.
Make Your Own Cheese At Fromagerie Perron In Saint Felicien
Although Saguenay-Lac-Saint-Jean may not have the culinary history of nearby Charlevoix, there are some amazing destinations for food lovers in the region. One of the most historic and engaging food experiences in Saguenay-Lac-Saint-Jean is the Fromagerie Perron in the town of Saint Felicien. Shoppers in the area will be familiar with the Perron cheese which can be found in many local grocery stores. But the Fromagerie offers something special. The chance to make your own Quebec cheese.
The Perron cheese making experience offers a glimpse into the traditional Quebec fromagerie experience. We had a tour of the fromagerie including a visit to the cheese-makers house (which I'll admit was a bit dry for C after our chocolate making experience in Peru). We enjoyed a tasting of some of the best Perron cheese. And then we topped it off with our own cheese-making experience. The hands-on cheese-making is surprisingly short, but you do get a great chunk of fresh cheese to take home with you afterward. You can sign up for the Perron cheese-making experience here.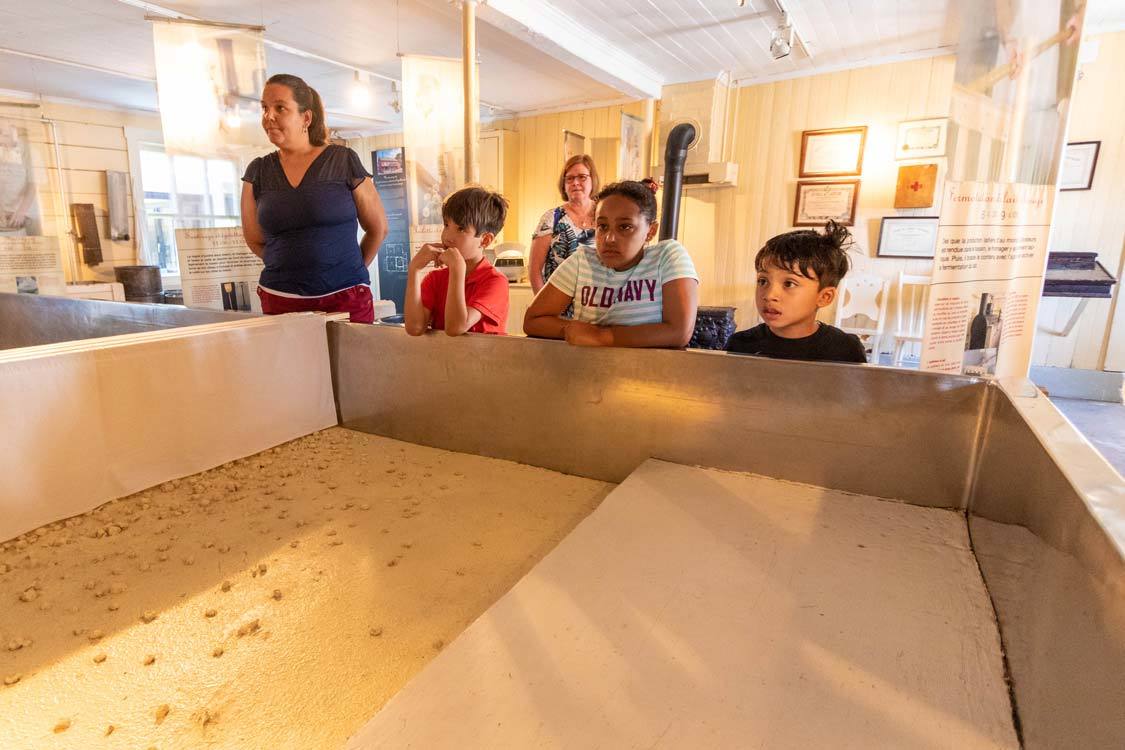 Meet The Polar Bears At Zoo Sauvage
Visiting zoos with kids can be hit or miss. Too often we've come across run-down or just downright depressing zoos. Zoo Sauvage in Saint Felicien could be used as a model on how to do it right. This sprawling Saguenay zoo was one of C's favorite stops during our tour of the region. The exhibits are huge. They offer a glimpse of northern wildlife in their natural habitat. This includes a massive exhibit filled with deer, bear, wolves, muskox, bison, and more that can only be experienced via a road-train. Don't be surprised if you look out the (caged) windows and see a bear within reaching distance.
The crown jewel of the Zoo Sauvage exhibits is the massive polar bear exhibit. Our family had just returned from an epic trip to see these majestic bears in the wild up in Churchill Manitoba. Getting another chance to see them up close was amazing. The exhibit is excellent and even compares to the popular Assiniboine Park Zoo in Winnipeg Manitoba. At Zoo Sauvage visitors can even sign up for overnight stays among the caribou in the plains exhibit. I didn't get the chance to experience this myself, but I'm very tempted to go back and try it out because it sounds amazing. You can find out more about that here.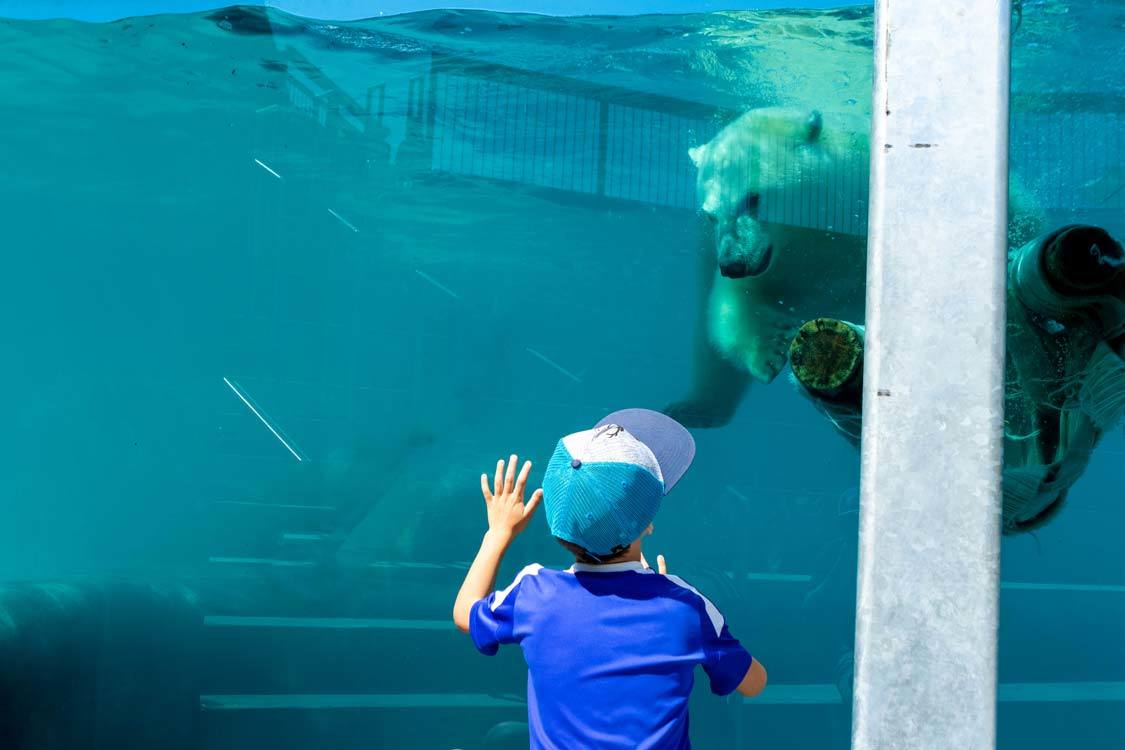 Best Family Accommodation In Saint Felicien
We stayed at this hotel during our night in Saint Felicien Quebec and had a great night. The on-site restaurant offers a great selection of food, and the hotel pool and hot tub are perfect for families with small children.
Bike The Blueberry Trail In Parc National Pointe Taillon
Cycling is a big part of life in Saguenay-Lac-St-Jean. The Blueberry Trail and countless other Saguenay cycling routes wind around Lac-Saint-Jean and the surrounding area. Many of these are family-friendly and are well separated from the roadways. But a great place to get introduced to the Blueberry Trail is at Parc National Pointe Taillon north of Alma. Biking is hugely popular in the region. And there are loads of companies that offer everything from bike rentals to guided bike tours. One of the companies worth checking out is Equinox Adventure. The owner Hugues Ouellet helped show us around during our Saguenay visit and he is an absolute treat.
Pointe Taillon has incredible beaches and a beautiful section of the trail to peddle. You can stop at countless places to splash in the water. Or, if you're there during blueberry season, just do what we did and eat until you're ready to explode. Visitors to Pointe Taillon can also enjoy the hiking and nature trails. The park offers camping and ready-to-camp options similar to the Parks Canada oTENTiks. You can find out more about Pointe Taillon National Park here.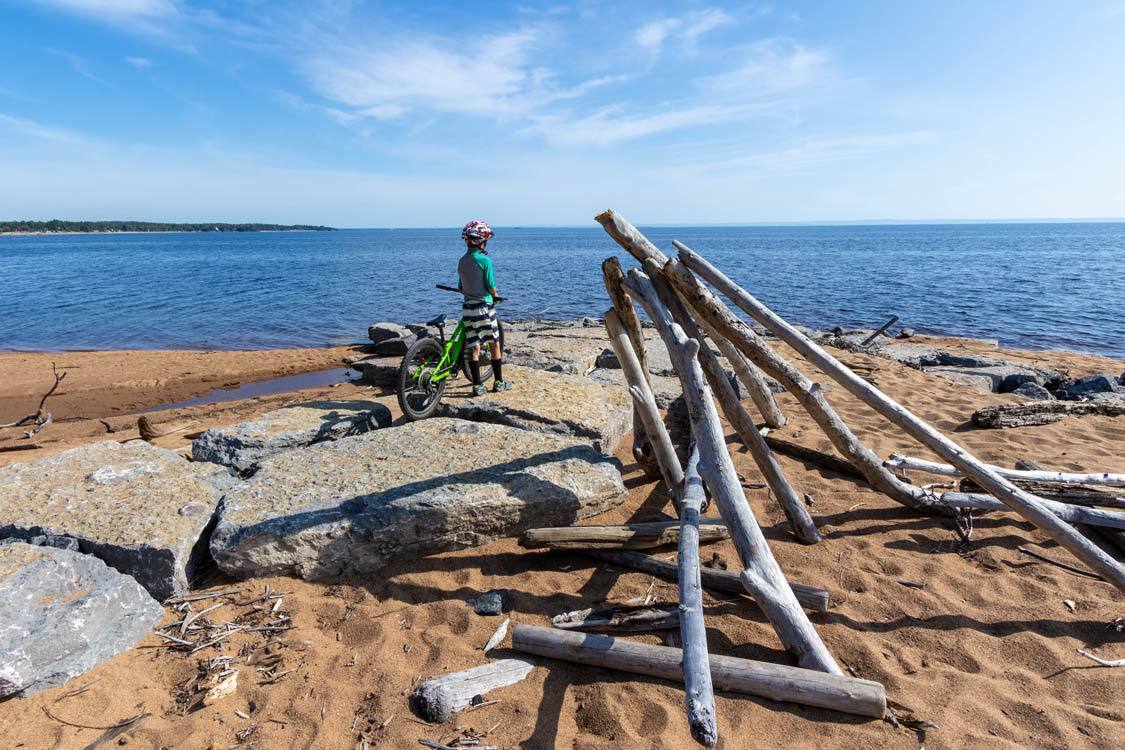 Best Family-Friendly Hotel Near Parc National Pointe Taillon
Parc National Pointe Taillon is quite removed from many of the towns in Saguenay-Lac-St-Jean. But a quick 30-minute drive will take you to this hotel. It has a pool, modern rooms, and a restaurant with a feature that kids will love. Pacini restaurant includes an all-you-can-eat bread bar. The 4 kids that were with us spent the entire dinner trying out every combination of toast toppings. Just leave your carb-worries behind on this one.
Go Treetop Trekking And Sleep In A Suspended Dome At Parc Aventures Cap Jaseux
The suspended spheres of Cap Jaseux have become one of the most popular symbols of the outdoor life here. But the iconic Quebec camping spheres aren't all that beautiful Cap Jaseux has to offer. This park on the Saguenay Fjord, just east of the mouth of the Saguenay River is an outdoor adventure park for nature lovers. Cap Jaseux has treetop trekking that ranges from toddler-focused to extreme adventure. There are hiking and biking trails, and even beaches where you can challenge yourself to a swim in the frigid waters of the Saguenay Fjord (The kids outlasted the adults by far on this experience).
And it's not just suspended spheres that are on offer for unique accommodations at Parc Aventures Cap Jaseux. There are also spacious domes with roomy decks and spectacular views of the fjord. For those looking for something a little quieter, you can stay in one of the cozy treetop cabins. But if unique accommodations aren't your thing, there is also tent camping available in the park. You can find out more on their website here.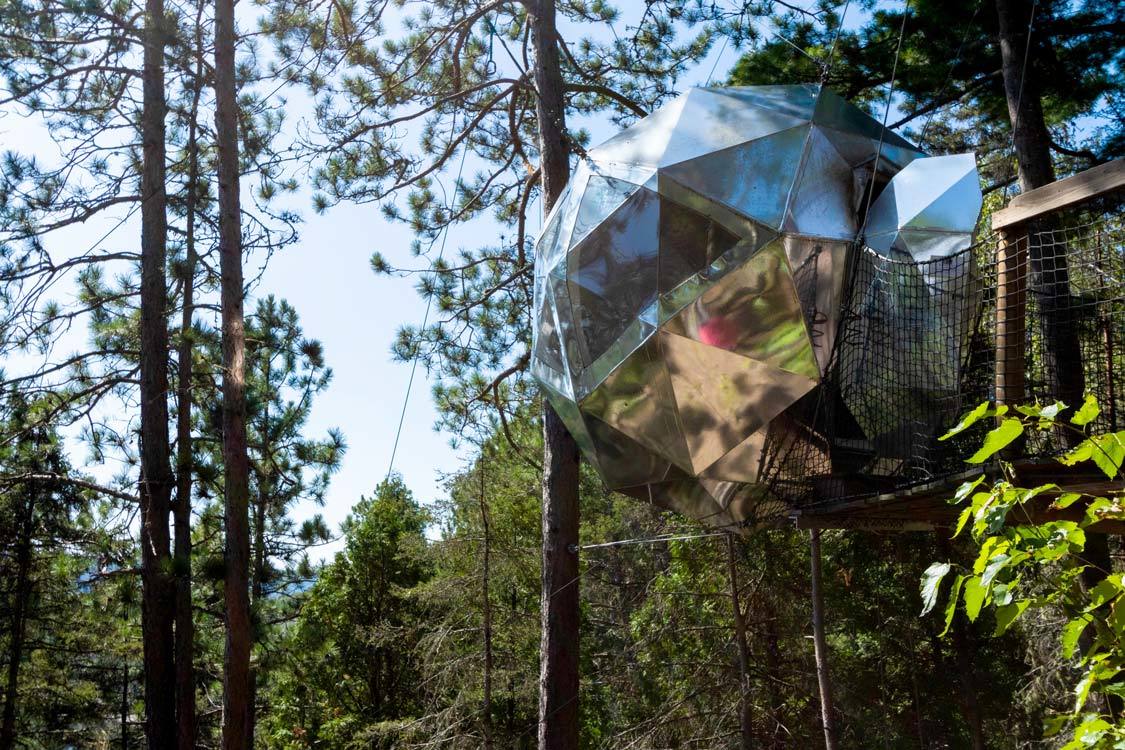 Take a Fjord Cruise With Navette Du Fjord
One of the best ways to experience Saguenay-Lac-Saint-Jean is on a fjord cruise. Navette Du Fjord offers a hop-on-hop-off boat service along the Saguenay Fjord. This route that runs from Tadoussac up to La Baie and Parc Aventure Cap Jaseux. The ferry stops at towns and attractions along the way offering the chance to step off and spend a few hours to a day or more exploring each region.
The Navette du Fjord passes can be booked for single trips, or for 2 or 7-day packages. There are family packages available as well for those looking to save a few dollars. It's a great way to experience the majestic fjord and the towns and attractions along the way. You can out more about Navette du Fjord here.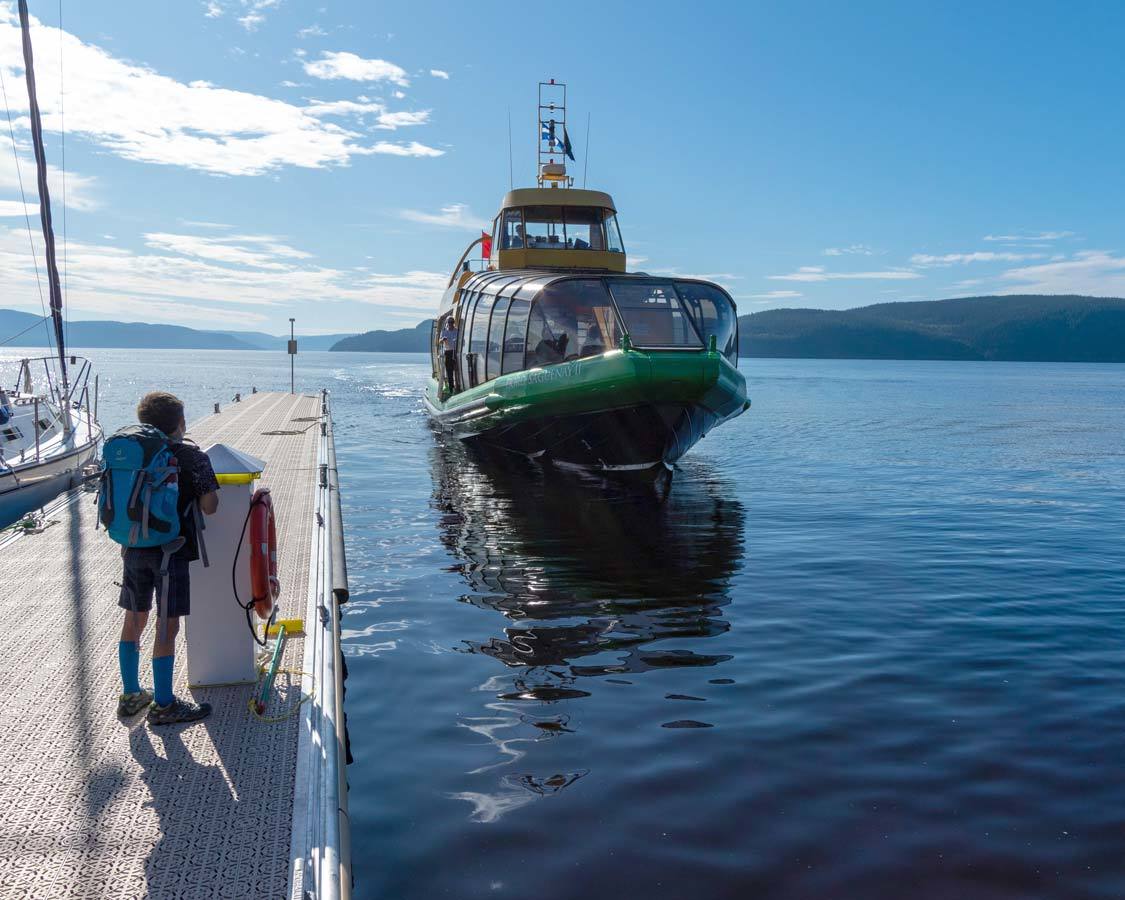 Kayak The Saguenay Fjord In L'Anse-Saint-Jean
If you're looking for an amazing day out on the water, look no further than the town of L'Anse-Saint-Jean. Here, local outfitter Fjord en Kayak offers beginner to expert-level guided kayak outings into the Saguenay Fjord. And this fjord kayaking experience isn't just for adults. The tandem kayaks on offer mean that even young children in Saguenay can enjoy the magnificent views of Saguenay-Lac-St-Jean.
C first fell in love with kayaking during our summer in the New York Adirondacks. And when the weather is right, there is no place he loves more than to be out on the water. The Fjord en Kayak crew offer fun and historical stories about the region, the landscapes, and the indigenous communities that have called this place home for centuries. You can find out more about Fjord en Kayak here.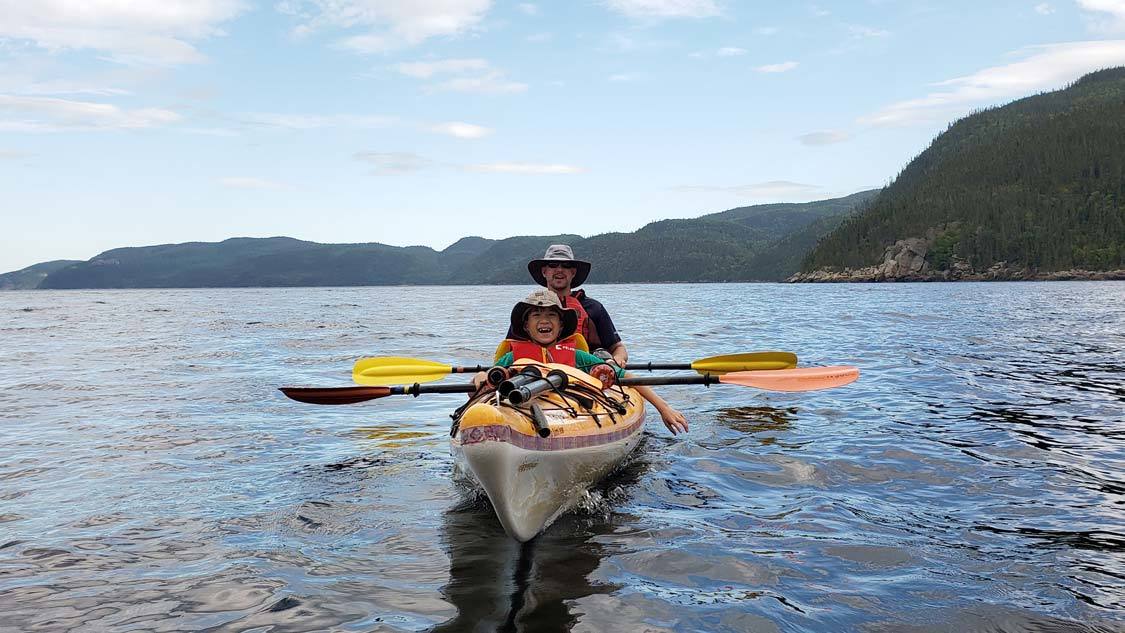 Uncover Gems At Cristal Du Lac Interpretive Centre
There were two amazing adventures in Saguenay-Lac-Saint-Jean that we didn't get a chance to experience, but would have loved to. Cristal du Lac Interpretive Centre offers visitors the chance to prospect for quartz crystals in their open-pit mine. Young prospectors get access to gloves, helmets, and goggles and can take home up to 100 grams of minerals.
Both our boys are huge geology lovers, to the point that most corners of our house have rocks, gems, fossils, and shells hidden in them. There are few better ways to learn about geology than exploring their source, so I know this one of the things to do in Saguenay-Lac-St-Jean that kids will love. You can find out more about Cristal du Lac Interpretive Centre here.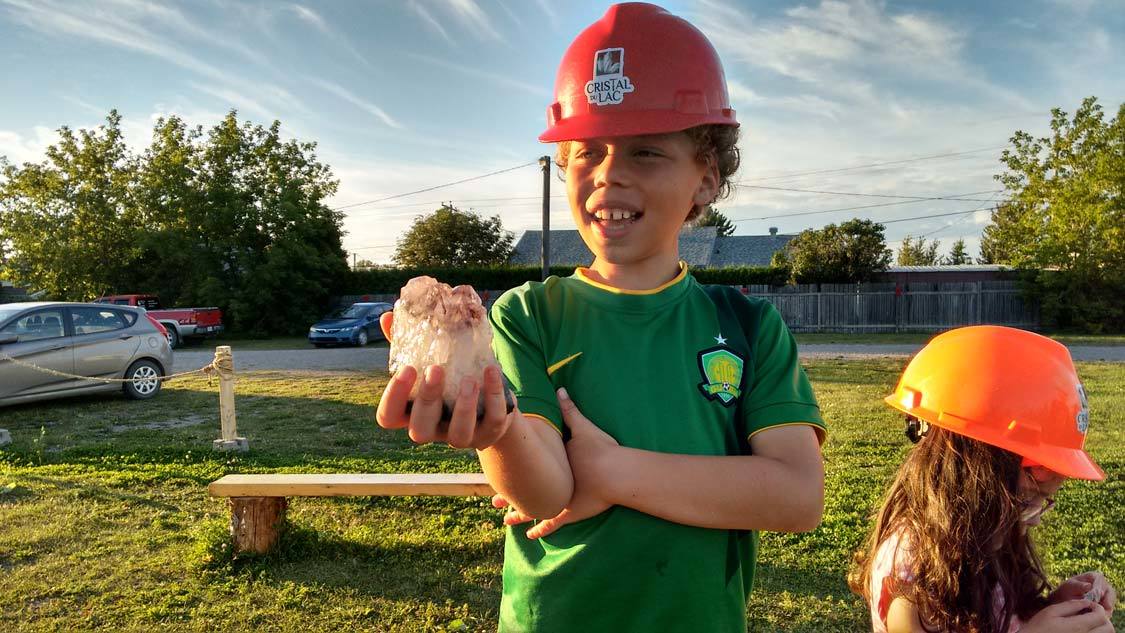 Explore The Underground World At Parc Caverne du Trou de la Fee
From the beginning of June to mid-October the Parc Caverne du Trou de la Fee offers a unique underground experience. The parc houses a fascinating granite cavern, the ruins of a hydroelectric plant, waterfalls, and footbridges and trails exploring the incredible landscape. Kids will love this amazing caving and nature experience. You can find out more about the Parc Caverne du Trou de la Fee here.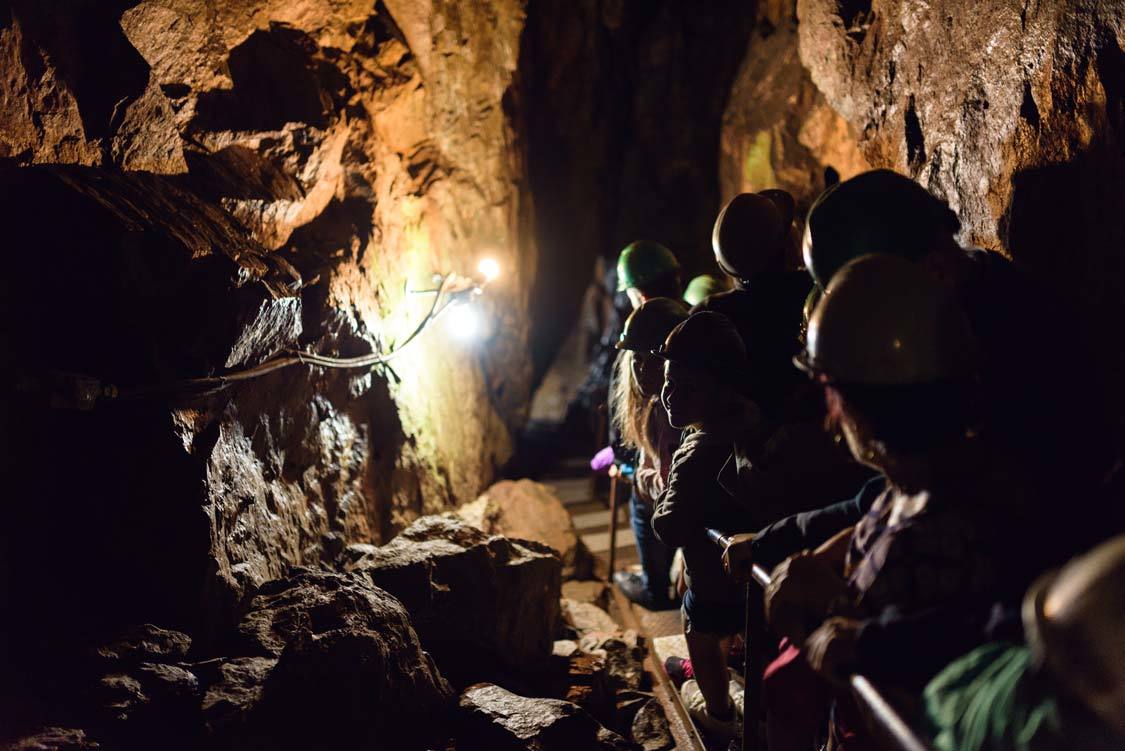 Have you ever visited Saguenay-Lac-St-Jean with kids? Tell us about your experience in the comments. Or head over to our Facebook page and share a photo of your experience. We would love to share in your travels.
Wandering Wagars is a participant in the Amazon Services LLC Associates Program, an affiliate advertising program designed to provide a means for sites to earn advertising fees by advertising and linking to amazon.com, amazon.co.uk, amazon.ca. Amazon and the Amazon logo are trademarks of Amazon.com, Inc., or its affiliates.
You May Also Like To Read:
Pin This For Later: