Tadoussac Whale Watching is one of the most popular activities in Quebec. Experience whale watching in Tadoussac with a First Nations twist with Essipit.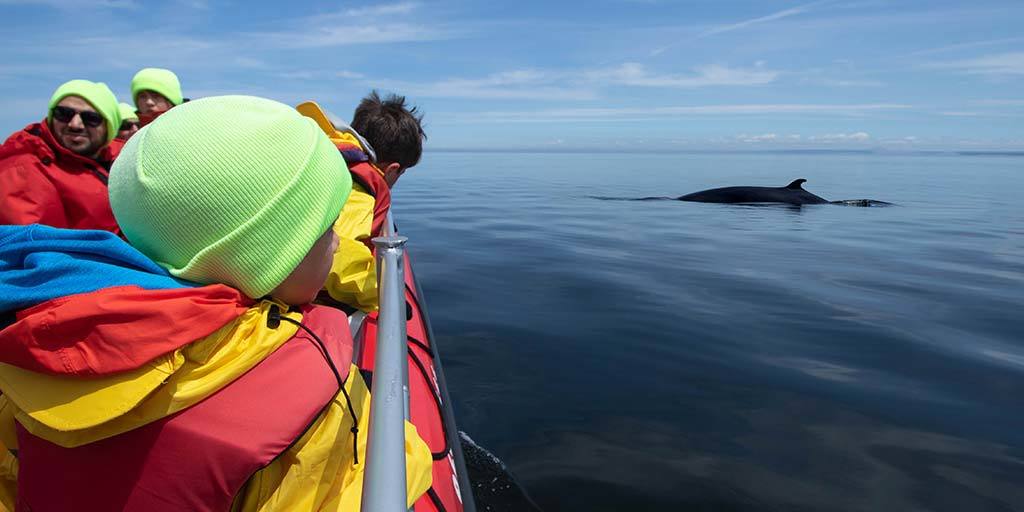 Whale watching in Tadoussac has become one of Canada's most legendary wildlife experiences. This small town on the banks of the St. Lawrence River has become one of our favorite places to recommend for those wanting to experience whales up close in Canada. I hadn't considered Tadoussac whale watching as a prime spot before coming here. After experiencing these majestic sea mammals in places like British Columbia, Argentina, and Iceland, perhaps the whale watching on the St. Lawrence River just seemed too close to home for this to be possible. Boy was I wrong!
Tadoussac is the start of Quebec's Whale Route which winds along the northern shore of the St. Lawrence River up to Blanc-Sablon on the border of Labrador. Much of this route can be done by car. The last leg from Kegaska to Blanc-Sablon is only accessible via boat. But the town of Tadoussac has become the go-to place for whale watching due to the town's proximity to the provincial capital of Quebec City. Tadoussac Whale watching is so great due to its location right where the saltwater from the Gulf of St. Lawrence meets the freshwater pouring from the Saguenay River.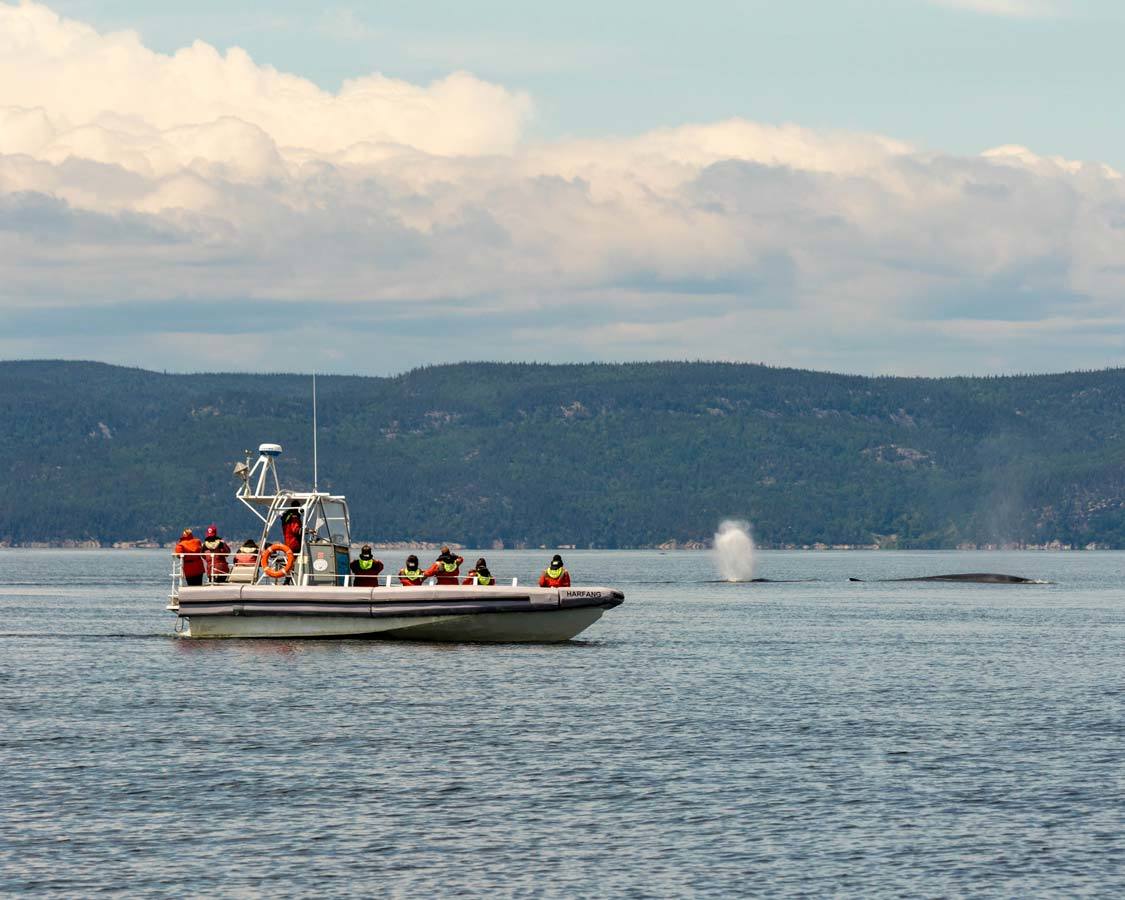 How To Get To Tadoussac From Quebec City
We reached Tadoussac as part of our Quebec indigenous tourism tour. We arrived from Quebec City, which is how most visitors to the Tadoussac whale watching experience will arrive. The route from Quebec City to Tadoussac takes about 3-hours with no stops (apart from the Tadoussac Ferry, which if you don't stop, will make your car very wet). But we made sure to visit some of the picturesque towns along the way including Baie Saint Paul and Saint Simeon.
It can be quicker to zip inland when you reach Baie Saint Paul until you reach La Malbaie. But, if time isn't a worry, I recommend keeping along the edge of the river to appreciate the magnificent views. If you aren't able to make the drive to Tadoussac you can also join a whale watching tour from Quebec City that includes the trip out and your whale watching experience.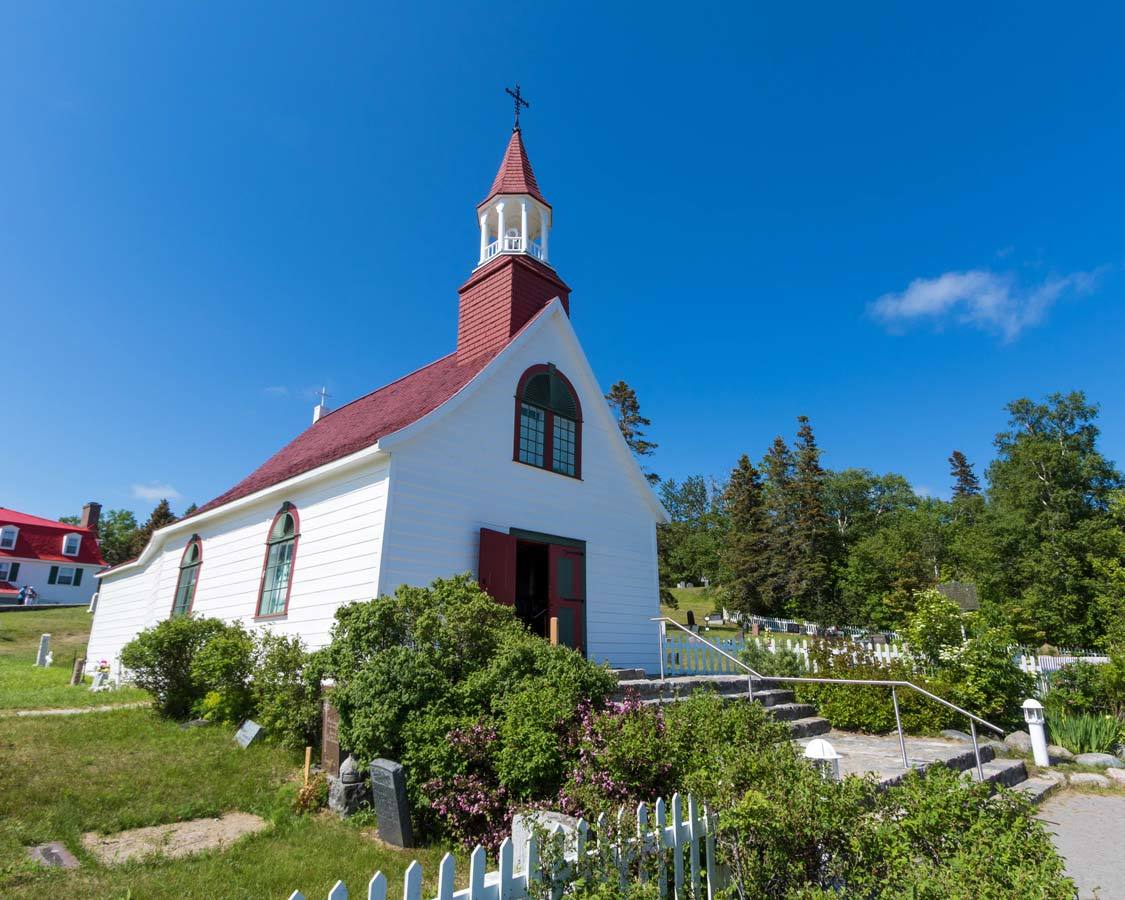 Tadoussac Whale Watching With Essipit First Nations
There are a number of great companies that offer whale watching in Tadoussac. But one of the most popular is located just a few km east of the city. Vacances Essipit is run by the Essipit Innu First Nation community. Vacances Essipit runs small 12-36 person zodiac whale watching tours. Not only is the Essipit whale watching experience one of the best Tadoussac whale watching experiences, but your money goes directly to the Innu nation to help support community growth.
The Innu Nation, once referred to by their European name "Montagnais," has called the area east of Tadoussac home for over 150 years. Since 1978 the nation has begun marketing recreational tourism and has now become one of the premier experiential travel operators in the Quebec Maritimes.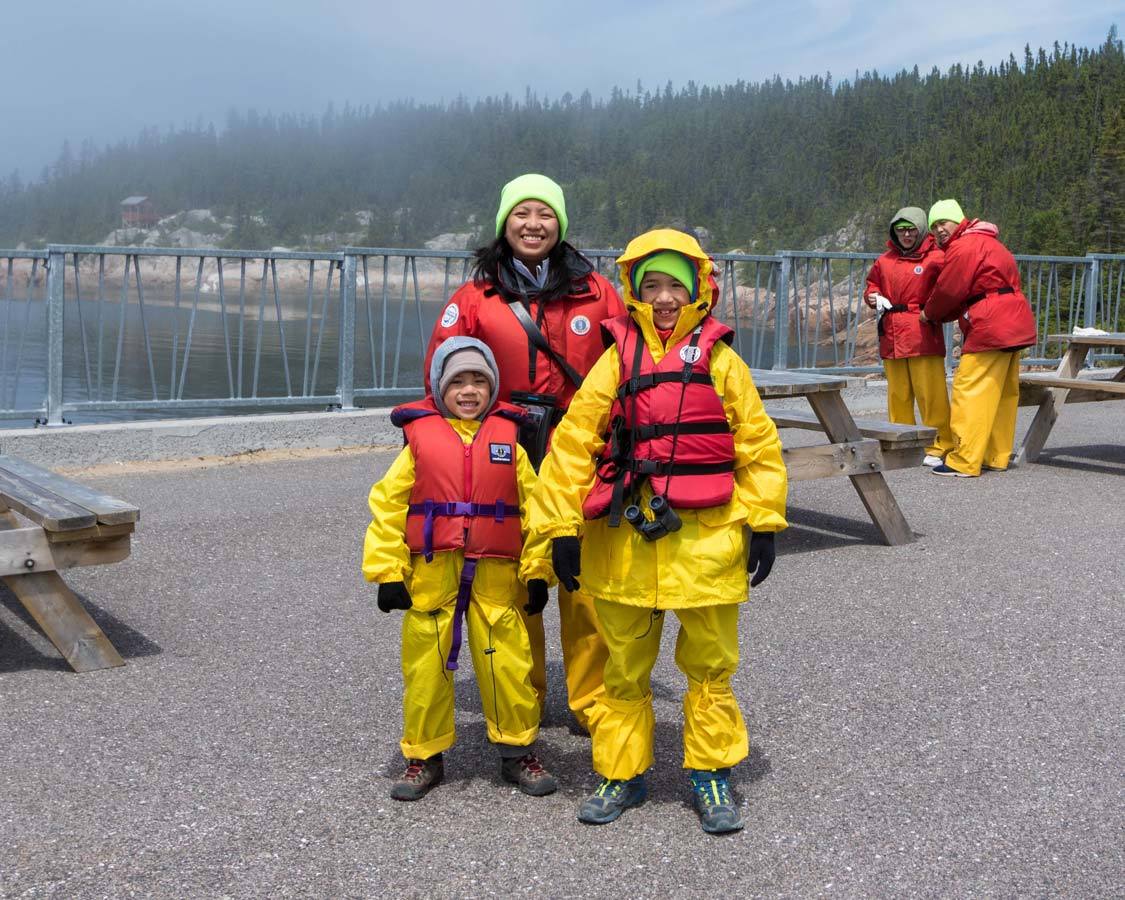 Whale Watching Tadoussac With Vacances Essipit
Our day with Vacances Essipit started with a short drive from our cottage-style accommodations at Pourvoirie Lac a Jimmy. These fishing lodges are another Vacances Essipit property, but I'll get to that later. The short 15-minute drive was as picturesque as much of the north coast region. Small lakes, towering cliffs, and new-growth forest spun by as we wound our way up and over the hills. And that is when the fog began to roll. Walls of clouds coasted their way up from the river and over the mountains. The soupy thickness was foreboding. Could this mean that our whale watching in Tadoussac would be canceled?
We turned from the highway at the town of Grand Bergeronnes and made our way down a back road towards the St. Lawrence River. The fog gave a mysterious glow to the surrounding forests. At the end of the road, we could make out the first-morning tours loading up into the small red zodiacs at the dock. Even with the thick fog, the tours were running.
The Essipit whale watching tours are run from the second floor of the one building at the end of the road. In the Vacances Essipit building, there is also a cafe and gift store for those looking to grab lunch. The cafe doesn't open till 10 am, so those who haven't picked up breakfast before their tour might be out of luck.
The staff at Vacances Essipit were incredibly professional and helpful. We were told that the fog on the river is often much less dense than that near the shore. We were given the option to delay our departure till the next run at 12:30 or keep with our current time. With the fog as dense as it was, I opted to move our departure. After all, I was there for photos so if I couldn't get a good picture I might be in a tough place.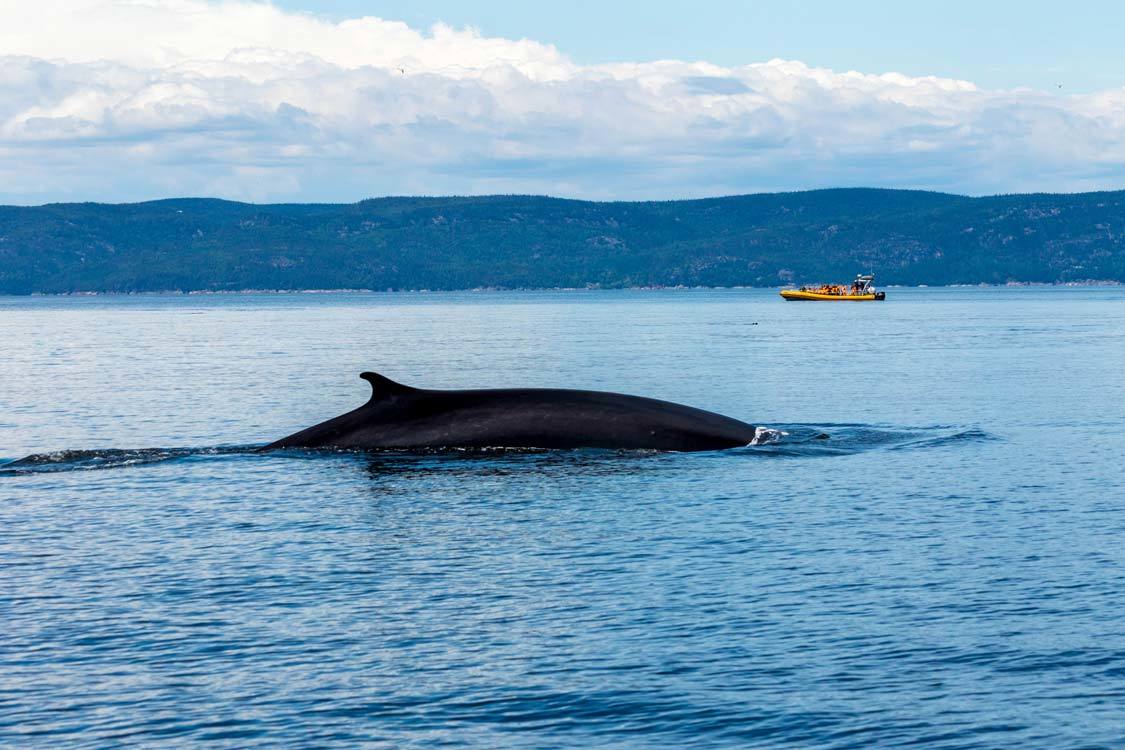 More Whales Than I've Ever Seen!
When the time for our Tadoussac whale watching journey arrived, we were ready. The fog hadn't completely lifted, but it was lighter than it had been in the early morning. The Essipit whale tour was well-prepared for whale watching with kids. There were smaller size waterproof gear, gloves, hats, and life-jackets for even our 5-year-old, D, to wear. We gathered our gear from the office and brought it down to the sunshine to get dressed. Even though the warm July sun was shining down on us, the waters of the St. Lawrence River only reach about 4-5 degrees Celsius so being out on the water drops the temperatures 8-10 degrees below those on the mainland.
We were warned that it may be 15-20 minutes before we reach the area in the middle of the St. Lawrence River where the whales tend to congregate. Thirty seconds later we came across our first young Minke Whale. Things were off to a good start! The St. Lawrence River is home to many types of whales including Blue, Humpback, Finn, Minke, Grey, and Belugas. Before long we were surrounded by more whales than I had ever seen before. Dozens of Minke and Finn whales surrounded us on all sides. It was almost overwhelming.
Our heads were spinning this way and that as we tried to track one pod of whales after another. Our captain/guide on our Tadoussac whale watching expedition was expertly listing off the type of sea mammals that were streaming by our small boat. Both the boys were pointing excitedly as dorsal fins and water spouts broke the surface.
For two hours, we toured through the waters of the St. Lawrence. We never had to venture far as the Tadoussac whales seemed to travel in bursts right past our small zodiac. By the end our necks were sore from spinning this way and that as one pod after another swam past, and sometimes under feet. I have experienced whale watching in many places around the world. None of them matched the sheer volume of whales that I saw in Tadoussac.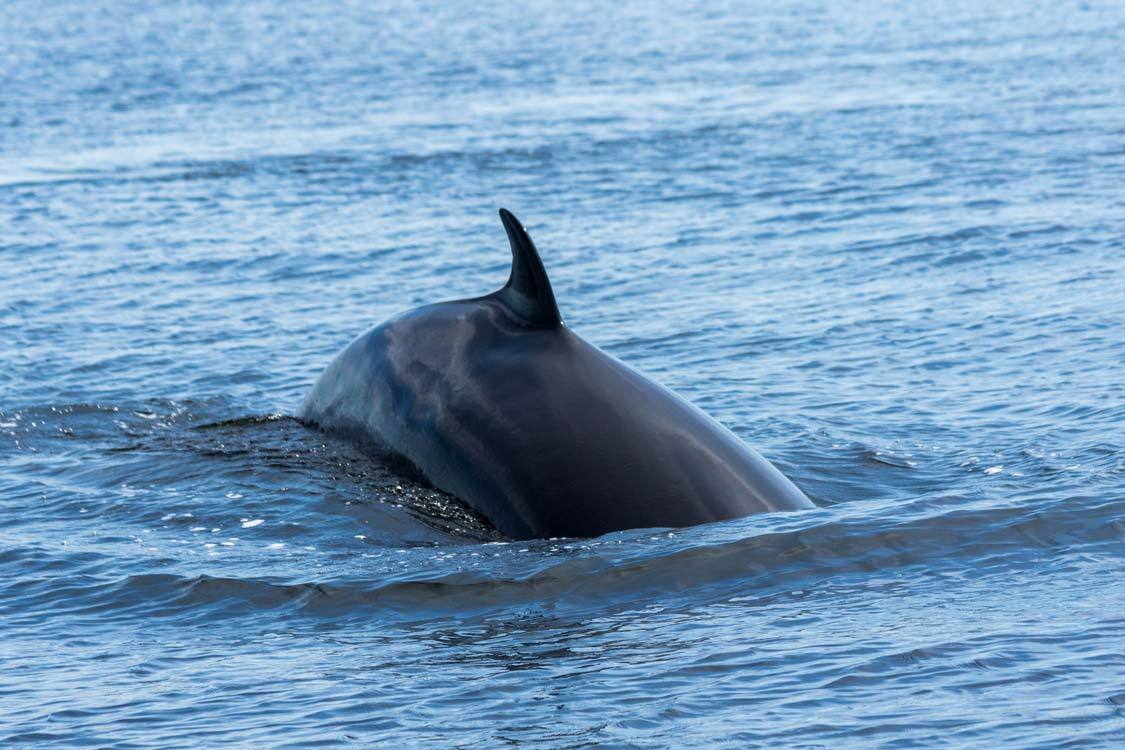 What To Know Before Your Tadoussac Whale Watching Expedition
Whale watching in Tadoussac is an incredible way to spend some time on the St. Lawrence River. But there are a few things to know before you choose which whale watching excursion is perfect for you. Here are a few whale watching tips to help you get started.
Choose your boat style carefully. Zodiacs are small and fast. They are close to the water and can usually get closer to the whales without disturbing them. Larger boats tend to be less bumpy and often have conveniences such as warm, sheltered cabins, washrooms, and sometimes places to get food and drink.
Temperatures on the St. Lawrence River are usually 8-10 degrees Celsius cooler than on land. Make sure you dress warmly. Most zodiac tours offer warm life suits and gloves. But even so, it's best to err on the side of caution.
If you aren't comfortable on a boat, it's possible to experience Tadoussac whale watching from shore. Locations such as Sentier de la Pointe-de-l'Islet viewpoint and Cap-de-Bon-Desir are popular spots for whale watching from shore.
Make sure to bring along some polarized sunglasses. These help a lot with the glare from the water and will give you a much better view of the whales in Tadoussac.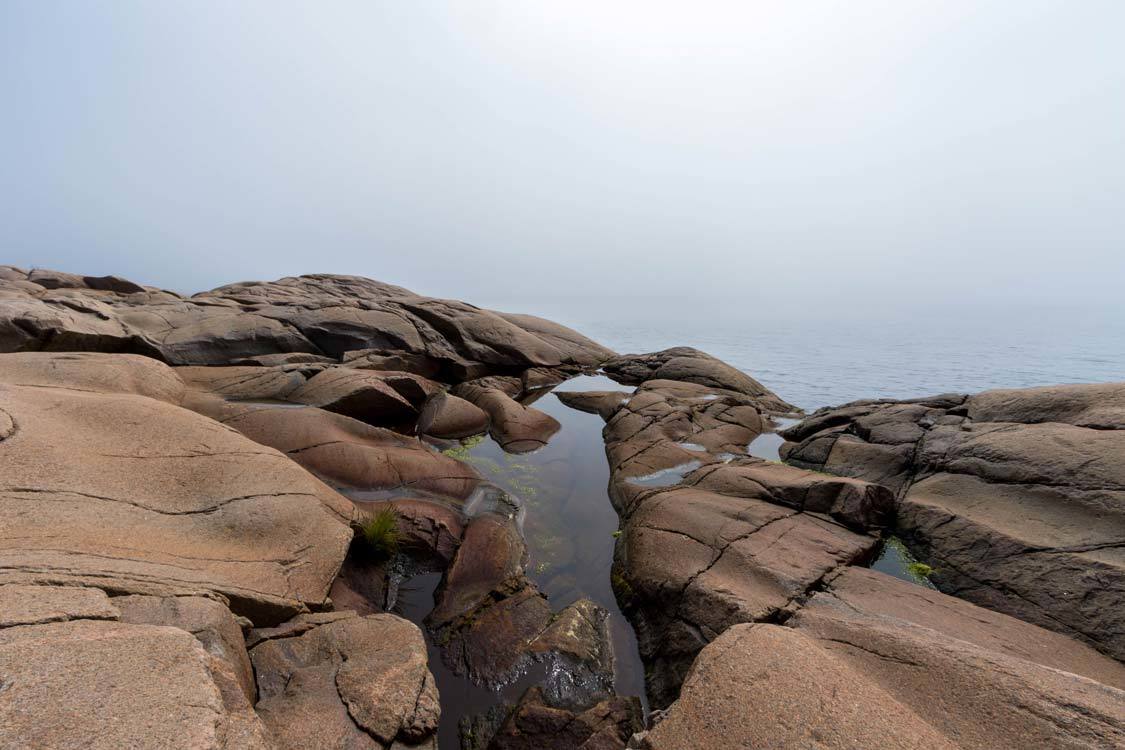 Other Activities To Do In Tadoussac
If you've made the visit for whale watching in Tadoussac, don't just turn and go when you're done. Stick around a while and experience some of the best activities in the town. For a small town, Tadoussac has a lot to offer. Here are some of my favorites.
Marine Mammal Interpretation Centre (CIMM)
If you're in town for the Tadoussac whales, make sure to stop at the visually stunning Marine Mammal Interpretation Center near the Tadoussac marina. The Marine Mammal Interpretation sits on a beautiful piece of St. Lawrence River shoreline. And the displays inside are just as spectacular as the views outside.
You'll find real whale skeletons, information on all the whales that are native to the St. Lawrence River, and even a narwhal tooth. The exhibits are in French. However, you can get an interpretive guide from the entrance.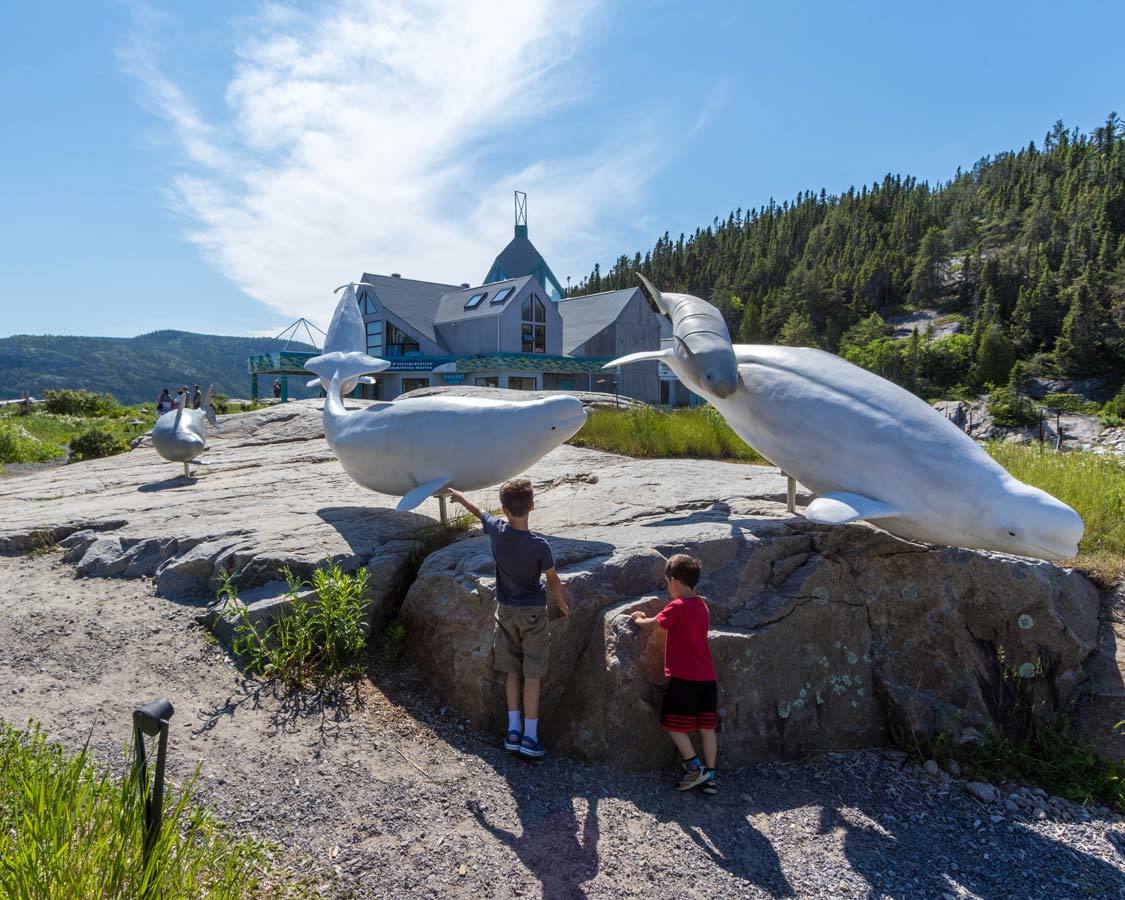 Spend A Day Fishing At Pourvoirie Lac a Jimmy
Pourvoirie Lac a Jimmy is just a short drive from Tadoussac and has become a hugely popular fishing destination. The property, also run by the Essipit community, contains more than a dozen lakes. Visitors come from all over to fish for trout and salmon. Those looking to stay for a day can stay at one of the cozy cabins that are perfect for families looking to enjoy a lakeside retreat.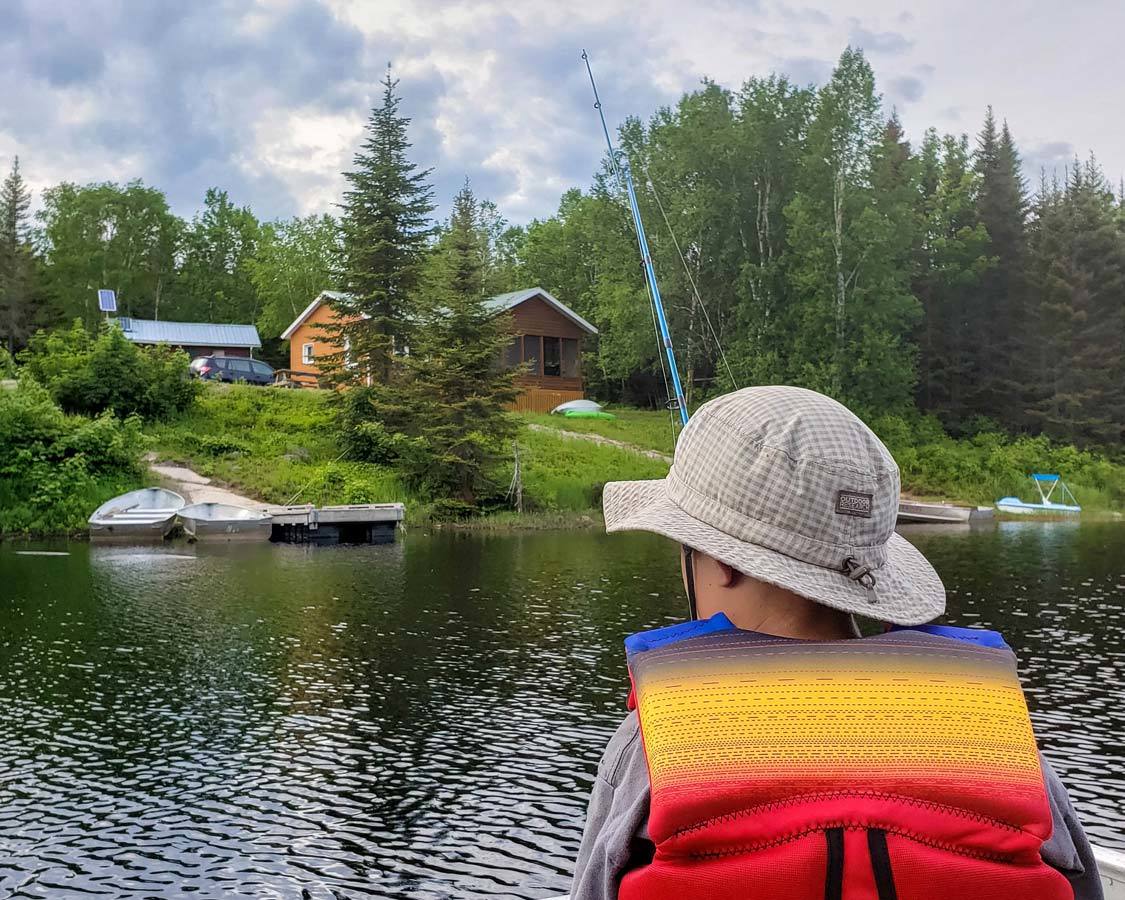 Explore The Tadoussac Sand Dunes
A short drive through Tadoussac down Chemin de la Riviere-du-Moulin-a-Baude will bring you to les Dunes. These towering sand dunes can be easily seen from the St. Lawrence River. They're often a backdrop for amazing photos of the Tadoussac whales. The sand dunes are a popular destination for both locals and visitors who want a chance to explore some of the more dramatic landscapes along the St. Lawrence.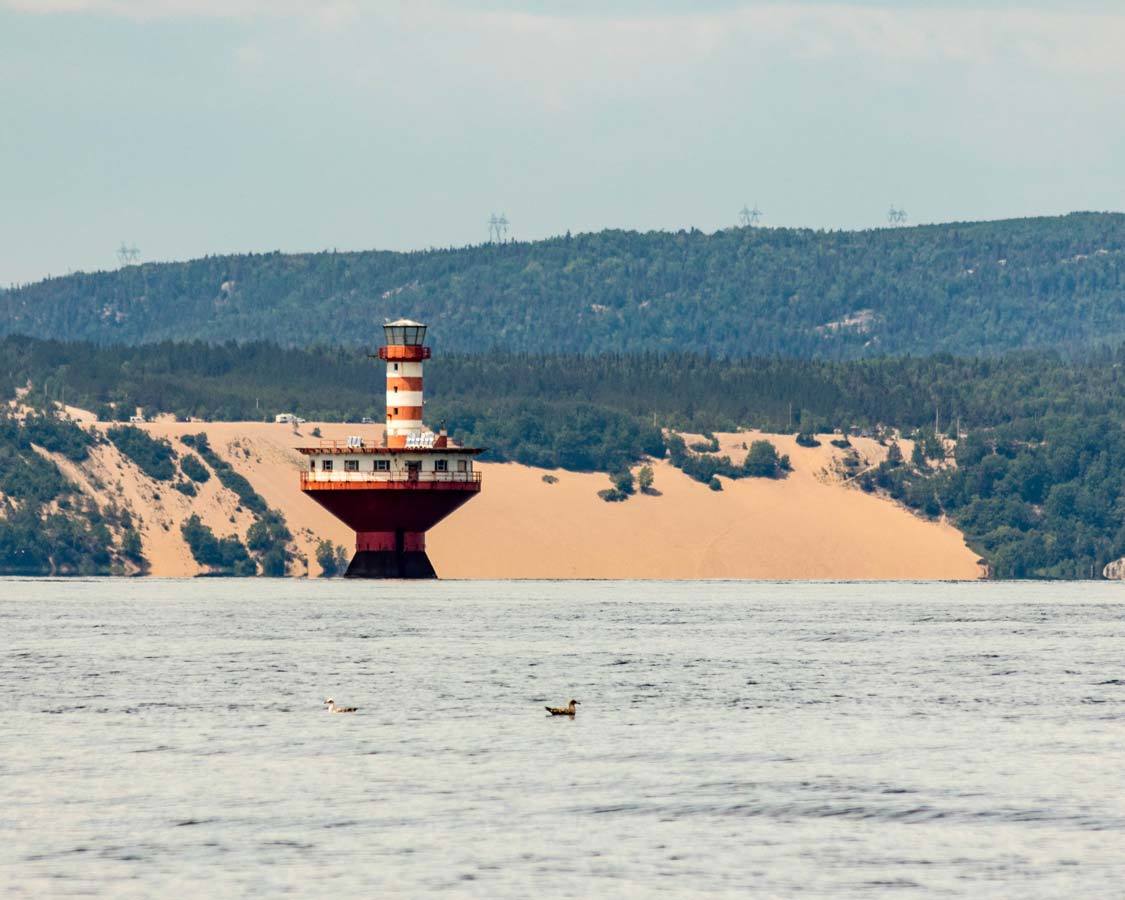 Where To Stay in Tadoussac
While our accommodations at Pourvoirie Lac a Jimmy were amazing, I appreciate that not everyone is willing to give up WiFi and electricity to enjoy the peace and quiet of nature. You can always combine your outdoor adventures with a stay in central Tadoussac. Hotel Tadoussac with its iconic red roof is the most popular destination in the city. But, if you want to keep on the whale theme of your Tadoussac visit, book a room at Hotel le Beluga with its popular on-site restaurant. You can find even more great places to stay in Tadoussac here.
Have you ever gone whale watching in Tadoussac? Leave a comment about your experience. Or drop by our Facebook Page and share a photo of your experience. We would love to share in your travels.
Disclosure: This post was made with the support of Quebec Aboriginal Tourism and Quebec Maritime. This post may contain compensated links. Find more info in our disclaimer. Wandering Wagars is a participant in the Amazon Services LLC Associates Program, an affiliate advertising program designed to provide a means for sites to earn advertising fees by advertising and linking to amazon.com, amazon.co.uk, amazon.ca. Amazon and the Amazon logo are trademarks of Amazon.com, Inc. or its affiliates.
You May Also Like To Read:
Pin This Post For Later: