Discover the best things to do in Piopolis Quebec from the rustic luxury of Hebergement Aux Cinq Sens to the best beaches and places to eat.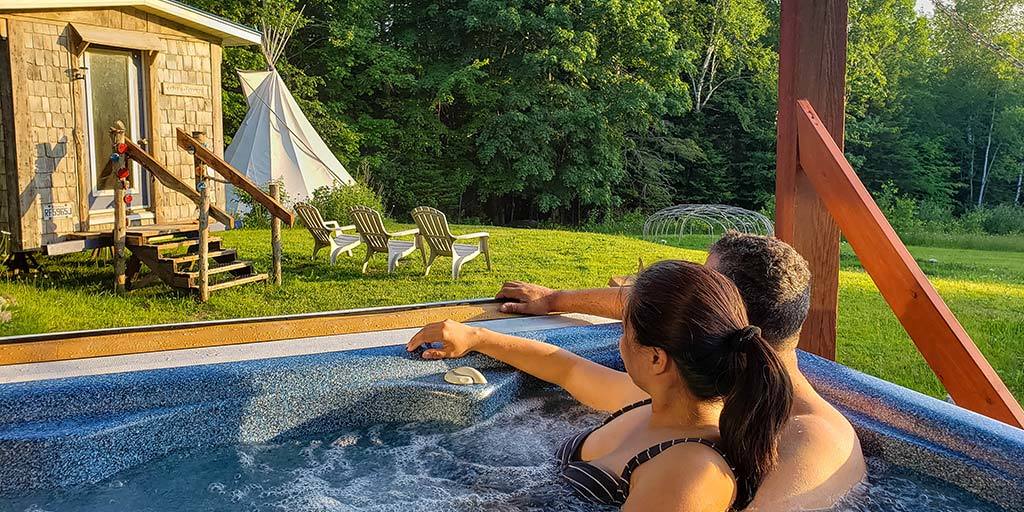 There are a few places that we have visited that have completely captured our hearts. When we rolled into Piopolis Quebec, we certainly weren't expecting that to happen. This sleepy town on the shores of Lac Megantic in the Eastern Townships of Quebec boasts a population of fewer than 400 people. It has a restaurant, a pizzeria, and a general store. Yes, the kind of general store that still has a one-pump gas station. And that pump has nothing digital about it. A five-minute drive from the general store is one of the most engaging, family-run accommodations in Quebec. Hebergement aux Cinq Sens or Accommodation of the Five Senses became one of the highlights of our trip.
We came to Piopolis as part of our Quebec indigenous tourism tour. We had taken part in a pow wow in Wendake, went whale watching and fishing in Tadoussac, and slept in a luxurious frontier tent north of Montreal. But it was in this small town, under the care of two wonderful people, that we truly felt connected to the land around us. It wasn't just Hebergenment aux Cinq Sens either. For a small town, there are some pretty incredible things to do in Piopolis and the surrounding area. And after three days exploring Piopolis with our kids, I didn't want to leave.
Where Is Piopolis Quebec?
The town of Piopolis sits on the shores of Lac Megantic in southern Quebec not far from borders of Maine and Vermont. It's about an hour from the city of Sherbrooke, the center of action in Eastern Townships. The closest town is the town of Lac Megantic, about a 20-minute drive around the lake.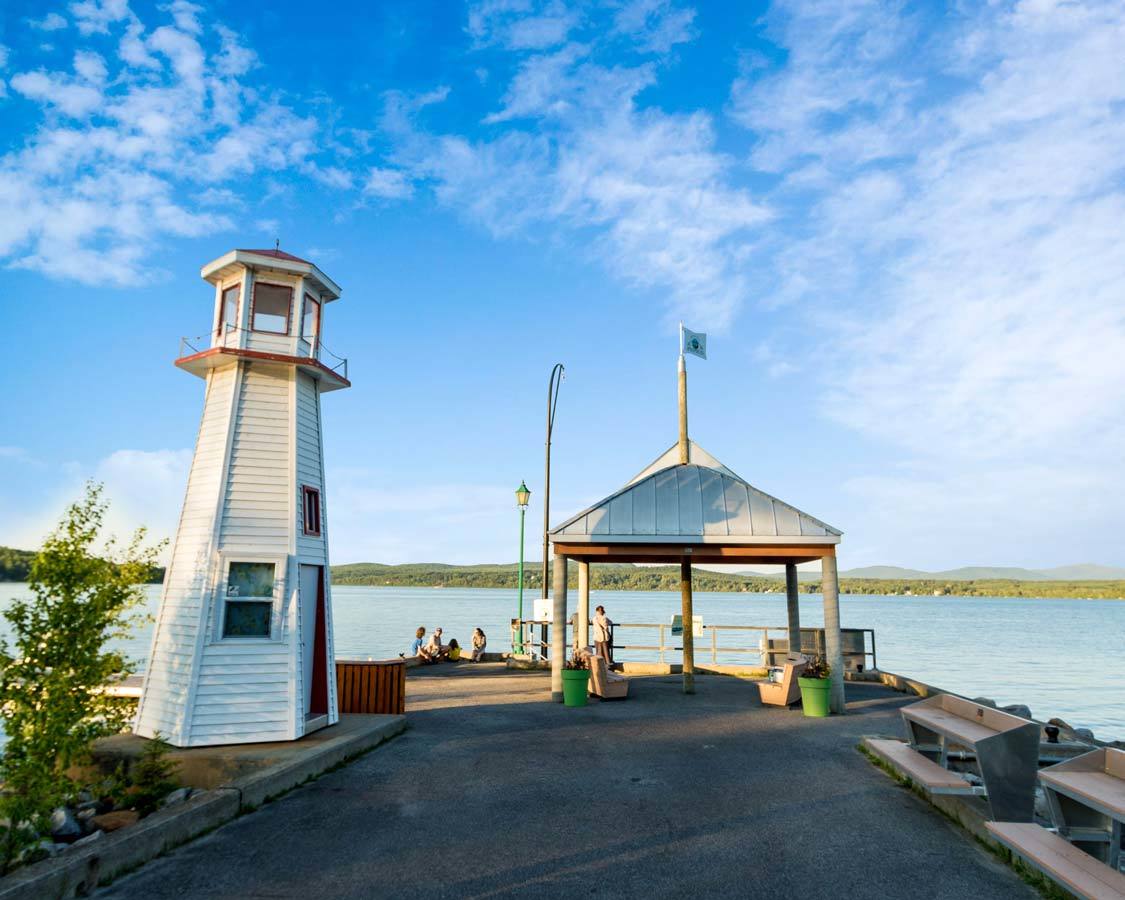 Hebergement Aux Cinq Sens
We pulled up to Hebergement Aux Cinq Sens and were greeted with warm smiles by our hosts Paule Rochette and her partner Benoit Paquette. Paule is an entrepreneur from the Huron-Wendat nation. She opened Hebergement aux Cinq Sens with the idea of sharing her love of nature and First Nations culture with her guests.
Accommodations At Hebergement Aux Cinq Sens
We used the provided carts to bring our bags down to our Yurt. This soft-sided 4-season tents blended into the gorgeous forest surroundings of the camp. Each yurt has two double futons, a wood-burning fireplace, table, and a camp stove. Dishes and cookware are provided as well. The yurts have limited solar power for lighting, but additional camping lanterns are also mounted inside.
The yurts share a communal fire pit and bbq cooking area that help to bring about a sense of community for those joining Paule and Benoit for their aux Cinq Sens experiences. The gorgeous woodland surroundings are anchored by a small brook that runs through the base of the property. It's where our boys found their happy place, just splashing around while we picnicked on the nearby tables and relaxed in the set of hammocks by the stream.
Visitors even have access to time in the hot tub and sauna for some pure, peaceful relaxation. The hot tub is large enough for a small group to enjoy together, or for a couple to find some time alone together. And the aux Cinq Sens sauna is located just steps away in a brilliantly designed trailer that may be the most luxurious space in this natural paradise.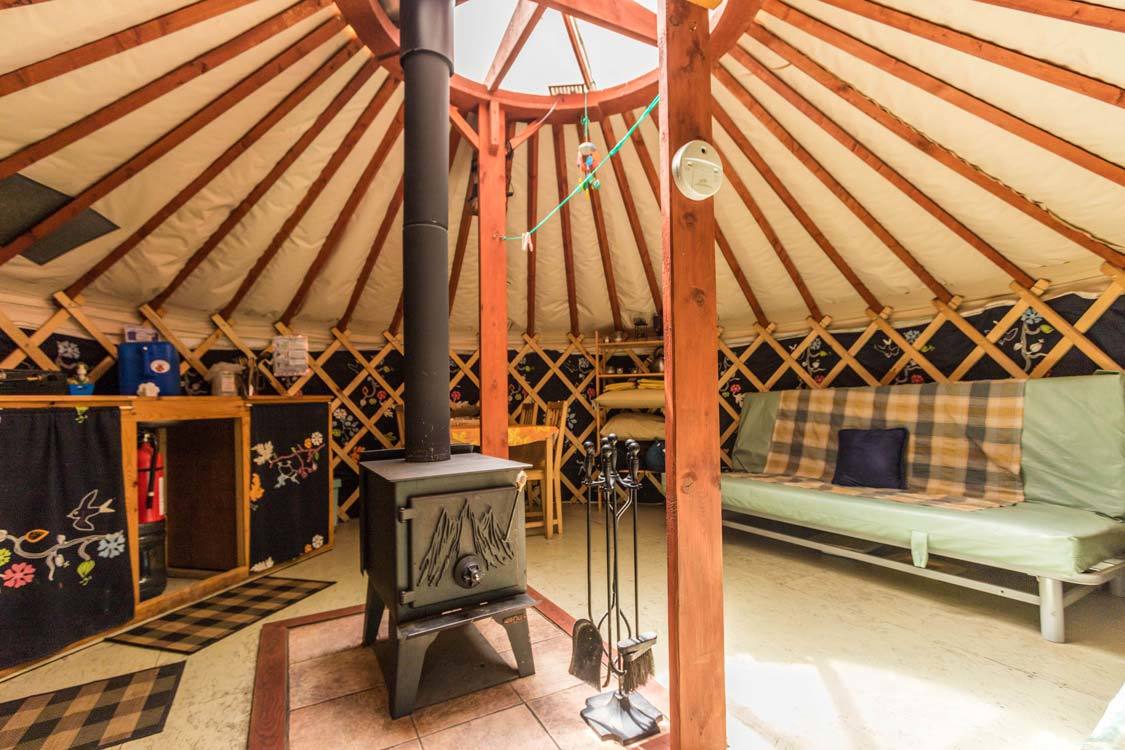 Experiences At Hebergement Aux Cinq Sens
Paule created a wonderful space at Hebergement aux Cinq Sens, it's the experiences that Benoit runs that truly connected us to the land around us. Benoit runs several amazing on-site experiences including a forest walk, a sweat lodge, and a stargazing activity.
During the forest walk, we made an offering to the forest for safe passage, much as we did during our Great Spirit Circle Trail experience on Manitoulin Island in Ontario. From there we made our way among the trees while Benoit explained the nature that surrounded us. We learned about the Chaga fungus and its incredible medicinal properties. And we followed that up with a visit to the brook and a beautiful song and drum that connected us all in a beautiful way. Our experience ended with a visit to the teepee where Benoit shared a magical flute tune like none we had ever heard before. The song was played on a custom, four-chamber flute that had its own incredible story. We all shared a tea made from the chaga fungus while we enjoyed the sounds. All of us, even the boys were mesmerized.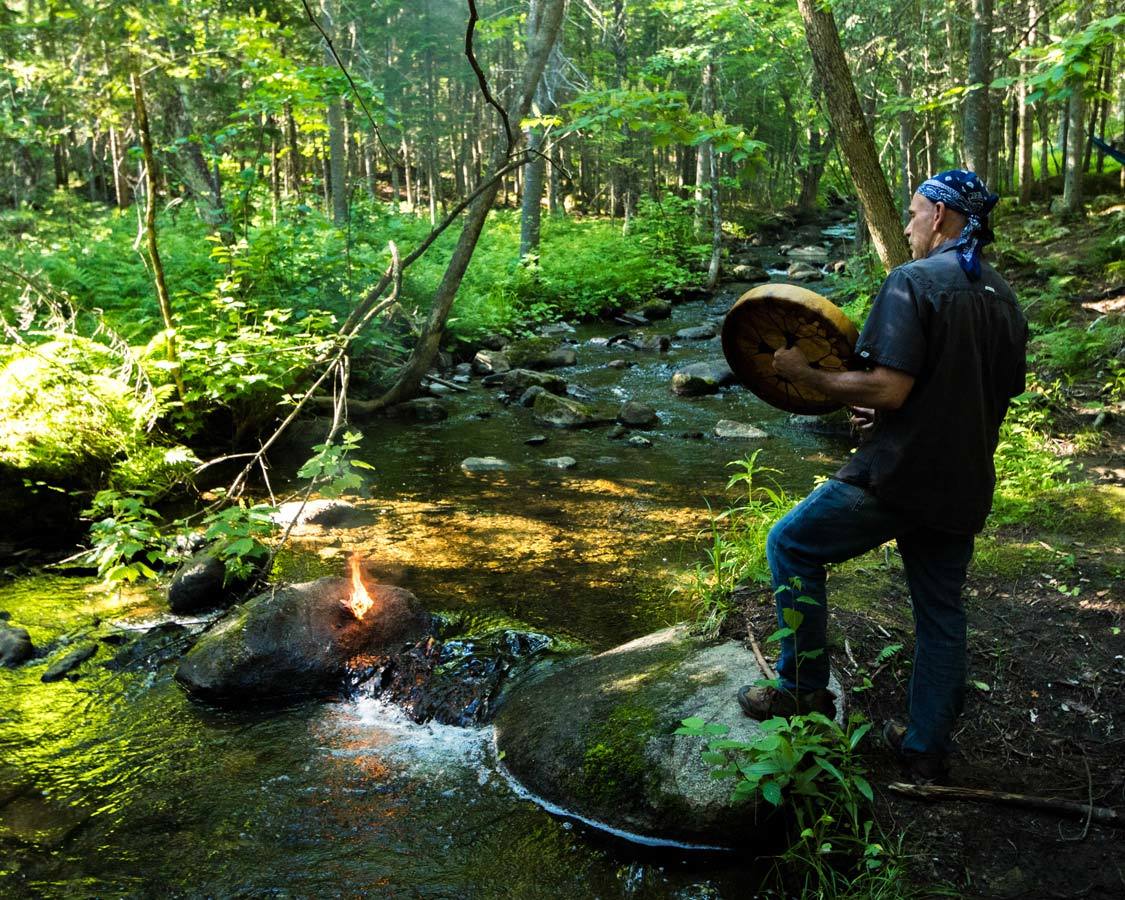 Our Aux Cinq Sens stargazing experience may have been our most memorable of the weekend in Piopolis. Paule and Benoit laid out blankets and pillows in the open field with the teepee as a backdrop. As we laid down beneath the dark skies of Piopolis, it was pretty clear that we were in for quite a show. It wasn't long before the few dots we saw twinkling overhead had amassed into a blanket of stars overhead. The surrounding dark sky preserve, like those we had experienced while stargazing in the Sacred Valley of Peru and camping on Manitoulin Island in Ontario, took our breath away. Benoit expertly navigated the sky. He pointed us towards a combination of planets, stars, and galaxies.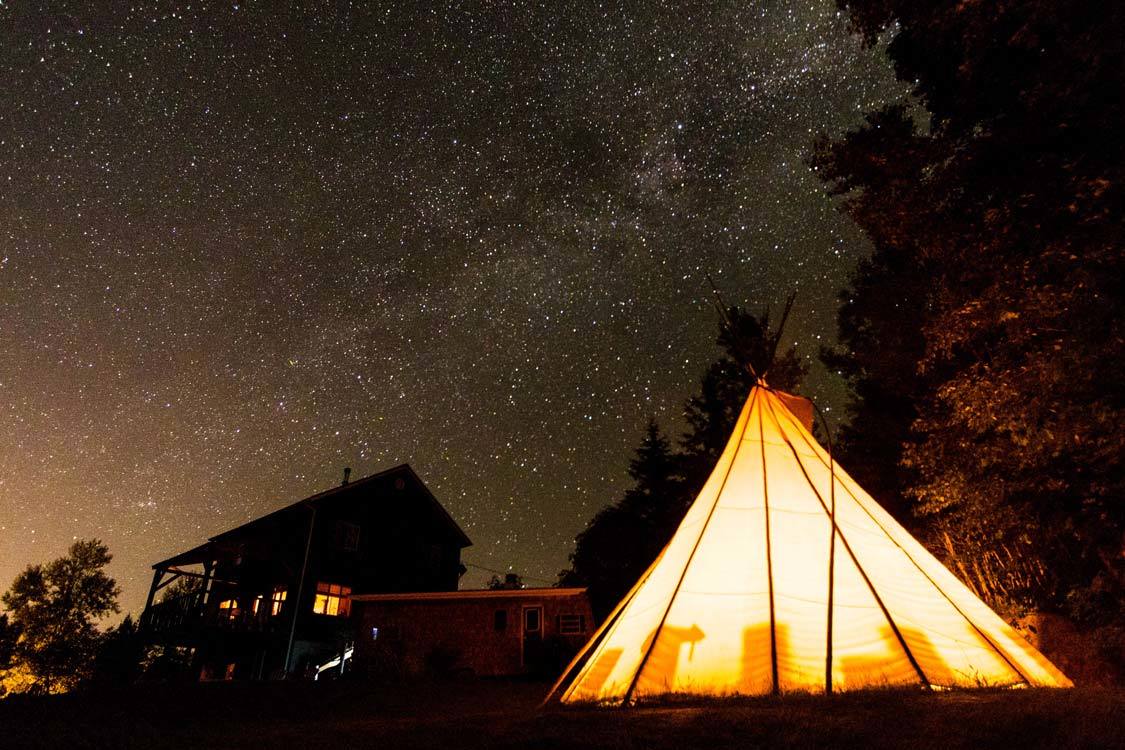 Things To Do In Piopolis Quebec
What was truly special about our Piopolis accommodation was that we were situated with an amazing assortment of things to do in Piopolis and the surrounding area. We had the choice to slow down and enjoy the peace and quiet of Hebergement aux Cinq Sens, or stroll out to the nearby Piopolis activities. I'll be the first to admit that slowing down is not something that my family is very good at. So you can guess which direction we went.
Explore The Town Of Piopolis Quebec
Piopolis Quebec is tiny. It's easy to walk through the whole town in just a few short minutes. Stop by the Magazin General for a friendly smile and any of the snacks and supplies you might need. You can catch the sunset down at the Piopolis pier and marina. Or hit the beach at the local campground (a small fee applies as it's on private land). The town also has a small community center with beautiful local art.
Next to the general store is the Piopolis Pizzeria. For a small town, they craft up delicious pizza. They also make excellent french fries. For a full meal, make sure to visit Auberge Au Soleil Levant. They have a very nice patio and serve up a range of local and fusion foods. Au Soleil Levant is also one of the great accommodations in Piopolis. The places to stay in Piopolis may not be many, but they are all quaint and highly rated.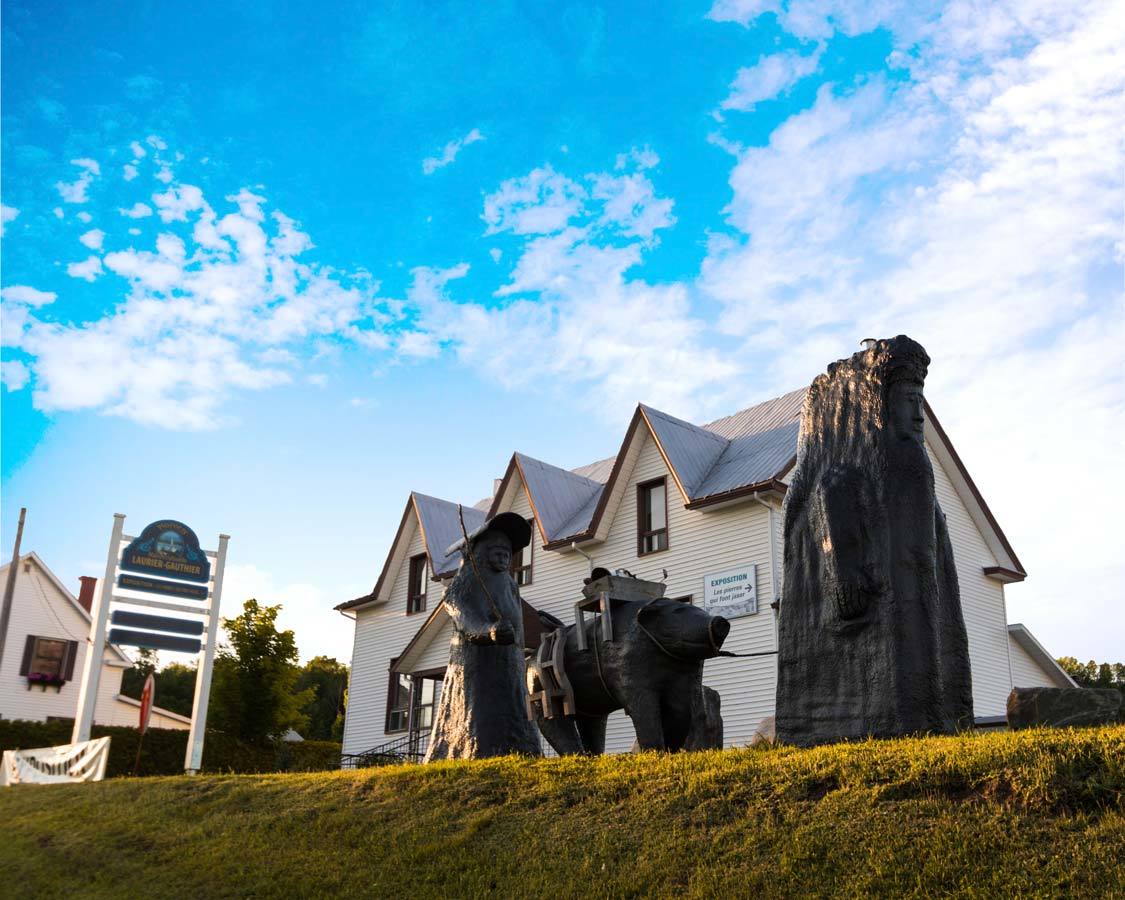 Watch The Stars At Mont-Mégantic National Park
About a 20-minute drive from Piopolis is the Mont-Megantic National Park. This beautiful spot not only boasts sprawling nature set across two mountain peaks, but it is also a dark sky preserve that houses two separate observatories and the Mont Megantic Astro-Lab. The Mont Megantic Astro Lab has got to be one of the coolest things to do in Piopolis. Aside from actually watching the night sky at Hebergement aux Cinq Sens.
The Mont Megantic Astro-Lab features an incredible collection of solar displays as well as fascinating films in both English and French. But the real star of the Astro-Lab is the Virtual reality experience. This in-depth walk through the stars is only offered in French, but it's worth doing even if you don't speak the language.
You can also get the first-hand experience at the Mont Megantic observatory. There are regular tours offered at the park to see hands-on the massive telescopes used to scope the heavens. It was pretty cool to see, especially after our recent visit to the Haleakala National Park observatories in Maui, Hawaii where we weren't actually allowed into the observatory buildings.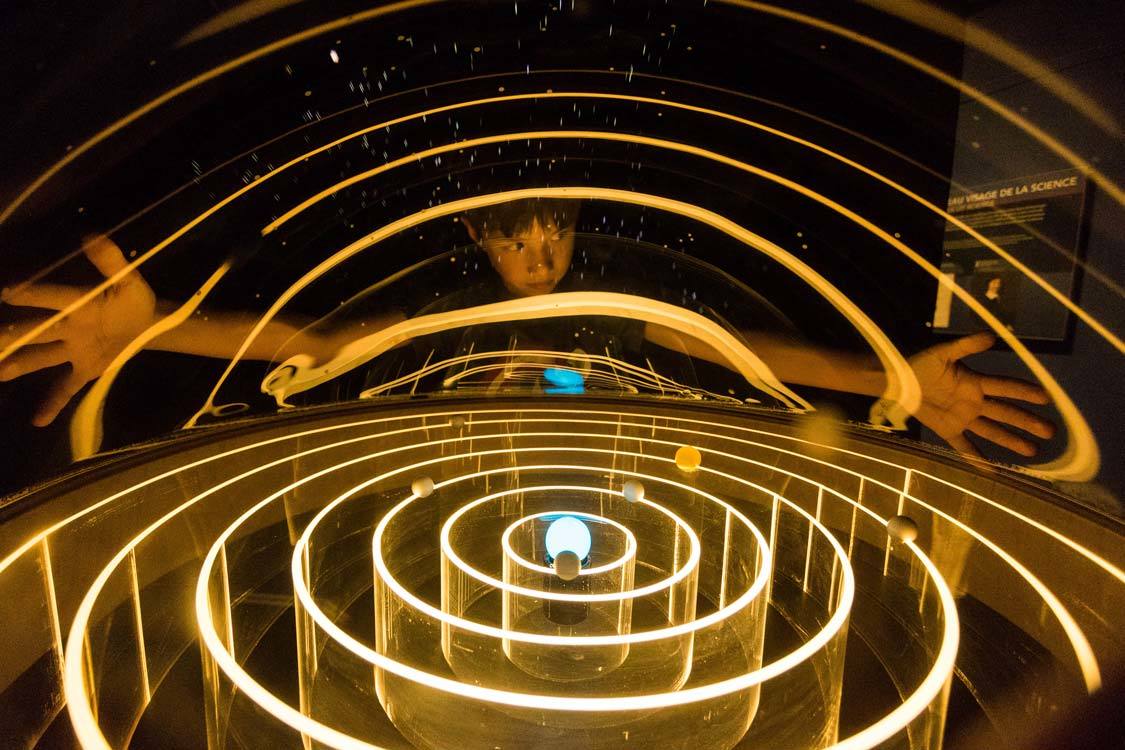 Soak Up The Sun At Baie Des Sables
Just a short drive up HWY 263 is Baie Des Sables. Yes, there is a small stretch of beach in Piopolis to relax on. If you're paying for access to the private piece of sand, it's worth making the drive past Marston to Baie Des Sables. The beach here is soft and sandy with a soft slope that is perfect for wading. There is a restaurant, picnic area, and changing spots here too. So you can spend the whole day soaking up the sun if you would like.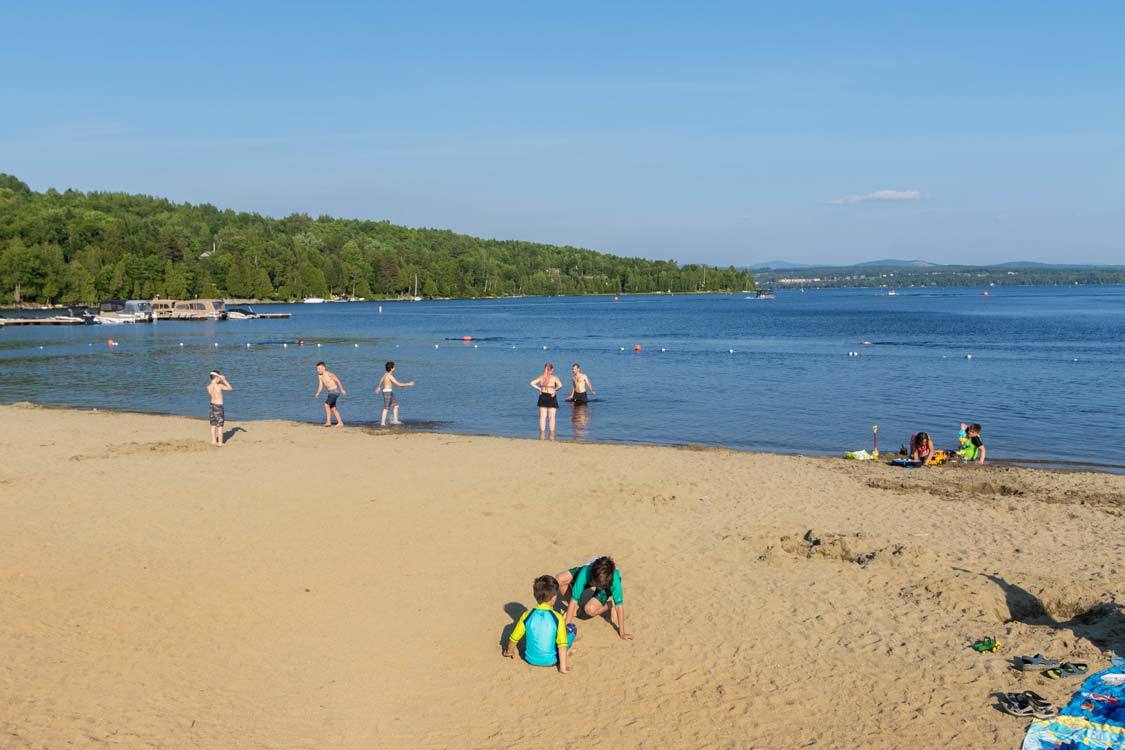 Piopolis Quebec is the kind of town that seems frozen in time. Visitors come and go, but the atmosphere stays true to itself. From the friendly convenience of the general store to the spiritual reconnection of Hebergement Aux Cinq Sens, Piopolis is a place for those who want to slow down and reconnect. Touch the water. Taste the food. Smell the air. Hear nature. And see yourself reconnecting in Piopolis and Hebergement Aux Cinq Sens.
Have you ever visited Hebergement Aux Cinq Sens or Piopolis Quebec? Tell us about your visit in the comments. Or follow us on Twitter and share a photo of your visit. We would love to share in your travels.
Disclosure: This post was made with the support of Quebec Aboriginal Tourism. This post may contain compensated links. Find more info in our disclaimer. Wandering Wagars is a participant in the Amazon Services LLC Associates Program, an affiliate advertising program designed to provide a means for sites to earn advertising fees by advertising and linking to amazon.com, amazon.co.uk, amazon.ca. Amazon and the Amazon logo are trademarks of Amazon.com, Inc. or its affiliates.
You May Also Like To Read:
Pin This Post For Later: