There are many great Indigenous experiences in Quebec. But Amishk Adventures near Montreal combines luxury glamping with incredible wildlife.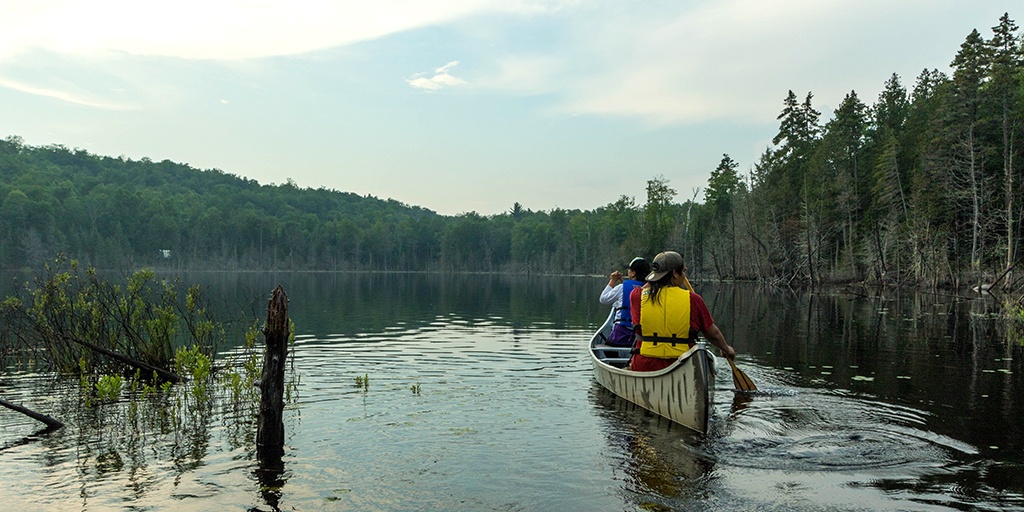 The province of Quebec is a hotbed of incredible activities. Among them, and on a meteoric rise, are the various Indigenous tourism offerings through the province. Amishk Adventures, a retreat in the Lanaudiere region just north of Montreal is one of these exciting experiences that combine education on Canada's First Nations with outdoor adventure and luxury. As part of our Quebec Indigenous tourism tour, Amishk Adventures was the final stop before we made our way to Ottawa, Ontario. This indigenous experience near Montreal turned into one of the most unique, hand-on adventures of our journey.
Amishk Adventures centers itself around the beaver trade that helped to shape the Canadian trade routes. The fur trade led to the establishment of businesses like the Hudson's Bay Company and eventually led to the establishment of Canada as a nation. A visit to Amishk Adventures is a trip into the raw history of Canada. But this experience isn't without its hint of luxury as well.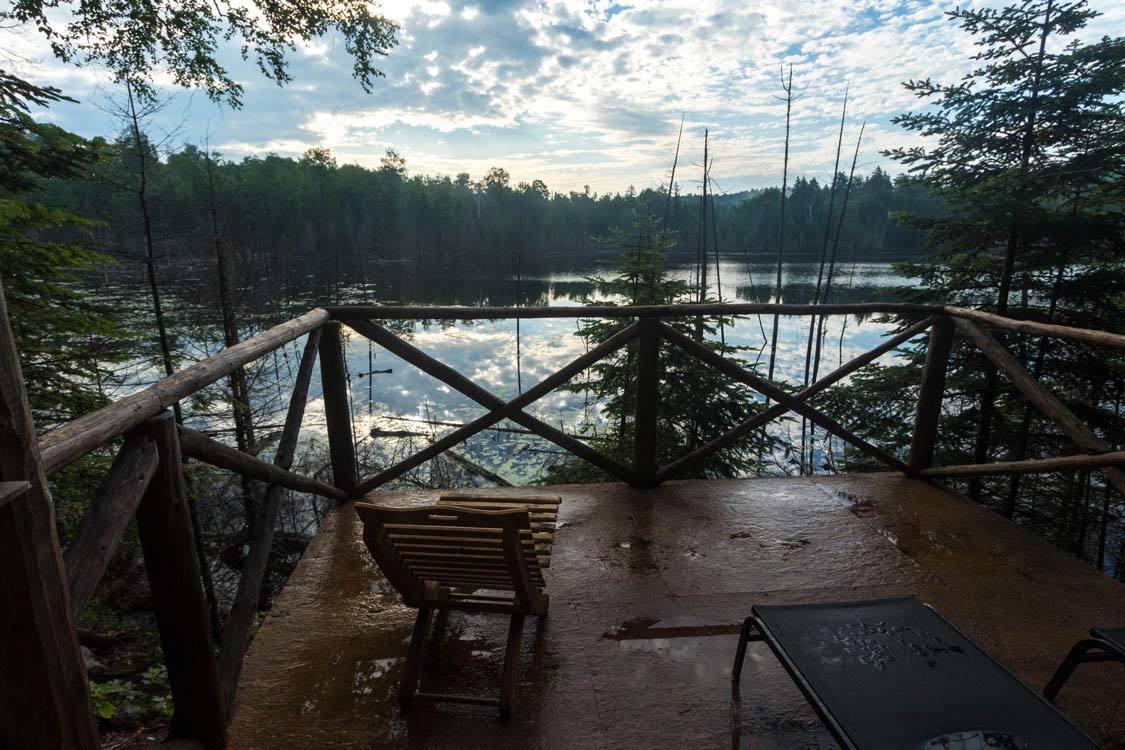 Where Is Amishk Adventures?
The indigenous tourism experience is located in Saint-Calixte. Saint-Calixte is about 90 km (1 hr 15 minutes) north of Montreal. Amishk Adventures is situated across 13 square kilometers of wilderness. It's a year-round adventure destination for nature-lovers of all stripes. And that inclusiveness is showcased by those staffing this outdoor adventure destination. The retreat is run by members of several indigenous nations including Innu, Atikamekw, and Cree/Anishnabe.
Getting to Amishk Adventures means navigating a series of back roads through small towns. The retreat is located past a quarry and a series of wetlands. Because of the remote location, it's not possible to drive directly to the camp. Instead, visitors leave their cars in a parking lot and transfer their gear to a spacious side by side ATV for the remainder of the journey.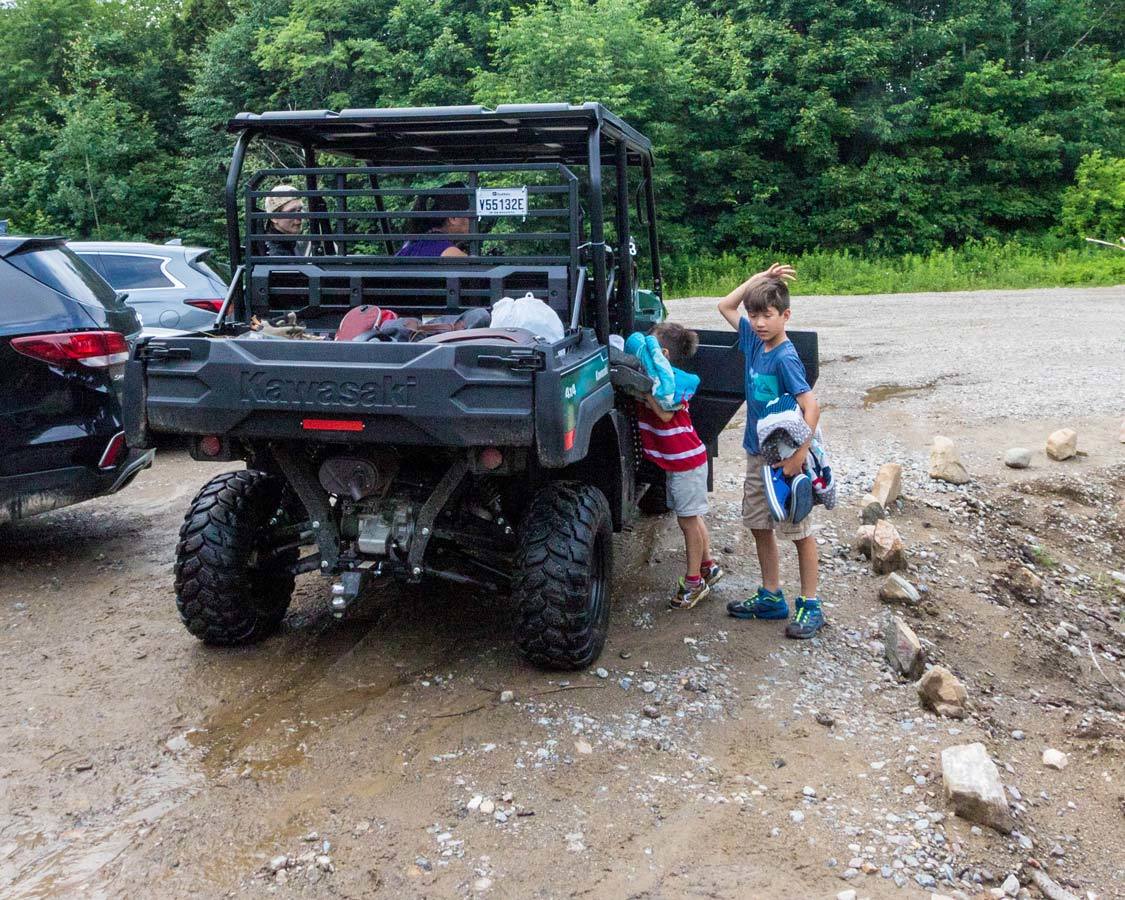 The Amishk Adventures Experience
When we arrived at the Amishk camp we were brought to the main tent where the information about our stay was shared with us. It was here that we noticed the only obstacle standing between us and some incredible knowledge-sharing, language. Although Amishk Adventures promotes itself as a multi-lingual experience, there was only one member of the staff who spoke English. Unfortunately, she managed the kitchen and not the experiences.
I did take 10 years of French immersion, but my limited practice in the past 25 years has led to it becoming very … rusty. But my hat is off to the camp team. They did everything possible to help bridge the gap between my spotty French and their limited English. One of the guys even downloaded a translation app on his phone. This led to loads of laughs as we all worked together to figure it out.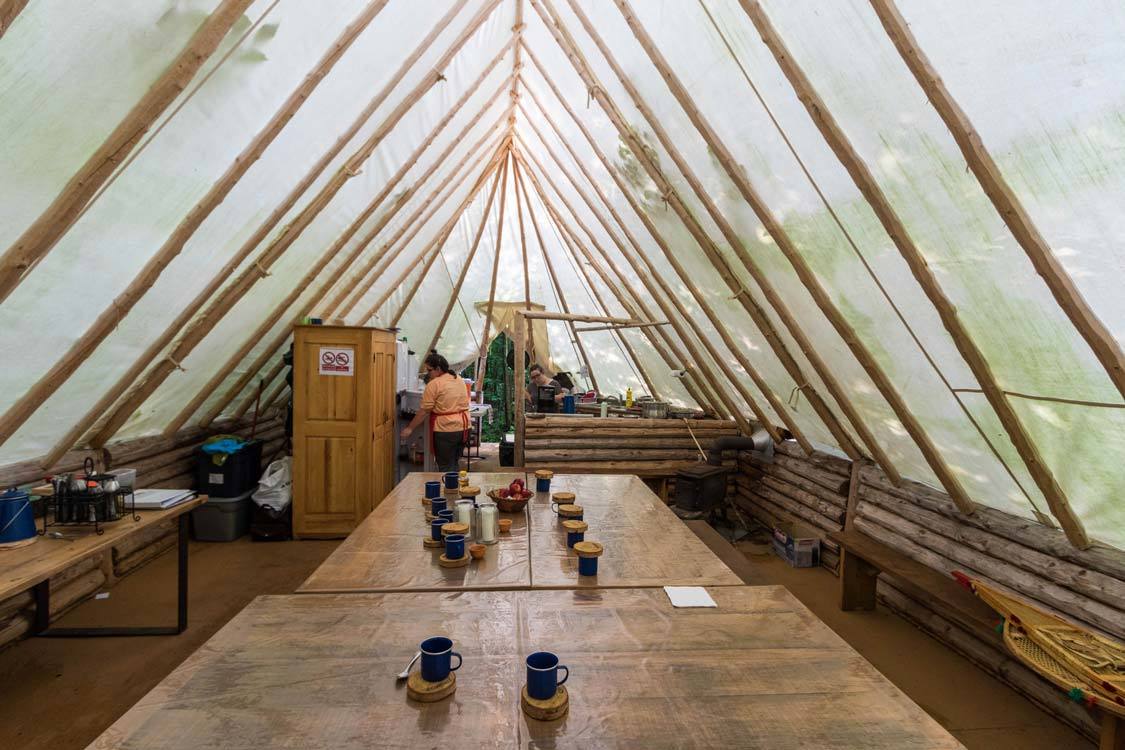 Learning About Quebec Indigenous History Through Storytelling
One of the most fascinating introductions of our entire Quebec Indigenous trip was our discussion with one of the camp elders about the history and struggles of the 11 Nations that once made up the Quebec Indigenous landscape. We learned about why certain nations were nearly decimated by the arrival of European settlers, and why others managed to survive without as large a struggle. We even learned about the 11th Nation, the Malecite, who for all accounts have disappeared entirely.
The educational experience here was much different than the forest walk and stargazing guides that we experienced at Hebergement Aux Cinq Sens in Piopolis Quebec. The knowledge here was just as deep, but our Amishk adventure was a more in-depth reach into the history and culture of First Nations people, and less about the spirituality.
Storytelling During A Paddle To The Beaver Dam
Beavers are at the core of the attractions at Amishk Adventures. When we were invited for a paddle to the nearby beaver dam, we thought that it would be a short little paddle followed by a view of some mud and sticks. We were not prepared for the feat of engineering that would soon be sitting in front of our eyes. The boys and I shared a canoe with one guide while Christina went in the other. Even though it was mid-afternoon, a mist from the summer heat was rising steadily off of the water.
Our boys are always at peace when we are paddling, and here was no different. We snaked through the mess of tree stumps poking through the surface of the water and before long we were at the beaver dam. And it was magnificent. The dam, at least 100 ft. long was holding back an entire lake. This dam was at least 10 ft. high and was thick enough to walk over.
Once we had our fill with gaping at this incredible structure, we made our way through the lake and came across the creature responsible for this epic project. C, our 8-year-old was the first to spot the shy creature zipping in and out of the reeds in the lake. We followed him for a while but never got close enough to take a good photo. But while we waited for "chompy" to appear, our First Nations guides told us stories of their history and the importance of nature in their culture.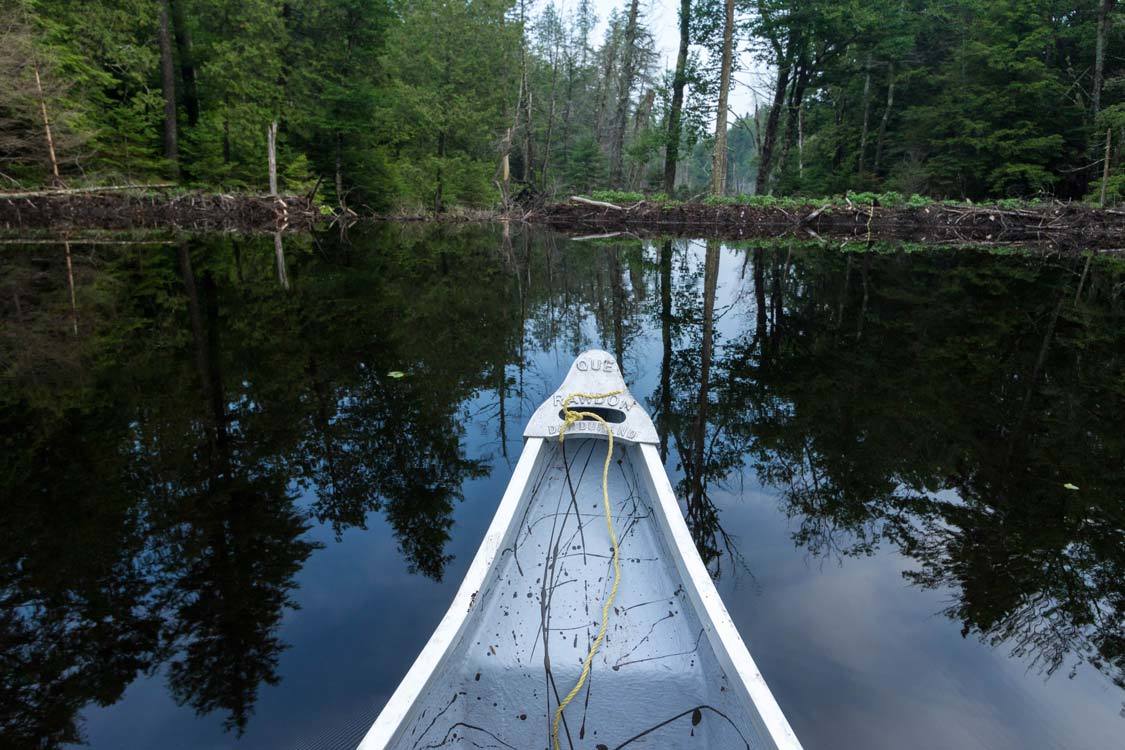 Beaver Watching
The next morning, after an unbelievably comfortable sleep broken only by a loud thunderstorm that quickly rolled over the camp, we woke early to visit another nearby beaver dam and do some beaver watching. The Amishk Adventures beaver watching involves a hike along some narrow trails. Because of the rain the previous night many of the trails were quite wet. If you have rain boots, I'd highly recommend bringing them along.
The trail to the beaver dam isn't long, but it shows off the beautiful backwoods landscape of the camp. We walked along the edge of the small lake finding a few small beaver lodges along the way. This lake actually has two dams. A smaller, older one, and a new and very large beaver dam. The second dam was so large that we were all able to easily walk across in our search for the elusive rodents. Unfortunately, we weren't lucky enough to find them. But, getting that close to the beaver dam was well worth the hike.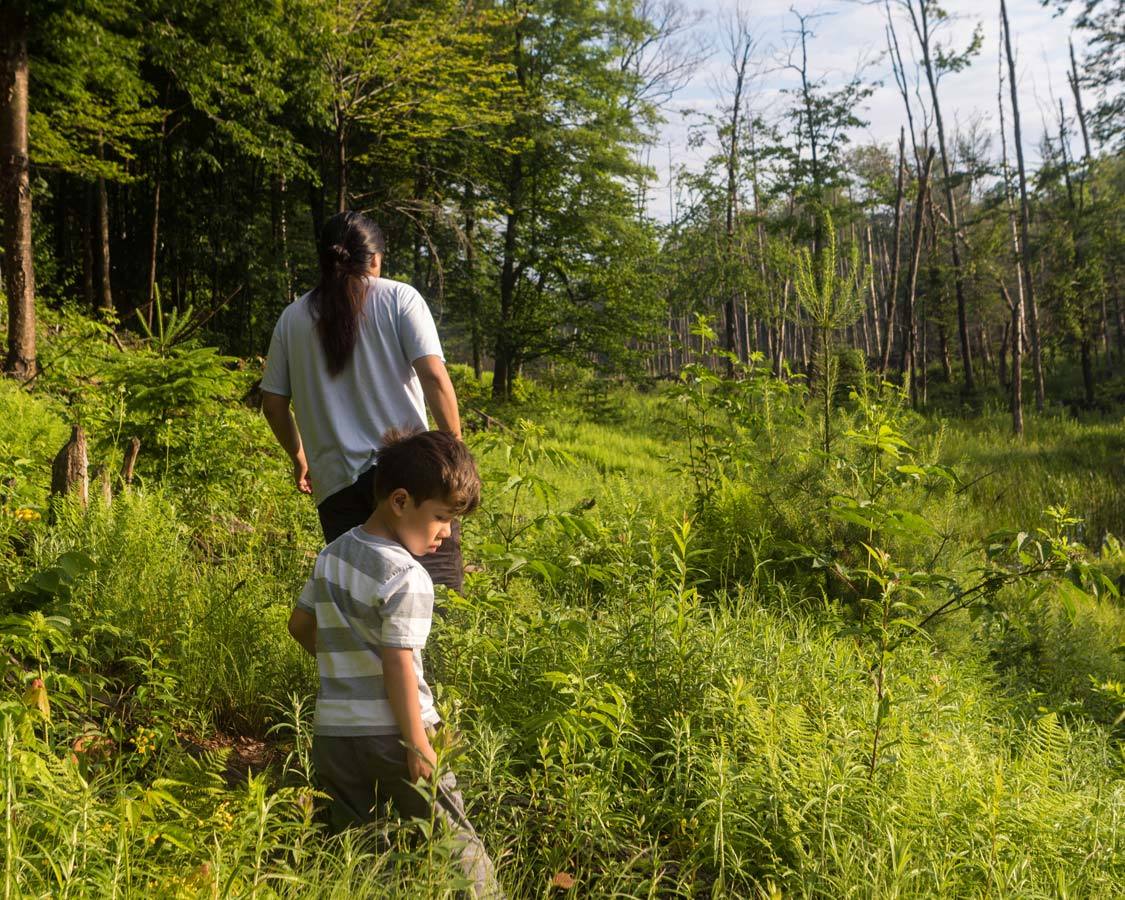 Accommodations At Amishk Adventures
Amishk Adventures offers two unique styles of accommodations. Visitors can opt for the "traditional" teepee experience or a frontier-style luxury tent. The teepee is similar to our experiences dark-sky camping on Manitoulin Island in Ontario. The floors of the spacious tents are lined with spruce for insulation. Mats, sleeping bags, and pillows are provided.
The Frontier tents are similar to those that we enjoyed during our glamping adventure in Prince Edward County. These luxury tents have a queen-sized bed and two single beds. They are modestly decorated with wood and traditional art. The Amishk accommodations offer a luxury that stands in stark contrast to the raw nature outside their wall. The beds were incredibly comfortable, and even the boom of the thunder at night wasn't enough to keep us awake for long.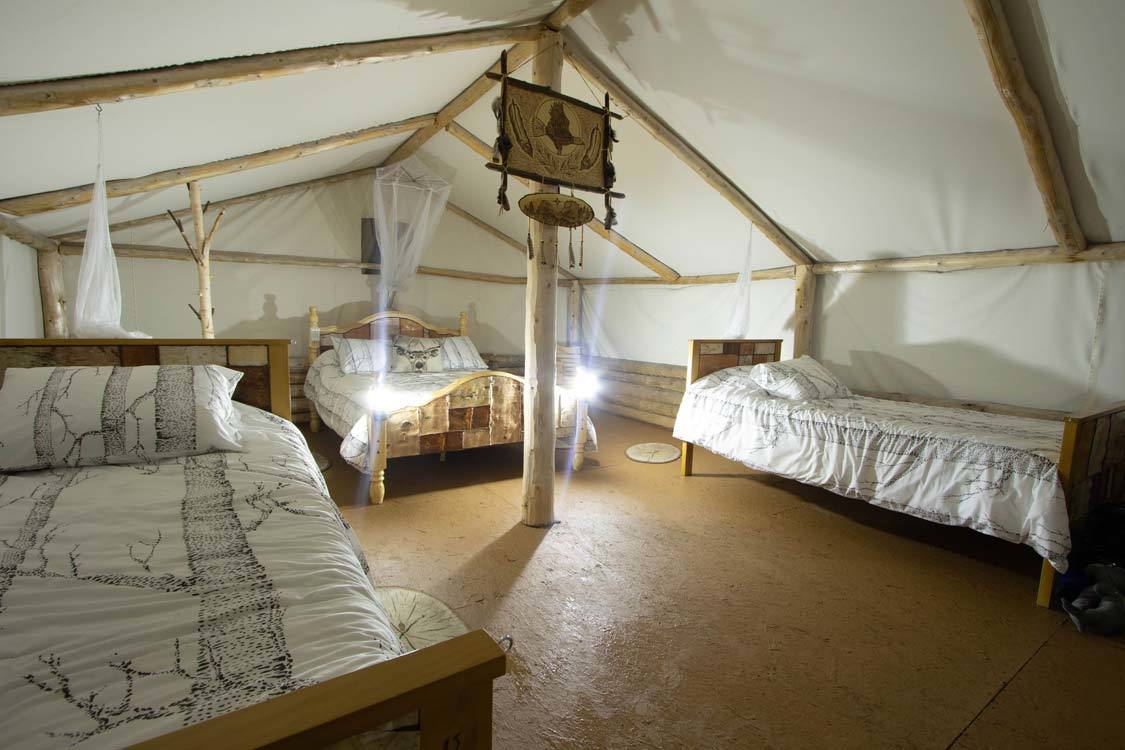 Food At Amishk Adventures
Experience packages at Amishk Adventures are full-board. All meals and lodging are included. The food at the camp is all traditionally inspired. The meals are locally sourced and use produce from producers in the Lanaudiere region and the Laurentians. All the meals that we had were simple, Indigenous-inspired cuisine. The meals were based on the three sisters, corn, beans, and squash. Homemade bread and bannock were offered, and the warm, freshly cooked food was quite delicious. The camp offers vegetarian and lactose-free options as well.
The kids enjoyed the hot chocolate and spruce tea that was also provided. We each received a cup with a coaster labeled with the name of a unique local animal. This way we could ensure that we each kept our own cup throughout our stay. The Three-Sisters soup was absolutely delicious. In fact, it was so good that we used it in our list of easy Indigenous-inspired recipes to make at home.
Do We Recommend A Visit To Amishk Adventures?
Our Quebec glamping experience with Amishk Adventures was eye-opening. The accommodations were far beyond our expectations, and the food was simple and delicious. The language barrier was definitely a challenge and could make for a frustrating experience for those whose French is even worse than mine. But for those looking for a true taste of Indigenous wilderness adventures, spending a few nights with Amishk Adventures will deliver that to you in spades. It's hard not to feel humbled by the stunning scenery that surrounds you. And we were blessed to be among the wonderful staff of Amishk Adventures.
Disclosure: This post was made with the support of Quebec Aboriginal Tourism. This post may contain compensated links. Find more info in our disclaimer. Wandering Wagars is a participant in the Amazon Services LLC Associates Program, an affiliate advertising program designed to provide a means for sites to earn advertising fees by advertising and linking to amazon.com, amazon.co.uk, amazon.ca. Amazon and the Amazon logo are trademarks of Amazon.com, Inc. or its affiliates.
You May Also Like To Read:
Pin This Post For Later: