Whether you're looking to explore the amazing Sandbanks Beaches or spend some time at Sandbanks Provincial Park camping, here is all you need to know.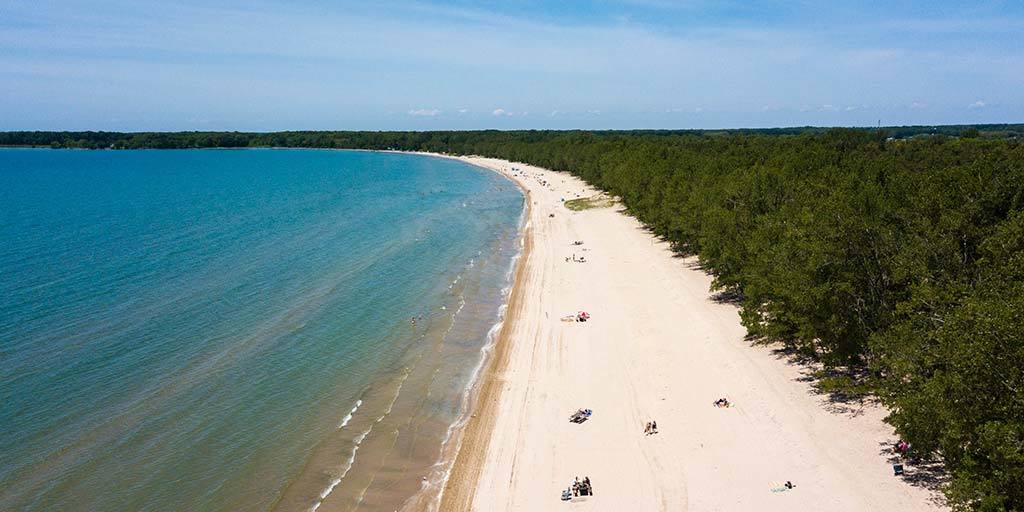 It's tough to think of a place that better captures the heart of an Ontario summer more than Sandbanks Provincial Park. Whether you are looking for amazing camping, gorgeous water, or the picturesque trails along Sandbanks beach, Sandbanks park is a summer wonderland.
Sandbanks Ontario has been a destination that we love to escape to during the summer. And for those times that we're exploring Prince Edward County Sandbanks Provincial Park, camping is where it's at.
Sandbanks camping is so popular that this Ontario Provincial Park has become one of the most difficult parks to book for summer camping lovers. Our guide to Sandbanks beach and campground will help lay out the best way to experience this Ontario wonder and how to make the most of your trip, even if you don't manage to score one of the coveted Sandbanks camping sites.
The Sandbanks Prince Edward County park is really all about the beach. Sandbanks may have one of the best freshwater beaches in the world. It competes with other Ontario beaches such as Sauble Beach and Wasaga beach for its huge swaths of sand and sparkling blue water. Our kids love to chase seagulls in the shallow waters and combine that with an afternoon of hiking the legendary sand dunes.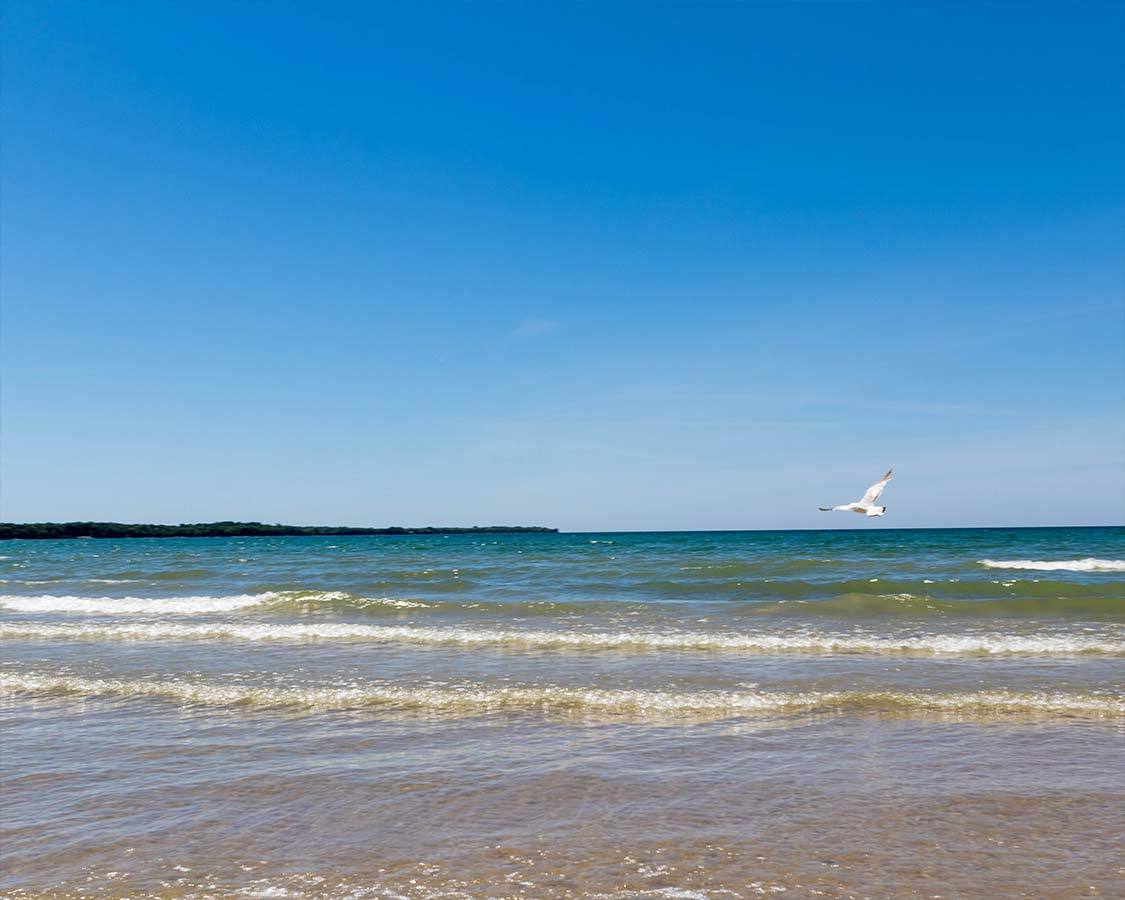 Where Is Sandbanks Provincial Park Ontario?
There are actually two Sandbanks Provincial Parks campgrounds in Canada. One is on the beautiful southern shores of Newfoundland. But, the more popular Sandbanks park is on the shores of Lake Ontario deep in the southern wings of Prince Edward County. It's just under three hours to reach Sandbanks from Toronto and slightly more than three hours to go from Ottawa to Sandbanks campground.
Sandbanks park is surrounded by the lush farms, vineyards, and quaint historic towns that have made Prince Edward County such a choice destination, and it's hard to tell whether Sandbanks has led to the tourism boom in the county, or whether it's the other way around. Either way, both Sandbanks beach and Prince Edward County have become some of the most coveted destinations in Ontario
Tips For Visiting Sandbanks Beach And Campground
Sandbanks camping is amazing. There are good reasons why this has become one of the most popular parks in Ontario. Sandbanks ranks right up there with Algonquin PP, Arrowhead PP, and Bon Echo PP as one of the most popular camping destinations in the province. But, like any great camping destination, there are a few things to know before you go that will help make your Sandbanks camping experience as fun as possible.
Before you head out, make sure you check out our tips for Ontario Parks camping so that these parks are here to enjoy for generations to come.
Book early – Campsites and roofed accommodations at Sandbanks can book up extremely fast. In fact, Sandbanks is among the fastest booking campgrounds in Ontario. But, you can beat the crowd by booking up to 5-months ahead on the Ontario Provincial Park online booking system. You can access that here. If you can't get a spot camping at Sandbanks, you can check out some of the best Prince Edward County hotels here.
Book Late – Many Ontario campsites book up early. But many also have last-minute cancellations. If you don't mind last-minute planning, keep checking the Ontario Parks site to see if there are any late openings. Sometimes this is the best way to get a prime site.
Plan for the weather – Watch the weather forecasts before your Sandbanks beach adventure. And always prepare for the worst. You never know what could happen without warning. Pack camping tarps like these to cover your gear, make sure you use mosquito repellent, and sunscreen for all that time on the beach.
Don't move firewood – This can be hard to swallow since the Ontario Parks aren't known for providing the best firewood. But moving firewood from one destination to another can cause devastation. We saw this first hand in MacGregor Point, where huge swaths of the forest had been to cut down due to the Emerald Ash Borer beetle invasion.
Sandbanks Provincial Park Camping: A Guide To The Sandbanks Campgrounds
Sandbanks Provincial Park camping is great. Everyone seems to love this park, and it's not hard to figure out why. And spending a few days with some Sandbanks Provincial Park camping is something everyone in Ontario should experience. There are 549 Sandbanks campsites spread across 5 campgrounds. The prime spots are close to the beach, and they tend to book up the fastest.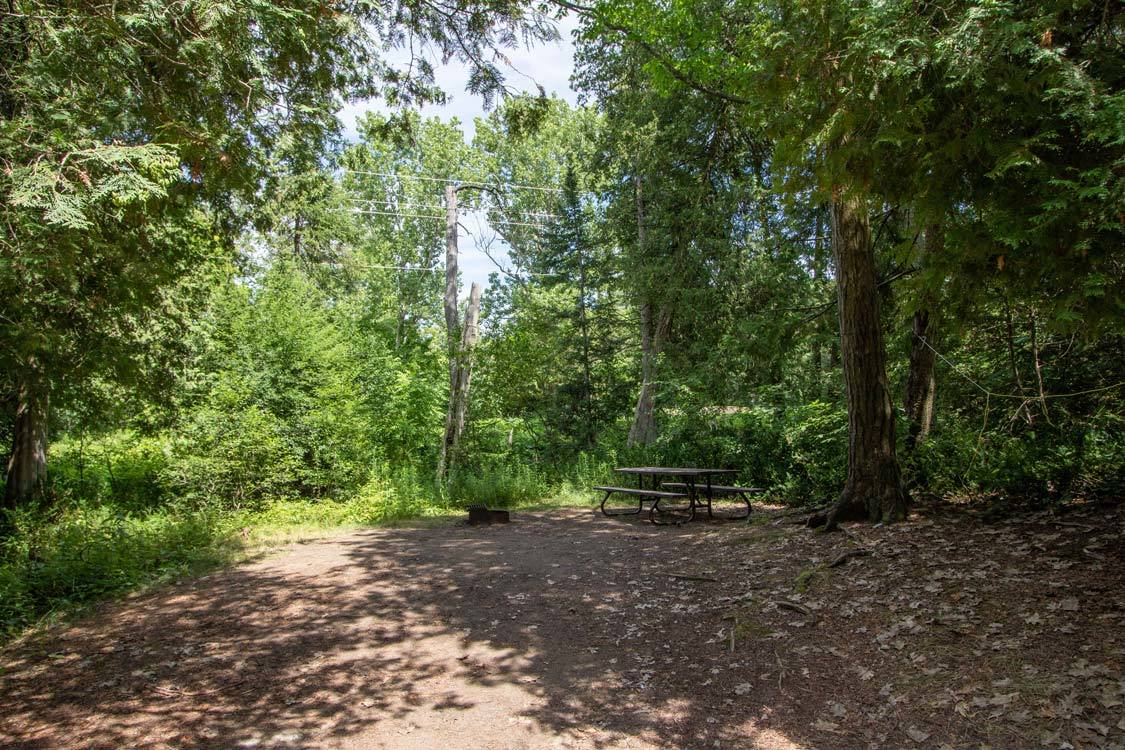 Outlet River A Campground
The Outlet River A campground at Sandbanks is one of the most popular waterfront sites. The popularity of Outlet River A means it can get fairly busy. The sites are in close proximity to each other. The waterfront sites here are 6 to 18, 20, 21, 23, ;24 to 32, 33, 35, 37, 38, and 39.
These sites have excellent waterfront access but not much in the way of privacy. If you are looking for the prime spot here, aim for Site 39, which has a bit of privacy and still has great access to the beach. These are the Sandbanks Provincial Park camping sites that book up the fastest.
Outlet River B Campground
The Outlet B campground at Sandbanks is further back from the water and follows the Outlet river. The sites here have a bit more privacy. The best spots here are the electrical sites along the Outlet river. You can launch right from your site for those with their own canoe or kayak.
Cedars Campground
The Cedars campground is the closest Sandbanks campground to the park office. It also offers the most family-friendly layout. The sites here offer good shelter and a larger, more private camping experience. There is less car traffic that rolls through Cedars as well. None of the campsites in Cedars offer direct access to the beach, however, sites 310, 311, 312, 315, 317, 318, 319, 3210, 323, 325, and 328 offer the most direct access.
Richardsons Campground
Richardson's campground is one of the newest campgrounds in Sandbanks Provincial Park. These are mostly sunny sites with very little privacy. There are 50 campsites here. 19 have electrical service.
Woodlands Campground
The Sandbanks camping at Woodlands is a very open campground with little shade. All 139 of the sites here are electrical. Woodlands is very close to the park entrance, so it's a great option for those who will be making day trips out to the Prince Edward County wineries.
Sandbanks Accommodation: Cottages and Roofed Accommodation
Maybe camping at Sandbanks isn't your style, and you would prefer something a little cozier. Luckily there are a few Sandbanks cottages and roofed accommodations available for rent.
The Sandbanks cabins are great for families or groups that want a cool atmosphere and a cozy bed. Unlike yurts, another popular Ontario Provincial Park roofed accommodation, staying in this house means that your bedding and towels are supplied.
Reservations for the Sandbanks cottages must be made by phone. 1-888-ONT-PARK (1-888-668-7275) or 1-519-826-5290 outside of North America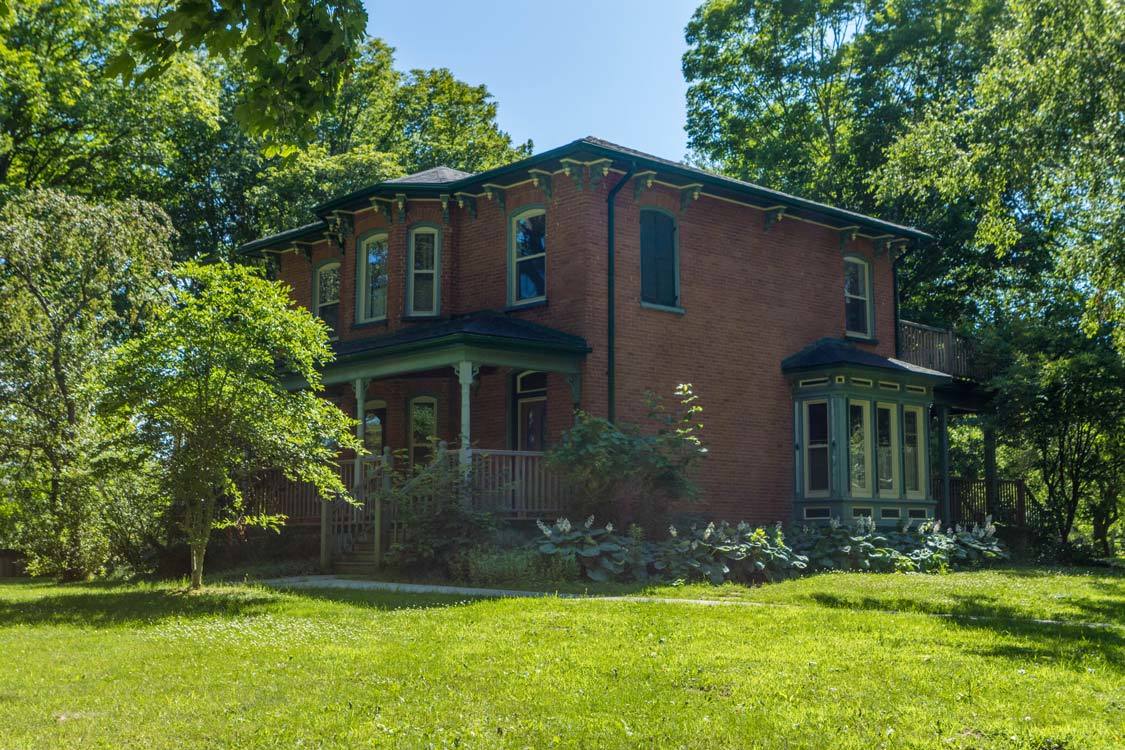 Maplerest Heritage House
Maplerest Heritage House is a Victorian-style home that is decorated with antique furniture and amenities. It offers a taste of luxury among the many Sandbanks campgrounds. There are laundry facilities, TV, stereo, fireplace, bbq, and more.
The Maplerest house is also wheelchair accessible. The Maplerest House sleeps 8 people. If roughing it with Sandbanks Provincial Park camping isn't for you, this is a great opti0n, IF you can book it fast enough.
Jacques Cottage
Jacques Cottage sits right on the shores of Lake Ontario near the mouth of the Outlet River. There is room for 6 people to sleep at Jacques Cottage. And the property includes a full kitchen, tv, fireplace, and bbq.
Where To Stay Near Sandbanks Provincial Park
If you don't snag one of the coveted Sandbanks camping sites or cottages, you're not out of luck. With the popularity of Sandbanks and Prince Edward County, there are lots of places to stay near Sandbanks park that are worth checking out.
Just outside the entrance to Sandbanks is Sandbanks Beach Resort. This popular camping resort has cottages, cabins, and campsites as well as RV sites to help deal with much of the Sandbanks overflow. It's such a popular place that many visitors return to Sandbanks Beach resort year after year. You can check out their website here.
If you don't mind a bit of a drive, Fronterra Farm, which is situated near the beautiful North Beach Provincial Park is one of our favorite places to stay near Sandbanks park. The luxury glamping at Fronterra is quiet, and the sunset views over North Bay are incredible. You can also check out our complete guide to the best Prince Edward County hotels and accommodations here.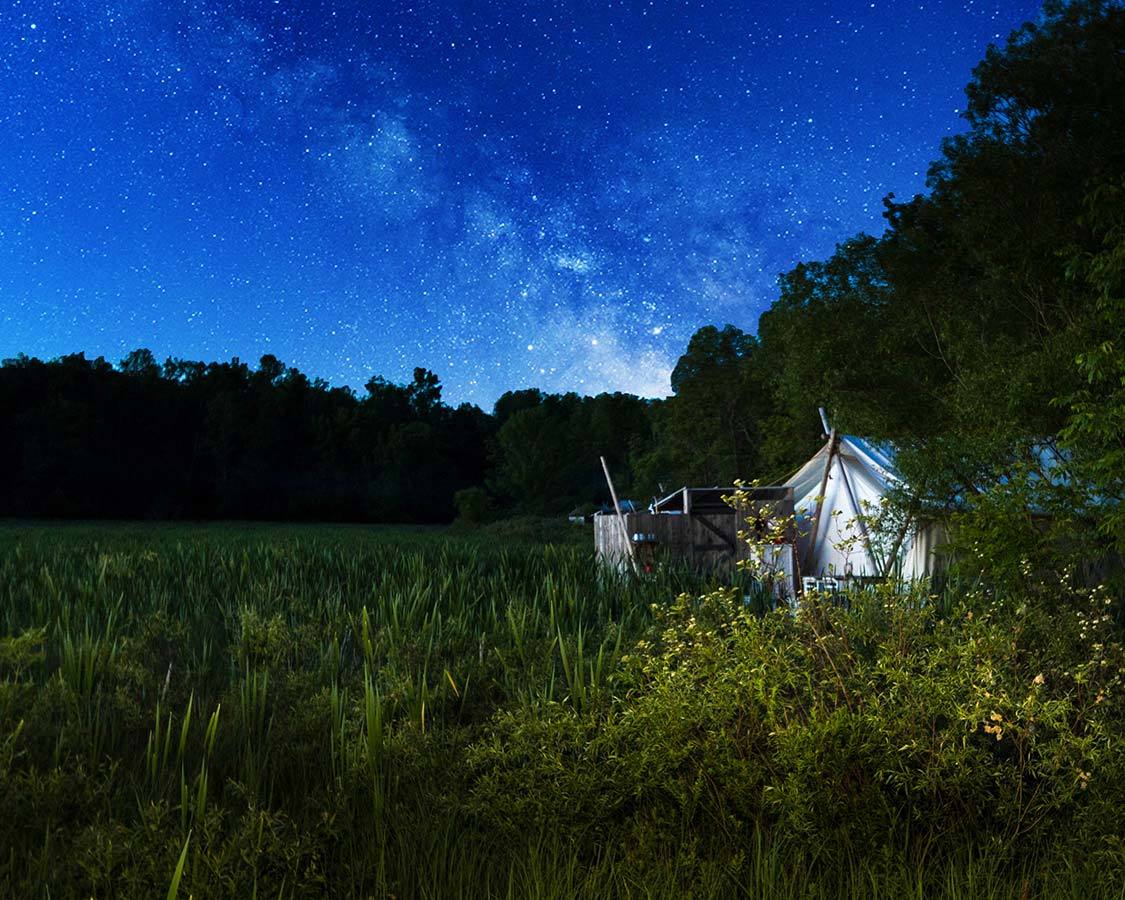 Sandbanks Beach And Swimming
The beaches at Sandbanks Park are the real draw for visitors to this park. I've spent days chilling on the beaches at Sandbanks while my kids run around and play or build castles by the calm shores of Lake Ontario. There are actually 4 beaches at Sandbanks Provincial Park, Outlet Beach, Sandbanks Beach, and Dunes Beach. Dunes beach has comfort stations with toilets, vending machines, and a cafeteria with decent quick food.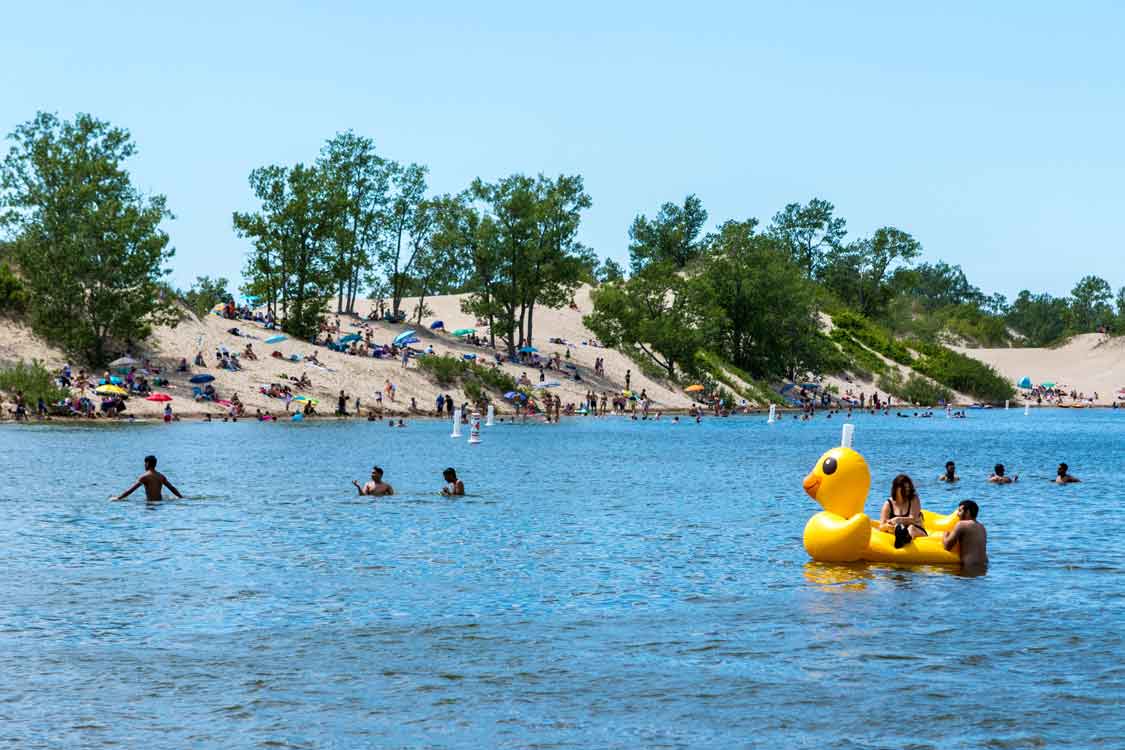 Sandbanks Dunes Beach
Sandbanks Dunes beach is an 8 km (4.8 miles) stretch of white sand in the northwest section of Sandbanks Provincial Park. This Sandbanks Provincial Park beach has warm, tranquil waters that make it popular with families.
The floor makes a quick drop after a short while, though, so new swimmers should be careful. The prime attraction of Dunes beach is the huge white sand dunes for which the park was named. They are beautiful, impressive, and a must-visit for those coming to Sandbanks Provincial Park.
Dunes Beach has a comfort station with flush toilets, vending machines, and Currah's diner. The diner offers fast food and cool treats. There are also picnic tables and a playground for children.
Sandbanks Beach
Opposite Dunes Beach on the Lake Ontario side of the park is Sandbanks beach. Sandbanks beach is usually windier with rougher water. But, many visitors to Sandbanks Provincial Park love the tropical feel of this beach. If you want to snap some Instagrams and convince your friends that you are in the tropics, this is the place to do it.
There aren't many amenities at Sandbanks other than outhouses. It's a little harder to get to than the other beaches in the park, but if you want a stretch of beautiful beach to yourself, Sandbanks beach offers your best options.
Outlet Beach
The most popular beach in Sandbanks Provincial Park is Outlet Beach. Outlet Beach is located at the southern end of the park at the mouth of the Outlet River. This beach has soft, white sand and a gradual drop-off, making it very popular with swimmers. The water at Outlet Beach is usually warmer and calmer than Sandbanks Beach, and it's close to the Outlet River A campground.
The beach can get very crowded during hot summer days. But, it is close to the park store and cafeteria and a comfort station with flush toilets and change rooms.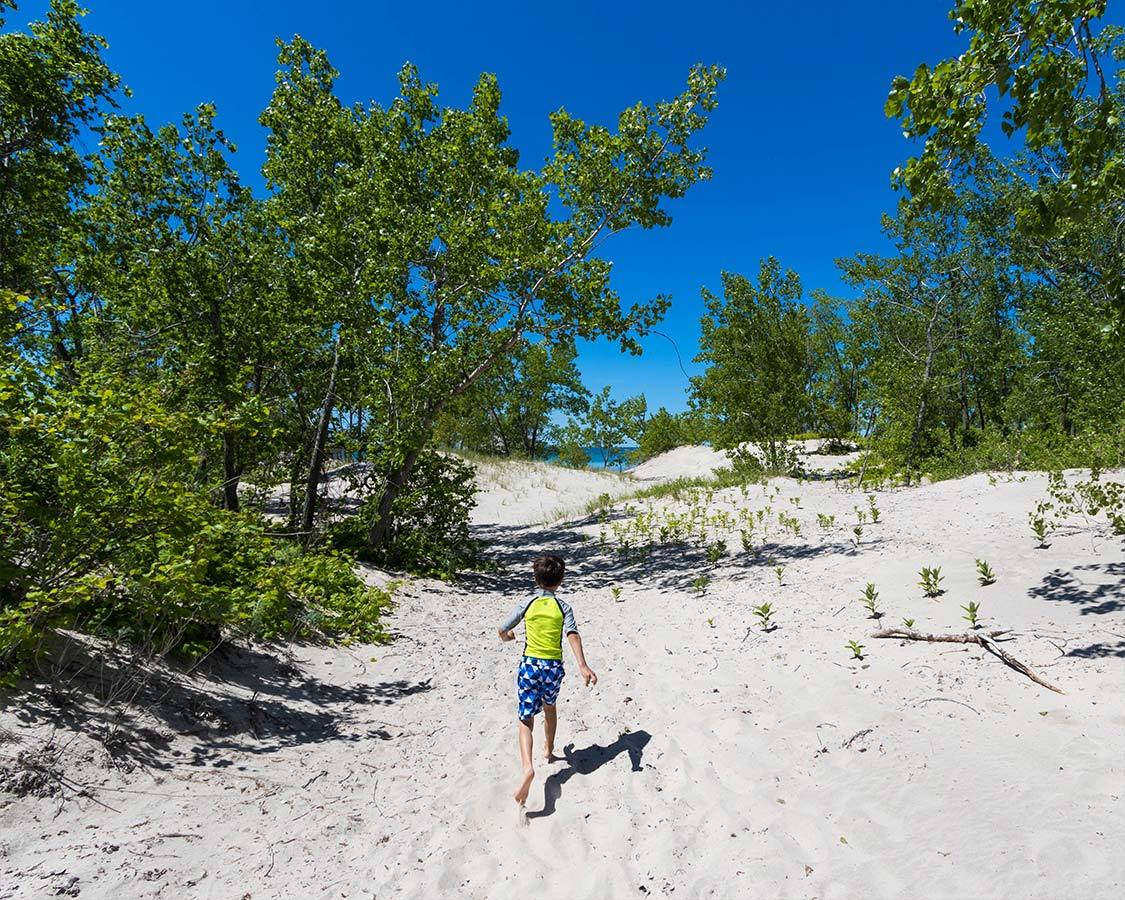 Other Things to do in Sandbanks
If you get tired of the Sandbanks beach life, don't worry. There are a number of great things to do in Sandbanks that will keep you occupied during your visit. The great thing about the park is that you can pack almost all of these great activities into a single day and still have plenty of time to relax at the beach.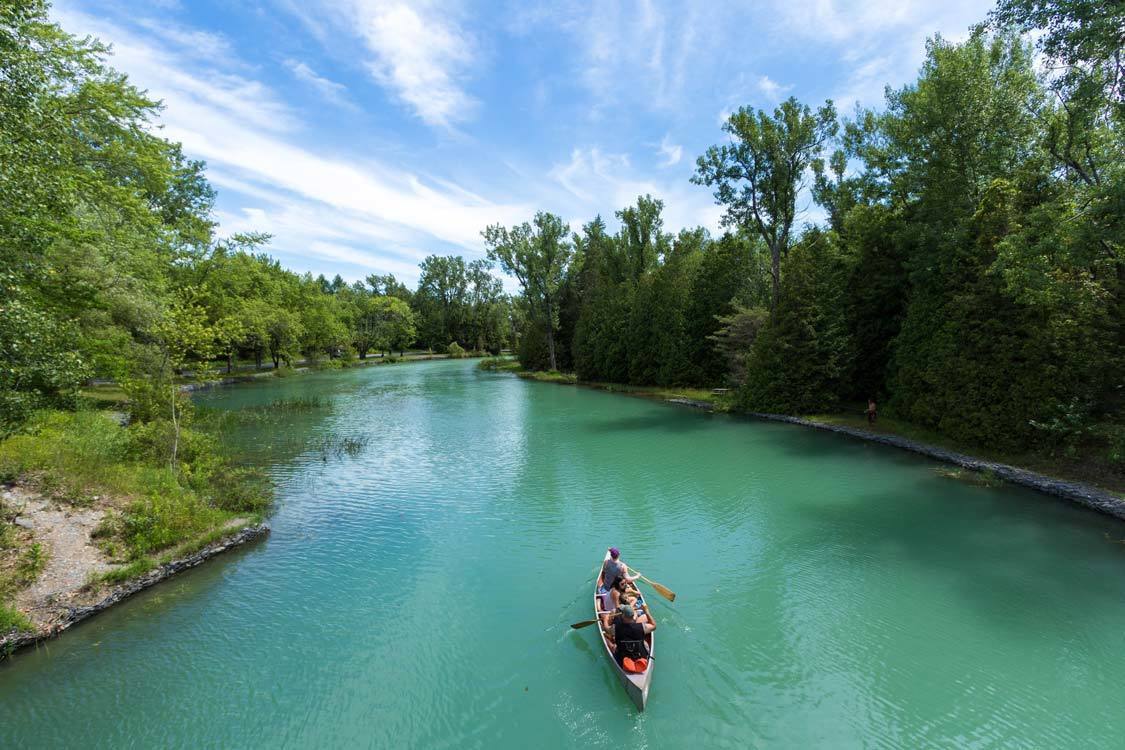 Hiking in Sandbanks
Exploring Sandbanks is one of the best ways to spend time in the park. There are some great hiking trails for discovering some of the most beautiful places at the park. Hiking at Sandbanks Provincial Park is easy with great, flat trails that combine boardwalks with natural trails. The Woodlands Trail is a 5 km (3 miles) easy hike that starts at Outlet Beach and passes through to West Lake at Sandbanks Dunes Beach.
Cedar Sands is another popular hiking trail at Sandbanks park. This 2 km (1.2 miles) interpretive trail winds along the Outlet River along boardwalks. Several lookouts offer views of the Sandbanks marsh, Outlet river, and Baymouth dunes. There are interpretive plaques along the way showing the key points about the ecology of the park.
The Sandbanks Dunes Trail is one of our favorite trails at the park. It offers enough of a challenge to keep your feet busy, but it also passes through some of the park's most amazing sand dune formations. The Sandbanks Dunes trail also winds along the edge of beautiful marshes, where many of the migratory birds spend time in the park. Some stairs work their way up some of the larger dunes for great views.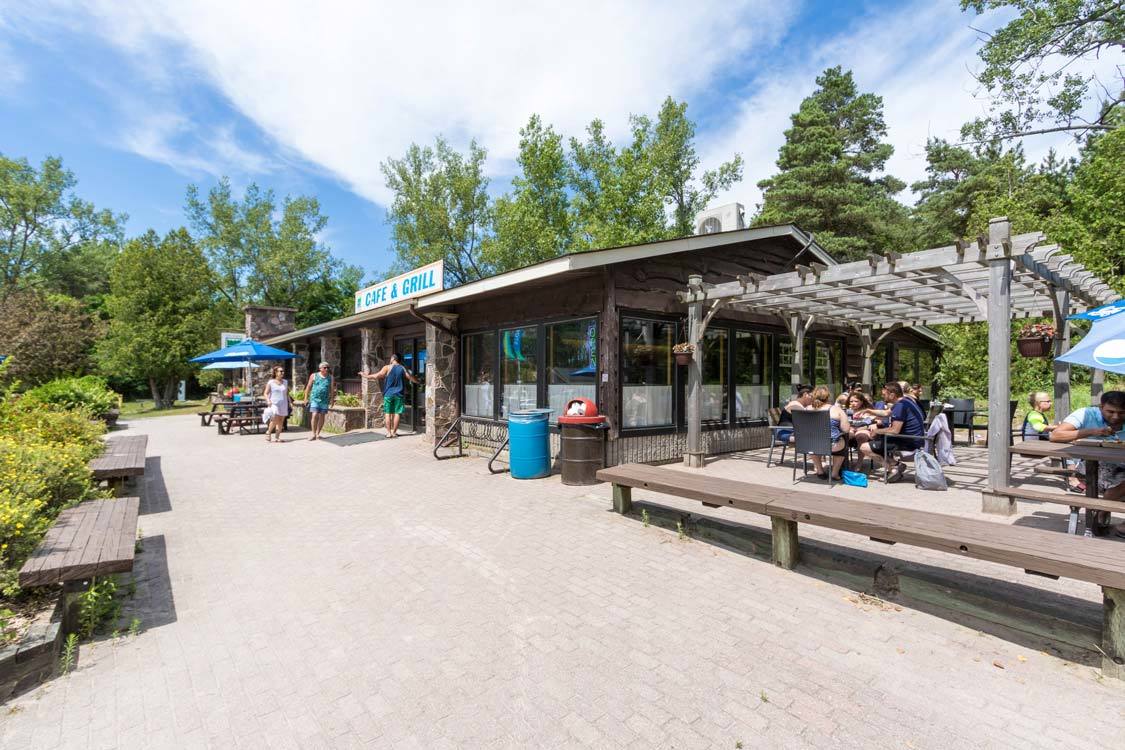 Biking In Sandbanks
Cycling is a great way of getting around Sandbanks Provincial Park. You can either navigate through the trails where cycling is allowed or zip around the campgrounds. The flat landscape makes Prince Edward County a great destination for cycling, and there are often many people riding the park and the surrounding region.
Canoeing/Kayaking
Sandbanks is a great place for canoeing and kayaking. The Outlet River carves a beautiful route that explores the diverse nature of the park. East Lake and West Lake are both beautiful places for a paddle. The water on these lakes is usually calm, which makes it perfect for paddling.
For something a little more challenging, Lake Ontario has beautiful blue waters. However, Lake Ontario can get rough and wavy, so it is best left to experienced paddlers who stay close to shore. There are canoes and kayaks available for rent near the entrance to the park.
Explore The History of Sandbanks Provincial Park
Sandbanks Provincial Park has more than just beautiful beaches and scenery to explore. This section of Ontario is home to some of Ontario's most important history. The park lies just off the end of the Loyalist Parkway dating back to the late 1700s.
Sandbanks was once covered in green pastures where cows ran free to graze the land. In fact, those farms helped uncover the dunes and reveal this important natural landmark. In fact, archaeological sites date back over 1,000 years within Sandbanks park.
Some of the cool historical sites in Sandbanks include MacDonald Farm, a United Empire Loyalist house dating back to 1878. The MacDonald Farm in Sandbanks was an active farm, and the main house and outbuildings are still in place and are being preserved.
Lakeshore Lodge was once one of the most popular resorts in Ontario during the late 1800s. The lodge is near the Sandbanks dunes and was finally closed in 1973. The buildings were torn down. However, the foundation and gates are still in place.
Things To Do Near Sandbanks Ontario
Sandbanks park is situated in one of the most beautiful regions of Ontario. Prince Edward County is filled with incredible attractions, amazing restaurants, wineries, beautiful towns, and ice cream shops. There are so many great things to do in Prince Edward County that I wrote a whole article to help you find the best attractions in the County.
For those who want to skip that article, a few places to note are:
Picton: Picton and Sandbanks often go hand in hand. This is the largest town in Prince Edward County. It's a bit of a drive from Sandbanks, but it's well worth the day trip to discover the great restaurants and beautiful downtown.
North Beach Provincial Park: North Beach Provincial Park is the location of our most asked about beach photo. This stretch of sand between Lake Ontario and North Bay looks like it is straight out of a postcard from the Caribbean. If you are looking for a great Ontario beach destination without the crowds, you should definitely check out North Beach.
Bloomfield: If you're looking for the best ice cream in Prince Edward County, this is where you need to go. Head to Slickers and grab one of their unique homemade flavors. While you're there, check out some of the great antique shops, such as Dead People's Stuff.
Lake On The Mountain: Head west to Lake on the Mountain in Prince Edward County. This unique landscape sits high above the lake and offers tremendous views, great bed and breakfast, and the Lake on the Mountain Brewery, which crafts some of the beer in Prince Edward County.
Presqu'ile Provincial Park: During our drives back to from Sandbanks to Toronto, we inevitably miss the beach about 30-minutes into our drive. Luckily, beautiful Presqu'Ile Provincial Park is just an hour down HWY 401. Sometimes we'll stop here and relax along the rocky shoreline to catch the sunset before tucking the boys into their car seats and making our way home.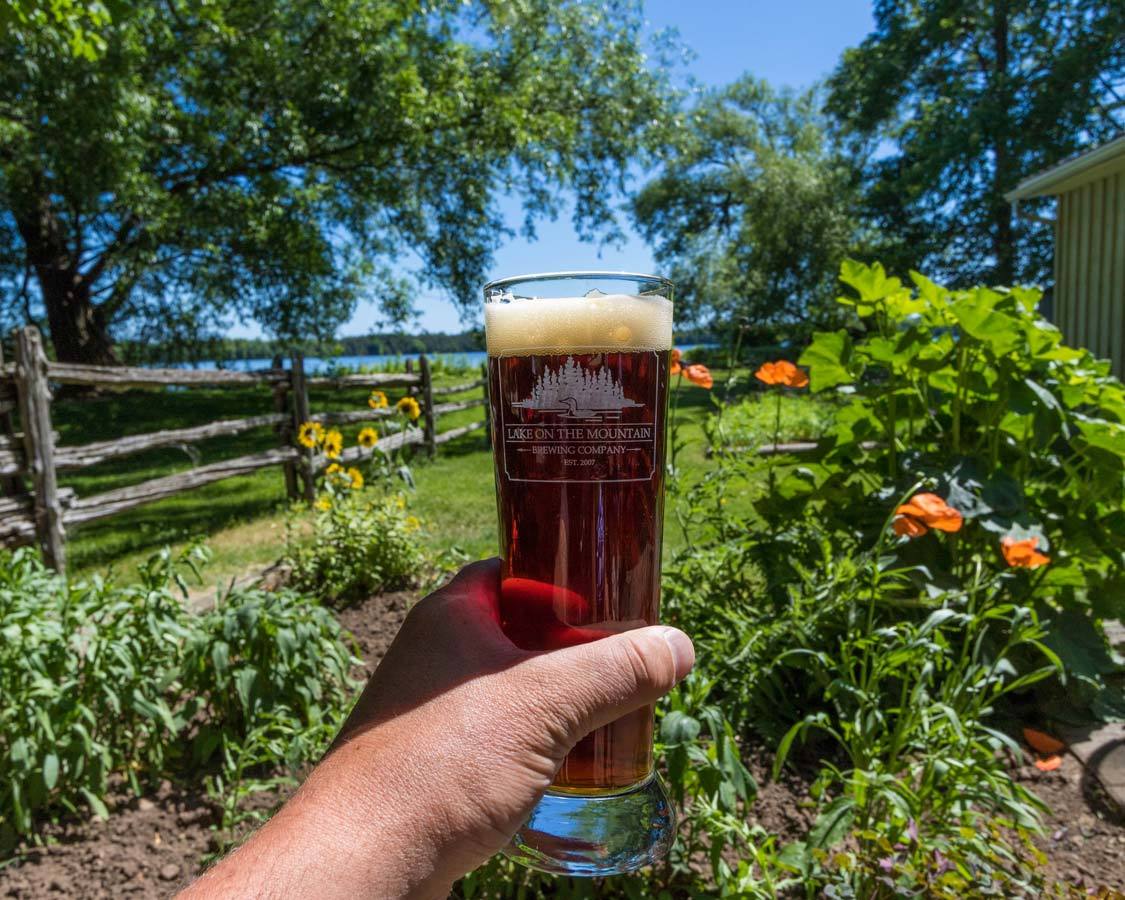 Sandbanks Park For Families
It almost seems like Sandbanks Ontario was designed for families. The flat, colorful landscape, epic beaches, and stunning scenery could have been pulled right out of a postcard from the Caribbean. But you get all of this without booking a flight or worrying about luggage weight.
The wide-open fields of the farms, sand dunes, and hiking and biking trails make for countless hours of family fun. If you are visiting Sandbanks with kids, pack your fishing gear too because fishing is a great way to spend time in the shade during the hot afternoons. Just make sure you pack a waterproof camera. You'll want to capture all of those amazing Sandbanks moments.
Have you ever visited Sandbanks beach in Prince Edward County? Drop a comment below to tell us about your experience. Or, head over to our Facebook page and share a photo. We would love to share in your travels.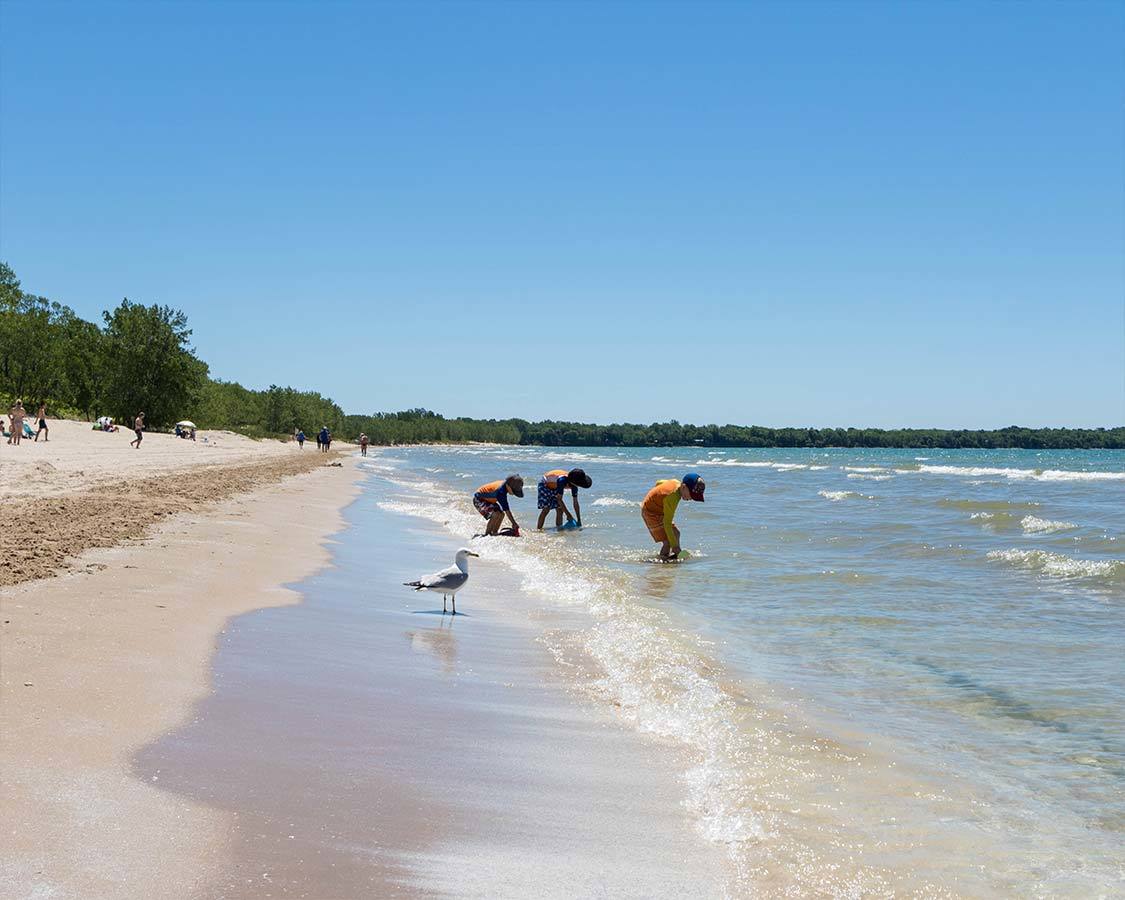 What To Pack For Your Sandbanks Provincial Park Camping Adventure
You need to pack right no matter what your plans for your Sandbanks Provincial Park adventure. Whether you're going to be enjoying some Sandbanks camping, or just lounging on the beach, be prepared! Here are a few things we never leave home without. You can also check out our complete guide to family camping to learn all you need to know about camping with kids.
Tent – If you're camping in Sandbanks Provincial Park, make sure you have shelter. For family camping, I like to pack something like this.
Sleeping bags – Make sure you're comfortable with a sleeping bag meant for the temperatures you'll be camping in.
Bug spray – (something with DEET, especially during the early and late season to keep black flies and mosquitoes at bay)
Cooking supplies – I like to use a nesting cookset so that I can carry all the gear, but pack it easily. Don't forget your camping stove too.
Water bottles – It can get HOT on Sandbanks beaches. Make sure you stay hydrated and don't create waste by bringing your own water bottles. You can refill them throughout the park.
Swimsuits and towels – Sandbanks has some amazing swimming areas! Don't leave your swimwear at home.
Hiking Shoes – The Sandbanks hiking trails are well maintained. But make sure to bring some good hiking shoes with ankle support. I prefer Merrel hiking shoes myself, but use what works best for your feet.
First Aid Kit – Because stubbed toes can happen.
Have you ever explored Sandbanks Provincial Park? Leave a comment to tell us about your experience. Or follow our Instagram to get some of the latest travel inspiration. You can also sign up for our newsletter to stay in the loop about new and exciting adventure travel ideas. Subscribe
Wandering Wagars is a participant in the Amazon Services LLC Associates Program, an affiliate advertising program designed to provide a means for sites to earn advertising fees by advertising and linking to amazon.com, amazon.co.uk, amazon.ca. Amazon and the Amazon logo are trademarks of Amazon.com, Inc. or its affiliates.
You May Also Like To Read:
Pin This Post For Later: