The Arrowhead Provincial Park Skating Trail is one of the most popular winter activities in Muskoka. But, there is more to do in Arrowhead park this winter!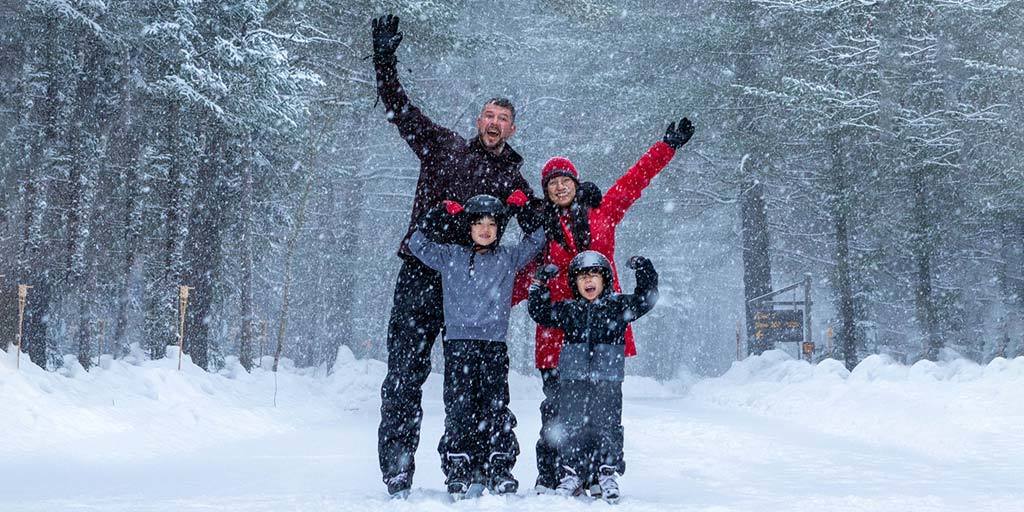 Hitting the trails for some Arrowhead Provincial Park Skating is one of the most popular winter activities in Ontario's Muskoka region. But there is a lot more than just winter skating at Arrowhead for visitors to enjoy when they visit this popular Ontario Provincial Park. Once the snow starts falling in Huntsville, Ontario, Arrowhead Park is transformed from one of the most exciting Provincial Parks in Ontario, into a magical winter wonderland that feels like it has been designed specifically for the winter outdoor lover.
In fact, Arrowhead Park has become such a popular Muskoka winter getaway that they've installed a new chalet-style visitor center to help them keep up with the demand. Muskoka winter activities such as Arrowhead skating, cross-country skiing, snowshoeing, and winter hiking are so popular here, that visitors are often skipping right past the popular Muskoka resorts and heading to the modest Arrowhead Provincial Park cabins instead, just to be closer to the action.
We regularly make the trip to Arrowhead during the warmer months. But, this year we decided to pack up the kids and take in as many winter activities at Arrowhead as we could manage. And boy, did we leave exhausted.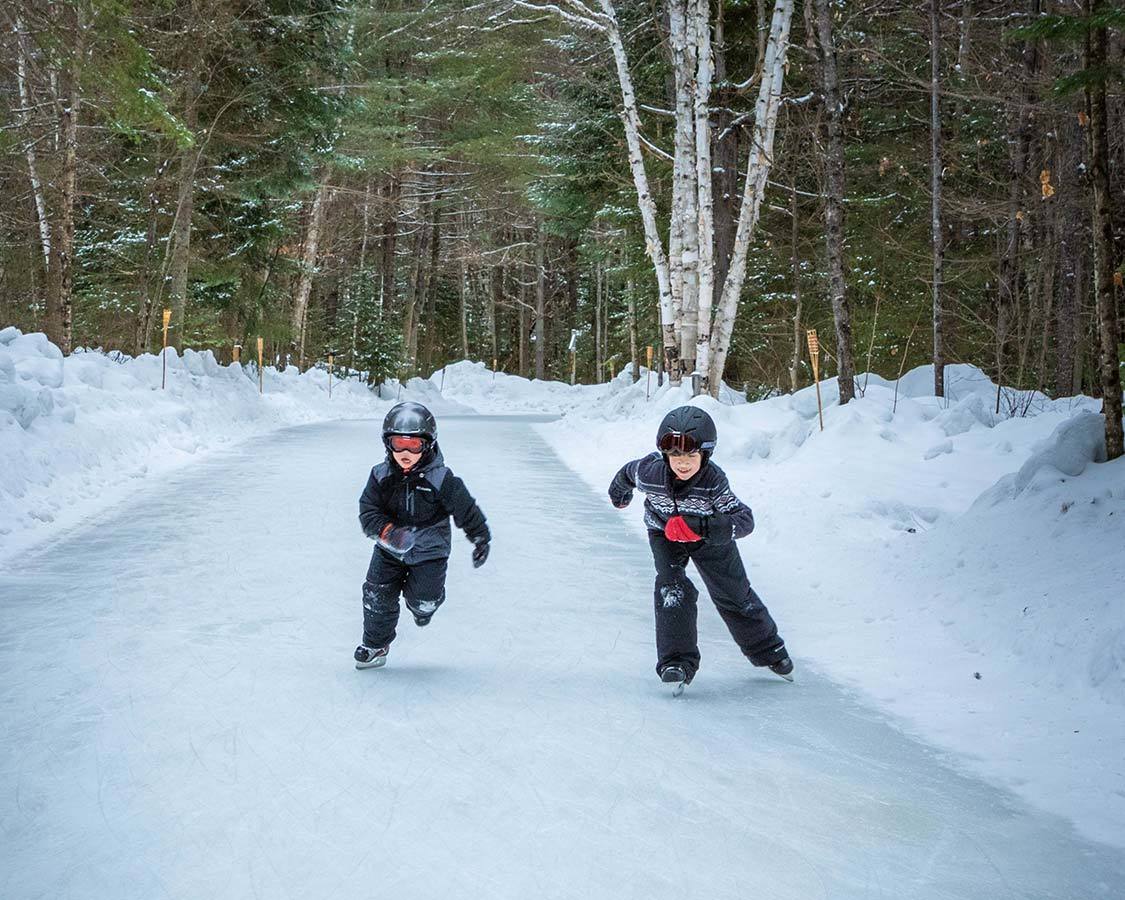 About Arrowhead Provincial Park
Arrowhead Provincial Park is just 7 km north of Huntsville, Ontario. Arrowhead Park is conveniently located just off of Hwy 11. To reach Arrowhead from Toronto head north on HWY 400 to HWY 11. Take exit 226, turn right onto Muskoka Road 3, and then turn left onto Arrowhead Park Road.
The park is open year-round, but Arrowhead winter activities are centered between mid-December till the end of March. Most of the Arrowhead Park winter activities are weather-dependent. There are two lakes in the park, including Arrowhead Lake and Mayflower Lake. And, there is also the famous Arrowhead Bend, which is especially popular during the summer and fall seasons.
Arrowhead Park is just 32 km from the world-famous Algonquin Provincial Park, but the experiences between the two are very different. Algonquin Park is massive, and even with its huge size, it can be overrun with tourists. Arrowhead Provincial Park, while very popular, is far more manageable in size, and it's still possible to explore in relative solitude, especially in winter.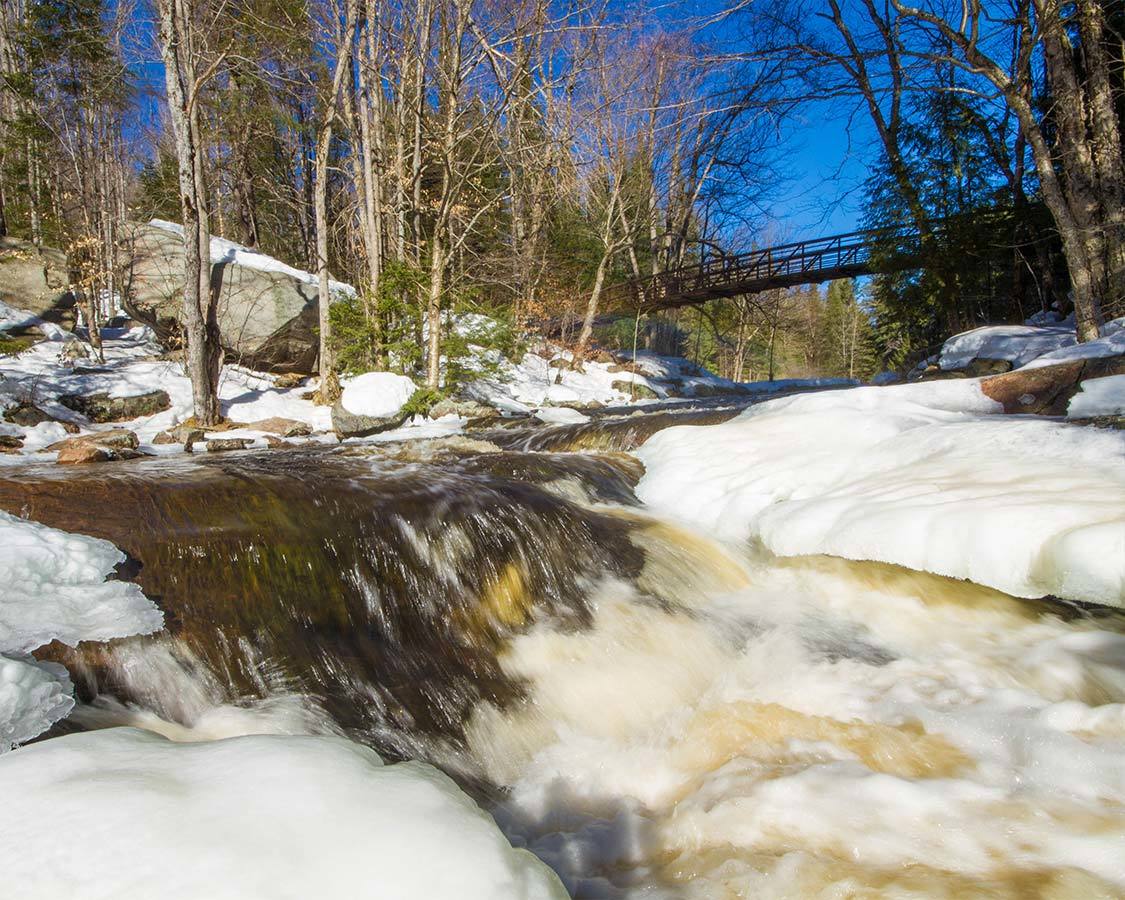 Arrowhead Provincial Park Winter Activities
Winter activities in Arrowhead Provincial Park are a great way to shake off the cold and embrace the winter weather of Ontario.
Arrowhead Provincial Park Skating Trail
Skating trails have become all the rage in Ontario. But, the Arrowhead Provincial Park skating trail was one of the originals. And it may just be one of the best. The Arrowhead skating trail made its debut during the winter of 2012. Now in its 7th year, the 1.3 km winter skating trail is definitely the number one winter attraction at Arrowhead.
The Arrowhead Provincial Park skating trail generally runs from mid-December to the end of March. However, the Arrowhead skating trail is not always open. Since it is outside, opening days are weather-dependent. If the weather is going to be over 0°C or, if it has been excessively snowy, it's best to check here to see if the trail is open. Saturdays are often very busy on the Arrowhead skating trail. But, if you can make it here during the week you won't see much of a crowd.
We have been visiting the Arrowhead skating trail every winter for the past few years. Whipping through the forest on a pair of skates is always a thrill that doesn't go away. This year, our 5-year-old, D, was an absolute speed demon tearing along the Arrowhead Park skating trail. And once he had exhausted himself, we were able to relax at the start of the trail where there are benches, fire pits, and bins to store your boots and other gear while you skate.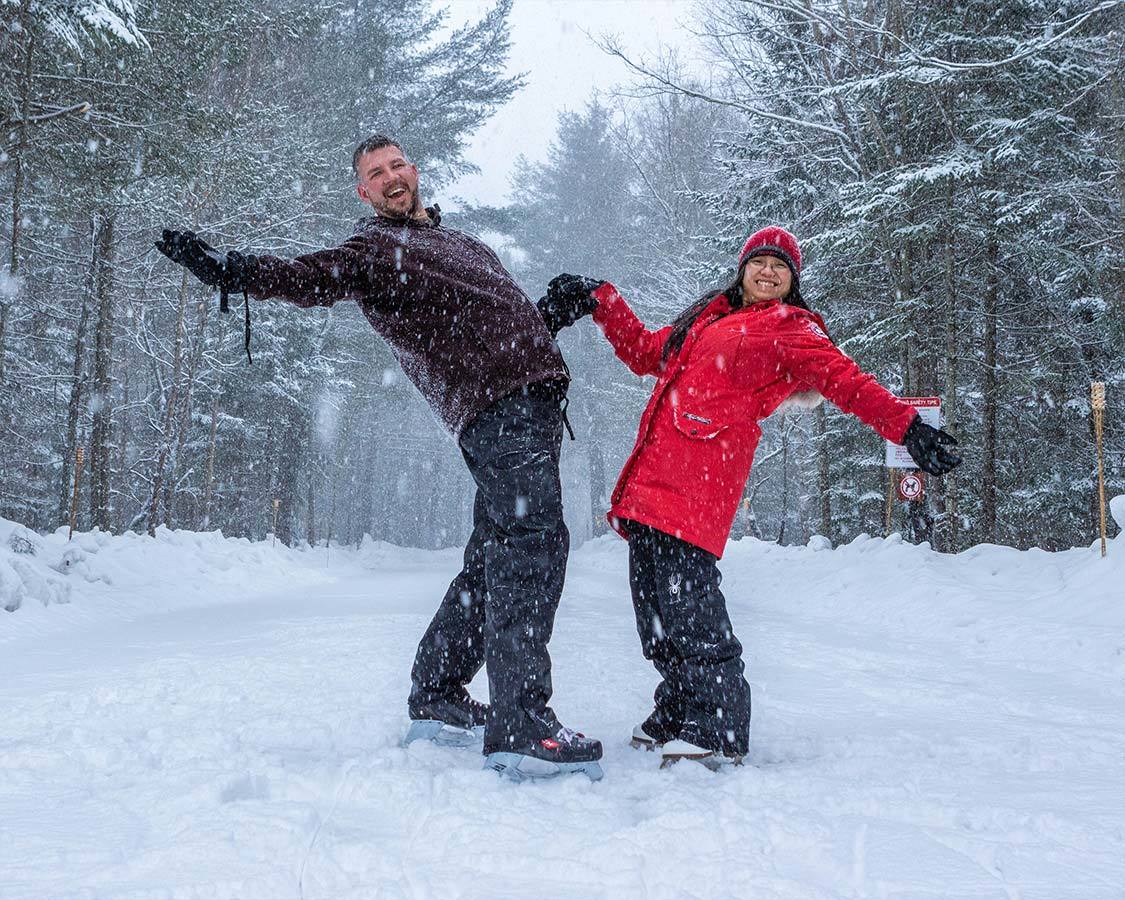 Pro-tip: The Arrowhead Provincial Park skating trail gets very busy on Saturdays. It is possible to get turned away at the park entrance if the trail has reached capacity.
Fire And Ice Skating At Arrowhead Provincial Park
On Saturdays, in January and February (and the occasional Thursday) the Arrowhead skating trail is lit up with tiki torches. The event has been named Arrowhead Fire and Ice, and it has become one of the most sought after Muskoka winter activities. Entrance to the Arrowhead skating trail is included with a park entrance fee. Ice skates can be rented at the park visitor's center for $10.
Arrowhead Park Cross-Country Skiing
Skating might be at the top of the list of things to do at Arrowhead Parkin winter, but it isn't the only thing, not by far. There are over 28 km of ski trails and 16 km of skate ski trails that criss-cross through the park. Some of the most popular trails wind out from the Arrowhead visitors centre past Big Bend lookout. The trails surrounding Mayflower Lake are also very popular with the staff and locals. These trails start near the registration office at the park entrance.
Cross-country skis can be rented at the Arrowhead visitor center for between $23.00 and $30.50 for a full day depending on if you want classic skis or skate skis. The prices for children under 18 are between $17.50 and $23.00. There are lower rates for family group rentals as well.
This winter was the boys' first time on cross-country skis, and Christina and my first time since elementary school. We had an incredible time. We certainly weren't graceful, but the boys picked it up fast, and Christina fell in love with the calm way that Arrowhead cross-country skiing let us experience the serene winter wilderness.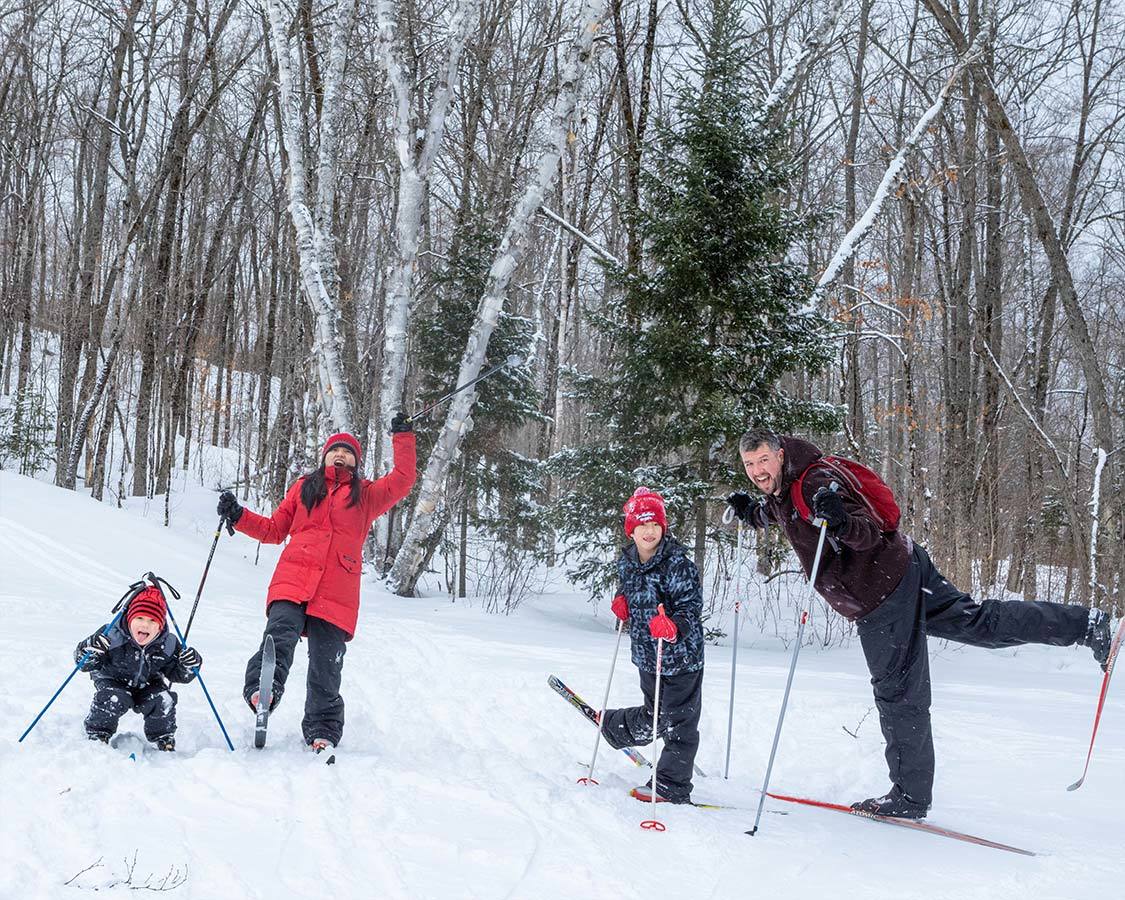 Snowshoeing
If gliding down the Arrowhead trails on two planks isn't your idea of a good time, then perhaps Arrowhead snowshoeing is more up your alley. There is 8 km of snowshoe trails scattered around the park. One of the most beautiful is the Stubbs Falls trail. This trail has just enough challenge to keep it interesting. And beyond the fun trail, you also get up close with beautiful Stubbs Falls in all of its frozen glory. But be careful, the water here runs fast, and the frozen edges can sometimes give way.
Snowshoes can be rented at the Arrowhead visitors center for $10 for a half-day or $30 for a family.
Tubing
We usually get our winter fix of snow tubing in Gatineau QC at the annual Ottawa Winterlude festival. But this year we decided to stay more local. Once there has been enough snowfall, the roads at Arrowhead Park are groomed into tubing hills. Tubes are provided by the park at no cost to visitors, which is pretty great. Unfortunately, the tube hills still hadn't opened when we visited in early February, so we didn't get to try them for ourselves. But, you can check the parks Twitter account for regular updates on which attractions are open and which ones aren't.
Arrowhead Winter Hiking
Just because there's snow on the ground doesn't mean that you can't go hiking! We recently experienced winter hiking Finnish Lapland, and it's something we love to do whenever we get the chance. Arrowhead Park has a little something for everyone looking to experience winter activities in Muskoka. There are 5 different hiking trails that are open during the winter months.
Skijoring
What is Skijoring you ask? Well, I was wondering the same thing when we arrived at Arrowhead this year. Skijoring is where you strap on a pair of cross-country skis and then harness yourself to a dog (or two depending on how fast you want to go). The dogs race around the snowy Arrowhead ski trails and you hang on for dear life along the way. Alas, we had not brought our own dogs to take part in Skijoring at Arrowhead Provincial Park.
While skijoring isn't a regular activity at Arrowhead Provincial Park, there is a designated trail for it. The park works with a local company on introductory skijoring courses. Check the Arrowhead website for details on when the skijoring classes at Arrowhead Park are running.
Arrowhead Visitor's Center
In 2018, Arrowhead added a new visitor center near the start of many of the popular trails in the park. The Arrowhead park visitor center houses the park store, equipment rentals, and warming station. The visitor center is set up in a chalet style. There are comfortable washrooms and water fill stations. But the best part of the center is the large fireplace and deer-antler chandelier. They offer a wonderful place to warm up after taking in Arrowhead park skating or the many other winter activities offered within the park. You can lounge by the fire in comfortable chairs. Or, you can grab a seat at one of the many cafeteria-style tables and eat your lunch.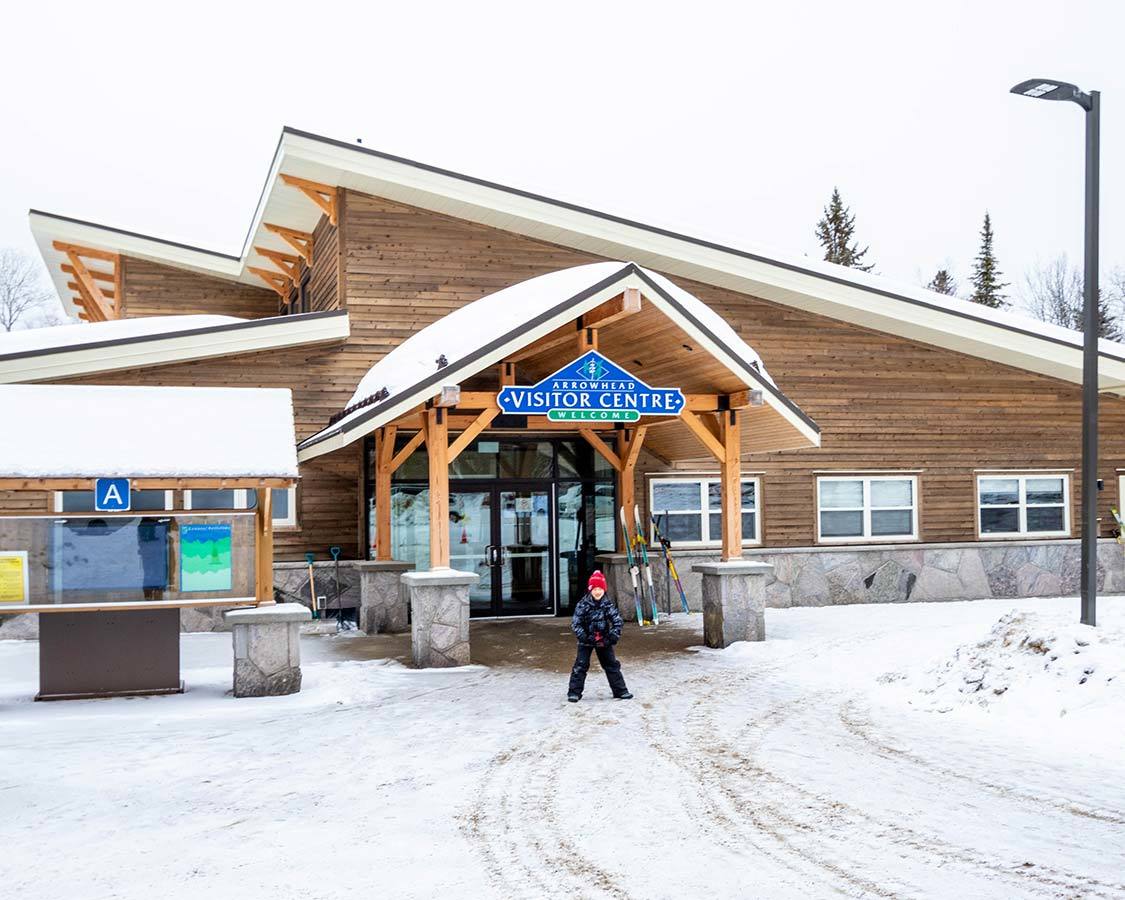 Arrowhead Provincial Park Cabins
As you can see, there is a lot to do at Arrowhead Provincial Park in winter. So, if you want to be in the middle of the action, you may want to consider staying at one of the 10 Arrowhead Provincial Park cabins located within the park. These rustic one-room camp cabins sleep up to five people. There is a queen-sized bed, and one double below and a single top bunk bed.
Staying at an Arrowhead Park cabin in winter offers the closest to ski-in, ski-out luxury that you can find in an Ontario Provincial Park. The park's cross-country ski trails run right past the cabins, so if you're two-planking it, you can get around easily. The cabins are also situated close to the heated comfort stations that include washrooms, showers, and a dishwashing station. If you really want to be close to the trails and the comfort station, aim for cabins 202 or 205.
Pets are not allowed at the Arrowhead park cabins, nor in any Ontario Provincial Park roofed accommodations (with the exception of service dogs). The Arrowhead Provincial Park cabins are available for winter rental from mid-December to the end of March. To make a reservation, click here.
Before you head out, make sure you check out our tips for Ontario Parks camping so that these parks are here to enjoy for generations to come.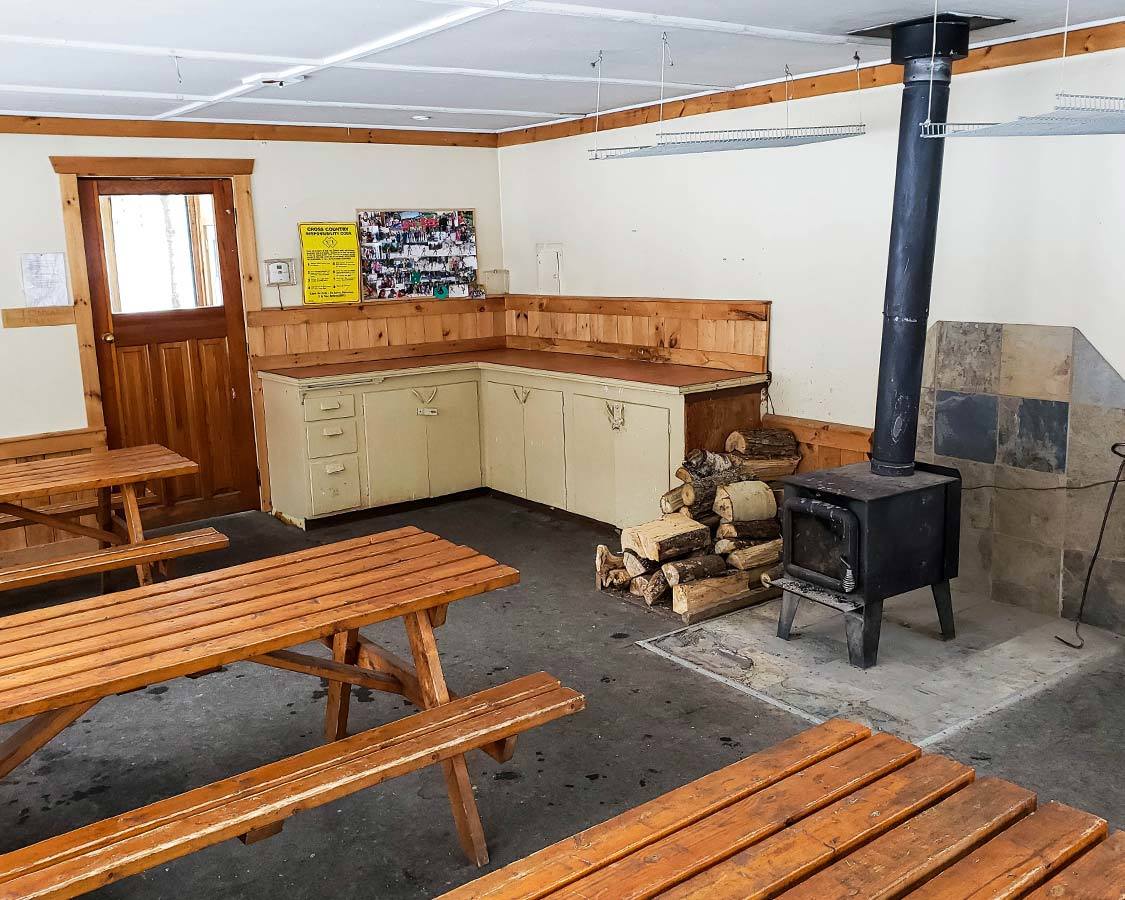 What is and isn't Included In Arrowhead Provincial Park Cabin Rentals?
The cabins come equipped with decent, firm mattresses with sterile plastic exteriors. The cabin features a small kitchenette with a microwave, mini-fridge, coffee maker (Keurig 2.0), and an electric kettle. There are a small dining table and 5 chairs for inside meals. The screened-in porch is perfect for storing your winter gear. Outside you will find a gas barbeque, two picnic tables, 4 Muskoka chairs (two within the porch and two near the fire pit) and a fire pit.
For heat, the Arrowhead camp cabins have a baseboard heater that keeps the cozy cabins nice and toasty. There is a propane/electric fireplace that can provide additional comfort should the baseboard heat be set too low. Although we couldn't get our fireplace to work, we were more than comfortable with the heat of the baseboards.
When you're staying at the Arrowhead Provincial Park cabins you'll need to bring your own bedding, dishes, cutlery, and personal items.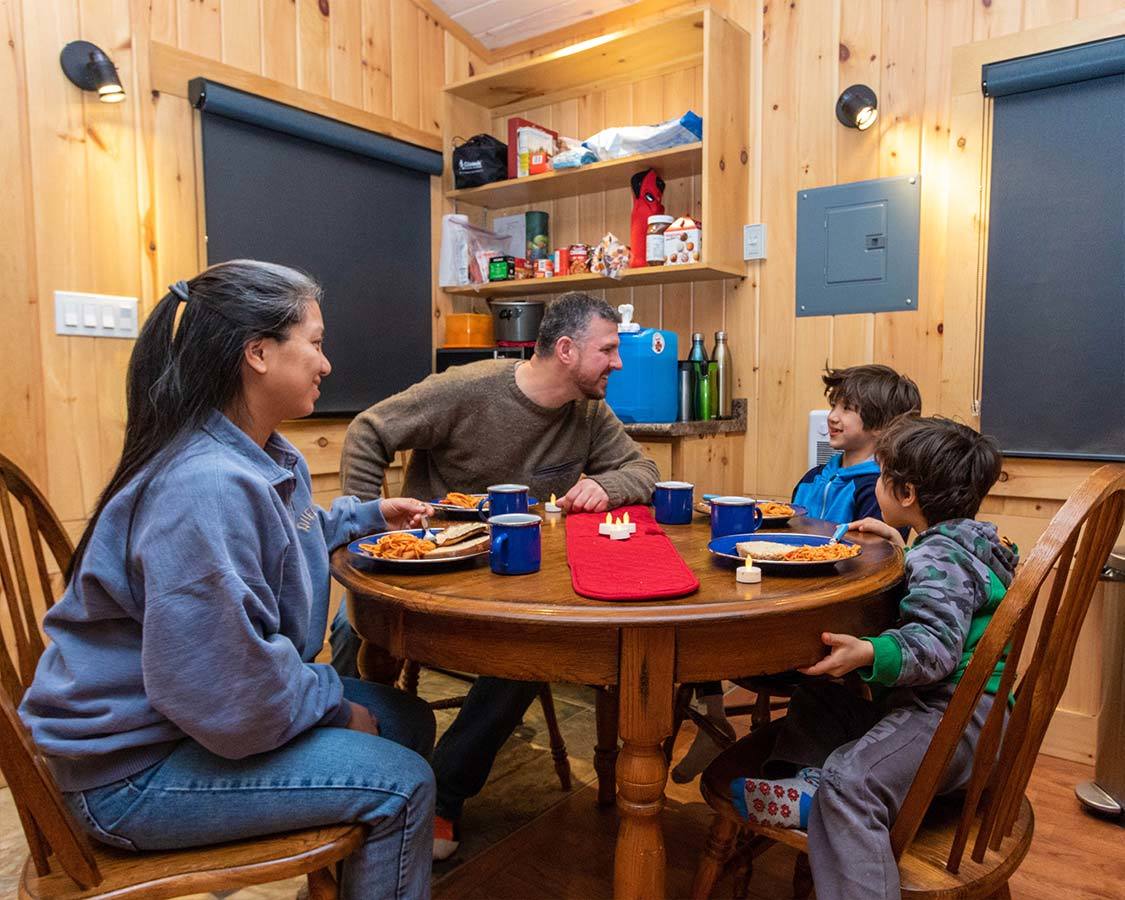 Tips For Arrowhead Provincial Park Skating and Winter Activities
Visiting Arrowhead Provincial Park in winter requires a little bit of planning. So I've laid out my best tips for visiting Arrowhead Park in winter.
Is There Food At Arrowhead Park?
The only food available for sale within Arrowhead Provincial Park is a variety of munchies at the park office. You'll need to either bring food with you to the park, or head to nearby Huntsville. We really love eating at 3 Guys and a Stove on HWY 60 when we have a special occasion. For something a little more budget-focused visit That Little Place By The Lights on Main St.
When Is The Best Time To Visit Arrowhead In Winter?
Weekends at Arrowhead are the busiest times at the park. If you want to avoid the crowds, plan to come to Arrowhead during the week. Saturday evenings from 6 pm to 9 pm are when the Arrowhead Fire and Ice nights take place. This is among the most sought after experiences at Arrowhead Provincial Park and parking can fill up fast.
Are There Places To Warm Up At Arrowhead Provincial Park?
The Arrowhead skating trail has fire pits running through the day to warm up. There are also heated comfort stations and washrooms near the skating trail. There is a comfort cabin near the Arrowhead lake parking area with a wood-burning fireplace. And there is the Arrowhead visitor center which has tables, chairs and a large gas fireplace.
Day Trips from Arrowhead Provincial Park
If you are spending more than a weekend at Arrowhead Provincial Park you may want to explore some of the incredible things to do near the park.
Algonquin Provincial Park
Algonquin Park is a short 32 km from Arrowhead. It's vast wilderness and countless lakes have made it one of Canada's most famous natural attractions. It's easy to spend a few days or more at this park. But, you can still explore some of the Algonquin trails and lakes on a day trip from Arrowhead.
Group of Seven Outdoor Gallery
The Group of Seven Outdoor Gallery is a fascinating art trail. Over 90 of Canada's most iconic paintings by Tom Thomson and the Group of seven are on display throughout locations across Muskoka. The Group of Seven outdoor gallery spans Algonquin Park, the Canada Summit Centre, Deerhurst Resort and more. You can find out more about this art exhibit here.
Dog Sledding at Northridge Ranch
If you're looking for more outdoor activities after your winter fun at Arrowhead, Northridge Ranch offers a Muskoka dogsled experience. We've gone dog sledding in Yellowknife Northwest Territories and Mont Tremblant Quebec, so we haven't tried this experience. But, it has excellent reviews. You can find out more about the Muskoka dog sled experience here.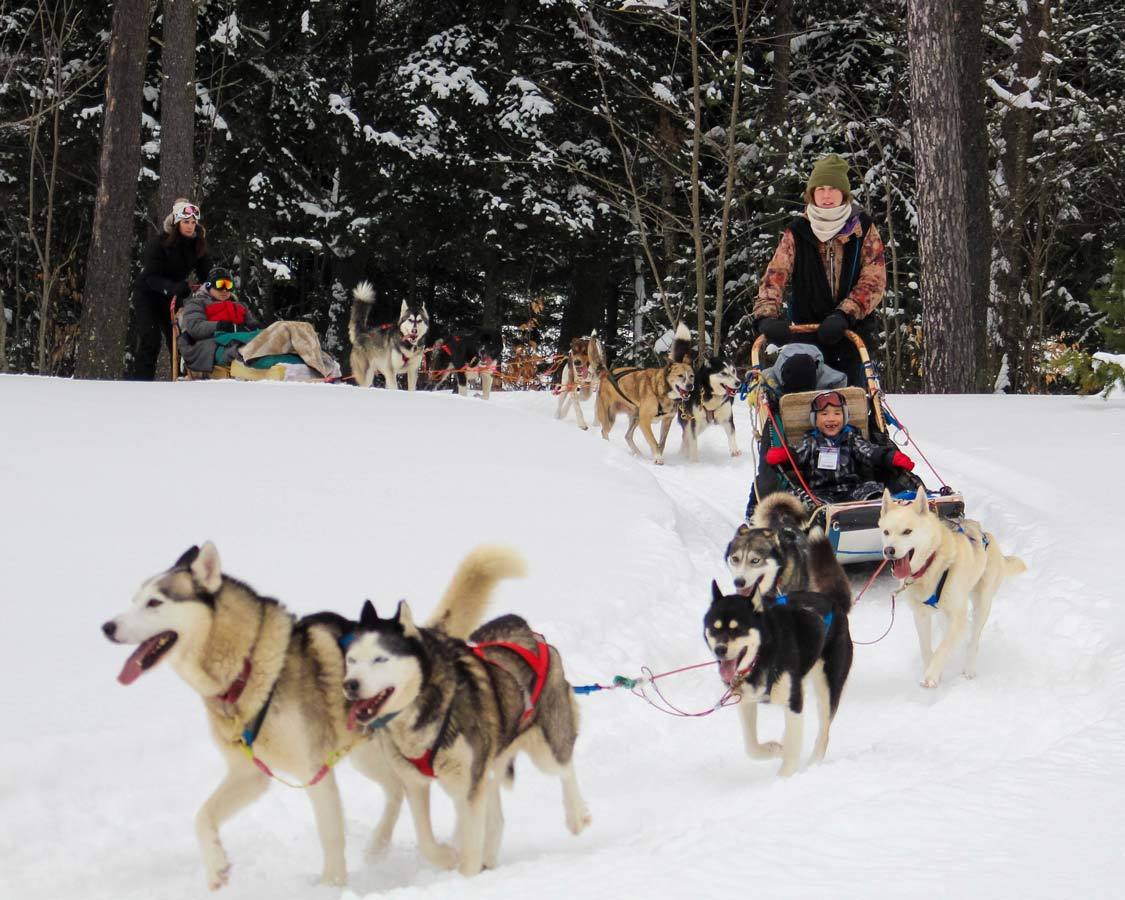 Have you experienced the Arrowhead Provincial Park Skating Trail or any of the amazing winter activities offered here? Tell us about it in the comments or swing by our Facebook Page and share a photo of your experience. We would love to share in your adventure.
Disclosure: This post was made possible by the support of Ontario Parks. Our views remain our own. Wandering Wagars is a participant in the Amazon Services LLC Associates Program, an affiliate advertising program designed to provide a means for sites to earn advertising fees by advertising and linking to amazon.com, amazon.co.uk, amazon.ca. Amazon and the Amazon logo are trademarks of Amazon.com, Inc. or its affiliates.
You May Also Like To Read:
Pin This Post For Later: