Point Pelee National Park is home to the southernmost point in mainland Canada. Discover the best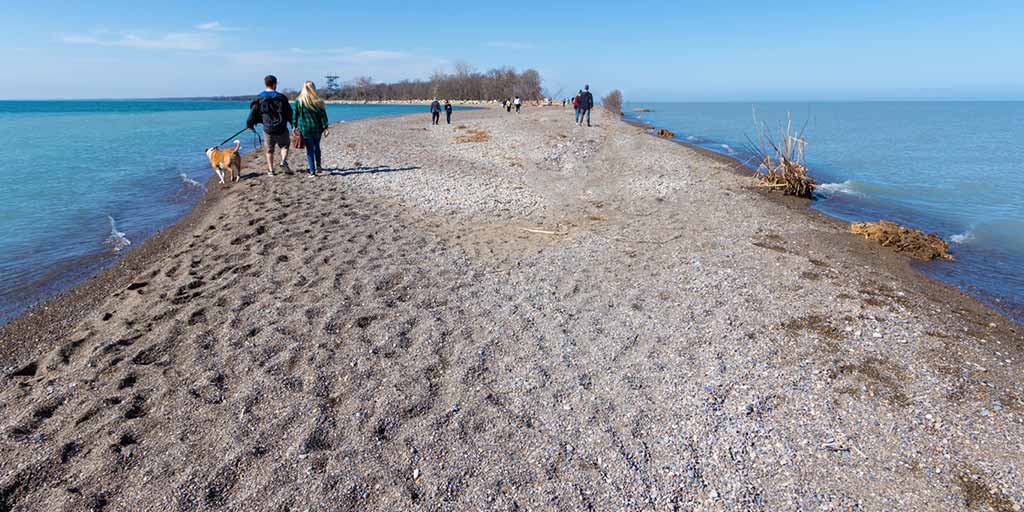 Visiting the southernmost point in Canada's mainland is just one of the many things that make camping in Point Pelee National Park one of the coolest experiences in Ontario.
Whether you're looking to experience Point Pelee National Park camping, beach life, hiking, or just exploring some of the wonders of Canada, Point Pelee Ontario is not only beautiful but is full of fascinating and unique attractions that make it fun for the whole family.
Point Pelee is the smallest of the 6 Ontario National Parks, but it draws a huge crowd every year. To add to the fun, Point Pelee was recently given the distinction of being one of Ontario's newest dark-sky preserves.
My family has explored some of the most incredible National Parks in Canada. But Point Pelee National Park is a destination we return to year after year. Not only do we love to visit during the bird and butterfly migrations of the spring and fall, but we also enjoy the quaint towns and all the things to do near Point Pelee. Whether it's wine tasting on Pelee Island, relaxing on the Point Pelee Beach, or dining at the countless fish and chip joints that line the shores of Lake Erie, the Essex County region that surrounds Point Pelee offers a vast number of experiences that will suit just about any visitor.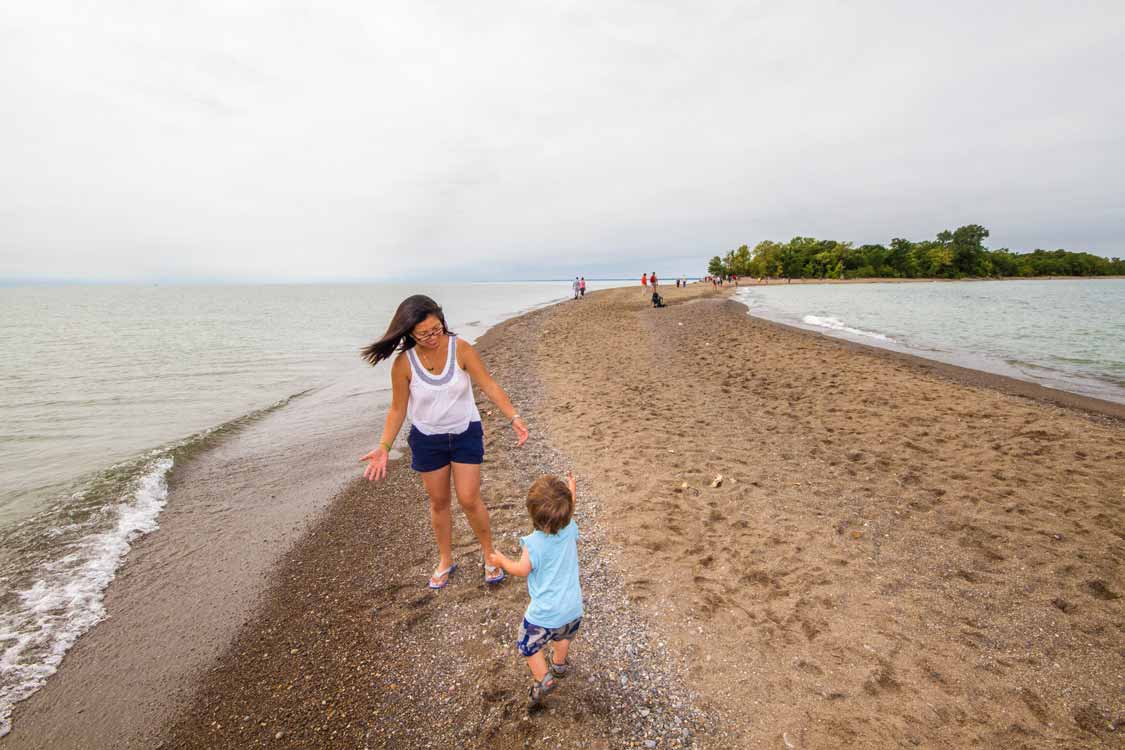 Where Is Point Pelee National Park?
Point Pelee really suits its name. This long peninsula stretches out into Lake Erie, ending in a sharp tip at the southernmost point in Canada. Point Pelee park is topped by marshland and low-lying forest that make it a haven for birds and butterflies during the migratory season.
Point Pelee National Park sits just off of HWY 3 south of the town of Leamington, Ontario. The park is just 50 km (30 miles) from the major city of Windsor, Ontario, and attracts over 300,000 visitors per year.
Due to the southern positioning of Ontario among Canada's provinces, Point Pelee sits deep within the Southern Great Lakes.
In fact, its latitude is about the same as Rome, Italy, Barcelona, Spain, and northern California. The park's southern location makes for a truly unique Canadian climate. The summers are hot and humid, while the winters experience a mix of both polar and tropical winds.
Point Pelee is Canada's second-smallest national park next to Ontario's Georgian Bay Islands National Park. It stretches 5 km (9.3 miles) into the blue waters of Lake Erie. The entire park measures just 1,564 hectares (3,860 acres), but it packs a lot of adventure into a small area. If you're looking for things to do in Point Pelee National Park, you won't be disappointed.
About Point Pelee National Park
The area around Point Pelee National Park has seen human settlements dating back over 6,000 years. Indigenous people hunted and farmed in the area for millennia. The largest known pre-colonial settlement was from 700 to 900 AD. The land is, to this day, the unceded land of the Chippewa Nation.
The park was officially established in 1918 thanks to a campaign led by leading ornithologists. Later, in 2006, it was designated as one of Ontario's dark-sky preserves. This cemented its place as one of the best places in Ontario for stargazing.
Point Pelee National Park has been made famous for its position in the bird and butterfly migratory routes. Each year more than 370 species of birds stop in Point Pelee National Park. This led it to become one of the premier birdwatching destinations in North America. Many of the birds that make their way through the forests of Point Pelee are not seen anywhere else in Canada.
Point Pelee is also a prime stop-over point for millions of migratory monarch butterflies. Countless numbers of these beautiful butterflies make the long trek from Mexico and Central America up into Canada through Point Pelee Provincial Park yearly.
Things To Do In Point Pelee National Park
Camping Point Pelee National Park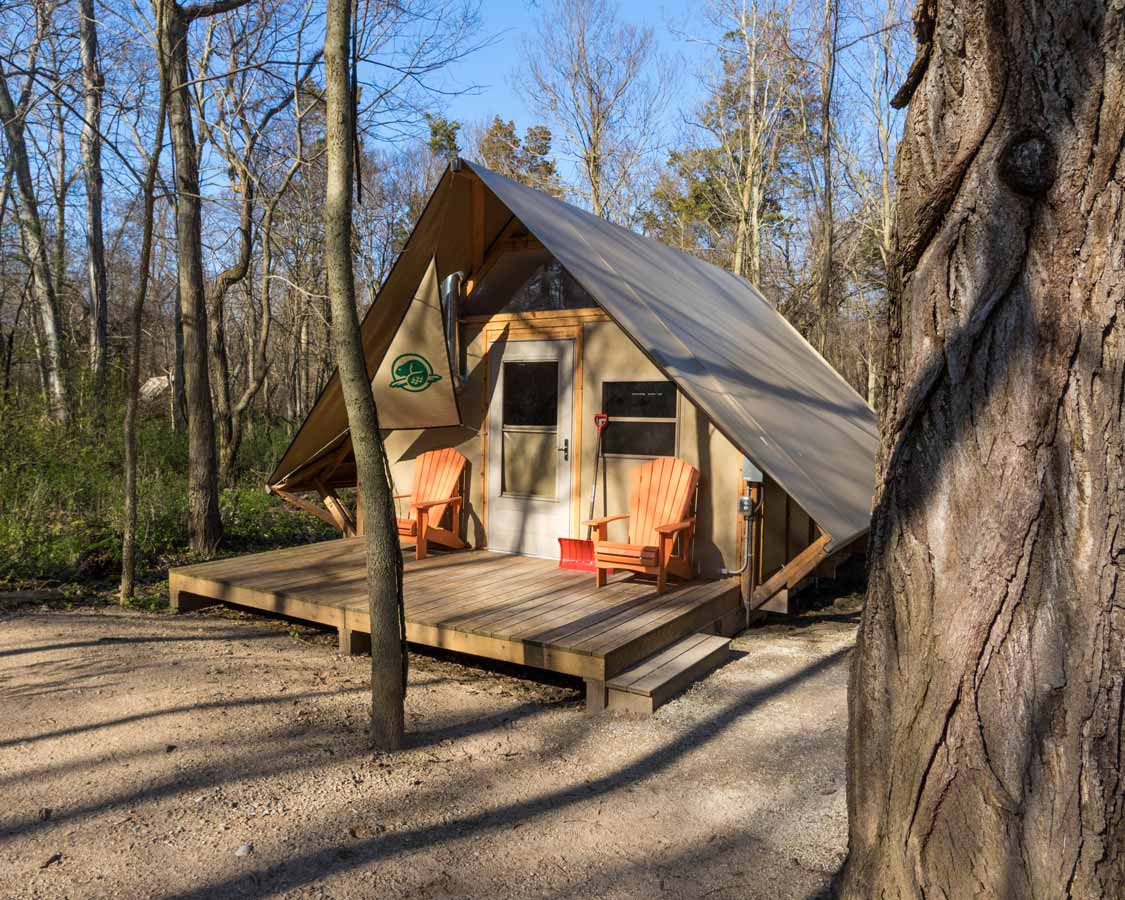 Camping in Point Pelee National Park is new as of the summer of 2018. It was this year that Parks Canada installed 24 oTENTik campgrounds within the park. The Point Pelee oTENTik setup is fantastic. These roofed accommodations are now in place at all of the National Parks in Ontario with the exception of Pukaskwa National Park.
The oTENTiks in Point Pelee feature two double beds and two single beds in bunk-bed style. Each campsite has a bbq, fire pit, electricity for charging electronics, and solar lights. You'll also find dishes and eating utensils and cooking equipment. The units are powered by either gas or wood stoves for those chilly nights.
If you're planning on camping Point Pelee, all you'll need to bring are your bedding, food, and a sense of adventure.
Enjoy One Of These Point Pelee Hikes
Marsh Boardwalk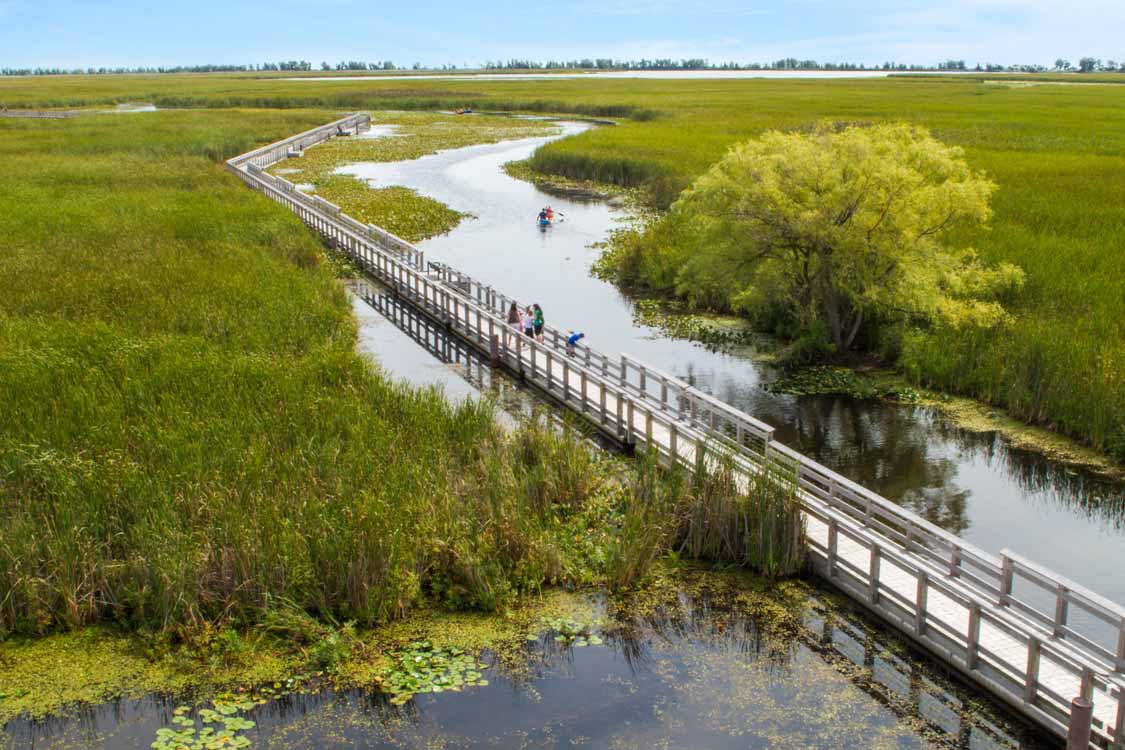 The Marsh Boardwalk is one of the most popular hikes in Point Pelee National Park. This 1 km (.62 mile) accessible trail follows a floating boardwalk through the stunning marshlands that make up a large part of the park. Along the way visitors can enjoy observation towers complete with observation scopes.
Along the Point, Pelee Marsh Boardwalk expect to see many birds, turtles, and geese. You'll find shelters along the way that have benches for taking a break and enjoying the views.
Chinquapin Oak Trail
If you're looking for something a little longer, the 4 km (2.5 miles) Chinquapin Oak Trail may be for you. This trail, which can be linked with the Centennial Bike & Hike Trail to make an 8 km (5 miles) loop explores mixed forests that include the Chinquapin Oaktree, which can be found as far south as Mexico.
DeLaurier Homestead & Trail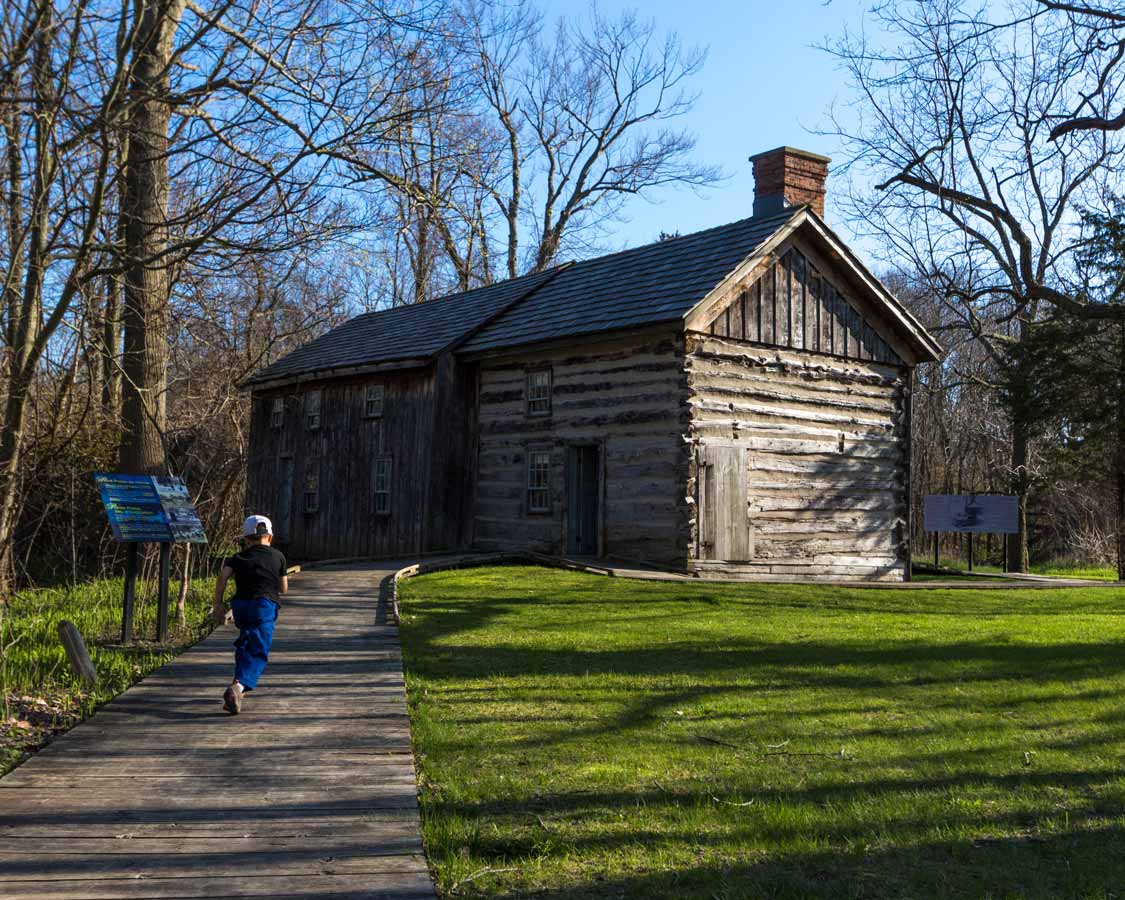 If you want to explore some beautiful scenery and some of the interesting history of Point Pelee National Park the 1.2 km (.75 mile) DeLaurier Homestead Trail is for you. The trail wanders through the former agricultural land and past the historic house and barn that feature exhibits and artifacts from the park's history.
Woodland Nature Trail
The Woodland Nature Trail is the perfect trail for mid-day hikes in Point Pelee National Park. This 2.5 km (1.6 mile) hike starts at the Point Pelee Visitor Centre and meanders through the shade of the park's oldest forest.
Explore The Park By Canoe or Kayak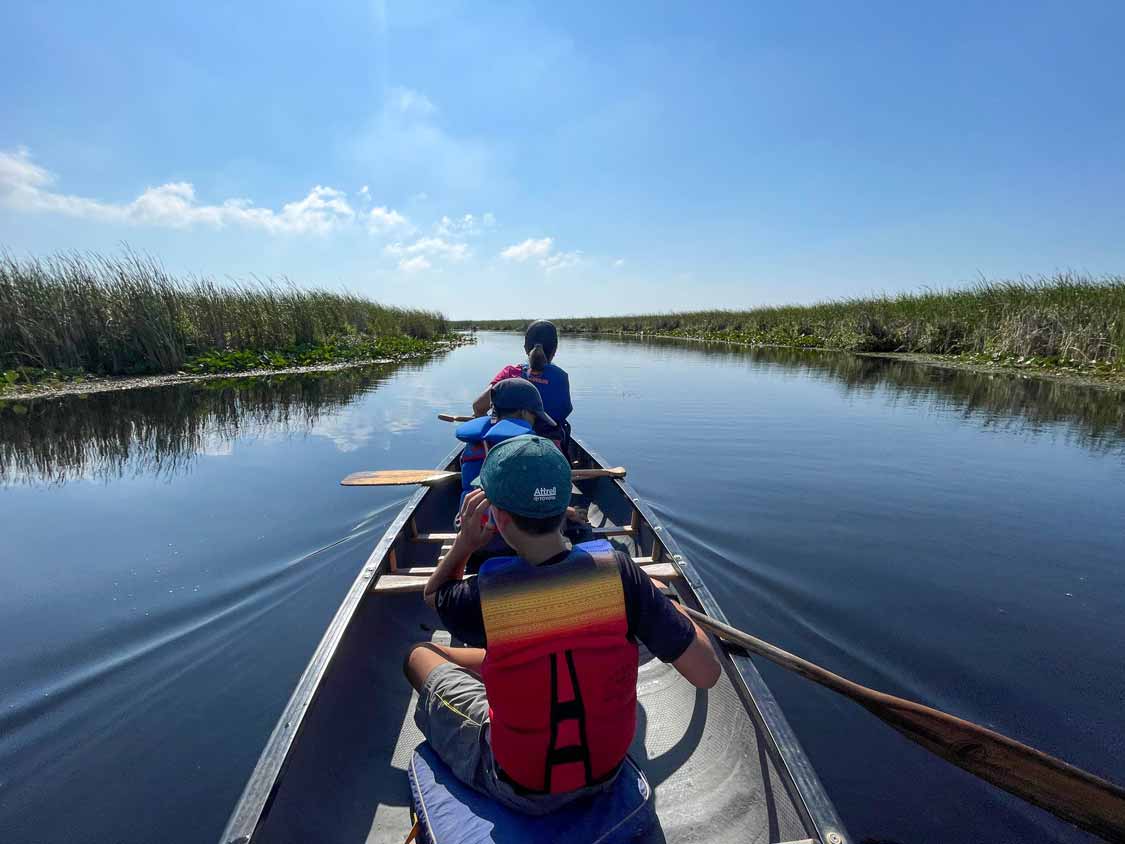 The creeks and marshes of Point Pelee National Park make for a wonderful place to explore by water. Two-thirds of the park is made up of wetlands. There are channels near the Marsh Boardwalk, West Cranberry Pond, East Cranberry Pond, and Redhead Pond that are an absolute treat to explore. And you'll likely be among the few who are on the water.
Canoes can be rented from the Friends of Point Pelee National Park outpost near the Marsh Boardwalk. You can check out their rates and info here. You can also rent kayaks and stand-up paddleboards like our Bluefin unit, from nearby Pelee Wings Outfitters. They can deliver them right to the marsh boardwalk or the Point Pelee beach of your choosing.
Visit One Of The Longest Beaches In Ontario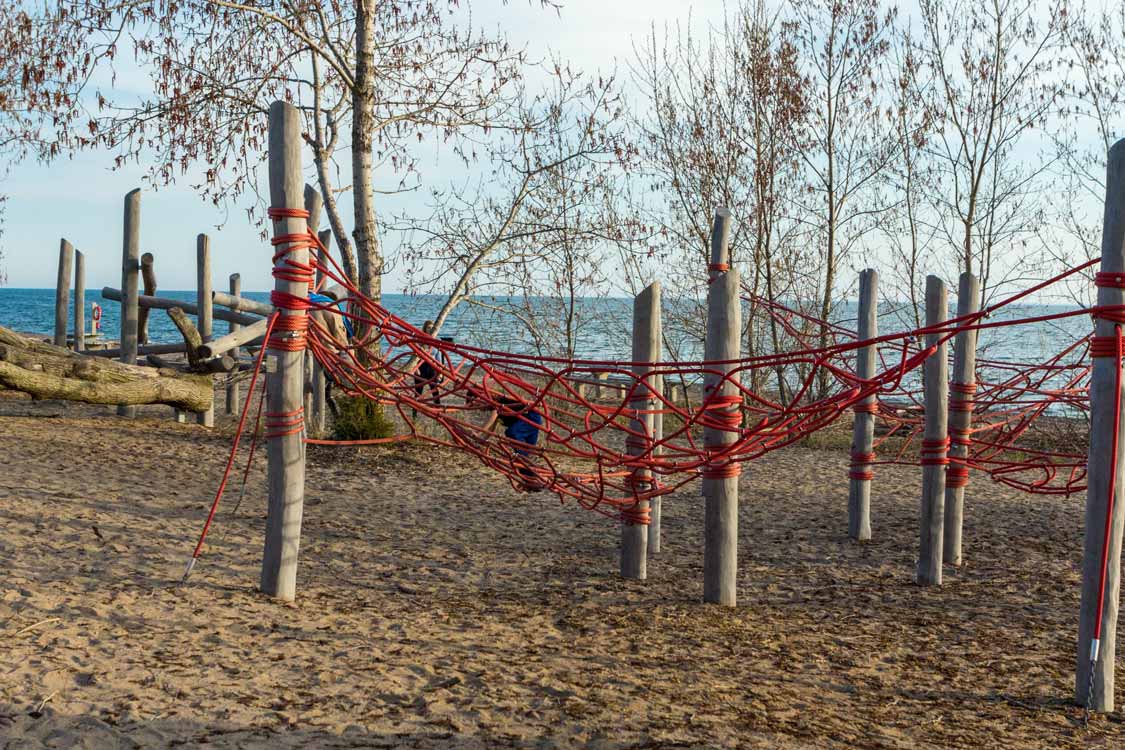 Point Pelee beach offers a huge amount of waterfront for such a small park. In fact, almost one entire side of the park is a mix of beach and rocky waterfront right down to the tip of Point Pelee. There is no swimming allowed at the tip of Point Pelee beach due to strong currents, further up the side the Point Pelee beach is more family-friendly.
The Point Pelee beaches are not monitored by lifeguards. Some offer change rooms, washrooms, and picnic areas. Northwest Beach also has accessible parking and trails that lead right up to the sand.
If you're visiting with a large group or exploring Point Pelee with kids, Northwest Beach has a brand new climbing area and obstacle course for kids. You'll find charcoal barbecues and sheltered picnic areas complete with fire pits that can be booked by contacting the Point Pelee Visitor Centre.
Go Stargazing At Point Pelee
Point Pelee was designated as one of Ontario's newest dark sky preserves in 2006. This designation has cemented it as one of the top stargazing destinations in the province. This designation was aided by the park and local municipalities' commitment to reducing light pollution near the park. In celebration, Parks Canada and the Point Pelee National Park team began instituting Dark Sky Nights in which the park is open until midnight. The Dark Sky nights happen during the new moon when the stargazing is at its peak due to dark nights. You can check out the dates of the Dark Sky Nights at Point Pelee here.
Visit The Southernmost Point of Mainland Canada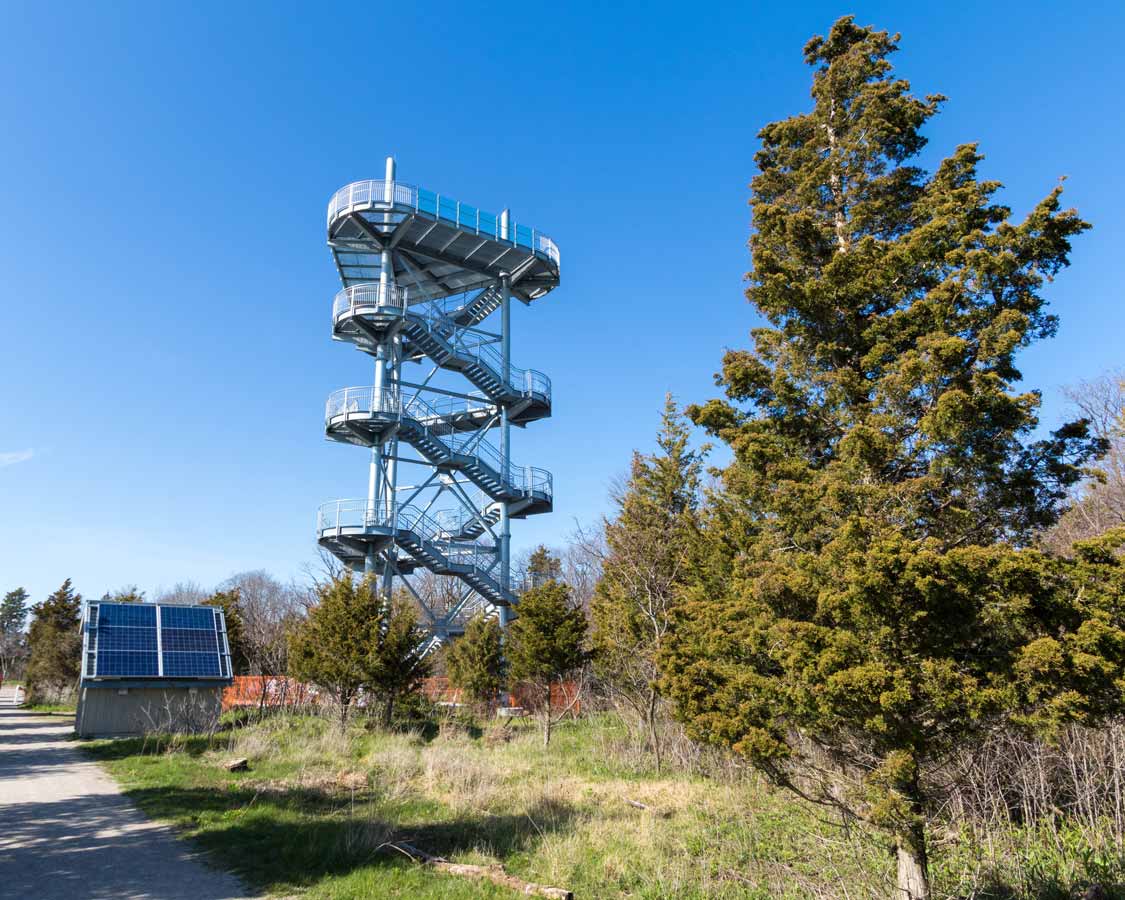 Apart from being a really awesome national park, Point Pelee National Park is also home to the southernmost point of mainland Canada. Yes, the hike to the tip could have been included in the list of Point Pelee Hikes. Heck, the sandy tip could even be included among the Point Pelee beaches. But really, the southernmost point of mainland Canada is deserving of its own spot on this list.
There are a couple of ways that you can get to the tip of Canada in Point Pelee. You can hike along the Point Pelee trails to the beach and follow it down to the tip, or you can take the shuttle from the end of the access roads and then walk the last bit through the forest to the sandy tip. If you don't want to head all the way to the tip, you can always climb the new Point Pelee viewing platform that opened in 2020.
It's good to remember that the tip of Point Pelee is in a constant state of flux. In years of high water, it can be completely hidden under the waters of Lake Erie. The rest of the time it is constantly being shuffled, re-shaped, and molded by the wind and the waves. It suffices to say that no two visits to the southernmost point in mainland Canada are exactly the same.
If you're looking at visiting the southernmost point in all of Canada, you'll need to catch the ferry over to nearby Pelee Island. I'll get to why you should do that shortly.
Things To Do Near Point Pelee National Par
Visit Pelee Island and the Southernmost Point in Canada
Pelee Island is one of the coolest little stops in Canada. This island, which sits in Lake Erie about halfway between Point Pelee and the US border has a thriving community complete with wineries, shops, great restaurants, and more. And all of this is wrapped up in a peaceful little package that doesn't feel remotely touristy.
To get to Pelee Island, you'll need to catch the roomy Pelee Island Ferry. The ferry runs from March until mid-December. It connects the town of Leamington with Pelee Island. Many visitors take their cars across to explore the island, but many find that bikes are the best way to get around Pelee Island.
If you love wine, you'll be a big fan of Pelee Island. This island has a wine history dating back to the 1860s. The location has a lot to do with the great winemaking at Pelee Island Winery. It sits at the same latitude as wine regions in Portugal, France, and California. Pelee Island offers a far different atmosphere than other Ontario wine regions such as Niagara-on-the-Lake and Prince Edward County.
Explore The Town Of Leamington, Ontario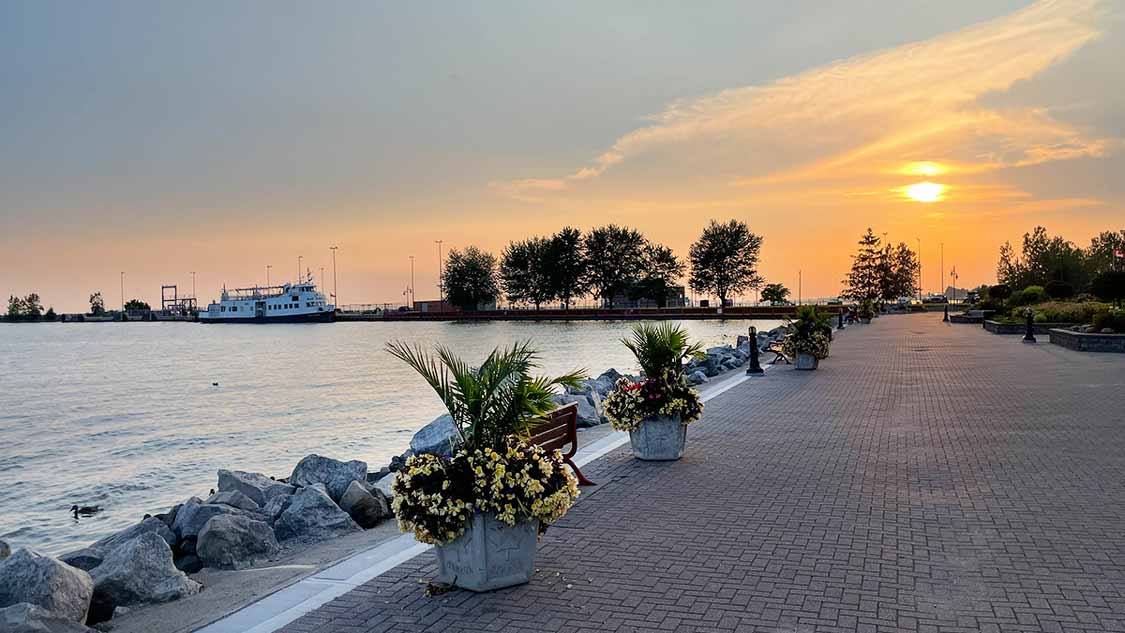 The town of Leamington, Ontario is a lovely spot. Whether you like antiquing, small local restaurants, or family fun such as go-karting, Leamington offers a nice small urban escape from Point Pelee National Park.
Make a stop at the Leamington Arts Centre to catch up on some culture. Or just stroll along the waterside promenade and enjoy the sunset. Maybe enjoy some local bbq at Ray's Rib House while you're at it. Those visiting with kids should make a stop at the tomato splash pad in Seacliff Park.
You can find even more things to do in Leamington, Ontario here.
Look For Wildlife In Hillman Marsh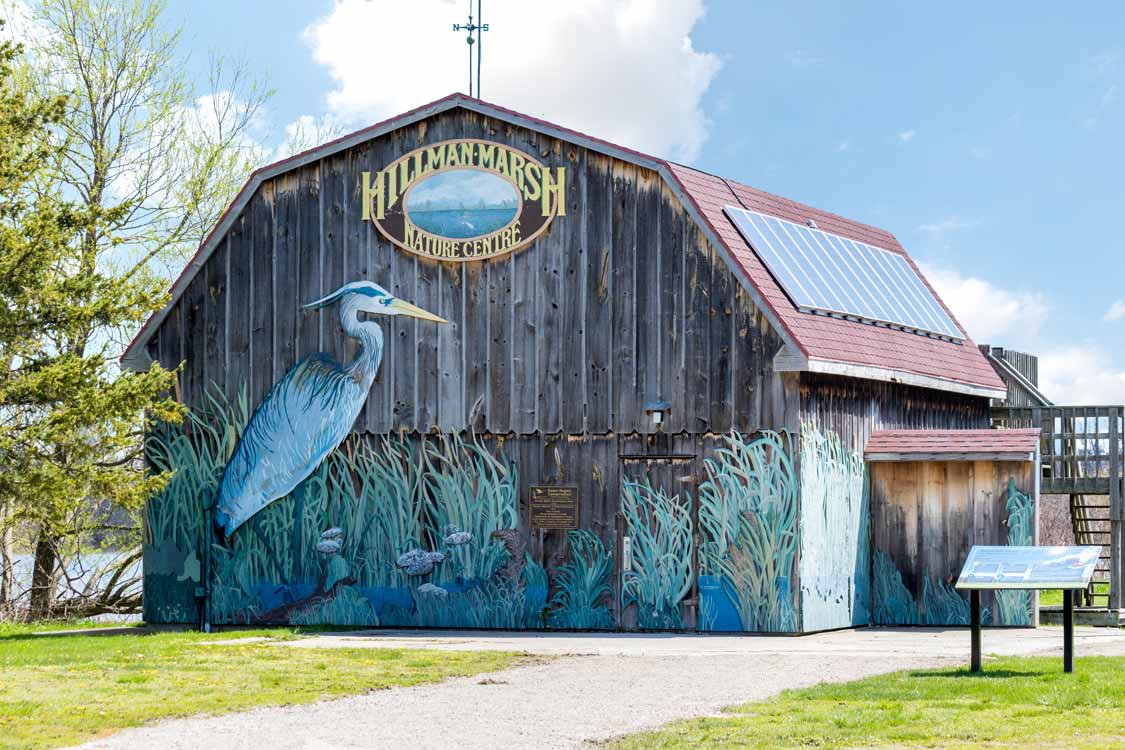 A visit to Hillman Marsh is one of my favorite things to near Point Pelee National Park. With 5 km (3.1 miles) of easy trails to explore, Hillman Marsh is a great destination for birdwatchers or those just looking for a beautiful stroll. The park houses 87 acres of marshland, a visitor center with displays on wildlife and marsh habitat, washrooms, and more. Bird lovers can find rare species such as the yellow-headed blackbird, Willet, Eurasian Wigeon, and the Eastern Kingbird among others.
Taste The Local Flavor At Old Dutch Guys Chocolate
In the town of Kingsville, you'll find a fascinating and delicious display. Old Dutch Guys is an award-winning chocolatier known for creating edible artwork from the world's most favored treat. Stock up on flavors. But make sure you bring a cooler so these delicious masterpieces don't melt in the car.
When To Visit Point Pelee National Park
Any time is wonderful to visit Point Pelee, however, the timing of your visit will definitely affect what you'll see when you're there. Visiting in May and early June will put you there when the birds and butterflies are at their peak. This is when the migratory species that use Point Pelee as a stopover before heading to their summer nesting spots will be around. At this time you'll find the park to be relatively dry and the reeds along the marshland will be brown, dry, and brittle.
Many species still summer in the park, and as the weather heats up you'll find the beaches getting busy and summer crowds exploring the shady Point Pelee hiking trails. By now the leaves will be in full bloom, which might make bird watching a bit more challenging. Although you'll still see plenty of species flitting among the trees.
Once late August and September arrive the park is at its peak. Flowers will be everywhere and the marshland will be a breathtaking see of green reeds. However, September is also stable fly season. Much of the park is safe from these biting insects, but the beaches are absolutely infested with them. Stable flies are visual hunters, so insect repellant does not deter them. Area's inland, especially the Marsh Boardwalk are generally free from these bugs though.
Tips For Visiting Point Pelee Canada With Kids
If you're visiting Point Pelee with kids, you're almost guaranteed to have a good time. Everything here is kid-approved by my two boys. Chasing frogs and turtles on the Marsh Boardwalk is one of their favorite things to do in Point Pelee National Park. From cycling the flat, pedestrian-friendly trails to building sandcastles at the beach, taking a family trip to Point Pelee is a blast.
Make sure that you make a visit to the Point Pelee Visitor Centre and find out what family-friendly programs are on offer during your visit. We've enjoyed everything from child-friendly birdwatching tours, building bug nests, and more. There are a number of Junior Naturalist programs held during the summer months. The programs are perfect for children between the ages of 7-11, but we've enjoyed them with children as young as 5.
The Freighter Canoe Tour is a park favorite for families. This tour uses a large multi-family canoe to explore the waters and marshlands of Point Pelee.
Finding Hotels Near Point Pelee Park
If you're looking for great places to stay in Point Pelee, your best bet will be in the towns of Leamington or Wheatley. Leamington is a much bigger town and offers the most options for families exploring Point Pelee. There are some great hotels near Point Pelee that make for a wonderful place to relax after a day of exploring Canada's southern tip. Here are a few of the top places to stay near Point Pelee National Park.
Best Western Plus Leamington
The Best Western Leamington is a great option for families. The property features a saltwater pool that comes complete with waterslides and splash pads. Guests will also have access to WiFi, and in-room refrigerators. It's not fancy, but it's convenient, easily accessible, and has an on-site restaurant with decent food. The Best Western Leamington is just a 15-minute drive from Point Pelee National Park. You can check out their rates and availability here.
Talbot Trail Inn & Suites
If you're looking for something that really captures the vibe of Ontario's south, the Talbot Inn & Suites in Leamington is a great option. The rooms are trimmed and furnished in a classy-modern style. All rooms also have microwaves and refrigerators. Some rooms include a full-kitchen and suite-style accommodations. You can check out their prices and availability here.
Wheatley Bed & Breakfasts
If you don't mind wandering a little further out from Leamington, the area surrounding Wheatley has some of the best bed and breakfasts in Southern Ontario. There are quite a few to list, so if you're looking for a great Point Pelee b&b, check out the ones listed here.
Where To Eat Near Point Pelee National Park
Exploring Point Pelee Canada can dredge up a pretty good appetite. And whether you're looking for restaurants in Point Pelee National Park or where to eat near Point Pelee, we've got you covered.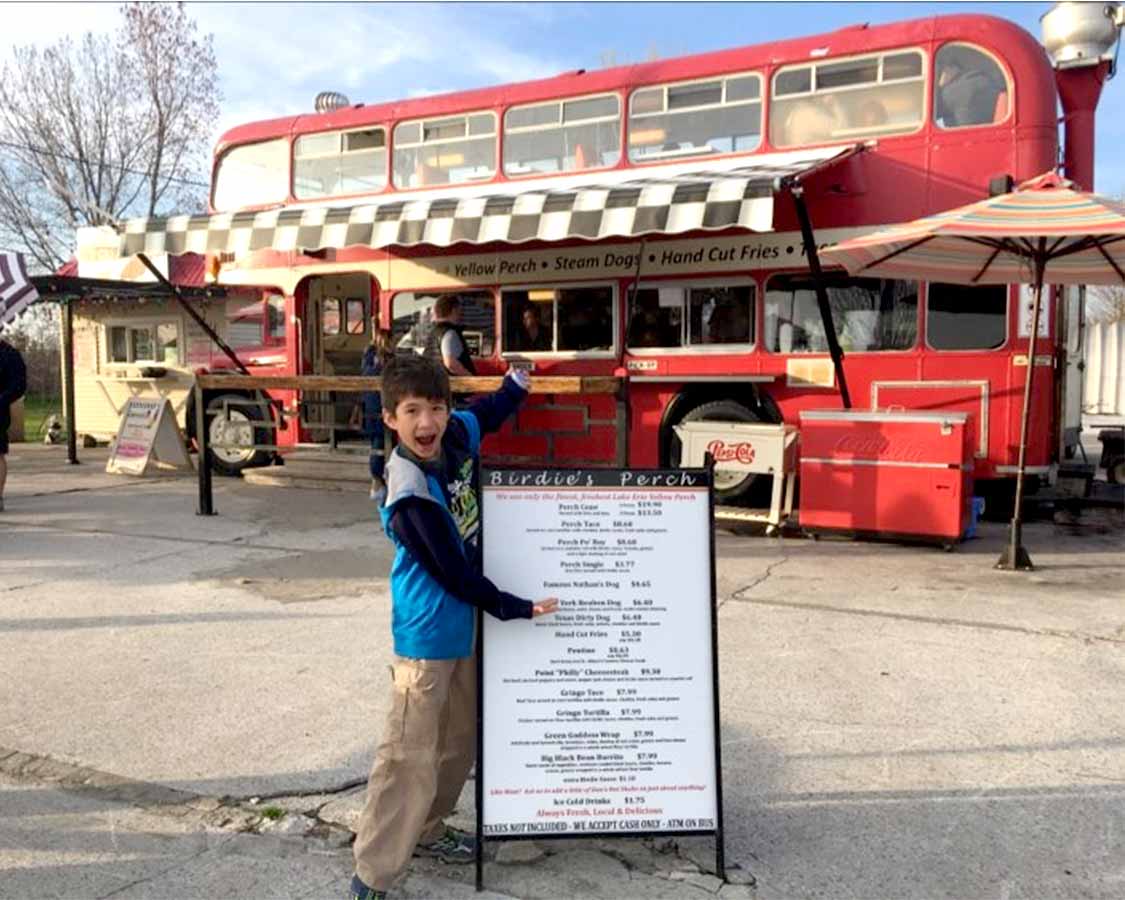 Food In Point Pelee National Park
There are a few places to get food inside Point Pelee National Park. I wouldn't consider any of them to be full-on restaurants, but if you're looking for snacks, sandwiches, drinks or cold ice cream, you'll be very happy.
Marsh Services at the Marsh Boardwalk has prepackaged snacks and sandwiches, ice cream, and cold drinks. This small spot is one of the best spots for a quick snack, and it's also convenient for renting canoes, kayaks, and other gear. There's also the added bonus that the proceeds support the Friends of Point Pelee initiatives. The Point Pelee Visitor Centre is where to go if you're looking for hot eats. Here you can find a small restaurant with a decent selection of fast food, sandwiches, drinks, and snacks.
Food Near Point Pelee National Park
If you're looking for a more substantial meal, you won't need to venture far outside of Point Pelee park to find it. There are some excellent small restaurants and food trucks nearby that serve a wide assortment of food. But any local will tell you that the meal of choice in Essex County is the delicious local fish and chips featuring locally caught perch.
Freddy's Restaurant is located just a short distance from the park gate. This casual restaurant has a fantastic patio and serves up some of the best Lake Erie Perch around. The restaurant taps into the local Lebanese roots as well, so you'll find flavorful options such as their fatoush for some unique side dishes.
Paula's Fish Place is located just a few minutes outside of the Point Pelee entrance. You'll find it right on the corner of HWY 33 and Mersea Rd. 12. Its airy and friendly vibe is matched by the great food. Make sure that you try their local fish and chips. It's my go-to order. You can check out their website here.
Birdie's Perch is another great local Point Pelee fish and chip joint that's popular with visitors and locals alike. This converted double-decker is just a few minutes outside of the park. You can opt to enjoy the sunshine outside, eat on the top deck of the bus, or take your food inside the nearby building and enjoy a cold beer with your meal. You can check out their website here.
Final Thoughts On Visiting Point Pelee Ontario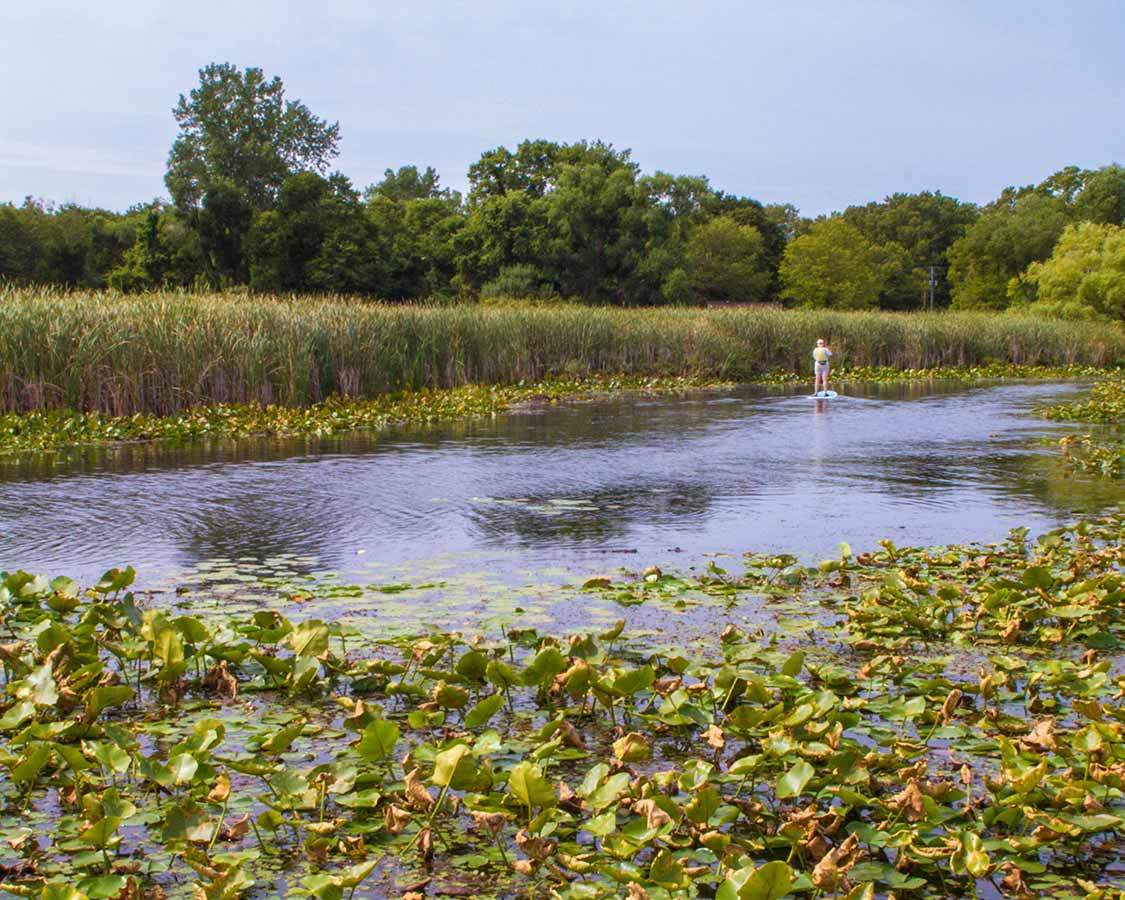 Point Pelee National Park is one of our favorite destinations in Southern Ontario. It's super easy to explore, either alone or with the family. There are loads of great beaches and places to explore that are off-the-beaten-track. One of our favorites are the less-visited eastern beaches. These are often strewn with incredible driftwood.
Whether you're looking to explore the birds, butterflies, or the southernmost point of mainland Canada, Point Pelee should definitely be on your Canadian travel radar.
Have you ever visited Point Pelee National Park? Tell us about your experience in the comment section below. Or tag our Instagram account in your Instagram posts. We would love to share in your travels.
Wandering Wagars is a participant in the Amazon Services LLC Associates Program, an affiliate advertising program designed to provide a means for sites to earn advertising fees by advertising and linking to amazon.com, amazon.co.uk, amazon.ca. Amazon and the Amazon logo are trademarks of Amazon.com, Inc. or its affiliates.
You May Also Like To Read:
Pin This Post For Later: