Treetop Trekking Stouffville is an adventure activity fit for the whole family. From treetop villages to ziplining discover fun for all ages.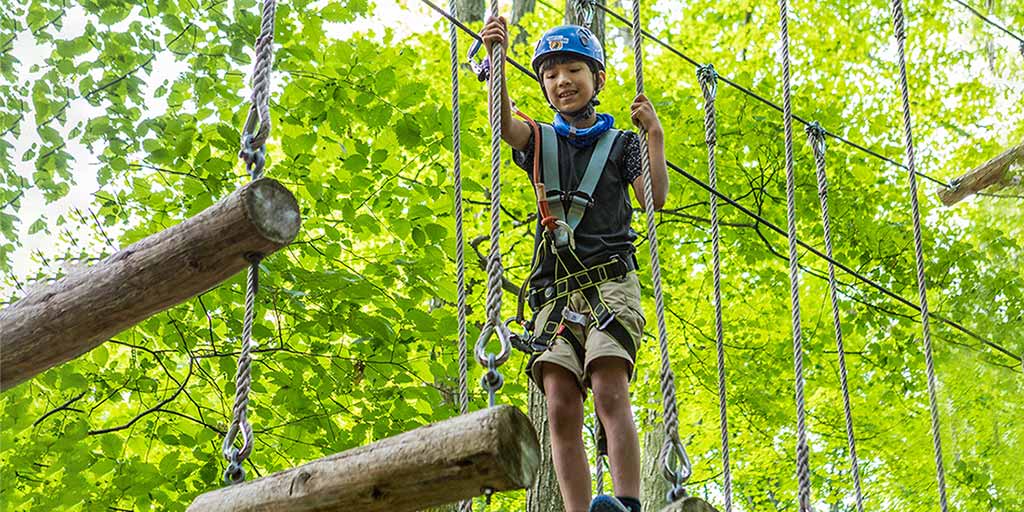 After months of self-isolation, my family was starting to get a bit squirrely. It was well into July, and aside from a few sightseeing road trips, we'd remained pretty close to home. But when we got the invitation to experience Treetop Trekking in Stouffville, we got pretty excited. This was to be our first COVID tourism experience. At the front of our minds were our health and safety. So, we researched the safety protocols that had been put into place, and combined with the experience being outdoors, we felt excited to participate. In concert with the lure of adventure courses, ziplines, and treetop walks the excitement was almost too much to bear. We had been lounging to showcase the amazing adventures waiting for us here in Ontario, and this was definitely a great place to start.
Our older son was first introduced to treetop trekking during our visit to Saguenay-Lac-St. Jean in Quebec the previous summer. And he absolutely fell in love with it. The mix of risk, strategy, physical effort, and mental challenges made for a thrill-a-minute experience. He couldn't wait to try it again. D, our 6-year-old, hadn't been old enough at the time. He did get to try a pretty gnarly zipline while we were in the Philippines when he was 3, but since then, his small size has stopped him from taking part. Luckily, the Stouffville treetop trekking experience has a course for smaller kids too. And it's pretty good.
Where Is The Stouffville Treetop Trekking Adventure?
Treetop Trekking runs adventure courses across Ontario and in Quebec. Most of the courses are nestled into local conservation areas. The tree trekking Stouffville course sits in the Bruce Mill Conservation area. This lovely spot is at the corner of HWY 14 and 65 just a couple of minutes west of HWY 404. That makes this GTA treetop trekking experience just a short drive from Toronto, making it a convenient outdoor getaway from the city.
The Bruce Mills Conservation area itself is a great destination for families. There are hiking trails, sports fields, picnic areas, and more that can make your treetop trekking Stouffville experience a whole-day affair.
What Is The Treetop Trekking Stouffville Experience Like?
We arrived bright and early for our day of Treetop Trekking in Bruce Mills Conservation Area. The plan for the day was to experience the park and all that it had to offer for families. Although it had just reopened to visitors, the word was already out and wee wanted to make sure that we beat the crowds. There was also the matter of the physical-distancing rules now in place for activities such as this throughout Ontario.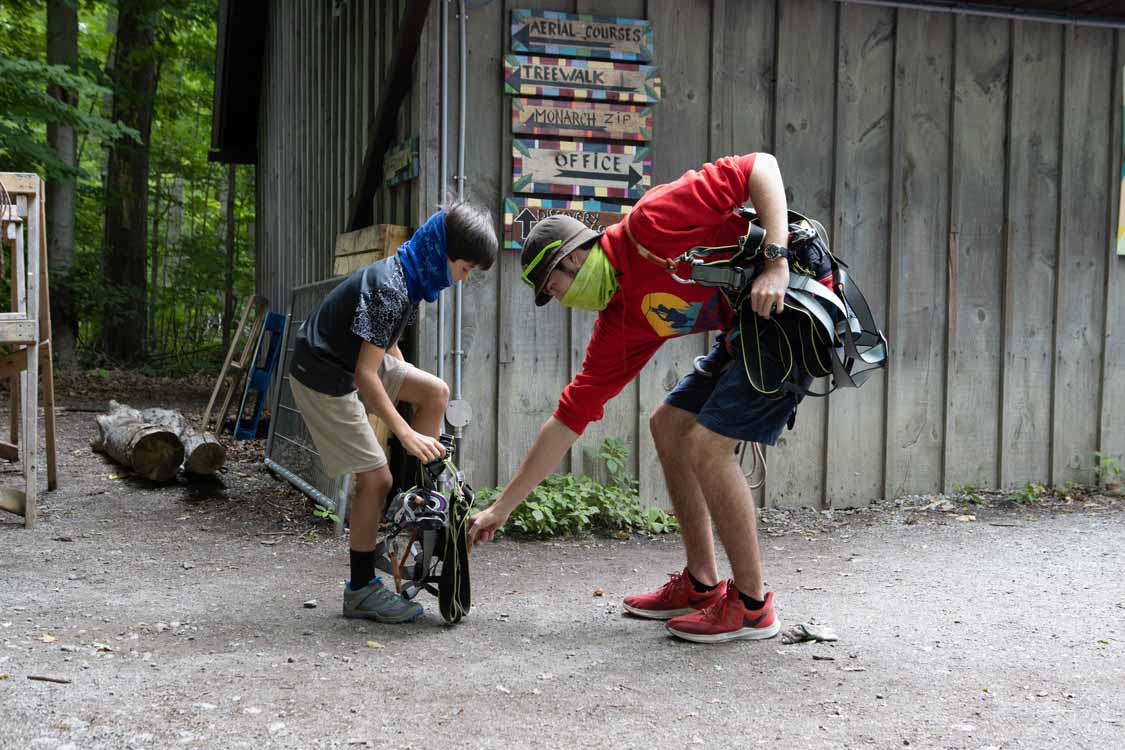 A Safe and Healthy Outdoor Family Adventure Experience
Normally, Treetop Trekking would have nearly a hundred people an hour making their way through the Stouffville obstacle course. But in order to keep things safe for everyone, this has been reduced to just two hundred per day. Each group now must reserve for a timed admittance. This allows them to explore the courses at their leisure before allowing others to enter and experience the treetop walk for themselves.
In addition, hand sanitizer is offered at the end of each course. This minimizes the chance of unwanted items being carried from one course to another.
All the staff at Treetop Trekking Stouffville wear masks while within close distance to clients. This means that visitors are protected during times where they are gearing up with their harnesses, and learning how to navigate the rope course.
While masks are not mandatory for visitors, I would encourage all visitors to wear one when within 6 ft. of another person. This ensures that the amazing Treetop Trekking staff are as protected as you are. And by thinking of others, we can help protect everyone and hopefully allow more adventures to open up more quickly.
The Treetop Trekking Course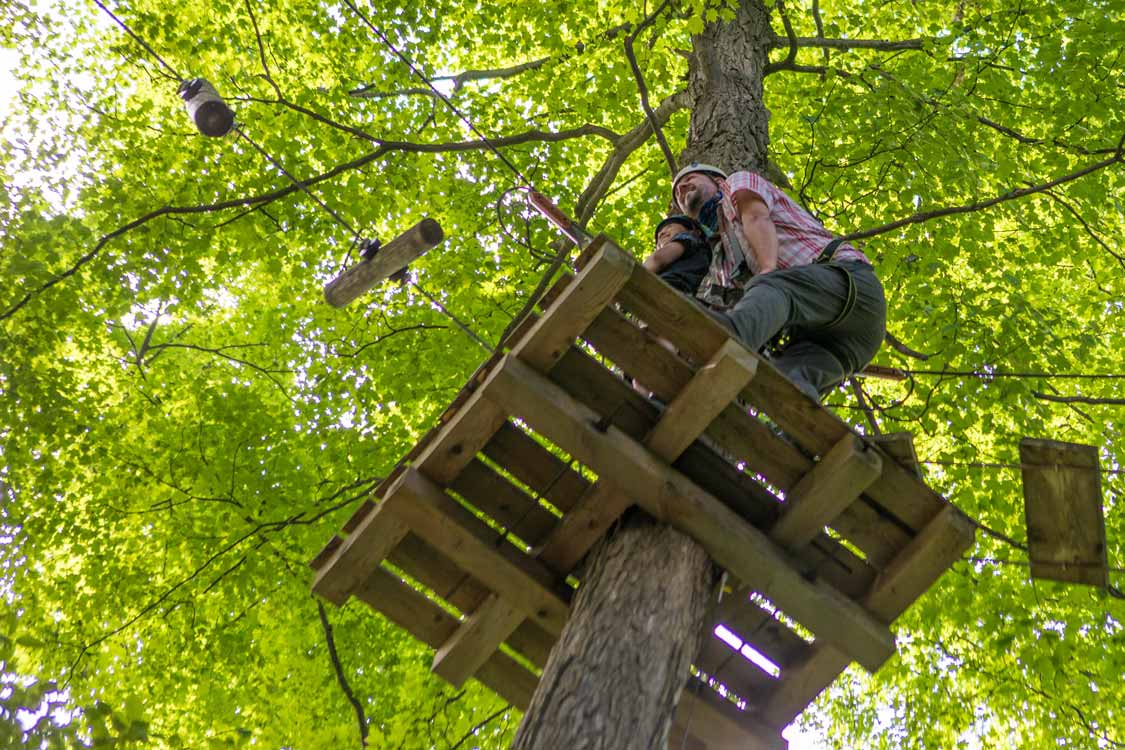 After we received our training, C was anxious to get up and experience the trekking course for himself. There are three levels of course in Stouffville treetop course, beginner, intermediate, and advance. They combine all sorts of obstacles, treetop walks, rope ladders, and more. During our time in Quebec, C only did the young course. He realized pretty quickly, that even the beginner courses were much bigger than what he was used to.
As we climbed up and began to navigate the first course, C quickly got a hold of the strategy. His light body was bounding across the logs and rope bridges in no time. My much bigger body was flailing around desperately. But, I managed to sort out my balance after the third leg of the course, and pretty soon we were jumping, swinging, and ziplining our way through the course like a couple of (wannabe) pros.
The Stouffville treetop walk is challenging, but it isn't so difficult that it isn't accessible to most people. The obstacles are fun and require just the right amount of thinking to keep your mind as engaged as your body. As we made our way up through the more challenging courses we were rewarded with longer zip lines and more exciting obstacles. And the whole time we knew that the Stouffville Treetop Trekking team was just a shout away if we ran into trouble.
The treetop trekking course in Stouffville takes about three hours to complete. Although if you feel overwhelmed, you can call it a day at any time.
Children's Treetop Trekking in Stouffville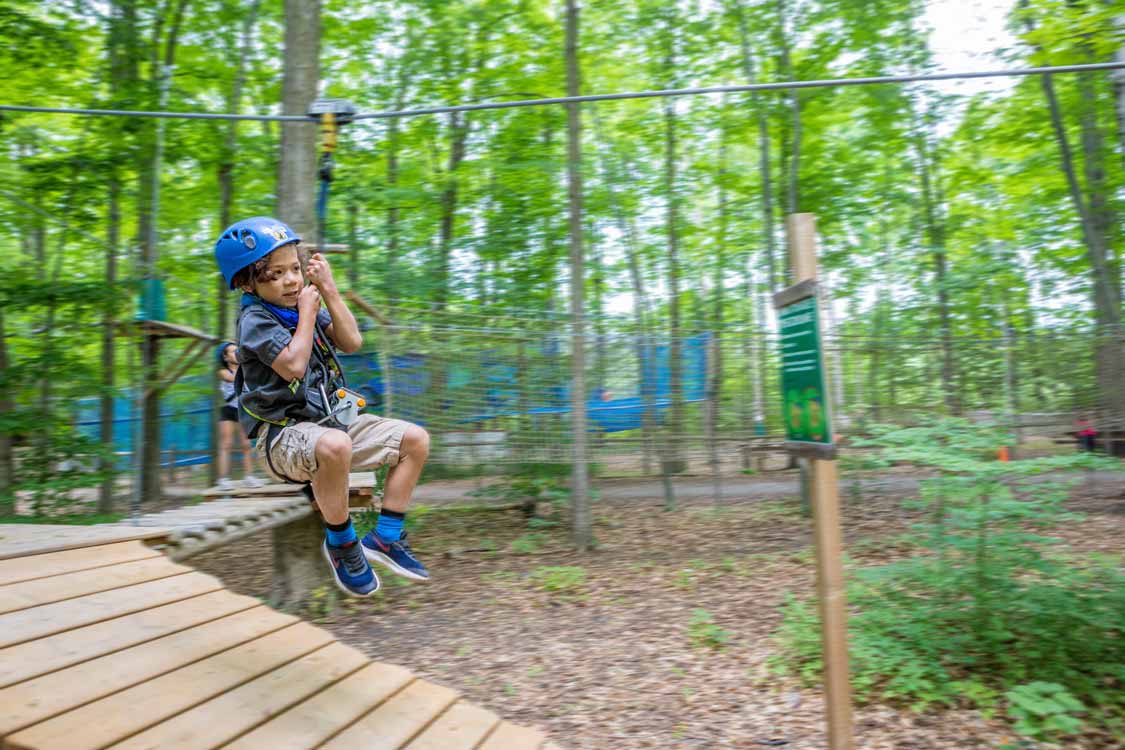 Little D didn't have to just hang around while his big brother and I were throwing ourselves through the treetops. The Stouffville Treetop Trekking Discovery kids course has a smaller ropes course for children aged 5-9. But this isn't some baby course that kids will think is beneath them. The kids' treetop trekking course in Stouffville has all the thrills of the larger one. It's just a little closer to the ground and everything is reachable for those who may be vertically challenged.
The children's rope course in Stouffville has zipline, hanging bridges, log swings, and more. The safety device is much simpler to navigate than the one used on the larger course, this makes it a friendly place for little ones. D was tearing through the three different courses in no time. Soon he was challenging himself more and more by taking different approaches to the treetop course.
Kids will definitely not feel left out on this course. They are geared up in a harness and helmet just like the big kids. And the adventures are perfectly scaled for their smaller size. To help children maintain physical distancing, parents must remain with their children at all times. And the courses are easily followed on the ground, so it wasn't a challenge to tag along. There can be a ratio of up to 6 kids per adult, so if you have a large family or social bubble, you won't have a problem. Kids have a window of an hour and a half to enjoy the Treetop Trekking discovery course.
Stouffville Treewalk Village: Adventurous Fun For Tots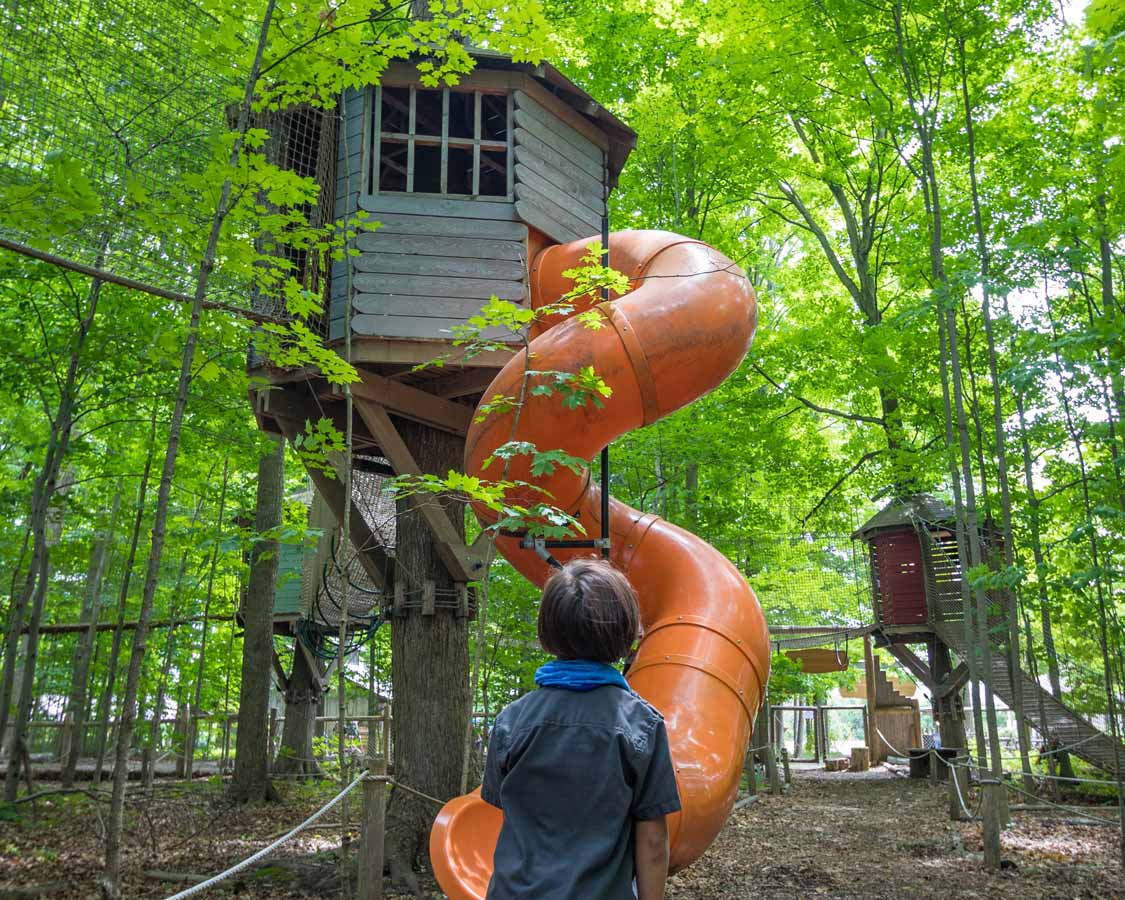 If you're visiting Treewalk Trekking Stouffville with children under the age of 5, you won't leave disappointed. The Stouffville Treetop Village is designed for small children who want to experience a little adventure themselves.
Kids, and their parents too, can climb from treehouse to treehouse through rope nets, wooden bridges, and other obstacles. there are slides, games, obstacle courses, and more. And all the fun is contained in a fenced area that means no little ones can wander off unnoticed.
Kids aged 3-7 have two hours to play in the Treewalk Village. Although be warned, the village is currently closed due to COVID-19, but there are plans to open it once it's been deemed safe to do so. You can check out their website to track which areas of the park are open for business.
We were given the chance to wander around the Treewalk village, but the kids couldn't play. D was especially pumped at the chance to go back and race around the treehouses himself.
What You Need To Know Before You Go Treetop Trekking With Kids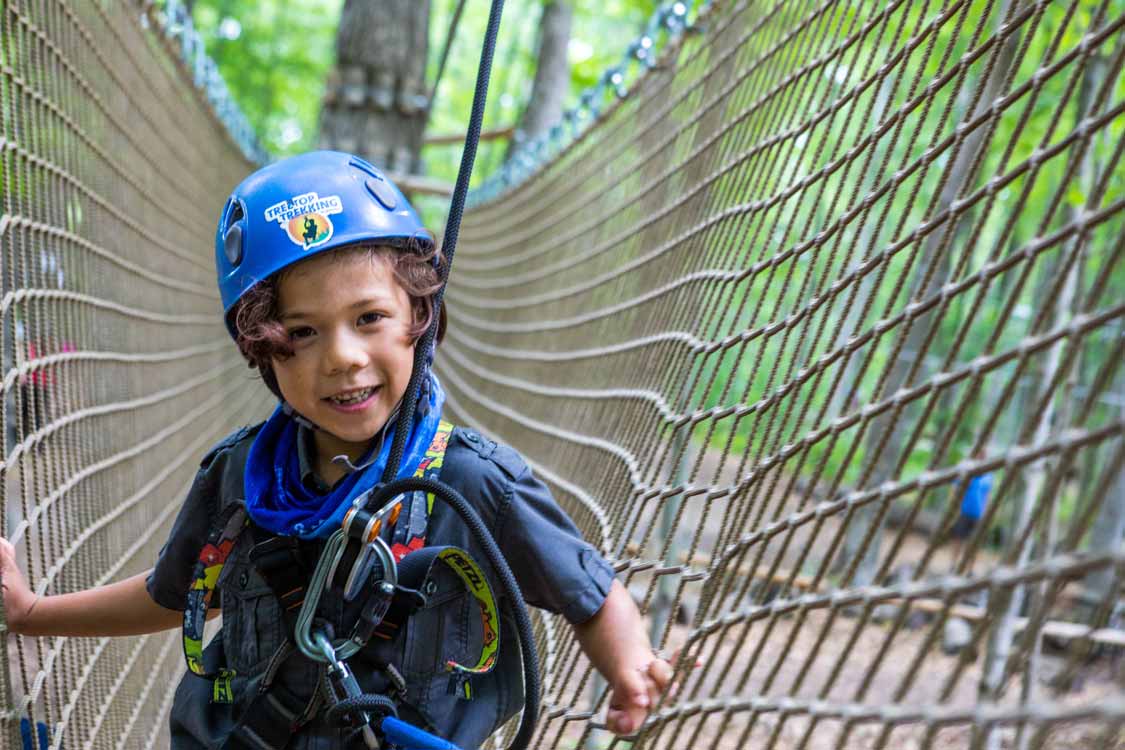 I'll be honest, I LOVE treetop trekking. It offers that great sensation of risk without really being dangerous. It makes you think, and, it'll make your muscles hurt the next day. There's something about the sensation of climbing among the trees high off the ground that is at once thrilling and peaceful.
If you're treetop trekking with kids, expect to have fun. But, also know that kids might be nervous, or even terrified of the experience if they've never done something like this before. Not everyone is super comfortable being that high off the ground while trusting their safety to a rope and a metal hook.
But the Treetop Trekking staff are amazing, and they know how to both challenge and support both adults and kids. It's with the support of the crew that really helps this become such an amazing experience.
Have you ever been Treetop Trekking in Stouffville, Ontario? Tell us about your experience in the comments below. Or, tag our Instagram account in your photos. We would love to share in your adventures.
Disclosure: We were guests of Visit York Durham Headwaters during our visit to Stouffville Treetop Trekking. All opinions remain our own. Wandering Wagars is a participant in the Amazon Services LLC Associates Program, an affiliate advertising program designed to provide a means for sites to earn advertising fees by advertising and linking to amazon.com, amazon.co.uk, amazon.ca. Amazon and the Amazon logo are trademarks of Amazon.com, Inc. or its affiliates.
You May Also Like To Read:
Pin This For Later: