Icewine is a decadent Canadian treat. We take some time off from the kids and enjoy a romantic day at the Niagara Icewine Festival.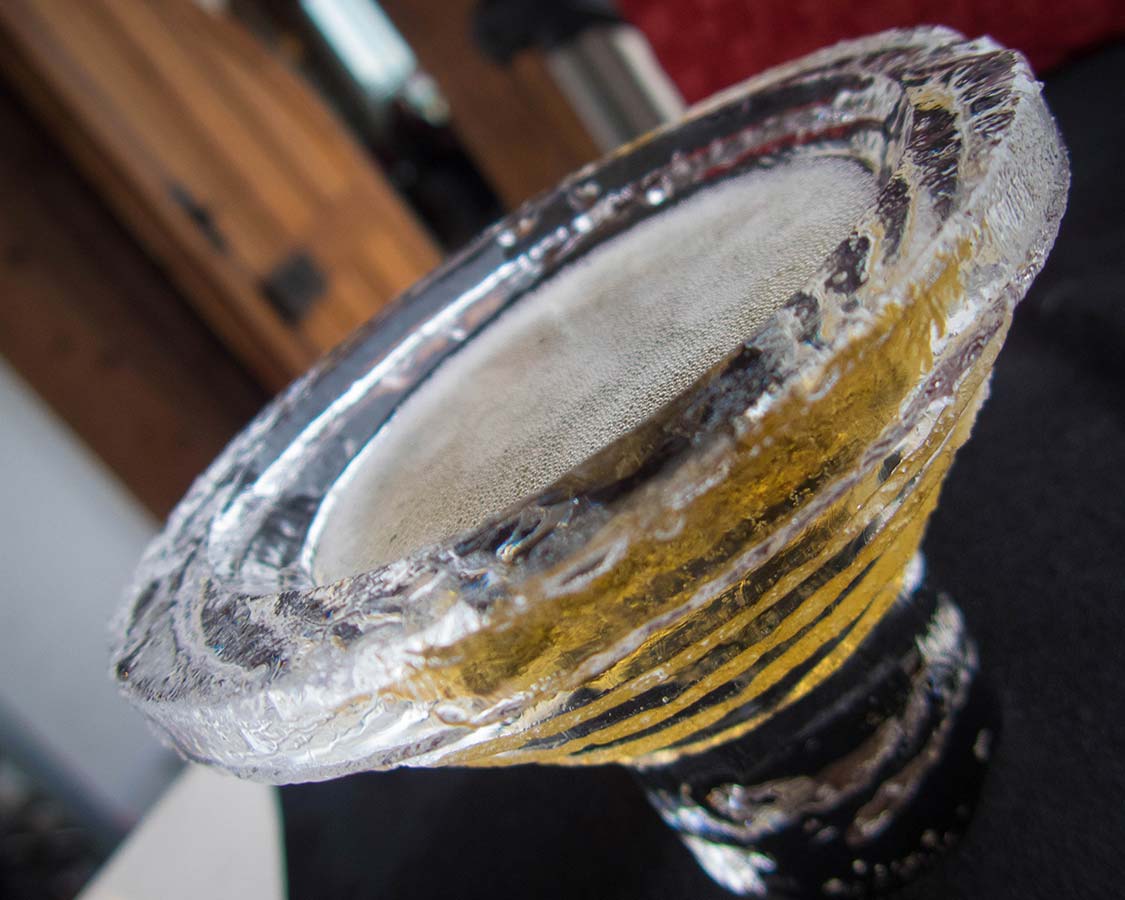 The Niagara Ice Wine Festival is one of our favorite yearly Niagara-on-the Lake events. Taking place at the end of January, this popular festival is one of the best ways to experience some of Canada's best food. As well as the country's most famous alcoholic treat in a truly unique setting. This fun and family-friendly festival in Niagara-on-the-Lake is one of the best places to experience Icewine in Canada.
The Niagara wine region, along with Prince Edward County and Lake Erie North near Point Pelee are Ontario's established wine regions. Of the three, Niagara is one of the most established and diverse. And as far as wine festivals, Niagara offers the biggest and best. It's proximity to classic attractions like Niagara Falls makes it one of the most popular destinations in Canada.
This post may contain compensated links. Find more info in our disclaimer
What is Ice Wine?
Ice Wine is a Canadian delicacy. It's a concentrated form of wine made from grapes that freeze on the vine. It is very sweet. And Ice Wine is generally consumed as a dessert drink. The grapes grown during the warm summers. But grapes for ice wine can't be picked until they are int he midst of at least three straight days of at least -10°C temperatures. Frozen grapes that are picked outside of these rigid requirements are labeled as "Late Harvest Wines".
Because of these regulations, Ontario has the perfect climate for creating this delicious and decadent beverage. So, it is not surprising that Ontario is home to 4 major regions for icewine making. Ontario's top wine regions are Lake Erie's north shore and Pelee Island, the Niagara Escarpment and Twenty Bench, Prince Edward County and of course, Niagara-on-the-Lake. The Icewine Festival is a perfect compliment to the Niagara Falls Light Fest that takes place each year. You can read more about all of the amazing things to do in Niagara during winter here.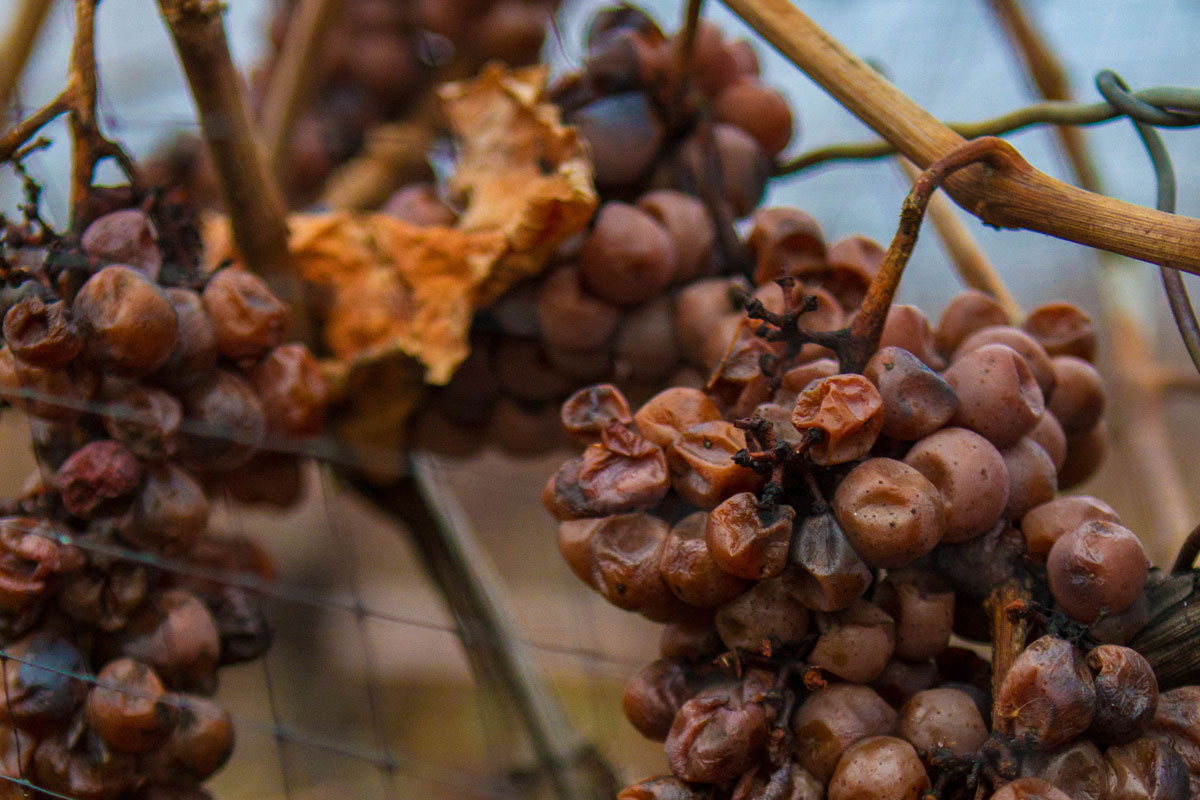 How To Experience Niagara-on-the-Lake
Niagara-on-the-Lake is a quick 1-1.5 hour drive from the Greater Toronto Area. It's located very close to the New York State border, making it a popular destination for Americans looking to stretch the strong US dollar. Although we regularly tour the Niagara wineries during the summer, a chance to taste the best ice wine Niagara has to offer is always a treat. It is also a great excuse to experience some of the beautiful Niagara-on-the-Lake attractions. The Shaw Theatre is always a treat. And the views from on the shores of Lake Ontario are always beautiful. Being that Niagara-on-the-Lake is only 20 minutes from the famous Niagara Falls, Ontario.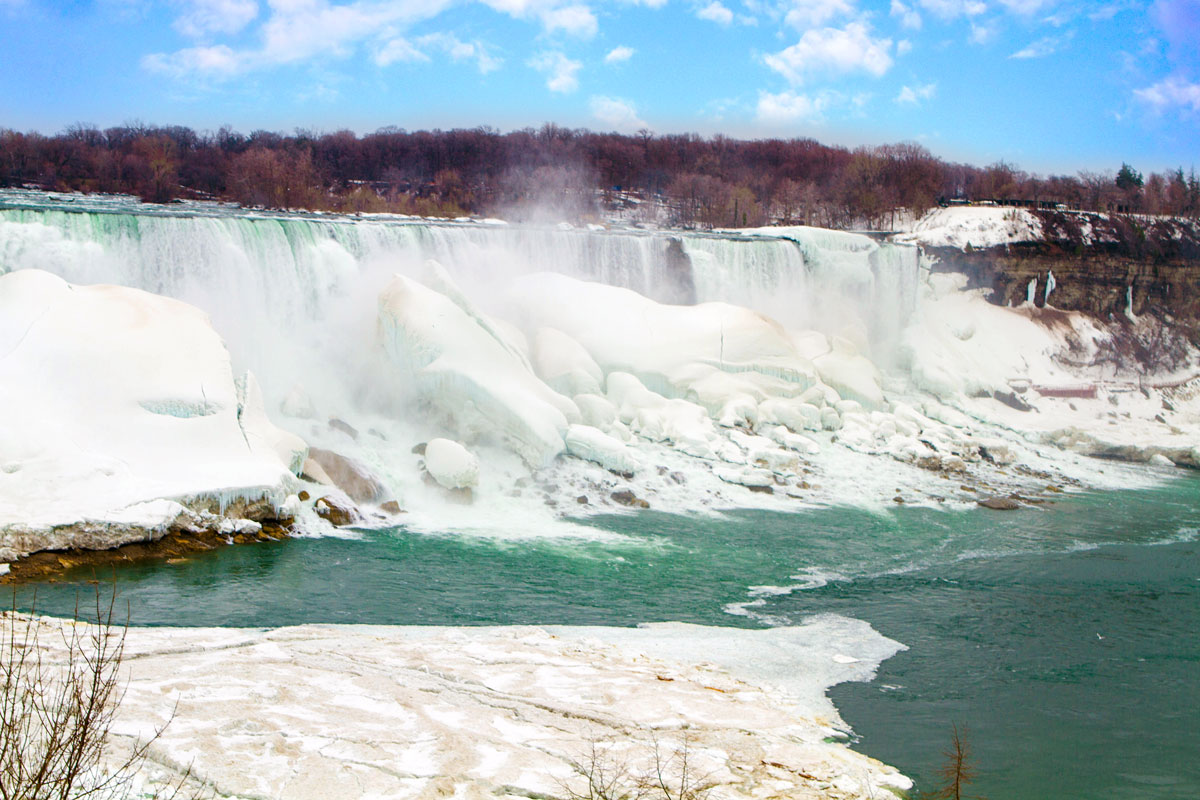 Tasting Amazing Food and The Best Ice Wine Canada Has To Offer!
The Ice Wine Festival in Niagara is a celebration of ice wine and gourmet food. And it's spread across the many Niagara region wineries. During our last visit, the weather cooperated beautifully with temperatures hovering around 5°C. The sun was shining brightly. The Niagara Icewine Festival 2017 will have 38 wineries participating with 11 in the Niagara-on-the-Lake region. The festival is best experienced on Niagara wine tours so that you don't need to drive between wineries. You can also purchase Discovery Passes. These ticket bundles are sold for $45 plus HST each and contain eight experience vouchers valued at $10 each, redeemable at participating wineries. There is also a "Drivers" Discovery pass for $35 that includes non-alcoholic drinks but still includes the food. You can find tickets for the Niagara Icewine Festival here.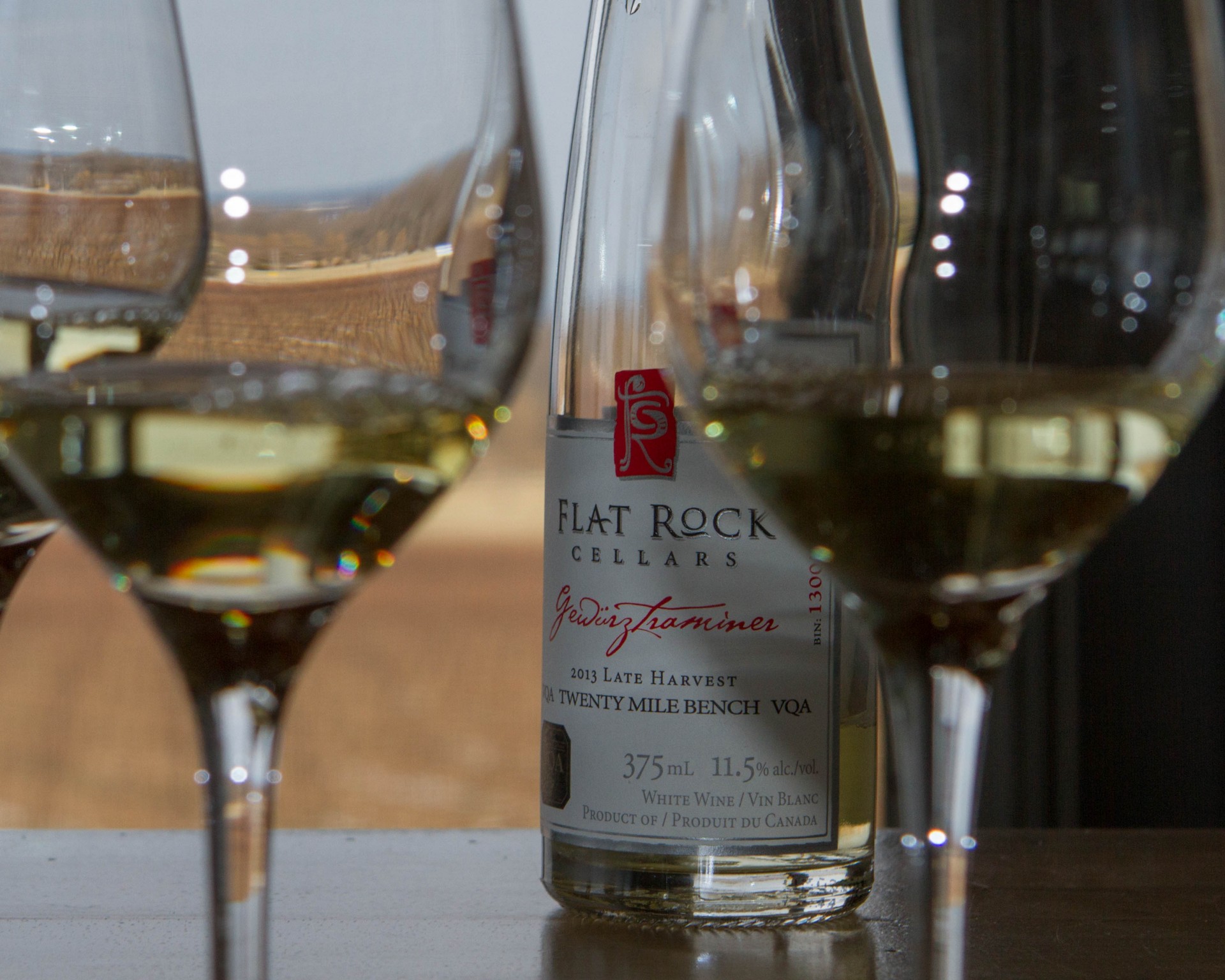 Tip: The Discovery Pass can be purchased at any of the participating wineries or area tourist centers. For $45 a pass we received 8 tickets and each ticket could be used for a single icewine and food pairing at the participating wineries (Cheaper passes were available for drivers which could be purchased to sample only the food at the wineries), otherwise, each wine/meal pairing could be purchased for $10 at the winery.
Our Favourite Experiences From Last Years Niagara Icewine Festival
Flat Rock Cellars: "Feeling Adventurous?"
Catered by Twisted Chef, Patrick Wiese, the maple, cowberry, winter-herb roasted pork belly topped with parsnip puree and wine caviar was full of flavor! Paired with the 2013 Late Harvest Gewürztraminer, it was a delicious start to our day. On our way out I noticed they were selling icewine infused marshmallows. A small campfire was set up near the front of the building overlooking the winery. Not needing any encouragement, I handed over $4, grabbed a roasting stick, and told Kevin we would not be leaving quite yet! Relaxing next to a small fire in the brisk winter air overlooking the vineyards and Lake Ontario made for a wonderful twist to the morning. Oh, and the marshmallows were to die for!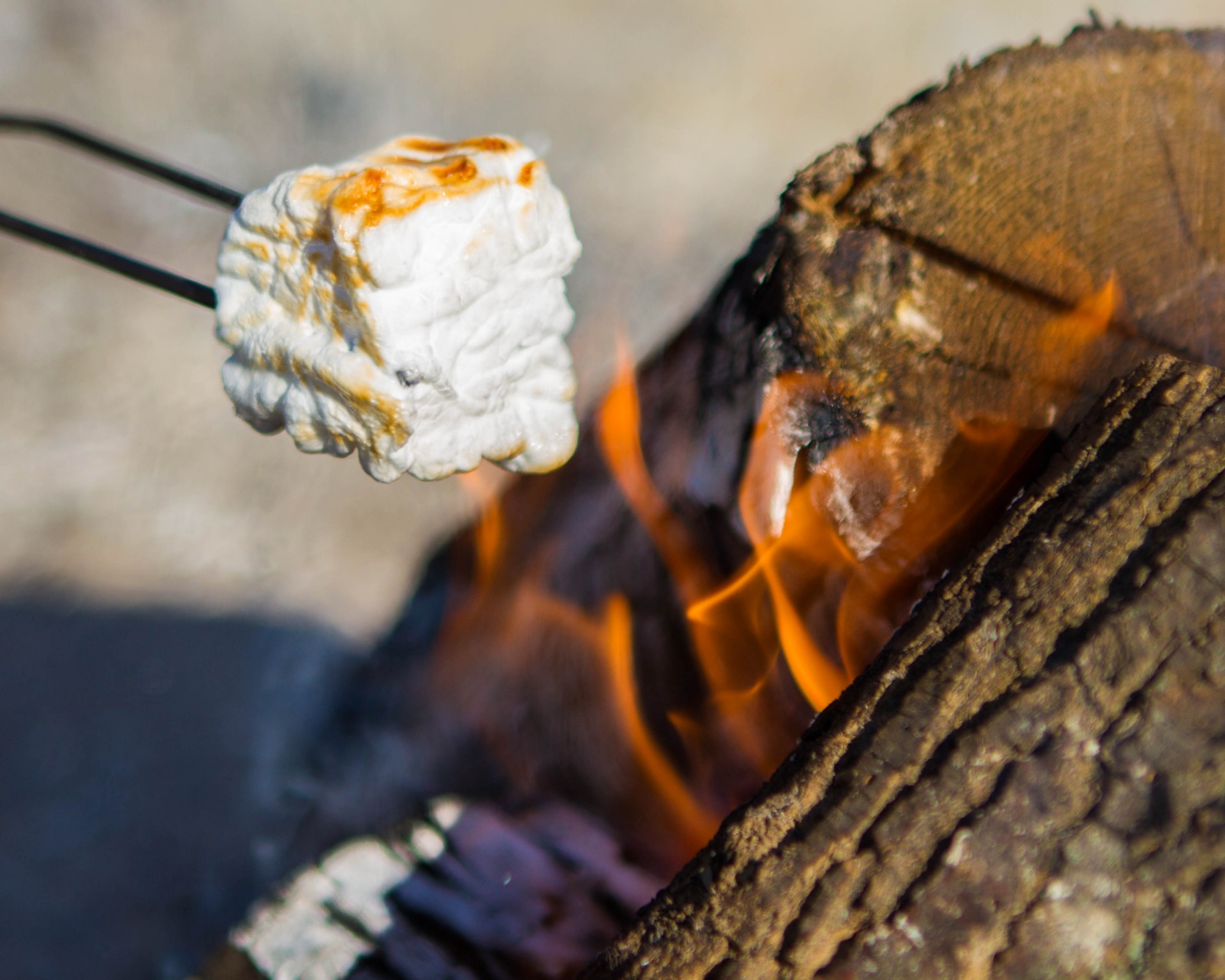 Kacaba Vineyards Winery: "Kacaba/Zooma Foodgasm Experience"
Kacaba was the second winery on our Niagara Icewine Festival tour. But this unique Niagara winery was far and away our favorites! The staff seemed to truly be enjoying themselves and after tasting their wines and meeting the staff, we can't wait to go back to try out more. Foie gras and duck rillette topped with lively berry coulis was served on rustic barley risotto and was prepared on the spot by the amazing and friendly folks at Zooma caterers. Paired with Kacaba's Cabernet Franc Icewine it was a foodgasm experience indeed!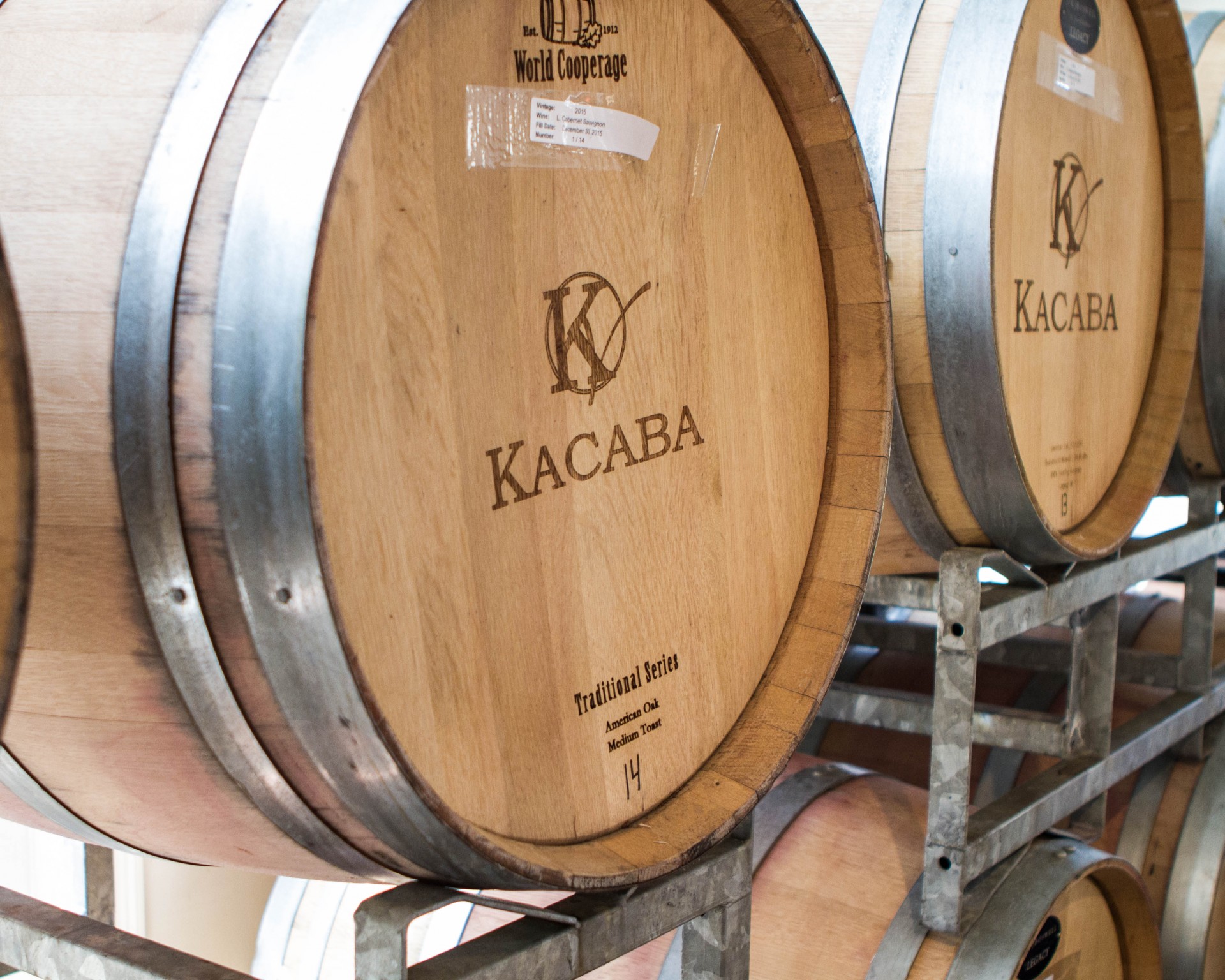 Ravine Vineyard: "Spice on Ice"
Ravine Vineyard had set up a covered patio next to their restaurant where they served up a scrumptious homemade spicy chicken meatball in a molé sauce paired with their own delicious cornbread. The meatball was moist and tasty and not spicy at all. The molé sauce blended well with Ravine's 2013 Vidal Icewine.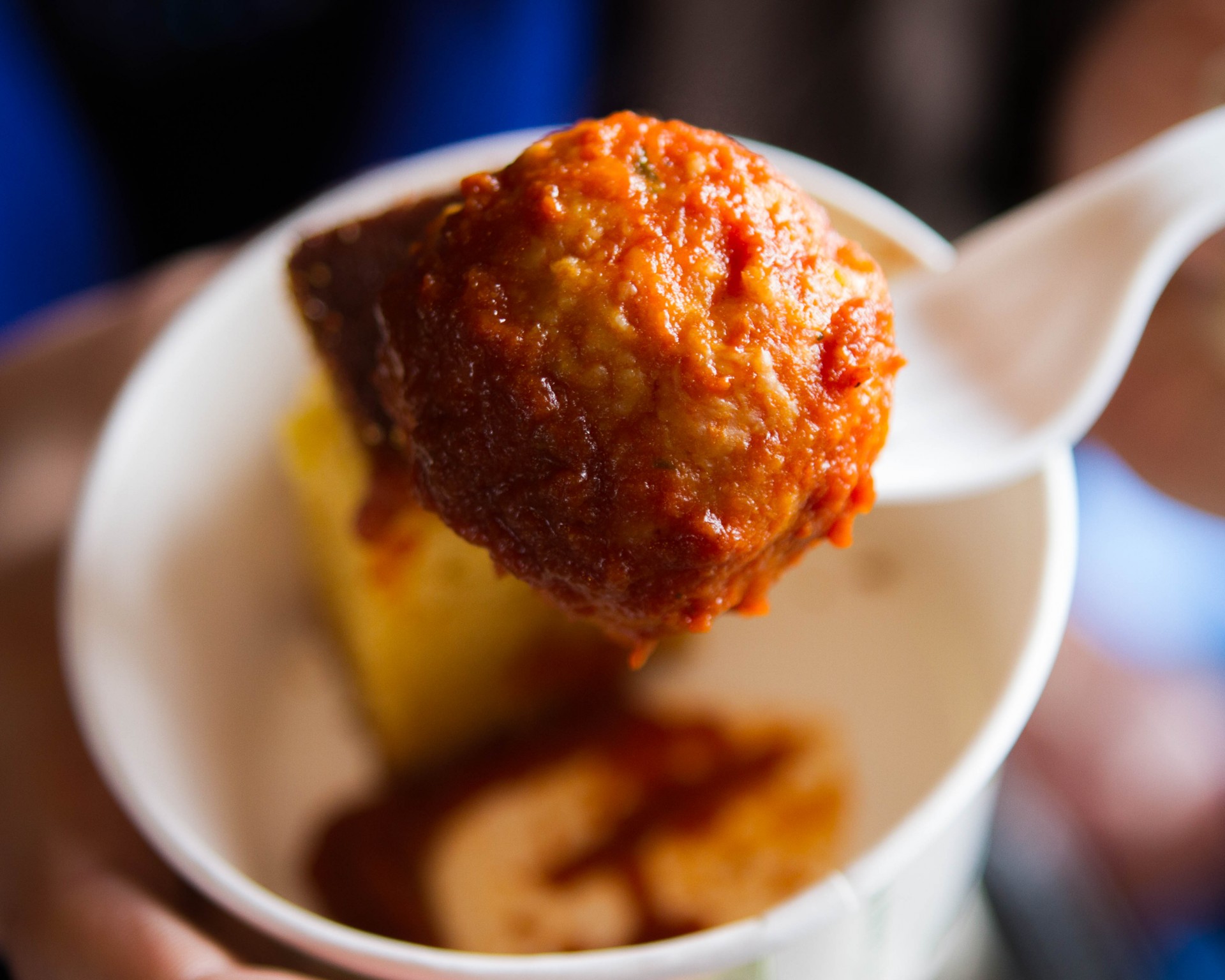 Pondview Estate Winery: "Chocolate-dipped Strawberry Cups & Blue Cheese Bread Pudding"
They had us at "chocolate-dipped strawberry filled with Pondview's Select Late Harvest Vidal!" The peach notes of the Vidal Icewine were perfectly complemented by the blue cheese bread pudding which made for a divine addition. The friendly staff and dining area with it's rowed standing tables set amidst their aging barrels made for one of the most attractive dining sections on our tour.
Chateau des Charmes: "Sweet and Salty"
The pork belly taco was the perfect blend of soft and crunchy. Created by Queen's Landing Executive Chef Marc Lyons the taco worked well with the Chateau des Charmes' 2014 Vidal Icewine. The Chateau was very busy though and we felt rushed and claustrophobic which took away from the overall ambiance of the whole experience.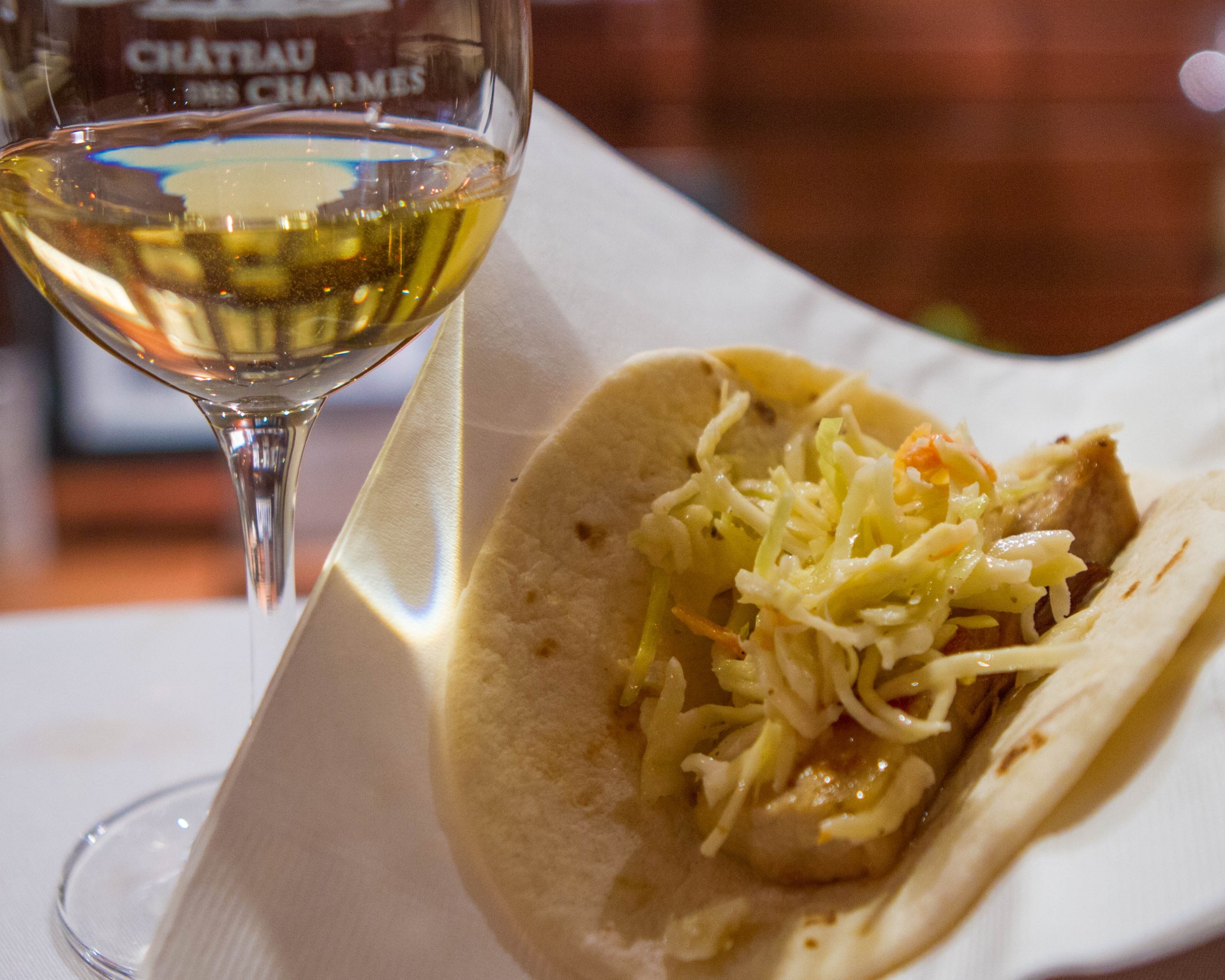 Inniskillin Winery: "Northern Cool Meets Southern Warmth"
Though the festival guide indicated that Inniskillin would be serving up "chicken and waffles" we were instead greeted by an outdoor oyster bar. This wasn't disappointing at all! The bar had a choice of two types of Oyster. Malpeque oysters from eastern Canada's Prince Edward Island or Fanny Bay oysters from western Canada's Vancouver Island. We chose the Fanny Bay oysters as we had previously made a trip east to Malpeque just to taste their oysters and we wanted to try something new. The oysters were paired with Inniskillin's Riesling Icewine which was beautifully served in a glass made of ice!
The setup for the festival was incredibly well thought out and executed. Muskoka chairs were set up around fire pits allowing people to warm up in the cool air. We settled into a set of chairs near the vineyard which was lined with frozen grapes that were waiting to be picked. The Fanny Bay oysters were much larger than the Malpeque oysters and were quite tasty; but, if we had to choose all over again, we would go with the more flavorful Malpeque oysters!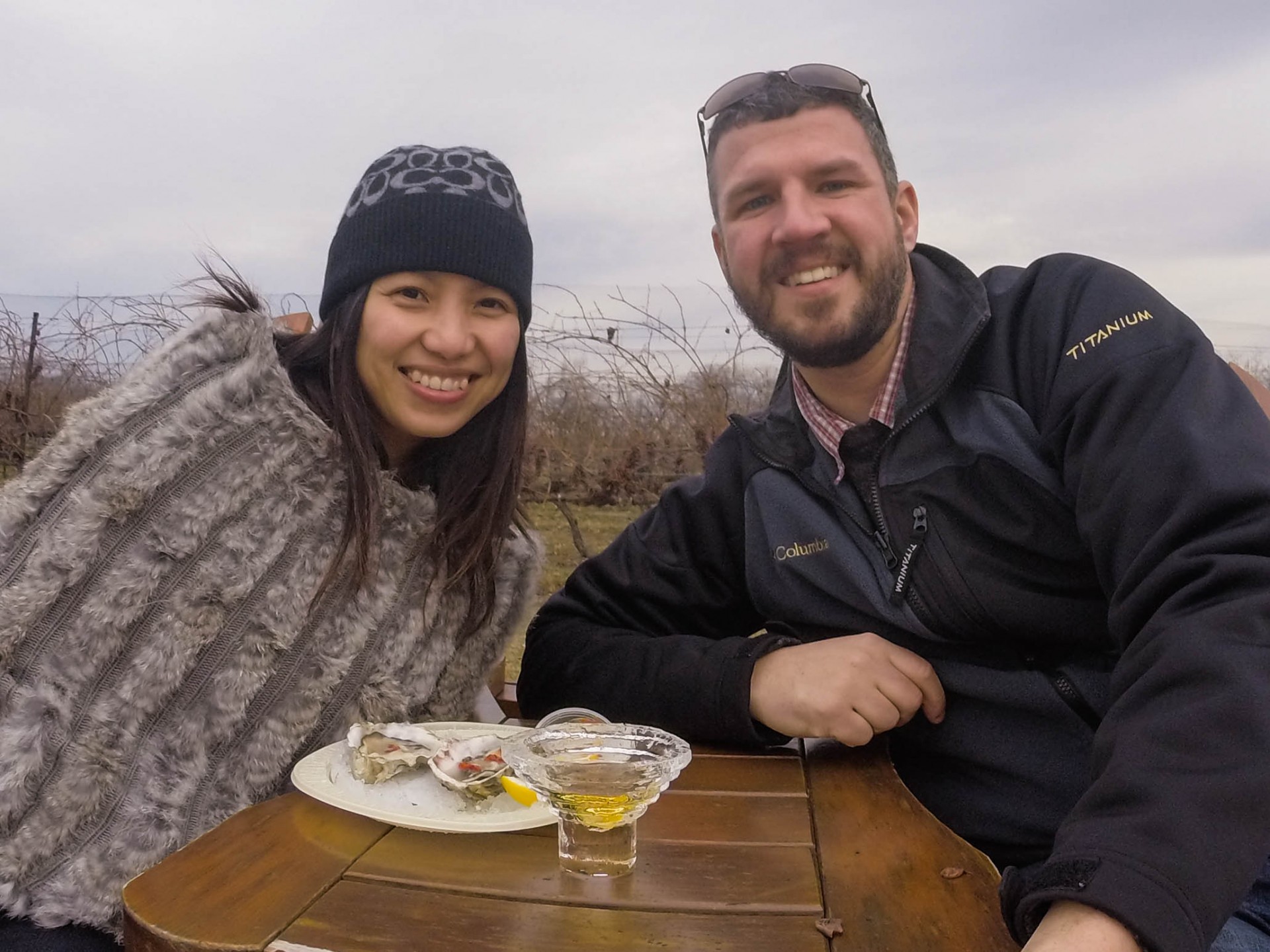 Riverview Cellars Estate Winery: "Chocolate Falls on Niagara"
We were already out of tickets and I was a bit hesitant to pay $10 for 3 pieces of fruit. But as soon as I saw the chocolate fountain I knew that there was no point resisting the temptation. We were not disappointed. The fruit and cinnamon-cranberry biscotti covered in Belgian chocolate were divine when paired with Riverview's award-winning Cabernet Franc Icewine.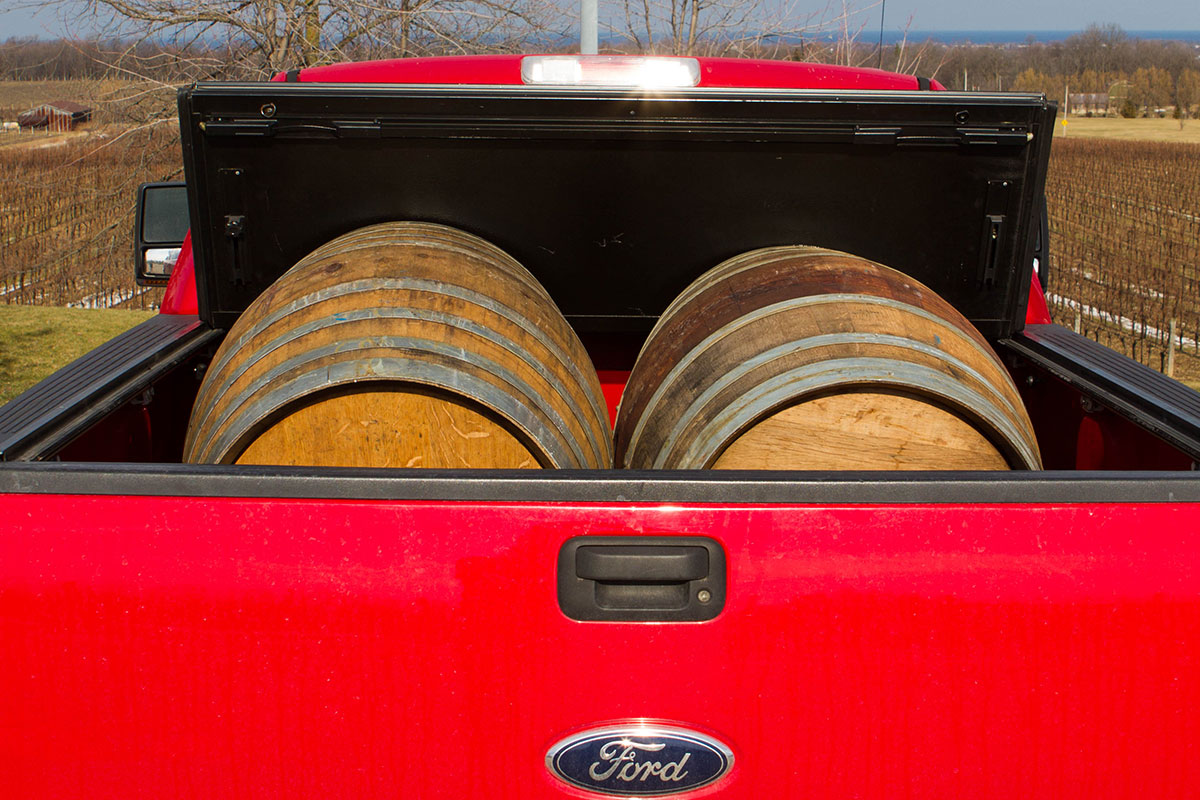 Pillitteri Estates Winery: "Apple Fritters & Icewine"
This was our last stop for the day. Even though the event would be closing in less than 5 minutes, we were greeted with warm and perfectly moist Apple Fritters freshly pulled from the oven. I watched hungrily as they drizzled cinnamon Icewine caramel sauce over it before handing it over to me. Yummy! Paired with Pillitteri's Kerner Icewine, it was the perfect ending to our wonderful day!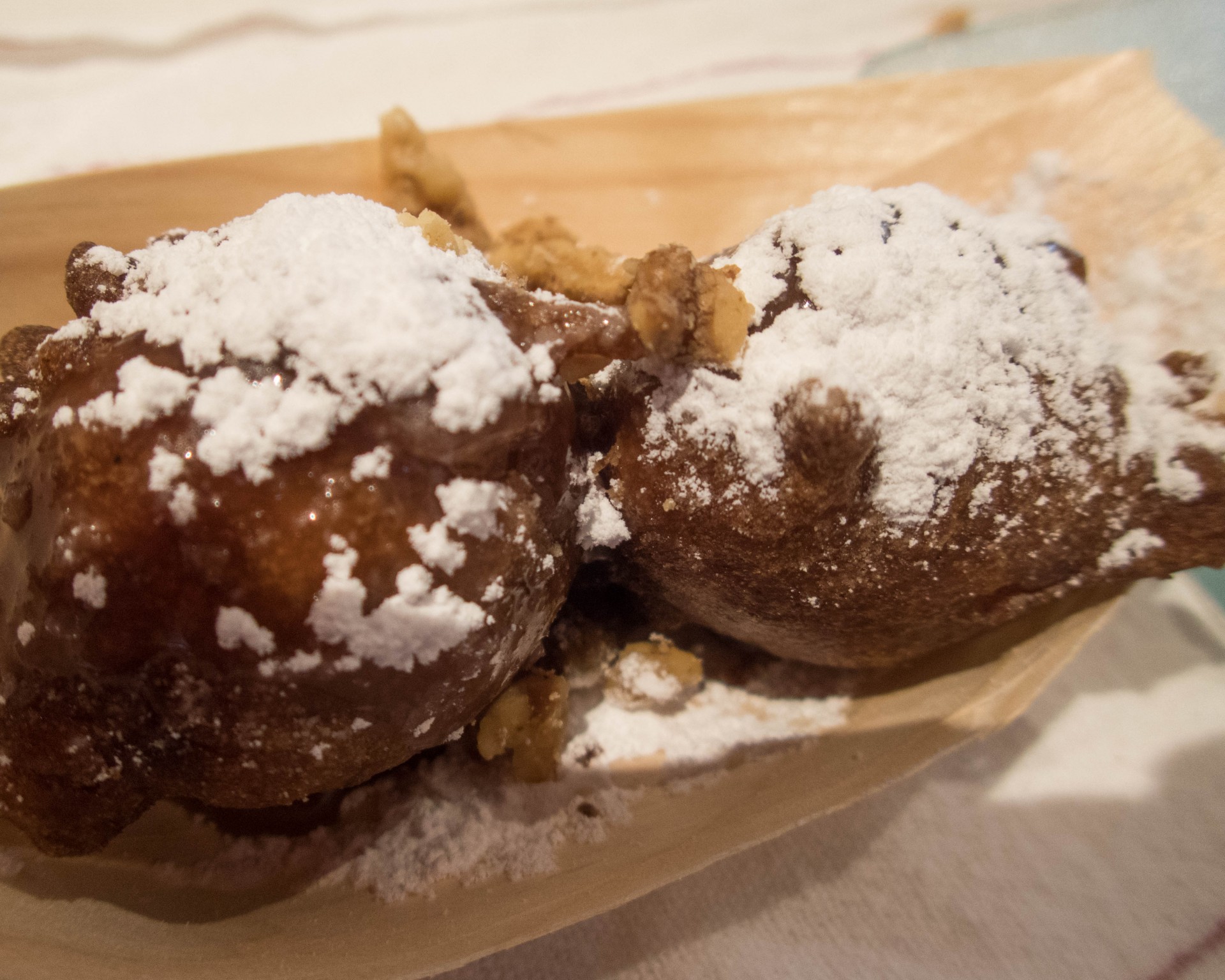 Tip: Plan out your route ahead of time by using Wine Country Ontario's handy route planner which can be found here.
If you're a fan of icewine and amazing food, or if you're interested in trying icewine for the first time, then the Niagara Icewine Festival may be your ticket to a foodgasm of your own! If you can't make it to Niagara in January then don't miss the Days of Wine and Chocolate in February. Perfect for a couples getaway!
Wandering Wagars is a participant in the Amazon Services LLC Associates Program, an affiliate advertising program designed to provide a means for sites to earn advertising fees by advertising and linking to amazon.com, amazon.co.uk, amazon.ca. Amazon and the Amazon logo are trademarks of Amazon.com, Inc. or its affiliates.
You May Also Like To Read:
Pin This Post For Later: