What is it about Winter in Niagara Falls, Ontario that captures the imagination of so many visitors? This magical town has become one of the honeymoon capitals of the world. Part of the reason is that it's the home of the most powerful waterfall in the world, the majestic, Horseshoe Falls and the American Falls. But Niagara Falls, Canada has so much more to offer visitors. Especially for those looking for family adventures. And for those visiting during winter in Niagara Falls, the fun doesn't have to stay indoors. If you're looking at how to spend winter in Niagara Falls, we've laid out the best of the best for you to experience Niagara Falls in it's most beautiful season!
While we are focusing on Niagara Falls Canada here, you can read about our experience on both the Canadian and American side of Niagara Falls here.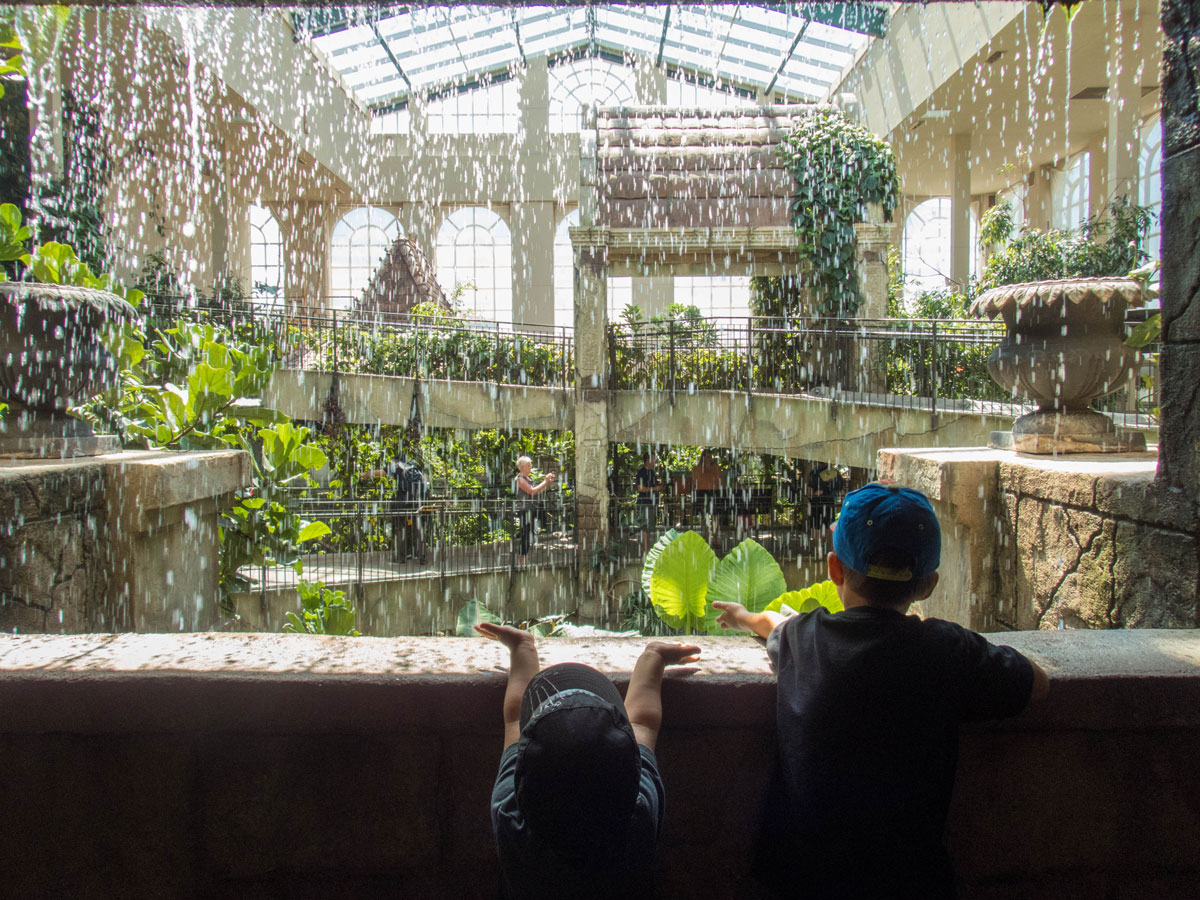 Our Favorite Activities For Winter in Niagara Falls
Witness Niagara Falls in it's Frozen Glory
Having a chance to witness Niagara Falls on any day is incredible. But getting a chance to see A frozen Niagara Falls is something truly special. The Falls rarely freezes over completely. But it can happen if the right number of days in the low digits occurs. Witnessing the huge mounds of ice against the emerald-colored waters is a treat for photographers and casual observers alike.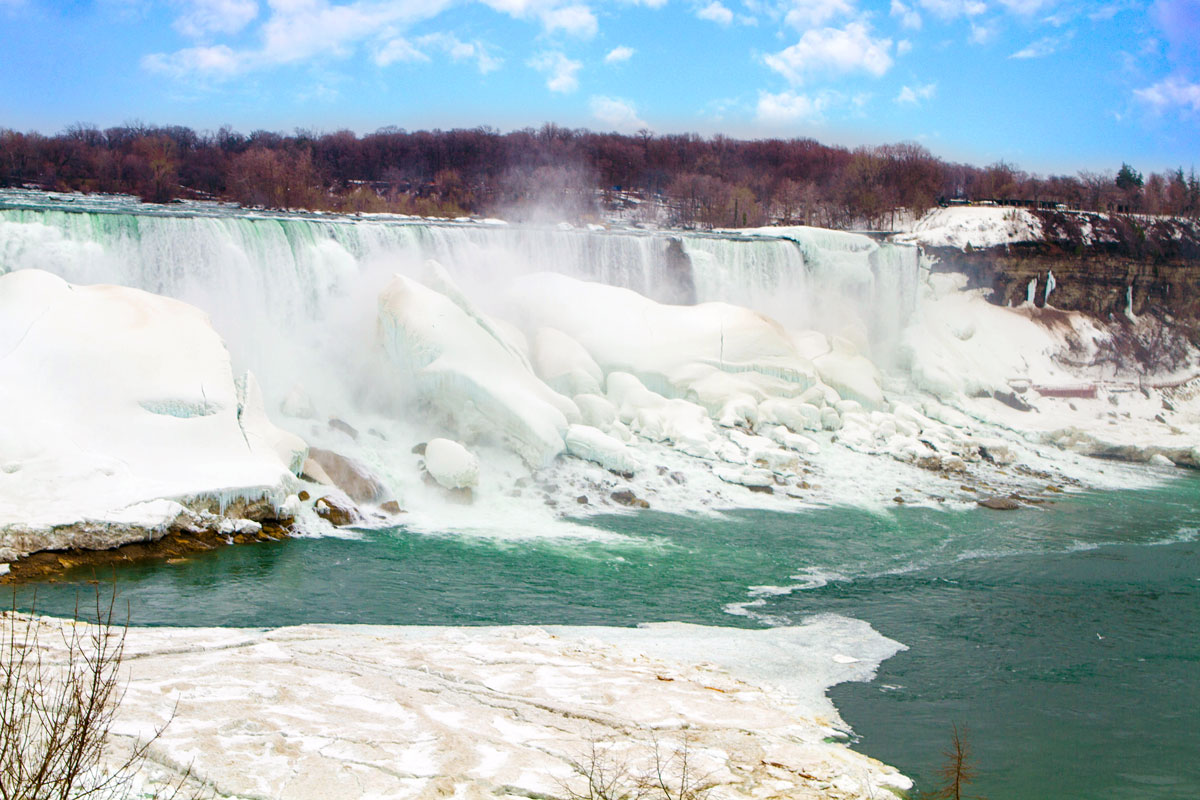 Niagara Falls Fireworks Shows
Light and Fireworks shows are famous in Niagara Falls. In addition to the Niagara Falls Winter Festival of Lights, there are over 20 fireworks displays with the stunning Horseshoe Falls as the backdrop. Niagara Falls fireworks displays are done at the Ontario Power Generating facility just off the Niagara Parkway. The winter fireworks in Niagara Falls begins at the same time as the winter Niagara Falls Light Show. The fireworks run every Friday night at 9 pm. The fireworks are 4 minutes long. And from December 23-29, the Ontario Power Generation features the Niagara Falls fireworks shows every night.
Journey Behind the Falls
Believe it or not, the Journey Behind the Falls Niagara Falls attraction still runs during the winter. And what a great way to get a unique perspective on one of the world's famous waterfalls. This 30-45 minute tour includes a visit to the 13-story Niagara observation deck. Visitors to the Journey Behind the Falls in Niagara can also explore the series of 130-year-old tunnels directly behind the Horseshoe Falls in Niagara. Just a warning though, you will likely get wet. So if you're doing the Journey Behind the Falls in Niagara, make sure you have a change of clothes handy. Being cold and wet can make a great day in Niagara seem not so fun. The Journey Behind the Falls is another attraction covered by the Niagara Adventure Pass.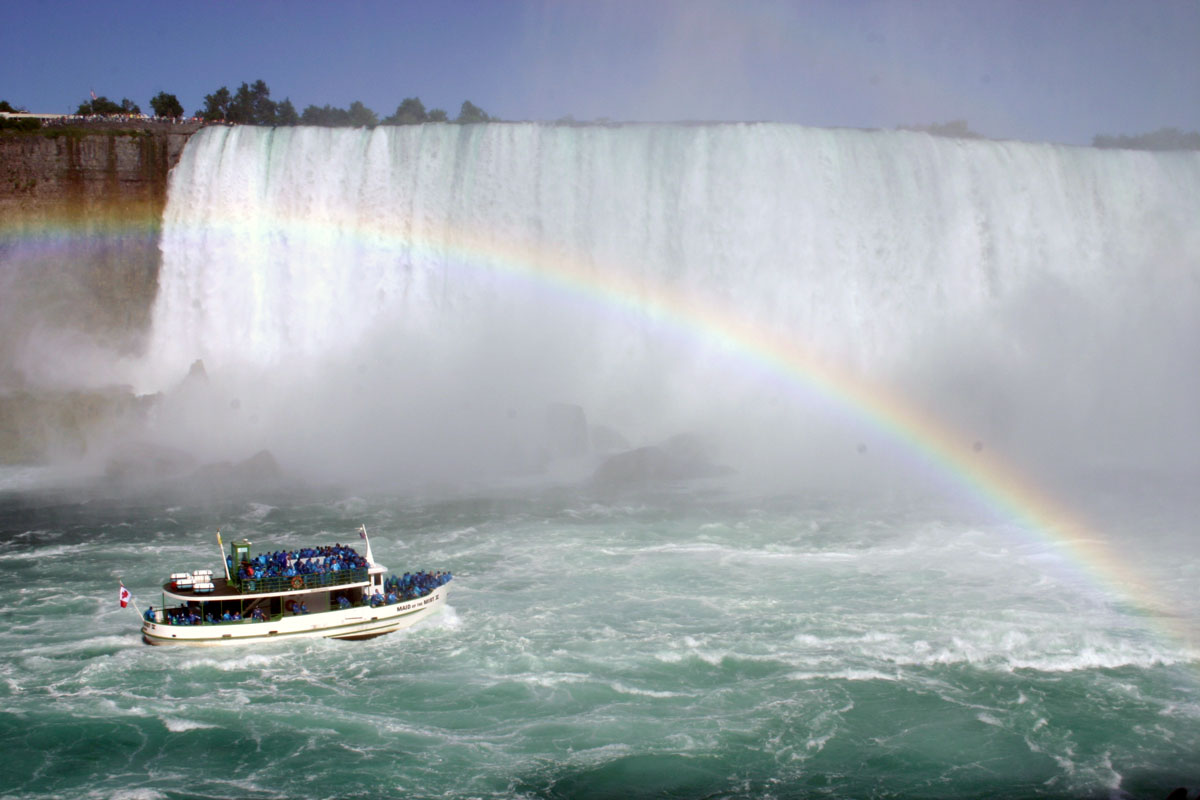 Niagara Falls Butterfly Conservatory
One of our favorite things to do in Niagara Falls in the winter is the Niagara Falls Butterfly Conservatory. A walk through the Butterfly Conservatory Niagara Falls is a perfect way to shake off the winter cold and experience a taste of summer. Walking through this gorgeous butterfly museum is like a trip through a magical flying garden. And it will be sure to delight parents and children alike. A visit to the Niagara Parks Butterfly Conservatory is also included in the Niagara Adventure Pass.
Make sure you dress in layers before visiting the Niagara Butterfly Garden though, they keep the temperature pretty warm in there, so your heavy winter clothes will make you sweat before too long.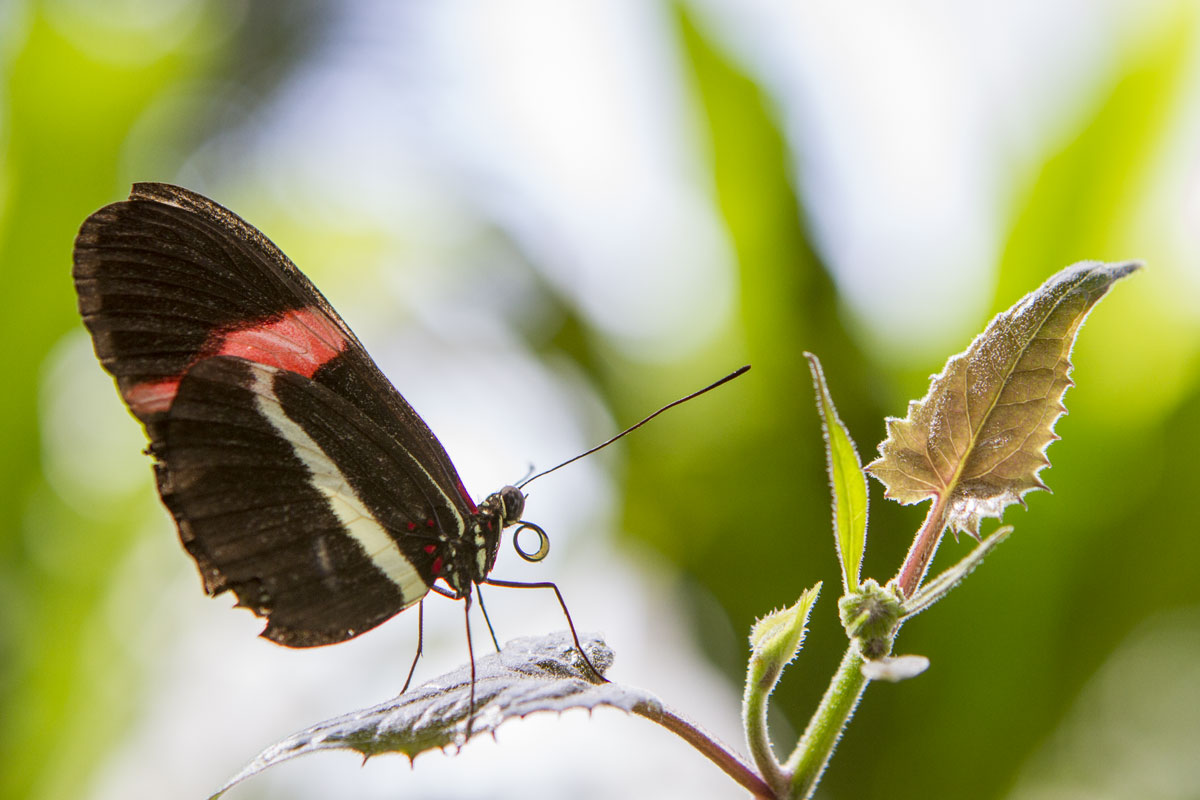 Bird Kingdom Niagara Falls
The Niagara Falls Bird Kingdom is another great attraction covered by the Niagara Adventure Pass. The Bird Kingdom Niagara Falls is a fantastic family-friendly Niagara Falls attraction. The Niagara bird aviary is three floors of fun that include up-close encounters with reptiles, bats, turtles and more. Bird Kingdom Niagara Falls also includes one of the most beautiful aviary attractions we've experienced. A Niagara Adventure Pass lets you experience waterfalls, rock walls, and beautiful foliage. And the whole experience is filled with thousands of birds flying all around. The Bird Kingdom is one of our favorite things to do in Niagara Falls in the winter.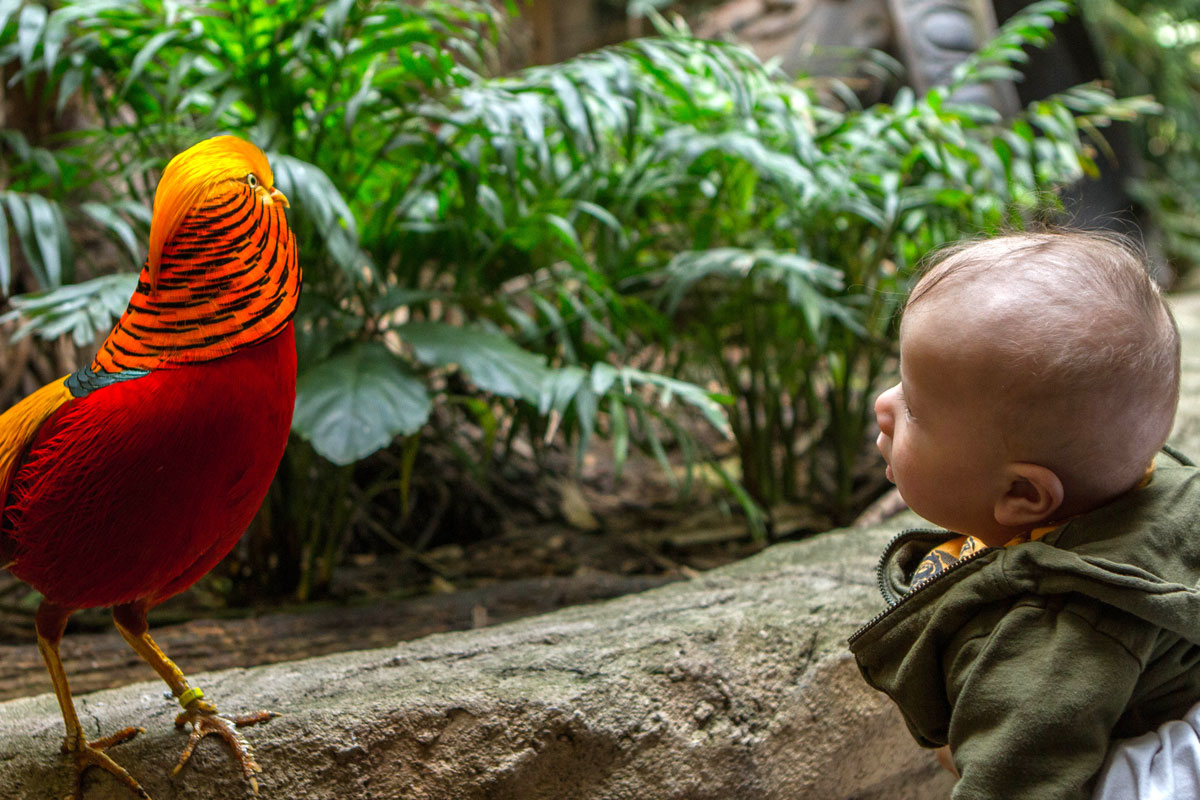 Niagara Falls Floral Showhouse
One of the nicest attractions of the Niagara Falls Festival of Lights is the Niagara Falls Floral Showhouse. This oasis across from the Ontario Power Generating plant is a highlight of the Niagara Falls Light Show. Not only is the building beautifully lit, but a visit inside the Florals Showhouse offers respite from the cold winter air. The Floral Showhouse in Niagara Falls has a two-story waterfall surrounded by a beautiful collection of exotic plants. Those visiting Niagara Falls with kids will love the train that circles the upper rim of the Floral Showhouse in Niagara.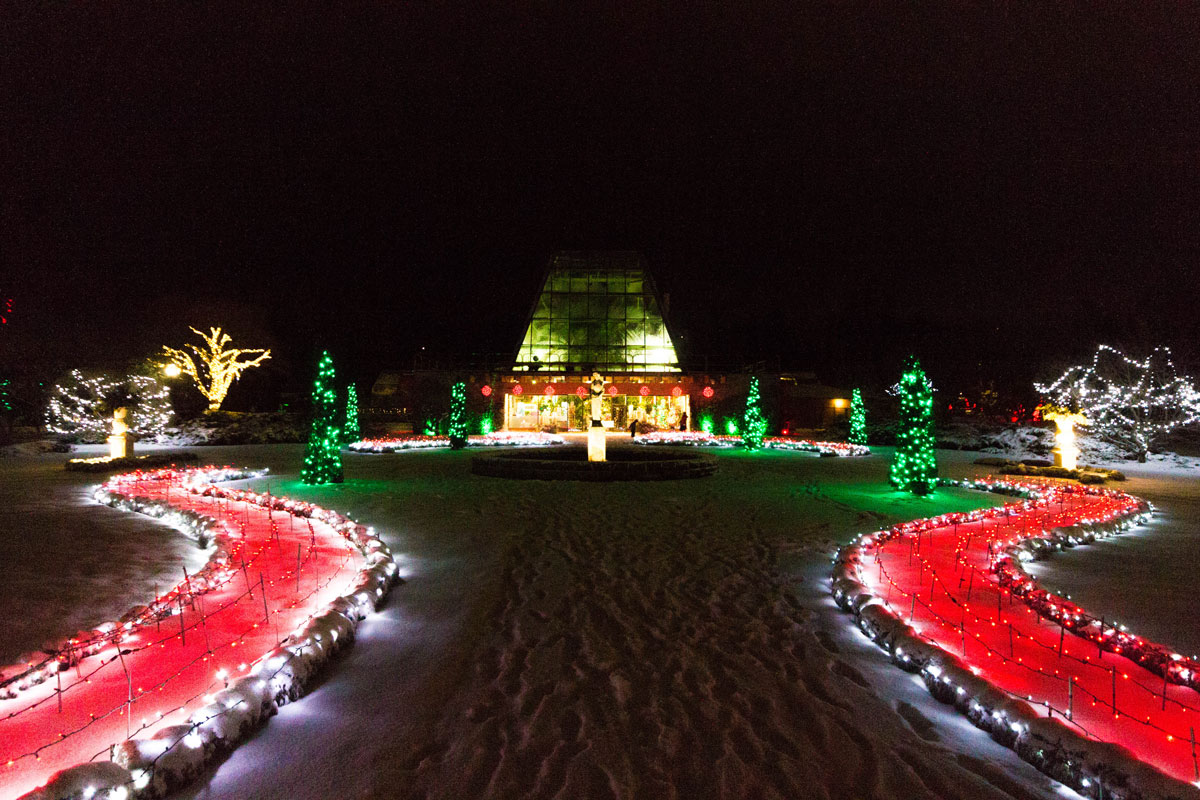 Niagara Falls Waterparks
Niagara Falls is home to two amazing Niagara waterparks. The Niagara Fallsview Waterpark is located just one block from the main viewing platform for Niagara Falls. Niagara Fallsview Waterpark is connected directly to the Sheraton on the Falls Hotel and the Crowne Plaza Niagara Falls-Fallsview as well as Casino Niagara. That means that you don't need to even walk out in the cold air to visit if you're staying in one of these great hotels. Plus, both of these hotels offer excellent views of the famous Canadian falls.
Check out prices and availability of Sheraton on the Falls here. And the Crowne Plaza Niagara Falls Fallsview here.
The other great Niagara Falls Waterpark is located further down the Niagara Parkway towards Niagara-on-the-lake at Great Wolf Lodge, Niagara Falls. Great Wolf Lodge Niagara Falls isn't just a Niagara Falls indoor waterpark. It's is a full-fledged family theme park. It features themed attractions, water parks, spas, and great restaurants.
You can check out the prices and availability of Great Wolf Lodge Niagara Falls here.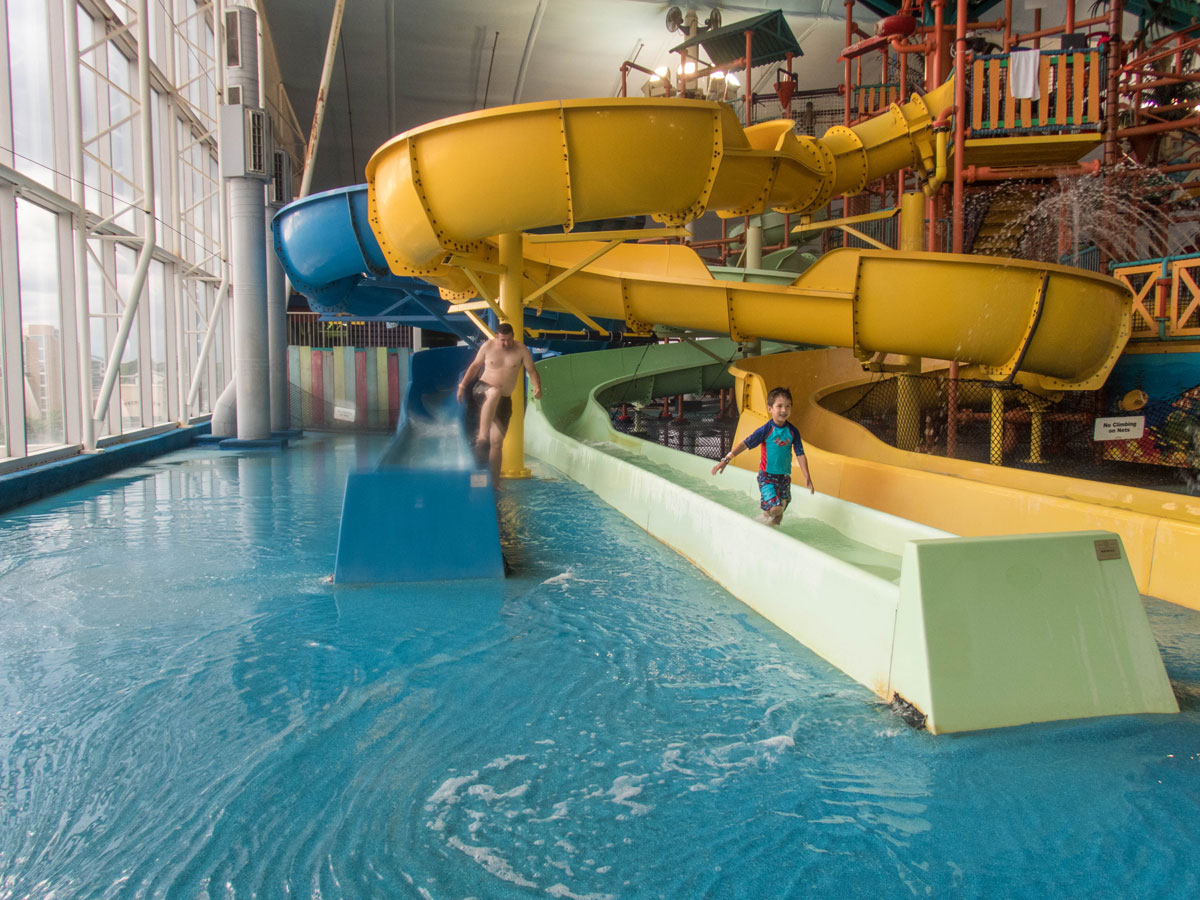 Clifton Hill
Clifton Hill Niagara Falls is where all the tack and wackiness of this city is in its full glory. Packed full of fun houses, mazes, restaurants, haunted houses and more, Clifton Hill is a playground for people of all ages. Some of the top Niagara Falls attractions on Clifton Hill are the Midway, Ripley's Believe it or Not museum, Movieland Wax Museum and much, much more.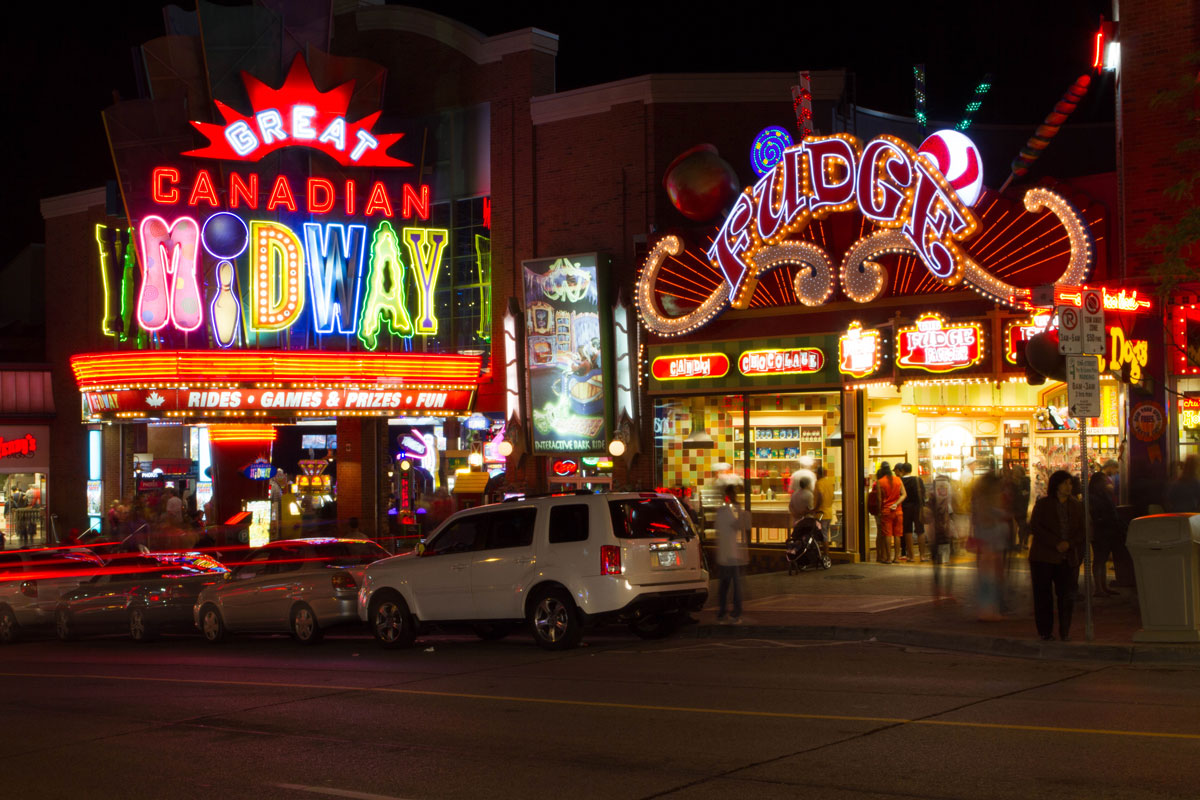 Niagara Falls Skywheel
Located right behind the Niagara Falls Midway off of Clifton Hill is the Niagara Falls Skywheel. The Niagara Skywheel is a wonderful way to spend winter in Niagara Falls. Views from the Niagara Falls Ferris wheel are amazing. And it's height makes for incredible panoramic views of the city, and especially the Falls. The Niagara Falls Skywheel is especially beautiful at night when the Festival of Lights illuminates the city.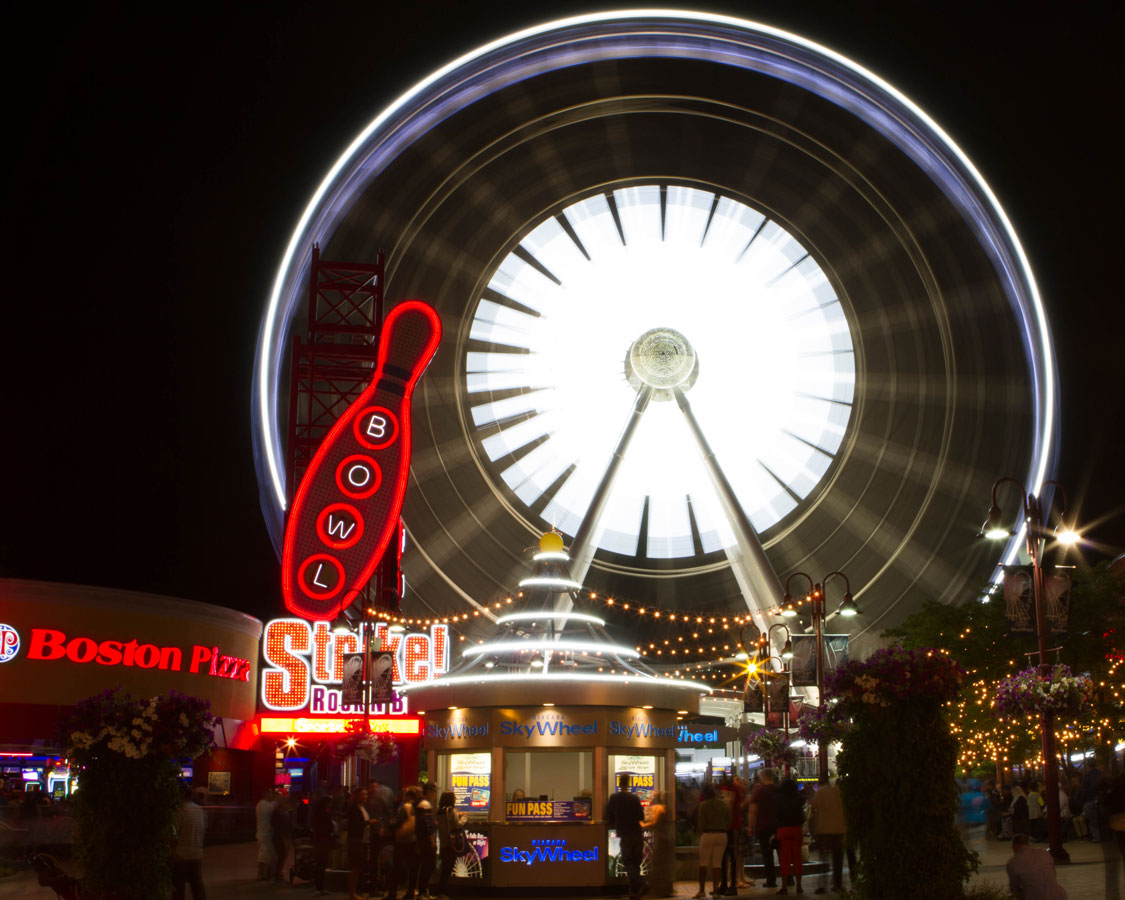 There's no surprise as to why Niagara Falls, Ontario has made it onto our list of the 10 bucket list destinations in Canada. And winter in Niagara Falls is one of the best times of the year to experience this fun and exciting city. From the chance to see the Horseshoe and American Falls in all of their frozen glory to all the amazing Niagara Falls attractions, Niagara is a fantastic family getaway.

Winter Festivals In Niagara Falls
Just like any world-class city, Niagara Falls in winter is full of incredible festivals and celebrations. Just because it can be cold, doesn't mean that you need to hibernate. Get out and enjoy some of these incredible celebrations during winter in Niagara Falls.
Niagara Falls Winter Festival Of Lights
One of our favorite things to do during winter in Niagara Falls, Ontario is the Niagara Falls Festival of Lights. This popular Niagara Falls lights festival runs from mid-November through the end of January. The Winter Niagara Falls light show has been running since 1982. And it is now one of the largest winter light shows in Canada. All along the Niagara Parkway and throughout the city of Niagara Falls, Canada you will find a mesmerizing display of over 2 million lights. The Festival of Lights in Niagara Falls is a perfect attraction for kids in Niagara. It's easy to explore, and the early nights of Canada's winters mean that even young children can experience running through the winter light displays before bedtime.
The Niagara Falls Festival of Lights winter festival runs from mid-November to mid-January. Displays take place throughout the city. They include Queen Victoria Park, Dufferin Island, Light displays along Niagara Parkway, Skylon Tower, near Fallsview Casino Resort, along Fallsview Boulevard and Stanley Avenue, and Murray Hill aka Snowflake Hill. The Dufferin Island display is especially popular and often results in a long line of cars. If you don't mind braving the cold, you can walk the Dufferin Island display as well.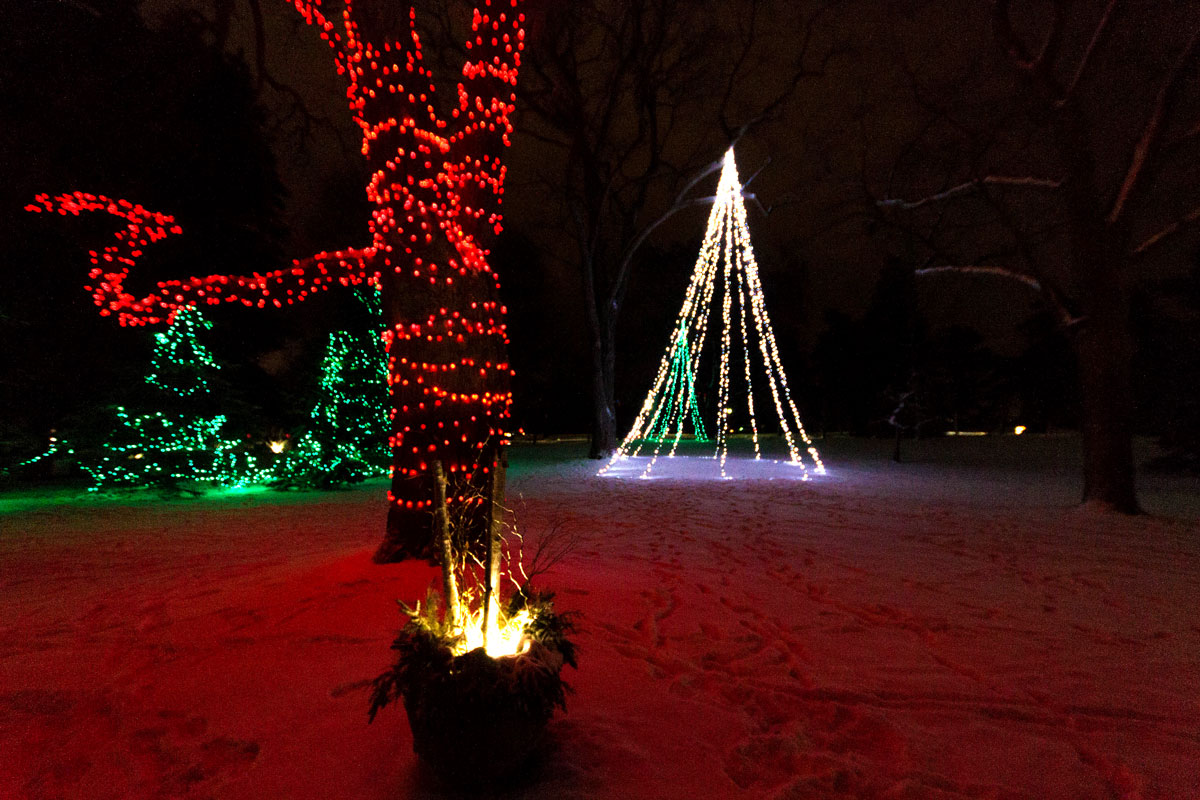 New Years Eve at Niagara Falls
Niagara Falls Fireworks continue year-round. And that means that expectations for New Year's Eve in Niagara Falls have a really high bar to entice visitors. And year-after-year the team at Niagara Parks blows away expectations with bigger and better New Year's Eve displays. Niagara Falls New Year celebrations include fireworks, live entertainment, light shows and more. The celebrations begin at 8:00 pm on January 31 and run past midnight. Make sure to arrive early at Queen Victoria Park in order to get a decent spot. The New Year's celebration is free of charge.
Niagara Icewine Festival
One of the perfect ways to spend a winter day is at the Niagara Icewine Festival in nearby Niagara-on-the-Lake. While it may seem like an adults-only activity, the whole family can enjoy the Niagara Icewine Festival. The Niagara Icewine Festival features amazing food all while surrounded by the beautiful Niagara escarpment outdoor scenery that the whole family will love. The Niagara Icewine Festival runs from Jan 10-20 2020.
You can read more about our experience at the Niagara Icewine Festival here.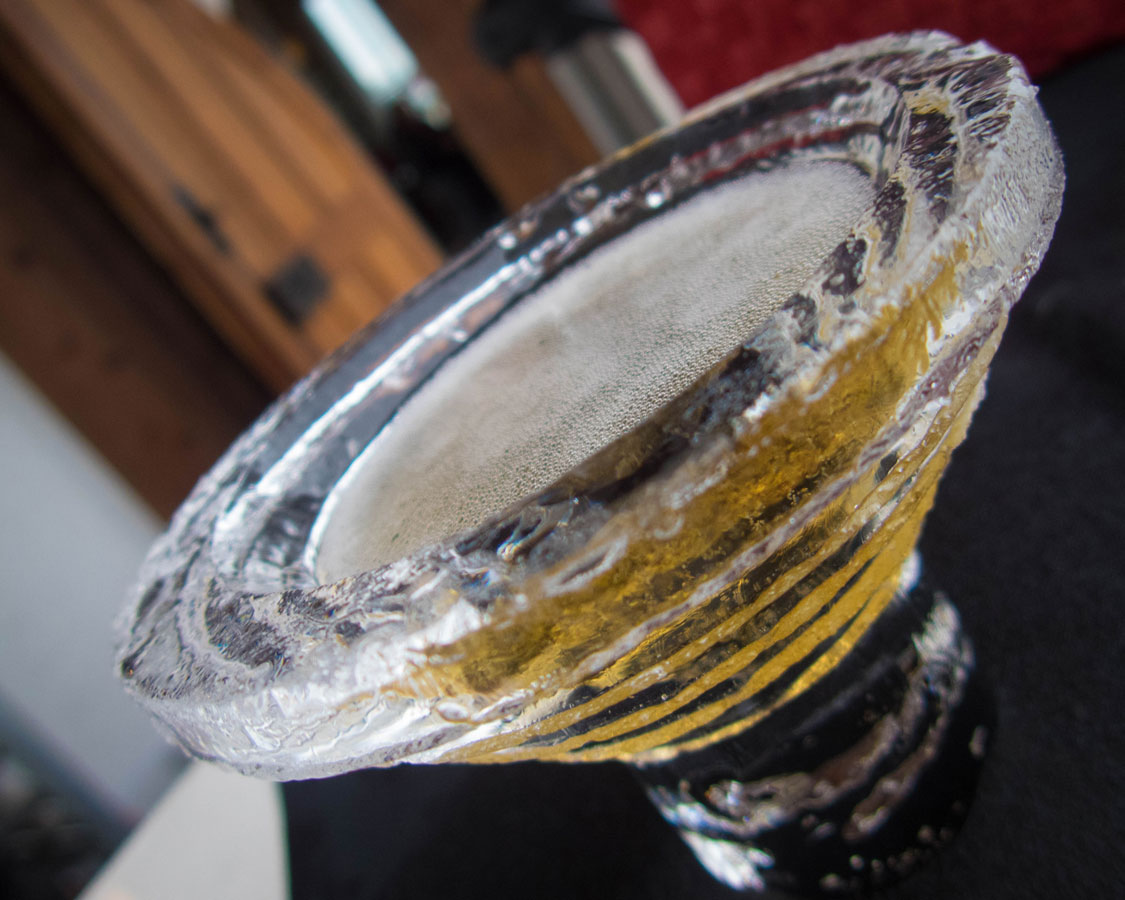 Other Things to do During Winter In Niagara Falls, Canada
Niagara's Fury
Niagara's Fury is an immersive 4-D experience that relives the formation and changes of Niagara Falls in an encompassing 360-degree sensory experience. Discover the ancient story of Niagara Falls in 4D and re-live the exciting experience in this 360 degree multi-sensory theatre. The Niagara Parks Adventure Pass also includes the Niagara's Fury experience.
Niagara Casinos
While not for those visiting Niagara Falls with kids, Niagara Falls has two exciting casinos for adults visiting the city. Casino Niagara and the Fallsview Casino are both near the Falls. They feature regular shows, concerts, and of course slots and other table games.
Niagara Falls Skylon Tower
The Skylon Tower is an observation tower and restaurant that offers one of the best views of Niagara Falls. Skylon tower buffet is a two-floor restaurant that sits 236 meters (775 ft) above the falls. The Skylon Tower Restaurant is a revolving restaurant. And every seat in the Skylon Tower restaurant offers excellent views of the Falls.
Explore the Niagara Glen
The Niagara Glen is a series of hiking trails at the base of the Niagara gorge. The Niagara Glen can be slippery during wet and snowy weather, but the region is very beautiful. You can get right down to the raging rapids of the Niagara River and witness the power of the river up-close.
Brock's Monument in Queenston Heights
Just down the Niagara Parkway towards Niagara-on-the-Lake is Queenston Heights, a sprawling parkland with panoramic views of the Niagara River. At its center is Brock's Monument, a 56-meter (185 ft) statue and museum commemorating one of Canada's most important military heroes from the war of 1812.
Hotels in Niagara Falls, Ontario can book fast. You can check the prices and availability of Niagara Falls hotels here.

What Are The Best Restaurants In Niagara Falls, Ontario?
Niagara Falls, Ontario is not I would call a "foodie destination." For truly unique creations (and amazing wine pairings) many people make the 20-minute drive to the wineries of Niagara-on-the-Lake. But, if you are looking for some great dining at some of the best restaurants in Niagara Falls, Canada, you are still in luck. And there are great Niagara Falls restaurants for every interest. To help you choose where to eat in Niagara I've laid out a few options based on what makes them stand out.
Restaurants With Great Views of Niagara Falls
Surprisingly, there are only a handful of restaurants overlooking Niagara Falls. For breakfast, check out the Fallsview Buffet Breakfast at the Sheraton at the Falls Hotel. It's definitely pricey for what you get, but those morning views of Niagara Falls are breathtaking. Lunch is decent at the Skylon Buffet, which we mentioned earlier. For dinner, the best views are from The Keg at the Fallsview Embassy Suites is where you want to be. Here you can watch the night show light up the falls from one of the best seats in the house. And pair it with steak!
High-End Dining Restaurants In Niagara Falls Canada
If you are looking for an intimate atmosphere and great Japanese food, head over to Taki on Victoria Ave. You can savor their contemporary Japanese Cuisine and pair it with sake or their great wine selection. You can find their hours on their website here.
For delicious locally-sourced cuisine in a social atmosphere, check out AG Inspired Cuisine on Magdalene Ave. They often feature live music and have a great collection of local wines to pair your food with.
Niagara Falls Casual Dining
For something classy yet, family-friendly checkout Brasa Brazilian Buffet on Fallsview Blvd. This restaurant has an incredible selection of Brazilian-themed foods, meat served and carved at the tables, and there is often engaging live-music that really fills in that Brazilian vibe.
You can also get your Mediterranean cuisine fix at Kasbah on Dunn St. They have a unique take on farm-to-table cuisine that keeps things local but still transports your taste buds to the clear coastal waters of the Mediterranean Sea.
Wandering Wagars is a participant in the Amazon Services LLC Associates Program, an affiliate advertising program designed to provide a means for sites to earn advertising fees by advertising and linking to amazon.com, amazon.co.uk, amazon.ca. Amazon and the Amazon logo are trademarks of Amazon.com, Inc. or its affiliates.
You May Also Like To Read: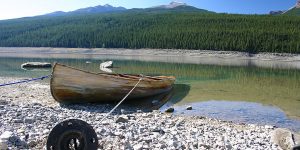 10 Bucket List Destinations In Canada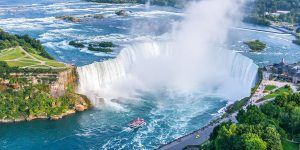 Niagara Falls Ontario And New York: Which Side Is Better?