Maximize your family visit to the Florida Space Coast with these tips on what to do at Kennedy Space Center for kids. Discover NASA for families.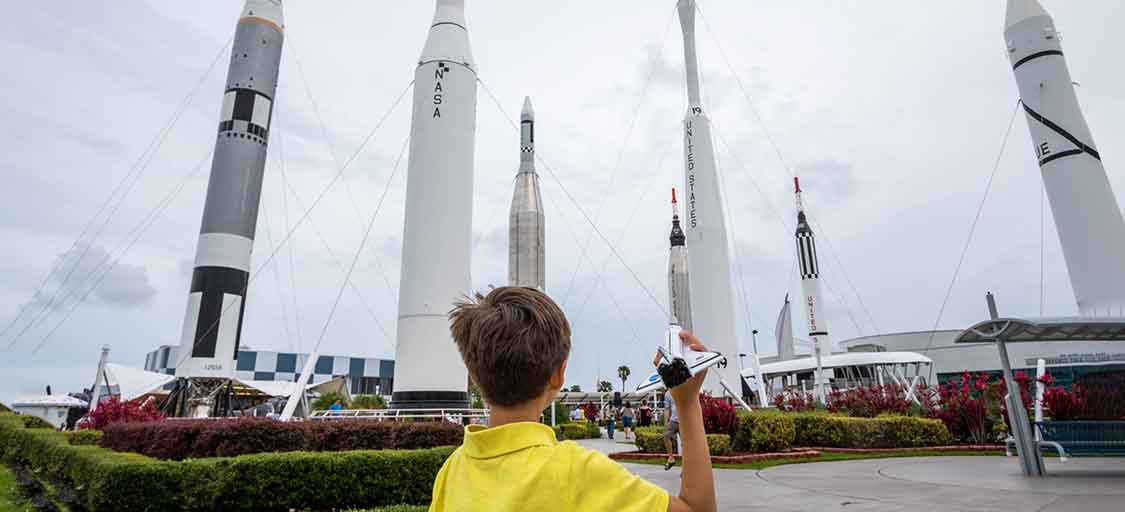 I'll let you in on a little secret about our family. We are a bunch of geeks. Travel isn't all that our family is passionate about. We LOVE science. So when we were exploring Kissimmee Florida, we wanted to make sure that we took the time to head to Florida's Space Coast to experience Kennedy Space Center.
Specifically, we wanted to discover what to do at the Kennedy Space Center for kids. So when we made the 60-minute drive from Orlando to Kennedy Space Center it was hard to contain the excitement.
We loved exploring the awesome Florida State Parks and some of the parks in Orlando, like Volcano Bay. But, the idea of being able to touch and explore some of the amazing artifacts from the US Space Program had us tingling. And although we had heard mixed reviews about visiting Kennedy Space Center with kids, we weren't going to let that deter us. And I'm glad we didn't. Because there were more things to do at the Kennedy Space Center for kids than we had even imagined. Here's how to make the most of it.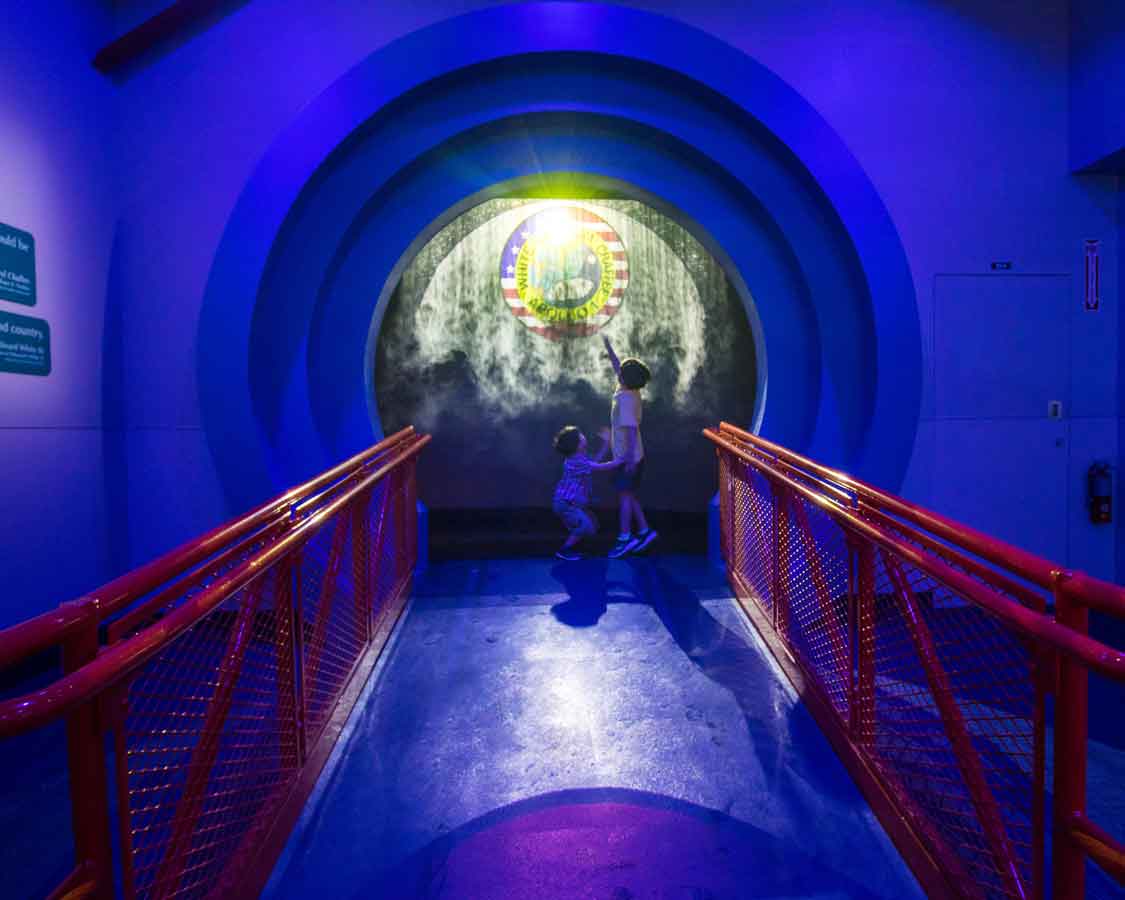 How To Plan Your Trip To Kennedy Space Center For Kids
Even if you aren't a family of science nerds like us, visiting Kennedy Space Center with kids is worth the time. The amount of incredible technology, innovation, and passion on display is enough to inspire anyone. And even if you have kids that aren't fans of museums, the displays are so well-created, interactive, and engaging that kids at the Kennedy Space Center be learning without even realizing it.
There are a lot of different experiences at the Kennedy Space Center. There is a constant flow of rotating exhibits, space launches, space camps, and much more to experience. Before you book your trip, I recommend that you check out their website and see what Kennedy Space Center activities fit your itinerary.
Before you make the trip out to Kennedy Space Center with kids, consider taking in some movies like Apollo 13 and Hidden Figures. It's a great way to spend some time learning about the history of US space travel. Of course, you can always have a look at our favorite travel movies too.
Where Is the Kennedy Space Center?
Kennedy Space Center is located in Titusville Florida on Merrit Island. It is part of Florida's Space Coast. This island on the Atlantic Coast near Cape Canaveral. It is about an hour from Orlando, and about two hours from the city of Tampa on the Gulf of Mexico coast. The complex is MASSIVE. And it has to be considering the incredible things that take place here. After all, this is where many of the space programs launch. And Kennedy Space Center is where many of the up-and-coming space development by companies like SpaceX and Boeing are taking place.
How Long Should You Set Aside For Kennedy Space Center?
There is a lot to do at the Kennedy Space Center for families. Visitors can arrive in the afternoon and still see some amazing attractions. But I recommend starting your day as early as possible. The Kennedy Space Center opens at 9 am. If you can time your arrival for then, you can maximize your visit. Trust me, you won't run out of things to do at Kennedy Space Center. With two IMAX theaters, dozens of rockets, meet-the-astronaut experiences, and even a playground, there's enough to keep any family busy.
Is There Food At Kennedy Space Center?
There are several cafes and restaurants at Kennedy Space Center so visitors won't go hungry. Visitors are also allowed to bring in a small soft-sided cooler. This means that you can save some money by bringing in drinks and snacks. I recommend bringing a reusable water bottle as well to avoid creating unnecessary plastic trash.
How To Get Your Kennedy Space Center Tickets
You can purchase your Kennedy Space Center tickets at the gate if you would like. However, it can get very busy. If you purchase your tickets online and print them, you can skip the line and go straight to the entrance. Special attractions and events also book up fast. If you wait till the last minute to book them, you may not be able to get in.
What To Do At Kennedy Space Center For Kids
Visiting Kennedy Space Center with kids is a big experience. There are many buildings, including some that you can only reach via a bus tour. A trip to KSC is a whole-day experience, but you will not be bored. In fact, we struggled to get our kids to leave. They wanted to go back for more. So to help parents plan your trip, I've laid out what to do at Kennedy Space Center for kids. I've also lined up approximately how much time you'll need for the major experiences. This way you can prep for your space center experience as best as possible.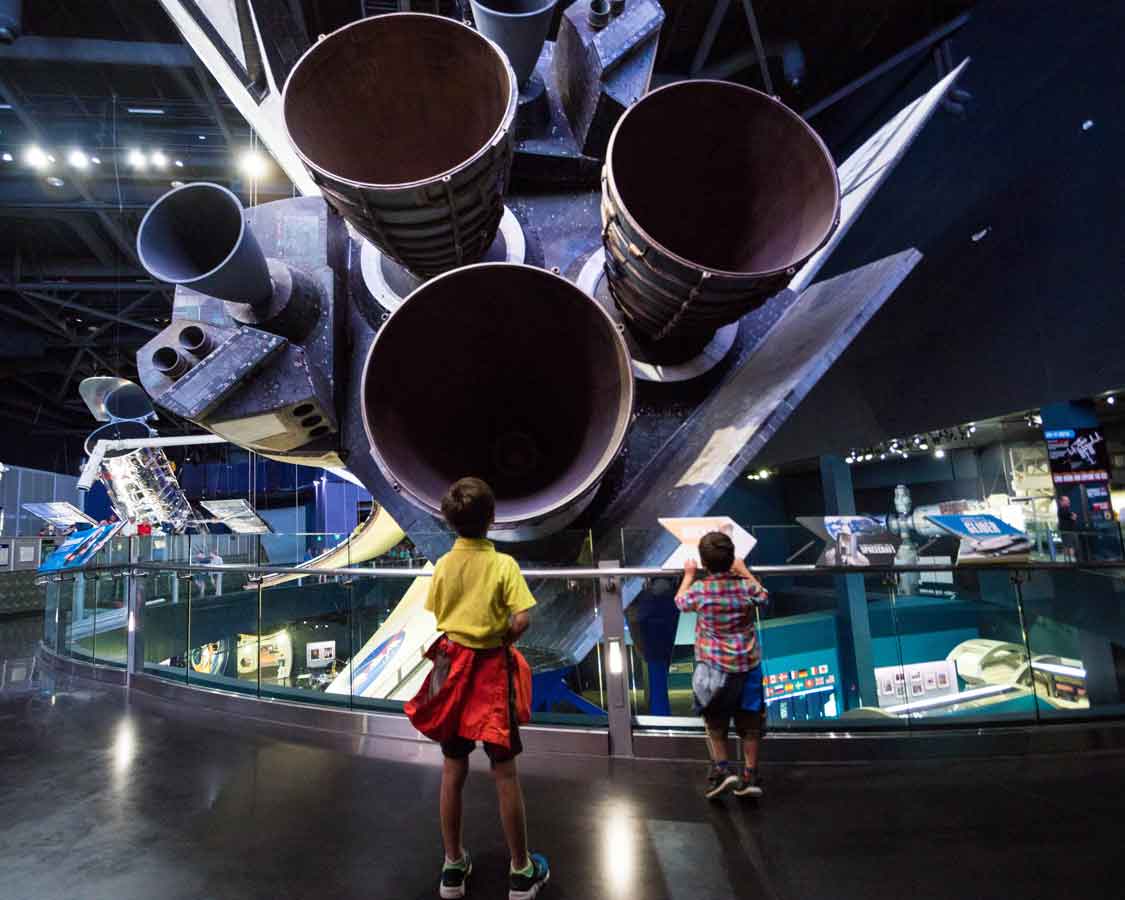 Kennedy Space Center Bus Tour
The Kennedy Space Center bus tour is included with your general admission ticket. The bus tour at Kennedy Space Center is about two hours long. The tour takes you across the sprawling complex and through some of the most iconic locations of the space center. Lucky visitors may even get a chance to see the Crawlers. These monstrous trucks that look like a moving building are used to transport space ships and heavy equipment throughout the complex. They zip along at a top speed of 1 MPH, so you can't miss them. Make sure you set the time aside for the bus tour. It's one of the greatest experiences for families at Kennedy Space Center. And it's the only way to get to the Saturn V Center.
Saturn V Center
The Saturn V Center is one of the experiences on the Kennedy Space Center bus tour. The bus drops you off here and you can wander around at your leisure before catching a bus back to the main complex. For those looking for what to do at Kennedy Space Center for kids, you won't want to miss this. This is where you can see the Saturn V rocket. The largest rocket ever to fly! It's hard to imagine this 363-feet long behemoth taking to the air.
Kids will love touching actual moon rocks, examining the Saturn Rocket, and even sitting in landing modules. It's easy to spend an hour to an hour and a half at the Saturn V center before boarding a bus back to the visitor center.
Space Shuttle Atlantis Exhibit
The Space Shuttle Atlantis Exhibit is another can't miss experience for those searching what to do at Kennedy Space Center for kids. You can't miss the building. There is a full-scale model of a Space Shuttle with two rocket boosters that create the entrance. At the start of the exhibit, you'll strap on some super-cool 3D glasses and sit through a video that shares the history of the Space Shuttle. When the movie ends you'll walk through a passage and there, in front of you, is the actual Space Shuttle Atlantis!
There is also a walk-through replica of the connectors of the International Space Station that kids can climb through. There are loads of other interactive exhibits you can explore. One thing that kids at Kennedy Space Center will love is the Shuttle Launch Experience. This fun experience takes you through the shuttle launch process from inside the ship. It moves, it shakes, it's loud, and it's super fun. But beware. There is a height minimum for this. Our little D, at 4-years-old, was not big enough to go on it. He was not pleased. The entire Space Shuttle Atlantis Exhibit could take upwards of two hours to walk through.
One of the funniest things in the entire Shape Shuttle Atlantis Exhibit is the "astronaut toilet" on display. I finally had to drag my kids away from this display because it turned into a competition of who can make the best astronaut poop face.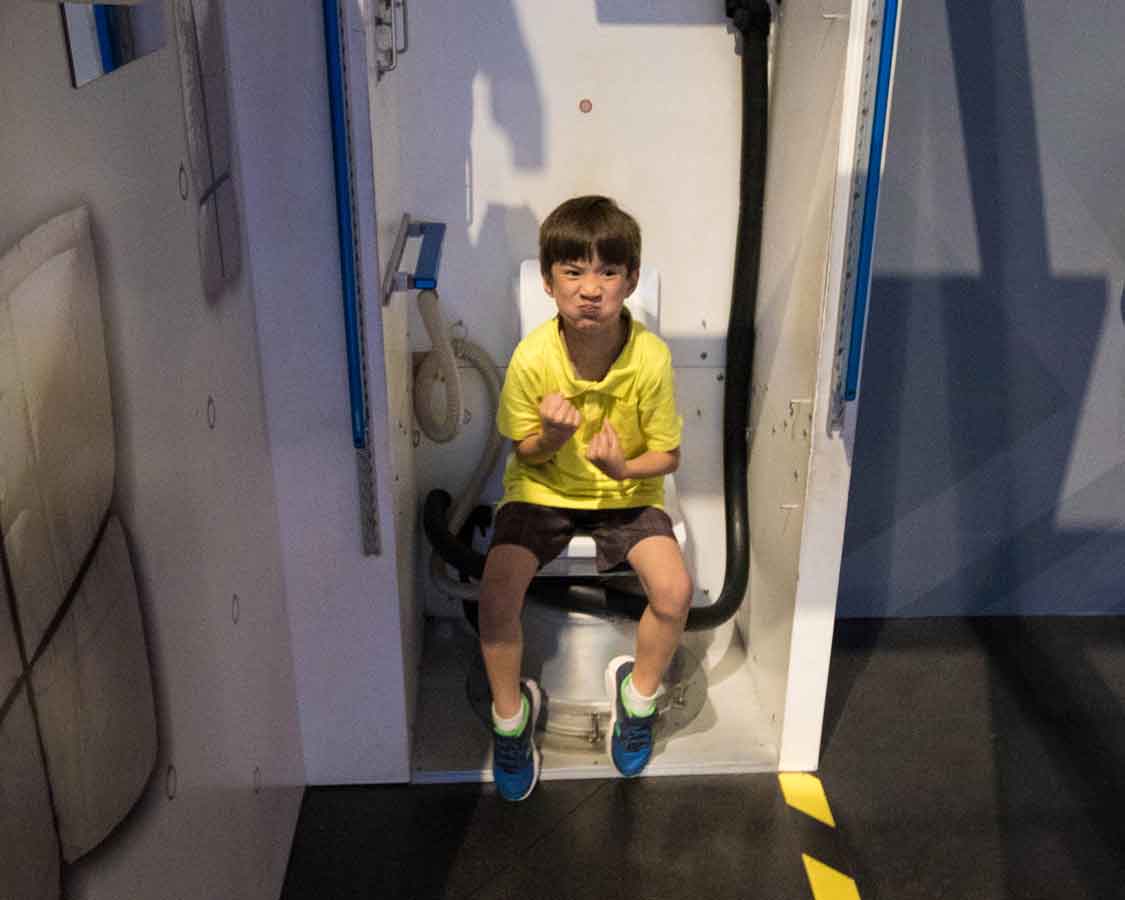 The Rocket Garden
The Kennedy Space Center Rocket Garden is one of the first things that you'll see when you enter the complex. And it's enough to take your breath away. Families will love running through the incredible collection of rockets. Kids can even climb through some of them, including the Mercury, Gemini, and Apollo rockets.
Children's Playdome
One of the greatest joys for those visiting Kennedy Space Center for kids is the Children's Playdome. Big kids can climb the multi-level climbing gym. Those at Kennedy Space Center with toddlers will appreciate the mini-playground.
Heroes and Legends
I'd be lying if I didn't say that this was my favorite part of the Kennedy Space Center exhibits. My kids enjoyed it, but seeing all of the memorabilia on display had me completely geeking out. Because my kids weren't around during the earlier days of space exploration and the launch of MIR and the ISS, they didn't quite "get it." But seeing actual astronaut space suits definitely excited them.
The memorial to the lost astronauts is incredibly touching. It's tastefully done and even my kids gained an understanding of the bravery and risk that goes into exploring frontiers such as space. The Heroes and Legends exhibit could take up to an hour to explore.
Journey To Mars
That's not all that families will love. Other Kennedy Space Center things to do include "Journey To Mars: Explorers Wanted" give kids a chance to get really hands-on with some fantastic exhibits. You can also catch various shows and presentations that showcase the future of space exploration.
Meet An Astronaut
One of the coolest experiences at Kennedy Space Center for kids is getting the chance to meet an astronaut. There are regular meet-and-greets with astronauts that occur. This astronaut encounter is included with the general admission to the KSC. If your kids are really into space, you may want to consider the Lunch with an Astronaut program. This experience comes at an additional charge, but it offers a more intimate environment and a gourmet lunch.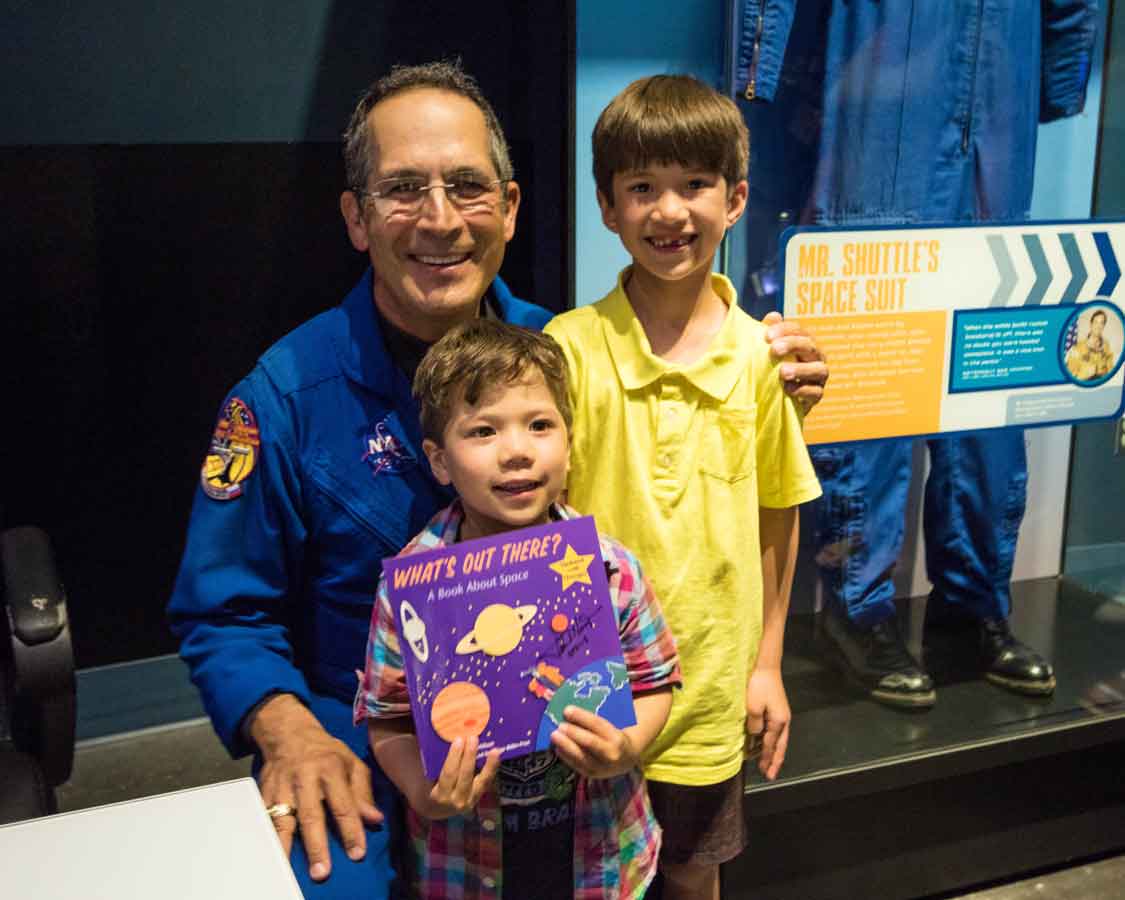 Tips For Kennedy Space Center For Families
Kennedy Space Center is HUGE. There's no getting around that a visit here can be overwhelming if you're not prepared. But the Kennedy Space Center is very well laid-out (not surprising considering a lot of Rocket Scientists go there!). So with these Kennedy Space Center tips you should be able to maximize your visit.
Book Early
Booking your Kennedy Space Center tickets early, and choosing your Kennedy Space Center extra's ahead of time is recommended. This way you can skip the ticket line. You'll also know when your paid activities are so you can plan your major attractions around them.
What If You Only Have Half A Day At Kennedy Space Center?
Many people visit Kennedy Space Center with kids and only have a few hours to spare. Rest assured, you can still experience amazing things to do at Kennedy Space Center in an afternoon. But you won't be able to see everything. The two biggest experiences are the bus tour and the Space Shuttle Atlantis exhibit. The bus tour alone takes about two hours, and combined with the Saturn V Rocket Center, can be done in about three hours. The Space Shuttle Atlantis exhibit could be rushed through in about an hour and a half. If you limit yourself to these major attractions and push your way through them quickly (you'll still have fun and be awe-inspired), you can do Kennedy Space Center in half-a-day.
Can You Visit Kennedy Space Center In The Rain?
It was raining off-and-on when we visited the Kennedy Space Center for kids. Make sure to bring a rain jacket and you'll be just fine. Most of the Kennedy Space Center activities are indoors. So the only time you'll be in the rain is walking between exhibits and wandering through the rocket garden.
What Are The Optional Activities At Kennedy Space Center
Kennedy Space Center has a number of great attractions and optional activities for those that want to explore even deeper into the world of science, technology, and space travel. If you're visiting Kennedy Space Center as a day trip from Orlando, consider staying at this Star Wars-themed Airbnb. It's a great way to complement your KSC experience. Here are some of the Kennedy Space Center optional activities to help plan your visit:
KSC Explore Tour
The Explore tour brings visitors deeper into the Kennedy Space Center. You'll get an up-close look at restricted areas such as launch pads, the Vehicle Assembly Plant, and the ability to take photos along the way. I recommend this tour for photographers, as taking photos from the bus can be a challenge. This tour would replace the included Kenndy Space Center bus tour and concludes at the Saturn V rocket center.
Cape Canaveral Early Space Tour
The Early Space Tour explores the origins of the US space program. This is a 3-hour tour that explores the Cape Canaveral launch sites across the Cape Canaveral Air Force base. It also includes a visit to the Air Force Space & Missle Museum. This tour concludes at the Saturn V rocket center.
Launch Director Tour of Space Shuttle Atlantis
This unique optional tour gives an exclusive tour of the Space Shuttle Atlantis led by NASA Launch Director Mike Leinbach. This is the person who gave the final "go" for the launch of 37 space shuttle missions.
Dine With An Astronaut
For those who want more than just a brief autograph session with a NASA astronaut, you may want to consider the "Dine with an Astronaut" option. Guests get a chef-prepared buffet meal and experience many of the traditions that have become a part of astronaut life. And you'll get to hear jit all from the mouth of a real astronaut. You'll also have a question-and-answer period and a photo session to capture the experience.
Cosmic Quest
You can't have a great kids program without having a game. Kennedy Space Center offers the Cosmic Quest badge. This interactive game goes through various NASA missions as you explore the Kennedy Space Center with kids. The game is designed for children 8-12, but could be played by those of all ages.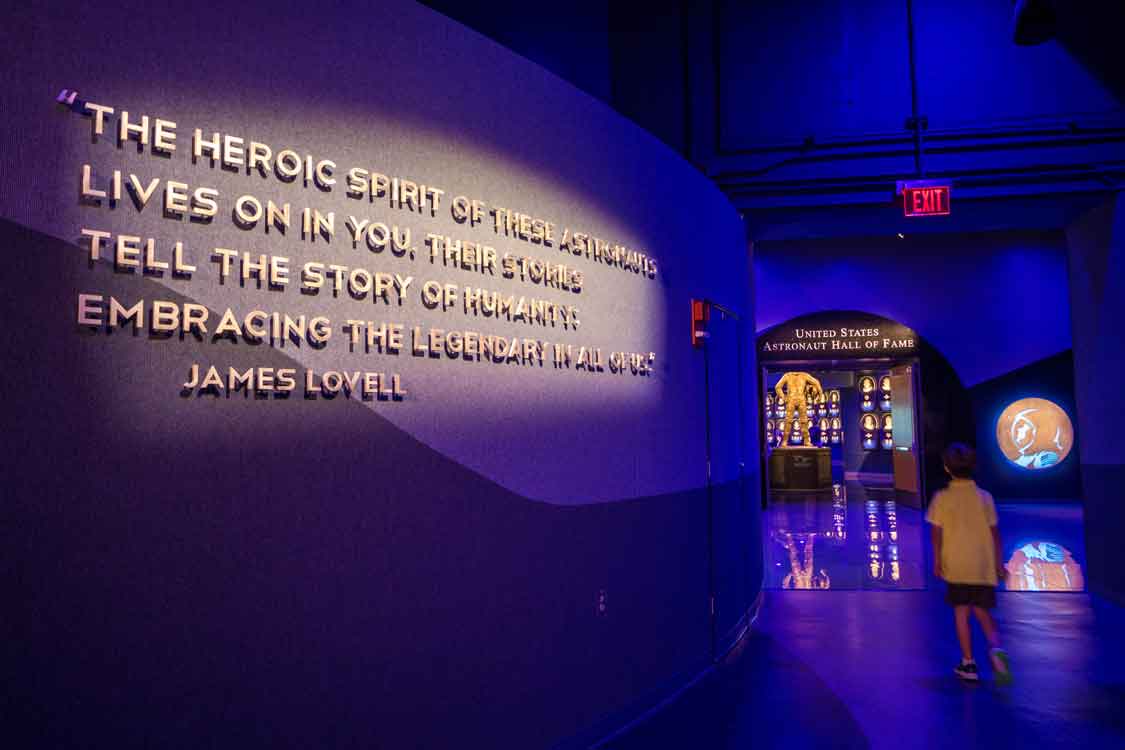 Do We Recommend Visiting Kennedy Space Center For Kids?
Visiting Kennedy Space Center with kids was one of the highlights of our trip to Kissimmee and I am so glad that we made the drive to experience it. If you couldn't tell from the article, YES, I highly recommend that families visiting the Orlando area visit Kennedy Space Center for kids. It's awesome. It's educational, and most importantly, it's inspiring.
Have you ever visited Kennedy Space Center with kids? Tell us about your experience in the comments. Or tag us in a photo on Twitter. We would love to share in your family travels.
DISCLOSURE: Our visit to Kennedy Space Center was done in partnership with Kennedy Space Center and Experience Kissimmee. All opinions remain our own. This post may contain compensated links. Any purchases made may earn us a small commission at no extra cost to you. For more information please read our disclaimer. Wandering Wagars is a participant in the Amazon Services LLC Associates Program, an affiliate advertising program designed to provide a means for sites to earn advertising fees by advertising and linking to amazon.com, amazon.co.uk, amazon.ca. Amazon and the Amazon logo are trademarks of Amazon.com, Inc. or its affiliates.
You May Also Like To Read: