Volcano Bay among the newest Orlando theme parks. This epic water park is filled with fun. Check out these Universal Studios Volcano Bay tips before you go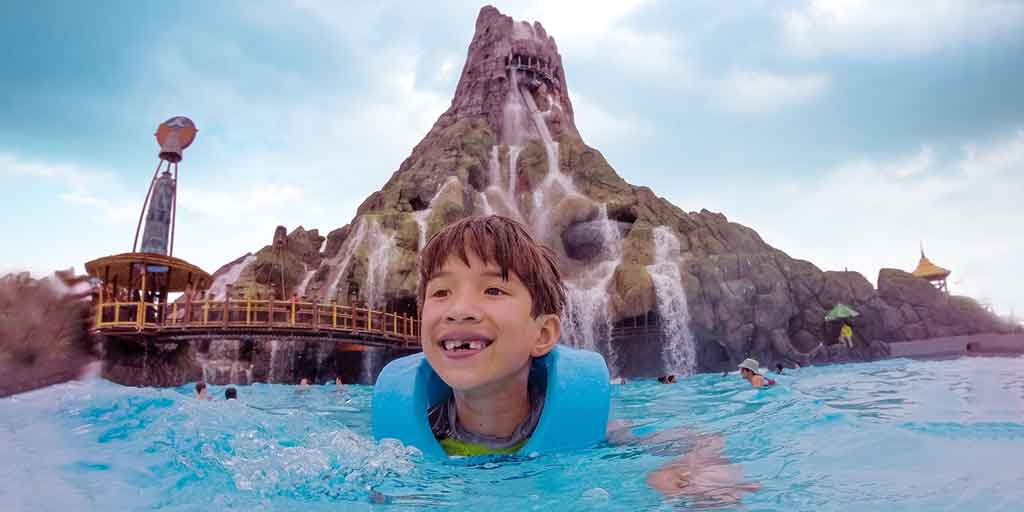 Florida is built for families. Nowhere is this more evident than cities like Orlando and Kissimmee, Florida where entertainment seems to live and breathe. But Florida can get hot. So when locals and visitors alike need to cool off, one of the places they head to is Universal Studios Volcano Bay. Before we made the trip to the park, we made sure to gather as many Universal Studios Volcano Bay tips from friends, family, and the travel community. We wanted to make sure that our visit to Volcano Bay Orlando was as amazing as it could be.
To be honest, I don't know who was more excited about our family trip to Volcano Bay, myself or our two boys. I LOVE waterparks. There's something about the cool air on a hot day that takes me to my happy place. Maybe it reminds me of swimming under waterfalls in Hawaii. Or maybe it's just all the laughing and smiling and splashing that brings out my smiles. But whatever it is, I was stoked to be heading to Volcano Bay with kids.
But gathering tips for Volcano Bay was crucial. Theme Parks can be a nightmare of logistics. Especially when you're traveling with kids. Can you bring food to Volcano Bay? Where can you get changed? How do you plan for your trip? Are there any extras that you should plan for? Well, we came, we saw, and we conquered Volcano Bay with expert precision. And I'm here to share all of these Universal Studios Volcano Bay tips with you so that your trip is as fun as ours.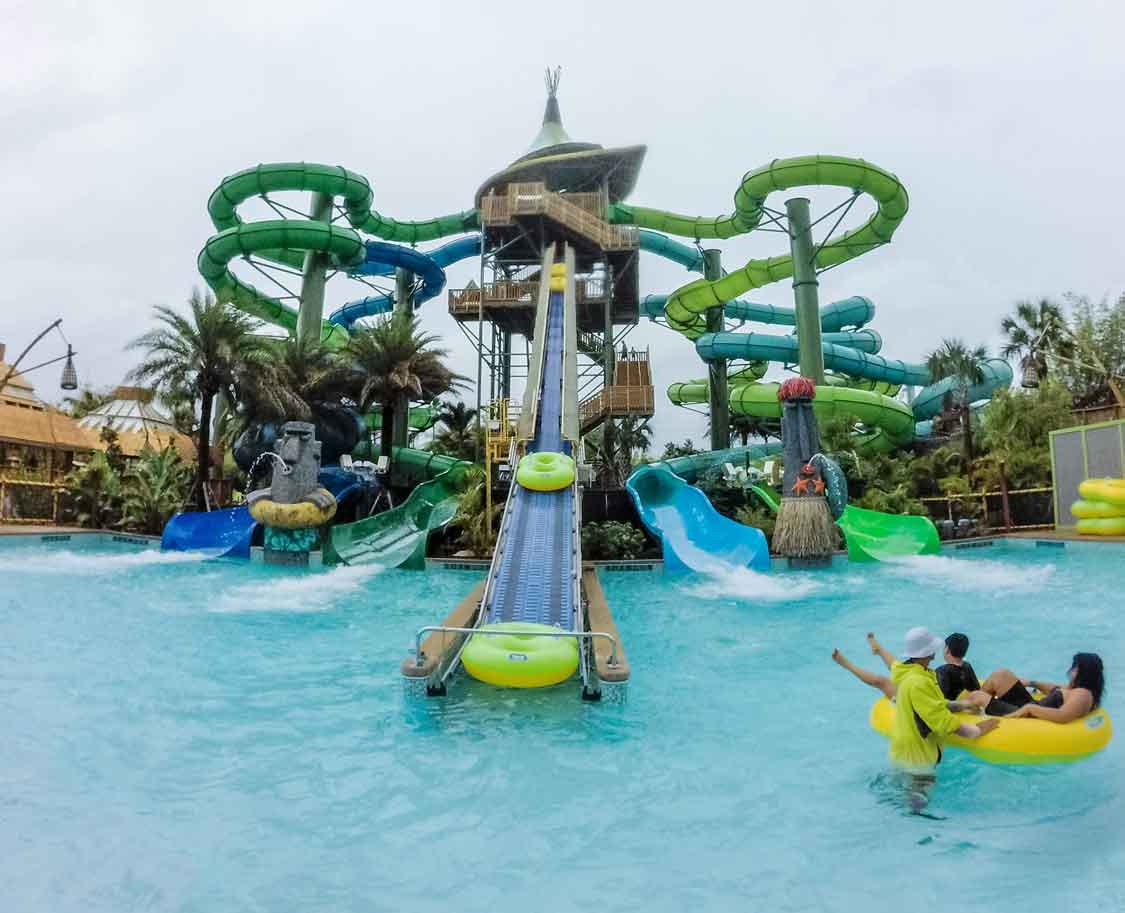 The TapuTapu Wristband: What You Need To Know
The TapuTapu wristband is your key to getting around the park. Unlike destinations like Busch Gardens in Tampa, everything is controlled by this little gadget. So our Volcano Bay tips wouldn't be complete without getting this out of the way. You will receive your TapuTapu when you pick up your tickets. The TapuTapu is a wearable watch-style wristband that is connected to your ticket. You can link the Tapu Tapu to your Universal App and add your credit card details to pay for items with just a swipe of the wristband.
Setting up the TapuTapu is quite easy, the entire process took us about 5-minutes. After that, I didn't even have to think about it. You can even set dollar limits on the wristbands. These values can be assigned to each TapuTapu. So kids can be given a certain amount to spend. The payment is accessed via a short pin code that you enter during the setup process.
Your TapuTapu is used for pretty much every transaction within Universal Studios Volcano Bay. You use it to book and access your locker, pay for your food, and reserve your spot for rides that have long lines. This is done by scanning your TapuTapu at the entrance to the ride. From here you are given an option of 30, 90, and 100-minutes. Your TapuTapu counts down your time and lets you know when it's your time to ride. When your Tapu Tapu says "Ride Now", head to the line. This offers a much shorter (usually 15-20 minutes) wait time rather than standing in line for much longer. Once your "Ride Now" appears, you don't need to rush over. Your ride doesn't expire, so you can finish whatever ride you're on first.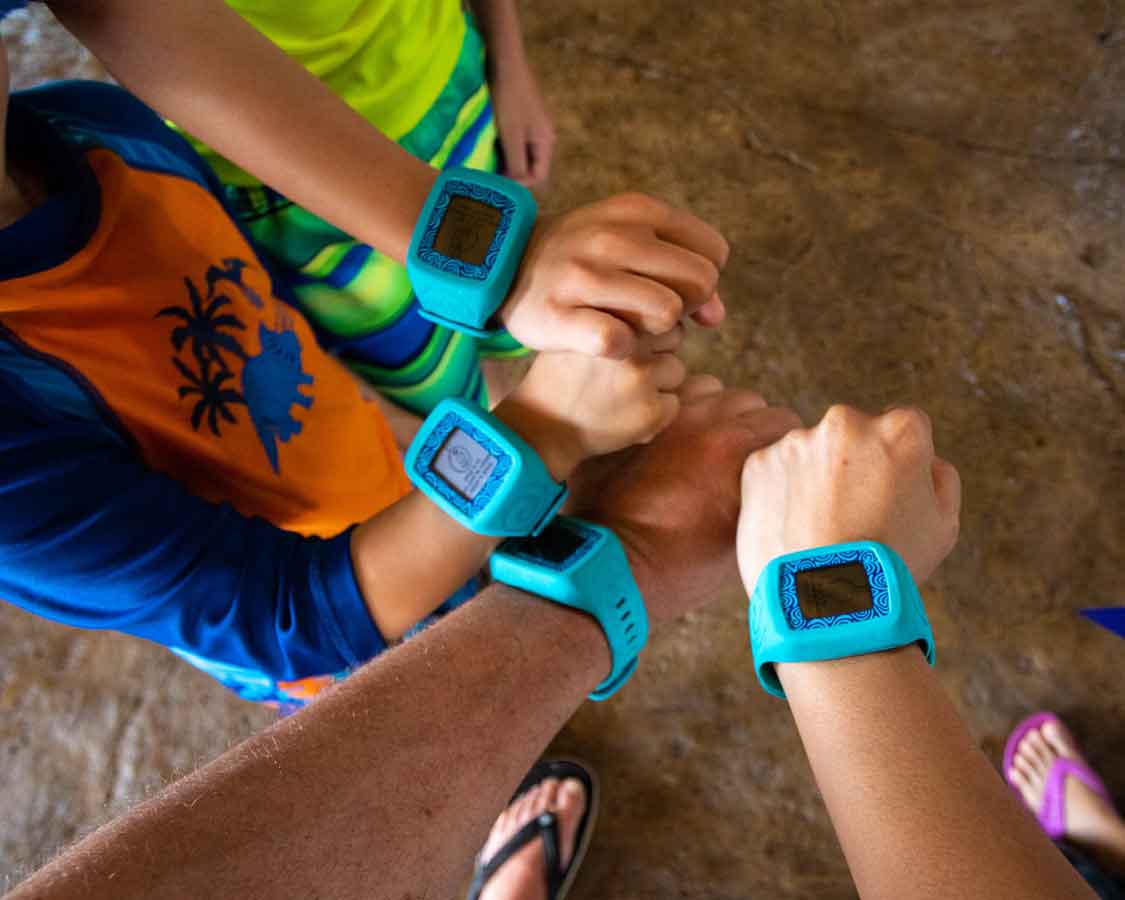 Universal Studios Volcano Bay Tips That Will Keep You Sane
Volcano Bay is a big park. Getting around and understanding how to plan your trip to Volcano Bay takes a bit of pre-planning. These Volcano Bay tips should help you understand how to get around Volcano Bay and what to do once you get there.
Volcano Bay Hotels
Families looking to maximize their Universal Studios Volcano Bay experience may want to consider staying at one of the Universal Orlando Resort hotels. There are two Universal hotels close to Volcano Bay. These are Universal's Cabana Bay Beach Resort and Universal's Aventura Hotel. These hotels offer free shuttle service to Volcano Bay. Cabana Bay has some rooms overlooking the park. And those visiting Volcano Bay with kids will love that there are some two-bedroom, two-bathroom suites available.
Guests at Universal hotels and resorts get access to early admission to Volcano Bay. This means that you can arrive at the park one hour before the gates are opened to the general public. You may also receive access to Universal Express Unlimited Passes for the Islands of Adventure and Universal Studios Florida parks.
If you don't want to stay right in the parks, you can also stay at one of the awesome Orlando or Kissimmee vacation homes. These are often great options for families, multigenerational travel, or large groups. You can save money by having an on-site kitchen, and many of these places can house groups of 10-20 comfortably. You can even opt for something funky by staying at this Star Wars-themed Airbnb in Orlando!
Universal Studios Volcano Bay Tickets
Most visitors to Universal Studios Volcano Bay will purchase their tickets online prior to going to the park. Tickets can be ordered through various providers. Companies like Undercover Tourist and aRes Travel offer package deals where tickets can be booked for significant savings when paired with a hotel stay or a multi-day and/or multi-park pass.
If you are purchasing your tickets directly at Volcano Bay, head to the ticket booth. Any pre-purchased tickets are available at the Will Call booth. This is also where you will get your TapuTapu wristband.
Universal Volcano Bay Parking & Transportation
Parking, the bane of many a theme park visit. Guests who aren't staying in one of the official Universal Studios hotels will likely be arriving by car. Parking for Volcano Bay is located at Universal CityWalk. The parking comes at a cost. There is an included shuttle that will bring you directly to the Volcano Bay entrance. The address for Volcano Bay parking is:
6000 Universal Boulevard
Orlando, FL 32819
Of course, if you punch this into your GPS, it might take you to the wrong place. It did for us. So to help you out, here are the directions to Volcano Bay Orlando. When you get close, look for the signs for Volcano Bay/Cabana Bay. Follow the signs for Volcano Bay, make sure to ignore the map on your GPS.
Parking is in a multi-story complex. There is a professional team there that can help you find a spot. They do an excellent job sorting cars, trucks, and RVs into the best spots available. Remember to take a photo of your car so you remember where you parked.
What Are The Food Options At Volcano Bay?
You are allowed to bring your own pre-packaged food into Volcano Bay. Non-pre-packaged food is allowed in the case of allergies. You can also bring in plastic water bottles. I recommend bringing a reusable water bottle to avoid creating more plastic trash. You can also bring refillable cups from other Universal Orlando parks. We brought snacks with us to the park and stored it in a small backpack which we kept in a rented locker.
You cannot bring alcohol, non-pre packaged food, or glass containers. You are also not allowed to bring a cooler to Volcano Bay. The sole exception is for those with a food allergy. If you have a food allergy you can bring a small, soft-side cooler.
There are also plenty of food options that fit all tastes. There are Mexican, American, ice cream, and just about everything under the sun to fit all tastes. And the payment system is great. Just tap your TapuTapu band and wait for your food. There's no need to carry cash with you. If the parents are looking for a drink, check out the Dancing Dragons Boat Bar. They serve a few different beers and cocktails. And it has a great view overlooking the volcano.
For kids, the Koka Poroka Ice Cream Kona is a must. They offer a number of flavors, but the most colorful is the Waturi Fusion. It's a mix of banana, blue raspberry, orange, and strawberry. This treat is as fun to look at as it is to eat.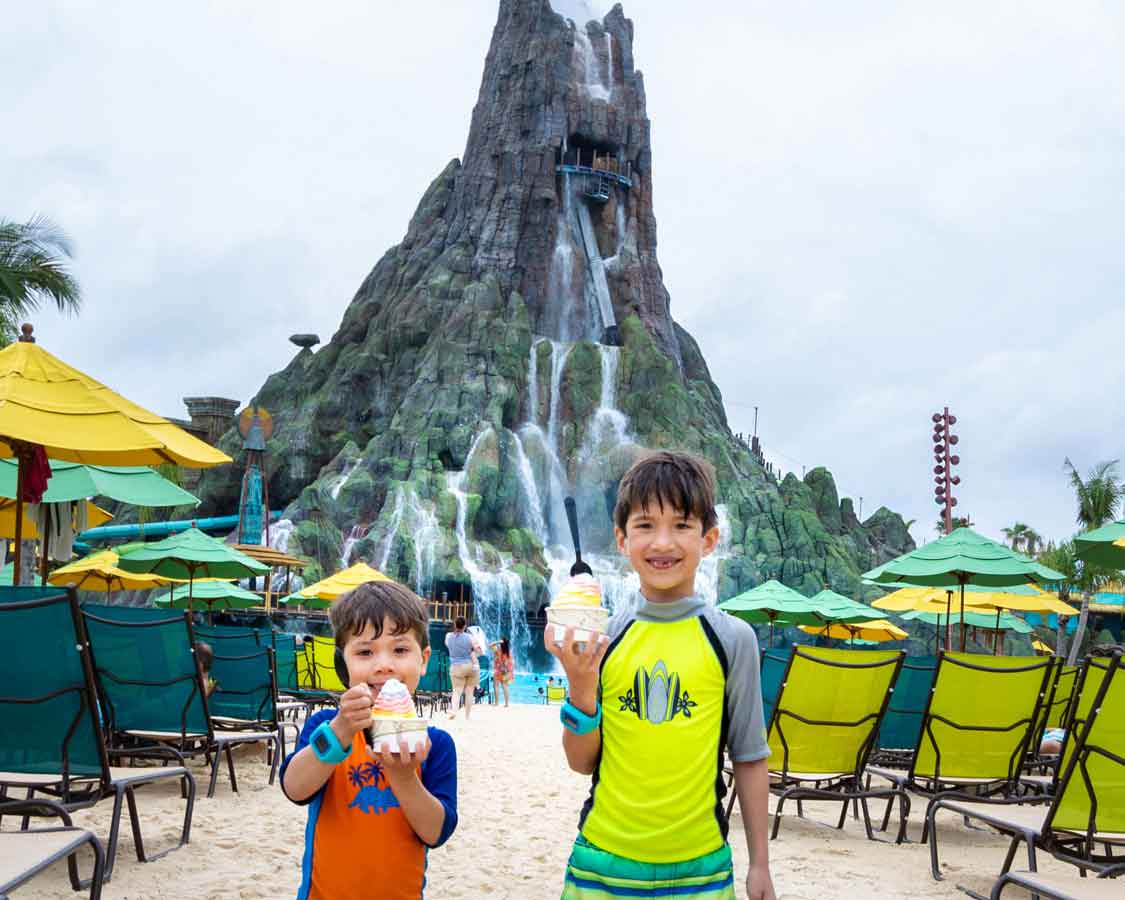 What Is The Best Time To Visit Volcano Bay?
Like pretty much every theme park, Volcano Bay suffers from over-crowding. If you visit the park at high-traffic times there can be an hour-long wait for some of the most popular Volcano Bay rides. Try to time your visit outside of weekends, and especially school holidays like Christmas and spring break.
If you can time your visit to the off-season you will likely not have to wait nearly as long. But if you want to make the most of your Volcano Bay experience, time your visit on a warm day with light rain in the forecast. We visited on a weekday when there was light rain in the morning. We didn't wait in line for a single ride all day. It was actually pretty awesome. And to be fair, you're getting wet anyway, so a little rain won't hurt you. Lightning is a different thing altogether. If there is lightning near the park, the rides will be shut down.
Where To Put Your Stuff At Volcano Bay
There are basically two options for what to do with your stuff at Volcano Bay. Get a locker, or find a place to store it. Personally, I think the lockers at Volcano Bay are a great option. You can rent them for the day and then access them whenever you need them. You can book your locker directly on your TapuTapu simply by tapping it. If you're juggling towels, food, water bottles, and cameras, this is definitely the way to go.
For those who don't want to get a locker, I don't recommend taking anything valuable beyond towels and maybe a small drawstring backpack with you. If you arrive early you can likely claim a spot within the park and set up camp for the day. This method is riskier, and I don't recommend it if you have cameras or anything expensive with you. But, if you just have some snacks, water bottles, and towels, you'll likely be fine.
Easter Eggs At Volcano Bay
There are loads of super fun easter eggs hidden around Volcano Bay. Your TapuTapu wristband is key to these. Look for the easter eggs hidden around the park as they house small transmitters that cause fun things to happen. Some will let you spray people in the lazy river, others spark cool light displays within the Volcano. There are dozens of these little treats around the park, and they make just walking around Volcano Bay a treat for all ages.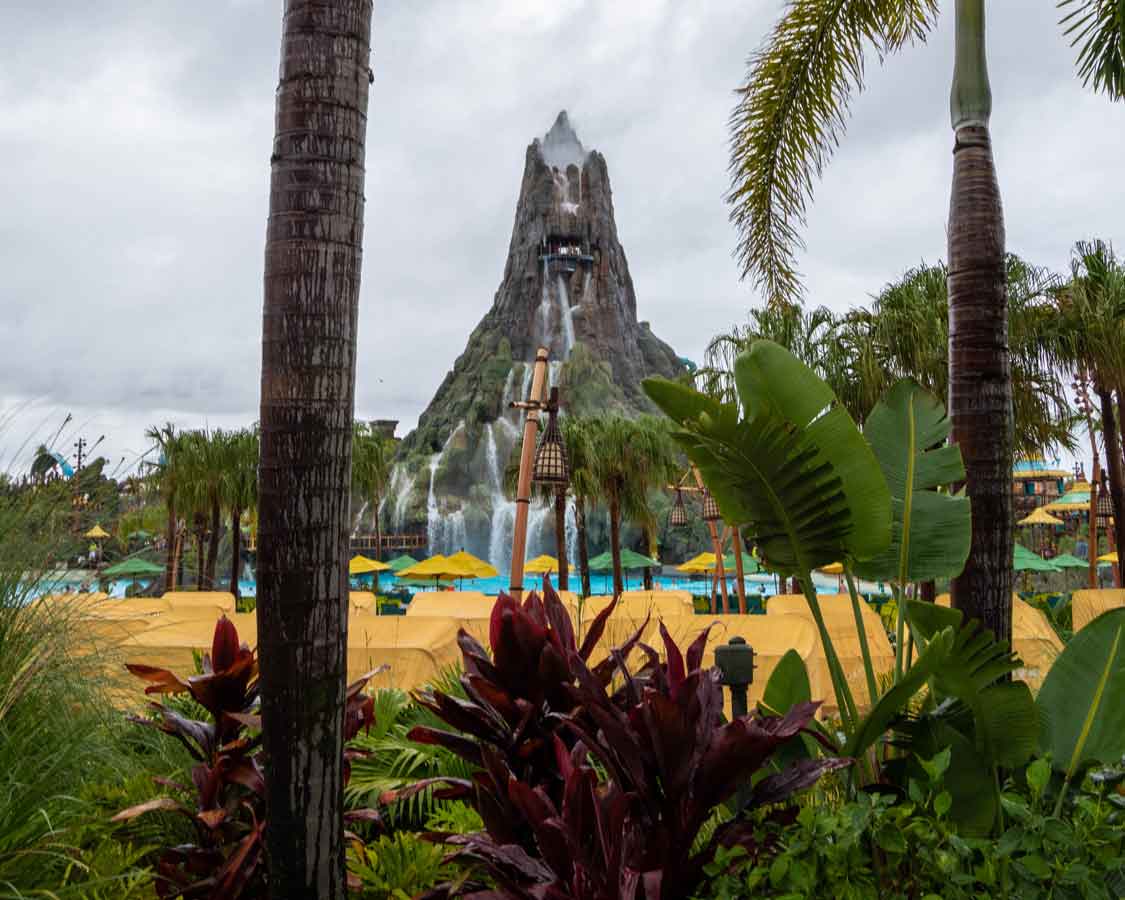 What To Bring To Volcano Bay
Because you'll have your TapuTapu wristband with you, there is no need to carry a wallet or purse with you. All of your money is conveniently available with a tap of your wrist. But to help make your days as pleasant (and inexpensive) as possible, here are a few things to bring to Volcano Bay
Towels
You can rent towels at Volcano Bay, but there is a cost to this. If you want to save a few dollars, you can bring your own. If you are staying at one of the Universal Hotels, you are not allowed to bring the hotel towels to the Orlando waterpark.
Snacks And Drinks
If you bring a small backpack or beach bag with you, you can bring your own pre-packaged snacks into Volcano Bay. This can save some money by reducing how much you need to buy at the concession stands. Especially if you are spending the whole day at Volcano Bay. Also, bring reusable water bottles. Spending the day in the hot sun and chlorinated water requires a lot of hydration.
Sunscreen
No tips for Volcano Bay can stop the fact that you'll be outside all day with very little clothing on. Lather up with sunscreen when you get there. And make sure to re-apply several times during the day. I highly recommend using reef-safe sunscreen for all of your sunscreen needs. This helps limit the number of pollutants that make it back into the oceans. You can also wear a rashguard.
Flip Flops
You'll be in and out of the water almost constantly as you explore Volcano Bay. Bring a pair of flip flops that will keep your feet protected as you walk around, but can easily be slipped off when it's time to go in the water.
Waterproof Phone Case
If you're like me and you don't believe that it's a trip unless you have the photos to prove it, consider packing a waterproof case for your phone. That way you can take photos and shoot video all day without worrying about destroying your expensive phone. But make sure to test your waterproof phone case first. Christina didn't and that didn't go well for her.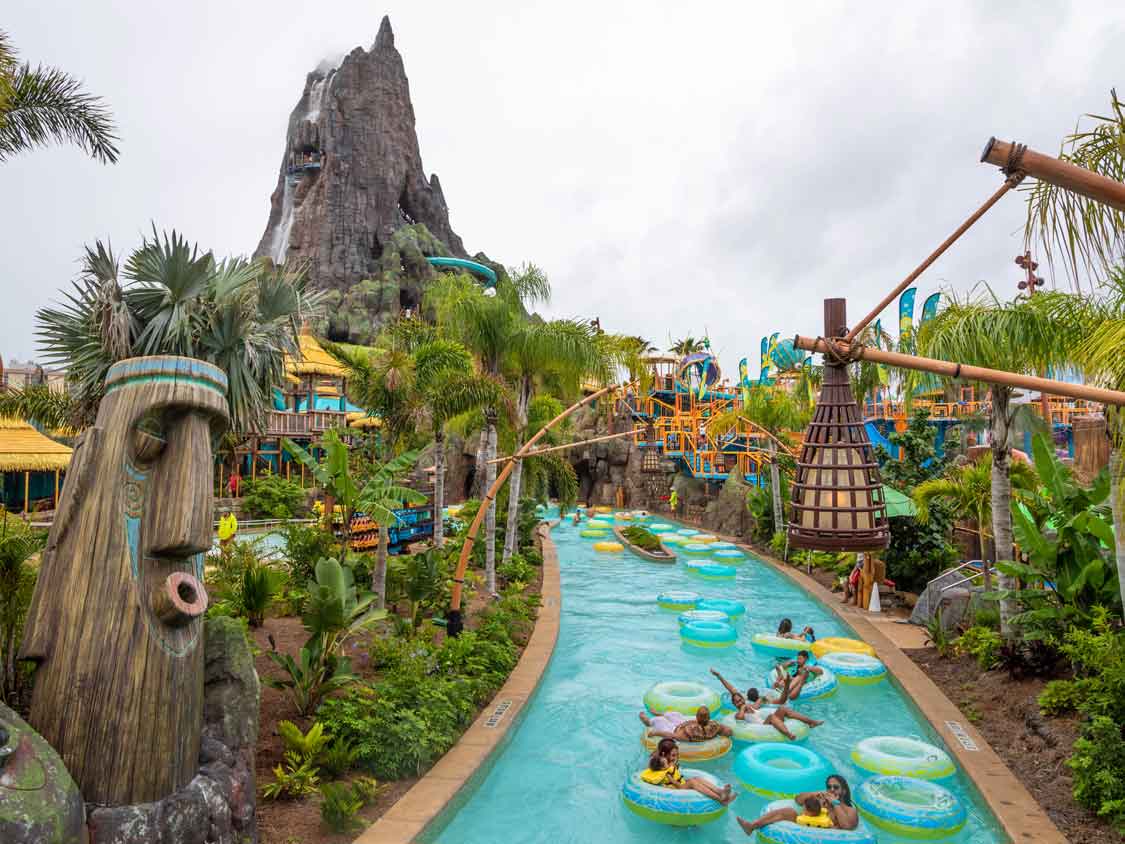 Plan Your Rides At Volcano Bay
We know it's not all about Volcano Bay tips. After all, this place is all about the water rides. So here are a few tips for Volcano Bay rides. The Universal Orland Resort app will help you to understand the layout of Volcano Bay. Pick your most important rides and decide if your family will be staying together or splitting up.
Certain rides are more popular than others. And thus have longer lines. Use your TapuTapu to secure your spot so that your wait times are shorter. It's not rare for popular rides, such as the Krakatau Water Coaster to have a multi-hour wait time. Praise the virtual lines of the TapuTapu!
Ohyah & Ohno Drop Slide
You can't miss this huge Volcano Bay slide near the entrance to the park. You can choose one of two slides that twist and turn their way towards the pool. The Ohyah slide drops riders out 4 feet above the pool. The Ohno is a bit more extreme with a 6-foot drop into the water. The Ohyah and Ohno Drop Slide accepts the Universal Express Pass.
Krakatau Aqua Coaster
Krakatau is the most popular of the rides at Volcano Bay. You board a four-person canoe for a wild ride of twists and turns through the volcano. You finally get launched through a waterfall to finish your Krakatau ride. The Krakatau Aqua Coaster accepts the Universal Express Pass.
Maku Puihi Round Raft Rides
This 6-person Volcano Bay raft ride is a wet and wild fun-zone. As we entered the lava tube at the entrance I was brought back to our Hawaii Volcano adventures. Prepare to get dizzy because Maku Puihi will spin wildly as your blasted by geysers. Finally, you'll splash into the pool at the bottom. Maku Puihi accepts the Universal Express Pass.
Honu ika Moana
This is another of the Volcano Bay rides where you'll have two slides to choose from. Ika Moana will have you rushing on a five-person raft through massive swells on the walls. The more extreme Honu slide uses a four-passenger raft and starts another level higher. Even better, you don't have to carry your rafts up. They are carted up using a motorized system. The Honu ika Moana ride accepts the Universal Express Pass.
The Fearless River
Lazy rivers are awesome. And the Universal Studios Volcano Bay lazy river is probably the best I've ever been on. The water is quick moving with zippy rapids and includes a ride through a volcano lava tube. It's lazy enough that even young kids can enjoy the ride. But it's exciting enough that those looking for a little thrill won't be bored. And it's long enough that you aren't just seeing the same things over and over again. We rode the Fearless River more times than I can count and loved it each time.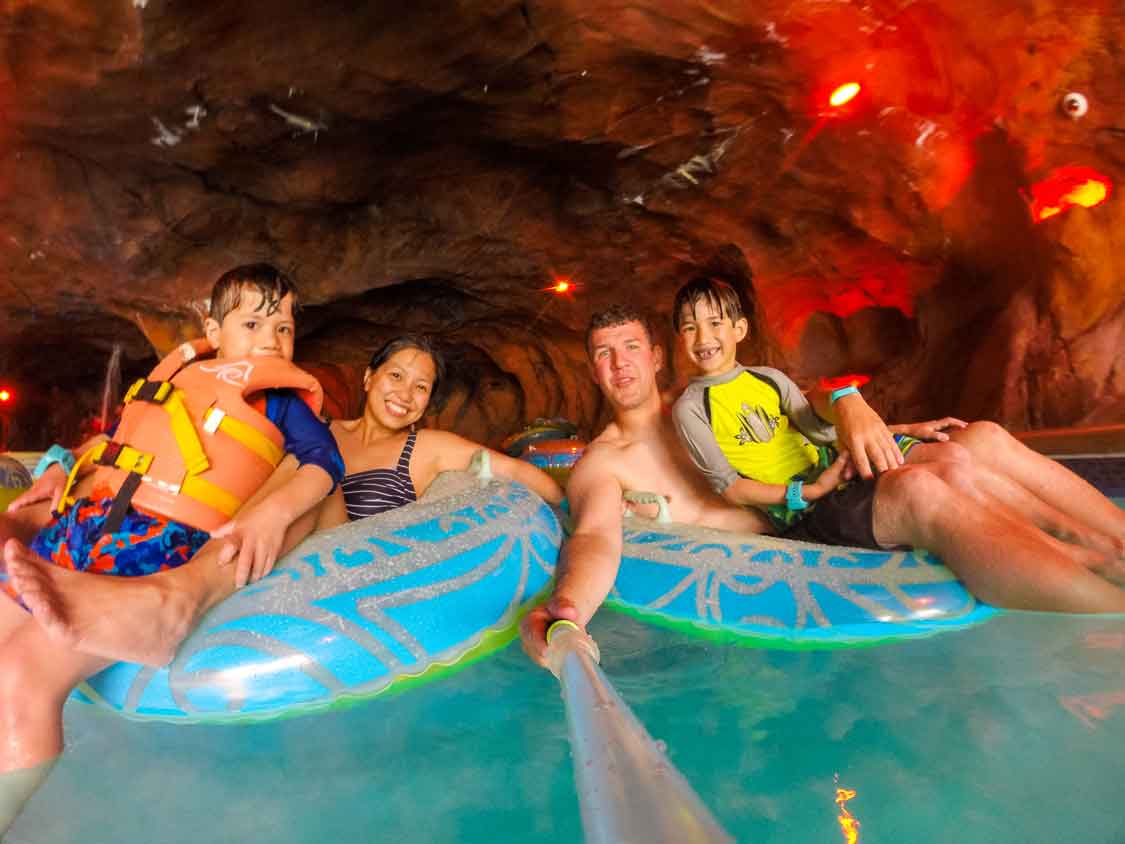 Visiting Volcano Bay With Toddlers And Young Children
For those visiting Volcano Bay with toddlers and young children, rest assured that your family won't be bored or left out. There is a beach at the base of the volcano pool. You can even bring sand toys and set up camp here for the day. Taniwha Tubes is a fun tube ride that even young children can enjoy without being overwhelmed. The Fearless River is good if tots are with a parent (they'll need to wear a life jacket). But the Kopiko Wai Winding River more focused on small children. It's shallower, slower-moving, and less busy.
One area where those visiting Volcano Bay with young children will spend time is at Tot Tiki Reef and Runamukka Reef. These water playgrounds feature their own mini-volcanos, small slides, loads of climbing areas and more. Parents will love that there is only one way in and out, so if you lose track of your little one, they can't get too far.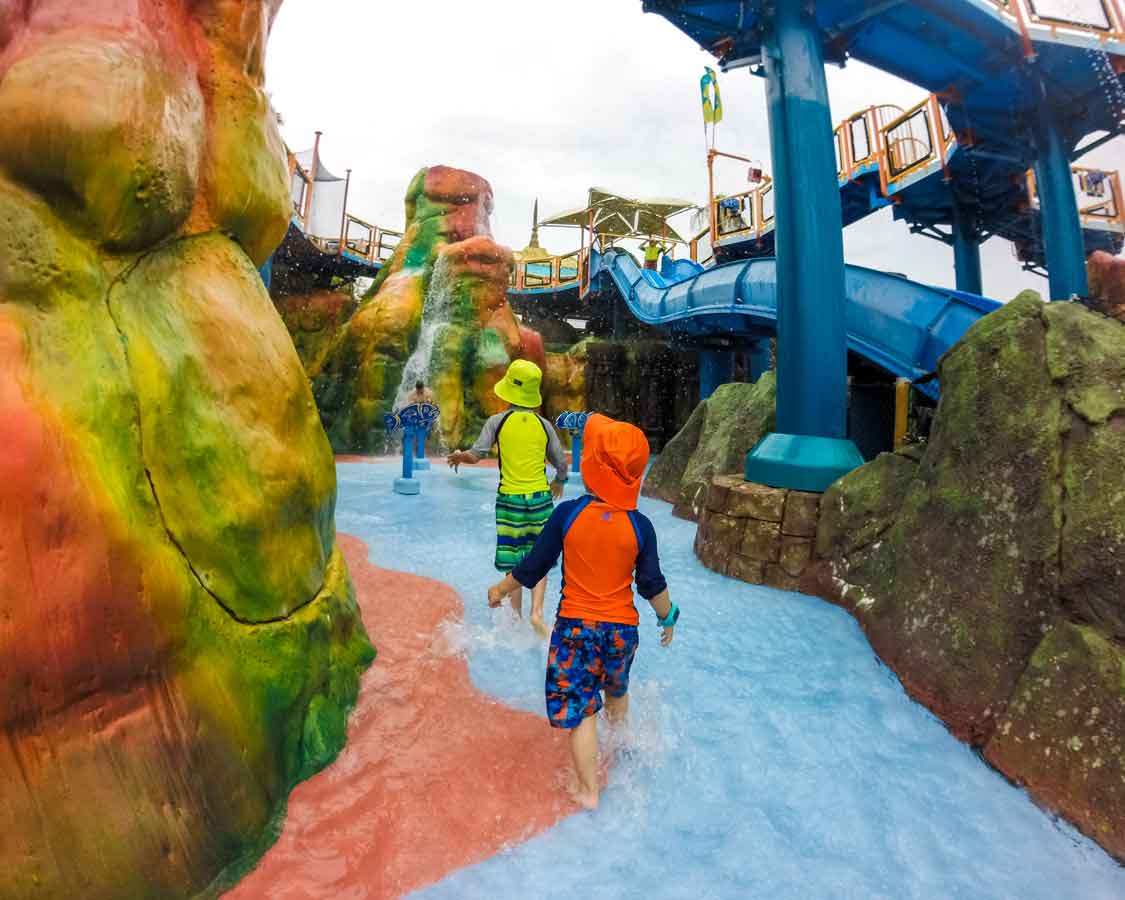 DISCLOSURE: Our visit to Volcano Bay was in partnership with Universal Studios and Experience Kissimmee. All opinions remain our own. This post may contain compensated links. Any purchases made may earn us a small commission at no extra cost to you. For more information please read our disclaimer. Wandering Wagars is a participant in the Amazon Services LLC Associates Program, an affiliate advertising program designed to provide a means for sites to earn advertising fees by advertising and linking to amazon.com, amazon.co.uk, amazon.ca. Amazon and the Amazon logo are trademarks of Amazon.com, Inc. or its affiliates.
You May Also Like To Read: