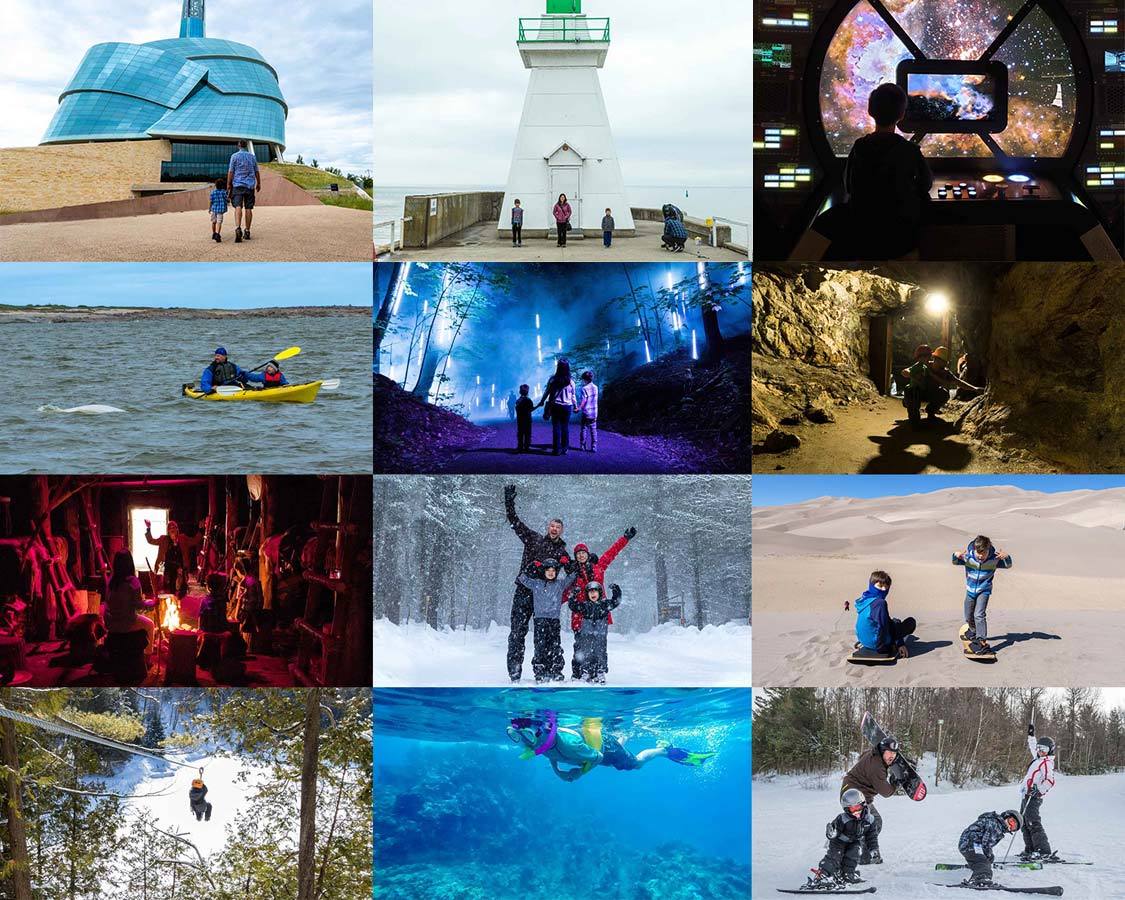 It seems that every year our travels get more epic. New countries, incredible family adventure vacations. New experiences are always on the horizon. Our year in travel 2019 was a little different. Yes, we got up to some absolutely incredible adventures. But for the first time since our kids were born, we didn't visit a new country. That's not to say that we didn't get up to anything new. We knocked off my 10th Canadian Province and ("technically") my 3rd Canadian Territory. We visited three new Hawaiian Islands. And we embarked on an epic road trip during our first visit to Colorado.
Our Family In 2019
2019 was a year of massive growth and change for us as well. C began 3rd grade, and D started grade school in Grade 1 French Immersion. They are both doing very well, although the struggle of taking them out of school to travel has certainly weighed on us at times. Both boys have continued to love their travel experiences. They have learned so much from every trip that we take. And they come home excited to show their peers what they learned on their family travel adventures.
I had the adventure of coaching both their hockey teams through the 2018-2019 season. It was so much fun being a part of their growth and excitement. And as they continue to play and love the game, I've loved gaining the mantra of "Coach Kevin" from the kids on the team, even as I'm away from coaching in the 2019-2020 season.
Christina has continued to excel in her career. Luckily this has not stood in the way of her epic trip-planning passion. Even when we aren't jet setting across the world with kids, we are in a constant sense of awareness that a travel plan could be dropped on us at any second. She is a travel ninja and we must keep constant vigilance.
The Wandering Wagars Blog
One area that absolutely blew our minds was just how much growth our little family travel blog has seen over the past year. From January to July our number of readers exploded from 20,000 per month to over 100,000 per month. And it's still growing! It's caused a shift in the way that I approach the website. And in May I decided that I would take this passion for family travel and turn it into a full-time career. Since then I am proud to say that I've been a full-time travel writer and photographer!
In 2020 our family is going to continue to bring incredible family travel adventures to your screens. We have some incredible trips planned that I'll tell you about later on. I'm also going to be sharing my writing and photography on other outlets as well. I'll make sure to share them on my Facebook page as they come out.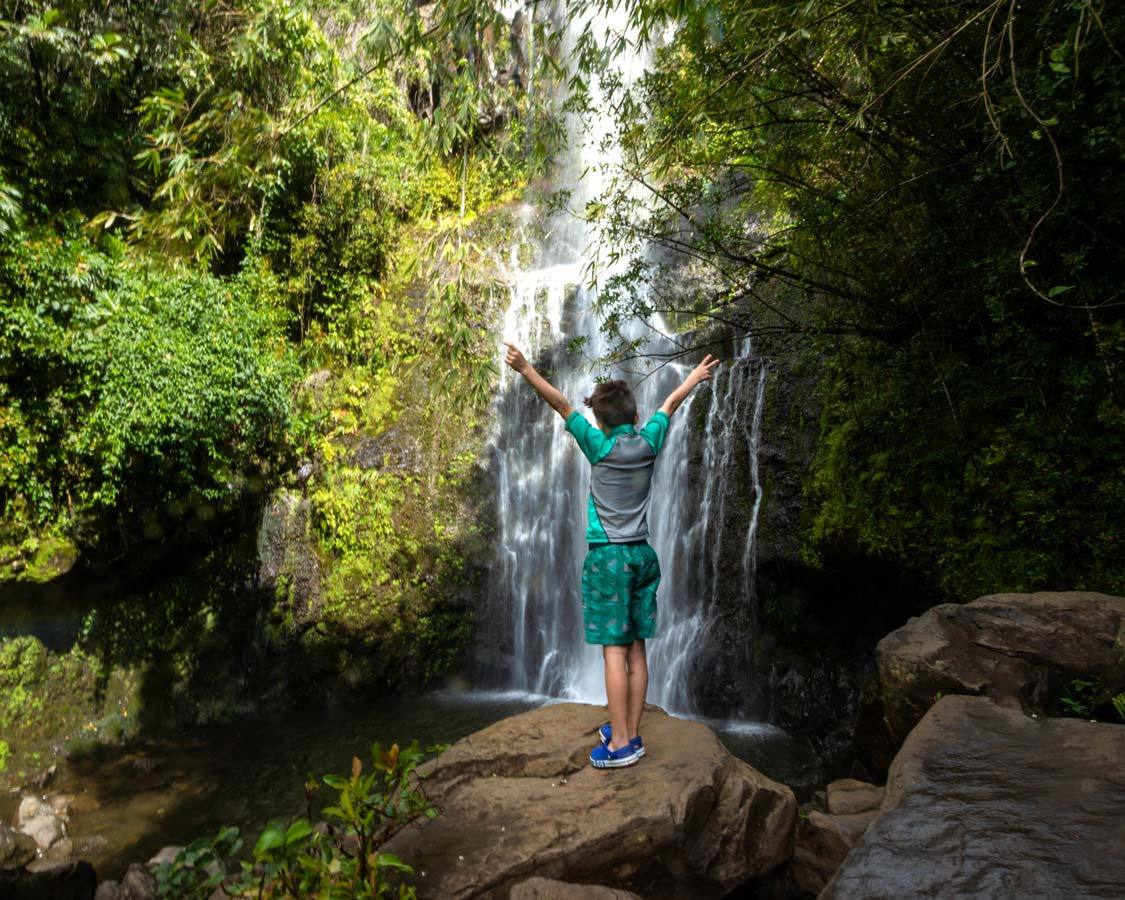 Our Travels In 2019
We may not have visited a new country in 2019. But there was no lack of amazing travel during the year. We had some of the most memorable, special, and exciting experiences. We ticked off a MAJOR item on our wildlife bucket list. And the end of the year brought a trip that truly took me out of my comfort zone.
February
Our 2019 year in travel got off to a slow start. We had just returned from our Finland travels in December 2018 and decided to get 2019 off to a slow start with some much-needed relaxation. But once February hit, our travel year was off to the races.
Skating The Ice Trail At Arrowhead Provincial Park Ontario
Our first 2019 travel experience was in partnership with our friends at Ontario Parks. They asked us to come up to Arrowhead Provincial Park and check out the winter activities on hand there. We spent three days of winter in one of their cozy cabins. Our days were spent skating the beautiful ice trail, cross-country skiing, and warming up in their brand-new visitor center/ski rental lodge. This was a pretty awesome way to start off our 2019 travel year. Arrowhead is one of our favorite parks and is just a 2-hour drive from our home outside of Toronto.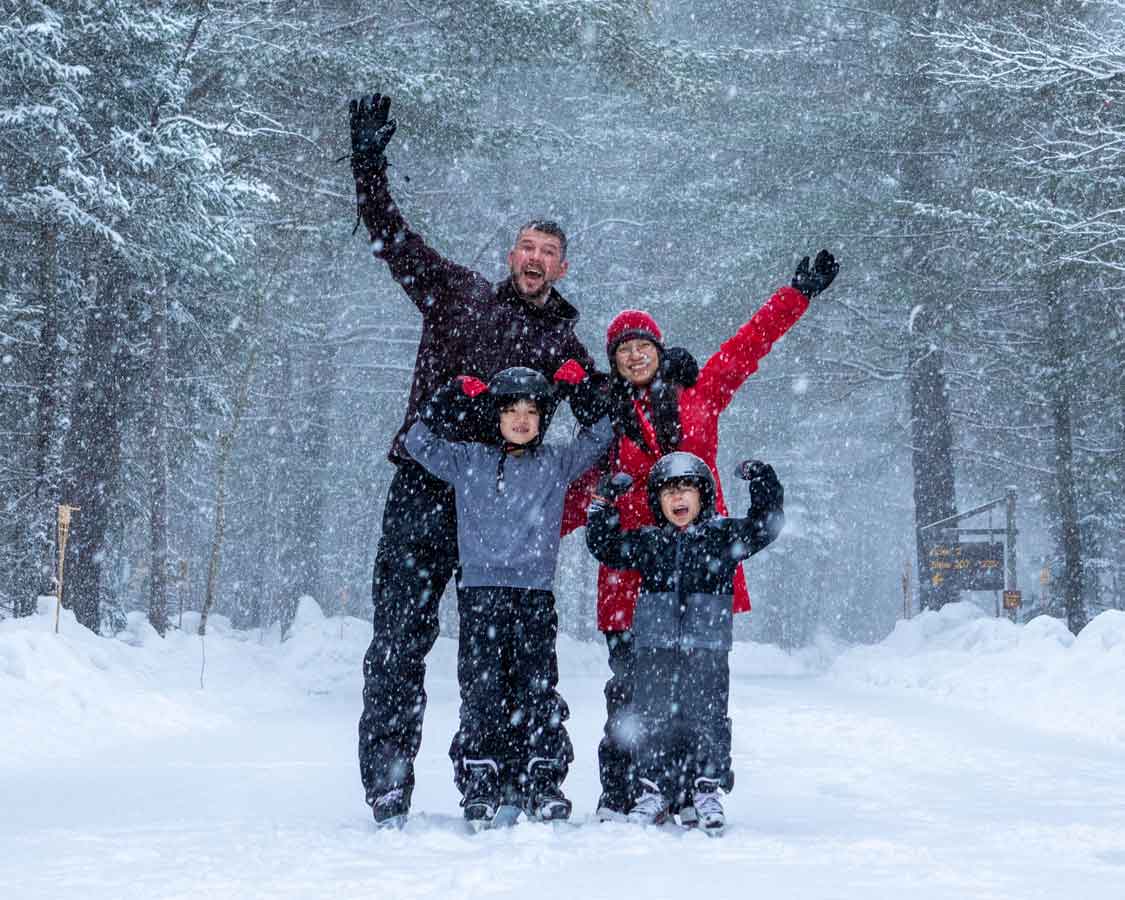 Skiing And Breweries In Upstate New York Adirondacks
During the summer of 2018, we spent some time exploring the Adirondack region of Upstate New York. A few months later, our friends from ROOST (Regional Office Of Sustainable Tourism) reached out to us and invited us to discover all of the things to do in the Adirondacks in winter. We were so thrilled to join them and spent a week skiing family-friendly Titus Mountain, where we finally got Christina onto a chairlift. We followed that with a tour of some local breweries in Tupper Lake and even riding a hand-made carousel in Saranac Lake.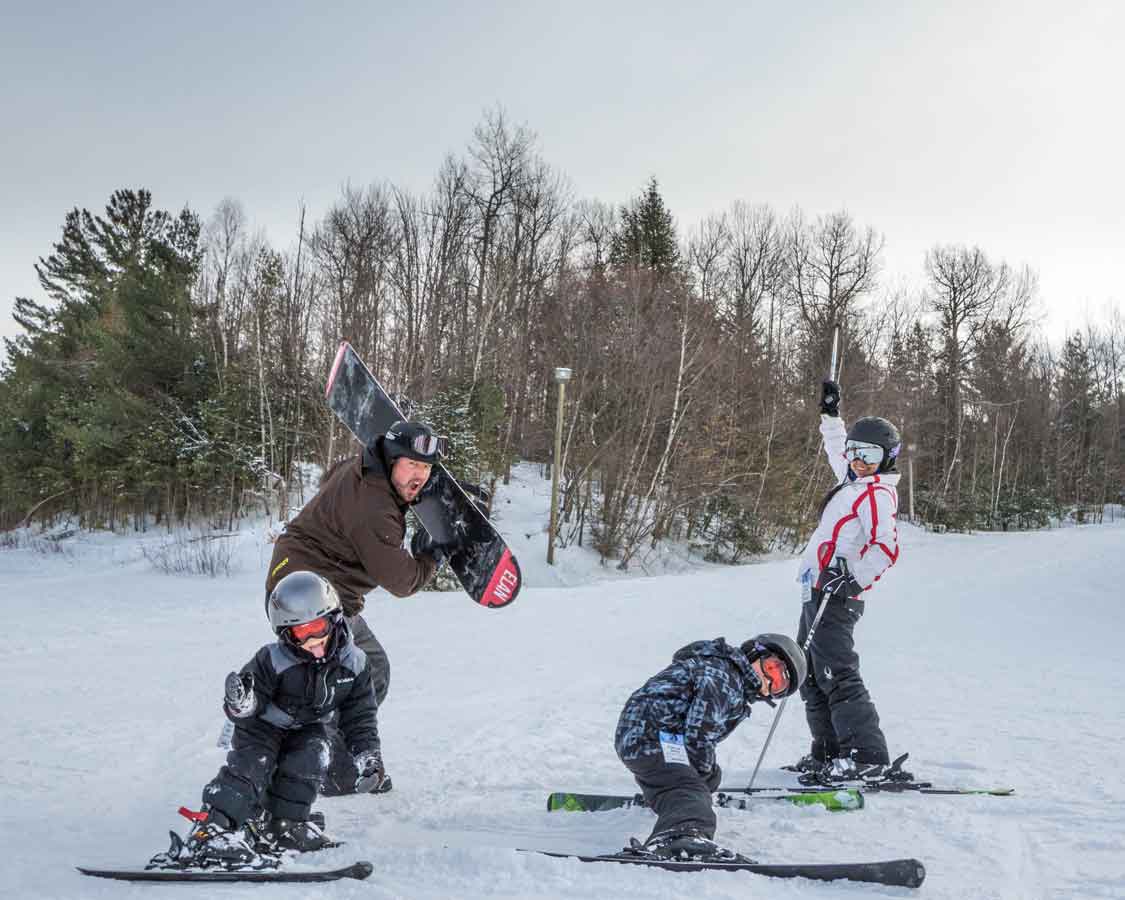 March
March is a month of birthdays for our family. C's birthday is on the 13th and Christina's is on the 31st. And as the winter weather starts fading away, we get excited about shaking off the cold.
Cleveland Ohio
As the winter months were slowly drawing to a close, we decided to celebrate by taking the kids to Great Wolf Lodge in Ohio for C's 8th birthday. We spent two days just relaxing and enjoying the waterpark. It was our first time visiting one of the Great Wolf Lodge locations, so there was a lot to take in.
We paired our mini-vacation with some exploring of Cleveland Ohio. The city, which I really only knew from The Drew Carey Show, turned out to be super cool. After just a few hours of exploring, we couldn't wait to get back and see more.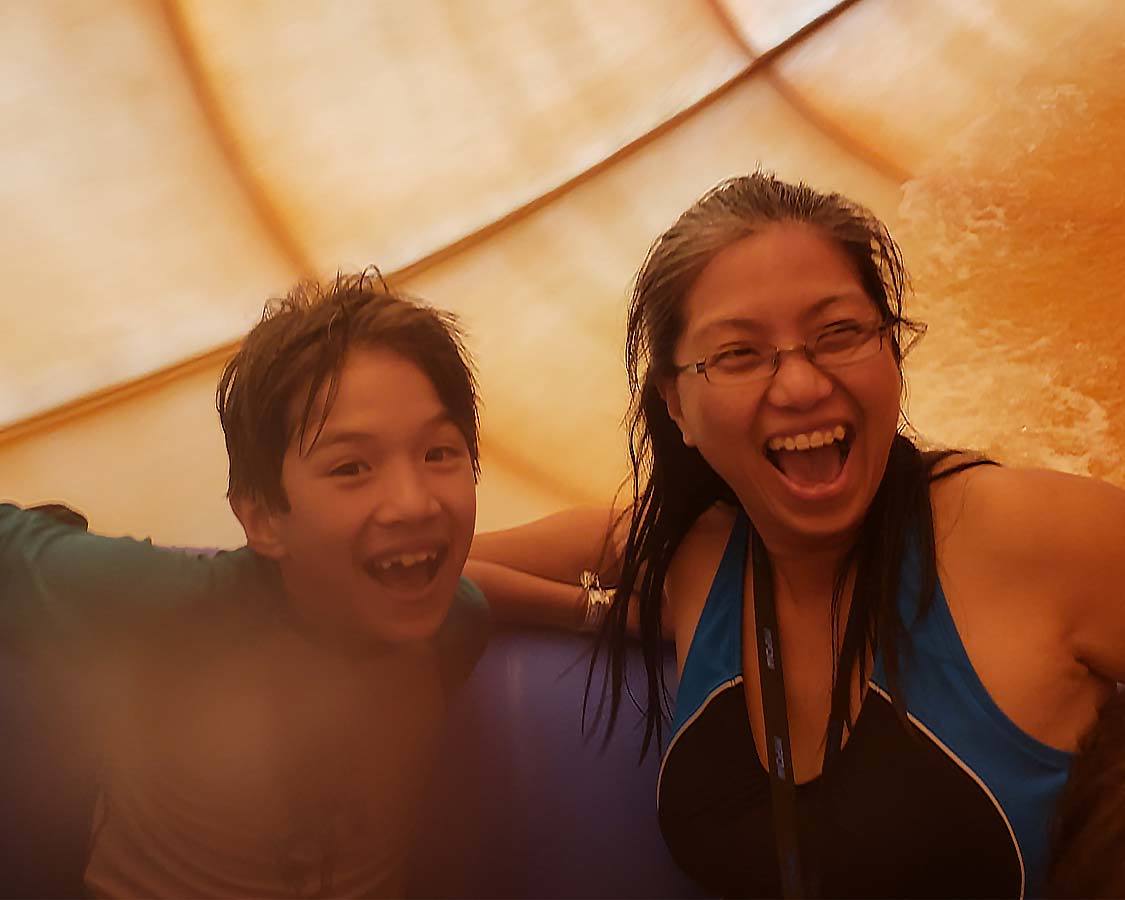 Ottawa, Ontario
The following weekend we got a call from Christina's sister that their family would be heading up to Ottawa to visit the Museum of Science and Technology. We decided to make the 4-hour drive north and join them for learning fun. The museum was awesome and combined some of the coolest aspects of medicine, technology, engineering, and science into an easy-to-digest, and fun experience for the whole family.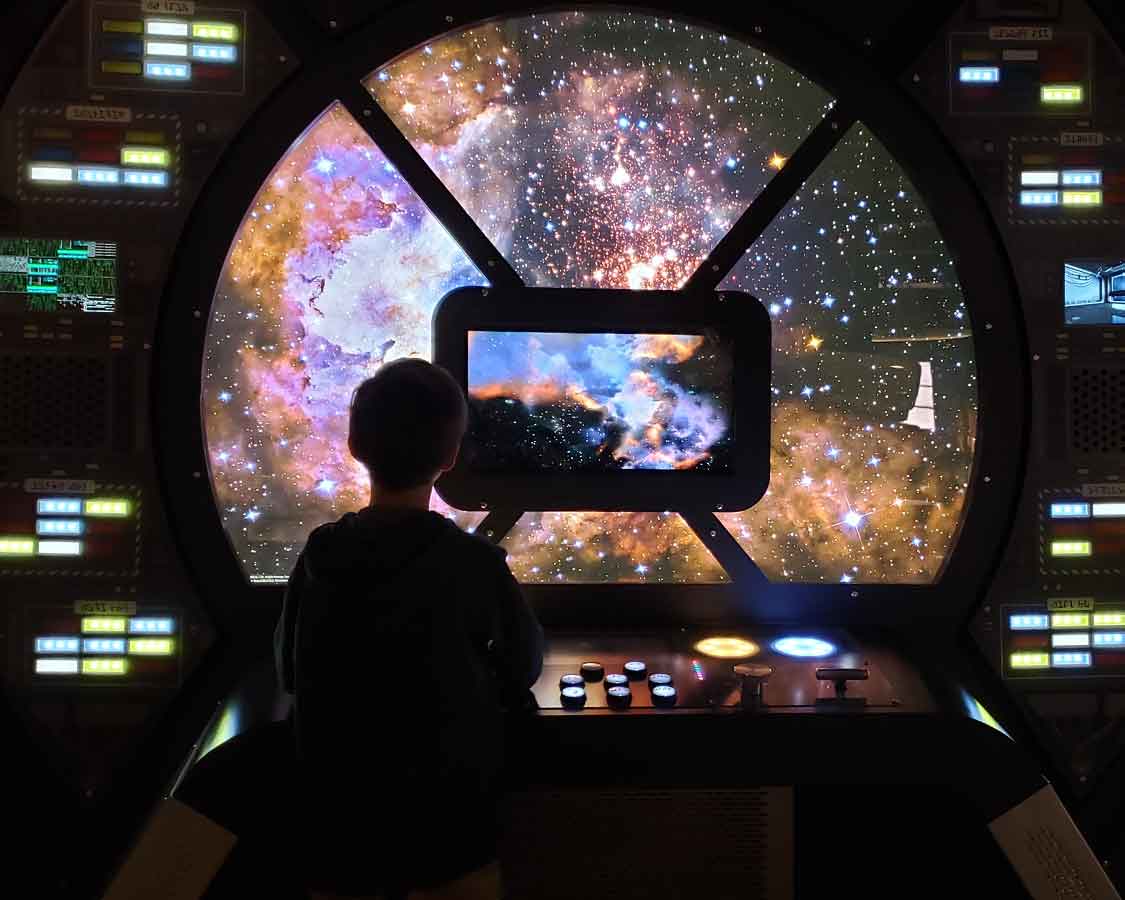 Abraska LaFleche Adventure Park in Quebec
While we were up in Ottawa we decided we would pair our museum experience with some outdoor fun at the nearby Abraska LaFleche Adventure Park, about an hour away in Quebec. The park was an absolute blast. We ziplined through a kid-friendly treetop course, went snowshoeing through the beautiful Quebec forest, and explored a sprawling cave complex complete with cathedral-style rooms.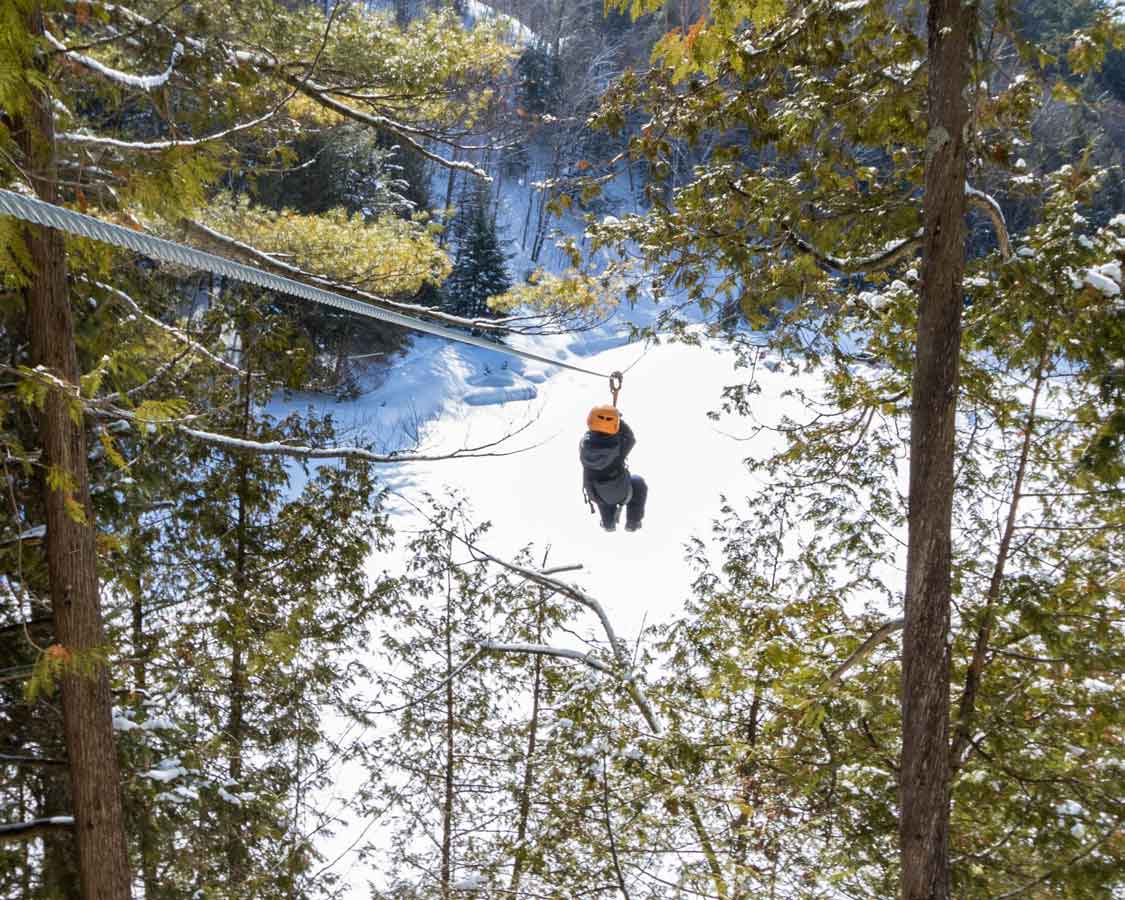 April
Ahh, April, when the weather starts to warm and the smell of spring is in the air. Well instead of celebrating the changing seasons, we decided that we would just head to where it's summer all-year-round!
Hawaii
We spent two weeks of April exploring a few of the islands of Hawaii. We first spent some time on Kauai hiking the incredible Waimea Canyon, doing chocolate tours, and searching for magical spots to catch the sunset. From there we made a visit to the island of Maui. Here we got to spend a lot of time snorkeling. We even made a day trip out to the island of Lanai where we did an island tour and spent some time snorkeling the magical coral reefs. Our time on Maui included learning about indigenous Hawaiian history at a Luau, having Easter breakfast in Kaanapali Beach, and even taking a submarine tour to the bottom of the sea.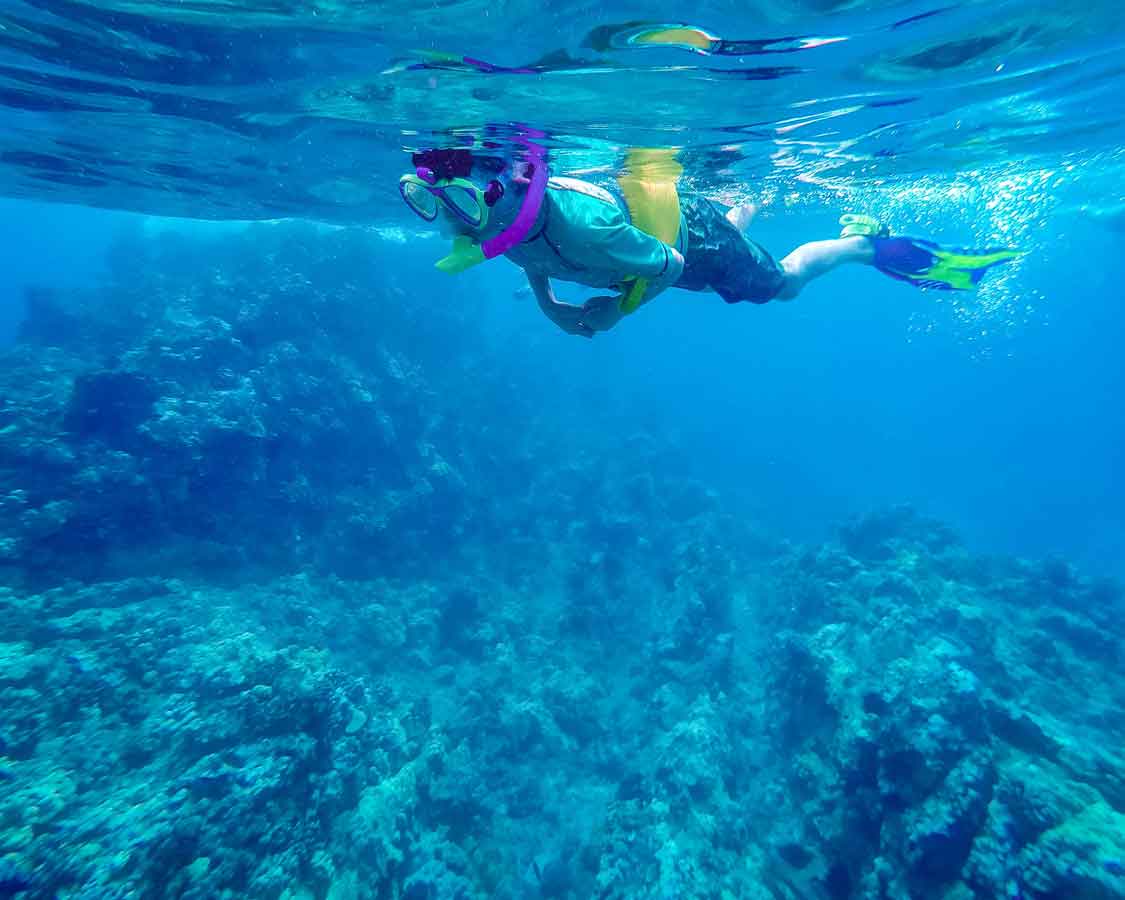 May
In May the temperatures near Toronto were on their way up. The snow had all melted away and the fresh green grass was beginning to sprout. It makes for a great time to explore Ontario as many birds and animals begin showing themselves after a long winter. This was also the month when I took my job as a travel writer and photographer full time.
Toronto Ontario
Christina and C took off together for a day so D and I decided to spend some time exploring around Toronto. We made a visit to Cherry Beach, which I'd never visited before. We skipped rocks on the water and had some breakfast before visiting nearby Evergreen Brickworks. I had never been here before either and I instantly saw why so many people love it. This converted factory is now a trailhead for many Don Valley hiking and biking trails. There are markets, restaurants, and even a museum and children's play area to explore.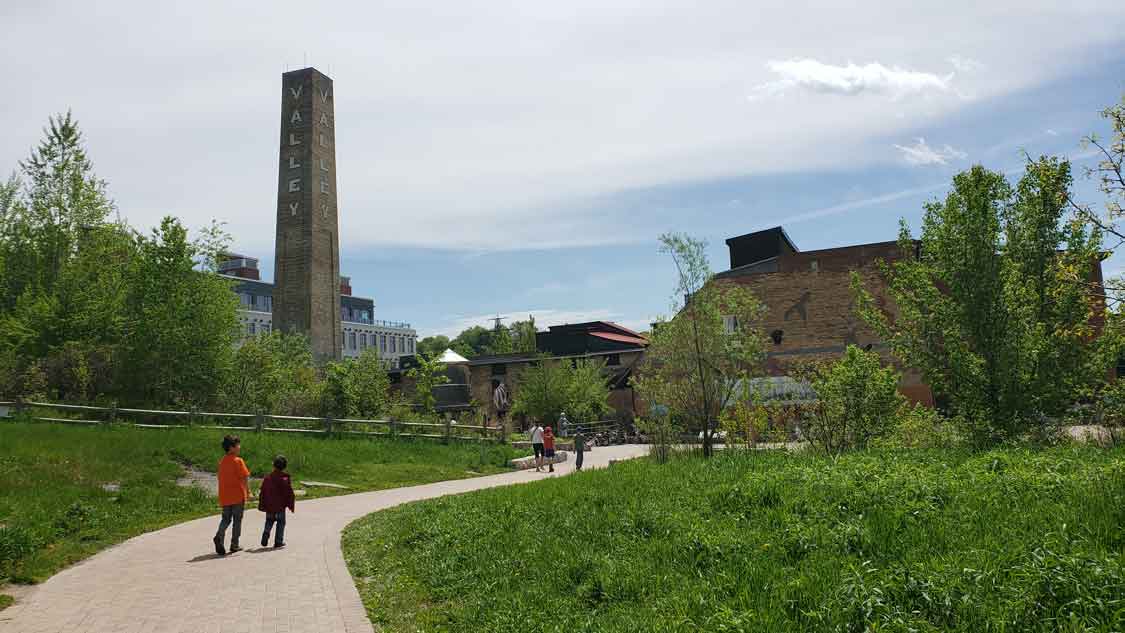 Port Dover Ontario
While the weather was warming, it was the perfect time for an Ontario road trip. So we made our way south to the town of Port Dover. This small beach town is a bustling hot spot during the summer months. But in mid-spring, it's just starting to awaken from its long winter nap. Our time in Port Dover was short, but we got a taste of what was coming for the high-season in Port Dover.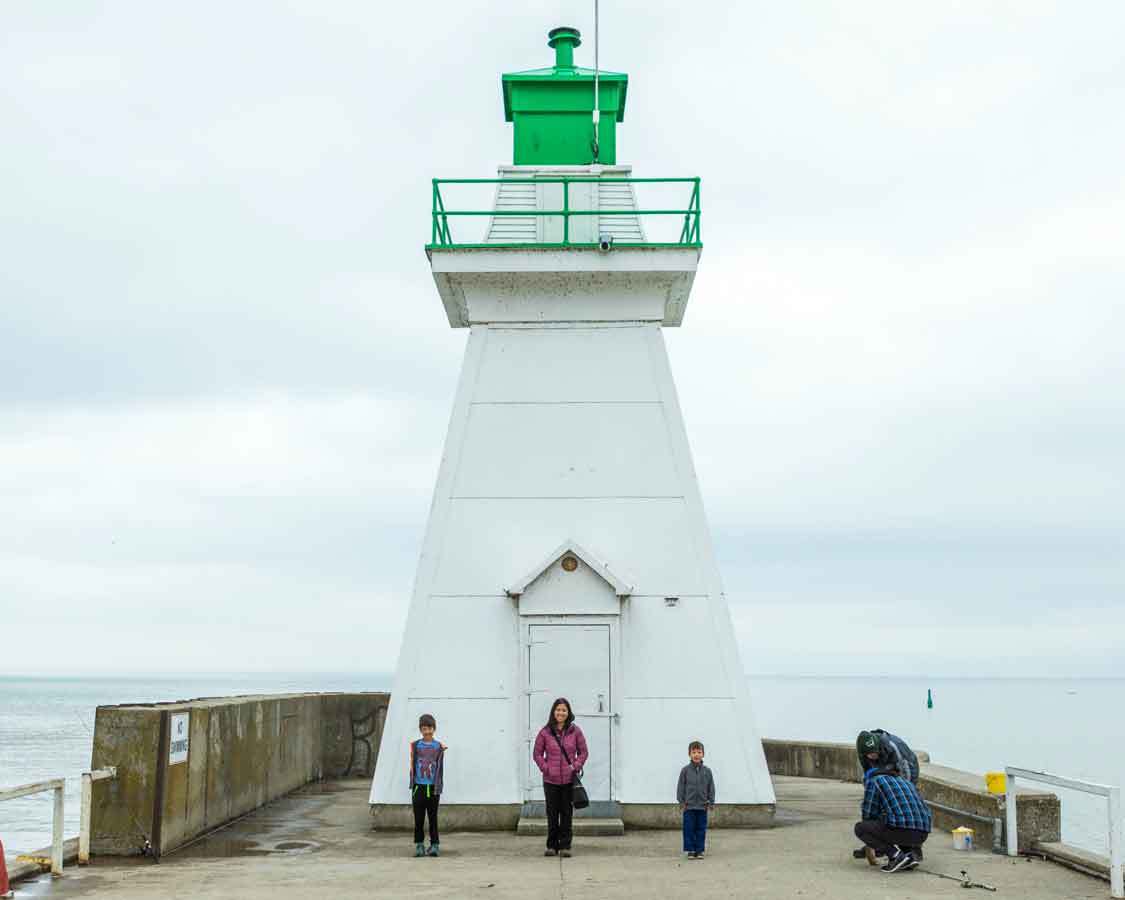 Point Pelee Ontario
Late May is one of the best times to visit the southernmost point of Ontario. As the temperatures warm, millions of birds and butterflies make their way through the park on their way to food-filled destinations further north. We walked the newly updated Point Pelee National Park marsh boardwalk and did one of the parks' free bird tours as well. And a visit to Point Pelee wouldn't complete without dining at one of the local perch-focused seafood restaurants.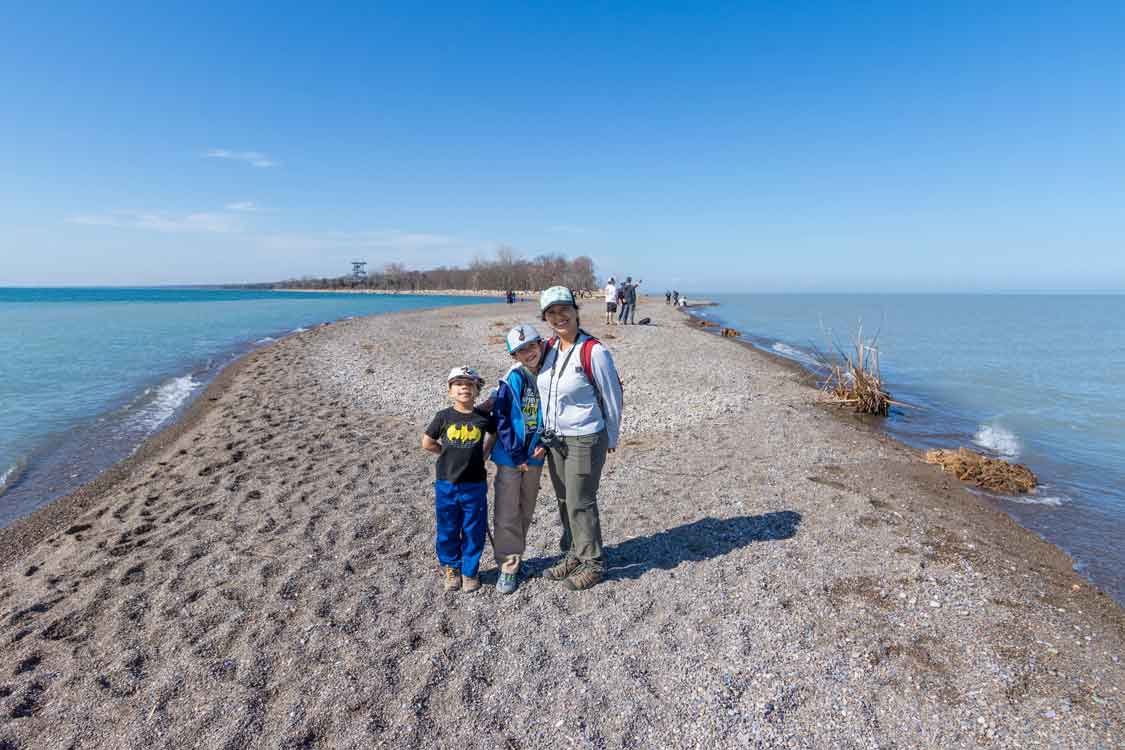 June
As the school season drew to an end, I knew that things over the summer were going to get very busy. We had one weekend left before I began my first year of the travel conference season.
Lake George, New York
My first trip in June was to the Adventure Travel and Trade Association conference in Lake George New York. I spent three nights camping on an island with an absolutely incredible group of people. My time was spent with Alison Hodges of Explore Magazine, Kraig Becker of The Adventure Blog, and freelance travel writer Kassandra Cloos. We hiked to waterfalls, dodged motorboats in kayaks, and bonded in a way that only three strangers stuck on an island together can do. And then I spent three more days networking and learning from some of the top minds in the adventure travel field.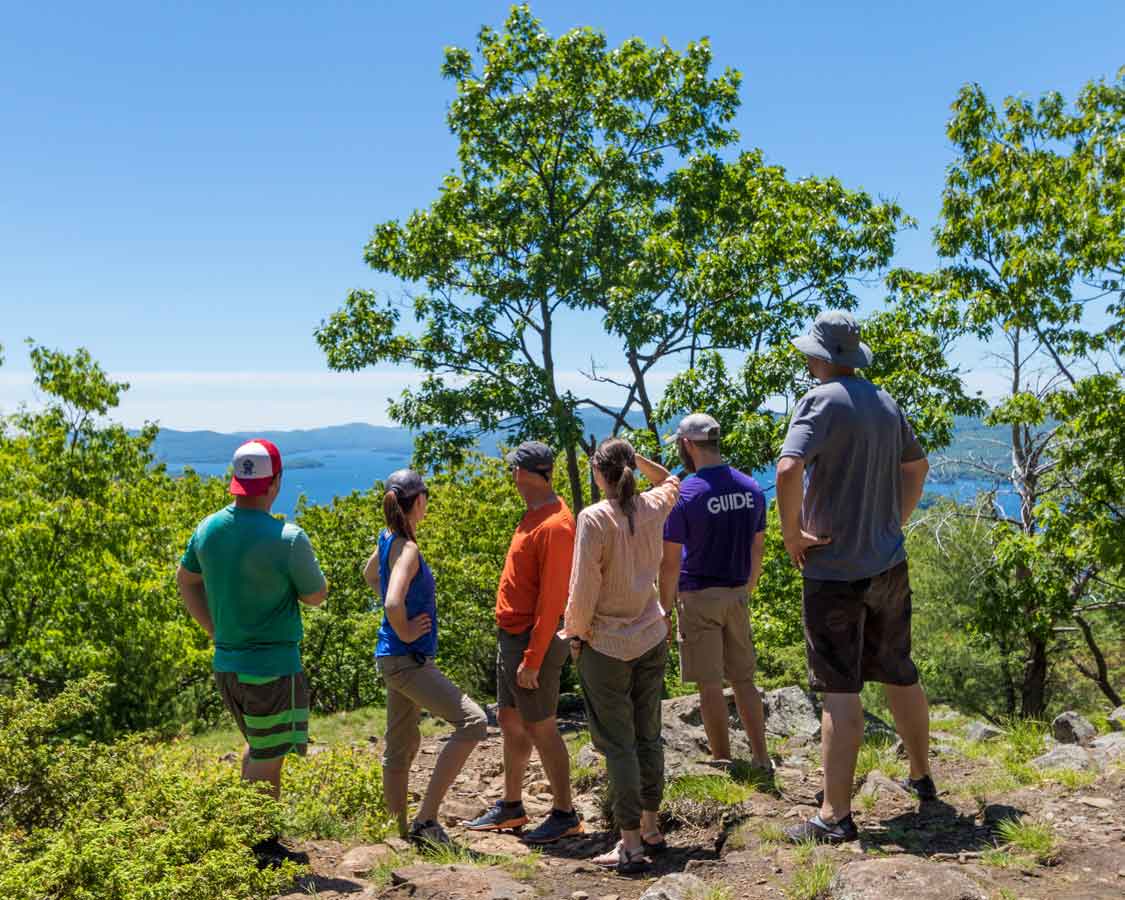 Lock 35 and Balsam Lake Provincial Park
We decided to enjoy the warm weather by partnering with our friends at Parks Canada to explore the lock system along the Trent Severn Waterway in Ontario. We spent the weekend at Lock 35 near Fenelon Falls, Ontario. I'm planning to write an article about exploring the canal system and this was a great way to do some research on the amazing things to do along the way.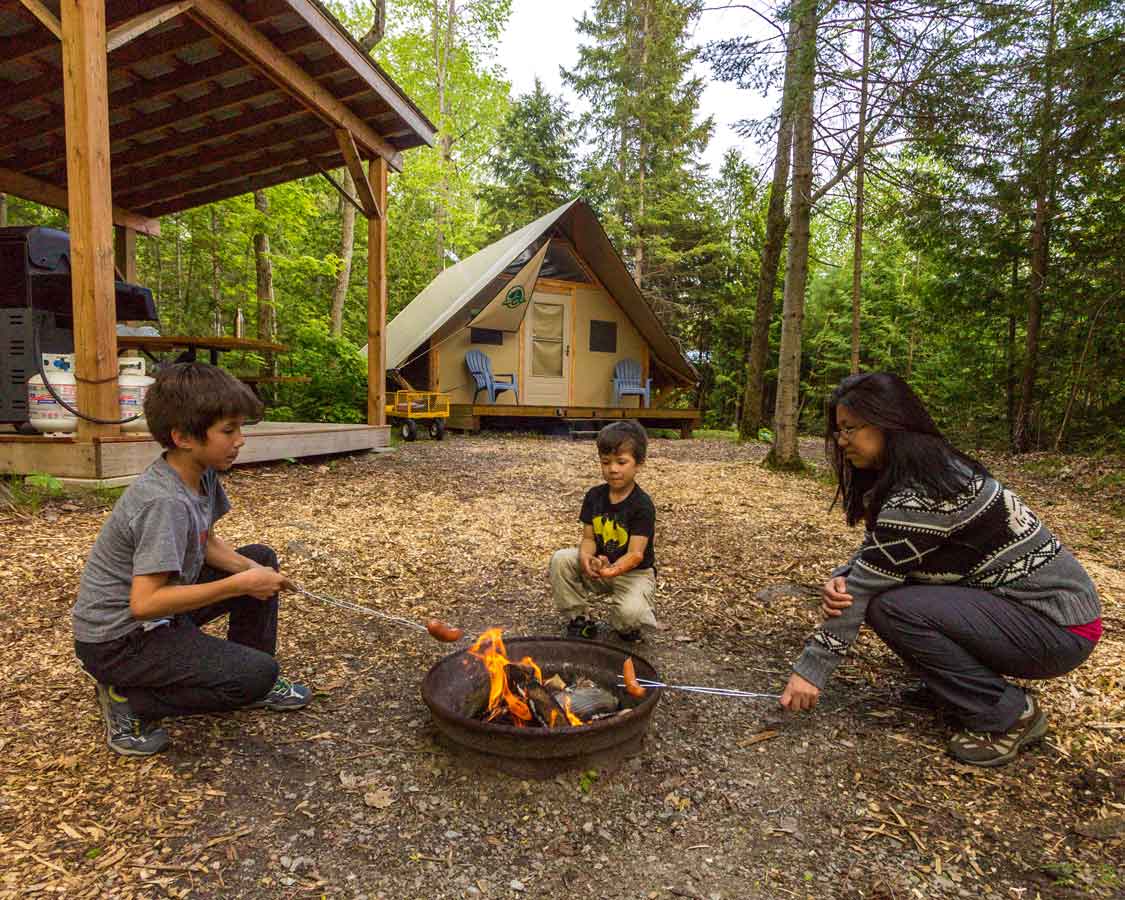 White River Ontario And Mar Mac Lodge Fishing Cabin
In late June I made my way up to Northern Ontario for the TMAC (Travel Media Association of Canada) conference in Sault Ste. Marie. Part of the media-side of the visit was an authentic Northern Ontario experience. For mine, I got to spend four days fishing at the Mar Mac Lodge fly-in fishing camp near White River.
I joined travel writers Dave Finn and Nadine Robinson for a drive up through beautiful Lake Superior Provincial Park to the town of White River, which my family had explored on our way up to Pukaskwa National Park in 2018, The trip was amazing. We caught fish and cooked them lakeside under the hot summer sun. And being in a remote spot with two fun travel writers was a great way to learn and share ideas.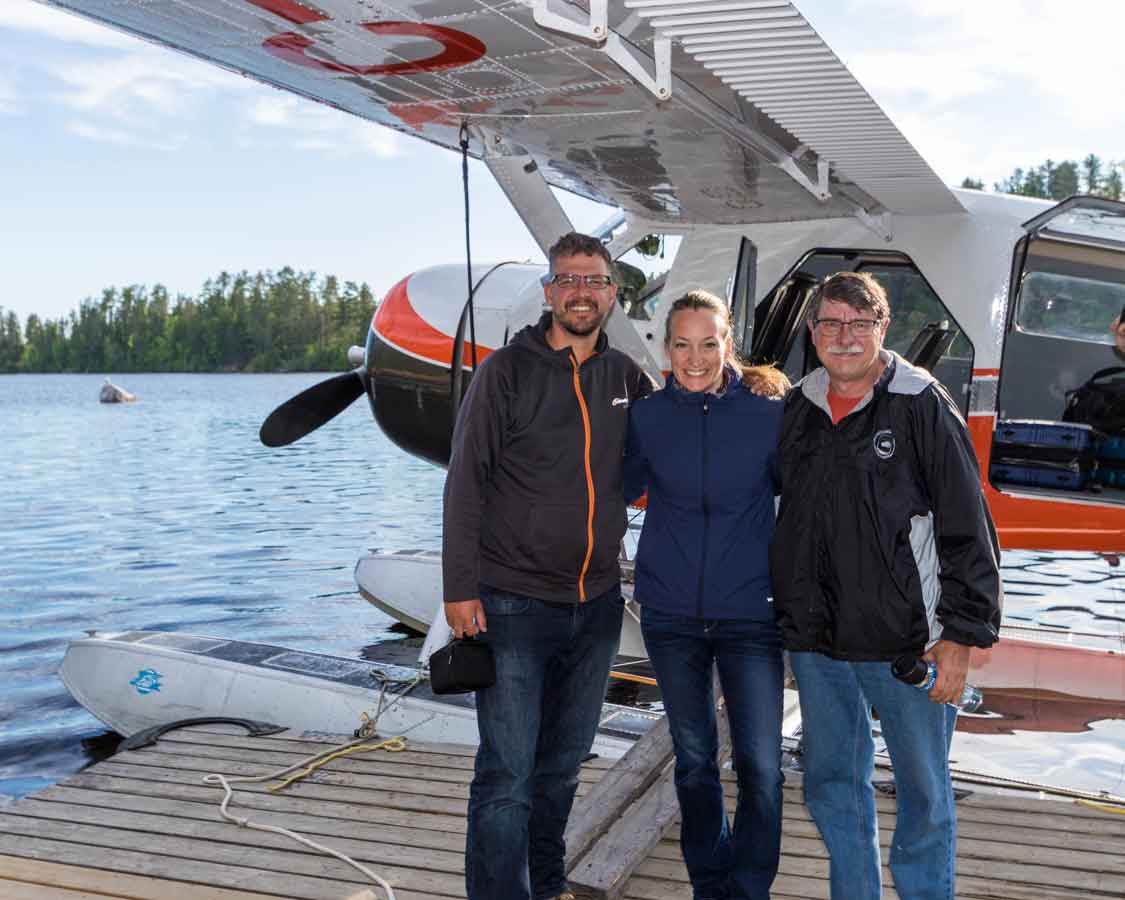 Sault Ste. Marie Ontario
The conference continued in Sault Ste. Marie where I learned a tremendous amount about the tourism industry in Canada. I was engaged in conversations with some of the key members of the Canadian travel media scene. I also got to explore deeper into the heart of Turtle Island, one of the most important regions among Ontario's indigenous communities.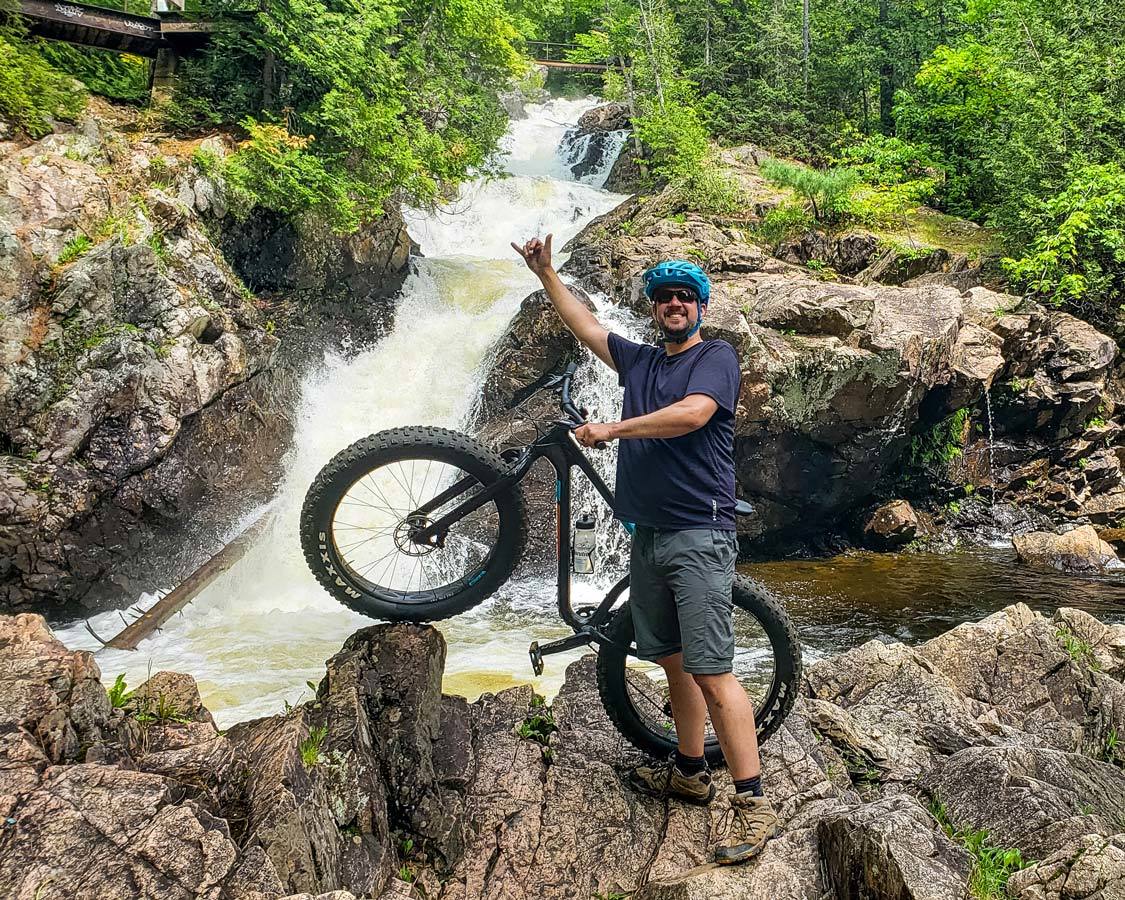 July
The school year came to an end and the summer was in full-swing as July came around. Now that the beautiful weather had arrived, it was time to kick our travels into high-gear.
Quebec Indigenous Road Trip
The second school let out for the boys we made the drive straight to Quebec City. It was the start of our nearly two-week project with Quebec Indigenous Tourism, Indigenous Tourism of Canada, and Quebec Original. We spent an absolutely unforgettable time exploring some of the most incredible indigenous experiences in the province of Quebec.
Some of our adventures included staying in the posh Hotel Musee Premiere Nation in the Quebec Suburb of Wendake and taking in the largest pow wow in eastern Canada. The boys even had the honor of joining the drum circle during the event! Other incredible experiences that we got up to during the trip was an epic whale watching adventure in Tadoussac. And we had a glamping adventure that included hikes over massive beaver dams.
But one of the top experiences of the entire trip was when we got to spend a night gazing up at the stars with our new friends at Hebergement aux Cinq Sens in Piopolis Quebec. We were taken on a journey through the heavens under skies so clear that they almost seemed to swallow us whole.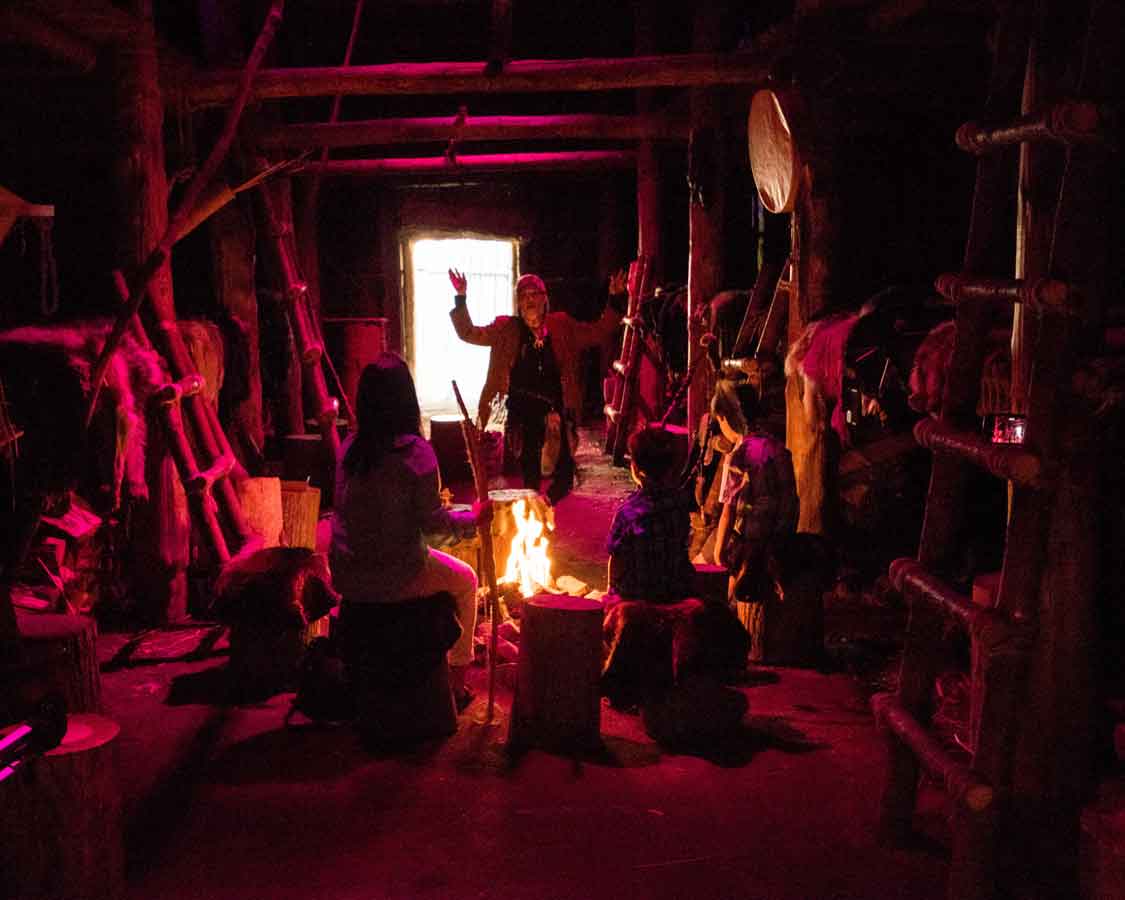 Sherbrooke Quebec
We took a break during our Quebec indigenous trip to explore the majestic Mont Megantic National Park. We took in the amazing virtual reality planetarium. And we even got to check out one of the active observatories that are part of this dark sky park.
But our visit here was a sidebar on our way to the town of Sherbrooke Quebec. Here we got to learn about a historic Canadian city. And we went to nearby Coaticook to experience one of the incredible Lumina shows surrounded by the incredible nature of the Coaticook gorge.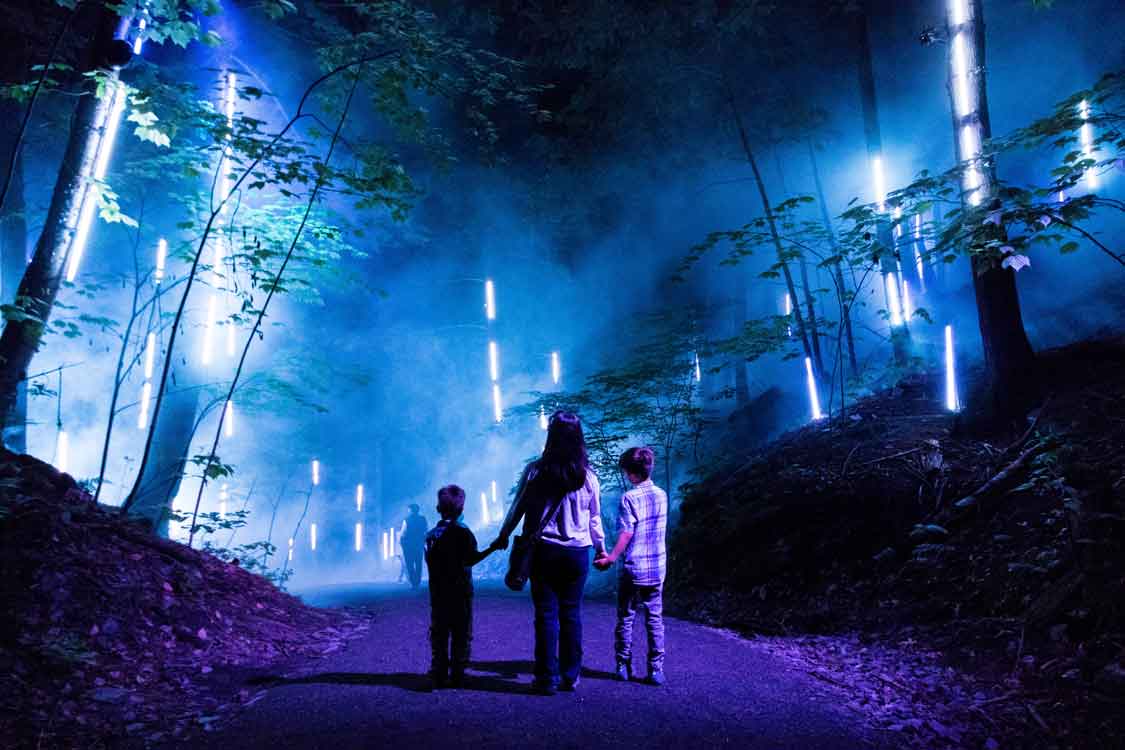 Ottawa Ontario
The tail end of our Quebec trip brought us back to Ottawa, Ontario for the second time this year. This time we partnered with Ottawa Tourism to experience some of the fun summer attractions in the city. One of the absolute coolest experiences was joining an Ottawa City Rafting tour. This super cool tour isn't the hardcore rafting that Ottawa is known for. Instead, it's a relaxing (but not too relaxing) raft tour that takes you right into the city. The tour is paired with rock jumping at some spectacular areas of the Ottawa River that I had never experienced before.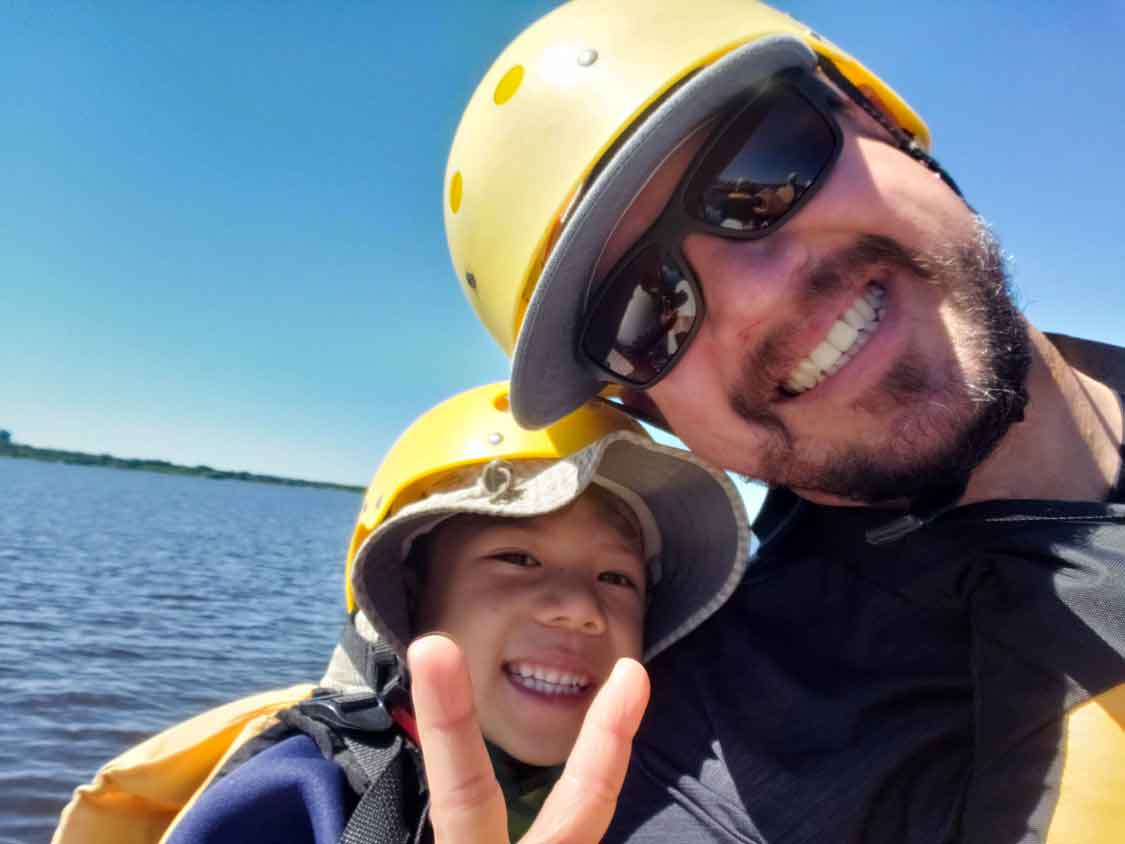 Sandbanks Provincial Park
Our final stop on our epic road trip was meant to be just a photo stop to collect some shots for an article we had planned about Sandbanks Provincial Park. But Sandbanks has a way of dragging you in and making you stay for a while. What started as a few carefully selected shots turned into an afternoon of frolicking on Dunes Beach.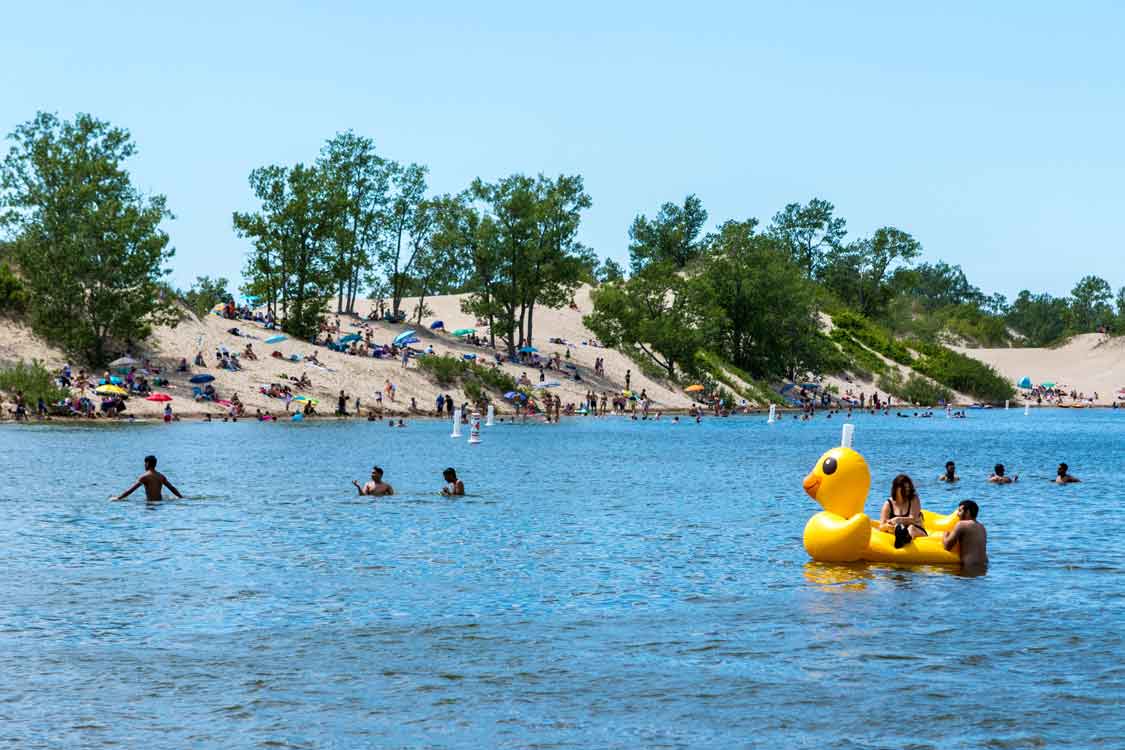 Murphy's Point Provincial Park
We were home for a solid four days before we made our way back up north to Murphy's Point Provincial Park. I had been hired to write an article about the Silver Queen Mine open house. And we turned the experience into a three-day camping adventure in the park. Murphy's Point has an incredible history. And the staff truly brought the pioneer experience to life.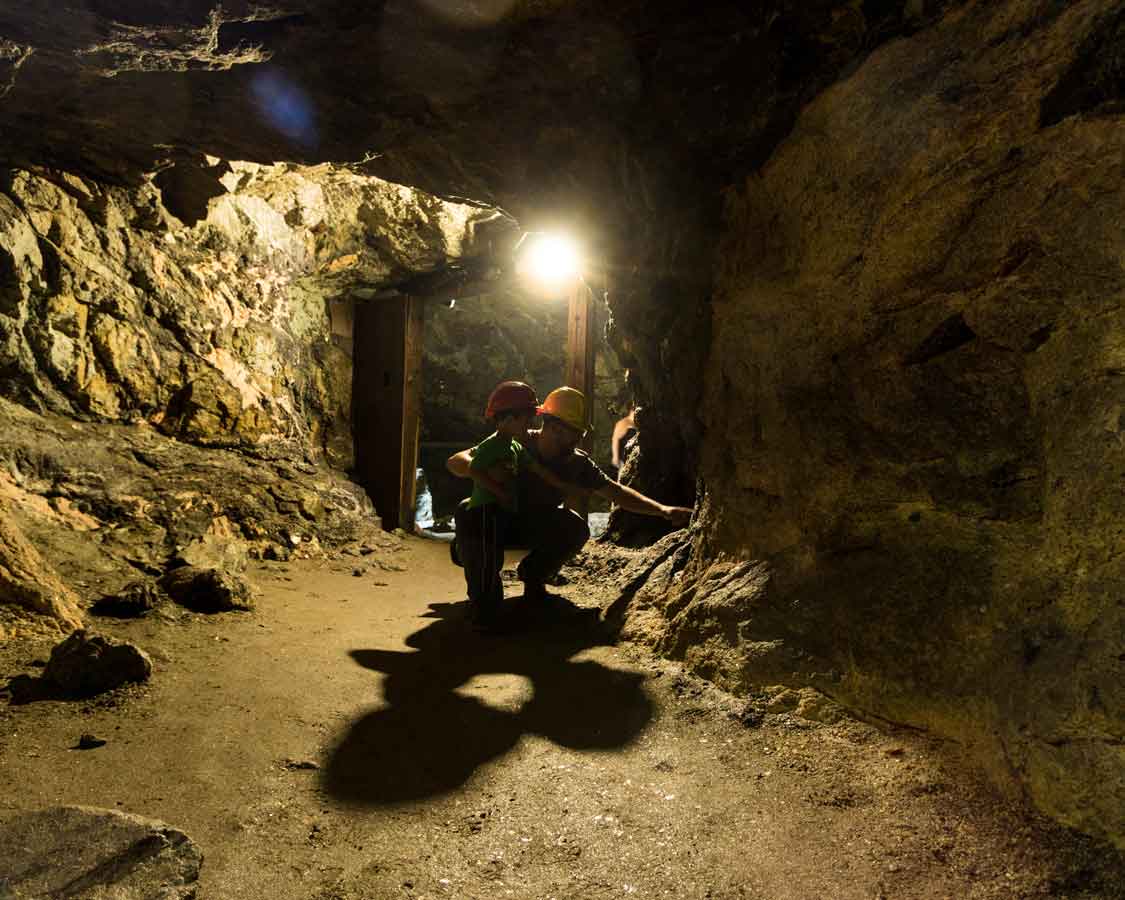 Watkins Glen New York
It was during our weekend in Murphy's Point that we learned about the passing of Christina's family's patriarch, Peter Mamuri. Our children's great-grandfather passed at the age of 99 after a life full of adventure. We joined his celebration of life in New York where many laughs, tears, and stories were shared.
But even in the face of heartbreak, we always look for something incredible to experience. So on our return drive, we brought Christina's uncle, and her sister's family to the beautiful Watkins Glen State Park in Watkins Glen, New York. I can think of few places that can heal a broken heart better than the narrow, waterfall-filled canyon of Watkins Glen.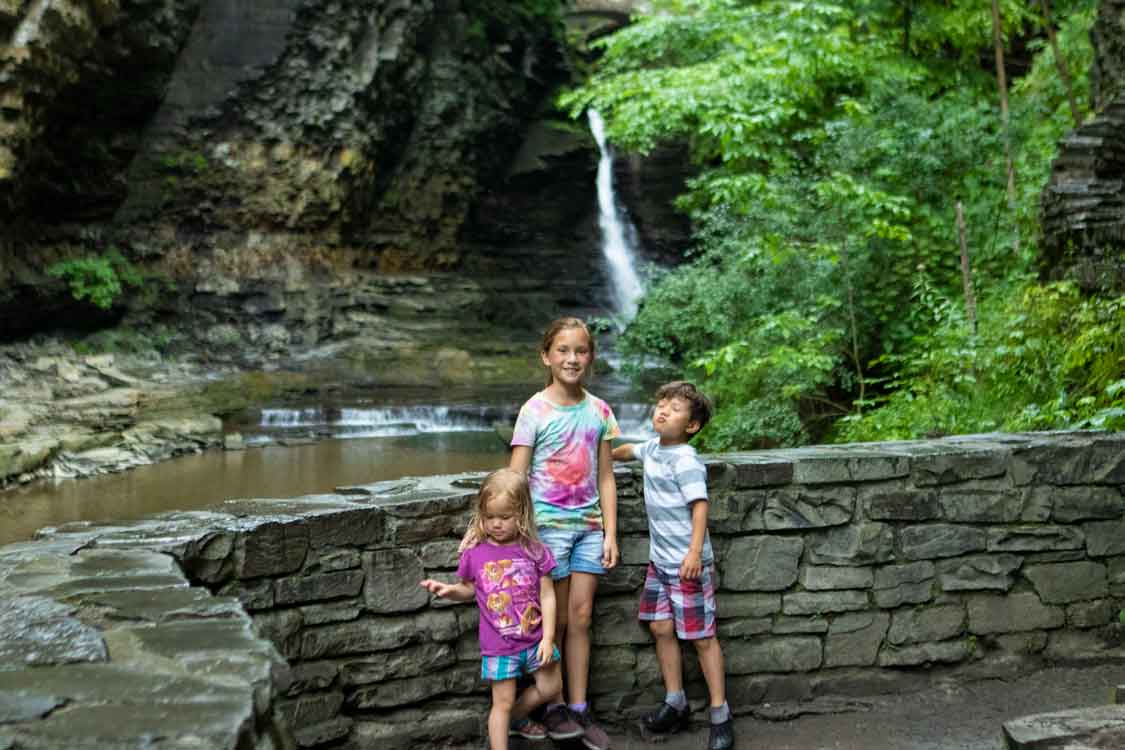 August
Travel seems to come in a flurry during August. Families realize that the last few weeks of summer are upon them. And if those moments are used to make memories, the summer may have been a waste. Luckily for us, we had been making memories all-year. But that didn't mean that it was time to slow down.
Manitoba
My trip to Manitoba marked my visit to my final Canadian province. I had now knocked all 10 provinces off of my list. And to say that this prairie destination surprised me would be an understatement. D and I made the visit to Winnipeg in partnership with Travel Manitoba. And the city absolutely blew us away. After having our eyes opened at the Canadian Museum for Human Rights, the next-level list of Winnipeg attractions just kept growing. In fact, the Forks, a hip urban park, may just be one of the coolest urban parks in the country.
But if we were going to go all the way to Manitoba for a project, we weren't just going to stop at one city. We explored some of the incredible parks such as Whiteshell Provincial Park and Riding Mountain National Park. We even explored some of the small town, including the Icelandic cultural center of Gimli.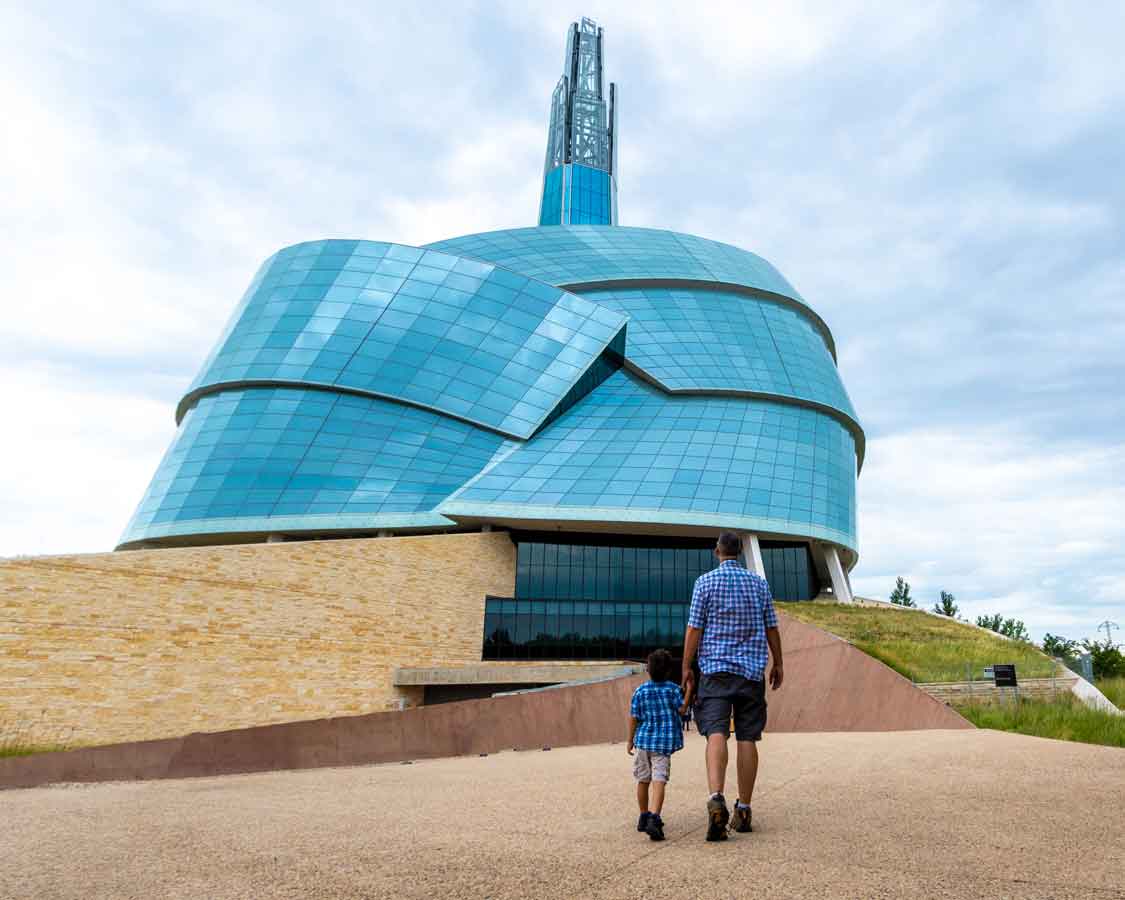 As amazing as our travels in Southern Manitoba were, it was nothing compared to our experiences in the north. Christina and C joined us in Manitoba. And after a few more days in the south, we made the flight up to Churchill Manitoba. Here we would experience the Polar Bear Capital of the World and the Beluga Whale capital of the world. And we were not disappointed. I never would have imagined that in a single 6-day visit that we would experience Belugas, Polar Bear, and the northern lights.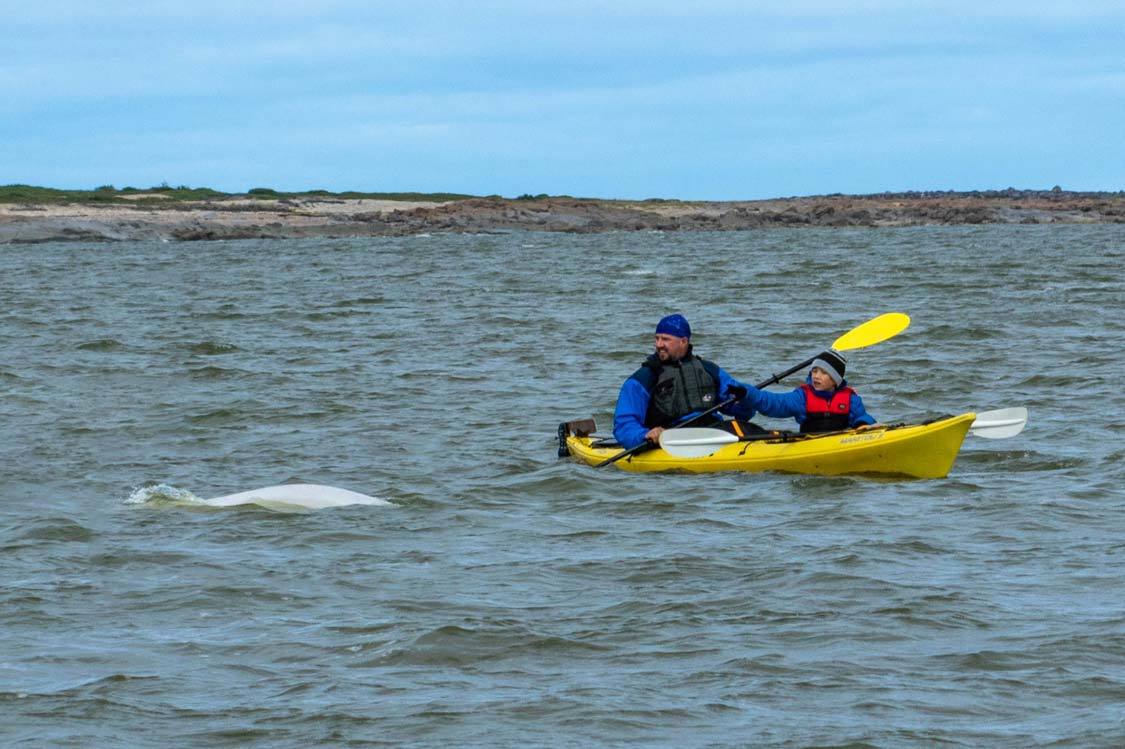 Saguenay-Lac-Saint-Jean Quebec
After our return from Manitoba, C and I journeyed to Saguenay-Lac-Saint-Jean in Quebec. I had been asked to join a group of family travel experts on a tour of the region. The tour would end with a summit where we would discuss the validity of family travel in the region. And the entire process was fascinating.
I learned a tremendous amount about a region of Quebec that I had not given enough thought to. It turns out that it may be one of the best places in Canada for family-focused soft-adventures. Everything from whale watching to rock climbing was on display. And Parc Cap Jaseux offered some of the coolest camping accommodations I had ever experienced.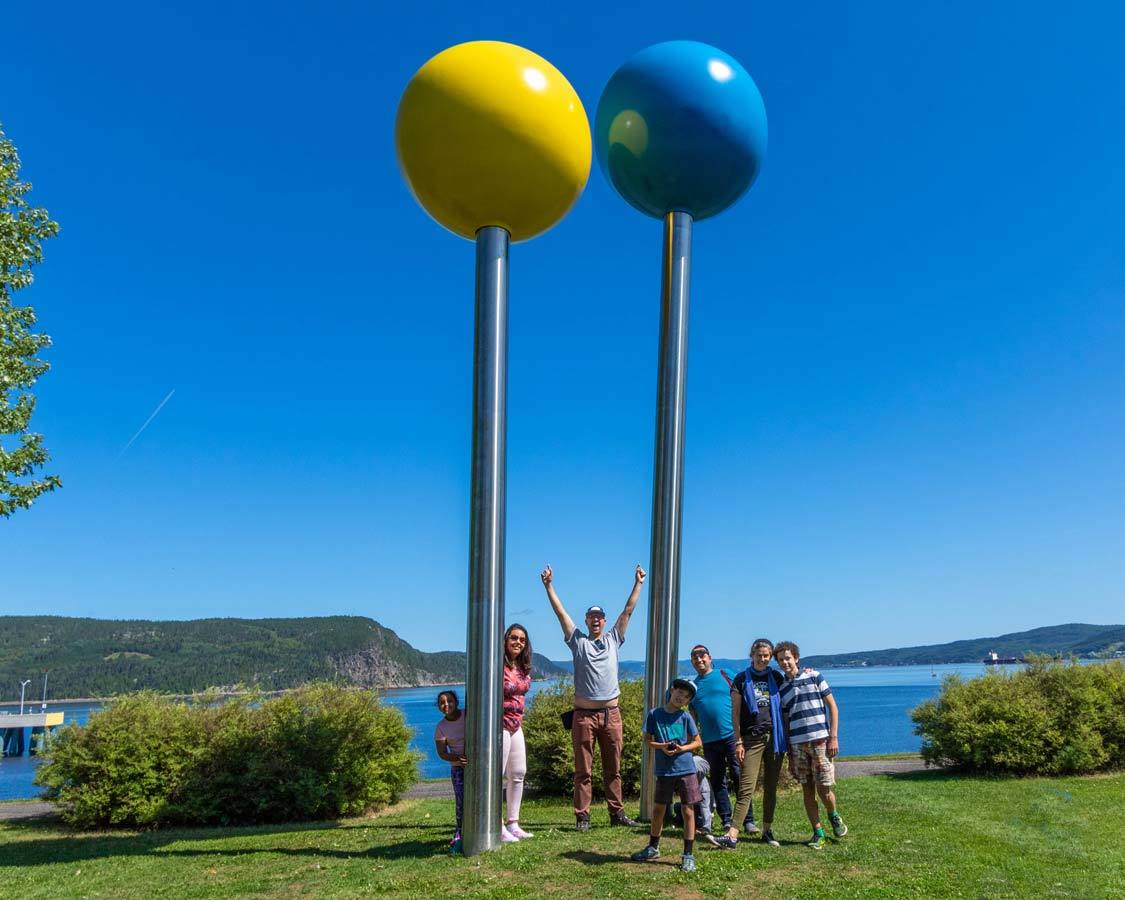 September
With the arrival of September comes the start of the school year. D entered French immersion at grade 1 and C continued his French studies in grade three. But just because school starts doesn't mean that it's time to say goodbye to adventure. There were still plenty of weekends to explore, and I had a few projects myself.
Kawartha Highlands Provincial Park
Two days after the boys started school, I packed my camping gear for a project with Peterborough and the Kawartha's. I actually grew up in the town of Peterborough, Ontario. So I was tremendously excited to join my good friends Chris Mitchel from Traveling Mitch, Kathryn Dickson from Kathryn Anywhere, Kimberly Erin Davies from A Walkaboot, and Ryan Thomas Woods from Out With Ryan.
We were going on a 5-day backcountry camping adventure in Kawartha Highlands Provincial Park. And we were ending that with an incredible meal at a cottage-style resort at Viamede Resort in the Kawartha's. It was incredible getting away and being unplugged while experiencing Ontario's newest Provincial Park first-hand.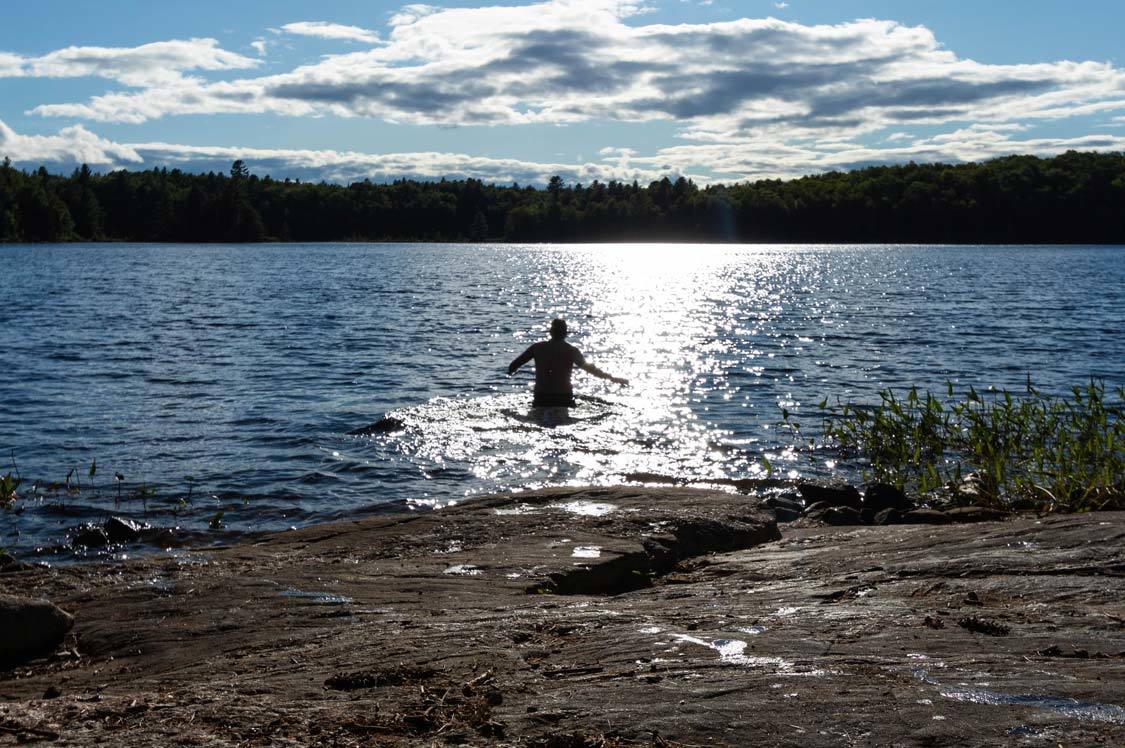 Niagara Falls Great Wolf Lodge
When I returned from camping it was D's 6th birthday. Rather than plan a big party we decided to head to Niagara Falls for some birthday celebrations. After our earlier trip to Ohio, D asked if we could visit another Great Wolf Lodge. There is one in Niagara, so we opted to make the short drive and spend a weekend there with Christina's parents. It was a blast just letting the kids play and relax for a couple of days.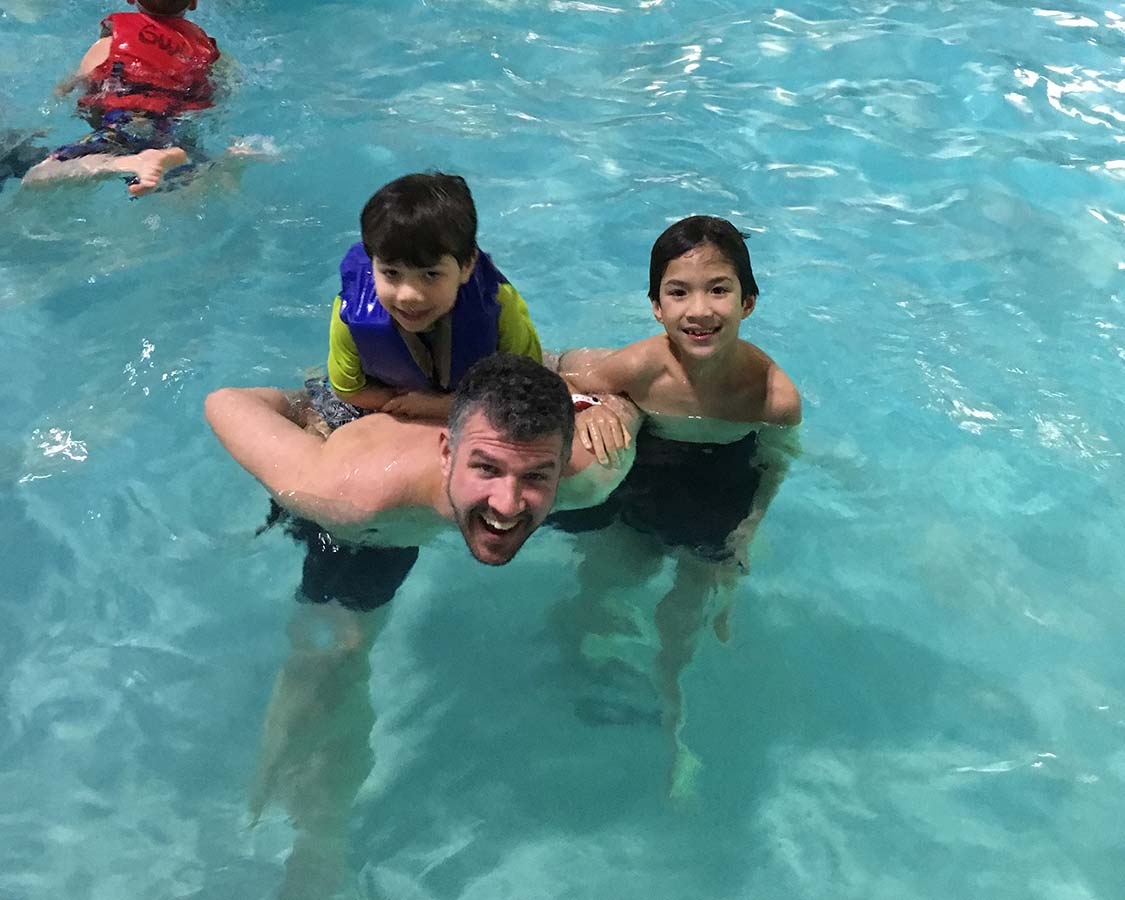 Battle of The Blades Hamilton
Christina's cousin Amanda Evora is a professional figure skater who competed in the Vancouver Olympics. In September she returned to the screen with another competition of CBC's Battle of the Blades. In true Canadian style, this show pairs professional hockey players with professional figure skaters in a "dancing with the stars" style competition. So we headed to Hamilton, Ontario to catch a few of the episodes as they were filmed. My Dad and his wife had recently moved from Kelowna, British Columbia to Hamilton, so the filming gave us a chance to catch up after their move.
October
I love October. This month offers the last moments of great sunshine, comfortable temperatures, and easy outdoor fun before winter starts swinging. And getting to experience fall colors makes it my favorite time of year.
Colorado
Christina was booked for a conference in Denver Colorado in October. So rather than having her spend the time by herself, I brought the boys down and we spent 10 days exploring western Colorado from the bottom to the top. We started off our journey by sandboarding and driving the 4×4 trails in Great Sand Dunes National Park. We continued up through Mesa Verde to experience the incredible cliffside indigenous villages before making our way up from Denver to Rocky Mountain National Park.
Our final day had us exploring both under the ground at Cave of the Winds, and admiring the beauty of Garden of the Gods near Colorado Springs. And finally, we drove the windy roads to the top of Pikes Peak where we got caught in a wild snowstorm. Throughout it all, Colorado blew our minds. It is truly an epic state and one we would LOVE to return to.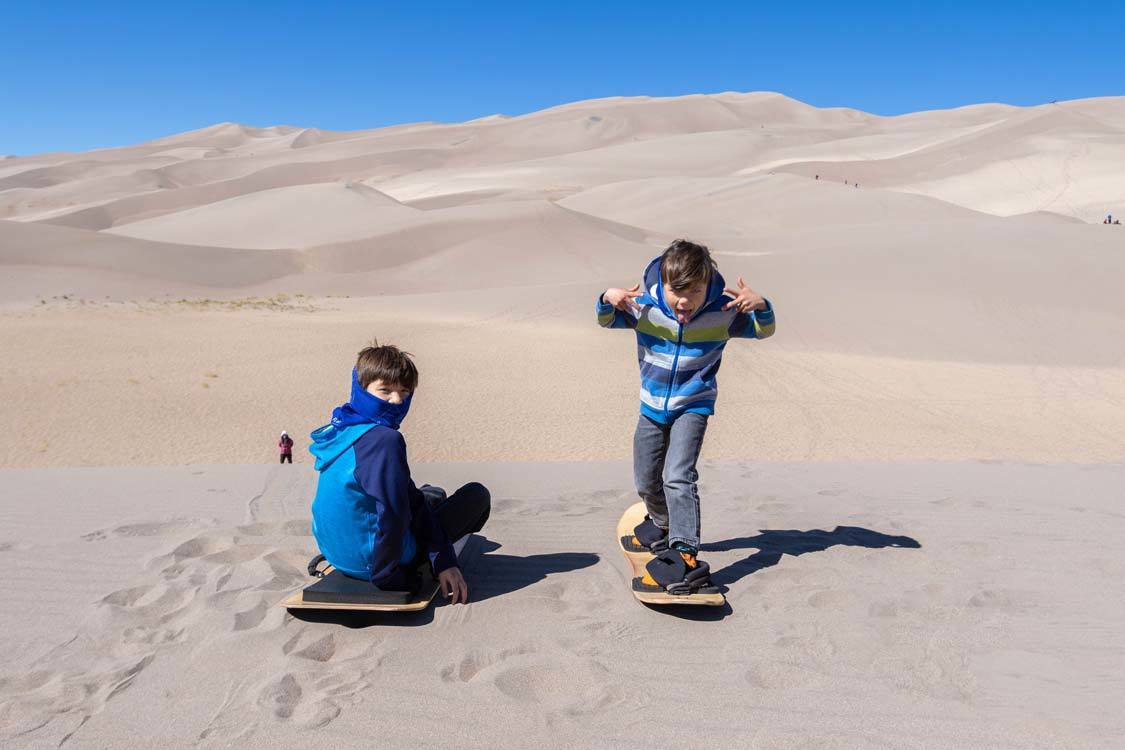 Custer State Park, South Dakota
I was home for a whopping 12-hours before I had to head out again to South Dakota for the Family Travel Association conference at Custer State Park in South Dakota. I spent three days networking and talking with family travel experts from across North America about the direction of family travel. It was heartening to hear about how adventure travel is growing in leaps and bounds among family travelers.
I also had the chance to take in the amazing Bison herds of Custer State Park and even got to dine under the gaze of America's founding presidents at Mount Rushmore.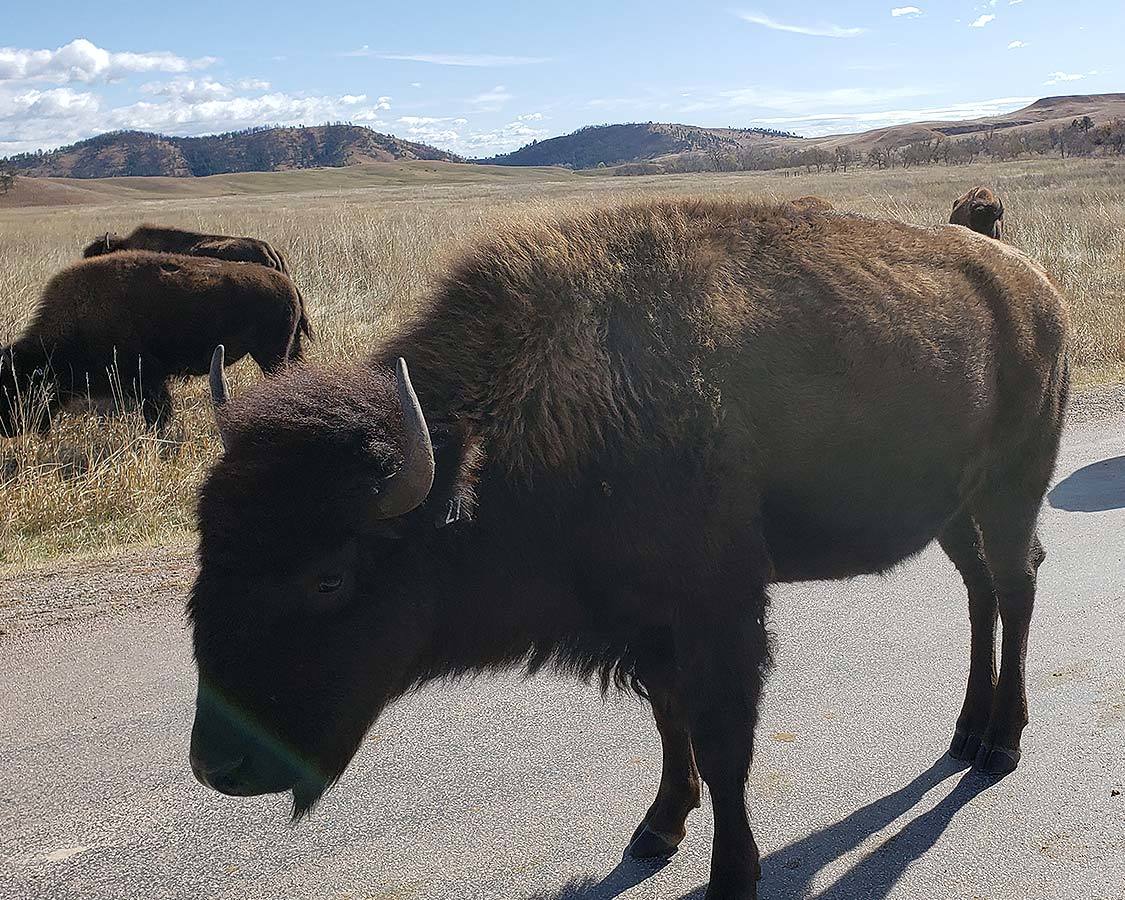 Manitoulin Island
I returned from South Dakota and was home for a day before my family and I packed up and made our way to Manitoulin Island for a project with Ford. I can't talk about this one yet as it hasn't been released yet. But it was a pretty cool experience being followed by a camera crew on a three-day project on one of our favorite Canadian islands.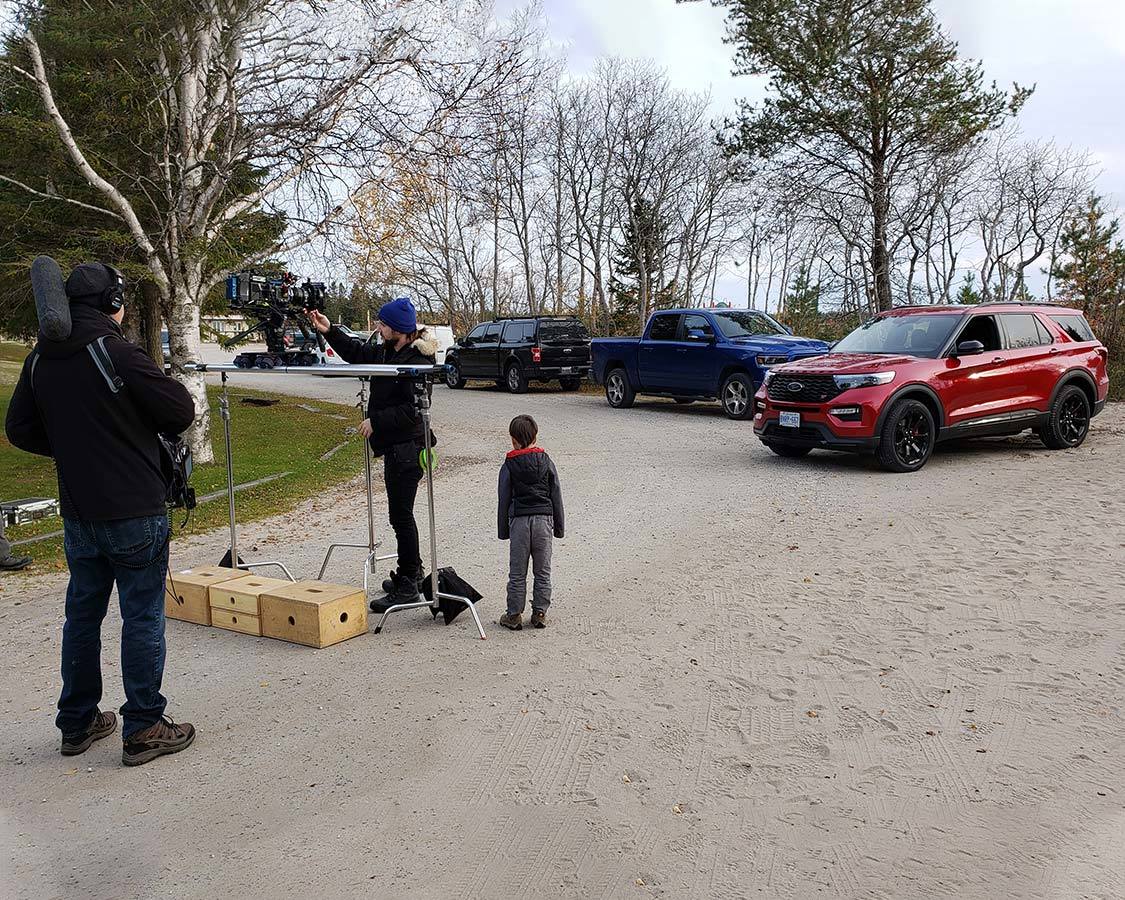 November
As the cold weather starts to take hold, I was ready to take a break from big trips for a bit and concentrate on getting some work done. With all the growth that the Wandering Wagars blog had over the past year, I had a goal to continue that momentum into 2020. But there were still a few things I needed to do in order to get that done.
London, United Kingdom
The first week of November I made my way to London, England for the World Travel Market. This was by far the largest travel conference I had attended. And after three straight days of meetings, my step counter had just about given up. I was fortunate to have given myself time to explore the city a little bit. I had never been to England before. And I even got to meet up with my old friend during the visit for a local tour of some of the coolest under-the-radar historic spots of the city. And some great local beer as well.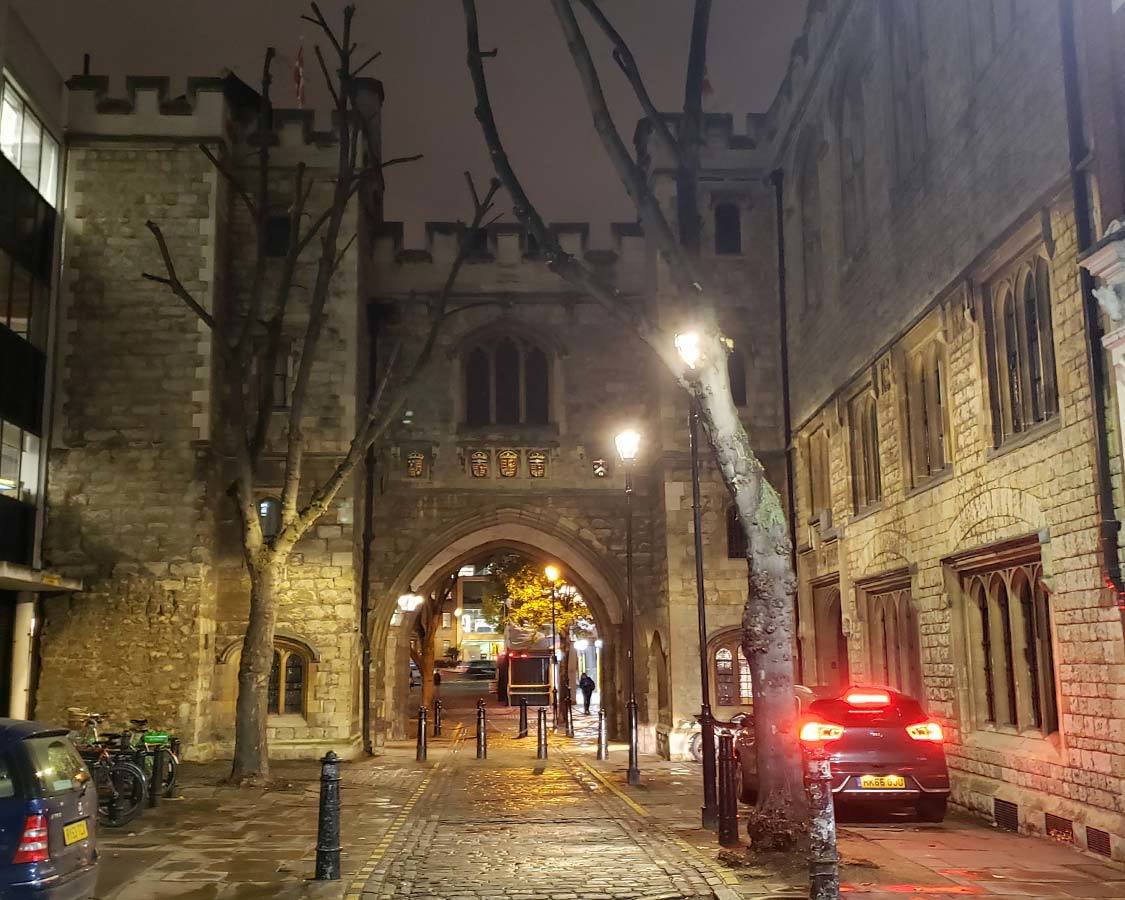 Newark New Jersey
I returned home and had a short turnaround before packing the family up for another road trip to New York. Christina and the boys went to visit her cousin's family while I made my way to Newark for the Travel Media Showcase – Family Travel meetup. I got to network with some old friends in the family travel sphere and listen to an inspiring business-focused talk by Twisted Sister guitarist Jay Jay French. I was surprised how relevant his "overcoming obstacles" talk was to the family travel industry. It was definitely the highlight of the small conference.
December
With the cold weather here to stay, things around our house stayed calm and relaxed. After a solid year of travel, it was nice to relax and focus on work, the kids, and our upcoming Christmas holidays.
Florida
I write this post from the messy table of an Airbnb in Sarasota, Florida. I'm surrounded by nieces, nephews, and just about every level of my wife's family. And it's awesome. Christina's cousin Amanda, who we had watched at Battle of the Blades earlier in the year is getting married today.
Our flight to Florida landed on Christmas Eve and spent three days on Marco Island. We were blessed with a good friend who had a condo there that they offered to us for the holidays. We explored Everglades National Park where the boys made friends with some of the local alligators.
Today we attend the wedding here in Sarasota before making our way up to Orlando for a family-fest of theme park activities. Talk about going outside of your comfort zone. I've never been a theme park fan, so spending five days exploring Universal Studios and Disney should be a test of my ability to adapt. Luckily I'll be surrounded by family to help ease the stress.
Looking Forward to 2020
Our travel plans for 2020 are shaping up to be something extraordinary. We already have a trip to Egypt booked in March. And we're looking at trips to Ecuador and the Galapagos Islands in July. We're so excited to be traveling, learning, and sharing our adventures with more and more people.
We're also expanding our travel community. We'll be launching a new group for family travelers, and growing our resources to help more families make the most of their travels. We are so excited about how many people are sharing in our journey, and we look forward to hearing more about your travels as we explore more of the world.
[ezcol_1half]You May Also Like To Read: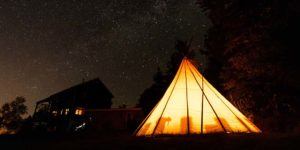 Incredible Aboriginal Experiences In Quebec For Authentic Canadian Cultuer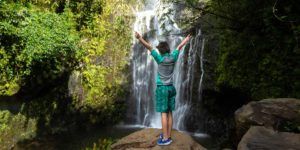 Unforgettable Things To Do In Maui For Kids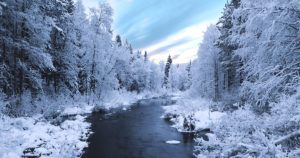 How To Experience The Best Adirondack Winter Vacation
[/ezcol_1half] [ezcol_1half_end]Pin This Post For Later: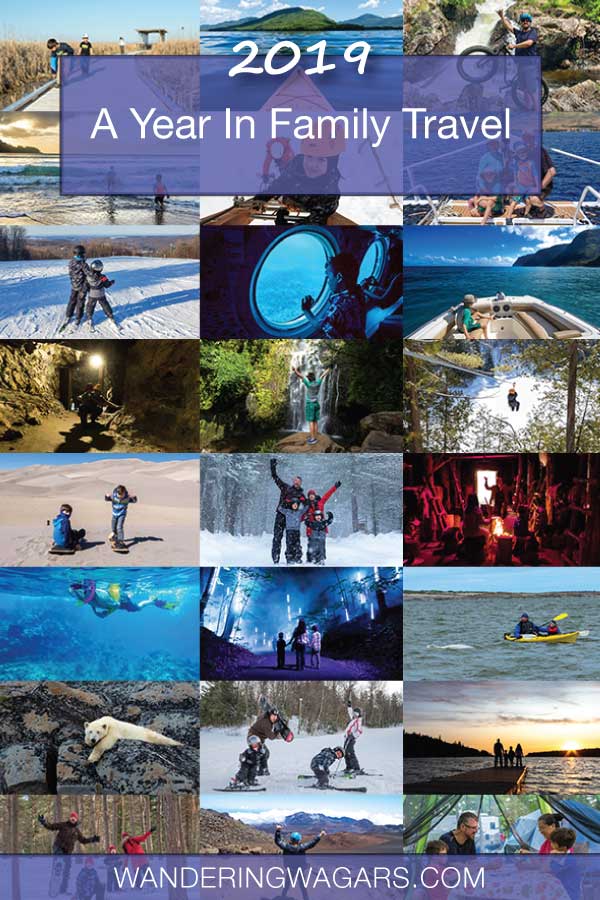 [/ezcol_1half_end]